Taraji P. Henson is the queen of hair. Queen. Of. Hair. And one thing you will never be able to do when it comes to it, is box her in, because sis gets busy when it comes to rocking a new look. In the past month or so, Henson has been playing around with color, which we love to see. But her latest, may literally be her best one yet.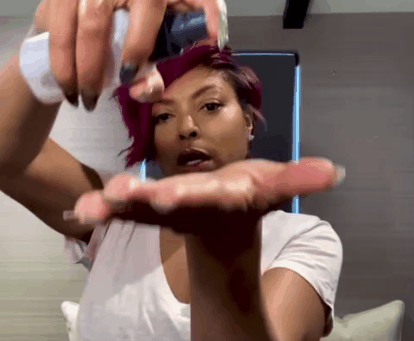 YouTube/Allure
The color she is wearing these days is a tone she refers to as a 'violet-magenta', a color so perfect (we'll touch on this word later) for her hectic year. Personally, Henson has been battling a called-off engagement, a pandemic, and admitted struggles with mental health. Thankfully, and likely, unknowingly, magenta is a color of universal harmony and emotional balance. It promotes compassion, kindness and cooperation and encourages a sense of self-respect and contentment in those who use it.
So, it'a perfect for her. Like I said: best one yet.
And she wears it so well.
Mostly because you can see an inner and outer glow from her again. But leave it to Taraji to call out anything deemed as absolute, or perfect. She recently told Coveteur:
"Perfection is the perfect lie. My therapist set me free when she said that. Who's the judge? Who do we go to and say, 'Is this perfect?' It's so objective."
And although she doesn't believe in perfect, some looks are too good to not acknowledge. Thankfully, Henson has used her hair as a means to express herself whilst creating a haircare line of her own, TPH by Taraji.
"Because I'm a creative person, I couldn't create how I'm normally used to creating, which is on a set or on a stage, so I had to find other ways to allow myself to be creative, and it's in this salon and I love it. I'm in here right now. [Experimenting with your hair] will keep you sane because in this time, no one's going anywhere, and that'll make you depressed.
She continues:
"My haircare line is all about self-care. I don't want people to treat wash day as a chore, but as a self-care day. That's why I have the exfoliant scrub for your scalp. There's steps to it, and you can take your time. I created a spa day for your scalp."
And TPH by Taraji promises a scalp-first approach, creating an optimal environment for healthy hair no matter the style. "We celebrate with you as you experiment with your looks while tackling real hair concerns. TPH by Taraji products deliver nourishment, protection, and deep cleansing solutions for every hair style, texture, and type," the website reads.
"When I started wearing weaves, I had to ask, how do you keep your scalp healthy under this thing? Black people, we have sensitive and very delicate hair. People think it's rough like Brillo, when it's actually not. We have to put our hair away to protect it. If you start doing too much to it, it'll break off. Knowing that, I knew I wanted to protect my hair when I started working."
--
Taraji may have chopped off all of her hair to achieve this look, but regardless of where she stands on the topic of achieving full-circle perfection, Taraji, the color magenta for you, sis...is perfect.
Featured image by Alex Millauer / Shutterstock.com
Keep reading...
Show less
The queen Toni Braxton is not just some artist, she is THE artist. And she's the ultimate muse for reinventing herself, maintaining a career that spans over nearly three decades. She is notorious for switching up her looks for the people, and she is notorious for slaying each look every time.
And her most recent look is no different, as she hit us with the ultimate flex.
How? Well, because auntie is rocking the cutest, sleekest, blonde pixie, and we can't help but to swoon. While promoting her latest album, Spell My Name, which was released on vinyl December 4, the 53-year-old singer took to social media to model her new look. Sis stunned us all in a bold red lip, in a sheer black top, and stylish rose-tinted sunglasses. In her debut for the look, she said:
"They say blondes have more fun! I'll let you know after Thanksgiving! Wishing you and your family a healthy and happy Holiday!"
And make no mistake about it, we all know Toni isn't new to the pixie cut. She first stepped on the scene in 1993 with an iconic short look for her debut album. Additionally, her music catapulted to the top of the charts, having us all running to the salon asking for "the Toni Braxton cut" (it actually was the most requested hairstyle among black women that year). And since then, she's known for keeping us on our toes and basically single-handedly switching it up for entire generations (even with Beyonce releasing images dressed up as Braxton for Halloween in 2018).
And it has remained this way, for as long as I can remember. Even her most iconic looks were all accompanied with new hair.
From her jaw-dropping Grammys ensemble:
The night she picked up the award for best female R&B vocal performance, she wore a dazzling barely-there dress and golden locks as she worked the room. She told People:
"I've always gone a little risque with all my other awards [show outfits]. I decided that before I got married and had babies, I'd wear this."
To that time she asked bae to un-break her heart: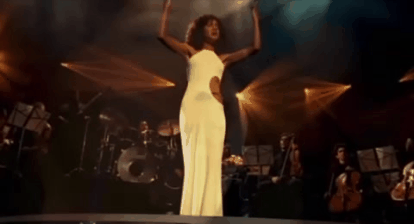 YouTube
Braxton's most known single had recently been recognized by YouTube for surpassing 500 million views. Of the accolade, she told the December issue of Harper's Baazar Vietnam:
"The day I received the notification call from YouTube, I was shocked! The milestone of 500 million views is so surreal. [I] remind myself of it every day. I am grateful and happy with everything God gave me."
...she can slay it all.
But don't expect her to stop giving us style envy anytime soon, when asked in an interview with Soul Train if she preferred short or long hair, the singer, who has been battling lupus, said:
"Today it's long hair. Tomorrow it could be short hair."
A.K.A. she doesn't have a preference, but that she can certainly keep up.
And although we don't know quite yet what she's going to serves us with next, we can gladly say we'll be tuned in...as we have been for almost 30 years.
Are you a member of our insiders squad? Join us in the xoTribe Members Community today!

Feature image via Toni Braxton/Instagram
Keep reading...
Show less
Every year when it gets hot out, I get a little scissor-happy when it comes to my hair and, in a recent Instagram post, Yvonne Orji just gave us a whole moment that makes me want to take the top all the way off.
Although 2020 has been a drag, you don't have to wait until January to step into new beginnings and Yvonne proved that your tresses are a perfect place to start. The comedian, who has rocked a short look in the past, switched out her normal set of braids and symmetrical bob for a short look and we are here for all of it.
Giving us all the big chop energy, the star joins celebrities like Tiffany Haddish and Tamera Mowry, who have also chosen to embrace their natural hair during quarantine. In a previous interview with Into The Gloss, Yvonne revealed that because her hairstyle depends on her outfit for that day, her switch-up game is serious. She explained:

"For my hair, I do a lot of pieces. I like to switch it up. I like protective styles, so this is my summertime bob. But then I also have 22 inches. I like a middle part, just because I think it frames my face really well. And then sometimes if I'm traveling I'll do a braid with cornrows. It's about versatility—being able to have a natural style, and then have a straight style. Anything that goes with the outfit. Literally I pick the outfit, and then I go, what hair goes with this today?"
Featured image by Instagram/@YvonneOrji.

Keep reading...
Show less
Times like this, I wish hair salons provided Life Alert because my curls have fallen and they can't get up.
After months of relentless heat and chemical processing, my tresses are tired and seem to have given up the good fight. With all of this newfound time on my hands, I'm just about ready to press the reset button on my curl pattern and this big chop-inspired thread on Twitter isn't making my scissor envy any better.
Can we start a natural hair/big chop thread? 🥺👉🏽👈🏽 June 2019 - March 2020 https://t.co/3l1uqFhutM

— Chan ✨ (@Chan ✨)1585770948.0
In a thread created by YouTuber, Chandler Alysse, hundreds of women flooded Twitter with the results from their big chop and tips that keep their curls poppin' and it was absolutely everything. Chandler, who experienced hella growth since her big chop, said that implementing apple cider vinegar, rice water, Jamaican black castor oil, and products from Bella Curls have allowed her curls to return with a vengeance.

Along with Chandler, other queens dropped their tips for regrowth and maintenance after their big chop and we have all the details.
Scroll below for some of our faves!
@GoldAFrancois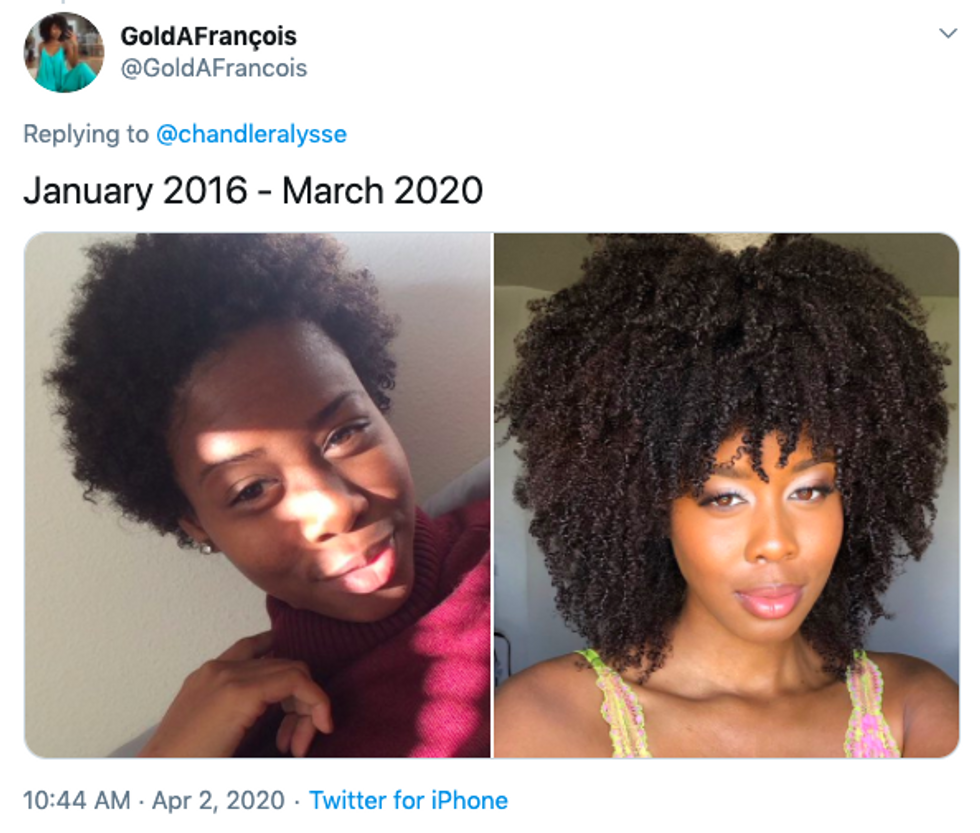 Twitter
"My best advice would be look into using aloe vera as a leave-in or a gel and try wearing [a] low manipulation style as much as possible while keeping it moisturized!"
@ohitsbreee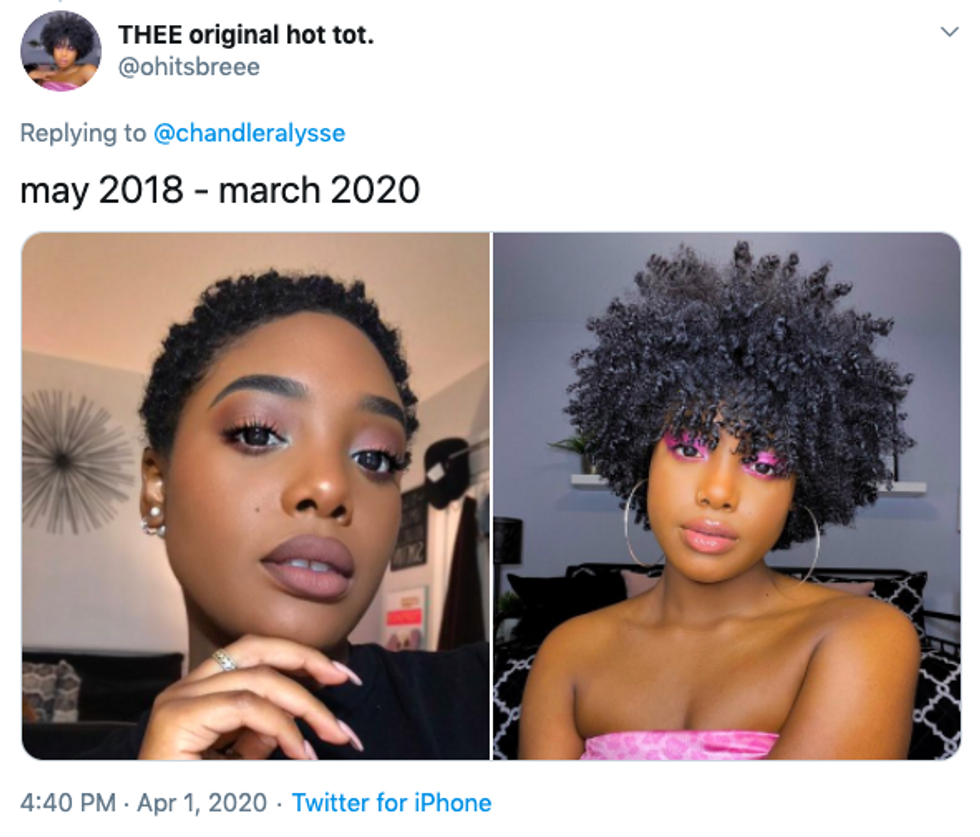 Twitter
@itslanette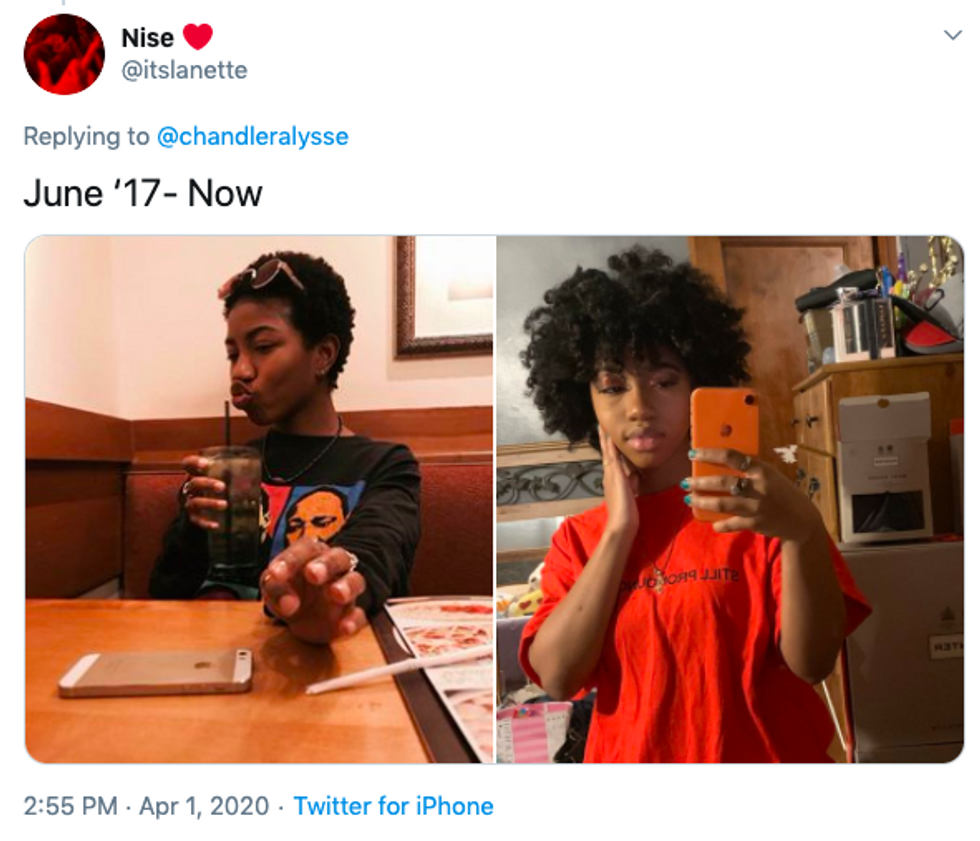 Twitter
"I did regular flat twists and then added perm rods to the ends. That's day 3 hair in the picture too."
"At night I put my hair in little ponytails to stretch the roots, cover with my bonnet, and pick it in the morning."

@tonayalorennexo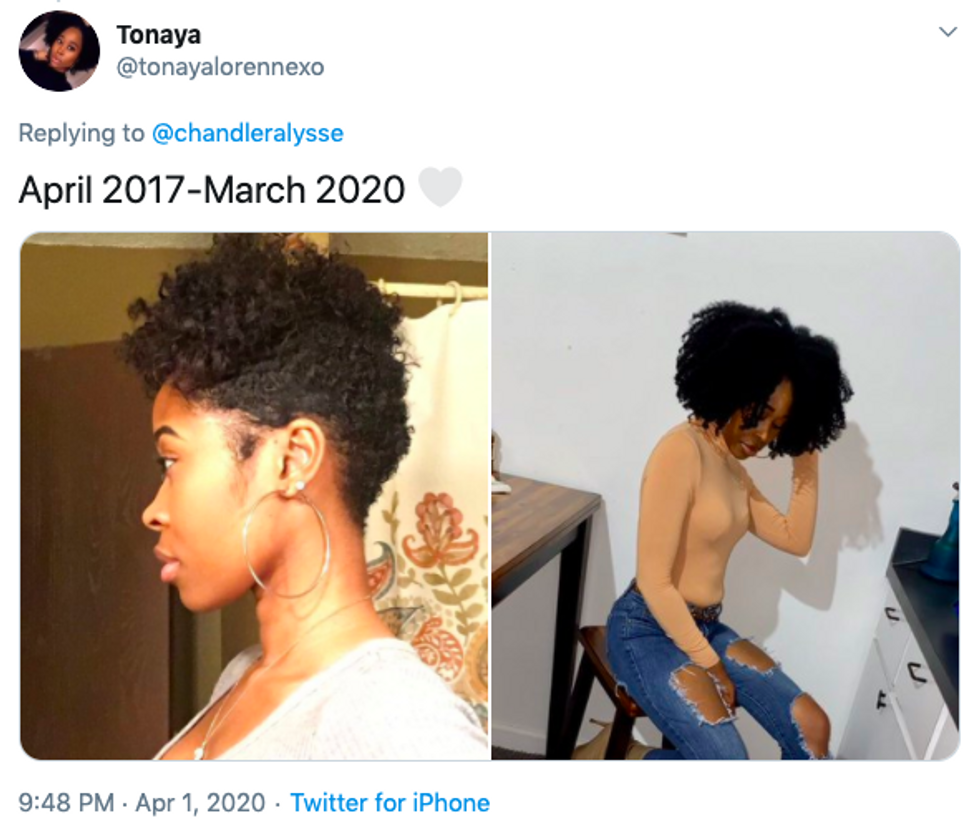 Twitter
@sorpeguero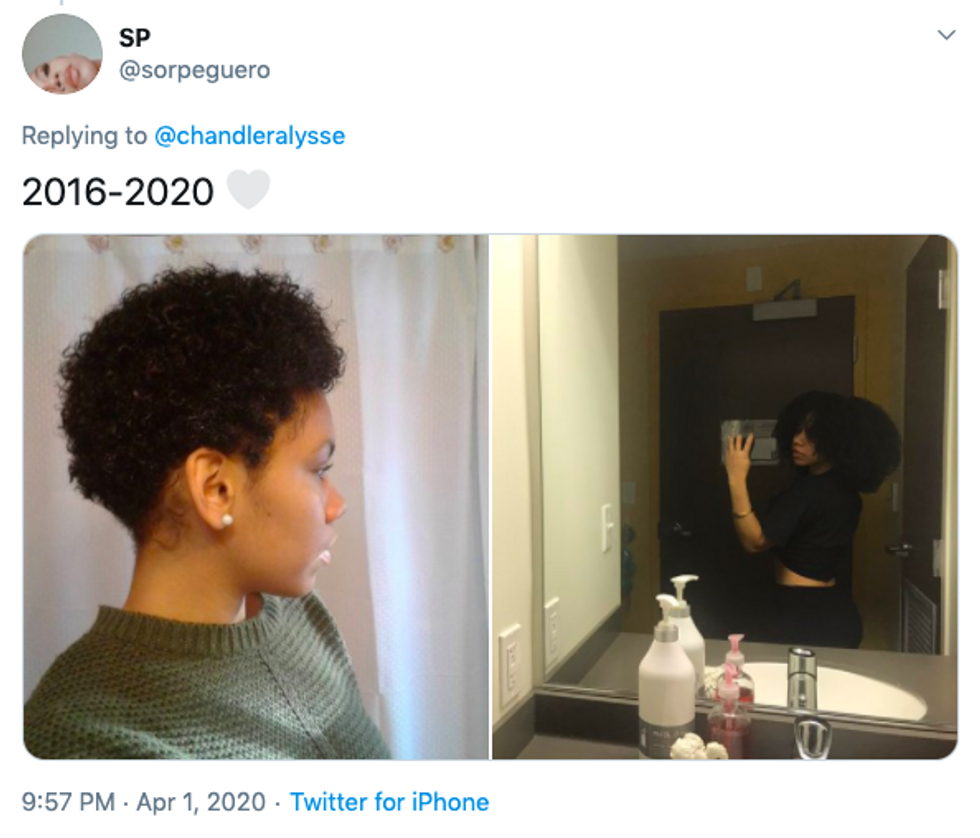 Twitter
"Moisturize! Make sure your scalp is always clean. LOTS of hair masks, lots of scalp massages. Sulfate-free shampoo. Satin pillowcase/bonnet, hydrate hydrate hydrate! Protective styles but still moisturizing. I figured out what worked for me, it took years."
@loveleighla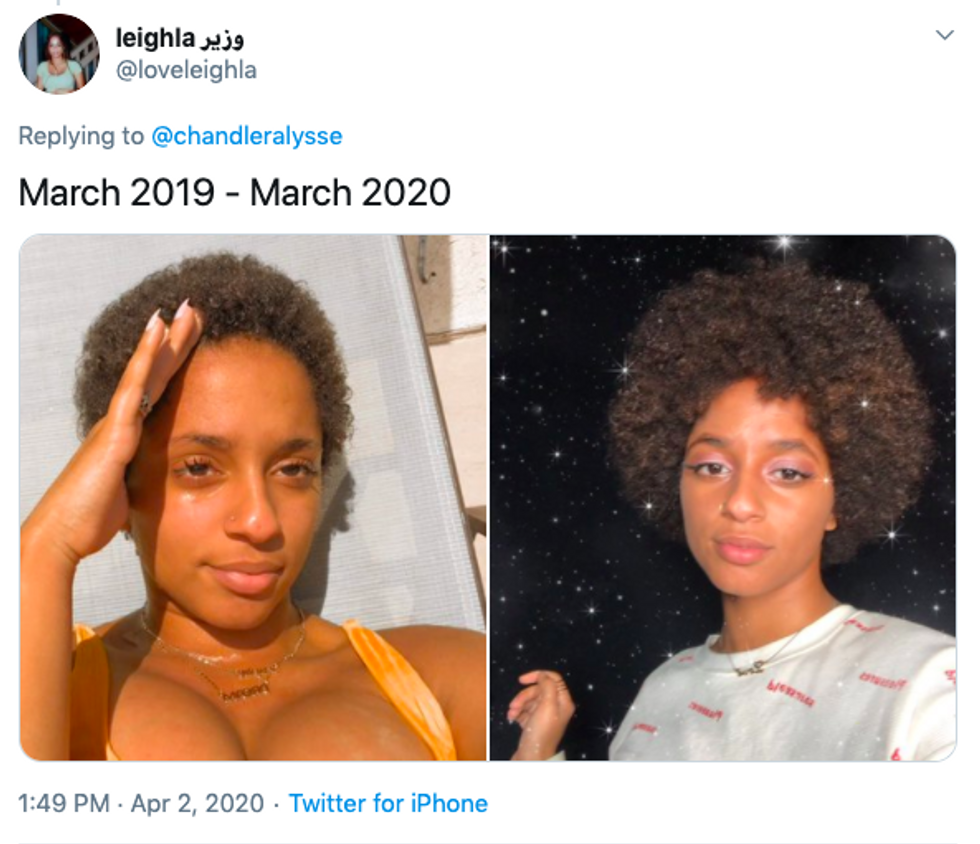 Twitter
@_lookinforlay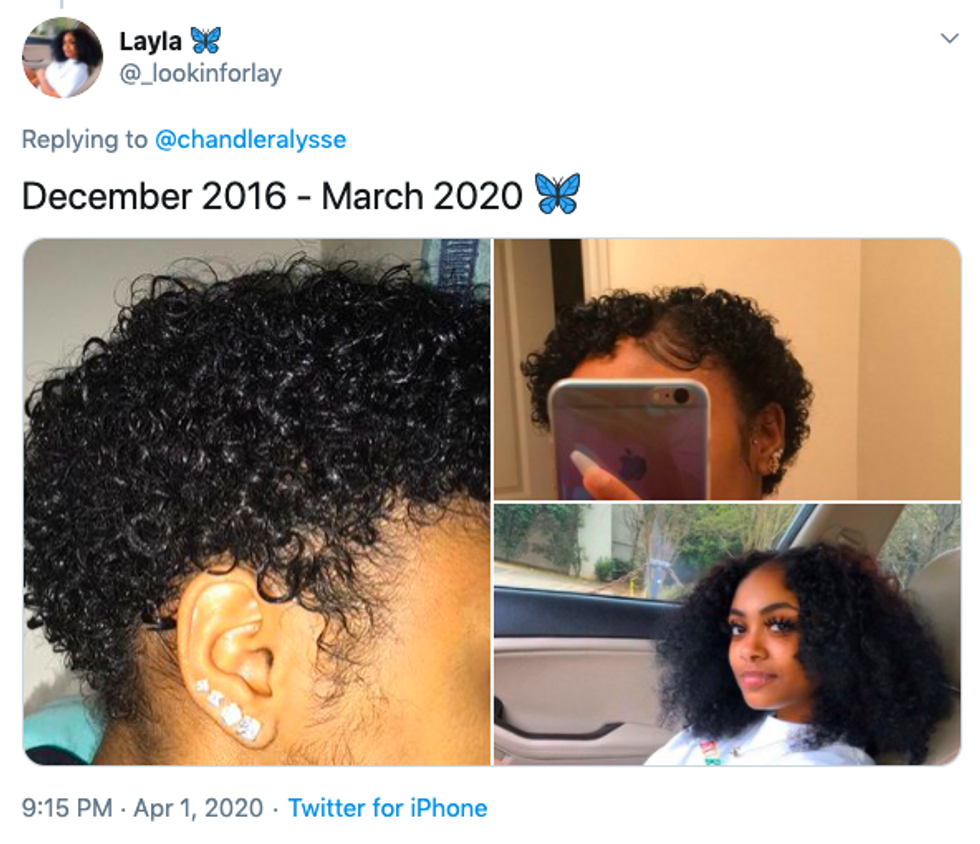 Twitter
@karlamary440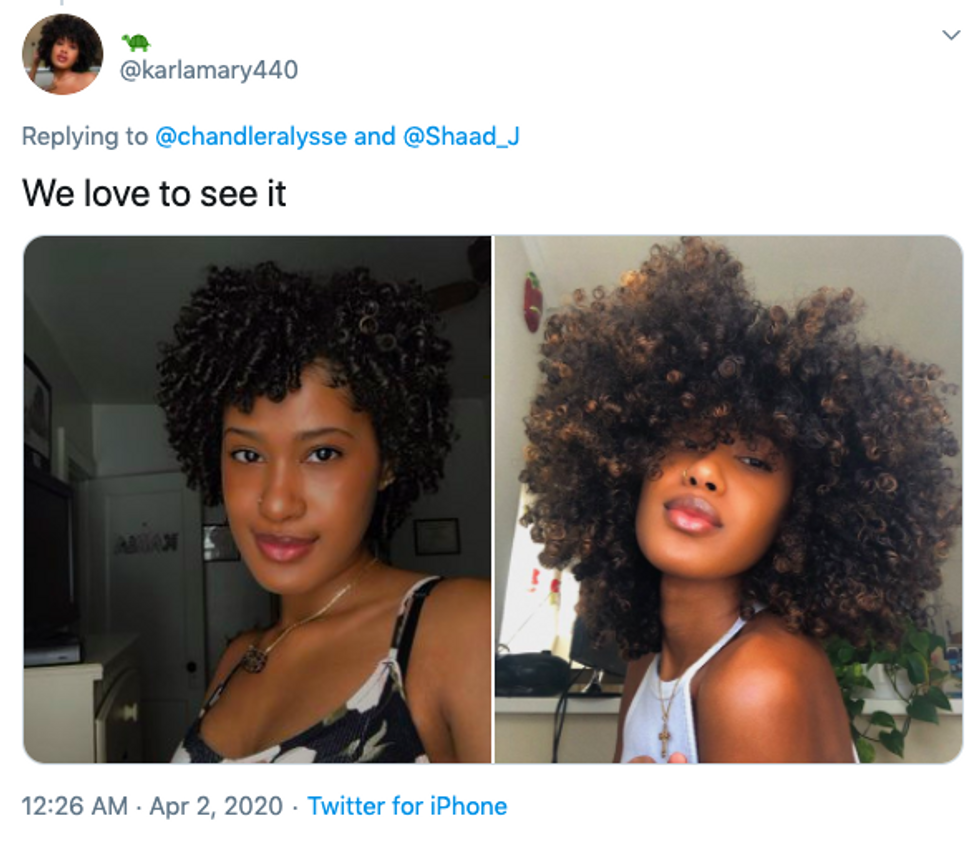 Twitter
@_gvddess_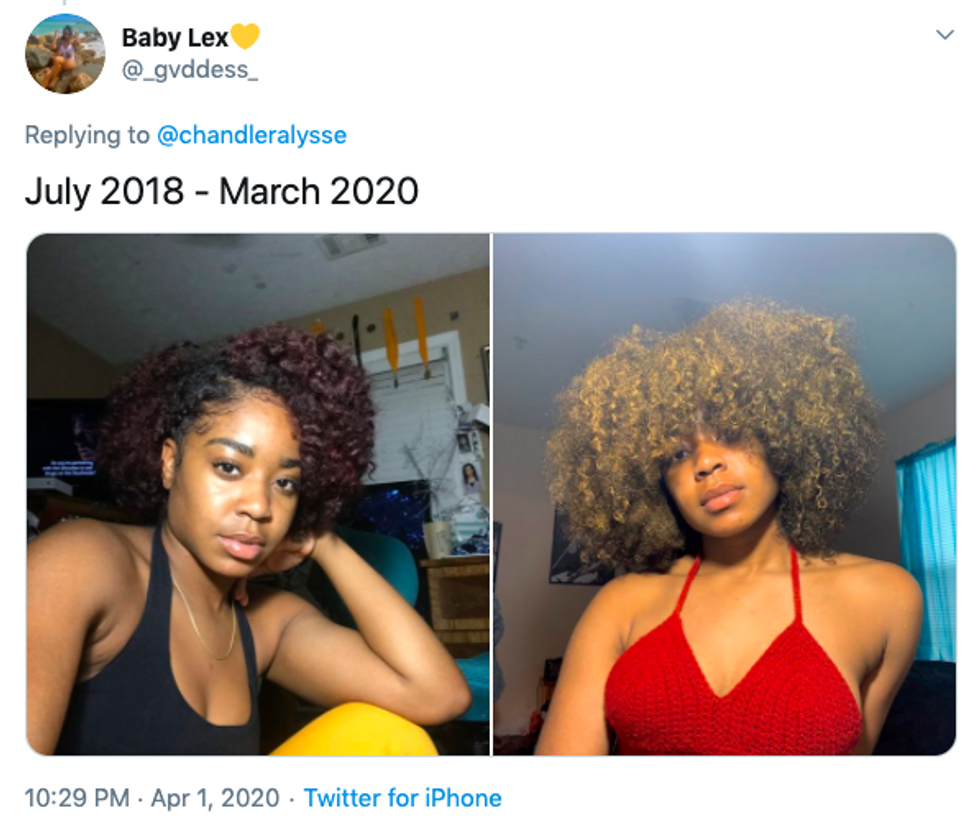 Twitter
"Wet Line Xtreme, Lotta Body Leave-in Conditioner, and coconut oil."
@maurachanz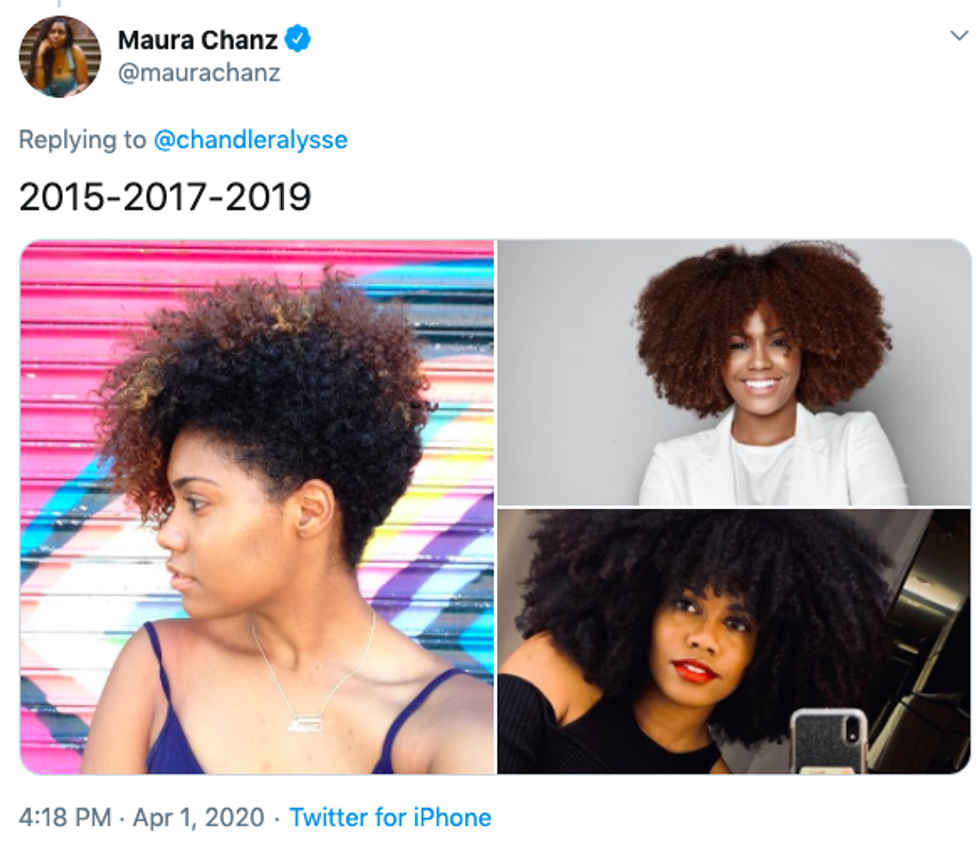 Twitter
Featured image by Pinterest.

Keep reading...
Show less
On March 4, 2017, at the tender age of 31, I knew in my spirit that this was a particular time for a woman. Wherever you go, you hear a woman speak about how being in your thirties gives you clarity about the woman you want to become. An automatic switch occurs in our brains that make us in tune with our mind, body, and spirit. You are quick wit and have a no-nonsense approach to everything. You are more confident then you've ever felt before. Those values didn't align with how I truly felt inside. At that time in my life, I had been wearing my natural hair for five years.
I enjoyed the many stages of my luscious curls. I religiously watched hours upon hours of YouTube videos and spent hundreds of dollars on hair care products. I became obsessed with how I wanted my hair to turn out. I spent hours perfecting the perfect twist out. I enjoyed the process, but there were times I wanted to give up and throw in the towel. As much as I enjoyed my hair, I noticed that it started to tell a story. It went from bouncy, thick, moisturized curls to brittle, thin, and prone-to-breakage curls.
Stress and depression ruined my natural hair.
At the time, I didn't know what actions I needed to take to revive my hair. As my hair started to become an insecurity of mine, I made an impulse decision to cut it one day. As I look back on that dark time in my life, cutting my hair was one of the worst decisions I've ever made.
Stress And Depression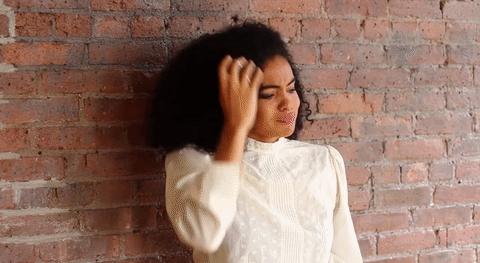 I was getting restless and impatient in my natural hair journey. While patiently waiting in the doctor's office one day, I decided to do the unthinkable. I wanted to cut my hair. I did not experience a breakup, nor did I lose my job. I just wanted to change my identity. Depression works in mysterious ways. You get consumed with your thoughts that you don't want to be yourself anymore. I was one year in from being diagnosed with depression, and I had no clue what to do.
I didn't have the resources to take steps to heal. I suffered in silence. I was confused, angry, lonely, and sad.
I wanted to make sense of it all, and I thought a haircut would be symbolic of a fresh start; at least that's how it plays out in movies. You stand in the mirror with clippers in hand crying and buzzing your tresses away. The next day, you jump out of bed wearing leather and high heel boots like you have it all together. Unfortunately, that's not how my story ended.
As far back as I can remember, my hair has always been the topic of discussion. From press-and-curls to ponytails with knocker balls, I still received compliments. Other women and girls were shocked to hear that I never had a perm and that I'm not "mixed." My mother took pride in teaching me healthy hair care.
The Cut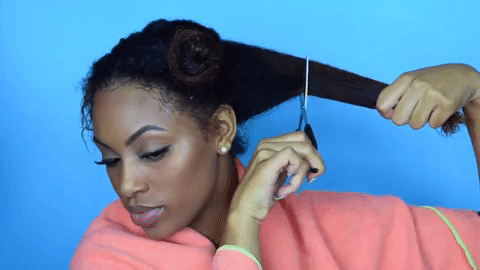 Photo by Giphy
At my hair appointment, I had a feeling of anxiousness. I wanted this hair off of my head as soon as possible. I wanted the dead weight finally lifted. I wanted to be happy and carefree. As the stylist started to cut, I wanted to see my depression land on the floor with the rest of my hair. I became allergic. I didn't want to see my hair, feel my hair, take pictures of my hair. I didn't want to make it an event. I just wanted it gone. Walking out of that salon with a fresh haircut awakened my spirit. It wasn't until that moment I experienced sunshine and good weather. My five senses became alert.

That was the first time I smiled in a very long time. I was finally happy. I was ready to conquer the world.
The first couple of years without hair were terrific. I no longer had to spend hours washing and prepping my hair for the week. Frizz and humidity were an afterthought. The fact that I could put the product in my hair and smooth it all over and leave the house without hesitation was exciting. My hair no longer became a priority. My friends and family didn't agree entirely with my decision. Some enjoyed it, and others disliked it. At the time, how others felt about my hair wasn't my problem at all. I would receive compliments on how my hair matched my personality. I finally felt confident. It was an automatic mood-changer.
Having long hair dictated how I lived my life. Sweating wasn't an option so I couldn't work out, getting in the pool during a hot summer's day gave me anxiety. I never participated in water balloon fights. My hair became another layer of my depression that I no longer needed. Having shorter hair didn't occupy my thoughts as much anymore; I no longer cared. Freedom has no barriers, and at that particular time, I was free yet still depressed and gloomy. I let myself and my hair go, and I had no regrets.
The Change of Heart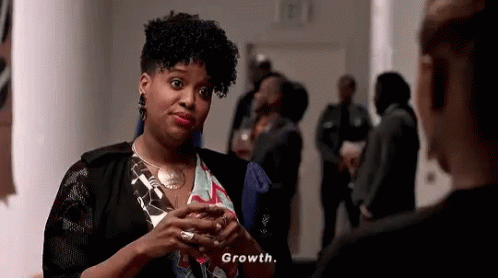 Photo by Giphy
September 2018 was when I decided to get therapy. Five months in, my perspective on certain things began to change. Something I once wanted, I no longer desired. Things I needed, I no longer found necessary. I started to inherit a certain level of clarity that I've never had. My insecurities led me to believe that my hair was one of the many problems I was dealing with, which caused me to slip deeper into a depression.

After being asked "What does beauty look like to you?" from my therapist, I quickly realized that having longer hair represented beauty to me. I knew there was nothing wrong with having shorter hair. I felt like I no longer needed my short hair to get rid of my depression. I wanted the best of both worlds by coping with my depression and getting my curls back.
After reflecting on that time, I realized three things that I should've done before cutting my hair off.
Dissecting What Femininity Meant To Me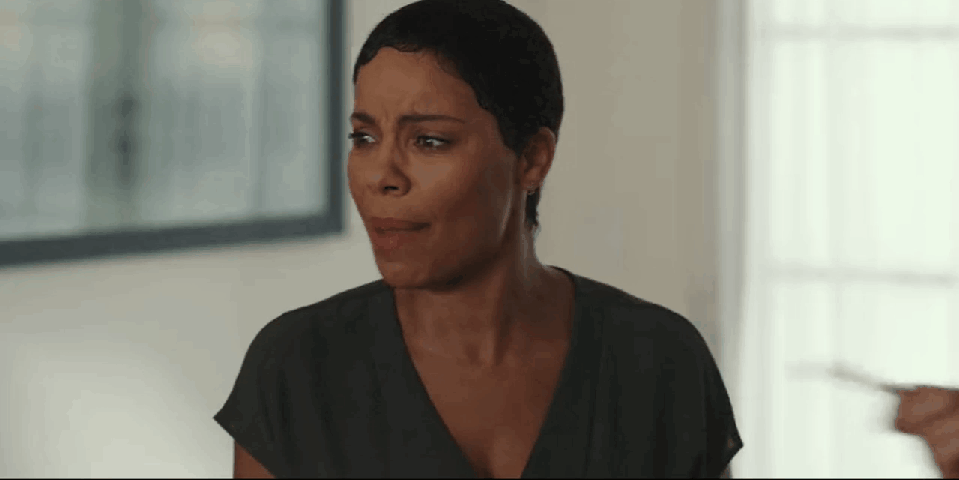 Image by Giphy
As many of us will admit, I was one of those people who loved the Explore page on Instagram. You can scroll through an endless library of hair products, wig tutorials, and modern hair trends. I got lost in a trance. I started to compare my hair to the women I would see.

When I looked in the mirror, I saw a woman who had the potential to be beautiful, but deep down, I felt unattractive. Having my hair at my old length made me feel like a woman. I realized that looking like a woman is only half of the battle. I had to analyze what femininity meant to me.
I can say proudly that my womanhood has nothing to do with my hair, but it has everything to do about how I see myself in this lifetime. Anyone can achieve a look. Femininity is more of a spiritual journey. When I started to become grateful for the power that I have as a woman, I could just cry. It's an energy that one must meditate on and practice daily.
Self-Love Is an Inside Job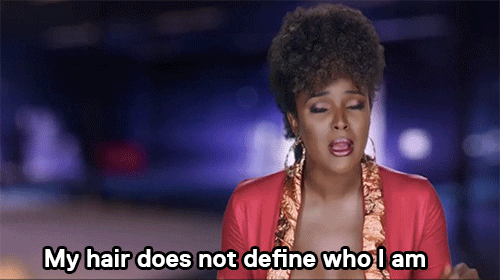 Image by Giphy
What we think about ourselves shows others how we would like to be respected and loved. If you can't acknowledge the love you have for yourself, others will find it impossible to see it. It's a constant tug of war that you have with your mind daily. If you're stuck in this predicament, I'm here to tell you that it can change with consistency and patience. I had to realize that how I viewed myself was a bad habit that I allowed to slip into my subconscious. I was ignorant to the fact that my words have power.
It's impossible to live with confidence if you are always saying that you aren't worthy. I was introduced to affirmations by my therapist. Repeating something as simple as "I affirm that I am willing to release the causes and patterns in my consciousness that are creating any negative conditions in my life" can release any or all the pressure you put on yourself. There are endless amounts of premade affirmation cards available online. Reducing my negative self-talk worked for me. I was encouraged to create self-care habits.
Many people think that self-care means a spa day every day, which isn't the case. Self-care simply means to find joy in things that interest you or something you could see yourself doing for free. That's when I found writing as my joy. My negative thoughts reminded me of a revolving door. As a group of negative thoughts exit, a new set of negative words enter. Writing provides clarity. It gives my thoughts and feelings a voice. For many, that might not be as rewarding, but to hear that I'm an inspiration to women eliminates my depression. I can finally say without hesitation that I'm proud of myself for being patient with myself. To be brave enough to allow others to read my stories brings power and grace that no haircut could give me.
I Should've Gone to Therapy First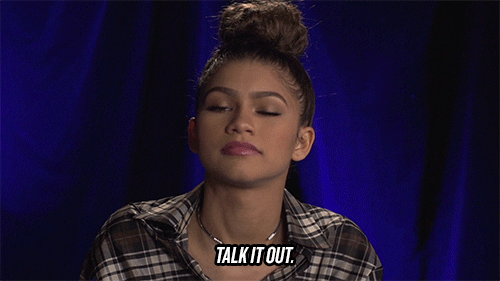 Image by Giphy
I can admit while looking back at all of the choices I've made that I wasn't in my right state of mind. My mind was so weak at that time that I could've quickly fallen into drugs and alcohol. On the one hand, I was desperate for an easy fix. Depression didn't look good on me. The more I attempted to hide, the more it would show up through my hair. My logic at the time was that my hair was damaged. Cutting it will give my hair a chance to grow healthy again.
What I didn't realize is that my supply of band-aids was never-ending. I overcompensated a lot to cover or mask my pain.
Therapy should've been my first option. I would've used the tools to help me navigate through depression and anxiety. The fact that I had the chance to speak my mind without feeling judged would've made me feel so much better. My methods to cope only dealt with the surface. The therapist would want to get to the root.
I can write and display what I should have done during that time for hours. Still, as I'm going through this process of healing, I can admit that the idea of therapy was accepted, but being willing to sit down and speak created another layer of anxiety. I wasn't ready, and that is OK. I needed that tough time in my life to help me put certain things into perspective today. I can proudly say that I've completed my first year of therapy, my last haircut was February 2019, and I've been growing it out ever since.
From an excellent spiritual place, I can determine what hairstyles I want to try. I created a rule that if I ever feel the need to cut my hair that I follow these simple steps: Write it out, speak out loud, take a nap, then find the right protective style.
xoNecole is always looking for new voices and empowering stories to add to our platform. If you have an interesting story or personal essay that you'd love to share, we'd love to hear from you. Contact us at submissions@xonecole.com.
Featured Image by Shutterstock
Keep reading...
Show less
Tall, like at least six feet. Attractive. Doesn't have to be college educated but he's got to be ambitious...and intelligent. Not too clingy, but present. Meh, I don't do locs. No locs. In fact, no hair. Just a clean fade.
That is just a glimpse of the checklist I keep in my mind when keeping my eyes peeled for potential. I'm willing to admit that I'm shallow, but I have also made it a point to remind myself that I wouldn't put a pin in that very potential I had been on the lookout for if someone came along and he wasn't a concoction of my imagination and past baggage. Basically, I've always said I'm not shallow enough to ignore and resist chemistry simply because I'm not immediately attracted to a person's outward appearance.
However, it's only recently that I've been forced to be a woman of my word and date outside the comfort zone of my list. I believe it has everything to do with me taking on round two of the big chop with all of the confidence I didn't know the first time I big chopped. To break down the equation, it seems to be two parts confidence, one part big chop, and I'm convinced that it will have a significant impact on the way I view dating, men, and the laws of attraction.
In cutting off my hair, I observed how my TWA would stop attracting one type of man and draw in another.
It stopped attracting my type and I started attracting a greater level of authenticity. After chopping my hair, while I was more confident and more fashionable (something I now felt I had to be so that I was not to be mistaken for a prepubescent boy) than I ever imagined, I would be back in my "Apple Bottom" phase and I was also forced to have a slice of humble pie. Who was I to write someone off for their hair? At the very least I knew I'd be a hypocrite if I didn't tighten up with all of these physical characteristics I deemed "my type".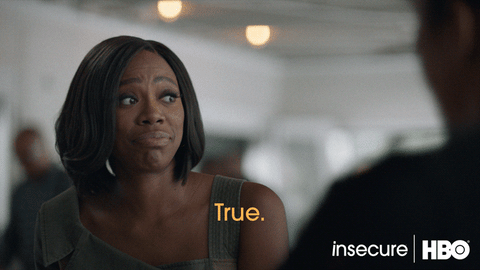 media.giphy.com
My big chop has forced me to hone in on the agape love that I was putting out into the rest of the world.

Agape love, a Greco-Christian term and something that I only recently learned about, is a selfless sacrificial type of love. It's one of four types of love in the Bible that we observe in the world; the others include Eros, Philia, and Storge (in no particular order). Most people, myself included, act out of eros or erotic love upon first meeting someone. Eros love is the superficial stuff, eros demands a physical attraction. Acting on eros love first is a desire to want the full package before penetrating the surface. However, it's agape love that will help you look past the superficial qualities a person has to offer and see their truth alongside your truth.
This is what I've come to understand about myself! There's levels to this and this whole time I've been trying to level up without doing the work in between, and doing it backwards at that. Sexually driven, I've always wanted to be attracted to you outwardly before I acted on anything else, and if the sex was good then for me, that led to romance but it almost always led me to lackluster, half-ass romance.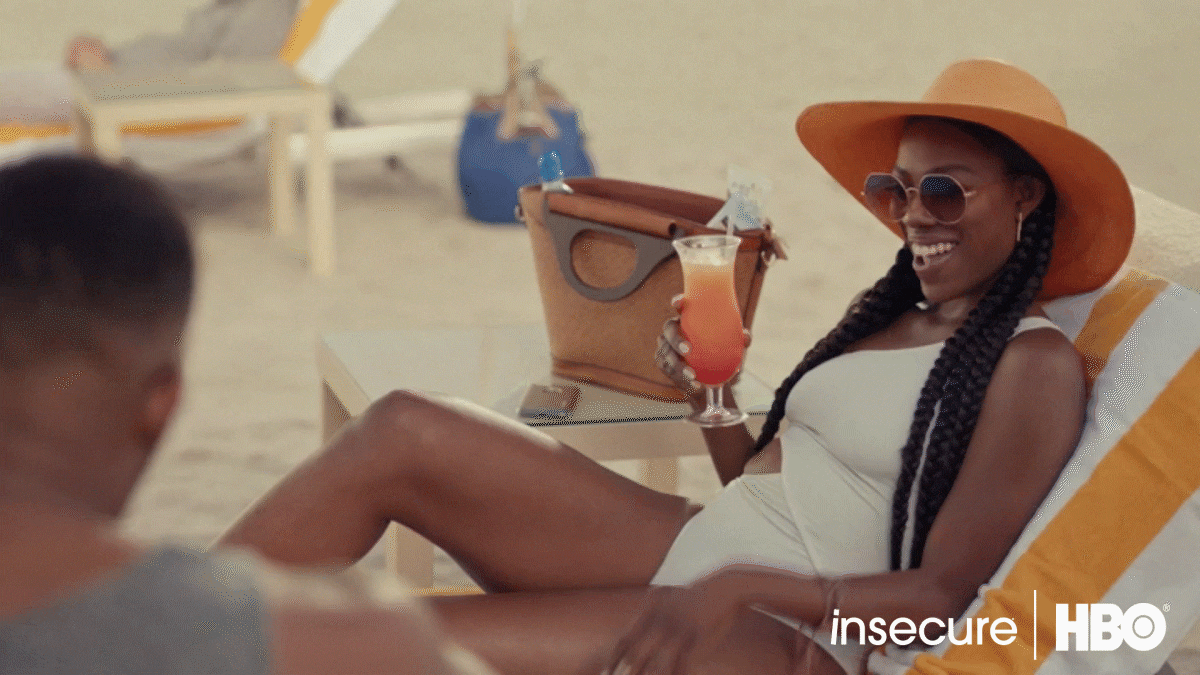 media.giphy.com
There's an exception to all of this, of course, but we can't all be that. We can't all be the couple who married after 30 days and stayed together for a lifetime. We can't all be the couple who started out just f*cking and then ended up in love. We can't all be the love that the media portrays, and that's what we want when we seek out these superficial qualities.
The reality is that leading with eros will almost always fail you when you're hoping to build with something authentic.

Ultimately, you attract what you are and sometimes you attract what you lack. You attract what you put into the world, you attract what you're ready for, and if you can't embrace a new face in the most wholesome way of love, then the truth is you (and I'm speaking to myself here) have more room for growth.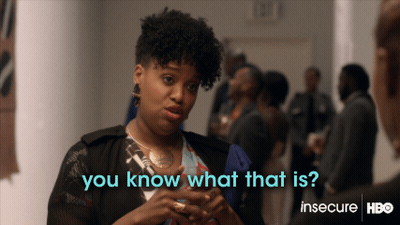 media.giphy.com
Well, the TWA is making me grow. The hair has made me love myself in an agape way that I don't think was present before. I loved myself with the condition, I loved myself in an eros way that I knew made me appealing and attractive to a majority but I don't want the majority filling my cup.

As I break down the walls of my love and its superficial standards, I can't lose because I will have evolved and so I will have attracted someone who meets me right there where I'm at. Evolved. And when that's not what it is, I'll know and I won't settle because I'll know there are more many more fish in the sea when you dive deeper than the superficial waters I've been living in.
Featured image by Getty Images.
Originally published on March 14, 2019
Keep reading...
Show less