In a world where we are not exactly sure what the hell is going on anymore, it's always refreshing to revisit the late, great classics of the earlier times. Whether throwing on a pair of sneakers for a double dutch match, sitting down to watch—and recite—all the words to Coming to America, or explaining pagers and floppy disks to Gen Z, there's something about each of them that never get old. And honestly, sometimes we just need them to center us back to good times (no pun intended).
But ultimately, we likely love to revisit some of our favorite shows that we grew up on the most. And although black sitcoms are somewhat-kind-of-not-really making a comeback, they just don't give off those cult classic vibes like they used to. I mean c'mon, The Fresh Prince of Bel-Air, In the House, The Parkers, Girlfriends, and more...damn, they all just make you feel a way, right?
Well, we needed some nostalgic comfort around the xoNecole offices, so we decided to do a bit of digging into one of our ultimate favorites: A Different World. More specifically, the entire A Different World cast.

Where are they now, how have our favorite school yard characters grown over time?
Here's what A Different World's cast up to today.
The Cast Of A Different World, Where Are They Now?
Lisa Bonet | Denise Huxtable
Denise Huxtable:
Lisa Bonet played the character of Denise Huxtable, second oldest to Cliff and Claire Huxtable of The Cosby Show. After graduating from high school, Denise packed her bags and headed to Hillman College to join A Different World's cast as a naive but spacey freshman for one season, which she spent most of her time navigating new situations and freedoms such as making new friends, grades, and dating. Denise's character departed the show after Lisa Bonet became pregnant with her now-famous daughter, Zoe Kravitz, with ex-husband, Lenny Kravitz.
Lisa Bonet:
Bonet briefly returned to The Cosby Show, but eventually departed for good after differences. Since, she has taken roles on shows such as Ray Donovan, and movies, like High Fidelity. Her personal life took more of a front seat to the career as she eventually divorced Kravitz in 1993, and married hunky Game of Thrones and Aquaman star, Jason Momoa in 2017. Together, they have two children: a daughter in 2007 and a son in 2008.
As for her daughter, Zoe, in a twist of fate, she plays the lead role in the adaption of High Fidelity series on Hulu.
Jasmine Guy | Whitley Marion Gilbert-Wayne
Whitley Gilbert:
When it comes to show characters, no one was as breakthough, or memorable as Whitley Gilbert. She originally appeared on the show in Season 1 as a character to contrast Denise Huxtable's down-to-earth persona. But she soon proved popular and once Bonet exited the show, Guy was moved to a lead character. She remained on the show as an art buyer turned teacher, even upon graduating from Hillman, and married her off-and-on boyfriend, Dwayne Wayne.
Jasmine Guy:
Guy won multiple awards for her portrayal of Gilbert, which ultimately led to her career's longevity. She went on to have roles in shows like Melrose Place, NYPD Blue, The Vampire Diaries, and most recently, a recurring role as Gemma on Grey's Anatomy.
Kadeem Hardison | Dwayne Wayne
Dwayne Wayne:
With his trademark flip up glasses, geeky-fly persona, and charisma, Dwayne Wayne was destined to become a pop culture icon. Originally a supportive A Different World cast member, after Season 1, he was bumped to a supreme spot. Once Season 2 arrived, he began an ongoing romance with Gilbert, later moved to Japan, became a teacher, and notoriously fought for his love for Gilbert through grand gesture in television's most beloved confession scenes.
Kadeem Hardison:
Kadeem Hardison went on to be a breakout star from the show, and has gone on to have a successful career in television. He's been in multiple movies and television shows and even had a primetime reunion with Guy on KC Undercover. Today, he stars opposite of two Teenage Bounty Hunters, which airs on Netflix, as well as Special Delivery with Sideshow Collectibles on Instagram.
Dawnn Lewis | Jaleesa Vinson-Taylor
Jaleesa Vinson-Taylor:
Jaleesa joined A Different World cast in Season 1 as a late arrival, enrolling in college at age 25. She brought a maturity to the cast, to balance the chaos of the likes of Wayne and Johnson. Her largest storyline was her relationship with Coach Oakes (Sinbad), but calling of the wedding at the alter. She went on to marry Colonel Bradley Taylor.
Dawnn Lewis:
Dawnn Lewis was more than an actress, she was also an accomplished singer who co-wrote the theme song to the show, as well as the theme song to her next gig, Hanging With Mr. Cooper. Her resume is filled with various roles and movies, such as Dream Girls, and voiceover work with Futurama, Boondocks, Rick and Morty, and The Simpsons.
Today, she has taken on reboots of shows like Veronica Mars, and Netflix's Carmen San Diego.
Darryl M. Bell | Ron Johnson
Ron Johnson:
Ron Jonhson, the comedic addition to the A Different World cast, stepped in to act as support to Dwayne Wayne's antics. He was an ROTC student, and Wayne's best friend who was always down for the ladies and a get-rich-quick scheme. He eventually opens his own nightclub, deals with a few dating and racism themes, and begins dating another prominent character on the show (Cree Summer).
Darryl M. Bell:
After A Different World, Bell went on to act in a few other shows, including Cosby, but eventually stepped away from acting altogether. He went on to marry Vanessa (Tempestt Bledsoe) of The Cosby Show and appeared on faux-reality show, House Husbands of Hollywood.
Outside of a few other appearances, he generally maintains a lowkey profile.
Cree Summer | Winifred "Freddie" Brooks
Freddie Brooks:
Possibly the most accomplished from A Different World cast member is Cree Summer. She portrayed Freddie Brooks, a social conscious and political activist who arrived on campus as Jaleesa's roommate. She spent her earlier time at Hillman crushing on Dwayne Wayne, but ended up developing a relationship with Shazza (Gary Dourdan) and then Ron. She went on to attend law school.
Cree Summer:
Cree didn't appear in many movies or shows in the physical form, but her voiceover resume is mind-blowing. Sis has worked on Inspector Gadget, Captain Planet, Kim Possible, and most famously, Rugrats. I could list her resume all day, but in the interest of saving time, if you've watched cartoons at all in the past 20 years, you've heard her voice.
Sinbad | Walter Oakes
Coach Oakes:
Originally appearing as a recurring character, Coach Oakes' colorful and larger than life personality landed him a part of the main cast. He was a graduate student and mentor to the younger students, but gravitated toward the older Jaleesa for a storyline that would follow throughout the show. He eventually left Hillman to manage a community center in Philadelphia.
Sinbad:
At the time of casting, David Adkins, a.k.a Sinbad was an unknown stand-up comedian. Over time, he began crushing the comedy scene with successful specials, and hosting It's Showtime at the Apollo. Sinbad has gone on to appear in many shows and movies, most recently Rel and voiceover work on Steven Universe.
Charnele Brown | Kimberly Reese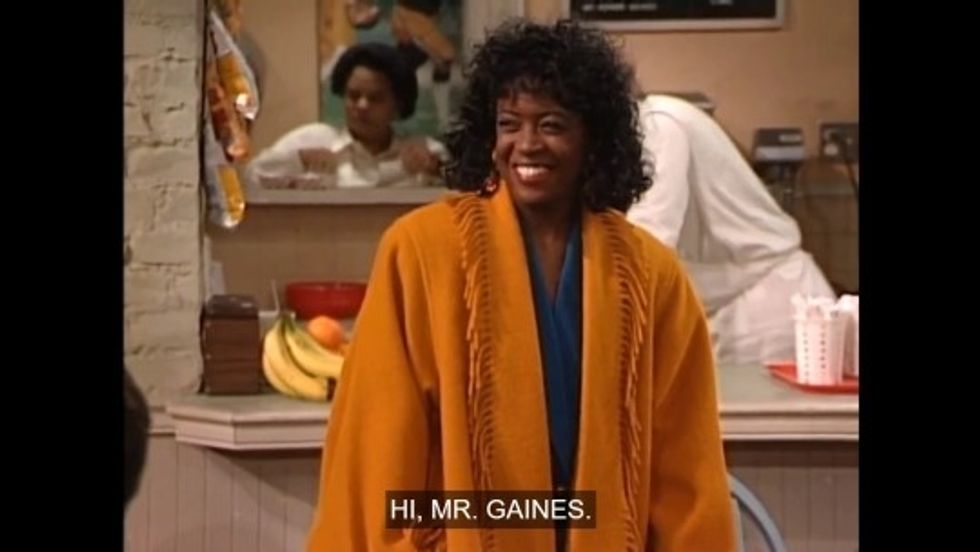 A Different World/Still
Kimberely Reese:
Upon Bonet's departure of the show, another character was added as Gilbert's roommate—and eventual best friends—to balance out the dynamic. She worked at the campus food hall, The Pit, and also performed in a few shows while being managed by Johnson. Her themes were a bit heavier at times, with references to the apartheid and difficulties of getting pregnant.
Charnele Brown:
Charnele Brown went on to guest appear in numerous other classics such as Martin and Living Single.
Today, Brown has ventured into the world of film production and have appeared in a variety of other shows.
Glynn Turman | Colonel Bradford Taylor
Colonel Bradford Taylor:
Starting as a recurring character, but eventually being bumped up to join a full-time cast, member Colonel Taylor was Vietnam War vet and nicknamed Dr. War. He was over the ROTC unit at Hillman and became a math professor. He ended up marrying and a having children with Jaleesa.
Glynn Turman:
Glynn Turman on the other hand, had been a industry vet for 25 years before ever joining A Different World cast. And like Cree, his resume is nothing to play with. If you've watch a movie or TV show within the last 30 years, you've seen Turman—from Black-ish, to How to Get Away With Murder, to Queen Sugar.
Also, Turman was briefly married to Aretha Franklin in the 80's, before divorcing in 1984.
Feature image by A Different World/Still

Keep reading...
Show less
When a woman thinks about being swept off her feet and marrying the man of her dreams, the last thing on her mind is divorce. But I can personally say that if my first marriage doesn't go as planned and I am led to find love again, I hope that my happily ever after looks a lot like Lenny Kravitz and Lisa Bonet, a duo who has mastered the art of co-parenting and done it with grace.
In snippets released from Lenny's new memoir, Let Love Rule the star details exactly how his love affair with Lisa began, which according to him wasn't by coincidence––it was destiny.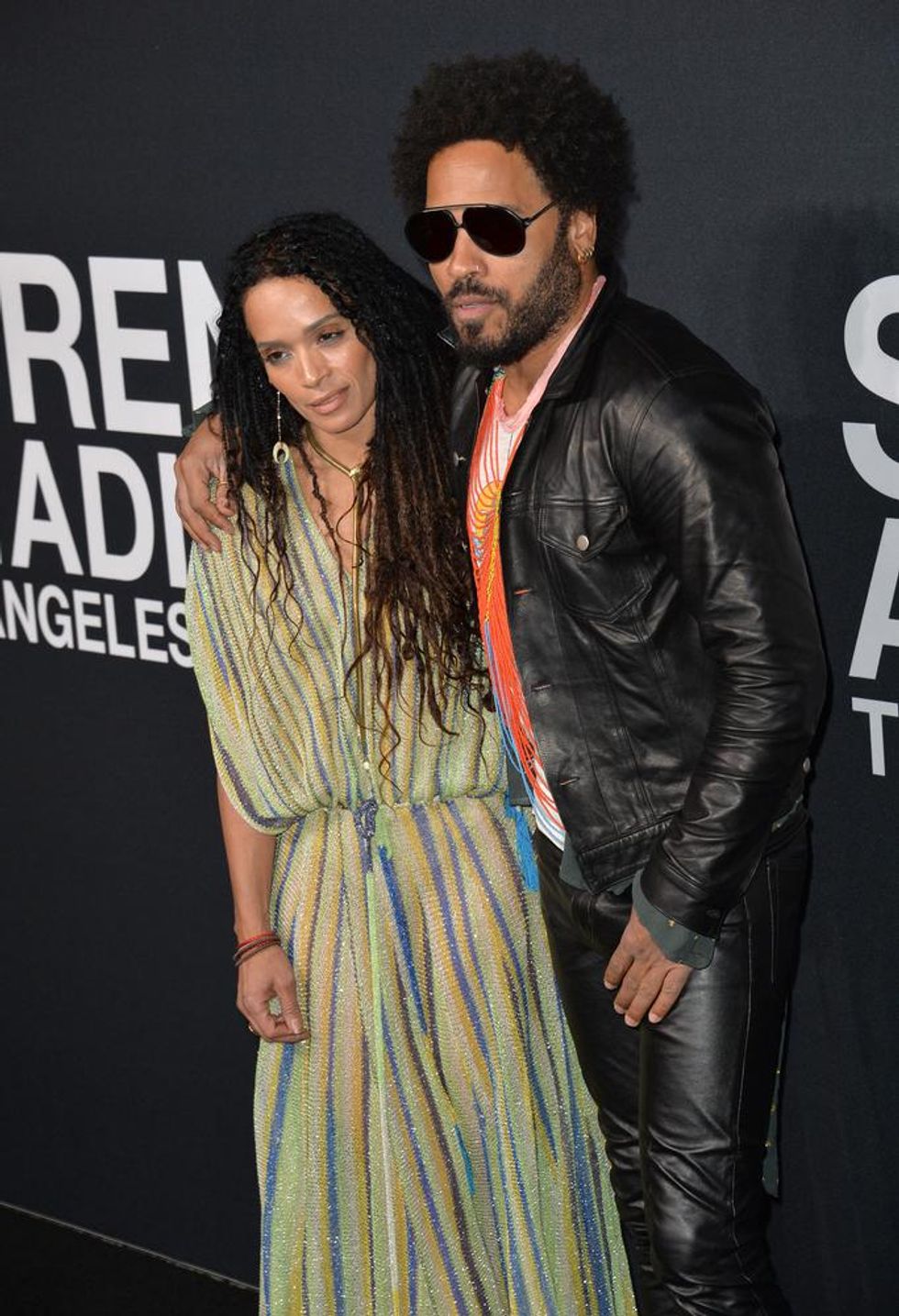 Featureflash Photo Agency / Shutterstock.com
The former couple, who first met backstage at a New Edition concert, said that their chemistry was instant and although the now 56-year-old singer was engaged, it wasn't long before Lenny gave in to his "obsession" with his childhood crush. Lenny explained that after calling off his engagement to his former fiancee, he and Lisa found themselves in a late night recording session where they could no longer ignore their feelings for one another:
"In a moment, everything changed. We started kissing … That night I moved into Lisa's bedroom. Destiny had led us here. With every passing hour, our love blossomed. Premonition turned to prophecy. Prophecy turned to ecstasy."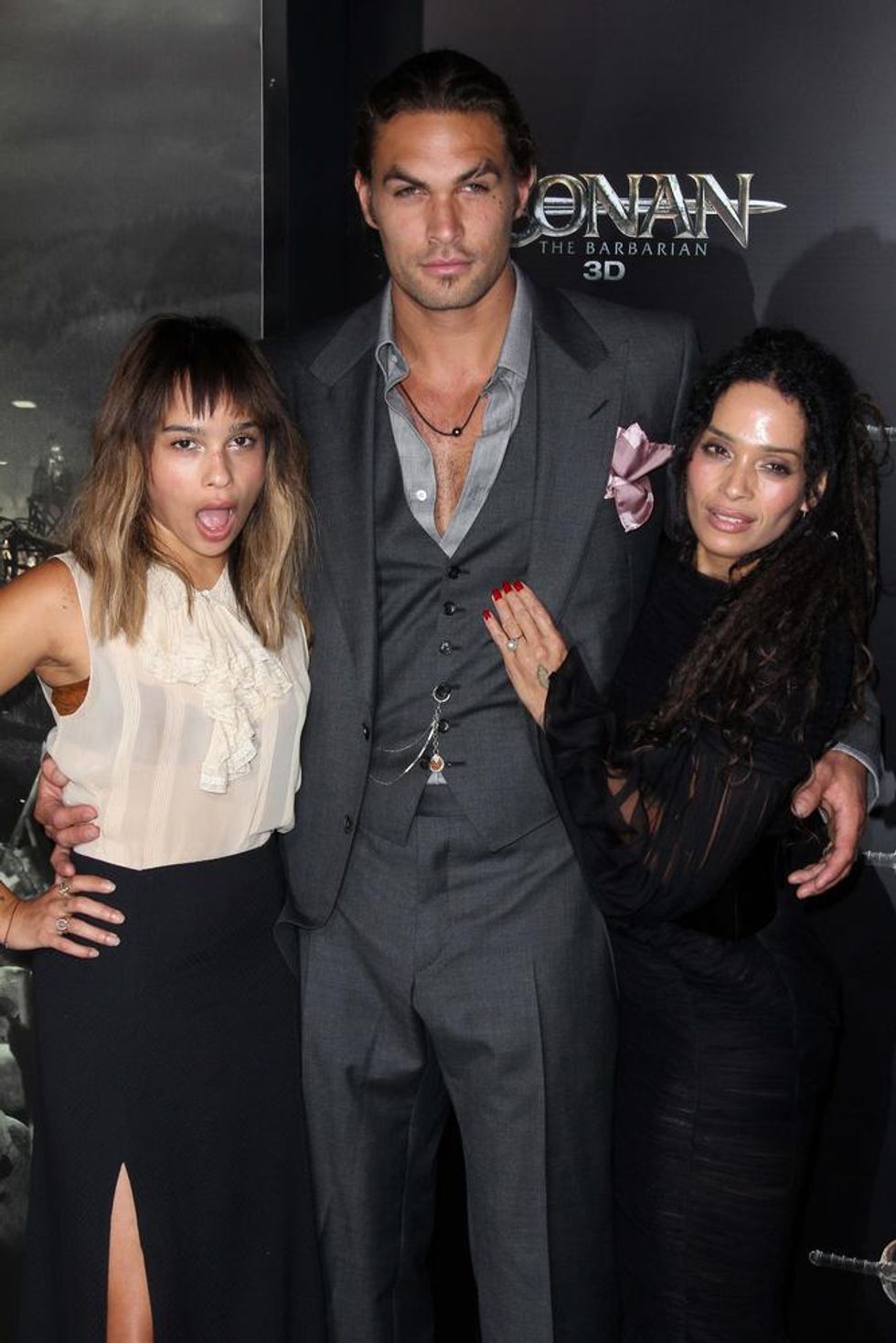 s_bukley / Shutterstock.com
As passionate as Lisa and Lenny's love story may have been, it was short-lived and after seven years of marriage and one child together, the marriage ended in divorce in 1993. Despite the couple's inability to sustain their romantic relationship, Lenny says that there is no love lost and has even developed a life-long friendship with Lisa's husband, Jason Momoa, who even gifted Lenny a matching skull ring last year. He told USA Today:
"Yeah. For me, if you have a situation where you break up, that love does not vanish. You can't kill that energy, but the love will transform. So if I'm not loving you like this, I'll be loving you like that. We had a child (Zoë, in 1988), and we knew this was the only way."
"Letting love rule was always our example and the way we had to live. We're the best of friends and we're one big family: her new husband (actor Jason Momoa), her children, Zoë and myself. It's all love."
Lenny and Lisa prove that breakups don't have to be bitter and co-parenting can be lit AF when you're doing it right.
To read Lenny's full interview, click here!
Featured image by Featureflash Photo Agency / Shutterstock.com

Keep reading...
Show less
Black women aren't just securing bags in 2020, we're securing generational wealth and Yara Shahidi's first look real with ABC proves that I'm speaking big facts.
Recently, it was announced that the Grown-ish star and her mother, Keri Shahidi, launched their production company, 7th Sun Productions, a major mommy-daughter mogul move that Keri says the power duo "manifested".

In a previous interview with Glamour, Yara revealed that her mother is her biggest cheerleader and explained that it's because of her mom's relentless guidance that she's able to fly beyond her wildest imagination:

"She constantly says to me, 'You deserve to be in the room.' One thing I'm still trying to figure out is how to advocate for myself as strongly as she advocates for me. It's important that women of color and anyone from marginalized identities understands that they will try to intentionally unsettle you. They'll do this so that you'll spend so much of your time trying to convince people you belong that you don't get to dig in and do the work you were meant to do."
"I've always been curious. My mother always says, 'There's nothing more interesting than an interested human.' And I've just always been interested."
For more of our favorite famous mother/daughter duos who are simultaneously securing bags and leaving a legacy for their children's children at the same damn time, scroll below!
Thandie Newton & Nico Parker
If twinning was a person, it would be Nico Parker because that girl looks just like her mama. Booking the lead role in Dumbo and launching her career on the big screen before the age of 16 only proves that this young starlet is following in her mother's footsteps and will secure many a bags in her future.
Diana & Tracee Ellis Ross 
Diana Ross has been serving us moments for more than five decades and Tracee's recent role in The High Note proves that she's here to pick up the torch. While these two ladies have found success in different lanes of the entertainment industry, Tracee has always been outwardly appreciative for her mom's guidance in helping her build a legacy of her own.
Jada Pinkett & Willow Smith
Although Willow Smith had already broken into the entertainment industry with her 2010 hit "Whip My Hair", viewers got to see a different side of the now 19-year-old starlet when she, her mother, and grandmother launched the Red Table Talk and took the internet by storm.
Zoe Kravitz & Lisa Bonet
Although Zoe Kravitz may be the spitting image of Lisa Bonet, she's creating a lane in the entertainment industry of her own. As the lead on Hulu's High Fidelity and co-starring in HBO's mega hit Big Little Lies, it's clear that the best is yet to come for this lineage of moguls.
Featured image by Ovidiu Hrubaru / Shutterstock.com
Keep reading...
Show less
When and if I do ever get married, if he doesn't look at me like Jason Momoa looks at Lisa Bonet, I'm turning my happy ass right back around and going home, and that's facts.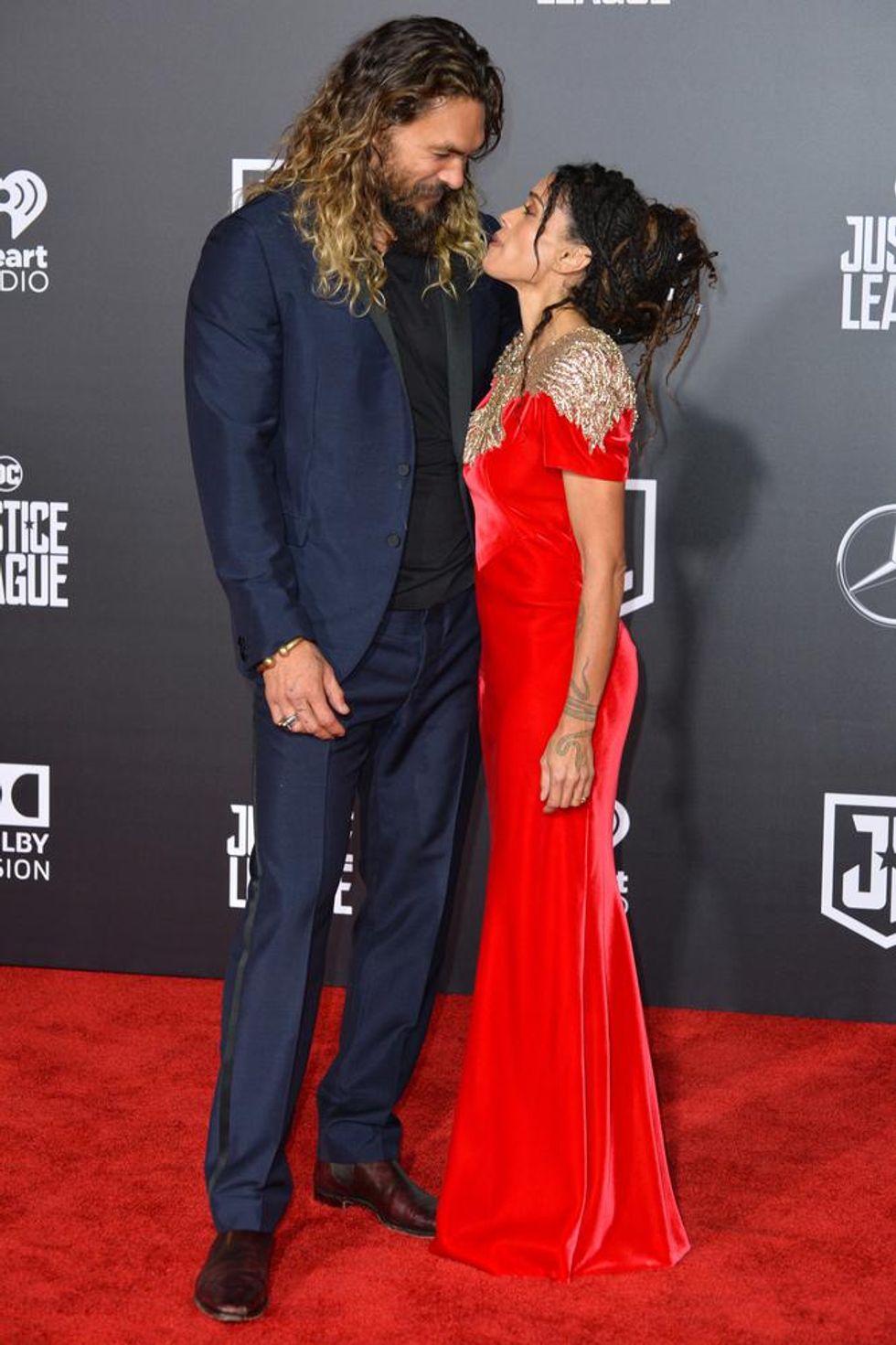 Featureflash Photo Agency / Shutterstock.com
In 2005, Lisa and Jason began their whirlwind romance and now after two children and twelve anniversaries, Jason says he's still just as in love with his wife as the day he first saw her, which was approximately 32 years ago. In a recent interview with Esquire, the 40-year-old actor opened up about how his childhood crush ultimately became his forever.

In the cover story, Jason had a message for hopeless romantics and skeptics of love, alike. According to the Aquaman actor, his marriage to Lisa Bonet is proof that dreams really do come true. He explained:
"If someone says something isn't possible, I'm like, 'Listen here, I married Lisa Bonet. Anything is f—ing possible.'"
In a 2007 interview with James Corden, Jason revealed that he's had a thing for his spouse since her days on The Cosby Show and more than three decades later, their relationship is still poppin' like the 4th of July.
"I was like, 'Mommy, I want that one. I'm like, 'I'm going to stalk you for the rest of my life and I'm going to get you."
While it would be years after The Cosby Show before Lisa and Jason officially connected for the first time, Lisa and Jason are proof that when you know, you know. Jason said that although, at the time, marrying Lisa only seemed like an unrequited dream, it didn't stop him from stalking TF out of her in the meantime and at only 26 years old, Jason's wish finally came true after unexpectedly meeting his dream girl at a Jazz Club in L.A.: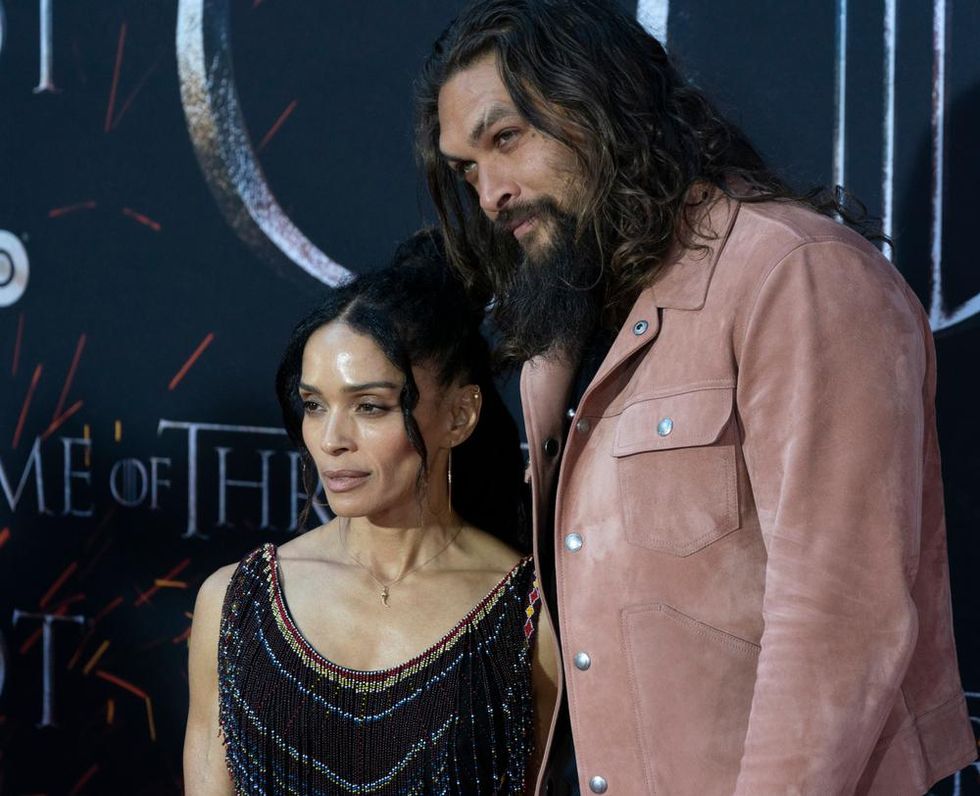 lev radin / Shutterstock.com
"We just happened to be at the right place, right time, mutual friends. I actually had dreaded my hair almost for her. I had huge dreadlocks, she had dreadlocks. I literally turned around, I was with my best friend, and I see her and I'm just like [pause]... She goes, you know, 'I'm Lisa.' I was like, I turned around to my friend and was like, [teen girl shriek of excitement]. I had f--king fireworks going off inside me, man!"

Although it was rumored that Jason and Lisa married in 2007, the couple didn't make their nuptials official until October 2017 and currently share a home with a donkey, two wolves, a pup named Rama in the Southern California mountains and look more in love than ever. Last year, in an interview with Net-A-Porter, Lisa echoed this admiration for her spouse and opened up about how this Aquaman quenches her thirst in every way. Along with being an amazing dad, the actress says Jason ended up being the gentle giant she didn't know she needed:
"What's cool about Jason is that he's an alpha male who stands for love and family. And to circle back to my own wounds, having an absent father, then to be fully met by a man of that stature, is really incredible. Jason embodies a rare form of masculinity in this day and age – he's a leader; he's generous. Just in terms of charisma, physique, the right use of power, responsibility, work ethic, you can go down the line."
Featured image by Getty / Rodin Eckenroth.
Keep reading...
Show less