You may know her as the funny girl, but during the pandemic, our good sis Tiffany Haddish has shed an impressive 40 pounds (which we didn't even know that she could lose), making her go from our resident comedian, to the fitness inspo that we didn't know we needed!
In a recent Instagram video, Haddish revealed that last year on her birthday, she topped 182 pounds. But throughout the past several months, the comedian has worked hard, and that work has paid off in an inspiring way. Haddish, who recently turned 41 (Dec. 3), said she was inspired to lose the weight by a unlikely heroine, the late Olympian Florence Griffith Joyner. She said:
"I had this thought in my mind that I want the body of Flo-Jo!"
And from there, she made her mind up and went in full throttle. Recently, she disclosed what steps she took to drop the pounds.
Here's everything Tiffany Haddish did to lose 40 pounds to drop the weight and live a healthier lifestyle:

Are you a member of our insiders squad? Join us in the xoTribe Members Community today!

Feature image via Tinseltown / Shutterstock.com
Keep reading...
Show less
Has your travel style affected your relationships while on vacation? The more I travel, the more I'm learning that you never truly know a person until you leave town with them. That's why it's important to have conversations about the kind(s) of experiences your companions plan to have before getting on the plane. This can prevent a lot of disagreements. We all work hard and shouldn't be caught off guard by another person's expectations of the trip, or made to feel guilty for ours.
While we're not doing a whole helluva lot of traveling at the moment, I'd like to break down some of the most common travel styles to help you to start a dialogue with your travel buddies of the past and future and come to a common ground that works.
The Adventurer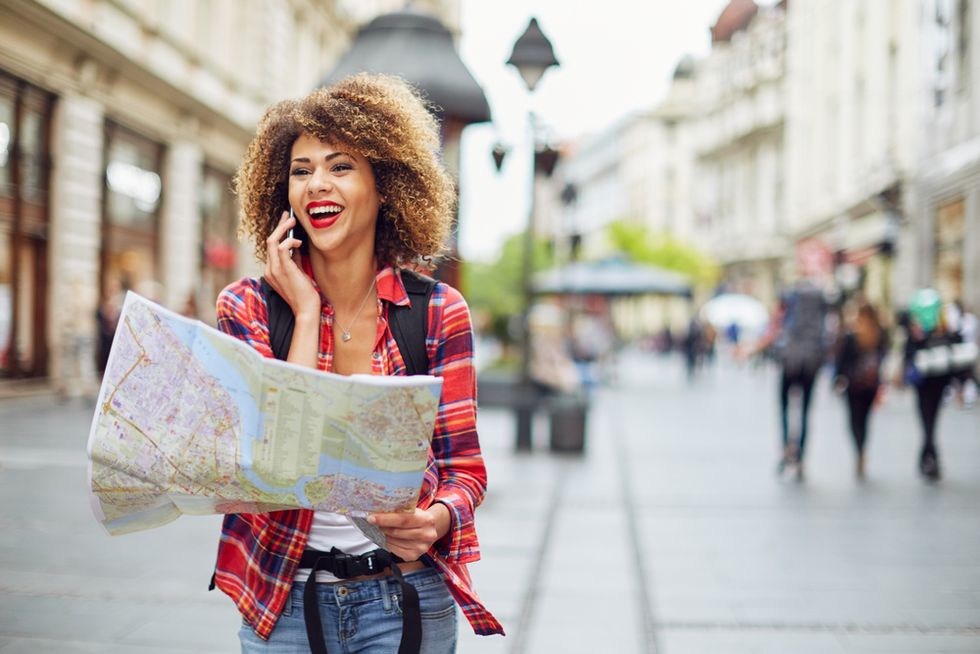 Shutterstock
This traveler is interested in all adventurous activities, from a simple hike in the woods to more extreme sports like BASE jumping and waterfall rappelling. They live by the seat of their pants most likely and probably won't do well with a vacation itinerary. The term "Y.O.L.O." comes to mind with these kinds of people. If you're more laid back or even a little fearful, the adventurous traveler is probably not your speed. They'll have you trapped in a haunted house screaming for help while they're having the time of their lives!
The Group Trip Traveler
This traveler is either gregarious and thrives off of meeting new people or just has a huge travel crew that they know and trust. They're the type that is always down for a party and loves to be around lots of people. This is usually an introvert's worst nightmare. So before venturing out with this kind of person, you might want to ask "who all gone be there" in an effort to prevent multiple personality clashes during the trip. If you prefer more intimate getaways, this isn't the person you want to vacation with.
The Luxury Traveler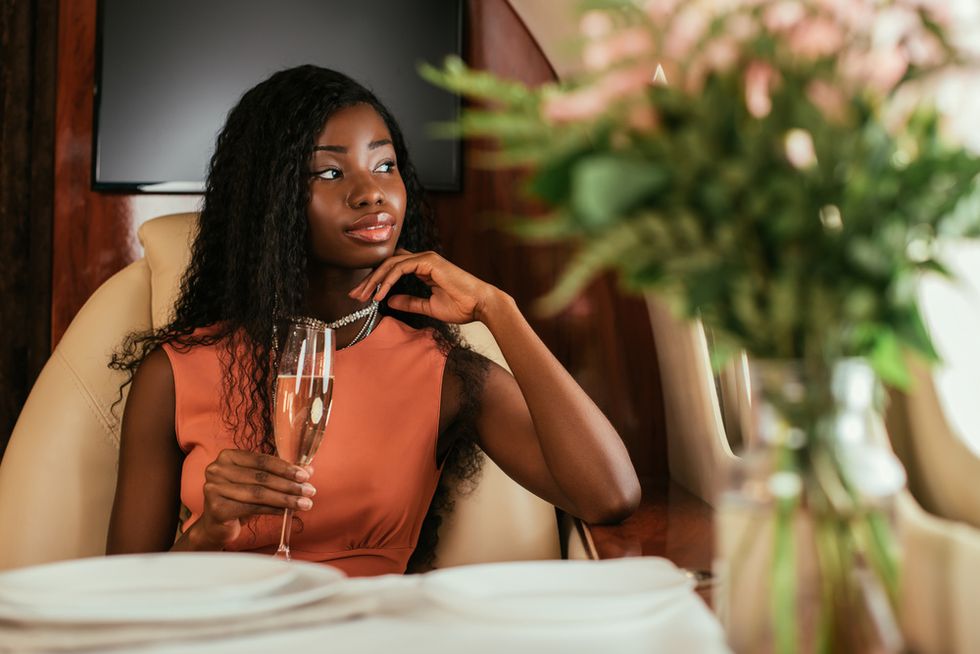 Shutterstock
Money is no object for this traveler, but you can run into an issue if they expect you to "ball out" as well. They travel first class, take shopping sprees, stay at the best 5-star accommodations, and eat at the most expensive restaurants. If you're a person who likes to vacation on a budget or you're just downright cheap, pick someone else to roll with. You'll only be cramping their style. Your Capital One card with the $1500 limit will never measure up to their Black Card.
The Solo Traveler
This is the kind of person who is totally and completely comfortable with being by themselves—no bells and whistles, no extras. Many times, they prefer to travel solo because not only do they get to be alone with their thoughts, but they can march to the beat of their own drum and come and go as they please without having to check in with anyone or compromise on plans. I recommend that we ALL take a crack at this particular travel style at least once. There's nothing more freeing than exploring the world solo.
The Partier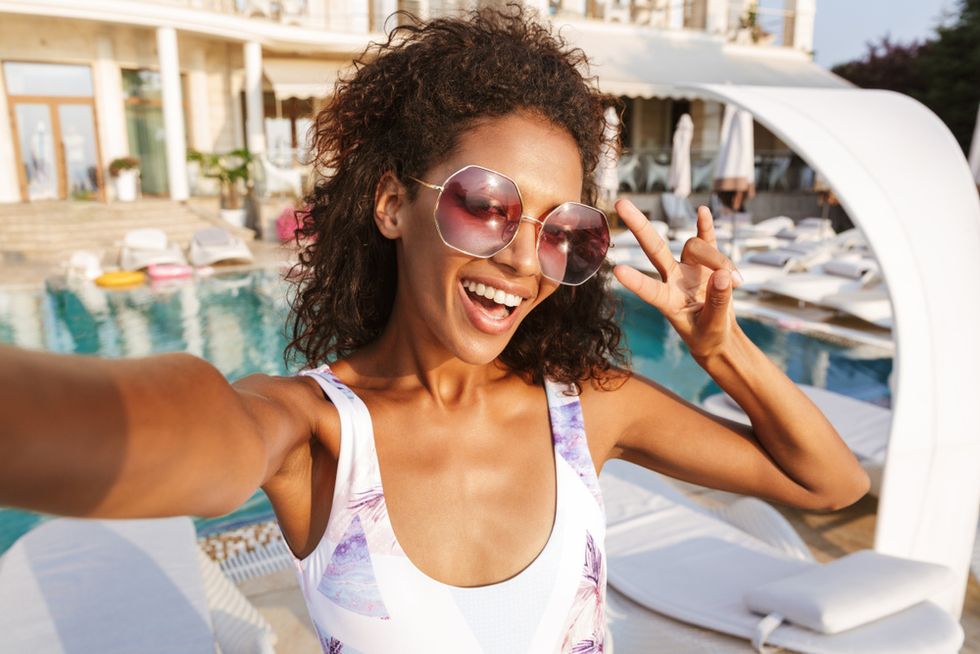 Shutterstock
The motto is "team no sleep" for this traveler. The moment they get off the plane, they're making a b-line to the shower (hopefully) so that they can head straight to the club and party till they drop! Expect lots of booze and blackouts with this travel type. They know how to have a good time wherever they go, but sometimes they can take things too far due to their excessive liquor consumption (which makes for interesting post-vacation stories). You're lucky if you get back to the room before sunrise! But if you love the nightlife and your liver is up for a wild ride, they could make for a memorable travel buddy.
The Family Traveler
This traveler has loaded up all of the "essentials", booked a kid-friendly hotel and prepared an itinerary full of activities to keep the whole family (especially the little ones) engaged. There won't be any visits to the strip club or wild drunken nights with this traveler. Expect a lot of good, "clean" fun and possibly a set bedtime. If you're someone who loves running around with children (even if you don't have any of your own), you may not mind tagging along with the family traveler. Keep in mind that a lot of patience and flexibility is needed.
Who did I miss?! What kind of travel style do you have? Let us know in the comments!
Featured image by Shutterstock

Keep reading...
Show less
Fundamentally speaking, January is viewed as a fresh start. It's the beginning of a new year which by extension makes it the closing of an old one. And with it comes the mantra of breathing out the old and breathing in the new. People adopt lifestyle changes they previously had on pause, forgive themselves for past inadequacies, and strive to become better than they were. It's a common theme but it becomes more pronounced because of the way January glitters with such promise. For those of us truly intentional with it, January is the perfect excuse to set the tone for the kind of year you wish to have.
That desire rang especially true for the creative minds behind Aunt Jackie's Curls and Coils first-ever travel-sized collection and new collection of deep conditioning treatment masques Butter Fusions (coming to a store near you soon). In addition to unveiling two product lines, the Aunt Jackie's team saw it befitting to use the start of the new year and new decade in a refreshing way by living it up resort-style at El Dorado Seaside Suites in the beautiful Riviera Maya, Mexico.
To commemorate the product launch, Aunt Jackie's, led by Erika Pope, Charisma Lowe, and Kayla Walker, invited 12 black and brown hair influencers, as well as media including Brande Victorian (Madame Noire/HelloBeauitful), Arielle Hermanson (BETHer), Venesa Croger (Refinery29/R29 Unbothered), and myself.
Dubbed "The Curl's Trip", together we embarked as "curlfriends" on a plethora of curated resort experiences made possible by the all-inclusive El Dorado Seaside Suites. From community service to a catamaran ride, we lived! And here's everything we did.
The Location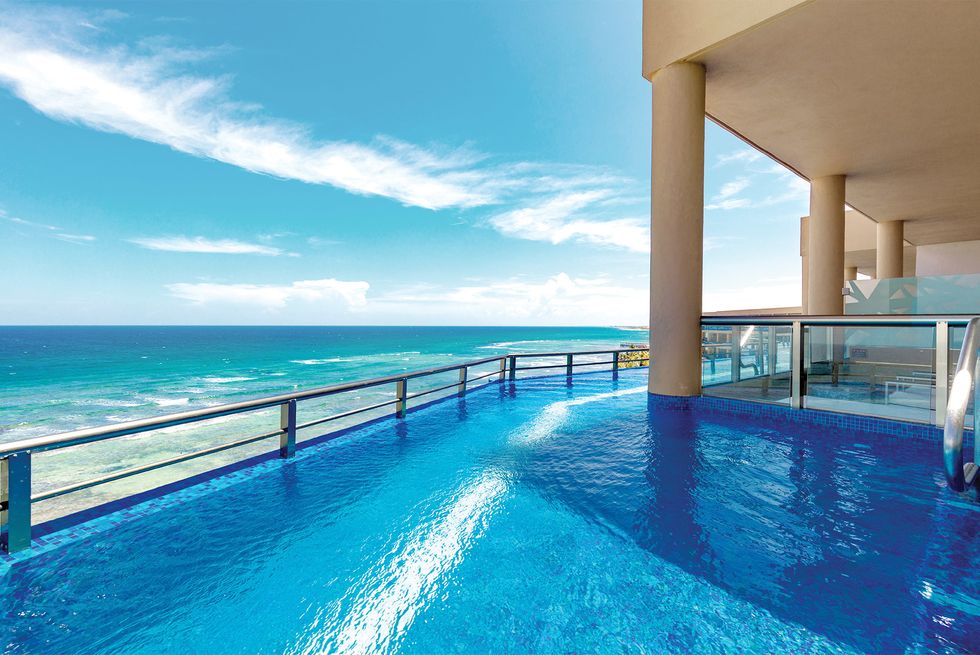 A room with a view.
Before delving into our Mexico itinerary, let's give a little background about the city and resort. In between the popular tourist destinations of Cancun and Tulum is the less-stated vacation destination of Riviera Maya. Located along the Yucatan peninsula and nestled on an underground river, the beautiful Riviera Maya was once comprised of sleepy fishing villages. These days, the magical place has transformed into a must-visit Mexican hot spot for explorers, scuba divers, nature lovers, and those looking to tap into beachy resort vibes. With their white sand beaches that feel like a pillowy cloud underneath your feet, palm trees, and never-ending sun, Riviera Maya, Mexico has something to offer anyone wanting a slice of paradise.
The Resort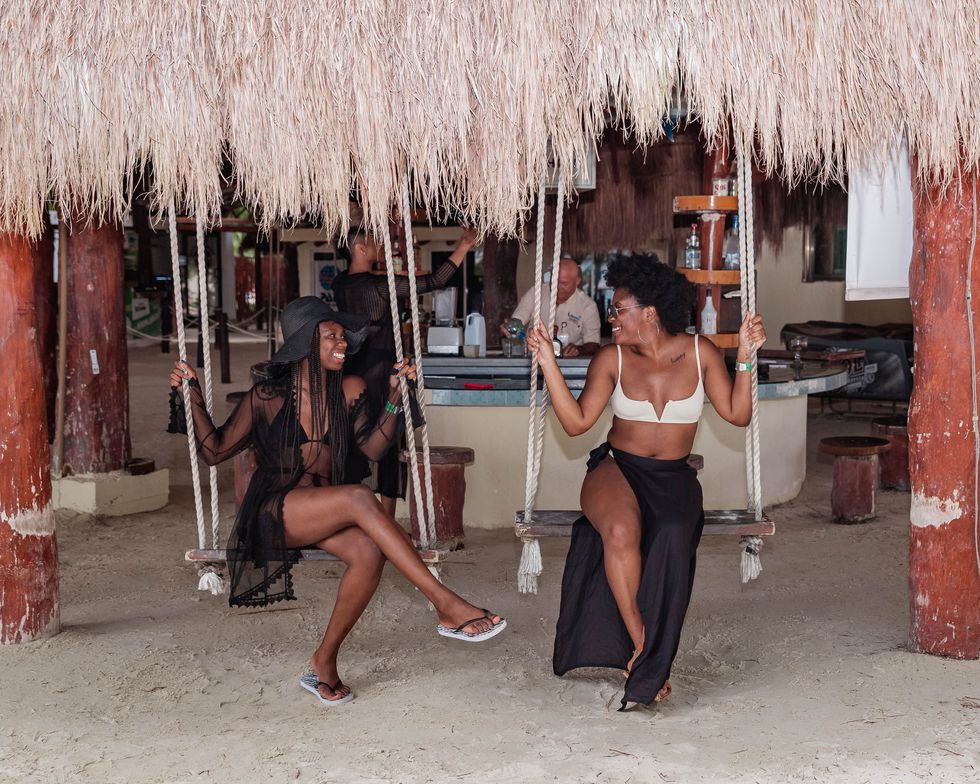 Venesa Croger and I swinging in El Dorado.
Photo by Onye Creative Studios
I've never been one to ride the resort wave, but El Dorado Seaside Suites has me singing a different tune. It was all-inclusive, the drinks weren't watered down, the waitstaff were eager for you to have as many drinks as possible, the food from the restaurants were delicious, as well as the room service. As a whole, El Dorado Seaside Suites are separated into two different sections that are very distinct in what they provide as far as Mexican hospitality. The original section gives you island life vibes with the lush palm trees, the seemingly endless expanse of white sand beach, and the architecture that screams Mexico. The Infinity, the resort's latest add-on, is where we stayed. Its building is all-oceanfront with swim-up suits connecting to balcony pools right outside of your room on every floor. The water is cool, inviting, and acts as the perfect backdrop for luxury and equanimity.
Paradise found.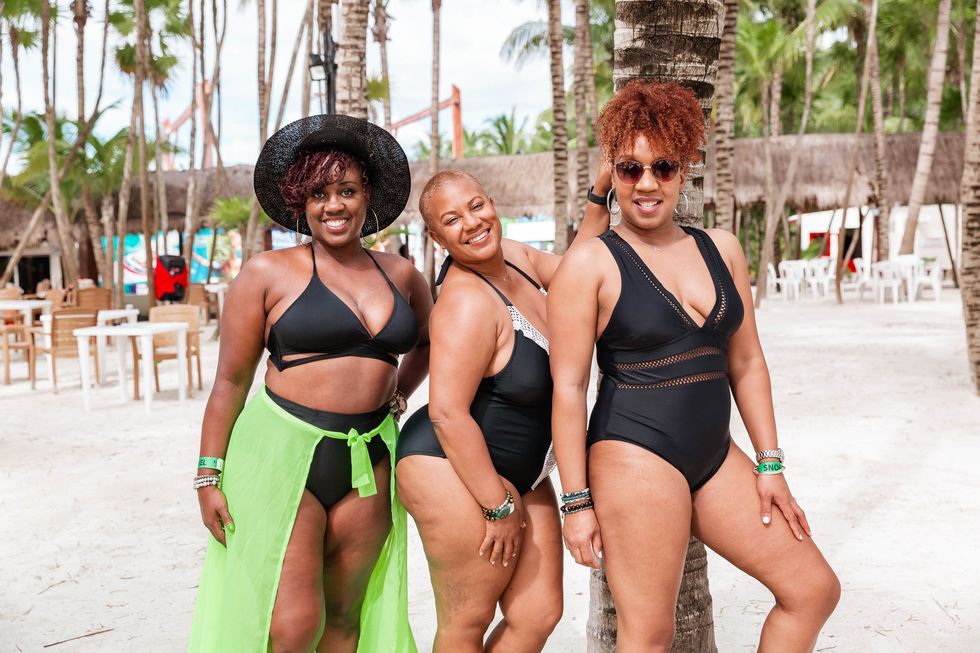 Nakesa Smith, Felicia Leatherwood, and Shaniqua Garrett strutting their stuff on the white-sand beach.
Photo by Onye Creative Studios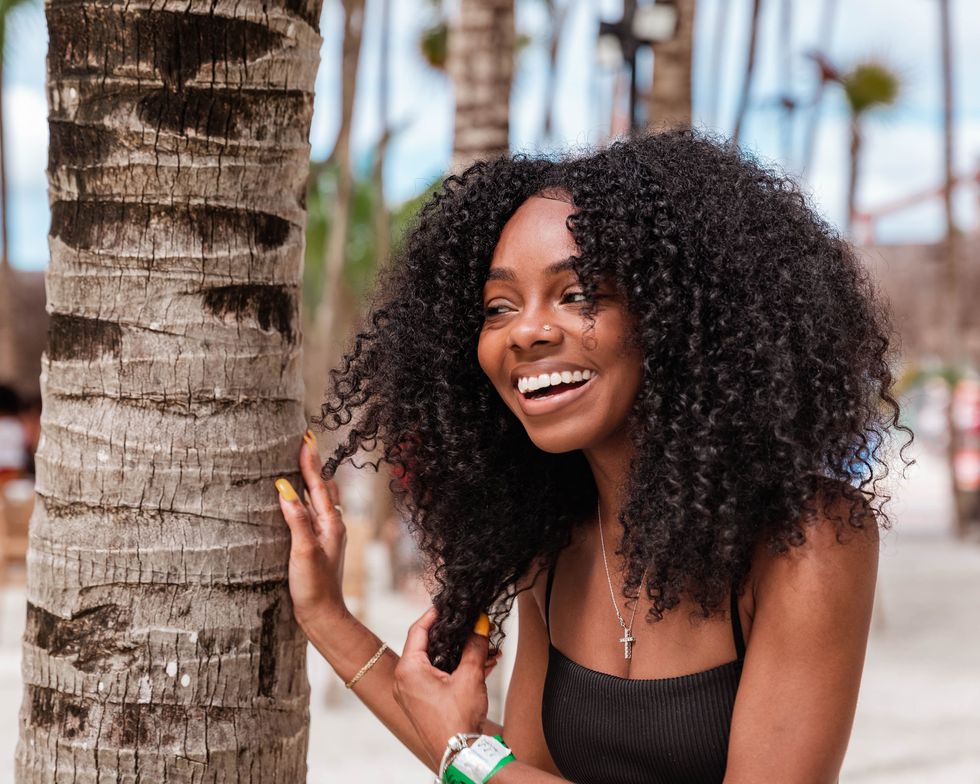 Shaniya (@sincerely_niya) looking easy, breezy, beautiful.
Photo by Onye Creative Studios
Community Service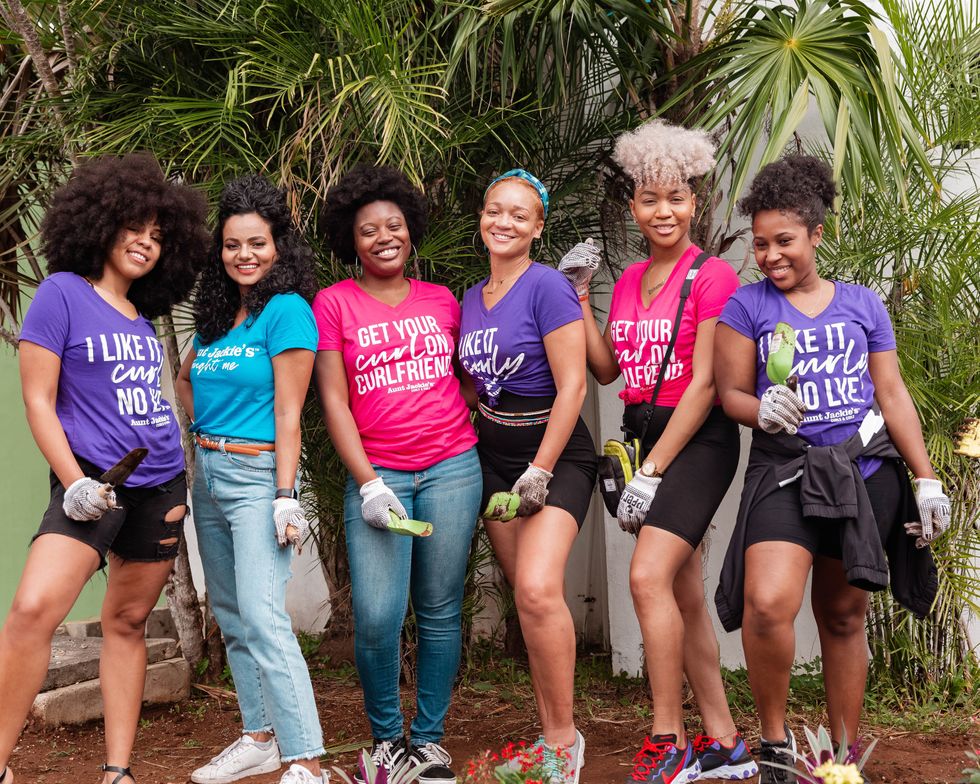 L-R: Mendez (@mendezisthatyou), Shalini (@shalinitin_srivastava), me, Erika Pope, Tiffany (@iam.tiffany.renee), and Mesha Thomas.
Photo by Onye Creative Studios
Volunteering is a small but major way to give back to a world that has been good to you. Aunt Jackie's put together a community service day with Centro de Atención Integral Playa del Carmen, a special education school catering to children and adults with disabilities. With the center, the ladies and I came together to complete two beautification projects. One was planting a garden and the other was painting a mural. It was so rewarding to enrich people's lives who live in a country that had been so good to us. It has also inspired me to volunteer more in my own community in the year ahead.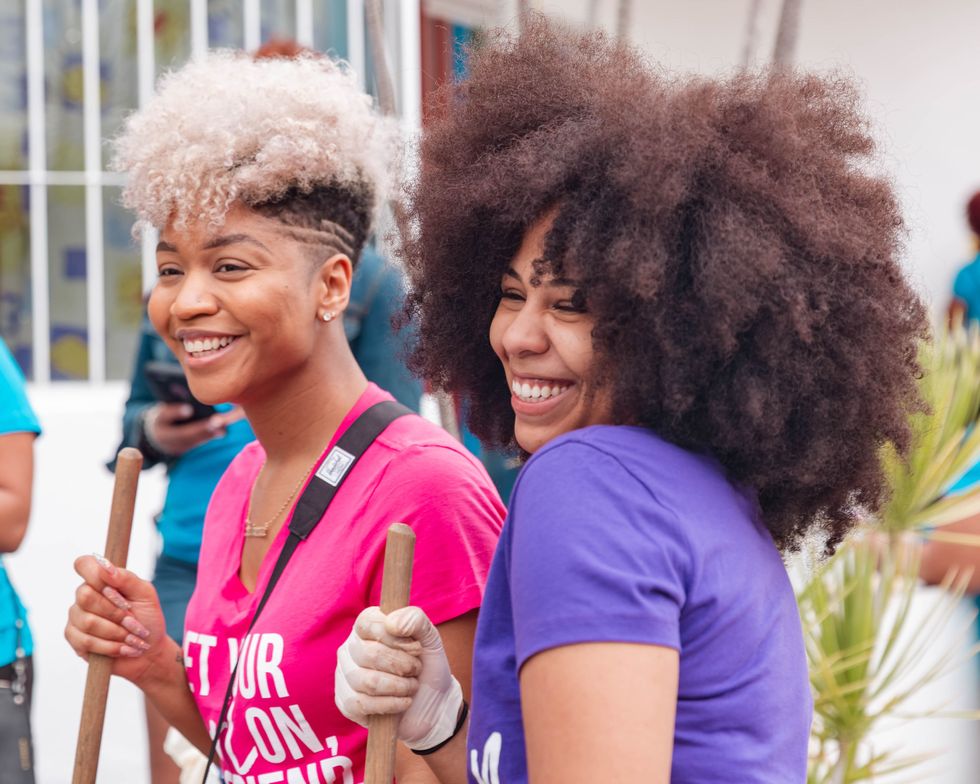 @iam.tiffany.renee & @mendezisthatyou
Photo by Onye Creative Studios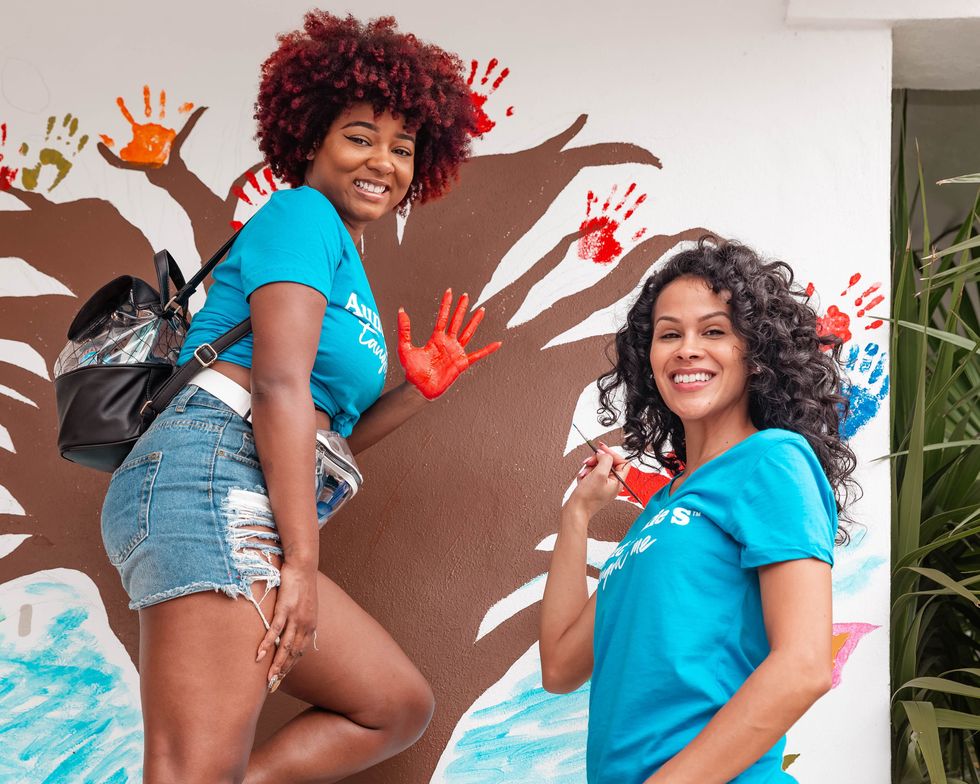 @dayelasoul & @justlikejackie working hard on the mural.
Photo by Onye Creative Studios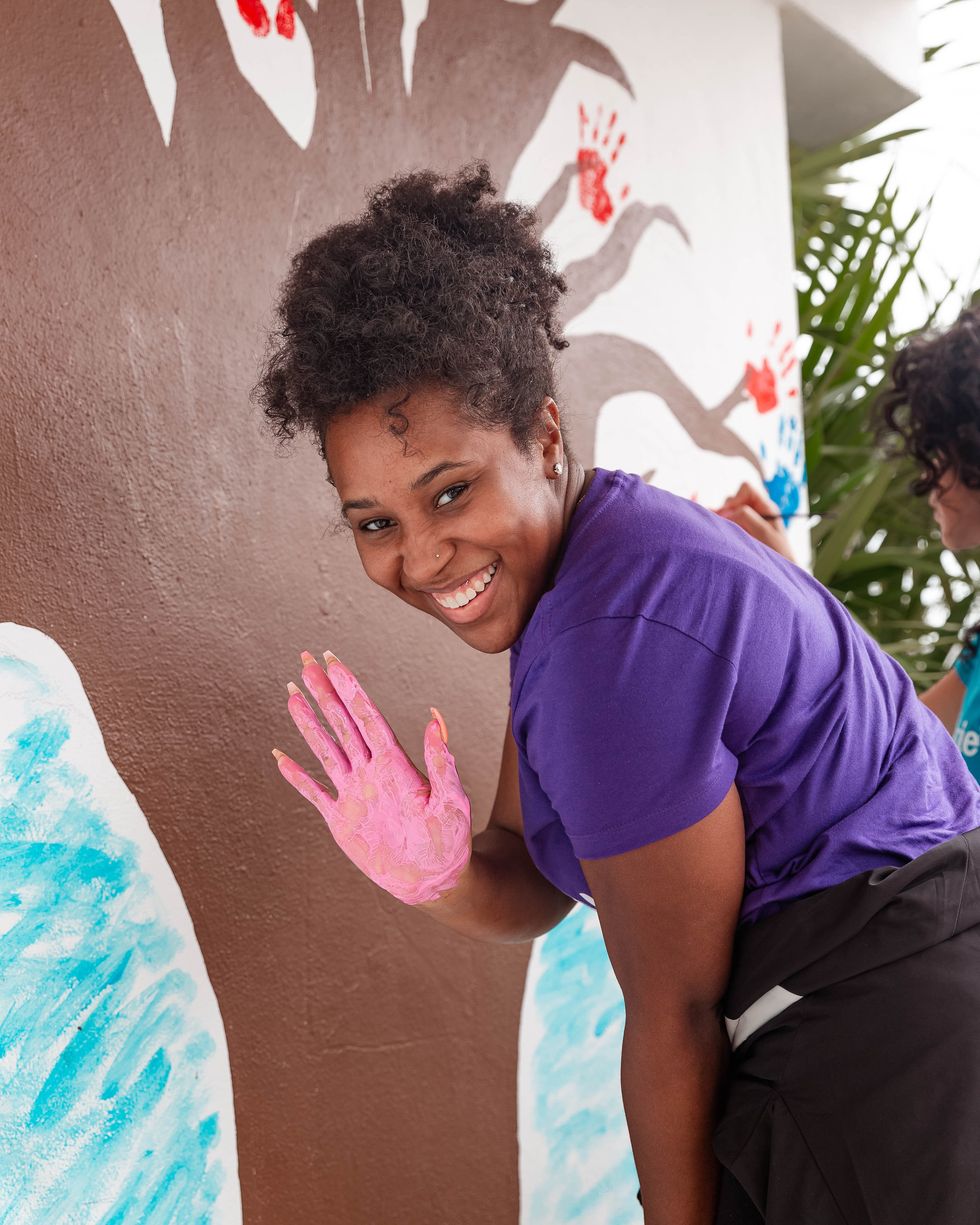 Hairstylist Mesha Thomas
Photo by Onye Creative Studios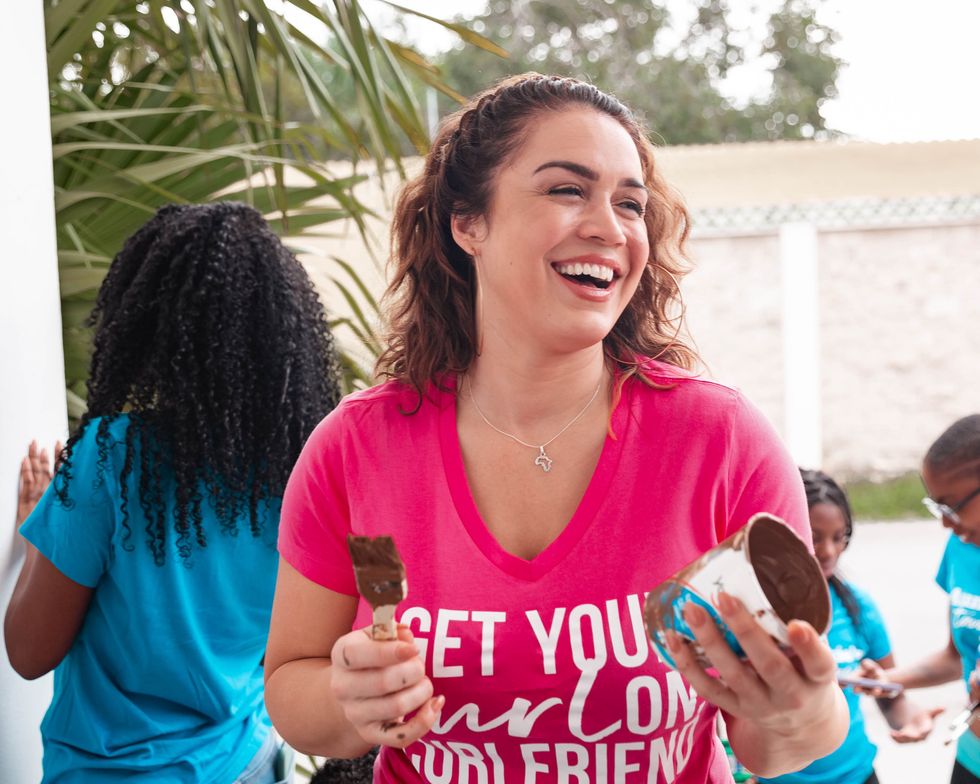 Chelsea Zan @chelseazan
Photo by Onye Creative Studios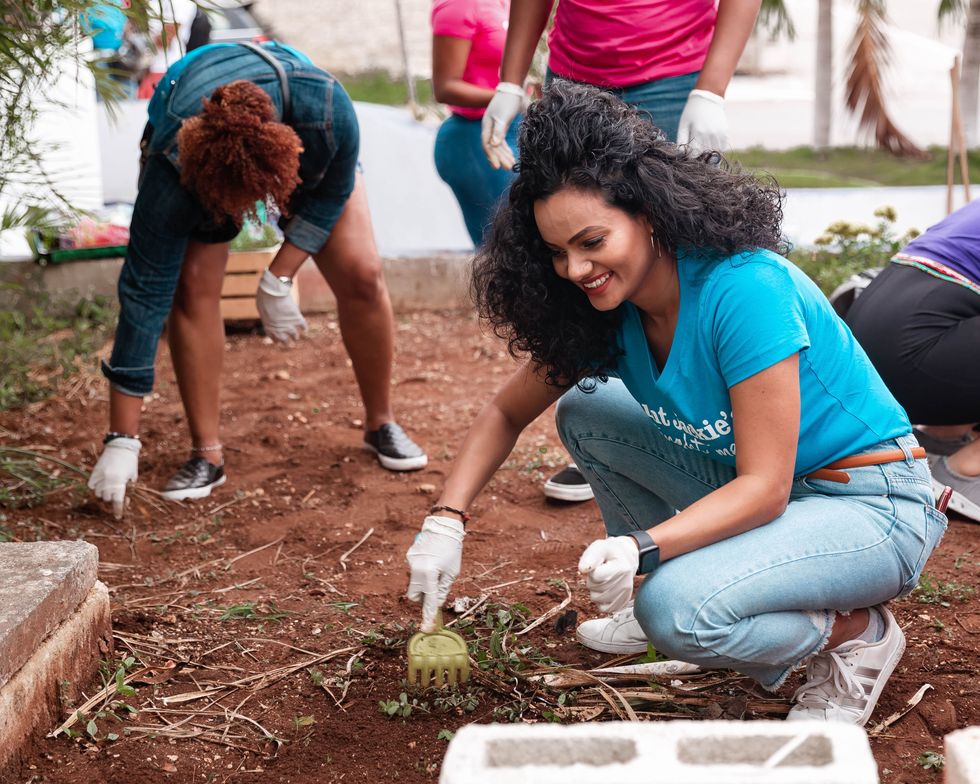 Shalini hard at work clearing the area for the garden.
Photo by Onye Creative Studios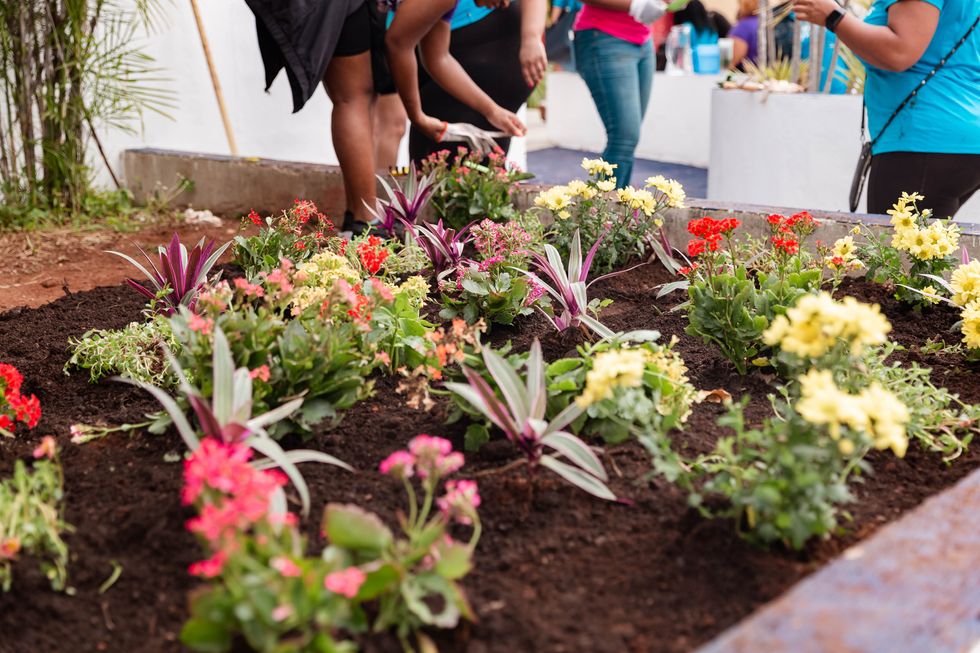 The finished product.
Photo by Onye Creative Studios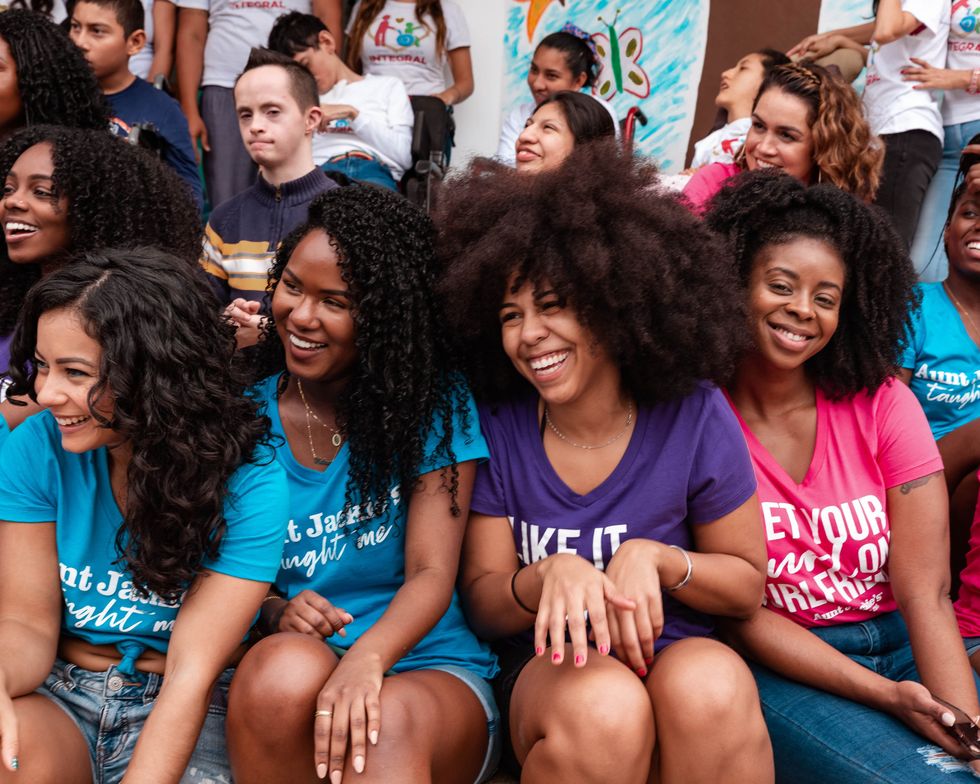 L-R: Nia Vox @niavox, @theglamtwinz, @mendezisthatyou, and Angeliah @ange_liah
Photo by Onye Creative Studios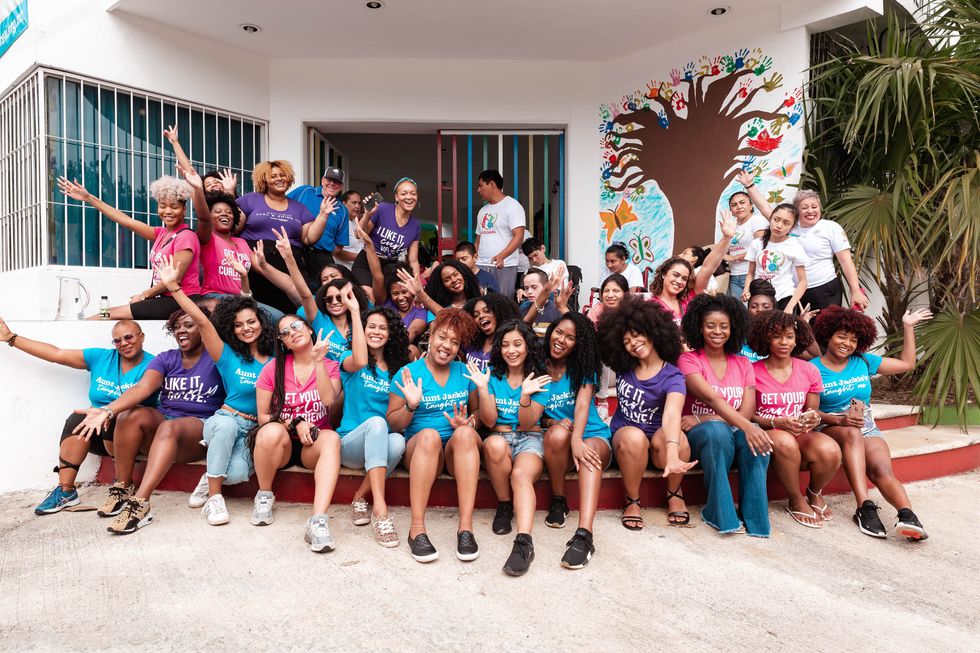 Photo by Onye Creative Studios
Catamaran Tour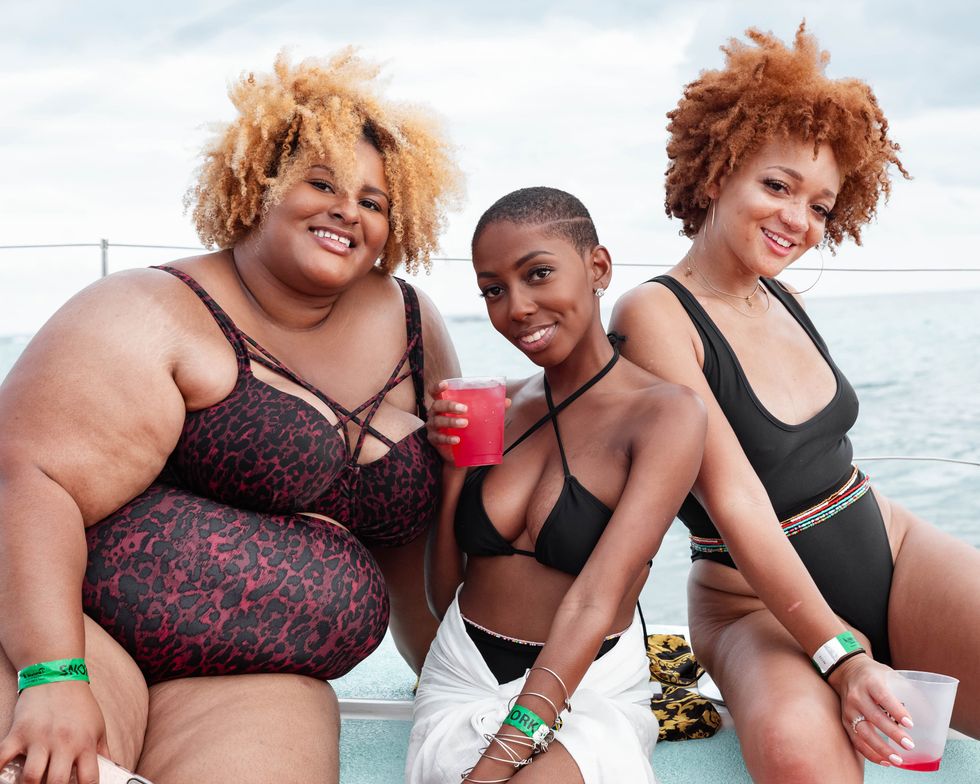 The ladies behind this immersive experience: Kayla Walker, Charisma Lowe, and Erika Pope.
Photo by Onye Creative Studios
Picture this, a catamaran tour sailing on the ocean for three hours with light bites, margaritas, and trap music. Maroma Adventure Restaurant Hotel & Marina had us feeling like it was our birthday as we took turns driving the boat with the captain's bottle of tequila and got sore knees trying to be like Megan. It was the ultimate turn up on the sea and we were riding the wave.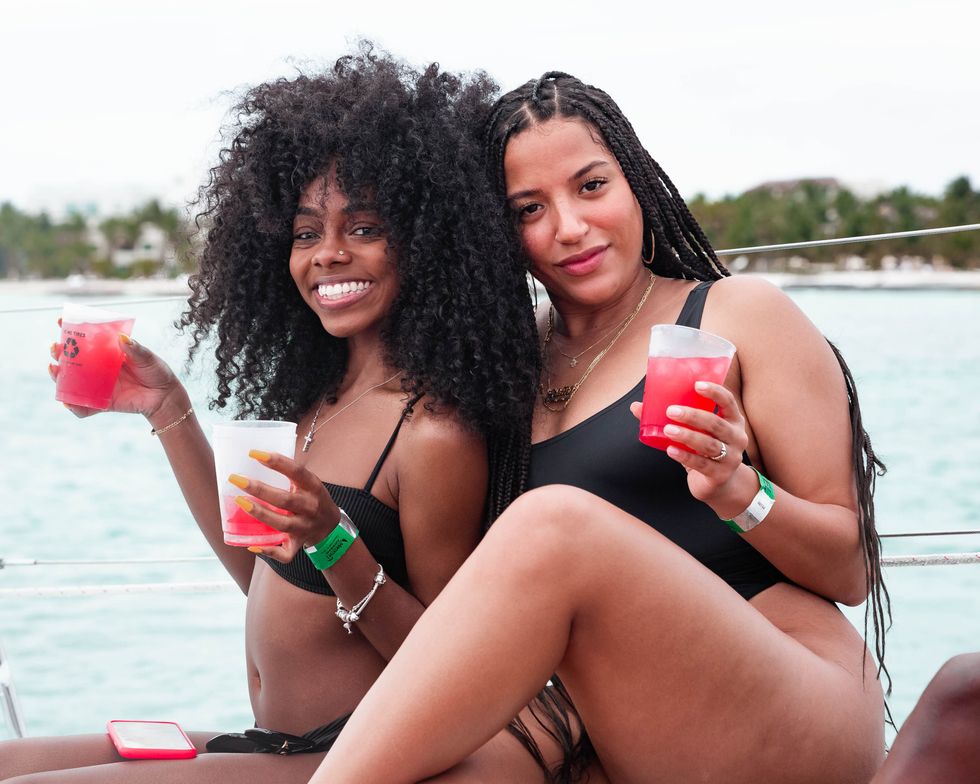 Shaniya @sincerely_niya pictured with Arielle Hermanson.
Photo by Onye Creative Studios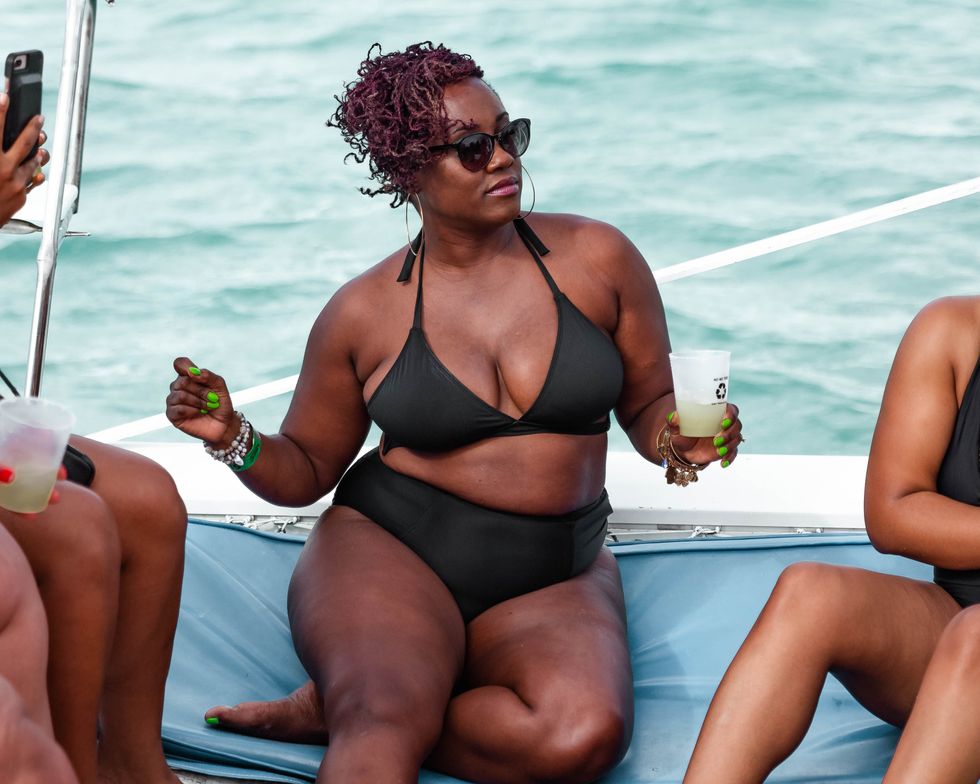 Nakesa Smith looking like a whole meal.
Photo by Onye Creative Studios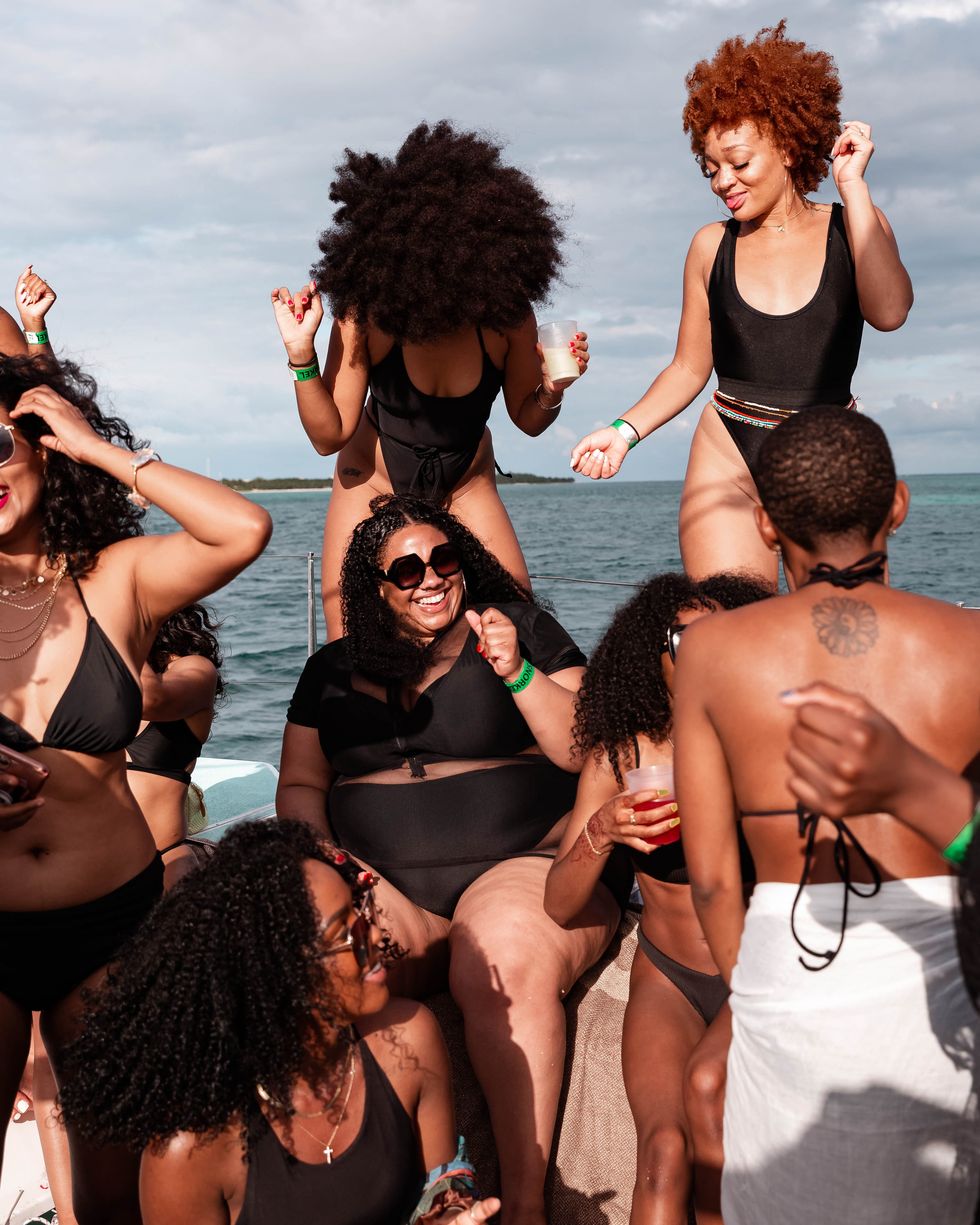 The Curlfriends of the trip looking like a whole MOOD!
Photo by Onye Creative Studios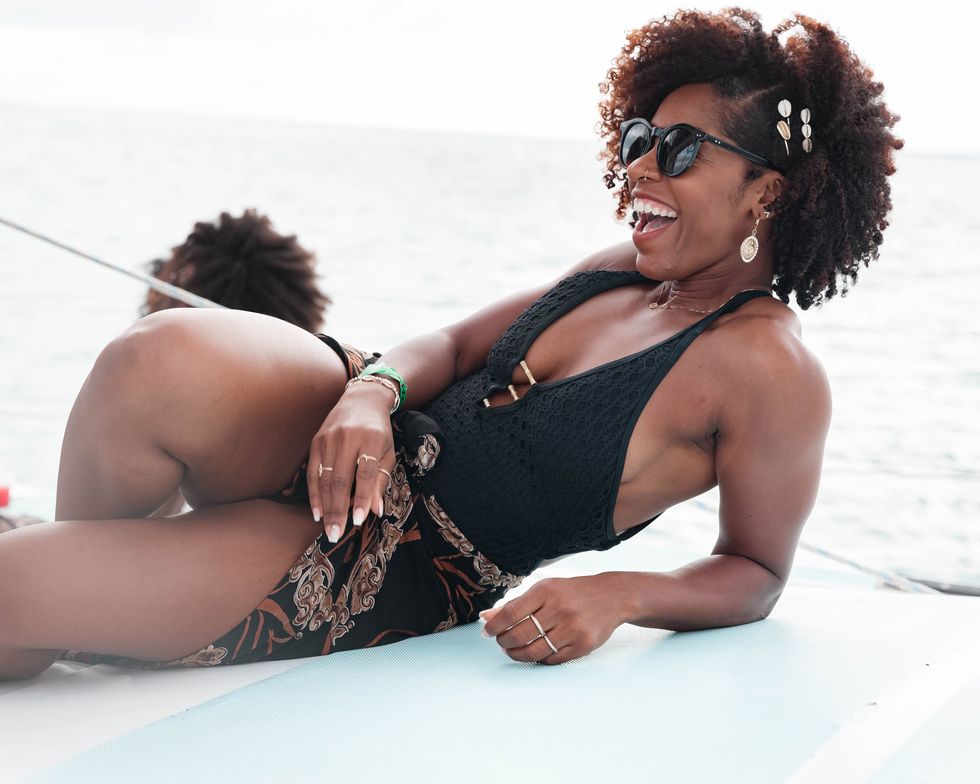 Kish @kishmycurls kicking back, maxing relaxing.
Photo by Onye Creative Studios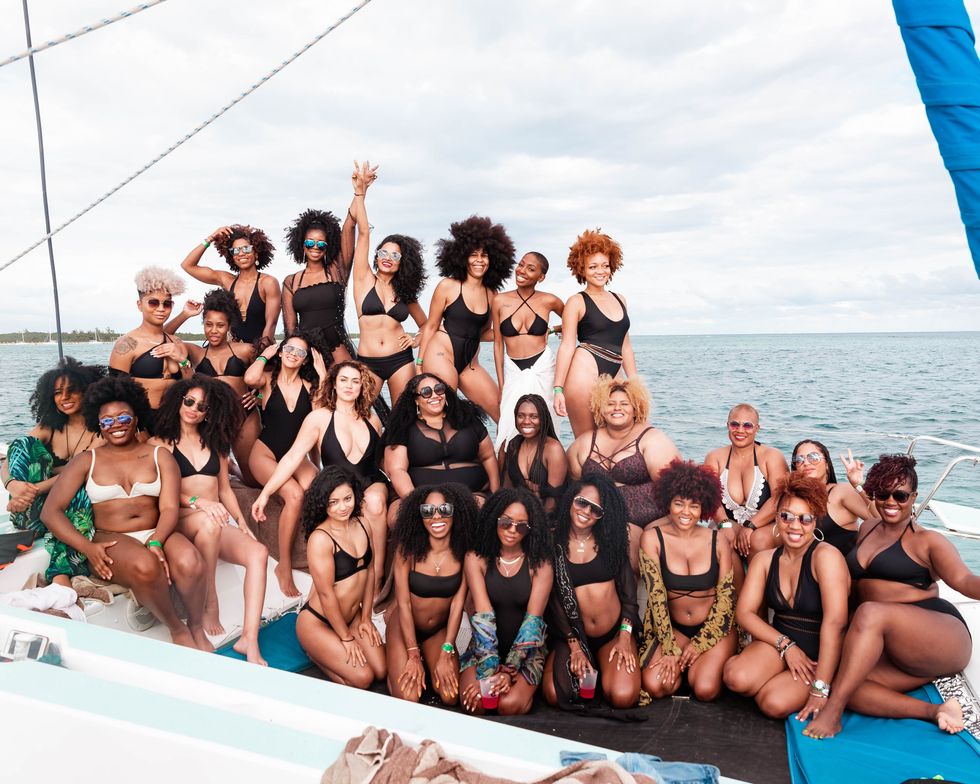 Photo by Onye Creative Studios
Spa Retreat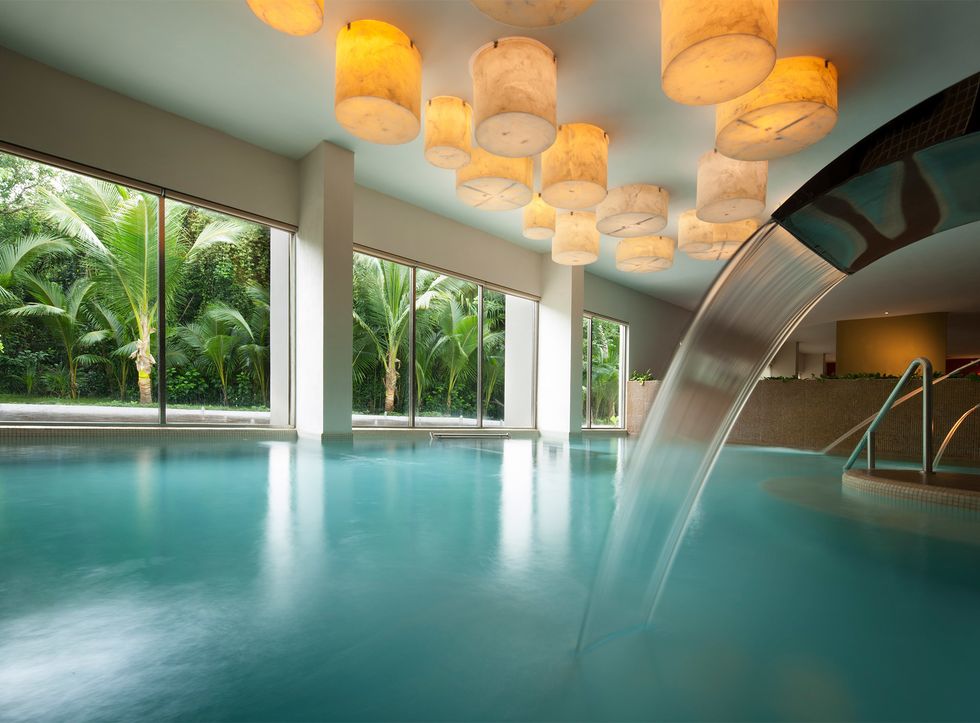 The Sensations pool located in the Náay Spa.
Next came the spa day at the resort's Náay Spa. The day was to be one filled with pampering and indulging. It was kicked off with a Mayan ritual ceremony that combined elements of Earth, Wind, Water, and Fire based on the principles of Mayan principles. To them, it is the way to inner peace. We began by undergoing hydrotherapy in groups. Hydrotherapy consisted of a steam room with eucalyptus clay to open up our pores, a cold room, and then we entered the sensations pool where welcomed by waterfalls and hydrojets that targeted different areas of our bodies to soothe and relieve. After that, we entered a hot tub, then a cold tub, and then ran in and out of an ice bath. The results were amazing.
Based on your preferences, you were then ushered into the room where you'd be receiving either a massage or a facial. I opted for a 55-minute full body massage. And I must say, it was easily the best thing that my body has ever experienced in mi vida.
Afterwards, Aunt Jackie's had a glam team on deck to wash and do some of the ladies' hair and makeup. Among the team were hairstylists Shaniqua Garrett and Nakesa Smith, makeup artist Mesha Thomas, as well as hairstylist and owner of the Detangler Brush Felicia Leatherwood.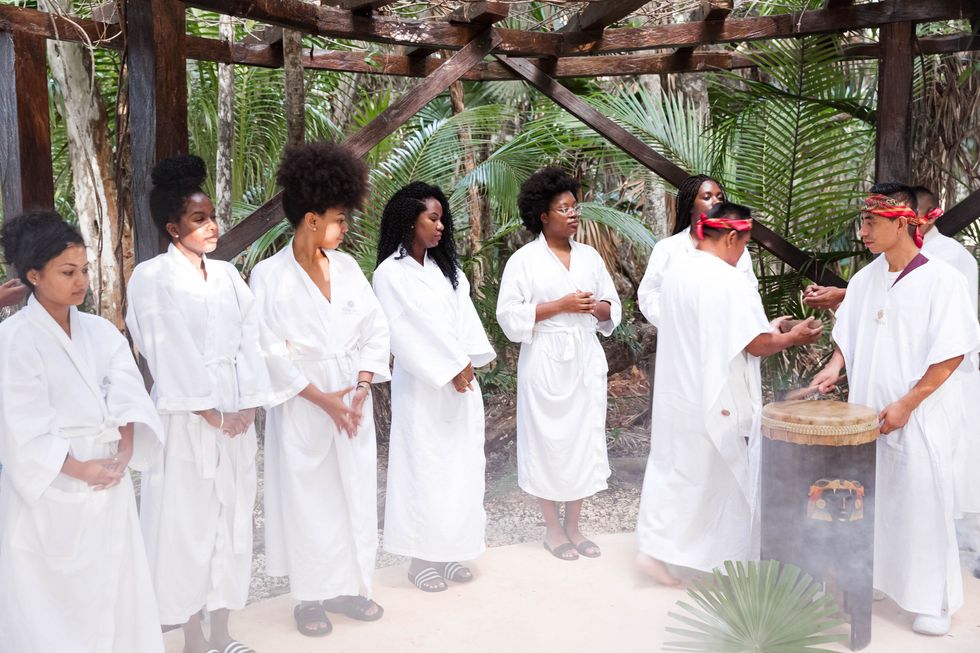 Taking part in the ancient Mayan ritual to kick off our spa day retreat.
Photo by Onye Creative Studios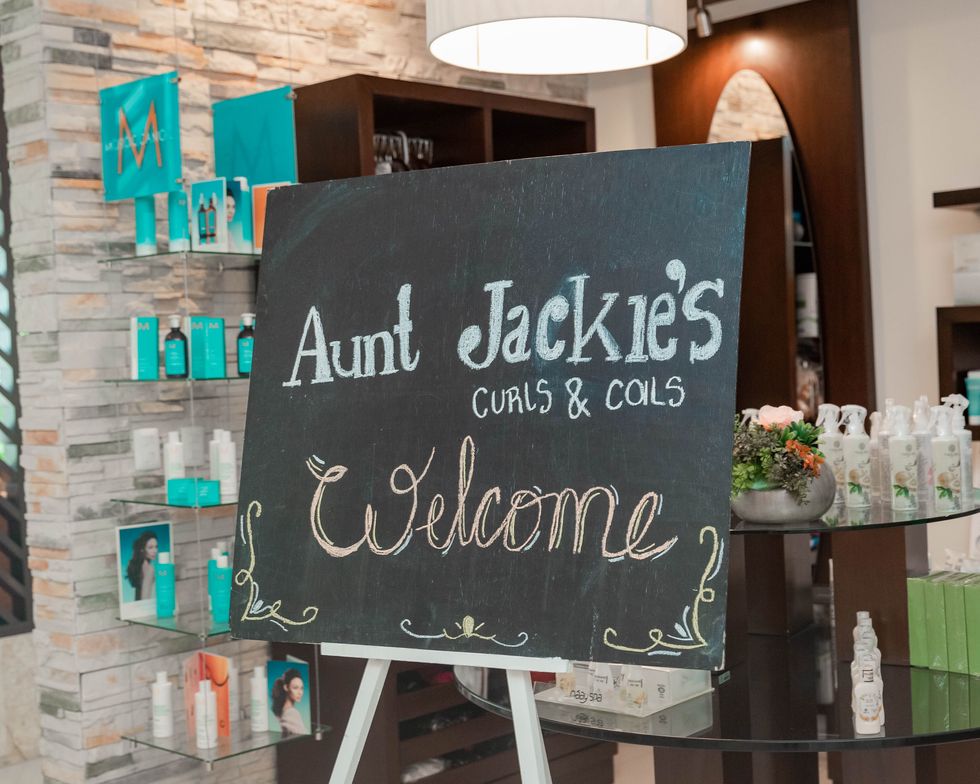 Welcome Aunt Jackie's Curls & Coils!
Photo by Onye Creative Studios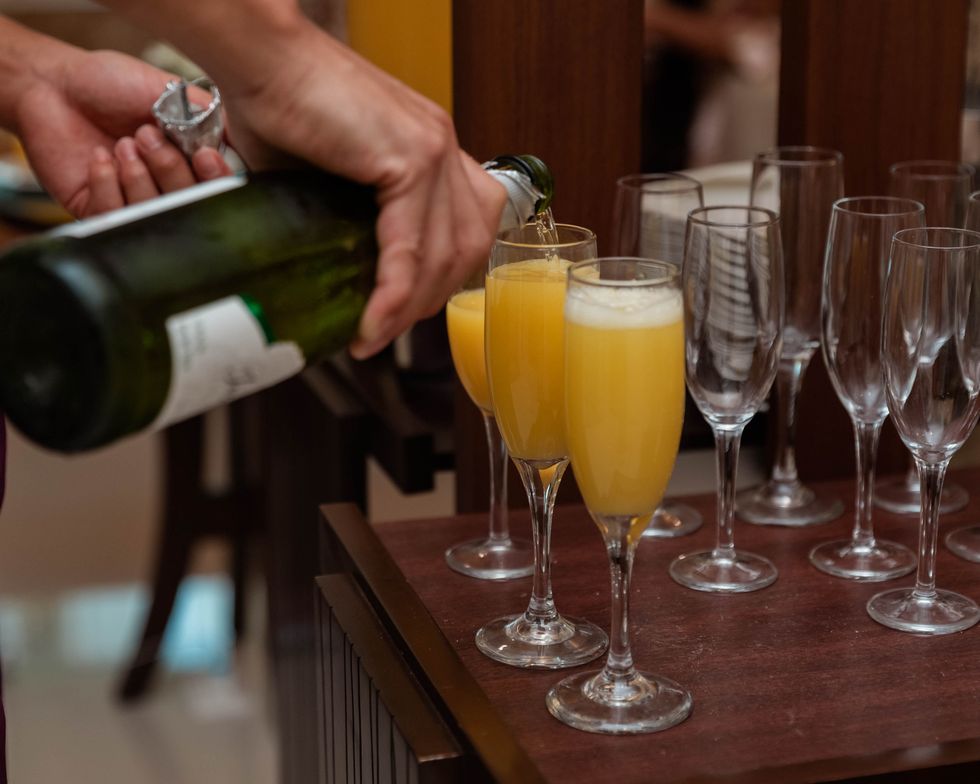 Mimosas all around!
Photo by Onye Creative Studios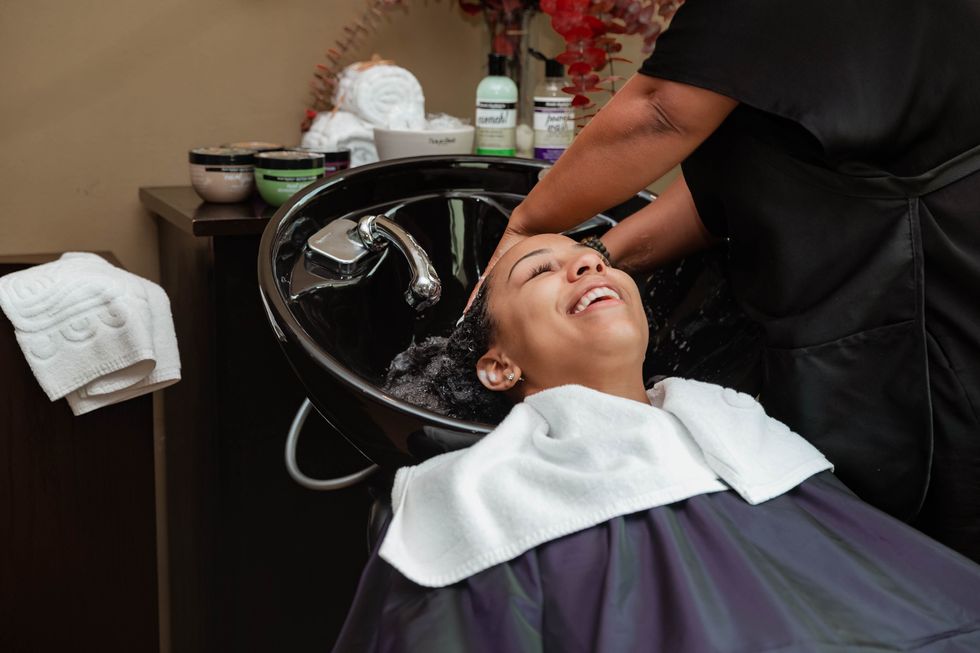 Photo by Onye Creative Studios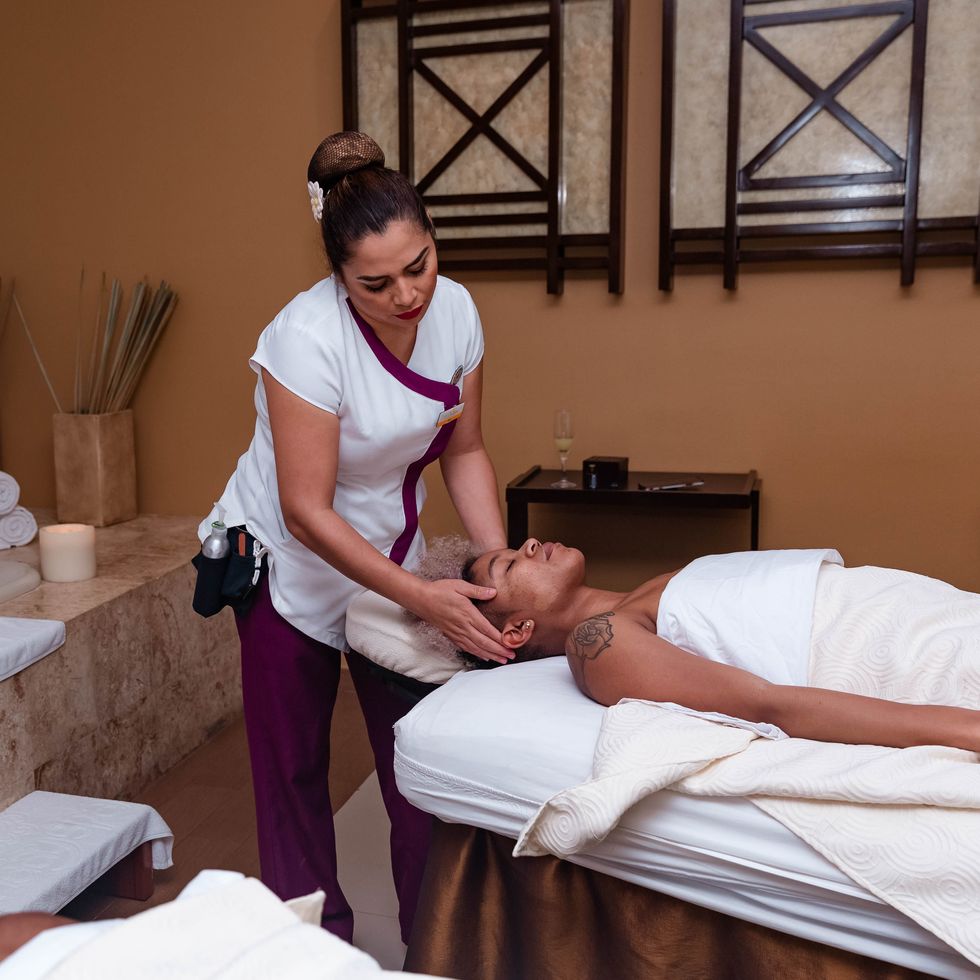 Tiffany indulging in a facial provided by the spa.
Photo by Onye Creative Studios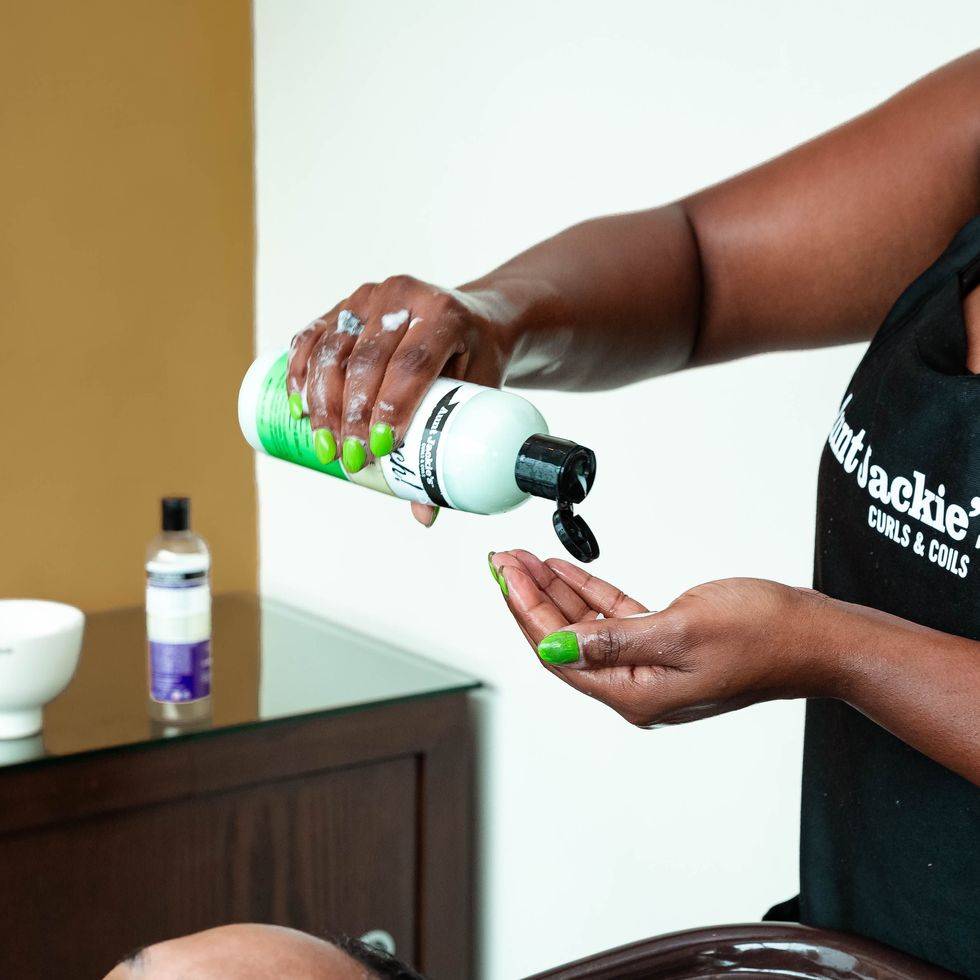 Photo by Onye Creative Studios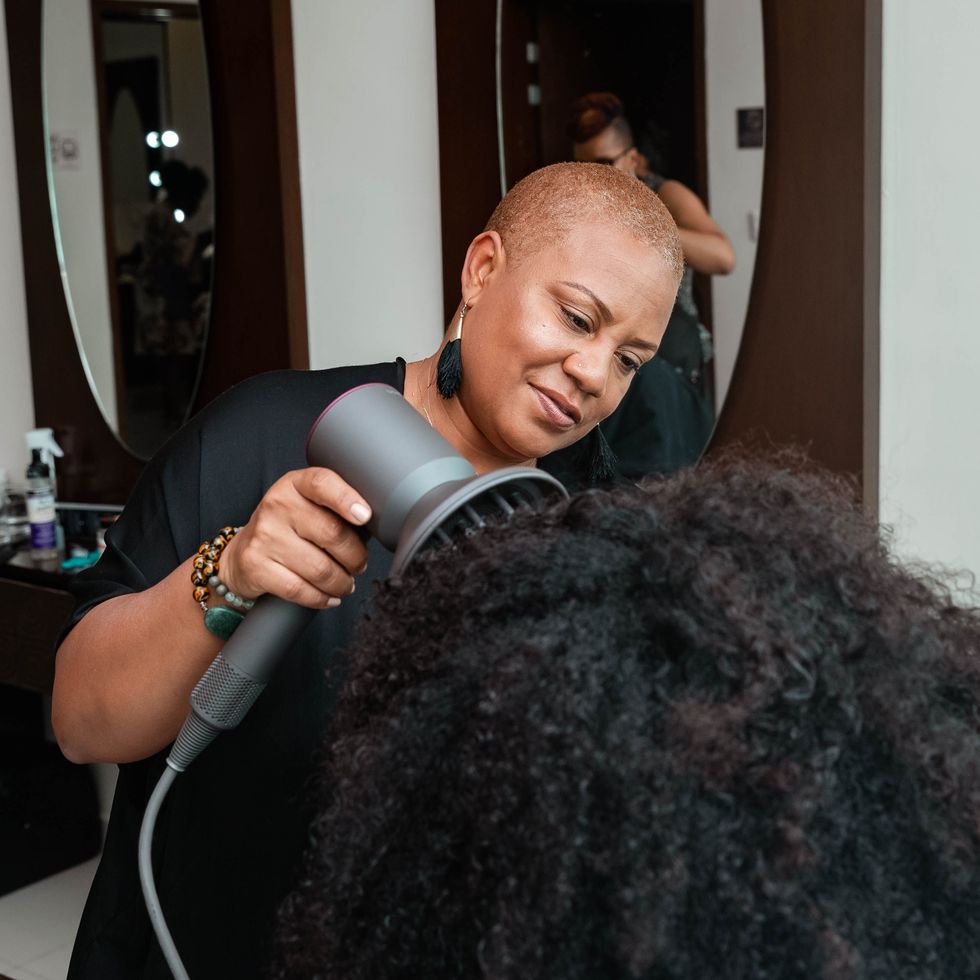 Felicia Leatherwood doing her thing!
Photo by Onye Creative Studios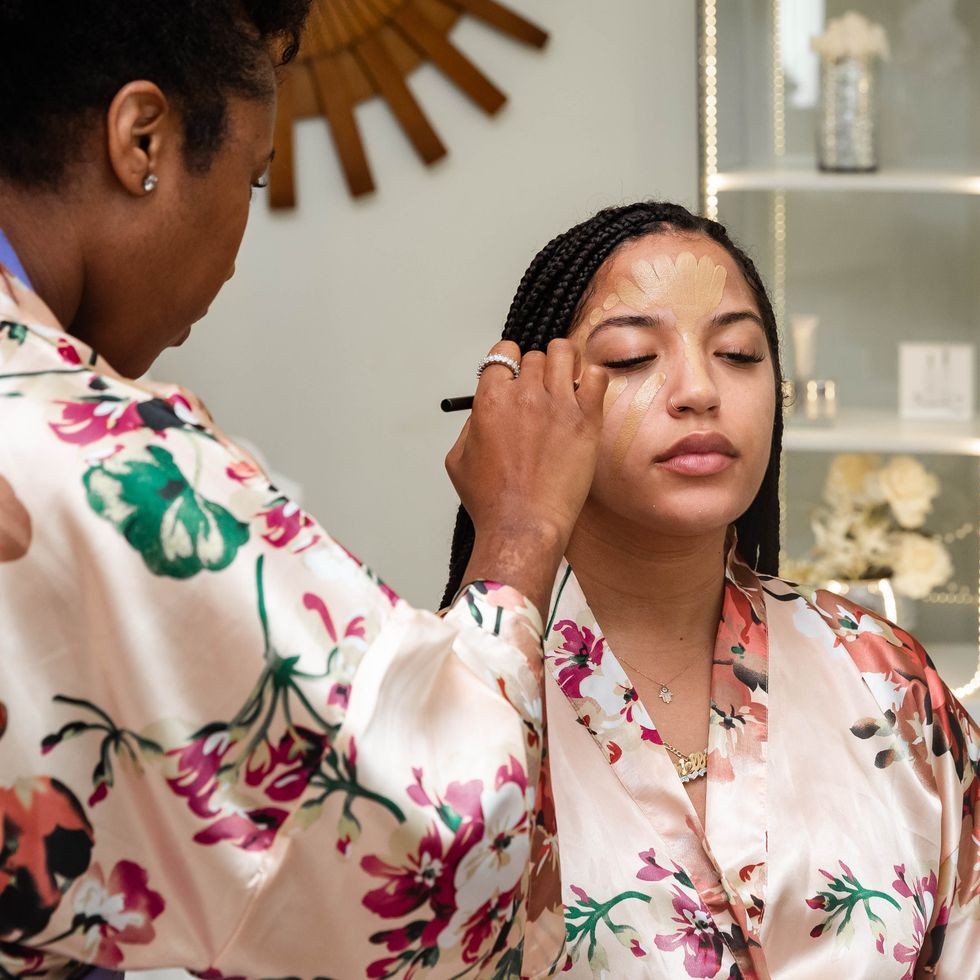 Makeup artist Mesha Thomas beating Arielle's face.
Photo by Onye Creative Studios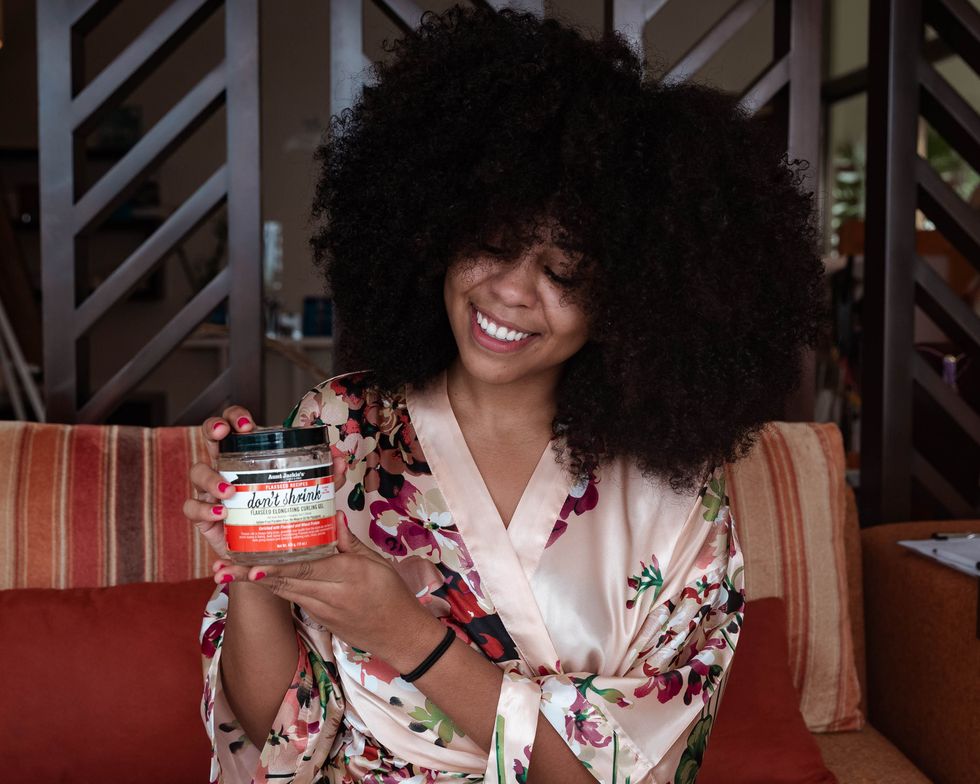 Photo by Onye Creative Studios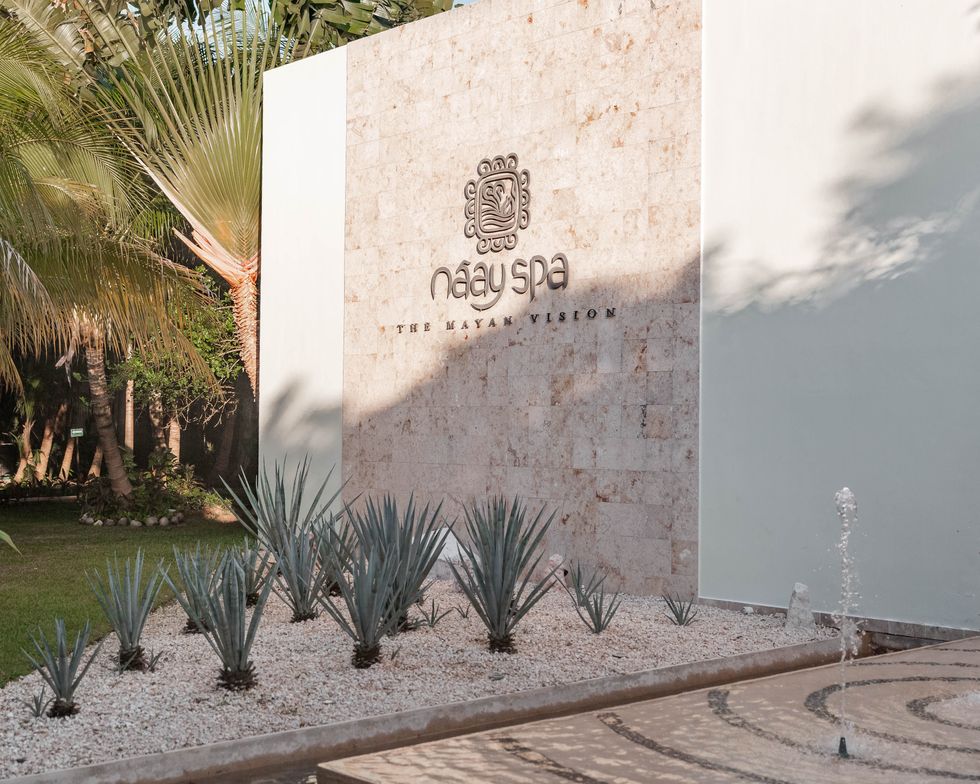 Thank you Naay Spa!
Photo by Onye Creative Studios
Farewell Dinner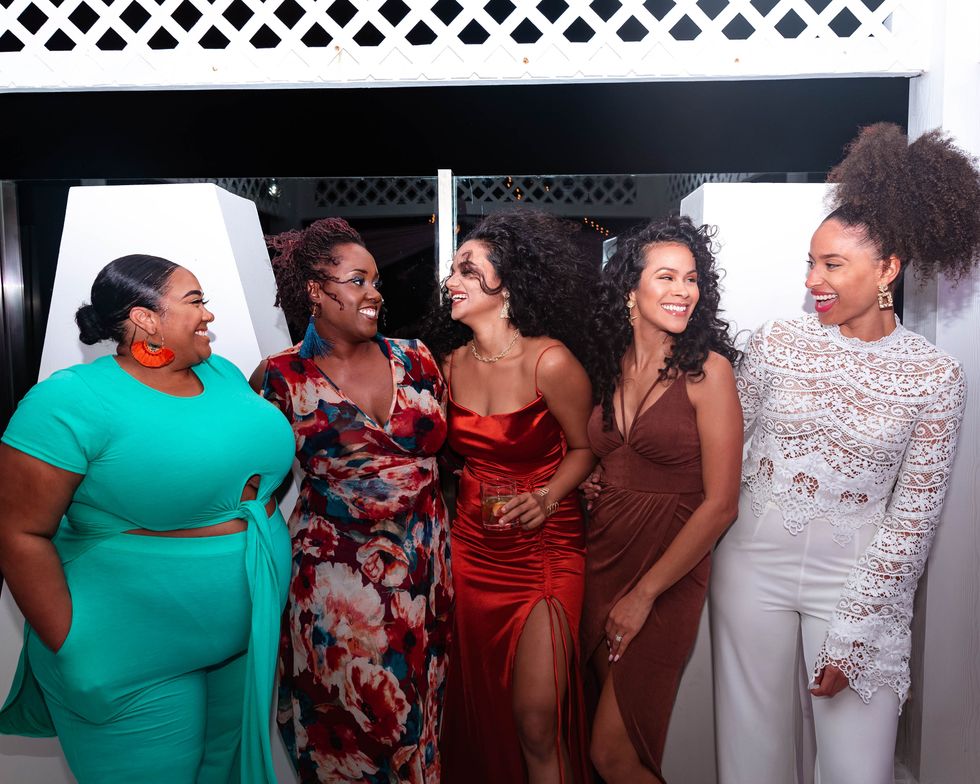 Photo by Onye Creative Studios
To commemorate our magical experience with the Curlfriends coming to an end, we had dinner on the rooftop on a windy night where the light from the full moon acted as our source of energy. We were treated to an immaculate dinner that included crab salad with spinach, shrimp salad with pineapple, string beans, lobster, and more. We communed over drinks, laughter, and the electric slide. It was such a powerful reminder of the incredible energy that's felt when surrounded and being poured into by dope women.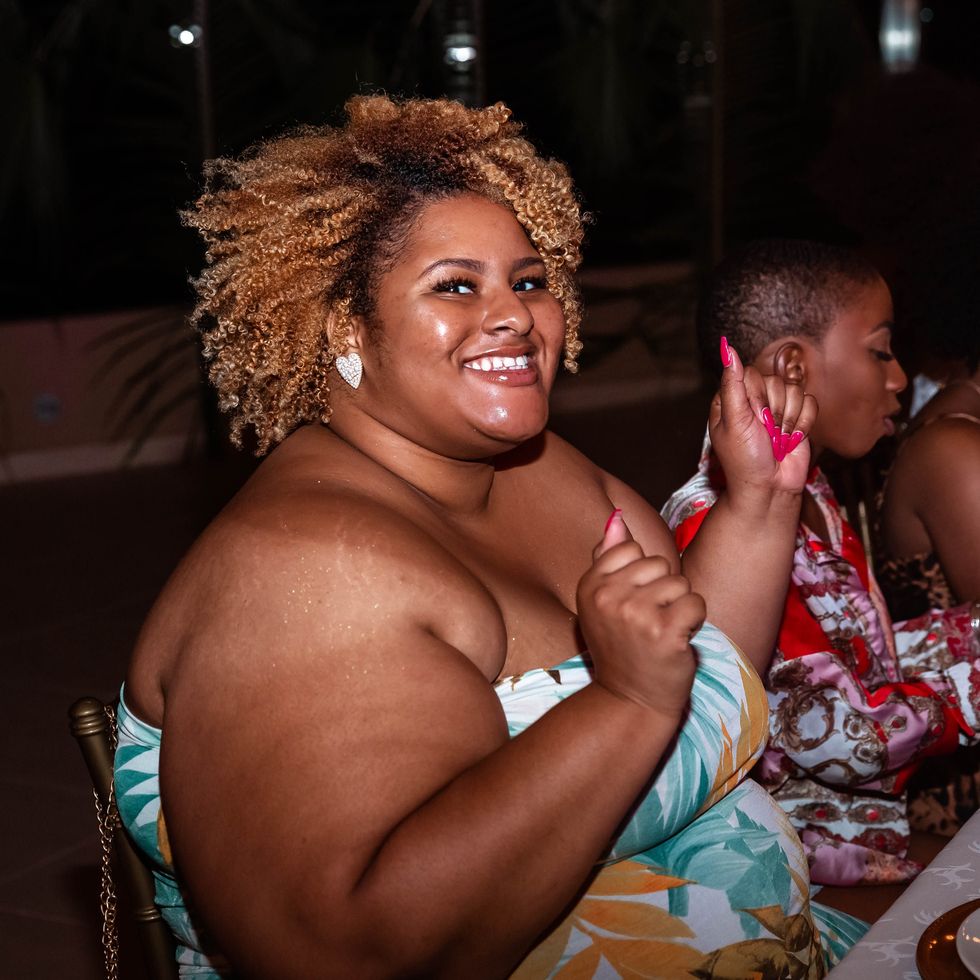 Photo by Onye Creative Studios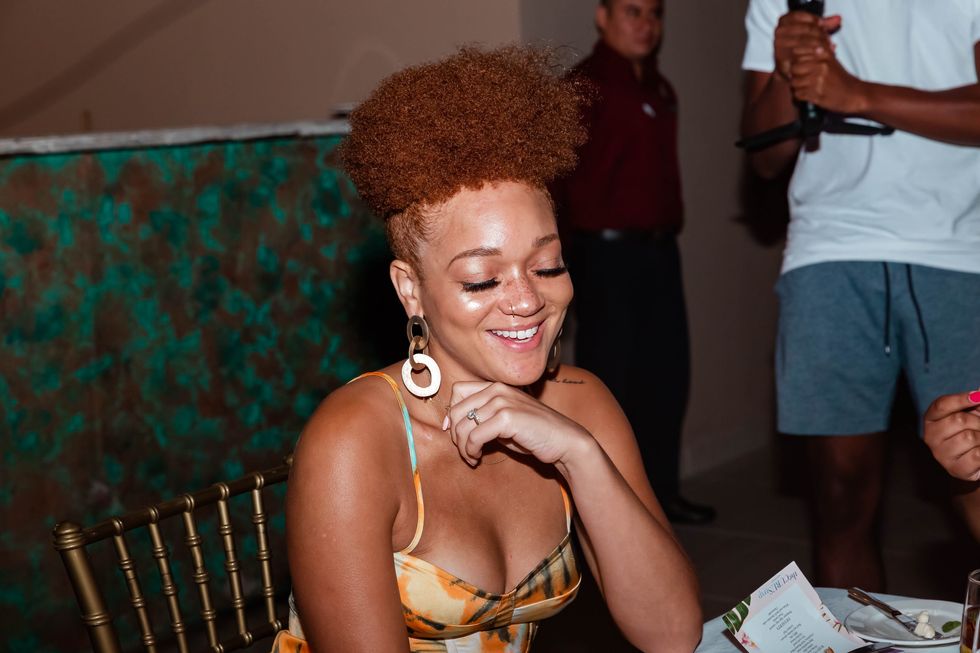 Photo by Onye Creative Studios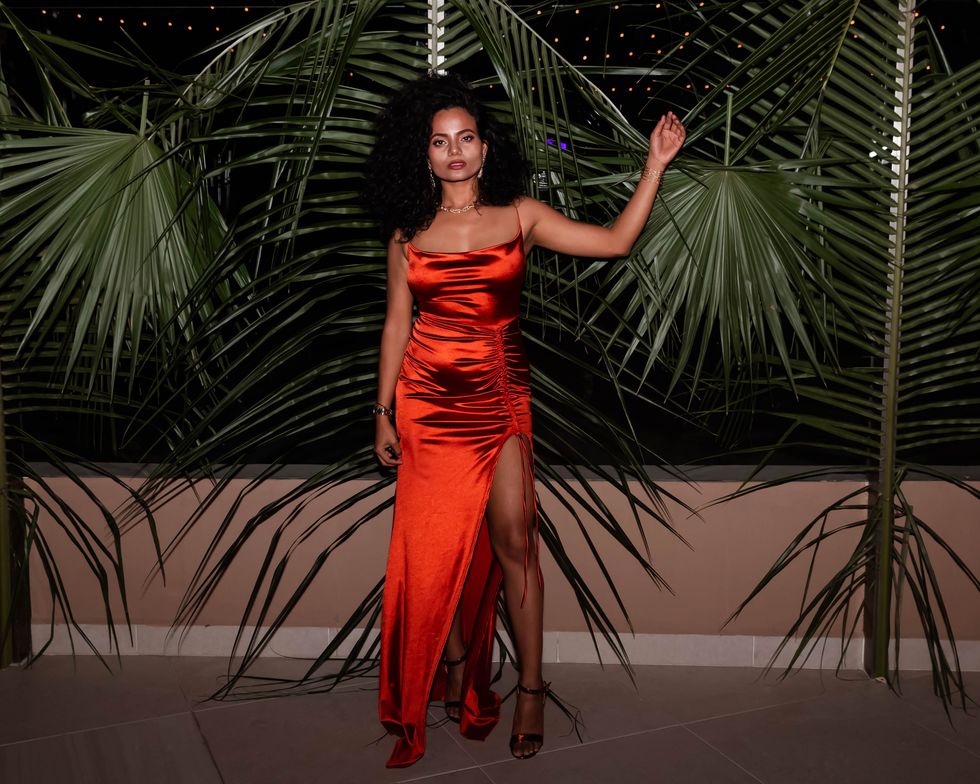 Photo by Onye Creative Studios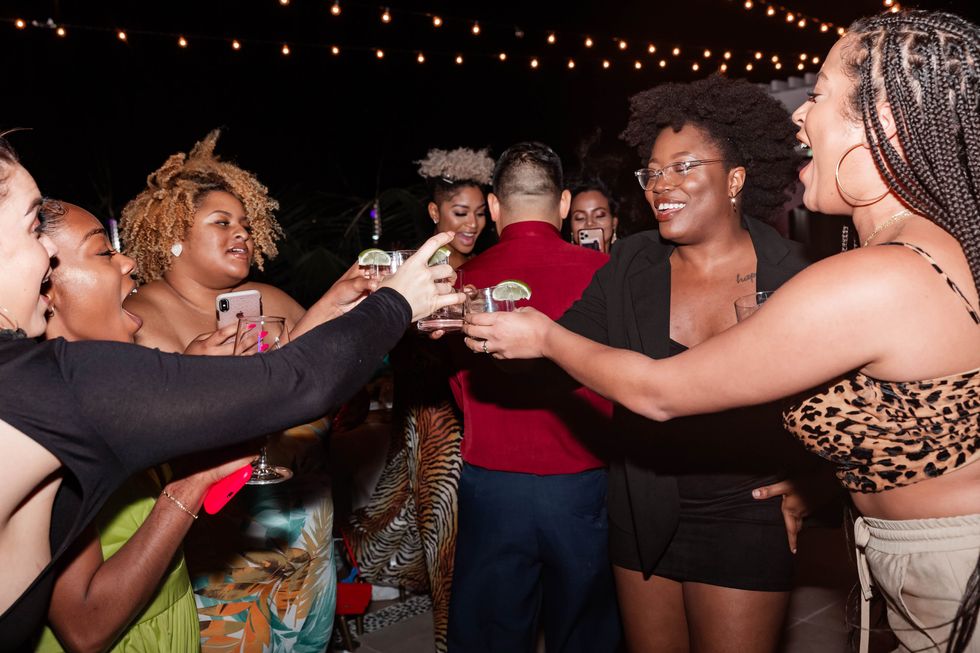 Photo by Onye Creative Studios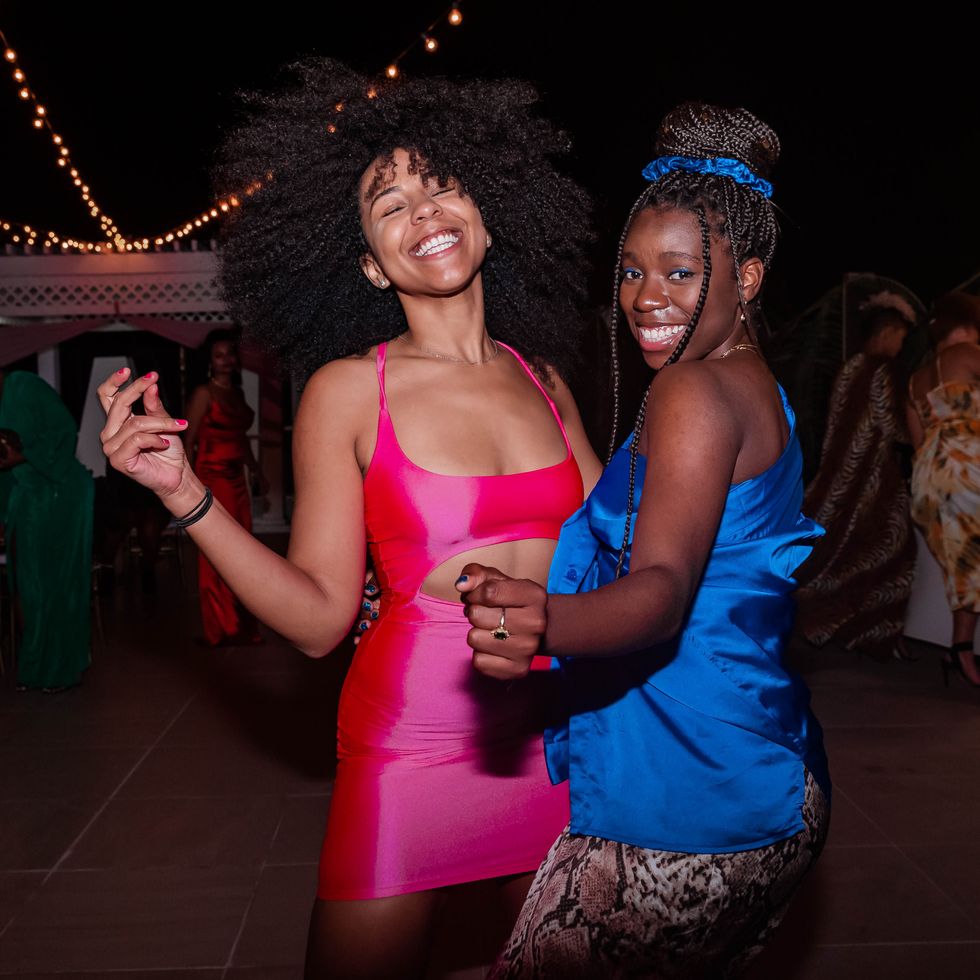 Photo by Onye Creative Studios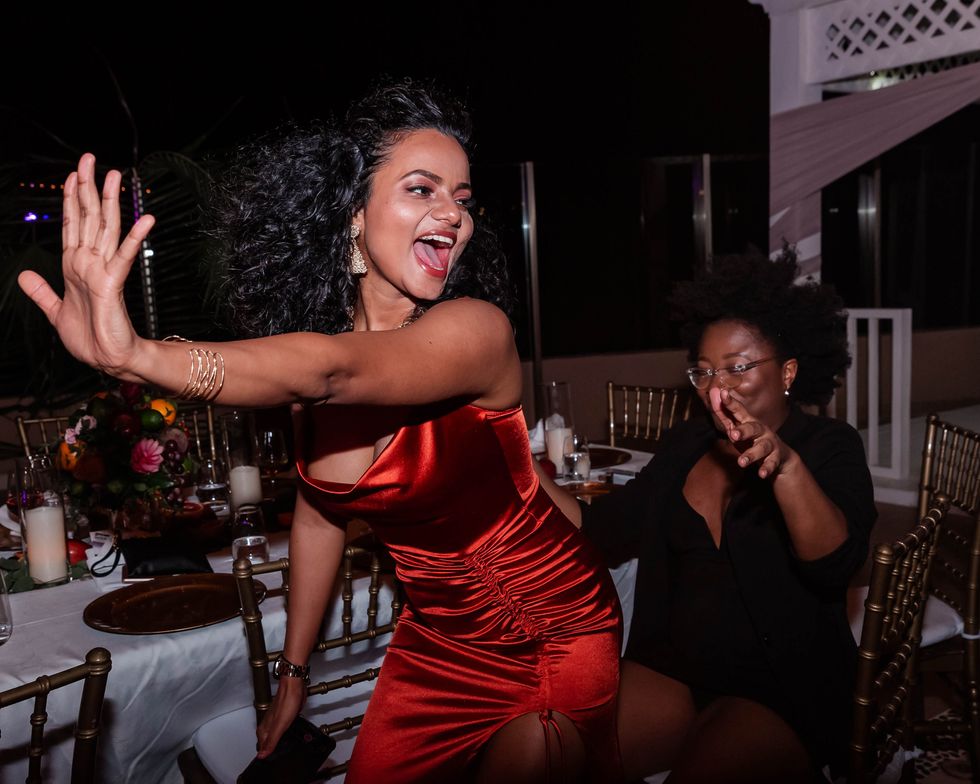 Photo by Onye Creative Studios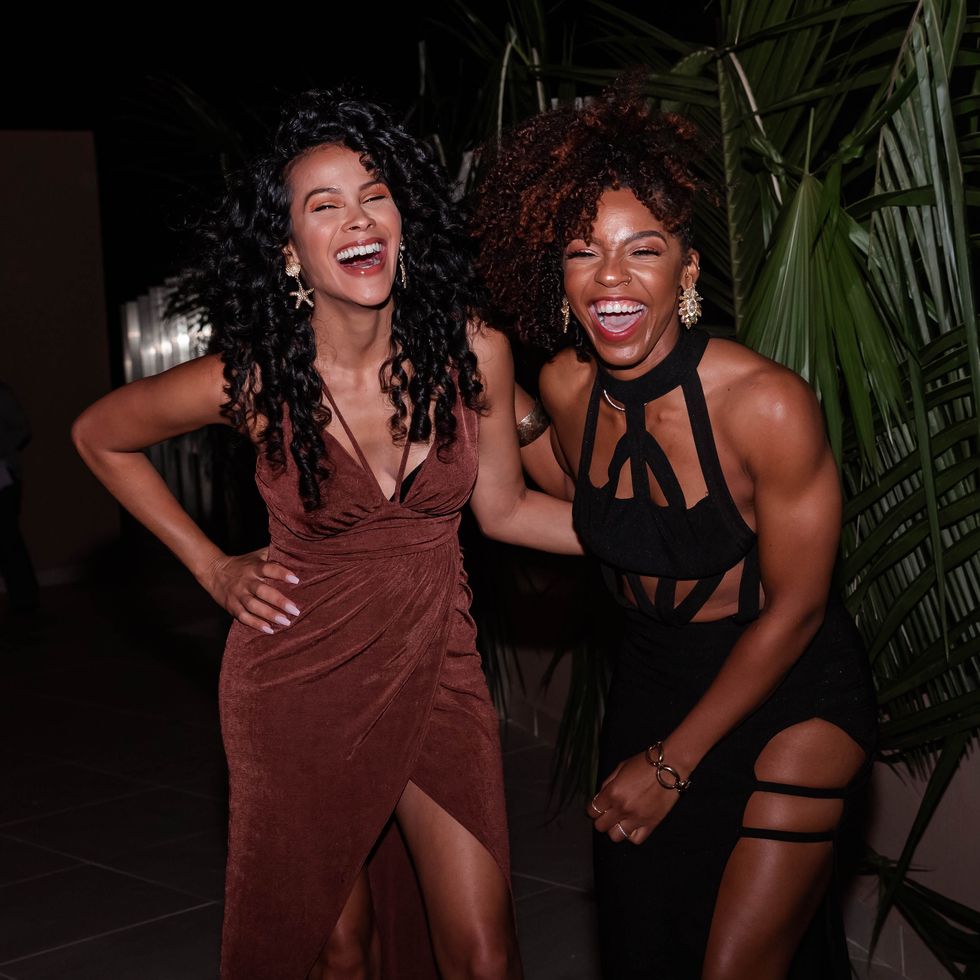 Photo by Onye Creative Studios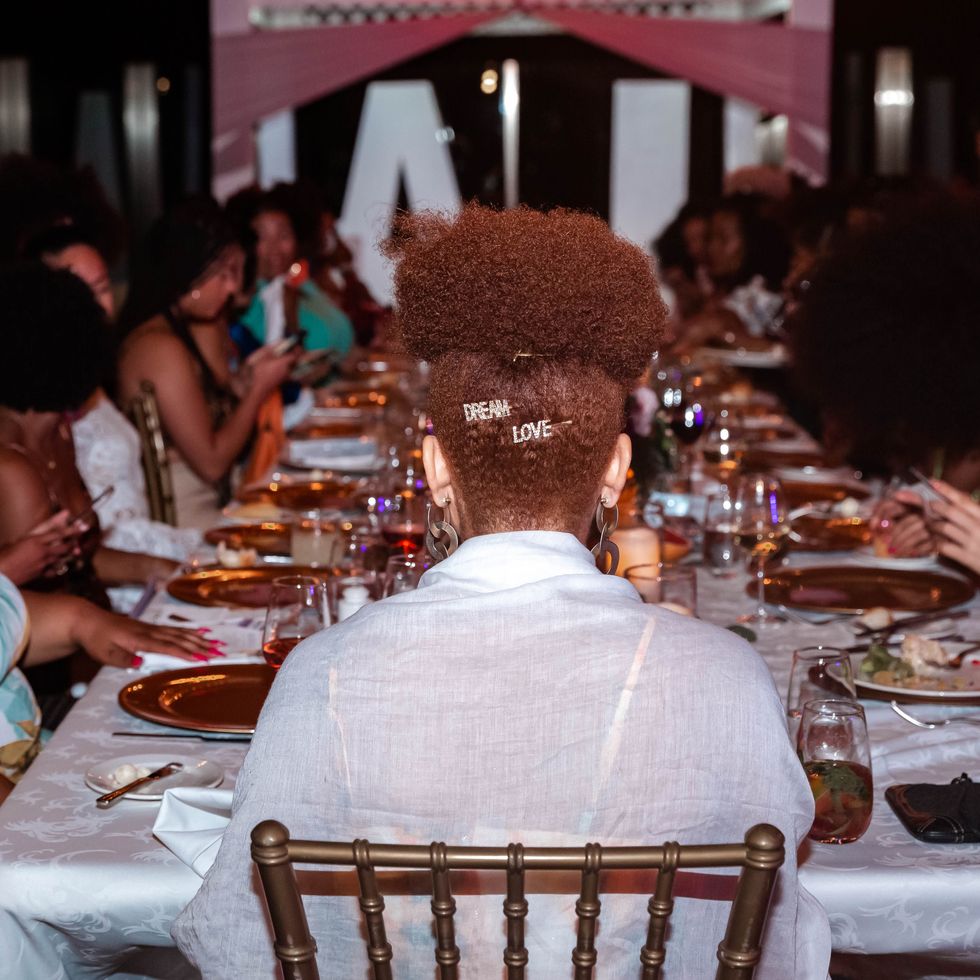 Photo by Onye Creative Studios
Thank you Aunt Jackie's Curls & Coils for an experience I'll always remember!
Be on the lookout for Aunt Jackie's Butter Fusions and travel-sized collections, coming in 2020!
Photography by Onye Creative Studios
Keep reading...
Show less
It looks like our good sis Megan Thee Stallion has driven the boat all the way to Cabo, and from the looks of her Instagram, it was the girls' trip we didn't know we needed. After crushing the charts and her classes all 2019, the 24-year-old rapper started her year by taking some time off, spending her vacay with a few of her girls on the white sandy beaches of Cabos San Lucas. Now we wanna book a flight with our squad, too.
This vacation destination will allow you and your girls to partake in a hot-girl summer any time of year, but if you need more convincing, scroll below for 4 reasons you and your tribe should travel to Cabo the next chance y'all get:
1

.

Flora Farms Is Everything... Literally.
According to Forbes, farm-to-table is hot in Cabo right now, and Flora Farms is a one-stop shop to experience it all. Featuring a spa and grocery store, this mini paradise allows you and your girls to take cooking or painting classes, indulge in herbal soaks, and eat an organic meal made from farm-raised ingredients at the same damn location.
2

.

Thrift 'Til You Drip
Have you ever met the kind of person who will travel halfway across the world just to go to thrift shopping? It's me. I'm that kind of person, and if any member of your squad is anything like ya girl, you should definitely add thrift shopping to your girls' trip itinerary. Cabo is the perfect place to do it!
3

.

Try New Things With The People You Love
Skydiving, snorkeling, and zip-lining are all bucket-list items that I would probably check off if my best friend is next to me, and that's exactly why a trip to Cabo is perfect for your tribe. Although Meg says she'll never go zip-lining again, meeting dolphins, dirt-bike riding, and drinking tequila in the middle of the ocean were all experiences she got to share with people she loves.
4

.

There Are Ample Opportunities To Get Lit
As soon as you land, you're greeted by two airport bars where you can get the party started expeditiously. After you've taken time to get in some good, old-fashioned R&R and you're ready to turn up, the city will be ready to turn up with you. Whether you and your girls want to grab a cocktail by the marina, hit one of the city's many nightclubs, or have a bad-and-bougie beachside dinner at Sunset Mona Lisa, the nightlife scene in Cabo has plenty to offer for every friend in your squad.
Featured image via Giphy
Keep reading...
Show less
What do you get when you bring together 34 of the dopest game-changing women on the planet? You get the 2019 Support Your Girlfriends "Glossy Possé" Retreat at Moon Palace Resort in Ocho Rios, Jamaica! This is what took place in August as leaders in television, women empowerment, non-profit, finance, technology and more set aside five days to cultivate sisterhood on a distant shore.
While most people would have anticipated drama and chaos when traveling abroad with strangers, we experienced nothing of the sort. In fact, our bonds began at our local airports, moved through our WhatsApp group, and landed in Montego as we met our VIP concierge from MoBay to take ground transportation to our home away from home.
Founder and visionary Nikkia McClain established this getaway three years ago as a retreat for herself and her favorite girlfriends, empowerment leader Lucinda Cross and social justice activist Tamika Mallory. What began as a simple relax and relate escape for these girlfriends has now turned into a full five-day connection retreat for like-minded women to connect at heart and curate our own girlfriend experiences in Jamaica and beyond.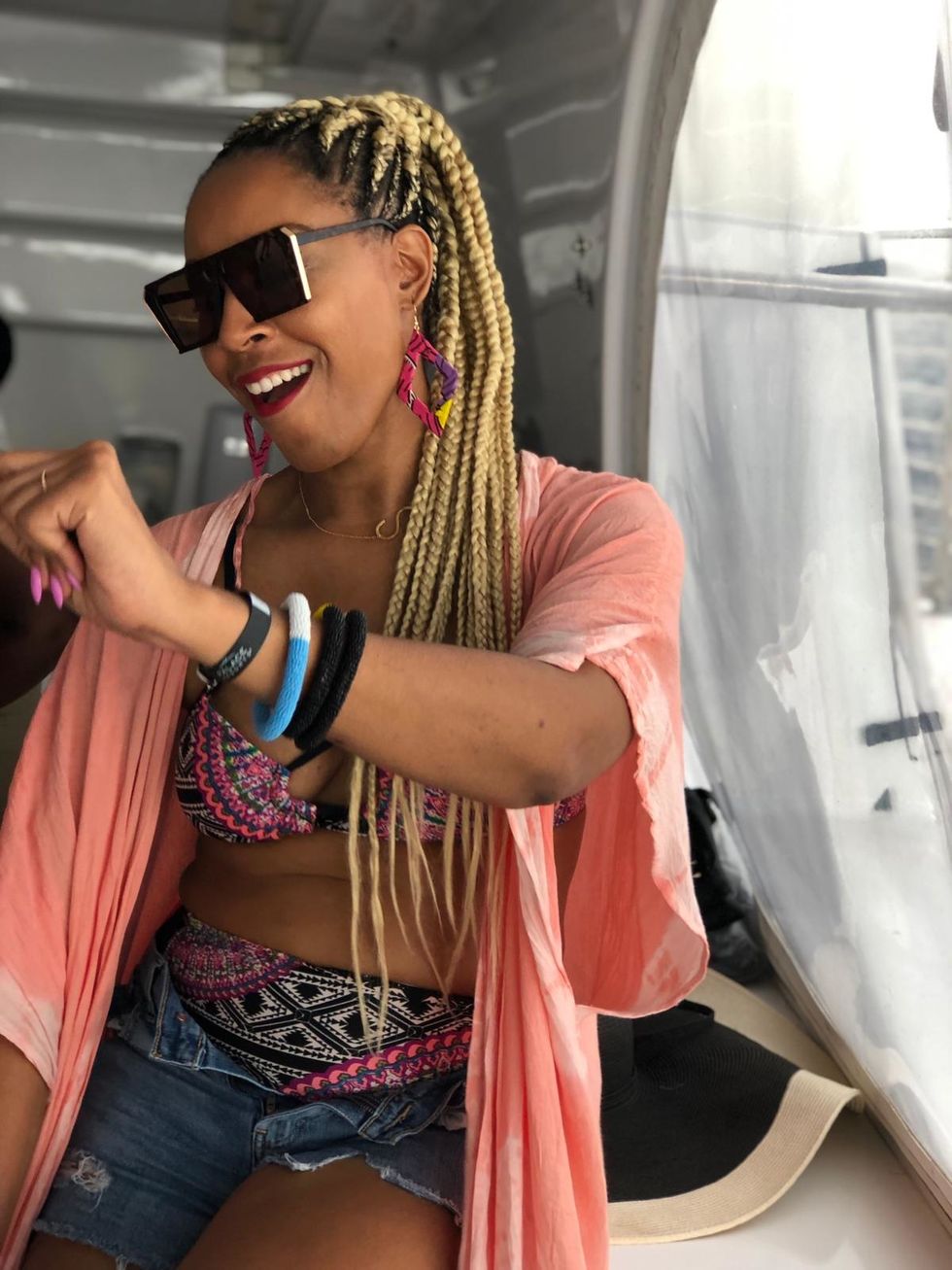 Writer Sybil dancing Sybil Clark-Amuti
Landing in Jamaica, I was immediately greeted by my VIP transport representative and matched with a fellow travel partner. After a brisk move through customs and luggage collection, we were driven to grab local eats at Scotchie's (shout out to Hugh, our driver and fellow foodie) for the best jerk chicken I've ever had in my entire life. With a scenic ride ahead, my newest girlfriend and I broke ground over chicken and travel and realized the beginnings of our Glossy Possé connection had officially begun.

Yes, Jamaica has so much to offer, but my new Glossy Possé provided so much more! Moon Palace Resort was the perfect destination to house our moments and curate the memories that every girl's trip commands.
Here's what happened at Support Your Girlfriends Retreat:
We stepped outside of our comfort zones and created new relationships.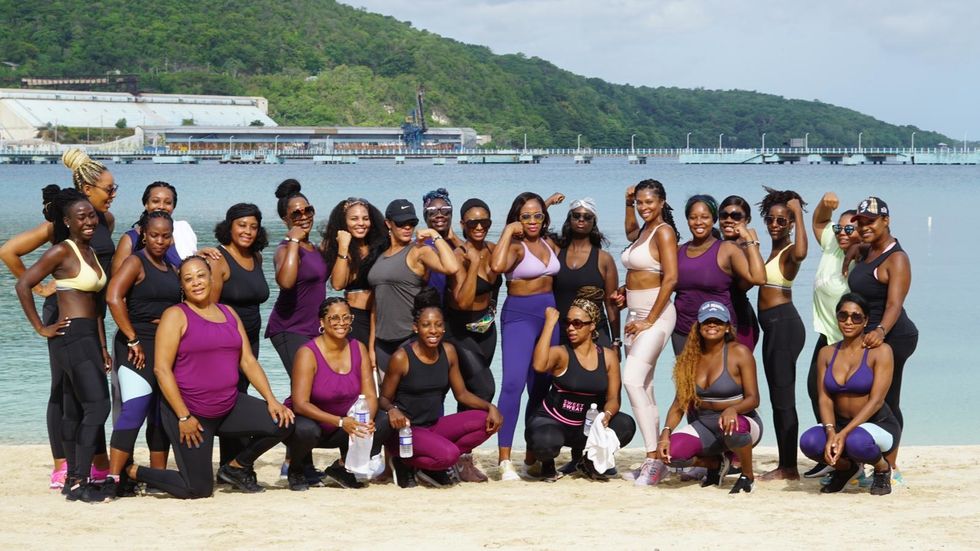 Power Workouts With Jennifer Williams
Tene Nicole
With busy schedules and a ton of responsibilities, each one of us said "yes" to the unknown and jumped a flight to Jamaica where we roomed with new girlfriends, feasted over fresh Jamaican cuisine, and were challenged to sit back and let the itinerary take charge.

We shared our story.
With digital strategist Sandra Garcia-Lowery as our host, we learned to be vulnerable and own our stories to create bridges that we can cross in the present and future.
We got movin'.
With Jennifer Williams as our beach body and fitness lead where we tackled 60 minutes of high-intensity physical release on the sands of Ocho Rios.
We hydrated our hustle.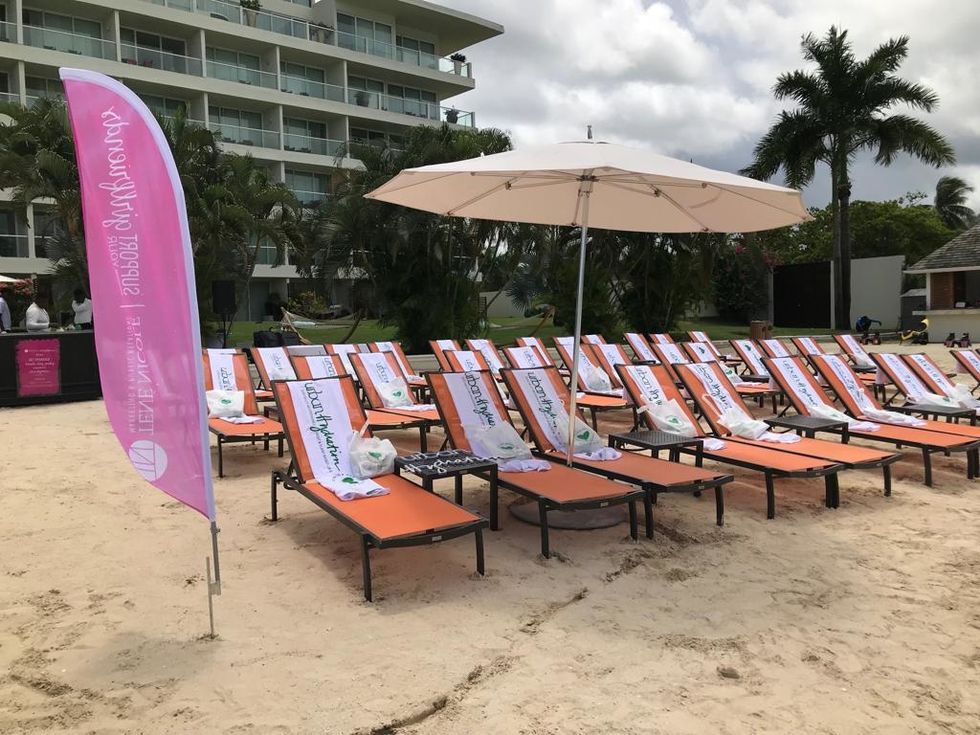 Get Hydrated Urban Hydration Beach Day
Urban Hydration
With Psyche Terry, founder of Urban Hydration, we were taken through an exhilarating mind and body experience, aligning our hearts and minds for optimal hustle!
We shined each other's crowns.
As the author of Boss Brides, Charreah Jackson led us through a healing moment where we looked into our sister's souls to truly see one another for who we really are, QUEENS.
We yachted on a private island tour where we danced the day away!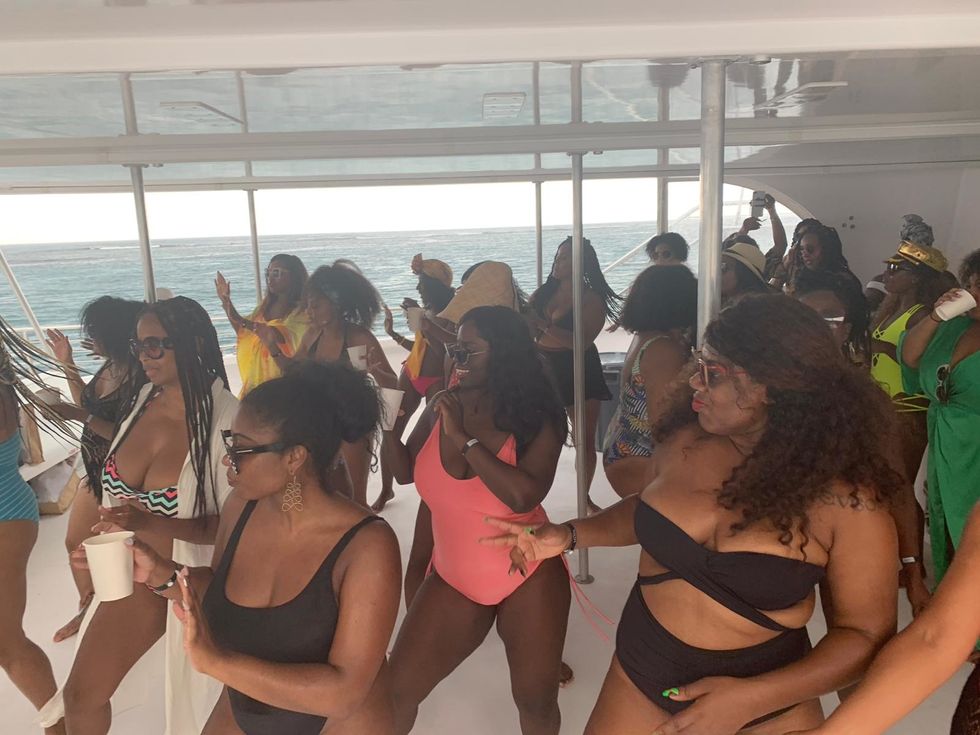 Yacht Outing Group Shoot (Dancing)
Sybil Clark-Amuti
We made a BIG ASK.
With empowerment speaker Lucinda Cross, we pushed past our boundaries, got honest about our dreams, and spoke them aloud. POWERFUL!
We took control of our money.
With finance leader Shekera Green, we started taking small steps towards the generational wealth we all desire!
We took our place in the movement.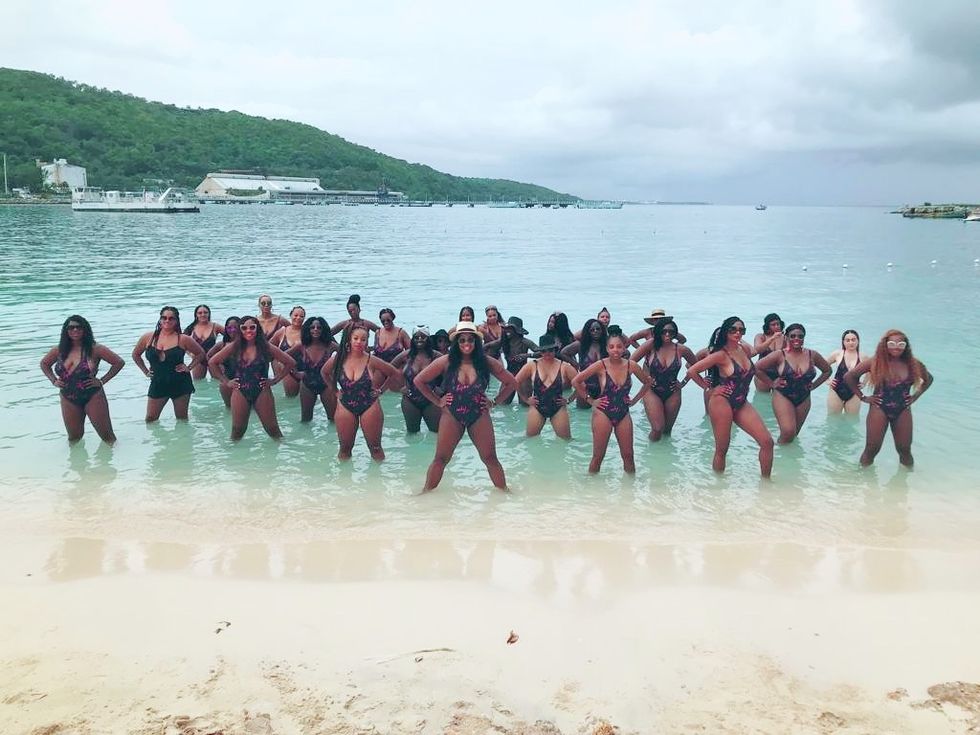 Group Beach Shot
Tene Nicole
As activist Tameka Mallory reminded us, we must do our part to carry the legacy that our ancestors started as freedom-fighters for humanity.
Needless to say, Jamaica owes me NOTHING! From the super swagilicious welcome bags filled with treats from air pods to athleisure and more to midnight dancing at the Moon Palace night club, I am FULL. Nikkia reminded us that we are the missing piece to our sisterhood puzzle. We give the quality of the sisterhood that we'd like to receive, and we can spread that "Glossy Possé" sisterhood everywhere we go.
Special thanks to Nikkia McClain of Tené Nicole Marketing and Public Relations, Moon Palace Resorts, the Jamaica Tourism Bureau, Urban Hydration, All Day Alba, and Indique Hair for making the Support Your Sisters Retreat unforgettable!
For more information, follow Support Your Girlfriends on Instagram.
Keep reading...
Show less
'Tis the season for girls' trips, retreats, and summer vacations. However, some of us have learned an unfortunate and hard truth (and vice versa) -- you can't travel with everybody. Just because they're a good friend doesn't mean they'll be a good travel companion.
Through some of my adventures and experiences, I've learned that it's not a matter of who's right or wrong; rather, it's a matter of preference. As with most anything in life, people like what they like and they enjoy what they enjoy. However, a lot of conflicts or disagreements that surface during trips can easily be prevented or resolved beforehand by having an open and honest discussion.
So, before you book your next trip, use these questions as a guide to help you decide who will be your travel buddy.
1

.

Do you prefer an airplane, train ride, road trip, or cruise?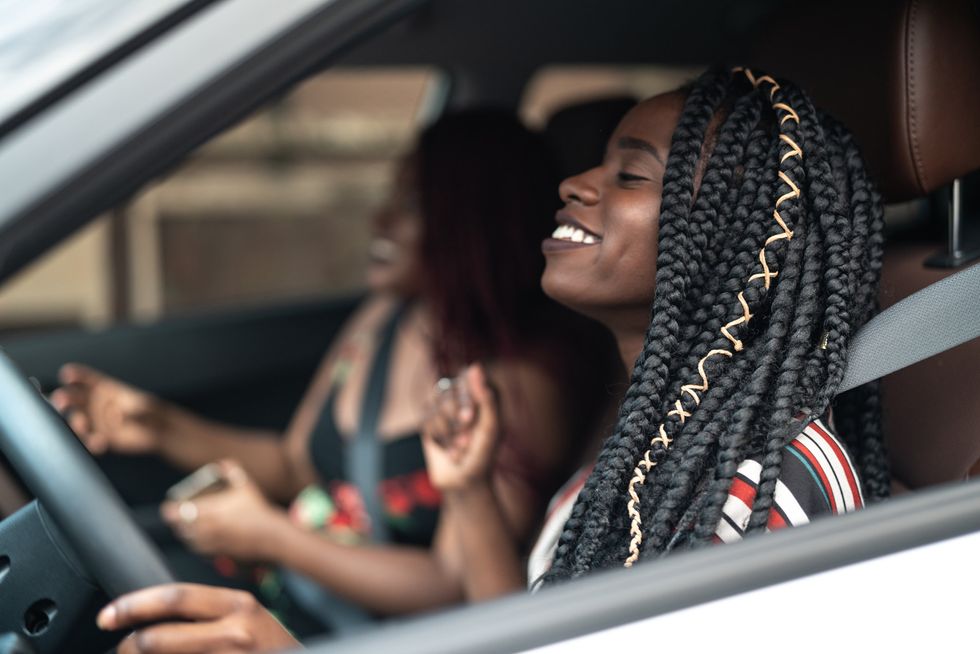 Getty Images
The answer to this question will directly impact the type of trip that you'll plan. For example, as much as I love to travel and fly, I have no desire, whatsoever, to go on a cruise. I would rather fly and go as I please, instead of boarding a ship and spending the majority of my time on it. Hence, it's no surprise that when some of my friends plan their cruises, I am not invited…nor am I offended because that's not my preference.
2

.

What types of things do you like to do when you go on vacation? 
This can vary depending on the trip (e.g., vacation, retreat, girls' trip, couple's trip, etc.). There are people who like to do as much as possible while vacationing, and there are others who like to use that time to stay in or relax no matter where they are. Then, there are those who enjoy a mixture – rest one day, explore another day, party another day. When traveling with other people, it's best to know upfront so you can plan the itinerary accordingly.
3

.

Do you prefer to stay at an Airbnb, a hotel, or a resort? 
Additionally, you may need to ask: Inclusive or non-inclusive? Room service or self-serve? How many people are you willing to share a room or a space with?
Some people only need enough space to rest their head at night whether that's a bed, a couch, or even a roll-out bed. So, for them, it doesn't matter as much where they'll stay. On the other hand, people like me, who can be a bit of a "hotel or location snob," will research thoroughly online before booking a place to stay.
Keep in mind the budget and the destination can impact your choice, and knowing it upfront can help narrow your search.
4

.

Do you have a passport?
If you're planning to travel internationally, but you or your travel buddies don't have a passport, then you'll need to allow enough time to order one.
5

.

How long is too long to be on a trip?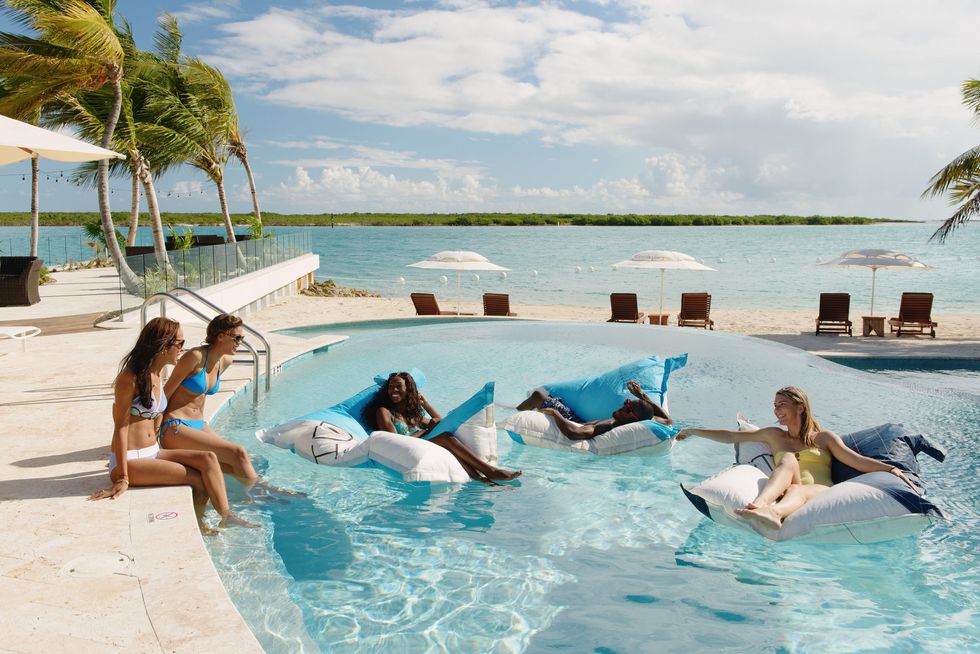 Getty Images
This can vary depending on: 1) the type of lodging that's chosen, 2) the total number of people, 3) as well as the people you decide to travel with. For some people, two to three days may be more than enough time to spend with a certain group of people, while five to seven days could be just enough before your patience starts to run out.
6

.

What is your budget for the trip – before and during the trip? 
Although this shouldn't be considered as an opportunity to meddle and find out how much money someone makes, it is important to determine if everyone has budgeted adequately for the trip. Make sure they've allotted enough for lodging, food/beverages (if non-inclusive), as well as possible extracurricular activities (e.g., shopping, excursions, tours, parties, etc.). While you may be willing to pay extra for a once-in-a-lifetime adventure or an excursion, someone else may be more interested in splurging on a spa day.
7

.

If flying, what airline do you prefer? 
Depending on everyone's home base and their departure location, you may not have as much flexibility when it comes to choosing a specific airline. Nevertheless, understand that some people won't mind choosing a cheaper airline for a shorter flight. Then, there are certain people who will pay more for their airfare to allow for more leg space, priority boarding, on-flight entertainment, Wi-Fi, or better snacks.
8

.

Planned itinerary or just wing it? 
There are people who like to plan for everything, and there are those who prefer to play it by ear. Depending on the size of the group and everyone's preferences, a formalized agenda may make the most sense.
I remember when I created this elaborate agenda during a bachelorette trip to Vegas for at least 14 ladies. Although I may have included one too many activities and everyone was worn out by the end of it, the good thing about it was that the agenda helped keep us on track and on time, and everyone ended up doing a lot of things they had never done before.
9

.

Do you prefer to use rideshare, local transportation, or rent a car? 
Depending on the destination, you'll need to determine if it makes sense to rent a car, or if certain rideshare services will even be available. If you decide to rent a car or use a ridesharing service, find out if the group is willing to pitch in and help, or if you'll need to consider another option to cover the expenses.
10

.

Is there anything that is completely off limits or anything that you absolutely must do while you're on the trip?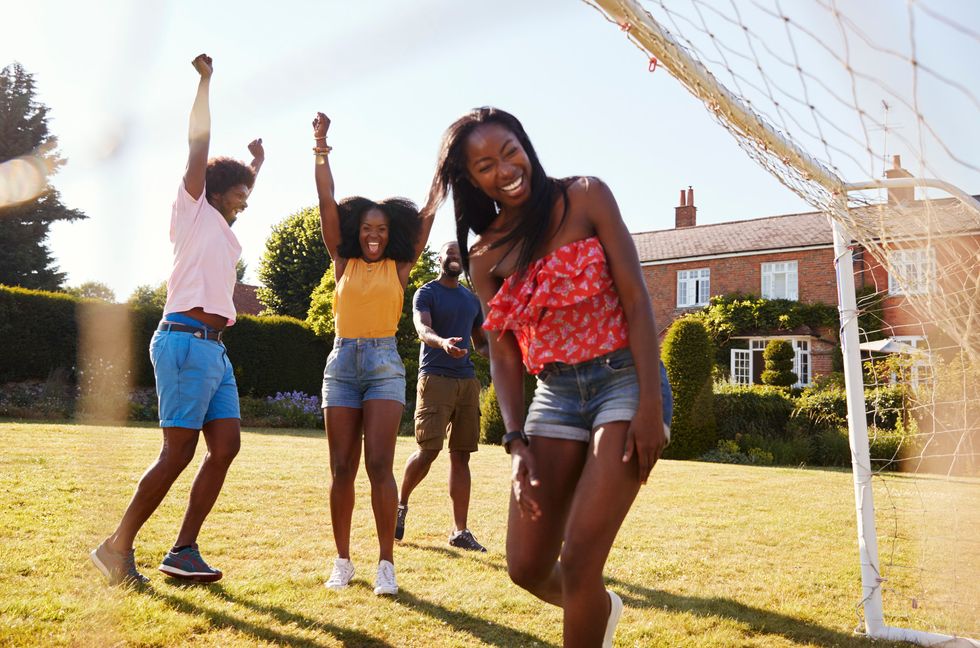 Getty Images
When someone ends up unhappy on a group trip, it's likely because they didn't get to do the one thing they wanted to do. Conversely, it could've been that they were forced to do something they never wanted to do in the first place.
So, when traveling with other people, it's important to be mindful of their desires and interests…not just yours. Of course, you can't please everyone, but by prioritizing what's most important, you can accommodate and adjust the itinerary accordingly especially if you're on a limited schedule.
For your next trip, I want #PositiveVibesOnly and positive energy for you and whoever you decide to travel with. So, depending on the outcome of the discussion, you may have to: 1) find a happy medium or a resolution that will cater to most of the group, 2) be willing to split up and do things in separate groups, or 3) exclude certain people from the trip.
Want more stories like this? Sign up for our newsletter here and check out the related reads below:
Here's Why Barbados Should Be Your Next Girls Trip
10 Places To Take A Girls Trip This Summer
Why Glamping Should Be Your Next Girls Trip
5 "Friends" Who Need to Be Excluded From Your Next Girls Trip
Featured image by Getty Images
Originally published on July 16, 2019
Keep reading...
Show less