You ever go into a dating experience like, 'He's great, but he needs to work on XYZ,' and before you know it, you're over his head every second you can get to remind him to work on that same 'XYZ?' Yes? Well, perfect because this article is for my lovely fixers; it's time to dive deep into learning to discern better potential long-term partners for you!
As a recovering fixer, I'm guilty of trying to fix many men I've dated in the past, thinking if I'd "encourage" him to work on XYZ, he'd be a better partner for me. And to be honest, it wasn't healthy for me to find my worth in making him better versus accepting his character at face value. Instead, I should have been asking myself, can I see myself in alignment with him or is it better to just be friends? These are hard questions, I know, but essential ones you need to ask yourself in the earlier stages if you are looking to date intentionally based on your values and morals.
The author of Getting to Zero: How to Work Through Conflict in Your High-Stakes Relationships, Jayson Gaddis adds, "If I do all the work in our relationship, including paddling for both of us, and you sit on your ass, we will go in circles and never reach our destination." What's more, instead of doing the work for two, focus on the things you need to work on for yourself and stop doing work that isn't yours to do.
If you are finding yourself constantly trying to change your partner, here are a few things to keep in mind.
1

.

Ask yourself, 'Why do I want to change my partner?'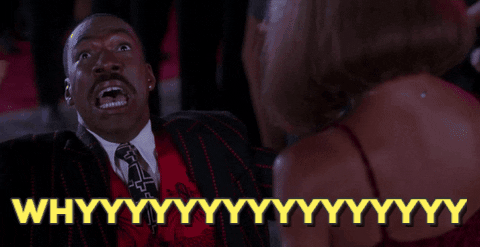 Eddie Murphy Ngapa GIF
Giphy
As a recovering fixer, I have immense empathy for my fellow fixers reading this article because at most fixers' core is the mindset to be of service in their romantic relationships. They often lead with acts of service being their primary love language, not realizing it's causing more harm than helping anything.
As psychologist Kristin Davin, PsyD, states, "We often create an image of what we want our partner to be and focus on those traits that reinforce that image. However, over time, that lens shifts to one of wanting to change their partner."
Davin notes that some of the reasons for this include: "(1) By and large, women have an overly idealistic view of relationships. They want to change their partner to fit this idea. Men, on the other hand, think there is no need to change. (2) People have lofty expectations of both the relationship and their partner. So they start wanting their partner to change to meet those ideals. It rarely, if ever, works."
She continues, "They may want to change their partner because there are things they don't like about them - that they often ignored in the beginning - but now have become problematic for them. As a result, relationship problems will evolve. And always trying to change your partner creates resentment. It is a relationship killer. They would rather focus on the other person meeting their needs, instead of looking inward and focus on how they can show up differently for their partner."
Be aware of those deflectors; that's a red flag when the other person is consistently focused on what you need to work on and not focusing on their growth or minimizing it, acting as if it's minor compared to what you need to work on. Everyone's battle is different, and that isn't a healthy form of comparison as it shows a lack of accountability.
2

.

Are you dating their potential or who they are at face value?
I'm sure most people have dated a person or two based on "their potential." But dating someone's potential to some extent is a bit of a Russian roulette game based on the type of potential you're betting on. Some people aren't even assessing a dating situation based on the other person's actions to make that potential a reality. The other person could be making no real progress, and then they are like, 'They'll get there eventually.' That's a bit unrealistic, but it happens more often than you can imagine.
As Licensed Marriage and Family Therapist Kevin Mimms states, "There is a tendency to point toward potential (real or imagined) as a contrast to other, more damaging behavior. It may be that the potential they see is a projection of their hopes or ideals onto this person. To interpret thoughtless words or actions as demonstrative of childhood dreams is naive but understandable."
It's important to be aware of the fact that the potential you see for a person might not be the potential they see for themselves. This form of projection is something we can sometimes subconsciously do. Instead, learn to lead by listening to understand and discerning a person's motives by their actions.
"There is a thin line between seeing potential in someone and living your dream out through them. They may have potential, even one very similar to your dreams, but it isn't about them when you make their growth about fulfilling your dreams."
3

.

Is building a partner by trying to change them beneficial in the long run?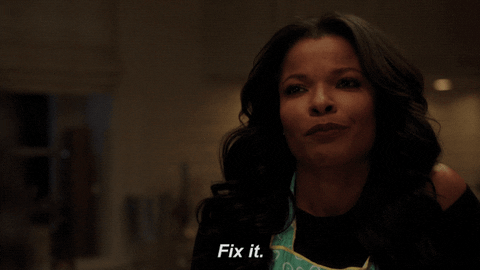 Fix It Fox Tv GIF by Lethal Weapon
Giphy
The next time the idea of building a partner pops up, ask yourself why you want to take up that responsibility. Is there a part of you settling because you think your needs can't be met, so you're just trying to make this work? Are you subconsciously married to the timing you have for yourself for a relationship, marriage, kids, or all the above, making you force something that may not be for you in the long run?
As Licensed Mental Health Counselor Nicole Kleiman-Reck, LMHC, mentions, "I don't think building a partner is beneficial since every person is unique and beautiful in his/her own way (and already fully built)." Let's emphasize the "already fully built" part, which means there is no need for your tweaking for your personal self-gain that may not serve the person in the long run and could brew areas of resentment.
"Building a relationship with two partners is helpful, and this entails agreeing to disagree, choosing to tolerate, learning to compromise, and aiming to come to what feels like a 'win-win' outcome. It all boils down to learning to appreciate and value the different aspects that each person has to offer in the relationship, which is what makes a strong partnership based on interdependency (which is not the same as co-dependency or dependency)."
4

.

Introspection is key to stop trying to change a partner.
Turn inward. Building your self-awareness is essential for unlearning fixing in relationships. You may think it's helpful in the moment, but in a long-term relationship, it will become mentally and emotionally depleting for both parties. As Davin states, "Work on yourself. The fixers are focused outside themselves and want to change and 'fix' another person rather than looking inward. Taking the time to be more introspective allows that person to question their 'fixing behavior' and what motivates them to continually engage in that behavior. It's very off-putting for the person they are trying to change."
"When we are focused on changing others, we aren't focused on what we need in a person and relationship and being honest about that but rather using our energy to change others. When we are focused on the other person, we turn our energy outwards."
5

.

Understand the importance of dating people based on face value.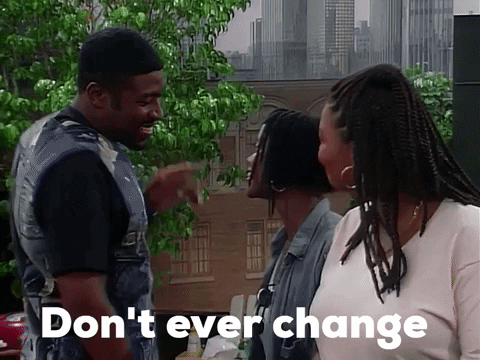 Dont Ever Change Season 2 GIF by Living Single
Giphy
Let me explain, acceptance = peace.
As Kleiman-Reck suggests, "I think it is of the utmost importance to take people at face value and accept them based on where they are now. The thing is, you can ask someone to change, and you can inspire someone to change, but you cannot make them change. The better question is, what are YOU going to change to feel happier in your relationship (or in any aspect of life, for that matter)?" This is a tough question to ask oneself, but an essential one to train your mind back to working on the only person you can change, YOU!
"Life is too short to distract yourself from changing others. Changing your belief system on what makes a fulfilling relationship will help with acceptance and joy that is usually there for the taking."
A healthy bond's foundation starts and ends with acceptance. To my fixers, I know it's not an easy fix, but it is a worthy one. Imagine a world of you just being responsible for how you show up in the relationship and not ignoring the red flags that he or she doesn't have what you need but they have "potential." Develop a new mindset of, "I'm not forcing anything, and I'm only aligning with people who are in a similar place as me."
Let's make things inbox official! Sign up for the xoNecole newsletter for daily love, wellness, career, and exclusive content delivered straight to your inbox.
Featured image by Goodboy Picture Company/Getty Images
Julien and Kiersten Saunders met in 2012 while working for the same company and they quickly fell for one another. However, their whirlwind romance was cut short following an extravagant vacation. When they got home from Panama, reality set in, and they were forced to have a tough conversation about money after they both had different opinions on recouping the money spent on the vacation.
Prior to their baecation, they had agreed to split everything and used credit cards to help pay their traveling costs. Julien had always been conservative with his money whereas Kiersten was a little more liberal but those differences became more glaring after Kiersten continued going out while Julien was budgeting. As a result of the fallout over money, they would ultimately break up. Shortly after, however, they decided to give their love a chance once more and are now married with a son, running a successful blog and podcast helping others to learn financial literacy and build wealth.
Their blog Rich and Regular was inspired by the conversations they had with one another about money. Launched in 2017, they have used the blog to share their personal struggles and wins regarding money as well as making it a platform for Black people to gain knowledge about investing, entrepreneurship, and much more.
"It all sort of turned into what can we do to attract more people of color, especially Black professionals to think like this, to have these conversations to think like this, to re-evaluate their careers and their approach to investing for a myriad of reasons," Julien says. "One, obviously Black wealth is important to the Black community, two, Black marriages are a core part of that community and that equation, and three, all of the other kinds of issues that affect our community that we don't have time to solve because our lives are basically spent working."
According to Business Insider, opposing attitudes about money is one of the biggest culprits leading many marriages to end in divorce. Kiersten and Julien were able to overcome this hurdle that many couples face, so they know a thing or two about the importance of having the money conversation early on.
"Once you hit that part when you start talking about goals and future plans, which for some people they come out the gate with that," says Kiersten. "They want something very serious and they want to know that the person they're spending time with aligns [with] them and their ambitions but as soon as you start having those conversations about the kind of life that you want, money is a huge tool to enable all of that life. So, you also want to make sure there is an accommodating financial plan to try to achieve this white picket fence, home ownership, multiple children and pets, and travel."
The Atlanta couple also wrote the book Cashing Out: Win the Wealth Game by Walking Away, a guide to reaching financial freedom, which they both have managed to do. As life partners and business partners, Kiersten and Julien have experienced many trials and errors to maintain a thriving marriage and business. They agreed that the key to being successful at both has a lot to do with the type of environment you create in the home.
"We also make it a point to play to our strengths. We do that in our marriage and in our business where regardless of what gender roles or the patriarchy or what traditional marriage advice is, if I'm not good at something or if he's not good at something, we don't force the issue," Kiersten explains. "So something as simple as cooking–Julien is a professionally trained culinary student and so cooking is far easier for him to do even though traditionally women are the ones who [are] supposed to cook but he does 99% of the cooking in our household and that's just one example."
"We really audit every task, every project, every goal that we have to decide who's gonna do what. Nothing really is on autopilot in that way and we're true partners. It's a bit unconventional because a lot of people kind of opt into roles because that's what they've seen done [by] their mom or their parents or on television, whereas for us, it's a conversation to be like does that make sense?"
What once broke them up now has helped them amass wealth, become financially independent, and be adept at helping others achieve similar goals. Currently, they are working on launching the Cashing Out podcast to accompany their book and they are gearing up to release season three of their YouTube series "Money on the Table." But while a lot has changed, some things still remain the same.
"We've both developed hacks to get around our natural tendencies but there's also these limits so that you don't create conflict. I still like to spend freely," Kiersten admits, "but my workaround is to make sure we pay ourselves first, make sure we've invested, make sure we've set aside money for savings, the bills are taken care of and then I can do whatever I want with the rest."
Julien shares that they now respect each other's differences and even learn from them. "We have evolved to appreciate the other person's approach or I think more so in the broader setup, financial characteristics that you may use to define who you are as opposed to spender or saver," Julien says. "It's more complex than that."
"And so I think we've grown to appreciate that but I also think that as your money grows, as you have more of it, and as you continue to have more conversations about money, you just kinda get better at it. So, it's not really so much of a need to be so tight as you may be or may be required to be at the beginning when you're really trying to dig out of debt or tryna to accomplish some lofty goal. If you're past that then you can kind of afford to ease up a little bit and I think we've learned to do that. I've learned for sure."
Let's make things inbox official! Sign up for the xoNecole newsletter for daily love, wellness, career, and exclusive content delivered straight to your inbox.
Feature image courtesy of Julien and Kiersten Saunders
When it comes to sex, you can never have too many tricks up your sleeve. A long-term relationship can quickly become boring, and nothing kills desire faster than boredom. When people get comfortable in long-term relationships, they often lose their spark. Relationships are like monthly subscription services. You get the first month for free, but after that, you have to actually start investing in order to continue to reap the benefits.
It is possible to rekindle the sexual spark in your life if the flame has fizzled out. There are a lot of easy fixes that are enjoyable. Getting out of a bedroom funk can be challenging, so here's what you need to do.
Featured image by LumiNola/Getty Images
I don't know about you, but I'm making "gratitude sex" a thing this season. I've felt such a positive shift in my life since leading with an attitude of gratitude, and I thought, why not apply that to how I approach my sex life? Sex for me has always been a space for connection, renewal, and restoration.
Whether I'm on my knees, in complete control on top, or relishing in surrender while on my back, the pleasure I feel, the vulnerability I experience, and the touch, sight, and sounds of the man I'm writhing against as I reach my peak of completion are reminders of the power of great sex. Every time I breathe out "oh sí, oh sí" in rapid succession and the stroke hits my center just right, I'm also served a reminder of the gratitude that comes with cumming. But gratitude sex is more than being grateful for the actual act of sex, it's about placing yourself in positions (pun intended) where you can be on the receiving end of pleasure, attention, and appreciation.
This season, and any season really, I encourage you to add some gratitude to your sex life and give yourself permission to be the object of desire. As women, it turns us on to be the turn-on in sexual situations. And lately, the sex positions on my radar are a testament to that sentiment. The 'gratitude' sex positions below are positions that make my pleasure the focus. And trust and believe, the sex positions below are making sure your pleasure is served.
Keep reading for gratitude sex positions to try whenever you want to feel like the main course.
(Editor's note: "Receiving partner'" refers to the partner receiving the penetration. "Giving partner" refers to the partner doing the penetration.)
1

.

The Pretzel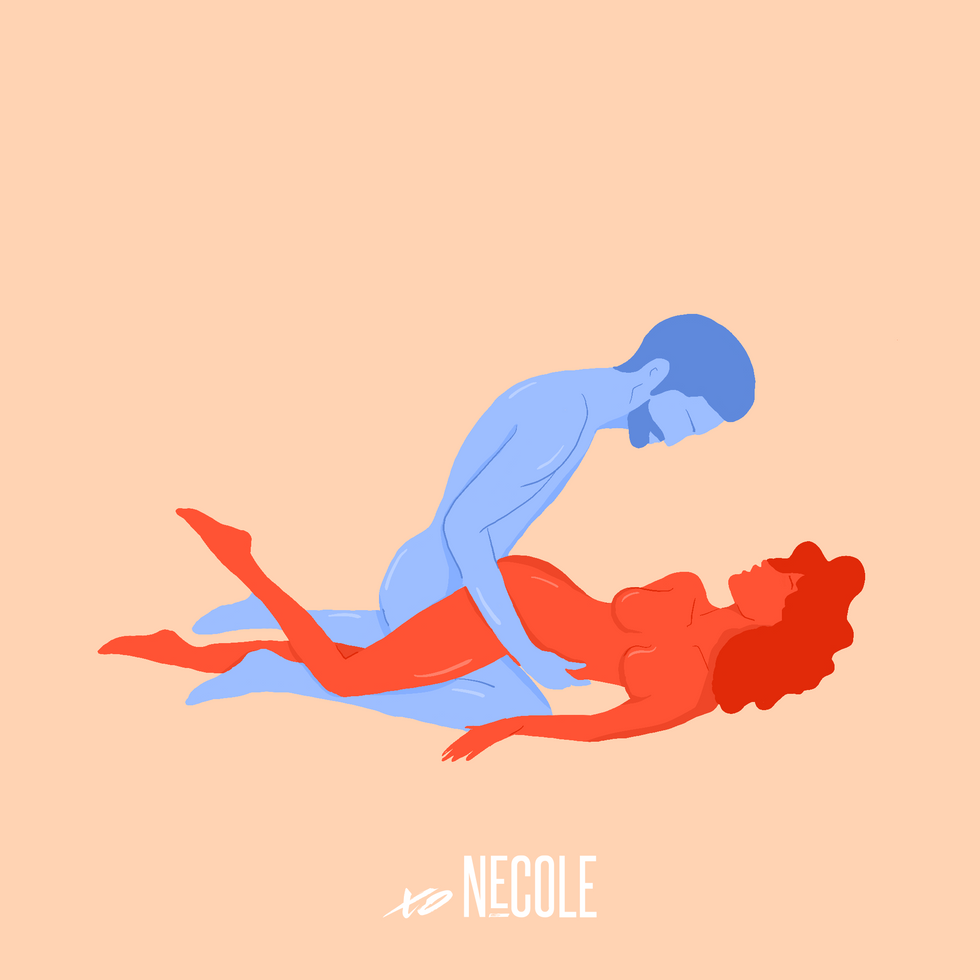 Qori B.
Depending on who you ask, this sex position is referred to as the Pretzel or even the Linguini. Either way, it is a purveyor of earth-shattering orgasms (due to the depth both parties feel) that not enough people pull up on their sex position rotation. To do it, the receiving partner lies on their side. The giving partner will then kneel behind the receiving partner's ass before pushing one of their knees in between the receiving partner's legs for access to penetrate.
The receiving partner can relax while the giving partner does the work in this position but can also opt for using a headboard as support to throw it back. Anal play is also easy to add to this position.
2

.

Begging for Mercy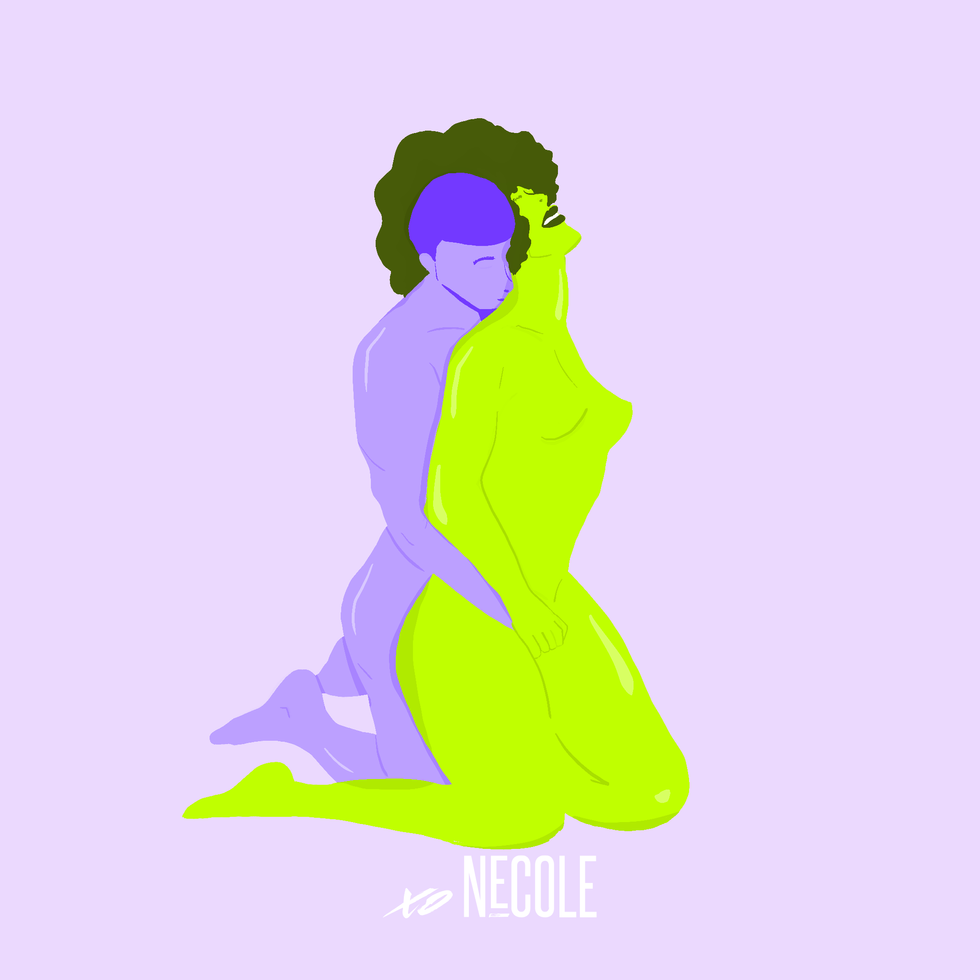 Qori B.
Although I am a big fan of doggy, I understand those who aren't the biggest fan of the position. But if you love the depth of doggy style but don't want to sacrifice a feeling of intimacy, look no further than this position. In this variation, instead of the receiving partner being on all fours, both partners will kneel and position themselves upright. The giving partner will enter from the back and the both of you will rock against each other. For maximum pleasure, the giving partner can play with your clit as the two of you writhe. Orgasms unlocked.
3

.

Asian Cowgirl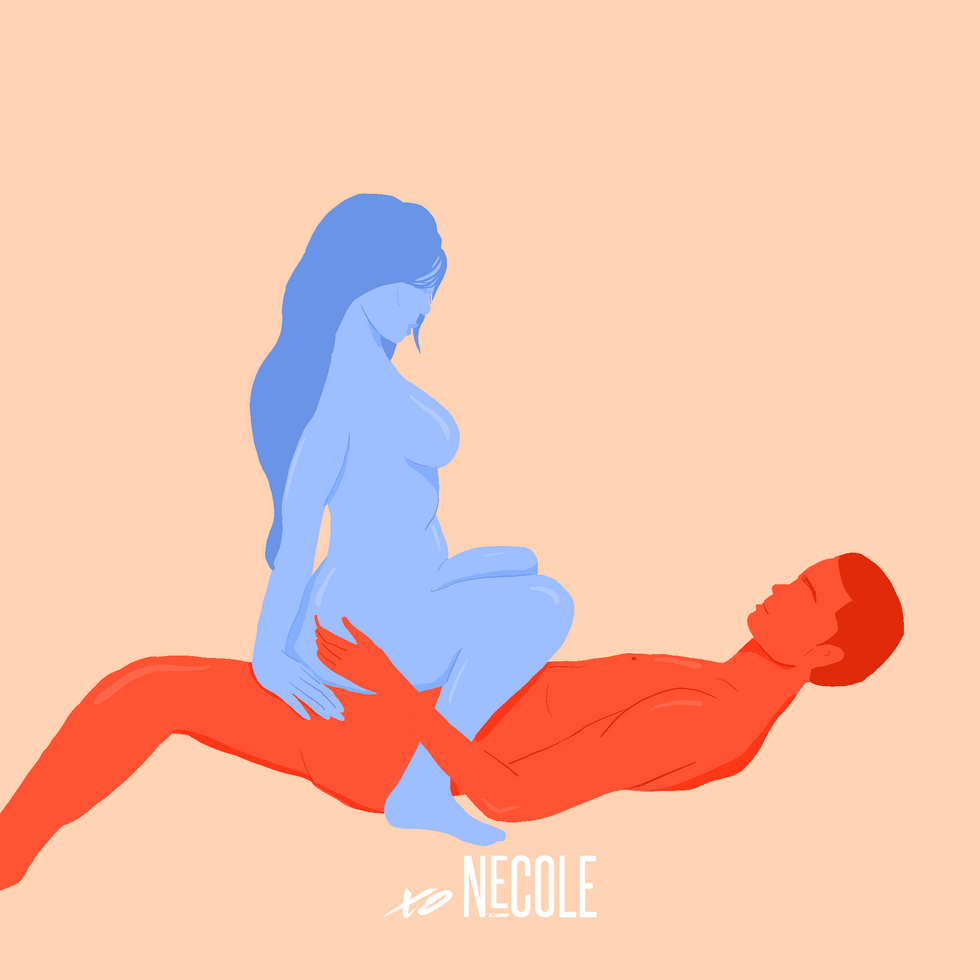 Qori B.
Very similar to the OG Cowgirl position, Asian Cowgirl is a variation of the classic woman-on-top sex position. I say if you have the knee and leg strength to do it, give this one a go because it's great if you're looking for a more intense ride and deeper penetration while being on top. In order to do this, the receiving partner will get on top of the giving partner and squat over them, resting their feet on the bed. The receiving partner will then move up and down along the giving partner's length, using the giving partner's legs or chest for support as needed.
4

.

The Bridge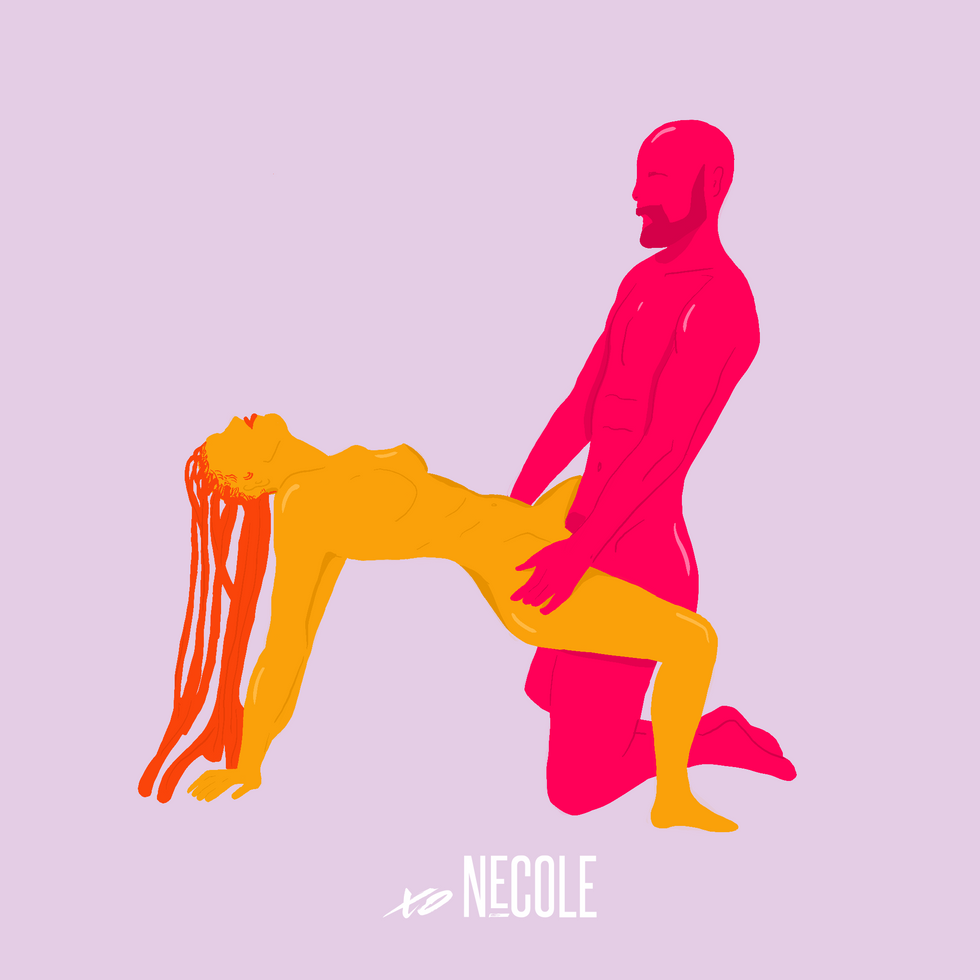 Qori B.
The giving partner might have to put a little more work in for this one but the clitoris access makes it so worth it. For The Bridge position, the giving partner will prop themselves up on their hands and feet by making an arch. Once they are in position, the giving partner will kneel in front of the receiving partner and penetrate them. And then, the receiving partner just receives as the giving partner puts in the work with their stroke.
For added support, the giving partner can lift the receiving partner's ass while thrusting. The giving partner can feel free to add some breast and nipple play into the mix while they're at it for even more intensity.
5

.

Bent Spoon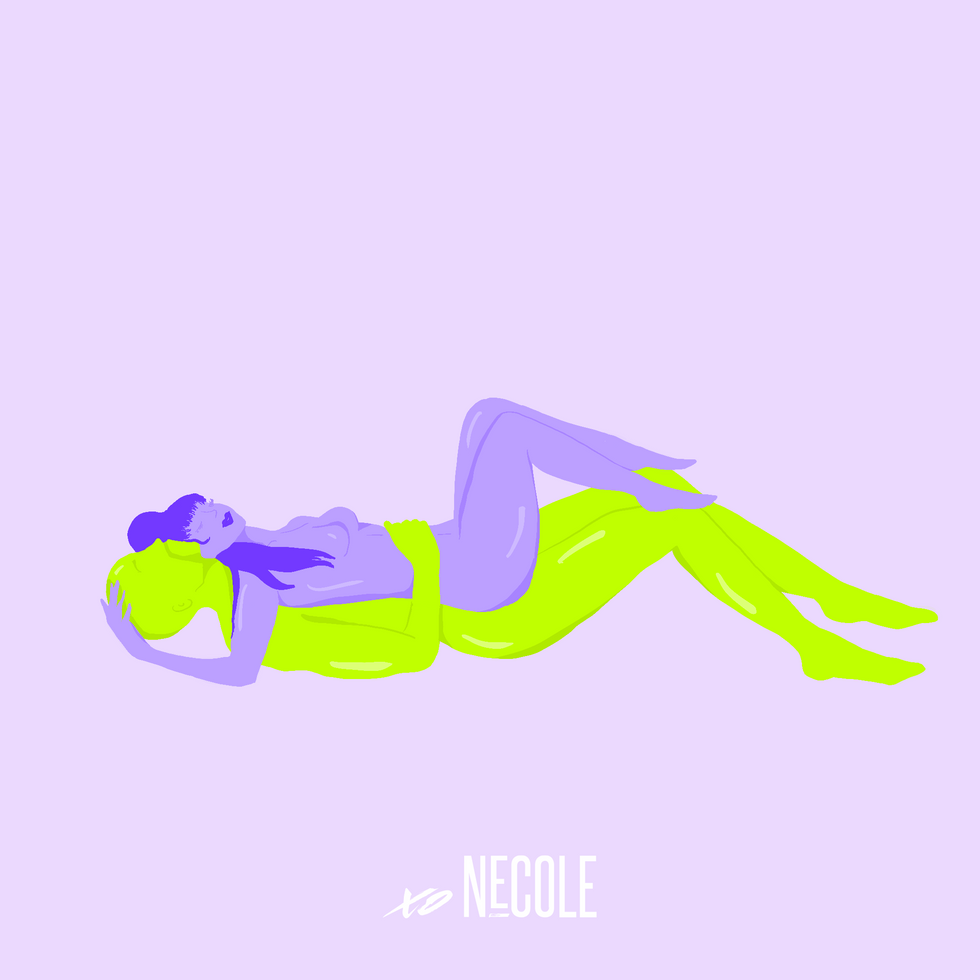 Qori B.
A variation of the classic spooning sex position, the Bent Spoon is highly regarded as a catalyst for G-spot orgasms to be made possible. Balance is most definitely required, but the fruits of your labor will truly taste sweet. In order to do the Bent Spoon, the giving partner needs to lie on their back. After that, the receiving partner will get on top of the giving partner. In the end, they will both be facing upward while they are on top of each other. The giving partner will then spread their legs and bend their knees slightly to balance themselves.
Once they are both balanced, the receiving partner will bend their legs, bringing their knees higher to their chest as the giving partner begins their thrusts. For further support, the receiving partner can prop their feet on their partner's knees.
6

.

Rock the Boat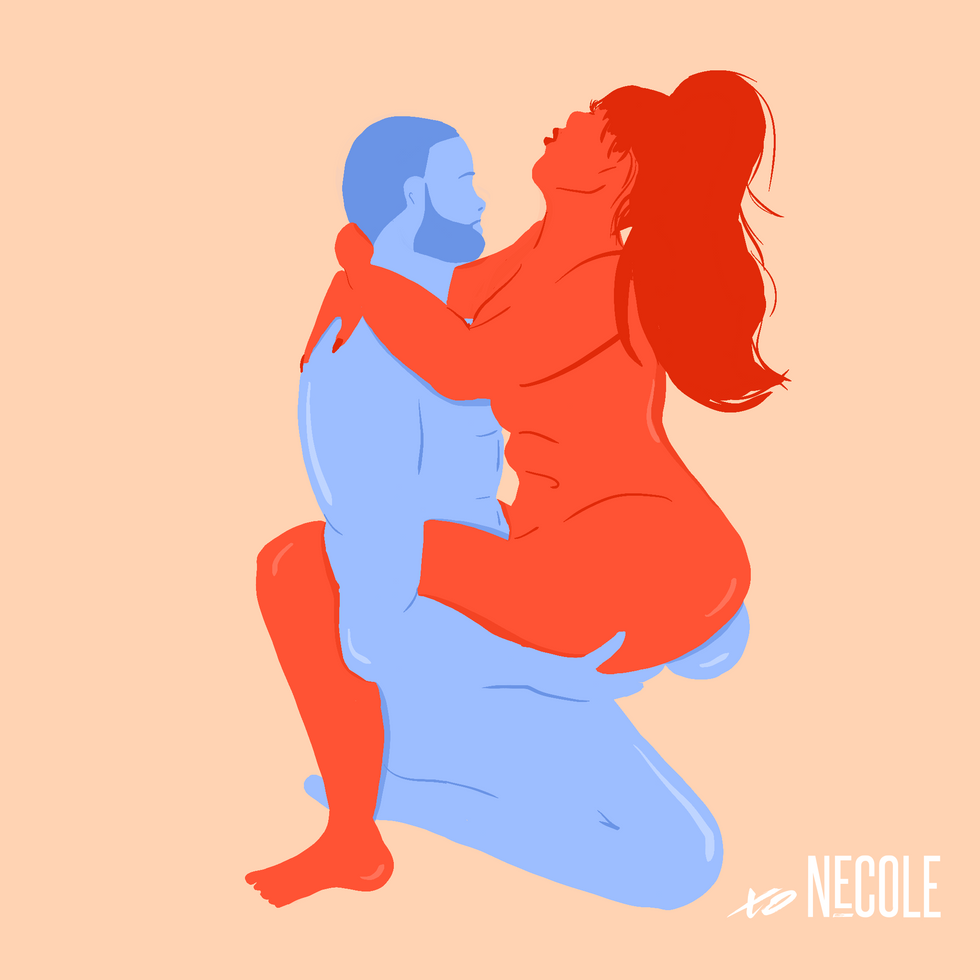 Qori B.
In this kneeling position, the giving partner will get on their knees and sit down against the backs of their legs. The receiving partner will then get on top of them by sitting down in a squat and taking in the giving partner's length slowly. The magic is in the teamwork for this one. The receiving partner will use their legs for strength and balance as they move up and down the giving partner's length. If additional support is needed, the receiving partner can wrap their arms around the giving partner's neck.
7

.

Polar Opposites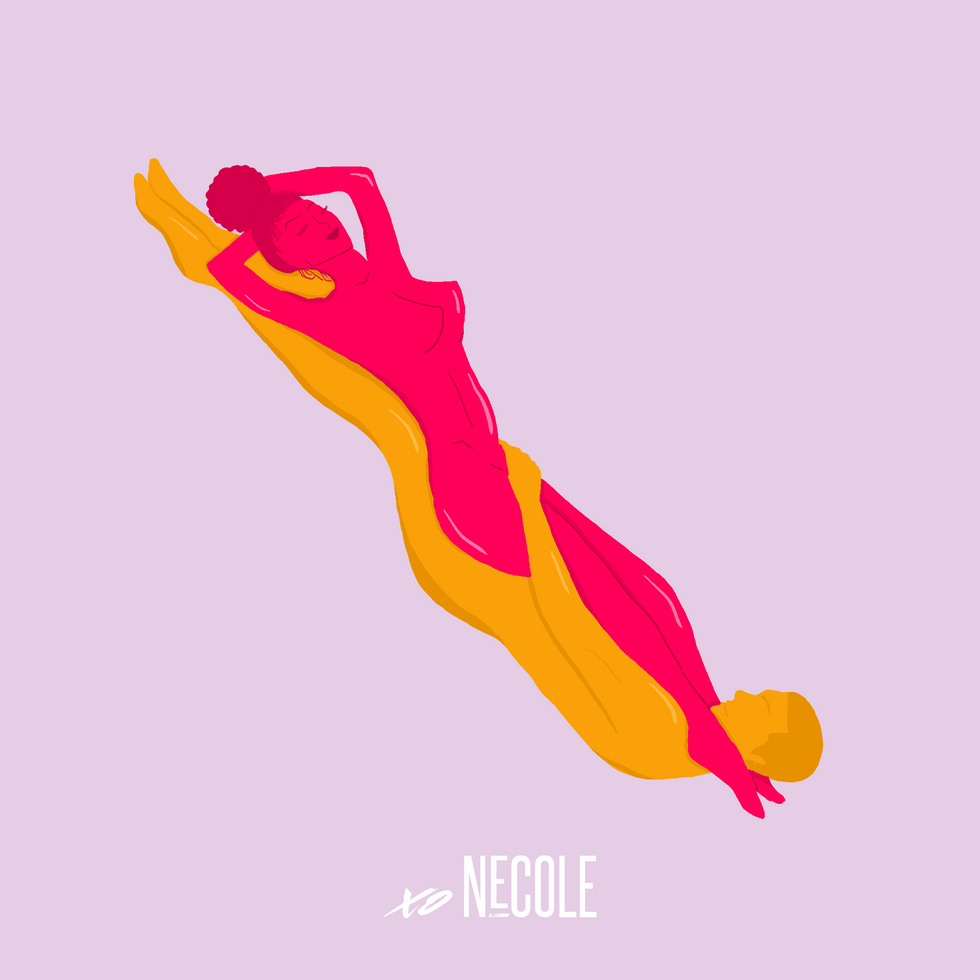 Qori B.
You know what they say, opposites attract, and for this sex position, Polar Opposites highlight exactly why that is. To do this sex position, both partners will lie down facing upwards but in the opposite direction (as illustrated above). The giving partner will lie down first with their legs closed and the receiving partner will position themselves on top of them in the opposite direction. The giving partner will penetrate from behind while the giving partner is positioned on top of him. For more intensity, the receiving partner can close their legs more tightly, allowing the giving partner's head to rest comfortably between the receiving partner's feet.
Let's make things inbox official! Sign up for the xoNecole newsletter for daily love, wellness, career, and exclusive content delivered straight to your inbox.
Featured image by Blue Images/Getty Images
Have you ever dreamt that your partner was cheating on you? Or that you were cheating on your partner? Let's face it: Dealing with any sort of scandal (even in your slumber), can leave you feeling confused or anxious af. Maybe you've already suspected your partner of cheating and your subconscious is trying to send you a sign. Perhaps your dreams are a result of unhealed trauma from a previous relationship? Or maybe you just ate too many tacos before bed last night?
Before you shake your S.O. awake to begin interrogating them, it's important to know that dreams of infidelity aren't exactly uncommon. In fact, according to this study of 1,000 people, 31% of the women have dreamt of their partner cheating and 23% have dreamt of them cheating on their partners. (So, if this has happened to you, you are not alone!)
According to the Sleep Foundation, some psychologists argue that dreams provide insight into a person's psyche or everyday life, while other psychologists find their content to be too "inconsistent or bewildering to reliably deliver any true significance."
Now, don't get me wrong, I do believe that dreams *may* convey real information and that they often reflect our everyday thoughts and feelings — as well as our deepest desires and concerns. However, that doesn't mean that each dream is to be taken literally. Cheating dreams could equate to you simply feeling a sense of neglect or abandonment in your relationship.
"When we dream, we are tapping into our subconscious mind," explains astrologer, Ashanti Ransom, also known as The Heaux Healer on IG. "We are dreaming about any and everything that you've ever thought of, seen, or imagined. The subconscious is such a deep place that almost anything can pop up in the mind's eye."
So, why do people dream about cheating?
"Because we are human, we all will experience nightmares from time to time," says Jacqueline 'Dr. Jac' Sherman, licensed clinical psychologist and intimacy and relationship coach. "Bad dreams about cheating can feel equivalent to a bad nightmare because the dream can cause emotional distress, and sometimes even cause sleep disturbances. Additionally, there is research that suggests that people who have experienced infidelity in their relationships are more likely to have bad dreams involving their partner betraying their trust by being unfaithful."
What are some of the potential meanings behind cheating dreams?
"Sometimes when you are grieving a traumatic situation like finding out your partner has been cheating, it can trigger abandonment wounds in your subconscious mind which may lead to nightmares," notes Dr. Jac. "Also, when a current relationship is going well and someone has been cheated on by an ex, they may be holding on to emotions such as fear, insecurity or worry that can create anxiety and bad dreams."
"When a person is deeply in tune with [their] mind, body, and soul, a dream of a partner cheating could very well be a message from your spiritual team that it's time to pay attention to what's happening in the relationship in waking life," says Ashanti. "It's almost like a warning. You also want to pay attention to what's happening in the dream. What is your partner doing? How are they acting? This may give you a clear indication of what could be happening. It may also be a play-up on your fears from a previous relationship that you haven't taken the time to heal properly."
Could cheating dreams be a result of a person's intuition or could they be unchecked damage from a past relationship?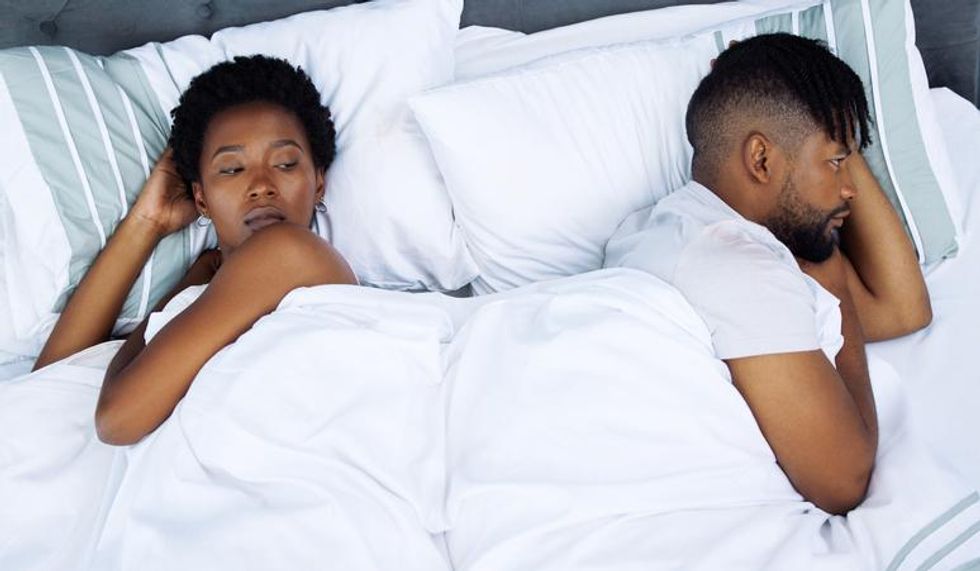 PeopleImages/ Getty Images
"Honestly, it can be a little bit of both. Sometimes past relationship trauma or infidelity can trigger emotions of jealousy, paranoia, and fear that can result in bad dreams," says Dr. Jac. "Additionally, our intuition can help us realize that something does not feel right. If someone is having an intuitive feeling that their partner is cheating, this might lead to more thought rumination about betrayal. As a result, their anxiety may increase resulting in bad dreams, and nightmares are a symptom of anxiety."
"Whenever a woman feels any type of uneasiness about a situation, I recommend that she follow her gut feelings," explains Ashanti. "However, the dating pool right now is leaving lots of suitors scarred mentally and emotionally so, it very well can be from past trauma. In my opinion, I feel like the dating generation right now is operating from a place of getting hurt or being hurt. Nobody wants to be the hurt person so everyone is trying to beat each other to it."
What do we need to do with these dreams about being cheated on once we have them?
"Most importantly, pay attention! Pay attention to how the dream made you feel when you were in it," Ashanti explains. "How did you react once you heard or saw the news unfold? There isn't much you can do because it may or may not have happened yet. I would also recommend talking to your partner. Look for that reassurance in your partner so you can feel some type of ease."
"If the dreams do not bother you, I would say do nothing, overall, they are just dreams!" says Dr. Jac. "If the dreams are bothering you emotionally and/or are recurrent, I would suggest journaling about the emotions the dream elites from you. Journaling helps to provide self-awareness and insight, so starting here can help you recognize any distress you may be feeling as a result of the dreams."
Here are four journaling prompts Dr. Jac recommends for a self-reflection process: 
What do you imagine this dream might mean for your relationship?
What do you imagine this dream might mean about your partner?
Is there anything from your past that this dream has triggered?
What emotion(s) do you feel after experiencing this dream?
Let's make things inbox official! Sign up for the xoNecole newsletter for daily love, wellness, career, and exclusive content delivered straight to your inbox.
Featured image by LaylaBird/ Getty Images
Tia Mowry has a refreshing take on divorce. The Sister, Sister star stopped by TODAY with Hoda & Jenna and opened up about divorcing Cory Hardrict and why instead of looking at ending her marriage as a failure, she is looking at it as a "graduation."
"I knew when I really started to focus on my happiness," she said when asked when she believed her marriage was over. "I feel like women, we tend to focus on everybody else's happiness, making sure that everybody else is okay — meaning our children, our friends, our family."
"But at the end of the day, it's about self-love. When you start to really work on yourself, love yourself, know your value and know your worth, then all of a sudden, there's this awakening. And it's not easy. It's a hard journey, but at the end of the day, I feel like it is so, so worth it."
The 44-year-old's social media followers have had a front-row seat to her self-love journey. Over the last couple of years, Tia has shared inspirational posts about self-love, self-care, and happiness. Sprinkled in were also adorable moments with her family. She shares two children with the All-American: Homecoming actor, Cree, 11, and Cairo, 4.
While surveying her life, she started therapy and also uncovered that she was dealing with a bit of sadness. "I feel like when I started to, again, like I said, focus on myself, but there was this sadness. And I knew that life is short," she said. "I had actually lost my grandmother. We had lost Alaina Housley (Tia's twin sister Tamera Mowry Housely's niece who was killed in the 2018 California mass shooting.) And both of them at the same time."
She continued, "There was just an 'aha' moment in me where I said, 'You know what? We need to tap in, see what's really going on with your happiness. Life is short. Let's go. Let's start working on you and really focusing on what really, really matters here, which is at the end of the day, your peace, your joy and your happiness.'"
Tia announced her divorce from Cory in an Instagram post on Oct. 4 after filing the day before. The divorce documents cited irreconcilable differences as the reason for their marriage's demise. The Game actress, however, is looking at the end of her marriage through a different lens.
"My marriage was a success. I look at it as like a curriculum when you're in college or high school. You're learning, you're growing, you're evolving, you're creating. I was able to create with Cory some beautiful, amazing children," she explained. "At the end of that curriculum, there's a graduation, there's a celebration. So that's basically how I'm looking at it now."
"And I feel like ... when (people) look at marriage, success equals longevity. But, no, at the end of the day, it's are they happy? Are they thriving? Are they growing? I feel like that is what is most important. It's not about staying in something because however long you are in that situation that equals success. It's about really, again, are you happy? Because life is really short."
Tia and Cory were married for 14 years.
Feature image by Albert L. Ortega/Getty Images
Let's make things inbox official! Sign up for the xoNecole newsletter for daily love, wellness, career, and exclusive content delivered straight to your inbox.