The law of attraction is tricky. A few years ago, I felt something was deeply wrong with me because I kept attracting people who hurt me. No matter how hard I tried to fix myself, and alter my energy, the same type of people kept coming my way. I'd talk to my friends about it and ask them, "Why do I keep attracting this type of person? Why do I keep having the same experiences?"
It took me a while to realize that the biggest thing I was doing "wrong" was not recognizing the power I had in choosing the people I let into my life. Blaming myself for the people I was "attracting" was pointless because I had no power or control over who was attracted to me. None of us do.
Instead of asking ourselves, "Why do I keep attracting this type of person?" we should try asking, "Why do I continue to give energy to people who show signs of not being a good fit for me?"
To have healthier and more fulfilling relationships, we must be intentional about who we entertain and make space for in our lives. We have to own our decision to continue patterns with people because they provide us with a familiar discomfort we've become accustomed to settling for. While we aren't responsible for the way people treat us, we are responsible for understanding why we decide to stay.
So, how do we lay the foundation for choosing the right people?
1. Show up as yourself. 
When we first meet someone, it's tempting to show up as our representative or be the person we think someone is looking for. To find people we're compatible with, we must be brave enough to be ourselves, even if that means not being liked or accepted. As long as we find the courage to radically love, value, and accept ourselves, we put ourselves in the position to meet people with whom we can sustain healthy and meaningful relationships.
2. Build a relationship with yourself.
Being disconnected from ourselves can make it hard to be connected with other people. Learning to love, honor, and respect ourselves helps us create a strong foundation for building healthy relationships with other people. When we feel safe with ourselves, we'll feel more confident when putting ourselves out there to get to know others. When we begin having conflicts, which is guaranteed to happen whenever people get to know each other, we'll be able to communicate our needs and boundaries to increase intimacy in the relationship. If the relationship doesn't work out, we're less likely to blame ourselves and more likely to trust that we can make more fulfilling connections in the future.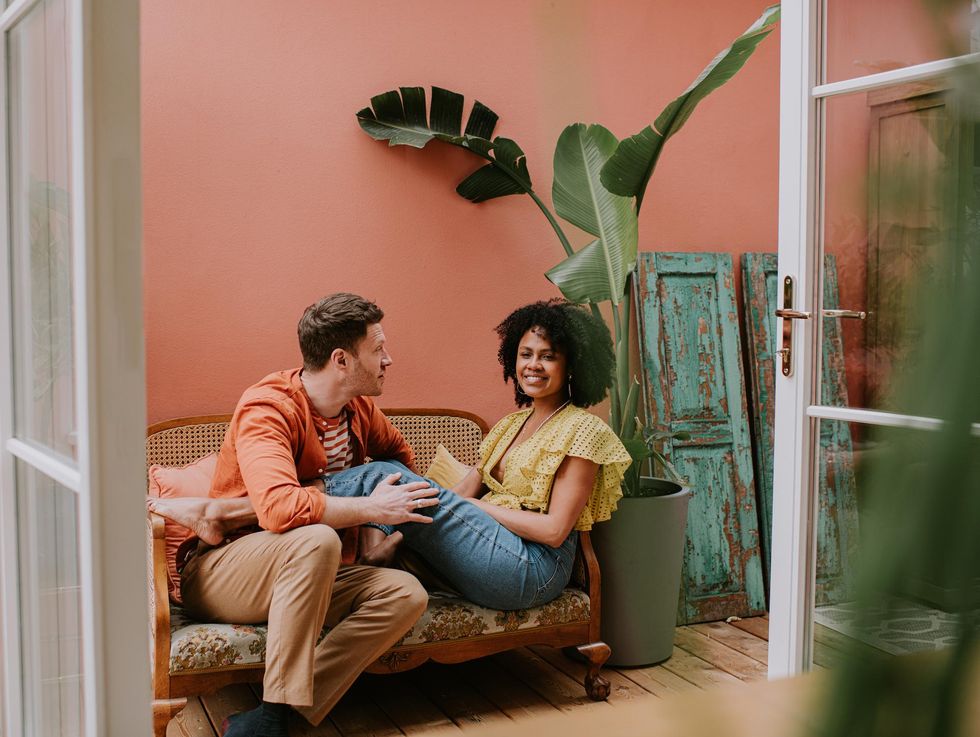 Getty Images
3. Don't be afraid to look "needy."
Sometimes we're afraid to ask for what we need to feel safe or comfortable in a relationship because we fear looking "needy." When we present as "needless," we end up in a community with people that like being around us because we don't ask for anything. As a result, the relationships become one-sided as they grow more comfortable and content with not doing anything for us. As the relationship progresses, we attempt to let our needs be known and grow resentful as our requests go unnoticed. Being open about our needs helps us discover people we're compatible with in friendship and romance. Having needs is one of the things that makes us human, and some of these needs can only be filled when we're in relationships with other people. Remember, sometimes you're not asking for too much; you're simply asking the wrong person.
4. Let people unfold. 
Sometimes we commit to people too quickly. We become captivated with the idea of someone, and when the truth of that person is revealed, we are disappointed, or worse, we're in denial. Natalie Lou, the author of the Baggage Reclaim Series, always reminds readers that "people unfold." Over the course of getting to know someone, we may discover signs that unveil incompatibility. If we're not careful, we'll overlook those signs and keep moving forward because we don't want to be wrong about someone.
We don't want to be alone again. We don't want to stop being friends with someone. But, in the end, we hurt our own feelings by choosing to deny the reality of our situation. We also draw out the ending of what would likely be an unfulfilling relationship. The more time we spend engaging with people we aren't compatible with, the less time we spend connecting with people we fit well with.
5. Choose people that choose you. 
Stop chasing after people who are running away from you. Some of us learned that we were difficult to love, and we internalized that our relationships would be challenging and filled with uneasiness. When we receive mixed signals, crumbs of attention, or poor treatment, we're prepared to fight and perform to sustain the relationship and prove ourselves. Our nervous system gets triggered, and we mistake those feelings of uncertainty for attraction and love. But that's not love, and we are worthy and deserving of so much more.
We deserve mutuality. We deserve to be around people who want to be with us as much as we want to be with them. We shouldn't be in a state of constantly questioning if someone is as invested as we are, nor should we be performing for love. Choose people that choose you—no forcing, no begging.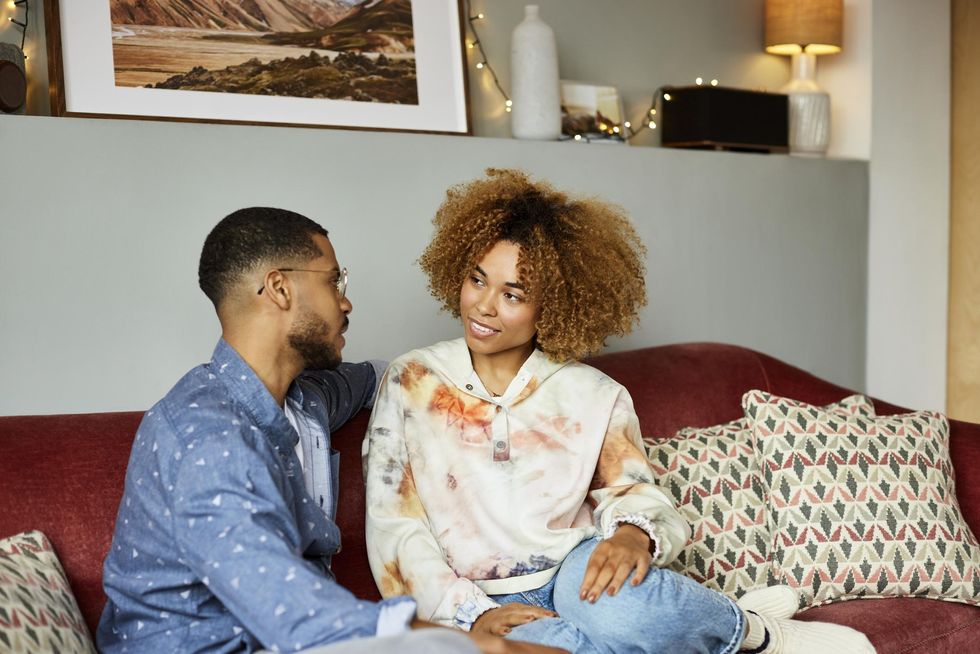 Getty Images
6. Become comfortable with impermanence. 
Everyone you meet and build a relationship with won't stay in your life forever, and that's okay. Everyone isn't meant to stay. Sometimes we try to prevent people from leaving or refuse to walk away because we're uncomfortable with endings. More importantly, we're uncomfortable with what endings say about us. By trying to control whether or not people stay, we're attempting to control the uncontrollable. It's a losing game, and we end up hurting ourselves and others in the process. Longevity in a relationship is not an indicator of health or fulfillment, nor does it serve as a reflection of our worthiness.
7. Stop making excuses for people. 
When we feel unlovable, we can have a strong desire to stop other people from feeling the same way. We'll try to accommodate, justify and tolerate unacceptable behavior in other people because we don't want to be mean or reject people. We aren't responsible for protecting other people from rejection or disappointment. If we're being honest, sometimes we struggle with the idea of rejecting someone because we don't want to deal with the pain of being rejected and assume others can't handle it either. When people hurt us, we lean into being too understanding instead of assessing the relationship and establishing boundaries. Don't fall into the trap of blaming yourself for someone else's behavior in hopes that if you take responsibility, you can evoke change. Part of being in healthy relationships and establishing respect is showing others you have the strength and courage to protect yourself.
Taking responsibility for our lives is scary, but it's where healing begins. While we can't be in control of everything, we can exercise our power to choose. Letting people into our lives isn't a passive activity. The relationships we choose to pour energy into play a significant role in our happiness and well-being. Give yourself the love, compassion, and foundation you need to choose wisely.
Let's make things inbox official! Sign up for the xoNecole newsletter for daily love, wellness, career, and exclusive content delivered straight to your inbox.
Featured image by Getty Images
As you may know by now, the summer produces some of the best and most nostalgic soundtracks of our lives. The mood is set by fun and light sounds of the past and present, giving you the playlist that you need for the summer you want. Summer, no matter how hot, is a magical season where anything can happen, especially in the romance department. Long nights and short days act as a backdrop to new beginnings, summer flings, and the possibility for more (depending on what you're looking for). But it doesn't mean the romance has to be dull, regardless of the timeline you're hoping to create. Like I said before, summer is what you make it so the options are limitless.
Should this be more of a romantic rendezvous with your boo thang (because romance occurs within friendships too), sex may or may not be off the table during the sticky days of the lasting summer heat. If so, there's nothing like a cute, cinema-esque date with your person to add a little razzle-dazzle to this already magical time of year. Upping your chances of making this a whole evening of loving. Yes, if you're lucky…you might just get lucky (er, luckier) with a little bit of intentional planning.
With that said, for a fun summer date night idea, check out one of these 10 ideas to upgrade you and your date nights throughout the season.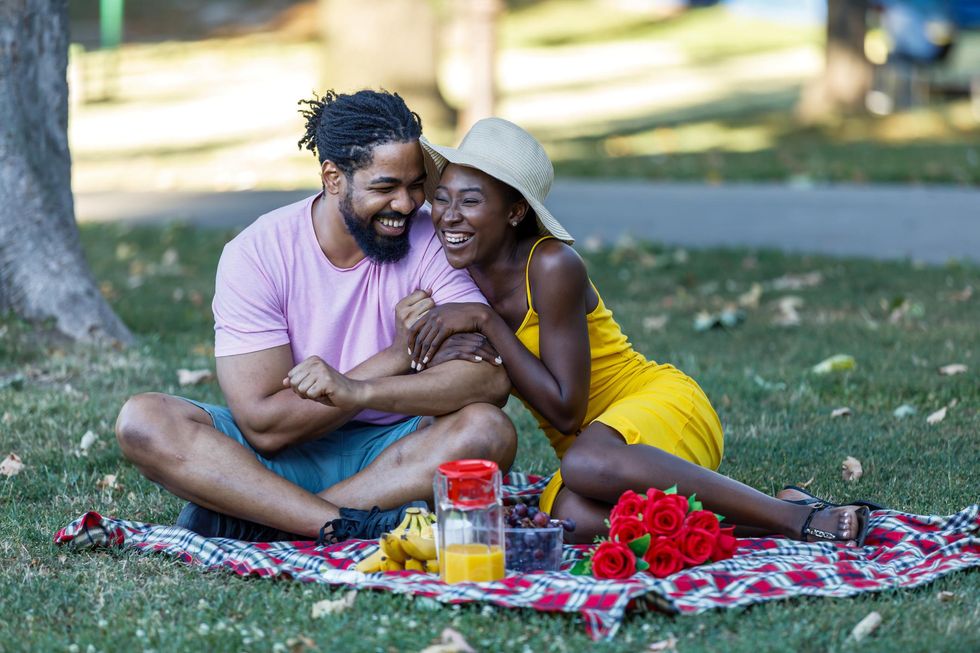 Getty Images
1. Luxe Picnic
Luxury picnics have trended up over the past couple of years and thankfully so. For all my bougie girls, it's a real Hilary Banks spin on an old-school concept. You can plan this concept out yourself, however, they have become mainstream. Meaning you can also hire someone to put this fabulous date night (or girls' day) together for you – allowing you to simply show up and enjoy the ambiance.
2. Drive-In Movie/Movie in the Park
A date at the drive-in is a summer classic! And honestly, I'm not sure if they're romantic or the perfect place to hook up – something in me says those old-school movies set in the 40s that showed a couple at a drive-in movie date were hinting at a little more than romance. Still, the bomb thing about this date idea is that it has to occur in the evening which means less sun but packs all the heat (winks) and hopefully a cool breeze.
Another romantic way to capitalize on this vibe is to do a movie date in the park. Many cities offer opportunities for Screen on the Green or cinema in the park during the summertime (Los Angeles has an outdoor cinema year-round called Cinespia that shows classic movies). Though it's not quite as intimate as a drive-in, the experience is a summer date idea worth mentioning.
3. Strawberry Picking
For this summer date idea, you can go strawberry picking or really any type of fruit picking that is local to you. Once you all finish picking the fruit, have a chilled bottle of wine with you to have with your fresh picks. If alcohol is not allowed in the facility, take this opportunity to do a rooftop car picnic or find a nearby lake, field, etc. to set up shop in. (Picture that scene from Jason's Lyric).
4. Hot Air Balloon Ride
If you're not afraid of heights, a hot air balloon ride is a mile-high club that seems well worth the experience. Depending on where you live, you may want to go out somewhere scenic to get a really picturesque view down of the city or the rural area below. Allow yourself to be captivated by the flush of golden light from the sunset on the horizon as you experience an adrenaline rush that takes an average date night to new heights. I think this is the perfect intimate outing where there's less demand for dialogue.
5. Grape Stomping
Because grape stomping, or grape treading, isn't necessary to make wine these days, consider this a novelty experience. You can sip on some wine while you and your partner stump all on grapes, which weirdly enough seems sticky but refreshing. Once you finish, you and your partner can wipe one another's feet down and add in a little massage. Look to Airbnb Experiences for grape stomping opportunities that might be near you or someplace you hope to visit with your partner soon. Food & Wine Trails also has a list of the top five regions to visit for grape stomping that you can find here.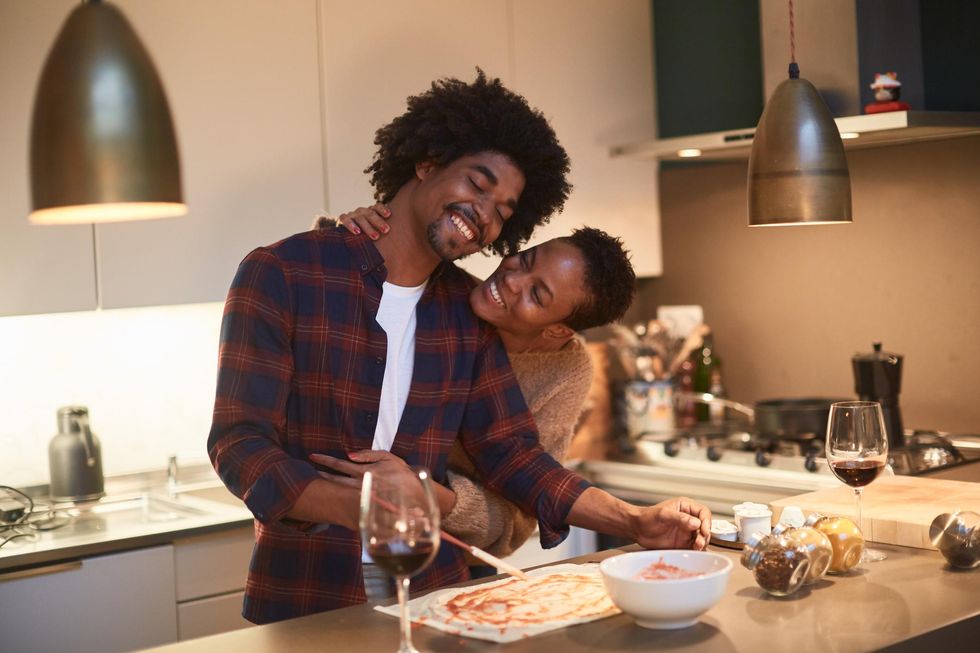 Getty Images
6. Couples Cooking Classes
Beat the heat while making something yummy to eat. Cooking is such an intimate act and when you take the extra step of preparing something you've never cooked before in a class setting, you open up the floor to add some novelty to your date night as well. This also allows you to try something new for the first time together which is a great way to add to your connection. Couples cooking classes are pretty common so you might even be able to find a Groupon or Airbnb Experience for this. However, if you know a chef who you enjoy and can reach out to perfectly that would be even better!
7. Water Balloon Fight
For the goofy couple, who adores embracing their inner child, grab the Super Soakers and water balloons! Not only is this a fun and out-of-the-box way of bonding with your person or people, but it's also the perfect way to keep cool on a hot summer day. A couple that plays together stays together.
8. Fair/Carnival/Amusement Park
Another activity inspired by throwback TV! Now that the world has opened back up, the go-to fair, carnival, or amusement park date during the summer is having a resurgence. I don't think it gets more intimate than riding rides and allowing another to hear you scream horrifically at every drop and turn. But furthermore, it allows you all to talk to one another as you keep your feet on the ground and win one another huge teddy bears.
9. Tandem Bike Ride
It doesn't get more Nicholas Sparks than this! Argue with someone else! Also known as courting bikes, the tandem bicycle is a great way to put a fun and romantic spin on bike riding. You can experience the trails and scenic views with your person slowly and closely, adding a layer of intimacy to bike riding you might not have initially thought of. Find your tandem bike, bring along some wine or champagne, and make a day of it while riding through your city. It's the perfect cycling date.
10. Bonfire
Kisses under the firelight? I can get behind it. Bonfires are also a great activity to do with others if you don't want to ditch the crew. This is probably perfect for a cooler summer night or even on a beach by the water. Be sure to bring along the smores kit so you can truly make this the top-tier experience you intend it to be.
Let's make things inbox official! Sign up for the xoNecole newsletter for daily love, wellness, career, and exclusive content delivered straight to your inbox.
Featured image by Getty Images
I vividly recall my mother implying that TV couldn't teach me much of anything, but in reality, we know that representation teaches us a lot! It empowers us and highlights diverse ways of Black life (more so in recent television history) that vary from traditional to not so traditional – though this makes the impact no less real. Television shows like P-Valley highlight the importance of human decency over respectability politics, while other shows allow us to see the value in falling through life with our awkwardness.
Because it is so rare that we women, much less Black women get to view shows where we are the leads and in a meaningful way – I wanted to put together a list of shows that showcase the beauty in Black personhood.
Admittedly creating this list was difficult in the sense that there is a limited amount of Black series on TV at any given time period, thus requiring me to rely on older televisions as I attempted to give you a list of new shows featuring empowering women. Although feeling and being empowered means something different to everyone, I have no doubt that these 11 Black shows bring some sense of the world to life for most viewers.
1

.

P-Valley
Just as the theme song says, P-Valley is all about women who grind harder than the men in their world. They get it by any means necessary because sometimes that's just what's required of us in the world we live in. Additionally, these dancers showcase artistry that we don't talk about quite enough when it comes to pole dancing as they unapologetically move through life at The Pynk.
2

.

I May Destroy You
Arabella (Michaela Coel) is a sexual assault survivor, who like so many others, is forced to put her life back together as the events of that evening come back to her. For this particular character, putting her life back together means reevaluating and recreating! We get to watch as she does so while surviving a devastating and violent act against her on what should've been a fun night out.
3

.

Blood and Water
After making a new connection, a young woman is convinced that a swimming star is her sister who was abducted when she was a child. This prompts her to investigate on her own even when met with concern and pushback. Blood and Water is a South African teen crime drama that pulls you in with intrigue and the search for the truth and performances that make you hungry for more.
4

.

Insecure
Of course, Insecurewas going to make the list! Though the show may seem to miss the mark on empowerment early on while the main character is still struggling to stand in her truth. Nevertheless, this show depicts an amazing arc for character development (with the main character, Issa played by Issa Rae). I'd also say that she empowers us awkward girls to navigate the world as is.
5

.

Pose
​This period piece focuses on the happenings of the 80s and early 90s through ball culture. A movement made for and by Black queer people who needed a safe haven when the rest of the world saw them as outcasts, Posenavigates the way that ball culture empowered those on the scene to remain optimistic and fight back in the midst of an ever-changing and chaotic world. We live with the cast through historical moments such as the HIV epidemic and the Stonewall Riots, amongst their many other day-to-day revelations.
6

.

Grown-ish
Admittedly, due to the intended demographic, Grown-ish not be everyone's cup of tea. It's without a doubt for teens transitioning to young adulthood, maybe those who watched Black-ish, and those new adults (not the seasoned vets) who like to reminisce on their (recent but distant) college experience.
In this series, we get to finish growing up with Zoey Johnson (Yara Shahidi)! Though she is 18, we navigate all the young dumb shit she does along her side, remembering what it was like trying to find ourselves and simply exist in this new world. We watch as Zoey becomes more empowered to stand in her adultness and the decisions that will impact her the most.
7

.

Chewing Gum
After growing up in an extremely strict household, Tracey (Michaela Coel) is determined to come into her womanhood – whatever that means! Inspired by mainstream culture, she taps into her inner Beyoncé as she navigates trying to make a connection to her sexuality.
8

.

She's Gotta Have It
Follow Nola Darling (DeWanda Wise), a jack of all trades when it comes to her sexual identity, while she digs deep to figure out what it really is that she wants out of both herself and her lover. Things can get pretty complicated when you're a woman in this world making your own rules, but Darling is determined to remain true to herself through and through… even if it's a bit unsettling to others in her life. For that reason, She's Gotta Have It's lead definitely makes this list.
9

.

Power Book III: Raising Kanan
Whether you followed the rest of the Power franchise or not, this show is a must-watch. In the series, Raquel "Raq" Thomas (Patina Miller) is a young mother who learns to do more than survive – she learns to thrive the best way she knows how – in the jungle that is early 90s New York City. Cutthroat as they come, she's put in a precarious situation when she can't keep her overly ambitious son out of the world she created around them. Though the main character of the show is her son, Kanan (Mekai Curtis) – to know Raq is to know Kanan!
10

.

Dear White People
In Dear White People, the main character, Sam (Logan Browning), will do nothing short of calling out white supremacy as she sees it throughout her collegiate experience. However, as a biracial person, this sometimes means pausing to look at her own blindspots as she navigates her personal experience of Blackness.
11

.

Queen Sugar
Though it irks me to no end that Queen Sugar tends to take such long and inconsistent hiatuses, this list can't be complete without speaking to the empowering nature of the Bordelon women. Strong-willed, vulnerable, and determined to be the individuals they were truly meant to be in this lifetime for the sake of family and their hometown in Louisiana, we see those personalities clash time and time again. However, when they come together, it's an endearing experience to watch.
Let's make things inbox official! Sign up for the xoNecole newsletter for daily love, wellness, career, and exclusive content delivered straight to your inbox.
Featured image via Tumblr
Halle Bailey and her boyfriend DDG are one of the cutest celebrity couples in the game right now. After confirming their relationship in March 2022, Halle, 22, and DDG, 24, made their red carpet debut as a couple over the weekend during the 2022 BET Awards. In an interview with Extra, The Little Mermaid star shared that she was "nervous" about their debut. "We're like tryna figure out what we were going to wear. All this stuff," she said. The couple matched each other's fly with both wearing all-black outfits.
While Halle and her sister Chloe began to reach stardom after singing covers on YouTube, reach led to a record deal with Beyoncé's Parkwood Entertainment, DDG also started his career on YouTube and built a very impressive fanbase from there. Here are a few other things about DDG that we know thus far.
Who is DDG?
PontiacMade DDG or DDG, which stands for his name Daniel Dwayne Grandberry Jr., is a rapper from Pontiac, Michigan. He got his start in the music industry in 2014 by releasing music videos in high school where he graduated as valedictorian and later through vlogs on his YouTube channel. He attended Central Michigan University but later dropped out to focus on being an entertainer. While he was signed to Epic in 2018, in 2020 he founded his own record label called Zooted Music with his longtime managers.
In an interview with Billboard, he opened up about owning his masters. I met with every single label you can think of, and I knew what I brought to the table," he said. "I came with a good fanbase already, I came with good music and a hit already. I came with everything already. So to not get what I wanted from a label would just be shooting myself in the foot. It was never about the money."
"Before I signed, I already had the money. It's just good to have a machine behind you and the whole building trying to take you to the next level. I just knew what I brought to the table. I knew what type of deal I wanted and that it should work in my favor."

DDG's Relationship with Halle Bailey
While they've dropped hints on social media that they were dating, it wasn't until March that they made it Instagram official. The "Treat Me Right" artist gave his boo a birthday shout on Instagram and displayed several moments of them together. "Happy Birthday to the beautifulest, the flyest, the sweetest ❤️ love you forever 🥺💎 @hallebailey," he wrote for the caption. She replied, "u will make me cry again" along with heart emojis.
Since making it Instagram official, Halle has gushed about her man multiple times. More recently, she tweeted two photos of herself wearing the "Moonwalking in Calabasas" rapper's clothes. "i live in my mans clothes lmao," she wrote.
But perhaps one of their sweetest moments was when the "Ungodly Hour" songstress was giving DDG singing lessons on TikTok. The couple was singing Sam Cooke's "A Change Is Gonna Come" and fans couldn't get over how adorable they were. Some were even impressed by DDG's singing capabilities.
Let's make things inbox official! Sign up for the xoNecole newsletter for daily love, wellness, career, and exclusive content delivered straight to your inbox.
Featured image by Momodu Mansaray/WireImage
"Who made the potato salad?" As summertime kicks off, this is the universal question that, without fail, will be asked at every barbeque and backyard kickback over the coming months. With the Fourth of July also nearing, summertime celebrations and cookouts will be in full force. However, as the tide begins to turn in this new day and age, more Black Americans are celebrating Juneteenth, instead of the Fourth of July, because, after all, there were still over 250,000 Black Americans enslaved in Galveston, Texas during this so-called Independence Day.
In the words of our brother Frederick Douglass, "What to the Slave is the Fourth of July?" Also, with the world being put on pause for over two years due to COVID, and in many cases keeping families separated during this time, now is the perfect time to reach back to our roots and bring back family reunions as an alternative to celebrating the Fourth of July.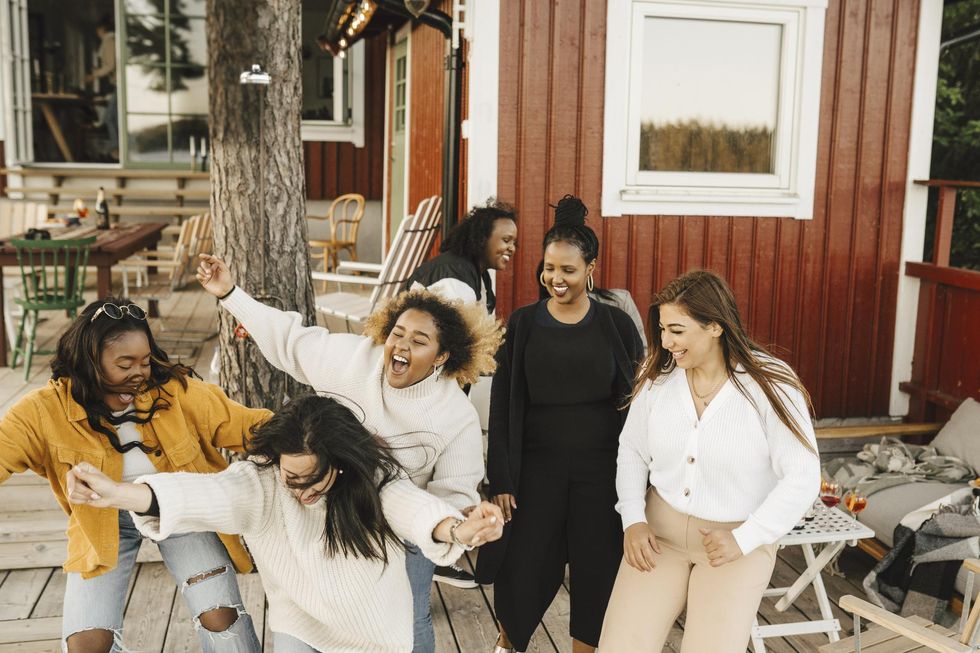 Getty Images
It's time to cue the Soul Train line as folks boogie down to the beats of Earth, Wind and Fire's "September," and Cameo's "Candy." Of course, you have to whip out the card table for endless rounds of spades and hear the back-and-forth banter that will surely ensue, followed by the familial "whack!" sound as some unsuspecting soul just got their deuce of diamonds cut by a little joker and backdoored by the big joker to seal the win. "Who got next?!" the victor queries.
Tables shake and "bones" rattle over an intense game of dominoes. Uncle So-and-So, the self-proclaimed grill master, throws down on the grill while rocking the universal "barbeque sandal." You know the ones we're talking about. Paper plates sit on laps and red Solo cups rest by feet. Family, food, and fellowship -- ahhh yes, the perfect recipe for a family reunion.
How Family Reunions Started
Family reunions go beyond those, just the right touch of sweet, baked beans and finger-lickin' good barbeque ribs. While food may be the vessel through which we fellowship and frolic with our folks, how Black American family reunions took shape dates back to the times of the Emancipation Proclamation. During enslavement, Black families were ripped apart.
According to an Equal Justice Initiative report, "It's estimated that more than half of all enslaved people in the Upper South were separated from a parent or child, and a third of their marriages were destroyed by forced migration." After the Emancipation Proclamation, newly freed Black Americans desperately sought out their missing family members, posting advertisements in local newspapers as a part of their search efforts. If history has taught us anything, it's taught us that our ancestors are resilient and resourceful.
Whether it was through advertisements or word of mouth, the nation experienced what would become known as the Great Migration where nearly 4 million African Americans migrated from the South to the North. This migration and reunification of Black families was the beginning of family reunions as we know them.
Nowadays, family reunions have evolved to be more than just a picnic. They are now oftentimes multi-day events that alternate locations from year to year, and out-of-towners make the pilgrimage, much like the ancestors, to reunite with family.
The Importance of Family Reunions
Why are Black family reunions so important? Because, while our roots may be intertwined with a harrowing past, our resilience is what has led us to where we are today, and that is to be celebrated. Black family reunions serve as an opportunity for us to sit at the feet of our elders and learn about our family's history and legacy -- to soak up the knowledge that we will one day be able to pass down to those that come after us. It is an opportunity to truly connect, beyond the computer screens and social media statuses, and to gather for events besides weddings or funerals. Life, lineage, and legacy should be celebrated while living, and while there are things that should be buried with our ancestors, i.e. generational curses, our family's stories should live on forever.

Want to incorporate some new traditions at your next family reunion? Here are a few suggestions:
1. Shop with Black-owned brands and businesses.
Family reunions are the perfect time to support skinfolk by shopping Black. Use Black vendors for things like catering, DJs, decorations, etc. Those matching t-shirts we mentioned earlier, use a Black-owned t-shirt printing company. Keep those dollars circulating in the Black community.

2. Create a family journal.
Creating a family journal for your family reunion is a great tradition to start as a way to document the lives, stories, and words of wisdom from the family. There are a few ways this can be done. You can create a video journal, which is likely the easiest and quickest way to capture information, especially for elders who may be unable to write or type. Another way is to have people physically write their stories or advice and have it all scanned into a digital ebook. Another possible option is for everyone to submit their information electronically and then it is all compiled into physical or digital books. Imagine future generations being able to have a tangible book of their family's words that have been passed down for generations.

3. Create a family cookbook.
Some of the best recipes are those that have been passed down from generation to generation. Some of the best recipes are buried in graves because our loved ones refused to let anyone in on their secret ingredients. For shame. However, for those willing to depart with their secret 11 herbs and spices, creating a family heritage cookbook is a great way to do it. Give them fun titles like "Aunt Mary's Make You Wanna Slap Yo' Mama Mac & Cheese" or keep it simple like, "Uncle Bobby's BBQ sauce." These recipes will stay in the family long after loved ones have departed.

4. Create a scholarship fund.
Starting the family reunion tradition of creating a scholarship fund is a way to pour into the family youth while promoting family unity through academic excellence. Applicants could be high school seniors who must complete an application form and essay. One of the questions could be "How do you plan to continue the family legacy?" Whether there are multiple recipients or a single recipient, another requirement could be that they must pour into or give back to the next year's recipient(s), whether that is through time and mentorship and/or financially.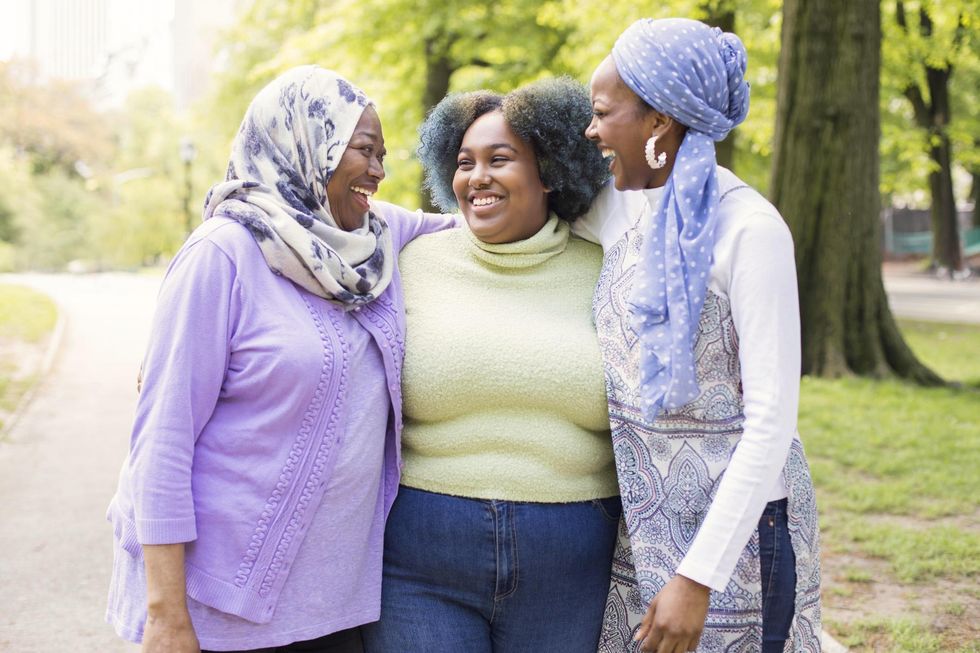 Getty Images
5. Host a fashion show.
Who doesn't love a reason to get gussied up and dressed to the nines? Having a family reunion fashion show is a fun way to get everyone involved, young and old. Themes can change yearly, or however often you have your family reunion. Or if you don't want to hassle the family with packing extra clothes, you can simply do a "Strut Your Best Stuff" fashion show, and the person that serves the fiercest strut and garners the biggest crowd reaction will be crowned the victor.

No matter how you celebrate, big or small, consider getting the family together for a family reunion as an alternative to Fourth of July celebrations.
Let's make things inbox official! Sign up for the xoNecole newsletter for daily love, wellness, career, and exclusive content delivered straight to your inbox.
Featured image via Getty Images
When Summer Walker began gaining popularity with her debut album Over It, her personal life also took center stage. The "Body" singer worked on her first album with her now ex-boyfriend, producer London On Da Track, and they welcomed a daughter together, Princess Bubblegum. Their relationship was challenged by cheating rumors, and the 26-year-old found herself going back and forth with London's exes on social media for consistently bashing the singer and the producer.

Summer and London have broken up multiple times but they put the final nail in the coffin in 2021, the same year their daughter was born. (London has four kids in total.)
That same year, she dropped her highly-anticipated second album Still Over It filled with songs inspired by their breakup. She even titled one of the album's singles "4th Baby Mama," with the title inspired by her experience.
The Atlanta native was interviewed for Essence's Festival of Culture issue, where she opened up about soul music and motherhood. "It's really stressful and it's really a lot of sacrifice. Sometimes, it's like, is it worth it? Then they smile and make your day, and the answer is yes," she said about raising her daughter.
While she loves her daughter, she confessed that she wished she made better decisions about London. "I wish that I paid more attention to the person I procreated with," she revealed.

"It's still like you never really know anybody. Even how long you can be with people, you just never really know," she added.
"People be in long-ass marriages, and they just switch up and you'll be like, "Yo, what the f–k?" So, I guess you can just never really know."
Summer is currently dating Larry aka LVRD Pharoh who is a rapper and someone from the "No Love" singer's past. When news spread of their relationship, the rapper shared a message on his Instagram story, addressing those questioning who he was. "FYI: I'm not the 'new boo' lmaoooo. The real ones know we been in each other's life since 2014."
They also have each other's names tattooed on their faces.
Summer is working on her healing, telling Essence, "I have a scholarly teacher and different people who are really good in their fields that are helpful with my healing." She also noted that therapy and religion have helped her in that journey as well.
Over the weekend, the singer announced that she was expecting her second child, which will be her first with Pharoh. She shared on Instagram Live, "People asking me if I'm pregnant…I am and you know I'm very, very, very, very, happy about it. Very excited about it. And this is gonna be — I'm very very excited because it's going to be different from how it was before. It's really peaceful, really happy, lots of help, lots of love."
Let's make things inbox official! Sign up for the xoNecole newsletter for daily love, wellness, career, and exclusive content delivered straight to your inbox.
Featured image by Amy Sussman / Getty Images