Since her early days in the music industry, Willow Smith has always marched to the beat of her own drum. We got a taste of her one-of-a-kind style at 10 when she released "Whip My Hair" and later as an act of rebellion, she shaved her head. Today at 21 years old, she is rocking a shaved style proving that she still hasn't fallen victim to society's standards of beauty. Willow has also ventured into metal, a genre that her mother Jada Pinkett Smith has occupied for many years but is still predominantly white.
In the cover story for Glamour UK, the "Lipstick" songstress reflected on her younger days, her journey as a Black woman in metal, and her relationship with beauty.
Willow on Shaving Her Head
"Shaving my head is maybe the most radical thing I've done in the name of beauty."
Willow on Being a Child Star
"Yikes. I mean, I was definitely fearless back in the day! I think a little bit more about things before I do them now, which is a good thing. I feel like I'm forever evolving and trying to find the most authentic version of myself. I think that's a lifelong thing."
Willow on Her Relationship with Her Hair
"As a Black woman there were a lot of layers to my relationship with my hair and skin growing up; it was definitely a learning curve."
"However I'm feeling, I like to do that. I don't really like to think about it too much. I love to be free with it. I think just being me sometimes is radical."
"I had to look up to other beautiful Black women. Just looking at someone who's like me, living their truth and doesn't let what society says tear them down. I think that was the most important [influence] for me as a child."
Willow on Jada Pinkett Smith Influencing Her Music Career
"That was my first experience with music touring. And just watching her as a Black woman in this crazy metal scene. I was like, 'Hell, yeah!' I loved it. My mom showed me everything. I still go to her now like, 'You got any new stuff for me to listen to?'"
Willow on the Pushback She Received When Wanting to do a Rock Album
"When I wanted to do a rock album, there were a lot of executives that were like, 'Hmm…' If I had been white, it would've been completely fine; but because I'm Black it's, 'Well… maybe let's just not' – and making it harder than it needs to be. If I go through that, every single other Black artist is getting the pushback [too]."
Willow on How the Industry Can Empower More Women in Music
"I think the music scene reflects the world. For a long time, women have been looked at and expected to be in these boxes. It's up to the people who have been a part of the oppressing, but it's also up to us to step out of that. That's scary, and it's sometimes dangerous."
"We need to make better spaces for each other and stop expecting other people to make spaces for us. We need to start holding our sisters, and start listening to each other the way that we wish other people would."
Willow on Taking Care of Her Mental Health
"Sometimes [managing your mental health] is so overwhelming that you can't really bring yourself to do much else besides reminding yourself of the things that really matter. For me, I love a good mantra. Recently, my mantra has been, 'I accept everything as it is, and I'm grateful for it.' Repeating that over and over again; that's been really helping me."
"If you don't talk about it, I don't know how the healing's going to start. Even if it's to yourself in the mirror, you know? I do that all the time."
"I'll literally talk to myself like I'm my best friend. And then be like, okay, what would my friend say to me right now? What would someone who really, really loves me say to me? It kind of feels unnatural because our own minds are so harsh sometimes."
Featured image by Emma McIntyre/WireImage
Will Smith and Jada Pinkett Smith have been in the news a lot lately and not for good reasons. Over the last few years, the couple has been very open about their marriage to the world and what started as just them sharing their "truths" quickly turned into what many people considered "oversharing."
It began with Jada's beloved Facebook Watch series Red Table Talk where she and her co-hosts Willow Smith and Adrienne "Gammy" Banfield-Norris would discuss a wide range of topics that some would even consider taboo.
Each of them would sometimes share personal information about their lives and with Jada, she often shared intimate details about her relationship with Will. Jada and Will even addressed things together such as the actress' "entanglement" with August Alsina back in 2020.
While they faced criticism then, that criticism has been turned up a notch thanks to Will's memoir that he released in 2021.
With intimate details about the beginning stages of their relationship where he wrote that they had "sex multiple times a day, for four months straight," many fans were getting tired of it and someone even started an online petition on change.org where they asked reporters to stop interviewing the couple.
However, their daughter Willow has a different perspective. In an interview with The Independent, the 21-year-old musician revealed what she thought about her parents sharing vulnerable parts about themselves.
"I feel I've always understood that my parents are their own people," she said.
"A lot of kids think of their parents like… 'Your whole identity is for me.' [But] seeing them in this lifestyle we had, from a very young age it was clear to me they weren't just my parents. They're full, other people who have their own emotions."
Willow also believes that it would be the "biggest disservice" to put up a facade when that's not the case.
It's not surprising that Willow would defend her parents amid their recent criticism. The Smiths are a close-knit family and always share support for one another whether it's professionally or personally.
In July 2020, Jada shaved her head and attributed it to being inspired by Willow. For the Instagram post, Jada wrote, "Willow made me do it because it was time to let go, BUT…my 50s are 'bout to be divinely lit with this shed."
Featured image by John Parra/Getty Images for Audacy
Leave it to the ladies sitting at the red table to shed some light on a juicy topic courtesy of wise-beyond-her-years Willow Smith. It was last year when the 20-year-old first identified herself as polyamorous, but last week she followed up that confession with an in-depth chat on Facebook Watch's Red Table Talk with her cohosts.
"With polyamory, I feel like the main foundation is the freedom to be able to create a relationship style that works for you and not just stepping into monogamy because that's what everyone around you says is the right thing to do," she explained to her mom, Jada Pinkett Smith and her grandmother, Adrienne Banfield-Norris.
"So, I was like, 'How can I structure the way that I approach relationships with that in mind?' Also, doing research into polyamory, the main reasons why monogamous relationships — or why marriage, why divorces happen — is infidelity."
BTW in case, you were wondering…
Polyamorous: characterized by or involved in the practice of engaging in multiple romantic (and typically sexual) relationships, with the consent of all the people involved.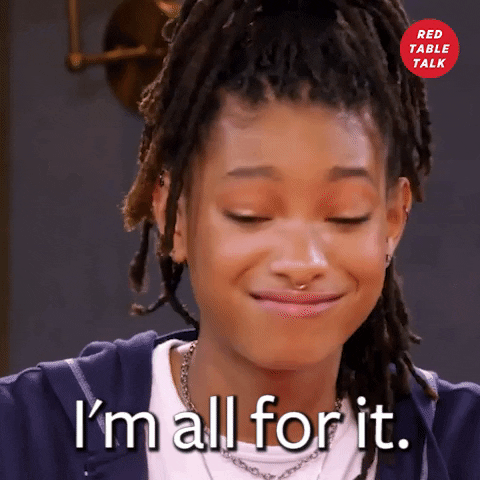 Willow was sure to clear up any misunderstandings around polyamory that are often chalked up to promiscuity, which is not the case. According to her, it's a "natural way" to approach romantic bonds where needs are met without relying solely on one person.
Jada's reaction?
"When you were like, 'Hey, this is my get down', I was like, 'I totally get it.' Wanting to set up your life in a way that you can have what it is that you want, I think anything goes as long as the intentions are clear. You know what I mean?"
Gammy seemed accepting too once she got the scoop on how it all works. Willow's polyamory confession definitely sparks a conversation around the relationship status considered taboo by some and completely natural by others. Even the New York Times did an expose exploring how and why polyamorous relationships work for some.
Now that Willow has thrust the subject into the limelight once again, we asked men and women this: Do you agree with Willow that it's the most natural approach to romantic relationships, or are multiple intimate relationships just "entanglements"?
Here's what they had to say.
As a Person of Faith, I Don't Believe In It
"As a person of faith, I don't believe in polyamorous relationships for myself. I want my significant other to be devoted to the union we have and to honor the intimacy that only we share together. I understand why others may not feel the same, and I completely get that for them. I respect that everyone wants different things, so as long as both parties are on the same page and create boundaries and agreements upfront, I can see that working for others." —Valentina Gonzalez, 31, Digital Marketing Manager
My Man Is My Man
"Multiple intimate relationships are indeed 'entanglements'. Once you are involved with multiple people and it's intense, romantic, and emotional, it gets complicated; because you are now obligated to play a role. I don't believe in polyamory, my man is my MAN. And that's on that.
"The most natural approach to a romantic relationship is casual dating. No serious attachment, you put your feelings aside, maybe no sex?. You are not committed to this one individual, therefore you can explore (in a safe and mature way) meeting new people, learning about yourself, where you have an idea of who and what you want [in a monogamous relationship.]" —Kateri Fischer, BET, On-Air Promo
It's Certainly Not for the Insecure
"[Polyamory] I often feel is based on how secure you are emotionally as a person and it's certainly not for the insecure or the jealous. If love is to be shared physically and emotionally, be prepared to be left out sometimes and feel no way about it. Just enjoy knowing that you have more than one escape." —James Cameau, 30, Behavioral Health Therapist
It's Hard to Believe That It'll Work 
"Before watching this episode of Red Table Talk, I was like... 'that sounds a lot like being single or an open relationship…' After watching this episode I think it's a great way to be open about your relationships with all the people you love. It's hard to believe that it'll work because: 1) Who has time to dedicate all that energy to all those people EQUALLY. I barely have time for myself.
"[And] 2) Jealousy and commitments sound like blurred lines in these arrangements because naturally I think people want to feel like a priority not an option. Even after explaining that all your partners hold different spaces in your heart and mind, I'd still feel a void. Part of love/loyalty is not only being there when you want to be but when you need to be. But I respect the foundation of honesty in this approach. So more power to it!" —Hala Maroc, 29, Multimedia Personality
Multiple Partners Consumes Both My Time and Money
"I'm personally not into polyamorous relationships. I understand for myself I like monogamous, exclusive relationships. I think juggling multiple women or partners consumes both my time and money, so I'd rather stick to one partner and focus on building the best life with one person." ––Jeffrey DeRose, 31, Startup Advisory Group Founder
Understand What It's Really About
"I think that honestly people should just do what works for them. I think polyamory is meant for procreation benefits, financial benefits and supportive benefits as well. Our partners aren't meant to be everything but that is why we have friendships outside of our relationships.
"To me, having friends with different intimate bonds allows us to take pressure off our romantic relationship. It's about trust and security in yourself, your partner and your relationship to have these kinds of outside bonds. If people can handle it, then sure, but they should make sure they understand what it's really about. It's more than just sex." —Amiyah Deziire, Author, Midnight Confessions
I'm Too Selfish for All That
"I personally could never, I'm too selfish for all that. However, I'm not one to judge how other people choose to navigate their own personal relationships. What other people do in their bedrooms is none of my business." —Tiffany Ervin, 30, Visual Artist
I Don't Think There Is Such a Thing as "Most Natural"
"I have nothing against polyamory and those that believe in it, but it's not for me. Personally, I don't have the desire for more than one person at a time, nor the energy. I like the idea of having a special connection with only one other person, and I'm completely satisfied by that. I don't agree that it's the most natural approach to relationships, and I don't think there is such a thing as 'most natural.' I believe what's natural is completely subjective to the person/people involved." —Evans Alexandre, 27, Photographer/Photo Editor
Are you a member of our insiders squad? Join us in the xoTribe Members Community today!
Featured image by Jerritt Clark/Getty Images for Savage X Fenty Show Vol. 2 Presented by Amazon Prime Video

On an episode of Red Table Talk, the topic centered around mom-shaming, specifically within the entertainment industry. Joined by fellow moms Ashley Graham, Maren Morris, and Jessica Alba, Jada Pinkett Smith recounts the waves of criticism she received when Willow Smith, then 12-years-old, decided to shave her head.
That experience, coupled with many others surrounding the appearance of her children, taught Jada an important lesson about parenting.
"Looking at how my children were being affected, that's what count(s). When people are like, 'Oh my god, I can't believe you shaved Willow's head!' If they coulda seen this child's expression of freedom looking at her hair falling to the ground, so me as a mom looking at that, experiencing that with her—there is nothing that anyone could say to me to tell me that it was wrong."
Willow, then, revealed that she believed her and her brother Jaden were shunned from the black community based on their eclectic appearances and the way they were raised.
"Specifically with the African-American community, I felt like me and Jaden were shunned a little bit. Like, 'We're not going to take pride in them because they're too different, they're too weird."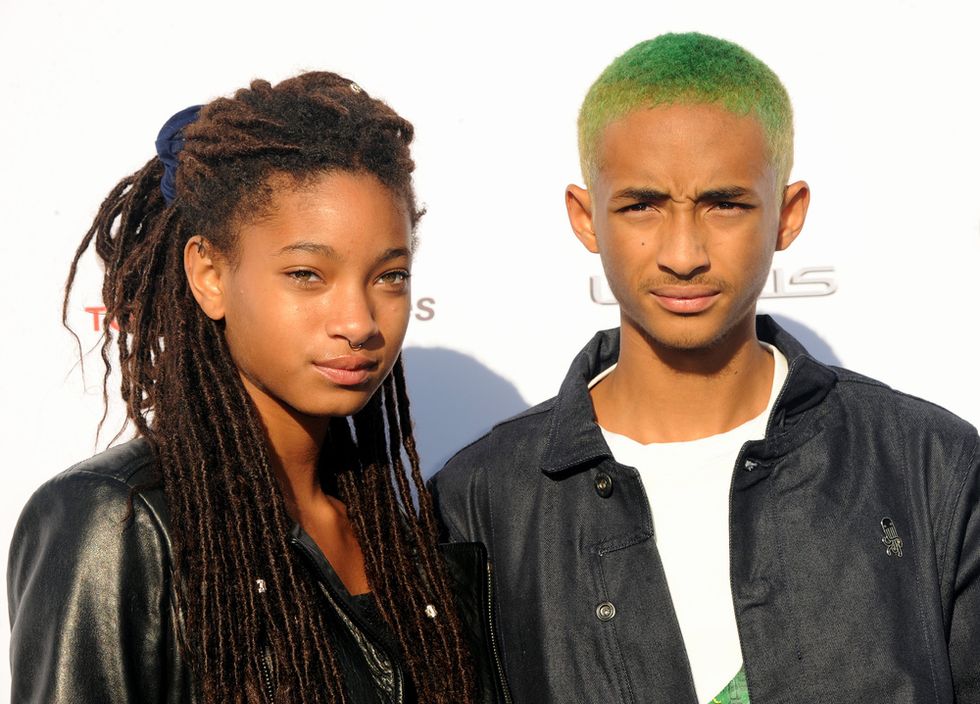 Tinseltown / Shutterstock.com
The question shouldn't be if Willow was shunned by the black community; more so, was she shunned by mainstream media? A media that historically has a one-dimensional view of what a young black woman should look and act like. The American media is, and has been for decades, controlled and operated by people who do not look like Willow. Up until recently (and recently being 2019), writers' rooms and corporate suites were full of homogenous old men.
For Willow to point to the black community as the media, when very few, if any, black voices are heard or amplified, is a bit harsh. That's not to say Willow hasn't been shunned by members of the black community. A few seconds behind that statement, she says:
"Even some of our family members, I would feel they thought we're too different."
As with many young black people, the views and beliefs of our elders can be oppressive and limiting. Sexism, homophobia, and other harmful stereotypes exist in our community that we actively need to fight against. We're constantly fighting from within, especially as a black woman. Jada explained:

"Even in the community, we create stereotypes around ourselves and it's something that we, as a community, really have to learn how to let go of. I know that people felt like it's dangerous ... You know what it's like to be a Black or Brown person in this world. You are doing your kids a disservice. I understood where that fear came from, but I also understood, from having been on the streets and having had not been your conventional Black girl in the streets of Baltimore, I knew that self-confidence is what helped me survive."
Both concepts can and do exist. Willow and Jaden were shamed in the media for the way they expressed themselves, but that wasn't the black community. It is also true that Willow and Jaden were shunned by members of the black community for how they chose to express themselves.
As a community and especially black entertainers, it's important to be careful about the rhetoric we place on our community and our members.

Are you a member of our insiders squad? Join us in the xoTribe Members Community today!
Featured image by DFree / Shutterstock.com
The Savage X Fenty Vol. 2 show dropped on Friday morning (Oct. 2), exclusively on Amazon Prime, and has been living in our heads rent-free all weekend. This year, Rihanna exceeded expectations with a virtual dive into the sultry, inclusive, and dynamic world that is Savage X.
"The emotion makes the story worthwhile."
As with its predecessor, Vol. 2 was saturated with mega-stars across entertainment, with a particular focus on people of the LGBTQ community. The show centered about ideologies of life, and loosely centered around three pillars: experience, emotions, and storytelling. Unlike the show last year, there were documentary-style elements introduced, such as intimate interviews with models and behind-the-scenes of the team's creative process.
The way Rihanna is able to mix sustainable and sensational is peerless. The bar is continuously pushed by her and the phenomenal creative team behind her. By curating a space that is primarily founded on inclusivity, she's built one of the most groundbreaking creative teams in the fashion industry. The breadth of women in the show is unmatched and has never been witnessed at a fashion show, much less a lingerie fashion show.
Savage X Fenty is creating a lane for not only themselves but everyone who doesn't fit that preconceived standard of beauty. The brand is manifesting a space that literally never existed before.
Known for having the most-inclusive size range in lingerie, Savage X Fenty seamlessly produces visually stunning moments that highlight the beauty of diversity in the human form. There were so many experiences in the show, from the garden of melanated women draped in floral shawls, to the den of black leather vixens, to sensual line workers in colorful lingerie at the factory; each scene exuded something different yet still presented a cohesive vibe.
It's more than a visually stunning experience, though. Every element of the show was detailed and immaculate. Interspersed between runway shows and musical performances were more in-depth interviews with celebrities like Willow Smith and Miguel, as well as her creative team and even Rihanna herself.
The peek behind the curtain of Savage X Fenty revealed more about the inspiration for the brand and its mission, one of the driving forces behind their inclusivity. With the introduction of a men's line, Savage X was able to expand their representation and clientele.
The Savage X Fenty brand is focused on showcasing sexuality in different forms, more specifically ones not shown in mainstream media. The current societal conversation around sexuality and what it means is a big portion of this show. By interviewing the models, who range from non-binary to heterosexual, there's a sort of education that's happening between the models and the audience. It's as if they are speaking about what Savage X has given them directly, in regards to how they view their sexuality.
"Displaying sexuality has become something that's way deeper than [the] surface for me."
By including so many different types of races, nationalities, ethnicities, and sexualities, Savage X Fenty is seemingly issuing a challenge to the rest of the industry. In an age where we expect brands to have morals and ethics, Savage X Fenty is dominating that lane.
Featured image via Gif
My freshman year of college, I shaved my head bald.
The previous summer had been overwhelming and I was dealing with a lot of loss and repressed feelings that I wanted to be free of; I thought that the first step was shaving my head. I sat in the dorm of my novice barber classmate as I watched my hair fall to the ground with tears in my eyes. The emotional turmoil I attempted to manage had come from years of giving my all to not be enough, and losing my own identity. That day was the start of a downward emotional spiral that would lead to my prescription pill addiction.
Women of color experience depression and mental illness in a way that is unlike our peers in other demographics. We are taught to be independent, self-sufficient, and strong, no matter what the circumstance; leading us to find outward and mostly destructive ways to cope with our vulnerabilities in private. In the latest episode of Red Table Talk, singer Willow Smith got real about how this pressure had an effect on her at a very young age. When she was asked by her mother what she thinks may have been her biggest loss, Willow replied:
"I would have to say, honestly, I feel like I lost my sanity at one point. It was after that whole 'Whip My Hair' thing, and I had just stopped doing singing lessons. And I was kind of like in this gray area of like, 'Who am I? Do I have a purpose? Is there anything I can do besides this?'"
The now 17-year-old was only 9 when she release her platinum-selling debut single, and had embarked on her first tour when by the time she was 10. Her father Will Smith said in an interview that he first noticed the immense pressure that Willow was under when she spontaneously shaved her head after one of the earlier shows on her tour. Willow continued:
"After the tour and the promotion and all of that, it was like, they wanted me to finish my album. I was just like, 'I'm not going to do that.' And after all of that kind of settled down and it was kind of a lull, I was just listening to a lot of dark music and it was just so crazy. I was like plunged into this black hole and I was like cutting myself. Yeah, and doing crazy things."
Aside from confiding in one childhood friend, Willow chose to keep what she was going through from her family. Her mother and grandmother looked genuinely surprised by her admission, but their effort to understand the root of her pain was heartwarming.
"I honestly felt like I was experiencing so much emotional pain, but my physical circumstances weren't reflecting that."
Willow explained that self-harm was a way of making her pain more tangible, rather than feeling like it was all in her head, and I relate to that on a personal level. My addiction to pills, although self-destructive, was the only way I knew how to neutralize my emotions in a way that made me numb. In Willow's case, her self-destructive habit gave her an opportunity to physically experience the pain that she felt internally.
Today, it's been five years since Willow harmed herself and she says that what she went through taught her the importance of aligning her heart and mind.
"It makes me feel like what I need to keep doing is training my heart and my mind to accept and move with loss."
Willow's moment of transparency is a reminder that no matter how strong you are, you can't do it all. Take the initiative to check in with yourself, make sure that your sanity is in check and refresh as necessary. May is Mental Health Month, and Willow's story is a reminder that black women have to find healthy ways to cope with their emotional trauma, too. For ourselves, but also for our children.

If you haven't already, watch the latest episode of Red Table Talk here: