Taraji P. Henson has been putting work in Hollywood for decades before finally getting her flowers after she landed her most beloved role as Loretha "Cookie" Lyon on Fox's Empire. Before Empire, however, she starred in the cult classic Baby Boy in 2001, the 2005 film Hustle & Flow, and the 2008 film The Curious Case of Benjamin Button where she claimed she only made $40,000 and starred in many other roles. She has also released her own natural hair care line TPH by Taraji in 2020.
The actress is a businesswoman but now, at 51 Taraji is focused on her mental health and what makes her happy. The mother of one launched her Facebook Watch show Peace of Mind with Taraji and founded Boris Lawrence Henson Foundation which is named after her father who dealt with mental health struggles. And with the ongoing racial injustices and unrest happening in the U.S. right now, Taraji is considering living elsewhere to find her peace of mind.
The Hidden Figures star made the revelation during an interview with PEOPLE Every Day Podcast. "I'm really considering getting up out of here, leaving and living in another country," she confessed. "That's something that comes with 50, you get tired of fighting. I'm tired."
She added, "I just don't want to have to do another hashtag … I fought, I chanted, I marched. I'm tired."
Taraji didn't specify where she wants to move to exactly but wherever she goes she wants to be loved on and not be judged by the color of her skin. "I want to go where there's neutral ground," she said. "I want to just be. And be happy. I want to be called 'Bella' every day, drink wine, and swat flies on the porch. Stress-free."
At 51, The Color Purple musical movie actress is no longer worried about satisfying others and is putting herself first. Something she says comes with age. "There's something that happens when you turn 50, where all of your f---s are behind you," she shared. "I've accomplished a lot and I'm going to do what I want to do. I'm at the point now where if I say, 'I quit, I'm going to go travel the world,' I can. It's so freeing."
While she may not be moving anytime soon, she is planning a getaway with her bestie Mary J. Blige. "Me and Mary have been trying to do this trip for so long but our schedules just keep getting crazy. I just told her 'Look, enough is enough, I need a vacation!'" she exclaimed.
Let's make things inbox official! Sign up for the xoNecole newsletter for daily love, wellness, career, and exclusive content delivered straight to your inbox.
Featured image by Arturo Holmes/MG21/Getty Images
Drake may have said there's no friends in the industry, but Taraji P. Henson and Gabrielle Union are proving him wrong.
Both actresses have achieved groundbreaking success in Hollywood and have also thrived in entrepreneurship. Taraji made a name for herself starring in Baby Boy as well as Hustle and Flow, Hidden Figures and the popular TV drama Empire. Gabrielle became a household name thanks to Bring It On, as well as Deliver Us from Eva, and the hit TV show Being Mary Jane. The two also starred in Think Like a Man and Think Like a Man Too together.
In regards to entrepreneurship, they both have their own haircare lines. Taraji's line is called TPH by Taraji P. Henson and Gabrielle's line is called Flawless by Gabrielle Union, but while they have similar careers and business ventures, they aren't in competition with each other. Taraji and Gabrielle both stopped by The Late Late Show with James Corden and talked about their 20 year-long friendship.
Both actresses shared their love for a cocktail and strip clubs when asked what a girls night out with them would be like. After much laughter, Taraji went on to praise Gabrielle about her vulnerability in her new book You Got Anything Stronger? and "what she means to our culture."
"I just sent her a text not too long ago thanking her for her book because, her vulnerability, (looks at Gabrielle) you're setting so many people free and especially in the Black community we have to be strong all the time. That is how we cope, but strength is killing us. Buildings are meant to be strong, not humans. You need a wall to lean on to help you stand up, but humans, we are emotional creatures and it's OK to feel all the feels and I think that was so beautiful to share."
The host of the Facebook Watch show Peace of Mind continued to gush over her friend Gabrielle, who looked on in appreciation, and opened up about how grateful she is to have a "sister" in the industry.
"It just feels good to be in an industry where it's so judgemental and it's so competitive; to find someone, to have someone, your sister in the business do the same thing you do, but we don't compete. I big her up. I'm proud of her for everything, every accomplishment she makes because it lets me know that I too can do it. It gives me hope."
Instead of competing, the L.A.'s Finest star and Muppets Haunted Mansion actress are teaming up to co-produce a feature film based off of the graphic novel Sorcerority.
Speaking on their new joint venture, Gabrielle said in a statement:
"Taraji and I have been looking for a project to work on together for a few years now and I'm excited to be partnering with her, TPH Productions and Gamechanger Films on this project. I'm looking forward to bringing this graphic novel to the big screen."
We love to see Black women working together and getting the bag.
Taraji P. Henson & Gabrielle Union Are Friendship Goals
Featured image by David Buchan/Getty Images
The concept of going to therapy has now been made mainstream as all things mental health matters have been brought to the forefront. While prioritizing our mental health is something this panorama and 2020 overall has emphasized is of the utmost importance, enforcing boundaries and amplifying self-preservation is still something seen as a radical act of self-love among Black women. And it's because so many of us are still unlearning hard lessons of toxic strength and resilience that brainwashed us into believing we have to have our capes on at all times.
We are so used to being all things to all people, we often forget ourselves, so the Naomi Osakas and Simone Bileses of the world doing their part to emit a battle cry of "no" in lieu of placing themselves first has been yet another thing to add to the list of things "we love to see" for the culture. In her recent cover story with British Vogue, Zendaya added her voice to the growing mental health conversation by revealing why she is such an advocate for therapy.
Despite the undoubtable M's in her bank account and her award-winning projects on deck, the Hollywood starlet had trouble navigating uncertain times as shakily as a lot of us did outchea last year. She described what she went through emotionally as a "kind of taste of sadness where you wake up and you just feel bad all day, like what the f**k is going on? What is this dark cloud that's hovering over me and I don't know how to get rid of it, you know?"
After encountering one of her most difficult years to-date, Zendaya decided to look to therapy to help pull her out of her dark moments. She explained to British Vogue:
"Yeah, of course I go to therapy. I mean, if anybody is able to possess the financial means to go to therapy, I would recommend they do that. I think it's a beautiful thing. You know, there's nothing wrong with working on yourself and dealing with those things with someone who can help you, someone who can talk to you, who's not your mom or whatever. Who has no bias."
Zendaya is not alone in expressing the gratitude for the peace of mind she's experienced since investing in therapy. In fact, here are 9 more celebs on why they are advocates for going to therapy.
Issa Rae
In a 2019 interview for Fuse's The Read with Kid Fury and Crissle, Issa Rae admitted that she hadn't really considered going to therapy a priority until hearing the stories of the two co-hosts and how they've done the work. She also noted that watching her mother and grandmother as Black women carry around burdens with no one to help them with it served as another reminder to invest in therapy as an act of self-care.
"...I think the first time I finally made the time to go was just last year. I did three little sessions and I fucked with it. But it is important to not necessarily go because you think something's wrong, but you should if you're in an industry like this, prioritize it because nobody else will. And that's what I've learned just throughout my journey here."
Taraji P. Henson
Taraji P. Henson has been doing the work and paying it forward through her work with her foundation, Boris Lawrence Henson Foundation. Per The Jasmine Brand in 2019, Taraji P. Henson revealed:
"I suffer from depression. My anxiety is kicking up even more every day, and I've never really dealt with anxiety like that. It's something new… It [fame] was fun at first, but the older I get, the more private I want to be. I think there's a misconception with people in the limelight that we have it all together, and because we have money now and are living out our dreams, everything is fine. That's not the case. When they yell 'Cut' and 'That's a wrap,' I go home to very serious problems. I'm still a real human."
In regards to investing in therapy, she went on to say:
"You can talk to your friends, but you need a professional who can give you exercises. So that when you're on the ledge, you have things to say to yourself that will get you off that ledge and past your weakest moments."
Janelle Monae
Janelle Monae is another entertainer who has made it no secret that she looks at going to therapy as a vital part of her self-care regimen.
"When I first started getting a check, I went to therapy. Therapy is important. And being a Black woman that was not something that was pushed in my community, it was always 'pray about it, God will take care of it'. I believe in a higher power but I also believe that that higher power gives you people on Earth to help walk you through some of your darkest times and help you cope and deal."
Gabrielle Union
"You need to find a way to talk about the darkest parts of your life. I've been in therapy for the last 25 years. Whatever path you need to take to heal, it's the best one."
Big Sean
A couple of years ago, rapper Big Sean got real about the "why" behind him taking a year-long hiatus to take care of his mental health. Shortly thereafter, he became more candid about his experience with anxiety and depression and how therapy ultimately helped him gain clarity.
"I just felt lost. You know what I'm saying? I didn't know how I got there. I've been meditating since I was 17 years old. You know, that helps with anxiety, depression all those things. All those things that I felt. But it wasn't doing it all the way for this, so I knew that this required some special attention.
"So what I did was, I started therapy. I got a good therapist. You know what I'm saying? I was blessed enough to talk to some super-spiritual people. And they made me realize one thing that I was missing in my life, and that was clarity."
Keke Palmer
Keke Palmer is another young celebrity that has been candid about her bouts with anxiety and depression throughout the years. She opened up to Cosmopolitan about being in therapy for years as a means to cope with her mental health issues:
"Being able to say how I feel, that was something that was so hard for me for so long. If you grow up in the industry, it forces you to be agreeable at all times. When it came to saying 'I'm tired and I want to figure out how to balance my life better,' 'I feel lonely, 'I'm afraid of my stardom' — those things I could not say."

Kelly Rowland
In a 2018 chat with Oprah Daily about mental health, Kelly Rowland opened up about what inspired her to go to therapy:
"I realized I didn't want to try to figure things out by myself. I can try as much as I can, but doing it all myself, I'd end up driving myself insane circling the same situation and same problem over and over again."

She continued:
"Sometimes people feel like faith and praying...and don't get me wrong, I have faith and I pray and I do believe I'll get through things with that also. But I like to talk to somebody who has the insight of psychology, too. There are other connectors. It's important that we understand that as well."
Halle Berry
"I've done therapy on an as-needed basis since I was probably 10 years old. My father was an alcoholic and a very abusive one, and my mother knew the value of providing me with the outlet of an unbiased person to talk to. So I've done that all my life when times get stressful. It really helps me deal with stuff."
Kerry Washington
"Therapy helped me realize that maybe it's OK for me to communicate my feelings. Instead of literally stuffing them down with food, maybe it's okay for me to express myself.
"I say that publicly because I think it's really important to take the stigma away from mental health. My brain and my heart are really important to me. I don't know why I wouldn't seek help to have those things be as healthy as my teeth. I go to the dentist. So why wouldn't I go to a shrink?"
Featured image by Elisabetta A. Villa/Getty Images
As you know, we brag on Taraji P. Henson a lot around here—and that has everything to do with the fact that she is worth bragging on. She is so important to the mission, constantly providing access to ways to improve our mental health, and giving us lewks in the process. And you know, one of my favorite things about her, is she is not shy about throwing her support behind any black man and woman unapologetically (which is damn near unheard of in an 'influencer' world).
What's even better, is since the start of February, the Empire actress has been sharing her favorite companies on the 'gram; companies in a variety of categories, from wellness, beauty, art and design, to home, and food and drink. Sis, was covering all the bases, and we couldn't help but to recap--you know, just in case there was ever a question how bomb af she is.
So, go ahead and grab those wallets, ladies. Here's a list of the 25 businesses Taraji P. Henson has spotlighted throughout Black History Month:
Are you a member of our insiders squad? Join us in the xoTribe Members Community today!

Featured image by Shutterstock.com
Valentine's Day has come and gone but the romance in your relationship doesn't have to and if you're looking for a way to add some fire to your love life, Taraji P. Henson and Kelvin Hayden just proved that a baecation to Cabos San Lucas should be at the top of your list.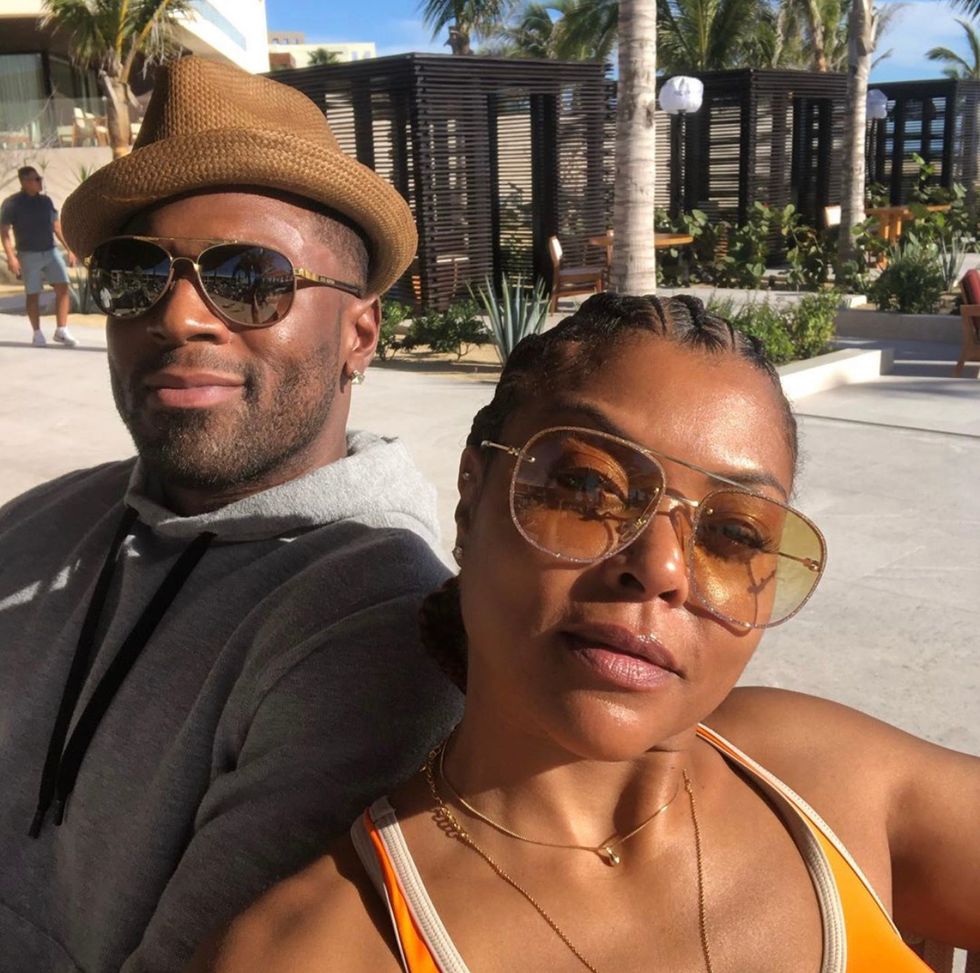 Instagram/@tarajiphenson
Last May, the couple announced that they were happily engaged and while the couple hasn't confirmed an official wedding date, Taraji and Kelvin's never-ending honeymoon has already started. In a recent Instagram post, the actress revealed that she and her boo embarked on an epic romantic getaway to Mexico that has us ready to pack our bags, too.

The 49-year-old actress, who gave us our entire lives in the sexiest black one-piece, posted an image of her posing at Nobu's luxurious Los Cabos resort and gave us hella wanderlust.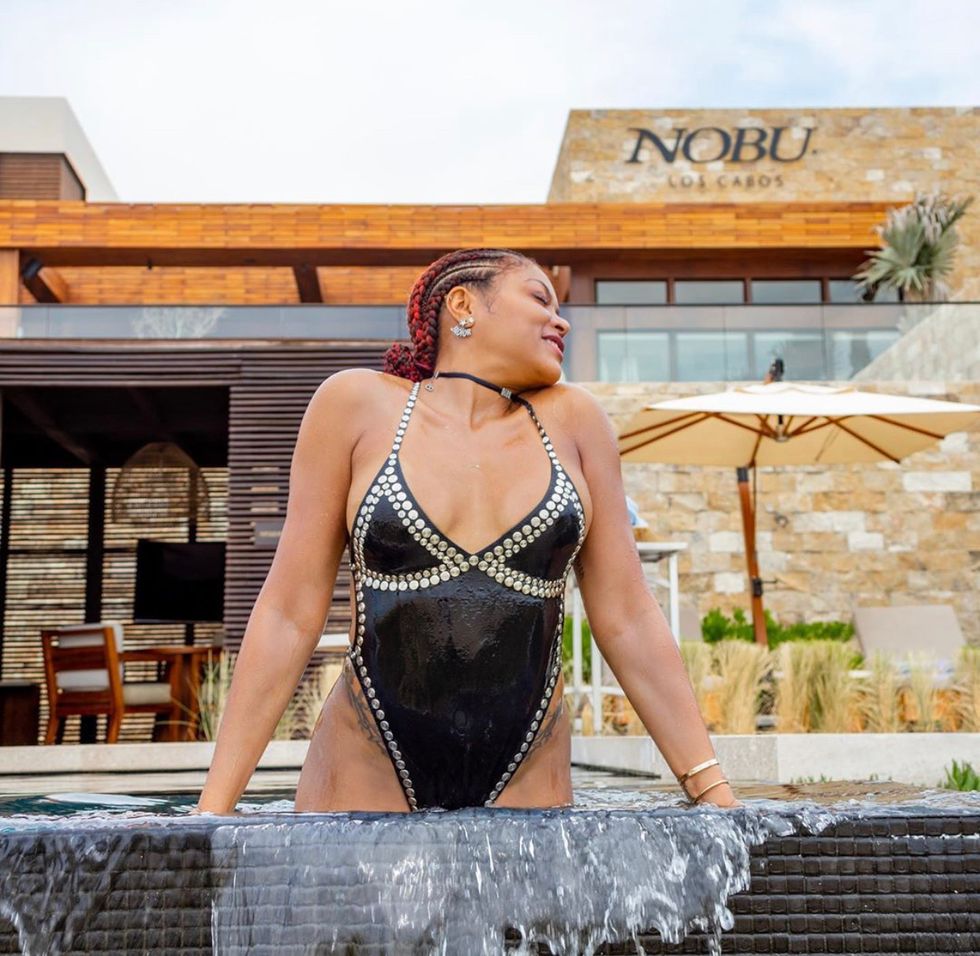 Instagram/@tarajiphenson
If you needed an excuse to book a flight and head to Mexico with the one you love for a celebrity-inspired baecation, I'll give you 3.

Here are a few couple-friendly hotels and resorts you should definitely consider when traveling to Cabos San Lucas.
Ballin' On A Budget: The Bungalows Hotel
You don't have to break the bank to have the baecation of your dreams and The Bungalows Hotel will allow you to have a ball while keeping your budget in-tact with rooms starting at $128 a night. Upon googling this 3-star destination, you'll find hella five-star reviews that rave about the hotel's friendly staff, Spanish-style furnishings, and convenient location.
The Extravagent Traveler: Waldorf Astoria Los Cabos Pedregal
If you and your lover are looking for a bad and bougie baecation destination that will allow you to live like royalty for a few days, check out the Waldorf Astoria Los Cabos Pedregal. While rooms are $736 a night, more than 2,000 online reviews guarantee that you won't be disappointed. Each room at the resort comes with room service (with the option to upgrade to butler service), a private plunge pool, and all of the ambiance you and your man need to get the mood right.
Somewhere In Between: Pueblo Bonito Pacifica Golf & Spa Resort
For the couple who isn't trying to blow a bag and desire a more humble flex, check out Pueblo Bonito Pacifica Golf & Spa Resort. Their in-house spa was named one of Conde Nast Traveler's "Best Spas in Mexico & Central America" in 2013 and while you're getting your self-care all the way together, your man can even work on his swing on what Golf Digest calls one of the greatest golf courses in the world.
Featured image by Instagram/@tarajiphenson.
Taraji P. Henson has been looking like she was 25 since she was 32 and now, a year shy of 50, the actress formerly known as Cookie is still our forever skincare goals and the Empire star recently dropped the details on how to access the Fountain of Youth and have you looking like a whole snack at any stage of your life.
In a recent episode of Vogue's "Beauty Secrets", Taraji shared the jet setter-friendly morning routine that keeps her skin on ten at all times and xoNecole has all the details. According to Taraji, along with a $400 eye cream, this $8 charcoal face wash has been a staple in her daily skincare routine:

"I clean my face with Biore. It's charcoal, it gets the job done. I like a face cleanser that suds up because to me, in my mind, it's mental. It feels like it's doing something and cleaning."
The actress says that with the help of her specially-curated haircare line, she's able to keep her scalp so fresh (and so clean, clean) and has therefore been able to simplify her morning routine and prevent breakouts before they're able to form.
"That's all I've been doing, all these years, with an occasional facial, here and there."
In the video, Taraji also opened up about her love for all things beauty and revealed that if she hadn't made it big in acting, Taraji would have probably been one of the dopest cosmetologists in the beauty industry:
"Those who know me from way back in the day knew this about me. I would've gone into cosmetology and I think God intervened because I was late for enrollment and that was directly after I was not accepted into the performing arts high school. And I thought that because I wasn't accepted that, that meant I didn't have talent. So I was like, well off to cosmetology school. And then God blocked that. I finally found my way back to school for acting. And then I still stayed. I still was doing hair because I needed money. So I was doing $20 wet sets in the dorm."
After giving us the tea on how she keeps her both her curls and her skin hydrated AF, Taraji proceeded to give us a tutorial for the fresh-faced beat you didn't know you needed. Featuring products from Fenty, BECCA, and Kat Von D., Taraji P. Henson walked us through her unconventionally low-maintenance morning routine and spilled this must-have beauty hack for women who need to get fly on the fly:
"I just flew today. I got off an airplane. You can get a little puffy and sometimes it creates dark circles. For me, I like to use a hydrating eye serum. I actually take more care of my skin when I travel because I feel like my skin needs more attention to make sure it gets it all in. And they also have a lip serum too. You just have to stay hydrated when you fly because oh, that airplane and recycled air are not good [for your skin] at all."
For Taraji's full morning routine, scroll below!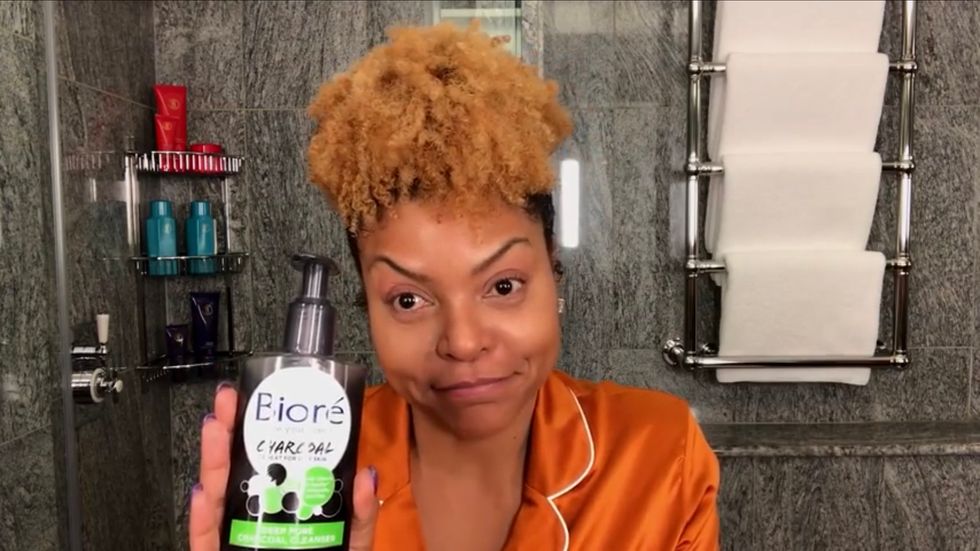 YouTube/Vogue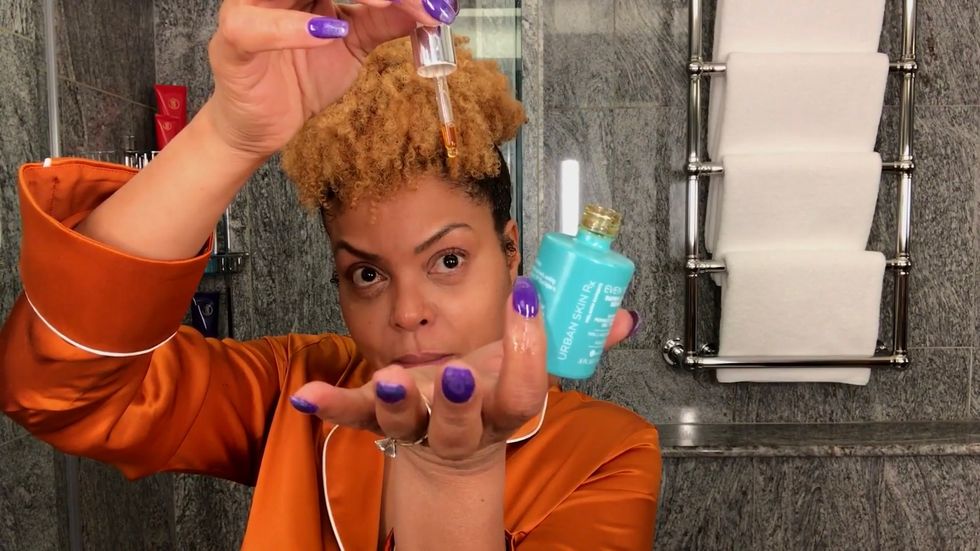 YouTube/Vogue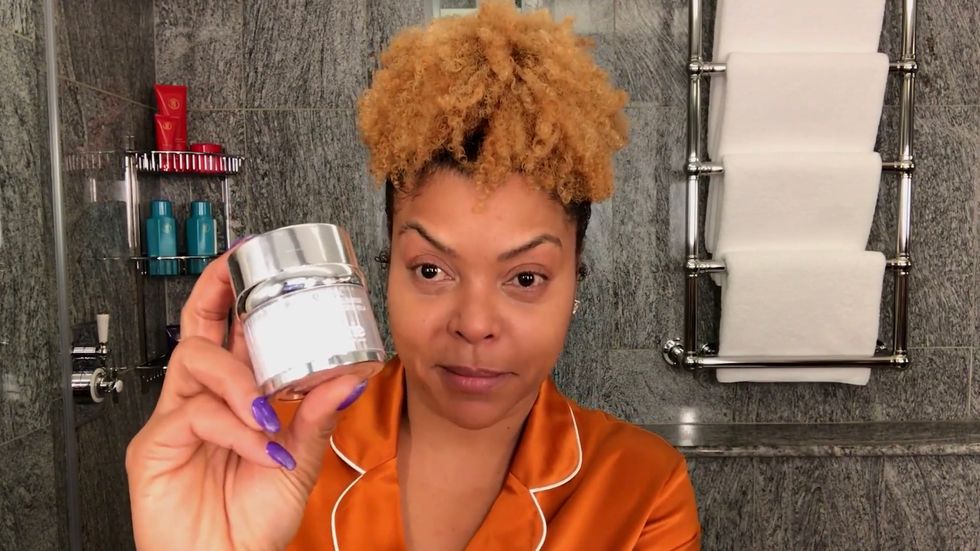 YouTube/Vogue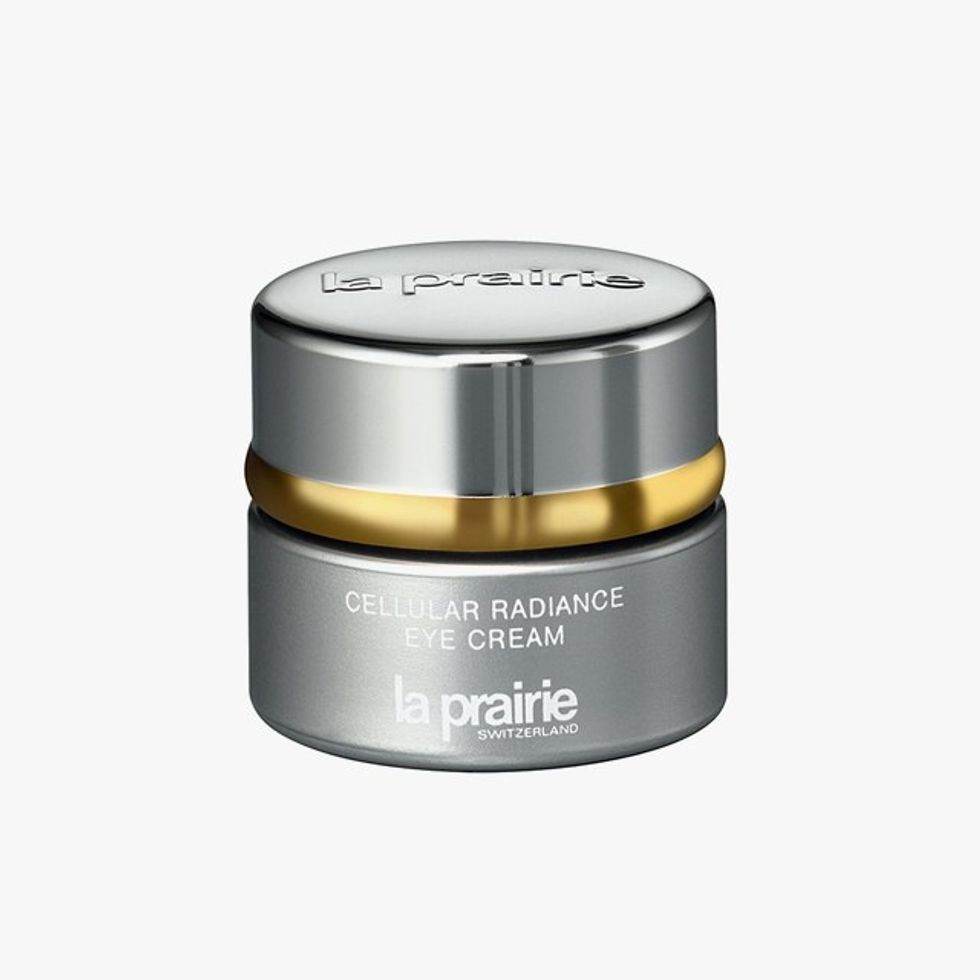 Saks Fifth Avenue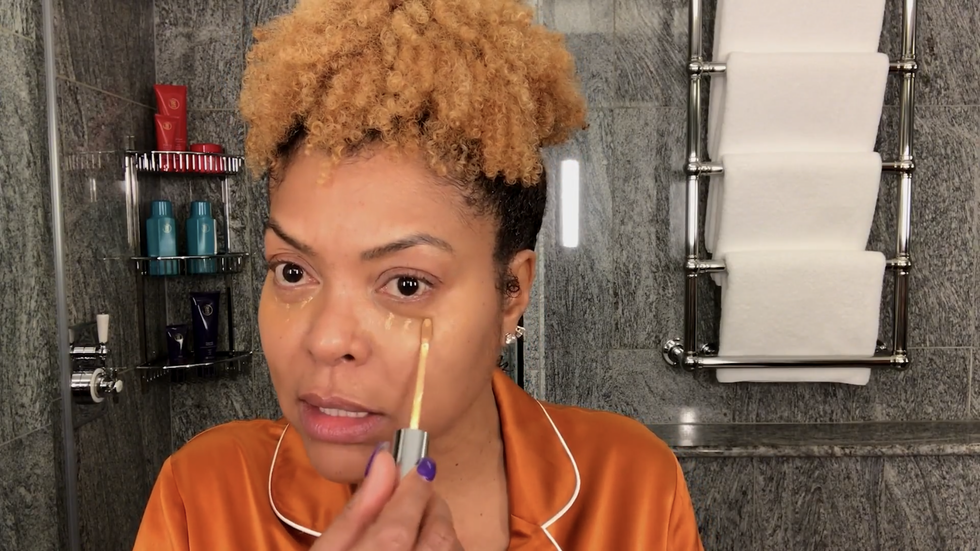 YouTube/Vogue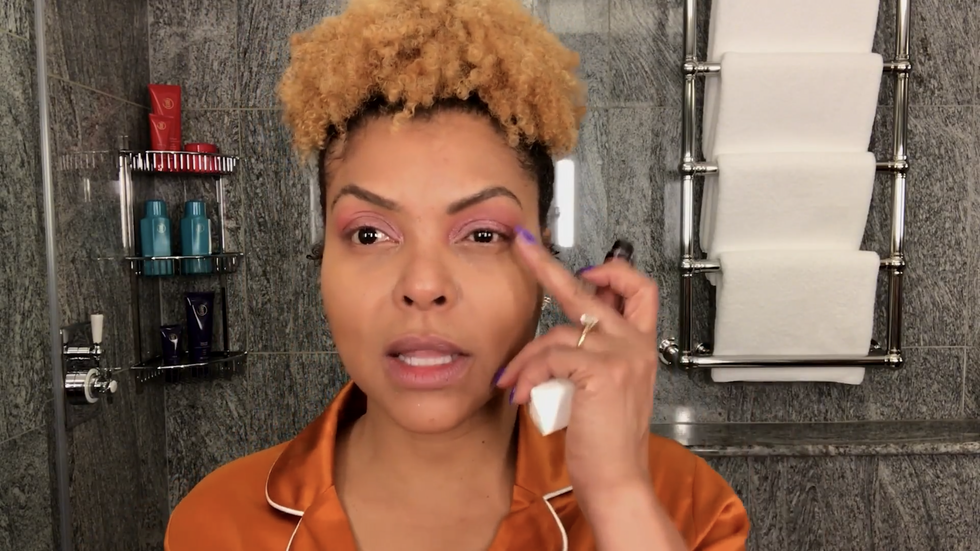 YouTube/Vogue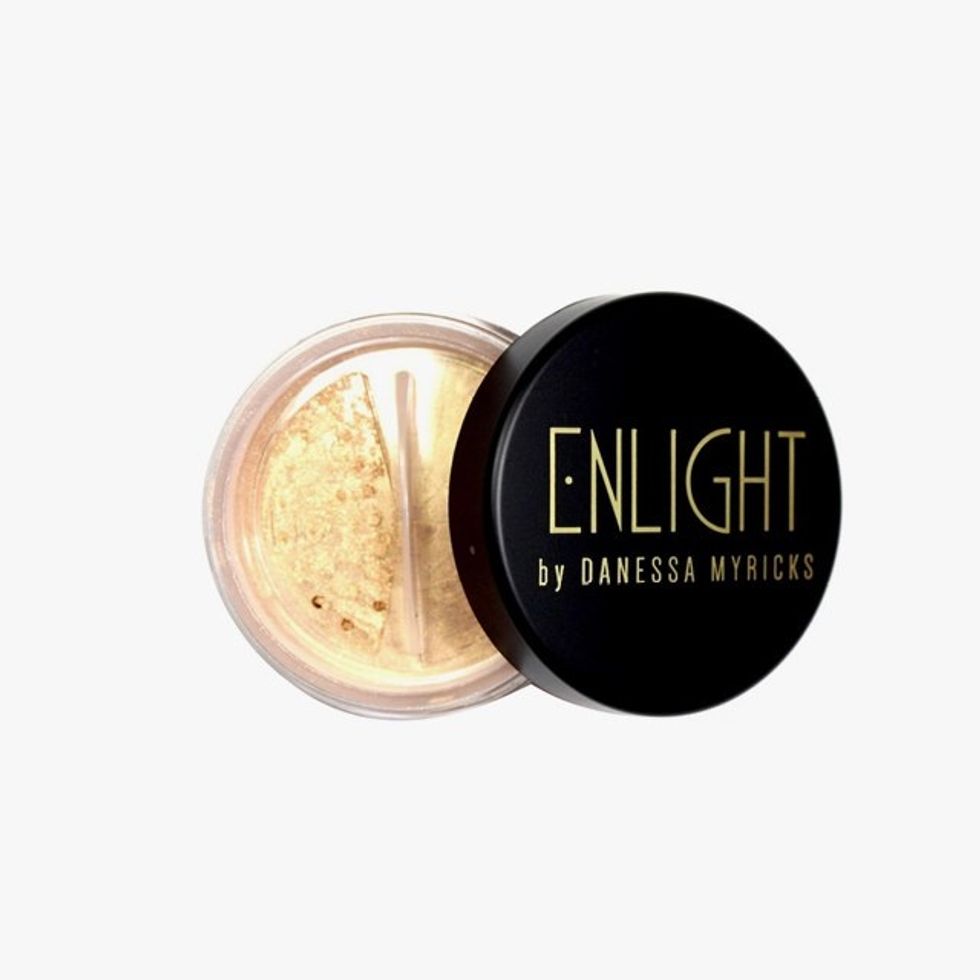 Danessa Myricks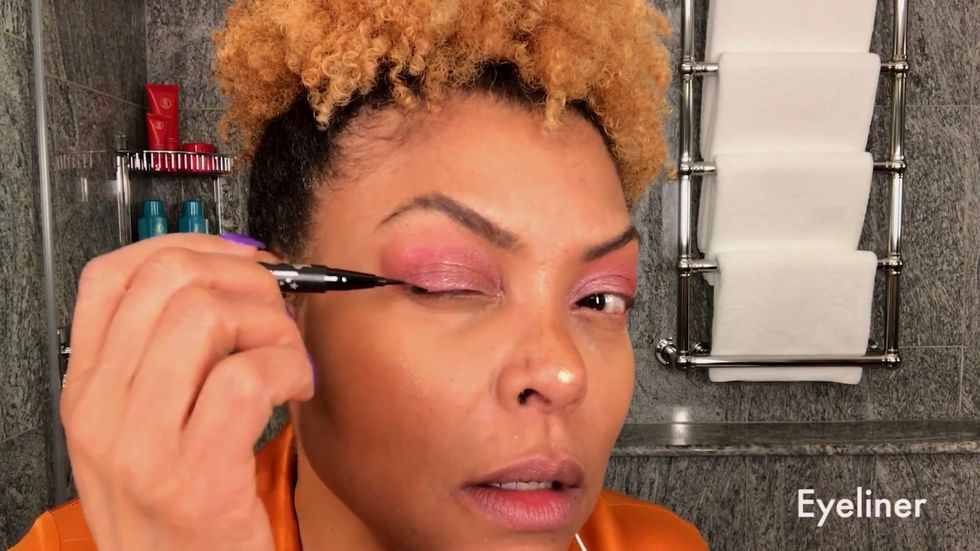 YouTube/Vogue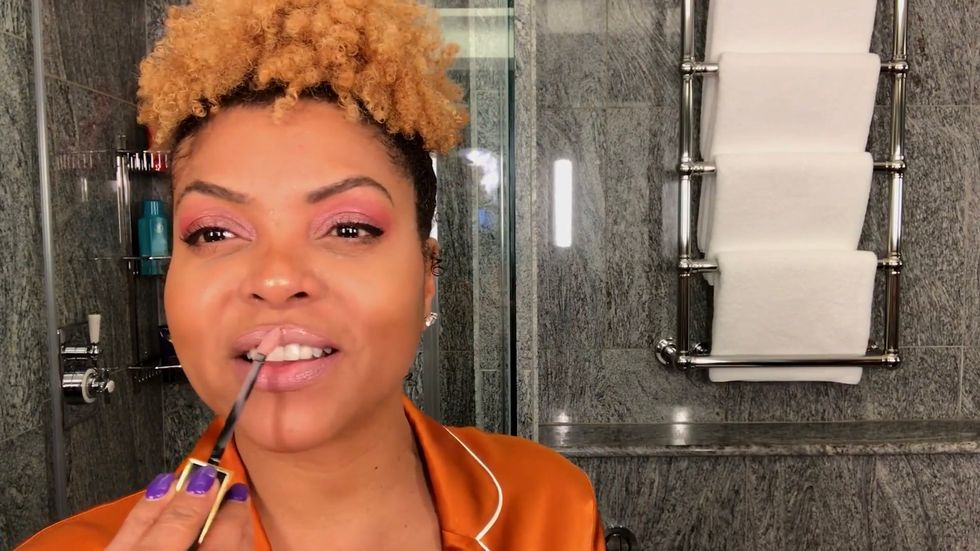 YouTube/Vogue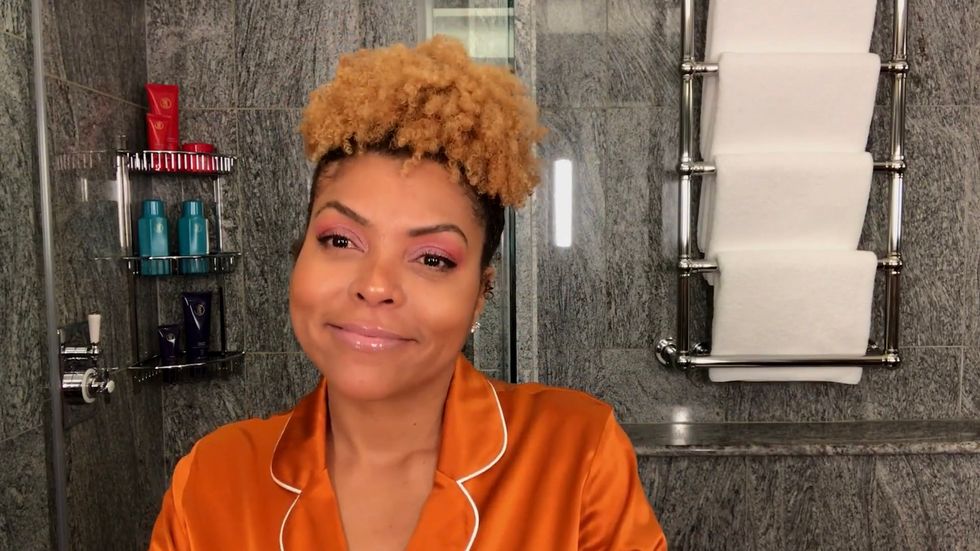 YouTube/Vogue
Featured image by Instagram/@tarajiphenson.