As you know, we brag on Taraji P. Henson a lot around here—and that has everything to do with the fact that she is worth bragging on. She is so important to the mission, constantly providing access to ways to improve our mental health, and giving us lewks in the process. And you know, one of my favorite things about her, is she is not shy about throwing her support behind any black man and woman unapologetically (which is damn near unheard of in an 'influencer' world).
What's even better, is since the start of February, the Empire actress has been sharing her favorite companies on the 'gram; companies in a variety of categories, from wellness, beauty, art and design, to home, and food and drink. Sis, was covering all the bases, and we couldn't help but to recap--you know, just in case there was ever a question how bomb af she is.
So, go ahead and grab those wallets, ladies. Here's a list of the 25 businesses Taraji P. Henson has spotlighted throughout Black History Month:
Are you a member of our insiders squad? Join us in the xoTribe Members Community today!

Featured image by Shutterstock.com
Keep reading...
Show less
Taraji P. Henson has been looking like she was 25 since she was 32 and now, a year shy of 50, the actress formerly known as Cookie is still our forever skincare goals and the Empire star recently dropped the details on how to access the Fountain of Youth and have you looking like a whole snack at any stage of your life.
In a recent episode of Vogue's "Beauty Secrets", Taraji shared the jet setter-friendly morning routine that keeps her skin on ten at all times and xoNecole has all the details. According to Taraji, along with a $400 eye cream, this $8 charcoal face wash has been a staple in her daily skincare routine:

"I clean my face with Biore. It's charcoal, it gets the job done. I like a face cleanser that suds up because to me, in my mind, it's mental. It feels like it's doing something and cleaning."
The actress says that with the help of her specially-curated haircare line, she's able to keep her scalp so fresh (and so clean, clean) and has therefore been able to simplify her morning routine and prevent breakouts before they're able to form.
"That's all I've been doing, all these years, with an occasional facial, here and there."
In the video, Taraji also opened up about her love for all things beauty and revealed that if she hadn't made it big in acting, Taraji would have probably been one of the dopest cosmetologists in the beauty industry:
"Those who know me from way back in the day knew this about me. I would've gone into cosmetology and I think God intervened because I was late for enrollment and that was directly after I was not accepted into the performing arts high school. And I thought that because I wasn't accepted that, that meant I didn't have talent. So I was like, well off to cosmetology school. And then God blocked that. I finally found my way back to school for acting. And then I still stayed. I still was doing hair because I needed money. So I was doing $20 wet sets in the dorm."
After giving us the tea on how she keeps her both her curls and her skin hydrated AF, Taraji proceeded to give us a tutorial for the fresh-faced beat you didn't know you needed. Featuring products from Fenty, BECCA, and Kat Von D., Taraji P. Henson walked us through her unconventionally low-maintenance morning routine and spilled this must-have beauty hack for women who need to get fly on the fly:
"I just flew today. I got off an airplane. You can get a little puffy and sometimes it creates dark circles. For me, I like to use a hydrating eye serum. I actually take more care of my skin when I travel because I feel like my skin needs more attention to make sure it gets it all in. And they also have a lip serum too. You just have to stay hydrated when you fly because oh, that airplane and recycled air are not good [for your skin] at all."
For Taraji's full morning routine, scroll below!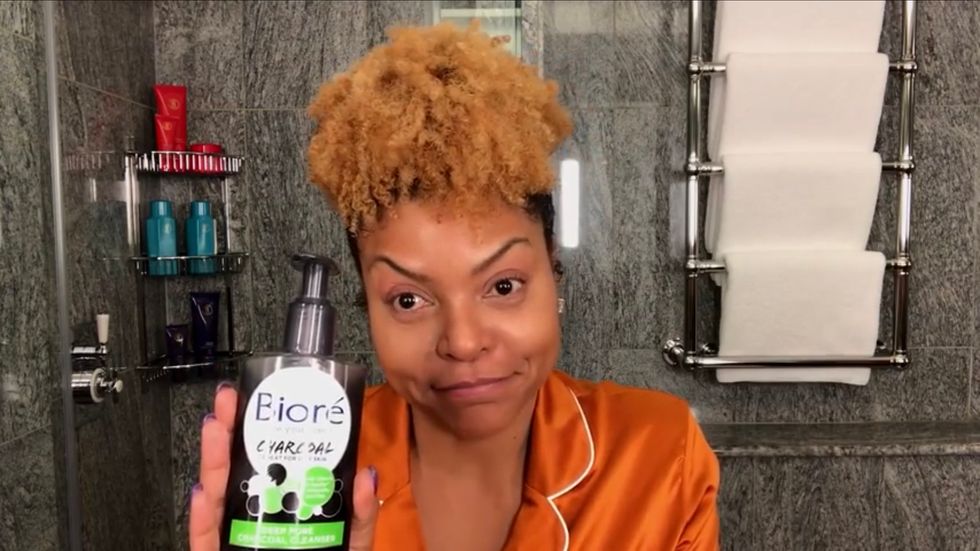 YouTube/Vogue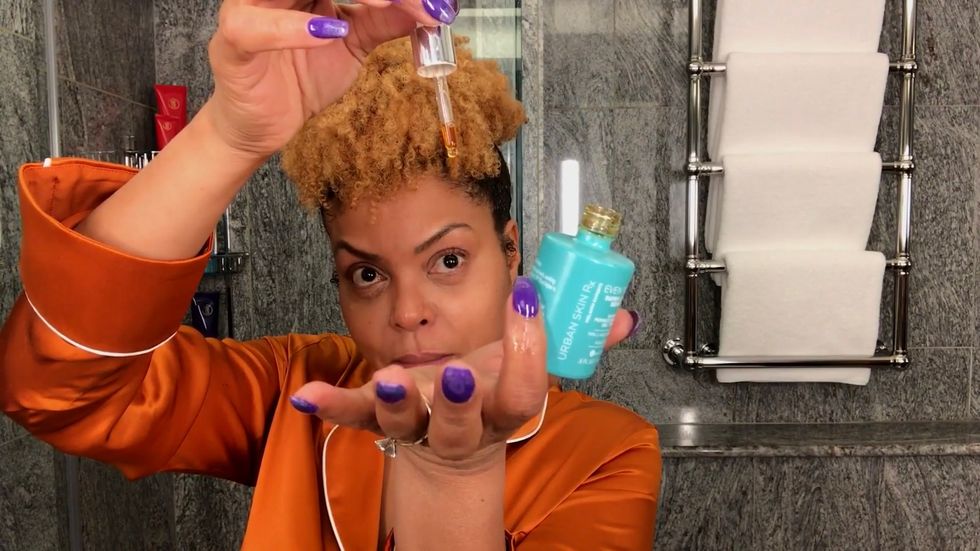 YouTube/Vogue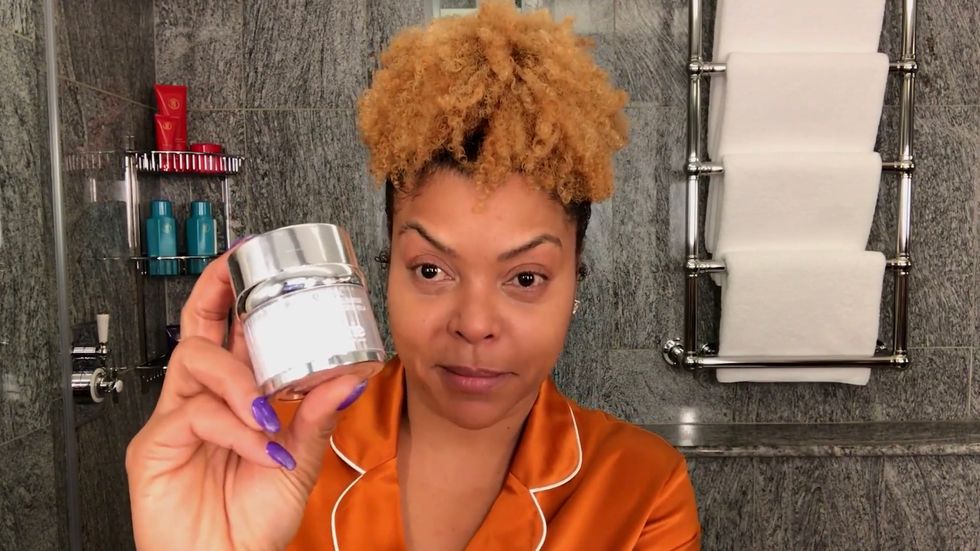 YouTube/Vogue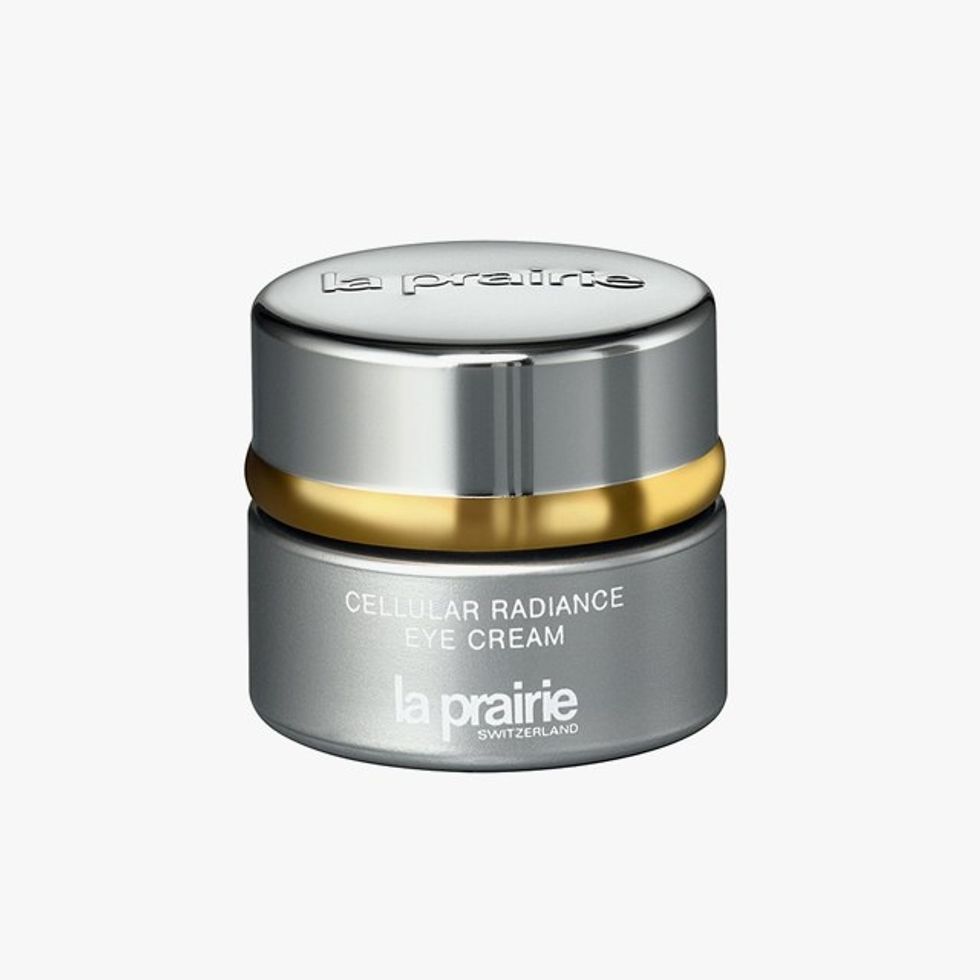 Saks Fifth Avenue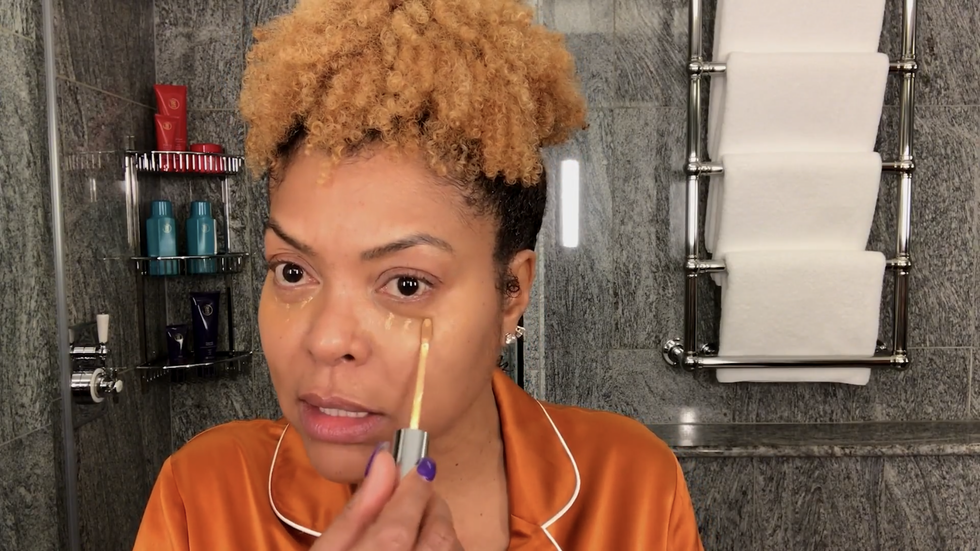 YouTube/Vogue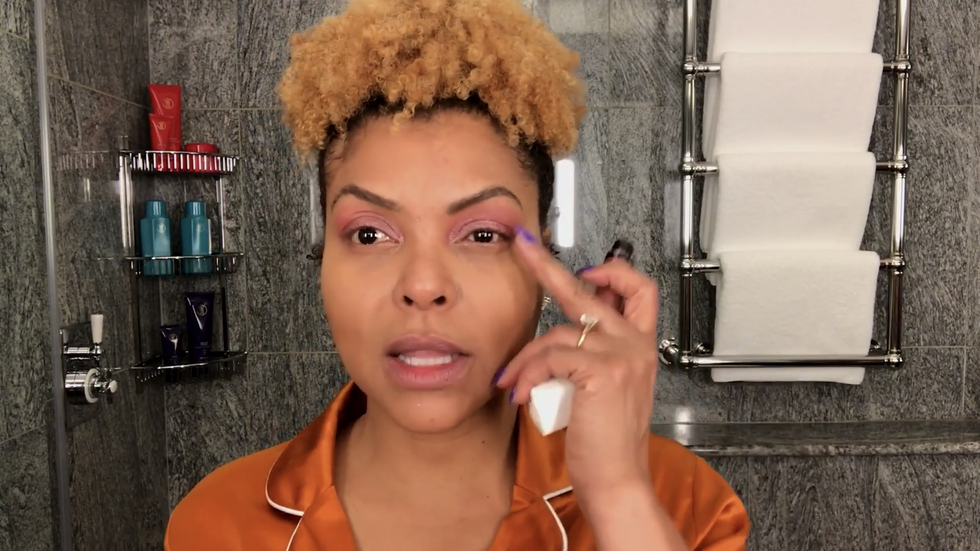 YouTube/Vogue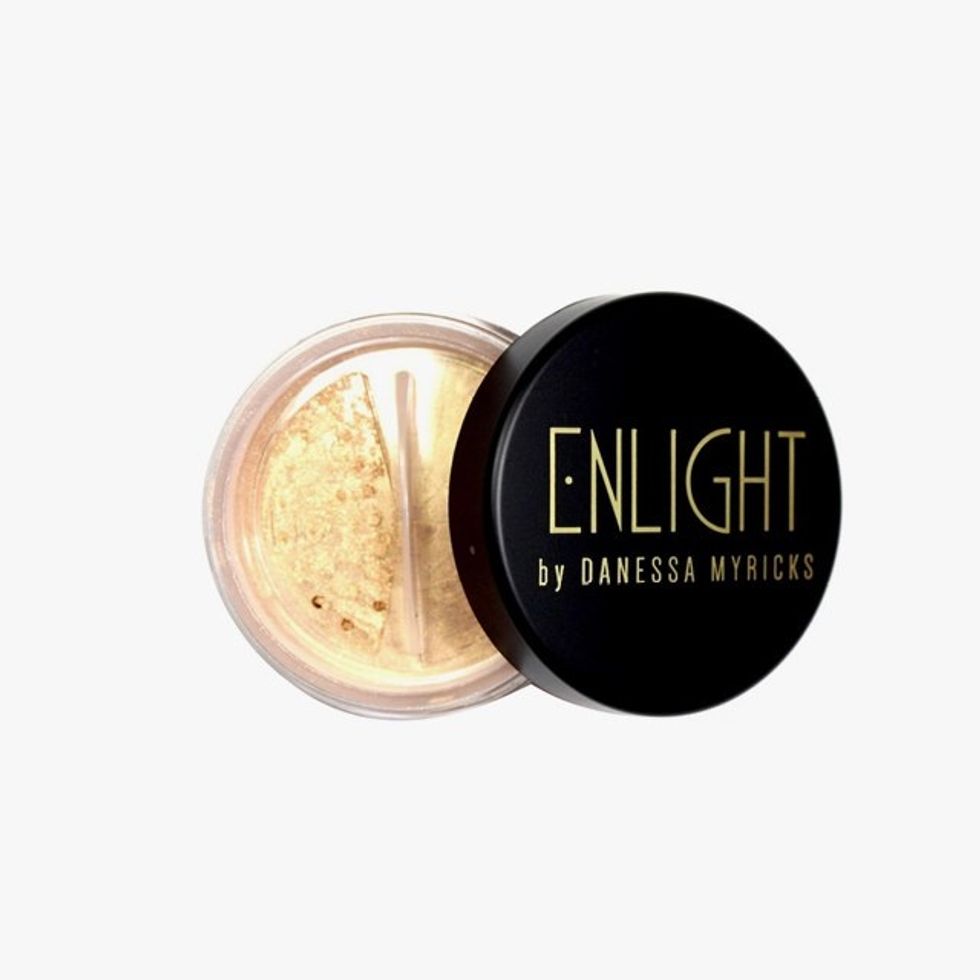 Danessa Myricks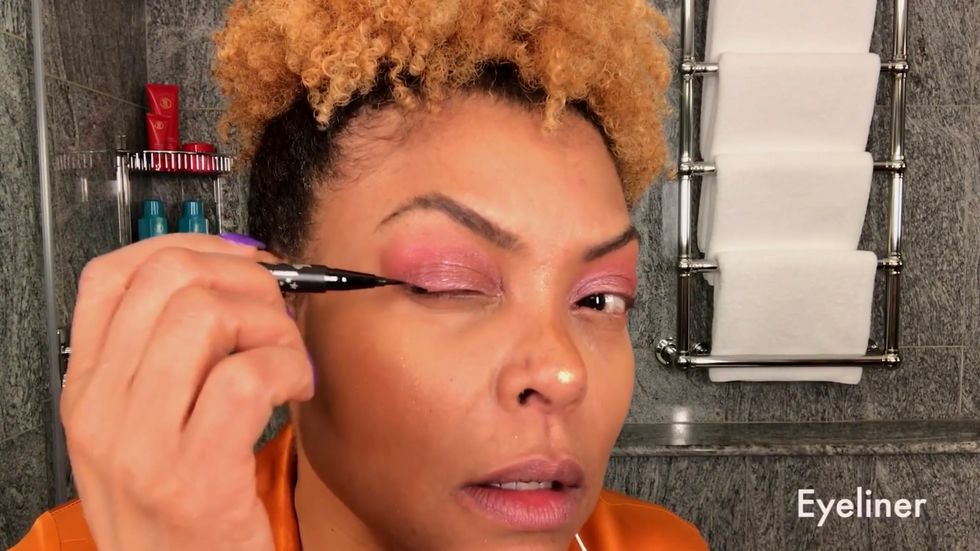 YouTube/Vogue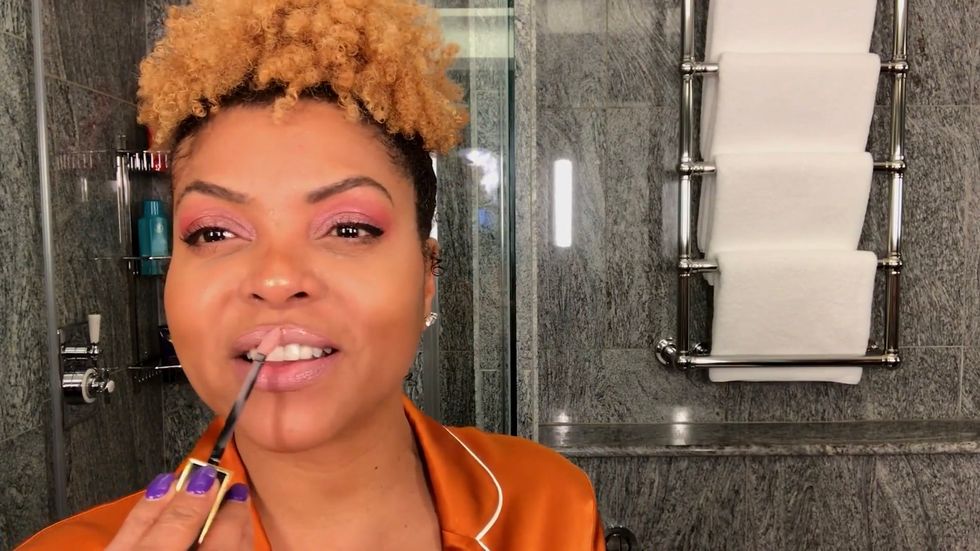 YouTube/Vogue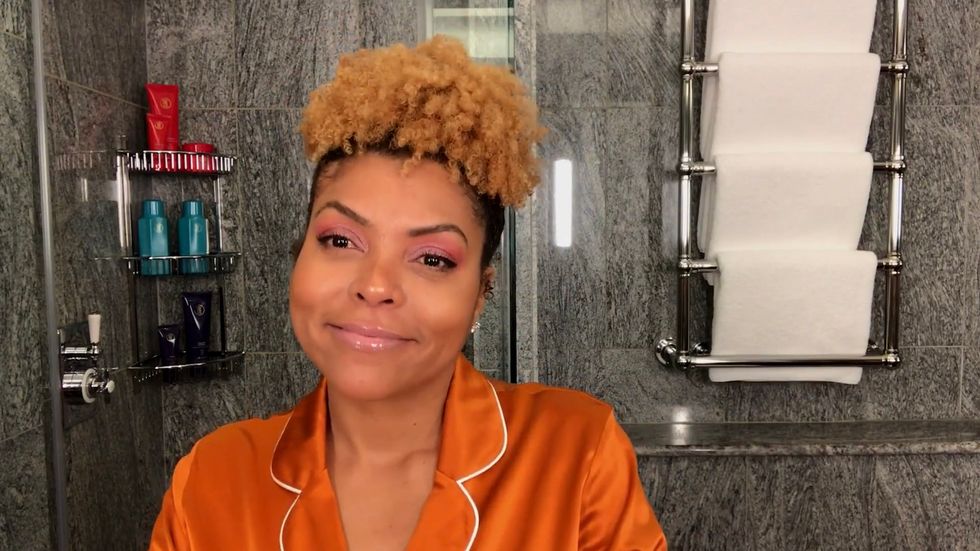 YouTube/Vogue
Featured image by Instagram/@tarajiphenson.

Keep reading...
Show less
Taraji P. Henson hasn't aged a day since the release of Baby Boy in 2001 and since the release of her new coil-friendly haircare line, TPH, our good sis has been dropping all of her must-have beauty secrets and we are here for all of it. In a recent interview with PEOPLE, Taraji gave us the details on her skincare routine and according to her, it requires water, Vitamin C, and a whole lot of moisturizer. She explained:
"I need my face to feel squeaky-clean, so I wash with this, then use Paul Scerri moisturizer. I swear [the moisturizer] was made for me. If they stop selling it, my face might turn to stone! I wash my face with Biore Deep Pore Charcoal Cleanser. I really don't have a crazy ritual. People go, 'What do you do?' And don't get facials a lot; I just moisturize my skin. I use Olay's Micro-Sculpting Cream Moisturizer for moisturizer but I switch back and forth because sometimes my face will get tired of one product. A good Vitamin C serum is good."
While facials may not be a part of this fresh-faced beauty's regular routine, Taraji says that she is intentional AF about staying hydrated. The 49-year-old actress revealed that she became convinced of this simple skincare hack like most of us learn life lessons: via meme. She told Parade:
"I also drink lots of water. That's really the trick. Water is the key. I saw a meme that said, 'You're not old, you're just dehydrated.' And it had a wrinkly dehydrated face next to a plump face and that inspired me (laughs). I believe in that though. You have to drink water—you must drink water. I always carry water with me around set. My security and my assistant are always constantly reminding me and chasing me down with water bottles."
Along with spilling the tea on how she keeps her skin on 10 at all times, Taraji revealed how she keeps her self-care game all the way together. While she may play a cutthroat music industry mogul on TV, Taraji says that crafting and quiet time dominate her time-off.

"It's completely quiet time. No television, no radio, no phone. Just quiet. And I can be cleaning. I can be cooking. I just notice that when I quiet the noise in the background, I can quiet the noise in my mind. My brain can race, so I'm also training myself to focus on one thing at a time. And that forces me to stay present and in the moment and not get ahead of myself."
The actress, who says that any time alone is time well-spent, says that Tibetan bowl singing is also a newfound means of relaxation that she's incorporated into her self-care routine.
"I also meditate. I have this routine where I align all of my chakras and it includes oil and chanting and Tibetan bowls singing. I know how to make my Tibetan bowls sing. And the different sizes of a bowl represent different tones, which do different things for me. So that and baths and spas and saunas and massages."
To check out more of Taraji's must-have beauty products, scroll below!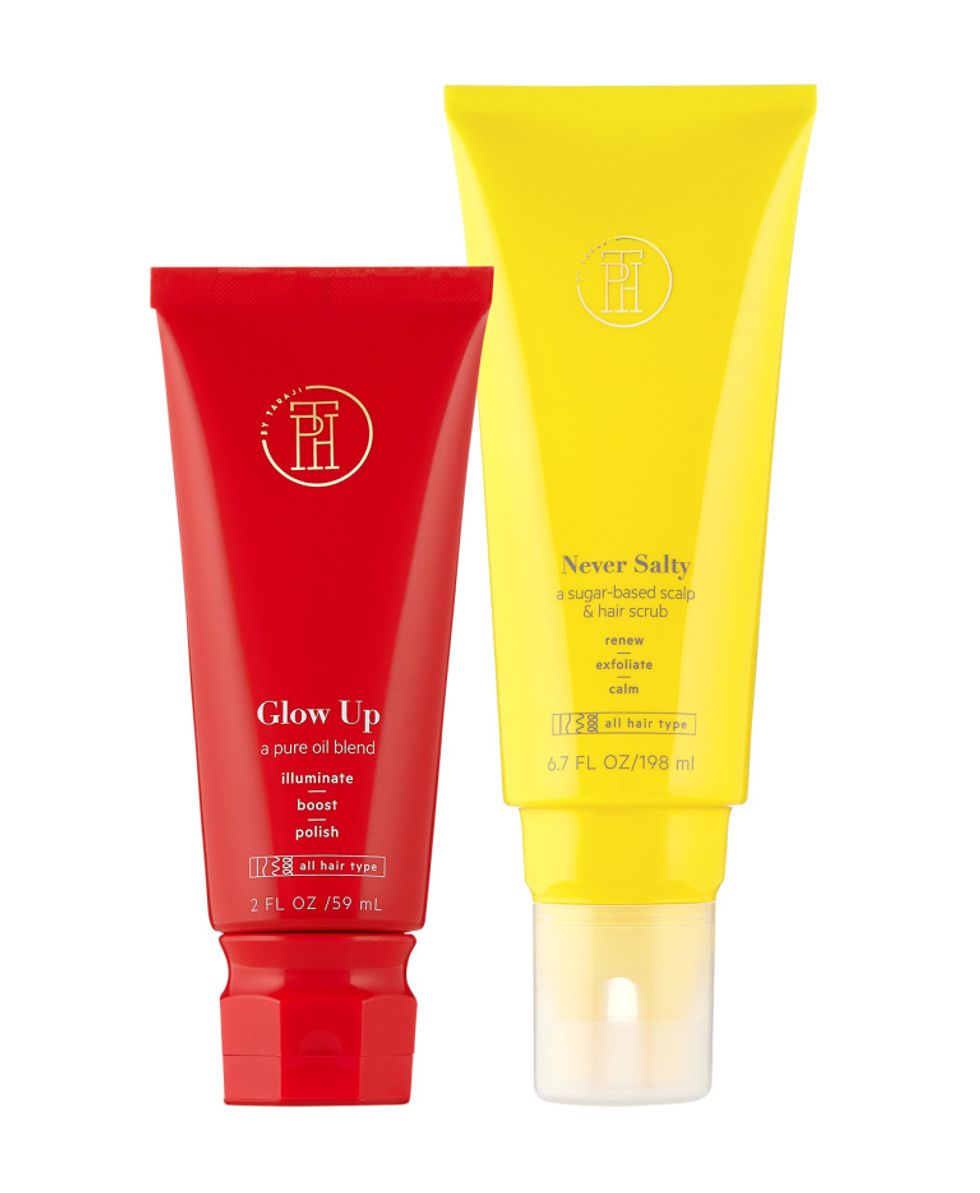 Target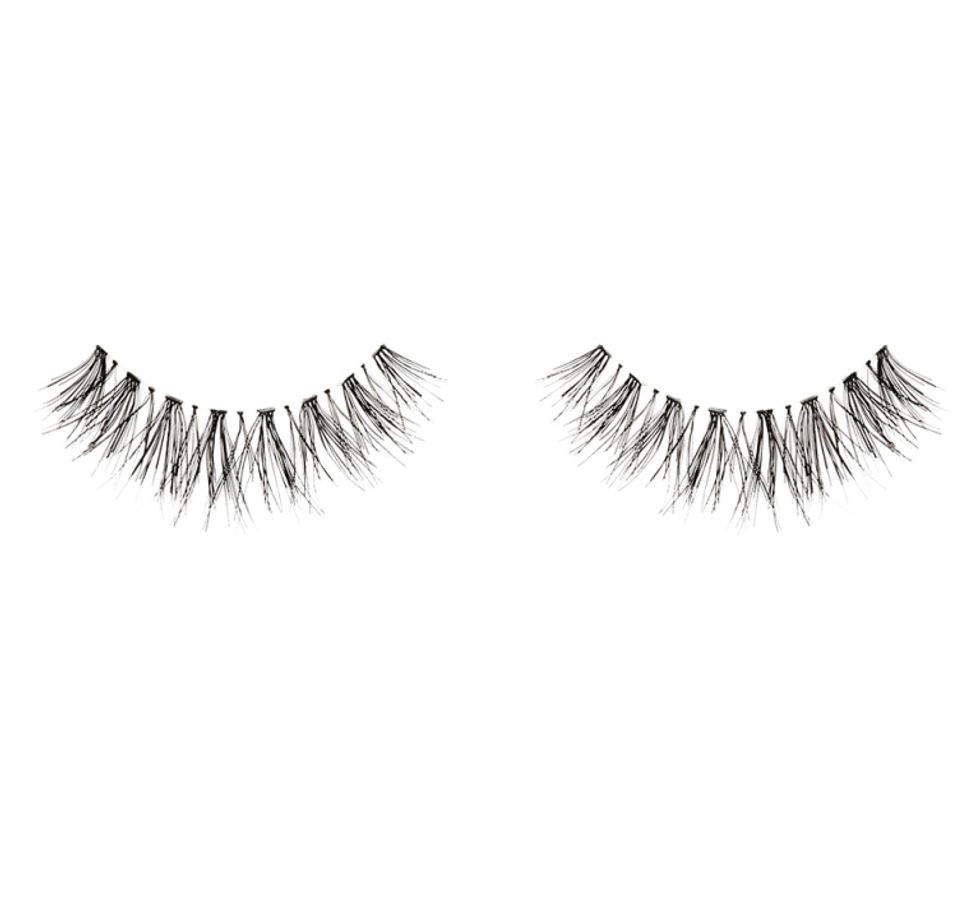 Amazon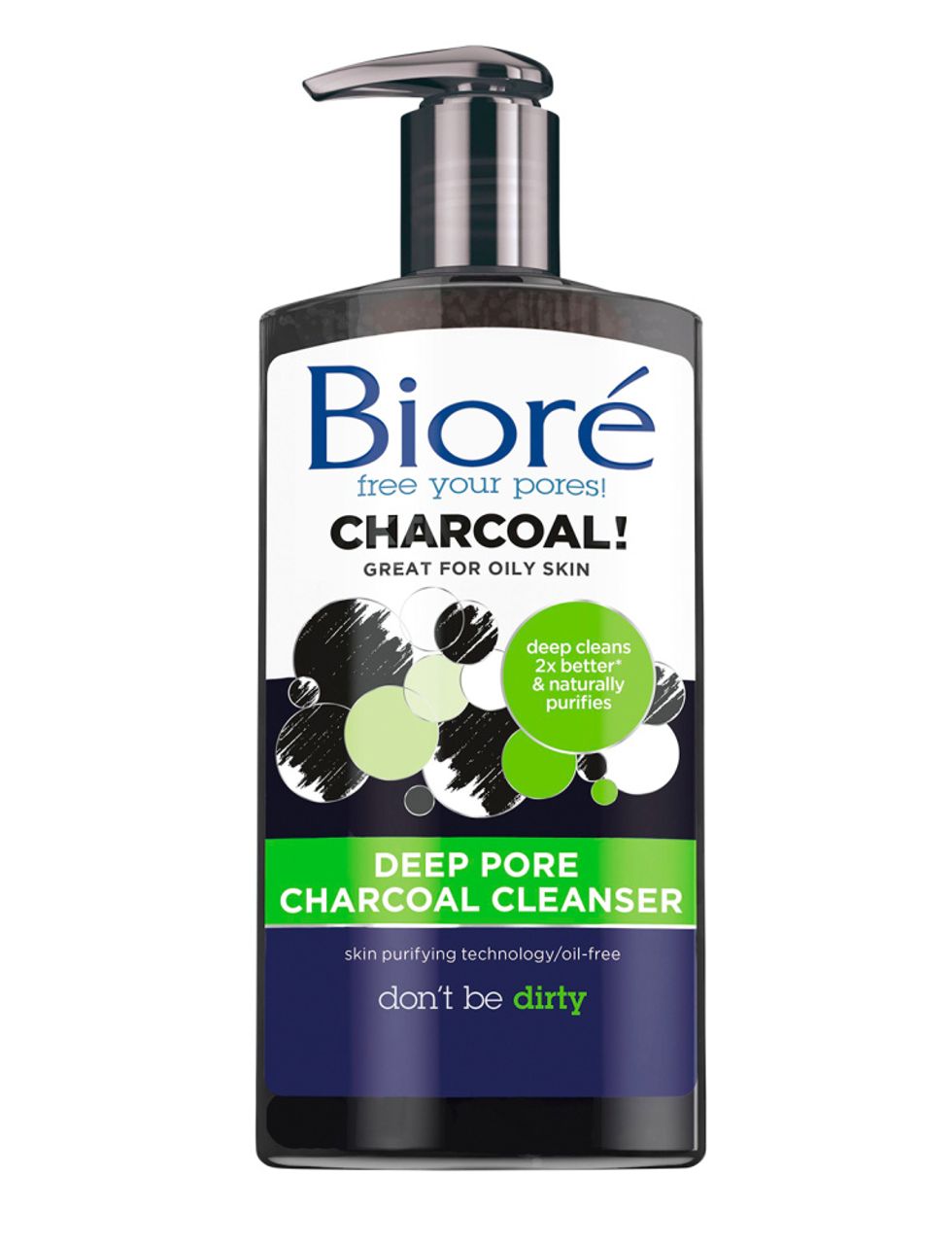 Amazon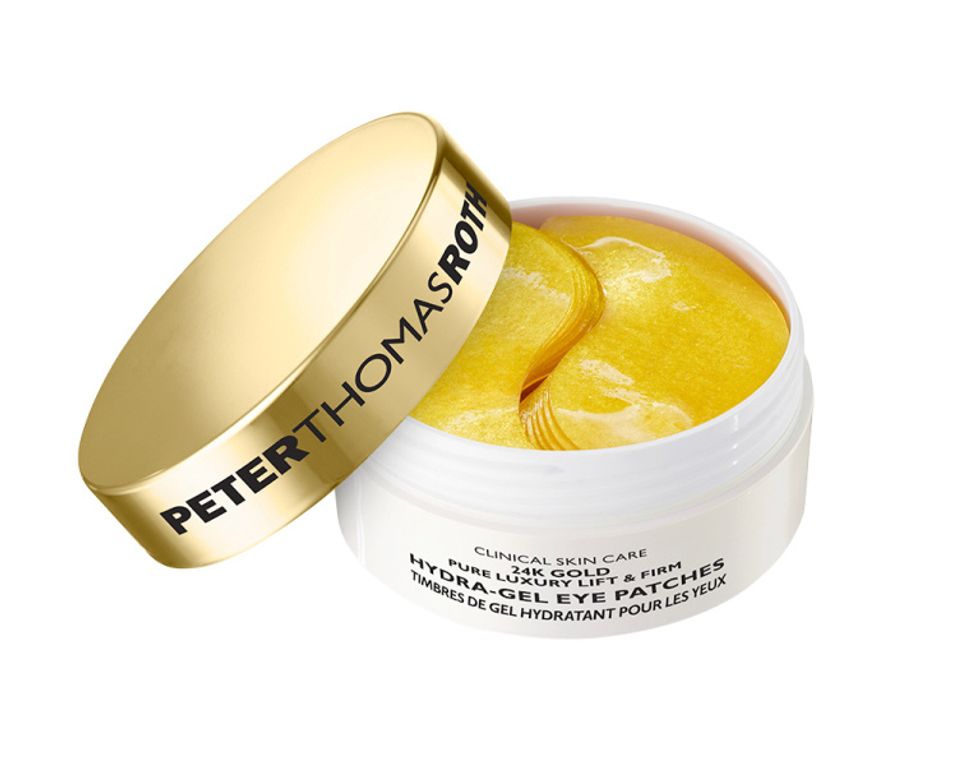 Peter Thomas Roth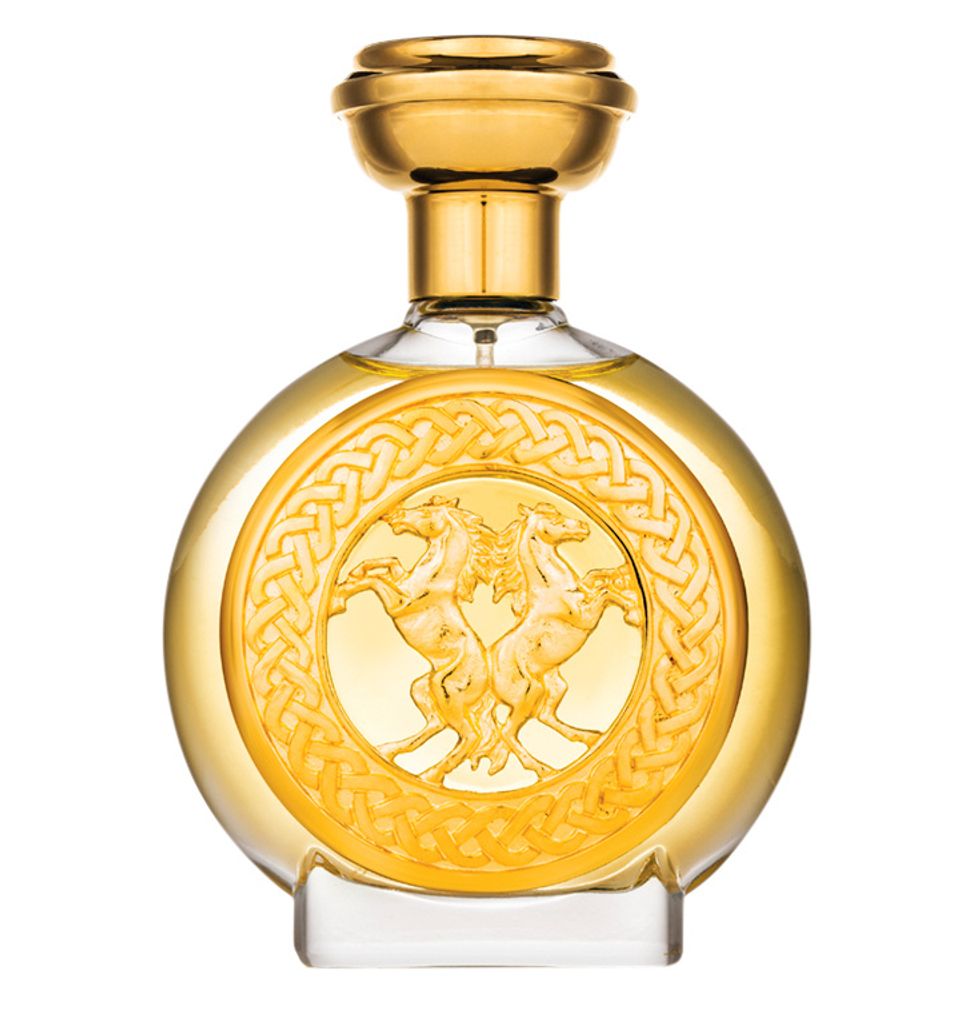 Fragantica
Featured image by Tinseltown / Shutterstock.com
Keep reading...
Show less