Jazmine Sullivan is music royalty. She's rightfully deemed as one of the best voices to ever hit a studio, and she's also the queen of relatable music, a page out of Mary J. Blige's book. In fact, also similar to Mary, she makes some of the best music when she's her mental health is out of alignment. Ain't that a bitch?
At the top of this year, Sullivan released her highly, highly anticipated EP, Heaux Tales, and even put into the universe a potential collaboration with fellow GOAT, Issa Rae. "What I would love is if me and @IssaRae did a heauxtales short film, and I'd add a few extra songs. But I could just be dreaming. Nvm me. I'm crazy." Issa soon after answered, with five simple words: "Jazmine. Say the f–k less."
The rest, is Black women's history, as they sneaky linked up for an interview with ESSENCE, hopefully with more to come.

And listen, during this interview, they discussed it all. From being fans of the other, to learning to say 'no more' to the childish things (for now), as our good sis Jazmine says she is now all about therapy, new music, and creating spaces for Black women.

Continue reading for highlights of the cover story below!
On having a master plan...or not:
When Issa asked the crooner how her album Fearless came about, sis responded gracefully:
"I wish I could say I had a master plan, but I really didn't. I was just doing what felt natural, and luckily I had gotten with a record company and with people who allowed me to do that. But for me, I just wanted to express myself in the most natural way, and that means me writing my stories. So many of the songs at that time came from a lot of the childish stuff I was going through.
"For example, busting windows out of an ex's car and literally going straight from doing it to not being able to sleep. I was restless, because I was still in the moment. And so I just started writing about it. I let my girlfriends hear it, and they were like, 'Girl, do your thing—whatever this leads to.' And it led to my world opening up in such a different way…"
On telling Black women's stories:
"Before now, I had really just been concerned about expressing myself and getting my story out there—and people have connected to that. But for this project, it was important for me to share the stories of the women I love and hold dear to my heart. I feel like they are just as banging and dynamic as me. And I want to give space and opportunity to women, period…"
On making space for Black women:
Earlier this year, Jazmine went viral for hitting social media and teaching us all how to perfect the art of the vocal--a skill she is notorious for. As it turns out, she's just looking out for the culture.
"I feel like we get caught up in thinking there's 'only one' of us. There can only be one R&B superstar; there can only be one rap girl at a time. That's not true. God was not stingy when He was giving out gifts. And you're not the only person. There are many other women, especially Black women, who can do what you do. And let's all create spaces for each other to get out there and do that…"
On self-care and finding the right therapist:
"The first five minutes I was holding back tears, because I was like, 'Wow, this is the first time I'm actually speaking about my feelings. And it's not in a song. It doesn't require notes. I don't need to impress anybody with what it is that I'm actually doing. This is the first time.' So I was holding back tears even doing that. But after that first five minutes, I was surprised by how much I was enjoying speaking to somebody, and somebody listening to me, and I didn't have to perform to do it.
"But finding the right therapist is a process—because I went to therapy one time, years ago, and I hated the experience, and I feel like it stopped me from going for a long time. And then I found this new lady, and it's a totally different experience. So you have to find the right person for you, that you actually want to open up to. But once you do that, a weight lifts off of you—just from speaking, just from telling your story. And that's what Heaux Tales was. It's like, 'Tell it, girl. Tell it. Set yourself free.'"
So here for all of this, whew!
Sullivan is headlining this year's ESSENCE Festival of Culture presented by Coca-Cola®. The full conversation between Jazmine Sullivan and Issa Rae for the July/August 2021 issue of ESSENCE, will be available on newsstands + digital platforms June 29.
Featured image via Paras Griffin/Getty Images for Tyler Perry Studios

Keep reading...
Show less
Career advice is something that comes a dime a dozen in an our American overworked hustle culture. It mostly sounds like, "rah rah sleep when you die" or whatever some millennial has said before. Boomers taught us to find a job, and work your way up with that company until you retire from there one day.

Millennials came along and decided that Boomers' way of thinking was dated, especially when factoring in cost-of-living. But truth is, when it comes to Corporate America, working is all about playing smarter, than harder, which is the aspect that Gen-Z has figured out, and damn near normalized. In fact, Gen-Z boldly shows up denouncing all of this, and instead, realized that we need to just get what we want out of these jobs and get tf on.
And they can thank many of those before them, and having access to readily available advice at their fingertips from industry giants.
Regardless, there's still etiquette to working in the States. And if one person knows a thing or two about the topic, it's our good sis Issa Rae. She understands the struggle and decided, for herself, to break out of the mold and take ownership of her career path, whichhhh I guess you can say is working out pretty well. But even she had to learn a few hard lessons along the way. In a recent video with Vanity Fair, she discussed her #LeaveThatJob journey, and the lessons she learned about doing so.
The segment, titled Issa Rae Re-Answers Old Interview Questions, is where she responds to an interview questions she's been asked in the past, with her new perspective. Her previous response is then played, to which she also offers up commentary to her old responses.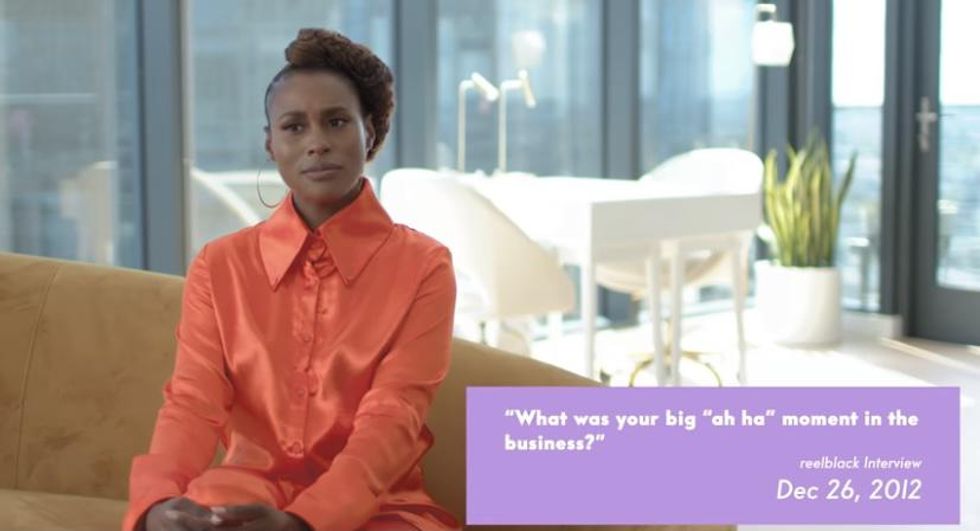 Vanity Fair/YouTube ​
So when she was asked what her "ah-ha moment" was in the Hollywood, of course her current response was full of all gems.
"I guess I'm just more hip to how and why things are made, and who is kind of in charge of saying 'Yes.' But the politics of this business have just become more clear to me in a way that I could at least, intentionally, go around and avoid making things that the studio system thinks is great or poppin. Mind you, I'm a business person and I don't want to make things that suck and that won't sell, but I do want to make things that are very true to me."
She continues:
"And I have found that while Hollywood is like, 'we love original voices, we love originality', all those things, they really don't. So it's just about finding those people who do appreciate that and who are willing to take risks."
But her 2012 response is what made her cringe at the thought of merging what she's learned in the almost decade since.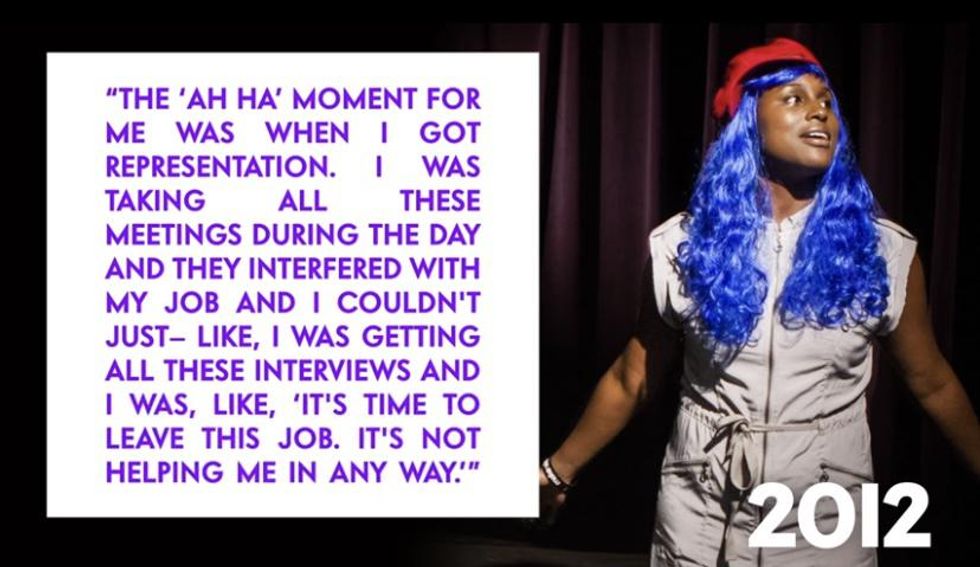 Vanity Fair/YouTube
"My dumbass..." she responds.

"I thought representation meant like, 'oh I get an agent and manager, money is about to just start coming in, whew finally! It's happened for me!' And I quit my job, and was broke as fuck...so this was not an ah-ha moment, this was a very dead moment for me. It worked out, but I should have held on to it a little longer to save, because whew, there was a struggle."
She then proceeds to give some of the best advice for us looking to move on from jobs to pursue passions with a more mature perspective.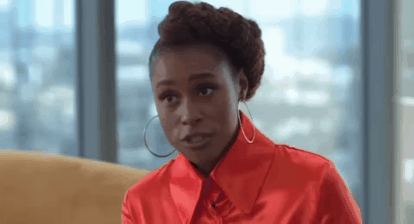 Vanity Fair/YouTube
"Before you quit your job, you should have savings, you should have a plan, and also make sure that you have a support system, whether that's your friends, or a team in place to help you make stuff. You have to have accountability partners to keep you on track."
Because her journey into being a boss was a lane she created on her own, her self-made approach to creativity is why her advice is on so many people's radar--and rightfully so. But her ultimate advice, that she never strays from and has been what she commits herself to, is simple:
"Find [your] people. One of the things that was so important for me was just finding those people who I could rely on and who I could grow with — it's not easy to do things by yourself. Because I'm a shy person, it was hard for me to introduce myself to people and ask for help, but I found that as soon as I started doing the work, people started coming my way."
Issa Rae Re-Answers Old Interview Questions | Vanity Fair
Are you a member of our insiders squad? Join us in the xoTribe Members Community today!

Featured image by Rich Fury/Getty Images for Teen Vogue
Keep reading...
Show less
Issa Rae covers Vanity Fair's June issue looking ready for business in a crisp black suit offset by a gold, armor-like bustier that levels up the whole ensemble. In fact, "Issa Rae Levels Up" is emblazoned across her image and the cover story inside is fitting of the headline. Not only is the writer/actor/producer gearing up for the final season of her "baby" Insecure, but she's hitting the ground running with several projects in the works.
Issa's lineup includes producing a Baldwin Hills-esque docu-series Sweet Life and an adaptation of popular podcast Nice White Parents, plus she's writing, producing, and starring in Perfect Strangers. She also has a second season of A Black Lady Sketch Show which she executive produces coming up, and she's working on a revival of Matt Damon and Ben Affleck's HBO docu-series Project Greenlight, which gave money and support to aspiring filmmakers. So yeah, "levels up" is probably an understatement for what the 36-year-old has coming.
With all these new endeavors happening, one thing remains prevalent throughout Issa's work—the range of relatable Black women characters. If you're an Insecure fan, you know exactly what I'm talking about. Each season the women only get more complex and the introduction of new female roles only adds layers. Her mission is to do this for Black woman characters across the scope of her work.
In her interview with VF, she shares an interesting anecdote of hurting Lauren London's feelings a few years ago that really drove this message home. Luckily, the two have made up since—in part thanks to the late Nipsey Hussle for encouraging Issa to defuse the situation at a birthday party for Diddy.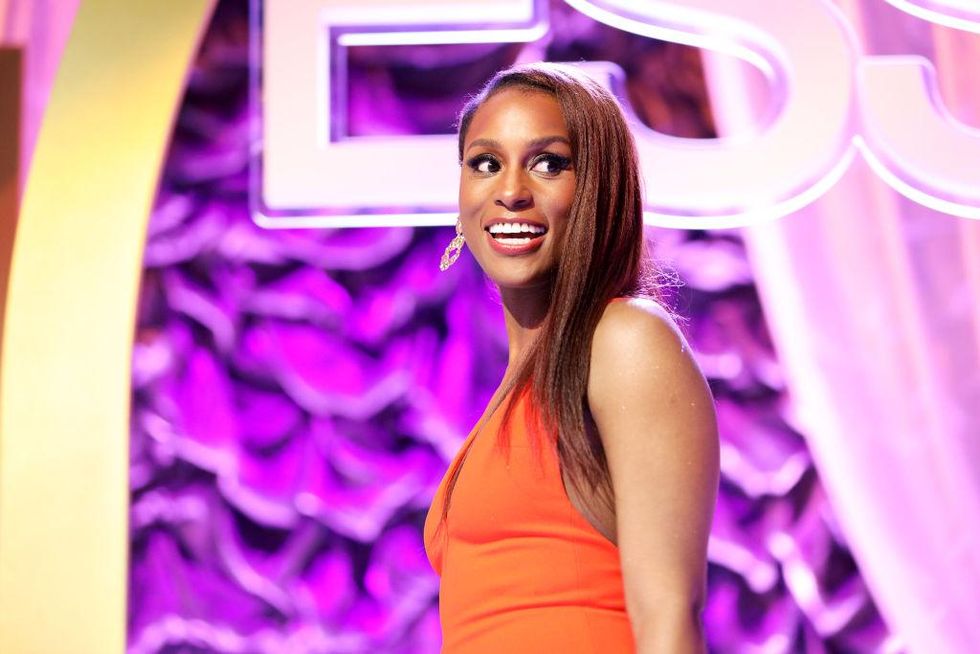 Rich Polk/Getty Images for ESSENCE
Issa recalls a previous interview she did where she told the story of a TV executive who suggested that Lauren, most known for roles in ATL and The Game reboot, play the lead for a cable version of her YouTube hit Awkward Black Girl. That show became what we all love and know today as Insecure, which we can't imagine anyone else other than Issa as the off-beat leading lady.
And Issa couldn't imagine Lauren encapsulating the awkwardness that her character Issa Dee (based on her real self) embodies. Her point was that executives were out of touch with Black women and thought of swapping one for another even when they were nothing alike, but also that dark-skinned Black women could be edited out of their own narratives.
However, Issa's comments in the interview hurt London's feelings.
"One of my biggest regrets, naming her. She took offense to that."
It wasn't until the aforementioned Diddy birthday party two years ago where the pair reconciled:
"[Nipsey] was like, 'You should just talk to her. Let me set it up.' It actually sparked an amazing two-hour conversation. We had so much in common. She was like, 'People don't understand, I'm an awkward Black girl.' In the same way that I was upset about the limited portrayal of Black women, she was like, 'People do the same thing to me.' I completely get that."
Consider the situation a lesson learned. Issa continues to expand her concept of Black female characters.
She also admits to still being in a group chat with Rihanna, Lupita Nyong'o, and Ava DuVernay ever since a rival photo from NYFW '16 that Twitter wants made into a movie, and we concur.
The more versatile Black woman roles, the better.
Featured image by Rich Polk/Getty Images for ESSENCE

Keep reading...
Show less
It's pretty understood that the culture perceives Issa Rae as a giant; a cultural phenomenon. And we hold her on that pedestal because she just so happens to perceive the culture as exactly the same. She puts absolutely nothing before us, and we trust that about her. We know how she gets down, and we know that her pivot game is incomparable. She is purely unparalleled.
And if diversifying everything she gets her hands on doesn't keep her busy enough, she somehow carved the time to speak with Rolling Stone for the cover of their May issue.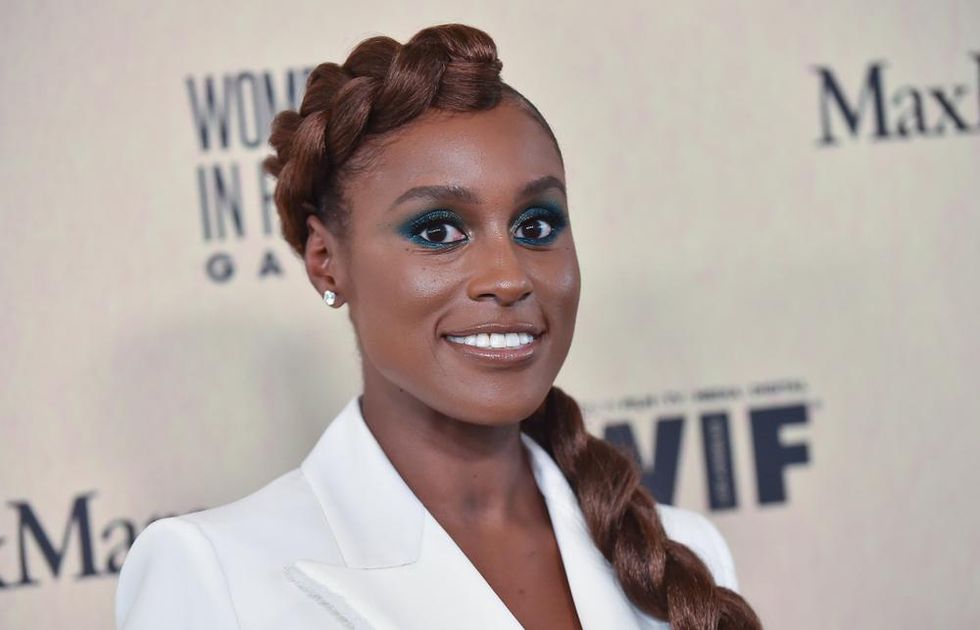 DFree / Shutterstock.com
Donning a latex-tight metallic blue turtleneck, she reminded me of a superhero. Or maybe it's just that that's how I always see her. But anyway, there she was.
In the interview, which took place at her pool over a bottle of prosecco, she discusses everything from work-life balance and being a better friend, to her start in entertainment and wishing she never told the world so much about herself.
Continue reading for our favorite highlights!
Issa on balancing multiple projects with being a good friend:
While admitting she was striving for more balance a few years ago, Issa says she failed--especially now that her workload is at its heaviest. And sis is starting to believe that she may just be built this way.
"I'm just always thinking about work. I was always like this. [In the past] it was like, 'I need to work to make sure I have the means of affording a place to live.' [Or] 'This didn't work, what's the next thing I can do?' I think that's just how my mind works. That's Capricorn shit. Workaholic shit. If you have any suggestions, let me know. I've fallen short because I'm so used to [them] accommodating this in-person dynamic. So this year has tested who I am as a friend and really made me realize, 'Oh, I'm not considerate in this way, and I can do more here.'"
On being a product of "Internet Culture":
"I know how I am as a consumer, as a stan of people, and what I look for. I had the foresight to shield myself from what anybody who was looking for anything on me would try to find, because I know this culture. Internet culture is weird and malicious. I've just worked really hard to protect myself from the ugliest parts of it."

On the opportunities that came from 'Awkward Black Girl' and the biggest lesson she's learned in entertainment:
Although ABG is how she got her start in entertainment, the opportunities that came from the series, almost altered the Issa we know today.
"I was so focused on what I felt like fit their network that I didn't focus on the story I wanted to tell," Rae has said. "I was eager to please, and that made my voice kind of irrelevant, and the reason they brought me in in the first place was to have something to say. I had to realize I have a specific point of view, I have a specific story to tell, and I need to tap into that."
"This industry is built on exclusion. Knowing people is such a currency, and if you don't know anybody, you're just left to fend for yourself."
On new City Girls'-based television show:
"[Jermaine Dupri] coming out and criticizing female rappers for only talking about their pussy, I was just like, 'This is so unfair.' So that inspired the writing of it."
She continues:
"I guess I feel more empowered in the film and television industry," she says. "We have our own problems, but it is nothing like the music industry. I'm in awe every single day of just, 'Y'all can do this? This can happen, and it's still going to happen?' I have a lot of catching up to do. That feels exhausting in a different way."
On the new season of 'Insecure':
"We're not telling a Covid story. I had fatigue."
Same, sis.
On being protective of her personal life: 
One of Issa's biggest regrets is that she told so much about her personal life in her book, which she only wrote because she never expected so many people to read it. And sis talked about it all, from her experience catfishing random men in chat rooms as a preteen, to her discovery of her dad's affair.
"It felt like I was writing journal entries. The 24- through 27-year-old version of me will live on through a book. My opinions, whatever whimsical thoughts and notions, will live on forever. That's what I don't like about it."
Now, Issa is more, cautious, especially about her engagement to businessman bae, Louis Diame (which she never introduces to the interviewer, but is present).
"I just feel superprotective of any relationship I'm in. That's come from observing and making fun of people over the years who broadcast the most intimate parts of their relationships, then are left with egg on their face. I call them the 'me and my boo' people. Let me embarrass myself. Don't let a nigga embarrass you. That's always been my focus."
A wordddddd, sis!
Are you a member of our insiders squad? Join us in the xoTribe Members Community today!

Featured image by DFree / Shutterstock.com
Keep reading...
Show less
We all know Issa Rae has been the queen of Black girl magic, making "awkward" sexy and bankable in Hollywood and changing the narrative of what Black women look, sound, and act like in mainstream media. (We'll never forget that infamous red-carpet moment when "rooting for everybody Black" became the wave.) So it's no surprise that she lent her voice to a much-needed International Women's Day conversation about Black women in the workplace on one of the most pivotal social media platforms for professionals and entrepreneurs: LinkedIn.
It's also no surprise that Black women face added pressures and challenges in corporate America that have only worsened with COVID-19. New LinkedIn research has found that 1 in 4 Black women (26 percent) feel they may face retaliation for speaking up about racial justice issues or topics around diversity, equity and inclusion in the workplace, and 37 percent feel their workplace "talks a lot about creating a more diverse workplace, but doesn't make any material changes to policies or culture to make it happen."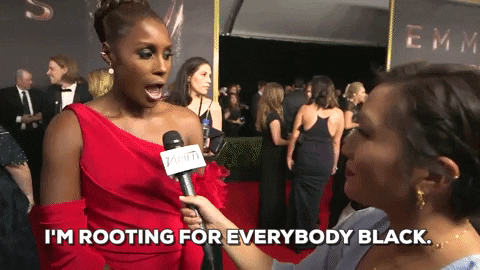 Image via Giphy
Issa joined an in-depth conversation with Betty Liu, executive vice chairman of the New York Stock Exchange, and LinkedIn news editor-at-large Caroline Fairchild as part of the platform's Conversations for Change series, and y'all know she dropped some keep-it-real jewels that are super-relevant today more than ever.
Check out what Issa had to say about how white allies should really go about putting action behind words, being the only Black woman in the room, and handling issues of race and inclusivity with her own team:
On leading conversations with her team about racial injustice:
"I had team members that came up to me and wanted us as a company to do something, and they inspired me like, yes we are in the spotlight, we should be facilitating conversations and facilitating action. For me it came down to that. We had had so many conversations, and so many conversations were happening just even within the media, and the frustration and despair that I felt was like, is anything going to change this time? And so to know that we were in a position to at least direct and guide people to organizations that were making that change, to actively go out there and make our voices heard just really united us as a company.
"And you know, not everybody in our company is Black, so to educate some people and to again facilitate these conversations so that no one was judged for their ignorance was really important to us. So, that really united us in a way that I'll carry with me for a long time, and will continue to be active about those conversations and the intentions behind some of our projects and initiatives."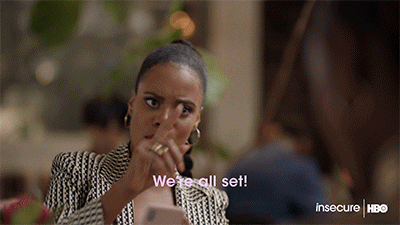 Image via Giphy
Issa on finding community as the only Black professional in the room:
"You can't always wait to be approached. Because that was my issue, of just like, 'Well nobody even tried so why should I try?' And now I've made assumptions about you, based off of what you haven't done. So, I think what I've learned is I have to at least extend myself in a way before I make a judgement. And then, if I extend myself and then recognize that there's no one there to receive me, then I can find a community.
"But for me, it comes down to finding a community of people who understand and relate, and I understand that that can be hard within your work environment, but extending outside of your work environment and finding other people and establishing a community there to bounce thoughts and ideas and solutions off of is so, so important."
On talking to white colleagues about the real meaning of allyship:
"A lot of my white colleagues have come up to me just to discuss what they could do, and, you know, I'm always open - some of us can get frustrated, any minority, when you're just like I feel like I have to learn so much about your culture and you, and I don't necessarily ask you questions, I do the research. And so for me it's like, I hope you do the research before you come to me, because I'm exhausted. I don't want to spend time like going down the line of everything that's wrong, I think you have to do the reading and the research on your own. I'm gonna be an open vessel, I'm gonna be patient, but just know that up front. And so to receive those texts constantly about, 'What can I do? How can I help?' I'm like, 'I hope you research this first.'
"There are so many, so many conversations where you can just find out, but for the most part, I have just been like this is where you can take action, this is where you can donate money, and kind of giving a 'frequently asked questions' checklist to colleagues. I've even found that forums, even with LinkedIn, I'm sure you guys are very much aware of how much of a forum that became post- these protests, and people just want a place to express themselves and to learn, and the more accessible that is, the more progress you'll have."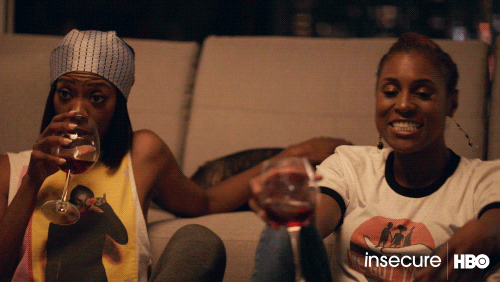 Image via Giphy
Issa on the importance of the word 'Black': 
"It just reaffirmed what I knew and what I felt personally. Just that we didn't have this representation and we didn't have these stories being told about us, and there's a constant encouragement to kind of erase Blackness in an effort to integrate and fit in, and I think what we felt was just like, 'No, I want to be Black and fit in.'
"I want to acknowledge my Blackness while still being able to be acknowledged in society. So that only affirmed like, I want to continue to create these stories where I'm intentionally highlighting the Black experience, or one of many Black experiences, and that continues to be my priority."
For the full talk with Issa Rae and more on LinkedIn's Conversations for Change, visit their website.
Featured image by DFree / Shutterstock.com
Keep reading...
Show less
Jo-Issa Rae Diop, known as Issa Rae, is undeniably before her time. After all, she's an Emmy-nominated star, she is gearing up for the fifth and final season of Insecure, she has her own music label with Atlantic Records (Raedio), and she co-owns Hilltop Coffee + Kitchen in Inglewood. And on top of it all, she still manages to be a phenomenon, holding the entire culture on her back. She's in takeover mode. And because we know that we would be in good hands, we are more than willing to let her have it all.
With this year being the 10-year anniversary of The Mis-adventures of Awkward Black Girl, the show that catapulted her into stardom, Rae has proven her worth and longevity in this game. And because of this, everyone wants to get their hands on whatever best advice she has to offer to anyone interested in taking a similar path. Her most profound advice entered the chat during an interview with Forbes. When asked the most necessary skill for her career as she transferred from actress to entrepreneur, she said:
"I learned to not be threatened by people who want to do the same thing that I do because it's more fun when you have people like you around you."
She continued:
"I love working with people that are smarter, better, better thinkers, more creative and more skilled than I am because it only helped to sharpen you and what you had in your toolbox."
And listen, if you're looking for gems—I mean true, real life, relatable gems—then Rae is stocked with them. This response was reminiscent of the simple, but powerful advice she had divulged in the past, when discussing networking:
"We have a tendency of trying to network up, but it's really about networking across." -@IssaRae Today's mindset:… https://t.co/thiZpAM5J2

— 1AM Creative (@1AM Creative)1508164113.0
Because the mindset should always be that we ALL can eat.
In the interview, she also discussed how she's grown over the span of her career, how she came up with the name for ABG, and advice she has for budding creatives.
That advice was simple:
"Start with what you want to see. I started in a place of 'what does the industry need?' and 'what is there not enough of?,' and they weren't necessarily stories I was passionate about or things that I was tied to. I would say to focus on the things that you would absolutely die if you don't see it on screen.
"Tell the story that you've been brewing in your head for years. Even if there hasn't been something, something that you're passionate about or something that you're curious about. You've just gotta start it."
--
Jo-Issa Rae Diop, we truly don't deserve you.
Click here to read the full Forbes interview.
Featured image by Kathy Hutchins / Shutterstock.com

Keep reading...
Show less