I'm still in shock that HBO's Insecure has come to an end. It truly feels like the end of an era. And much like the show's main characters, my friends and I have changed so much since the first episode aired. I think that's why I connect with the series. It told our stories in such a clear, funny, yet beautiful way that seemed familiar to real-life problems, relationships, and friendships. But, the other obvious reason we rallied behind the show is clearly the mastermind herself, Issa Rae.

As a creative, her story motivates me so much. She defied the Hollywood rules and created her own path to achieve her dream. From the viral web series Awkward Black Girl to a five-year deal with Warner Media, her journey continues to inspire me. Still, it's not just her story that resonates. It's also her attitude and personality.
Whenever I see her interviews (and I've watched many) or watch her on the red carpet, I get the feeling she is completely being herself. And that self is a talented, awkward, and successful businesswoman who seems to pour herself into her art and helping others. January 12, Rae's birthday, feels like a good time to focus on her, so let's take a few moments to celebrate Issa by reflecting on 10 of her most inspirational quotes.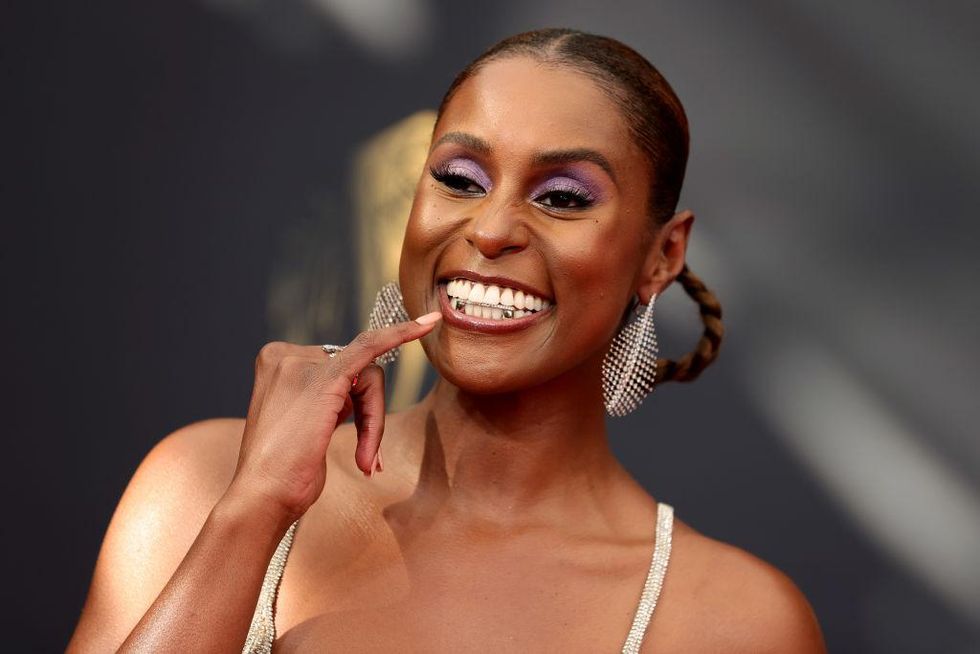 Rich Fury / Getty
There's no code-switching over here! This meme moment will live in our heads forever. When an interviewer asked Issa Rae who she was supporting, she nonchalantly stated that she was "betting on Black." And her delivery was everything we didn't know we needed.

This Issa Rae quote serves as a reminder not to tie myself into one skill or trait, it's OK to grow and change paths.

Don't feel like you have to fit into a mold. Celebrate yourself and those who see you for who you are.
Basically, I love this one because it's an ode to Black girl magic and how we continue to be great no matter how much turmoil is thrown at us.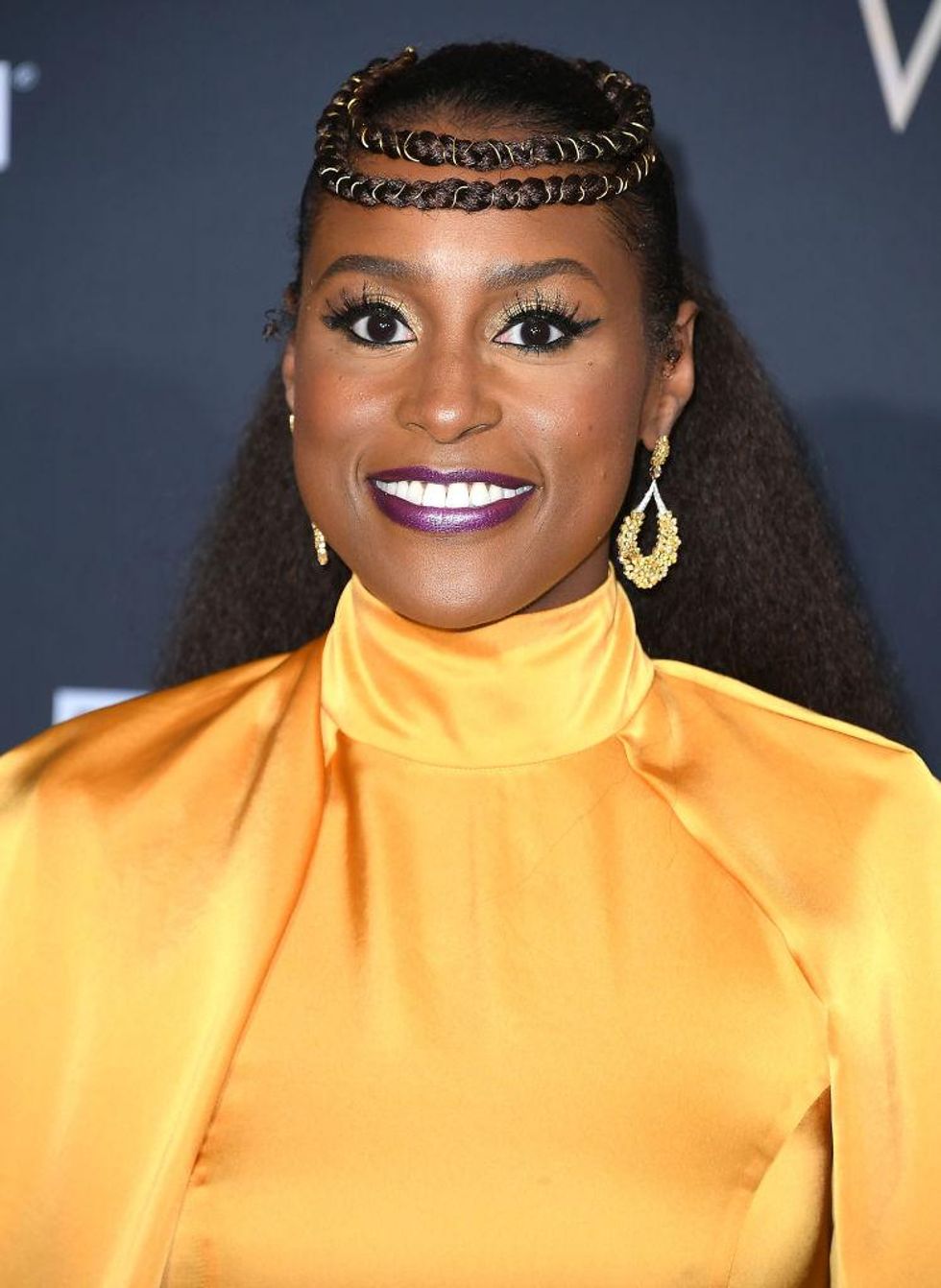 Christopher Polk / Getty

Often it's easy to diminish our goals yet magnify our problems. You know what I mean: "I got that little promotion" or "I did OK on my exam," when you actually aced it! We should be comfortable celebrating our accomplishments and need to be careful not to minimize them.

With this one Rae simply reminds us not to fade into the background and be comfortable using our voice.

It's so easy to put off goals and projects, especially when you're passionate about them. But, this quote reminds me not to let fear make decisions for me.
Being confident in yourself can get you far, and I think it feels better in the end when you remain true to who you are.
Just go for it. Whatever it is, don't be afraid to start it. Nothing is ever perfect but it can't be improved until it exists.
Because, it's a perfect reminder that we're never a monolith.
Featured image by Arturo Holmes/Getty Images for American Express
Keep reading...
Show less
The saying goes "all good things come to an end," but it also leads to new beginnings. That appears to be the case for Issa Rae after she dished on the final season of her celebrated HBO series Insecure. The finale premiered Sunday, December 26 and fans are still reeling from the effects of it.
While the characters all had happy endings (shoutout to #LawrenceHive), Issa and the writers actually explored a number of different ways of how they were going to end the season.
If you haven't watched the finale yet, then you might want to bypass these next few sentences because it is a spoiler alert. After all of the drama and back and forth that, if you think about it, is just a part of life, Issa and Lawrence ultimately end up together.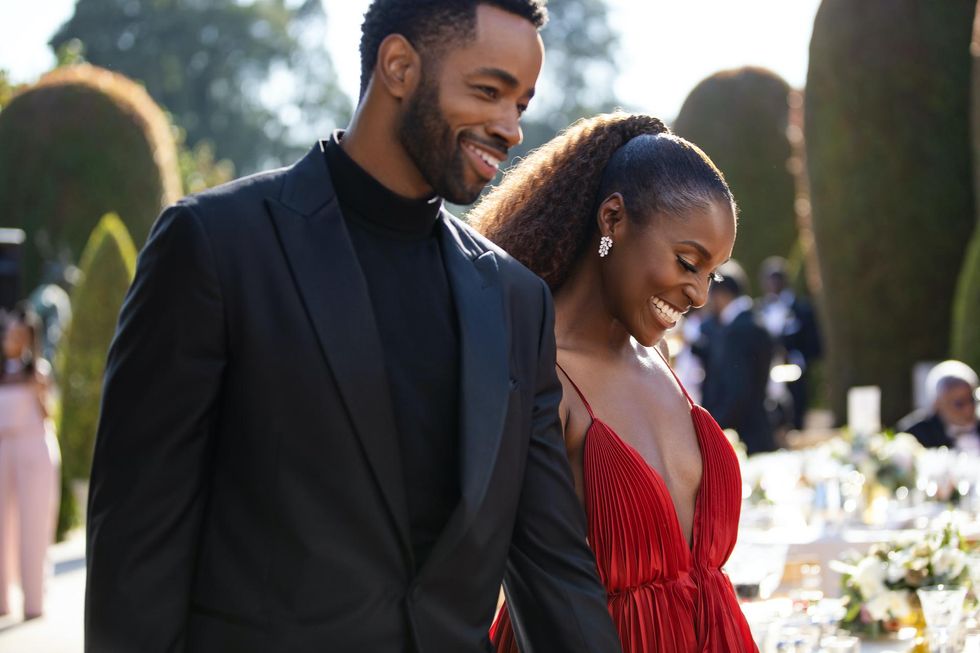 Raymond Liu/HBO
And while Lawrence had a son with his ex Condola, Issa revealed in an interview with Vulture that she was also open to the possibility of Issa having a child of her own with Lawrence.
"Yeah, actually. Especially — and since it is so present in my life right now, and I'm curious about it — I do wish we could've explored motherhood through Issa," she said.
"And deciding to or not to. That is something super real that we discussed in the room: Women having this ticking time clock that's so unfair that men will never experience. They can be like, Yeah, I'm 53, it's time to have kids. And we really have a time to decide. You can freeze your eggs, you can do all these things, but there's just something."
She continued, "There was an interesting discussion that happened in the room that men were enlightened by — annoyingly so — that the women in the room really bonded over: Oh my God, you feel this way, too? Even if you don't want kids, you still feel that clock. And there's such a pressure in the back of your mind of having to decide. That's something I wish we were able to explore. Maybe we'll explore it with something else."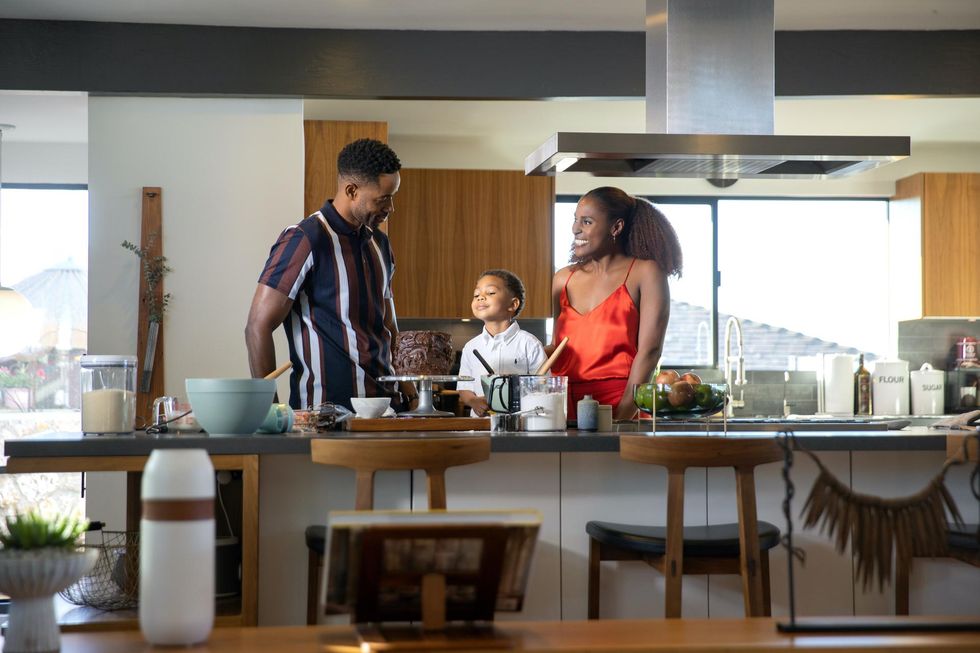 Raymond Liu/HBO
Explaining whether or not she's looking to explore motherhood on a different show, the actress spilled that she's actually looking to explore motherhood "in real life."
"I mean. We'll see," she said.
Over the summer, Issa married her longtime boyfriend Louis Diame in an elegant wedding in France and while she's always been super private about her personal life, it was exciting to see the actress open up about wanting to start a family.
Looks like this mogul is ready for motherhood. We love to see it!
Featured image by Tommaso Boddi/Getty Images for Vulture
Keep reading...
Show less
Without realizing it, Issa Rae has become somewhat of a natural hair icon these days. As Issa Dee in the popular HBO series, Insecure, Issa has changed the way we view natural hairstyles, one look at a time. Off-screen, she dazzles on red carpets, rocking her natural like it's nothing and she is also part owner of the scalp and hair care brand, Sienna Naturals By Issa Rae. But her hair story wasn't always this bold and unapologetic. She told Vogue, "To be referenced as having nappy hair most of my life didn't really sit well with me."
The method behind embracing her crown is something the actress says she owes to her on-set hairstylist, Felicia Leatherwood. "You've got to love the hair that grows out of your scalp. For a long time, I was trying to make my hair fit what everybody else thought was beautiful, and it was damaging to my hair," she continued, touching on her ultimate hair lesson.
And while I'm not sure where Insecure's final season is going quite yet, I am all for noting the many times Issa Rae's hair philosophy lent itself to her character as an homage to the show's cultural impact. As the multi-hyphenate says, "there's just nothing like seeing a Black woman who switches her hair like the days of the week." That goes double for Issa Dee.
Below are the Issa hair transformations that will give you natural hair inspo for days. Preesh, Insecure.
The Tried & True TWA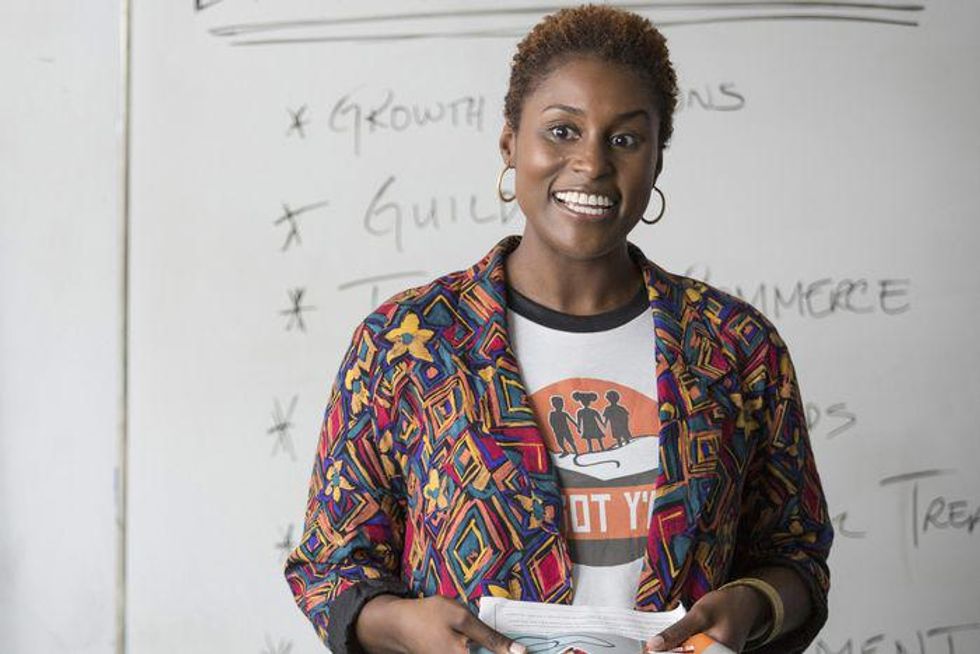 HBO
Classic and understated Issa Dee. In season one, the character was known to rock her TWA (teeny weeny afro) more than anything and seldom switched her hairstyle up from episode to episode.
Blown Out Afro Puff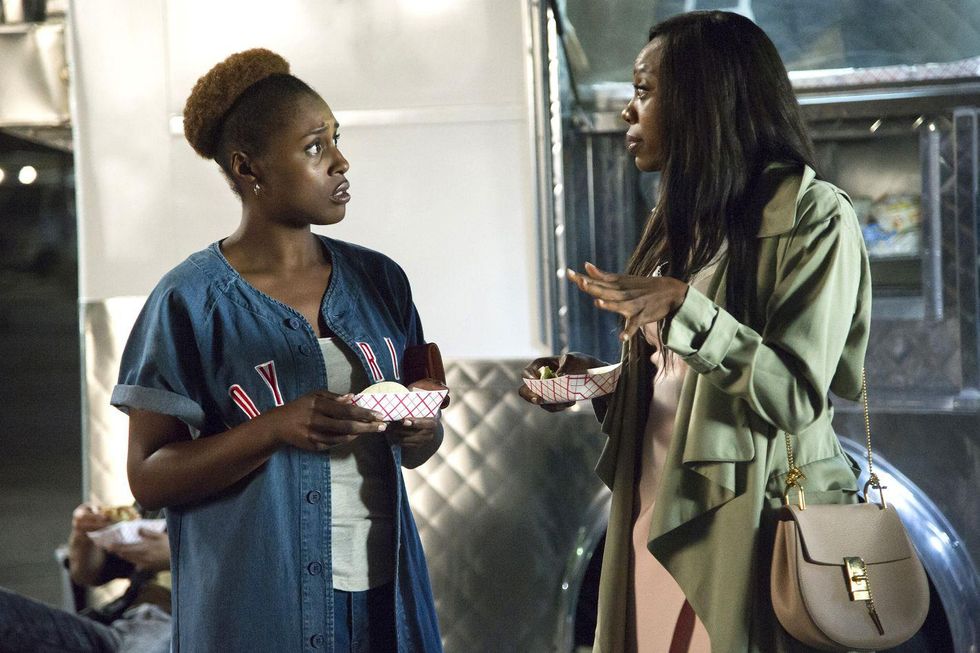 HBO
This traditional afro puff is a classic amongst natural hair girls everywhere. And Issa rocking it in this season one episode served as a great reminder as to why.
Changes in the way she wore her hair started being more apparent in the series' second season. Instead of just a scarf here or a hair tie there, Issa experimented with twists, braids, and adding length in her hairstyles throughout the seasons moving forward.
Sis switched it up and switched it up often, which was a slight nod to the character's growth.
Half Up Half Down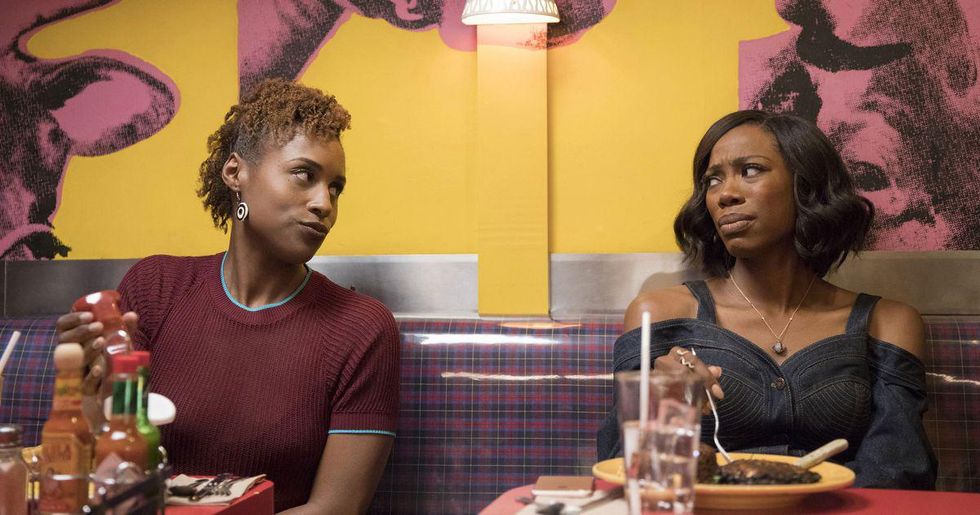 HBO
This half-up half-down style with a side bang is the definition of ease without sacrificing any chic.
Flat Twisted Pony With A Bang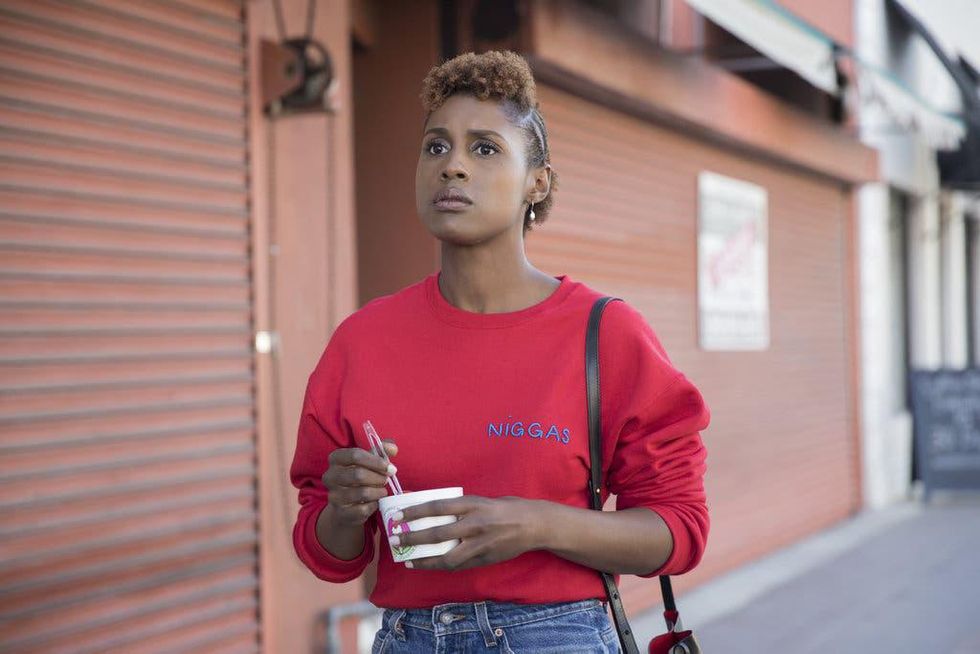 Justina Mintz/HBO
A bang is a must in this protective style. Flat twisted at the sides, Issa's hair is pulled into a low ponytail and left out in an afro puff. Mirroring that puff is her bang in the front. The end result is balanced and giving protective style inspo for days.
Flat Twisted Bun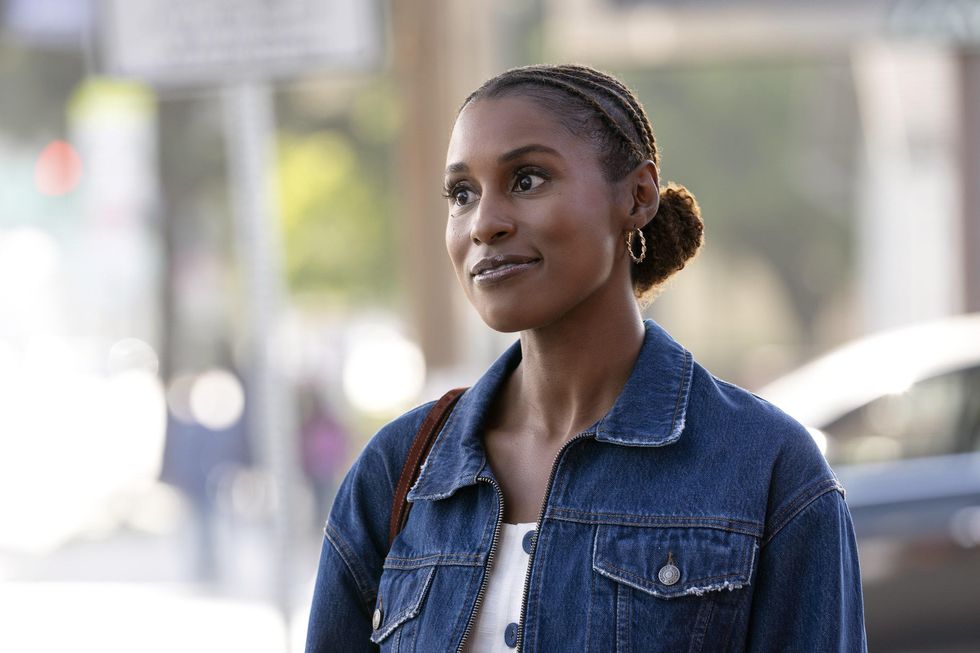 Merie W. Wallace/HBO
For this simple protective style, mini flat twists are created and pulled into a low bun with extensions added to give a bun effect.
The evolution of Issa Dee's hair from a simple TWA to more complex, "elevated" hairstyles was a journey stylist Felicia Leatherwood was intentional about portraying.
In reference to season 4's progression, Leatherwood told NYLON, "This last season, I wanted to make sure that it was an upgrade for Issa Dee, which means that I go talk to the wardrobe and makeup and see what direction they're going in."
Elevated Faux Hawk Updo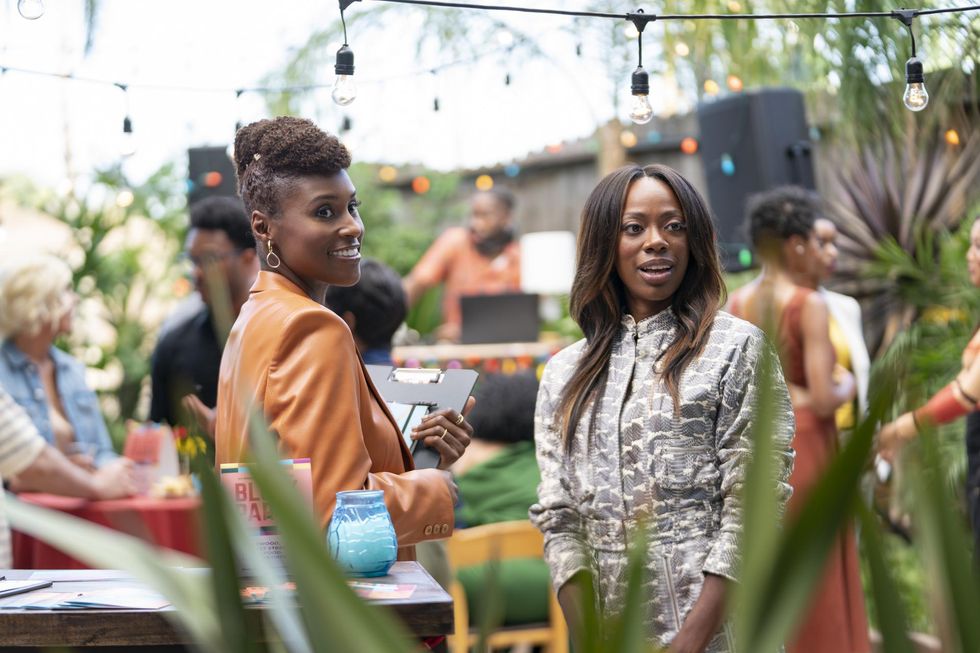 Merie W. Wallace/HBO
In the premiere of season 4, Issa's coif was polished in a faux hawk updo. While most of the audience was questioning if they should break up with their "Molly," we were pondering how to add this style to our must-try list.
Slick Down Low Afro Puff Ponytail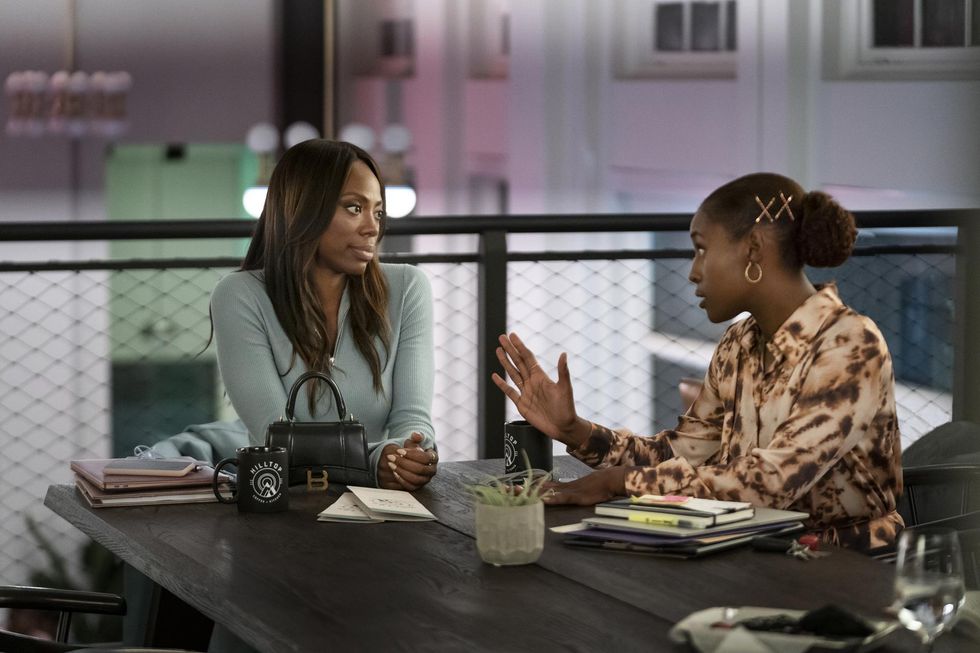 Merie W. Wallace/HBO
In the second episode of season 4, Issa wore two variations of the slick down puff ponytail style. This iteration is pulled low instead of up and also features accents by way of gold bobby pins.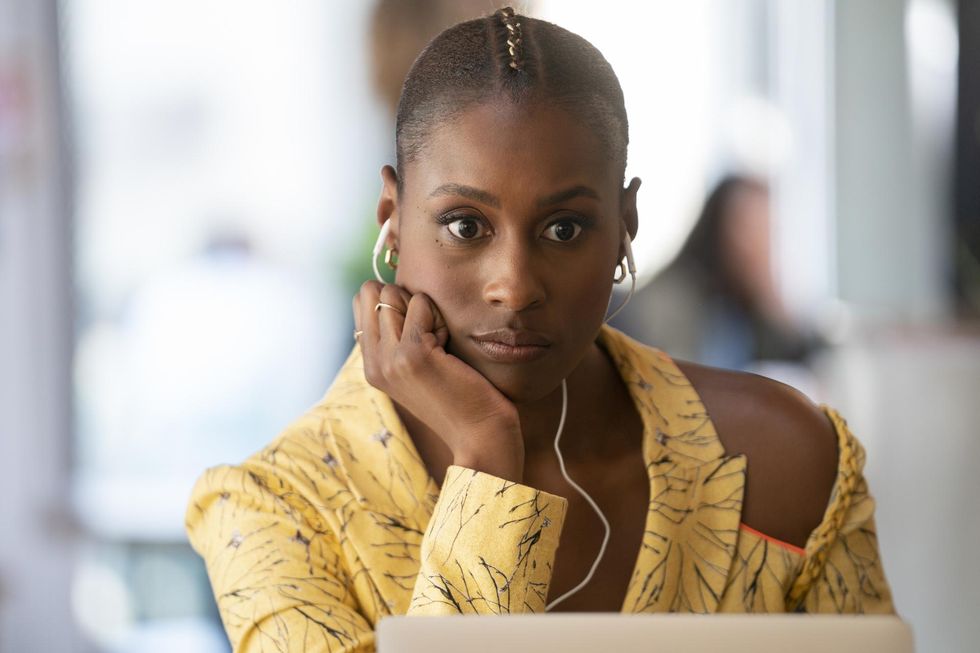 Merie W. Wallace/HBO
Flat Twisted Ponytail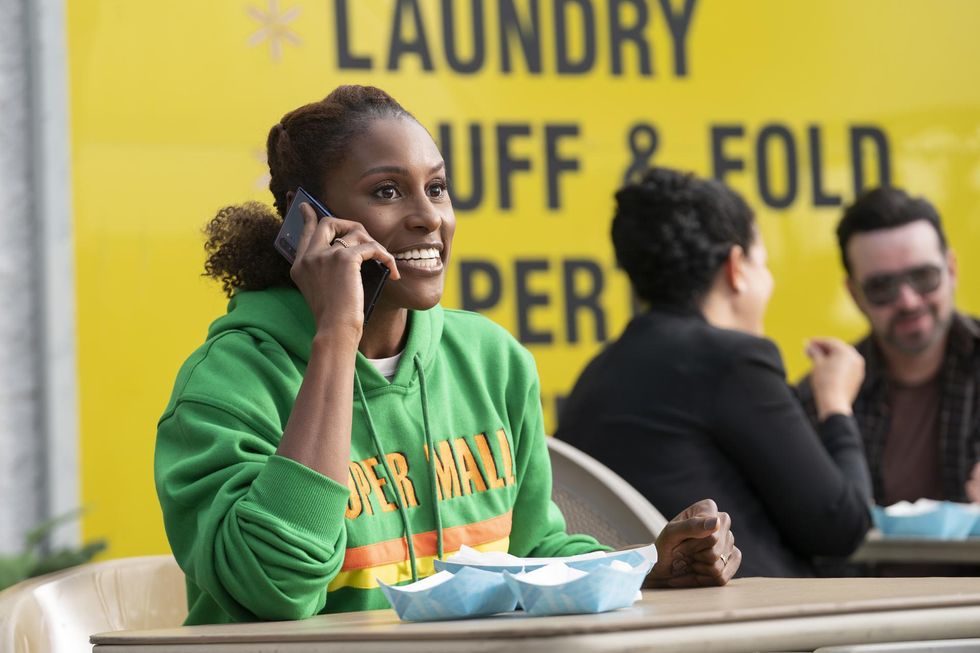 Merie W. Wallace/HBO
Jumbo flat twists twisted back into a low ponytail with some hair added is how this easy style is achieved. Leatherwood mentioned about the ease of some of Issa's styles on the show, "I really like to represent the natural hair community well, and that's my first step. How can I make this something that's reasonable for any naturalista to recreate? [That they] can look and say, 'Oh, I could do that,' or to see themselves with that hairstyle in their own natural texture and their own flavor."
Low Ponytail With Mini Braids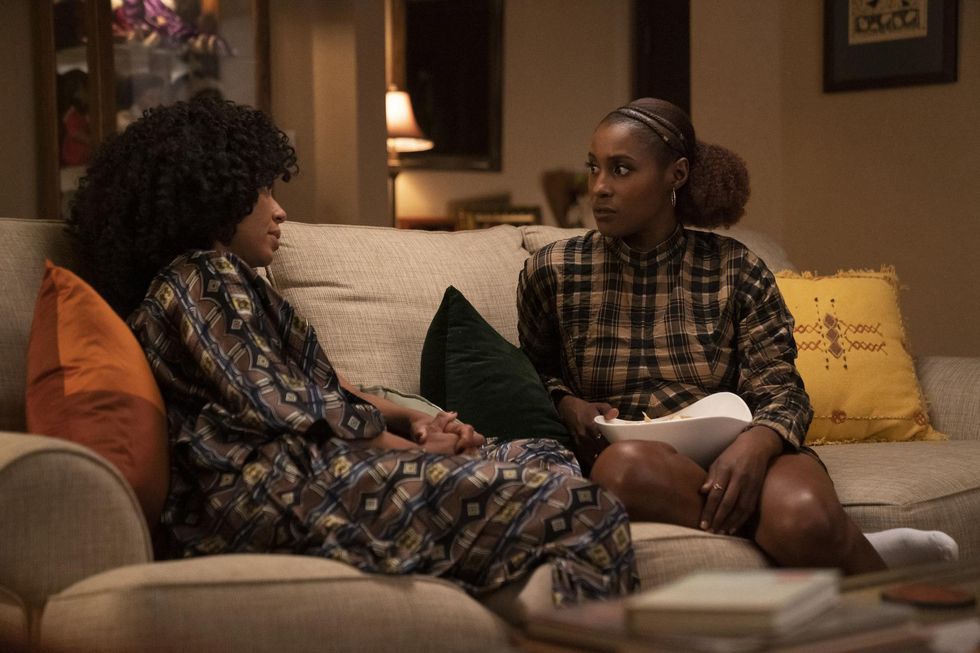 Merie W. Wallace/HBO
The classic low ponytail style got an update with the addition of two mini braids placed in the front.
Twisted Curly Updo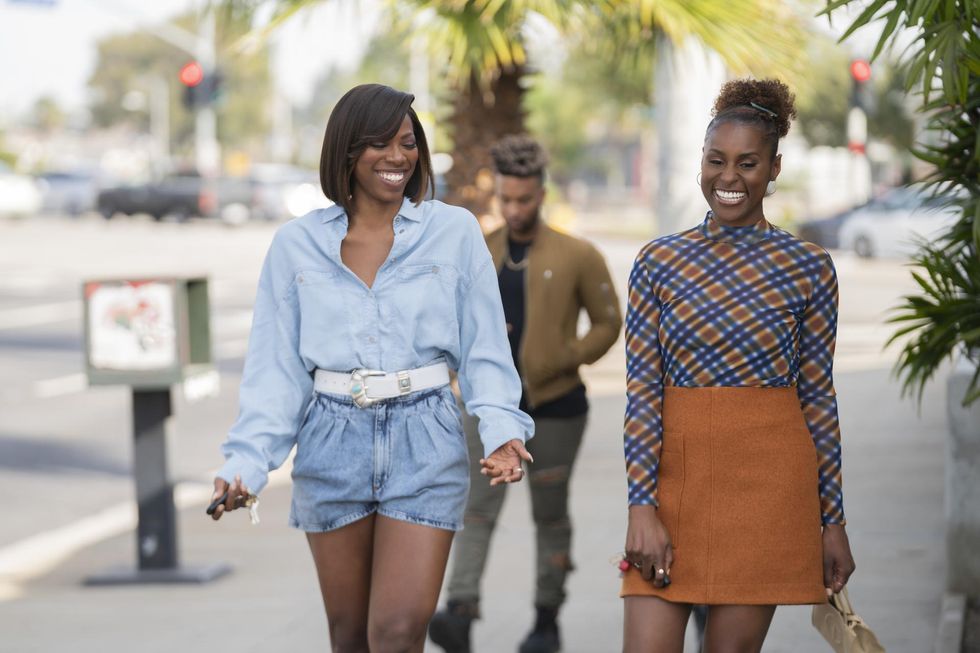 Merie W. Wallace/HBO
The curly updo is given a bit of additional flair with the help of four perfectly laid flat twists bringing the style together.
Two Buns Accented With Beaded Braids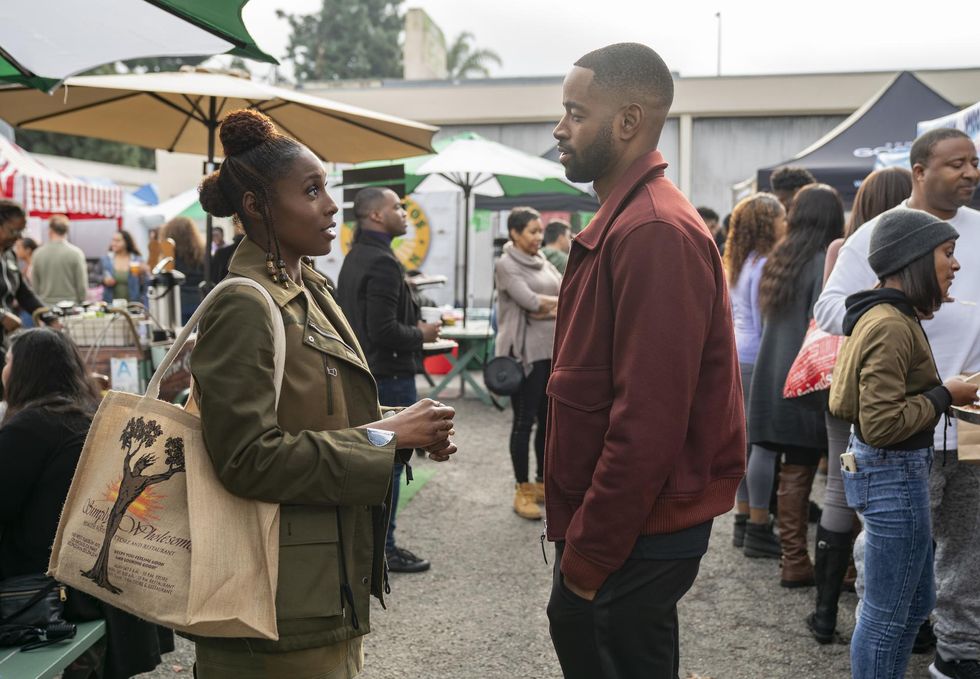 Merie W. Wallace/HBO
There's no denying Issa loves her updos. In this particular look, Issa adds two beaded braids on each side, going in the opposite direction of her two buns.
Braided Bun Updo With Curly Bang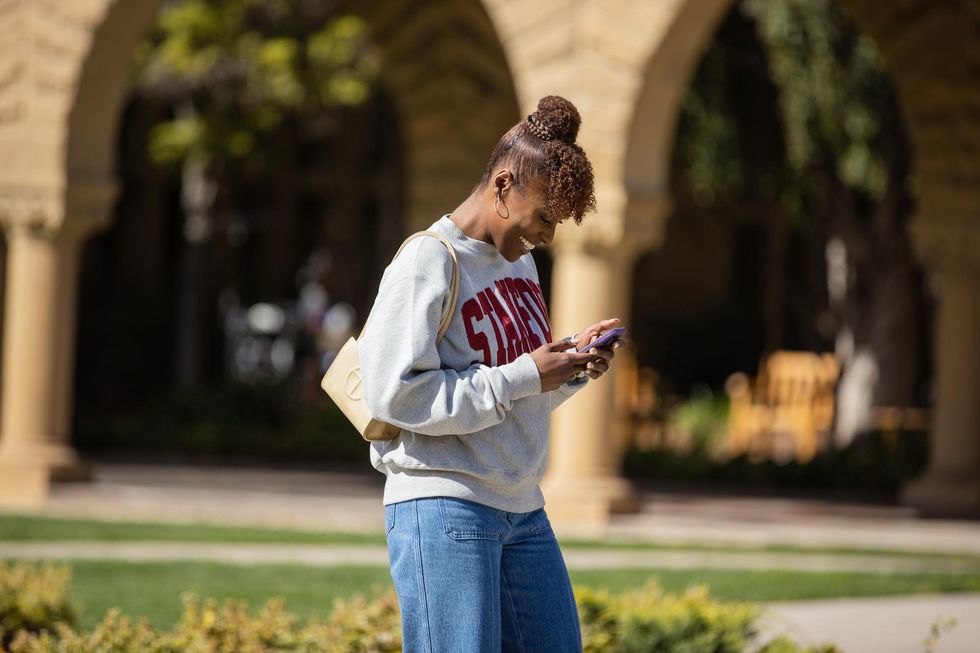 Raymond Liu/HBO
In the season five opener, Issa experienced a bout of self-doubt while revisiting her alma mater. But one thing's for certain and two thing's for sure, the braided bun updo with the curly bang was the star of the show.
Two Feed-In Braids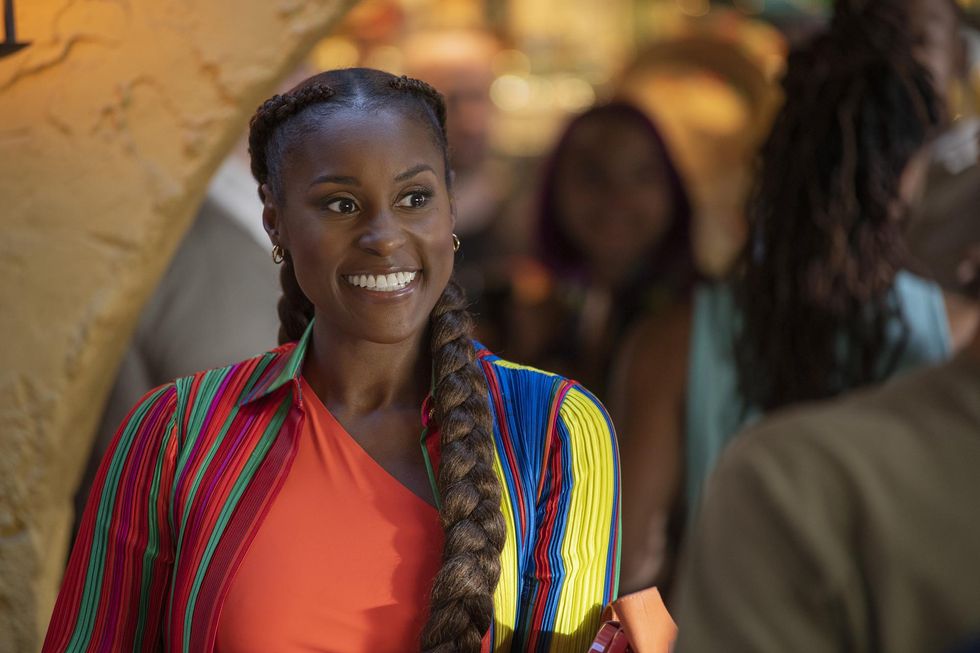 Glen Wilson/HBO
The unveiling of this feed-in braid style gave me the summer vibes my life currently needs.
Two Twists In The Front, Hair Out In The Back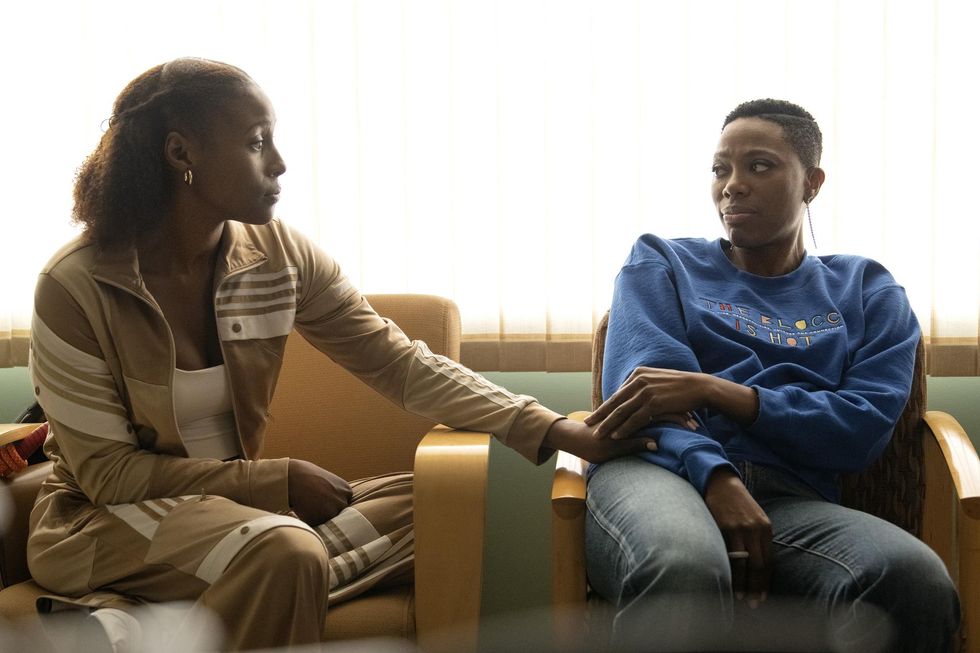 Glen Wilson/HBO
This hairstyle is perfection and feels like an update to the classic half up half down ponytail styles. Instead, the front of Issa's hair is sectioned into two and then twisted to meet in the back, with the rest of her hair left out.
Braids In The Front, Ponytail In The Back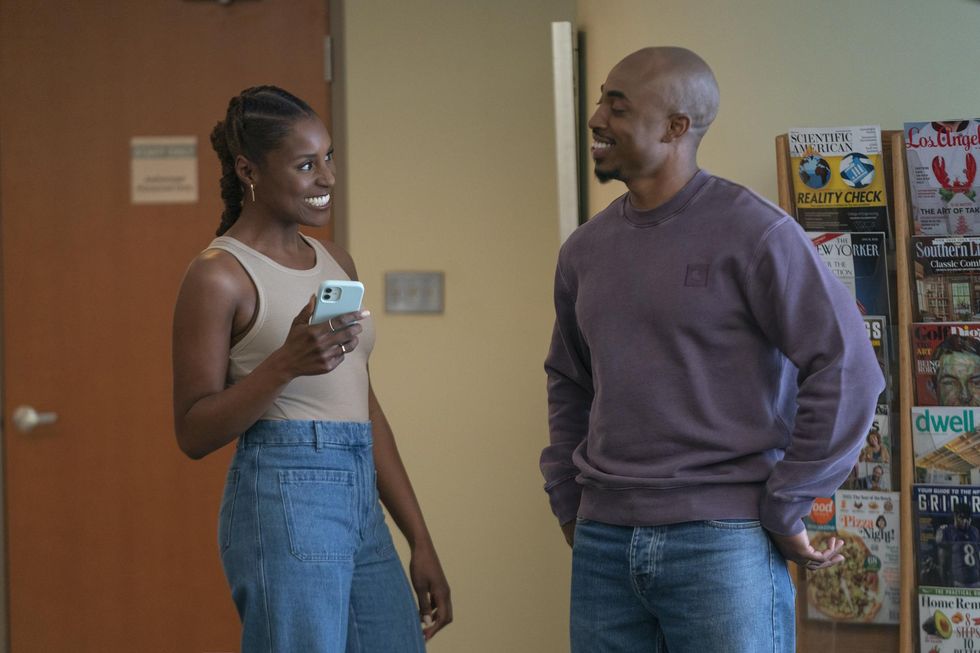 Merie Wallace/HBO
Forever in love with the way that a lot of Issa's styles are hybrids and seem to create the perfect style. This style from the current and final season features braids in the front pulled into an exaggerated braided pony in the back.
Featured image by Merie Wallace/HBO
Keep reading...
Show less
There are so many reasons creatives should look up to Issa Rae. She constructs amazing stories and characters, is unapologetically herself and is a real-life example that if you work hard enough, you can truly have it all. But, one of my personal favorite things about the mogul is the way she constantly creates opportunities for others. In a recent interview with CBS This Morning, the actor, producer, and entrepreneur sat down with Gayle King and had a full-circle moment where she opened up about the final season of Insecure and why it's only the beginning.
This is not the first time we've seen Rae and King together. In 2016, when Issa Rae was most known for the still-hilarious and popular web series Awkward Black Girl, she shared her feelings on what it's like to truly live the title with King. "It's [awkwardness] just within me, it will never go anywhere. Like, I've always related to just feeling uncomfortable and out of place." Now, five years later, she admits that while that feeling is still there, she has changed a bit since the 2016 interview.
She tells King, "I feel more confident that I belong here. In Hollywood as a storyteller there's a sense of like, 'I know what I'm doing.'"
Well, I think it's safe to say we definitely agree with her because Issa has racked up so many wins. And Gayle King made a point to list a few of them aloud, like, a plethora of magazine covers, starring and producing in multiple films, securing the bag with an eight-figure exclusive Warner Media deal, and marrying her bae in a secret wedding! But through it all, Issa feels her and the cast's true mission is to create opportunities for others. And when making Insecure, she was intentional about doing just that.
At the start of the series Issa wasn't sure it would be successful but wanted to make sure that regardless, it was helpful to the cast and crew. "At least the people who worked on our show would've had experience. Which is like, the excuse that Hollywood always gives for why they don't hire people of color, and Black people specifically." She continues, "At least they could say 'we worked on one season of an HBO show,' and hopefully get another job, but we were fortunate enough to get five seasons, and watch people grow."
King also made a point to note that Insecure gave many of the actors, staff, and crew their first opportunity at a show on this level, to which she inquired if Issa marvels at that at all. Rae responded beautifully, saying:
"We changed each other's lives. So in that way, I'm just appreciative to have grown with them, to be in the trenches with them, and we have so many memories. We all have the mission to open the door and keep the door open–to make sure that we create a pipeline."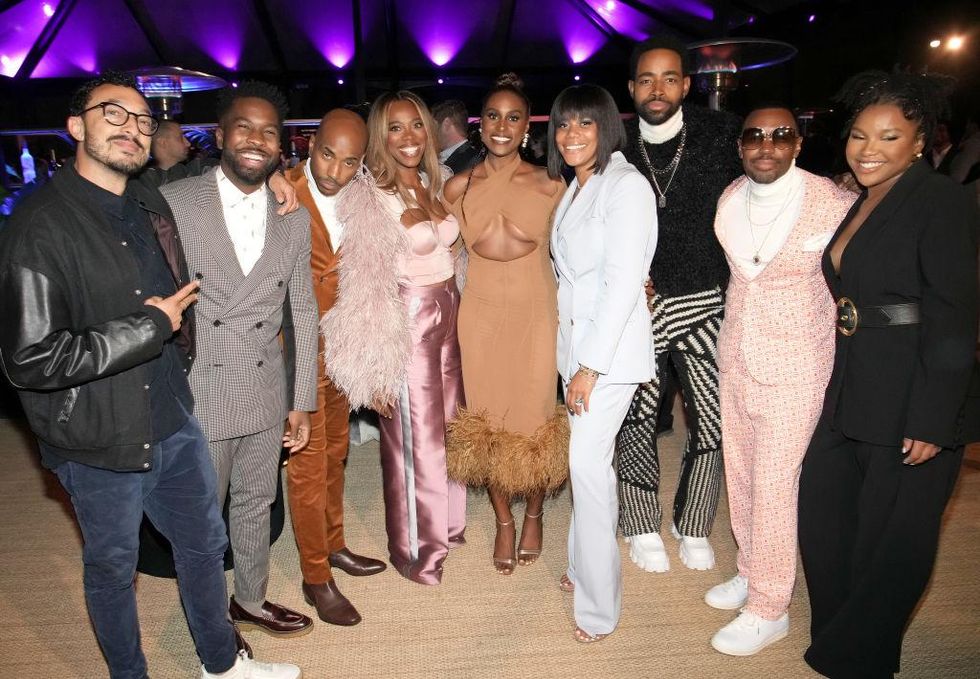 Jeff Kravitz/FilmMagic for HBO
It's encouraging and inspiring to see a Black woman who truly understands our stories and is telling them in such an authentic and engaging way, and it's why so many of us root for her, the same way she's "rooting for everybody Black." When asked how she feels about setting examples for creatives, she replied, "It means everything, because I know what it meant for me to watch those shows from the '90s and aspire to that and think like, 'Oh this is possible for me to do.' And these are stories that people care about, matter, and shape me. So to be able to do that for another generation, I'm extremely proud of that."
I'll be honest, I'm really going to miss Insecure Sundays, but it's encouraging to know that Issa has so much more in the works.
"I still feel like a beginner in many ways. I have so much more to do," she says firmly.
Featured image by Emma McIntyre/WireImage
Keep reading...
Show less
Viewers have seen the best friends experience a rollercoaster of emotions in their personal lives and in their friendship and after five seasons, we still may not know where their friendship will end up.
Speaking with Entertainment Tonight, Yvonne revealed she was feeling some kind of way about how Issa and Molly's story ends.
"I told Issa I have beef for the first time in six years, but I think she did a great job," she said.
"I think Molly's happy. I hope the fans are going to be happy. They didn't even call that that was my last scene. I just felt it and I think they knew not to call it because it was already so heavy. In the scene is already emotional, so I'm trying to get through my lines. I'm crying and Issa's crying I was like, 'oh this is going to be a long night,' but we got through it, we hugged it out and it was just a beautiful experience."
The comedian has become accustomed to a lot of online hate as her character Molly. Many Insecure fans have accused Molly of not being a good friend to Issa, but during an interview with CNN, Yvonne says she "don't fight on Twitter" or "in real life" and she believes Molly has been a good friend to Issa.
"Can we go back to season one though? Can we go back to season one where she definitely saved Issa from Daniel and Lawrence meeting? Can we go back to season one where she drove to Malibu? Where do you want to start?" she said.
Yvonne may be right about that, but viewers witnessed their friendship make a turn for the worst after (Spoiler alert) their fight at the block party in Season 4, but based on the season five premiere, their friendship seems to be getting back on track because according to Yvonne, their relationship is based on authenticity.
"You know, when you can actually be honest and be vulnerable and authentic, like authentically you. They get each other because they've known each other for so long, but they also understand how each other vibes. And even in your friendships now, like you have to appreciate their quirks."
The fifth and final season of Insecure comes on Sundays at 10 p.m. ET.
Featured image by Jeff Kravitz/FilmMagic for HBO
Keep reading...
Show less
While Issa Rae's HBO show Insecure is coming to an end, the star just celebrated a new beginning. The writer/actress got married to her longtime boyfriend Louis Diame in July in the south of France. The couple released the wedding photos on social media on July 26. And while many people expressed excitement for the 36-year-old, others were left confused thanks to Issa's sense of humor.
The Insecure star posted a carousel of photos showing her in a wedding dress, standing alongside her groom and smiling with her bridesmaids. However, the caption read:
"Impromptu photo shoot in a custom @verawang dress.
B) My girls came to help me, but they all coincidentally had on the same dress! They were sooooo embarrassed.
C) Then I took a few flicks with Somebody's Husband.
Big thanks to @whiteedenweddings for being so gracious and accommodating and making this feel so real and special."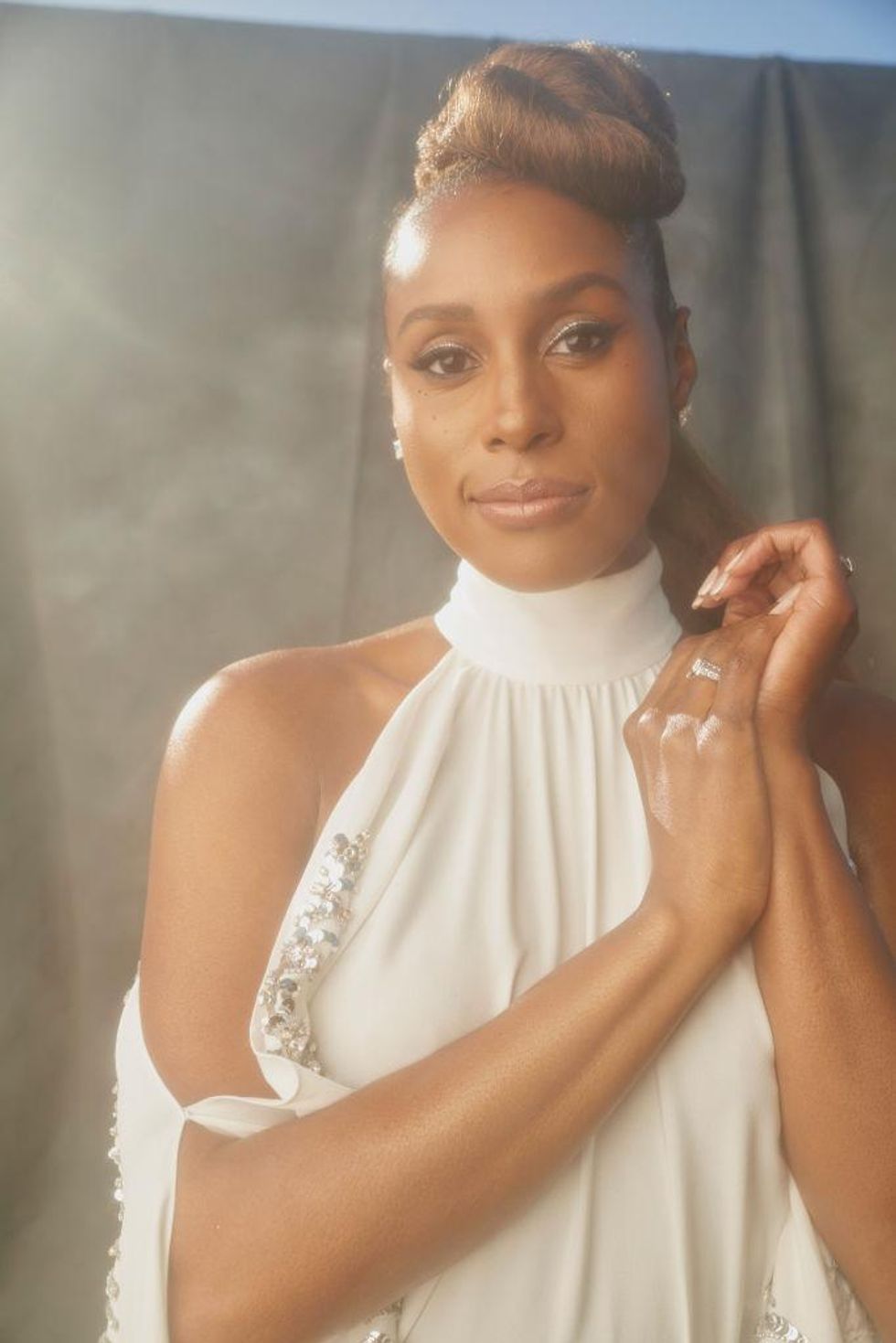 Lee Vuitton/AM PR Group via Getty Images
Issa has always kept her private life private, but during her recent appearance on The Tamron Hall Show, she opened up about why she revealed her wedding to the public the way she did.
"I was supposed to do this in 2020 and things were different at that time and I worked with Vera Wang who were really great and they wanted to post a photo. At the time I was like 'ok, yeah no problem' and then later I was like 'oh, they're going to post the photo before me, let me tell it my way in the best way I know how' and that's the only reason I let it go."
She continued:
"I wanted to release the photo my way first without having them (Vera Wang) release it. It was great to work with them and everything, but I knew the picture was going to get out and of course there were publications calling as well."
The actress went on to discuss what it was like walking down the aisle and the wedding overall.
"It was just a beautiful experience. People tell you that it goes by fast, and they're right. But my thing was, it was a party. At the end of the day, it was just a big party. And it was a lot of fun."
"I feel so blessed to be surrounded by people who took the time out to just come and celebrate, and that's something that I'll cherish for the rest of my life," she said.
Some of those people who came out to celebrate Issa's nuptials to Louis were her Insecure co-stars Yvonne Orji and Jay Ellis.
The fifth and final season of Insecure premieres October 24 on HBO.
Featured image by Rich Fury/Getty Images
Keep reading...
Show less