Yara Shahidi is growing up and doing grown-ish things, like taking a page out of the Book of Beyoncé with an Adidas collaboration. The 21-year-old actress's emerald green and mustard yellow heavy line just released a second drop that's flying off shelves, but her athleisure venture is more than just another drop. The mixed starlet found ways to intricately weave her Black and Iranian roots into the very heart of the collection.
"My first instinct was how do we honor the past in a way that also pays homage to the future," Shahidi told BAZAAR.
"The one thing that I wanted people to take away was even though a lot of these details are specific to my own growing up and the things that impacted me, the entire campaign is about how we re-create our heritage. I'm constantly figuring out what it means to me to be Black and Iranian—it's ever-changing."
She did this with bold detailing such as embroidered Farsi script on varsity jackets, global colorways, and 1960s-inspired silhouettes. And when it came time to the overall aesthetic of the collection, Yara created dozens of mood boards featuring earthy yellows—a color that she found integral in both her cultures and the cultures of so many. "I'm a big mood boarder," she explains. "During that process, I really identified what were the colors that kind of were resonant—there was something about that particular mustard that felt globally resonant. And I found it in almost every one of my images that I pulled."
Think: Jumpsuits and track pants with matching track jackets that feature Adidas' signature three-stripes but with an old-school feel and hint of culture. She's not the only one shaking things up at Adidas either. In fact, her friend Beyoncé, who has dropped previous collections of her Ivy Park line in conjunction with the sportswear giant is releasing a swimwear collection under the umbrella brand. An eye-catching hue also takes center place here in the form of neon-orange.
"Flex Park" is the follow-up to Bey's successful Icy Park campaign in February. This time the superstar is asking fans, "How do you flex?" for summer. "FLEX, by definition: A boastful statement or display," reads the Flex Park press release. A sneak peek at some campaign images doesn't disappoint either with the models ranging in size, skin tones, and genders.
Entrepreneur and fashionista Kristen Noel Crawley, actor and creative Quincy Brown, and body-positive influencer Tabria Majors all posed for the campaign that exudes confidence.
You can look forward to statement-making separates to mix and match poolside that are made for a variety of bodies (available in sizes XS-4X). When it drops, you can also shop poolside accessories like slides, beach cover-ups, tees, a bucket hat, a tote bag, a towel, and a water bottle.
Yara Shahidi's Adidas collab is available now at Adidas.com and in select retailers. Beyoncé's Flex Park drop launches on July 22 online and in select stores globally on July 23.
Featured image via Gif

Keep reading...
Show less
OK ladies, let's getttttt in formation, y'all! Our "Black Parade" Queen has spoken! And she has spoken in such a monumental, celebratory way.
As we all know, March has been designated as Women's History Month. And all month long, businesses, social media, blogs, and all the in between, have highlighted women's contribution to society in beautiful ways.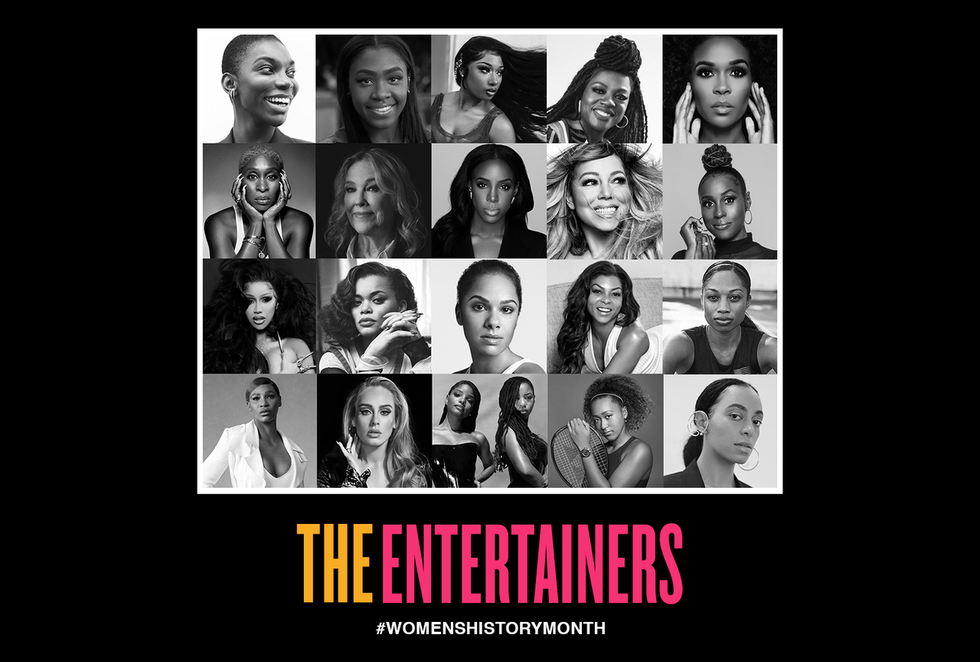 Beyonce.com
For example, Hershey rolled out the hashtag #CelebrateSHE and changed their name is HerSHEy to raise awareness. Secret Deodorant released a docuseries titled, Secret Superhero Moms, and pledged $1 million to support more than 100,000 women and their families with childcare, workforce development and barrier reduction. And although we celebrate women every day, we've also highlighted ground-breaking women who have risen to the occasion of excellence.
But now that the month is winding down, the final infinity stone has been collected, signifying the completion of the celebration as one of the most powerfully decorated women in history decided to highlight a few women of her own.
And that woman issss—let's say it all together now—Beyonce.
Giphy
Up first, Thanos, herself, took to her website to recognize a handful of entertainers, rule-breakers and truth-sayers, across various industries. Of the entertainers, she says:
"Their passion and brilliance shone on courts, Zoom stages, streaming services, television, books, dance and song. They gave us joy and provided escapism in the midst of an overwhelming year. For Women's History Month, we honor the women entertainers (and sports greats) who rose to the occasion in delivering stand out feats that made us all shine."
These women include: Adele, Andra Day, Allyson Felix, Cardi B, Catherine O'Hara, Chloe x Halle, Cynthia Erivo, Hallie Mossett, Issa Rae, Kelly Rowland, Megan Thee Stallion, Michelle Williams, Mariah Carey, Michaela Coel, Misty Copeland, Naomi Osaka, Serena Williams, Solange Knowles, Taraji P. Henson, and Viola Davis.
Next, were women who are "creating their own way to tell their stories, finding other avenues to get to the destinations, and breaking every rule in the process." 
On this list was: Janet Mock, Laverne Cox, Jane Fonda, Bozoma Saint John, Thasunda Brown Duckett, Meghan Markle, Amina J. Mohammed, Maxine Waters, Rosalind "Roz" Brewer, Stacey Abrams, Alexandria Ocasio-Cortez, and Elsa Majimbo
And in her last group of women, Bey spotlighted several truth-sayers, wishing that "grace continue to lie at their feet," and that "every girl walk in their footsteps."
These women were none other than: Amanda Gorman, Tamron Hall, Tamika Mallory, Brittany Packnett Cunningham, Michelle Obama, Cleo Wade, Oprah Winfrey, Tarana Burke, Lena Waithe, Gayle King, Luvvie Ajayi Jones and Angela Rye.
Queens.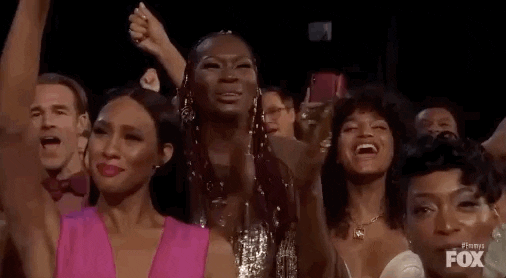 Giphy
OK, can I just say, I am here for this? Likeeeeee, front-of-the-class-mark-me-present-attending-every-event-I-need-to-attend, here. Not only is Beyonce highlighting women on her platform who have put it all on the line, she comprehensively did so in a way where she took a step back from her power, and relinquished it to others.

Taraji has been openly vulnerable for the benefit of the culture for all of 2020, in a lane where so many of us are unfamiliar or struggling (mental health). Luvvie has pioneered a lane of highly clever, highly intelligible women who aren't afraid of speaking with impact. Serena is the greatest athlete of all time and for some reason, has to continue to have to explain *why* when the trophies. speak. for. themselves. And Stacey Abrams. Well, she has single-handedly redefined what it means to outsmart, and play, the very game put in place by everyone that ultimately tried to stop you.
These. Are. A. Flex.
So, thank you to these Black women. We are lit. Society doesn't want you to remember that. But...we do.
Are you a member of our insiders squad? Join us in the xoTribe Members Community today!

Featured image by Beyonce.com
Keep reading...
Show less
When we think about history, oftentimes it brings to mind olden times, ancestral boss moves, or back-in-the-day memories. And that's all good. I mean, you really can't know where you're going until you know where you've been. As Women's History Month continues, it's also good to remember the new-school pioneers who are making an impact today, while still paying homage to those who laid the groundwork for them to even do so.
Here are 10 black women making history—along with the 10 queens who paved the way:
Featured image by Giphy
Keep reading...
Show less
Twitter co-founder Jack Dorsey, is scheduled to buy Jay Z's streaming platform, Tidal. In a $297M deal, Dorsey, who is also the CEO of Square, has acquired a majority stake in the service in a bid to expand his mobile payment company's tools to emerging and established artists, and Tidal will now operate independently within Square.
This means, that with the 3 percent equity awarded to all 16 artist owners for bringing exclusive material to the platform, each cash in on an $8.91M bag. 
An $8.91M bag. *Randy Watson stomps*
This bunch includes Beyonce, Rihanna, Alicia Keys, and Nicki Minaj--the only black women who are artist owners in the deal.
Additional components of the deal are, in very Jay Z-esque fashion, Jigga joining Square's board of directors, which will coincide with the recent fund he and Dorsey launched in February to "make bitcoin the internet's currency."
And in a rare move, Carter took to, of course, Twitter, to publicly address the deal:
I said from the beginning that TIDAL was about more than just streaming music, and six years later, it has remained… https://t.co/EBDI2cu7nM

— Mr. Carter (@Mr. Carter)1614863201.0
This partnership will be a game-changer for many. I look forward to all this new chapter has to offer!

— Mr. Carter (@Mr. Carter)1614863201.0
And true to society, people hopped on the world wide web to react:
Some broke it down for the public: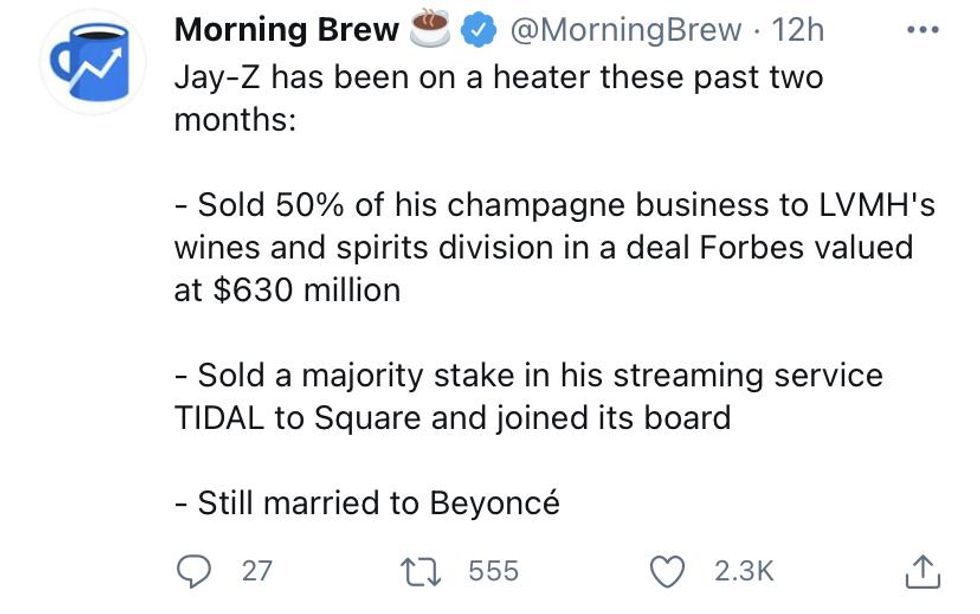 Twitter
Others were excited Jay was tweeting: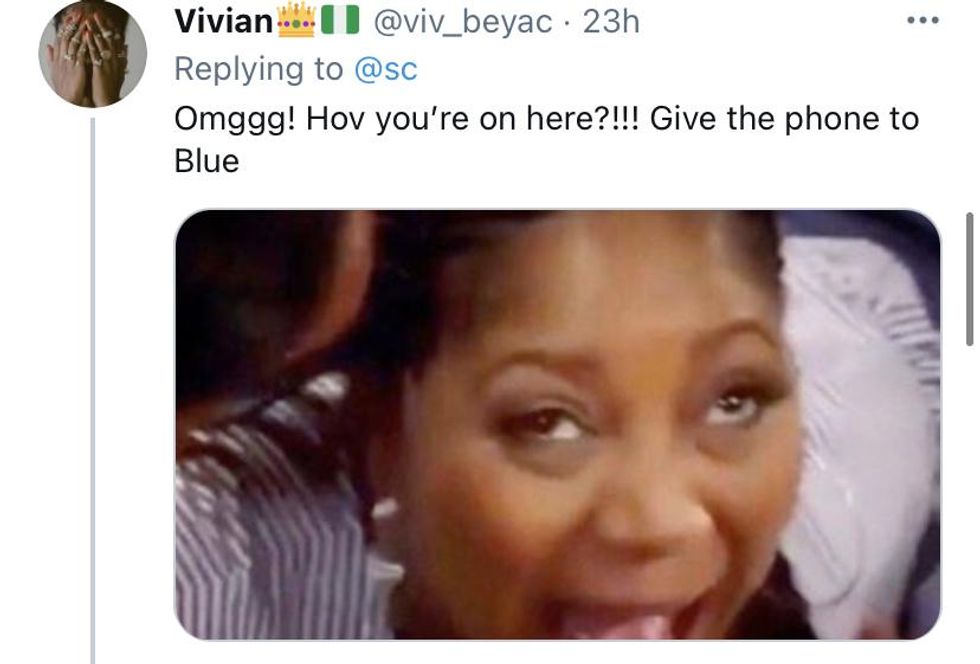 Twitter
But mostly, we all thought, "he's a business...man!"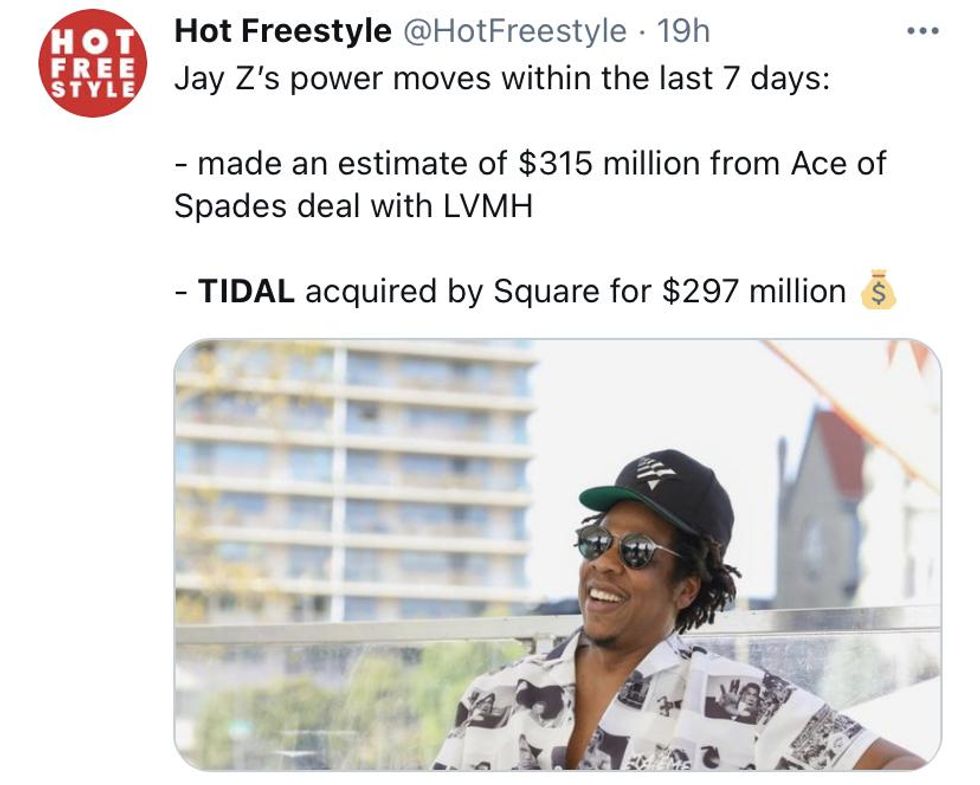 Twitter
--

Neither of our girls have publicly addressed the sale, but we're sure they have something up their sleeve to celebrate this investment. Rihanna is coming off of a March 1 Savage launch, Nicki is dealing with personal issues while balancing being a new mom, and Beyonce has us all waiting by the mailbox for our Ivy Park boxes.
But personally, of the streaming wars, I've always rocked with Tidal (because it belong(ed) to the black guy), so I'm excited to see the direction it goes from here!
Are you a member of our insiders squad? Join us in the xoTribe Members Community today!

Feature image by Giphy
Keep reading...
Show less
Take a moment to stop and think about what you were up to at the age of 21. I know personally, I was somewhere down in Alabama, hanging on to graduating from college, and just content with finally being able to (legally) buy my own cheap vodka. Not that I was striving for the bare minimum, I was just clueless about the power of manifestation. Sure, aspirations and journeys happen for each of us at our own pace, but at that time, chiiiiiiile, somethings just weren't even on the menu for me.
But as for some 21-year-olds, some absolutely know the power of their own mind. Kennedi Carter, is a walking testimony to that because Carter, at the mere age of 21, is the youngest, and second black person ever, to photograph for Vogue.
And in case this isn't impressive enough for you, she shot, not one. Not two. But three covers...of Beyonce. Let that sink in.
Of the shoot, Carter said:
"It didn't feel like it was real. Some days it still doesn't feel like it actually happened. We're holding a door open currently because it's not going to be just me or [Mitchell] taking images and doing covers; it's going to be more of us."
Mitchell, being Tyler Mitchell, who was the first person who shot for Vogue in its 125-year history, and who also was chosen by Beyonce.
She continued:
"I was just going with the flow. I had done a lot of research into how she works, and I had underestimated how much she's willing to submit herself to a vision and truly become someone else's muse."
A follow-up assignment for Carter consisted of sis nagging a Rolling Stone cover, featuring Summer Walker and Erykah Badu. The image donned colorful imagery of the two crooners, for a feature interview.
"We shot it in Erykah's house. It was everything I thought it would have been when you're thinking about Erykah Badu."
Did sis just refer to Queen Badu on a first name basis? I stan.
Anyway, Carter, a Dallas transplant and college student at the University of North Carolina--Greensboro, has gone from taking pictures of fine art and all things black af, to literally shooting with some of the highest-profiled celebrities and publications in the world. It's mind-boggling and ultra-impressive how she has managed to pivot to her massive portfolio.
But how did Carter even get the opportunity to shoot for British Vogue? Well, luckily for her, she comes from a generation that believes in thinking big, shooting their shot, and putting themselves out there.
Beyoncé specifically requested a black woman for the shoot, and together with British Vogue's editor-in-chief, she found Kennedi, a young, ambitious, fine arts enthusiast who frequently gravitated toward "overlooked beauties of the Black experience." But it wasn't luck, sis was placing herself in rooms, manifesting the correct energies to be seen.
Another 20-something-year-old recently did the same when he promoted his work on Twitter, just for the one and only, Oprah Winfrey to notice. She went on to offer him a job at the relaunch of O Magazine, a monumental opportunity that would have never come his way had he not taken the time to believe in himself.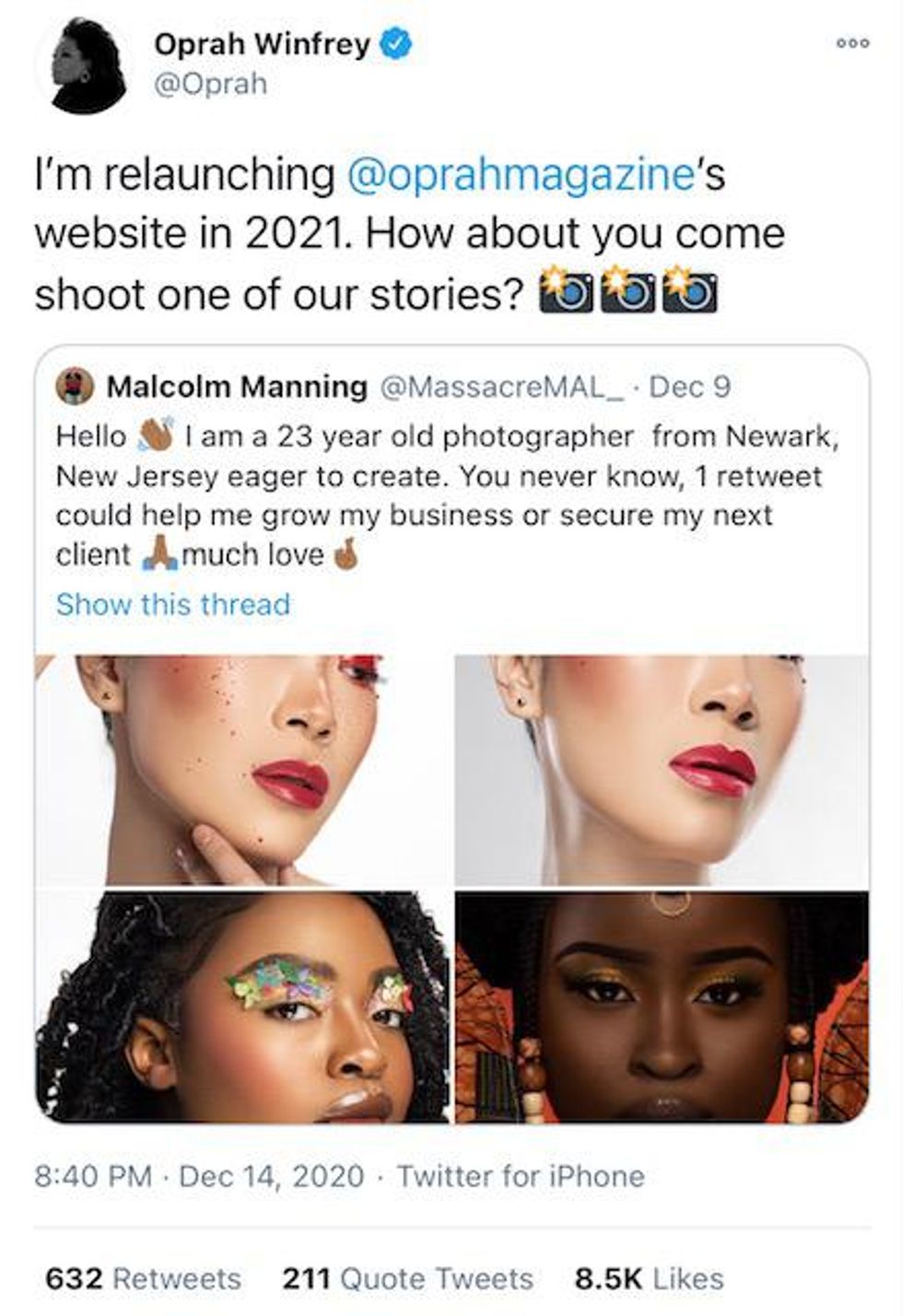 Twitter

#beyourownbiggestfan
--
Today, Kennedi is taking in the aftermath of her historic shoots, living her best creative life and representing herself for the next opportunity that arises. But for now, she says her focus is to 'create timeless work that "echo[es] the South'.

"Working from the South, there are so many people that feel like they have to move to get a good opportunity or to get put on the radar. There are stories down here that are worth hearing."
She continued:
"I want people to look back on [my work] in 20 or 30 years and feel like there's some type of accurate depiction of what the mid-2000s was like."
We can't wait to see her journey take flight from here!
Feature image via Kennedi Carter/Instagram

Keep reading...
Show less
There are way too many legends roaming this earth every single day and never get enough of the flowers that are owed to them. And in relation to today's article, this is largely true in the dance community. High-profile dancers such as Debbie Allen, Misty Copeland, Fatima, and Josephine Baker, have all provided representation for the young girls who grew up to be the everyday women who also dance—the Jane Alexandria Kings of the industry, or the Alyshia Sherees, or Alisa Gregorys. After all, seeing black women perform in a realm in which we aren't often reflected on a mainstream level, legitimizes opportunities for any one of us to go after the same things—just as each of these women have done.
Someone that has helped catapult black dancers to the forefront, is Ashley Everett, dancer extraordinaire, right-hand woman to some of our faves in the game. Since the age of 16, when she moved from Chico, CA to NYC to train with Juliard and Alvin Ailey, she has become one of the most recognizable names in the industry, primarily due to performing with one of the best entertainers that music has ever seen—whichhhh we all know who that is.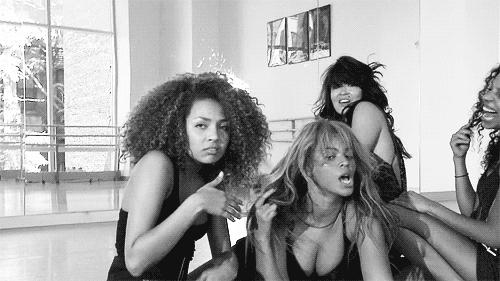 49.media.tumblr.com
We thought it would be dope to list out a few fun facts about our favorite dancing queen, so, Alexa, play "1-2 Step".
Here are 8 things you didn't know about Ashley Everett:
Her Resume is Unmatched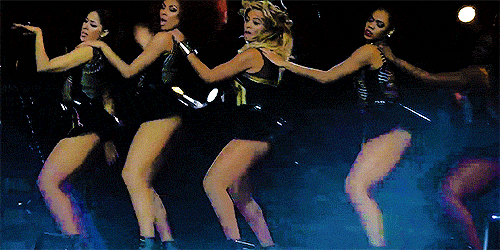 Giphy
Ashley began dancing at age 3, originating in ballet, but also training in tap and jazz. At 16, she moved to New York City to train at the Alvin Ailey American Dance Theater. During a training session, she met Frank Gatson, Jr., Beyonce's choreographer at the time. A few months later, Ashley attended an open audition for Beyonce, and after Gatson remembered her, she landed the gig of Beyonce's dancer. She was just 17 years old.
Since, she has danced on all 10 of Beyonce's tours, totaling over 500 shows. And this isn't even including the mass amounts of promo spots on a variety of televisions shows, Super Bowls, etc. etc. But sis isn't just tied to one artist. She has also danced alongside other mega-stars such as Ne-Yo, Usher, Tina Turner, Ciara, and Jennifer Lopez.
Additionally, Ashley is an actress, and has starred in shows such as Hit The Floor and Shake It Up. She was on Season 3 of The Masked Singer, and recently created her own line of fitness videos with NEOU Fitness. #bookedandbusy
Ashley Skipped Out On Attending Julliard As Her Career Blossomed
By age 19, Ashley Everett was promoted to Beyonce's dance captain. From here, she would go on to perform in a multitude of shows, a decision she made, that ended up working on her behalf. Prior to The Beyoncé Experience, Ashley was accepted and enrolled into the Juilliard School, but ultimately decided against attending, due to touring with Beyonce and wanting to pursue her dance career on her current path. Regarding her decision, she told ET:
"I was a girl when this started. She's just a huge inspiration in my life and so many others, obviously. I wouldn't take it back for the world."
Um, we absolutely do not blame you, girl.
Ashley Has Her Own Swimsuit Line
In 2019, Ashley Everett partnered with her best friend and business partner at Phae Design and created a swimsuit line that's an entire look! She announced the news via Instagram by saying:
"We are so excited to announce that #phae aka @phaedesign a swimsuit line by @hperrier36 and myself will finally be up for sale next week!! It's been a long process but we can't wait for you all to see and enjoy our new baby just in time for summer!"
Each piece comes in a variety of colors and styles and sis has been werking them all, all over her Instagram page. Visit or shop on their website at www.phaedesign.com.
Her Dog's Name is Hov
Ashley recently became a new pup mommy with her boyfriend, and they decided to name him Hov! The Lilac Tri American Bully even has its own IG page, complete with enough cuteness, pics, and captions to go around. Ashley says she took some time to get acclimated to the pup, but as you can see, they're doing just fine. Cuteness overload!
Ashley Once Choreographed A Personalized Fitness Routine For xoNecole
At the height of quarantine, Ashley hosted 'Fitness Friday' on our Instagram Live, where she showed up ready to work! She choreographed an entire dance and fitness routine and showed us just how she gets down—and whew, we were tired, m'kay? Set to the tune of Beyonce's "Before I Let Go" and harboring enough squats, turns, and sweat to go around, Ashley simultaneously showed us just how she gets down, and why we have a long way to go before we can get down with her.
Add this fun cardio routine to your workout and let us know how you do!
Click here for the full dance routine.
Ashley Has Revealed That The Hit Song "Single Ladies" Took 22 Hours To Shoot
Alongside Ebony Williams, Ashley took part in changing the scope of music videos forever, while dancing with the boss in 2008's mega-smash, "Single Ladies". But according to the starlet, the "Single Ladies" music video, which has amassed over 791 million views on YouTube, was anything but easy to shoot. She told Metro:
"I can't believe I've been dancing that long. I remember that shoot was like a 22-hour shoot or something, almost a full day. Of course that video is all dancing from top to bottom so it was exhausting because a lot of dance videos have a dance section or moment, but this was the entire video so we were tired to say the least."
It's one thing to dance for an hour, but 22 of them? Chile.
The hard work paid off as its music video went viral and secured it's rightful place in music and pop history.
Ashley's Signature Hair Color Was Beyonce's Idea
When Ashley Everett first joined Beyonce's camp, she was young and unaware of who she was as an artist herself. She revealed that one thing Bey has always encouraged her dancers to do, was embrace is their natural hair. She told Hello Beautiful in 2014 that Bey told her her to play around and find her signature hairstyle:
"She'll say what she likes on us. She'll be like, 'Ashley, I like when your hair is big.' She'll say what she likes and we do have room to play and change. But, for the most part, we try to stick to it because they want us to look the same. Like her, she doesn't change her hair too much."
From that moment, Ashley became a standout, as they settled on her trademark bright red curls.
"Beyonce asked me to dye my hair in 2009. She never gave an explanation but I imagine it was for variety. Then I just kept dying it brighter and brighter to the point that it became my trademark."
She Regularly Uses Dance To Inspire Women And Young Girls
Philanthropy is a huge component to Ashley's brand, as she is an advocate of passing the torch. She takes part in many charity activities and events, and is always open to teaching what she knows and creating a standard for what it means to be a black woman who works alongside one of the most profiled black women in the world. Her journey isn't unique to some, and she's had public ups and downs (something she had to learn to get used to), but she always manages to fly the flag of what it means to represent her position and pay it forward.
Even during a pandemic, she has hosted various virtual events to inspire the next generation of young dancers. She recently told NBC Boston:
"I love anything empowering women and girls and I just love to help the next generation in any way that I can. If I can inspire and educate in any way that's what I'm here for."
Ashley Everett has many personal projects in the works, as she is coming into the landscape of who she is a business woman.
Are you a member of our insiders squad? Join us in the xoTribe Members Community today!
Feature image by Kathy Hutchins / Shutterstock.com
Keep reading...
Show less