In less than 24 hours, Beyoncé will drop her highly-anticipated studio album Renaissance after six years. The Beyhive has been on pins and needles waiting for new music from Queen Bey and the closer July 29 comes, the more details come out about the album. With the release of its first single "BREAK MY SOUL," fans have been trying to decipher what would ultimately be the soundtrack of the summer will sound like. Because the lead single is a dance song, many fans have been debating online about whether or not Renaissance will be a dance album in what is said to be a three-act series.
In typical Bey fashion, the singer has not said much about it but she did send out a special message for her fans.
Here is a special message from Beyoncé. #RENAISSANCE

Dedicated to her children, her husband, her family, her Godmother Uncle Johnny, and to the LGBTQ+ community and all of the pioneers who originated the culture and the fallen angels whose contributions have gone unrecognized. pic.twitter.com/hm6Om9fi52

— BEYLEGION is COZY (@BeyLegion) July 28, 2022
"THIS THREE ACT PROJECT WAS RECORDED OVER THREE YEARS DURING THE PANDEMIC. A TIME TO BE STILL, BUT ALSO A TIME I FOUND TO BE THE MOST CREATIVE," she wrote.
"THIS ALBUM ALLOWED ME A PLACE TO DREAM AND TO FIND ESCAPE DURING A SCARY TIME FOR THE WORLD. IT ALLOWED ME TO FEEL FREE AND ADVENTUROUS IN A TIME WHEN LITTLE ELSE WAS MOVING. MY INTENTION WAS TO CREATE A SAFE PLACE. A PLACE WITHOUT JUDGMENT. A PLACE TO BE FREE OF PERFECTIONISM AND OVERTHINKING. A PLACE TO SCREAM, RELEASE, FEEL FREEDOM. IT WAS A BEAUTIFUL JOURNEY OF EXPLORATION."
Along with the message are photos attached of Beyoncé with her three children, Blue Ivy, Rumi, and Sir as well as a photo of her "Godmother" Uncle Jonny. She continued the note by acknowledging them.
"I WANT TO GIVE A SPECIAL THANK YOU TO RUMI, SIR, AND BLUE FOR ALLOWING ME THE SPACE, CREATIVITY, AND INSPIRATION. AND A SPECIAL THANKS TO MY BEAUTIFUL HUSBAND AND MUSE, WHO HELD ME DOWN DURING THOSE LATE NIGHTS IN THE STUDIO. A BIG THANK YOU TO MY UNCLE JONNY. HE WAS MY GODMOTHER AND THE FIRST PERSON TO EXPOSE ME TO A LOT OF THE MUSIC AND CULTURE THAT SERVE AS INSPIRATION FOR THIS ALBUM."
Beyoncé on Instagram
"THANK YOU TO ALL OF THE PIONEERS WHO ORIGINATE CULTURE, TO ALL OF THE FALLEN ANGELS WHOSE CONTRIBUTIONS HAVE GONE UNRECOGNIZED FOR FAR TOO LONG. THIS IS A CELEBRATION FOR YOU. THANK YOU TO MY PARKWOOD CREW, MY SLAB, DREAM, AND ALL OF THE TALENTED PRODUCERS INVOLVED. MAMA, I LUHHHH YOU. TO MY FATHER, MY O.G., MY FIRST TEACHER: YOU INSPIRE ME IN EVERY MOVE THAT I MAKE. I LOVE YOU.
Last but not least, she thanked her beloved beyhive. "TO ALL MY FANS: I HOPE YOU FIND JOY IN THIS MUSIC. I HOPE IT INSPIRES YOU TO RELEASE THE WIGGLE. HA! AND TO FEEL AS UNIQUE, STRONG, AND SEXY AS YOU ARE."
What she didn't address is the album leak. Unfortunately, the album was leaked earlier this week. However, her fans wouldn't stand for it and instead encouraged others to wait to listen to the album when it officially drops on Friday, July 29.
Featured image by BET Awards 2020/Getty Images via Getty Images
Beyoncé is finally coming! The Beyhive has been patiently (and not so patiently) awaiting a new album from their queen and it is almost here. Social media has been in a frenzy all week after the "Upgrade U" singer removed her profile images from her social media pages and then on June 16, Tidal tweeted that the new Bey album was on the way.
Beyoncé
RENAISSANCE
July 29 pic.twitter.com/ZenmtPQM9W

— TIDAL (@TIDAL) June 16, 2022
The album is titled Renaissance and fans can also buy a special collectible box set on the "Bow Down" artist's website Beyonce.com. There are four box sets in total for $39.99 and so far we know that it will include a Renaissance box, T-shirt, and CD. Renaissance is set to drop July 29 and it will be the mother of three's seventh album not including The Lion King: The Gift soundtrack.
The frenzy for Bey continued after she dropped images from her British Vogue July 2022 photoshoot.
British Vogue's editor-in-chief Edward Enninful shared that the superstar wanted to "play in fashion like never before" which they did for the shoot. In one photo, Beyoncé is dressed in gold sequins from head to toe, and in another one, she is giving biker chic goddess. The concept of the photoshoot became "a vision of glittering retro-futurism," according to Edward.
He also gave a little insight into what the 28-time Grammy award winner's new music sounded like.
"Instantly, a wall of sound hits me. Soaring vocals and fierce beats combine and in a split second I'm transported back to the clubs of my youth," explained Edward. "I want to get up and start throwing moves. It's music I love to my core. Music that makes you rise, that turns your mind to cultures and subcultures, to our people past and present, music that will unite so many on the dance floor, music that touches your soul. As ever with Beyoncé, it is all about the intent. I sit back, after the wave, absorbing it all."
The oh-so-clever Beyoncé hinted at the name and sound of her album title during her August 2021 Harper's Bazaar interview when she was asked about new music. "With all the isolation and injustice over the past year, I think we are all ready to escape, travel, love, and laugh again," she said.
"I feel a renaissance emerging, and I want to be part of nurturing that escape in any way possible. I've been in the studio for a year and a half. Sometimes it takes a year for me to personally search through thousands of sounds to find just the right kick or snare. One chorus can have up to 200 stacked harmonies. Still, there's nothing like the amount of love, passion, and healing that I feel in the recording studio. After 31 years, it feels just as exciting as it did when I was nine years old. Yes, the music is coming!"
Beyoncé Releases the First Single from 'Renaissance,' "Break My Soul"
​World stop. Carry on. Beyoncé released the lead single "Break My Soul" from her upcoming seventh album Renaissance on June 20. Stylized as "6. BREAK MY SOUL," news of the single dropping first hit when Queen Bey changed her bio to reflect the single's impending arrival. The song is a house-inspired dance track that features vocals from Big Freedia (their second collab following the 2016 mega-hit "Formation") and a sample of the house music classic "Show Me Love" by Robin S. Lyrically, the song seems to be the upbeat, unapologetically positive anthem that could be a mantra of self-love and personal freedom for years to come. As the singer sings, "Bey is back."
Featured image by Mason Poole/A.M.P.A.S. via Getty Images
This article was updated 6.21.22
Beyoncé's last album may have been called Lemonade, but her latest investment is all about lemon water. The Houston native was announced as one of the newest investors for Lemon Perfect, which is organic, cold-pressed lemon water. Beyoncé joined the company's $31M Series A funding round along with other capital ventures.
She talked about the exciting investment move in a statement. "I don't typically enjoy drinks without added sugar, but Lemon Perfect is delicious," she said. "It was an easy decision to invest in something that not only tastes great and is healthy, but also, and most importantly, allows choosing a healthier lifestyle to be affordable and accessible to everyone."
The "Halo" singer has made several big investments over the years that only further prove how bossy she truly is. She invested in Parisian accessories and ready-to-wear firm Destree, Sidestep, which is an app for purchasing concert merchandise, Uber, and of course Tidal, which is her husband Jay-Z's music streaming app. She also invested in her company Parkwood Entertainment as well as investment properties.
As you can imagine, Yoncé isn't the only celebrity who likes to invest. Here's a list of other celebrity investments.

Featured image by Kevin Mazur/Getty Images for TIDAL
Ever since Chlöe and her sister Halle Bailey have been creating their own identities outside of their group Chloe x Halle, Chlöe has faced Beyoncé comparisons. Modeling her performance style after Beyoncé is no surprise since both Chlöe and Halle are signed to the "Formation" artist's label Parkwood Entertainment and so there's no doubt Queen Bey has influenced them in more ways than one.
When the 23-year-old singer/ actress stopped by The Breakfast Club, she was asked about the comparisons and what Bey thinks about it.
"She says she's really proud of me. That's not something we specifically talk about but I just love her and I'm happy she sees this light inside of me, and my sister as well."
As far as how Chlöe feels about the comparisons to Beyoncé, she says:
"I'm grateful. That's the biggest compliment anyone could possibly give me. I have so much more work to do to even get there—to even get an ounce of where she is."
The "Have Mercy" singer has been promoting her new solo single for a couple of months now, but after her performance on The Tonight Show with Jimmy Fallon last week, Chlöe was hit with backlash after people accused her of "doing too much" on stage.
doing "too much" is my specialty 😋🥰

— Chlöe (@ChloeBailey) October 13, 2021
However, the Grown-ish star clapped back at the criticism on Twitter after she tweeted "doing "too much" is my speciality 😋🥰."
As the singer continues on her journey to solo stardom, a similar path that Beyoncé was on, who better to lean on when faced with such adversity?
"I love her so much and we talk about any and everything. I'm just so grateful to have her stamp of approval and she always gives me words of encouragement—you have no idea how much that means to me. It's like, 'OK, that's pretty dope.' Because she's been there, she's done that, and to know the advice that she's giving me is exactly from the place I've been is pretty cool and inspiring," Chlöe told The Breakfast Club.
Featured image by Cindy Ord/Getty Images for SiriusXM
Picture this: you're an entrepreneur, at home working hard, grinding out, and trying to build your business. You feel yourself tiring out, and decide to find a stopping point. You make the choice to lay down and get some rest, and cleanse yourself of the day. The world collectively cheers for you and you're proud of yourself, as you've given yourself a little grace. And then after your shower, you hop in bed, only to scroll social media. And while scrolling, you see it, the one thing that can give any woman/business owner/mom/aspiring superwoman the peak of anxiety: a meme.
And not just any meme, one that hits you riiiiight where it hurts.

"You have the same 24 hours in a day as Beyonce."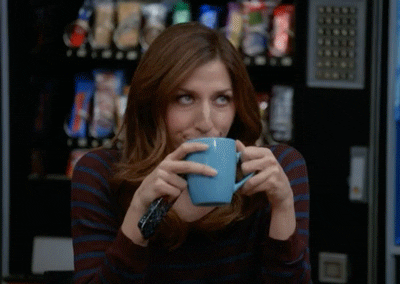 Giphy
Damn. You sit your phone down, sulk in overworked millennial culture, and get back up to get more work finished.
Sigh.
It's a vicious cycle--a cycle of constantly being reminded that if you want to be as successful as Queen Bey, that you have to compare and align your journey with hers. Right? Well....wrong. Wrong AF, actually.
In fact, Beyonce wants you to know that she can't do it all by herself either, by basically letting us know, 'this motivation is cute, sis, but it's far from true.'
To explain, in a resurfaced clip, while getting her hair wanded by stylist Neal Farinah, she opened up about her work and work ethic. And in her usual poised demeanor, she says, "Producers and studios and the networks are all panicking and hyper and over-stressed and I'm just like...press record." The interviewer then boastfully asks if she now realizes that all she needs is herself, to which she responds:
"Well, I don't. It's not true. All I need is 'not me.' Because...I can't do it by myself."
Whew, poetry snaps. Alllllllll the poetry snaps. But ladies, listen, it's true. We can't do it all by ourselves. Some (most) of the most successful women in the world, need help. And Queen Bey has lots of it. In fact, it reminded me of sex and intimacy expert Shan Boody's take on the subject:
And sis spoke all the facts, because we don't have Beyonce's time, schedule, or high-profile knowledge. She has nannies, chefs, assistants, production staff, general staff, and so much more in order for her well-oiled machine to operate. So, in knowing this, it made me wonder: why the comparisons, why do we put this amount of pressure on ourselves?
We all get 24 hours, sure, but powerful people dohave more control over the way they spend them, which is a key difference. Add money into the equation, and we absolutely are not on the same level.
A CEO can cancel a meeting or hire staff for their personal needs, whereas an entry-level employee doesn't have that option. Hell, many of us don't have that option.
Additionally, you don't have a staff of allegedly 80 people on your payroll, meaning you likely don't have a nanny, a home chef, and someone to run your errands for you, or make sure you have the proper elements in place to fill your day with being the best person that you can be at your clothing lines or various other business ventures.
Beyonce has famously thanked her staff, husband, mother, and sister for their constant contribution to her success. She told Elle in 2019:
"I think the most stressful thing for me is balancing work and life. Making sure I am present for my kids — dropping Blue off at school, taking Rumi and Sir to their activities, making time for date nights with my husband, and being home in time to have dinner with my family — all while running a company can be challenging."
In other words, I-have-a-full-staff-that-helps-me-in-my-day-to-day-and-I'm-STILL-stressed-about-it.
So, if you haven't figured it out by now, me and Beyonce are asking you to give yourself grace. You may not have the same hours in a day as Beyonce, or Mariah Carey, or any other famous star in the world, but you've got this.
Watch the clip below of Beyonce telling us what we need to hear!
Are you a member of our insiders squad? Join us in the xoTribe Members Community today!

Featured image by Gareth Cattermole/Getty Images for Disney
Ring the alarm! The Queen has done it again. Beyonce has dropped yet another IVY PARK promo and broke her own internet. This go-round the collection is all about the rodeo. When you think about it, it's only fitting that this Houstonian pay homage to Black cowboys and the way America has glossed over their contributions and legacy. Staying true to her roots, the IVY PARK CEO continues her Black Parade by featuring stars like Tobe Nwigwe and Fat, Snoh Aalegra, and rising rap star, Monaleo.
Donning some of the drippiest pieces we have ever seen, they help pen her cultural love letter to Black women and men. No one does this better than actor Glynn Turman. We know him from hit shows like A Different World, The Wire and Ma Rainey's Black Bottom but he is also a champion for Black cowboys and the rodeo. Alongside him, you find his granddaughter, Melinda Siegel, who was influenced by Turman to ride horses at a very young age.
Beyonce more than understood the assignment and this is why we stan. She does nothing without intention. The collection: 58 women's and unisex pieces, tons of accessories, and five footwear selections. Ranging from $45 to $200, there's something in this treasury for everyone. In a recent interview with Harper's Bazaar, Beyonce touched on the inspiration behind the forthcoming IVY PARK rodeo drop:
"One of my inspirations came from the overlooked history of the American Black cowboy... We were inspired by the culture and swag of the Houston rodeo. We combined classic elements with the athleticwear of IVY PARK x adidas, adding our own spin, monogrammed denim, chaps, and cowhide."
In the teaser promo, we were instantly drawn to the pieces below so we can't wait to see what else is in store when the collection drops next week.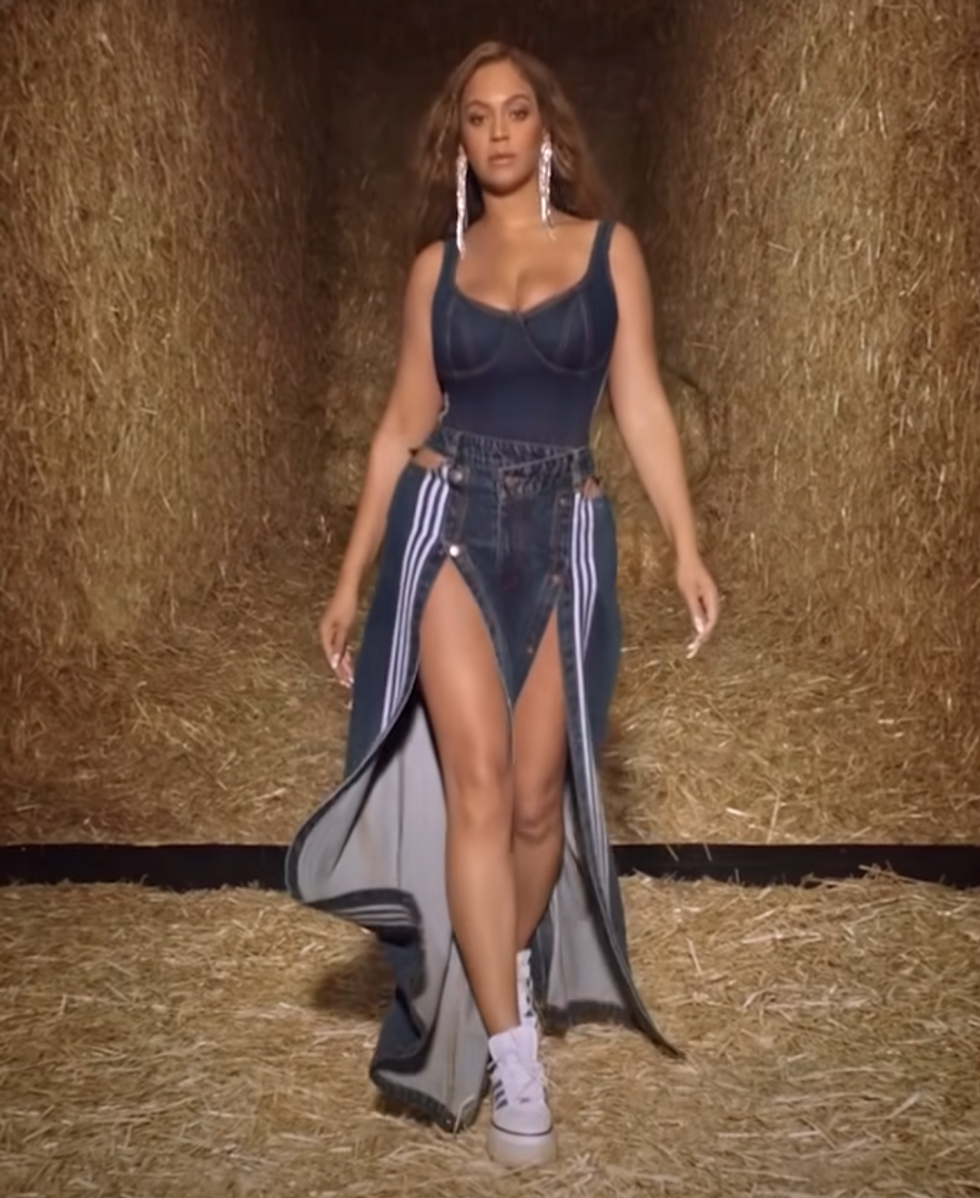 IVY PARK/YouTube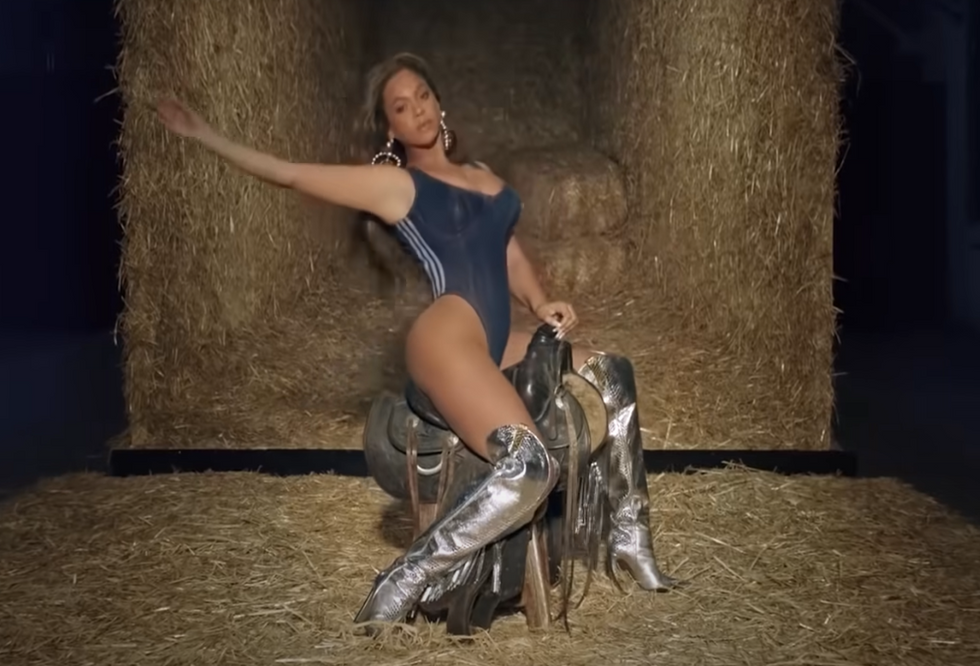 IVY PARK/YouTube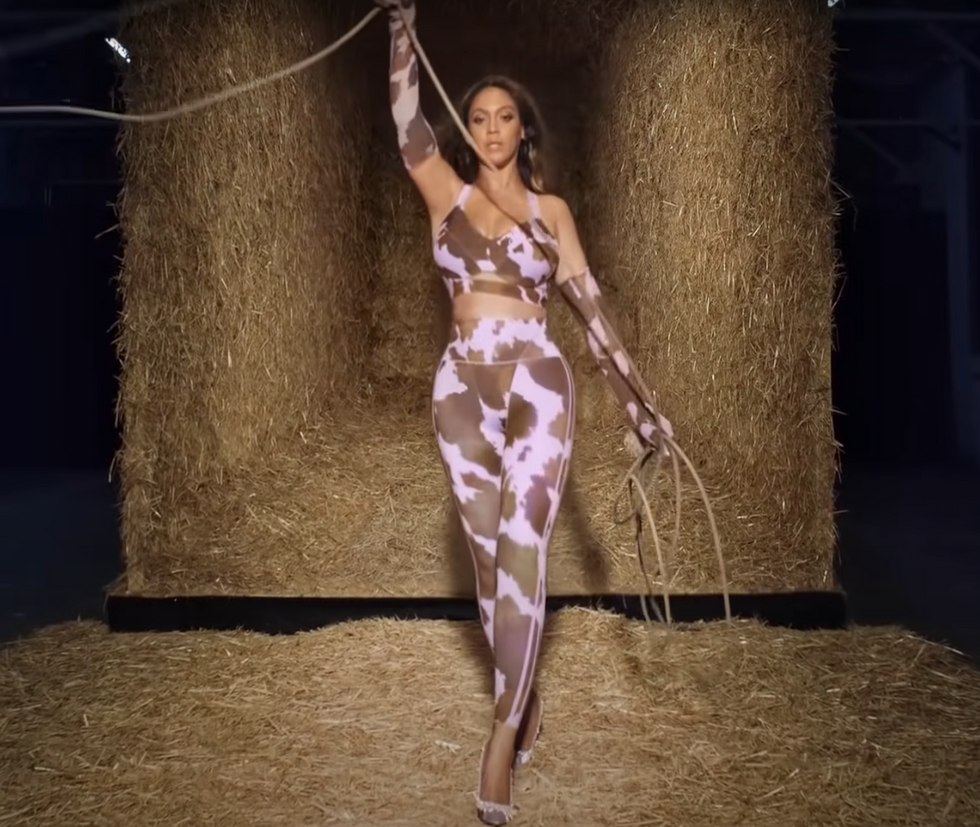 IVY PARK/YouTube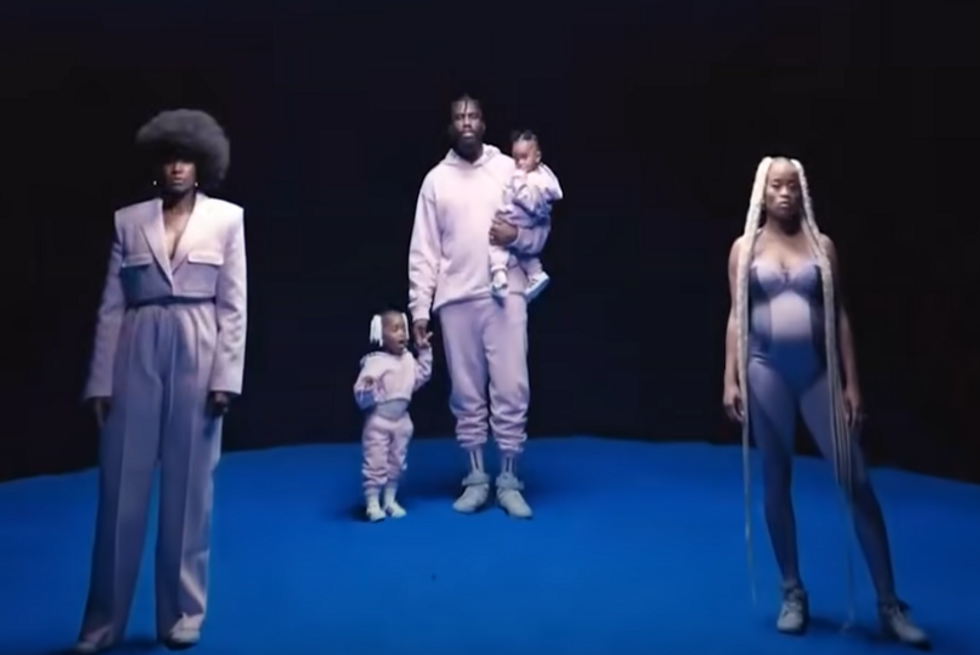 IVY PARK/YouTube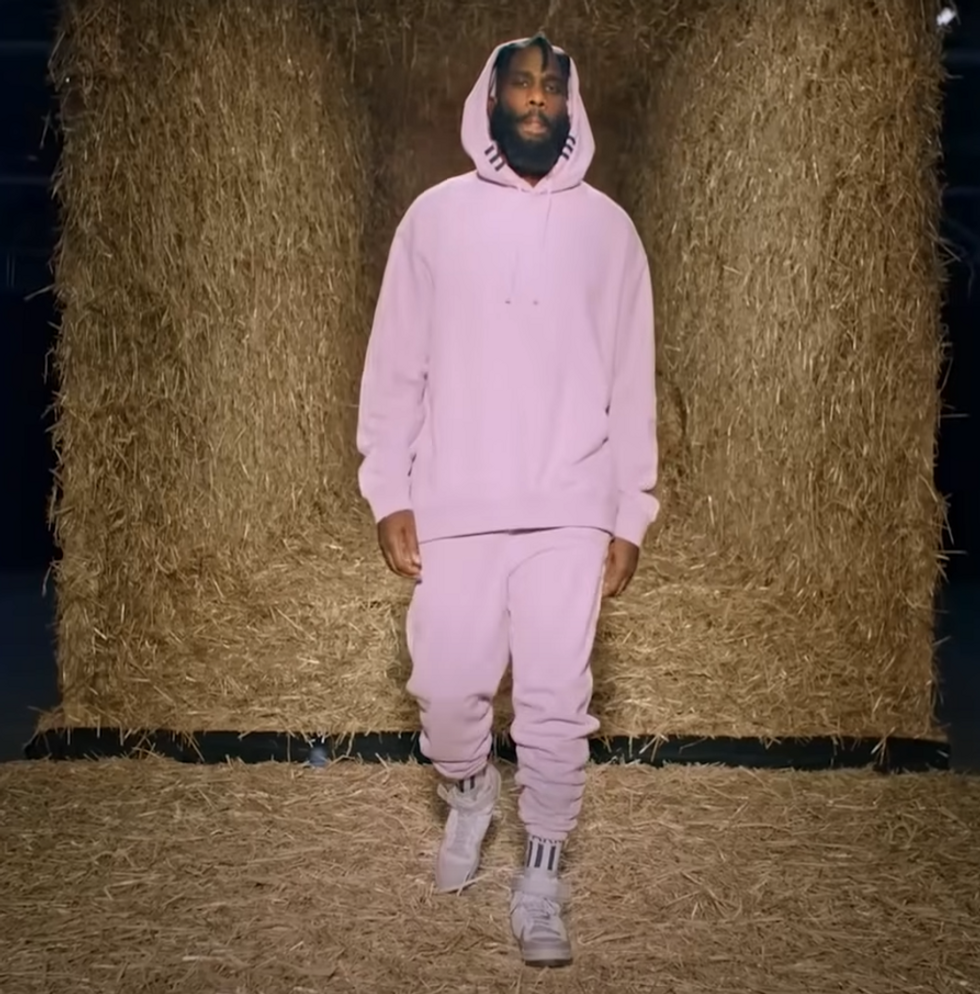 IVY PARK/YouTube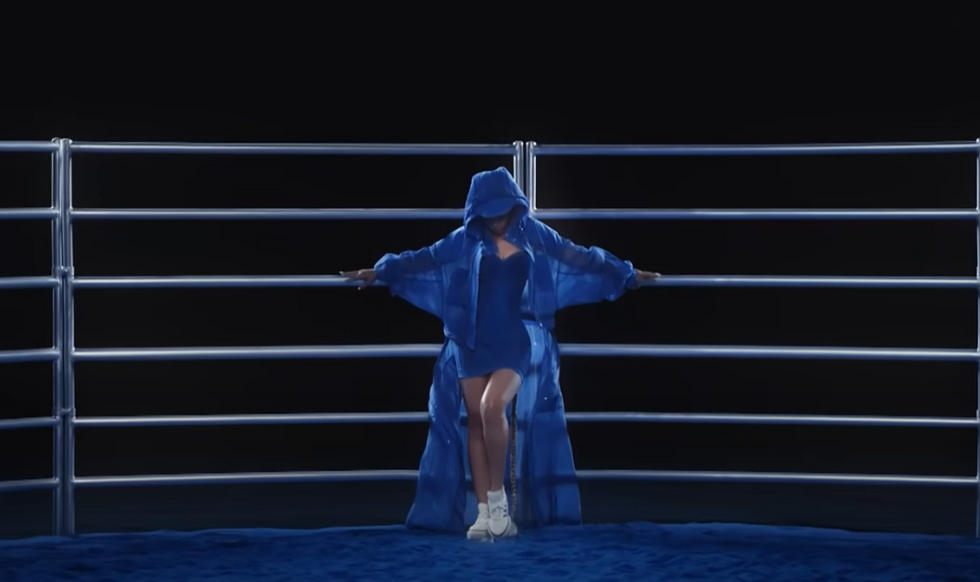 IVY PARK/YouTube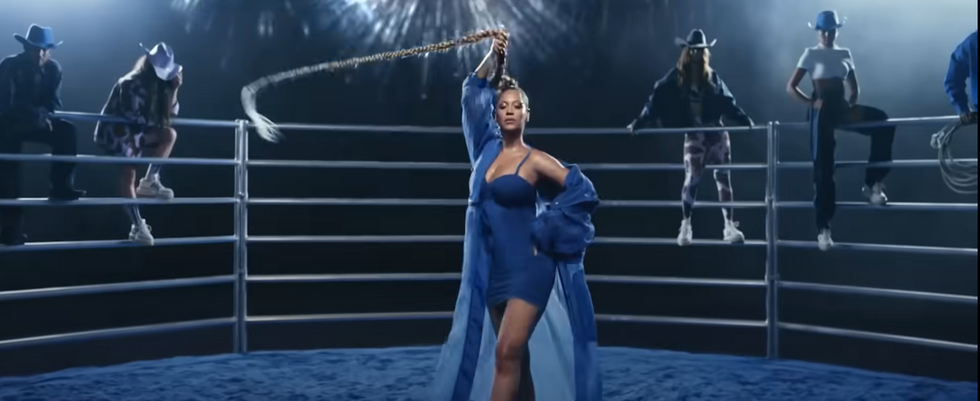 IVY PARK/YouTube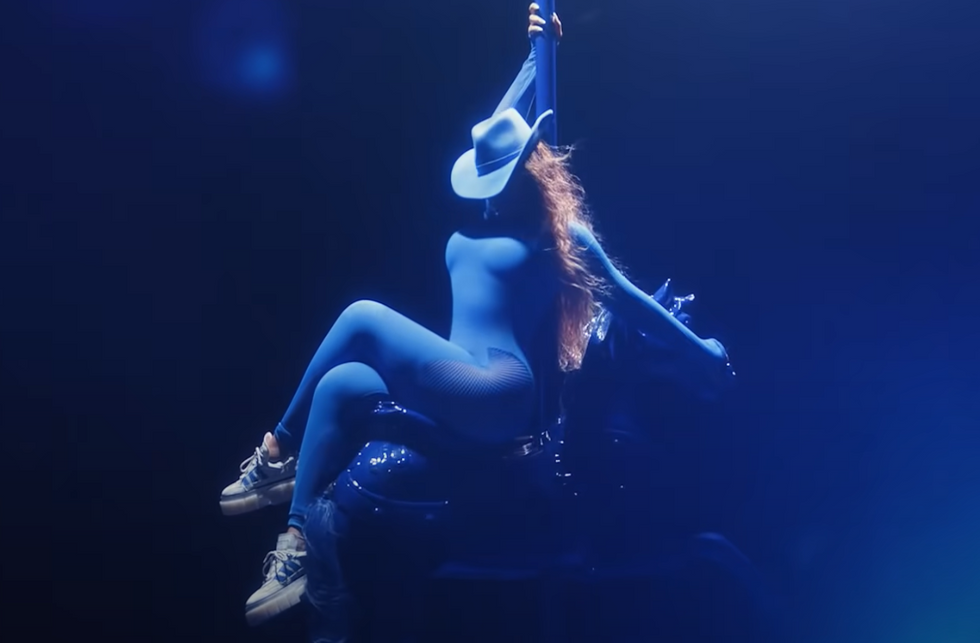 IVY PARK/YouTube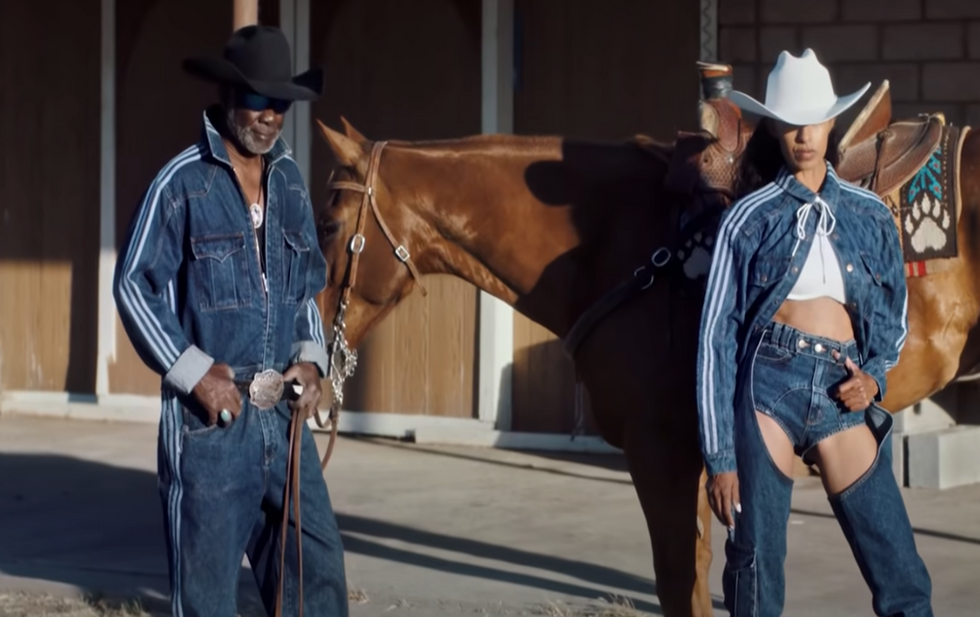 IVY PARK/YouTube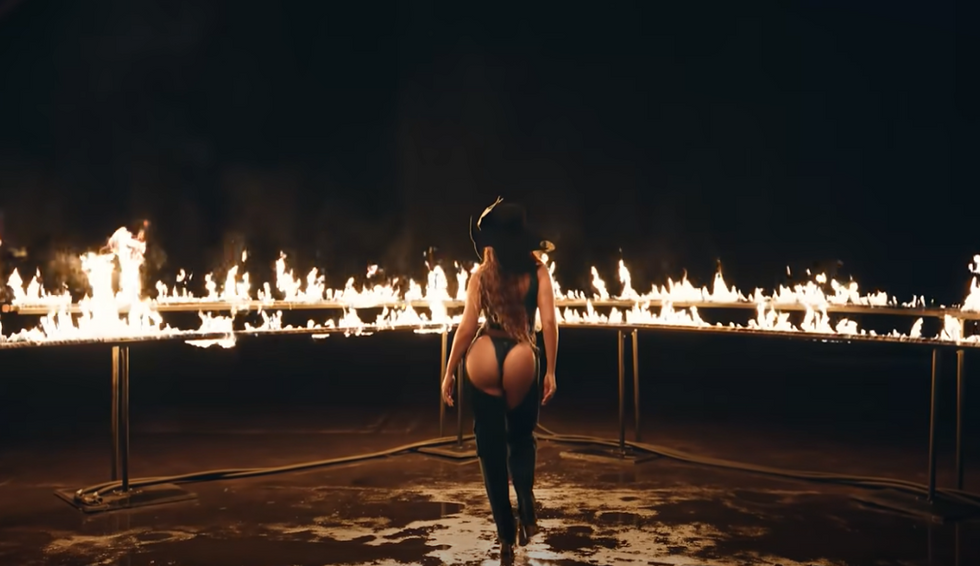 IVY PARK/YouTube
Beyonce has us roped in! It's all going down Thursday, August 19th so set your alarms now.
For more information on the collection, head over to IVY PARK.
Featured Image IVY Park's Rodeo collection teaser Credit: YouTube/IVY Park