Oral sex. While it's kind of the activity that everyone (or at least, almost everyone) does and yet doesn't openly talk about it all of the time, I feel like it's important that I provide as much information as possible on the topic. After all, knowledge is power and the more you know about sex—all kinds of sex—the better. Well, when it comes to fellatio specifically, a couple of years back, I wrote an article for the platform entitled, "Do You Swallow? The Unexpected Health Benefits Of Sperm". It touched on sperm from the angle of all of the ways that it can benefit your system—and chile, there are many.
Yet it's hard to take advantage of all that sperm (and semen; the fluid that holds sperm) has to offer if you can't stand that taste of it. You know it. I know it. Well, a way to take better control of how it resonates with your taste buds is to make sure your partner applies certain foods to his diet while avoiding certain others. If you'd like a quick cheat sheet of what those things are, I've included five foods he should eat and five that he should eat less of. If he wants to get some, that is. (By the way, I'm gonna say sperm all throughout this; just know that semen is included in my thoughts.)
How To Make Sperm Taste Better
HE SHOULD EAT: Celery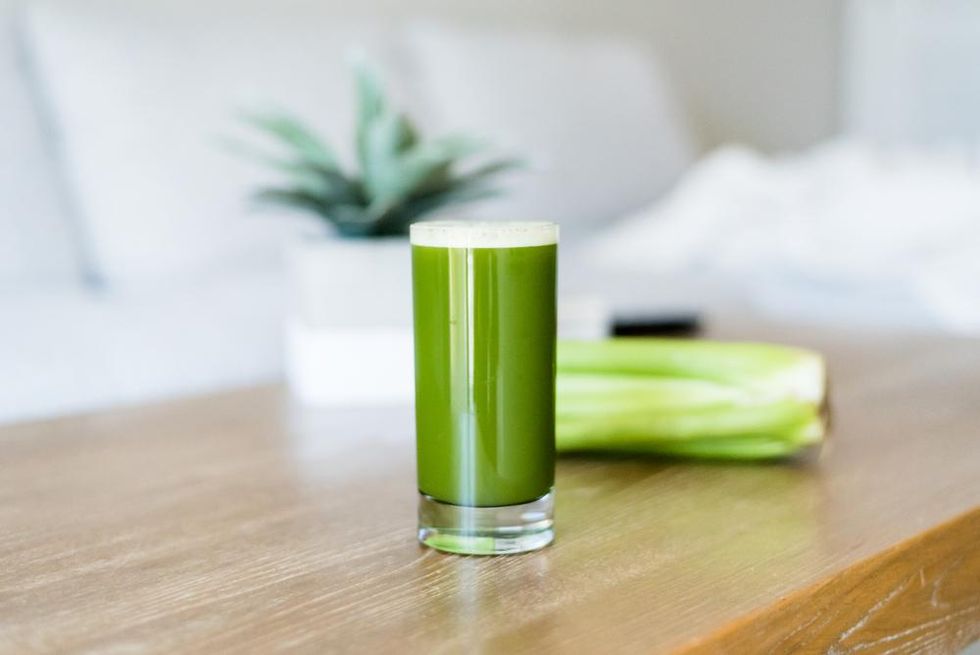 Celery doesn't taste like much of anything. That's why it trips me out that it has so many health benefits to it. Celery is good for you because it's a good source of vitamins A, C and K, along with folate, potassium, magnesium, iron and antioxidants. Consuming it can help to reduce bodily inflammation, improve digestion and it can even help to lower your cholesterol levels. Plus, celery contains properties that can help to prevent cancer.
The reason why it tops the list of things that your man should eat is because, for one thing, the Vitamin C and phytonutrients in it will actually help to increase his sperm count and motility. Not only that but the Vitamin C in celery can also help to take some of the salty taste out of sperm. As a bonus, celery is also known to be an aphrodisiac food, thanks to the pheromones that it produces. Yep, celery can actually make you enjoy the scent of sperm more. Imagine that.
HE SHOULDN'T EAT: Dairy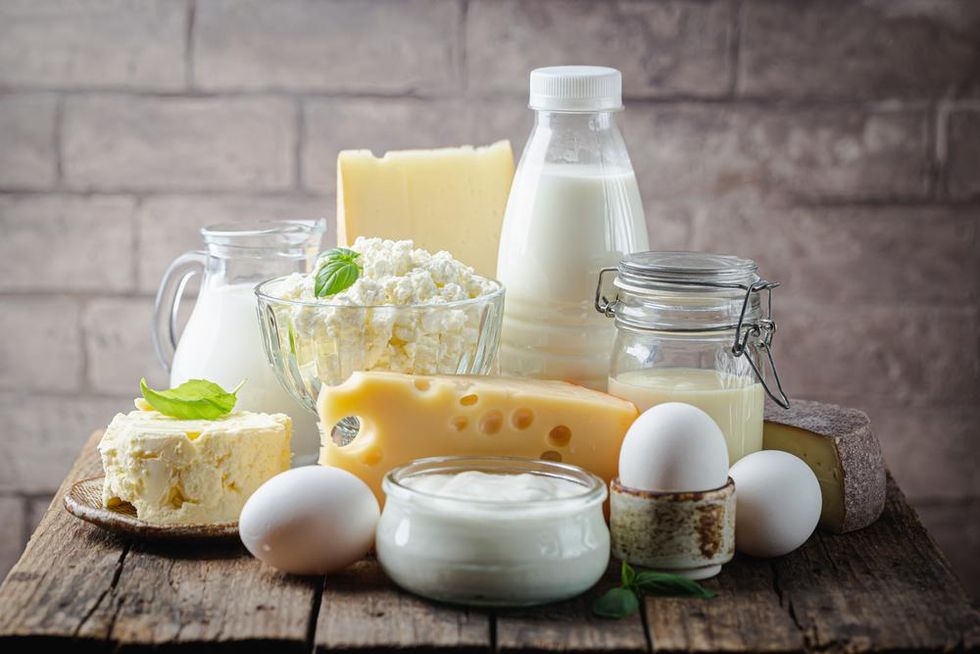 Dairy is a bit of a controversial topic, although there is more and more data coming out that it's really not the best for us overall. As far as the belief that dairy strengthens our bones, it's actually more effective to up your Vitamin D dosage instead. Because dairy increases an insulin growth factor in our body called IGF-1, it actually has the ability to increase the cancer risk in our system. While studies have revealed the dairy doesn't actually produce more mucus, what it does do is make it thicker and more irritating. Dairy consumption also increases the risk of breakouts, prostate cancer in your man and ovarian cancer in you.
There are a couple of reasons why dairy is a no-no as far as sperm goes. First, it has the ability to decrease motility in men and even cause sperm to end up having an abnormal shape. Also, dairy has a tendency to alter to taste of semen (and not in a good way), not to mention that it can make your man gassy and…who wants to deal with that during sex. Uh-uh.
HE SHOULD EAT: Mint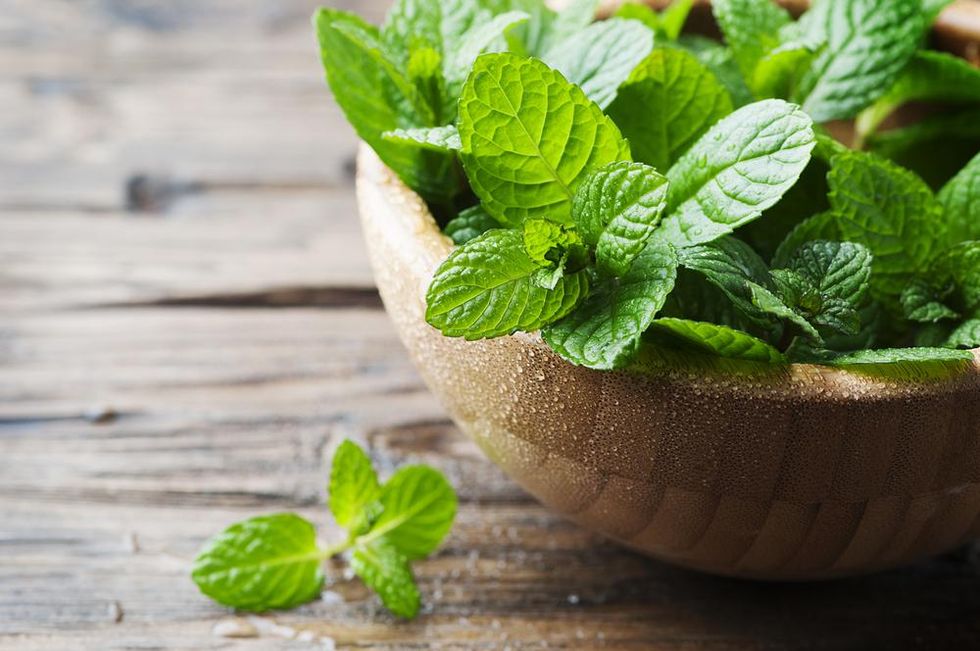 I don't know a ton of people who just chew on sprigs of mint. Still, fresh mint is something that you can put into your drinking water, smoothie or in some of the dishes that you prepare—and, of course, there is always herbal mint tea. It's well worth the effort because mint contains a fair amount of fiber, Vitamin A and iron. It can help to relieve indigestion ,irritable bowel syndrome (IBS) and even improve brain function. Did you know that mint can even relieve cold-related symptoms (due to the menthol that's in it) and decrease breastfeeding discomfort? And, of course, it's one of the most effective ways to get rid of bad breath.
While there are some studies that spearmint and peppermint can slight decrease testosterone levels in women, when men consume it a couple of times a week, it does have a way of making sperm less acidic which can give it a bit of a sweeter, umm, aftertaste. So yeah, pick some up, the next time you're in the produce section.
HE SHOULDN'T EAT: Sulfur-Based Foods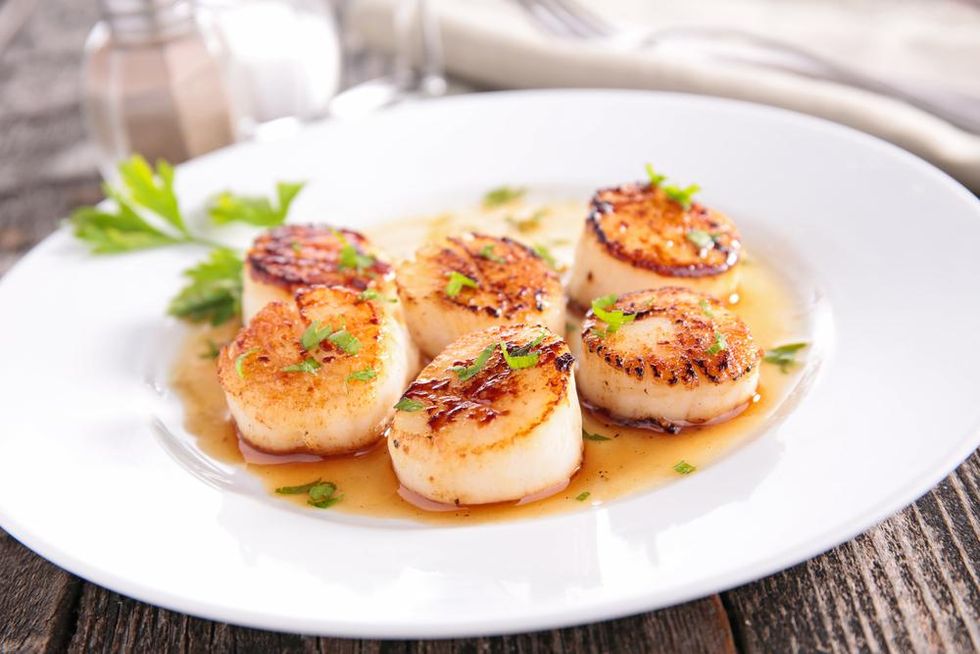 Sulfur is an interesting mineral in the sense that our bodies aren't able to produce it; we have to consume it in order to get it into our system. Foods that are high in sulfur include garlic, onions, eggs, broccoli, cabbage, radishes, parmesan cheese and scallops—just to name a few. All of these foods are beneficial because sulfur can help to reduce the risk of heart disease, can lessen joint and muscle pain, can definitely clear up acne (I am a big-time sulfur soap fan) and it can also help to keep you from developing things like Alzheimer's disease and Parkinson's disease up the road.
I'm pretty sure it takes no guessing why sulfur-based foods are the wackest when it comes to fellatio, though. Sulfur stinks—point blank and period. And it tends to pass along a bit of its odor while also intensifying sperm's somewhat naturally bitter taste. Yeah, hard pass.
HE SHOULD EAT: Fresh Fruit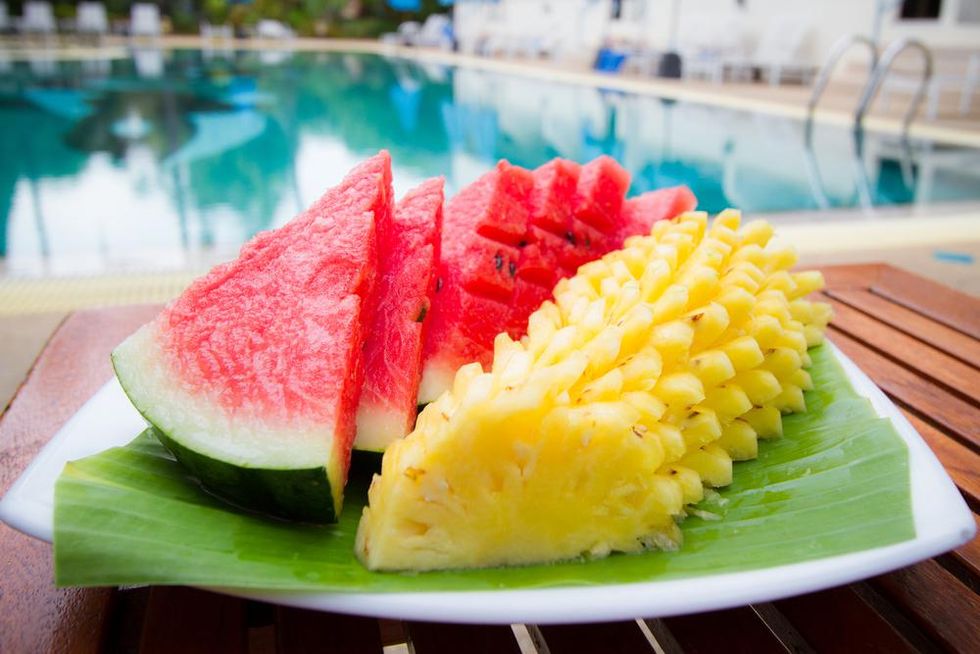 Fresh fruit tastes so good. If you've ever wondered which ones are the healthiest, some that top the list are grapefruit, avocado, pineapple, berries (basically all berries), watermelon, olives, oranges, bananas, papayas and cherries. All are high in antioxidants. All are loaded with fiber. All contain vitamins A, C, folate and phytochemicals (plant compounds). All are filled with water and low in calories.
Your man eating fruit is a good idea because the micronutrients in it will improve his sperm concentration. Plus, fruit can help to take the "bite" off of sperm (you know, the copper/sour taste that it sometimes has). Also, fruit has a way of making sperm taste better too; a little sweeter, even.
HE SHOULDN'T EAT: Red Meat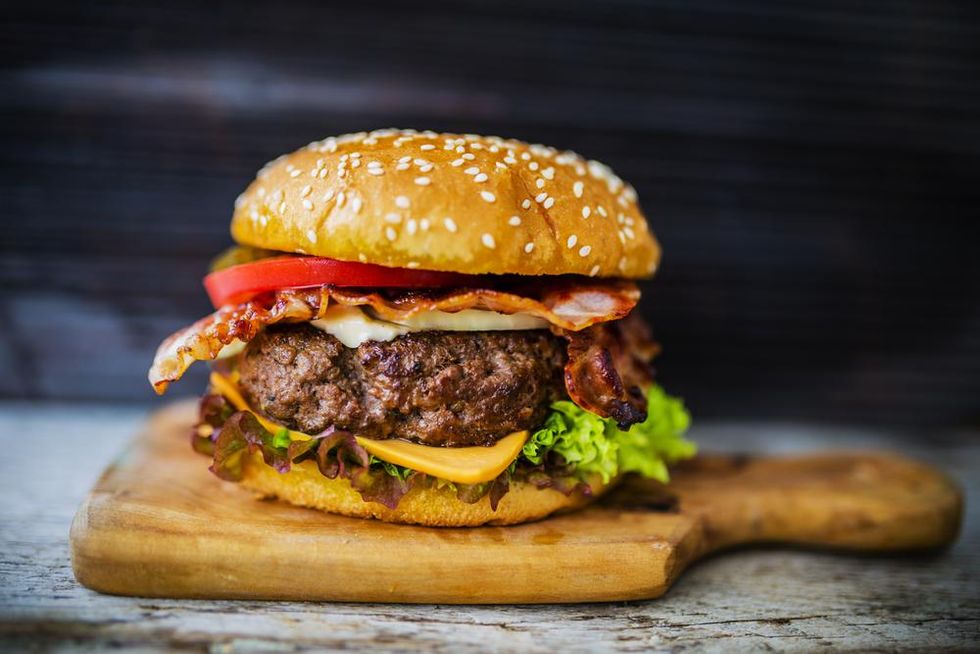 Red meat could really get its own article because there are so many pros and cons to it. For the sake of time and space, a pro is that it's really high in iron. Meanwhile, a con is it typically contains a lot of saturated fat which can lead to high cholesterol levels and heart disease overall.
The reason why your man may need to push the plate back more often on the sperm tip is because red meat can make sperm taste really salty (poultry makes it less this way). So, unless you totally dig that idea, a black bean burger might be what he should have leading up to, well, you know.
HE SHOULD EAT: Spices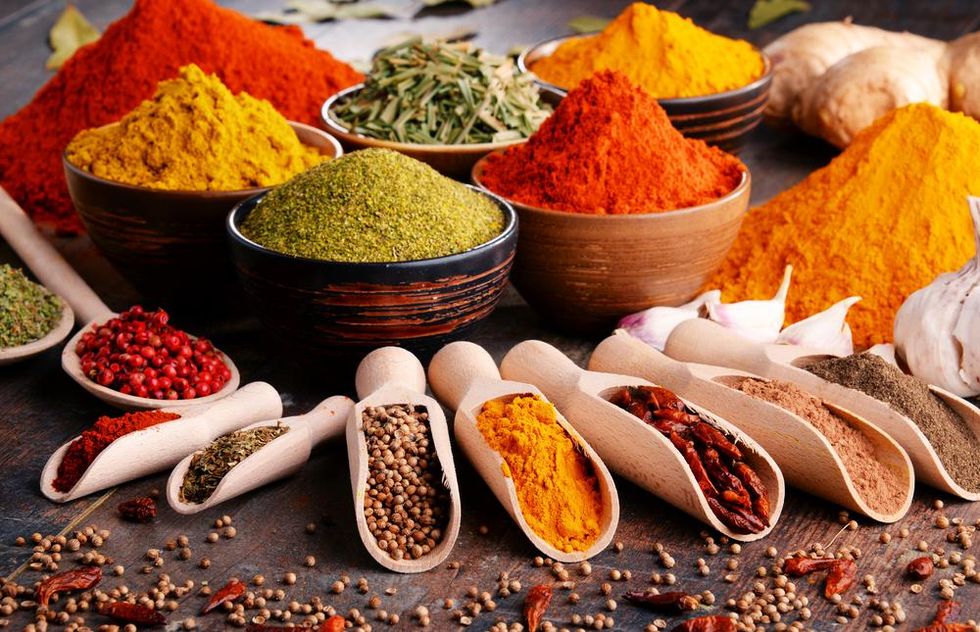 Ginger. Cinnamon. Nutmeg. Cocoa. Rosemary. These are just a handful of spices that are really good for your health because they are rich in antioxidants, are able to reduce bodily inflammation, can help to lower blood sugar levels and so much more.
And why should you encourage your man to sprinkle some of these on his food? They are just one more thing that can help to pull some of the acid out of sperm so that it tastes a little sweeter. Not sweet like cake but definitely less tart and easier to…take in.
HE SHOULDN'T EAT: Caffeine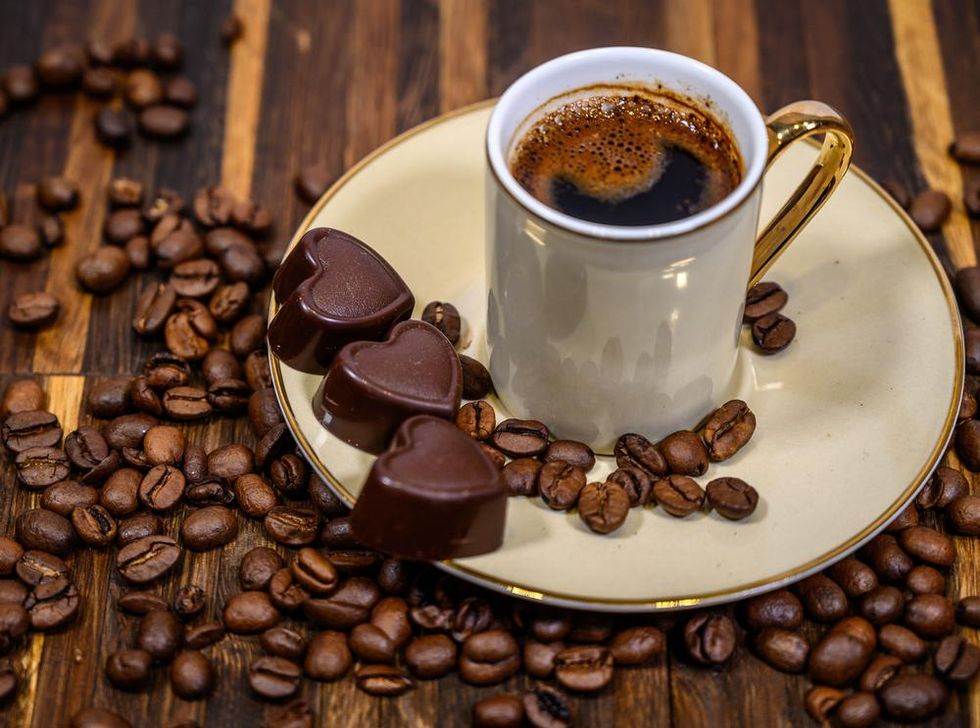 I've said before that caffeine comes with its ups and downs as far as health benefits go. Today, let's just stick to the upswing. If you consume it in moderation (because it is a stimulant that is a drug that could lead to an addiction, if you're not careful), caffeine has the ability to (temporarily) increase your energy levels, burn fat, lower your risk of getting type 2 diabetes, protect your liver and can also put you into a better mood.
The reason why you should discourage your man from having more than a cup of java or scoop of coffee ice cream on a daily basis is because it can cause his sperm to taste pretty bitter. Kinda like licking a penny. And unless that's your thing, it's not.
HE SHOULD DRINK: Wheatgrass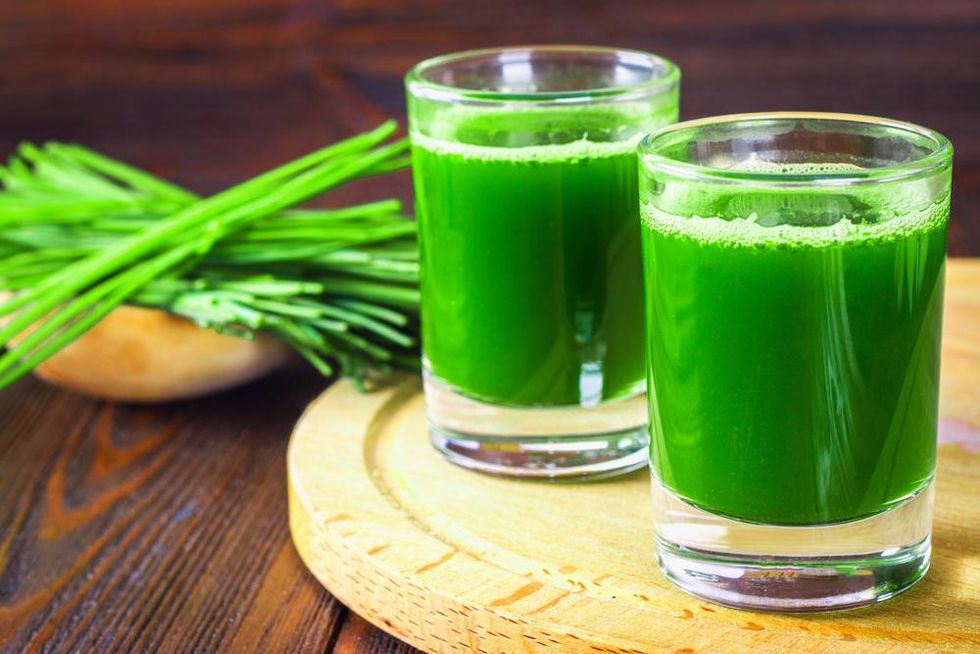 I'm not really sure if a lot of folks are thrilled with the idea of taking in shots of wheatgrass. Still, it does top the list of superfoods and when you see the benefits that it provides, it's easy to see why. Wheatgrass is a type of grass that is loaded with chlorophyll, antioxidants and all kinds of nutrients. It's great for your health because it works to boost your metabolism; purify your blood; detox your system of metals; cleanse your liver; treat body odor; naturally heal symptoms related to eczema and psoriasis and boost your immunity—and so much more.
And how does it help out in the sperm department? Thanks to the high amount of chlorophyll that's in it, it can help to keep the pH level of sperm in check (which should be somewhere between 7.2 and 8.0) which makes it less acidic and more pleasurable to your taste buds.
HE SHOULDN'T DRINK: Alcohol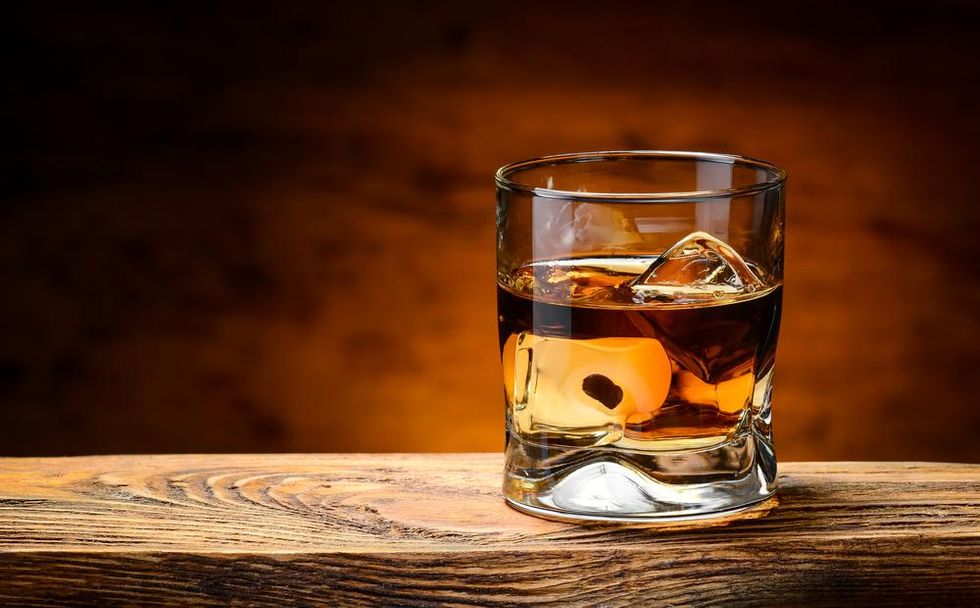 Last one. If you check out my article, "Liquors That Are Gluten-Free (& Beneficial In Other Ways)", you'll find that there are some health benefits to alcohol—and not just red wine. Shoot, the antioxidants that are in a lot of alcoholic drinks are enough of a reason to pour yourself a glass of somethin' a couple of times a week.
Just make sure that your man isn't tippin' a few bottles back before it's time to put some work in. For some reason, it has a way of causing sperm to taste sour. So, unless you enjoy sucking on lemons (no pun intended, of course), alcohol should be consumed right before "the act", not hours prior. Enjoy!
Join our xoTribe, an exclusive community dedicated to YOU and your stories and all things xoNecole. Be a part of a growing community of women from all over the world who come together to uplift, inspire, and inform each other on all things related to the glow up.
Featured image by Giphy
Keep reading...
Show less
It's my personal opinion that oral sex doesn't get discussed nearly enough. And that's pretty much my starting and finishing reason for why I'm writing this. C'mon. It's not like most of us don't indulge or engage and yet, when it comes to finding ways to make the experience more enjoyable (because a mouth simply being on another's genitalia is a really low bar), we don't seem to do as much research as we should.
It's no secret that more women climax from cunnilingus than intercourse itself (I'll expound in a moment). And it's definitely no newsflash that fellatio tends to put huge smiles on most men's faces. Still, there's nothing like going from good to great in your oral sex game, right? Something tells me that if you incorporate the following 12 tips, that is exactly what will happen.
1. Treat It Like an "Appetizer". Not the "Meal".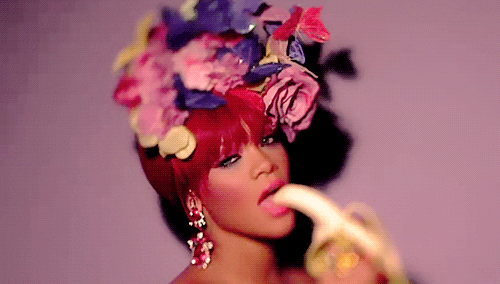 Let's start with where our, umm, heads should be about oral sex—whether we're giving or receiving. For starters, if it's gonna be grand, it'll be both. Anyway, while I do know some people who tend to take a hard pass on oral sex for a variety of reasons (by the way, religious married folks should check out Proverbs 5:15) and I certainly say to each their own, gone should be the stigma that there is anything "wrong" or "nasty" about doing it. Besides, 75 percent of women aren't able to have a vaginal orgasm. Oh, but do you know how they can climax? Some good old-fashioned cunnilingus! The main reason is because there is so much direct clitoral stimulation during the act.
Speaking of the stigma and the "ick attitude" that so many still seem to have about oral activity, that's a part of the reason why I think that cunnilingus and fellatio should be seen as appetizers (foreplay) more than the actual meal (intercourse). Think about it. How big of a deal is kissing? Especially in an intimate relationship, it's basically a given, right? Well, oral sex is a form of kissing...kissing genitalia, that is. And when you look at it from a perspective of stimulating your partner and building up excitement for what is to come, that can take a lot of pressure off of doing it. The acts can relax you, significantly so, as you're heading into intercourse.
Appetizers are dope. They get the palate ready and prepare us to sit back and enjoy our meal. I think oral sex should be seen in a very similar fashion. How about you?
2. Shower Beforehand. Possibly Together.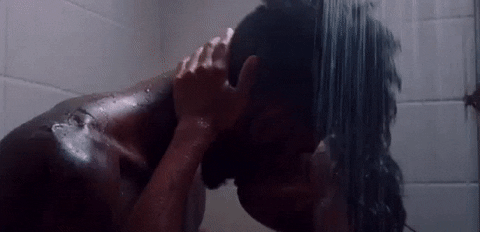 I'll tell y'all what, if there's one thing that 2020 did, it was get me super up close and personal with streaming apps. Not the ones you've gotta pay for (some of y'all have so many of those that you might as well have cable, chile)—the free ones. One of them being Tubi. Anyway, a series on there that I started watching not too long ago is Secret Diary of a Call Girl. It's…interesting. At times. Anyway, I'm bring that up for this piece because Belle (the call girl) tends to give tips throughout each episode. One of her first was this—make sure that your partner showers from the moment he steps in your door.
I promise y'all that when I see movies or television shows where folks are all sweaty or are even just coming in from work and oral sex is simulated, I semi wanna gag just like an 80s valley girl. No, no…NO. Oral sex is so much more pleasant when you know that everything is super clean and fresh down there. You can even up the excitement by taking a shower together. Whatever you do, just make sure that hygiene a top priority. For everyone's sake. And pleasure.
3. Create the Ambiance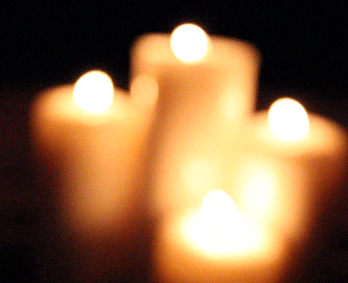 Whether you adore oral sex (giving and receiving), you low-key loathe it or you merely tolerate it, the overall experience is going to be so much better—and far less awkward—if the atmosphere is sexy. Use candlelight or colored LED light bulbs. Turn on some slow R&B music. Dress sexy. Bring a few pillows into the mix (when you're "propped up", oral sex can be so much more comfortable). Hit a few other erogenous zones. Maybe give each other a massage (with hands and/or with tongues).
Sometimes oral sex can feel stressful at first, usually because we're rushing into it way too fast. Slow down. Set the mood. Enjoy each other. You've got time. If you're doing it right, you do, anyway.
4. Mutually Discuss What's Desired. Each Time.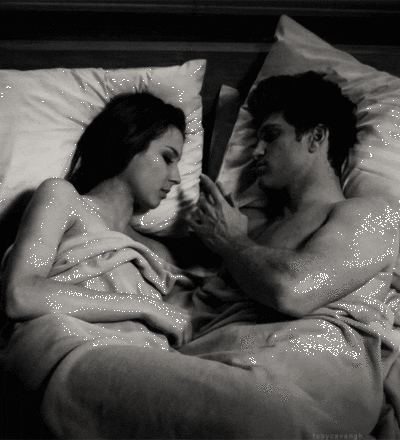 If you don't get anything else out of this, please hold on to this one particular point. Sometimes, we can be in a mood to receive oral sex in a different way than we did the time before. We might want more pressure applied or less. We might prefer it to be wetter or less wet. Sometimes 69 sounds like a good idea while other times, it's the absolute last thing that we want to attempt. But if we don't discuss all of this with our partner and instead, we put the expectation on them to be able to read our minds, that can make us frustrated with them—and ultimately, the act itself.
No one is saying that you have to present a—pardon the pun—full on oral presentation about what you expect all of the time. I'm just saying that whispering in his ear what you are in the mood for (followed by asking him what he would like) can never hurt. It can only help, actually.
5. Incorporate a Favorite Flavor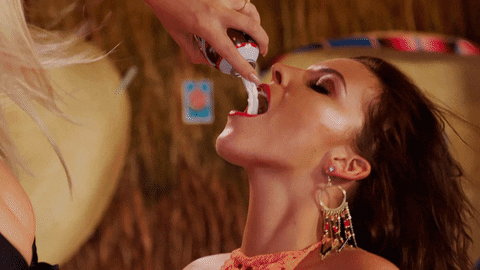 I know all of us have heard that if you and your partner drink pineapple juice, everything will be right with the (oral sex) world, but that's not a complete truth. What is a fact is your diet plays somewhat of a role in how your natural lubrication as well as your partner's semen taste. This means that if pineapple juice is a part of your daily diet, it can knock some of the acidity out of both of your fluids, making them an itty bit sweeter. But if you're looking for everything to taste like a piña colada, you're only setting yourself up for failure. No food can do that.
The flip to this is if you bring a favorite sweet condiment into the mix, that can make you less—what would the word be—apprehensive, about diving in, head first (with the pun totally intended). Chocolate syrup, honey, whipped cream, frosting, flavored lubricant—all of these can be super seductive and a delicious distraction, if you happen to like the act but you'd prefer to avoid the taste of the "natural flow of things" as much as possible.
6. Use Some Ice Cubes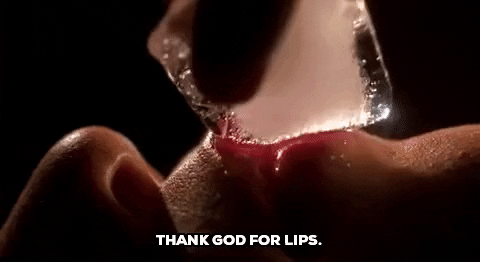 Here's the sexual version of IcyHot (LOL). While you may have never thought about "pulling a Mookie" in the bedroom (the real ones know what I'm referring to), it's something that you definitely should take into some serious consideration when it comes to oral sex. For you, the person on the giving end, it can help to produce a lot more wetness which can take off the pressure to produce more saliva. Then, when it comes time to receive, the combination of hotness (from your partner's mouth) and cold (from the ice) can actually stimulate you in a way that nothing else can. It doesn't have to be plain ice either. Popsicles or some Buko Ice Candy (a Filipino kind of icy treat; there's an easy to make recipe here) can easily be added to the mix too.
7. Perfect the "Build-Up"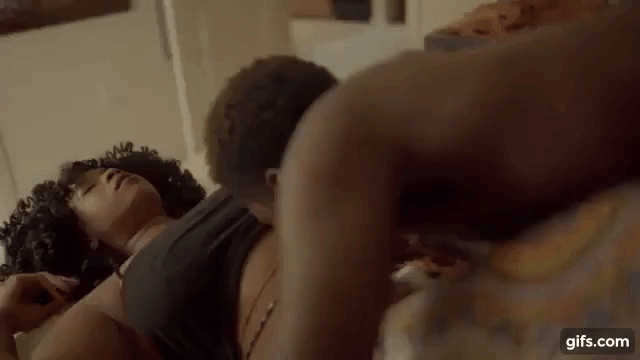 One time, while in a session with a married couple, surprisingly, they both had the same complaint when it came to giving oral sex. It wasn't that they didn't like doing it so much as they felt like their partner took FOR-E-VER to orgasm. When I did a bit of deeper digging, I realized that, when it came to the act, there really isn't any wooing or seducing that was transpiring. They both would just take off their clothes and start. Not only is that not very sexy but this approach means that you have to not only "warm your partner up" with your mouth but then keep going until completion (because most of us go until completion…right?).
That's why I'm all about folks learning how to perfect the build-up. All I mean by that is there should be all about lots of kissing and caressing before oral sex begins. Shoot, even once they get to the genital region, there should be some seductive teasing by kissing/licking the hips and/or inner thighs. Again, if everyone slows down and relishes in the anticipation, by the time the act itself goes down, climaxing shouldn't be too difficult and definitely shouldn't take three television programs long. Not at all.
8. Switch Up Positions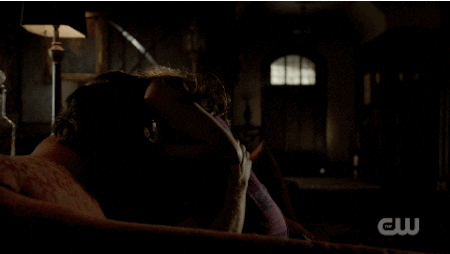 I don't know what makes people think that oral sex always has to consist of being in some variation of the missionary position. It. Does. Not. If you'd like a little bit of a breakdown on how certain positions can prove to be most beneficial, a few years back, we published "6 Oral Sex Positions That'll Elevate You Even When You're On Your Knees". I also like the his-and-her positions that the site Your Tango took on. You can check it out here. Sometimes, just a change in angles can make all the difference in the world.
9. Yawn. Kinda.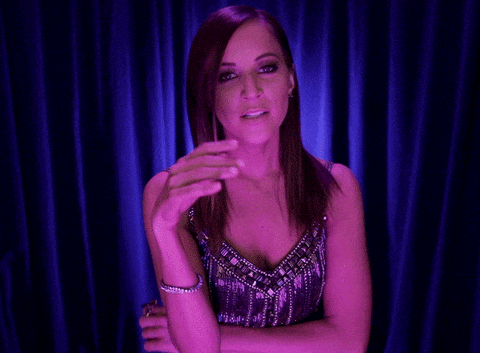 Not all penises are created equal (check out "Sex Hacks For Different Kinds Of Penises (You Heard Me Right)"). That's a good thing. That said, if you happen to have a partner who has the kind of penis where you find yourself repeatedly experiencing a gag reflex, try fake yawning during fellatio. This simple hack will help your throat to open up and your tongue to flatten, so that it's easier to…take everything all in.
10. Bring in Some Lubricant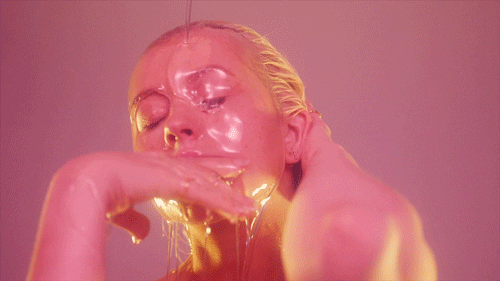 Sometimes, no matter how hard we try, we simply can't produce enough saliva or we need some help to keep our hands from causing the oral sex version of rug burn on our partner. Something that can help both of these things from being an issue is lubrication. A recipe that you might want to try consists of coconut oil and margarita flavoring. Now please keep in mind that since oil-based lubes can actually semi-melt latex condoms, this should be used when it comes to oral activity only (and after being STD-cleared because you can get one from oral too). Still, if you're looking for a way to bring more "slip" into your second or third round, an easy and tasty recipe is right here.
11. "Seesaw It" All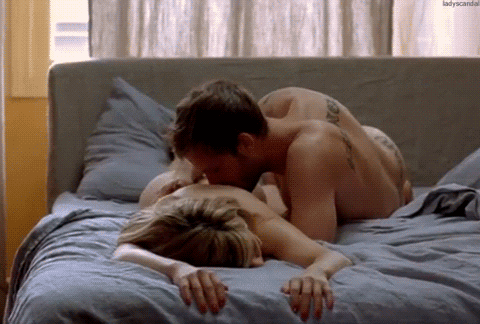 There are some partners who've told me that the way oral sex happens for them is extremely compartmentalized. They do that—and then they have intercourse. There is no overlapping. What in the world? Do you know how hot it is to seesaw it? What I mean by that is to go five minutes with oral, have intercourse to the point of edging and then go back to giving—or receiving? Whew.
It's always important to remember that sex isn't supposed to be regimented. Learn to go with the flow and do whatever feels good at the moment. It'll turn you on more and make oral sex so much more erotic. And that's always a good thing.
12. Watch It All Go Down (Pun Intended)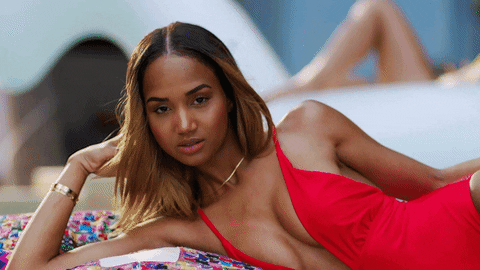 I know. Sometimes it all feels so good that you couldn't keep your eyes open if you tried. But a lot of times, we don't make eye contact during any kind of sex act because we simply don't think it's that big of a deal, one way or another. Oh, but it is.
Eye contact during physical intimacy conveys that you want to make a deeper connection with your partner. And, when you do it during oral sex, they are able to get more turned on by either watching what you are doing to them or seeing all of the nuances of your facial expressions while they are gracing you with their skills.
Oh, and if you really want to take things to another level, you can even tape your partner during the act. Or, if a tape, to you, is too risqué, the next best thing is to watch with the help of a full-length mirror that's directly across from you.
As you can see, these aren't so much "oral sex hacks" as tips to remind you to relax your mind, stay in the moment and—again, pun intended—take it all in. Oral sex can be unbelievable. You've just got to open up and let it be.
Join our xoTribe, an exclusive community dedicated to YOU and your stories and all things xoNecole. Be a part of a growing community of women from all over the world who come together to uplift, inspire, and inform each other on all things related to the glow up.
Featured image by Shutterstock
Keep reading...
Show less
As soon as January comes to a close, Cupid gets us all hyped up on cheap pharmacy box chocolates, pheromones, and oxytocin. We become obsessed with expressing our love through what we've come to know as the day of love -- Valentine's Day (unless you're from the midwest and celebrate Sweetest Day, or the East and enjoy Steak and BJ Day).
However, it's been said that women have made a poor habit out of giving up the box as an efficient means of gift giving, rather than putting thought and effort into giving our men an actual box of chocolates. Quite frankly, I don't see a thing wrong with this! That said, if you came here, thinking that this was anything other than that I'm afraid you've already jumped ahead to April Fool's Day. Because this here is a safe space for women who plan on smacking a skimpy bow on their ass this Valentine's Day and allowing their guy to unbox them, and delight in the pretty fine brown that not even Godiva is packing.
In all seriousness, sex doesn't have to be the main event of your Valentine's Day but we'd all be kidding ourselves if we didn't say a sensual evening to wrap the day wasn't at the forefront of our minds. Perhaps you're wondering how to make this sex stand out from any other day. What tricks can you pull out of that heart-shaped box to make his ass go wild. Allow us to put your mind at ease though, we've pulled together some simple but sweet sex positions that might just sweeten your Valentine's Day even more. So grab the dessert wine, pull up this bookmarked list, and ask bae what he wants to get into 'cause tonight you're the snack -- you're the smorgasbord of chocolate -- you're the whole damn meal.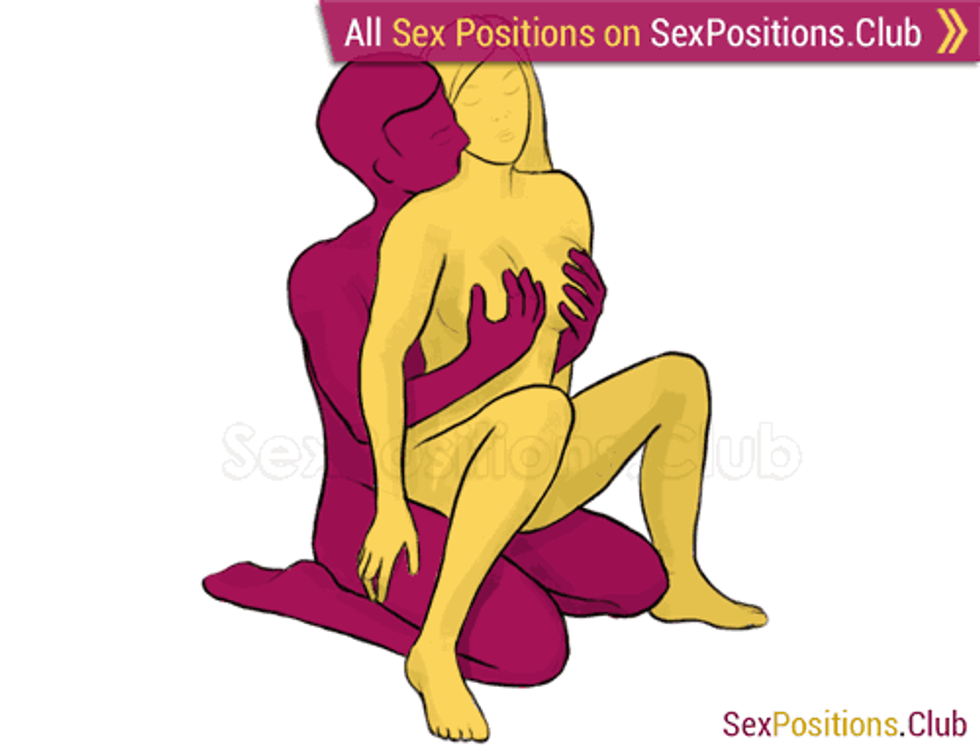 On a flat surface, have your partner kneel onto both knees and rest on or between their feet. You will then face forward (away from them) and squat in order to be penetrated. This delivers the best of both worlds with a sense of "from the back" action while also placing all the control of cowgirl in your hands. You can bounce, grind, and wind as deeply as you need to in this position. But my favorite feature is the easy access to the breasts because who doesn't love a nice, sensual squeeze?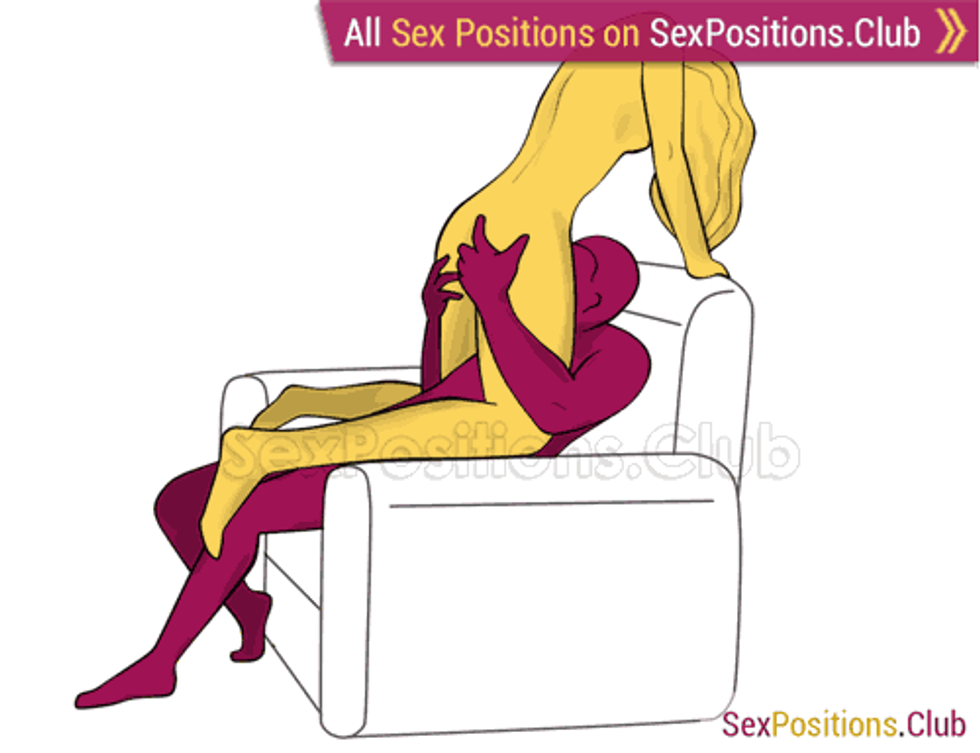 Have your partner sit on the armchair and straddle your legs, placing each one on a chair arm. To stabilize yourself, you can grab onto the back of the chair or a wall. You should be kneeling and they should be face to face with your vulva. Your partner can now eat you as deeply as they desire, pulling you in more closely with their hands firmly placed in the butt area.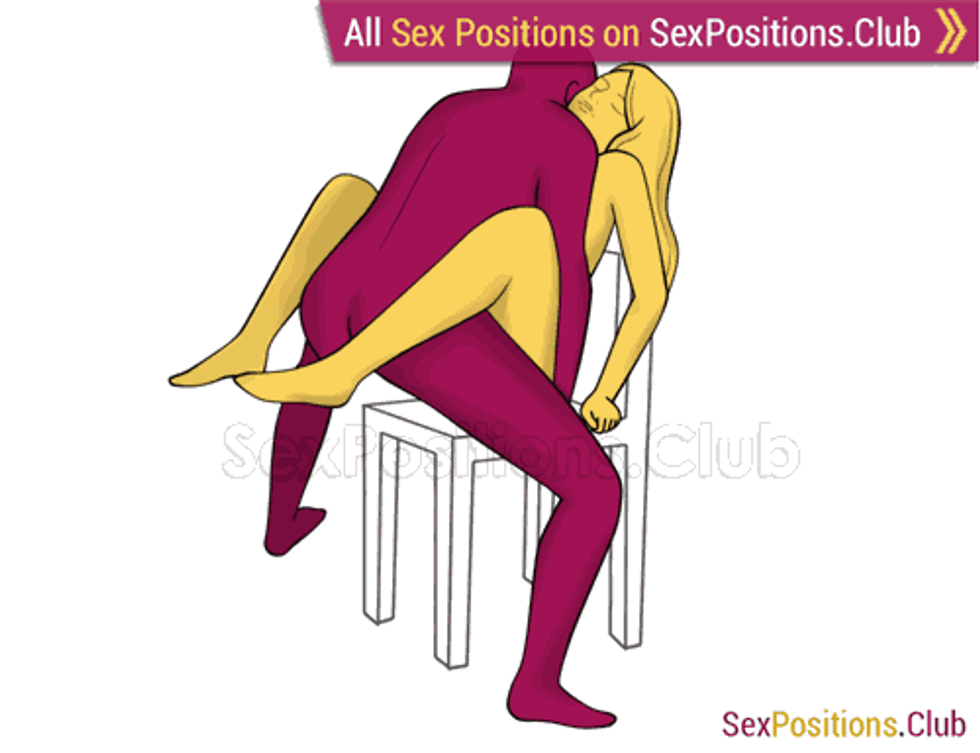 Grab a dining chair, have a seat and firmly grab the sides of the chair. Get your balance, girl. Then lean your body back into a slight 'V.' Your partner should be in a wide straddle when they crouch down and place their hands on the edges but positioned in front of your hands. (The chair ought to be completely between his legs). Once you all have got that down, you can wrap your shins around your partner's butt.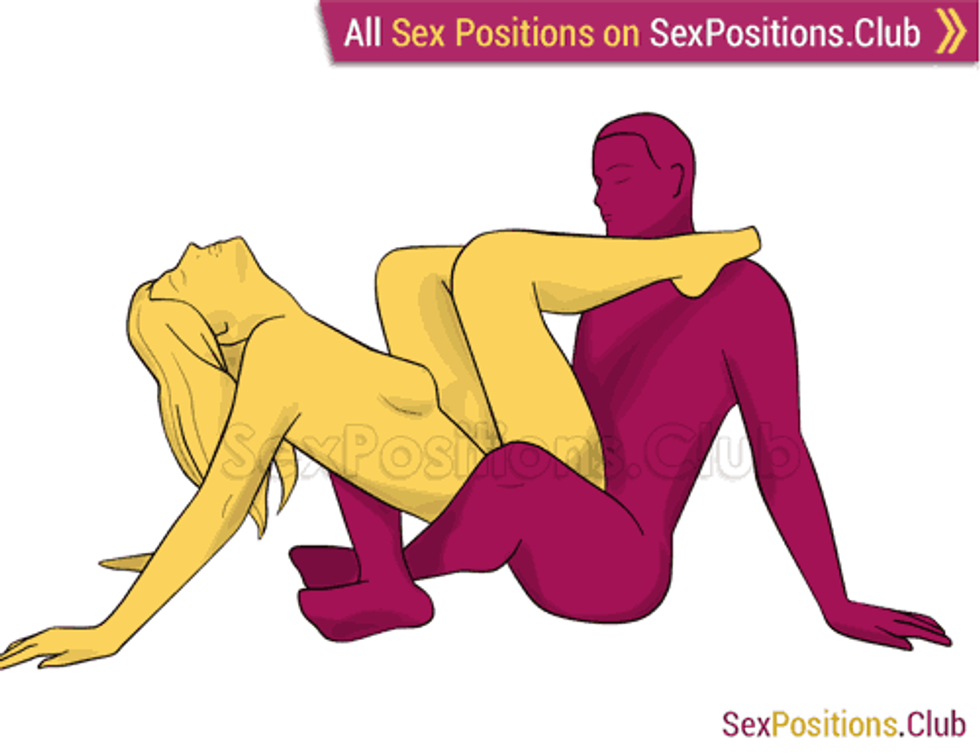 Allow your partner to sit in a loose type of criss-cross applesauce. Their hands should be planted firmly behind them. A flat position is preferable but hey, do you! Cradle yourself in their lap, and lean back enough where you're able to comfortably place your hands behind you as well. Then place your feet flat onto your partner's shoulders. Your knees should be tucked into your chest and your neck relaxed.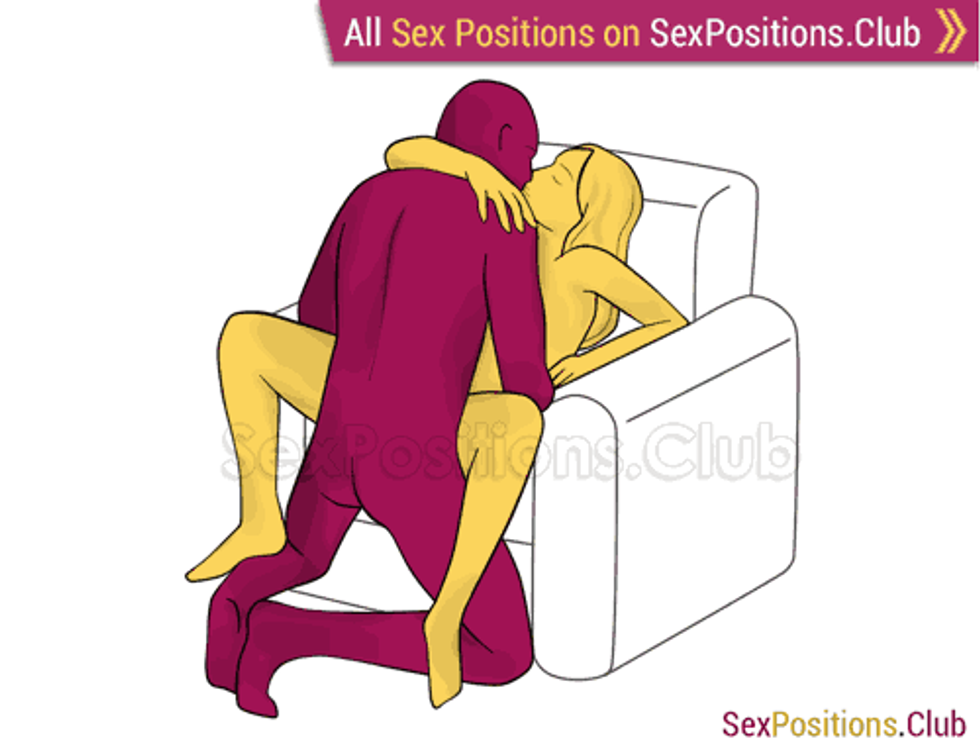 Pull out the old armchair again for the French Kiss position. You will sit in the chair and slide down so that your butt is on the edge, while your partner will kneel in between your legs with their feet side by side (making a butterfly, knees should be straddled and feet should be touching). This is an intimate position, allowing you to kiss and hold your partner.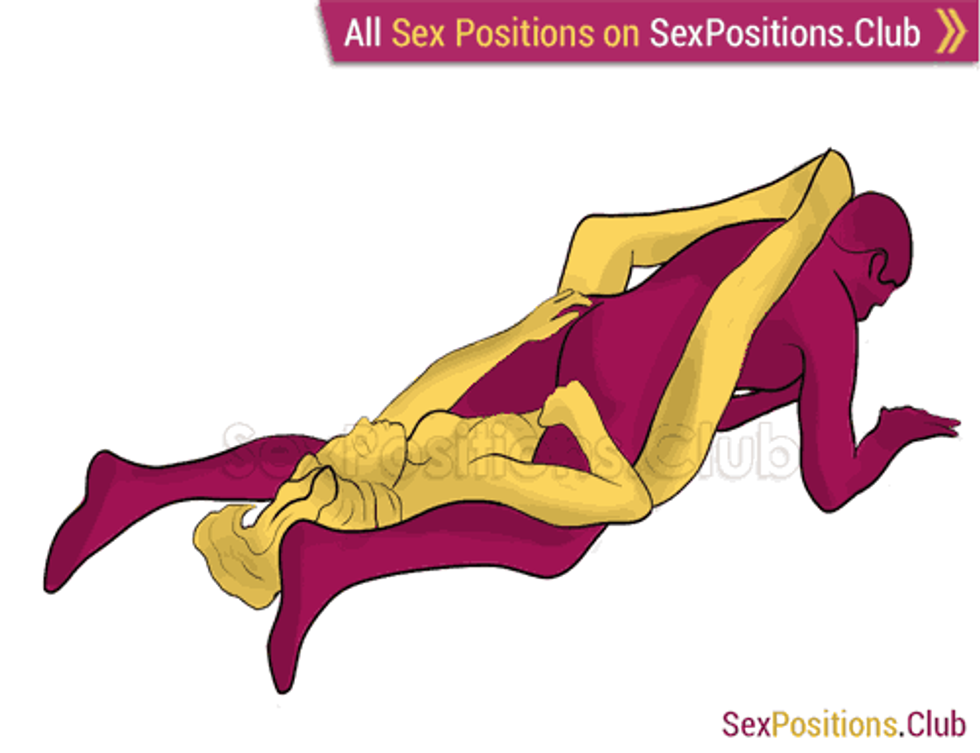 In order to do the Snow Angel sex position, start in a 69 position, but ensure you are the bottom. The difference will be that you will need to scoot your bodies down so that your partner is able to slide into you with ease. Lift your legs and wrap them around your partner's back so that your feet are resting at the nape of his head, and together in a prayer position. Their legs will simply fall to the side of you and they are able to use their rest on their forearms.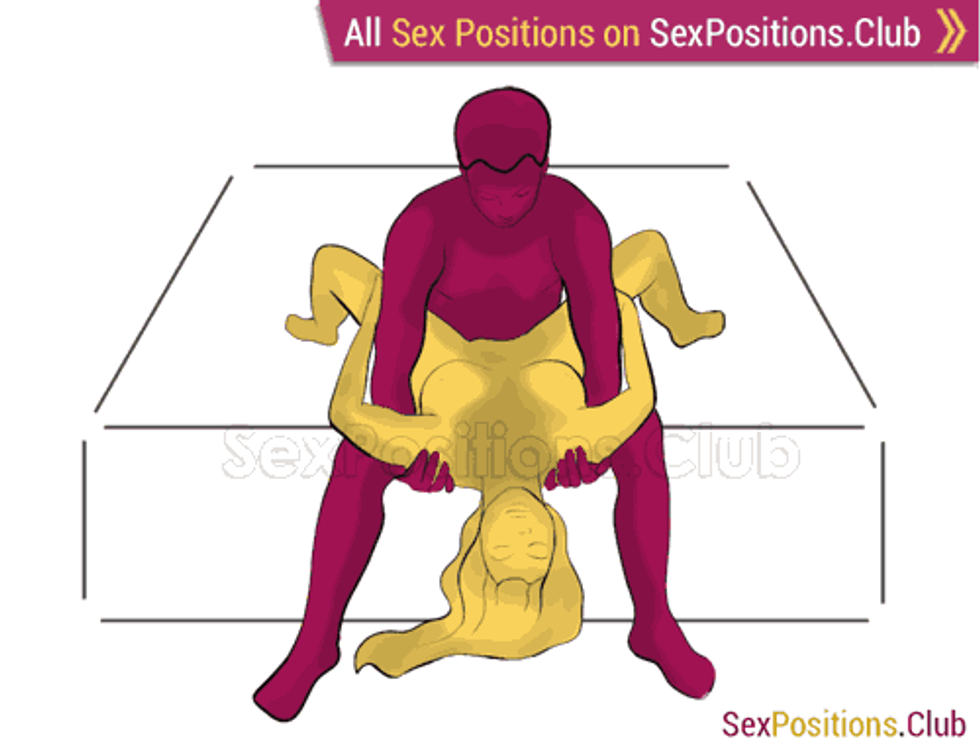 Your partner will need to sit on the edge of the bed, with their feet wide apart and planted on ground. Climb on top of them, straddling your legs around their waist but your legs should be slightly bent at the knee (feet will be flat on the bed if correct). Once you're sitting, you can lean back and allow your partner to support you by holding onto your shoulder as if they're breaking your fall.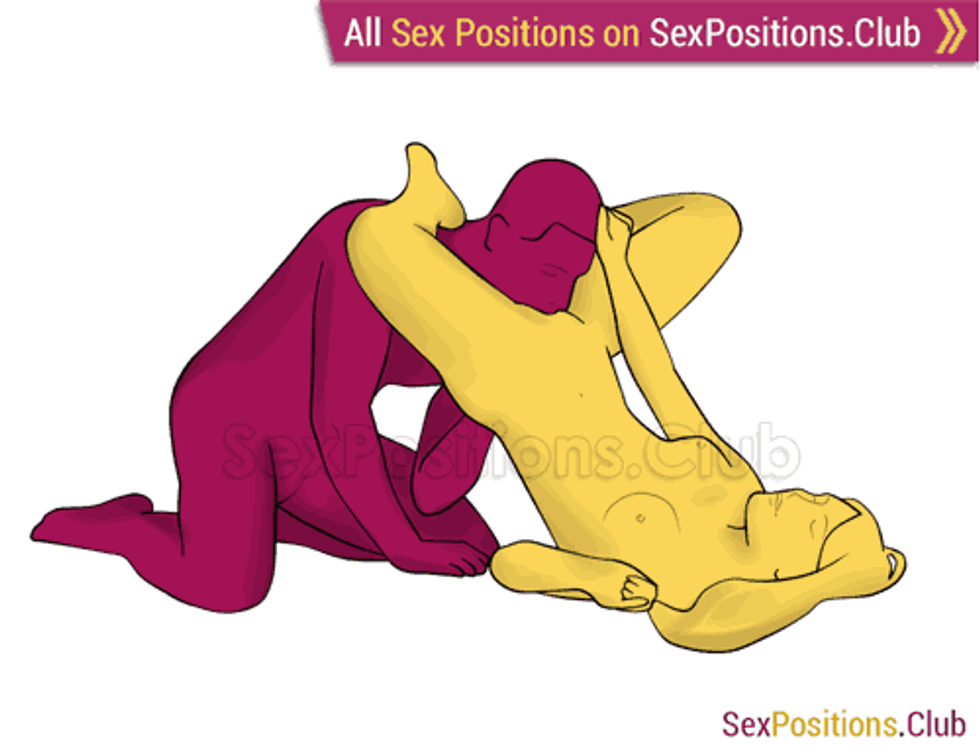 Lie on your back with your legs criss-cross applesauce, with your partner kneeling directly in front of your crossed legs. Their knees will be straddled, they should be able to rest there but between their feet. Leaning in as you lift yourself up, your partner will use their hands to lift you and comfortably place your hip on their shoulder. Here, you can open your legs and reposition them so they're crossed while straddling your partner's head.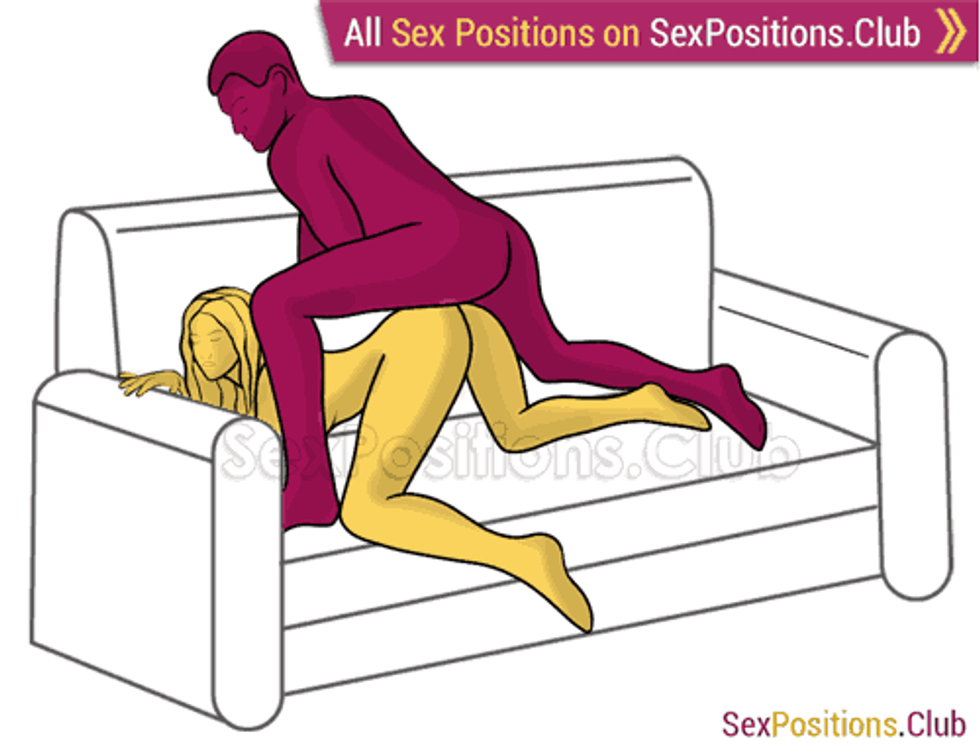 A classic! Lie in doggystyle on your sofa or couch, but spread your knees as wide as they will possibly go. Your partner will come behind you and lunge, placing one foot on each side of you. You can take a slight reach to the side, and use the armrest to give you some footing when it's time for you to throw it back.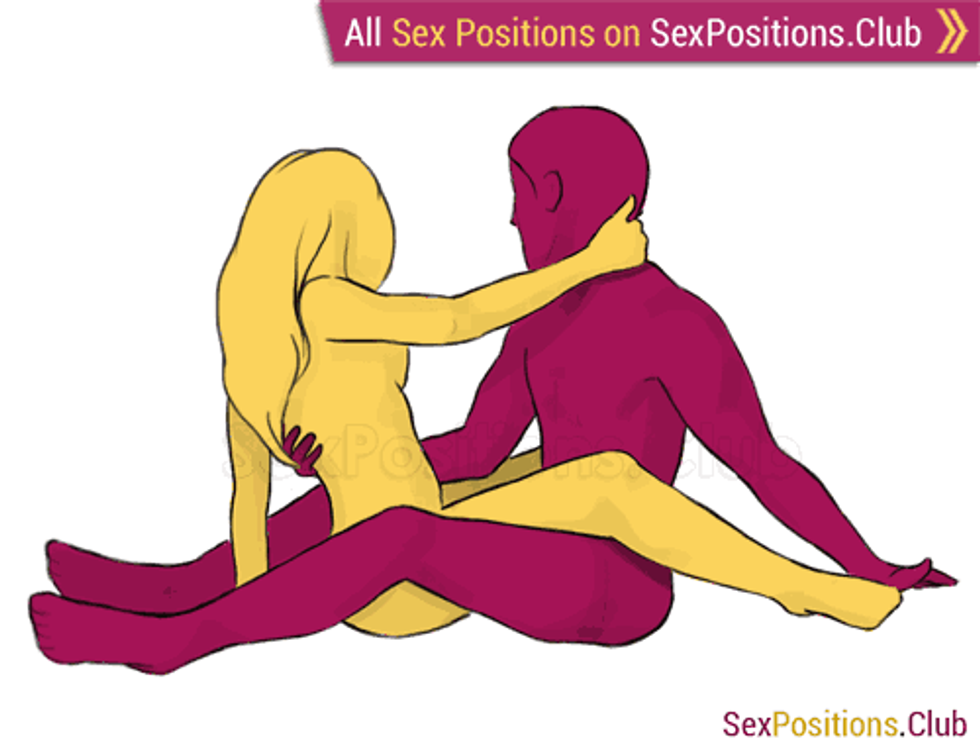 Both you and your partner should sit face to face, while your legs straddle their waist with your leg bent at the knee (shoulder width apart). Your partner will also be straddling you, but their feet will be together as their legs are bent at the knee. Essentially, you two will mirror one another so when you take one hand and place it on the floor; for support, they ought to place the opposite arm behind them.
Are you a member of our insiders squad? Join us in the xoTribe Members Community today!
Featured image by Shutterstock

Keep reading...
Show less
One time, while talking to a wife about some issues that she was having with her husband in the bedroom, she shared something with me that has remained in my mind, pretty much ever since she said it. "While the sex itself is pretty good, I still don't really look forward to it like I want to because, to tell you the truth, the foreplay sucks."
While some of you may have just read that and felt like her statement was a bit contradictory—actually, to me, it wasn't. Contrary to the popular belief (that is actually more like a total misconception) about foreplay, it isn't sex. Sex is intercourse; foreplay is the action that comes before it, and if the foreplay ain't right, for many of us, something about intercourse is gonna be…off. No matter how good coitus may be.
That's what we're going to semi-deep dive into today. What you should do if you happen to have a partner whose stroke game is on-point yet everything else is pretty "meh"? If that's you and you've been semi-suffering in silence, let's get you free, so that you can enjoy all-things-sexual, just the way sex was meant to be.
First of all, Sex and Foreplay Are Two Different Things.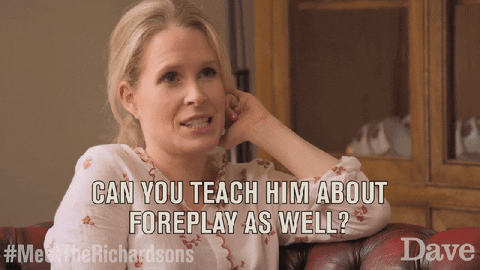 Before we can solve a problem, we've got to properly define it, right?
When it comes to what makes sex and foreplay different, I once heard a woman say that foreplay is what makes sex worthwhile.
Hmm. While I personally wouldn't go that far (I'm team both all day, every day), what I will say is, if there isn't a strong physical and emotional connection that's established before penetration transpires, that can prevent sex from being as great as it could be (even the guys that I know will personally vouch for that). This is where the act of foreplay comes in.
Remember how I said that a strong physical and emotional connection make sex better?
A romantic date? That's foreplay.
You and your partner affirming one another? That's foreplay.
Dancing to your favorite slow jams in the living room? That's foreplay.
Sexting or even just flirting on the phone? That's foreplay.
Cooking together? That's foreplay.
Kissing without it immediately leading into sex? That's foreplay.
A body massage? That's foreplay.
Cuddling? That's foreplay.
Orgasmic meditation (which sounds like sex but it ain't)? That's foreplay.
Fellatio, cunnilingus and stimulating sexual pressure points? That's foreplay. (I'll explain this point further in just a moment.)
While all of these are different acts, if there is one thing that they have in common with one another, it's the fact that they're all about spending quality time with your partner without any intercourse transpiring. Going on a date sends the message that you want to spend time with your partner without any distractions. Kissing without it always leading to sex? I don't know about y'all but to me, it conveys that you aren't kissing me in hopes that it will lead to something else; you simply enjoy the act…just because. And oral sex? OK, despite what our former president Bill Clinton tried to deflect with, technically oral sex is sex. However, I'll tell you what—while in my sessions with husbands and wives, they have both told me that some of their favorite sexual memories have consisted of when their spouse wanted to give oral sex without doing anything else afterwards; that their partner wanted to please them so badly that their climax was all of the reciprocity that they needed (whew and yes!). Foreplay is physical and emotional stimulation. Sometimes it's sexual. Sometimes it's not.
So how is the actual act of sex different? If any of y'all checked out the article, "BDE: Please Let The 'It Needs To Be Huge' Myth Go", something that a wife who helped inspired the piece shared with me, on more than one occasion is, her husband was so proud of his package, that he doesn't think foreplay is that big of a deal. He's basically like the "bang-bang-bang" father in the classic movie Boomerang (RIP John Witherspoon). No romance. No frills. No real attentiveness. No intimacy (more on that in a sec). Plenty of intercourse and that's about it. And you know what? Their sex life has only continued to suffer because of it. In many ways, it's actually non-existent.
Interesting, right? The people who get foreplay seem to be more aroused and interested in copulation while the ones who go without will often take a pass on sex altogether. If not immediately, eventually. What does this really mean?
What a Lack of Foreplay Conveys.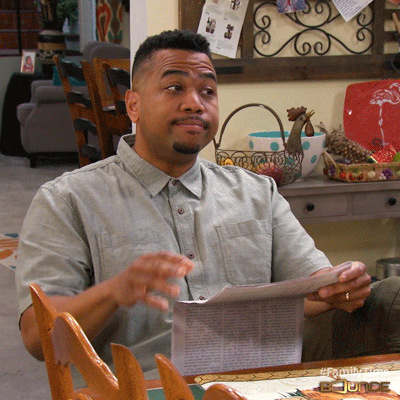 Before going even deeper into this topic, let me just say that I get that some of y'all are a lot like my friend's husband in the sense that, just like some folks hate kissing (check out "Umm, What's Up With These People Who Hate Kissing?"), there are also some individuals who find foreplay to be a complete waste of time and totally unnecessary. Still, I am pretty sure that those folks are the exception and not the rule. The rest of us? I believe that we're all about foreplay and a lot of it has to do with the fact that many of us still associate sex with being an intimate act.
And here's the thing about intimacy. Much like the word "love" is oftentimes misused/abused, I think the word "intimacy" is too.
A one-night stand with some random isn't really intimacy, no matter how much sexual pleasure you may have gotten out of the experience. You know why? Because being intimate with someone is defined as having a warm friendship with them and being personally close to them. Being intimate with someone also speaks to sharing secrets or confidential matters, being affectionate and feeling cherished in someone's presence. Being intimate is about being valued in someone's life as you're valuing them as well. (Now do you see why I said "intimate" gets misused/abused?)
Now are there levels of feeling this way? 1000 percent. After all, the kind of intimacy that's shared between a married couple that's been together for 45 years is going to be vastly different than the intimacy that's between two people who've been on six dates. However, the thing that's important to keep in mind is when foreplay happens prior to sex, it is an act of true intimacy. Yes, you and your partner may be sexually stimulating each other in preparation for intercourse yet it holds way more weight than that. There is something about both of you that feels warm and cherished enough to not want to rush things—you want to be affectionate with one another because of the connection that already exists.
Uh-huh Shellie. I hear you. But I've had some great sex with guys who were good at foreplay that I wasn't exactly "connected" with. Understood. One day, we'll get into the subject of how some people pretend to be intimate for selfish gain; they aren't really having sex with you so much as they're having sex at you in order to boost their own ego. Indeed, just like folks can act like they're in entire relationships, they can also act like they are being intimate with a person. Still, I'm willing to bet that the men you can reflect on who made you feel the best, the safest, the most adored—there was a connection and that made the foreplay as well as the sex so much better. In those instances, the climaxes weren't "the cake"; they were 1000 percent "the icing". Just being with you, enjoying you and pleasing you? That was the cake. The three-tier, thousands of dollars, wedding cake kind. Especially since it's pretty common knowledge that while it takes men around 5-6 minutes to have an orgasm, it takes us somewhere around 20 minutes. A good lover isn't trying to get you on his "schedule". He's relishing everything about the privilege of being with you so…what's the rush?
How to Get More Foreplay in Your Relationship.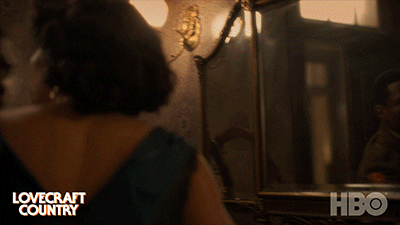 When it comes to foreplay (and afterplay), I promise you that I could on and on. That's how, not only good it is, but necessary I find it to be. So, what if you're currently in a relationship (or situationship) where the actual intercourse feels amazing, but the foreplay is seriously lacking? The first thing that I want to say is you deserve a lot more and better. Because something else that good lovers know is the great sex isn't about the goal of an orgasm so much as creating a mind-blowing experience, each and every time you engage.
Keeping this in mind, it's not crazy for any human to have their ego bruised a bit should you approach them about your sexual needs not being met in some way or you desiring to take your sex life to another level; however, here's another sign that you're actually with someone who cares about you like they should—if you tell a man that you desire more foreplay and share the reasons why, only a complete and total ass is gonna make that be all about him and his uh-um EGO (cue Kanye and Beyoncé). Great lovers are about pleasing their partner way more than they are about dictating how and what that should look like.
So, share what you need and then seek to become the kind of lover you want. Flirt. Dress sexy. Plan couple exercises like orgasmic meditation. Talk about erogenous zones and "hot spots". Kiss without having it go immediately into something else. Work together on what it means to enjoy each other "just because". Because I promise you that the moment this is the focus, that will be the day when things get so much better in the bedroom as you find yourself asking why you settled for less all of this time.
Again, I'm all about some deep, long, intense penetration (whew, chile). Yet I can't even fathom getting to that point without at least a little bit of foreplay—because again, I know what it represents, and I know that I deserve it. And you know what sis? So do you. SO. DO. YOU.
Join our xoTribe, an exclusive community dedicated to YOU and your stories and all things xoNecole. Be a part of a growing community of women from all over the world who come together to uplift, inspire, and inform each other on all things related to the glow up.
Featured image by GIFS
Keep reading...
Show less
Your girl is choosing to sit this cuffing season out but her kitty is always craving to be stroked, hunny. But one thing's for sure, when I finish vetting and testing my future lucky suitor, I'm not trying to make it to the damn bedroom! I want that dramatic-movie-scene kind of sex, that we-using-protection-but-you-still-trying-to-impregnate-me kind of sex, and that I-got-your-cheesy-shrimp-and-grit-ready-let's-eat-before-round-two kind of sex. Feel me? That's where standing sex positions come into play.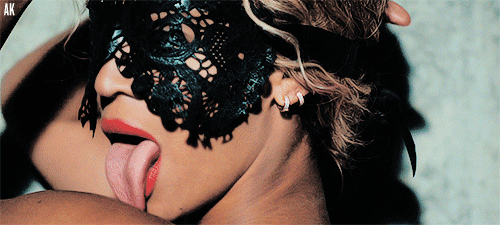 Giphy
What better way to enjoy dating (even when you are committed) than having an arsenal of sex positions up your sleeve to show your lover you can be spontaneous after all that spending, wining, and dining? If you are looking for new ways to turn up the heat in and out of the bedroom, then look no further.
You sexy sadist, it's time to tell your partner to bow down. In the kitchen, in the shower, in the parking lot however you want it, any-time and any place. This position gives them access to every part of your body and can go both ways.
How to: Instruct your partner to get on their knees in front of you and perform oral right then and there. For some extra pleasure, use this position somewhere that both of you have access to your reflection so that you can watch yourselves enjoy the act.
Now this one is straightforward! Quite literally! Great for those who want to feel the impact, or just really don't want to be seen in public (I ain't judging you, boo).
How to: Stand in front of your partner and face the opposite direction, bending forward at your waistline while allowing your partner to enter you from behind. Make sure you guide their hand to your clitoris for some extra stimulation. If you are in a submissive mood, grab the cuffs/hand tie
Yoga and pilates aren't the only physical activities that are best done on flat surfaces, give up a little of your control by crossing your legs, making it nearly impossible to run away from that thang.
How to: Lay on a flat surface with your legs crossed and have your partner enter you while they hold your legs up in the air or against your chest. If you really want to enjoy this position's added benefit of vaginal tightness, wrap your hands around your partner's hips and push them further into you.
If you are up for a good laugh with your partner, give this position a try. What's the worst that can happen? The laughing leading to your legs behind your head? The Wheelbarrow position is a win-win situation.
How to: The receiver in the position should start with both hands on the ground while their partner can slip in between the receiver's legs and support them by holding their legs and thighs. The main goal is to get the receiver's body off the ground while thrusting. Your abs are going to hurt the next day from the effort or the giggling, but the orgasm will be well worth the effort.
The only body searches we like are in the bedroom, and what better way to scream 'arrest me officer' than with your hands against the wall moaning with pleasure? This is the perfect position for the woman that loves to throw back all the energy that their partner is giving to them.
How to: Put your hands against the wall, bend slightly forward and have you and your partner stand feet-width apart. Let your partner enter you from behind and enjoy the pleasure this position brings to your g-spot. The Frisk position is great for small places and for women who like their hair pulled, ass spanked, and dirty talk directly in their ear.
Now go ahead and enjoy yourself, you naughty girl!
Are you a member of our insiders squad? Join us in the xoTribe Members Community today!
Featured image by Giphy
Keep reading...
Show less
Recently, while talking to one of my married friends, she told me that the topic of oral sex came up in their household. All of her and her husband's children, minus one, are young teenagers at this point. And so, when one of them came into the kitchen and said, "Do you and daddy have oral sex?" and my friend replied with, "Absolutely", I rolled at her candor and how her child was like, "Eww!". The way I see it, good for them that they are so open about sex. After all, it's how their children got here.
Yet, as I thought more about fellatio and cunnilingus, I also reflected on the various responses and reactions I've witnessed, every time one or both acts are mentioned. I'd have to say that probably around 7 times out of 10, oral sex is spoken of, by both men and women, very fondly. Oh, but there is that 30 percent who, whether it's giving head and/or receiving it, words cannot express how much they find the act to be close to grotesque and definitely unappealing. "Problem" is oftentimes, when someone like this is in a relationship, that sentiment isn't even close to being mutual. And sometimes, that can rock the boat of the relationship, more than a little bit.
That's what we're gonna tackle today. If you're someone who thoroughly enjoys everything about sex other than giving oral and/or receiving it while you're partner is all for it, all day and every day (on both the giving and receiving end), here are some things to think about—that you might've never considered, quite this way, before.
Is It All in Your, Umm, Head?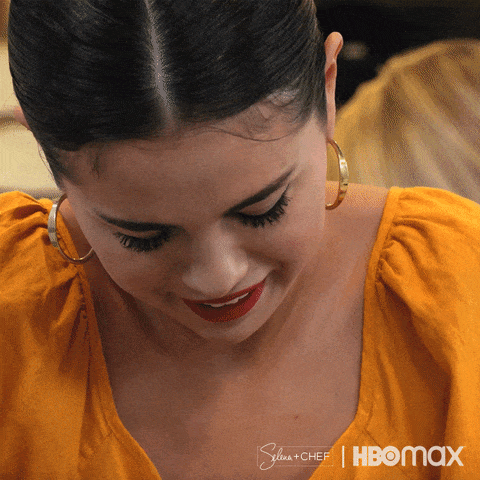 I've actually shared before that one of my favorite stories about a mom having "the sex talk" with her child for the first time came from a female comedian who was sharing her experience during a Ted Talk. Her daughter, who was somewhere between 8-10 at the time (I can't exactly remember), intently listened to her mother put her own spin on the birds and the bees. When her mom finished, the daughter then said, with a semi-horrified look on her face, "So you have sex where you pee?!", only for her mom to revisit how real that revelation was and respond by saying, "Yeah. It's kind of like taking a trip to your favorite amusement park and going to a toxic waste dump at the same time."
Even though that might initially evoke some double yucks, just at the mere thought of it all, the reality is, when any of us who have sex, that's basically what's transpiring. For whatever reason, God himself designed us to relieve ourselves with the same parts of our body where sexual pleasure comes from. So, if that is a part of the reason why the thought of engaging in oral sex freaks you out, I get it. At the same time, God also created the people who invented things like showers, baths, washcloths and soap. So, if the reason why you struggle with the thought of participating in oral sex is because "he pees down there", I promise you that if you make the request that he hop in the shower first, you will feel more calm and confident. Or at least, you should.
Have You Ever Even Tried Oral Before?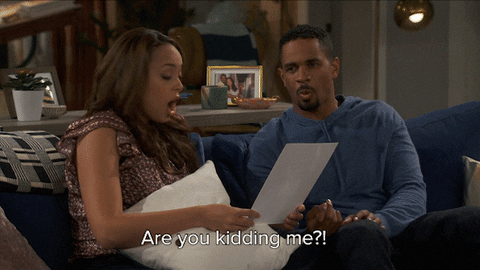 I'm going to be very TMI here for a moment. As someone who has participated in more than her fair share of fellatio, other than bracing myself for "the final act" (I'm sure you get it), to me, it really isn't that big of a deal. In many ways, it's like sucking on a really big…I guess "thumb" would be the best way to explain it. Yes, you have to factor in things like breathing, shifting speeds and endurance (based on how long your man's stamina is), but to tell you the truth, I'm actually far more impressed with men who go down on us—not because our vaginas aren't one of the best things on this entire planet but because, if he's doing things right, there is a lot of fluid going on down there, right off the rip.
That's why, whenever a woman tells me that she hates fellatio, my first question is, "Have you ever even tried it before?" because oftentimes, they haven't. And if you've come to the conclusion that you semi-loathe something that you've never even experienced before, well, you're either basing your decision on ignorance or the stories of others—and when it comes to something like sex, that twisted logic simply isn't good enough. As Mikey used to say in the throwback Life commercial, "Try it. You just might like it."
Let's Break Down the Penis a Bit, Shall We?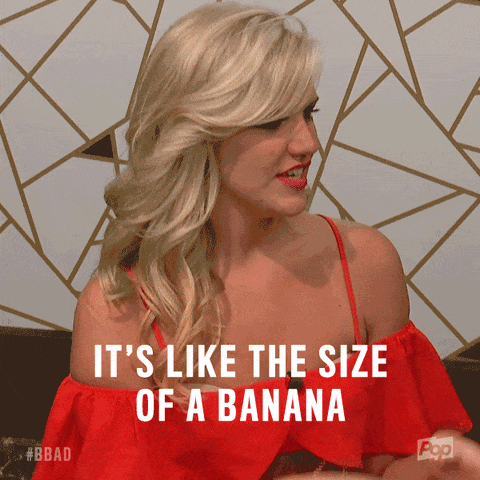 Remember how I just said that giving head really isn't that big of a deal? If you're looking at the monitor with complete and total side-eye, I've got another question for you—how much time have you even spent with a penis? Laugh if you want but I'm dead serious. Other than perhaps catching a peek (and maybe not even wanting to do that) when your partner is naked, do you really not give penises much thought beyond it being what penetrates you during intercourse? If so, that could also be a part of the issue/problem. Sometimes it's because our parents totally sucked at giving us the sex talk, sometimes it's because we barely paid attention in high school-level anatomy class, other times it's because the Church acts like sex is something that shouldn't be discussed until marriage (and, let me tell it, barely even then)—for so many reasons, there can be such an ignorance around male genitalia that it profoundly affects us on a sexual level.
That's actually why I wrote articles on the site like, "15 Pretty Tripped Out Things You May Not Know About Penises", "Do You Swallow? The Unexpected Health Benefits Of Sperm", "10 Things You Didn't Know About The Male And Female Orgasm", "Blow Your Man's Mind By Giving Him This Tantalizing Massage" and "8 Men & 8 Women Told Me What They Wish Their Partner Would STOP Doing In Bed". I'm a firm believer that the more you learn about something, the less fearful you tend to be about it. Study the penis. It's not as "terrifying" as some of you might think that it is.
Did You Have a Bad (or Selfish) Oral Sex Experience?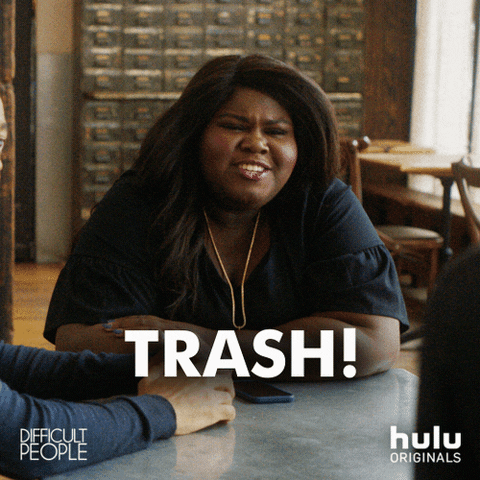 Also, remember how I said in the intro that I wasn't only going to tackle this from the angle of women who hate to give fellatio but also women who aren't big fans of receiving cunnilingus too? I know quite a few women who roll like that (interestingly enough, a lot of them are Leos and Capricorns; if you fall into that sign, please hop in the comments). When I've asked them why they would rather pass on receiving head, some have said that it simply doesn't get them off. However, more have said that the times when they have conceded and given it a shot, it felt more sopping wet and uncomfortable than anything else. And so, after giving a couple of different partners a try and the experience totally sucking (and absolutely not in a good way), they've decided to pass on all future opportunities. Then there's another scenario. Some women I know don't get down with giving or receiving oral sex because they've found their partners to be selfish as hell. Either all he cares about is getting some head or, if he is going down, it's more like he's barely tolerating it so that he can get some fellatio as soon as he's done.
If you fall into any of these dynamics, while thankfully, I can't really relate, what I will say is, you are sooooooooooo—breathe—oooooooo missing out if you've decided to let the past hinder your future. Aside from the fact that 75 percent of women barely have orgasms from vaginal penetration alone, there is something that is so damn hot about engaging in the kind of sex that has no hindrances.
If you've had a bad sexual experience (including if your partner was selfish), the best thing to do is share that with your current partner so that the two of you can work through it. If after a few tries, you're still like "nah", don't feel bad. Oral sex—on the giving or receiving end—isn't necessarily for everybody (I once had sex with a guy who really liked giving oral sex but hated receiving it…go figure). Just make sure that you've come to that conclusion solely based on preference and not some really unpleasant past situations.
What About Performance Anxiety?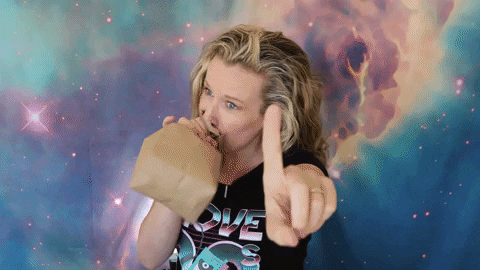 Any of you who are die-hard Insecure fans, you might recall the episode when Issa and her girls went to a sex expo and discussed their thoughts on oral sex; especially giving head. Issa shared that she wasn't that big of a fan because she felt like her teeth were too big and she wasn't all that great at it. Then, when Tiffany told her about how empowering giving fellatio was, Issa tried it on Daniel, only for him to ejaculate on her face and totally piss her off.
First, doing anything sexually with the objective of "overtaking someone" is probably not the best idea. On the sexual tip, do things because 1) you enjoy it and 2) you want to please your partner; not manipulate them. And second, while I would be lying to you if I said that all oral sex is the same (some folks really are better at it than others), what I will say is if you're with a partner who is truly worthy of you, it's not a "performance pageant" or competition of some sort. In other words, he's not looking at the top of your head and imagining a scorecard. He's simply enjoying being with you. If you're willing to check your fears and your ego (not one or the other—both) at the door, he will be willing to share with you what works for him. Also, if he's a really great lover, he will want you to do the same when it comes to pleasuring you too.
Is Giving Fellatio a Deal-Breaker for You?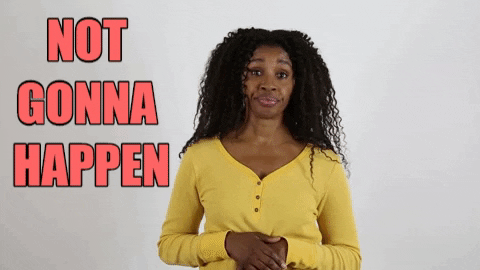 Now if after all of what I just said, you're still like, "Yeah girl, I'll pass", then this is what I've got to say on that—be upfront with your partner. The reason why is because, while oral sex may not be that big of a deal to you, it might be for him. By the way, that doesn't make him a bad person. Not in the least. Matter of fact, I've said in more than a few interviews, that if I fall in love with a man and he is not completely enthralled with oral sex, he's someone I am going to have to take a pass on, on the marriage tip. I take the marriage covenant seriously, so I'm not signing up to spend the rest of my life with someone who isn't all-the-way-dirty-down on both the giving and receiving end of head. Are y'all kidding me?
Men have the right to feel the same way. So, if you are someone who doesn't like to give fellatio and/or receive cunnilingus, once the two of you enter the sexual part of your relationship, it is definitely something that you need to put on the table. If what you're thinking is, "Why? It shouldn't be that big of a deal" then the checkmate I have for you is, if it isn't a big deal, why are you hiding it?
I am all about the right couples being a great complement for one another. So, look at it this way—if he really is your "the one", then he will Kanye shrug at your reservations and all will be fine. But if he's honest that it's something that he can't go without (whether it's giving or receiving), don't penalize him for that. Sexual satisfaction is a very real and justifiable priority in a relationship. It's always best to wait for the one who will fulfill you, as you fulfill him, fully, in this area.
Always Remember That Great Sex Comes with Some Compromise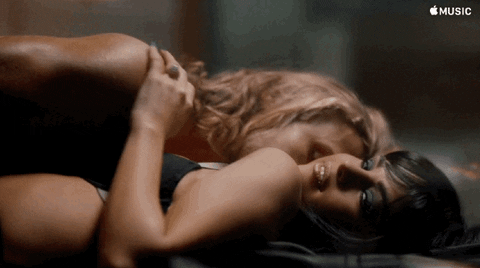 Compromise. It's what makes relationships go 'round. That said, if you're someone who basically hurls at the mere thought of giving or receiving oral sex, it would be totally irresponsible of me if I didn't advise that you absolutely not push yourself past your comfort zone. Sex, of any kind, should never feel violating. Yet if fellatio or cunnilingus are simply no more or less than not your favorite things to do—like maybe you've got a sexual position that you prefer over another—consider "being down" more often, simply because your partner wants to be pleased and please. Also, keep in mind that oral sex tends to have levels. What I mean by that is things like how long you do it and up to what point you do it can both take some of the "edge" off.
Bottom line, sometimes focusing more on simply being close to your partner can take some of the "eww" out of acts like oral sex. You won't know unless you try. So…why not try it?
Join our xoTribe, an exclusive community dedicated to YOU and your stories and all things xoNecole. Be a part of a growing community of women from all over the world who come together to uplift, inspire, and inform each other on all things related to the glow up.
Featured image by Giphy
Keep reading...
Show less