First debuted in 1964, the swimsuit issue of Sports Illustrated quickly became a highly coveted honor in the modeling industry, but it wasn't until more than 30 years later that its cover featured a woman of color. No one anticipated that this 23-year-old woman from Inglewood, California would one day grow up to become a world-renowned supermodel, actress, and entrepreneur, who would retire from the modeling world at 32 out of fear of aging out of the industry; but now, in an unexpected plot twist, she's back from retirement with a new name, ready to shake up the industry once again.
Tyra Banks changed the modeling game when she became the first Black woman to be featured on the cover of Sports Illustrated Swimsuit Issue in 1997, and recently the 45-year-old mother of one returned to the throne to reclaim her crown as the oldest woman to ever be featured on the magazine's cover.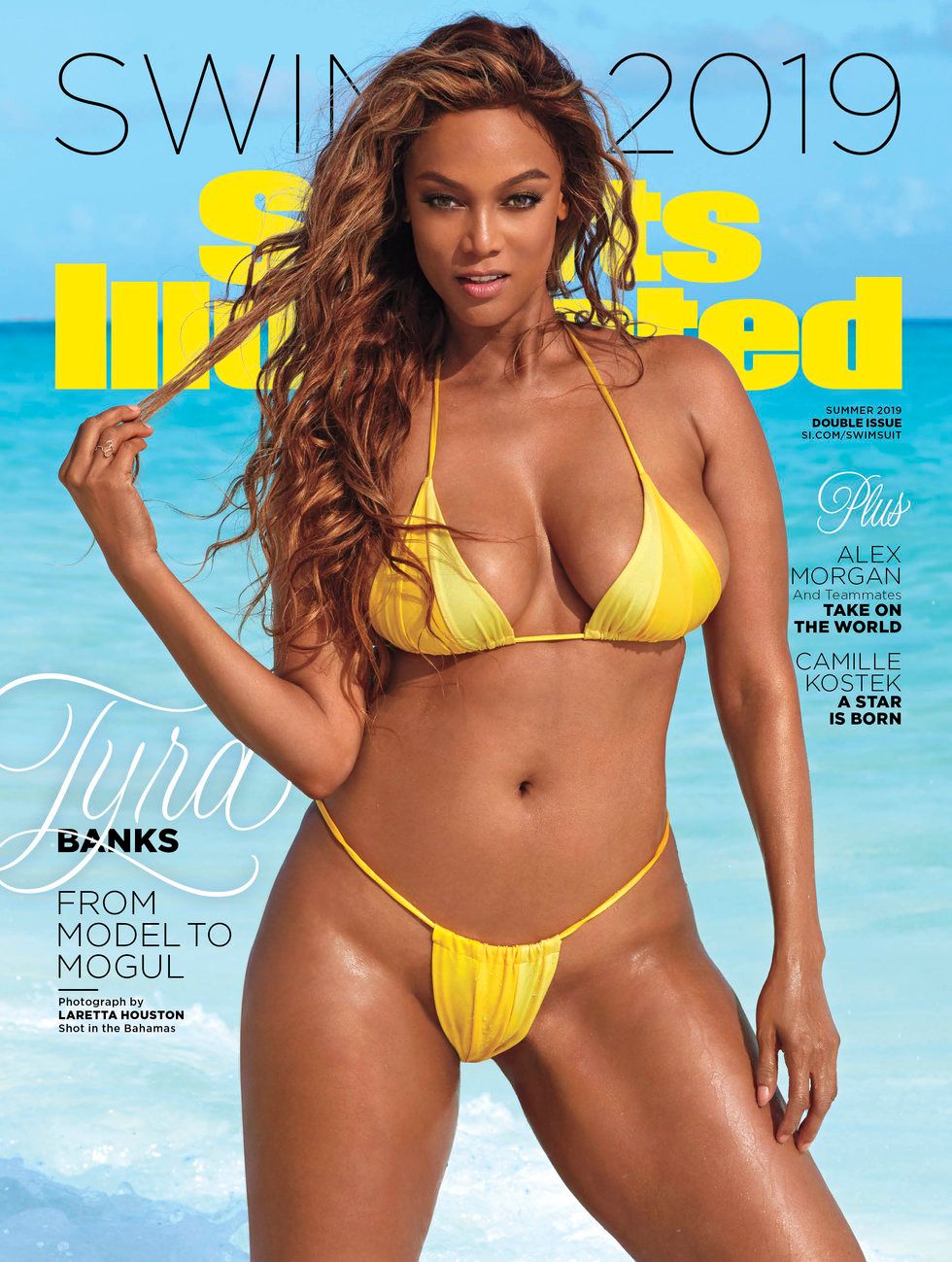 Laretta Houston/Sports Illustrated
The snack-worthy photos that have the internet in shambles were captured in the Bahamas by Black female photographer, Laretta Houston, who was chosen specifically by Tyra. In her interview with ET Online, she opened up about how posing for the publication for the first time nearly 22 years ago completely changed the trajectory of her career:
"I was a very known model, high fashion model, but I got on the cover of SI and it made me a household name, almost like in 24 hours, back when the whole world was looking at the same thing all at once."
After jumping headfirst into the modeling industry at only 15, Tyra spent much of her career in the public eye; and if you know the public, you know that they love to scrutinize and police a woman's body. For years, Tyra doubted that she would ever even become successful in the modeling industry and constantly struggled with maintaining a positive self-image.
After becoming a mother to a one-year-old via surrogacy and taking the time to put her life into perspective, she's learned to find the beauty in her happy weight. Although the supermodel had full intentions on pulling a Beyonce and losing 20 pounds before her sexy shoot in the Bahamas, she ultimately said f*k it:
"I started it and I was so focused, and then I went to my mom's house and there were some Cheetos, and I just had the Cheetos, and that was like the gateway in, and I was like, 'After Cheetos, you have to have an ice cream party! My mom, my son and I went to the grocery store," she continues. We had strawberry, coffee ice cream, we had green tea ice cream, chocolate, vanilla -- a spread! Three spoons and just kinda played musical ice cream, and that was even deeper. From there, I just lost my mind."
The mogul shared that although she does know how to manage the weight she's gained, she's old enough to know better and too happy to care. I know I'm not the only one who remembers when she told critics to kiss her fat ass and became an American hero, and Tyra explained that it's important that she keep that same energy. She continued:

"I'm constantly telling people [there is] beauty in all sizes, beauty at all ages. But here I am trying to look like my old self? So, I think subconsciously it was kinda like, 'Nah. Let's show 'em what's up now.'"
I'm going to keep it real with you cause I love you, sis. You will never (ever) look the same way you did when you were 18, but you can damn sure be fine as hell at whatever age you are right now. When we were little, birthdays were exciting and fun milestones we can't wait to celebrate, but as adults, it just feels like we're edging closer and closer to the nursing home, but this bad ass supermodel proves that just isn't true. Tyra, Ms. Banks if you're nasty, had this to say about her new identity and finding the beauty in growing older:
"This is a new me, this is an older me, this is a thicker me, this is a wiser me, this is a thankful me. It's all shades, it's all ages, it's all sizes, it's all sexual orientations, it is everything — and I'm putting that on my back with that X."
Tyra said although she knows she'll face some backlash after her recent transition back into the modeling industry, still, no f*cks are given.

"The internet -- particularly social media -- is the most beautiful thing in the world, and the meanest thing in the world. So, I know there's gonna be people puttin' pictures next to each other going, 'Oh, she's thicker now, she's this, she's that, sit your old a** down...' I know that's gonna happen, but I didn't do this for them -- actually, I did do it for them. I did do it for them."
She pointed out that many times, the negativity of others is only a reflection of how they feel about themselves.
"Because the people who are saying that have negativity associated with themselves, with body, with age. The person that is telling somebody to 'sit your old a** down' is terrified of aging. So, actually, I did it for them!"
Keep your foot on their necks, sis! To read Tyra's full interview, click here. And check out her full SI spread here.
Featured image by Frazer Harrison / Staff for Getty Images.
Keep reading...
Show less
When I was eighteen years old, I became hyper-aware of my weight. Mainly because I wanted to be a "model." I spent so many years taking in the images of beauty the media threw at me that I didn't even realize how I affect I was by the thin frames of the white women that were imprinted on the glossy pages.
Next thing I knew, I was only eating once a day. Then food became the energy, and I gave up eating at all. Most days I felt like I was going to pass out and the hunger headaches were so painful I could barely function. In my mind, this was the only way to the career I wanted so badly. Since I wasn't losing the weight as fast as I wanted, I moved into taking diet pills. Then, I started throwing up after each meal I ate. The weight came off, but in my mind, I was still "fat" and could stand to lose more.
My eating disorder eventually got so bad, I flunked out of my sophomore year of college and had to move back home. My mom comes from an old school way of thinking, and she'd cook and sit and watch me eat every meal at the kitchen table, and wouldn't let me out of her sight until my food had digested. Now, this did help me put the weight back on, but it didn't get to the root of my issue.
What was triggering my need to be "skinny" at any cost?
As I got older, I realized that much of the time I became overwhelmed with needed to lose weight when I booked a job, needed to take new headshots, or just looked in the mirror after a hard day. I wanted to be perfect which we all know there is no such thing.
In my mid-twenties, I made a choice that I had to gain some control over the way I saw myself.
I threw out the scale. I stopped counting calories. I ate whatever I wanted whenever I wanted, and I asked people around me not to comment on my weight whether I was gaining or losing it. Any comment could send me into a downward spiral.
Fast forward to now, I have put on some pounds because I have been allowing myself the freedom to enjoy getting to know new places through eating. Y'all I love food, and I'm not ashamed to say it and enjoy it. But, the clothes that I've been able to wear the last ten years don't fit as well as they used to and initially, that made me want to lose weight to fit back into them. But, for what? To say that I can still wear my clothes from my freshman year of college? Am I afraid to hear the comments about my weight gain? Am I letting my jeans' size define me?
All of the above are true.
This week, I made a choice similar to that of throwing out the scale —to give up my size two and four jeans.
Now, I know some of you may be thinking, "This skinny bitch is upset she doesn't fit into a size 2 or 4 anymore?" The answer to that is no. I'm not upset, but I am just like any other woman in the world dealing with gaining weight. We all have, and this has been one long ingrained in me.
I took a trip to Zara on Saturday morning (Pro TIp: Get there around 11 am to avoid the fitting room line.) and picked up two of every 100% cotton jeans in the store in a 38 and 40, which are a size 6 and 8 in US sizes.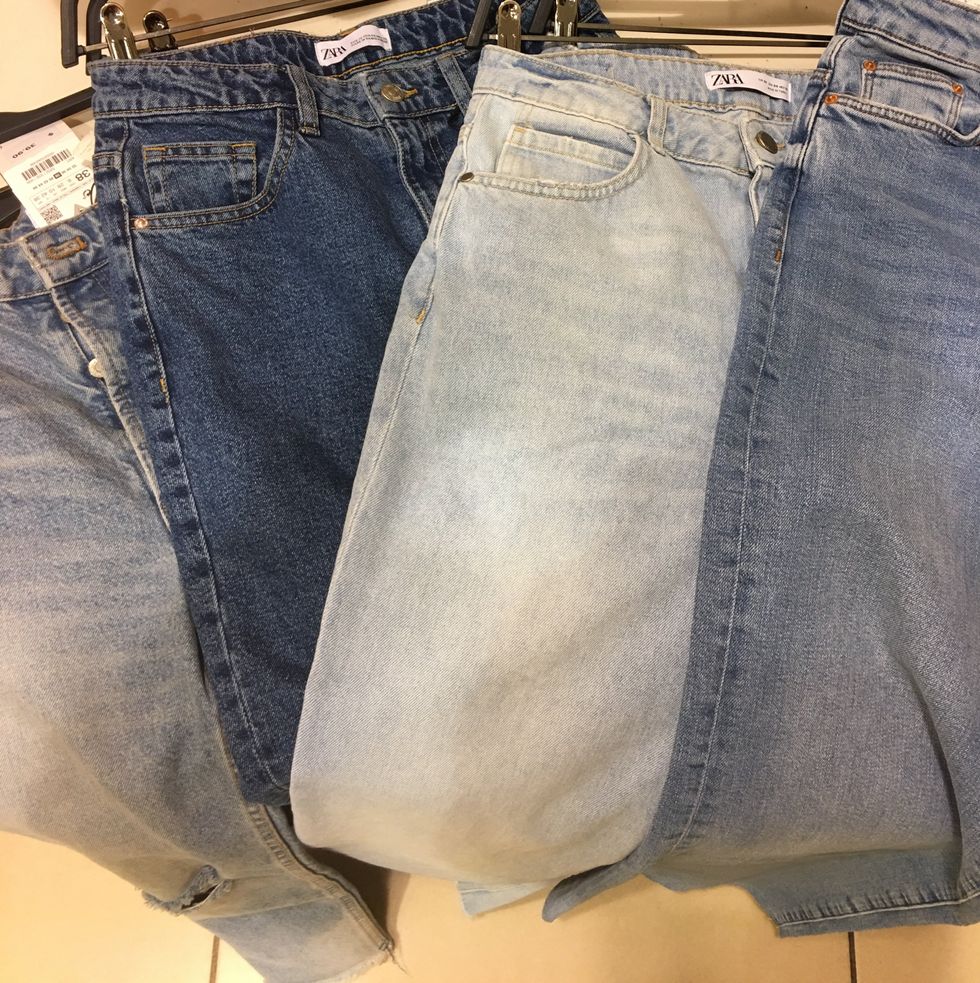 Writer Bianca Lambert / xoNecole
In some of their cuts I was a size 6 and some I was an 8. In the classic mom jeans, which I love, I was an 8. Now, a few years ago, seeing that number imprinted on the tag of denim would have sent me into a dieting and workout frenzy. But, this time was different. I looked in the mirror and felt good — not to mention the jeans made me feel like a total babe.
The next day, I went to update my headshots and rocked my size 8 jeans with confidence.
As we age, weight gain, cellulite, saggy boobs, stretch marks, etc. are normal, and we don't have to live up to these unrealistic ideals that women are supposed to be perfect with perfect bodies. That just ain't real no matter what the IG models try to tell you.
Will I still be working out and eating well? Yes, but the goal isn't weight loss. The goal is to keep my mind and body feeling its best, no matter what size denim I'm wearing.
Want more stories like this? Sign up for our weekly newsletter here to receive our latest articles and news straight to your inbox.
Featured image by Getty Images
Keep reading...
Show less
Women who have big boobs like to go swimming too! And sometimes it can be so hard to find a bathing suit that doesn't just fit but is actually flattering. No offense, we're just not trying to look like somebody's granny.
We know we have a lot to work with, but that doesn't mean that we can't have cute things to rock on the beach or sitting pretty poolside.
Lucky for us, companies and fashion brands have finally caught up and blessed us with swimsuits that are everything most of us big-breasted women could want. Thank God because swimsuit season is almost here. Take a look at some of our favorite picks below:
Madame High Waist Underwire Bikini x Swimsuits For All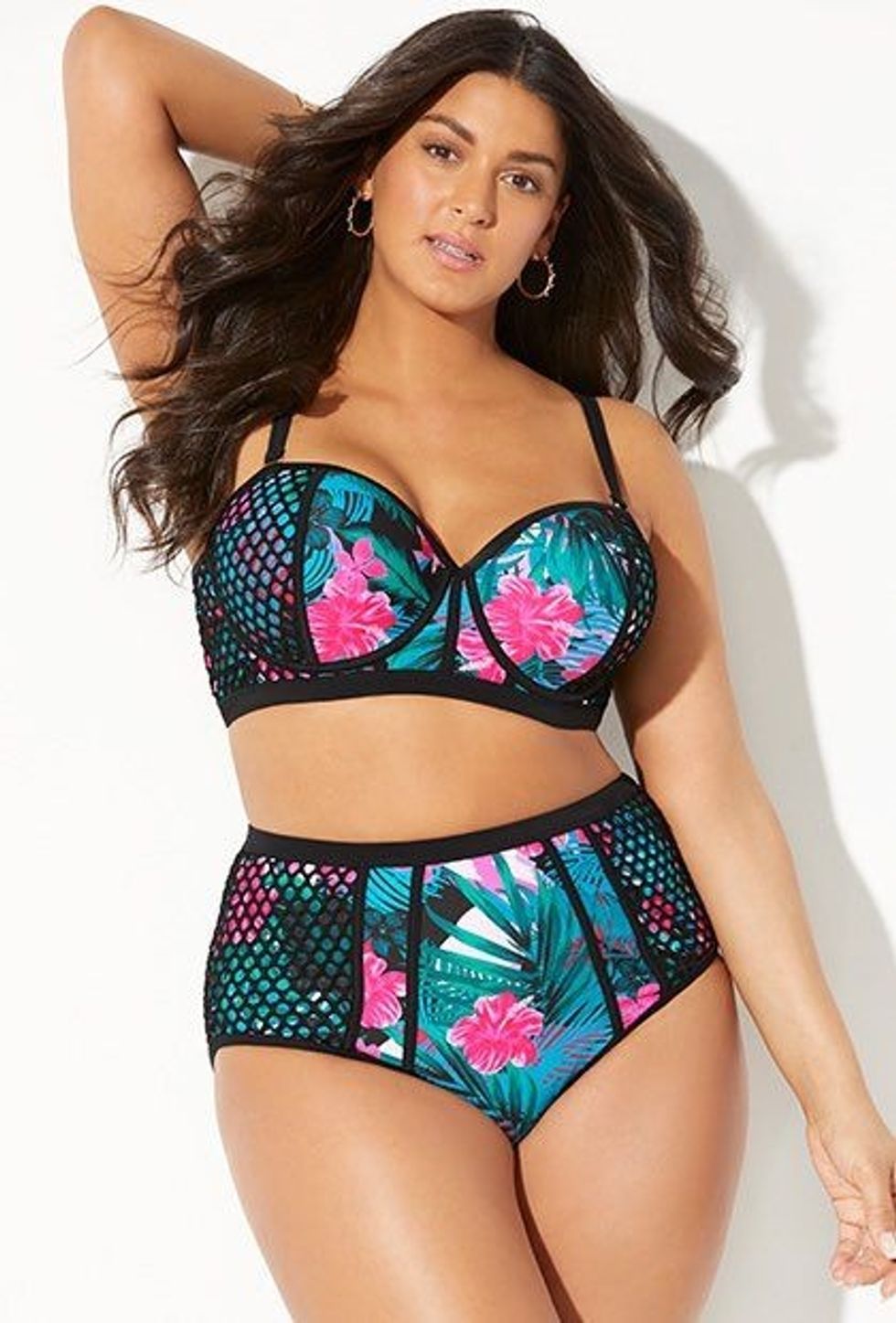 swimsuitsforall.com
Not only are the patterns super cute, but the discrete underwire provides even more support during your fun in the sun.
Paradise Palm Flounce Bikini x Elomi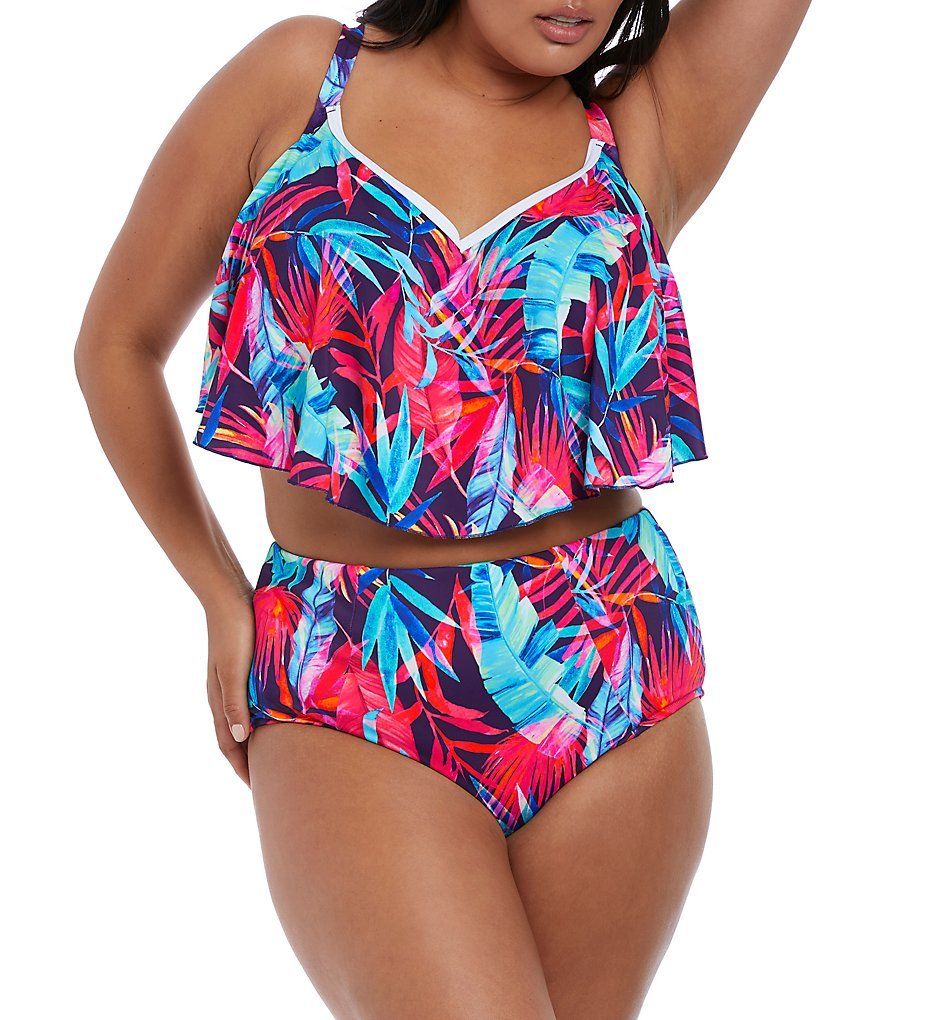 Elomi
Can you see your frolicking on the beach in this one? It's everything!
The Amalfi Ribbed x Andie Swim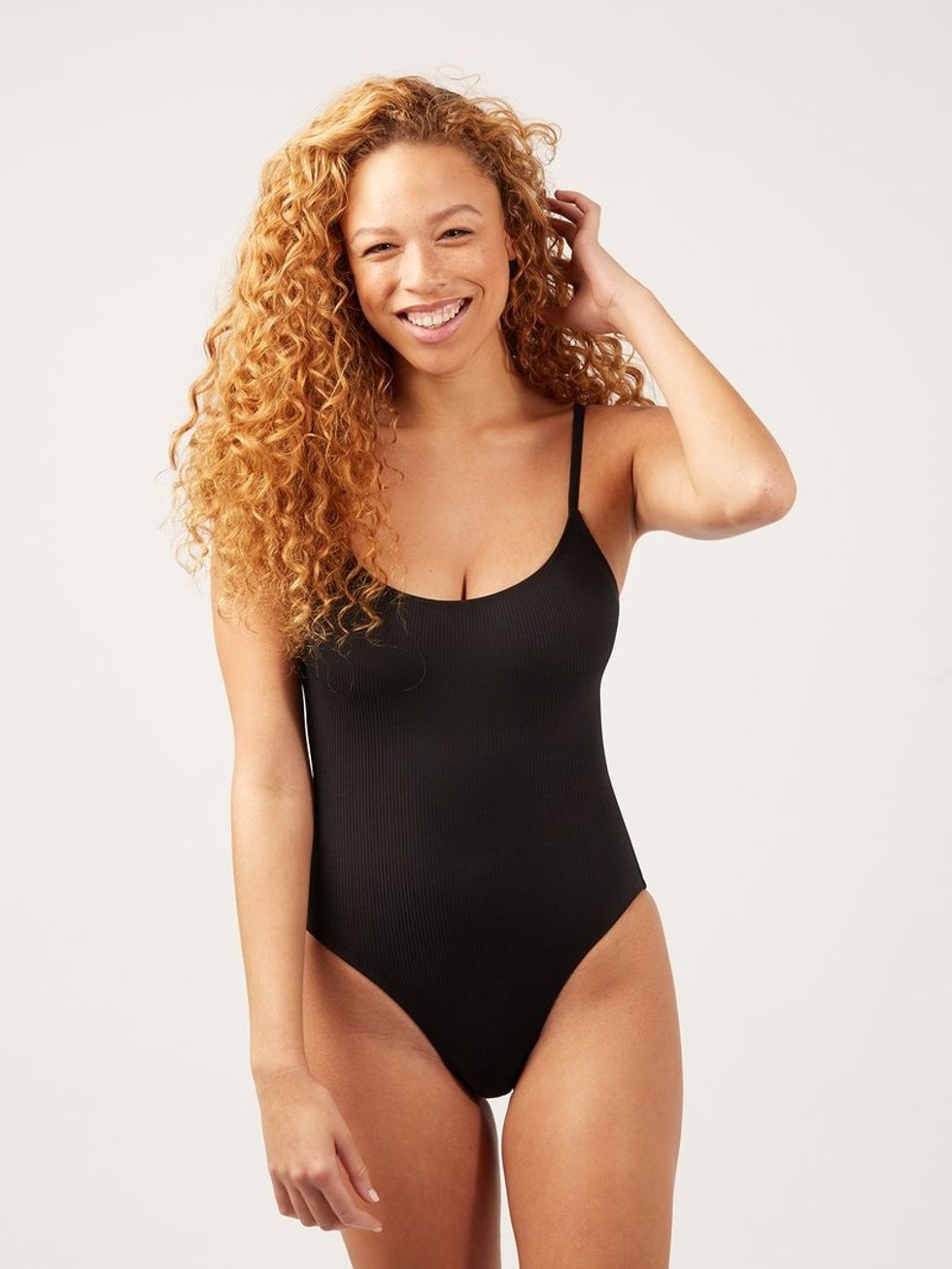 Andie Swim
The spandex and nylon combo will keep you comfortable and make sure your boobs stay intact. Just get it a size up!
Honey Graphic One-Piece x Forever 21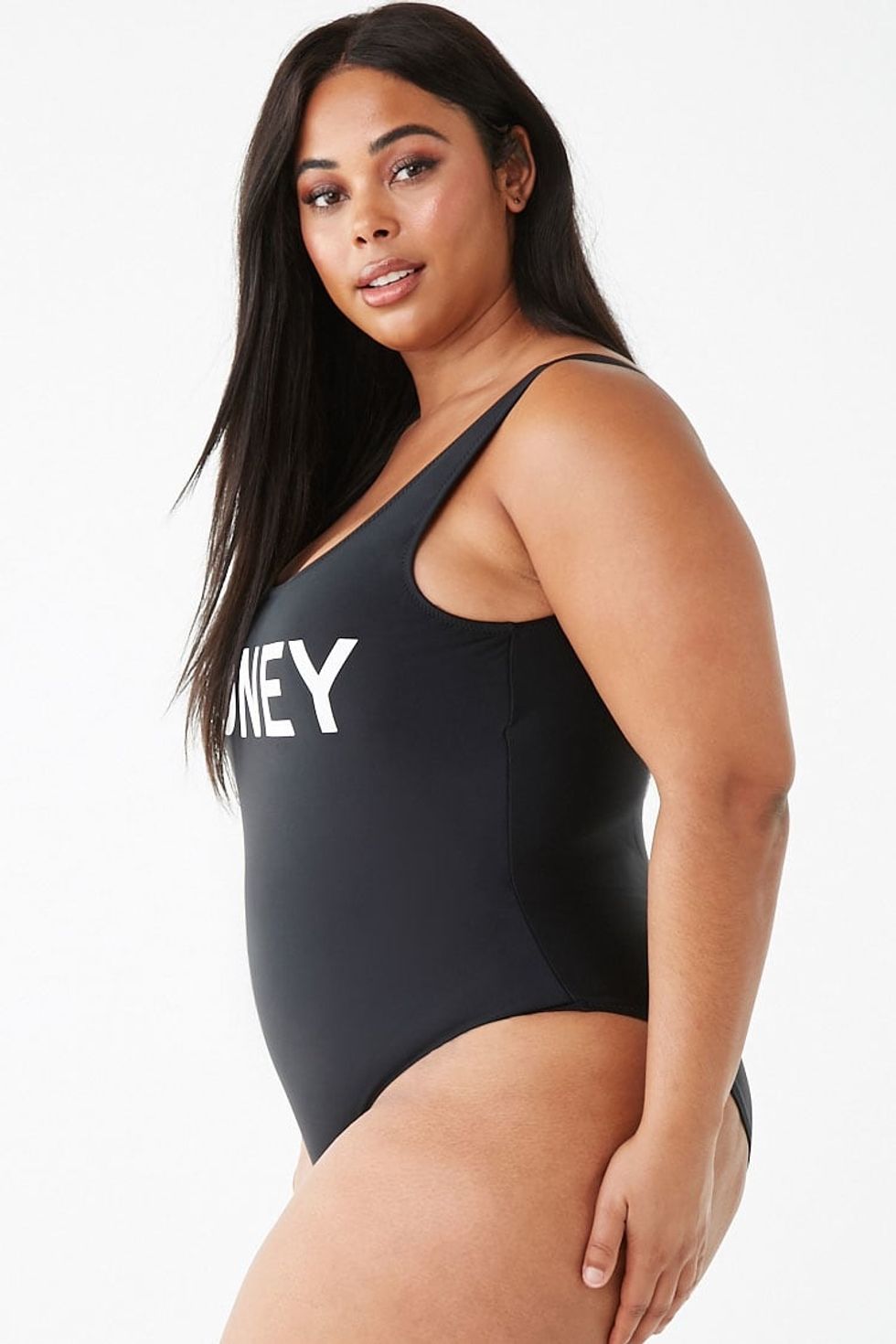 www.forever21.com
Forever 21 continues to nail it with its plus-size line, and this adorable Honey swimsuit is no different.
Curve, High Leg, High waist Bikini x ASOS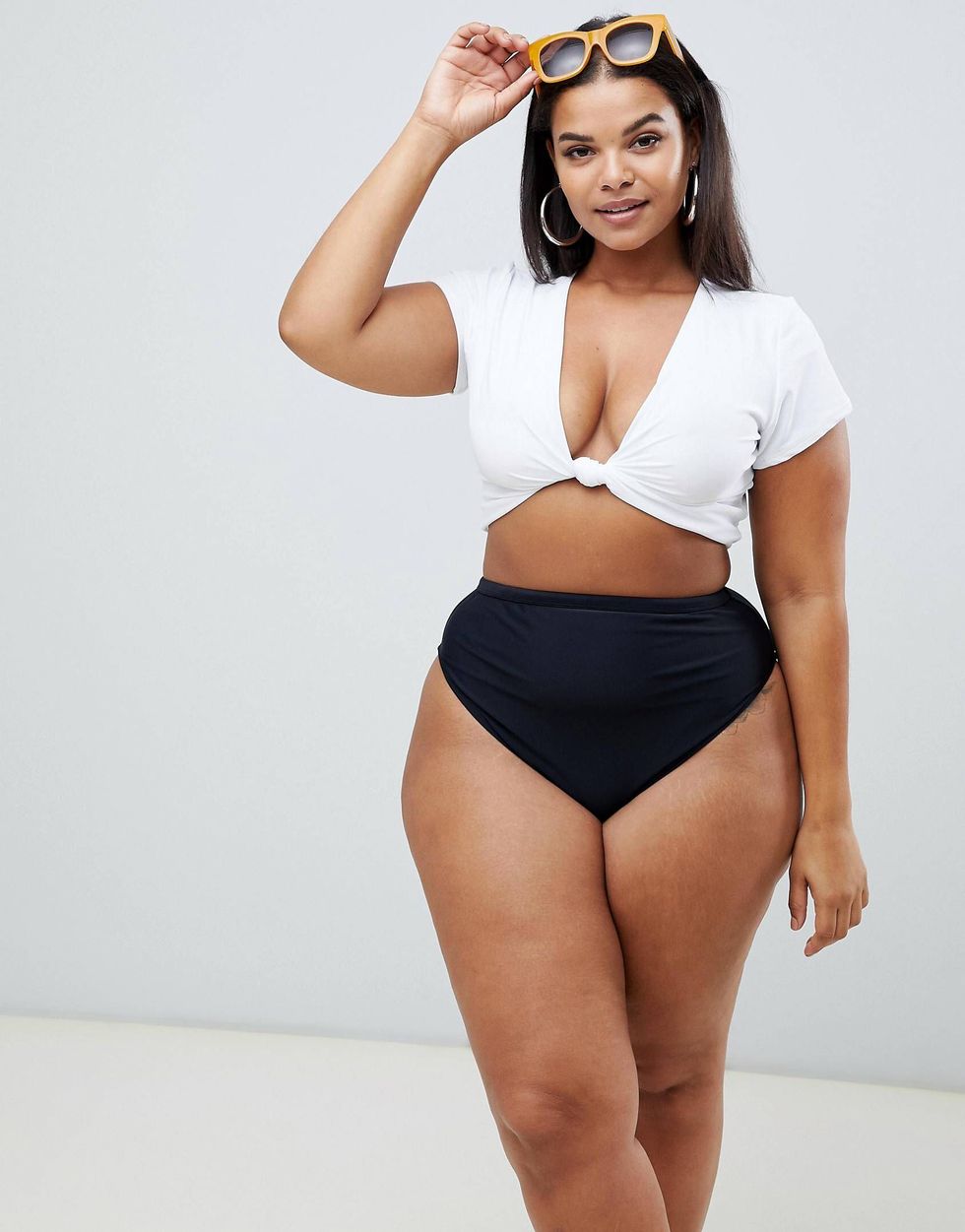 ASOS
This classic black and white piece goes beyond the traditional two-piece with a crop-top inspired top. And it's perfect for women with fuller breasts!
Beachfront V-Neck one Piece Swimsuit x Swimsuits For All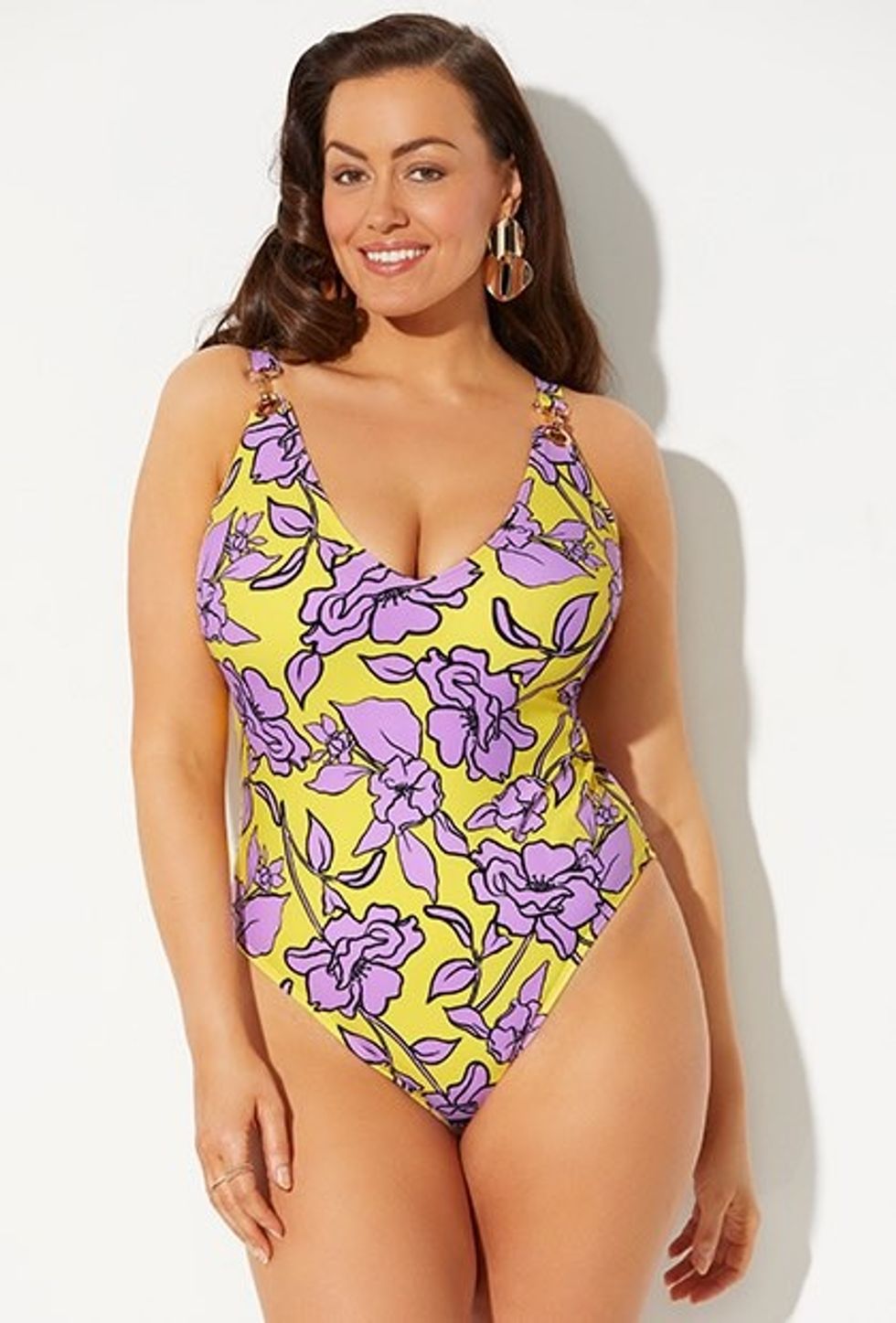 swimsuitsforall.com
Who said women with big boobs can't rock patterns? This purple floral suit with a yellow background is giving all the feels.
Bow-Tie One Shoulder One Piece x Target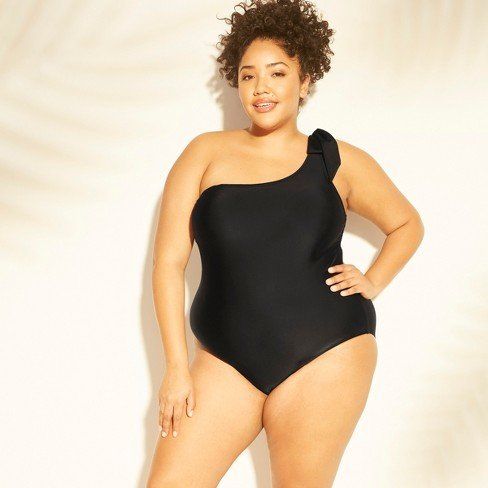 target.com
An all-black swimsuit will never steer you wrong. And the bow-tie shoulder strap adds an extra dose of sexy.
Wolf & Whistle Contrast Swimsuit x ASOS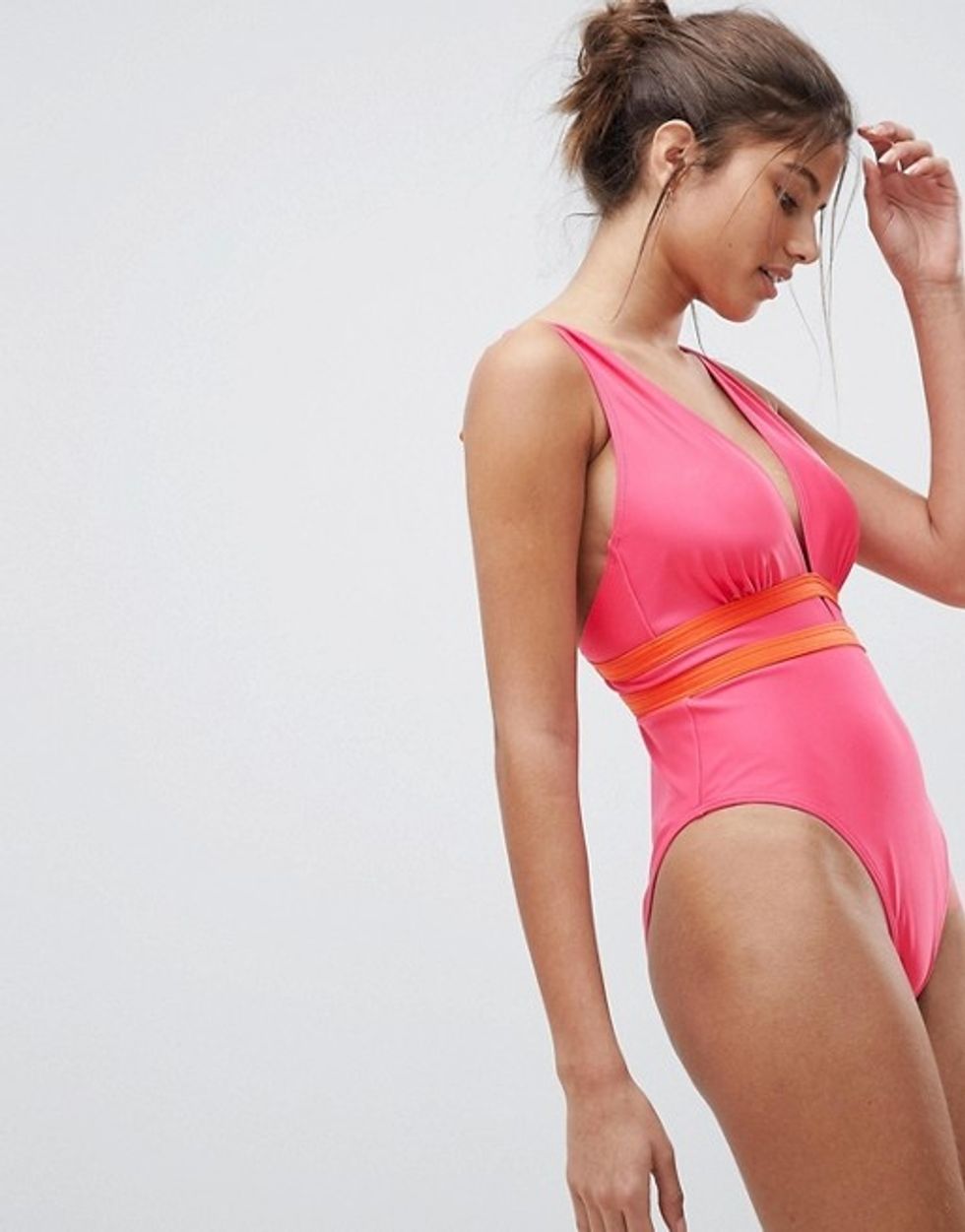 ASOS
You don't have to worry about your breasts falling out of this plunging neckline swimsuit.
Miraclesuit x Macy's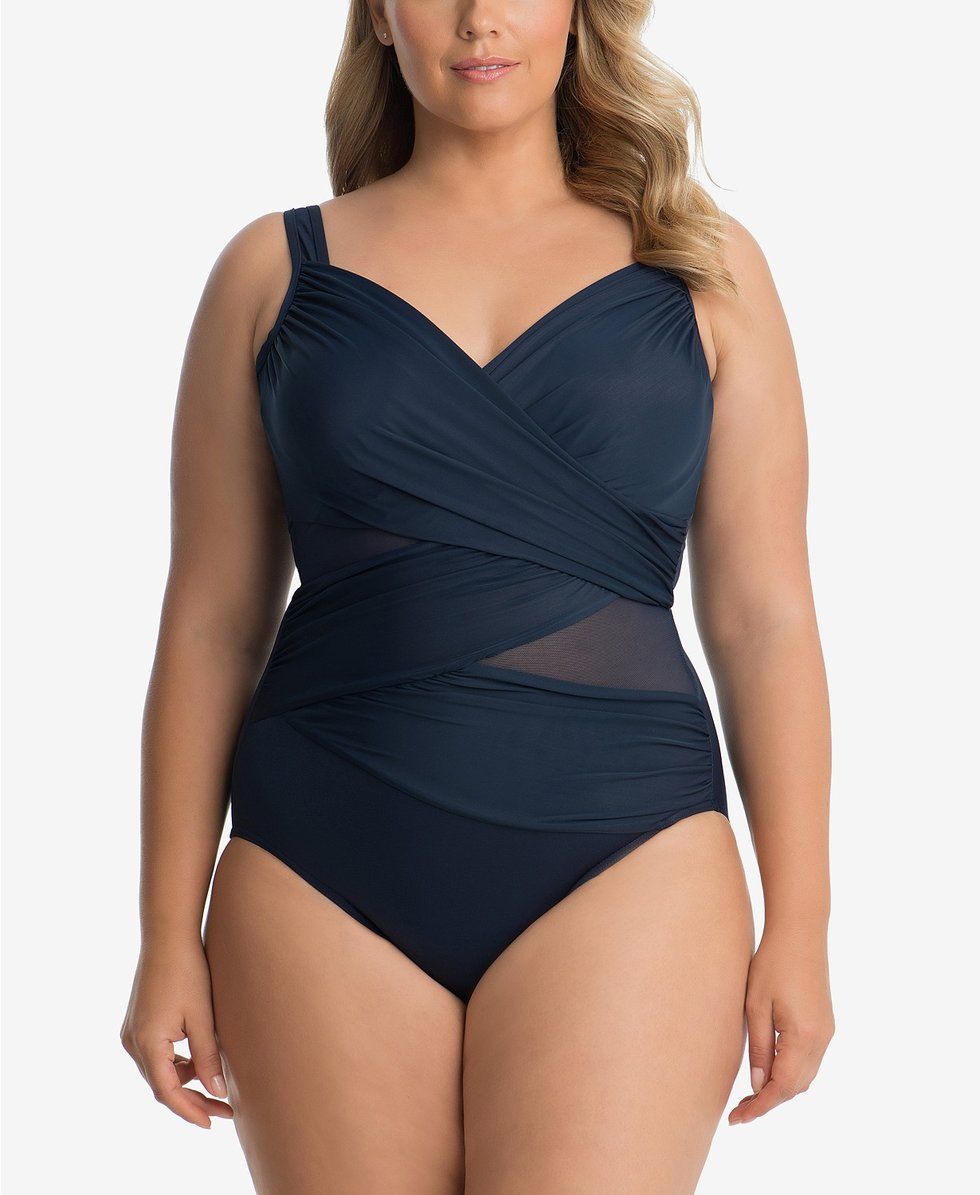 Macy's
This is proof you don't have to sacrifice a cute swimsuit for your boobs to stay in place!
Secret-Slim Graphic Swimsuit x Old Navy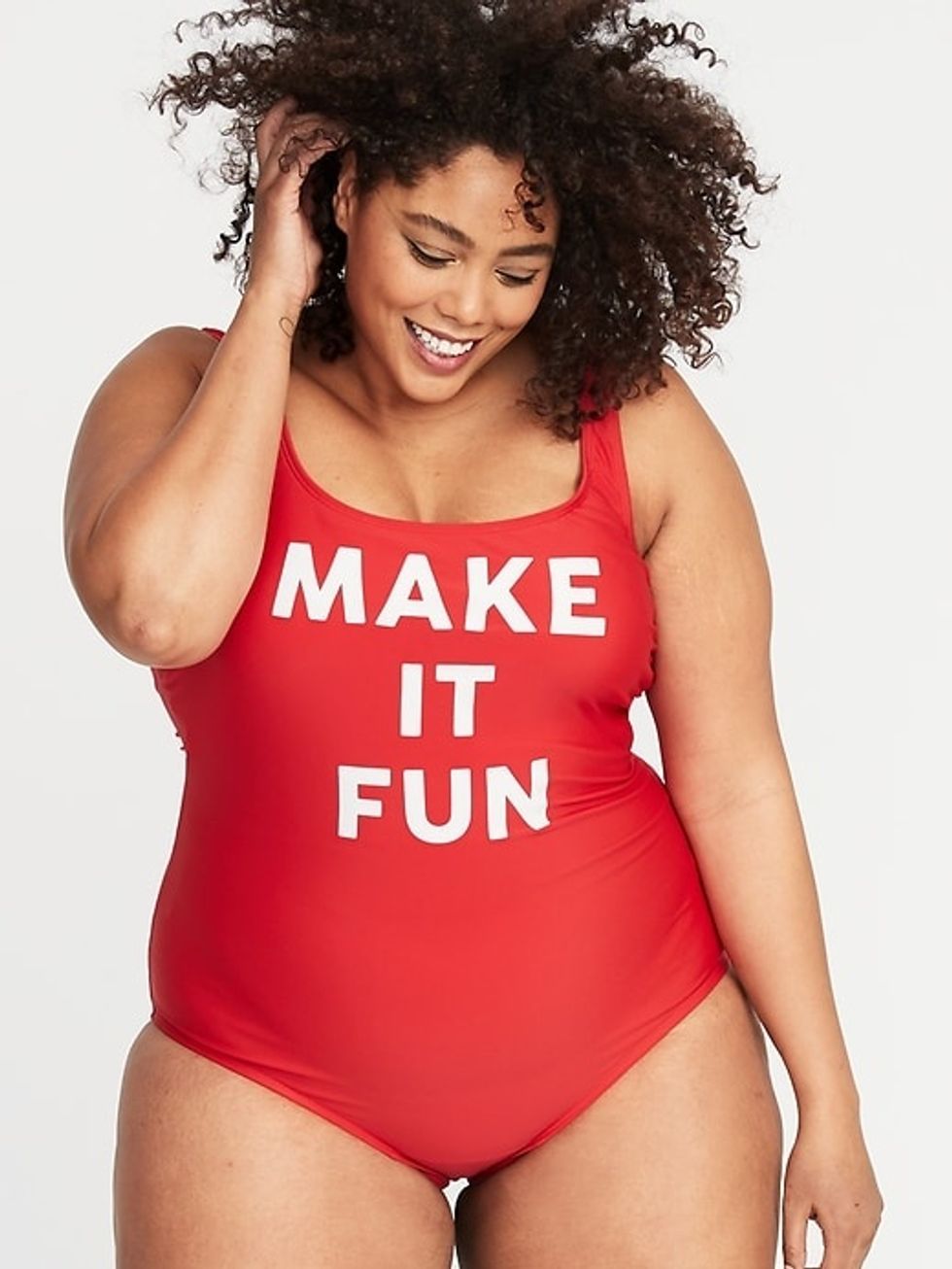 oldnavy.gap.com
Bring good times to the beach in this super cute "Make It Fun" one-piece.
The Voyager x Summer Salt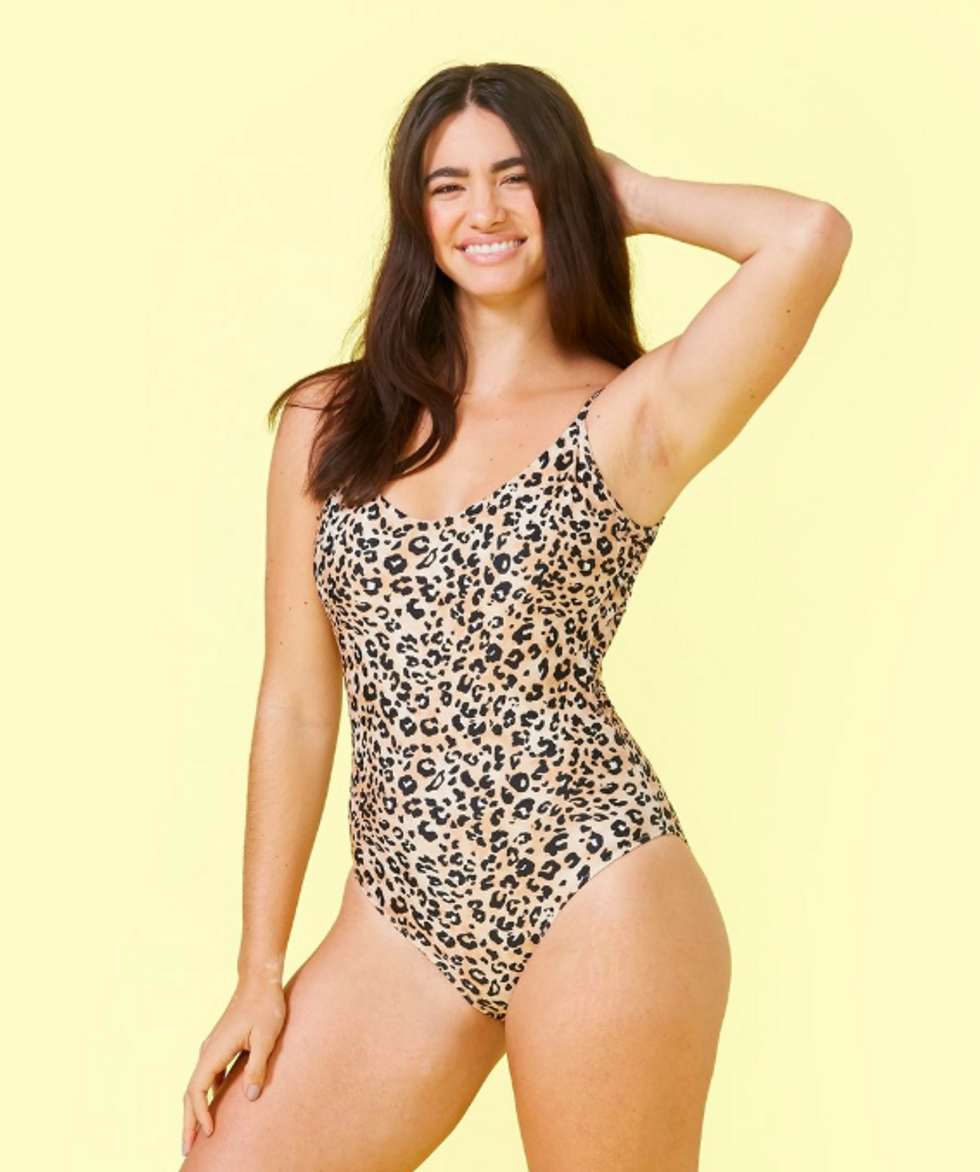 Summer Salt
Turn heads for the right reasons with this adorable leopard-print suit.
Featured image by Getty Images.
Keep reading...
Show less
Most girls love custom dresses for their special occasions but I love custom lingerie for my day-to-day.
Now don't get things misconstrued, there is nothing like that custom freakum dress to celebrate a special occasion but there is something special about custom lingerie that uplifts my spirits. I know what you might be thinking, I'm single, What's the purpose? or My partner takes me as I am, but you too can switch the narrative and wear lingerie for yourself and no one else. The most essential perk in investing in custom lingerie is that it is made especially for your body and no one else's.
I'll never forget trying on my first custom lingerie set designed and sewn by Sarah Dawson (Sada by Sarah Designs) and feeling like a new woman. My lingerie immediately put a smile on my face and had me feeling myself in all kinds of ways. I set my Beyoncé playlist and danced the night away. I even wore my lingerie set to Curl Fest and had the time of my life. All of my high spirits and colorfulness were intensified making custom lingerie my latest obsession. The feeling was exhilarating.
Check out the list below for 5 reasons why you should get yourself some custom lingerie. Black-owned and fully loaded!
1

.

The Design Experience
Photography by @photogduck
Together, you and the designer determine the design and cuts that will be best for you based on your measurements. This is your opportunity to get creative and collaborate with the designer to make a lingerie piece that best suits you and/or your partner's desires. Whether it's a simple bra and panty set or an exotic bodysuit; you have all of the options beyond your imagine.

2

.

Lingerie Meant To Fit Your Body
Sada by Sarah specifically makes lingerie based on your measurements. All you have to do is follow the measurement directions and send in your design style of choice. The goal of custom lingerie is to give clients the awareness of their power; you can wear the piece to make yourself feel good in your own private space, or wear it to engage with your spouse. Set the mood in the right way.
3

.

One Of A Kind Pieces That Are Timelessly Sexy
Custom lingerie pieces are timelessly sexy. You can keep them forever and wear them as many times as you want and they will never look dated. Let's face it. You see the work. There is literally nothing like it.
4

.

The Versatility To Wear It Whenever, Wherever
Waist Cincher and Bra by @sadabysarah

Dress by @pretttylittlething
The Sada by Sarah designs are versatile. You have the option of wearing her pieces to either set the mood and wear as outerwear. Especially if you decide to purchase a fabulous waist cincher to accentuate your curves or add flair to your dress. Wear it out and mix it with your everyday clothing. The power is yours.

5

.

You Can Enhance The Parts Of Your Body You Love Most
Whether skinny, curvy, tall, or short, custom lingerie is made to not only fit you but to enhance the parts of your body that you love. Or to conceal the parts you don't like as much. Let's be real, we love our bodies but there can be parts that we don't like as much. We got options!
There are women that spend their entire lives without taking the time to get comfortable with their sexuality. Now is the time to get acquainted with your definition of beauty internally and externally. Designing lingerie for yourself, whether it's basic textures, sexy, or colorful, could be your first step. Wearing Sada by Sarah allows you to create a piece that suits your personality and gives you the freedom to accentuate your favorite body parts. Get out that measuring tape and get ready to explore a new and divine you.
Give yourself time to embrace your sexuality and do it for you sis. Okay!

All lingerie looks by Sada By Sarah. Click here to visit their website for more. Featured image by Sequoyah Daniel.
Keep reading...
Show less