Ever since Chlöe and her sister Halle Bailey have been creating their own identities outside of their group Chloe x Halle, Chlöe has faced Beyoncé comparisons. Modeling her performance style after Beyoncé is no surprise since both Chlöe and Halle are signed to the "Formation" artist's label Parkwood Entertainment and so there's no doubt Queen Bey has influenced them in more ways than one.
When the 23-year-old singer/ actress stopped by The Breakfast Club, she was asked about the comparisons and what Bey thinks about it.
"She says she's really proud of me. That's not something we specifically talk about but I just love her and I'm happy she sees this light inside of me, and my sister as well."
As far as how Chlöe feels about the comparisons to Beyoncé, she says:
"I'm grateful. That's the biggest compliment anyone could possibly give me. I have so much more work to do to even get there—to even get an ounce of where she is."
The "Have Mercy" singer has been promoting her new solo single for a couple of months now, but after her performance on The Tonight Show with Jimmy Fallon last week, Chlöe was hit with backlash after people accused her of "doing too much" on stage.
doing "too much" is my specialty 😋🥰

— Chlöe (@ChloeBailey) October 13, 2021
However, the Grown-ish star clapped back at the criticism on Twitter after she tweeted "doing "too much" is my speciality 😋🥰."
As the singer continues on her journey to solo stardom, a similar path that Beyoncé was on, who better to lean on when faced with such adversity?
"I love her so much and we talk about any and everything. I'm just so grateful to have her stamp of approval and she always gives me words of encouragement—you have no idea how much that means to me. It's like, 'OK, that's pretty dope.' Because she's been there, she's done that, and to know the advice that she's giving me is exactly from the place I've been is pretty cool and inspiring," Chlöe told The Breakfast Club.
Featured image by Cindy Ord/Getty Images for SiriusXM
Keep reading...
Show less
When Chlöe Bailey first stepped onto the scene with her sister Halle as the Beyonce-backed duo Chloe x Halle, they commanded everyone's attention with their powerful yet angelic voices. Now, they are all grown up and working on separate endeavors, but that doesn't mean they are growing apart.
Rumors of the sisters splitting up first began when they created separate social media accounts this past January after sharing one together for 9 years. Then, it was announced that Halle Bailey would star as Ariel in the live-action remake The Little Mermaid (slated for a 2023 release) and more recently, Chlöe released her bass heavy solo single "Have Mercy" with a jaw-dropping video attached.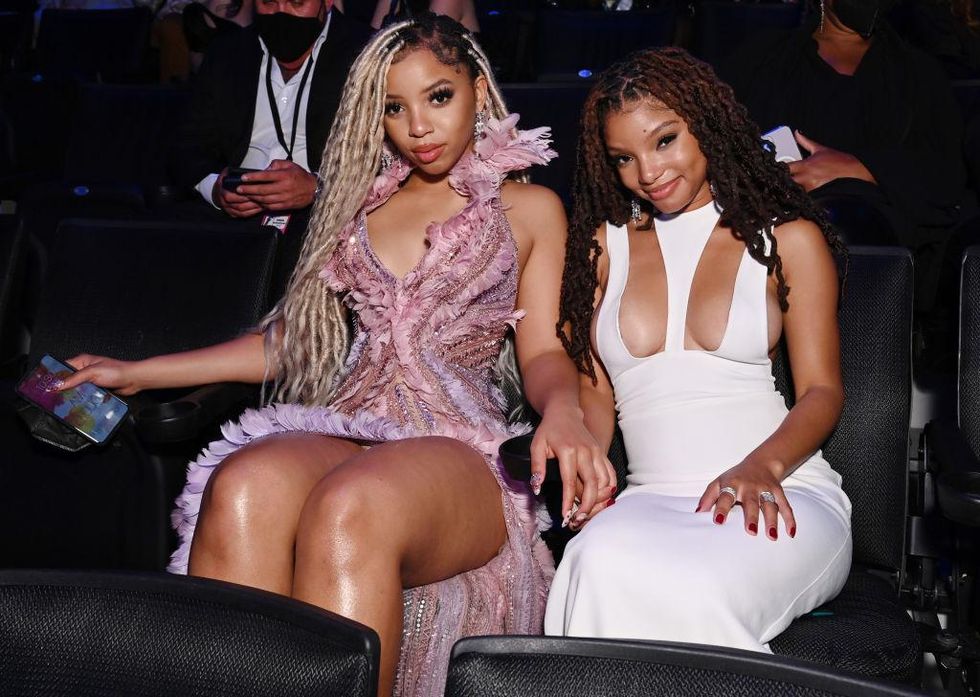 Bryan Bedder/MTV VMAs 2021/Getty Images for MTV/ViacomCBS
The 23-year-old also made her solo debut at the 2021 VMAs performing the hit single and Halle was also there presenting her big sister to the masses.
During her recent appearance on The Real, the Grown-ish star opened up about her solo journey calling it "exciting" but "scary" and how Halle is by her side.
"...even though I have been promoting this new song, my sister has been there with me every step of the way. I always see her every day like even at the VMAs we were like this there (crossing her fingers). So, it doesn't really feel like I'm alone and even right before the performance, Halle introduced me and across the stage I was able to just look out at her and I was almost in tears before I even started singing. And I was like OK, even though I feel alone sometimes, I'm never alone 'cause she's right there and I hope she feels the same with me."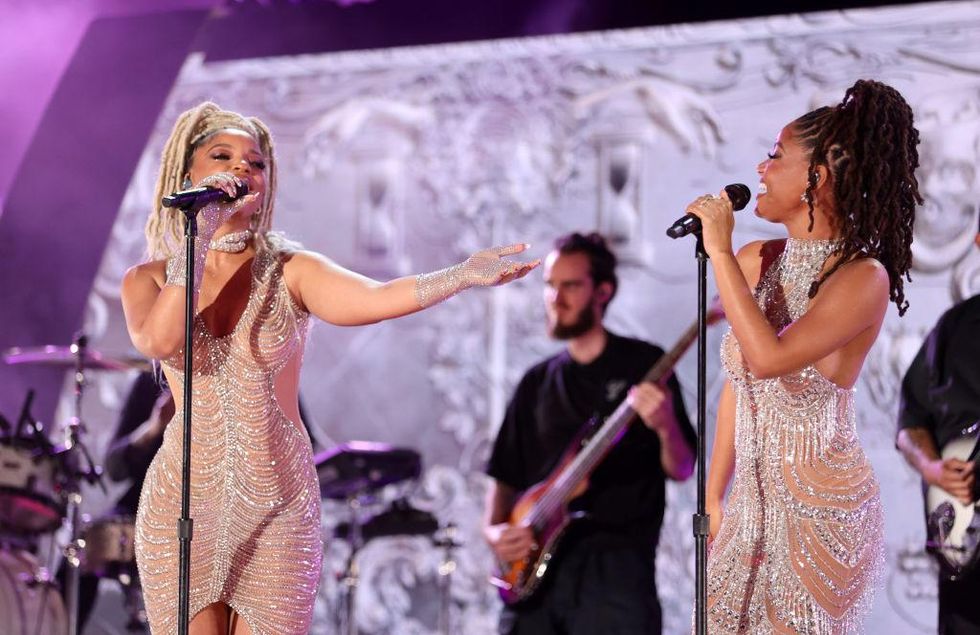 Rich Fury/Getty Images for Global Citizen
Following Chlöe's epic performance, the sisters linked back up to perform at the Global Citizen concert reminding their Chloe x Halle fans that their bond can never be broken.
"I think we both needed that performance that night. I can't explain it. Right before we went on, Stevie Wonder was performing. We were backstage, we're like, 'oh my goodness.' We felt the love and the high energy and we were both so nervous because you know in this pandemic, we haven't really been out in front of an audience performing together like that so being out there, it just felt so freeing. I got to look over to my left and see my beautiful sister and her voice is out of this world and being able to harmonize like that together, it was just... it was the best feeling."
The dynamic duo continues to wow fans whether they are singing together or apart and they also have each other's backs, no matter what. Chloe and Halle prove time and time again what it means to be a sister and how to grow up while growing together.
Featured image by Jason Mendez/Getty Images
Keep reading...
Show less
It's been a little over two weeks since Chloe Bailey, aka Chlöe, snatched our wigs and released her debut solo single, "Have Mercy." From the music and visuals, to the way she and her sister Halle support each other, we can't get enough. And this week, our good sis taught us a couple more things when she appeared on Vogue's Beauty Secrets . There, she gave us all the details to what she calls "Glowy Chlöe," her on-the-go everyday skincare and makeup look.
In the video, she detailed her routine, products, and beauty secrets. Now, we know that sometimes watching makeup tutorials can be kind of overwhelming, so we've recapped it all so you can give it a try.
Let's start with skincare.
Although her face was already clean she used Neutrogena's Skin Balancing Micellar Cleansing Cloths to remove any unseen residue.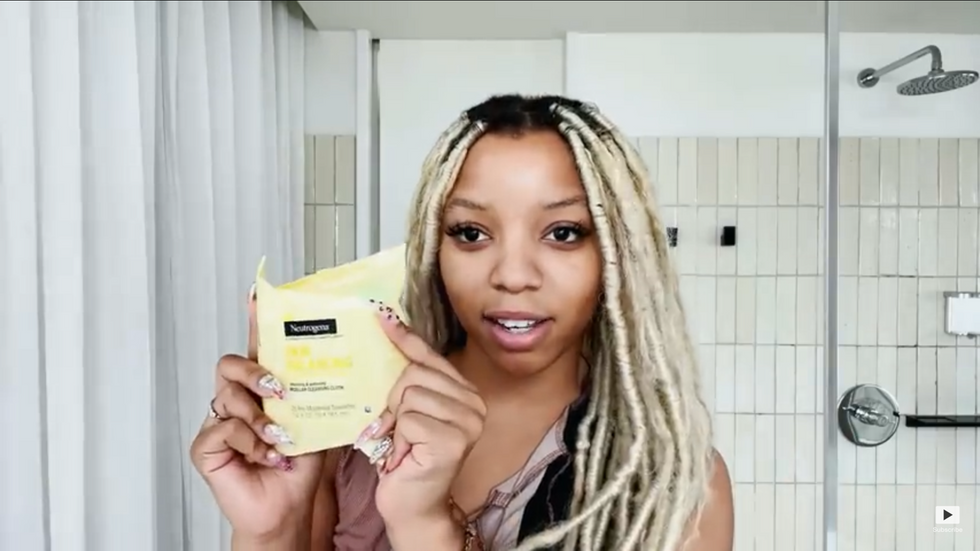 YouTube/Vogue
Then, she massaged her face with a roller and Neutrogena Hydro Boost Hydrating Serum to help her "baby cheeks" transform into the "snatched" look she desires. She gives Vogue an insider tip, saying:
"You always wanna go up [regarding the direction of the face roller]. Because we don't want sagging skin ladies."
Also, when she has a bit of extra time or she is getting glammed up, Chlöe takes a few moments to hold ice cubes under her eyes. This can help reduce puffiness and swelling. With a smile, she says:
"It's like a little subtle difference but I notice it and I feel so much better and confident."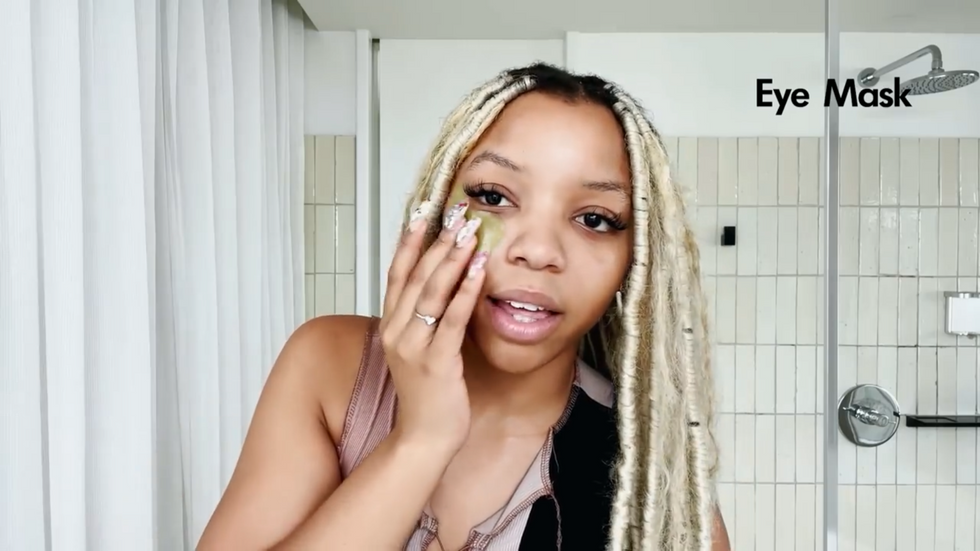 YouTube/Vogue
Finally, she applies sunscreen and rosewater spray by Mario Badescu. And just like that, the skin is glowing and moisturized. She tells Vogue,
"I really love not overcomplicating my skincare routine because I have very sensitive skin. If I do too much I break out, if I'm stressed, I break out. So, I like to keep it to a minimum."
Same sis, same.
"I think it's really important to have time for yourself, where you take care of yourself and your skin and your body. And as I'm 23 right now I'm learning that it is OK to not work so much and take that time into me."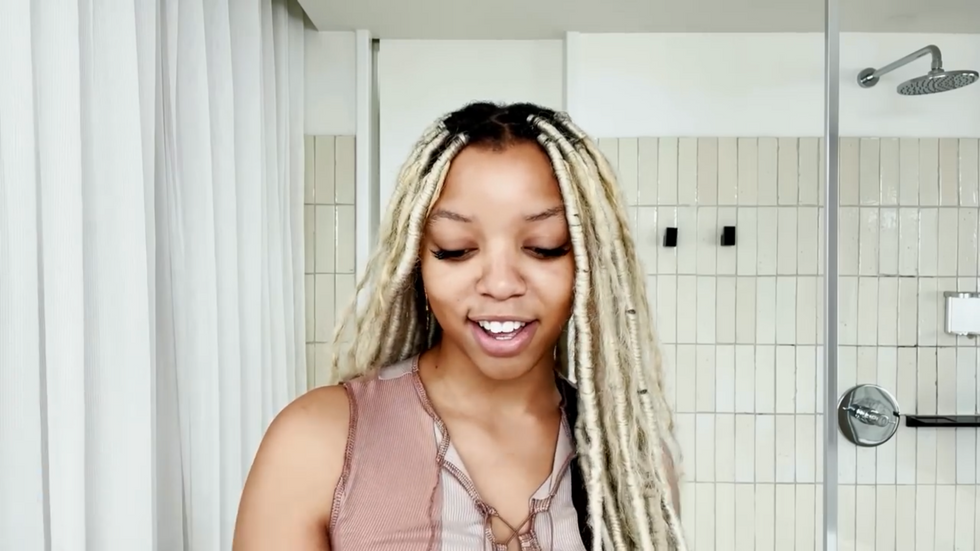 YouTube/Vogue
​Now, onto makeup.
She starts the next part of her routine with a really important element, brows. With an Anastasia Beverly Hills pencil and a Benefit pencil, she lightly fills them in, using concealer and brow gel to perfect the shape.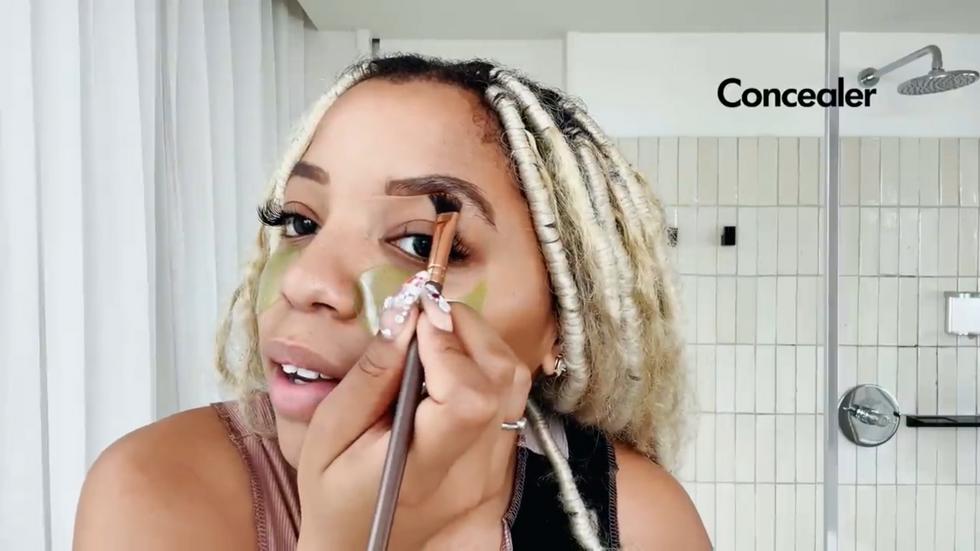 YouTube/Vogue
Staying in the same area, she lines her eyes with a brown (to stand out more) eye pencil by Pat McGrath, before covering her face in Fenty Skin Tint, a product she seems to prefer over foundation.
Next, the "Have Mercy" singer gets real friendly with the concealer. She uses it under her eyes, above her lip, and the bridge of her nose with the help of her Beauty Blender and a spritz of rosewater to blend it out.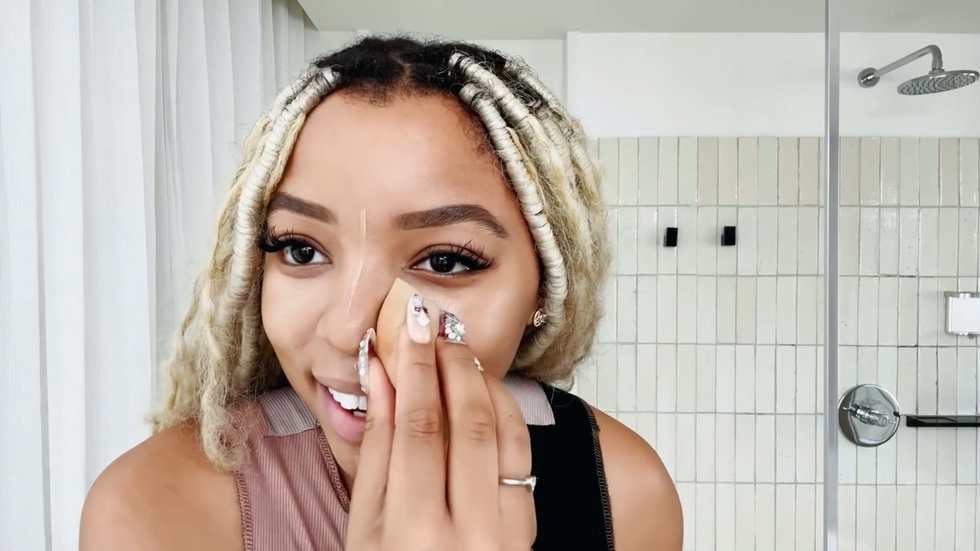 YouTube/Vogue
Later, she moves to the contour, which is still Fenty, by the way!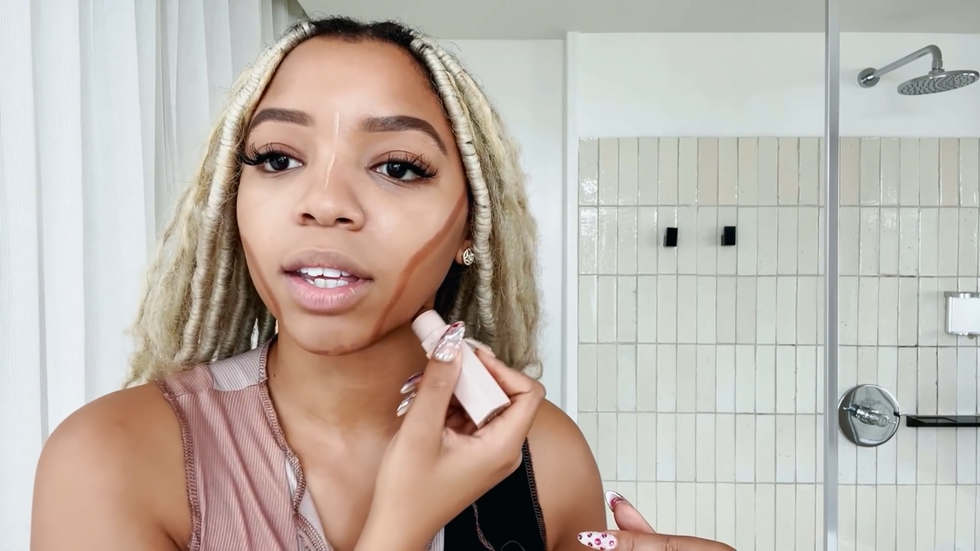 YouTube/Vogue
And Chlöe sets it with a powder bronzer before moving on to blush, highlighter, and lips. She says:
"I love to use the same blush and bronzer on my eyes and cheeks, especially when I travel and I don't have space to pack too much makeup."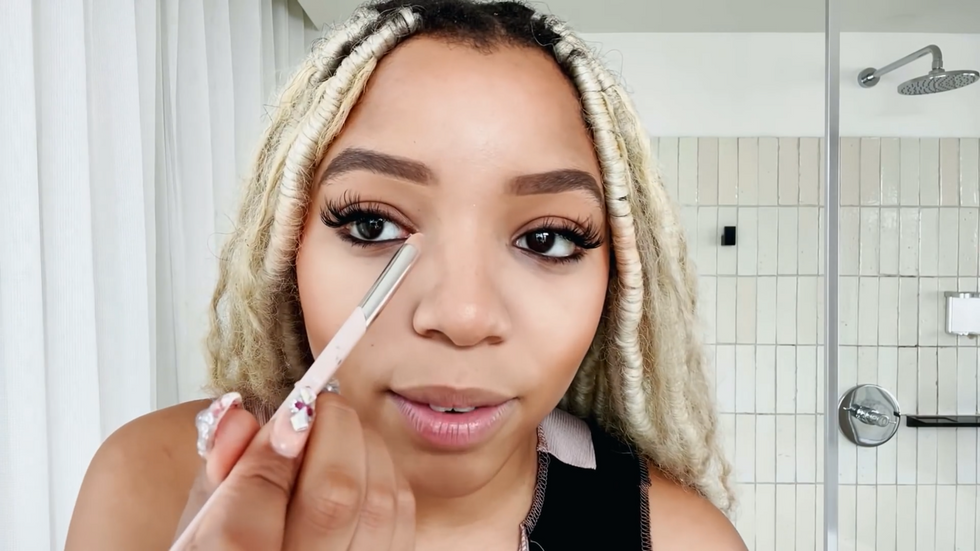 YouTube/Vogue
Finally, we move on to the part I was most interested in, because her lip gloss is always poppin', and apparently that's on purpose. She says:
"My favorite part is the lips, gotta have a nice juicy kissable lip. I'm learning to do a matte lip instead of a gloss because I like to kiss the mic a lot when I sing."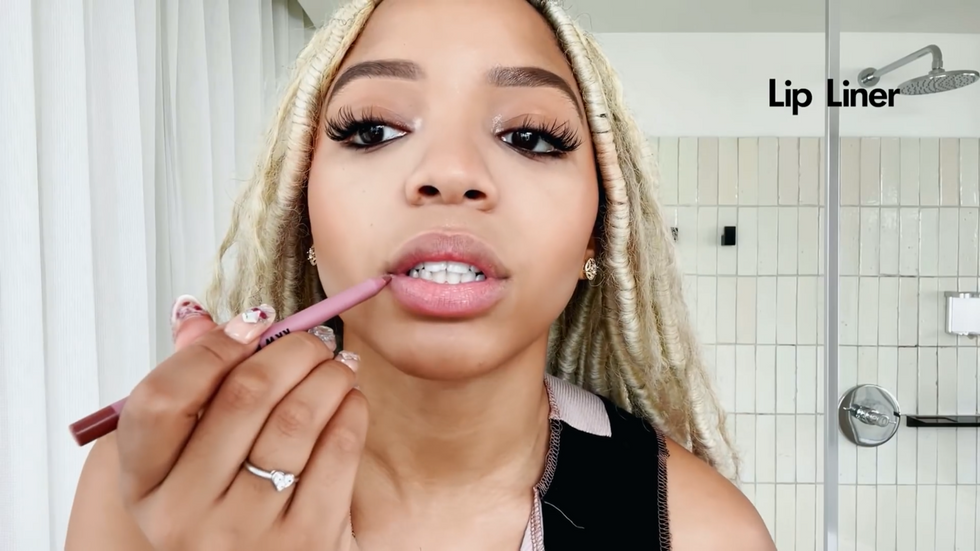 YouTube/Vogue
To get the ideal lip, she uses a lip scrub, cherry lip balm by Dior, a KKW lip pencil, and Fenty lip gloss. She finishes the look by blending it with translucent powder and more sunscreen of course.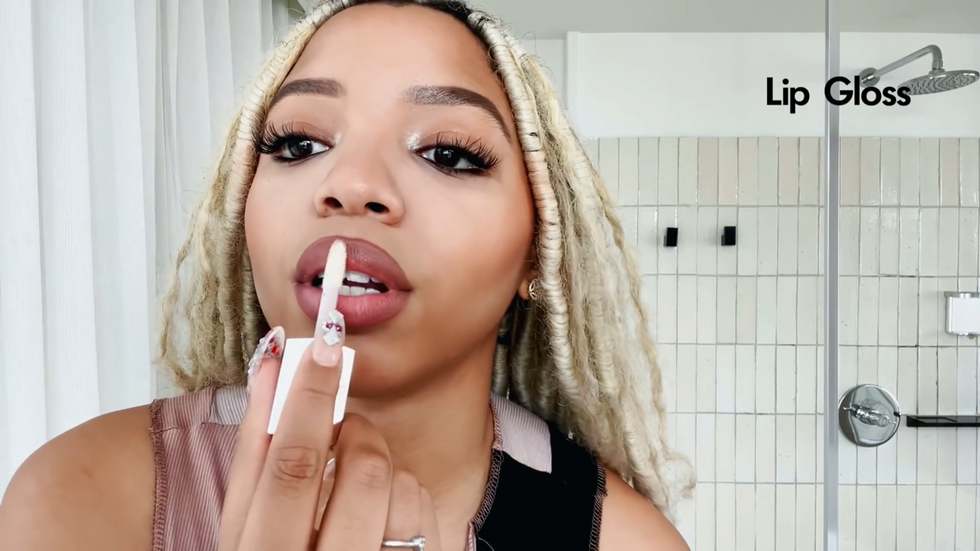 YouTube/Vogue
Almost done, but we can't finish until we wrap our hair.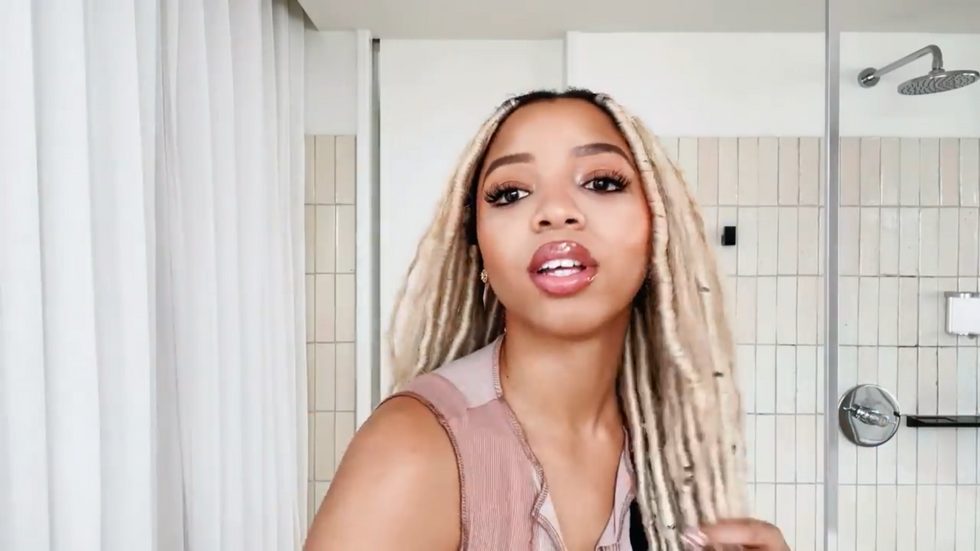 YouTube/Vogue
Now, you might have thought that was the last step, but as we know Chlöe is the full package. And that means she takes care of everything, and that includes her hair. Before finishing her routine, she adds the final touches to her hair by using Pattern Argan Oil.
"It's pretty simple and easy and I think that's why I really love having locs. It [the color] feels like my alter ego in a way and I feel like it brings out my skin."



After watching this video, there were definitely a few products I wanted to buy and techniques I wanted to try! To watch the full video and do the same, check it out here.
Chlöe's Beauty Guide, From Sculpting Skin Care to Full Eyebrows | Beauty Secrets | Vogue
Featured image by YouTube/Vogue
Keep reading...
Show less
Earlier this summer, the media chastised R&B singer Chloe Bailey for her rendition of Nina Simone's song "Feeling Good." Some thought her Juneteenth performance was too sexualized and took away from the meaning of Juneteenth. Many felt Chloe's performance represents the stigma of hypersexualized Black women. And I think Chloe might have thought a Juneteenth performance would be a safe space to show the world how she has evolved as a young Black woman.

A young Black woman that isn't scared to be her true self. Strong, sexy, bold, talented, successful, and everything nice. She also performed a less sensual version of the classic song on Good Morning America.
Chloe performs 'Feeling Good' on 'GMA' | GMA www.youtube.com
Both performances differ in how she chooses to present herself to the world. But…the question isn't whether if how Chloe chooses to present herself is a good or bad thing.
The question is why are we criticizing a young girl for embracing her transition into a young woman?

As a society, we have always criticized women in general for being too much or too little of something. There is this notion of what a young woman should be, and how she should act. There is also this notion that we as women have to fit into a certain image or persona to acquire social status. If we don't fit into this overarching status of what a woman is supposed to be, it becomes a problem.
And it then becomes a bigger problem for Black women too.
Black women and other women of color already struggle with being their authentic selves from a cultural standpoint. As much as we have evolved as a society, allowing ourselves the freedom to be feminine and sexual beings is still seen as offensive when it shouldn't be. Women are now learning how to embrace all of their feminine energy.
And Chloe Bailey is too.
Chloe Bailey On Owning Her Womanhood
Chloe let us know she is ready to step all the way into her divine feminine. Whether it was through the Silhouette Challenge, Buss It Challenge, or dancing in a t-shirt and panties on the 'gram, she caught the attention of us all. She confidently embraces her curvaceous body through her choices in clothing, movement, and song. She is charismatic, playful, innocent, and soft. But it was the social media uproar Chloe didn't see coming. These social media trolls swayed her enough into giving an emotional justification for her behavior on an Instagram Live earlier this year:
"It's really hard for me to think of myself as a sexual being or an attractive being quite frankly. So, when I see all the uproar about my posts and stuff, I'm a bit confused. Like, I really don't understand because I've never seen myself in that way or in that light. ... I don't post what I post to get attention. I don't need that."
"For every woman out there, don't change who you are to make society feel comfortable. And, I'm telling myself that's not what I'm going to do."
"Even when I posted the video yesterday [pictured above], I posted it because I was saging and doing Palo Santo and I was like, 'Let's spread positive vibes.

I didn't even really notice you guys were talking about my ass because I was like, 'OK, I'm just walking in from one seconds, two seconds. And I feel like I've shown my ass more than I have with that like if you look at our performance videos, the last performance we had in December."
"With my songwriting and producing, I feel so badass and I get the same feeling when I dance in my room, when I just own who I am and my body. And for so long, I used to think I was, like, fat, and like, I used to hate my stretch marks and my cellulite. But it's like now, I really love who I am."
If you ask me, Chloe's explanation is unwarranted. I don't think Chloe had anything to apologize for. She didn't owe her fanbase or followers an explanation for growing up or being her authentic selfauthentic self.
The issue is we knew Chloe and her sister, Halle Bailey, to be the sweet singing duo who emerged on the scene from the Disney television film Let It Shine, and YouTube song covers. They were kids. But as they have grown into young women, we are now learning who they are. We forget these adolescent entertainers eventually become young adults. We forget that their image will constantly change. While they may be in the public eye more often than most, we forget they are still human. Humans, with the same emotions, feelings, insecurities, and struggles we all encounter.
We don't criticize Cardi B, Beyonce, or Megan Thee Stallion for owning their sexuality when they take the stage or on social media. We expect it. So, why should we make Chloe feel bad for owning her sexuality? But this has been the trend for Black women and all women who grow up in the music industry.
What Critics Have Said
unpopular opinion: chloe bailey is forcing her sex appeal🥴

— courtney🌻 (@causeimcourt) July 13, 2021
Several media outlets have said Chloe is doing too much. A tweet on Twitter read, "unpopular opinion: chloe bailey is forcing her sex appeal." Another Twitter user came to Chloe's defense and tweeted:
"

How's she doing too much? She's grown, super talented, and successful. She's not getting naked. Not stripping. Not doing porn. What's the issue? A grown black woman can't even own her own sexuality without other black women tearing her down. I don't get it."
And it's true. Chloe, let alone other Black women, cannot express their sexuality without commentary.
In a news article by MTV Australia, they stated:
"It's that sense of exploration, and exploration of female desire, which is discomforting for a predominantly patriarchal society to sit comfortably with, especially if it's not in charge of it."
It is also stated that because there are few Black women in major pop music spaces when a young Black woman wants to show their true personality, sexuality, and body, they are shamed for it. Author Sarah Raughley analyzed Chloe's emotional admission within the context of the industry forTeen Vogue where it was argued:
"If you're a Black girl trying to make music, it doesn't matter who you really are inside, Hyper-sexuality is what audiences demand you to be."
In a Refinery29 op-ed, writer Ineye Komonibo wrote:
"From a young age, everything about Black girls is placed under an intense sociocultural microscope. The way we dance, the clothes we wear — even the way that we style our hair can be seen as 'grown' or 'fast.'"
But for Chloe, her sexual expression is about her personal journey, self-love, and acceptance. In the January 31st Instagram Live, she revealed:
"When I perform, and make music, and dance, that's when I get to tap into the sexier side of myself. That's where I find my confidence. So, it really means a lot to me when I can finally get to a place where I share who I really am because I've been really insecure for a long time."
Black Women, Femininity, & Sexuality
I think Black women compared to any other women of color are judged the most for how they choose to express themselves. We are often labeled as oversexualized, loud, relentless, and angry. But there is so much passion in everything we say and do. And most perceive this innate passion for negativity. All because it doesn't fit into the narrative of how women of color should present themselves to society. We are told to use our voice, invoke thought, and encourage change. Yet when it comes to self-expression and owning our femininity, we are subject to limitations. How does that work?
Why should we apologize or restrict parts of who we are to make others comfortable? Pleasure, joy, and movement are key traits of femininity. Women are moved by emotions and feelings. Especially in art. And a true artist doesn't inhibit the flow of their creativity, they allow it to be seen, heard, and felt.
Unfortunately, this is what Chloe Bailey had to go through. Chloe chooses to show up as her authentic feminine self. A Black woman, a sexual woman, and an artist. She gives herself permission to "just be", allowing herself joy and happiness not just through music and movement but also as everything a feminine woman is. She gives herself permission to embrace her sexuality when most women don't dare to do this.
Whether that's through her social media presence or her performances. And was then ridiculed for expressing her emotions and feelings through her artistry.
Do you see what's wrong with this? I do. Regardless of the stereotypes and stigmas, I wish more Black women gave themselves permission to embrace all of their authentic selves. As a multi-ethnic woman of color, I didn't allow myself to be any of those things that Chloe is being criticized for in my twenties. Like Chloe, I didn't see myself as sexual or desirable either. But all women are intrinsically these things. It's not just inherited from our social environments, it's in our genetic code too.
The problem is we are taught to repress that side of us. I didn't want to become more of my feminine self until my thirties. And now that I am in my mid-thirties, I'm confidently wearing all the things and flexin' all over the 'gram too.
Despite the social media uproar, Chloe Bailey still continues to thrive. And more importantly, she continues to teach us how to be unapologetically feminine Black women.
If you ask me, we just need to sit back, watch, and take notes.
Featured image by
Keep reading...
Show less
In case you ain't know, Chloe Bailey is our president. Joe Biden just ain't getting it and we can always depend on Chloe to do itttttt. The actress, record producer, singer, and songwriter has displayed the ultimate glow-up on the 'Gram and we love to see it! She created her own Instagram account on January 19, and it's safe to say we had no clue what we were missing out on. For years, we have been swooning over the dynamic duo that is Chloe x Halle with their angelic voices and superstar charisma.
When Beyonce is your mentor, the sky is only the beginning. In a unique turn of events, the sister duo decided to make separate accounts in an effort to continue blessing us with their Instagram Live sessions while Halle filmed her Disney live-action remake of The Little Mermaid in London. Ever since the self-taught musicians have been living apart, Chloe is learning more and more about herself every day. She told R29Unbothered:
"It's kind of forcing me to think and say to myself, OK, what do I really like on my own? How do I feel about this? Just with my thought process. And it's really been interesting. At first, in the beginning, it was very intimidating and scary... Because Halle and I wouldn't have done it on our own because we're each other's best friends. But I definitely think it was something necessary so that we can find ourselves individually. And for that, I'm really grateful."
One thing we are grateful for: Chloe's femininity. It is extremely empowering. The Grown-ish star broke Beyonce's internet when she joined in on the #BussItChallenge and had us all cracking our knees trying to keep up. During an interview with the LA Times she shared:
"I feel there's such power in women who truly love themselves and own who they are, whether they want to be completely covered or showing skin or whether they want to be outspoken or completely quiet. It's our right as women to choose who we want to be and how we want to be seen in this world and not be judged for it, because men can be all of those things and no one takes another look or says anything about it. I'm not really doing anything new, I'm just being myself."
Ummmm, let the church say AMEN and AMEN again!
Chloe Bailey is not the young girl we fell in love with. She's now a badass, grown-ass woman and a force to be reckoned with — we love that for her. Here's to Black women owning their power and realizing that evolution is the secret for the next step.
Featured image by Rich Fury/Getty Images
Keep reading...
Show less