Chlöe and Halle Bailey are on the September/ October 2022 cover of Essence magazine where they dished on everything from their personal lives to their solo ventures. The singing siblings began gaining traction online with covers of other artists' songs on YouTube when they were teenagers. But it was their cover of Beyoncé's "Pretty Hurts" that led to a record deal with Queen Bey herself.
Now as grown women, Chlöe is 24 and Halle is 22, the duo which makes up Chloe x Halle, are focused on having individual success separate from each other while still supporting one another. Halle will be starring in the live-action remake of The Little Mermaidand The Color Purple and Chlöe has a solo debut album that will reportedly be available this year.
Halle has also been letting fans get a glimpse into her romantic life. The "Do It" singer is dating rapper PonaticMadeDDG and revealed that she was in love.
"I grew up being on YouTube and would always see the young Black creators and was constantly inspired by them. He was one of them," Halle said about meeting DDG. "I completely forgot about him. But then I saw that he was dropping music, and I really gravitated toward this one song. Coincidentally he messaged me — and the rest is history."
While Chlöe is single, she has been linked to Diggy Simmons and more recently Gunna. However, she is now only focusing on her album and shared that her music reflects who she really is and not what society has viewed her as. "It's everything that I've been going through, all the tearing down, people underestimating, telling me I can't do it — all of those things have gone into the music," Chlöe said.
"The album is me picking myself up and talking myself out of any little place or space that the world has tried to put me in, that people and personal relationships have tried to put me in, and even [doing that to] myself."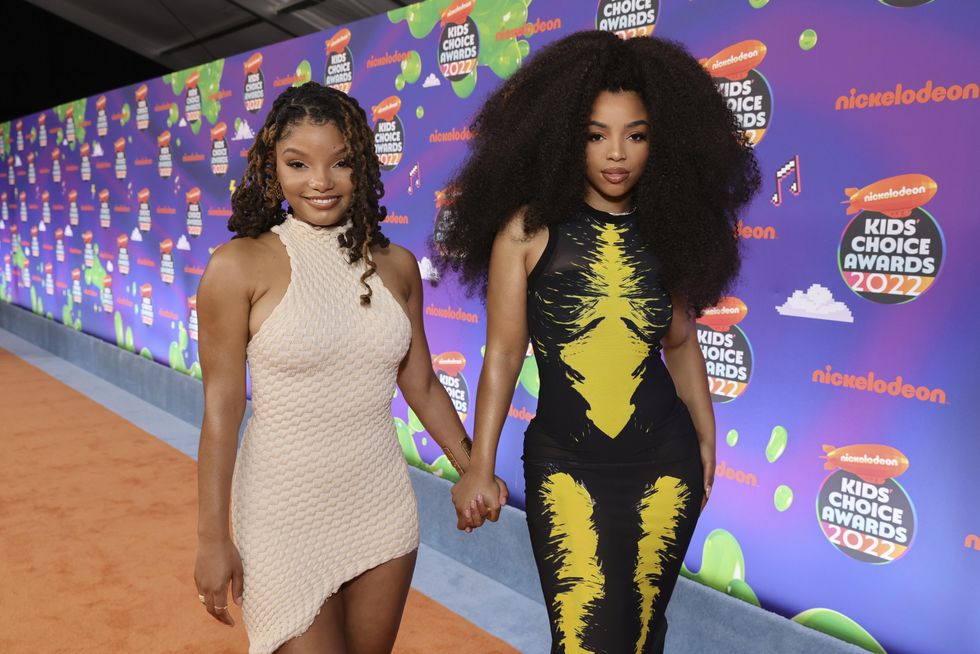 Emma McIntyre/Getty Images for Nickelodeon
The world has often compared Chlöe and Halle especially since they have created their separate identities. The eldest sister has been getting the brunt of the criticism due to her risque photos and dance moves that have been seen as "doing too much." Others have deemed Chlöe as simply confident in her body. However, that's not always the case for the Grown-ish actress.

"As much as people think I'm so confident, 80 percent of the time I feel the complete opposite of that," she said. "That's why I put so much of myself into my music. That's where I feel like myself and where I belong in this life — whenever I'm onstage. The girl I see and I watch sing back, she intimidates me. I'm like, 'Who the hell is that?'"
Halle, on the other hand, is proud of how much they have grown over the years and is loving their grown woman weight. "Finally, I'm 22 years old, and some of the weight is sticking, and I'm happy about it," The Little Mermaid star said. "Chlöe has the booty, and I'm getting some cleavage."
And while she may be the younger sister, she is overly protective of Chlöe and her loved ones. "If you've got a problem with so-and-so, then we've got a problem," she said. "I'm a fire sign ... If I love you and somebody crosses you, it's over. That's been my stance since I was young."
She also explained that that is why she's able to connect with her The Color Purple role so much. Halle plays Nettie in the upcoming musical film. "She's so much like me, because she has that fire inside of her," Halle said."When it comes to defending her sister—as the little sister, I kind of connected my own experiences for the role."
Period, sis.
The internet has witnessed Halle defending Chlöe on more than one occasion and their sisterly bond has been looked at as goals. Here are some of their best sisterly moments.
Halle Defended Chloe Against Matthew Knowles
In March 2021, Matthew Knowles responded to the Beyoncé and Chlöe comparisons calling them "insulting." Halle seemingly hit back at the mega manager by tweeting. "How amazing is it that @ChloeBailey is already an icon," she said. "I ride for my sister till the enddd okayyyy,"
Chlöe and Halle Cried on Instagram Live After Being Apart for So Long
While Halle was filming The Little Mermaid in London back in January 2021, she jumped on Instagram Live with her sister Chlöe and they shared a tearful moment together.
"Because I've always been near my sister," Halle said while tearing up. "So, this is like really—it's different for me, not having you by my side, you know?"
Chlöe Gave Halle Words of Encouragement When Having Imposter Syndrome
Chlöe takes her big sister's duties seriously and makes sure that she is encouraging Halle especially when she is having days where she feels less confident. Halle shared how the "Treat Me" artist empowered her one day while dealing with imposter syndrome.
"It just feels so surreal to be doing meetings [with] all these people that I'm such big fans of and sometimes you feel like you have imposter syndrome," said Halle in an interview with E! News. "Chlöe was lifting my spirits up the other day like, 'No, you're meant to be in there too.' I think that's just so powerful and so special to have someone like her in my life where she can just remind me of that."
Halle added, "My sister empowers me every day just by being herself and watching how hard she works," Halle said. "I think that I've always had a great example in her growing up of what I would like to be and what impact I would want to have on people.
Featured image by Rodin Eckenroth/Getty Images
Over the last few years, TikTok has been the driving force for a lot of artists' success due to content creators making up dances to songs that would sometimes go viral. While dance trends may have happened organically, record labels are now asking their artists to create songs that will gain them TikTok fame. However, many artists are speaking out against this increasing demand. Chlöe Bailey is no stranger to having her songs take over the social media platform but even she isn't here for what she views as watering down the art.
The "Treat Me" singer appeared on the When We All Vote's inaugural Culture of Democracy Summit virtual panel along with her sister Halle Bailey, DJ D-Nice, co-host Valeshia Butterfield-Jones, and others on Friday, June 10.
She spoke real!!! Chloe Bailey said we aren't appreciating artistry anymore. It's all about what will "trend" on social media, like TikTok 😪 pic.twitter.com/xEGQFDQrZ9

— Lazy Love 🖤 (@ungodlygoddesss) June 12, 2022
The Culture of Democracy Summit was created by When We All Vote which is a non-profit co-founded by former First Lady Michelle Obama, Kerry Washington, H.E.R., Stephen Curry, and others. According to the website, the four-day event was assembled to "raise awareness of the issues facing our democracy and to increase civic engagement."
Chlöe appeared on the panel discussion about how music and art can influence and create change and she shared her views on how today's artistry is under attack.
"I think just giving artists the time to grow into their artistry and to not expect every song to hit right off the gate with streaming numbers and TikTok. Right now, because everything is overly saturated and there's so many songs per week they rely on a popular trend to chart with music and it's great," she said. "The internet is great but it's also the downfall because we are not appreciating artistry and say an album comes nobody's really listening to it within the next week or two weeks and there's so much music so many visuals we are so stimulated we don't know what to focus on. I think it's just really finding ways to truly sit there and marinate in the moment of a song like that is what I wish that I got to be a part of years before I was born."
The Grammy-nominated singer then shouted out her mentor and boss Beyoncé for allowing her and her sister Halle to have creative expression. "I'm really grateful that sis and I are signed to somebody like Beyoncé because we are given the creative freedom and space to grow and not everything will be perfect," she said. "You have to make mistakes and fall so you can grow from that."
Chlöe joins a growing list of artists speaking out against their record companies for asking them to make their songs go viral. Halsey, FKA Twigs, and JoJo have exposed their record labels in videos that they shared on TikTok.
what tiktok has done to the music industry is upsetting like… pic.twitter.com/bSJ0EIVfv1

— allure (@alluregaga2) May 22, 2022
Halsey revealed that her record label wouldn't put out her song until she created a fake viral moment while Twigs said that she was "told off" by her record label for not putting enough effort into marketing herself.
The Culture of Democracy Summit: Friday, June 10
Let's make things inbox official! Sign up for the xoNecole newsletter for daily love, wellness, career, and exclusive content delivered straight to your inbox.
Featured image by Amy Sussman/Getty Images for MRC
Chloë is riding high with the success of her singles "Treat Me" and "Have Mercy" and it appears she likes to live that way too. In a recent Open Door episode for Agriculture Digest, the singer and actress showed off her Los Angeles high rise with a view that would make anyone jealous.
When you first walk into the apartment, you are hit with a beautiful entryway that features an oil canvas painting of Chloë and her sister Halle Bailey.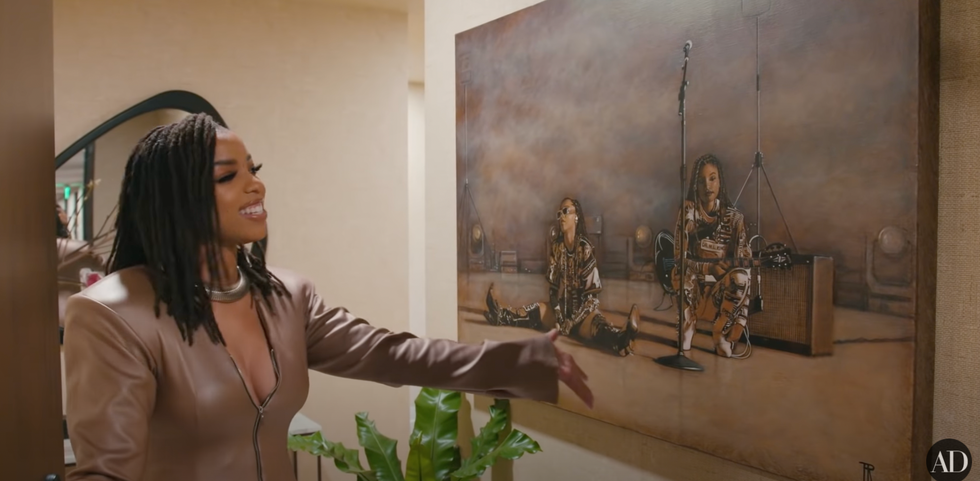 Architectural Digest/YouTube
"A friend gave me this oil canvas painting of us. We were performing at Global Citizen and I love it so much because it really just shows us in our element and chill and she's my best friend," she said. Continuing along the hallway, the 23-year-old stopped and shows off another painting. This one is an abstract painting from her "Have Mercy" video. While she thinks it's kind of weird to have photos of yourself in your home, she believes you can get away with it if it's done "artfully and tastefully."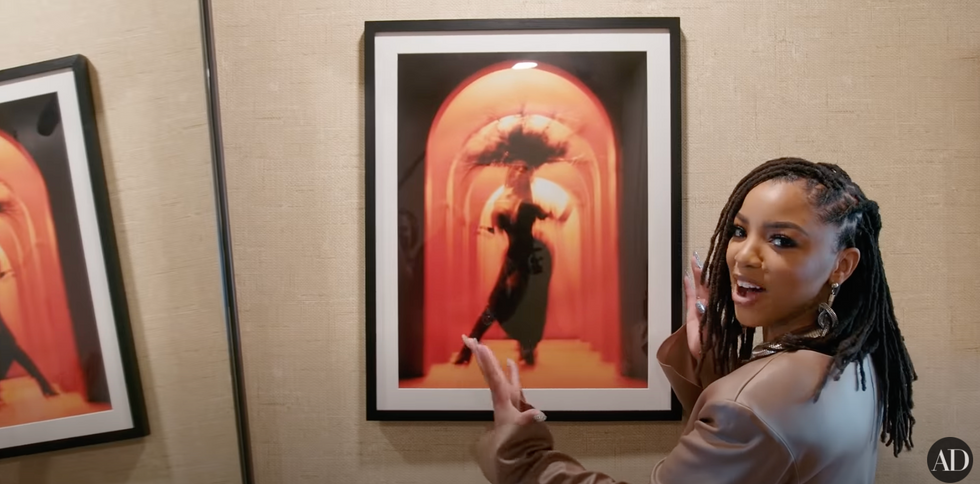 Architectural Digest/YouTube
Shortly after, she highlighted another still from the "Have Mercy" video. This time she was on the roof and she revealed an embarrassing story behind it. "Fun fact, I fell almost off of the roof," she said. "It was a great experience. I will always remember it. I will never forget that."
The apartment has two bedrooms, but she converted one of them into her music studio.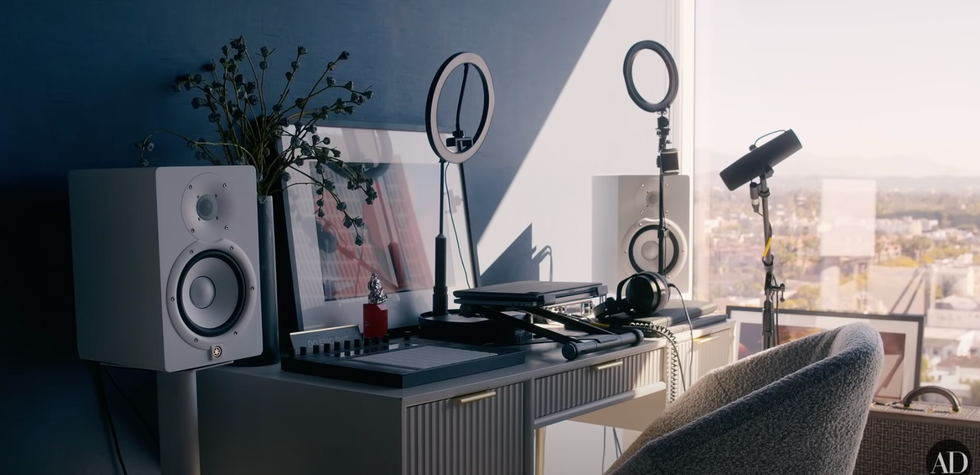 Architectural Digest/YouTube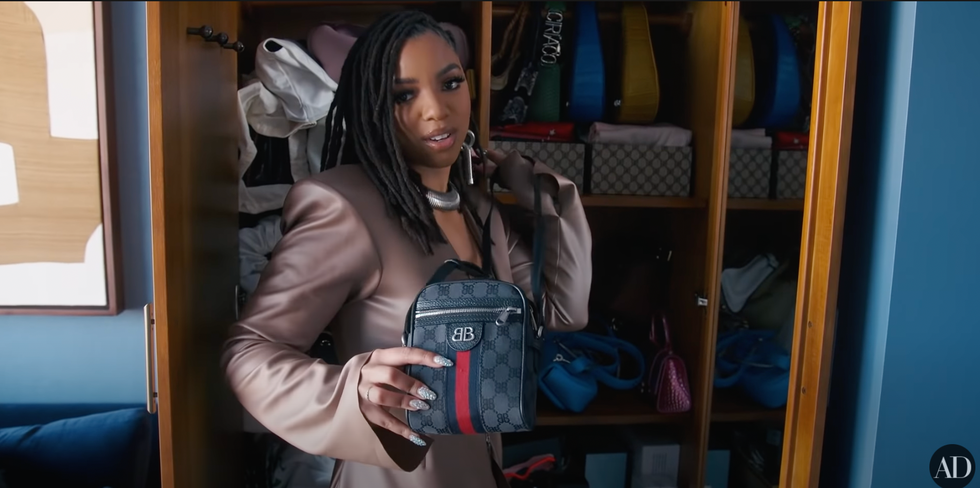 Architectural Digest/YouTube
There's no bed in it, but there is a sleeper sofa for when she has people stay the night. The room also has another photo of her and her sister. "I always have her around me because no matter how far or near we are, I just always like having a piece of her with me," she explained. The studio also has an armoire that is filled with the singer's handbags.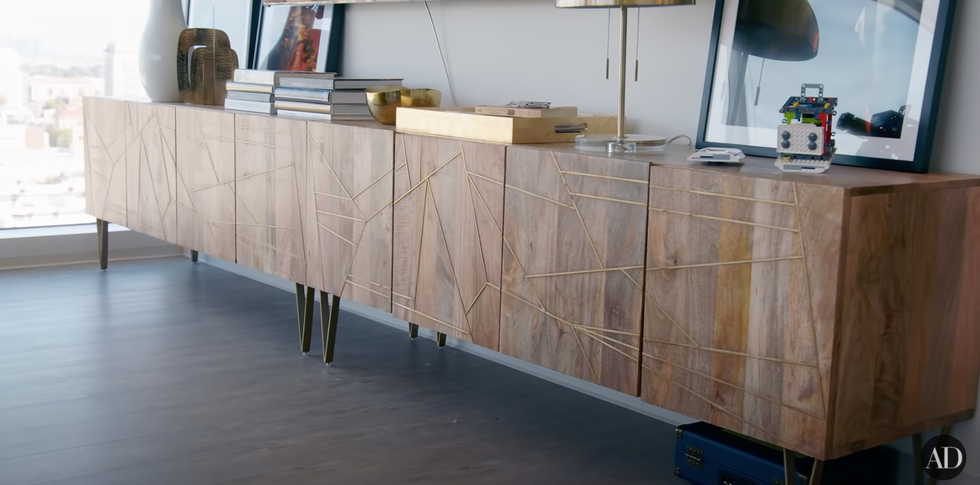 Architectural Digest/YouTube
Chloë's favorite colors are blue and yellow and you can see those colors throughout her home. But her favorite thing about her home is the view, which is no surprise there. Her apartment has floor-to-ceiling windows in the living area as well as her bedrooms.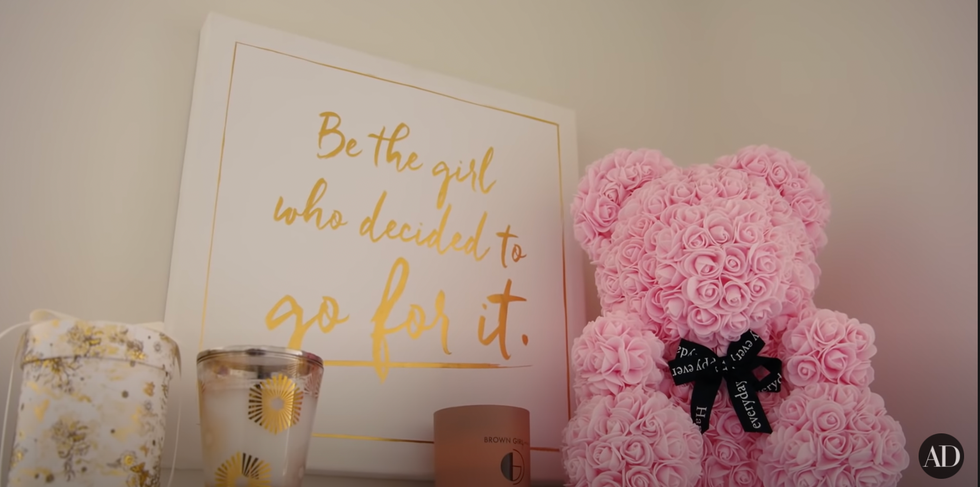 Architectural Digest/YouTube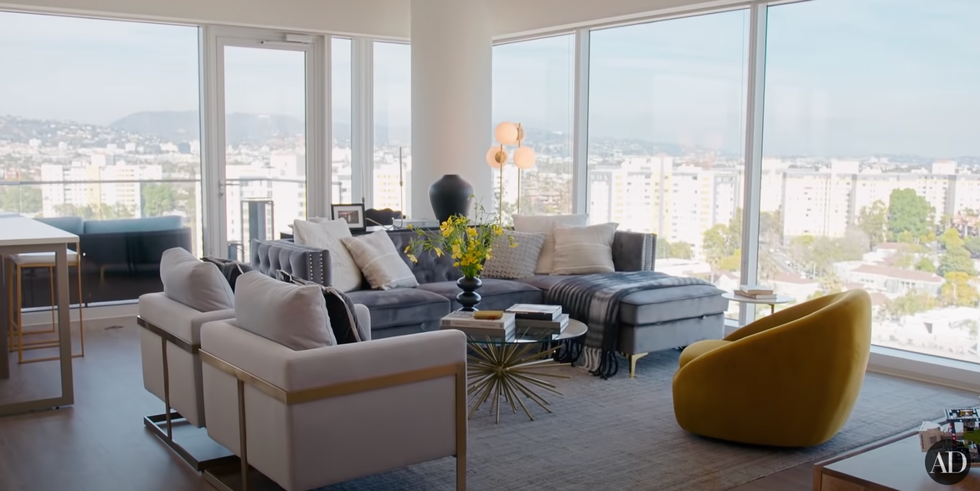 Architectural Digest/YouTube
Her living room consists of a cozy couch, chairs, and typically a huge whiteboard, which she said she put away because it had her tracklist on it. She also has a massive display of photos that were outtakes from a shoot she did a year ago.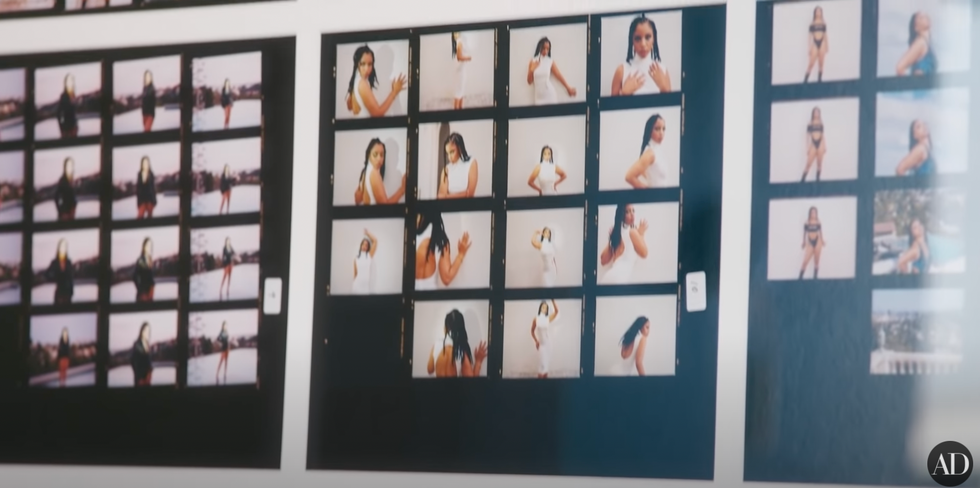 Architectural Digest/YouTube
"Not conceited, but I just love it because it's artful and it's me," she laughed. "And whenever I'm in sweatpants and hair-tied and I feel like, eh, I just look at that, I'm like okay, she's a little somethin', somethin'."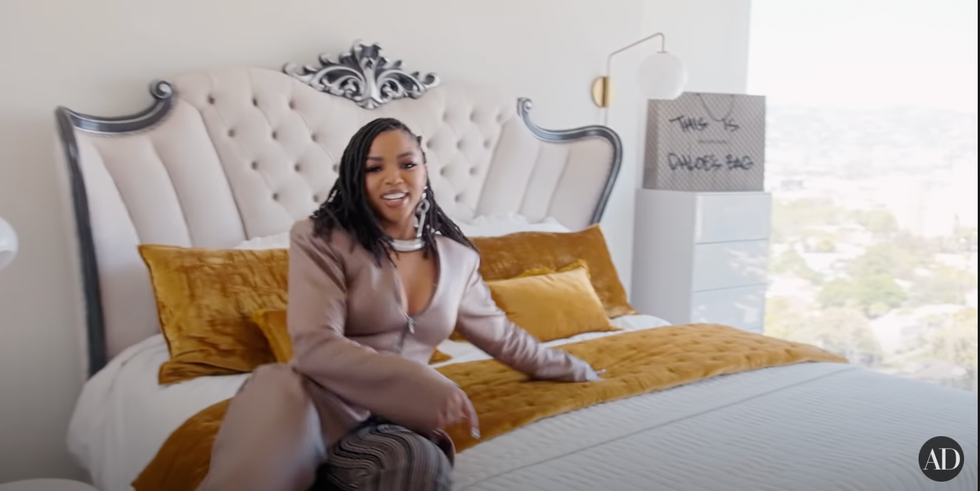 Architectural Digest/YouTube
She also has LEGOs that she works on, which she said calms her down. The Grown-ish star credited her godmother for designing her living place and giving it an "RB" vibe, which stands for "rich bitch." That vibe flows into her bedroom with a bed that is "fit for a queen." "I'm obsessed with my bed. Every time I lay in my bed I feel like a queen. My Godmom did the most amazing job." Another favorite thing in her bedroom is her hidden shoe rack.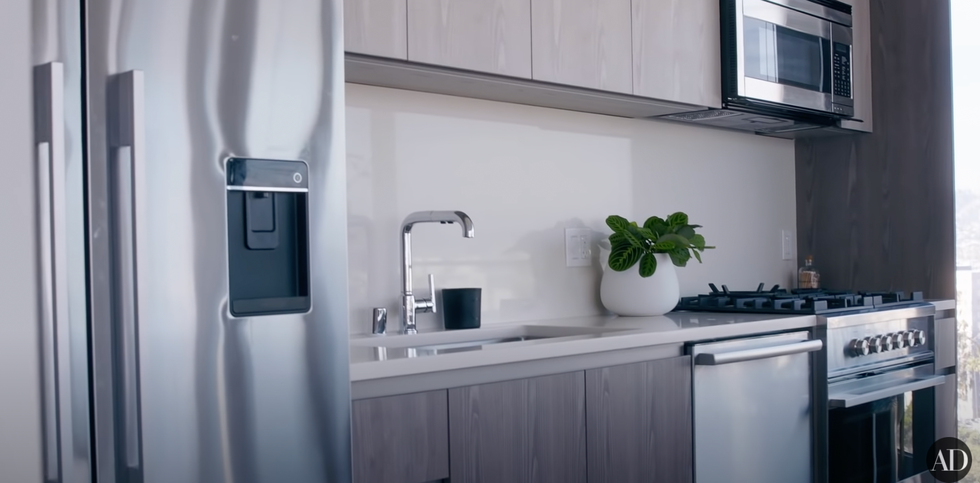 Architectural Digest/YouTube
When it comes to her kitchen, Chloë described it as a place where "I don't cook" due to her busy schedule. However, she does like making smoothies with her Nutribullet.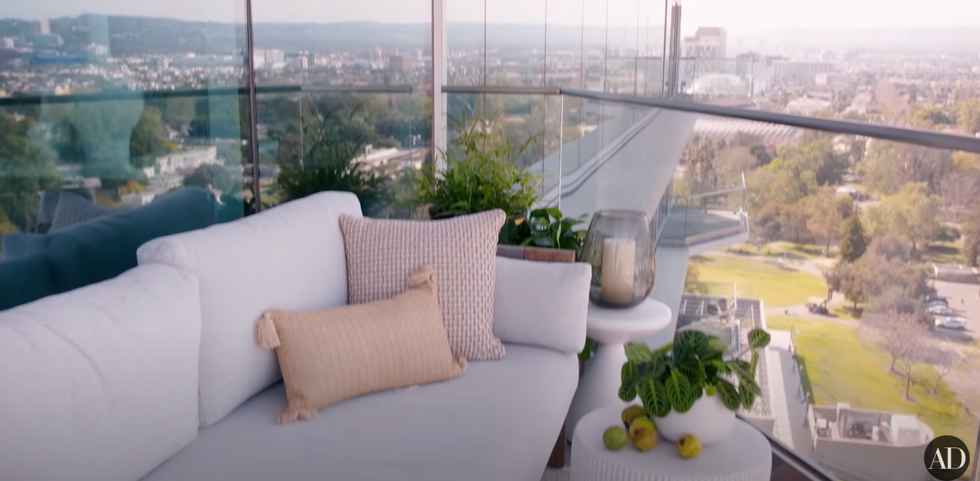 Architectural Digest/YouTube
Last but not least, Chloë took us out to her balcony where we got an up-close and personal view of L.A. She admitted that she likes to sit on her balcony and reflect on her life decisions. "This is where the deep thinking goes down," she said. "Sometimes have a nice glass of wine. Sometimes just chill out. I love it here."
Inside Chlöe Bailey's Elegant L.A. Apartment | Open Door | Architectural Digest
Let's make things inbox official! Sign up for the xoNecole newsletter for daily love, wellness, career, and exclusive content delivered straight to your inbox.
Featured image via Architectural Digest/YouTube
Chlöe has single-handedly reimagined how to wear dreadlocks thanks to her stepping outside of the box with her hairstyles. The singer along with her sister Halle Bailey began their loc journey when they were children, and while their hair is beautiful as is, Chlöe has shown that loc versatility is a realm she plans to master.
In an interview with Teen Vogue, the "Have Mercy" singer credited her mom for having confidence in wearing dreadlocks. "I definitely have to give props to my mom," she said. "Because ever since I was about three years old, I've had locs. I've grown up in Atlanta, Georgia, and I thought nothing was really different with my hair from the other kids. Definitely, I realized early on in the industry, having locs wasn't really normal. But I feel like when you are confident with yourself, and you own it, then everyone else has to catch up to that. And I'm so grateful to be given a platform as a young Black woman with locs."
Honing in on that confidence translates into Chlöe's recent hairstyles, which include extensions from curly to bold hair colors. Get into the hair versatility below:
Featured image by Kevin Mazur/WireImage via Getty Images
Chlöe Bailey is blowing up as a solo artist while finding herself along the way and she is OK with that. We've watched Chlöe and her sister Halle Bailey grow up before our eyes from cute teenagers to beautiful women and with all the eyeballs on them, Chlöe is learning to be comfortable in her newfound fame particularly on social media.
The "Have Mercy" singer spoke with Charlamagne Tha God on his Tha God's Honest Truth talk show about dealing with social media fame and her mental health.
"I am learning that I have to be full before I can give myself to others," the 23-year-old said.
"My mental health is very important. And when you constantly feel like you have to please people and put others before you, you will start to feel very insecure. I'm learning that it's OK to put myself first sometimes, and I will only give out love and only share love and then just keep it at that."
The über-talented star recently caught backlash for a now-deleted video that showcased her sucking on a lollipop.
Fans bashed her for trying too hard to be sexy, however, the singer took it all in stride. "In the beginning, it didn't affect me. I'm human, of course, it affects me sometimes, but the reason why I deleted it wasn't because of what people were saying, it's just I didn't want people to go on my page and just see that."
She added, "Social media is whatever. I'm 23, I'm a grown woman and I think it's so cool how we can find ourselves and I'm finding myself right now and figuring out what serves me best. I'm just doing it under a microscope while all of you all get to do it without anyone watching."
While she may have deleted the video, that doesn't mean that it stopped the singer from posting sensual photos and videos.
In a November 30 post, Chlöe showcased her backside in "Have Mercy'' booty shorts and a sexy cutout dress on the 2021 AMA's red carpet.
Featured image by Paras Griffin/Getty Images
Ever since Chlöe and her sister Halle Bailey have been creating their own identities outside of their group Chloe x Halle, Chlöe has faced Beyoncé comparisons. Modeling her performance style after Beyoncé is no surprise since both Chlöe and Halle are signed to the "Formation" artist's label Parkwood Entertainment and so there's no doubt Queen Bey has influenced them in more ways than one.
When the 23-year-old singer/ actress stopped by The Breakfast Club, she was asked about the comparisons and what Bey thinks about it.
"She says she's really proud of me. That's not something we specifically talk about but I just love her and I'm happy she sees this light inside of me, and my sister as well."
As far as how Chlöe feels about the comparisons to Beyoncé, she says:
"I'm grateful. That's the biggest compliment anyone could possibly give me. I have so much more work to do to even get there—to even get an ounce of where she is."
The "Have Mercy" singer has been promoting her new solo single for a couple of months now, but after her performance on The Tonight Show with Jimmy Fallon last week, Chlöe was hit with backlash after people accused her of "doing too much" on stage.
doing "too much" is my specialty 😋🥰

— Chlöe (@ChloeBailey) October 13, 2021
However, the Grown-ish star clapped back at the criticism on Twitter after she tweeted "doing "too much" is my speciality 😋🥰."
As the singer continues on her journey to solo stardom, a similar path that Beyoncé was on, who better to lean on when faced with such adversity?
"I love her so much and we talk about any and everything. I'm just so grateful to have her stamp of approval and she always gives me words of encouragement—you have no idea how much that means to me. It's like, 'OK, that's pretty dope.' Because she's been there, she's done that, and to know the advice that she's giving me is exactly from the place I've been is pretty cool and inspiring," Chlöe told The Breakfast Club.
Featured image by Cindy Ord/Getty Images for SiriusXM