Adding a new layer to this never-ending chat about celebrity hygiene, Lizzo has revealed in her Instagram Story that she no longer wears deodorant. She took to the net to piggyback on Matthew McConaughey's recent comments, famously saying that he gave up wearing deodorant 35 years ago, and that he hadn't "worn deodorant in 20 years." Despite him making this revelation in 2005, because folks love bringing up old shit these days, his revelation to PEOPLE has made their rounds.

Anyway, back to Lizzo: upon reading about McConaughey, she took to social media revealing:
""Ok I'm w him on this one. I stopped using deodorant and I smell BETTER."
And listen, as it turns out, what she's saying, is facts.
There's no secret that typical deodorant has been linked to cancer and other internal wellness illnesses, due to their content of aluminum and other potentially harmful chemicals (I only say potential because not everyone's bodies respond to these toxins the same way, but we all know how deodorant gets down). Rapper Saweetie detailed that she uses lemons instead, which she credits for her smooth and clear pits.
"A lot of people don't know this, but when you use deodorant, it traps the toxins in there, and that's why you always be musty. In order to alleviate that, put lemons instead of deodorant under your armpits."
She explained:
"It also lightens it. So dark marks, and all the funk, that's caused by bacteria. So, instead of putting that nasty, unhealthy deodorant that blocks your pores, get you some lemons."
Zoe Kravitz is also an advocate of finding more natural ways to cleanse your armpits, versus traditional deodorants.
She revealed to Vogue that instead, she swears by Milk + Honey natural deodorant.
"I've been on quite a journey with natural deodorants in general because a lot of them don't work, but I don't want to put aluminum near my lymph nodes and breasts, and this is one of the only ones that works--truly works. Lasts all day, and smells delicious."
Of course, the conversation is largely in part to Mila Kunis and Ashton Kutcher starting this massive avalanche of conversation about not routinely bathing themselves and their kids, a conversation that just won't quit. And just like that conversation, dermatologists are weighing in here too and advising against the hygiene staple. In fact, if you quit using an antiperspirant altogether, your skin's natural microbiome can potentially reset. Dr. Joshua Zeichner tells Well + Good:
"Antiperspirants work by blocking wetness from reaching the surface of the skin. These contain aluminum salts that form a plug or blockage within the sweat glands to physically prevent sweat. Despite the popular belief that discontinuing antiperspirant use will detox your underarms, the only detoxifying organs in your body are your liver and kidneys. Without antiperspirant, perhaps your skin may better clear dirt, oil, and debris that accumulate on the skin and within the sweat glands."
Additionally, just as Saweetie said, he agrees that antiperspirants use antimicrobial agents to kill bacteria and other ingredients to block your sweat glands; however, antiperspirants actually affects the bacterial balance in your armpits. He also notes that ultimately, their use can actually create an even greater odor-inducing sweat problem. Chileeee.
Let me find out Saweetie is a whole MD out here!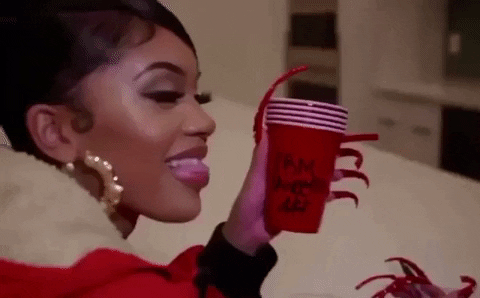 Giphy
For now, Lizzo hasn't gone into detail about her armpit cleansing routine but we'll keep out eyes open about whatever tea she has on how to stay fresh. In the meantime, although everything we may have ever been taught about hygiene may be a whole ass lie, at least the conversation is...happening.
Watch Lizzo's latest video "Rumors" below:
Are you a member of our insiders squad? Join us in the xoTribe Members Community today!

Featured image by Kevin Mazur/Getty Images for The Recording Academy
Keep reading...
Show less
Let's be real, at one time or another, all of us have struggled with how we view our bodies and positive self-image. Even the most confident and self-assured of us can find ourselves nitpicking and critiquing the stretch marks we see here or the extra bloat that we might see there. Despite the fact that we might be quick to offer the next person a compliment when they say something self-deprecating about their bodies, sometimes we forget to give ourselves that same grace.
And with it being summertime, and the streets calling us outside to partake in hot girl summer activities, it's easy to feel that self-doubt and insecurity stopping us from loving the bodies we have while we focus on the bodies we hope to attain. Don't get us wrong, having fitness inspo and "beach-body" goals to aspire to are cool, but so are the bodies we get to call our homes.
What's beautiful about this season in particular is how much self-love in the form of body acceptance has been emphasized. Adding their voices to that movement are celebs like Tracee Ellis Ross and Ashley Graham who are using their platforms to echo sentiments about showing your body gratitude instead of criticism.
Keep scrolling for some celebrities daring to bare the skin they're in and their bodies as they are now, fully and unapologetically.
Ashley Graham says "it's hot out there and so are you."
Recently, model and host Ashley Graham shared a slideshow of powerful images showing the range of very real shapes and sizes. In her caption, she wrote, "I hope these photos I've been tagged in of so many beautiful bodies motivates you to love the skin you're in. believe me when I say your body is beautiful, and i know it's easy to tell yourself the lie that you're not good enough, thin enough, sexy enough, 'flawless' enough to wear a tank top or a swimsuit, but it's hot out there and so are you."
In an interview with Porter earlier this year, Ashley revealed why it was that she is intentional about sharing photos of herself on Instagram showing her body. Hint: it ain't about the likes.
"I don't post myself half-naked to get the likes. I post myself half-naked so that someone who's 10 years younger than me knows that that side butt, that hip dip — that's not abnormal to have."
"I wish that, when I was younger, there had been someone as outspoken as I was, who was as fearless with their cellulite and back fat, so I could know that this was normal; this was what a body looks like."
Rihanna knows she is beautiful regardless of her weight.
Rihanna is a purveyor of slay at any size and she has worn confidence as a second skin for her entire career, both onstage as a performer and off as the Queen of Savage. For our favorite bad gal, self-acceptance is key. Sis told VOGUE she is a firm believer in embracing her body at any phase:
"You've just got to laugh at yourself, honestly. I mean, I know when I'm having a fat day and when I've lost weight. I accept all of the bodies. I'm not built like a Victoria's Secret girl, and I still feel very beautiful and confident in my lingerie."
Tracee Ellis Ross wants you to show your body compassion.
Earlier this year, Tracee Ellis Ross shared an affirming message via her IGTV in April with the title "Checking In 4/8". In it, she addressed the fact that our bodies need compassion not judgment. For her, gratitude is the attitude and it's a gift she'd like to pay forward.
"I really encourage and invite all of us to just receive the wisdom of our bodies right now and allow the softness, the weight--whatever that looks like and be grateful. Like, I feel like I've made it through this year. And in some ways I've gotten deeper. In some ways I've gotten bigger in some ways. I am forever changed in some ways... I don't think that my physical body is the most important thing to come out of this very difficult time... I think it is--this is a time for us to offer compassion everywhere to our bodies and to each other."

Danielle Brooks says your body is your ride or die.
Similarly to Tracee, actress Danielle Brooks took to Instagram to emphasize the important role our bodies play in our lives. She proceeded to thank her temple accordingly:
"Why I am grateful for MY BODY: The body is your ride or die, literally. So I'm thankful for Good Health!! I'm thankful that my body functions at [100] regardless of the imperfections the world might see. It holds me up. It sustains me through long work weeks. It takes me on trips around the world, and carries me through my most stressful days and my most exciting. My body has my back, because it knows that I am learning to listen to what it needs to have it function at its best. I don't take my body for granted, so thank you body for taking me on an incredible ride this year!"
Alicia Keys thinks your body is a miracle.
Alicia Keys spoke to ELLE to share her beauty and wellness tips with the publication. When the subject of her body came up, the songstress recalled being insecure about the change affiliated with having children. She said:
"When I had kids, I felt like, 'Oh, my gosh, I'll never look the same ever again.' And that creates insecurity. It fluctuates and flows, but I feel like today, right now, I feel really good about my body. Every day, what your body does is a miracle. We're like the walking embodiments of miracles, and I like to remember that."
SZA believes the standard should come from within.
In a 2018 panel discussion with Girl Collective, SZA explained her journey to achieving positive self-image and learning to accept your self for yourself:
"It's all about where it starts in your mind. I think there are a lot of standards that people told me about that I didn't see. I started, I was 190 pounds, I only wore my dad's big t-shirts and socks on stage, no shoes, and didn't even notice; never complained or tripped about my makeup."

"It was just a matter of where I was in my mind, but I did also come out of that space where I was like, I feel like I want to change. I want to be different. I want to grow. I want to learn. I think it's one thing to be comfortable, but then it's one thing to not see your full potential and your full picture. The standard should really come [from] within."

Lizzo wants you to radically love on yourself today and every day.
A list about celebs embracing positive body self-image would not be complete without including "Juice" artist Lizzo. Though Lizzo is transparent that some days, loving herself and her body isn't always easy, self-love and self-acceptance is something she puts work into daily. Just like the rest of us:
"I started talking to my belly this year. Blowing her kisses and showering her with praises. I used to want to cut my stomach off I hated it so much. But it's literally ME. I am learning to radically love every part of myself. Even if it means talking to myself every morning. This is your sign to love on yourself today!"
Featured image by Tracee Ellis Ross/Instagram

Keep reading...
Show less
Lizzo had an educated and eloquent answer when a TikTok user posed this question on the app: "Would you wake up and trade places with someone who was on the heavier side?"
Even though the question wasn't aimed directly at her, the "Truth Hurts" singer took it upon herself to offer a response: "I'm glad she asked because this is giving me very much when that sociologist, Dr. Jane [Elliott], asked that room full of white people, 'raise your hand if you want to be treated like how Black people are treated in this country.' Or 'raise your hand if you would wake up and be Black tomorrow,' and nobody raised their hand. And that's because they know there's some systemic bullsh-t that happens to Black people that does not happen to them and would never happen to white people."
"Yes, if I asked you right now, have you been shamed, yes you've been through a lot, yes it sucks being a person in this society because we have to go through so much to love ourselves, but would you switch places with a fat person's body tomorrow? You would not because you know there's a whole system that oppresses fat people that you do not experience and that you will never experience."
@lizzo

#stitch with @cocainecuban I remember fantasizing about waking up in a slim persons body.. it was exhausting.
"So let's remember, body positivity, yes. We want to end harassment and shame, but we are also working to dismantle a system that oppresses fat people."
Boom. Leave it to the 32-year-old to school folks on how the body positivity movement has been co-opted from "fat" people and no longer serves them. Of course, this isn't the first time she exercised her advocacy for the big girl community on the video-sharing app. Whether it's with a dance routine or a clapback in the form of a monologue, Lizzo sprinkles self-love all up and down TikTok.
Below see Lizzo's best body positive moments on TikToks that will make you feel good as hell just watching.
She's Mastered Being Her Own Hype Man
@lizzo

POV ur hyping up a beautiful fat girl
POV ur hyping up a beautiful fat girl
She Asked Folks to Keep that Same Energy
@lizzo

Please use the body positive movement to empower yourself. But we need to protect and uplift the bodies it was created for and by.
Please use the body positive movement to empower yourself. But we need to protect and uplift the bodies it was created for and by.
She Couldn't Make Everyone Happy, So She Made a TikTok Instead
@lizzo

🥴 moral of the story is: you can't make everyone happy so just make yourself happy 🤷🏾‍♀️
🥴 moral of the story is: you can't make everyone happy so just make yourself happy 🤷🏾‍♀️
She Released an Unofficial Sing Called "My Body Is My Body"
New single alert 🥴
She Clapped Back at the Fake Doctors Out There
@lizzo

From one fat girl to y'all. With love 😘
From one fat girl to y'all. With love 😘
She Showed Appreciation For Her Body at All Stages
@lizzo

It's ok to change. I love every stage my body fluctuates to. The feats your body pulls off everyday to function is iconic honestly 💁🏾‍♀️ love u
It's ok to change. I love every stage my body fluctuates to. The feats your body pulls off everyday to function is iconic honestly 💁🏾‍♀️ love u
She Showed Off a Lifestyle Change She Was Proud of
@lizzo

i used to look at old pics of myself when I hated my body & say "I was so fine back then!".. now I appreciate ALL OF ME in the moment no matter what!
i used to look at old pics of myself when I hated my body & say "I was so fine back then!".. now I appreciate ALL OF ME in the moment no matter what!
She Showed Her Belly Some Extra Love
@lizzo

I started talking to my belly this year. I hated my belly I wanted to cut it off. But it's literally part of ME. So I'm loving her the way I deserve!
I started talking to my belly this year. I hated my belly I wanted to cut it off. But it's literally part of ME. So I'm loving her the way I deserve!
Featured image by lev radin / Shutterstock.com

Keep reading...
Show less
If it's never been clear before, hopefully by now, it is understood that we love us some Lizzo around here. She is just refreshing in every way: not afraid to be herself and certainly not afraid to navigate her vulnerability in doing so. Most recently, she made headlines when she decided to indulge in a few libations and go ape shit on the world wide web, essentially completing our weekend. The Grammy-winner posted a video to TikTok with a simple warning for her 14.5 million followers:
@lizzo

Don't drink and DM, kids.... for legal porpoises this is a joke
"Don't drink and DM, kids," the Grammy-winning singer captioned her video. Using the audio from TikTok star Tatayanna Mitchell, Lizzo revealed she set her sights on Chris Evans, of Avengers ultra-fame, in a clear attempt to shoot her shot. The internet was shooketh, because surely a woman of her caliber doesn't do the same thing us peasants do, right? Wrong! Sis went after her gold and struckkkkk.

In a follow-up video, Lizzo revealed an important update: Chris Evans replied to her which only made me secretly be like, OF COURSE he did, she's Lizzo (so people can stop acting like she isn't on his level...but that's another subject for another day.)!
Any who, the video continues:
"The reason I'm upset about this one is because I know I'm not going to be able to marry him. And honestly, it hurts me to the core. Because, damn papa, he a rare breed, no comparing. Like, Chris …"
And this isn't the first time the crooner has set her sights on Evans. Lizzo previously went public with her feelings back in 2019, after he re-shared a video of a young girl dancing to Lizzo's hit song "Juice", writing, "This kid is cooler than I could ever hope to be." She responded at the time with a follow-up tweet, writing to Evans, "Wow marry me" with a shrug face emoji.
Evans was a good sport with the sudden influx of attention, ultimately repling, "No shame in a drunk DM, God knows I've done worse on this app lol." He then followed her back.
Listen ladies, of course, the moment is in jest, but most importantly, it allows for the conversation to be had; the conversation that women, no matter who they are, are in the game of normalizing what it means to be confident enough to go after what, and who, they want. And if anyone knows confidence, it is Melissa Viviane Jefferson, who has made a career out of teaching us all to love ourselves (something she has struggled with in the past):
"Can you do me a HUGE favor?... no matter what you're doing right now... can you take a second and pause? Now.. Take 3 deep breaths... 1 ... 2 .... and a super deep breath on 3..... imagine pure love coming into your body and hold it right on your heart. Then say to yourself: "I LOVE YOU. YOU ARE BEAUTIFUL. AND YOU CAN DO ANYTHING." Repeat as many times as you need. Thank you, I really appreciate it."
Featured image by Cubankite / Shutterstock.com
Keep reading...
Show less
The latest viral food craze on TikTok is a bowl of fruit with fresh coconut water, dubbed "nature's cereal." It all started when a vegan food TikToker, who goes by the name "Natures Food," shared a video filling a bowl with fresh pomegranate, blueberries and blackberries, topped with fresh coconut water. In a video posted in February, he said:
"This my friends is what breakfast cereal looks like for me. My number one thing I notice when I eat this is my energy level -- goes through the roof."
From here, our sis Lizzo, who is vegan herself, tried it for her social media to enjoy, and the rest went down in viral food trend history. In her version of the dish, she swapped strawberries in place of blackberries and added ice to make the mix extra cold and crunchy. Captioned:
"It's actually really good, y'all."
@lizzo

🫐🍓🥥 it's actually really good y'all @natures_food
She posted a follow-up with another bowl of the fruit instead of cereal saying, "I'm addicted."
Of course, the natural course of action, was for the cereal to go up. So, you can thank Lizzo for your social media accounts being flooded with the new craze.
​But social media wouldn't be social media without thoughts:

Twitter
From those that loved it: 

Twitter
To confused by it:

Twitter
To obsessed: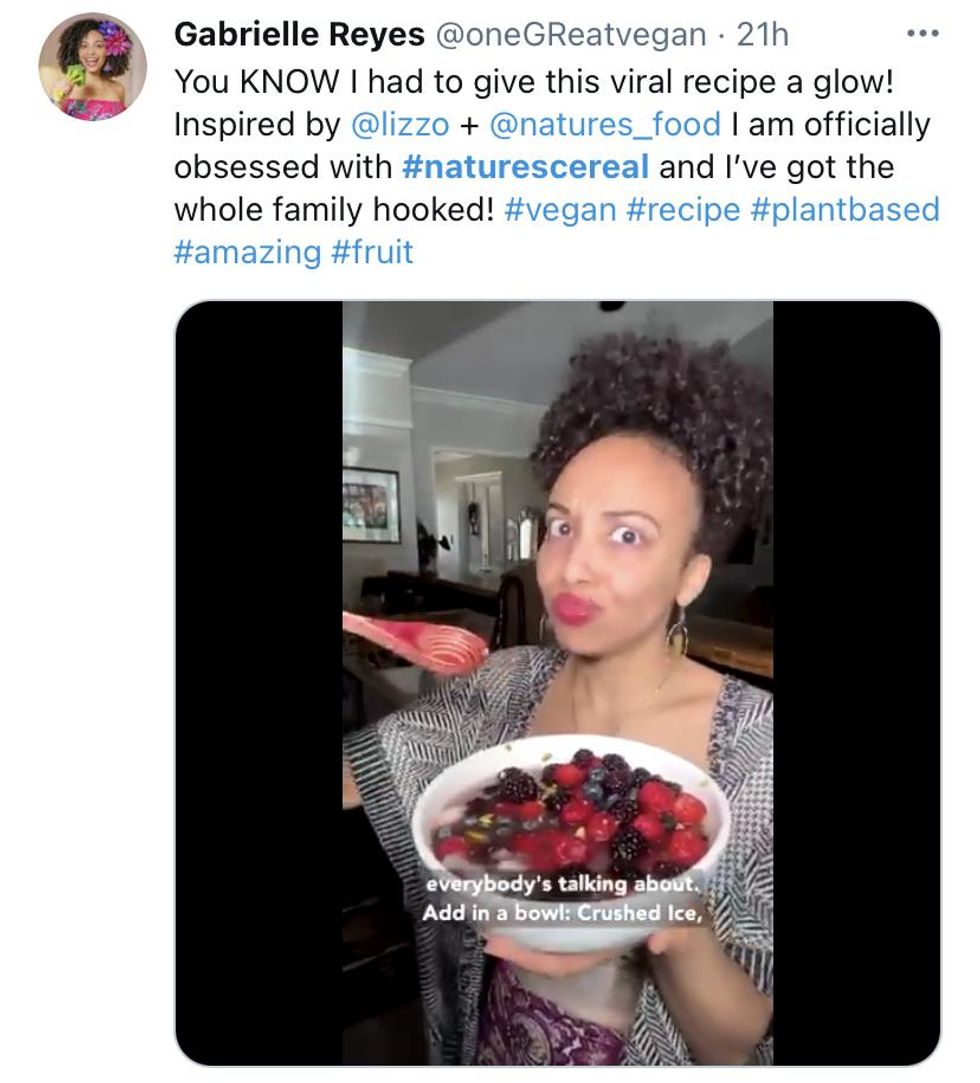 Twitter
And Lizzo wouldn't be Lizzo, if she didn't know how to deal with the responses, good and bad.
"I'm just glad y'all are getting their antioxidants, hydration and energy."
Us too, sis. Us too. Let's get these abs, ladies!
Are you a member of our insiders squad? Join us in the xoTribe Members Community today!

Featured image via Ben Houdijk / Shutterstock.com
Keep reading...
Show less
Lizzo is a woman of many hats; hats she's worn over the span of her career. And lately, her usual hat, has been one allowing her to work on elevating her life. Sis has been working out more, dieting, and she's becoming the best version of herself, right before our eyes. So, when the high-energy crooner decided to sing during one of her workouts, we couldn't look away (as if dancing while playing the flute wasn't impressive enough).
She shared a video on Instagram of her new stamina-building routine, explaining that she decided to try it after she saw Miley Cyrus sing "Rebel Girl" by the band Bikini Kill on the treadmill. In the video, she says:
"So I saw Miley running and singing her song, for stamina, so I'm going to run and sing my song for stamina. I'm doing this for all the big girls out there. They said we couldn't do it!"
She then proceeds to get to work.
Lizzo then starts up the treadmill and goes right into her song "Cuz I Love You." Halfway through the song, which includes long, soaring vocals as well as rap lyrics, she asked herself, "Why'd I pick this song, this is so hard!"
She ends up dropping the rap and sticking to the singing portions, but she pushes through.
And interestingly enough, singing while running on a treadmill is a practice that many have done since the end of time, across multiple industries. Kevin Garnett once said he improved his conditioning by adding the workout to his routine, thanks to Beyonce.
One day, Garnett asked his teammate, J.J. Redick, how he believed she was in such great shape. And the rest is history.
"One time I saw [Beyonce] working out. She was doing her dances, and she was singing while she was dancing. So then I'm thinking to myself, 'Maybe I should run and sing at the same time?' So in the offseasons, I would go to Malibu — I would go down to the beach — and I'd run on the beach and I'd be like, 'La la la, la la la, la la la,' while I'm running. So then, when I get on the court — I'm getting back on defense; I'm talking on defense — I don't get tired."
Though combining singing and running is new for Lizzo, she is quite the regular in the gym. She shared her typical workout routine back in June (which includes cycling, jumping rope and squats) and then proceeded to call out the trolls who are ignorantly surprised that she exercises.
"Hey, so I've been working out consistently for the last five years and it may come as a surprise to some of y'all that I'm not working out to have your ideal body type. I'm working out to have my ideal body type. And you know what type that is? None of your f------ business because I am beautiful, I am strong, I do my job and I stay on my job."
In other words: I just took a DNA test, turns out...

Watch the full video here.
Featured GIF via Lizzo/Instagram
Keep reading...
Show less