Lizzo has never been the one to shy away from being her authentic self whether anyone likes it or not. But at the end of the day, she is human. The "Juice" singer has faced a lot of pushback for her body positivity social media posts but in the same vein has been celebrated for it. Like her social media posts, her music is also often related to women's empowerment and honoring the inner bad bitch.
Recently, Lizzo appeared on Big Boy's Neighborhood and discussed body confidence, how she handles social media trolls, her three-month vow of silence, and much more.
Here are eight things we learned about the multi-hyphenate artist.

Lizzo On Her Issues with Confidence Growing Up
"I've always been confident in my talent. I could always lean on my talent, my personality. Physically, [I] did not have the confidence that I have now. I had to work really hard for it because I was born with it and the world took it away from me and it was my job to get it back.
"Growing up watching television, growing up going to school, and being told through messaging and explicitly being told from people's mouths that I was not beautiful. That I didn't look good, my body wasn't good. My body was bad. I need to lose weight. I would be so much prettier if I was thin. That! And seeing movies not seeing myself, seeing magazines, not seeing myself. That kinda took my confidence away. Watching movies where fat people were made fun of where they're the butt of the joke. They're always out of breath. Never the love interest, never desirable. That is what took my confidence away from me because I believed it."
On Falling Victim to Society's Views on Beauty 
"I tried to change myself. I dieted most of my entire life, wore girdles and shapewear to school when I was in middle school. Uncomfortable girdles that was breaking [out my] skin [and] making me sweat profusely in class. I was embarrassed. I was ashamed of myself. I worked out in the gym all the time. I didn't eat. I was obsessed with being thin 'cause I thought that would make me pretty."
Lizzo On People Who Gave Her Confidence
"I never had a Lizzo, but there were people before me that gave me hope like Queen Latifah, Missy Elliott and it's wild that now I'm in spaces where I can share spaces with Missy Elliott, Queen Latifah. I've done a song with Missy and a music video 'Tempo' and she gives me great advice. I saw Queen Latifah at the Songwriters Hall of Fame and she was like man, you are doing everything that you're supposed to be doing. I wished I had seen this when I was coming up and I was like but you're you. That's what I saw. So to hear it from my inspiration from my influence is wild because it's confirmation that I'm doing the right thing."
Lizzo On How She Handles Social Media
"I'm a part of a new generation of artists. I'm in a new class. It's like me, Lil Nas X, and Doja Cat. We're coming up in this age where this is normal. It's almost like well, it's a part of the game where you gotta get abused verbally on the internet by millions of strangers every day. You kind of make that a part of your identity as an artist and it's actually sh–ty. We shouldn't be putting up with this.
"I remember the first time I really talked to Adele on the phone was when I was getting a lot of backlash for just being a fat person and she called me and was like, 'How the hell are you doing this?' She was like it wasn't like this when she was first coming out which goes to show how quickly the industry has changed. I think it's fun to piss people off. I like pissing them off because it's like what are you gonna do about it bitch and if you try to do something I'd beat yo' mothaf--kin' ass."
Lizzo On Being Genre-less
"I'm an artist and my art is this thing that evolves and it's growing so whatever I feel like doing in that moment, I'ma do it. So right now, I'm a singer and I'm singing. My voice is the genre because I think also this new age of artists we have kind of taken the boundary line off of genres officially which is a beautiful thing because genre's inherently racist. They used genre to keep white kids away from black music period, back in the day. Race music, whatever they wanted to call it, it was segregation, and the fact that we've played into it for so long just shows how much it works and we have turned that down and said, 'F–k that, nah.'
"It started with people saying, 'I listen to everything.' Remember when people used to be like no, I listen to rap or I listen to r&b or I listen to rock. People didn't listen to other stuff and now it's like nah, we listen to everything and I make everything."
Lizzo On Being a Fan of Her Own Music
"I love my stuff. I listen to my music all the time. It's really the only music I listen to because I'm listening to my demos. Sometimes I be with my friends and they be like can you put on that song, I'm not gonna say the name of the song, but the unreleased ones, and I be like sure."
Lizzo On Her Gift of Discernment
"God doesn't let people around me who not supposed to be around and this is a bigger conversation than who I'm touring with in general but my circle is tighter than my p–sy and it's just as good."
Lizzo On Her Three-month Vow of Silence
"I didn't talk to nobody and I lived in the house with my mom and my brother and we were in Denver, Colorado and I was just in a bad place in my life. A lot of horrible things happened back to back to back and I kind of shut down—I really just stopped talking. I just had nothing to say to nobody. I was angry with the world and I changed my life. I was gonna be this concert flutist.
I was gonna move to Paris, study at the Paris Conservatory, [and] try to be in a symphony. That was the dream and when that dream ended, I was like okay what are you gonna do now? I think in that three months I was like okay, you're gonna be a singer, you're gonna be a rapper, you're gonna do music. And I was like this is delusional but in those three months, I completely convinced myself. It sounds nice like I took a monk's vow but it hurt my mom's feelings a lot. It hurt my brother's feelings and it hurt me too to do that. I was out of my body. I was like what are you doing? Just talk to them and it was like no you have nothing to say.

Lizzo On Why She Didn't Speak For Months, SNL, Coachella, Dr. Dre, and Playing Flute | Interview
Let's make things inbox official! Sign up for the xoNecole newsletter for daily love, wellness, career, and exclusive content delivered straight to your inbox.
Featured image by Matt Winkelmeyer/MG22/Getty Images for The Met Museum/Vogue
Lizzo's social media fame has seen some highs and lows. From her funny TikTok videos trying mustard on foods such as watermelon to participating in the latest dance trend, the singer is no stranger to showing her face on popular social media apps. However, because of her fearlessness in her body and bold personality, she has faced online criticism from trolls, and time and time again, she has addressed them on her social media platforms.
One instance, in particular, the "Cuz I Love You" singer was called a mammy for her "Rumors" music video and she responded to it in an emotional Instagram Live. But her willingness to address the criticism online is just her showing the many sides of herself and that's something she wants to be normalized on the internet.
​"Social media is so curated, people think that you're supposed to be, like, happy all the time," she told Yahoo! Life's The Unwind series. "And it's like if you're not happy all the time, why would you show that? But it's like, people act like they don't cry. People act like they're not upset about things. And the fact that I choose to show it is, for me, helpful."
She continued, "If it's happening to me online, I kind of wanna work it out online too, you know? It's not like a cry for help and it's not to bring any pity. It's more so to just, like, normalize it. So it is helpful for me to work things out on the internet, and I love working things out in my craft and through my creativity."
Instead of discouraging herself from showing emotion, the 33-year-old musician plans on getting a bag from it.
"How much of me am I willing to give away for free ... to people who don't know what to do with it?" she said. "So I think I've put that boundary on myself and I've been more dedicated to [thinking], 'OK, if you're gonna be emotional, put [it] in the music. If you're sad today, put it in a song, put [it] in a visual, you know, put [it] in a move. So I think I'm gonna let all of my emotions dictate my big moves from now on. I clearly have a lot of them, so maybe I'll have a lot of moves to make."
While expressing herself through her music can be looked at as a form of self-love, here are some other ways Lizzo practices self-care and self-love.
Exercising
"I'll literally be so stressed out or so sad about something and 30 minutes later after doing cardio or calisthenics or weight training or a hike, I'm like, 'Damn, I'm glad I did that. I feel so much better,'" she said. "That's a true reward for me. Sometimes ... the stress that you're feeling, you've got to match that stress with something that's good for you to get it out of your body," she told Yahoo! Life
Acceptancing Herself
​"I don't think that loving yourself is a choice. I think that it's a decision that has to be made for survival; it was in my case. Loving myself was the result of answering two things: Do you want to live? 'Cause, this is who you're gonna be for the rest of your life. Or are you gonna just have a life of emptiness, self-hatred, and self-loathing? And I chose to live, so I had to accept myself," she wrote via NBC News.
Enjoying the Little Things
"Self-care is in the little moments—bathing, sweating, washing your hair. It's in laughing so hard you can barely catch a breath, your lungs expanding on a morning jog. Now more than ever we need to enjoy the quiet within ourselves," she wrote on Instagram.
Therapy
​"But I finally realized that owning up to your vulnerabilities is a form of strength, and making the choice to go to therapy is a form of strength. It took years for me to get to that point, but I did it last year for my friends and my family. I didn't really do it for myself at first, but because I realized what my emotional condition was doing to my relationships. And I wanted to be a better sister and a better daughter, a better boss, and a better friend," she wrote via NBC News.
Featured image by David M. Benett/Dave Benett/Getty Images for Warner Music
Lizzo has never been the one to shy away from her weight and so when she gained a few pounds she did the most Lizzo thing ever! On Sunday, the "Rumors" singer shared an Instagram and TikTok video of herself dancing in a chocolate bodysuit and see-through tights to the City Girls song "Rodeo" and in the caption, she revealed her weight gain.
"I gained weight💅🏾 I look TF GOODT😍," she wrote.
Many of her fans agreed that the singer looked good and made it known in her comment section. Lizzo has always been real about her body and has been dismantling society's views about how a woman's body should look one photo at a time.
From flaunting her curvaceous figure on stage to posing seductively on Instagram, Lizzo puts it all on display. And while she has been celebrated for it, she also often experiences severe backlash for it.
In August, the 33-year-old broke down in tears after she faced scrutiny over her "Rumors" video with Cardi B. The singer was on Instagram Live addressing the "fat-phobic" and "racists" comments she received such as being called a "mammy." The word "mammy" is an offensive term used to describe a Black woman who takes care of white children.
When you stand up for yourself they claim your problematic & sensitive.When you don't they tear you apart until you crying like this. Whether you skinny,big,plastic, they going to always try to put their insecurities on you.Remember these are nerds looking at the popular table. https://t.co/jE5eJw8XP6

— Cardi B (@iamcardib) August 15, 2021
"If you don't like my music, cool. If you don't like 'Rumors,' the song, cool. But a lot of people don't like me because of the way I look." She later did a TikTok duet with a fan who called out people for criticizing the musician.

"This is exactly why I started off the song with 'they don't know I do it for the culture,'" Lizzo said. "These people who are saying this are probably the same people who are mad when I am being hypersexual, and the mammy trope is actually desexualized. So it can't both be true. Make it make sense."
"I think people are just mad to see a fat Black woman that makes pop music and is happy. Y'all are so upset that I am happy. But this doesn't even bother me because Aretha Franklin was criticized by the Black church when she came out, Whitney Houston was booed, and Beyoncé received criticism early in her career," she added.
"So you know what, the type of music that I make, I know I am making it to be great, making it to touch the world, and I don't stick to any of these criticisms because I know the only person that I am serving is myself."
Lately, it appears that the singer is feeling "Good as Hell" after ringing in the new year with a performance in Las Vegas.
Featured image by Steve Jennings/WireImage/Getty Images
Adding a new layer to this never-ending chat about celebrity hygiene, Lizzo has revealed in her Instagram Story that she no longer wears deodorant. She took to the net to piggyback on Matthew McConaughey's recent comments, famously saying that he gave up wearing deodorant 35 years ago, and that he hadn't "worn deodorant in 20 years." Despite him making this revelation in 2005, because folks love bringing up old shit these days, his revelation to PEOPLE has made their rounds.

Anyway, back to Lizzo: upon reading about McConaughey, she took to social media revealing:
""Ok I'm w him on this one. I stopped using deodorant and I smell BETTER."
And listen, as it turns out, what she's saying, is facts.
There's no secret that typical deodorant has been linked to cancer and other internal wellness illnesses, due to their content of aluminum and other potentially harmful chemicals (I only say potential because not everyone's bodies respond to these toxins the same way, but we all know how deodorant gets down). Rapper Saweetie detailed that she uses lemons instead, which she credits for her smooth and clear pits.
"A lot of people don't know this, but when you use deodorant, it traps the toxins in there, and that's why you always be musty. In order to alleviate that, put lemons instead of deodorant under your armpits."
She explained:
"It also lightens it. So dark marks, and all the funk, that's caused by bacteria. So, instead of putting that nasty, unhealthy deodorant that blocks your pores, get you some lemons."
Zoe Kravitz is also an advocate of finding more natural ways to cleanse your armpits, versus traditional deodorants.
She revealed to Vogue that instead, she swears by Milk + Honey natural deodorant.
"I've been on quite a journey with natural deodorants in general because a lot of them don't work, but I don't want to put aluminum near my lymph nodes and breasts, and this is one of the only ones that works--truly works. Lasts all day, and smells delicious."
Of course, the conversation is largely in part to Mila Kunis and Ashton Kutcher starting this massive avalanche of conversation about not routinely bathing themselves and their kids, a conversation that just won't quit. And just like that conversation, dermatologists are weighing in here too and advising against the hygiene staple. In fact, if you quit using an antiperspirant altogether, your skin's natural microbiome can potentially reset. Dr. Joshua Zeichner tells Well + Good:
"Antiperspirants work by blocking wetness from reaching the surface of the skin. These contain aluminum salts that form a plug or blockage within the sweat glands to physically prevent sweat. Despite the popular belief that discontinuing antiperspirant use will detox your underarms, the only detoxifying organs in your body are your liver and kidneys. Without antiperspirant, perhaps your skin may better clear dirt, oil, and debris that accumulate on the skin and within the sweat glands."
Additionally, just as Saweetie said, he agrees that antiperspirants use antimicrobial agents to kill bacteria and other ingredients to block your sweat glands; however, antiperspirants actually affects the bacterial balance in your armpits. He also notes that ultimately, their use can actually create an even greater odor-inducing sweat problem. Chileeee.
Let me find out Saweetie is a whole MD out here!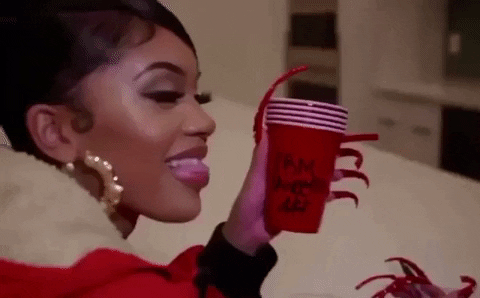 Giphy
For now, Lizzo hasn't gone into detail about her armpit cleansing routine but we'll keep out eyes open about whatever tea she has on how to stay fresh. In the meantime, although everything we may have ever been taught about hygiene may be a whole ass lie, at least the conversation is...happening.
Watch Lizzo's latest video "Rumors" below:
Are you a member of our insiders squad? Join us in the xoTribe Members Community today!

Featured image by Kevin Mazur/Getty Images for The Recording Academy
Let's be real, at one time or another, all of us have struggled with how we view our bodies and positive self-image. Even the most confident and self-assured of us can find ourselves nitpicking and critiquing the stretch marks we see here or the extra bloat that we might see there. Despite the fact that we might be quick to offer the next person a compliment when they say something self-deprecating about their bodies, sometimes we forget to give ourselves that same grace.
And with it being summertime, and the streets calling us outside to partake in hot girl summer activities, it's easy to feel that self-doubt and insecurity stopping us from loving the bodies we have while we focus on the bodies we hope to attain. Don't get us wrong, having fitness inspo and "beach-body" goals to aspire to are cool, but so are the bodies we get to call our homes.
What's beautiful about this season in particular is how much self-love in the form of body acceptance has been emphasized. Adding their voices to that movement are celebs like Tracee Ellis Ross and Ashley Graham who are using their platforms to echo sentiments about showing your body gratitude instead of criticism.
Keep scrolling for some celebrities daring to bare the skin they're in and their bodies as they are now, fully and unapologetically.
Ashley Graham says "it's hot out there and so are you."
Recently, model and host Ashley Graham shared a slideshow of powerful images showing the range of very real shapes and sizes. In her caption, she wrote, "I hope these photos I've been tagged in of so many beautiful bodies motivates you to love the skin you're in. believe me when I say your body is beautiful, and i know it's easy to tell yourself the lie that you're not good enough, thin enough, sexy enough, 'flawless' enough to wear a tank top or a swimsuit, but it's hot out there and so are you."
In an interview with Porterearlier this year, Ashley revealed why it was that she is intentional about sharing photos of herself on Instagram showing her body. Hint: it ain't about the likes.
"I don't post myself half-naked to get the likes. I post myself half-naked so that someone who's 10 years younger than me knows that that side butt, that hip dip — that's not abnormal to have."
"I wish that, when I was younger, there had been someone as outspoken as I was, who was as fearless with their cellulite and back fat, so I could know that this was normal; this was what a body looks like."
Rihanna knows she is beautiful regardless of her weight.
Rihanna is a purveyor of slay at any size and she has worn confidence as a second skin for her entire career, both onstage as a performer and off as the Queen of Savage. For our favorite bad gal, self-acceptance is key. Sis told VOGUE she is a firm believer in embracing her body at any phase:
"You've just got to laugh at yourself, honestly. I mean, I know when I'm having a fat day and when I've lost weight. I accept all of the bodies. I'm not built like a Victoria's Secret girl, and I still feel very beautiful and confident in my lingerie."
Tracee Ellis Ross wants you to show your body compassion.
Earlier this year, Tracee Ellis Ross shared an affirming message via her IGTV in April with the title "Checking In 4/8". In it, she addressed the fact that our bodies need compassion not judgment. For her, gratitude is the attitude and it's a gift she'd like to pay forward.
"I really encourage and invite all of us to just receive the wisdom of our bodies right now and allow the softness, the weight--whatever that looks like and be grateful. Like, I feel like I've made it through this year. And in some ways I've gotten deeper. In some ways I've gotten bigger in some ways. I am forever changed in some ways... I don't think that my physical body is the most important thing to come out of this very difficult time... I think it is--this is a time for us to offer compassion everywhere to our bodies and to each other."

Danielle Brooks says your body is your ride or die.
Similarly to Tracee, actress Danielle Brooks took to Instagram to emphasize the important role our bodies play in our lives. She proceeded to thank her temple accordingly:
"Why I am grateful for MY BODY: The body is your ride or die, literally. So I'm thankful for Good Health!! I'm thankful that my body functions at [100] regardless of the imperfections the world might see. It holds me up. It sustains me through long work weeks. It takes me on trips around the world, and carries me through my most stressful days and my most exciting. My body has my back, because it knows that I am learning to listen to what it needs to have it function at its best. I don't take my body for granted, so thank you body for taking me on an incredible ride this year!"
Alicia Keys thinks your body is a miracle.
Alicia Keys spoke to ELLE to share her beauty and wellness tips with the publication. When the subject of her body came up, the songstress recalled being insecure about the change affiliated with having children. She said:
"When I had kids, I felt like, 'Oh, my gosh, I'll never look the same ever again.' And that creates insecurity. It fluctuates and flows, but I feel like today, right now, I feel really good about my body. Every day, what your body does is a miracle. We're like the walking embodiments of miracles, and I like to remember that."
SZA believes the standard should come from within.
In a 2018 panel discussion with Girl Collective, SZA explained her journey to achieving positive self-image and learning to accept your self for yourself:
"It's all about where it starts in your mind. I think there are a lot of standards that people told me about that I didn't see. I started, I was 190 pounds, I only wore my dad's big t-shirts and socks on stage, no shoes, and didn't even notice; never complained or tripped about my makeup."

"It was just a matter of where I was in my mind, but I did also come out of that space where I was like, I feel like I want to change. I want to be different. I want to grow. I want to learn. I think it's one thing to be comfortable, but then it's one thing to not see your full potential and your full picture. The standard should really come [from] within."

Lizzo wants you to radically love on yourself today and every day.
A list about celebs embracing positive body self-image would not be complete without including "Juice" artist Lizzo. Though Lizzo is transparent that some days, loving herself and her body isn't always easy, self-love and self-acceptance is something she puts work into daily. Just like the rest of us:
"I started talking to my belly this year. Blowing her kisses and showering her with praises. I used to want to cut my stomach off I hated it so much. But it's literally ME. I am learning to radically love every part of myself. Even if it means talking to myself every morning. This is your sign to love on yourself today!"
Featured image by Tracee Ellis Ross/Instagram

Lizzo had an educated and eloquent answer when a TikTok user posed this question on the app: "Would you wake up and trade places with someone who was on the heavier side?"
Even though the question wasn't aimed directly at her, the "Truth Hurts" singer took it upon herself to offer a response: "I'm glad she asked because this is giving me very much when that sociologist, Dr. Jane [Elliott], asked that room full of white people, 'raise your hand if you want to be treated like how Black people are treated in this country.' Or 'raise your hand if you would wake up and be Black tomorrow,' and nobody raised their hand. And that's because they know there's some systemic bullsh-t that happens to Black people that does not happen to them and would never happen to white people."
"Yes, if I asked you right now, have you been shamed, yes you've been through a lot, yes it sucks being a person in this society because we have to go through so much to love ourselves, but would you switch places with a fat person's body tomorrow? You would not because you know there's a whole system that oppresses fat people that you do not experience and that you will never experience."
@lizzo

#stitch with @cocainecuban I remember fantasizing about waking up in a slim persons body.. it was exhausting.
"So let's remember, body positivity, yes. We want to end harassment and shame, but we are also working to dismantle a system that oppresses fat people."
Boom. Leave it to the 32-year-old to school folks on how the body positivity movement has been co-opted from "fat" people and no longer serves them. Of course, this isn't the first time she exercised her advocacy for the big girl community on the video-sharing app. Whether it's with a dance routine or a clapback in the form of a monologue, Lizzo sprinkles self-love all up and down TikTok.
Below see Lizzo's best body positive moments on TikToks that will make you feel good as hell just watching.
She's Mastered Being Her Own Hype Man
@lizzo

POV ur hyping up a beautiful fat girl
POV ur hyping up a beautiful fat girl
She Asked Folks to Keep that Same Energy
@lizzo

Please use the body positive movement to empower yourself. But we need to protect and uplift the bodies it was created for and by.
Please use the body positive movement to empower yourself. But we need to protect and uplift the bodies it was created for and by.
She Couldn't Make Everyone Happy, So She Made a TikTok Instead
@lizzo

🥴 moral of the story is: you can't make everyone happy so just make yourself happy 🤷🏾‍♀️
🥴 moral of the story is: you can't make everyone happy so just make yourself happy 🤷🏾‍♀️
She Released an Unofficial Sing Called "My Body Is My Body"
New single alert 🥴
She Clapped Back at the Fake Doctors Out There
@lizzo

From one fat girl to y'all. With love 😘
From one fat girl to y'all. With love 😘
She Showed Appreciation For Her Body at All Stages
@lizzo

It's ok to change. I love every stage my body fluctuates to. The feats your body pulls off everyday to function is iconic honestly 💁🏾‍♀️ love u
It's ok to change. I love every stage my body fluctuates to. The feats your body pulls off everyday to function is iconic honestly 💁🏾‍♀️ love u
She Showed Off a Lifestyle Change She Was Proud of
@lizzo

i used to look at old pics of myself when I hated my body & say "I was so fine back then!".. now I appreciate ALL OF ME in the moment no matter what!
i used to look at old pics of myself when I hated my body & say "I was so fine back then!".. now I appreciate ALL OF ME in the moment no matter what!
She Showed Her Belly Some Extra Love
@lizzo

I started talking to my belly this year. I hated my belly I wanted to cut it off. But it's literally part of ME. So I'm loving her the way I deserve!
I started talking to my belly this year. I hated my belly I wanted to cut it off. But it's literally part of ME. So I'm loving her the way I deserve!
Featured image by lev radin / Shutterstock.com