It's been a little over a month since Lizzo confirmed her relationship with comedian Myke Wright. After being spotted out together on multiple occasions, the "About Damn Time" artist revealed that she was in a relationship in April during an interview with Andy Cohen's Sirius XM show Radio Andy. But she made it Instagram official in June after Myke appeared alongside the singer on the red carpet for her Amazon Prime show, Lizzo'sWatch Out for the Big Grrrls. Now she's giving folks insight into their relationship and how she feels about monogamy. Lizzo, who just dropped her album Special, visited The Breakfast Club last week and talked about her boo.
"I think a traditional relationship scares me for 10 years, but love is forever. I can love somebody forever," she said. "Monogamy, I think to me, is a little claustrophobic. I think because there's the rules. I think a love relationship that's not monogamous has no rules."
She continued, "I think people who do poly and all that stuff — there's still rules. I don't want any rules," Lizzo said. " But that doesn't mean I'm out here f–king and sucking and ducking. It doesn't mean he is either. It just means that there are no expectations, and that way, the love gets to just be the main event."
But while she wouldn't describe her relationship with Myke as monogamous, she and the designer appear to be only dating each other. "I'm not worried about nobody else. I'm not worried about nobody else sexually, romantic or emotionally," she said. "I'm just worried about you and I'm just thinking about you and I think that's what we have which is the most beautiful, pure thing ever."
Lizzo and Myke met in 2016 before the Emmy-nominated host career took off. The "Rumors" musician got deeper about her romance and shared how love saved her life. Since reaching stardom, Lizzo said that she found herself in a "really lonely, anxious place in my life" and had difficulty letting love in.
"I think 'saving your life' doesn't always mean you was about to die and somebody saved you," she explained. "Saving your life can also mean, your life was headed in one direction and now it's going in this direction which is a much better healthier, safer, happier place because of love."
She added, "I have the most genuine people around me. They don't give a s–t about 'Lizzo' with the chain on. They care about Melissa [Jefferson] (Lizzo's government name), and everyone I'm close with has known me before all of this happened and I think that's important.
"Even the man I'm with, he knew me before all of this too. We were friends. So I think that is actually really important. Not to say that I can't make friends with people who met me after the fame but it hit different when they knew you before 2019."
Lizzo Talks New Album 'Special', Revealing Her New Boo, Emmy Noms + More
Let's make things inbox official! Sign up for the xoNecole newsletter for daily love, wellness, career, and exclusive content delivered straight to your inbox.
Featured image by Aaron J. Thornton/Getty Images for BET
Lizzo has faced a lot of criticism since her ascension in music and she is over it. The "About Damn Time" singer has dealt with online hate simply because of how she looks and she has reacted to the hate in the best way by continuing to be herself. The more hate she receives, the more we see Lizzo unapologetically sharing photos and videos of her body on social media.
In an interview with Zane Lowe on Apple Music 1, Lizzo opened up about the negativity surrounding her appearance.
"I've noticed that once people knew who I was, because before it was discovery, it was like, 'Who is this? Who is that?'" She said. "And then once people knew who I was and it became kind of solidified, they became more comfortable with using me as some sort of punchline or joke or immediately they want to criticize whatever I'm doing because there's levels to me that they don't accept."
The 34-year-old started gaining traction with her hit single "Truth Hurts" and her fame skyrocketed. She then dropped her 2019 album Cuz I Love You which showed Lizzo naked on the cover.
She continued, "So I've found that I'm always going to receive some sort of backlash or criticism whenever I put myself in a public space, just because of who I am and the way I choose to exist."
And while she has had some low moments, such as crying on Instagram Live due to the harsh criticism she has received about her body, she is now trying a different approach. "I'm trying to distance myself from even looking at those people and reading those comments," she said. "It's been very difficult because I just feel I can't escape it."
The Grammy award-winning artist is readying for her next album Special which is set to drop Friday and a tour in which she will be going on with Latto.
Watch the full interview below.
Lizzo - Zane Lowe & Apple Music 'Special' Interviewwww.youtube.com
Featured image by Jamie McCarthy/Getty Images
They say it ain't real until you post your boo on social media or, in this case, flaunt them on the red carpet. Lizzo hit up the red carpet for her Amazon Prime Series Watch Out for the Big Grrrls with her boyfriend Myke Wright by her side. She shared photos of the twosome on Instagram with the caption "Ima boss ass b–h, b–h, b–h, b–h, b–h, b–h, b–h💅🏾 #FYC" which are lyrics from the 2014 song by PTAF. The "Good As Hell" singer looked pretty in pink while her beau looked dapper in an all-black suit.
But who is Myke Wright? Before confirming their relationship, Lizzo would tease photos of him on social media being sure not to show his face and paparazzi have often caught them together dining out. In April, she stopped by Andy Cohen's Sirius XM radio show Radio Andy where she confirmed she was in a relationship.
The couple met in 2016 when they both were co-hosting MTV's Wonderland music series. Keep reading for more of what we know about Myke.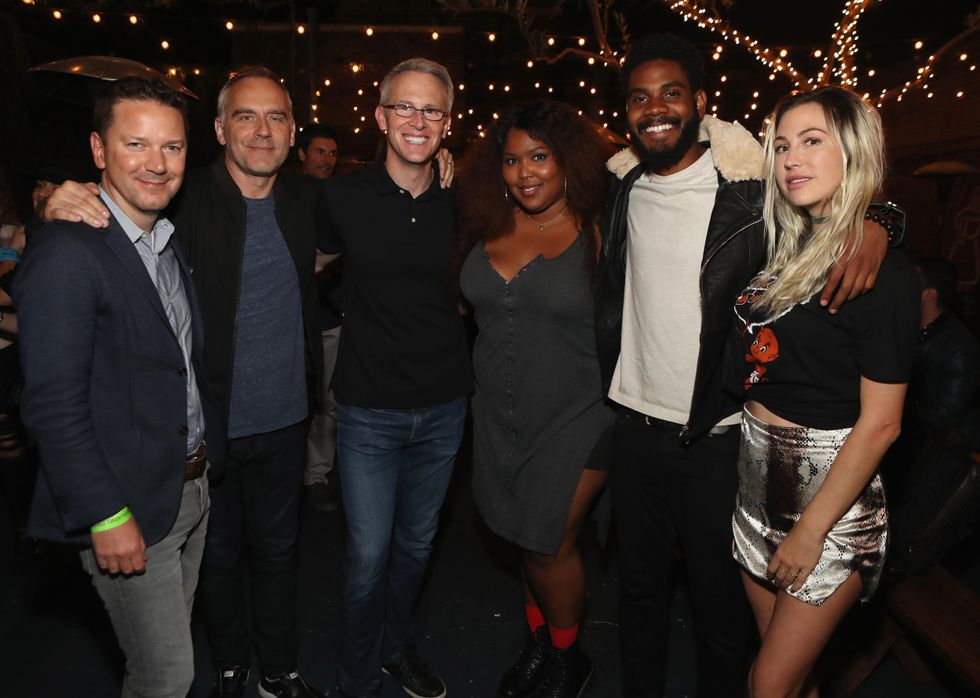 Randy Shropshire/Getty Images for MTV
Myke's a Designer
Myke has shared many of his designs for his company on social media. In a June 2020 post, he posted a concept for abandoned gas stations for the Detroit fashion brand EMLE. In the caption, he wrote, "I would love to transform abandoned gas stations into experimental, convenient shopping experiences for the community✨ Introducing the EMLE Shop: Quick Kiosks + Store Front | designed by Myke Wright for @emle_87 |." According to VoyageLA, he also founded a design and innovation company called ümi.
Myke Was In an All-Black Rock Band
In the same VoyageLA interview, Myke revealed that he and his friends formed an all-Black rock band in high school called They Grey Level and later an alternative hip hop group called Phresh Heir. "We didn't feel like our music was Black or white. Our music was a mix of everything we liked and had fun sharing with people," he said. "It was authentic and people connected with it."
Myke is a Comedian
Lizzo's boo is also a stand-up comedian and has appeared on a few TV series and shorts such as Tell Me What You Know About Cyrus, Adam Devine's House Party, We the Internet TV, and MTV's Wonderland. He actually moved to Los Angeles from Detroit in 2012 to pursue his comedic career. Comedy Central has a few clips of his stand-up on its YouTube page.
Myke Seems to be a Private Person
There's not much information about the comedian besides his IMDB page and a VoyageLA interview. He's also not that active on social media, especially in comparison to his famous girlfriend. His Instagram posts are scarce but he has recently begun sharing images of himself.
Let's make things inbox official! Sign up for the xoNecole newsletter for daily love, wellness, career, and exclusive content delivered straight to your inbox.
Featured image by Anna Webber/Getty Images for Prime Video
Lizzo has never been the one to shy away from being her authentic self whether anyone likes it or not. But at the end of the day, she is human. The "Juice" singer has faced a lot of pushback for her body positivity social media posts but in the same vein has been celebrated for it. Like her social media posts, her music is also often related to women's empowerment and honoring the inner bad bitch.
Recently, Lizzo appeared on Big Boy's Neighborhood and discussed body confidence, how she handles social media trolls, her three-month vow of silence, and much more.
Here are eight things we learned about the multi-hyphenate artist.

Lizzo On Her Issues with Confidence Growing Up
"I've always been confident in my talent. I could always lean on my talent, my personality. Physically, [I] did not have the confidence that I have now. I had to work really hard for it because I was born with it and the world took it away from me and it was my job to get it back.
"Growing up watching television, growing up going to school, and being told through messaging and explicitly being told from people's mouths that I was not beautiful. That I didn't look good, my body wasn't good. My body was bad. I need to lose weight. I would be so much prettier if I was thin. That! And seeing movies not seeing myself, seeing magazines, not seeing myself. That kinda took my confidence away. Watching movies where fat people were made fun of where they're the butt of the joke. They're always out of breath. Never the love interest, never desirable. That is what took my confidence away from me because I believed it."
On Falling Victim to Society's Views on Beauty 
"I tried to change myself. I dieted most of my entire life, wore girdles and shapewear to school when I was in middle school. Uncomfortable girdles that was breaking [out my] skin [and] making me sweat profusely in class. I was embarrassed. I was ashamed of myself. I worked out in the gym all the time. I didn't eat. I was obsessed with being thin 'cause I thought that would make me pretty."
Lizzo On People Who Gave Her Confidence
"I never had a Lizzo, but there were people before me that gave me hope like Queen Latifah, Missy Elliott and it's wild that now I'm in spaces where I can share spaces with Missy Elliott, Queen Latifah. I've done a song with Missy and a music video 'Tempo' and she gives me great advice. I saw Queen Latifah at the Songwriters Hall of Fame and she was like man, you are doing everything that you're supposed to be doing. I wished I had seen this when I was coming up and I was like but you're you. That's what I saw. So to hear it from my inspiration from my influence is wild because it's confirmation that I'm doing the right thing."
Lizzo On How She Handles Social Media
"I'm a part of a new generation of artists. I'm in a new class. It's like me, Lil Nas X, and Doja Cat. We're coming up in this age where this is normal. It's almost like well, it's a part of the game where you gotta get abused verbally on the internet by millions of strangers every day. You kind of make that a part of your identity as an artist and it's actually sh–ty. We shouldn't be putting up with this.
"I remember the first time I really talked to Adele on the phone was when I was getting a lot of backlash for just being a fat person and she called me and was like, 'How the hell are you doing this?' She was like it wasn't like this when she was first coming out which goes to show how quickly the industry has changed. I think it's fun to piss people off. I like pissing them off because it's like what are you gonna do about it bitch and if you try to do something I'd beat yo' mothaf--kin' ass."
Lizzo On Being Genre-less
"I'm an artist and my art is this thing that evolves and it's growing so whatever I feel like doing in that moment, I'ma do it. So right now, I'm a singer and I'm singing. My voice is the genre because I think also this new age of artists we have kind of taken the boundary line off of genres officially which is a beautiful thing because genre's inherently racist. They used genre to keep white kids away from black music period, back in the day. Race music, whatever they wanted to call it, it was segregation, and the fact that we've played into it for so long just shows how much it works and we have turned that down and said, 'F–k that, nah.'
"It started with people saying, 'I listen to everything.' Remember when people used to be like no, I listen to rap or I listen to r&b or I listen to rock. People didn't listen to other stuff and now it's like nah, we listen to everything and I make everything."
Lizzo On Being a Fan of Her Own Music
"I love my stuff. I listen to my music all the time. It's really the only music I listen to because I'm listening to my demos. Sometimes I be with my friends and they be like can you put on that song, I'm not gonna say the name of the song, but the unreleased ones, and I be like sure."
Lizzo On Her Gift of Discernment
"God doesn't let people around me who not supposed to be around and this is a bigger conversation than who I'm touring with in general but my circle is tighter than my p–sy and it's just as good."
Lizzo On Her Three-month Vow of Silence
"I didn't talk to nobody and I lived in the house with my mom and my brother and we were in Denver, Colorado and I was just in a bad place in my life. A lot of horrible things happened back to back to back and I kind of shut down—I really just stopped talking. I just had nothing to say to nobody. I was angry with the world and I changed my life. I was gonna be this concert flutist.
I was gonna move to Paris, study at the Paris Conservatory, [and] try to be in a symphony. That was the dream and when that dream ended, I was like okay what are you gonna do now? I think in that three months I was like okay, you're gonna be a singer, you're gonna be a rapper, you're gonna do music. And I was like this is delusional but in those three months, I completely convinced myself. It sounds nice like I took a monk's vow but it hurt my mom's feelings a lot. It hurt my brother's feelings and it hurt me too to do that. I was out of my body. I was like what are you doing? Just talk to them and it was like no you have nothing to say.

Lizzo On Why She Didn't Speak For Months, SNL, Coachella, Dr. Dre, and Playing Flute | Interview
Let's make things inbox official! Sign up for the xoNecole newsletter for daily love, wellness, career, and exclusive content delivered straight to your inbox.
Featured image by Matt Winkelmeyer/MG22/Getty Images for The Met Museum/Vogue
Lizzo's social media fame has seen some highs and lows. From her funny TikTok videos trying mustard on foods such as watermelon to participating in the latest dance trend, the singer is no stranger to showing her face on popular social media apps. However, because of her fearlessness in her body and bold personality, she has faced online criticism from trolls, and time and time again, she has addressed them on her social media platforms.
One instance, in particular, the "Cuz I Love You" singer was called a mammy for her "Rumors" music video and she responded to it in an emotional Instagram Live. But her willingness to address the criticism online is just her showing the many sides of herself and that's something she wants to be normalized on the internet.
​"Social media is so curated, people think that you're supposed to be, like, happy all the time," she told Yahoo! Life's The Unwind series. "And it's like if you're not happy all the time, why would you show that? But it's like, people act like they don't cry. People act like they're not upset about things. And the fact that I choose to show it is, for me, helpful."
She continued, "If it's happening to me online, I kind of wanna work it out online too, you know? It's not like a cry for help and it's not to bring any pity. It's more so to just, like, normalize it. So it is helpful for me to work things out on the internet, and I love working things out in my craft and through my creativity."
Instead of discouraging herself from showing emotion, the 33-year-old musician plans on getting a bag from it.
"How much of me am I willing to give away for free ... to people who don't know what to do with it?" she said. "So I think I've put that boundary on myself and I've been more dedicated to [thinking], 'OK, if you're gonna be emotional, put [it] in the music. If you're sad today, put it in a song, put [it] in a visual, you know, put [it] in a move. So I think I'm gonna let all of my emotions dictate my big moves from now on. I clearly have a lot of them, so maybe I'll have a lot of moves to make."
While expressing herself through her music can be looked at as a form of self-love, here are some other ways Lizzo practices self-care and self-love.
Exercising
"I'll literally be so stressed out or so sad about something and 30 minutes later after doing cardio or calisthenics or weight training or a hike, I'm like, 'Damn, I'm glad I did that. I feel so much better,'" she said. "That's a true reward for me. Sometimes ... the stress that you're feeling, you've got to match that stress with something that's good for you to get it out of your body," she told Yahoo! Life
Acceptancing Herself
​"I don't think that loving yourself is a choice. I think that it's a decision that has to be made for survival; it was in my case. Loving myself was the result of answering two things: Do you want to live? 'Cause, this is who you're gonna be for the rest of your life. Or are you gonna just have a life of emptiness, self-hatred, and self-loathing? And I chose to live, so I had to accept myself," she wrote via NBC News.
Enjoying the Little Things
"Self-care is in the little moments—bathing, sweating, washing your hair. It's in laughing so hard you can barely catch a breath, your lungs expanding on a morning jog. Now more than ever we need to enjoy the quiet within ourselves," she wrote on Instagram.
Therapy
​"But I finally realized that owning up to your vulnerabilities is a form of strength, and making the choice to go to therapy is a form of strength. It took years for me to get to that point, but I did it last year for my friends and my family. I didn't really do it for myself at first, but because I realized what my emotional condition was doing to my relationships. And I wanted to be a better sister and a better daughter, a better boss, and a better friend," she wrote via NBC News.
Featured image by David M. Benett/Dave Benett/Getty Images for Warner Music
Lizzo has never been the one to shy away from her weight and so when she gained a few pounds she did the most Lizzo thing ever! On Sunday, the "Rumors" singer shared an Instagram and TikTok video of herself dancing in a chocolate bodysuit and see-through tights to the City Girls song "Rodeo" and in the caption, she revealed her weight gain.
"I gained weight💅🏾 I look TF GOODT😍," she wrote.
Many of her fans agreed that the singer looked good and made it known in her comment section. Lizzo has always been real about her body and has been dismantling society's views about how a woman's body should look one photo at a time.
From flaunting her curvaceous figure on stage to posing seductively on Instagram, Lizzo puts it all on display. And while she has been celebrated for it, she also often experiences severe backlash for it.
In August, the 33-year-old broke down in tears after she faced scrutiny over her "Rumors" video with Cardi B. The singer was on Instagram Live addressing the "fat-phobic" and "racists" comments she received such as being called a "mammy." The word "mammy" is an offensive term used to describe a Black woman who takes care of white children.
When you stand up for yourself they claim your problematic & sensitive.When you don't they tear you apart until you crying like this. Whether you skinny,big,plastic, they going to always try to put their insecurities on you.Remember these are nerds looking at the popular table. https://t.co/jE5eJw8XP6

— Cardi B (@iamcardib) August 15, 2021
"If you don't like my music, cool. If you don't like 'Rumors,' the song, cool. But a lot of people don't like me because of the way I look." She later did a TikTok duet with a fan who called out people for criticizing the musician.

"This is exactly why I started off the song with 'they don't know I do it for the culture,'" Lizzo said. "These people who are saying this are probably the same people who are mad when I am being hypersexual, and the mammy trope is actually desexualized. So it can't both be true. Make it make sense."
"I think people are just mad to see a fat Black woman that makes pop music and is happy. Y'all are so upset that I am happy. But this doesn't even bother me because Aretha Franklin was criticized by the Black church when she came out, Whitney Houston was booed, and Beyoncé received criticism early in her career," she added.
"So you know what, the type of music that I make, I know I am making it to be great, making it to touch the world, and I don't stick to any of these criticisms because I know the only person that I am serving is myself."
Lately, it appears that the singer is feeling "Good as Hell" after ringing in the new year with a performance in Las Vegas.
Featured image by Steve Jennings/WireImage/Getty Images