Kelly Rowland is proof that you can be both a mother and exude sex appeal. The singer is a mother to two boys, Titan, 7, and Noah, 10 months, and she keeps looking better and better.
Kelly broke the internet the week of November 2, after she posted a seductive video of herself wearing a leopard print dress while making flirty gestures to the camera and who can forget her look at The Harder They Fall premiere in Los Angeles when she had the viral moment with Jay-Z.
The chocolate goddess is debunking the theory that mothers can't be sexy one photo at a time and she also spoke about it with Access Hollywood. The "Ice" singer is promoting her new holiday film Merry Liddle Christmas Baby, in which she stars in and she spoke about being a sexy mama.
Featured image by Jerritt Clark/Getty Images
Keep reading...
Show less
The concept of going to therapy has now been made mainstream as all things mental health matters have been brought to the forefront. While prioritizing our mental health is something this panorama and 2020 overall has emphasized is of the utmost importance, enforcing boundaries and amplifying self-preservation is still something seen as a radical act of self-love among Black women. And it's because so many of us are still unlearning hard lessons of toxic strength and resilience that brainwashed us into believing we have to have our capes on at all times.
We are so used to being all things to all people, we often forget ourselves, so the Naomi Osakas and Simone Bileses of the world doing their part to emit a battle cry of "no" in lieu of placing themselves first has been yet another thing to add to the list of things "we love to see" for the culture. In her recent cover story with British Vogue, Zendaya added her voice to the growing mental health conversation by revealing why she is such an advocate for therapy.
Despite the undoubtable M's in her bank account and her award-winning projects on deck, the Hollywood starlet had trouble navigating uncertain times as shakily as a lot of us did outchea last year. She described what she went through emotionally as a "kind of taste of sadness where you wake up and you just feel bad all day, like what the f**k is going on? What is this dark cloud that's hovering over me and I don't know how to get rid of it, you know?"
After encountering one of her most difficult years to-date, Zendaya decided to look to therapy to help pull her out of her dark moments. She explained to British Vogue:
"Yeah, of course I go to therapy. I mean, if anybody is able to possess the financial means to go to therapy, I would recommend they do that. I think it's a beautiful thing. You know, there's nothing wrong with working on yourself and dealing with those things with someone who can help you, someone who can talk to you, who's not your mom or whatever. Who has no bias."
Zendaya is not alone in expressing the gratitude for the peace of mind she's experienced since investing in therapy. In fact, here are 9 more celebs on why they are advocates for going to therapy.
Issa Rae
In a 2019 interview for Fuse's The Read with Kid Fury and Crissle, Issa Rae admitted that she hadn't really considered going to therapy a priority until hearing the stories of the two co-hosts and how they've done the work. She also noted that watching her mother and grandmother as Black women carry around burdens with no one to help them with it served as another reminder to invest in therapy as an act of self-care.
"...I think the first time I finally made the time to go was just last year. I did three little sessions and I fucked with it. But it is important to not necessarily go because you think something's wrong, but you should if you're in an industry like this, prioritize it because nobody else will. And that's what I've learned just throughout my journey here."
Taraji P. Henson
Taraji P. Henson has been doing the work and paying it forward through her work with her foundation, Boris Lawrence Henson Foundation. Per The Jasmine Brand in 2019, Taraji P. Henson revealed:
"I suffer from depression. My anxiety is kicking up even more every day, and I've never really dealt with anxiety like that. It's something new… It [fame] was fun at first, but the older I get, the more private I want to be. I think there's a misconception with people in the limelight that we have it all together, and because we have money now and are living out our dreams, everything is fine. That's not the case. When they yell 'Cut' and 'That's a wrap,' I go home to very serious problems. I'm still a real human."
In regards to investing in therapy, she went on to say:
"You can talk to your friends, but you need a professional who can give you exercises. So that when you're on the ledge, you have things to say to yourself that will get you off that ledge and past your weakest moments."
Janelle Monae
Janelle Monae is another entertainer who has made it no secret that she looks at going to therapy as a vital part of her self-care regimen.
"When I first started getting a check, I went to therapy. Therapy is important. And being a Black woman that was not something that was pushed in my community, it was always 'pray about it, God will take care of it'. I believe in a higher power but I also believe that that higher power gives you people on Earth to help walk you through some of your darkest times and help you cope and deal."
Gabrielle Union
"You need to find a way to talk about the darkest parts of your life. I've been in therapy for the last 25 years. Whatever path you need to take to heal, it's the best one."
Big Sean
A couple of years ago, rapper Big Sean got real about the "why" behind him taking a year-long hiatus to take care of his mental health. Shortly thereafter, he became more candid about his experience with anxiety and depression and how therapy ultimately helped him gain clarity.
"I just felt lost. You know what I'm saying? I didn't know how I got there. I've been meditating since I was 17 years old. You know, that helps with anxiety, depression all those things. All those things that I felt. But it wasn't doing it all the way for this, so I knew that this required some special attention.
"So what I did was, I started therapy. I got a good therapist. You know what I'm saying? I was blessed enough to talk to some super-spiritual people. And they made me realize one thing that I was missing in my life, and that was clarity."
Keke Palmer
Keke Palmer is another young celebrity that has been candid about her bouts with anxiety and depression throughout the years. She opened up to Cosmopolitan about being in therapy for years as a means to cope with her mental health issues:
"Being able to say how I feel, that was something that was so hard for me for so long. If you grow up in the industry, it forces you to be agreeable at all times. When it came to saying 'I'm tired and I want to figure out how to balance my life better,' 'I feel lonely, 'I'm afraid of my stardom' — those things I could not say."

Kelly Rowland
In a 2018 chat with Oprah Daily about mental health, Kelly Rowland opened up about what inspired her to go to therapy:
"I realized I didn't want to try to figure things out by myself. I can try as much as I can, but doing it all myself, I'd end up driving myself insane circling the same situation and same problem over and over again."

She continued:
"Sometimes people feel like faith and praying...and don't get me wrong, I have faith and I pray and I do believe I'll get through things with that also. But I like to talk to somebody who has the insight of psychology, too. There are other connectors. It's important that we understand that as well."
Halle Berry
"I've done therapy on an as-needed basis since I was probably 10 years old. My father was an alcoholic and a very abusive one, and my mother knew the value of providing me with the outlet of an unbiased person to talk to. So I've done that all my life when times get stressful. It really helps me deal with stuff."
Kerry Washington
"Therapy helped me realize that maybe it's OK for me to communicate my feelings. Instead of literally stuffing them down with food, maybe it's okay for me to express myself.
"I say that publicly because I think it's really important to take the stigma away from mental health. My brain and my heart are really important to me. I don't know why I wouldn't seek help to have those things be as healthy as my teeth. I go to the dentist. So why wouldn't I go to a shrink?"
Featured image by Elisabetta A. Villa/Getty Images
Keep reading...
Show less
Our favorite girlfriend in our head, Ms. Kelly Rowland has been making her rounds in the press these last few months, promoting body positivity and being a new mommy. In doing so, we've learned new pregnancy terms, we've been introduced to fly athletic wear, and adoringly watched her love on her family while pulling our heart strings.
But now--now mama is tired and needs a drink, m'kay?!
Well, she took to Instagram Live to do just that while showing us just how she gets down at the bar. Joined by a few friends Angie Beyince and Bresha Webb, they rallied in the kitchen to try a recipe of chocolate peanut butter martini, which we'll name..."The Kelly Rowland" (see what I did there?). And lawddd, it looked goodt! There's even a (verbal) appearance from husbae Tim Weatherspoon, who drops in for fun and adds his two cents.
We've got the full recipe to try it out, so grab your glasses and let's get our post-work(out) drink on!
Here's what you'll need:
Chocolate Liquor 4oz (Godiva, Bailey's, etc.)
Peanut Butter Whiskey 4 oz (Skrewball, PB&W, etc.)
Creme de Cocoa 4 oz (DeKuyper, J Brandt, etc.)
1 oz heavy cream
Your favorite peanut buttercup candy
Chocolate syrup
Ice
First, grab your shaker and add 4 oz of Peanut Butter Whiskey to ice.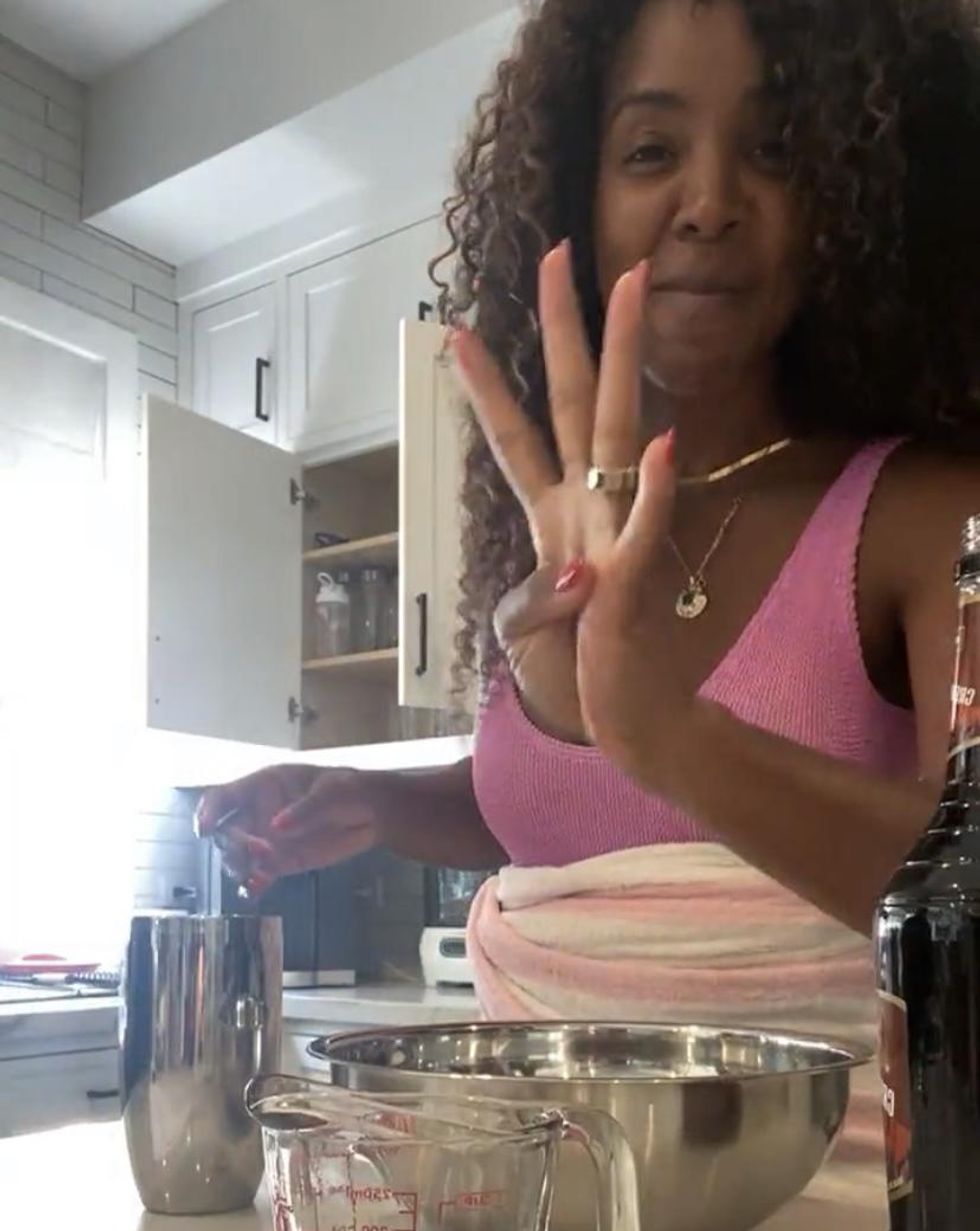 Kelly Rowland/Instagram
Rowland opens the video with all the adulting excitement we needed in our lives.
"So! We're making peanut butter martiiiiniiiis. Chocolate peanut butter martiiiiniiis. How many chocolate peanut butter lovers we have out there?"
The group then measures out the peanut butter whiskey and chocolate liqueur and begins to pour each over ice. Note: make sure you have a decent-sized shaker as this recipe makes enough for four martini glasses, or two 'Kelly Rowland glasses.'
Up next, add the creme de cocoa and heavy whipping cream to the mixture.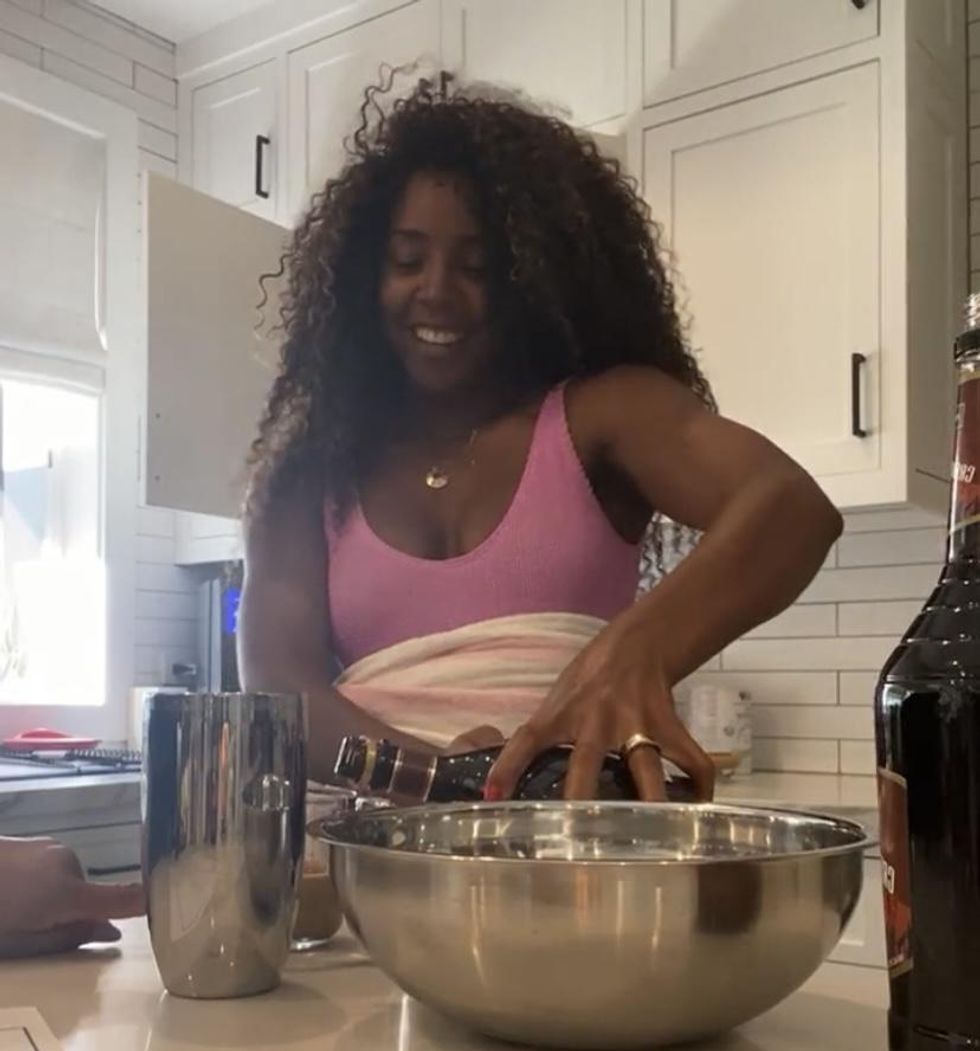 Kelly Rowland/Instagram
"It smells delightful."
Once the contents are all added to the shaker, then it's go time. Shake, shake, shake. Grab your martini glasses and then line each glass with chocolate syrup. Chop up your favorite peanut butter cup brand and line the rim of the glass with its crumbs.
And listen, our girl could not wait to take her sip.
"Baaaaby. That is good! Wow. Hope you like it! Cheers!"
Watch the cute, fun video below:
Are you a member of our insiders squad? Join us in the xoTribe Members Community today!

Featured image by Jerritt Clark/Getty Images
Keep reading...
Show less
Kelly Rowland is back at it again, proving time and time again why she is our collective fave. As we all know, our girl and husband, Tim Witherspoon, welcomed their second child, Noah Jon at the top of the year. Since, she has taken a step back from her career to be mommy to both him, and oldest son, Titan.
But one of our favorite things about Kelly, is--if we can choose just one--her realist approach to being a mom, in a world where so much can be...pre-packaged. Recently, she took to her social media to prove just how real giving birth can be, post-pregnancy ab realness and all.
It all started while working with her trainer, Rebecca. The two were educating us on diastasis recti, which is the partial or complete separation of the abs, or "six-pack" muscles, that meet at the midline of your stomach. The ladies taught us how to test for the condition, and Kelly showed up prepared to show how real post-pregnancy can be for the body, openly rocking her deeper-tinted core for the world to see, unapologetically.
"I don't know about any of the moms out there but when my core is weak, my back starts to hurt. And my neck. And sometimes my lower back. So we're going to show you how to test for it."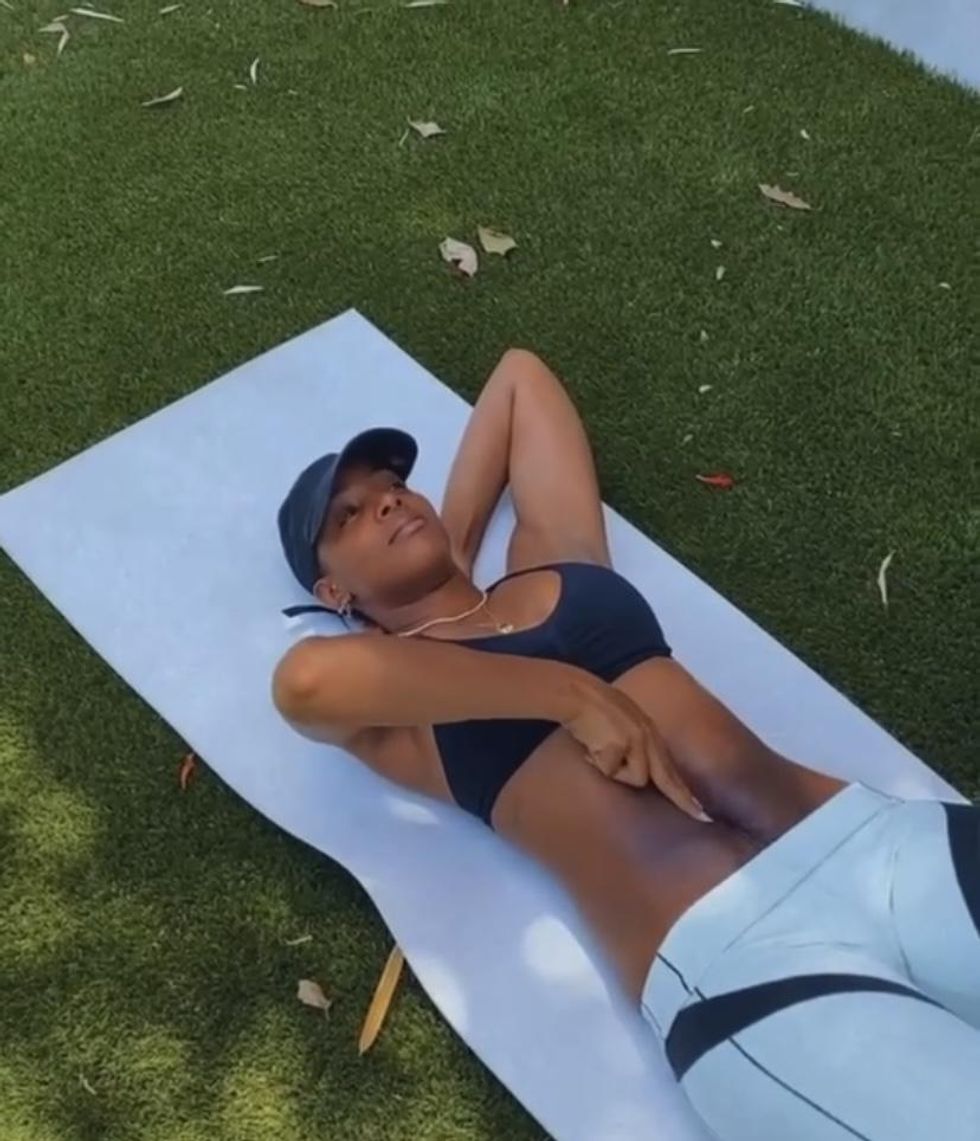 Kelly Rowland/Instagram Story
The mom of two then demonstrates how to test for diastosis recti, with Rebecca and new terms-to-know in tow. In her midsection, Kelly has what is considered a stimulation of the pigment cells in the skin/melanocytes by the female hormones oestorgen and progesterone to produce more pigment when exposed to the sun.
Women with a light brown skin type who are living in regions with intense sun exposure are particularly susceptible to developing this condition. The discoloration usually disappears spontaneously over a period of several months after giving birth.
But listen, mama absolutely did not care, giving a huge cosign to moms whose bodies change postpartum.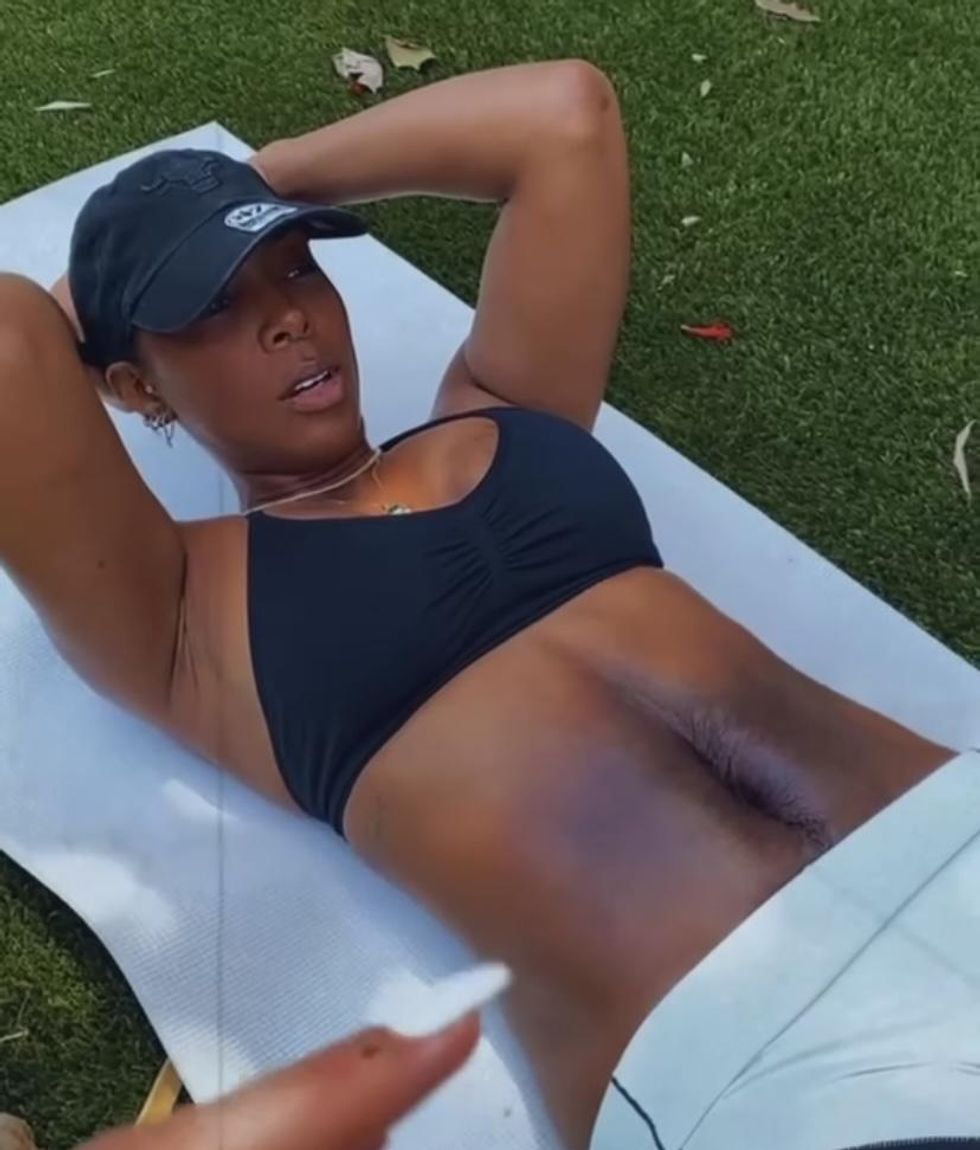 Kelly Rowland/Instagram Story
Rowland, who is 40, may have a snapback that only most of us can dream about, but she didn't put any pressure on herself to do so. Thanks to genetics and a fit pregnancy, she was able to bounce back in no time. But for this pregnancy, she is taking the time to show off what real women go through, in real time.
She told Billboard:
"I'm still navigating myself through motherhood. So the less pressure I put on myself and allow myself grace -- because I'm not going to get it right every single time – I think it's only fair to just breathe and use your instincts to navigate your way through. But I've learned not to put so much pressure on myself and to let my creativity flow."
And from here, her social media has went from life pre-baby, to advice, new favorite products, and more. She even shows off, and uses her platform, to guide new mothers in a way where they feel as if they're not alone, which plenty of new moms can appreciate.
Whew, there goes Kelly Rowland being a superhuman again, ladies and gentlemen.
Are you a member of our insiders squad? Join us in the xoTribe Members Community today!

Featured image by Cindy Ord/Getty Images
Keep reading...
Show less
Our soul sister in our head, Ms. Kelly Rowland, recently welcomed her second precious baby boy, Noah Jon, last month. And *insert screams here* she has already snapped back to her slim, trim, swim figure! Once the five-time Grammy winner got the green light from her doctors, she was mentally prepped to get back into her fitness routine, and sis, I just want to know, like...how?!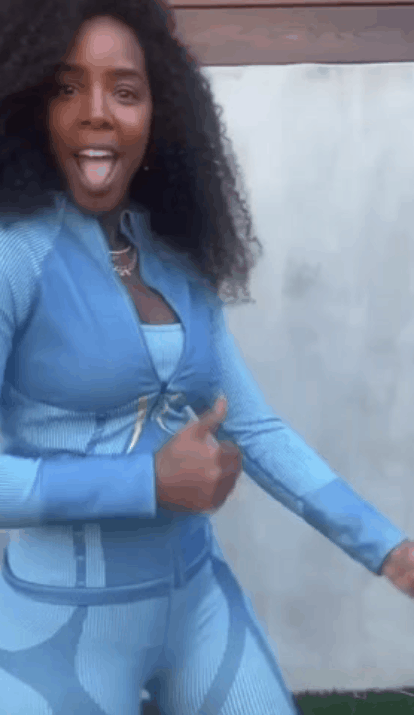 Kelly Rowland/Instagram
Rowland took to Instagram to show off her incredible post-pregnancy bod, posting a video in blue Fabletics gear, as she prepared to head back to the gym. The 40-year-old was all smiles as she told her 10.9M followers:
"So, I'm starting to feel like my old self again. I was actually finally able to put me in a cute little Fabletics outfit. It's the Propel look, to propel me forward to working out, because I'm excited to get to work out again. I got two more weeks 'til I can!"
She was excited, hitting a few running poses, and showing us all up, postpartum, at the same damn time.
Prior to blowing our minds, last month, Rowland and husbae, Tim Weatherspoon, welcomed Noah, as she embraced a full circle moment for their family captioning the announcement:
"On the 21st day, of the 21st year, of the 21st Century, Noah Jon Weatherspoon greeted us! We are truly grateful."
Additionally, of being a new mom as a mother-of-two, Rowland recently told Billboard:
"I still don't know how to be a mother of two, exactly, but I'm figuring it out. It's going to be a unique experience--Titan's not like anyone else on this planet, Noah's not like anyone else on this planet. I'm still navigating myself through motherhood. So the less pressure I put on myself and allow myself grace--because I'm not going to get it right every single time. I think it's only fair to just breathe and use your instincts to navigate your way through. But I've learned not to put so much pressure on myself and to let my creativity flow."
Hallelu.
And if you can remember, Rowland's post-bod after giving birth to first son, Titan, was just as jaw-dropping.
Sis, the waist was snatched! Like...how?
Watch the full video here.
--
Featured image by DFree / Shutterstock.com
Keep reading...
Show less
Kelly Rowland has evolved into Wonder Woman. Her regality oozes; her sister-girl vibe exudes. And she has become one of the most relatable women to grace the forefront of black culture.
In 2014, Rowland, 39, gave birth to her only son, Titan, who we've all grown to love. And this past October, she announced that her and husband, Tim Witherspoon, are expanding their family and expecting their second child.
#teamyaaaaay
In an interview with Hollywood Life, Rowland says she's "super grateful" and "excited" to welcome her second child, but that there's certainly differences from her current pregnancy in comparison to the first.
"[I'm] tired! I forgot what it was like to be pregnant! I'm out of breath every week this kid gets heavier and heavier. I forgot what going up the stairs was like—a marathon."
She continued:
"It's really real and it's definitely different from my first pregnancy. I was talking to a girlfriend about that last night, I was like, 'No one told me! No one told me it was like this!' and she was like, 'Was your pregnancy with Titan not like this?' and I was like, 'No! it was so dramatically different and I wish someone would've told me. Not to complain. I'm super grateful for the opportunity just to be trusted to be a mother again."
Another key difference, is that the soon-to-be-mother of two is gearing up for giving birth during a pandemic.
"The way we've learned so much about this virus from what we do know, things change and I just want to make sure that my baby is safe, that I'm safe and that we get back to our home safe with no worries or anything. I keep thinking about, of course, my household, but I can't stop thinking about all of these doctors and nurses who are away from their families and I just pray to God that everything goes smooth the way that it went with the birth of my son Titan. I just want to be able to have the baby, leave the hospital and come back home because it's so many other people that are going through so much and they're hoping to be able to get back home to their families, for sure."
Regardless of the differences, Rowland, husband, and brother are all ecstatic about their new addition.
"We actually let Titan name the baby. I don't know how he came up with it. We were just as shocked because funny enough, the name that he chose was on my list, I just didn't tell him."
She then followed up with the ultimate praise for the new big brother:
"I feel like me and Titan, we knew each other in a past life. I just feel like we are so incredibly connected."
Additionally, Rowland, who will be 40 in February, says she's taking it much easier this time. During her pregnancy with Titan she admits, "She took her fitness to the next level." This time, the Destiny's Child singer "kept it to yoga, walks and stretches alongside a physical therapist."
--
Ah, we're so excited for this family!
Are you a member of our insiders squad? Join us in the xoTribe Members Community today!

Feature image via Tinseltown / Shutterstock.com
Keep reading...
Show less