By now, we are all well aware of just how much Jada Pinkett Smith is the Queen of Transparency. And if there's one thing about transparency, revelations of your truths aren't always pretty. From vaginal rejuvenations to entanglements, Jada isn't afraid to leave it all on the table for the sake of progressive dialogue. And on a recent episode of her hit Facebook Watch show Red Table Talk, she dug deep to add her two cents to the collection plate about an unhealthy coping mechanism rearing its ugly head this past year: alcohol abuse.
Drinking excessively is something that Jada surprisingly knows a thing or two about, as she revealed to co-hosts mother, Adrienne Banfield-Norris and daughter, Willow Smith, that she used to rely heavy on the bottle. She also dabbled in drugs. Both vices were things she indulged in for years, and she even likened her wine fix to "Kool-Aid." Eventually, those indulgences would prove to be the gateway into her misuse and reliance on heavier substances.
Her move to LA marked a change in her and she found herself experimenting with different "cocktails" she created. She often told herself that the things she was doing weren't "hard" drugs, so in her mind, she didn't have a problem.
"Drinking red wine for me was like drinking glasses of water. Because I'm used to that hard hit. I was drinking hard in high school, too, and when I got out here I was doing cocktails. So, ecstasy, alcohol, weed. Let me tell you, I was having myself a little ball. But it was like, 'This is not cocaine. This is not heroin.'
"I wasn't doing things that I thought were addictive. But I would do those three together, that was my cocktail. Your threshold becomes so high that what it takes for you to get to the place you need to get to — it'll take me two bottles to get to … OK, if I do ecstasy, weed and alcohol at the same time, I'm gonna get there faster and I can keep the high going."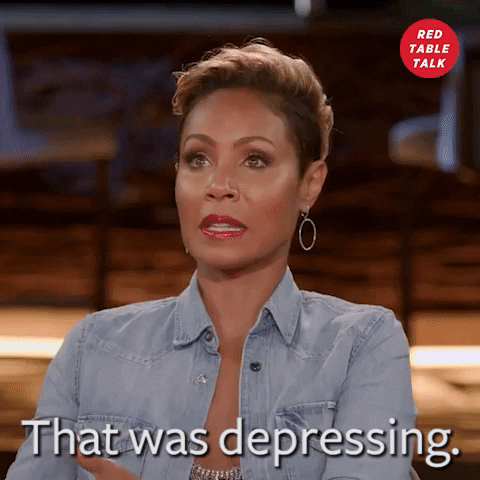 The 49-year-old actress/host also noted that her drinking was so bad back in the day that she even used to out-drink her husband, Will. Trading in her wine for hard liquor, she noted:
"I was a–you know, a brown liquor drinker, vodka–like, I was a hard liquor drinker. Like, I could drink almost anybody under the table.Will specifically. Now, Will's a lightweight."
For her lifestyle, the entertainer would wait until the weekend to get her binge on, calling herself a "weekend party girl" who would drink and do drugs from Thursday to Monday. Jada noted that people in her life tried to get her to a place where she stopped her bad habits, but not even Debbie Allen.
She recalled a time during her stint on A Different World in the early 90's where she was vomiting but said it still wasn't enough to lead her down a path she wasn't ready for. Jada had to hit her rock bottom.
For her, that involved some bad ecstasy and passing out in The Nutty Professor trailer while on set.
"I had one incident. That was an eye-opening incident for me as well. I had one incident on 'Nutty Professor.' I passed out. Makeup trailer. I passed out. I went to work high, and it was a bad batch of ecstasy. I passed out. And I told everybody that I had taken – 'I must've had old medication in a vitamin bottle.' That's what I said."
In addition to her addiction to alcohol and drugs, Jada has revealed in the past an addiction to porn and has also dealt with addiction by way of her mom's history with substance abuse and heroin.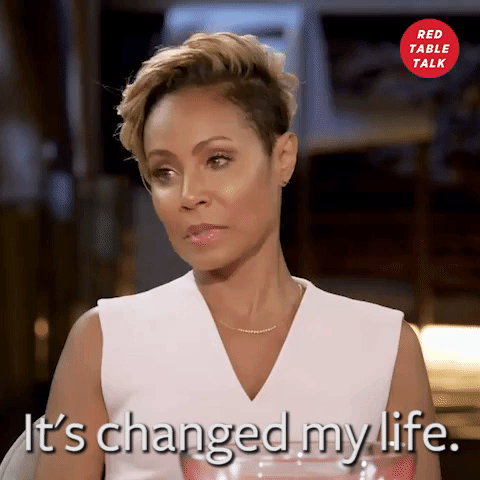 Ultimately, her rock bottom moment on The Nutty Professor set would serve as one of the catalysts to make her quit drinking and drugs cold turkey. The other was self-awareness about just how bad her dependence on wine had been becoming.
"I got it quick. Literally, I got it quick. Like, once I was going for that third bottle of wine, I said, 'You've got a problem.' And it was cold turkey that day. That day. I just stopped."
These days, Jada allows herself to have a glass of wine every now and then, but for the most part has stayed true to her cold turkey approach to substance abuse. The star can't touch dark liquor, and notes rum and vodka as triggers that she "cannot touch."
Jada is a reminder that it is not how you begin, it's how you end. And while we all have flaws, it is always possible to write a new story in the life that you lead.
She concludes, "I think back on my life, like, I am a walking miracle, no doubt about that. People will not believe."
Featured image by Jason Koerner/Getty Images
Keep reading...
Show less
Jada Pinkett Smith is not afraid to tell it like it is. For much of the last year and beyond, the inquisitive supermom has used her popular platform to bring the tough conversations to the forefront and speak openly about a wide range of topics that others may find uncomfortable--whether on her Instagram page, which has over 10 million followers, or her Red Table Talk series. Subjects such as open relationships, infidelity, racism, and even her own family problems are quite literally on the table, no pun intended.
But a recent episode featuring Jada, and her co-hosts, daughter Willow and mom, Adrienne Banfield-Norris, may have been one of the most pearl-clutching yet: an episode of them getting their vaginas cleansed.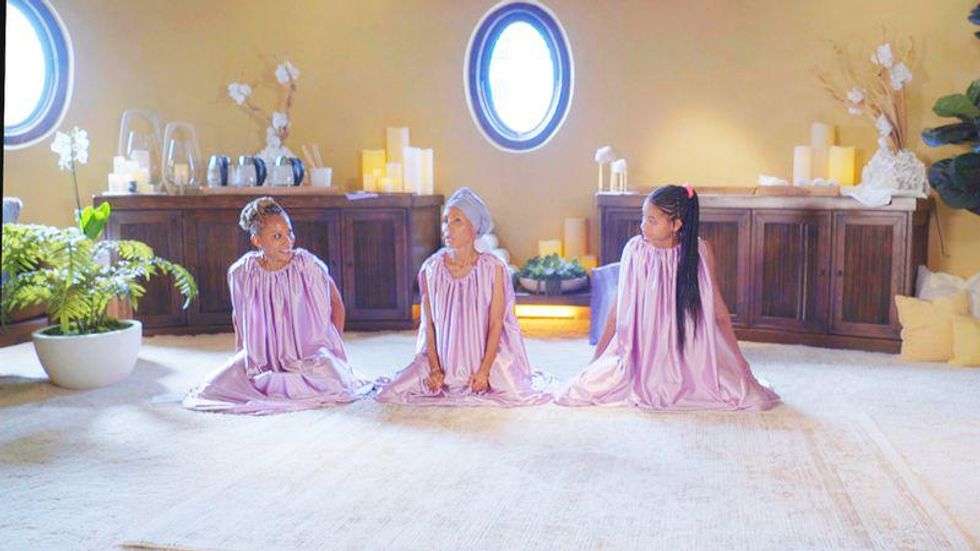 Red Table Talk/Facebook Watch
She says:
"We are going to steam our vaginas. Yes, we're gonna steam our vaginas on camera. I ordered some kits from a really beautiful young Black woman who owns her own business. So we're gonna head on up and we're gonna get started. Let's go get steamed, ladies!"
Additionally, the women openly discuss the benefits of the age-old practice, and how it is important for women to celebrate their anatomy despite it being considered "taboo."
She continues:
"I'm sure boys sit around all day talking about their penises. I mean, that's why I'm telling you right now I don't want to hear nothing about this show. It being TMI and all that, 'cause if you can listen to all these little rap artists talk and abuse the vagina, you sure as hell can watch women give it honor and praise. And spend quality time, so I don't want to hear it. They'll be like, 'It's TMI. Oh, my God.' And I don't really care because we have to change the narrative around the vagina, and women have to take it back."
Well said, sis. Well said.
The word 'vagina' is a Latin word that translates to 'sheath' or 'scabbard', and it was used to describe these items until it began to be applied to describe the female anatomy. For hundreds and hundreds of years, it was thought that men and women had the same sexual organs, but that a woman's was simply facing inward instead of outward. That was until some Greek physician came along and explained the difference...kinda.
"Think first, please, of the man's turned in and extending inward...If this should happen, the scrotum would necessarily take the place of the uteri."
Basically, he's stating that if a man's penis and testicles were turned upwards inside a woman, the scrotum would be the uterus and the penis would be the vagina. This theory continued to be popular until around the 1500s, when anatomists were able to get a better look at the female body and produce drawings of the reproductive system. But listen, by that time, the damage was done, and people were hella confused, likely causing the initial shame and secretive nature surrounding the vag that exists today.
But Jada isn't trying to hear all that, she wants women to take the word 'vagina' back.
Not va-jay-jay, not hoo-ha, not the yoni. The vagina.
And this isn't the first time Jada has made the vagina the star of the Red Table Talk. Back in 2018, she revealed she had undergone three non-surgical procedures of vaginal rejuvenation that took years off her vagina.
"When I tell you my yoni is like a 16-year-old, I'm not kidding. I'm talking about the outside. It looks like a little beautiful peach."
She then took her mom to meet with owner Kelly Rainey, who performed the procedure.
Rainey went on to explain that she recommends vaginal rejuvenation to fix issues with dryness, incontinence and pain during sex, along with altering the outside appearance.
The process, which uses a wand that moves in and out of the vagina, "introduces heat which stimulates cellular turnover, which makes you feel younger again and it gets tighter and nicer and functions like it did when we were back in our 20s."
Well, alright then.
So, in 2021, here's to taking back our vaginas, and saying so. Unapologetically.
Watch the full episode, also starring Queen Afua, below:
Are you a member of our insiders squad? Join us in the xoTribe Members Community today!

Featured image via Roy Rochlin/Getty Images
Keep reading...
Show less
And now sis is tapping into astrology, by introducing us to Jessica Alexandria, also known as Behatilife.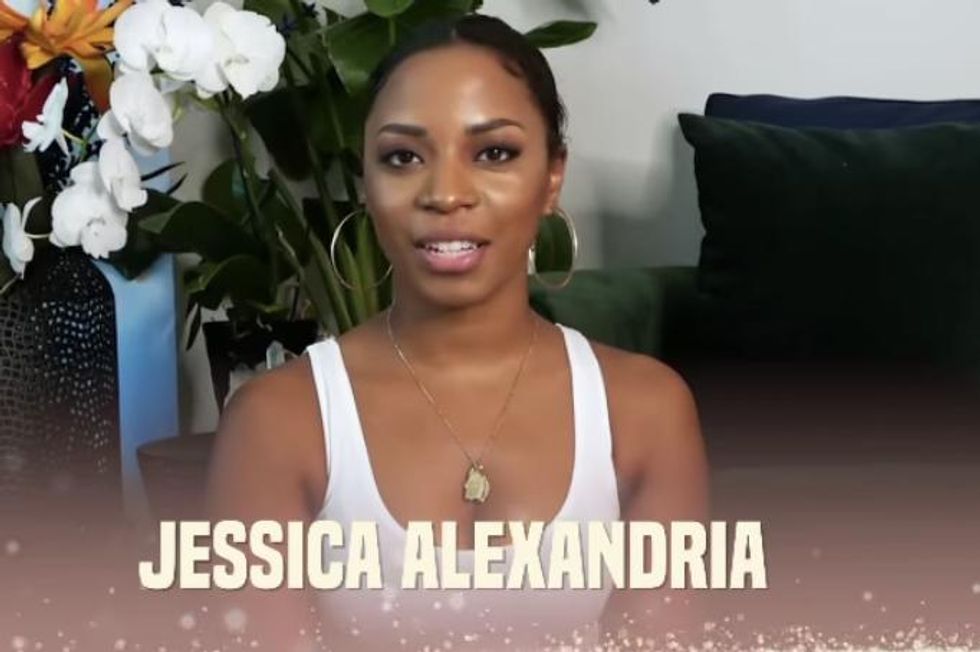 Jada Pinkett Smith/Instagram
In an episode of her latest project, Jada's Essentials, Jessica is pouring tea on how we can best use our astrological signs to tap into our higher selves.
Jessica, who was raised in the space, knows quite a few things about shifting our lives through alignment.
"If you really take a step back, you know, and kinda feel out the vibes of our planet, you'll start to understand and see, hopefully, that there really isn't anything that is good or bad, it just is what it is. If you're living in a world of rules and restrictions from our society or from our family upbringing or from the expectation that it is you have for yourself, you will always find yourself guided of what it is that you feel like you should be doing, and never really authentically aligned to your intuitive path."
Whew, a word!
Continue reading for ways you can use astrology to create a positive shift in your life:
#1: Deepen Understanding of Self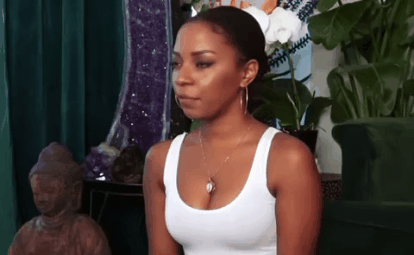 Jada Pinkett Smith/Instagram
Jessica opens her list with explaining how astrology helps you understand who you are.
"Astrology provides a really clear insight into 'this is who I am, this is what I want' and it keeps you focused and it keeps you aligned."
#2: Manifest Highest Vision Using Moon Magic 
According to Jessica, 'moon magic' is using the moon to set powerful intentions for the things that it is you want to see show up in your life, or things that you want to avoid. She goes on to discuss how we can all use the moon to know what sign we're currently in, and how we can best use its energy.
"This is one of my favorite ways of working with astrology. This is the magical aspect of it."
#3: Improve Health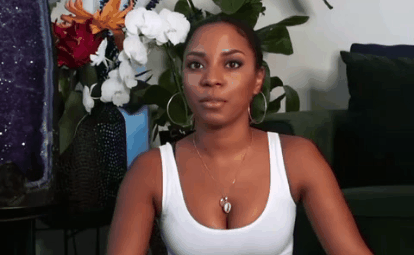 Jada Pinkett Smith/Instagram
Plan your diets, get healthier, and get stronger!
"There is a such thing as medical astrology and this looks at your natal chart, your birth chart in order to look at your sixth house of daily routine, health, and what would make you a more vibrant, healthier individual."
Jessica then teaches us how to pull your astrology chart. You will need your birth time, location, and date.
"It's not all aches, pains, suffering, or failed attempts at feeling healthy, it's about maximizing your time here."
*poetry snaps*
#4: Confirm Your Intuition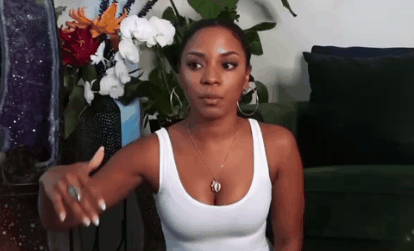 Jada Pinkett-Smith/Instagram
One of my favorite moments of the lesson, was how we subconsciously suppress our intuition with statements like, "it's OK" or "everything is fine."
"Over time, when you are told to disconnect from your intuition, it creates so much imbalance. It creates psychological dysfunction. This is why it's so important that if you feel curious, if you feel called, if you have questions, that you break outside of these norms or break outside of these systems and allow yourself to feel curious."
Whew.
Are you a member of our insiders squad? Join us in the xoTribe Members Community today!

Featured image by Jada Pinkett-Smith/Instagram
Keep reading...
Show less
Jada Pinkett Smith and Willow Smith are opening up in a whole new way, ladies. Things got real candid about sexuality in the latest episode of Red Table Talk, and I'm just here for every second.

It all started ahead of their interview with Niecy Nash, who married Jessica Betts last year. For a quick background, the two basically collectively broke the internet and confused us all in a move that made us gather our pearls, say 'OK dennnn', and proceed with celebrating their union. Jada and Willow touched on the subject and took a quick turn when the mother/daughter duo discussed their own feelings of attraction towards women.
Jada began:
"I love being amongst women, but I never could connect to women romantically. But that's not to say that it couldn't be. You just never know."
She then said that she could totally imagine Willow falling in love with a woman, to which Willow replied:
"I've had my fair share of swooning and feeling, 'She's so beautiful, she's so talented.'"
Ultimately, Jada agreed with the mult-hyphenate, and said:
"I've had two times [where] I've been infatuated with a woman. I've swooned two times, early, early on. Like [age] 20."
Willow, who is 20 herself, then quipped:
"I haven't been in love with a woman just yet, but I definitely feel like it could happen. Because I've had very strong feelings for women before."
Laaaaawd, I could not imagine having this conversation with my mother, but healthy communication is what we love!
Eventually, the two brought up a prior conversation where Willow mentioned to her mom that if her marriage to Will didn't work out, Willow could see her mother having a relationship with another woman.
Well, OK dennnn.
Granted, this isn't the first time these two have opened up about their sexuality on the show. Willow touched on polyamory and loving both men and women previously in 2019 when she said:
"I love men and women equally, and so I would definitely want one man, one woman. I feel like I could be polyfidelitous with those two people. I'm not the kind of person that is constantly looking for new sexual experiences. I focus a lot on the emotional connection and I feel like if I were to find two people of different genders that I really connected with and we had a romantic and sexual connection, I don't feel like I would feel the need to try to go find more."
And of course, Jada's relationship status has been discussed on the Red Table many times, thus bringing forward the complex conversation of "entanglements".
And we all know that one got a little messy, but the pair were able to create a very public open dialogue, and move on in their marriage, as so many--without the world watching--have to put their big girl and boy panties on, and do.
Watch the full episode of Jada and Willow speaking on their attraction to women below:
Are you a member of our insiders squad? Join us in the xoTribe Members Community today!

Featured image by Featureflash Photo Agency / Shutterstock.com
Keep reading...
Show less
If anyone knows about self-care, it's our auntie, Jada Pinkett Smith. The Red Table Talk host has been very transparent about her spiritual and self-care journey throughout the years, touching on topics like depression, surviving loss, sexuality, relationships, and entanglements. Now, she is tackling a different matter: skincare - with her new clean personal care line, Hey Humans.
But first, let's talk about how beautiful Jada's skin is!
The 49-year-old hasn't aged a bit throughout the years and is quite known for her radiant and flawless skin. She recently shared her restarter skincare routine on Instagram which made waves in the headlines. The lengthy routine included cleansers, oils, an avocado face mask, and LOTS of steam. Although Jada's practice had a variety of products, she believes proper skincare starts from within. She shared in her IGTV post:
"Good skin is not just about what you do to the outside of it. What you put in your body is super important. If you drink a lot of soda, alcohol, eat a lot of junk food, or if you smoke, these are things that can affect your skin."
With the launch of Hey Humans, as a co-founder, Jada is tackling both skincare (as personal care) and sustainability. According to the website, the products claim to be vegan, cruelty-free, and naturally-derived with packaging made of recyclable aluminum. Plus, they are affordable, with all of the products costing under $8.00! Yes, Queen Jada!
The line includes deodorant, body wash, body lotion, and toothpaste. I have personally tried the Hey Humans Natural Deodorant Banana Aloe. I must say the product held up quite well, and the smell is so sweet.
Now let's do a detailed rundown on the Hey Humans products, shall we?
The Hey Humans Body Wash ($5.99) contains jojoba seed oil and other essential oils (not labeled). The combination of essential oils and glycerin contribute to the deep nourishment of the skin. Next, we have the Hey Humans Body Lotion ($5.99); the hydrating ingredients include essential oils, vitamin E, vitamin B, and shea butter. (Disclaimer: This product is infused with fragrance and might not be good for sensitive skin.)
The Hey Humans Natural Deodorant ($5.99) is my personal favorite! The ingredient list is not specified on the Target website, but I promise you it works like a charm. Finally, the Hey Humans Fluoride Toothpaste ($4.89) is not considered a "skincare" product, but it's just as important. The powerfully clean fluoride toothpaste is free of artificial sweetener and sulfates. It's also infused with hydrating squalane, refreshing menthol, and Everice Technology for long-lasting icy fresh breath.
If you haven't been convinced by the ingredient list yet, how about the personal inspiration behind the personal care brand? In an exclusive with Stylish, Jada opened up about where the idea for her new eco-conscious line came from:
"As you may know, personal care is one of my passions, but so is sustainability. As a family, we've loved supporting Jaden on his journey with Just Water. And now we have Hey Humans. Which is the first personal care brand to be 99% plastic free across all categories."
Jada also went into detail on the Hey Humans website on the brand's mission and how we can positively impact our planet:
"Our mission is to reduce plastic on our planet – and that starts with the products we use every day. Turn your daily routines into rituals that make you feel your best and help protect the planet."
Saving the planet while saving our skin? You can count me in! You can buy all of the Hey Humans products exclusively at Target.
Are you a member of our insiders squad? Join us in the xoTribe Members Community today!
Featured image via Jada Pinkett Smith/Hey Humans

Keep reading...
Show less
OK, so it goes without saying, that Jada Pinkett Smith knows a lil' bit about money. She's worth [redacted] millions of dollars, her husband is worth [redacted, redacted] millions of dollars, and her kids keep chips on them too. So, at her caliber and status, she can probably rap "Mo' Money, Mo' Problems" with more conviction than Mase, Puff, or Biggie ever could.
And Jada wasn't shy about expressing any of it on the latest, and final, Red Table Talk episode of the season. When a caller reached out to ask how she deals with giving money to family and friends, well...sis went in.
"So, I came up with a couple rules for myself. First of all, I don't lend money. I only give money that I'm willing to give away, like, 'this is a gift.' I do not lend money because that turns into a lot of problems just as far as the expectation of people paying back. So, I tend to not give where I can't just say, 'here's a gift for you.' Specifically people who are really close to me because I'm not trying to have fallouts over money."
She continued:
"And then the next thing is, when someone really needs help, I really evaluate it to see if the person is ready for that help. So, if somebody is like, 'I want a new house' but they don't have a job to support the house they're trying to buy, it's like, well, you're not ready for that. So, I'm not about to help you get into something that ultimately is going to make more difficulty for you."
Clearly, she may be on to something as Oprah echoed her sentiments before where, in a video interview with O Magazine, she said she also doesn't lend money: "Just have it as a standard policy: Don't loan friends money," she says before Gayle interjects with: "But Oprah, what if your friend is in trouble?" Oprah answered:
"Give your friend the money and say, 'Look, I'm just gonna do this for you, you don't even have to pay me back.' 'Cause loaning friends money will cause you major issues in the friendship."
Whew.
Overall, Pinkett Smith has no problem with helping with friends and family, as long as the situation falls within her own boundaries. And she makes it clear that her boundaries are the only thing that matters when it comes to giving money.
"I would say for people like us who came from backgrounds where we didn't have much, the biggest thing is don't feel guilty because we got our grind on. You don't owe nobody nothing. Don't feel guilty. I've spent so many years feeling guilty, and my guilt made me feel like I owed everybody and I wasn't allowed to say 'no.' And that's just not true, right?"
Are you a member of our insiders squad? Join us in the xoTribe Members Community today!
Featured image via Jada Pinkett Smith/Instagram
Keep reading...
Show less