Red Table Talk leaves no stone unturned when covering topics about life. Whether controversial or enlightening, viewers can always count on getting answers on how to deal with situations that occur in their everyday lives. The latest episode's topic was no different as co-hosts Jada Pinkett Smith, Adrienne Banfield-Jones and special co-host Lauren London got down to the nitty gritty with therapist Nedra Glover Tawwab about boundaries.
Nedra, who wrote about boundaries in Set Boundaries, Find Peace: A Guide to Reclaiming Yourself, defined boundaries as a "preference."
"You might not know what my preference is for something, so it's my job to communicate to you that this is what I want, this is what I need, this is what would work best for me," she said. "But just assuming that they should know because they're your friend...is unfair. It does put us in a space of feeling resentful or upset at them for having to do this, but their boundaries are different."
When it comes to setting boundaries for Jada, the actress revealed that she gets angry when she has to do it.
"I really get angry when I'm forced to set a boundary," she said. "I realized that the other day with a friend of mine. I really have to talk to this person about an issue I'm having, then I got mad at that person for making me have to advocate for myself."
They each shared several stories about having their boundaries crossed, including Lauren who said a friend got mad at her for setting a healthy boundary by not wanting to indulge in a "toxic" conversation.
The ladies went on to examine different scenarios and how to set boundaries when these situations occur. One of the scenarios was about personal space, which was something Lauren dished on.
"I have been in positions like that before, with just people coming to put their arm around you, or taking pictures with you and having their arm around your waist, and just stuff like that," she said. "I've always been like" — she motioned how she would gently remove someone's hand — "this is my body, I don't like being touched by strangers or people I work with."
In Jada's case, she realized that she crosses boundaries often with her loved ones although it's coming from a good place. "I gotta stop trying to fix every damn thing. That's not my job either," she said.
The Set it Off actress gave an example about how she always tries to fix things for her daughter Willow and how Willow has checked her on it.
"I gotta give Willow props because she'll call me, disrupted, and be like, 'I don't need you to fix anything mom, I just want you to listen.' I go, 'Fantastic, I got you.' Because she knows I'm going to go straight to, 'Well we can do this and that.' 'Nope just listen to me, mommy. I just need you to listen,'" she said.
Overall, when it comes to boundaries, Nedra not only believes it's important to set them, but that it is normal if they change over time. "We grow and evolve, it makes sense to shift when we need to," she said.
Do you set boundaries in your life? What was the outcome? Share below!
Featured image by Roy Rochlin/Getty Images
Keep reading...
Show less
Jada Pinkett Smith said she got time today! The beloved actress addressed reports about her sex life with husband Will Smith after her recent Red Table Talk episode. Jada, along with her co-host, her mother Adrienne Banfield-Norris, sat down at the red table with actress Gwyneth Paltrow to discuss sex and women and the conversation turned to communication and accountability in the bedroom.
Jada, being the outspoken person she is, began to discuss some intimate details about her sex life with the I Am Legend star.
"You also brought something up that I think is supremely, supremely important and that is the idea of accountability. That we have to be able to speak up when things aren't going well, when things are going well, but that level of accountability that actually bleeds through our entire life," she said.
She didn't stop there. Jada went on to give an example of what she and Will have dealt with in the bedroom.
"It's hard. I mean, the thing that Will and I talk about a lot is the journey. We started in this at a very young age, you know, 22 years old. That's why the accountability part really hit for me because I think you expect your partner to know [what you need], especially when it comes to sex. It's like, 'Well if you love me, you should know. If you love me, you should read my mind.' That's a huge pitfall!"
While honest and relatable, social media began to tear into the Set it Off star and accused her of always embarrassing Will.
However, Jada responded to the backlash with a simple tweet:
Only because I got time today.
Stop making up headlines.
Watch the @RedTableTalk I did with @GwynethPaltrow for yourselves.
Will and I have NEVER had an issue in the bedroom. Thank you❣️https://t.co/wBpqSTTaGi

— Jada Pinkett Smith (@jadapsmith) October 28, 2021
"Only because I got time today.
Stop making up headlines.
Watch the @RedTableTalk I did with @GwynethPaltrow for yourselves.
Will and I have NEVER had an issue in the bedroom. Thank you❣️."
This isn't the first time Jada and Will's relationship have made headlines from a Red Table Talk conversation.
In a July 10, 2020 episode, the couple had to address Jada's "entanglement" with August Alsina after the R&B singer revealed that they were once in a relationship.
Featured image by Kevin Winter/Getty Images
Keep reading...
Show less
When I think about Will Smith's career, I'm kind of at a loss for words. I mean, he starred in major movies like Bad Boys, Independence Day, and Men in Black. Then, gave us motivational art through Ali, Pursuit of Happyness and I Am Legend. Not to mention, as a master of his life and career, he turned down roles Django Unchained and The Matrix, two major successes. Can you imagine having a career that successful? Where you can define the bags you need versus what bags need you? And as time progresses, the 53-year-old only continues to adapt and flourish. During the production of Apple TV's Emancipation, Smith had a beautiful conversation with GQ to discuss the film and his upcoming memoir, Will.
Emancipation is different from typical projects we've seen him in since he's always seemed to stay away from films discussing slavery. He told GQ:
"I didn't want to show Black people in that light. I wanted to be a superhero. So I wanted to depict Black excellence alongside my white counterparts... This [Emancipation] was one that was about love and the power of Black love. That was something that I could rock with. We were going to make a story about how Black love makes us invincible."
The big screen isn't the only place we'll be seeing something new from the King Richard star. His memoir, which will be released in November, reveals a different version of himself.
"I just really wanted to totally destroy the clinging to 'Will Smith, I'm trying to separate the image of Will Smith from who I actually am."
During the interview, Smith explained how his struggle with perfection and need "to be the biggest movie star in the world" fueled his career success but stifled his personal relationships and caused contention in his marriage. For example, he details how Jada never wanted a traditional wedding but he pressured her until she gave in. He admits:
"This would be the first of many compromises Jada would make over the years that painfully negated her own values."
His relationship wasn't the only strained area in his life. His need to please people and be the character of himself that he had created, was emotionally harming him. In a draft of his book he writes, "Will Smith,' the alien annihilating M.C., the bigger-than-life movie star, is largely a construction—a carefully crafted and honed character—designed to protect myself."
At nine years old, Will Smith saw his father aggressively punch his mother in the side of her head. He recalls his brother trying to fight back and his sister running away to hide. However, he was frozen in fear. And that moment in some part changed the trajectory of his life. For years after, he felt the need to people-please, to make sure that others around him were entertained so they wouldn't respond negatively or violently.
He also felt by making his mother proud, he was somehow apologizing for the day he couldn't stand up for her. Smith admits that he would never have been able to share this truth when his father was alive and has a great deal of affection for him.
"He was one of the greatest blessings of my life, and also one of my greatest sources of pain."
Many of his values about loyalty and ambition come from his father. These emotions stuck with him for decades even as his career soared. It wasn't until his 50's when he went on an emotional journey that his mindset started to shift.
Smith spent time in solitude traveling to Utah, visited Peru for ayahuasca rituals, and even met with an intimacy coach where he confessed that he'd be very happy leading a harem.
"The idea of traveling with 20 women that I loved and took care of and all of that, it seemed like a really great idea."
He even name-dropped a few women who he'd like to be a part of it, such as Misty Copeland and Halle Berry. Although after healthy conversations with the coach, he realized that probably wouldn't work. "After we played it out a little bit, I was like, 'That would be horrific.'"
Speaking of women, we'd be remiss if we didn't discuss his beautiful wife Jada Pinkett Smith and the highs and lows of their relationship. After a viral episode of Red Table Talk, where the couple discussed Jada's infidelity, many were curious about where the couple currently stands. And while he admits major struggles in the past, it seems like the two are in a happy place now. He tells GQ:
"We have given each other trust and freedom, with the belief that everybody has to find their own way. And marriage for us can't be a prison. And I don't suggest our road for anybody. (He repeats) I don't suggest this road for anybody. But the experiences that the freedoms that we've given one another and the unconditional support, to me, is the highest definition of love."
Today, Will is embracing a whole new mindset by embracing social media. Because as we know, being perfect is kinda boring online. His freedom of authenticity and truth in his creative endeavors and relationship has him feeling a new level of freedom and happiness:
"The pursuit of truth is the only way to be happy in this lifetime."
Will is now available for pre-order worldwide. Read the full cover story on GQ here.
Featured image by Jason Merritt/Getty Images
Keep reading...
Show less
By now, we are all well aware of just how much Jada Pinkett Smith is the Queen of Transparency. And if there's one thing about transparency, revelations of your truths aren't always pretty. From vaginal rejuvenations to entanglements, Jada isn't afraid to leave it all on the table for the sake of progressive dialogue. And on a recent episode of her hit Facebook Watch show Red Table Talk, she dug deep to add her two cents to the collection plate about an unhealthy coping mechanism rearing its ugly head this past year: alcohol abuse.
Drinking excessively is something that Jada surprisingly knows a thing or two about, as she revealed to co-hosts mother, Adrienne Banfield-Norris and daughter, Willow Smith, that she used to rely heavy on the bottle. She also dabbled in drugs. Both vices were things she indulged in for years, and she even likened her wine fix to "Kool-Aid." Eventually, those indulgences would prove to be the gateway into her misuse and reliance on heavier substances.
Her move to LA marked a change in her and she found herself experimenting with different "cocktails" she created. She often told herself that the things she was doing weren't "hard" drugs, so in her mind, she didn't have a problem.
"Drinking red wine for me was like drinking glasses of water. Because I'm used to that hard hit. I was drinking hard in high school, too, and when I got out here I was doing cocktails. So, ecstasy, alcohol, weed. Let me tell you, I was having myself a little ball. But it was like, 'This is not cocaine. This is not heroin.'
"I wasn't doing things that I thought were addictive. But I would do those three together, that was my cocktail. Your threshold becomes so high that what it takes for you to get to the place you need to get to — it'll take me two bottles to get to … OK, if I do ecstasy, weed and alcohol at the same time, I'm gonna get there faster and I can keep the high going."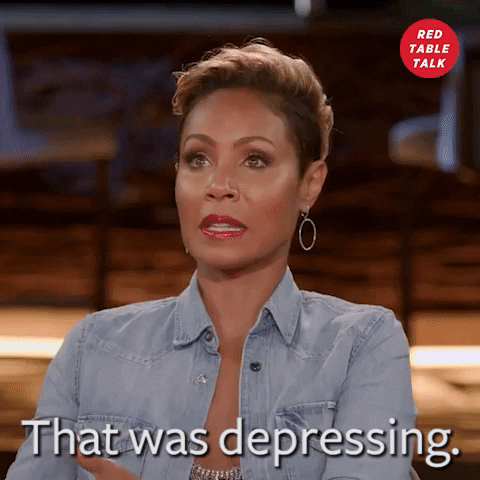 The 49-year-old actress/host also noted that her drinking was so bad back in the day that she even used to out-drink her husband, Will. Trading in her wine for hard liquor, she noted:
"I was a–you know, a brown liquor drinker, vodka–like, I was a hard liquor drinker. Like, I could drink almost anybody under the table.Will specifically. Now, Will's a lightweight."
For her lifestyle, the entertainer would wait until the weekend to get her binge on, calling herself a "weekend party girl" who would drink and do drugs from Thursday to Monday. Jada noted that people in her life tried to get her to a place where she stopped her bad habits, but not even Debbie Allen.
She recalled a time during her stint on A Different World in the early 90's where she was vomiting but said it still wasn't enough to lead her down a path she wasn't ready for. Jada had to hit her rock bottom.
For her, that involved some bad ecstasy and passing out in The Nutty Professor trailer while on set.
"I had one incident. That was an eye-opening incident for me as well. I had one incident on 'Nutty Professor.' I passed out. Makeup trailer. I passed out. I went to work high, and it was a bad batch of ecstasy. I passed out. And I told everybody that I had taken – 'I must've had old medication in a vitamin bottle.' That's what I said."
In addition to her addiction to alcohol and drugs, Jada has revealed in the past an addiction to porn and has also dealt with addiction by way of her mom's history with substance abuse and heroin.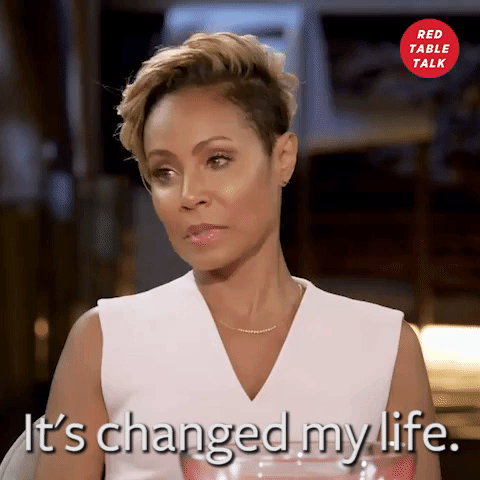 Ultimately, her rock bottom moment on The Nutty Professor set would serve as one of the catalysts to make her quit drinking and drugs cold turkey. The other was self-awareness about just how bad her dependence on wine had been becoming.
"I got it quick. Literally, I got it quick. Like, once I was going for that third bottle of wine, I said, 'You've got a problem.' And it was cold turkey that day. That day. I just stopped."
These days, Jada allows herself to have a glass of wine every now and then, but for the most part has stayed true to her cold turkey approach to substance abuse. The star can't touch dark liquor, and notes rum and vodka as triggers that she "cannot touch."
Jada is a reminder that it is not how you begin, it's how you end. And while we all have flaws, it is always possible to write a new story in the life that you lead.
She concludes, "I think back on my life, like, I am a walking miracle, no doubt about that. People will not believe."
Featured image by Jason Koerner/Getty Images
Keep reading...
Show less
Jada Pinkett Smith is not afraid to tell it like it is. For much of the last year and beyond, the inquisitive supermom has used her popular platform to bring the tough conversations to the forefront and speak openly about a wide range of topics that others may find uncomfortable--whether on her Instagram page, which has over 10 million followers, or her Red Table Talk series. Subjects such as open relationships, infidelity, racism, and even her own family problems are quite literally on the table, no pun intended.
But a recent episode featuring Jada, and her co-hosts, daughter Willow and mom, Adrienne Banfield-Norris, may have been one of the most pearl-clutching yet: an episode of them getting their vaginas cleansed.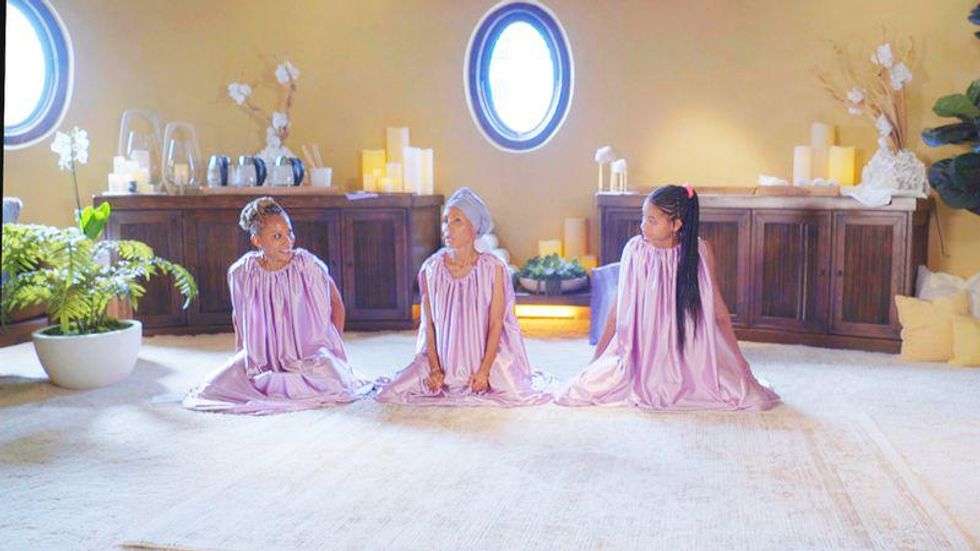 Red Table Talk/Facebook Watch
She says:
"We are going to steam our vaginas. Yes, we're gonna steam our vaginas on camera. I ordered some kits from a really beautiful young Black woman who owns her own business. So we're gonna head on up and we're gonna get started. Let's go get steamed, ladies!"
Additionally, the women openly discuss the benefits of the age-old practice, and how it is important for women to celebrate their anatomy despite it being considered "taboo."
She continues:
"I'm sure boys sit around all day talking about their penises. I mean, that's why I'm telling you right now I don't want to hear nothing about this show. It being TMI and all that, 'cause if you can listen to all these little rap artists talk and abuse the vagina, you sure as hell can watch women give it honor and praise. And spend quality time, so I don't want to hear it. They'll be like, 'It's TMI. Oh, my God.' And I don't really care because we have to change the narrative around the vagina, and women have to take it back."
Well said, sis. Well said.
The word 'vagina' is a Latin word that translates to 'sheath' or 'scabbard', and it was used to describe these items until it began to be applied to describe the female anatomy. For hundreds and hundreds of years, it was thought that men and women had the same sexual organs, but that a woman's was simply facing inward instead of outward. That was until some Greek physician came along and explained the difference...kinda.
"Think first, please, of the man's turned in and extending inward...If this should happen, the scrotum would necessarily take the place of the uteri."
Basically, he's stating that if a man's penis and testicles were turned upwards inside a woman, the scrotum would be the uterus and the penis would be the vagina. This theory continued to be popular until around the 1500s, when anatomists were able to get a better look at the female body and produce drawings of the reproductive system. But listen, by that time, the damage was done, and people were hella confused, likely causing the initial shame and secretive nature surrounding the vag that exists today.
But Jada isn't trying to hear all that, she wants women to take the word 'vagina' back.
Not va-jay-jay, not hoo-ha, not the yoni. The vagina.
And this isn't the first time Jada has made the vagina the star of the Red Table Talk. Back in 2018, she revealed she had undergone three non-surgical procedures of vaginal rejuvenation that took years off her vagina.
"When I tell you my yoni is like a 16-year-old, I'm not kidding. I'm talking about the outside. It looks like a little beautiful peach."
She then took her mom to meet with owner Kelly Rainey, who performed the procedure.
Rainey went on to explain that she recommends vaginal rejuvenation to fix issues with dryness, incontinence and pain during sex, along with altering the outside appearance.
The process, which uses a wand that moves in and out of the vagina, "introduces heat which stimulates cellular turnover, which makes you feel younger again and it gets tighter and nicer and functions like it did when we were back in our 20s."
Well, alright then.
So, in 2021, here's to taking back our vaginas, and saying so. Unapologetically.
Watch the full episode, also starring Queen Afua, below:
Are you a member of our insiders squad? Join us in the xoTribe Members Community today!

Featured image via Roy Rochlin/Getty Images
Keep reading...
Show less
And now sis is tapping into astrology, by introducing us to Jessica Alexandria, also known as Behatilife.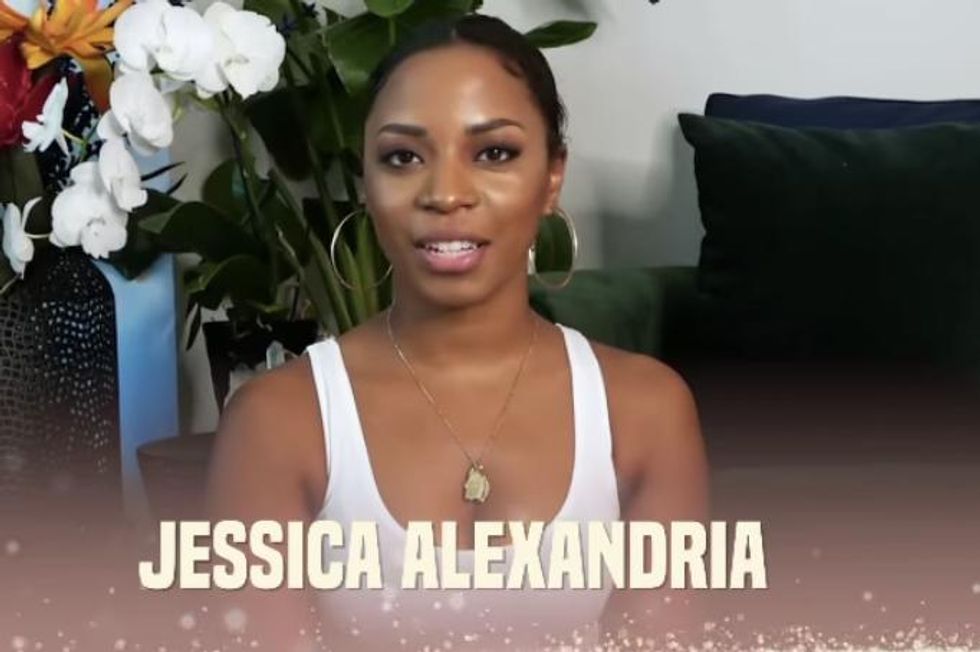 Jada Pinkett Smith/Instagram
In an episode of her latest project, Jada's Essentials, Jessica is pouring tea on how we can best use our astrological signs to tap into our higher selves.
Jessica, who was raised in the space, knows quite a few things about shifting our lives through alignment.
"If you really take a step back, you know, and kinda feel out the vibes of our planet, you'll start to understand and see, hopefully, that there really isn't anything that is good or bad, it just is what it is. If you're living in a world of rules and restrictions from our society or from our family upbringing or from the expectation that it is you have for yourself, you will always find yourself guided of what it is that you feel like you should be doing, and never really authentically aligned to your intuitive path."
Whew, a word!
Continue reading for ways you can use astrology to create a positive shift in your life:
#1: Deepen Understanding of Self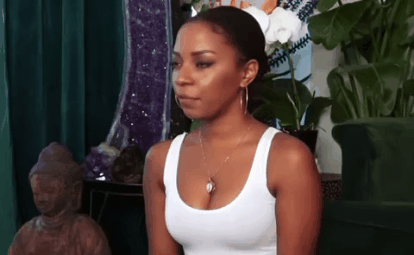 Jada Pinkett Smith/Instagram
Jessica opens her list with explaining how astrology helps you understand who you are.
"Astrology provides a really clear insight into 'this is who I am, this is what I want' and it keeps you focused and it keeps you aligned."
#2: Manifest Highest Vision Using Moon Magic 
According to Jessica, 'moon magic' is using the moon to set powerful intentions for the things that it is you want to see show up in your life, or things that you want to avoid. She goes on to discuss how we can all use the moon to know what sign we're currently in, and how we can best use its energy.
"This is one of my favorite ways of working with astrology. This is the magical aspect of it."
#3: Improve Health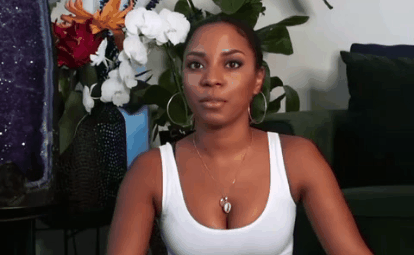 Jada Pinkett Smith/Instagram
Plan your diets, get healthier, and get stronger!
"There is a such thing as medical astrology and this looks at your natal chart, your birth chart in order to look at your sixth house of daily routine, health, and what would make you a more vibrant, healthier individual."
Jessica then teaches us how to pull your astrology chart. You will need your birth time, location, and date.
"It's not all aches, pains, suffering, or failed attempts at feeling healthy, it's about maximizing your time here."
*poetry snaps*
#4: Confirm Your Intuition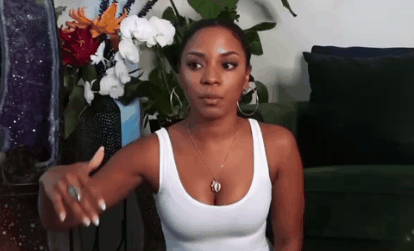 Jada Pinkett-Smith/Instagram
One of my favorite moments of the lesson, was how we subconsciously suppress our intuition with statements like, "it's OK" or "everything is fine."
"Over time, when you are told to disconnect from your intuition, it creates so much imbalance. It creates psychological dysfunction. This is why it's so important that if you feel curious, if you feel called, if you have questions, that you break outside of these norms or break outside of these systems and allow yourself to feel curious."
Whew.
For the rest of the list, watch the extremely interesting video in full below:
Are you a member of our insiders squad? Join us in the xoTribe Members Community today!

Featured image by Jada Pinkett-Smith/Instagram
Keep reading...
Show less