Something that we all know is aging is a natural part of life. It's nothing to get mad about. It's nothing to be afraid of. Matter of fact, it's a blessing to be able to say that you're getting older. That said, the key to aging gracefully is preparation, and if there's one part of us that gets overlooked a lot when it comes to this, it's our teeth. Here's the thing, though. When we're babies we get a set, then lose them. Then we gain another set and that's supposed to last us for the rest of our entire lives. Between the constant eating, sometimes grinding, the kinds of foods that we eat and not always taking care of our teeth as well (or consistently) as we should, the enamel (the main layer that protects your teeth from decay) on them can start to get thinner which can make our teeth more fragile and, quite frankly, dingy looking. That's why a lot of people can look pretty good in their 50s and 60s, then smile and instantly appear 10 years older. It's because they didn't take good care of their teeth.
There's no time like the present to learn a few ways to dodge this particular bullet. Since your teeth are going to get older over time, here are 12 proven ways to help them to stay young-looking, so that you can appear more youthful, with time, as well.
1. Stay Hydrated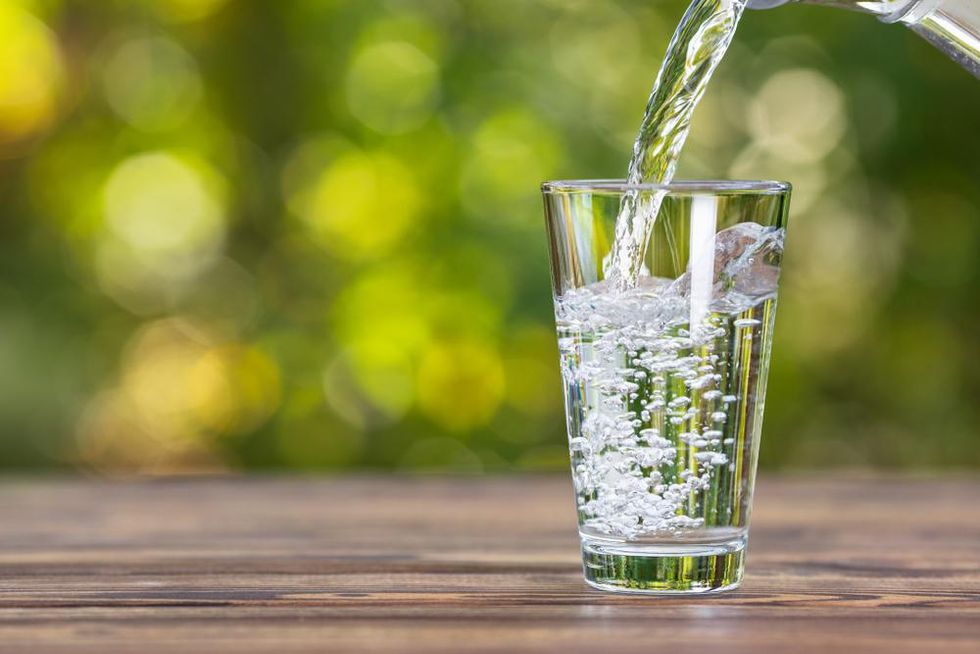 Have you ever really stopped to think about what's in your saliva? It's actually a combination of water, minerals, proteins, mucus and amylase (an enzyme that helps you to properly digest your food). Saliva is great at helping to prevent oral decay because it helps to remove food particles from your mouth, wash away bacteria that can lead to cavities and neutralize acids that can eventually lead to cavities and a breakdown of tooth enamel. Something that saliva needs in order to produce itself on a regular basis is water. That's why, when it comes to taking care of your teeth long-term, it's important that you drink at least 6-8 glasses of water a day. Every single day.
2. Brush with Baking Soda. Rinse with Hydrogen Peroxide.
If you don't want to go the professional whitening route, a great natural whitening alternative is to brush your teeth with a combo of baking soda and hydrogen peroxide. Baking soda (also known as sodium bicarbonate) is effective because it contains tiny crystals that create a texture that's able to basically "exfoliate" your teeth, so that you can safely and effectively remove plaque from them. Hydrogen peroxide is cool because it serves as a natural bleaching agent that can help to whiten your teeth while killing bad bacteria that may be lurking around in your mouth too. I've been going with this combo since I was a child and I can definitely tell a difference, every time I use it. Just make sure to rinse your mouth really well when you're done. Both things are safe. Still, they can be pretty potent too. (If you want to learn about some other natural whitening remedies, check out "10 All-Natural Ways To Strengthen Your Teeth & Whiten Your Smile").

3. Go Easy on the Brushing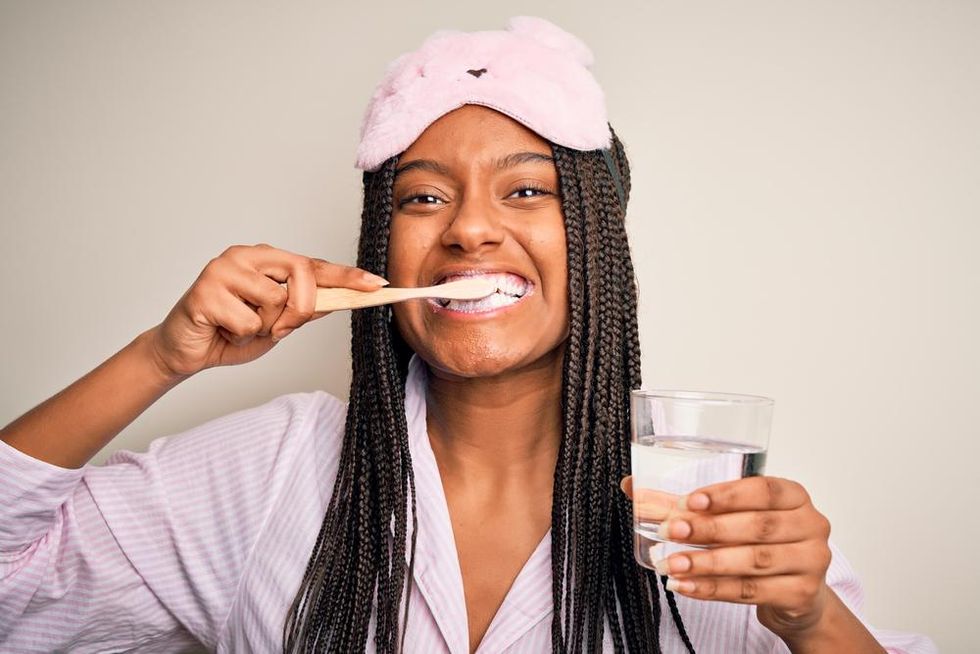 There can be too much of a good thing, even when it comes to brushing your teeth. In other words, if you ever wondered if you could brush them too hard or too often, the answer is yes. What's a trip about this particular point is even that can result in tender gums and worn out enamel. Yes, you need to brush (and floss) after every meal. Just make sure that you go with a soft-bristled brush, that you stroke at a 45-degree angle to your gums and that you do it for no more than 2-2 ½ minutes. Oh, make sure that you replace your toothbrush every three months as well. Going above and beyond this could result in tooth sensitivity. You don't want that.
4. Reduce Your Acidic Intake
This one kinda sucks because I'm willing to bet that some of your favorite foods and drinks are acidic. The reason why you should reduce the amount of them that you consume is because they've got the ability to erode your tooth enamel over time which makes it easier for the pigment of foods that stain your teeth and provide that less-than-appealing yellowish look. Acidic stuff can also cause your teeth to become pretty sensitive too. If you're not exactly sure which foods and drinks fit this bill, the list includes orange juice, soda, fish, processed foods, lemonade, pineapple juice, starchy foods, grape juice, apple juice and corned beef.
So, what foods are able to make your mouth more alkaline? Good question. Some of those include zucchini, spinach, kale, pumpkin, white cabbage, arugula and artichokes. Eat more of those and less of the acidic stuff and your mouth will be much healthier.
5. Consume Calcium and Vitamin D-Rich Foods Instead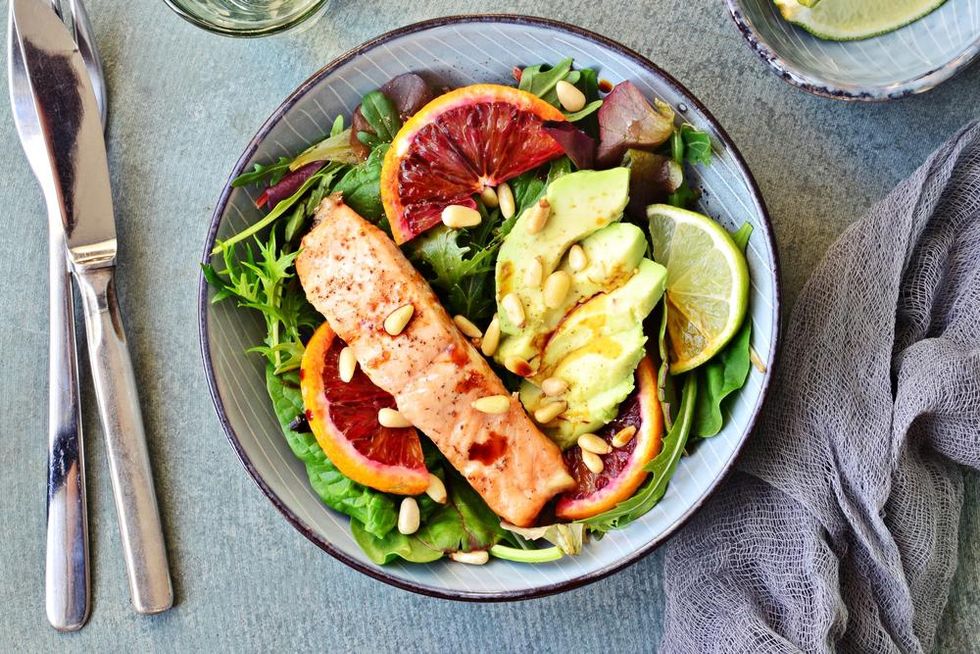 Although your teeth aren't technically bones (teeth are made up of dentin, enamel, cementum and pulp), they do need some of the same nutrients that bones do in order to remain nice and strong. One that tops the list is calcium because it's able to harden your teeth's enamel. This is why it's so important to eat foods that are rich in calcium like cheese, dark leafy greens, yogurt, canned salmon, whey protein, milk (or milk alternatives) and chia seeds.
Another nutrient that's important is Vitamin D. That's because it helps your body to process and absorb calcium. Without calcium, your teeth can start to become pretty brittle which is problematic on all kinds of levels. Foods that are loaded with Vitamin D include fortified cereals, eggs, canned tuna, shiitake mushrooms and orange juice.
6. Eat Cheese at the End of Each Meal
If cheese is something that you love to eat, you're gonna be thrilled with this tip.
Remember how I mentioned a list of foods that are acidic? Well, something that you might not know about cheese is that it's naturally alkali. This means that, when you eat it, cheese can help to neutralize the acids that you may have just consumed from other foods. As a bonus, cheese also contains a good amount of calcium.
As far as the kinds of cheeses that are best, some dental experts are all about ones like Monterey jack, cheddar, Brie and Camembert due to all of the nutrients that are in them.
7. Do Some Oil Pulling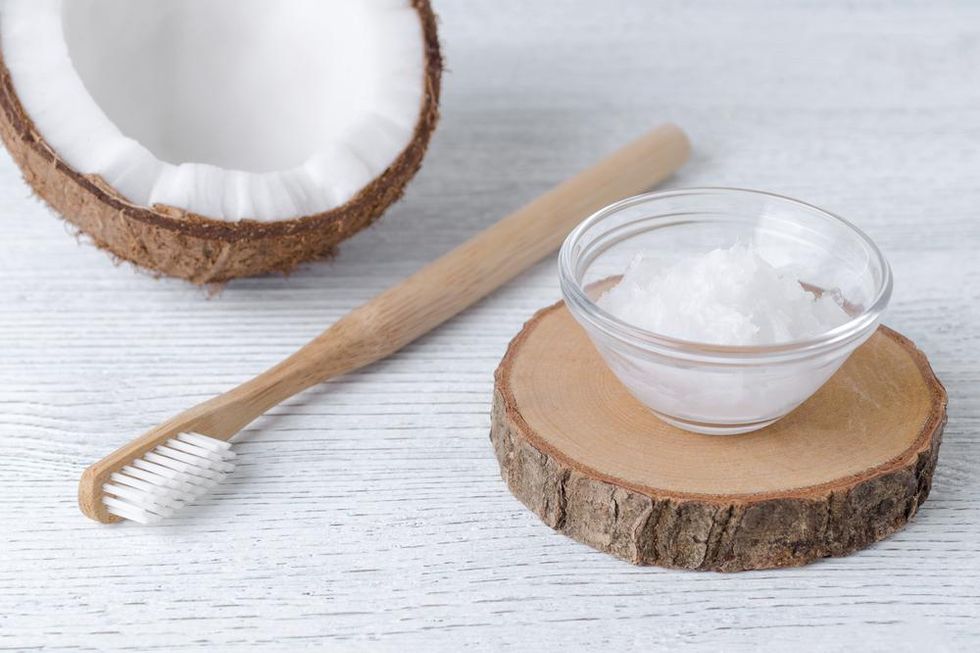 The brief history on oil pulling is it's an Ayurvedic practice that actually originated in India. The purpose of it is to use oils to literally purify your teeth and gums. While a lot of Indians prefer to go with sunflower or sesame oil for pulling, the people I personally know who oil pull typically use coconut oil since it has so many properties (such as lauric acid which reduces inflammation and Vitamin E which helps to heal tissues) in it. Anyway, all you've gotta do is put around a teaspoon of the oil of your choosing into your mouth and swish it around for about 10-15 minutes. Then spit the oil out and brush your teeth like usual. If you do this 2-3 times a week, you should notice that your teeth will feel cleaner, your teeth will appear whitener and your breath will even smell fresher.
As a special note, it can be hard to keep all of that oil and spit in your mouth when you're just sitting around and doing nothing. That's why it's usually best to oil pull while you're in the shower or super preoccupied with something that keeps you busy yet doesn't require you to talk.
8. Take a Multivitamin
One of the reasons why your teeth can start to weaken as you age is you may not be receiving all of the nutrients that they need on a regular basis. In fact, it's estimated that a whopping 92 percent of Americans have some sort of vitamin deficiency (what in the world?!). Since your teeth need calcium (again, it helps to harden your teeth's enamel); Vitamin D (it aids in boosting bone mineral density); potassium (it helps to keep your blood from becoming too acidic); phosphorus (it helps to build healthy teeth); Vitamin K (it improves bone strength); Vitamin C (it fights gingivitis), and Vitamin A (it helps to promote oral healing), you can never go wrong with 1) eating foods that have these nutrients in them and 2) taking a multivitamin on a daily basis. As far as multivitamins go, it's an easy way to make sure that you compensate for any vitamins or minerals that you might've missed due to your diet.
9. Drink Some Tea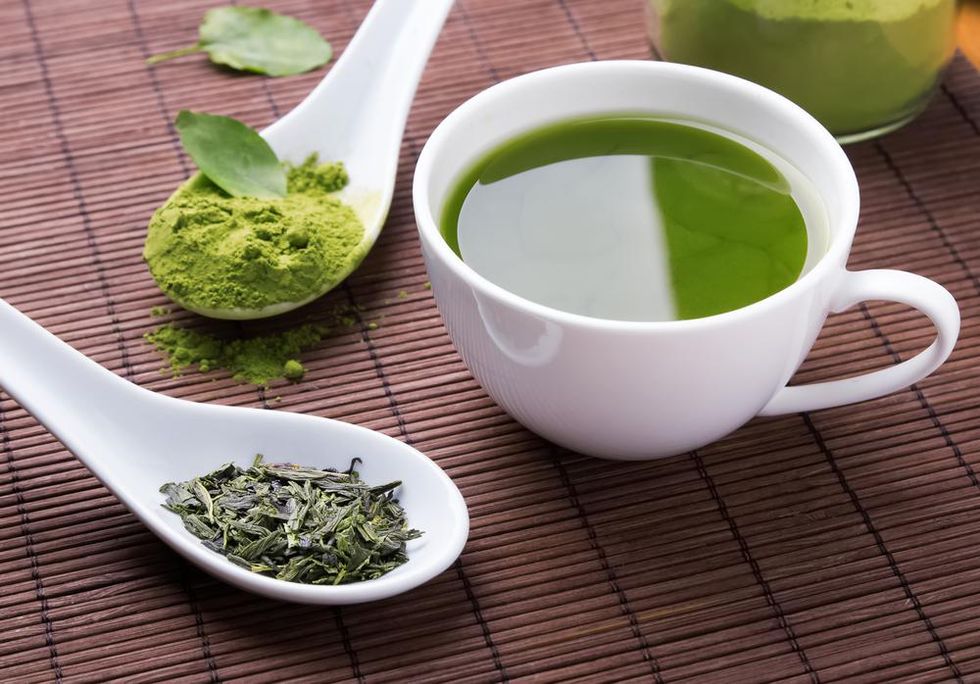 Yeah, before you get all giddy in your soul, when I say "tea", I don't mean some good ole' southern sweet tea. What I'm referring to is green tea. Aside from the fact that green tea contains bioactive compounds that are able to improve your brain function while helping to keep you from getting type 2 diabetes and also antioxidants that can help to boost your immunity and reduce the risk of you getting certain cancers, the catechins (a specific type of antioxidant) in this kind of tea are also able to fight gum disease, tooth decay and bad breath. One of the best ways to take care of green tea's oral benefits by making your own mouthwash. A cool recipe is located here.
10. Get a Night Guard
If you've heard of the word "bruxism" before yet you're not exactly sure what it means, it's a medical term for people who grind their teeth or clench their jaws (which is around 10-15 percent of the population).
Several things can cause this including stress, internalized anger, insomnia, heavy caffeine and/or alcohol consumption and ADHD. The reason why this is an issue when it comes to the topic of aging teeth is because teeth grinding can damage the enamel of your teeth—and the weaker your enamel gets, the much more vulnerable to damage your teeth can become. How? Well, chewing your teeth can put between 20-40 pounds of pressure on them. Grinding? A whopping 250 pounds! Geeze.
A solution is to invest in a night guard (or bite splint). It's very similar to the trays that your dentist may use to whiten your teeth. You put them on at night and it helps to both shield and cushion your teeth so that you're not putting so much pressure on them while you sleep. Since night guards can also help to prevent headaches and neck pain, it definitely can't hurt to talk to your dentist about getting one either to fix any grinding issues that you have now or to use as a preventative measure.
11. Keep Metal Out of Your Mouth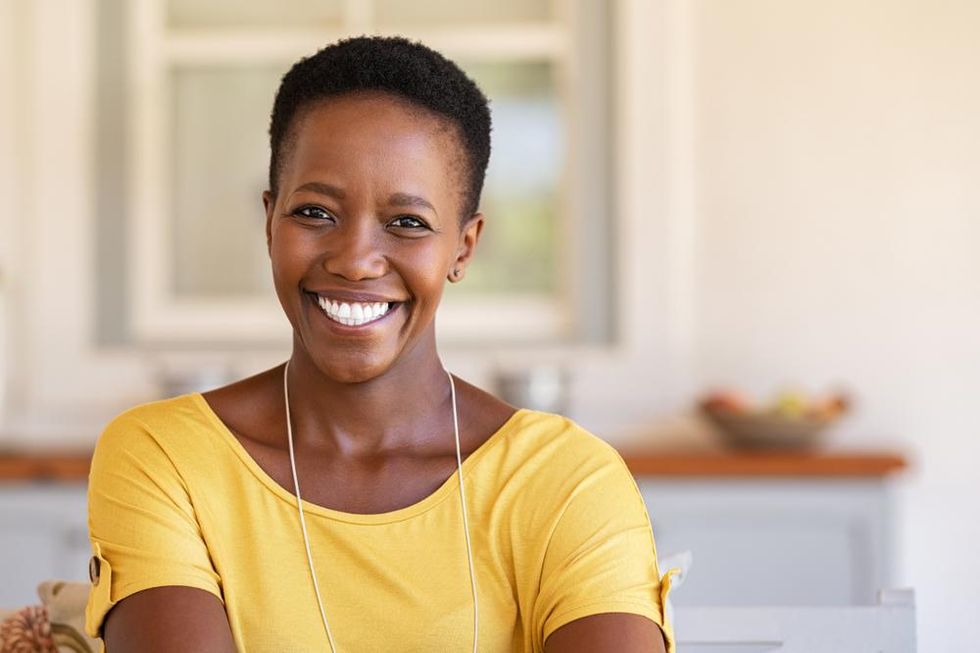 I've had a root canal before. My dentist was cool. Still, it was no walk in the park by any stretch of the imagination. Anyway, if you end up needing some sort of treatment for a cavity that you might have, make sure that you avoid getting metal amalgam fillings or crowns. Those can definitely cause your mouth to look 20-plus years older than it should. Instead, ask your dentist about fillings that are the same color as your natural teeth and crowns that are ceramic. These options tend to look so much better. Younger too.
12. See Your Dentist Annually
Unfortunately, only half of Americans go to see their dentist every six months (which is actually how much we're supposed to do it). Around 15 percent go annually and over 20 percent said they haven't gone in the past few years. That's not good because your dentist is able to see signs of wear and tear, damage and even aging that you cannot. Plus, they can provide tips on how to keep your teeth in great shape for many years to come. I can't think of too many things that I dislike more than going to the dentist. Still, it's something that's crucial if you want your teeth to look great and, well, age gracefully. Make your next appointment, ASAP, OK? Excellent.
Join our xoTribe, an exclusive community dedicated to YOU and your stories and all things xoNecole. Be a part of a growing community of women from all over the world who come together to uplift, inspire, and inform each other on all things related to the glow up.
Featured image by F.J. Jimenez/Getty Images
Keep reading...
Show less
I don't know about y'all, but personally, I can name about three trillion things I would rather do than go to the dentist. I mean, my dentist and his team are nice enough, but between laying on my back, looking at those tools, and holding my breath to hear if there's any news that I'd prefer to avoid—it can all be overwhelming, a tad bit uncomfortable…oh, and not exactly the cheapest, either. Apparently, I am not alone because it's been reported that only 58 percent of folks see their own dentist on an annual basis. That's not good either because, aside from the fact that we need our teeth to eat (and look presentable), there are all sorts of health issues that are tied to poor oral hygiene including cardiovascular disease, respiratory infections, diabetes, infertility, and even dementia.
And while I'm not trying to scare you into seeing your dentist, what I will say is the last time I waited and then went, I had to get the root canal from hell. And you know what? It could've been avoided if I had simply not skipped out on my annual visit. It also wouldn't have become as "big" as it did if I had paid attention to a couple of these you-really-need-to-get-to-the-dentist-ASAP warning signs, too. Don't say a sis didn't warn you.
1. Incessant Bad Breath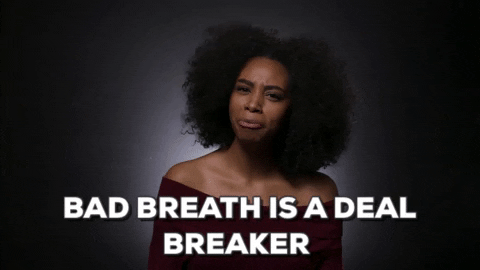 There is someone I went to high school with who, no joke, had some of the worst-smelling breath on the planet. On many days, I was around her after gym and lunch, so I know she brushed her teeth, but damn—when she talked, it still always smelled like something died up in there. I hope she's OK because bad breath isn't always automatically a hygiene issue.
Sometimes it's a red flag that someone has an underlying disease like diabetes, acid reflux, or, in some cases, even cancer.
All of the mint toothpaste and Altoids in the world won't fix those things, so aside from not sucking the life out of everyone around you, for the sake of your health and well-being, incessant bad breath is something that should not be ignored.
2. Gum Pimples
If you're not exactly sure what a gum pimple is, I'm not referring to canker sores. (Another name for those is aphthous ulcers and they are basically surface-layer sores in your mouth.) No, what I'm talking about are bumps that have pus in them. Sometimes, what that means is an abscess has developed and you have a dental infection of some sort. If you choose to ignore it or even pop it yourself, the infection could ultimately spread and lead to far more serious issues like sepsis. It could even go to your brain and lead to fatality. So yeah, you should make an appointment with your dentist if you happen to notice any of these along your gum line.
3. Dry Mouth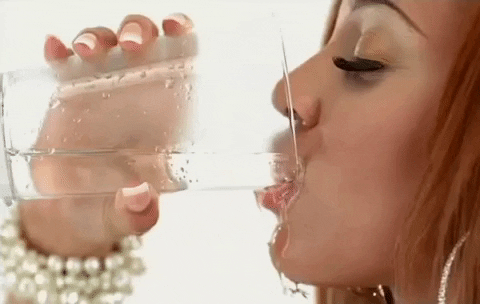 Our mouths were designed to be wet with saliva at all times. This means that if, no matter how much fluid you take in, you just can't seem to shake having dry mouth, that is something else that could potentially be cause for concern. Not only does saliva keep bacteria at bay while helping to fight decay that leads to cavities, a lack of saliva production could be an indication of things like high blood pressure, high cholesterol, and diabetes. Dry mouth is one of the most slept-on reasons to go to the dentist, but a valid one nonetheless.
4. Cracking Teeth
Do you have a cracked (or crumbling) tooth that seems to have come out of nowhere? You know that you haven't eaten anything hard and you also know that you haven't neglected your teeth in any way, so what in the world could it be? One guess is you are producing an excessive amount of stomach acid that is damaging your enamel. There's only one way to find out for sure, though. You already know what I'm gonna say.
5. Receding Gums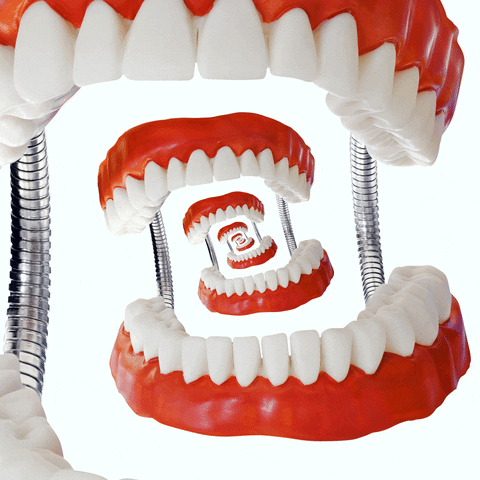 Here's something to take pretty seriously. Did you know that, not only do half of all Americans have gum disease, but gum disease in an advanced stage? Aside from bleeding and swollen gums, another pretty telling sign that gum disease is starting to get the best of your oral health and well-being is if you notice that your gums are receding anywhere. Since there is a direct correlation between gum disease and other health-related issues like diabetes and heart challenges, don't let this one slip either. The state of your overall health could very well depend on it.
6. Teeth Sensitivity
While there are plenty of commercialized oral products out on the market that profess to treat teeth and gum sensitivity, if this is something that has just recently started to happen, make an appointment to see your dentist.
When you react, excessively, to hot or cold foods, what that could mean is that you've got some tooth decay, a loose filling, or an exposed tooth root somewhere. The only real way to treat any of this is professionally.
7. Weird-Feeling Tongue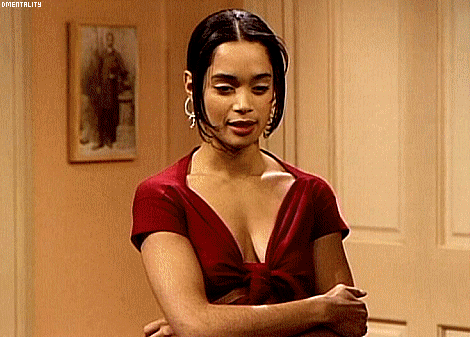 Your tongue is a breeding place for bacteria. That's why it's important to make the time to brush it every time you brush and floss your teeth. Not only will it remove a considerable amount of bacteria and germs, it will also reduce your risk of getting periodontal (gum) disease while helping to keep your breath smelling fresh throughout the day.
But what if you do take pretty good care of your tongue but happen to notice that it's been feeling pretty weird as of late? Should you chalk it up to not being that big of a deal? If by "weird" it has suddenly changed texture, color, or has lumps or bumps that you know aren't canker sores or "lie bumps", don't casually overlook that. Medical professionals often check for oral cancer via our tongue. It's another reason to see your dentist as soon you possibly can.
8. Swollen Jaw
Swollen jaw tissue could mean that you've gotten an infected tooth or even a cyst or tumor that is developing somewhere beneath your gum line. There's no way that you'll know for sure without a thorough examination and quite possibly a few X-rays, so if you feel or see any swelling, don't just "ibuprofen it away". Chances are, things will only get worse over time if you do.
9. Numbness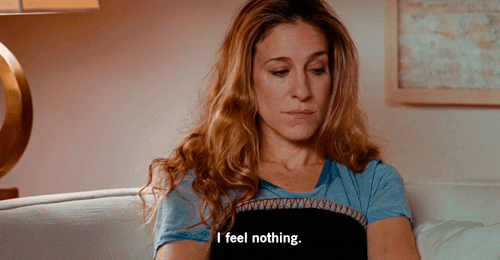 One more. Each tooth contains nerves and blood vessels that help to keep it healthy. Another thing that the nerves do is help us to know when something that we put into our mouth is either hot or cold. When the pulp chamber of a tooth either gets exposed or becomes damaged in some way, that can first cause an extreme amount of pain. However, that's a good thing because it's a heads up that something is very wrong. The bigger problem is if we try and "Google our way through that" and then the nerve eventually dies, resulting in numbness. While on one hand that means the pain has subsided, what that doesn't mean is that the underlying problem has gone away or that it won't get worse over time. So, if you happen to notice any type of numbness anywhere, most definitely see your dentist. For the sake of your teeth—and your overall health.
Yeah, I know this wasn't the most pleasant read on the planet, but you know what? It's better to know what to look out for and book an appointment than to wait too late and have a world of oral issues that you didn't even know about. You need your teeth. Be proactive in taking care of them or you could live to regret it. Literally.
Want more stories like this? Sign up for our newsletter here and check out the related reads below:
10 All-Natural Ways To Strengthen Your Teeth & Whiten Your Smile
The Perfect Smile: 4 Influencers Give The 411 On Having Veneers
Cardi B's Dentist Dr. Catrise Austin Built An Empire Transforming Celebrity Smiles
Feature image by Shutterstock
Keep reading...
Show less
When you were growing up, I'm thinking it's pretty safe to assume that you were taught to brush and floss your teeth after every meal. Now that you're grown, be real—do you still do that? After each and every meal? While we're on the subject, do you also brush for no less than two minutes? Each and every time?
I did some digging around and it would appear that only 44 percent of men and 37 percent of women actually brush at least twice a day and 30 percent of us floss every day. This means there are millions out of us out here who are on the way to having weak teeth, dingy enamel and stank breath (if we don't have these things already). And let's not even get into how many of us don't see the dentist as much as we should (word on the street is it's 1 out of every 3 three who skip out on annual visits).
Once our big girl teeth come in, we're not going to get another set. That's why it's imperative that we're as proactive about caring for our biters. Yes, this should include brushing, flossing and taking that semi-dreadful visit to the dentist every year. But it also includes doing some things at home that will help to make our teeth stronger and whiter too.
10 All-Natural Teeth Whitening & Strengthening Tips
1. Baking Soda and Hydrogen Peroxide
Not all of us have sparkling white teeth. Not because we don't take good care of them, but because they aren't a part of our genetic make-up. But if the enamel on your teeth is dingier than normal, it could be due to consuming lots of coffee and soda, eating too much sugar, breathing through your mouth instead of your nose (dry mouth leads to more bacteria), long-term antibiotic use and aging.
A way to get your teeth back bright again? Brushing them with a mixture of baking soda and hydrogen peroxide. The baking soda is effective because the grittiness of it serves as a kind of tooth exfoliant. Also, the bicarbonate that's in the soda helps to balance out the acids that can sometimes cause oral bacteria to thrive, ultimately leading to gingivitis and bad breath. Hydrogen peroxide whitens teeth due to its ability to penetrate past your teeth's enamel so that it can lighten the discoloration that keeps them from gleaming.
Here's a heads up—I know for a fact that the combo works really well. But because it's also pretty abrasive on teeth, it's best to only brush with this kind of paste no more than a couple of times a week. Otherwise, eventually, you could wear some of your enamel down. And enamel isn't something you can simply "get back".
2. Teeth Strengthening Foods
All of us want to have healthy teeth, but not all of us know what the signs of those are. When your teeth are strong and white—your gums won't bleed (including when you brush them), your breath will be fresh (which is why you should floss after every meal), your teeth won't shift, your gums won't recede and your tongue will be a healthy shade of pink (make sure to brush your tongue, by the way!).
No matter what you may put on your teeth, it's still important that you take care of them from the inside out. One of the best ways to do that is to consume foods that are proven to keep your teeth nice and strong. Ones that are high in calcium (like cheese and yogurt), high in magnesium (like leafy greens and pears), full of live probiotic cultures (like sauerkraut and kefir) and loaded with antifungal, antiviral and antibacterial (like garlic), along with bone broth and butter.
Speaking of butter, it is loaded with vitamins A, vitamin D, and vitamin K2. Some people love it so much when it comes to taking care of their teeth that they even brush with it (pastured, cultured butter is best)!
3. DIY Mouthwash
Alcohol, fluoride, sodium saccharin, sodium lauryl sulfate and cetylpyridinium chloride are just five of the ingredients that are listed on the label of a lot of commercial mouthwash brands. What do they all have in common? They're toxic.
Deciding to make your own mouthwash so that you're able to control the kind of ingredients that are in it is one good reason to do it. Another is because, when you put ingredients in it like calcium carbonate and concentrated trace minerals liquid powder, not only can they help to remineralize your teeth (which is great if your teeth are showing the beginning signs of tooth decay), it can help to whiten your teeth too. You can try a really great DIY mouthwash recipe here.
4. Strawberries
Strawberries taste great (especially when they are in season which is April through June)! So great that it's kind of a trip how many nutritional benefits they contain. Eating a fresh bowl of strawberries a couple of times a week provides you with lots of antioxidants, potassium, and fiber. Strawberries also have the ability to do everything from improving the health of your heart and fighting precancerous cells to strengthening your eyes, giving your immune system a boost and reducing your blood pressure.
Know what else strawberries can do? Whiten your teeth! Although strawberries are really red in color, they contain a tooth-whitening enzyme called malic acid. It, plus the seeds that are on the strawberries, help to basically exfoliate the stains off of your teeth.
The best way to use strawberries is to mush 1-2 of them and a half teaspoon of baking soda to it. Then brush your teeth like normal, making sure to rinse thoroughly when you're done. It's effective but try not to do this more than once a week; the acid and the baking soda could eventually become too strong for your teeth if you do it more than that.
5. Green Tea
Green tea is loaded with antioxidants, polyphenols (a compound that reduces body inflammation) and EGCG (Epigallocatechin Gallate), which is a compound that fights off disease. That's not all. The amino acid L-theanine that's in the tea helps to improve your brain function, the caffeine that's in it can increase your metabolism and burn fat and some studies even reveal that green tea can boost longevity.
The crystalline compound known as catechins that's also in green tea is great for oral health. That's because it kills the kind of bacteria that causes the flu and streptococcus mutans—a bacteria that results in tooth decay and cavities. So yeah, drink up.
6. Phosphorus
Phosphorus is the kind of mineral that a lot of us don't give much thought to, but it's very essential to our overall health and well-being. It assists with bone growth, eliminates toxins, reduces fatigue, helps to prevent arthritis, repairs cells, balances hormones and supports tooth enamel too.
You can take phosphorus as a supplement. But unless you've got an illness, probably the best way to get this mineral into your system is to consume foods that contain a good amount of it. Some of those include mushrooms, quinoa, oatmeal, yogurt, salmon, cheese, tuna, potatoes (with the skin on), cheese and even (cooked) waffles.
7. Oil Pulling
If you've never done a little oil pulling before, try it sometime. Out of all of the things that I shared, I can definitely vouch for how clean this process will make your teeth feel! Oil pulling is an Ayurvedic medicine practice that consists of putting a little coconut, sesame or even sunflower oil into your mouth and swishing it around for about 10-15 minutes before spitting it out. It works so well because these kinds of oils have the ability to remove plaque and toxins without damaging your teeth in the process.
Out of all the oils you can try, organic coconut oil is my preference, thanks to the antibacterial and anti-inflammatory properties that are in it. Just make sure to NOT spit the oil out into your sink (it could clog it up over time; use your trash can instead) and that you rinse thoroughly with warm water and brush your teeth immediately following the oil pulling process. That will get rid of any oil residue that's left behind.
8. Orange Peels
The next time you decide to peel an orange, rather than throwing its skin away, eat it. No, seriously! There's plenty of research to support that orange (and lemon) peels contain a flavonoid called hesperidin that will strengthen your immune system, help your body to digest food quicker and easier, protect your respiratory system, increase weight loss and yep, you guessed it—improve your oral health.
First, chewing down on orange peels will whiten your teeth and freshen your breath. As a bonus, it can also decrease teeth sensitivity over time too. Just always keep in mind that due to the high acidic content that are in the peels, you should only do this 1-2 times a week and you should also rinse your mouth out with water right after you do it. Otherwise, you could eventually end up weakening the enamel that's on your teeth.
9. Clove Oil
Do your entire body a favor and, the next time you're at Wal-Mart (or you're perusing Amazon), cop a couple of bottles of clove oil. It's got quite a bit of manganese oil in it (30 percent of your reference daily intake). This is relevant because manganese is a mineral that regulates blood sugar levels, fights PMS symptoms, balances the thyroid, boosts vitamin absorption and even helps to prevent epileptic seizures (which usually come on, in part, by a low level of manganese in one's system).
As far as your teeth and gums go, manganese also helps to keep your teeth healthy and strong. Plus, its potent antibacterial properties are one of the best ways to kill the bacteria that cause gum disease. Also, if you've got a toothache or even a cavity that you can't get immediately treated by your dentist, nothing is quite as soothing as clove oil. It's strong (and that's a major understatement), but I've used it before to relieve pain and it provides an almost immediate numbing sensation that helped me to get an uninterrupted night of sleep. (If you've ever had a toothache before, you know just how much of a blessing that is!)
10.  Kissing
A kiss from a great kisser is like nothing else on this earth! And while most of us like to focus on the physical sensation and emotional connection that it provides, let's talk about another thing that is happening every time we share a smooch—all of the spit that is going back and forth.
Since our mouths are, hands down, the dirtiest part of our bodies, that's something to think about before you let someone put their tongue down your throat (just sayin'). But once you know your partner's oral hygiene is on the up and up, their extra saliva getting into your mouth will actually help to kill bacteria, wash away debris and raise calcium, fluoride and phosphate ions while producing disease-fighting bacteria that keeps gingivitis at bay.
Pretty crazy, huh? Yet just one more reason to pucker up, just as soon as you can!
Featured image by Getty Images.
Related Articles:
Real Women Share How They Learned To Embrace Their Gap Teeth - Read More
Cardi B's Dentist Dr. Catrise Austin Built An Empire On Celebrity Smiles - Read More
Love On Yourself With These 7 All-Natural DIY Vaginal Washes - Read More
Keep reading...
Show less