Last year, Meagan Good experienced two major transformations in her life. She returned to the small screen starring in the Amazon Prime series Harlem, which has been renewed for a second season and she announced her divorce from her longtime partner DeVon Franklin.
The divorce was a shock to many folks who praised their relationship due to how supportive they have been to one another in the public eye and how they displayed a positive image of what healthy, Black love looks like.
Fans were hurt over the couple splitting up, but no one hurt more than the individuals involved. Earlier this year, Meagan revealed in a Twitter Spaces conversation with xoNecole that their breakup was "the most painful thing I've ever experienced in my life." Following the divorce announcement, DeVon told a reporter that the Harlem actress was still the love of his life.
Now, everybody's crush is dishing on what she's learned since her 9-year marriage ended. Over the weekend, she was honored by Hollywood Confidential and received the Icon award for her decades-long career in acting and she opened up about finding herself.
"I've learned to not be as much of a people pleaser," she said in an interview with PEOPLE. "I've learned that not everybody's going to get you or like you, and that's okay. And knowing who your tribe is and being really thankful for that, and knowing sometimes they're not your tribe — that's okay too."
The 40-year-old wants to make sure she is using this time "loving and treating people with respect regardless, and never letting how people treat you change the integrity of who you want to be. I think in this season especially, I'm learning to live again in a different way."
She acknowledged the many changes that she faced last year and finds the success rewarding although she is still working through everything.
"It's been a lot of changes like going through a divorce and having a hit TV show where I'm playing the character of my dreams and having massive support from Amazon," she said.
"It's like, 'All right, Lord. I'm walking this out, figuring it out,'" she added. "It's just about being present and being really thankful and just taking everything in as it's coming. I think that's the biggest thing for me in the season [is] just being present and every single day and being really thankful for my quality of life and the people I get to do life with."
Meagan is gearing up to shoot the second season of Harlem and shared that she planned to move to the Big Apple for the time being.
Featured image by Amy Sussman/Getty Images for Deadline Hollywood
Almost 10 years ago, Meagan Good's routine trip to her gynecologist turned out to be a scary one and it caused her to re-evaluate her health. The Harlem star spoke to E! News about the terrifying "c" word and what she's doing to bring awareness around the issue for Black women.
Meagan teamed up with FORCE, SHARE, Black Health Matters, and Eisai Inc. on the Spot Her campaign to educate Black women about endometrial cancer. "It's just about being proactive instead of reactive and getting in front of it, instead of reacting to something," she said. "I wasn't taking care of myself regularly."
During her doctor's visit, the gynecologist found abnormal cells in her uterus with concerns of it being uterine cancer. But luckily it wasn't cancer and she had the cells removed after her biopsy. Now at 41, Meagan is using her platform through the campaign to help other women avoid having the same health scare she experienced or at the very least get ahead of it. "Part of it is when your life is aligning with the things that God's really put in your heart and who you really are as a human being," she said.
"When you're putting those things back into the world, I think things come to you. And this for me is super important, because it is a conversation that we're not having and especially within the Black community. When you look at the statistics, it's only 53 percent of Black women who are diagnosed early. That's terrifying. For me, I just want to be a resource and a help."
​There are health disparities in the U.S. between Black women and white women due to discrimination, lack of access to proper health care, and other factors. According to the American Cancer Society, a third of Black women have reported experiencing racial discrimination by a health provider and Black people overall have the "highest death rate and shortest survival rate of any racial/ethnic group for most cancers."
But even with the odds stacked against us, Meagan believes we must be our own biggest advocates no matter how scary it is.
"You only have one life and we have to be our biggest advocates. If we're not going to look out for ourselves and take care of ourselves, who's going to do it for us? It may be an uncomfortable conversation, it might be even a scary conversation. You've got to educate, you've got to know what questions to ask and it's up to us to advocate for ourselves. The only way to do that is to have the information."
Featured image by Prince Williams/Wireimage via Getty Images
Over the weekend, xoNecole teamed up with Toyota USA for our Made For Me: ATL event. The two-day event took place on March 19th and 20th in honor of Women's History Month. Attendees participated in workshops and wellness experiences that focused on the mind, body, and spirit. Special guests included astrologist Dani Simone, Christian psychologist Dr. Alduan Tartt, financial consultant, and yoga teacher Dr. Nicole Garner Scott, entertainment host Gia Peppers, and Meagan Good, who was the keynote speaker.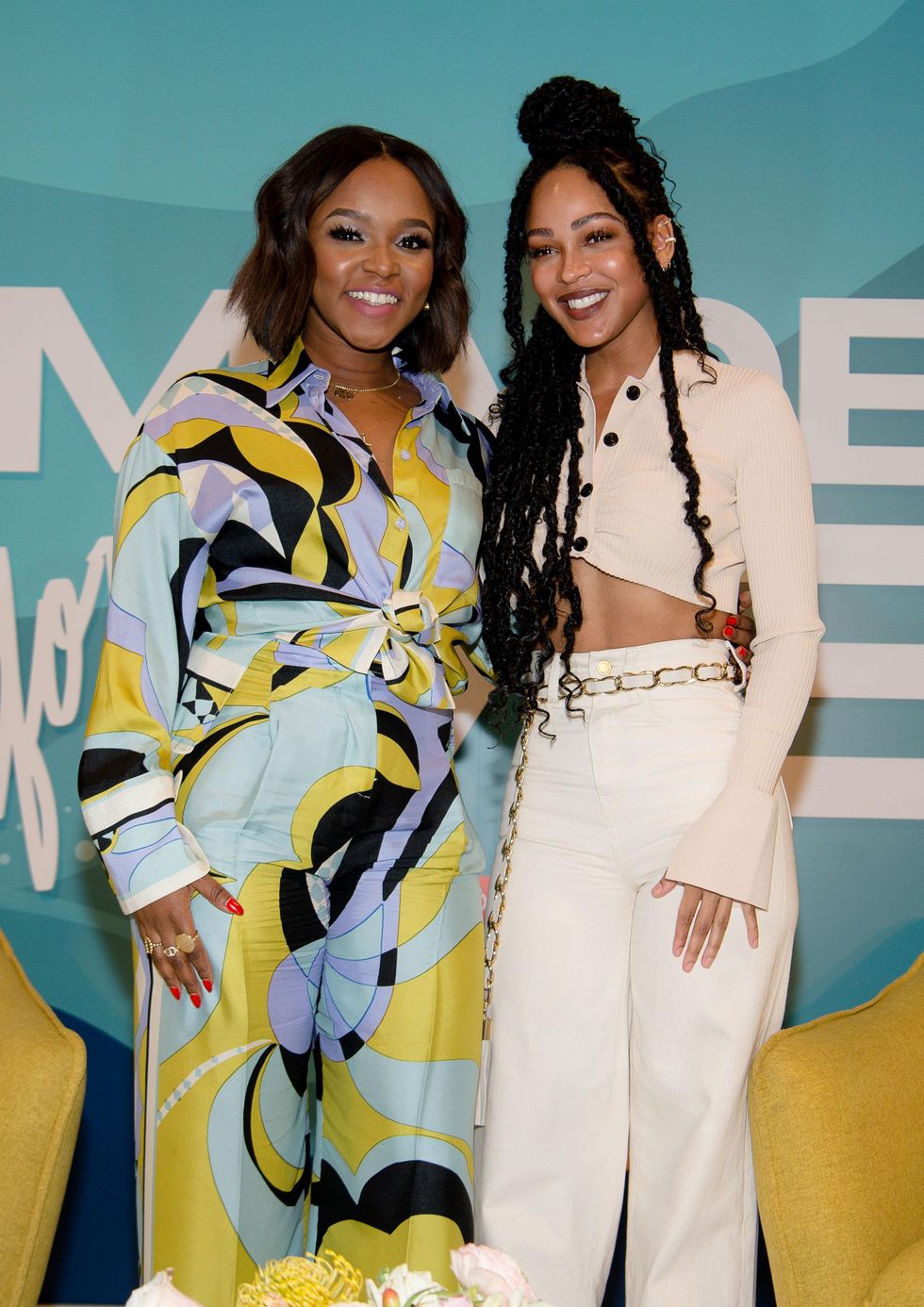 Marcus Ingram/Getty Images
Meagan is a veteran actress who is often admired for her beauty, style, and down-to-earth personality. But what stands out about the Harlem star is her spirituality and her connection with God. The 40-year-old actress took to the stage alongside Gia and opened up to the xoNecole audience exclusively about her faith, how she deals with rejection and how she really feels about the recent social media attention she's been receiving since announcing her divorce from DeVon Franklin.
Meagan Good On How She Deals with Rejection:
"It was very concise, specifics like, it's just not you and I had to learn very young that it had nothing to do with me. I had to learn very young that nine times out of ten I'm going to get a no, but that one yes is the one that was divinely meant for me and have peace of mind about that and to learn along the way what I uniquely bring, nobody else brings and what someone else uniquely brings, no one else brings.
"So, having that peace of mind there will be alignment and the right things will come to me at the right season and then celebrating my sisters when things come to them even if it's something that I wanted. Just celebrating them because it was theirs. It wasn't mine. And I think rejection is God's protection. Every time that I didn't get something that I wanted I got something that was better suited for me. And I ended up in a space where I was like, 'oh this is why I was meant to be here. Got it.'"
On Rejecting Something That No Longer Serves You:
"That was probably a harder thing for me to learn because I'm so sensitive and I hate to hurt people's feelings. I hate to disappoint people. I hate to be the one that told them no. I'm like 'well, what's going to happen to them?' And, 'are they going to be okay?' A lot of that honestly is like a savior mentality. You don't realize it because you think you just [have] a good heart but sometimes if you have too much of a bleeding heart, you're not serving that person. You're actually hurting that person. You're not helping that person and you're always putting yourself out of alignment if that's not what God called you to do and so I had to learn."
On How She Finds Comfort In the Discomfort of Rejection:
"You just have to trust God. I think throughout my life and my personal experience being a woman, being a Black woman, being an actress, being in ministry, all of those things I've experienced tremendous amounts of rejection. Feeling misunderstood, feeling judged, feeling attacked all those things and the thing that sustained me is just trusting God. Even if someone else doesn't get me or doesn't love me or doesn't like me. I know that God gets me. I know that He knows my heart. I know that He knows exactly who I am. I know that He doesn't reject me and if He doesn't reject me, well then, what are we talking about? What other people have to say, and not to say that those things don't still hurt your feelings or that you're not still affected, but you have to have the baseline and the bottom line which is the only person you're sent here to approve you is God. And if God approves you and He's for you, then it doesn't matter what anyone else has to say."
"You just have to trust God. I think throughout my life and my personal experience being a woman, being a Black woman, being an actress, being in ministry, all of those things I've experienced tremendous amounts of rejection. Feeling misunderstood, feeling judged, feeling attacked all those things and the thing that sustained me is just trusting God. Even if someone else doesn't get me or doesn't love me or doesn't like me. I know that God gets me."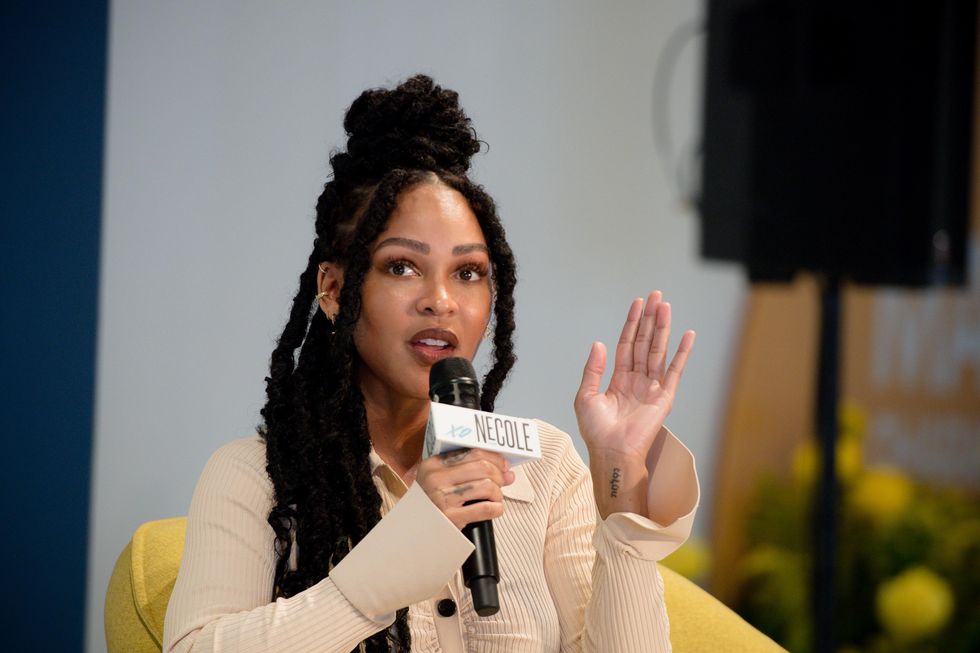 Marcus Ingram/Getty Images
Meagan Good On the Social Media Attention She's Received Since Announcing Her Divorce:
"In this particular season, it warms my heart a bit because I try not to look too much to either side because–I forget what the statistic is but you see something negative it affects you twenty times more than something positive. And so, I'm careful to not let the positive or the negative determine anything about how I feel. But I will say that it has been very heartwarming to see so many people rooting for me and wishing the best for me and wanting to see me live my best life and loving on me and pouring into me. That, I appreciate."
On How She Deals with Public Opinion:
"Well, y'all know I'm 40 so I'm in a different space. I don't care as much as I used to. I used to care so much and– it's nice because it's freeing. I wrote this poem and it's on my Instagram page and it was just like what I was feeling. But it was like, I, for years, felt like I was at the edge of a cliff, and people were poking and prodding me and all I was trying to do was just not fall. And then one day, I jumped. When I jumped, I started flying. So, I'm in a season now where it's like, yes, I'm sensitive to certain things, but at the end of the day, at the core of me and anybody who knows anything about me knows no matter what, I'm going to do what I'm going to do. It doesn't matter if I'm going out to the firing squad or not. I'm always going to be myself and I'm always going to be authentic, but I used to be a lot more sensitive about it and I think now at this junction, especially in this past year, I just don't care.
"When I create something as a director, as a producer, something that I participate in, I'm hoping that it influences somebody in a positive way. I'm hoping that it inspires somebody. I hope that it says to someone, you are enough as you are and you are beautiful and you are perfectly imperfect and I hope that those messages are coming through especially for something that I'm creating like as a producer, as a director. But there will always be times when people don't receive it or don't like it or don't think it was great or whatever it is and I think everything else along the way has prepared me for those things. Whatever it is, all those things have prepared me for this moment and I'm thankful. I'm thankful to now hit 40 and be like 'girl you free.'"
On How She Practices Self-Confidence:
"Everybody that is here, there is nobody in the world like you. There's nobody in the world that is like you and the world needs what you can give that nobody else can give the way that you can give it. And I think stepping into our identity, stepping into our power, choosing our self-love–and I'm not saying it's always easy. I have days where I feel insecure, feel not good enough, especially in the season where I'm like 'oh, man I'm struggling.' But I know how loved I am by God and that's the base that I build everything on. And that helps me grow to love myself and then I remind myself there is nobody in the world like you. Somebody else might be better, well-spoken than you are, somebody else might be a better actress, more talented or more beautiful or people look up to or whatever it is, but nobody is me and I am enough and I choose to see that about myself.
"I have days where I feel insecure, feel not good enough, especially in the season where I'm like 'oh, man I'm struggling.' But I know how loved I am by God and that's the base that I build everything on. And that helps me grow to love myself and then I remind myself there is nobody in the world like you. Nobody is me and I am enough and I choose to see that about myself."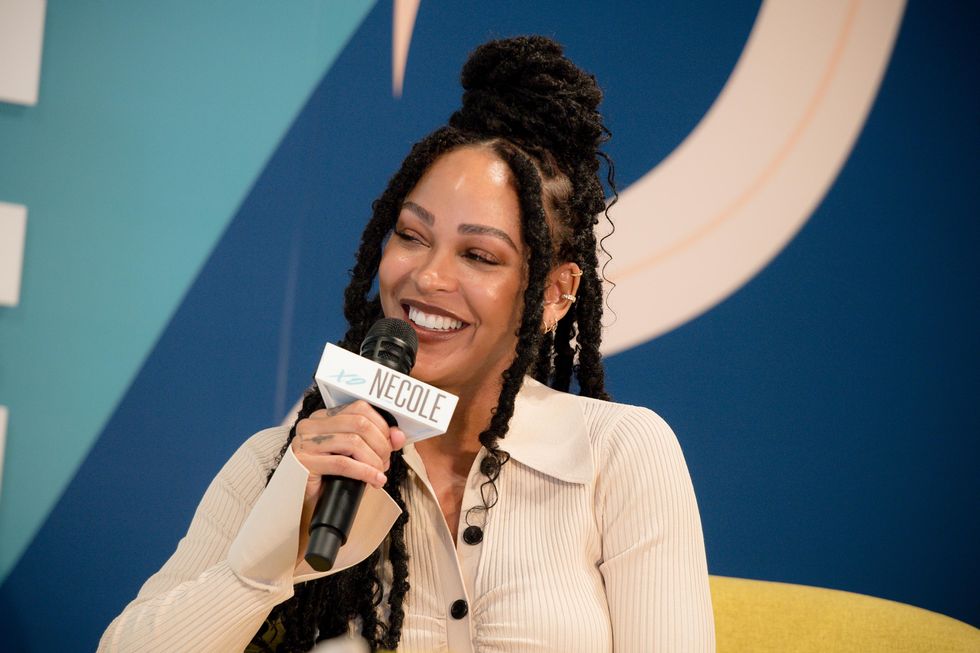 Marcus Ingram/Getty Images
"I choose to work towards the reality of that identity that already is every single day and I'm not saying it's easy but I'm saying the things that for me that I do is [having a] relationship with God, whatever that means for you. Meditation, just getting in tune. I used to hate meditating because I'm like, 'but I'm about to fall asleep right now,' but the more that I have [meditated] over the years and just getting in tune--just even waking up and just breathing and meditating to get oxygen to my brain has made a difference in my endorphins and my peace of mind when I start the day. Then for me, [it] is reading my word, reminding myself who God says I am, not who I think I am because I feel unworthy in the moment or because of whatever I may feel whatever is going on in life but who God says I am, period.
"That's the only thing that matters and then living my day with just loving on myself and choosing myself at times and then choosing others when I feel spirit-led. At the end of the day, we are worthy and we are perfectly imperfect, and we are God's children, and He did put us here for a specific reason and we have a potential to live up to in this life. We're not here for a long time, but we're here for a moment and in that moment, we all have purpose in our lives and we all have a specific reason why God created us and gave us the parents He gave us, grew up in the town that we lived in, had the desires that we have in our heart which I believe are always connected to our purpose.
"We gotta accomplish that in this life and so I let those things be the guiding light and just my center and my core and my base."
Let's make things inbox official! Sign up for the xoNecole newsletter for daily love, wellness, career, and exclusive content delivered straight to your inbox.
Featured image by Marcus Ingram/Getty Images
The hour-long discussion also involved the cast members sharing their vulnerability with the audience such as Meagan opening up about her divorce from DeVon Franklin. The week before Christmas in 2021, Meagan and DeVon shocked everyone after news surfaced that they were divorcing after 11 years.
They also wrote loving Instagram posts to each other on their individual Instagram pages following the news of their breakup. In the post, they claimed that "there's no one at fault" for the demise of their relationship and that they are "forever connected."
But while they both seem to be taking the high road, that doesn't mean that it hurts any less. The Harlem actress opened up about relationships and how her divorce has affected her exclusively to xoNecole.
"Throughout life, I've always approached relationships as understanding that at some point, they'll get to the place that they're going to, and then they would be over," she said. "I've always had an attitude of like, 'Alright, next chapter. We'll see what's next,' and being okay with that and appreciating what you give to someone and what they give to you and sharing a moment in time and in life that you never get back regardless of how it ends."
However, she hasn't been able to have that same attitude about her divorce. "In my situation right now, it's a little bit different because I thought that that would be the last time that I would be doing that and that I would be doing this with that person forever."
She called her divorce from DeVon "the most painful thing I've ever experienced in my life" and while she's been in the process since August of 2021, she's still optimistic about what else life has to offer. "I am still optimistic. I still am hopeful for the future. I still—maybe this isn't a chapter, but I just feel that it's my next act in life and I trust God."
"Not everything makes sense to me right now, but I do trust God overall and I'm excited to see what this next act of life is going to be and what God has in store and that's all I can really do but even in doing that, I do have gratitude and so much joy in my heart for these past 11 years that DeVon and I have been together. What he's given into my life and what I was able to give to him, just everything."
She added, "Every season, every single part of it has been incredible. But I think it's important for every relationship to know that it's really about perspective and it really is how you perceive and look at things and trust in God in the process no matter what it is."
The 40-year-old beauty does acknowledge that while she is hopeful for the future, she is still "grieving" her divorce.
"Still grieving, still hurt. It's going to be a long time, but at the end of the day it has made God, even more, my lover and even more my husband, and even brought our relationship to new depths and new heights so I'm in gratitude for that."
Meagan does have a lot to look forward to in the future. Her show Harlem is a huge hit and she's also been making moves behind the camera as a director. We can't wait to see what's next for the beloved actress.
To listen to the Twitter Spaces conversation hosted by xoNecole in full, click here.
Featured image by Monica Schipper/Getty Images for Amazon Studios
Birthdays sometimes are used as a pivotal moment in a person's life to make a change especially if it's a milestone birthday. Whether you're turning 30 and ready to start that business or you're 50 and finally ready to check off the items on your bucket list, birthdays are a good time to reflect and conquer the next phase in your life.
For Meagan Good, turning 40 was a moment for her to make the necessary changes she needed in her life in order to be more "intentional." The veteran actress turned 40 in August and she shared with Yahoo! Life: The Unwind about the steps she took to protect her mental health while entering a new chapter in her life.
She revealed that getting older made her realize that it was time to "look under the hood" and start focusing on her well-being.
"This year I took a moment — [turning] 40 was about to happen. Around April, I stopped drinking and really leaned into therapy. I got very intentional about [wellness] because I wanted to go into 40 with peace of mind, with unexplainable joy, with more sense of self and a wholeness," she said.
"I have a tendency to jump over things or go around them, instead of walking through them, and this year it was about walking through things and having those days when you're grieving something from 15 or 20 years ago. Really walking through it."
Another thing that she has focused on is developing a self-care ritual, which helps her prepare for the day.
Working in Hollywood can be stressful for the Harlem star due to having a lot on her plate. Currently, Meagan has been on a press tour for her new series Harlem on Amazon Prime Video and so it's important for the actress to start her day off right.
"I try to hit the reset button every morning internationally: I breathe, I pray. I make it a point not to touch my phone. I'll put on gospel or uplifting music, something to give me strength," she said.
"As the day goes on and if I'm in a moment where I'm stressed out, I'll take a beat and steal away somewhere. I'll go into myself and just breathe and pray; I'll find that peace and reset my brain. Everything else can wait for five minutes."
Meagan is an example of how getting older changes you and makes you grow into being more comfortable with yourself. While speaking to The Insider, the Waist Deep actress also credited her Harlem co-star Whoopi Goldberg as an inspiration to stop being a people-pleaser.
"I aspire to stop apologizing so much and know that just who I am in my heart is enough and be reminded that some people are going to get it and some people aren't and that's OK," she said. "Not everybody's your people, that's all right, you know?"
Featured image by Monica Schipper/Getty Images for Amazon Studios
We first reported on Meagan Good starring in the new Amazon Prime Video series Harlem in November and now the veteran actress is opening up about her character on the show. Harlem is written and executive produced by Tracy Oliver and highlights four Black women in their 30's who are best friends and taking on New York's famous Black neighborhood.
Meagan stars alongside Shoniqua Shandai, Jerrie Johnson, and Grace Byers who is best known for her role in Empire. Meagan Good plays Camille who is a professor struggling with her breakup from P-Valley's star Tyler Lepley who plays Ian.
The 40-year-old revealed what drew her to the character and the show in an interview with POPSUGAR. According to the synopsis, Meagan's character Camille is "a popular young anthropology professor at Columbia who has an extensive knowledge of the dating norms of many cultures, but has a hard time navigating her own love life."
"I immediately fell in love with Camille mainly because she's just so quirky and honest, even when she's trying to hide and trying to play it off," Meagan shared with the outlet.
"There's still an honesty and a purity to her, but she's also very much of a grown-ass woman who is pursuing her career, smart, intelligent, and all these things."
The Jumping the Broom actress has an extensive career in acting and has been in the business since she was a child.
However, when she reached adulthood, she became a sex symbol and often acted in roles that catered to the male gaze. And her looks almost made her miss out on the role of Camille.
Harlem's executive producer made the surprising revelation during an interview with Entertainment Weekly in October.
But because Meagan was open to notes, Tracy quickly saw her Camille. "This was before she knew she had [the role]. And she was just like, 'I'll do whatever to prove that I can embody this role,'" Tracy said.
"And then as soon as she did, we were all like, 'Oh, it's her. It's absolutely her.' And she was amazing. And I was wrong. You can be gorgeous and you can be smart and you can be strong. And all of these things put together," she concluded.
When it comes to the series, Meagan hopes that women see themselves and their friends in the characters. "It's incredibly inappropriate, but in the most amazing way . . . it's very honest, but also fun and very vulnerable," she said.
Harlem premieres Friday, Dec 3. on Prime Video.
Featured image by Arnold Turner/Getty Images for CMA Entertainment