We first reported on Meagan Good starring in the new Amazon Prime Video series Harlem in November and now the veteran actress is opening up about her character on the show. Harlem is written and executive produced by Tracy Oliver and highlights four Black women in their 30's who are best friends and taking on New York's famous Black neighborhood.
Meagan stars alongside Shoniqua Shandai, Jerrie Johnson, and Grace Byers who is best known for her role in Empire. Meagan Good plays Camille who is a professor struggling with her breakup from P-Valley's star Tyler Lepley who plays Ian.
The 40-year-old revealed what drew her to the character and the show in an interview with POPSUGAR. According to the synopsis, Meagan's character Camille is "a popular young anthropology professor at Columbia who has an extensive knowledge of the dating norms of many cultures, but has a hard time navigating her own love life."
"I immediately fell in love with Camille mainly because she's just so quirky and honest, even when she's trying to hide and trying to play it off," Meagan shared with the outlet.
"There's still an honesty and a purity to her, but she's also very much of a grown-ass woman who is pursuing her career, smart, intelligent, and all these things."
The Jumping the Broom actress has an extensive career in acting and has been in the business since she was a child.
However, when she reached adulthood, she became a sex symbol and often acted in roles that catered to the male gaze. And her looks almost made her miss out on the role of Camille.
Harlem's executive producer made the surprising revelation during an interview with Entertainment Weekly in October.
But because Meagan was open to notes, Tracy quickly saw her Camille. "This was before she knew she had [the role]. And she was just like, 'I'll do whatever to prove that I can embody this role,'" Tracy said.
"And then as soon as she did, we were all like, 'Oh, it's her. It's absolutely her.' And she was amazing. And I was wrong. You can be gorgeous and you can be smart and you can be strong. And all of these things put together," she concluded.
When it comes to the series, Meagan hopes that women see themselves and their friends in the characters. "It's incredibly inappropriate, but in the most amazing way . . . it's very honest, but also fun and very vulnerable," she said.
Harlem premieres Friday, Dec 3. on Prime Video.
Featured image by Arnold Turner/Getty Images for CMA Entertainment
Keep reading...
Show less
Meagan Good is no stranger to scrutiny over the span of her career. She's faced very public image criticism for a multitude of reasons, from eyebrows, all the way to "that" skin-lightening incident. And when she married her husband, producer, best-selling author and motivational speaker, DeVon Franklin, many people felt she didn't fit the persona of a woman who is married to a devout Christian, being that her image was based on something like a sex symbol.
Needless to say, when it comes to weathering the storm, sis has been there and done that in finding a balance between the noisy criticism, and being your authentic self. Now, thankfully, she's paying the lessons forward and comforting those who have been subjected to the same.
Are you a member of our insiders squad? Join us in the xoTribe Members Community today!

Featured image by Prince Williams/Wireimage
Keep reading...
Show less
Our good sis, Meagan Good's eyebrow journey has been just that: a journey.
And her openness and willingness to discuss the matter has been refreshing, mostly because she was in the spotlight prior to YouTube videos or TikTok tutorials, so she kinda was the face of figuring it all out. But we've all had our bad days, damnit!
In the past, Good has addressed 'Brow-Gate' directly during a visit to The Wendy Williams Show. Wendy Williams handed out compliments, saying, "Your hair looks excellent, by the way, and your eyebrows still speak to me." Williams points out that Good's brows are the stuff of bold, beautifully arched dreams. She then discuss her journey, with Wendy,
"Nineties brow was pluck everything out, and then eventually it was tattooing," Good told Williams of her personal brow history. She went on to explain that she gave microblading a try when she was 30, but more recently, she decided, "You know what? I need real hair."
And so she got an eyebrow transplant.
Prior to her eyebrow transplant, Good told Allure in 2013 why she decided to get her brows tattooed:
"It used to take me over an hour to do them because I was so particular about the shape and the symmetry. I would go on set, and the makeup artist would change my brows, and I would get frustrated and change them back in my room. So eventually, I went ahead and tattooed them. Problem solved."
But chile that satisfaction was short-lived in the most hilarious way. When in an interview with her sister La'Myia for HelloBeautiful, the two had a blast sharing how far they'd come in fashion and beauty. La'Myia admitted to the struggle and reveled she and Meagan both had "string-like thread" eyebrows, which she dubbed as a "bad, bad, bad choice."
Meagan agreed by telling the story of the time La'Myia's first boyfriend's mother called Meagan herself to give her opinion on their stroke-thin brows.
"She was like, 'If nobody's gonna tell you, I'ma tell you. You're a beautiful girl but you look like a clown. They look shiny like somebody can just walk up and wipe them off.'"
Chiiiiiile, black mamas have no filter!
Once the shock wore off, Meagan decided to ask a few friends to weigh in, to which they agreed. Sis then went on a journey of perfecting her look, with next being a completely full brow look, which their little sister, Lexus described them as "caterpillars," giving Meagan the hint that they were too big.
"It's definitely been an evolution. That's probably the biggest regret besides wearing super short skirts in my 20's. What was I thinking?!"
Alexa, play "Waking up in the morning thinking about so many things...I just wish things would get better..."
(shout out to the people who understood that)
Anyway, in the end, Meagan and her sister can laugh at how far they've come, no matter how far it is. They're both proudly rocking flawless brows, and ultimately figuring out a look that they both love. Love to see it!
What are some of your cringiest fashion or beauty moments?

Featured image by Meagan Good/Instagram
Keep reading...
Show less
Egg freezing, also known as mature oocyte cryopreservation, is a method used to save women's ability to get pregnant in the future. Eggs harvested from your ovaries are frozen unfertilized and stored for later use. A frozen egg can be thawed, combined with sperm in a lab and implanted in your uterus via IVF, or in vitro fertilization.
Think of it as an insurance policy that's there to catch you in the event that when life calms down, you decide to move forward with having a family. Freezing eggs has become more and more popular over the years, as science has normalized the process thus making it less taboo.
Meagan Good was in her late 30's when she decided to take the plunge and freeze her eggs.
And now, with turning 40 years old this year, she is taking the time to determine if kids are in her immediate future. She tells Romper:
"When you say you're not sure you want to be a mom, people look at you like you're a bad person. As if something's wrong with you. But I was never really that girl who said, 'I can't wait to get married,' 'I can't wait to be a mother.' I was very much a tomboy, and I started my career so young that I'd always been very business-oriented."
In fact, Good says, it wasn't until she got married to husband DeVon Franklin, who she wed in 2012, that Meagan even gave having children a second thought.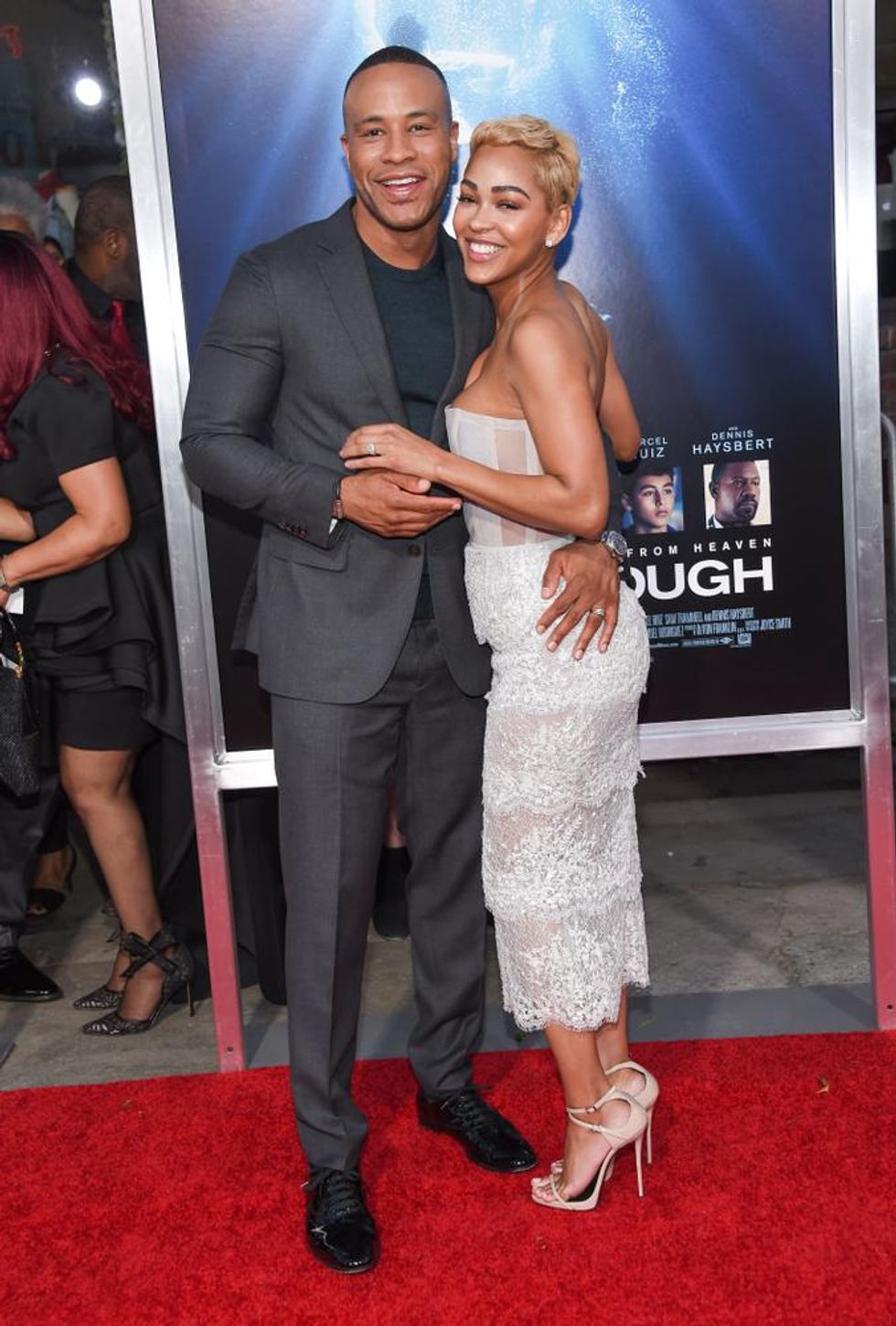 DFree / Shutterstock.com
"It wasn't until I got married that I even considered having a family. My husband and I talked in the beginning, like, 'Do you want kids down the road?' And I said, 'I think I do.' But it was never 'right now' or 'soon.' I think we both knew that we wanted to wait a few years and really grow as a couple first, solidify the marriage. He started getting the itch way before me, definitely, but it was a very open conversation, which I loved and appreciated. Even though he was ready, he didn't pressure me or make me feel bad because I wasn't there yet."
And with the times and expectations of women in motherhood evolving, data shows that Good isn't the only one who has moved forward with the process. In fact, more women have frozen their eggs during the pandemic than have ever in the past, a number expected to grow 25 percent annually for the next few years.
As far as how the process was for her, Good says, "it wasn't a nightmare at all."
"I froze my eggs three years ago. I think everyone's different, but for me, it wasn't a nightmare at all. The process gave me peace of mind, 100%. I have my faith, and freezing my eggs, to be proactive instead of reactive, is me putting in work with my faith. You'll never regret doing it, but you might really regret not doing it."
Ultimately, our girl is on track to becoming a mommy.
"I want to be a mom and I want a family and I'm just now to a place where I think it's about that time. We were looking to start this year, but then the pandemic happened. But I'm excited! Because I can't wait to get to it now. That's a very new thing for me. It's a really cool feeling."
We're sending all the love as you embark on your journey to motherhood, Meagan!
Are you a member of our insiders squad? Join us in the xoTribe Members Community today!
Featured image by DFree / Shutterstock.com

Keep reading...
Show less
I hate to break it to you, sis, but if your hairstylist, nail tech, or aesthetician is out here providing services without the proper credentials, you just need to focus on yourself, because they clearly don't care about your well-being.
While I'm not trying to stop anyone from securing a bag, hiring an unlicensed beauty professional will almost always backfire on you and this is a lesson that Meagan Good learned the hard way.
In a recent response to numerous allegations of skin bleaching, the actress opened up about how a botched trip to an unlicensed aesthetician cost Meagan her skin tone and her self-confidence. in a reply to one commenter, she wrote:

"[An] (unbeknownst to me) unlicensed aesthetician gave me a product to correct a sun damage mark on my forehead that messed up skin. By the grace of God only; I'm about 80% through recovery and regaining my color daily. To be honest it was a beyond painful and traumatic experience because I would never wish that on anybody. I'd really appreciate if you wouldn't continue to spread assumptions and rumors. God Bless you."
Later, in an interview with Ashley Dunn, Meagan went into detail about her experience, which ultimately started as an appointment to get an unsightly scar removed. She told Where Is The Buzz:
"And when it all first happened, it was extremely traumatic because I went to this woman for a scar removal, like a dog bite on my leg. And you know, she said, 'Try my products. I think you have a little sun damage on your forehead.' And I said, 'No, that's OK. That's like natural contour, girl. It's great. It's fine.'"
While Meagan says that she noticed the adverse effects of her former aesthetician's products early-on, she was reassured that her experience was totally normal:
"I started freaking out and I said, 'What's going on?' And she said, 'Oh no, no. It's just going to lift the damage first and then everything will come back.' And I said, 'Oh OK, cool.' And I saw myself getting lighter. And I was like, 'What is happening?!' And she was like, 'Oh, don't worry, your color will come back.' And I said, 'But when is it going to come back?' She said, 'It'll come back soon, I promise.'"
Although the actress has chosen to stay silent about the accusations up until now, Meagan says that it was important for her to clear the air for this reason:
"It broke my heart to think that there's little girls seeing this commentary and thinking it's true. It broke my heart that in a season when you have young Black men and women being murdered everywhere that someone would think for one second that I don't love my Black skin. That bothered me."

To watch Meagan's full interview, click here!
Featured image via Meagan Good/Instagram
Keep reading...
Show less
I see you, sis. You're out here on your job, in your own lane; staying focused on what's in front of you and only glancing in the rearview when necessary.
But anyone who has ever hopped in the driver's seat and taken the wheel when it comes to the direction of their own lives knows that roadblocks are both inconvenient and inevitable, and the only way out is through. Just ask Meagan Good, who recently opened up in an episode of Grace Byers' Sit + Sip about how shifting her focus helped her from losing her sanity during some of the toughest moments in her life.
In the episode, the 38-year-old actress wants anyone currently in a personal, professional, or financial rough patch to know that trouble don't last always, so in the meantime: pray. She explained:

"Really trust in God. Like really, really, really trust in Him. I don't believe in ever giving up. I'm relentless and resilient, and I've seen a lot of like really kind of sucky times. Times where I couldn't pay my bills, or I would have a big movie in the theater but couldn't afford to pay my bills. Oh yeah, I've seen a lot of different seasons. But for me, it's really trust in God."
Living out your dreams means joining the starving artist struggle where sometimes, it seems like your only goal is to eat. But Meagan reminded us that even when we're delayed, we're never denied:
"This entire job is a faith walk: When am I going to get my next job? Am I going to get my next job? Every single day we have to walk in faith that we're going to get a job and then we're going to go the way that we want to go."
The actress also had a word about the con of comparison. It's so easy to get caught up in playing the game that you forget that you're your own star player, playa; your only competition is you. Meagan explained:

"No competition. I just don't believe in it. I believe truly what's mine is mine, you can't take it from me, and what's yours is yours, I can't take it from you. I really believe in celebrating each other, celebrating all women and celebrating any form of underdog. Absolutely."
Accountability is a superpower and it's imperative to your purpose (and everyone connected to it) that you stop feeling sorry for yourself. Meagan explained that in moments of insecurity, she has to be the one to end her personal pity party and recenter during the not-so-positive moments in her career:
"When I'm in that in-between stage and I'm feeling insecure or I'm feeling like I don't know if I can do it or like this person over here is winning, why can't I get a break or a chance, I just bring myself back to the base. I'm here for a reason, God created me for a reason. He's not going to stop what He's started. I'm going to get all the way there. It is a process. I have to be present in the process and choose joy in the process, even when it sucks, even when it hurts. It's all about perception and attitude. Just keep pushing. Just don't give up."
To watch the full clip, watch below!
Sit + Sip Part 2 - ft. Meagan Good-Franklin (Ch. 1) youtu.be
Featured image by Getty Images
Keep reading...
Show less