Erica Pierce
Erica "Ms EKlass" Pierce is a mom, radio/tv personality, and writer. She's a lover of music, all things Beyonce, Harry Potter, and yes, her interests are as diverse as her content. A proud graduate of Ball State University, Erica is always eager to paint a masterpiece through the art of storytelling.
Whodini posed a question that still remains unanswered for many, "Friends. How Many of Us Have Them?"
Well, let me answer that by saying I have been blessed to have the same ten group of friends since elementary and middle school. They've grown to be more than friends. They are my sisters. We've been through everything, from puppy love to graduations to weddings to parenting, and I wouldn't change a thing.
I've learned a lot from them over the years. I laugh my way through even the toughest circumstances simply from a silly action or comment made by one of my hilarious sista-friends. I've learned what it truly means to give myself more credit. I don't always admit it, but I believe I would've lost myself along the way if it weren't for my friends. Friends are there when it matters most. Believe it or not, some friends will have your back more than your own kin. Sad, but true. I'd like to think friendships are your own personal judgment-free zone in which you can confide in, cry to, be authentically you, encourage, and enjoy life with.
One thing's for certain, within every group of friends, there are at least five different types of friends that we all have (and need). Some friends may even be all of these types in one.
1

.

The Down-To-Ride Friend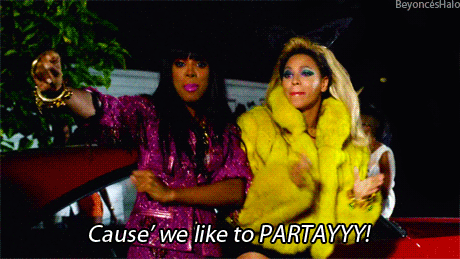 She's the friend will put a whole new perspective on "ride or die," the friend who is down for everything. This can be a good and bad thing, but in my case, it's always been more positive than anything else. Think of her as the one that always has your back in a time of need. This friend is the friend who's ready to pull a drive-by mission when you need to stalk that not-so-ex boyfriend of yours.
She's ready to back you up even though in the back of her mind she's probably questioning your current life decisions. She is literally down to ride even if that means an hour commute just to grab a bite from your favorite spot. She's ready, willing, and able with no questions asked. Loyalty is an understatement.
2

.

The Funny Friend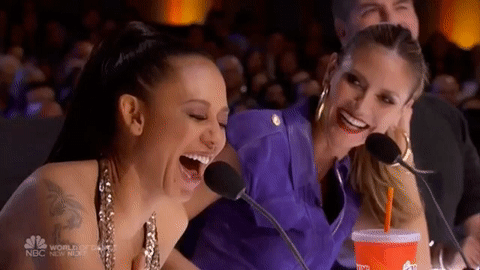 Laugh, it's good for you. If you need a more humorous approach to life, this friend is sure to do just that. She's always there to provide comedic relief, which is perfect for those awkward moments. She is also the epitome of black girl joy. This friend may not always be the first one you call, but they are the perfect one to call to brighten your mood or when you simply need a good laugh.
3

.

The Brutally Honest Friend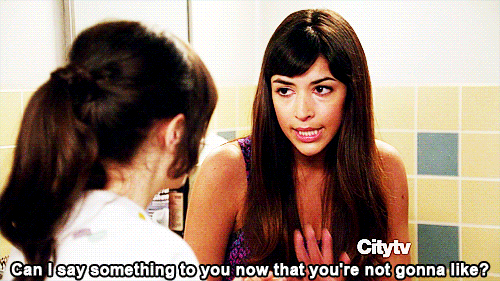 You have to respect honesty, right? We all have that one friend who tells us the truth (and nothing but), even when it hurts. They will be the first to tell you how ridiculous your outfit looks. They know how much you love him, but also know that you need to ditch the zero and get a hero. If you're contemplating quitting a job, consulting with them first isn't a bad idea as they will be honest, whether it's what you want to hear or not.
4

.

The Risk-Taking Friend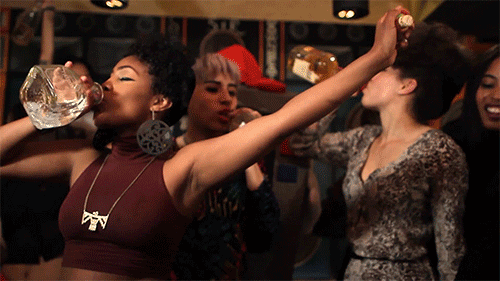 You know that crazy thing you've been longing to do? This friend is the one you call to join the fun. Ready to skydive? Call her. Contemplating walking on the wild side? She will gladly walk with you. Thinking of taking a road trip in inclement weather? She will brave the storm with you. She's similar to the down-to-ride friend, but she usually isn't down to do things that will result in either of you being embarrassed after all is said and done. So call on her when you're up for taking a little risk and you'll be sure to reap the reward.
5

.

The Life Coach Friend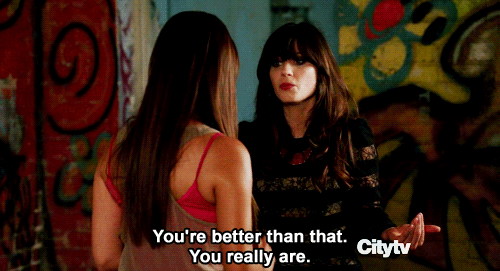 We all have that friend who struggles just like the rest of us, yet for some reason seems to have it all together. This friend is the one to confide in. She is the one to encourage and motivate you, no matter how many lemons may be thrown your way. After one thought-provoking conversation with this friend, you're left with a sense of urgency to accomplish those goals, push through that break up, finish that degree, or simply smile more because you're deserving of doing so and she reminded you that you were.
True friends are hard to come by. Some people go an entire lifetime without having a group of friends, let alone one that's true. Appreciate the friends you do have. Know that no two people are alike, but for good reason. After all, what's life without a little variety?
Want more stories like this? Sign up for our newsletter here to receive our latest articles and news straight to your inbox.
Featured image by Getty Images
I've always been a strong black woman who held my chin high and wore my crown proudly.
At least, until I was put into one of the most uncomfortable situations of my entire career: Being the only black woman. That's not to say I stopped being the queen that I am, but I definitely learned what it meant to experience legit culture shock.
I got my start as a radio personality in 2007. I began working for an "urban" media outlet that was far more diverse than any other setting I'd been in to date. There were as many shades of brown as there were white. It was actually pretty dope now that I think about it. Everyone seemed to "get it." It's funny what we take for granted. As I approached my eighth year of working with what grew to be my second family, I was offered another opportunity to grow in my field. After quick deliberation, I welcomed this next role with open arms.
I walked into this new environment ready to take on everything like the boss that I was. But, what I walked into was not at all what I thought it'd be. It was as if I was listening to the soulful sounds of a classic vinyl and someone took the needle off the record player midnote. After meeting everyone in the building, I was hit with a harsh reality. The diversity I loved about my previous position was nowhere to be found here. I had to accept being a black face in a white workplace. I continue to smile through my confusion, take deep breaths, and brace myself for anything. To say this has been a true learning experience, would be an understatement, but I've definitely picked up a few interesting gems along the way:
1. Seasoning Is A Thing Of The Past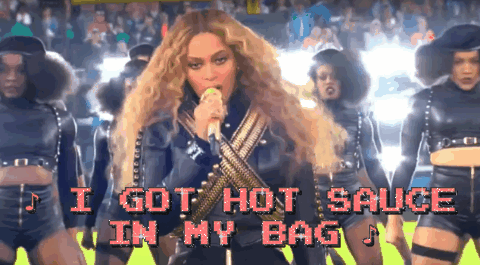 Although, some of my Caucasians sisters and brothers can actually cook, the use of seasoning just isn't in the mix. This is one of the first things I discovered while attending my first company pitch-in. Although I no longer eat beef burgers, perhaps this decision came after eating an amazing looking burger that had absolutely no flavor. It was as if the ground beef was formed into a patty and tossed onto the grill.
No Lawry's? No onion? No Worcestershire sauce? This was no burger of mine.
2. Natural Curly Hair, Please Don't Touch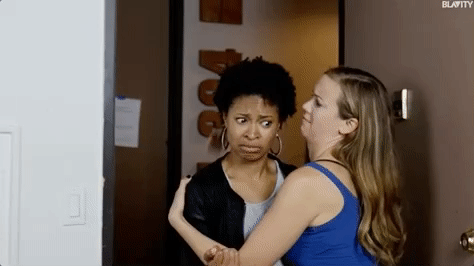 I'm a woman who likes to change my hairstyle as often as I change clothes. Many of my hairstyles are protective hairstyles; therefore, I wear extensions often. I say "extensions" as that's the term many of my co-workers use rather than my use of terms like "inches" or "weave." In other cases, I'm rocking straight tresses or my hair in its natural state. It's during the times when my hair is either weaved up or coiled that I'm approached the most.
I almost feel like I need to wear a sign saying "Do Not Touch" because so many of them just can't help themselves as they beam with excitement over my new 'dos. For those who don't touch, they simply ask questions as to how it's weaved in, if it hurts, what products make it curl, and everything in between. Still not an appropriate use of company time if you ask me.
3. Actually, I Don't Get It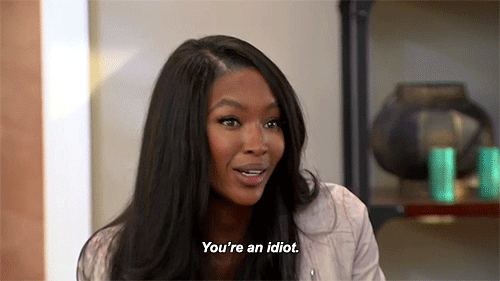 I've certainly been able to relate to some folks more than others, and I'm sure the same proves true for them too. The hard part? I don't always catch the punchlines. I can't express how many times I've been in a room of chattering people and being the only one in silence. I don't always catch the jokes. Instead of being the awkward one, I try to laugh along anyway, but in my mind, I'm utterly confused.
Fake? I'd say it's more like survival of the fittest. Although we laugh together many times, at other points, the humor truly does differ between us.
4. Perspective Can Be Humbling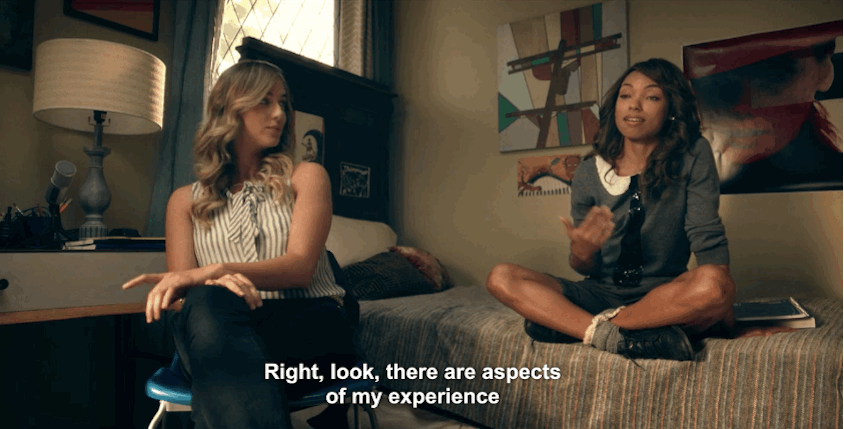 img.buzzfeed.com
Just as our skin tone is different, in several situations, our points of views are too. This seems to hold especially true surrounding racial and political attitudes. As a radio professional, I tend to stay on top of current events and topical matters just as much as pop culture. Staying on top of these things also means bringing my thoughts to the forefront.
I've had to learn that my thoughts are truly not always theirs, simply because we can't always relate to each other. We have different backgrounds, various matters affect us differently, and it certainly shows in conversation. I'm a pretty vocal person, but I have had to learn there's a time and place for everything, even emotionally charged conversation.
5. Stay Woke?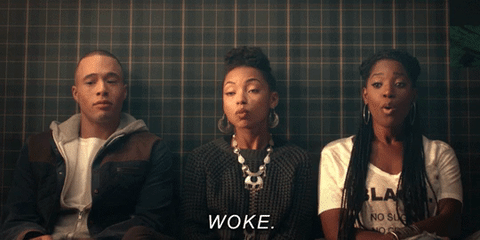 media.giphy.com
I'm sure you've seen the movie Get Out by now. If you haven't it, consider this a spoiler alert. In the film, although quite creepy at best, we are deemed valuable and desirable. Please let that marinate as you recall the storyline. We are admired for our physical attributes and abilities, our skin, our hair, in addition to a plethora of other characteristics that we may or may not take for granted. In a somewhat similar way, I'd like to think that I'm truly desired and admired. I'm praised for my skill-set and way with words.
I've been blessed with the opportunity to grow in my field faster and in a shorter period of time than my eight-year tenure at my previous company. Call me crazy, but it's amazing how much they seem to believe in me. Oddly enough, it's that sense of appreciation that makes it all worth it.
6. Different Strokes For Different Folks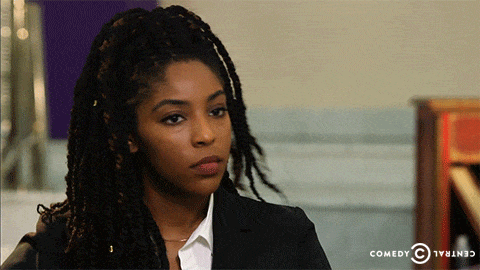 If only those walls could talk, I can just imagine the conversation. It would probably be filled with admissions of guilt, piqued with interest. Guilt for the subconscious judgement some may have felt, but interest in seeing just how much I continue to excel and defy the odds. It's amazing how our abilities are put to the test when we're truly forced to show and prove. I've excelled despite my differences. Facing said differences has made me stronger. I'm stronger than I ever would've imagined as I stepped foot into such a dissimilar workplace from what I was accustomed to. I have to go a little harder to shine a little brighter, and I'm fine with that.
It's been three years and I can say I'm excelling and smiling through it all.
In retrospect, I'd like to think I brought a new perspective to an otherwise homogenized place.
I've learned how to be open to change. It's funny, but I think we continue to learn a lot from each other. It's amazing what a little open dialogue can do. After all, we're radio folks. We're supposed to be able to effectively communicate, right?
Want more stories like this? Check out these xoNecole related reads:
Your First Job Won't Be Your Dream Job
5 PhD Students Reveal How They Combat Impostor Syndrome
When Did 9 to 5 Job Shaming Become A Thing?
Featured image by Shutterstock
Motherhood. It's certainly not for the faint of heart, nor is it for the weak, but admirable and rewarding just the same.
Many of us balance taking care of home, working, and ourselves in such a manner that even we have to give ourselves props where they're due. After a long day at work, the simplest things can prove to be that much more tedious. The last thing many of us want to do (or even feel like doing) after working and getting home to deal with tattle-telling children, hugs, and homework, is to prepare and cook dinner. However, we all have to eat, right?
Sure, take-out comes in handy, but there's nothing like a home-cooked meal. We all have our go-to recipes, but at the same time, who wants to eat the same thing every day? Click through the gallery to see some of my favorite go-to recipes for today's moms and working women on the go.
1

.

Skillet Tomato Chicken
From prep to finish, this one-skillet dish is not only visually appealing and pleasing to the palate, but can be ready in 30 minutes! Get the recipe via Well Plated.
2

.

Shrimp Pesto Pasta
This dish is quick, healthy, and more importantly, filling! Enjoy! Get the recipe via Dinner At the Zoo.
3

.

Chicken Gumbo
This chicken gumbo is perfect for a weeknight meal and great with or without cornbread! Get the recipe via Martha Stewart.
4

.

Spaghetti Carbonara
This five ingredient dish is quick and guaranteed to please even the pickiest eater. Get the recipe via Damn Delicious.
5

.

Roasted Garlic Cauliflower Chowder
This soup is full of garlic flavor and perfect for the non-meat eater of the house. Bon appetit! Get the recipe via Simply Quinoa.
6

.

Paleo Meatballs With Marinara Sauce
This is a healthier twist on a classic fave! Get the recipe via Noshtastic.
7

.

Creamy Garlic Butter Tuscan Shrimp
A hit with seafood and garlic lovers! Get the recipe via Cafe Delites.
8

.

Mongolian Beef
This PF Chang's copycat recipe is as easy as it is flavorful! Get the recipe via Sweet & Savory Meals.
9

.

Tomato Soup
This soup is full of robust flavor, rich in color, and of course, pairs well with grilled cheese! Get the recipe via Gimme Some Oven.
Featured image by Ella Olsson on Unsplash
Ahh, the wonderful world of freelance. You can be contracted, be selective in regards to clientele, and the independence can be rewarding.
Of course with the positives, come the negatives, especially when it comes to making it make sense (and cents). There are many questions that you must ask yourself, whether you're just breaking into freelance or are a bit more "seasoned". How many hours do you want to work weekly? Daily? What is your desired annual income? With this income, how do you intend on being paid - by the hour, daily, weekly, monthly, or per project? This is where it gets a tad bit more difficult. Doable, but difficult.
Here are five actionable tips on how to evaluate your worth, determine your rate, as well as how to conduct profitable client negotiations.
Your network determines your net worth.
This statement holds true in a variety of situations, but especially when it comes to being a freelance worker. No matter the field, you ultimately have the power to choose what type of clientele you work with, essentially yielding more or less income. If you work with businesses and individuals with lower budgets, you can certainly expect lower pay than those with increased ones. It's perfectly okay (and acceptable) to be selective. Charge based off of your worth. This is when you have to ask what type of product do you deliver? You can't expect that millionaire lifestyle based off of mediocre work.
Your work should speak for itself and your rate.
Calculate your rate.
This is a subject that comes to mind often, especially when first starting out. The downside to this is, the answer varies on an individual basis and under varied circumstances. How many projects do you want to take on? How much time do you want to spend working? Will this result in your desired annual income? Double Your Freelancing provides much-needed insight. This is actually a wonderful and user-friendly way to assist with your financial goals. With their calculator, you're able to determine how much to charge to reach your goals. You'll be able to assess what and how to charge.
Effectively negotiate clientele budgets.
You've taken the steps to efficiently run your freelancing business; however, the reality is, every client is different (as are their budgets). Many freelancers base their pricing on what others are charging. This can work for so long and at what cost? Many freelancers miss the big picture. It is imperative to understand how your work or service can fit into a client's budget. Having an open dialogue, yet providing solutions backed by critical thinking on how to be an investment to your client is vital. This can ultimately bring them more success and more projects for you.
Invoices save lives, time, and money.
With clientele comes money, and that's one thing that you always want to have figured out and organized. This is why invoices are critical in the freelance world. They provide documentation not only for you, but for your clients. They show what is owed. They tell the freelancer everything from payments made, non-payments, and can prove to be quite useful during tax time. Each invoice should be numbered to prevent error and confusion between clients. Be sure to keep a copy of every invoice for your records. Not sure how to create an invoice of your own? Microsoft Office comes with templates built in its software. Sites like Invoice Home and Freshbooks offer an array of free template designs as well.
Tax time, a confusing time?
Taxes can be confusing for many freelancers, but I encourage you to do your research. This will save you a lot of time and money in the end. While you may not think you should pay taxes, more often than not, you are not exempt. For many freelancers, you have to pay self-employment taxes in addition to income taxes, depending on the money earned annually. Make sure you're aware of what type of return to file, forms you'll need from clients, and keep a good record of all business expenses. Good recordkeeping is key to being a successful freelancer.
One last and very important thing to remember when working as a freelancer: contracts are your friends.
Featuerd image by Getty Images
As children, we all dream of the lives we'll live.
Back then, I thought I had it all figured out. I knew I had to go to school, attend college and graduate by a certain date, get married by 28, have kids by 30, and thrive in my career well before a single strand of gray hair had the chance to pay me a visit. That's what many of us are told, right? If only things were that easy. The truth of the matter is, they aren't.
Life doesn't come with a timeframe, but we tend to live like it does.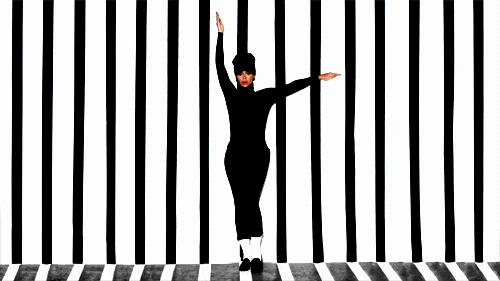 I'm learning now what it means to not be on anyone else's timeline except for my own. This can be said to be true about my education, relationship, career, and a plethora of other life decisions that I've made along the way. I think many of us subconsciously live our lives more for others at times than we do for ourselves. We are often pressed to accomplish things by certain points in our lives because of our beliefs, what we see on social media, what we've been taught, and the pressure placed upon us.
We all battle our internal struggles and wanting to "measure up," but at what point do we learn to live our best life how we see fit?
This is something that I've battled with.
I've always lived my life according to my parent's timeline until I was forced to become an adult. For me, I got my first taste of being on my grown ish when I went to college. I had plans of graduating within the standard four years and landing a well-paying job in my field. I'm thankful for the ability to laugh about it now because God clearly had other plans. I was forced to put my education on hold in the name of motherhood. That's right, I wasn't careful and managed to get knocked up my freshman year of college. To say my mother was disappointed is putting it lightly. After all, my mother, and much of my surrounding family members, had my life figured out for me.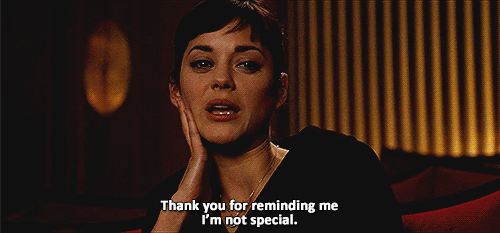 It would be one of the many times I was put in an awkward place of letting my folks down. However, it wasn't the first time, and it certainly wasn't the last. As I reflect, I'm thankful for all that has happened in my life, even the unplanned moments. Some of those moments ended up being "bumps" in the road and were rough, but simply prepared me for the paths to come.
It's easy to fall into the trap of living the perfect life, but I challenge you to answer the following question: what is the perfect life anyway?
Remember that collegiate hiatus I was forced to take? After landing a job in the communications field I was attending college for, I ended up going back to college and graduating. Many questioned this choice to return to school as a thirty-something mom of three but I managed it and then some. In doing so, it gave me a sense of self-accomplishment. I owed it to myself to finish what I started and well beyond my original "deadline." I'm not saying this to deter anyone from finishing college, nor am I boasting about my poor life choices, but for me, things have seemed to truly fall into place.
This isn't to say I haven't beat myself up a few times for feeling as if I was inadequate, but at some point it is critical to decide to bet on YOU.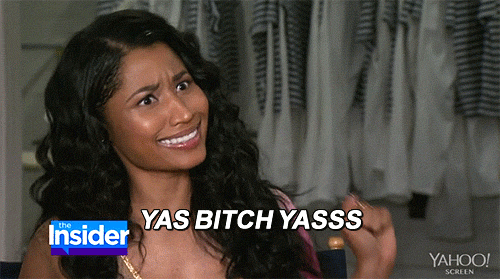 In a social media driven society, it becomes the norm to find yourself comparing your life to the next. Honestly, that's entirely too much pressure being placed on any of us.
After all is said and done, what it is for you, will be for you.
That dream job will be there. That man/woman will come. That degree will be waiting with your name on it. Your time is just that, your time. Don't get so wrapped up in having it all figured it out within a certain period of time that you miss out on living life. That's just not always realistic.
I encourage you to do things on your own time, for your own reasons, and because it's what YOU want. You owe it to yourself because, before you know it, you'll look up and life will pass you by. Always remember these three words:
Don't be pressed.
Featured image by Getty Images
I once read, "A creative life is a healthy life."
It's an interesting statement. How can so many lives be classified into one generalization? It has been said that we all are born with creativity, but many of us lose sight of this as we get old older. For some, being a creative and truly living life as such comes naturally. For others, it is something that comes with practice, belief, and hard work. On the outside looking in, a creative life may seem to be more chaotic than healthy, but to each his own.
As a creative, I don't necessarily feel as though I'm always living my best creative life, but I'm constantly working on it. Sure, I'm creative when it comes to certain things pertaining to art, music, or writing but I feel like I'm lacking when it comes to truly letting my creativity flow freely. For now, I'll stick with my ability to express myself through clever wordplay, lighting a few candles, and vibing to Erykah Badu. (She's as creative as creative gets, and she speaks to my soul.)
Those self-care practices are amazing ways to fuel the spirit and alleviate any mental blocks, but undoubtedly the most effective way to free your mind is through reading. As creative, you cannot create if you do not read. Not only is reading fundamental and therapeutic, it takes your mind to unparalleled heights.
Whether you're a creative or simply in need of a good read, below are six books that promise to challenge you, aid in increased productivity, as well as overall personal development.
1

.

'Twenties Unscripted' by Tyece Wilkins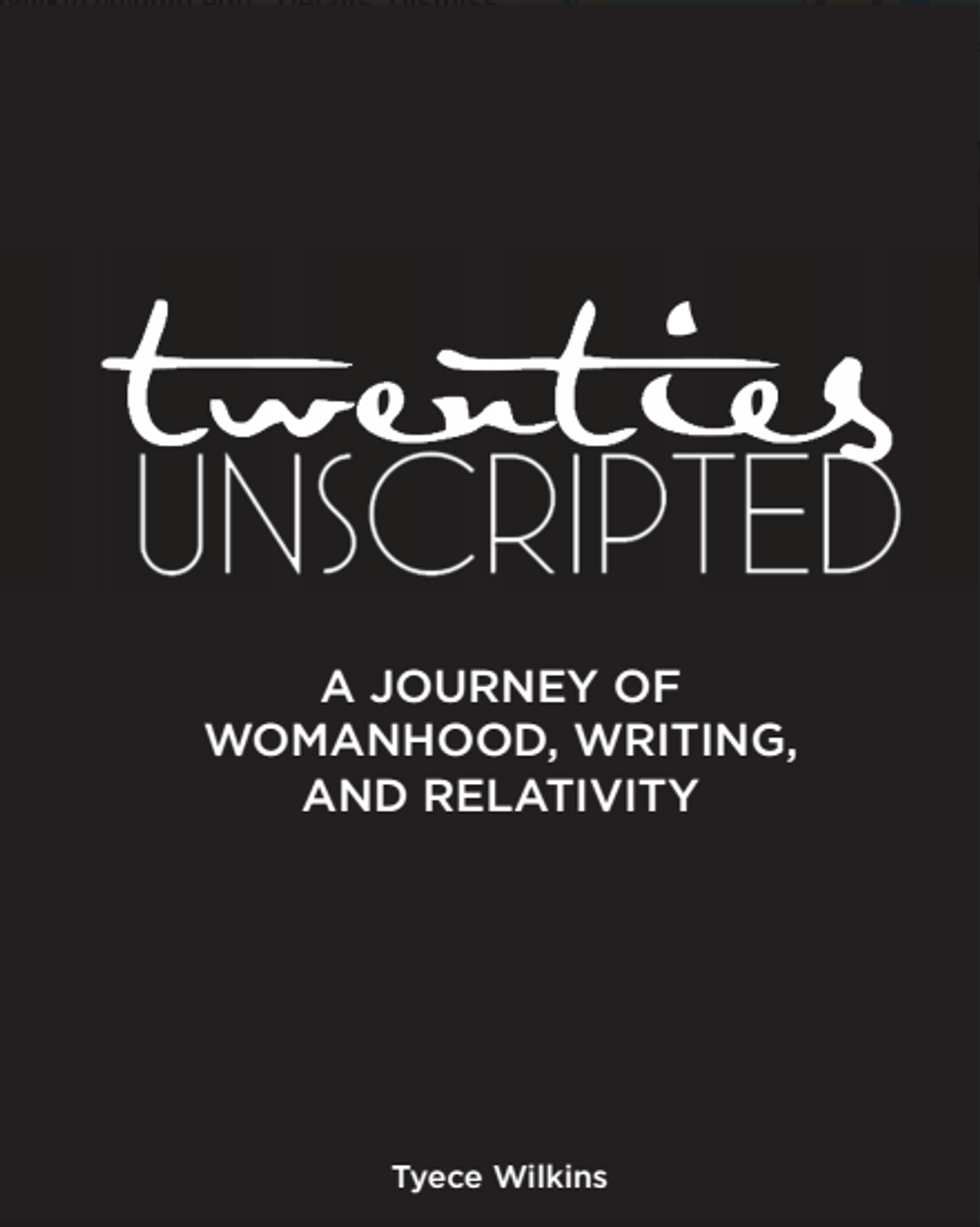 This book is a collection of short essays in which the author, Tyece Wilkins, digs deep and brings accountability to the forefront. This is a clever and witty look into the author's journey from being a woman to finding her voice as a writer, and everything in between. It proves to be a refreshing read and evokes deep thinking.
2

.

'The Misadventures of Awkward Black Girl' by Issa Rae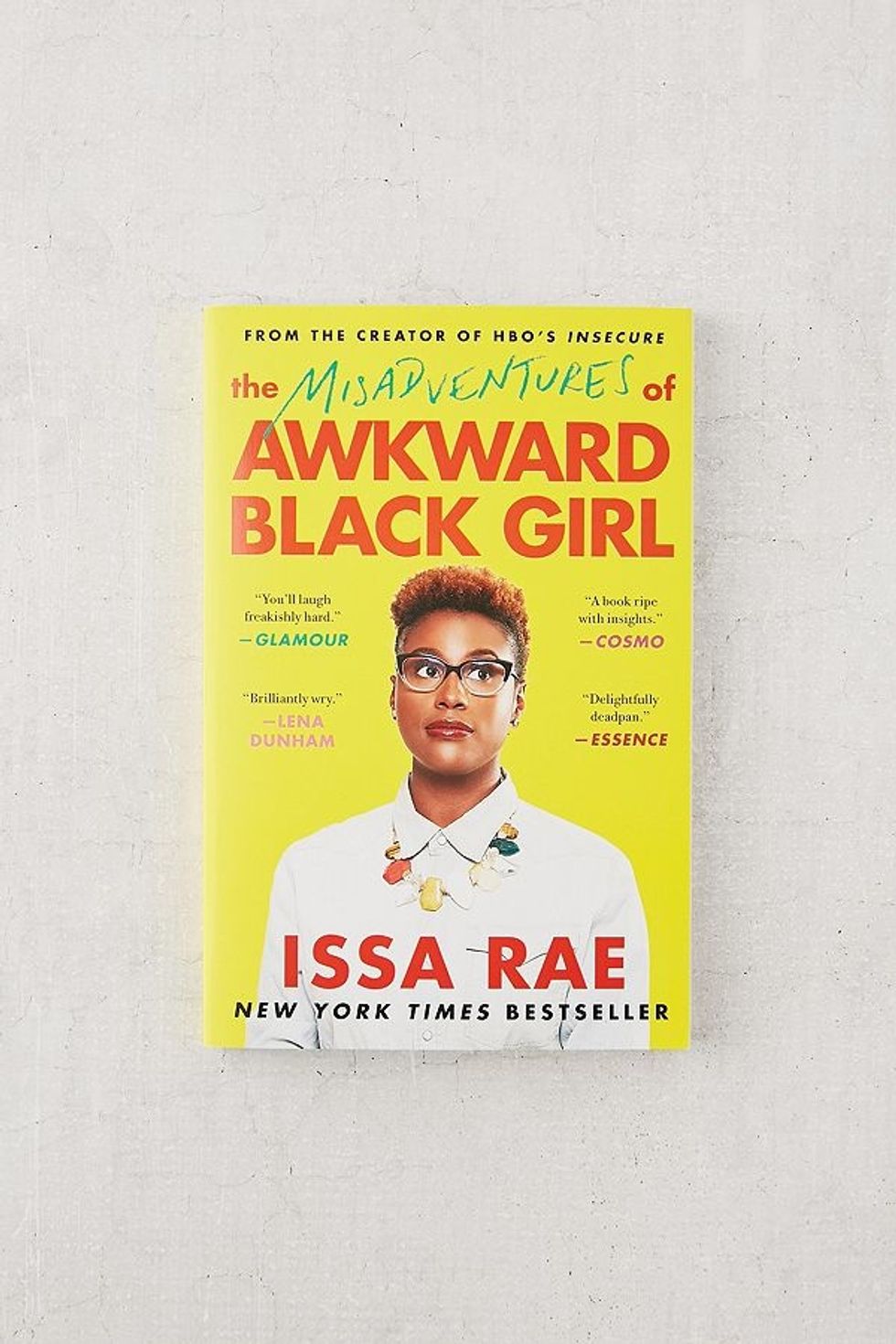 Urban Outfitters
This is a great book for the everyday introvert. Learn to find laughter, beauty, and appreciation for your awkwardness through this collection of essays. I found this to be humorously entertaining, and quite relatable. You'll be sure to find your own path as an introverted black woman in today's society with just one read.
3

.

'Year of Yes' by Shonda Rhimes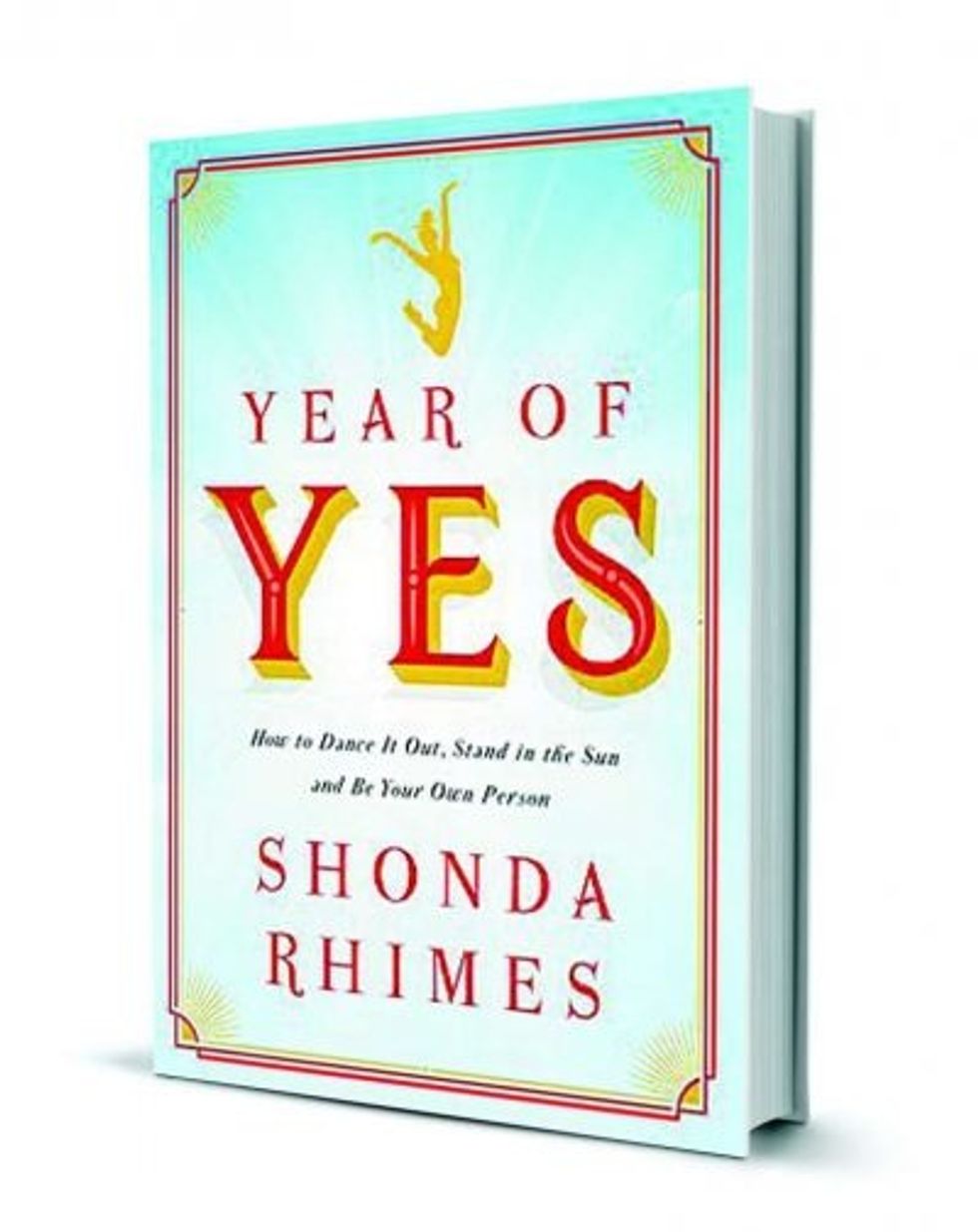 Let's face it. Many of us struggle with being our own authentic self. This is something author Shonda Rhimes was all too familiar with. In this amazing book, Rhimes shares how she decided to let go of uncertainty and self-doubt in exchange of truly saying "yes" to living her best life. She stopped letting fear and apprehension get the best of her, and once she decided to say "yes" to everything from health to happiness, the possibilities were endless.
4

.

'Confidence Your Secret Weapon: A Guide to Building Confidence' by Ashley Korin McLean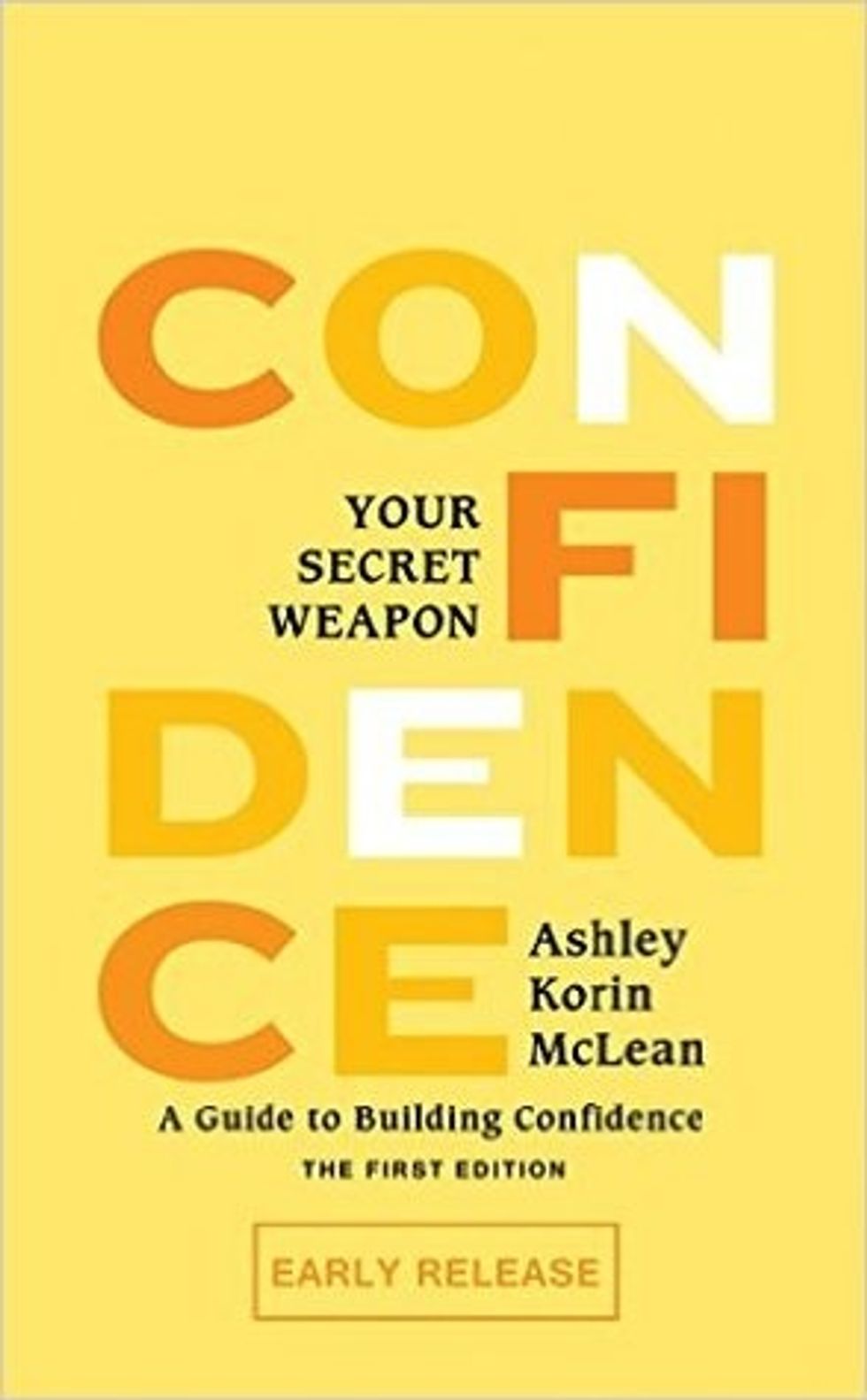 Whether you're a business owner or simply soul-searching, this book will certainly guide you towards building self-confidence and goal-setting. Through the use of exercises and truly thought-provoking material, you'll be able to incorporate the content into your life on a daily basis.
5

.

'Don't Dumb Down Your Greatness: A Young Entrepreneur's Guide to Thinking & Being Great' by Anthony Frasier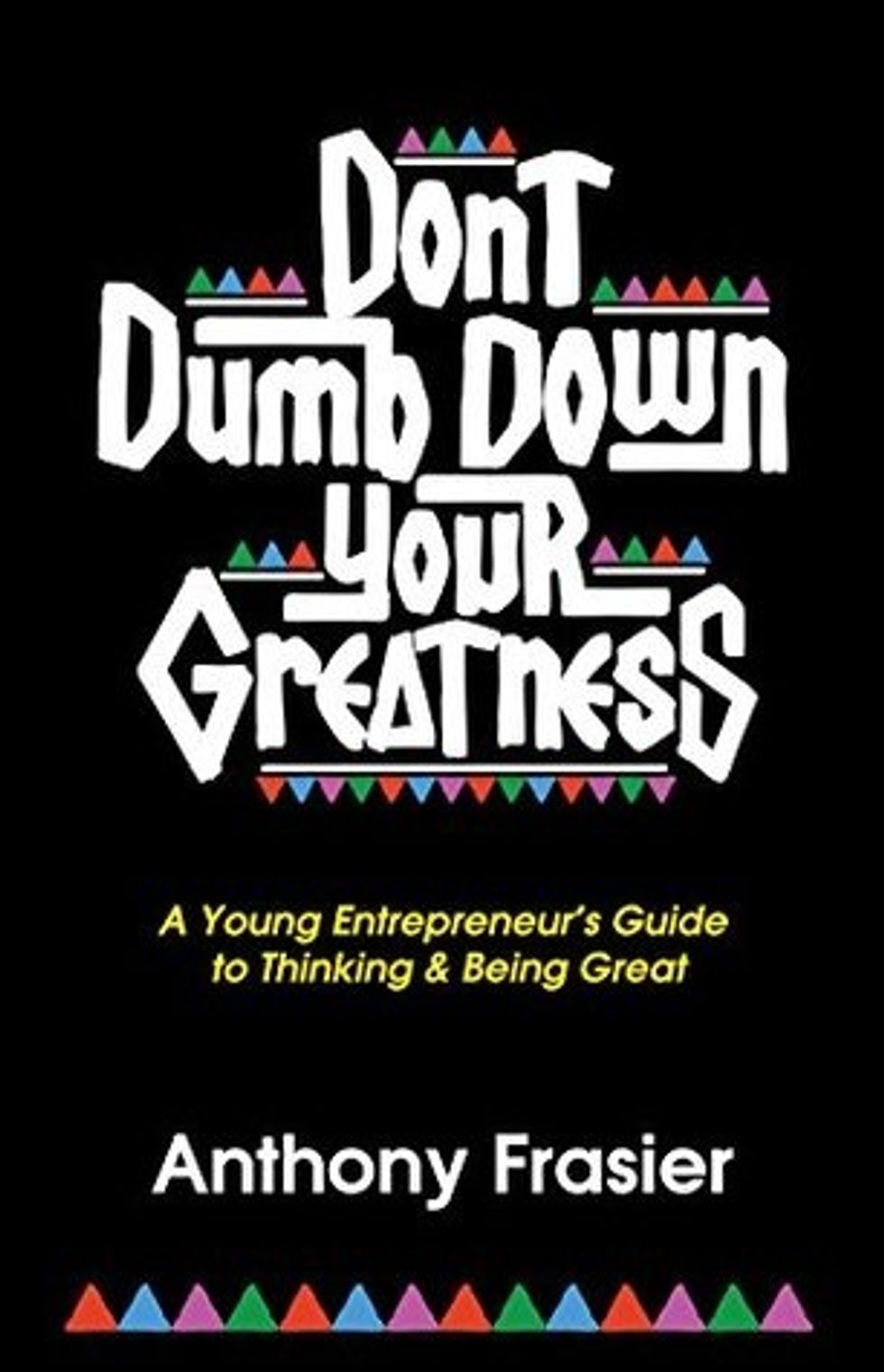 It's amazing what can happen when you alter your mindset. A positive mindset truly does result in a positive life, even for today's aspiring entrepreneur. This book is actually one that I've read more than once as I truly feel it spoke volumes. This is tailored for young entrepreneurs of color as the author felt that void wasn't being filled. The author, Anthony Frasier, provides personal stories and lessons discussing creativity, self-doubt, and success, in addition to a wide array of other topics to encourage greatness.
6

.

'You Are a Badass: How to Stop Doubting Your Greatness and Start Living an Awesome Life' by Jen Sincero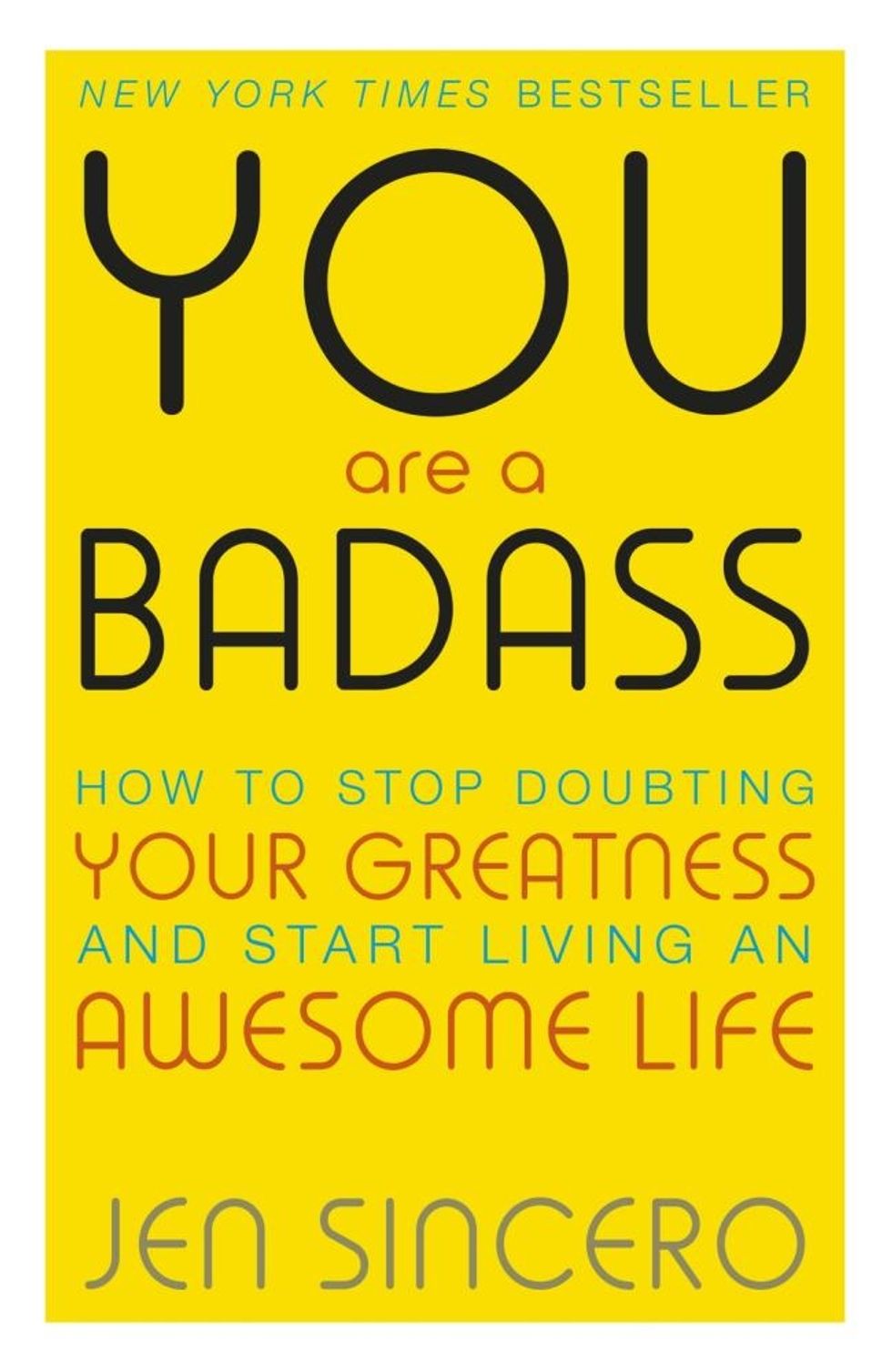 Today's a great day to start living an awesome life and it starts with this book. This was suggested to me by more than a few amazing black creatives in my life and for good reason. Essentially, we all want to live our best life, but self-doubt can hinder us from so much. You are truly the only one standing in the way of you, and this book will serve as a reminder. You Are a Badass causes you to pinpoint the thoughts and actions that keep you from being the best you and in a very relatable way.
Featured image by Getty Images