Dayana Preval
I'm Dayana Preval, a creative who wears many hats. I enjoy using my platform as a writer to connect with people, support and educate our people through social media. I'm also the creator of The Millennial Chit-Chat Podcast, where I discuss our ups and downs navigating through society as a millennial.
There comes a time in life when memories and time aren't enough to carry friendships. It creeps up on us out of nowhere. Whether you are entering or leaving college, getting into a new relationship, moving to another state, or simply evolving. The shift in prioritizing certain friendships is no longer a desire. This doesn't mean that there's any love lost, but everyone has a purpose in our lives, sometimes it's forever, other times it's a season.
This has been a hard truth to accept over the last couple of years because some of my longest relationships have molded me into who I am. During my low points, those friendships carried me and showed love. The ride or die in me was devastated, as I realized the exchanges with people I thought I couldn't live without started to change.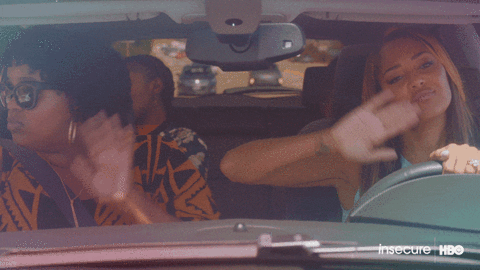 media.giphy.com
Those changes brought a lot of animosity towards my loved ones. I found myself getting jealous when I would see my "besties" spending time and creating memories with others. Our interactions shifted and I was left feeling neglected and undervalued because I was no longer the point person to get all the tea and invites.

The FOMO hit me hard. I was making myself miserable by constantly checking social media to see what my so-called best friends were doing. I played scenarios in my mind trying to make sense of how we got here. I didn't understand how close friendships could turn into associates. I had invested so much time into these people. I felt like I wasn't good enough, but was that the issue? Absolutely nothing. Unfortunately, we're not taught in life how to deal with changes in our environment, friendships, and relationships.
Here's how I had to adapt and set boundaries for my peace of mind:
Are you a member of our insiders squad? Join us in the xoTribe Members Community today!

Featured image by Giphy.
If you have any doubt that H&M is doing it for the culture in 2020, their latest capsule collection is proof that the brand has turned a new leaf. On Friday, February 21, the clothing brand threw a Ruthless Block Party in Atlanta to celebrate their new drop with iconic costume designer Ruth E. Carter.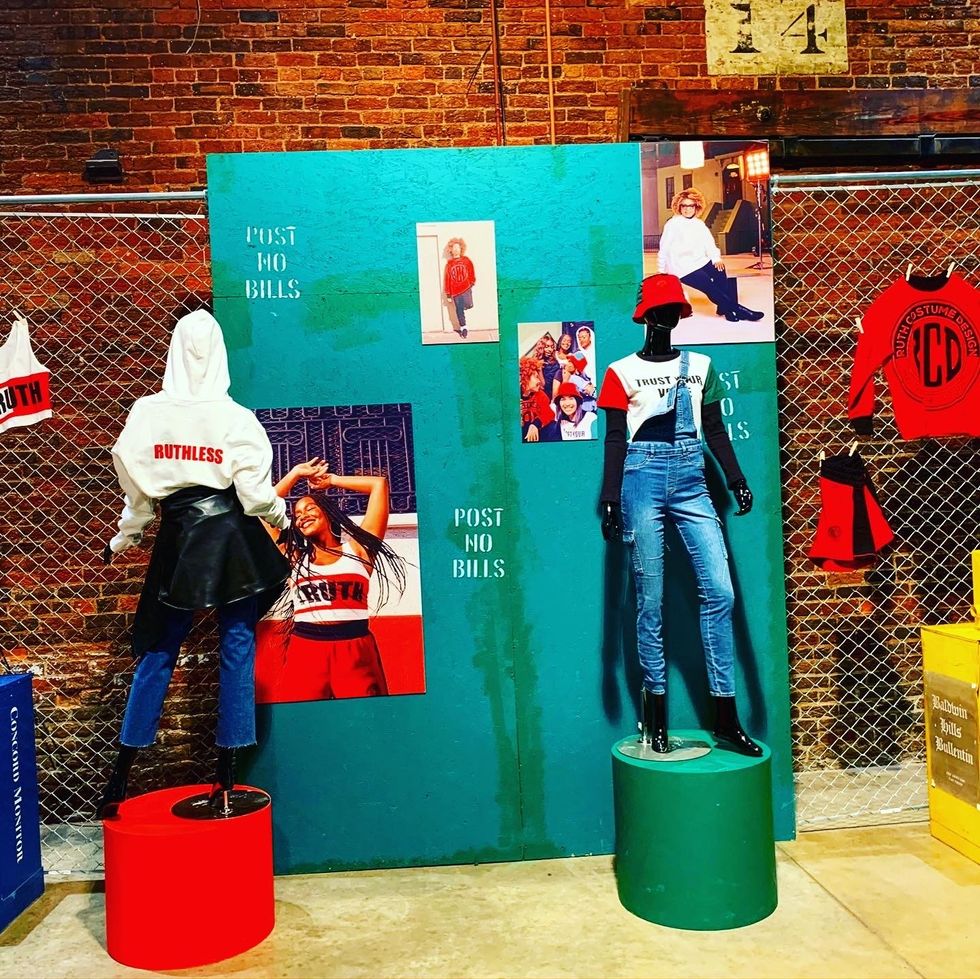 Walking into the Georgia Freight Depot felt more like a walkthrough of a '90s Harlem block party with bleachers, basketball courts, boombox-inspired props, and attendees dressed in '80s and '90s fashions filled the venue.

The event also featured a unique exhibit that featured some of Ruth's most iconic looks from films like Black Panther, BAPS, I'm Gonna Get You Sucka, Malcolm X, and Dolemite Is My Name.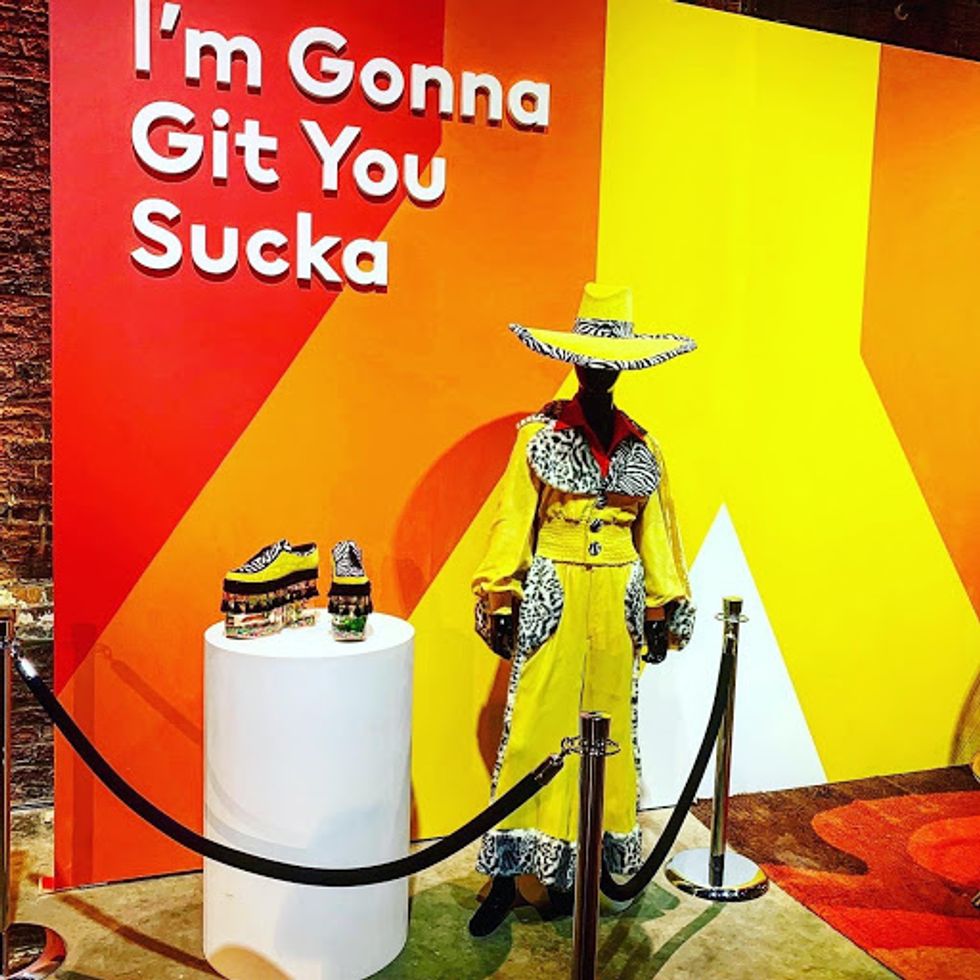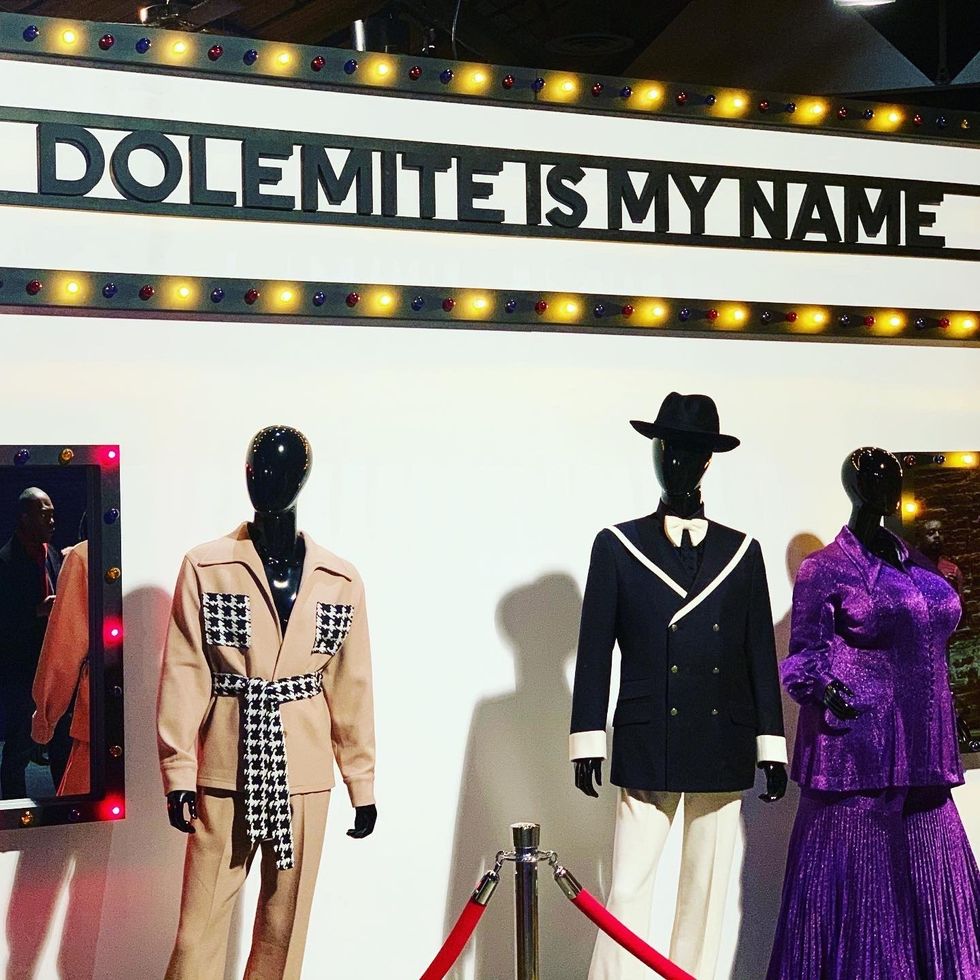 During the event, Sway In The Morning co-host Tracy G had the opportunity to chat with Ruth about the inspiration behind the new line, which features an assortment of tees, sweatshirts shorts, and bucket hats commemorating the fashions of the 80s and 90s golden Hip Hop era.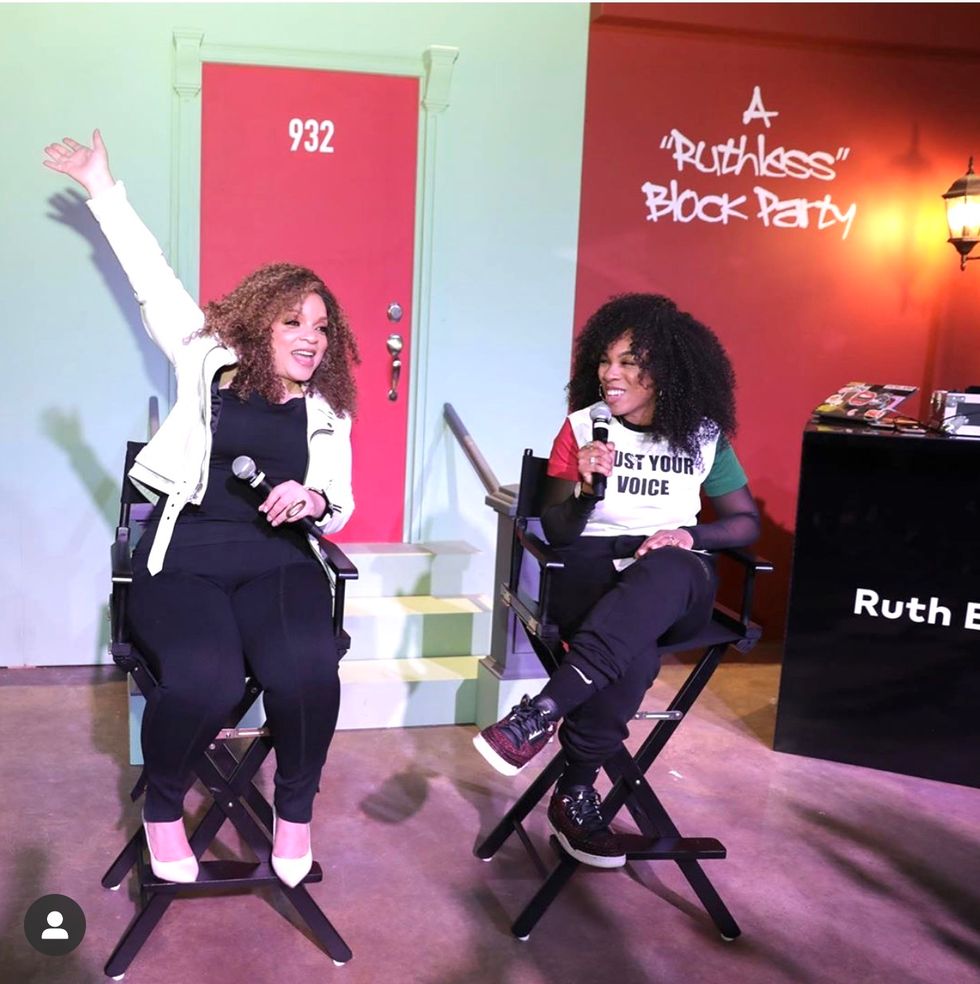 Ruth also pulled inspiration from the costume design work she did in various Spike Lee films like Do The Right Thing and Malcolm X while using the symbolic colors of black, green and red as a celebration of black heritage and to honor the liberation flag. The phrases "Truth" and "Trust Your Voice" adorn some of the tees as a reminder to dream chasers to follow their passions and trust their inner calling.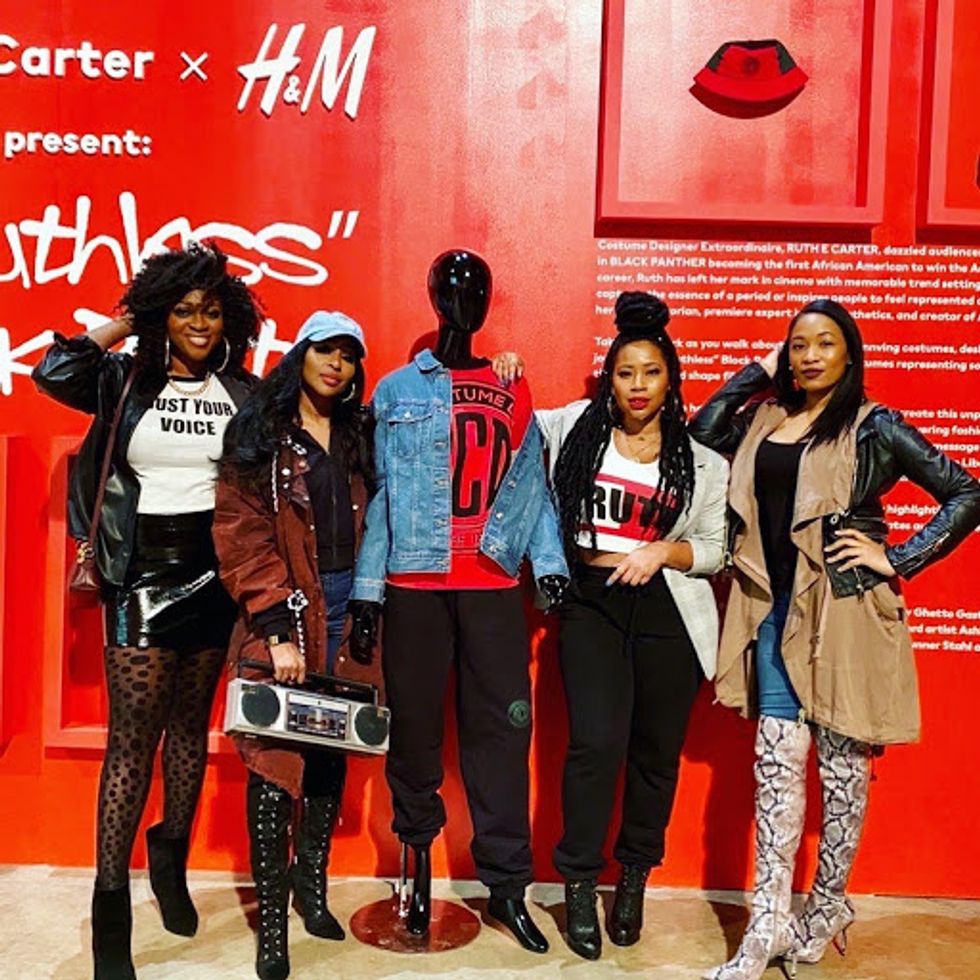 This latest collaboration with Ruth Carter is a part of H&M's mission to highlight and celebrate new and established creatives. Last year, the Swedish retailer dropped its first African collaboration with designer Palesa Mokubung.

In the past couple of years, I've seen a lot of social media buzz about being positive and happy, which is great. However, if you're anything like me, positivity isn't something you grew up around. I didn't know what it meant to manifest and affirm the goals and lifestyle I wanted to obtain for myself. Growing up as a Haitian American, I was always taught to work hard, keep my head down, and do right by people. Speaking life into myself was unheard of.

It wasn't until I got close to my mid-20s that I started experiencing life for myself and began to understand that happiness is my responsibility. I'd dug myself into a black hole of negativity.
After finishing undergrad, I figured life would just jump-start because I did everything I was supposed to do. Wrong. Life looked me in my eyes and said, "It's time to find yourself, and I'm about to drag you through the mud because these lessons will be the testimony that will heal you and others."
At the time, I felt like I was being picked on. I was being hit with challenges left and right. From 2015 to present, I've gone through so many jobs that I've lost count, I've lost loved ones, and I've lost myself. I've even cried myself to sleep. There were times I was unsure if I was even worthy of being alive.
Seriously, how could I be this vessel for others when life keeps kicking my ass? Why would God hurt me like this?

This is going to sound cliché, but it's true what they say: When you're at your lowest---by yourself and desperate for answers---you find yourself. I was forced to look at my journey and dissect each situation. I had to take full responsibility for the part I played in every experience. I had to realize that despite the bad times, I made it through it all and there was always a lesson.
Here's the thing about life, we don't learn the lessons on our time, but the right time. It takes some maturity, self-love, and patience to fully appreciate the trials. Honestly, I was tired of recycled experiences and pain, so I knew from within it was time to make a change. It was time muster up some faith.

It doesn't happen overnight, and I'm not here to sell you a dream. Negativity was and sometimes is still a norm because it's always been my comfort zone. When things didn't go my way, I would lean on negativity to validate that I'm not worthy or some other lame excuse. I realized that to heal and bring the life that I want into fruition, I had to seek help outside of myself. I started going to therapy, which has been a blessing. It was the first time in my life that I didn't feel guilty for sharing my experiences and expressing myself wholeheartedly without judgement.
I had to trick myself into happiness. I know you all have heard the phrase, "Fake it until you make it." Well, manifest it until it's in your physical and spiritual possession. I have several positive apps that send me affirmations daily including Costar, Selfish Babe, The Pattern, and Idillionare. Every morning, I acknowledge my feelings, but I still push myself to start the day with gratitude.

I now find small things to be grateful for throughout the day. I listen to positive music and read books around wellness. I end each day by simply saying thank you.
It takes time to get into this routine, but I promise that you're worth it. Take the time you need to realize your greatness, but please remember that you are extraordinary. You weren't created to be mediocre.
xoNecole is always looking for new voices and empowering stories to add to our platform. If you have an interesting story or personal essay that you'd love to share, we'd love to hear from you. Contact us at submissions@xonecole.com.
Throughout my friendships in life, I was always deemed as a strong friend--the friend that holds everybody down. I'm the friend you call when things are about to pop off, to party, to vent, and so on. At one point in my life, it was one of my favorite titles because I felt superior. I felt honored that people came to me as their "person".
I was the sparkly, gold trophy that everyone admired. I could handle anything. I felt like superwoman. I was untouchable.

As the years passed, being a strong friend started to tear me down slowly from the inside out. I wasn't the person I was before. I realized that people were so used to seeing me in the light of strength that I was completely alone during my lows. I felt like I had to go out of my way to remind people that I am a person, too. Despite being the strong friend, I struggle, I cry, and I worry.
It was no longer a compliment to hear, "I will get through it like I did everything else." Nah, fuck that. I'm hurting. I want compassion and support like everyone else. This transition was an eye-opener for me because at 26, I feel in some ways I was overextending myself to others because I yearned for that love and loyalty that I was giving so freely.
With this newfound information, I had to step back and analyze the relationships in my life. I found myself feeling some type of way towards my loved ones, but could I?
After all these years, I didn't require my friends and family to pour into me as I did with them. I didn't set any boundaries or expectations, so it was up to me to figure out some balance.
Here are some tips I've come up with so far:
​Have A Conversation With Your Loved Ones.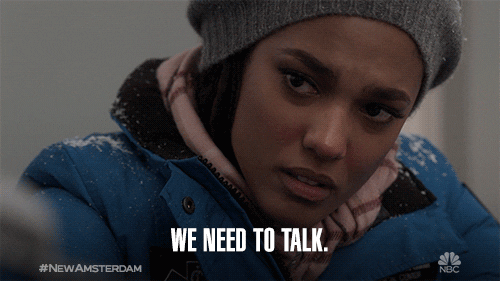 I know you're probably telling yourself that you don't want to make a big deal, but it is. As you're growing, it's important to assess who you want around you. Some people will fall off naturally, but you are in control of your surroundings.
Set Boundaries.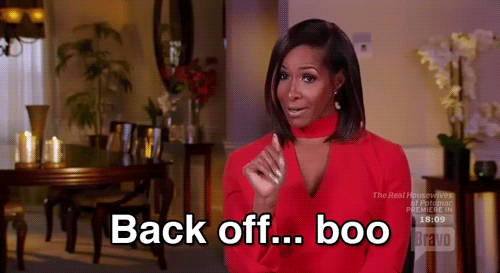 Photo by Giphy
As a strong friend, boundaries don't exist to us because we want to help any and everybody. Well, I hate to break it to you, but that's not possible. You have to be present for yourself first and that requires limits. The people who are offended and don't support this are not for you, point-blank.
Don't Feel Bad For Putting Yourself First.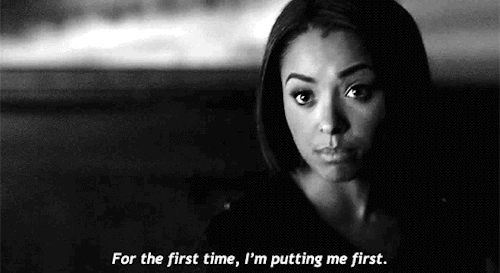 Photo by Giphy
Saying no to others makes us cringe. Shoot, I still have internal fights with myself, but it's necessary. I recognize that at the beginning and the end of the day, I have myself so therefore I must love on me at all times.
Go To Therapy.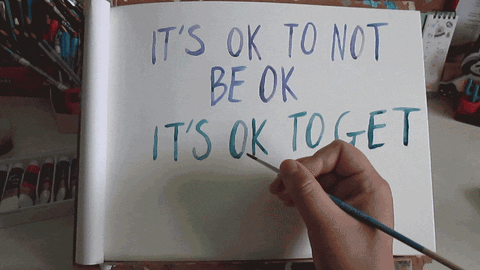 This will help with resentment. For a long time, I was upset, and I wanted to shut everyone out. In truth, not everyone is going to love like you do and be present as you are. AND THAT'S OKAY. This is what makes you so special because you have so much love to give that it's overflowing. Therapy will help you create a balance. It's also a great space for us to release. It's a space where we don't have to be strong, we can heal and be free.
Take Your Time.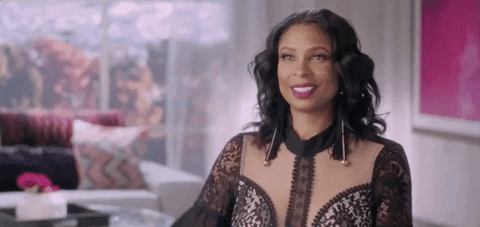 Photo by Giphy
You will fall short. You will feel guilty for not being as present as you once were. Or there will be times where you overdid it and now you feel crappy. It's OK. As a strong friend, you are a lover and you want to be there for everyone. Just remember to be there for yourself, too.
Want more stories like this? Sign up for our newsletter here to receive our latest articles and news straight to your inbox.
Featured Photo by Shutterstock