Ashley Simpo
Ashley Simpo is a writer, mother and advocate for self-care and healthy relationships. She lives in Brooklyn, NY. Follow her on Instagram and Twitter @ashleysimpo. Check out her work and her musings on ashleysimpocreative.com.
By now, I'm sure you've heard all the reports circulating about black mothers dying.
Black women are dying at astronomically high rates compared to their white counterparts. In fact, the maternal mortality rate is three to four times higher among black women. And if you are a black woman that's never given birth, you're probably absolutely terrified at the thought of pregnancy and childbirth for that reason.
Those initial feelings of joy when we find out that we are expecting are now replaced with anxiety and a fear that nearly paralyzes us. Our concerns have shifted from whether or not we'll deliver a healthy baby to questions of if we'll make it out of the delivery room alive.
When I heard the story of Serena Williams' near-death experience after giving birth, it didn't surprise me. It also didn't surprise me that she knew exactly how to identify an epileptic embolism and notify her doctors before it was too late.
She's an athlete who has undergone multiple surgeries and faced multiple injuries. She knows her body at its best and she knows when it is momentarily failing her. But Serena's relationship with her own body served as a life-saving reminder that knowledge of self is most important kind to have. Right now, the narrative is that no one knows why black women are dying during childbirth. But for Serena and any other black woman who has been pregnant and seen a doctor, we know exactly why.
Doctors are not pregnancy advocates.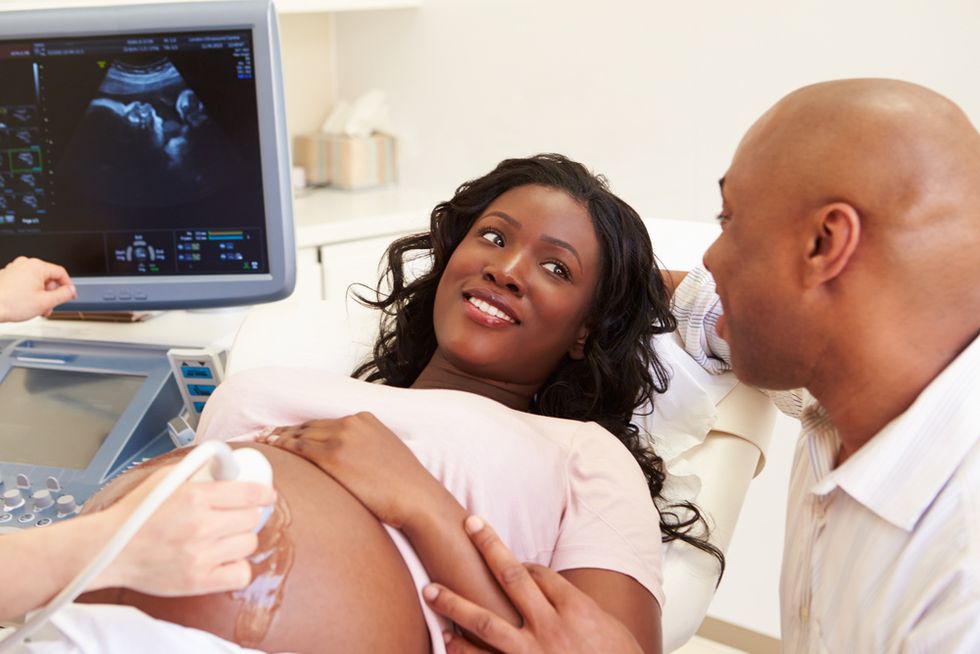 Shutterstock
They see patients, assess risk, and prescribe a course of action. If you're Black, they tend to see you quicker, assess you without investigation and prescribe courses of action that minimize our options and influence you to make risky choices. Epidurals, induced labor, fetal monitoring - all things that are suggested by doctors as normal procedure but are actually linked to a host of complications that put women and their baby at risk. When it was me in the stirrups, I was shocked by how quickly my desire to have a natural childbirth was laughed off by my doctor.

I can remember having not one but two seperate male doctors tell me that having a child is "risky" and painful and I would do best to give birth in a hospital in case of emergency. It was in that moment that I realized had I not already read three books about pregnancy and childbirth and spoken to half a dozen midwives that I might have even believed them. Instead, I walked out of their office both times insisting that I knew my body better than that did. I've read Serena's birth story over and my biggest takeaway is that we are capable of anything we put our mind to - but we do have to put our mind to it.
If having children is anywhere on your list of life plans, arm yourself with as much understanding about birth as you can - it could save your life.
Pregnancy and Childbirth Are a Marathon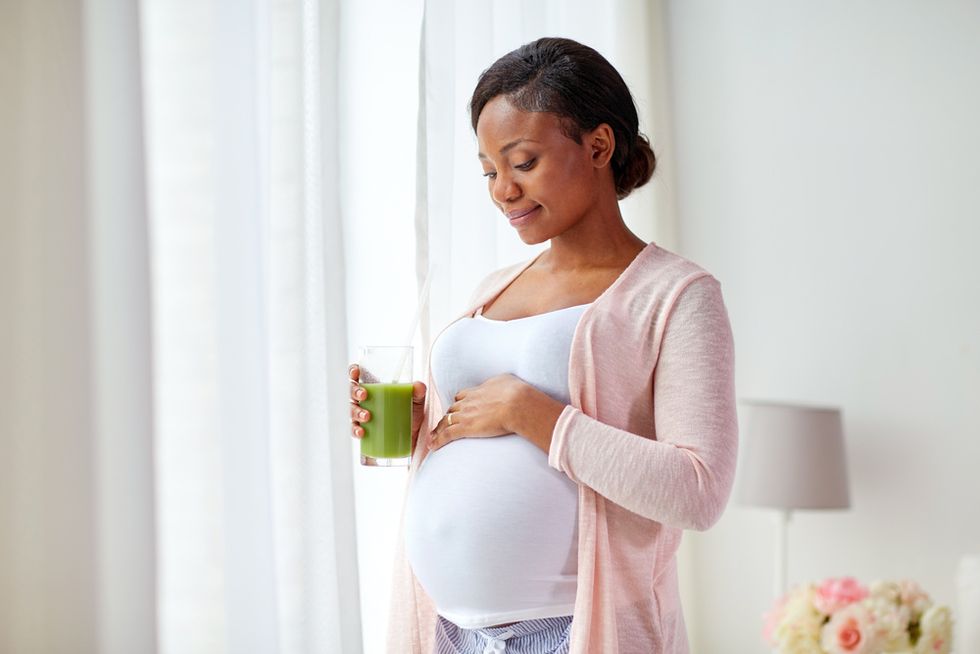 Shutterstock
My midwife told me this and it always stuck with me. "You're training for a marathon," she said after advising me to pack on the protein. This is something I think a lot of women tend to forget or not be told. Childbirth is not a test you can cram for, the preparation begins as soon as those two lines show up. Talk to a nutritionist to design a meal plan for the duration of your pregnancy. If you can't afford a nutritionist, read up on what foods support your body during each trimester.

The "eating for two" approach to prenatal nutrition might be fun, but it can also land you on bed rest. But gestational diabetes isn't the worst side effect of bad eating. Giving birth is a very athletic process. It involved pushing and breathing and incredible stamina. Being strong and energized could be the difference between an easy birth and a difficult one. Stay fit now and through your entire pregnancy.
The More You Know
One of the best decisions I made was taking a birthing class with my partner. Checking in every week with a midwife and interacting with other expectant couples eased a lot of my stress and answered all of my "how does labor feel" questions. It was also a chance for my son's father to get educated on how to support me during the entire process. If the dad isn't in the picture, choose a friend or family member to be your partner - the point is to have a support system.
Look online for birth plan templates and fill it out with every detail of how you want your birth to play out. Filling out this plan will help guide you to questions you ask your doctor or midwife. Learn as much as you can about pregnancy so you have a full understanding of what to expect, what's normal and what signals a problem. My favorites were A Thinking Woman's Guide to a Better Birth by Henci Goer, The Mindful Mom-to-Be and Birthing Justice: Black Women, Pregnancy and Childbirth.
Don't Believe the Pain Hype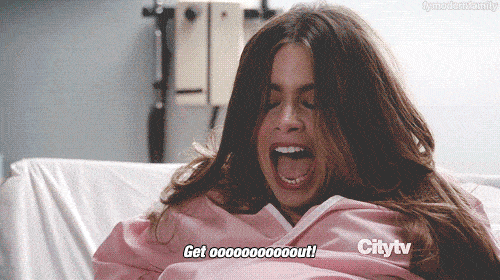 Giphy
Does childbirth hurt? Of course it does. But so does motherhood and there's no epidural for getting through 4 am feedings or potty training. I consider the pain I endured to be the prerequisite for raising a human person. Especially when I came to learn the realities of epidurals. For example, an epidural will cause your blood pressure to drop suddenly. After an epidural is placed your ability to move around is severely limited which can put your baby in distress as it tries to make its way through the birth canal. As I went through the stages of delivery I moved from place to place - bed, bath, squatting on the floor - whatever helped my son safely get himself into position.
Find Your People
A lot of us received our first education about having babies from our mothers. Usually, whatever route our mothers took with childbirth is the same one we are inclined to take as well. My mother, who also have a natural birth for me and my sister, told me, "Eh, it's not so bad" when I asked her what labor felt like. Thanks, mom.
I was so thankful that I lived in the information age and could easily find a little online community of women who were going through exactly what I was. Websites like Baby Center allow you to join micro-communities of women who share your due date. Find support among other women who have similar goals so you can encourage each other through the process. Support makes a world of difference.
Hospitals Are Not the Best Option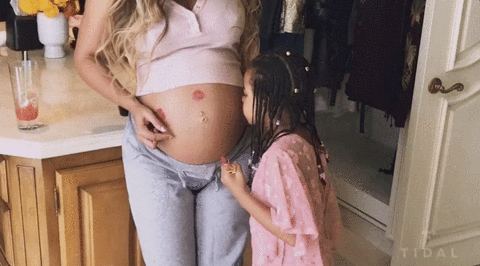 Giphy
I tell every black woman that will listen to me, do not have your children in a hospital unless you have known complications. Not only are hospital births more expensive than home births or birth centers, they also carry a higher risk.
Most hospitals have a C-section rate that far exceeds what it should. Surgery should be a last ditch effort to save mom and baby but instead it tends to be the go-to move as soon as there is a sign of trouble. I encourage women to consider remaining under the care of a midwife and doula, as opposed to an Obstetrician to receive one-on-one, personalized informed prenatal care. A midwife essentially takes the role as your primary caregiver throughout your pregnancy and can even provide postpartum gynecological care. I saw my midwife instead of an OB-Gyn once I was under her care. She could refer me to a specialist, send me for bloodwork or tests as needed and she constantly offered me words of empowerment and helped me make informed choices.
Our appointments were as long as they needed to be and I never felt rushed. The doula takes a different role, she's more involved in the actual birth process. She was an emotional and mental support to me, provided advice, and was more hands on during the birth.
While I was in labor with my son, my midwife told me that I had to resist pushing for about 45 minutes. She said despite my intense contractions that my son's head wasn't far down enough. Just hearing that made my heart race. Trying not to push was the hardest part of the entire experience.
But my doula came in, rubbed my back and told me to take in deep breathes and let out low baritone moans and I was able to relax. When laboring women are told there's a problem, we panic and when we panic we are giving the hospital the perfect excuse to offer up drugs and surgery in our most desperate moment. Websites like Midwife.org and ZocDoc can help you kick off your search and most midwives can recommend doulas once you're under their care.
As black women, we know the world is constantly trying to give us the short end of the stick. It's a reality we take with us into boardrooms and classrooms. We have to be just as diligent when planning for pregnancy and birth. The numbers we see dancing across headlines and on television screens paint a grim picture of what black childbirth looks like.
But understand this - the system is failing us, our bodies are not.
Want more stories like this? Sign up for our newsletter here to receive our latest articles and news straight to your inbox.
Featured image by Shutterstock
Originally published on January 23, 2018
I remember the exact day I saw the video.
I also remember how I felt as I watched as a young black girl revealing to her classmates that she didn't think she was pretty because she was always looked at as the "ugly black girl". What moved me even more though, was the way her teacher took on the role of nurturer as she instructed each of her students one by one to give compliments to the young girl. Black girl, in case you needed to be reminded, you are worth your weight in gold.
The video capturing those moments went viral and reached the hearts of many, including Orange Is The New Black actress Danielle Brooks, who responded to the student with an emotional video, telling the story of her own struggles with self-worth.

The teacher in that video, Valencia Clay, is a prime example of the caliber of educators we need in our classrooms at this time.
The 30-year-old Baltimore City 8th grade teacher with three degrees is a woke aficionado known inside of the classroom and outside of the classroom for her use of hip hop lyrics in her lessons, as well as making rap beefs like Remy Ma's "ShETHER" against Nicki Minaj's "Make Love" a teachable moment. She puts a spin on hot topics relevant in magazines, the news, and TV shows. And she teaches this way because she knows that the key to tapping into the youth's ability to learn is by first and foremost, piquing their interest.
But back in 2015, the young teacher was just like the rest of us, reeling from a different kind of impact. With the massively publicized police murders, the rise of Black Lives Matter movement, and the police death of Baltimore City's own Freddie Gray, Valencia was hurting.
The whole city of Baltimore was hurting.
"Our kids knew Freddie Gray," she said. "He was like their older brother."
And that's where her mission as an educator started to take shape. Valencia knew it was important for the students of Baltimore Freedom Academy to process what was happening. Shortly after, her school's administration asked her to create a lesson plan that would help teachers communicate what was happening with students. They chose the right woman for the job.
Valencia already had a long history at the school for teaching Woke 101.

She showed her class movies like Do the Right Thing and dove into topics of colorism, segregation, and the African diaspora. When her lesson plan called for the students to read a book on Brown vs. Board of Education, Valencia went ahead and served up the full picture for them. "I taught everything before and after Brown vs. Board," she recalled. "I didn't get as much support from my administration when that book came out because the kids were talking about their own school."
The death of Freddie Gray acted as a turning point for Valencia and it was evident in the way her students were able to work through the events surrounding them. They were more than woke, they were awake, and the administration had to take notice. But despite her mission being clearer than ever before, she wasn't so willingly supported in her journey.
That feeling of a lack of support coupled with accusations of teaching too much "black stuff" from a student's parents, Valencia admitted that she momentarily stumbled after that and pulled back from her mission and the message of her woke lesson plan. "That was me feeling insecure and feeling like I need to prove myself as a woman who is intellectually able to do anything," she said. "I was losing myself, and I was losing my kids. I went back to my lessons the way I was doing them and the kids started growing again."
"I was accused of creating angry black children. I'm like, 'Yeah, they probably are angry because they're awakening,'" she says.
"And that's the first step when you wake up, is to feel. But we're going to move beyond that, we're going to move to acceptance."
The solution for moving towards acceptance in Valencia's classroom was to empower black students with the truth that the system would otherwise leave behind. But teaching black history in today's classrooms hasn't been easy. Locked into what she calls a "scripted curriculum", Valencia had to navigate the requirements of standardized testing.
But she found creative ways to push the envelope.
As much as her administration has fought against her 8th grade teaching methods, Valencia says the proof is in the pudding. "The results come in many different nuances. Whether it's the children not being suspended as many times, or whether it's a poetry slam event that's packed and every kid is standing on tables, spitting hot fire with big words that you didn't even know they would know."
Back in a 2016 interview with The Phil Taitt Show, Valencia went in-depth with how she learned that love was the true key to reaching her students in a meaningful way and becoming the teacher she was supposed to be:
"I don't even know what I expected as a teacher. I knew that kids needed love. I knew that I was going to be in the hood. I started teaching in Baltimore - that's what I did for seven years. So I knew what I was getting myself into, especially being from an urban area, being from a disenfranchised community, growing up without my mom and my dad. I knew what I was going to see. I knew what I'd gone through, but I didn't know that love was the key until I started to find out on my own for myself. Once I was able to see that in myself, I was able to go back to my students and love them differently than I had ever loved them before."
Today, Valencia stays focused on her purpose. Outside of the classroom, she has established The Flourishing Blossoms Society for Girls, a worldwide mentorship organization that supports the success of underrepresented girls. She's also a teacher's teacher, aiding educators on methods for teaching children of color core reading skills that will help them hold their own when it's time to talk about how to build a revolution.
That is how you empower little black and brown boys and girls. And that is how you save lives and change the world.
For more about Valencia Clay and her multifaceted community work, visit her website and follow her on Instagram.
Originally published on December 9, 2017
I was 22 years old and jobless when I stepped out of a taxi cab in Brooklyn, New York after leaving my California life and relocating to a city I had never even been to.
My college friend had secured an apartment for us and I had three interviews lined up for the week. It was November, cold and rainy. The coat I bought at my favorite shop in Oakland was the only New York weather-appropriate item of clothing I owned. I didn't care. I was riding on a high and I had no plans for that high to go down. I was young without a single tie to anyone and now I was 3,000 miles away from everyone who knew me.
My life was finally beginning.
The next night, I cried so hard in my shower that I almost threw up.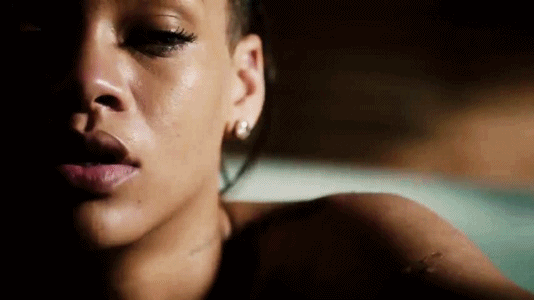 This became my nightly routine.

All of it was so overwhelming. A brand new place, a brand new culture, and with only one friend in my east coast roster, suddenly it all felt like a terrible decision. I called my mom a week later and confessed that things weren't going as well as I thought they would and she immediately offered to send me a flight back home. I grappled with the idea of heading back, tail between my legs, my attempt at adulthood a short-lived failure. I couldn't do it. So, instead of packing my things and moving back home, I learned one of the most important lessons of my life:
Breaking down is a sign that you're about to build yourself back up.
As women, we're all very familiar with the feeling of breaking down. It may come in the form of depression or anti-social behavior or intense procrastination or just uncontrollable weeping. Usually when we're on the brink, we do our best to prevent it.
"I need to take a vacation because I'm on the edge of a breakdown," is something we've all said at some point. But, since breaking down is an inevitable part of life, maybe it's time we changed the way we approach it.
Instead of tapping out or avoiding it completely, try this instead: do your best to embrace the breakdown.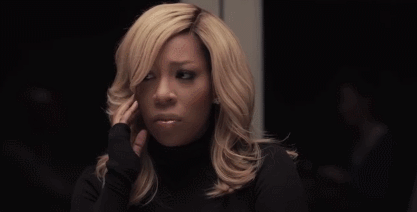 We walk around all day showing our best face to the world as we encounter things like intersectional oppression and constant criticism. Not to mention the addition of life's little gems, like break-ups, financial strain, friends letting us down, or injury and illness. When life feels really heavy and you think you're about to lose it, take a moment and allow yourself to lose it. Cry in the shower, cut off the world for a week, sleep for an entire day, scream into the night.
Why?
Because letting it out makes room for the glow up.
It's in there, hiding underneath the pressure and stress you've been holding onto. It's waiting for you to deal with all the emotions that are simmering just below your surface.
Once you admit to yourself that you can't handle what's in front of you, the next step is to forgive yourself. You're not superwoman, you can't do it all and you've been trying your best. Say it in the mirror, "I can't do it all, and that's okay."
Back when I was crying in the shower, the thing that pulled me through was not some magical solution that fell into my lap. I admitted I was overwhelmed, forgave myself for being weakened by a new situation, and decided to change my step. I started going out more, met new people, and began building a new circle of friends. I got a job that I liked and started having more fun. But those actions would have never been possible if all I did was sit under the feeling of being overwhelmed pretending everything was ok. How could I walk into a room and make an impression on new people if I'm awkwardly trying to smile through unresolved pain?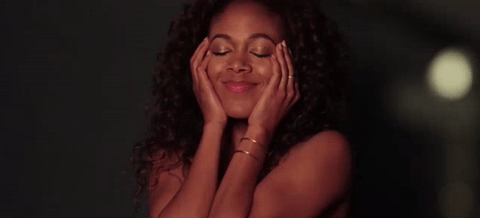 Freeing myself was key.
Now, when I feel a breakdown coming on, the narrative is different.
I cry or sleep or run away for a weekend but then I tell myself that it's time to make some life changes. I forgive myself for needing to shift my plan based on my emotional health and I'm reminded once again that I'm my closest ally. Life will inevitably get to be too much sometimes, especially for a woman of color.
Take the time and space to allow yourself to feel it, and know that another shining moment is waiting on the other side.
Did you know that xoNecole has a new podcast? Join founder Necole Kane, and co-hosts Sheriden Chanel and Amer Woods, for conversations over cocktails each and every week by subscribing to xoNecole Happy Hour podcast on Itunes and Spotify.
xoNecole is always looking for new voices and empowering stories to add to our platform. If you have an interesting story or personal essay that you'd love to share, we'd love to hear from you. Contact us at submissions@xonecole.com.

Originally published on December 29, 2017.
Featured image by Shutterstock
After being together for a year, my boyfriend and I realized that we were in a communication rut.
Before we moved in together, we used to make sure the night didn't end before we talked on the phone -- even if only for a few minutes. Communication then was sweet and sexy and reserved mainly for flirting and getting to know each other better. Now, its is something we do by necessity and our preferred mode of communication has quickly become texting. Whether we were making dinner plans or asking how each other's days were going -- texting was just easier.
Texting also provided another benefit - receipts. I can't tell you how many times, mid-argument, I would conjure up a text message that provided the much needed proof required to make my point. Ever since the iPhone updated their ios and allowed the ability to edit screenshots, relationships have gone to a whole new level. My boyfriend has received more than a few screenshot conversations with circles around key takeaways.
What? I like to be thorough...
So when we decided to try out a text-free week, we knew it was going to be something of an adjustment. I'll admit, the first day there was a lot of picking up my phone and putting it back down once I remembered our agreement. But all in all, what we learned about our relationship - and ourselves served a valuable lesson about how we treat each other.
My takeaways:
I actually missed him.
Who would have thought I could miss someone I share a bathroom with? After our first day of no-texting, when he walked through our front door I was kind of filled with butterflies. From the look on his face, so was he. It was almost like we shed 6 months off of our relationship and went back to still being curious about each other.
We picked our battles.
It's a lot easier to pick a frivolous argument when you don't have to look someone in the eye. Its the entire reason Twitter is such a source of unapologetically bold statements. I'll admit there have been times when we've sparked a fight over text that honestly just didn't need to happen. During our text-free week, if something was an issue, it would still be an issue when we saw each other at home. If not, it was forgotten and generally for the best.
Our end-of-the-day conversation leveled up.
How was his day? What did he think about that thing that happened in the news that day? What was I working on? What funny thing did my five-year-old do after school? Things we would normally shoot a quick text about were suddenly question marks we carried around all day. When the day was done, dinner was had, kid was in bed and work was put away - we simply had a lot more to say to each other.
There were way less miscommunications.
Our text-free week happened to be over the Thanksgiving holiday, and we ambitiously decided to host a small dinner at our place. In the haze of cooking and multiple trips to the grocery store I forgot to ask him to grab unsalted butter. Did I say 'unsalted butter' or just 'butter'? I couldn't remember. Normally, I would have texted him to clarify, which is risky. He could over look it while browsing the shelves of a crowded market and come back home empty handed only to say, "Did you text me?". When I called him, he was already in line to pay, sans unsalted butter. I reminded him, and he grabbed it - crisis averted.
No receipts meant we had to trust.
So, this was probably harder for me since I'm petty...uh I mean since I'm so organized. Not being able to look through a log of our communication meant that when he shared his perspective on something I simply had to trust it. Maybe I don't remember the exact way something was said, maybe it doesn't even matter. I realized that keeping receipts means you may not be accounting for how things felt to the other person. Even if you did catch them in a moment of misspeaking - is that really the point? Instead of harping on the specifics and semantics of a conversation, we had to feel things out organically and trust that the other person was coming from a place of sincerity.
All in all, once the experiment was over, I was relieved to be able to pick back up our usual text banter. But, I have been more conscious about how often I rely on texting. Since then, we've had a conversation about how important in-person communication is to both of us and how it makes a difference in how smoothly things flow at home.
Now, we text a little less, we call a little more, and we talk a little deeper. And yes, I screenshot a little less as well.
Featured image by Shutterstock
Originally published December 3, 2017
Black Friday has been given the title of the single most profitable day for major retailers across the country and for a lot of us the countdown is in full effect.
But, for those of us hoping to bet on black this Friday and keep our money circulating exclusively in the black community, black-owned businesses can seem hard to find. As the founder of Official Black Wall Street, Mandy Bowman set out to change that perception.
Black enterprise was more than just something Mandy thought about during seasonal shopping months. The goal of her brand was to list black-owned businesses on a user-friendly interface to make them more accessible to black consumers and give them an elevated platform. In that regard, she sought to build black wealth. It was a way for Mandy to contribute to her community, and to create the change she wanted to see in the world.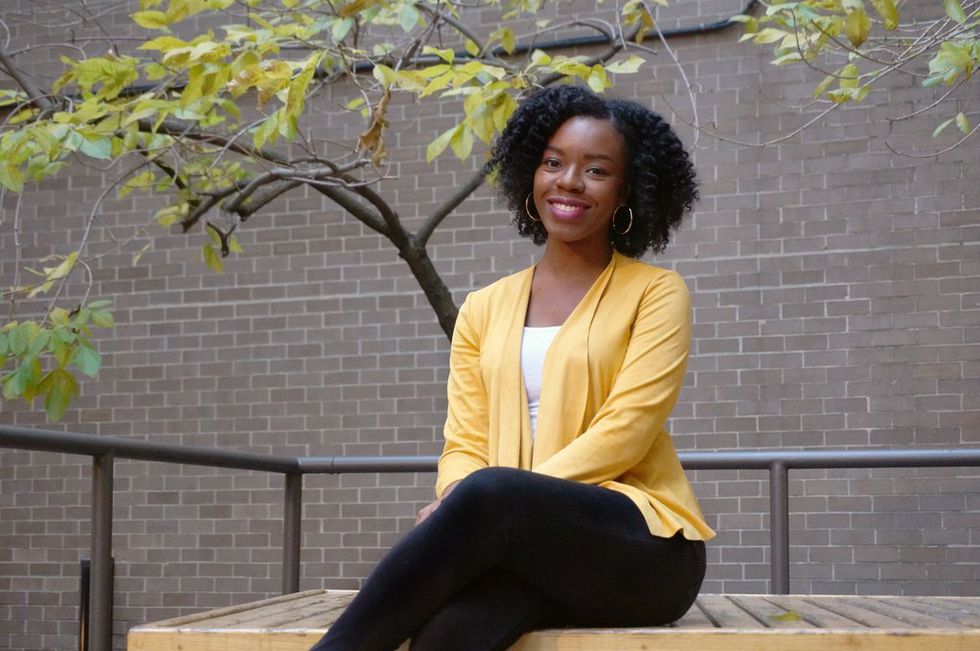 But the journey to furthering the black coin and dollar wasn't easy for the budding entrepreneur.
At the time of Official Black Wall Street's conception, Mandy was employed full-time at ESSENCE magazine as the social media manager. Staying on top of trending news and keeping up with the fast-paced social media world kept her plenty busy, but Mandy was inspired and determined to bring financial success to the black businesses of her native Brooklyn that were being pushed out by gentrification.
She was a woman on a mission and made time for her dream by staying organized. "For me, it was finding little pockets of time to do little things. I write to-do lists for everything, so before I go to sleep at night, I write a to-do list for the next day just so I know what I need to do," she said. "For example, if I'm riding the train into work, I know that I need to write this article to go up on Official Black Wall Street or approve these different businesses. So, it took a lot of very specific time management."
Mandy's persistence and discipline paid off when some time later, she began to receive requests for advertising on her website. "When I first started the website, I honestly didn't think it would become a business. I just wanted to create something that people could look at and find black-owned businesses. But as time went on, I was getting requests for advertising and I was like, 'Oh, this would be amazing if I could blend my passion and have this sustain me.'"
Her passion and her purpose coming full circle started to create a new path for Mandy, a future she hadn't always seen for herself. She knew that in order to take her booming business where she wanted it to go, she'd have to make a hard decision of leaving behind the security and notoriety of working with ESSENCE in lieu of the brainchild that gave her life and work new meaning.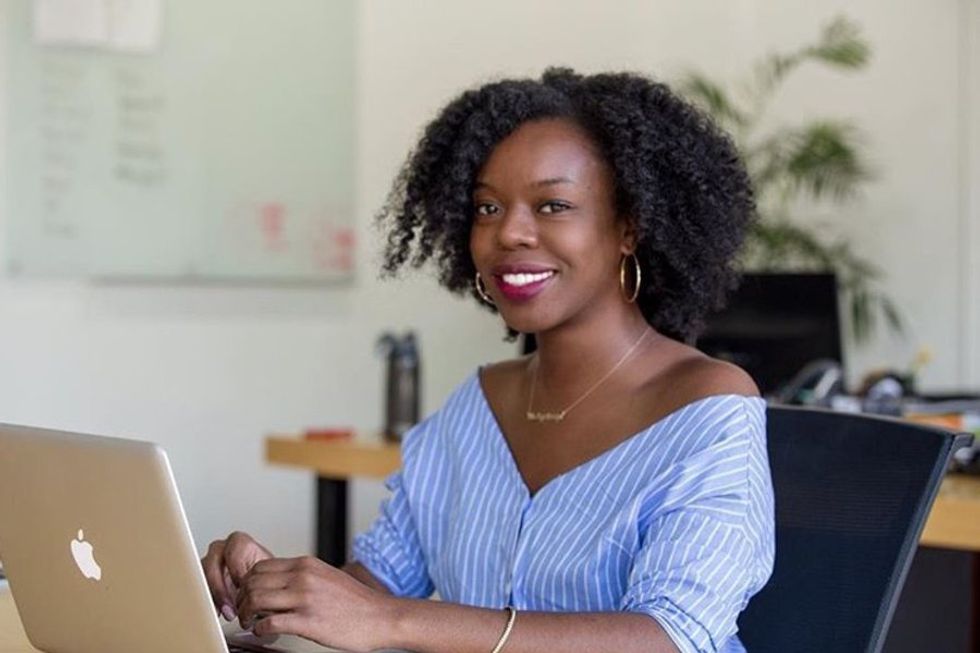 ESSENCE
It's not always easy to quit your job and follow your dreams, but as Mandy started to work towards launching an app, leaving ESSENCE became more real by the day. More than herself, the matriarchs of her family proved to be her biggest skeptics. "I would say my mom and my late grandmother were the ones who were like, 'Girl, what are you doing' when it came to quitting my job. They were just a little bit worried."
However, once Mandy's Kickstarter launched and the support for the app began to pour in, her family started to see the same vision that she and the people online had always been able to see. "The month of September was really odd for me. We launched the Kickstarter and even though it was really slow in the beginning, for me, it was really great to see hundreds of people putting their money into this idea that I had," she recalled.
During that time of building her new business, she was invited to speak at a TedX event to discuss the importance of the 1.2 trillion dollar buying power in the black community. Mandy also made an appearance on Queen Boss, BET's female-empowered version of Shark Tank, where entrepreneurs pitched their business ideas to a panel of power players. Blessings on blessings on blessings were happening for Mandy, confirming her drive. It also helped her family take her decision more seriously as she moved towards leaving her day job to focus on her dream job.
When it was finally time for Mandy to leave ESSENCE, she quieted her anxiety by reminding herself how far she'd come. Her Kickstarter was fully funded (just 10 hours before it closed), her website had been popping for exactly two years, and she had already created a name for herself. With over 3,000 black-owned businesses featured on Official Black Wall Street already, she had received confirmation from the universe that she was walking the life path in alignment with her destiny in countless ways. It was the last push she needed to take the plunge.
And she took it.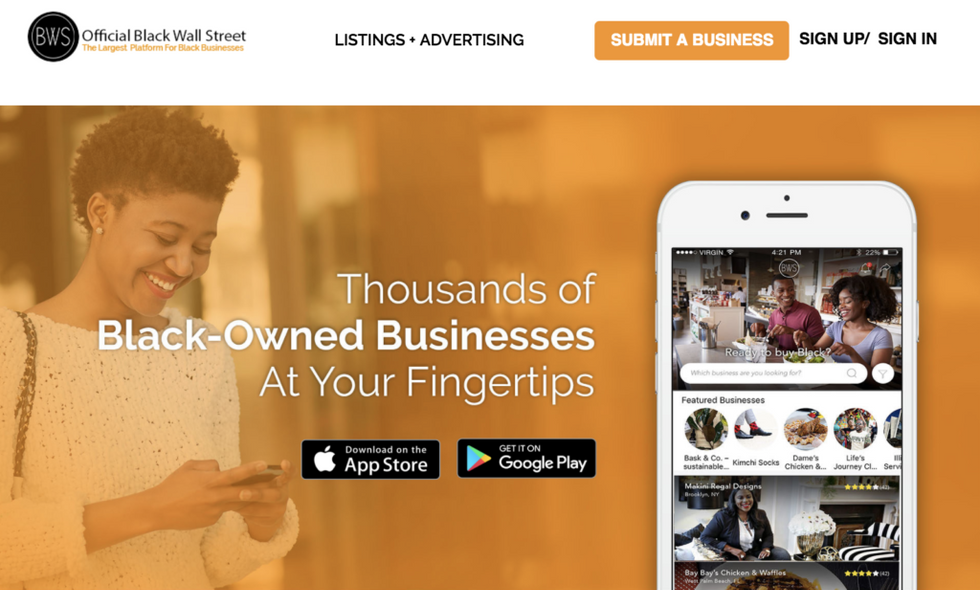 Mandy has absolutely no plans to slow down. Since leaving ESSENCE, she's been determined to see OBWS become the go-to hub for black enterprise.
"My ultimate dream would be for Official Black Wall Street to be the black millennials guide to all things black-owned. A place for us to share resources and support each other."
Mandy launched the app version of Official Black Wall Street in late October and hasn't looked back since. It debuted on iTunes and was rated #3 on the Google Playstore business app list. As the reviews began to flood in, it became clear that Mandy had created something that could actually change the way our community embraces itself.
Mandy Bowman is the perfect example of what is possible when black women set their sights on a goal and let absolutely nothing get in their way.
Want more stories like this? Sign up for our newsletter here to receive our latest articles and news straight to your inbox.
Originally published November 21, 2017
If you're like me, you live for that moment when you come home from a long day of adulting and get to remove your bra.
Ahhhh.... Our boobs silently thank us as we begin to unwind. I tend to bounce between a large B and a small C cup, so being part of the Itty Bitty Tittycollective means going braless isn't exactly new to me. I tend to let my girls do their own thing on weekends when I'm out running errands or if I have on something that just doesn't accommodate bra straps - but there's a caveat.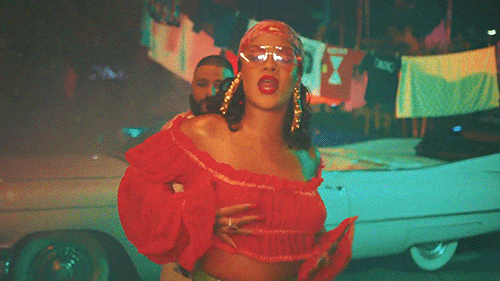 I've birthed a child and I'm inching towards my mid-thirties, so I try to make sure that my unbridled mom-boobs go unnoticed. I throw a sweater over them or a baggy t-shirt and secretly revel in the satisfaction of my passive freedom. This is especially the case when I'm dropping my 5-year-old off at school or heading into the xoNecole office.
So, because I'm pretty choosey about when I let the girls go au naturale, I knew this 7-day challenge was going to be interesting.
Monday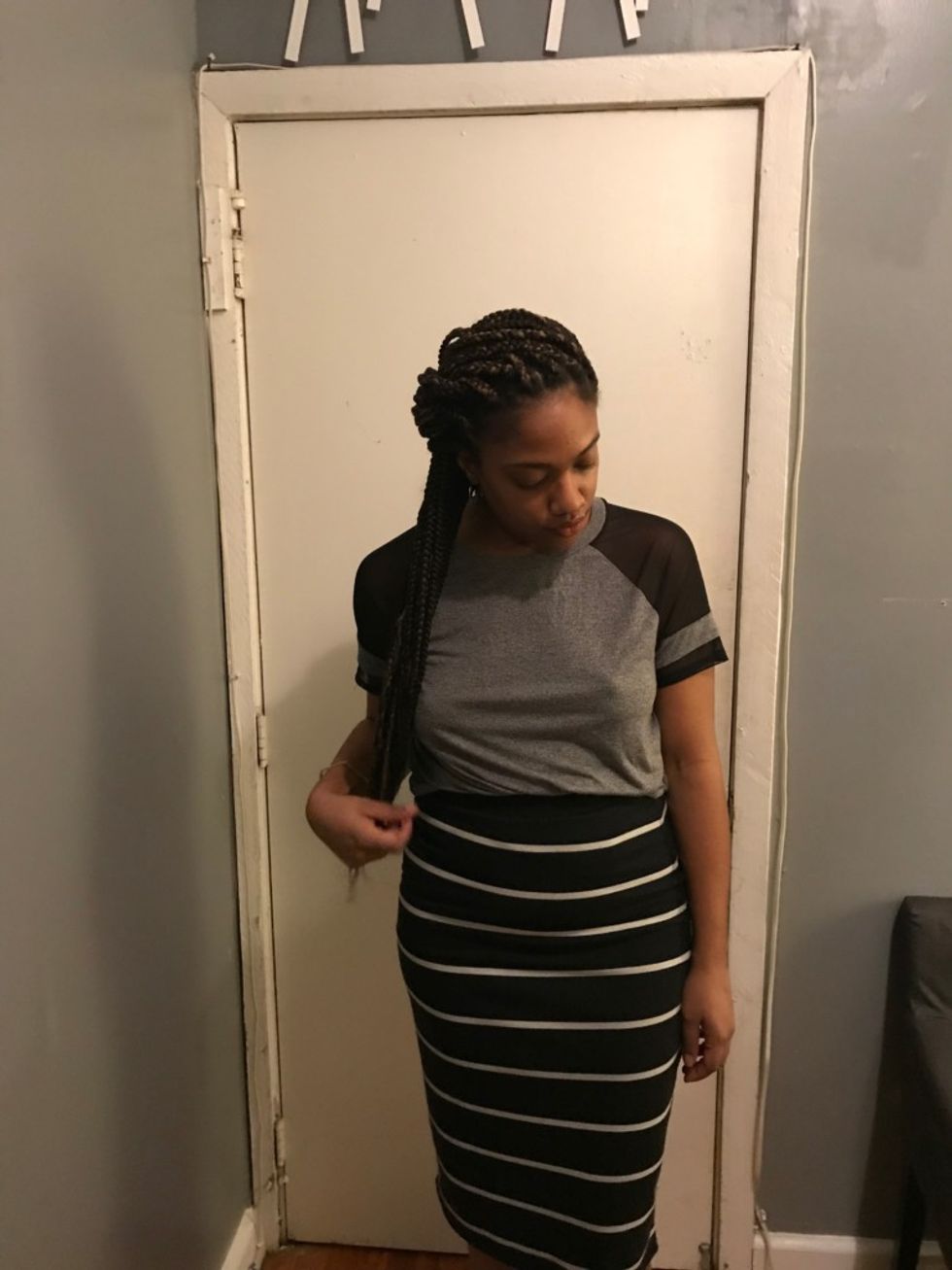 On day one, I have to say I dove right in. I wore a fitted top tucked into a striped pencil skirt.
Needless to say, my induction into the bra-free movement was ambitious. Right out the gate, I felt extremely insecure. I had to run to my son's school to drop off his Halloween costume and felt the security guard that greeted me staring me down.
It was a chilly day and I was out there - no safety net.
What I Learned
I'm not as liberated as I thought. As soon as eyes found my breasts, I shrank into myself. I made dumb jokes to try to keep the attention on my face instead of my chest and I kept my jacket zipped up - even when I was burning up.
Tuesday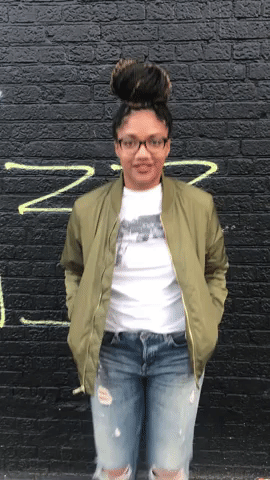 The next day was a work-from-home day, so after dropping my son at school, I decided to head over to Starbucks and work from there instead of running home to hide.
I was a bit more daring in my ensemble, opting for a white mini t-shirt (that says,"More trees, less a**holes") and absolutely no safety net underneath.
What I Learned
While the women seemed to glance over in my direction and kind of give a subtle look of approval before moving on, the men lingered.
One guy who was sitting across from me stationed his gaze on my nipples (which I'm sure were serving as the cafe thermometer) for a solid 10 minutes. I finally said, "Can I help you with something?"
He got up and left.
Wednesday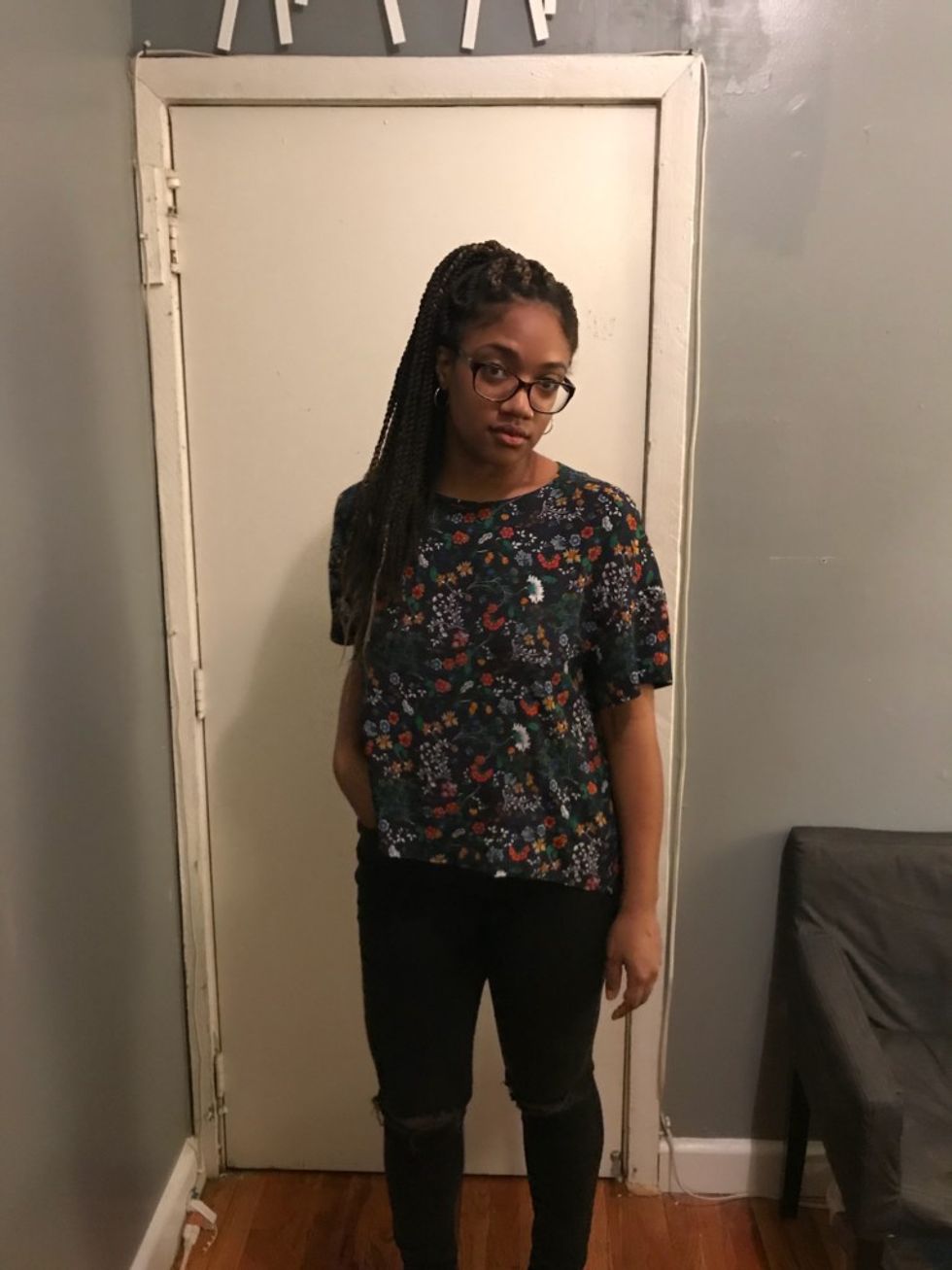 It was Wednesday, and I was headed into the office.
Thankfully, the weather provided the perfect excuse to keep my bra-free-boobies out of the face of my fellow commuters, but when I got to the office, it was a different story.
For the sake of professionalism, I had a tank top on under my top, which also happened to be oversized and kept things pretty much camouflaged.
What I Learned
Those damn nipples... Every time the room chilled, I found myself covering them up with my arms.
My posture sunk and I did everything to make myself as small as possible. Not a great feeling.
Thursday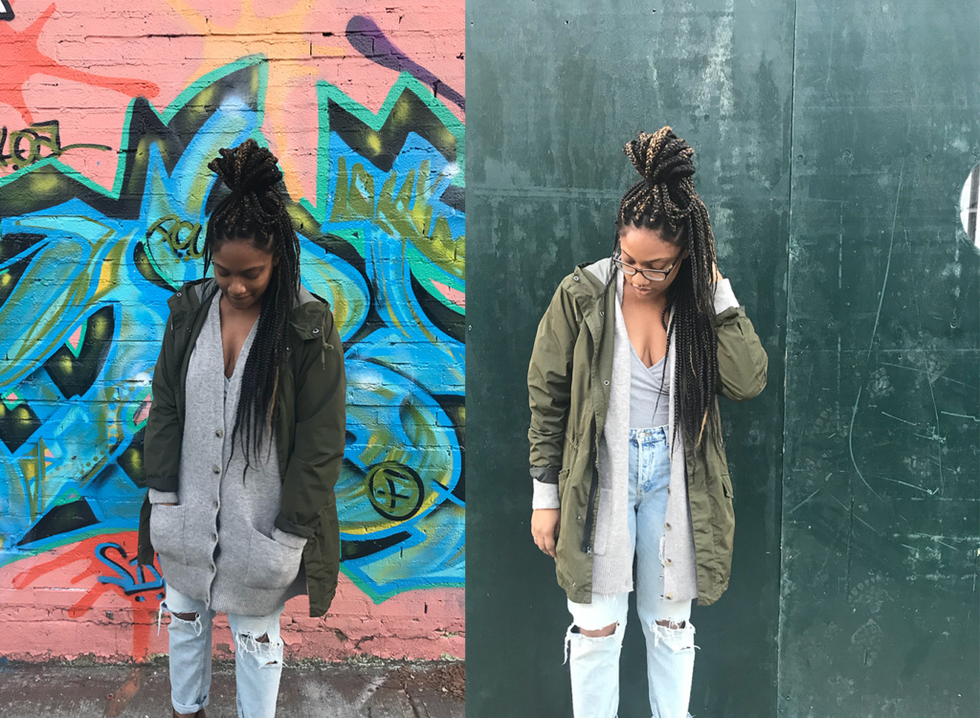 Thursday was a day to run errands, so I decided to face my insecurities a little more. I wore a grey ultra-low cut bodysuit under an over-sized sweater and jacket. The weather was cool but not cold, and with all the running around, I kept my jacket open almost the entire time.
From Target to the grocery store to the public library - my breasts were racking up looks, left and right.
What I Learned
Apparently, some men thought my breasts were their official concern. As I walked down a busy neighborhood street, one guy (who looked old enough to be my father) said, "Sis, you should really cover up."
I was suddenly invaded with the feeling of rage and a tinge of embarrassment. At no point did I look at him and decide it was my duty to inform him that his Timbs were scuffed to oblivion, so why did he feel his opinion about my shirt was so important to voice?
Friday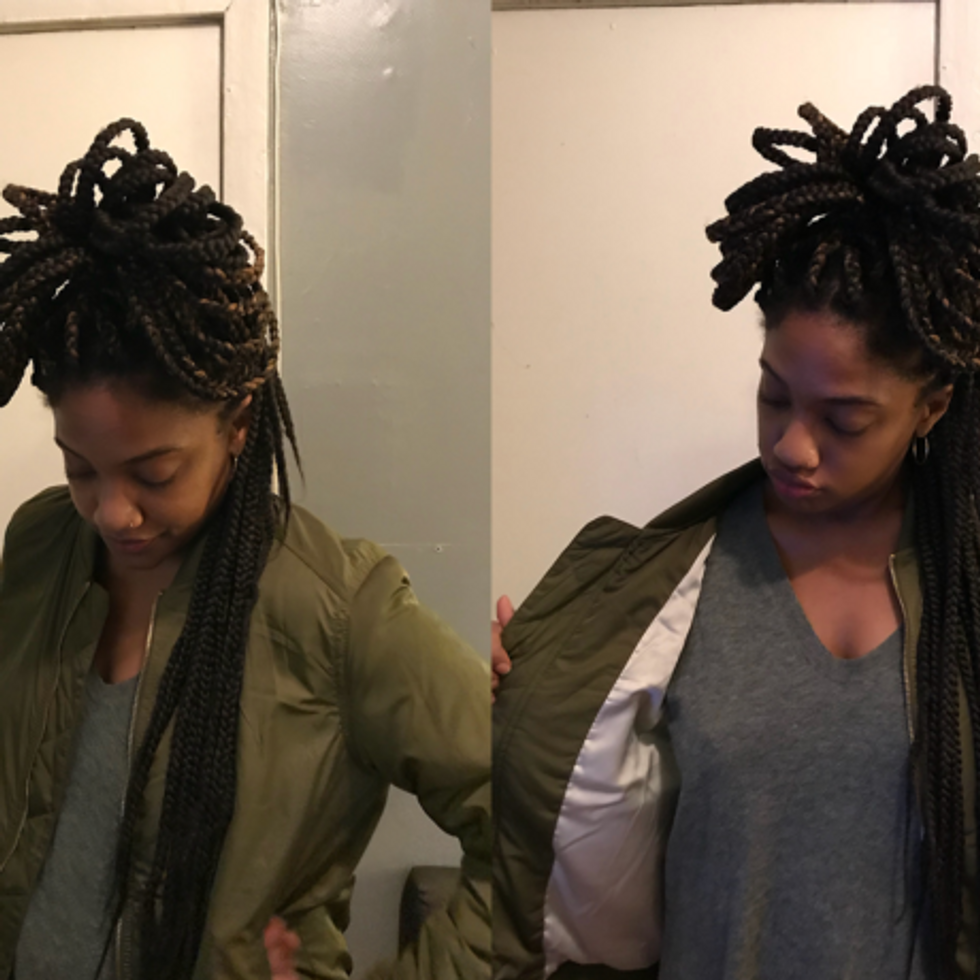 By Friday, returning to the office was a breeze.
I had been silently harassed, embarrassed, and gawked at all week. All I had to do was figure out a way to go bra-less at work one more time before the weekend. I went with an oversized grey sweater and admittedly kept my jacket on pretty much the entire day.
What I Learned
I will never be liberated enough to rock obvious nipples to work.
I don't even think it has anything to do with having a sense of freedom or patriarchy. I just don't think the gentlemen in my office environment should get to see my nipples.
Boom.
The Weekend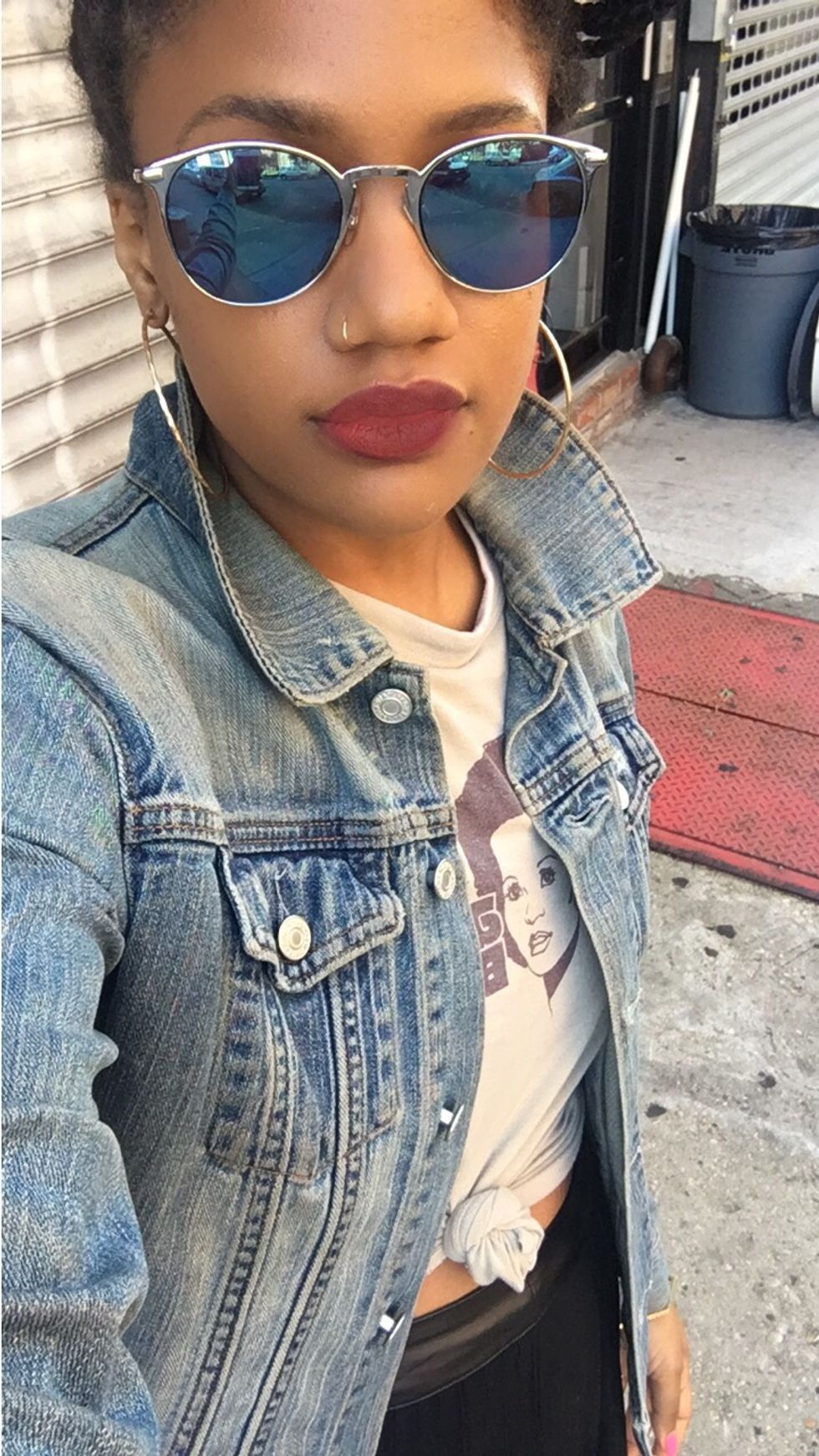 It was a kid-free weekend and I had spent way too much time all week worrying about, planning around, and trying to hide my breasts.
With very few social obligations on my plate. I spent my weekend musing around New York completely braless, and reveled in the freedom the weekend provided the experience. I didn't mind when they bounced or flopped around, and I didn't care if you could tell I was cold through my shirt.
My no-shame braless weekend felt downright rebellious.
Final Thoughts
Men don't think about whether or not their pants-bulge is offending anyone on the subway. They probably aren't much concerned with their man-nipples poking through their shirt when a stiff breeze hits them.
What I learned most about this experience is that women's bodies are way over-analyzed, mostly because every advertisement features a model with breasts perked and perched and appropriate for the occasion - whatever 'appropriate' even means.
But whether your breasts are size-deficient or gravity-addicted, whether they have fed babies or catch crumbs while you eat - it should be okay to let them loose whenever we please.
Since this little experiment, I've noticed myself opting out of a bra more and more often - and not just when I'm running to the liquor store at 11 PM. Slightly saggy, a little uneven, and rocking a lighter complexion than the rest of me - I'm fine with my girls in and out of a bra.
The world is just going to have to get used to it.
Originally published November 24, 2017
Want more stories like this? Sign up for our newsletter here to receive our latest articles and news straight to your inbox.