Traditionally, many of us have stayed away from having sex during our menstrual cycle because we feel like it will be messy and ugly.
We've even seen plenty of scenarios where a woman says she can't get busy because she's on her period. And in most cases, we are that woman.

I know I've been guilty of being super self-conscious; wondering if I have that "period odor" or if I'll leave a gross, bloody mess behind and completely ruin the vibe. But in reality, period sex does wonders for the body in more ways than one. So, instead of letting our period block us from experiencing a sensational high that we've been craving, we can embrace the idea of it actually enhancing our sexual experience, and bodies as a whole.
Get you some!
Ease Those Cramps
It turns out an orgasm is quite the remedy for period cramps; which we all know are the worst. Apparently, when we reach our sexual peaks during an orgasm, our bodies give off oxytocin, dopamine, and endorphins that make period cramps a little less painful and more bearable. It might even be great enough for you to replace your cramp medicine with good, old-fashioned sex. I'm here for it!
You'll Want It Even More
Once you get past the awkward moment of having your first sexual experience during your period, don't be surprised if you find yourself wanting to do it even more. Having period sex boosts the desire to, well, have more sex while on the cycle. There's a variety of things that play into this, from hormone levels to physical changes our bodies experience while on our period. But either way, it looks like going for it could work out better than waiting for your period to end.
Sex More, Stress Less
Yes, period sex can even reduce stress! If anything, this serves as an excuse to get it on as much as possible during our cycles, because we all know that stress can get out of control. According to Very Well, a study conducted by Arizona State University showed that the women in the study who had affection and sexual behavior with their partner had less stress and were in a better mood the following day. Enough said.
Treat Headaches
Along with cramps, one of the most irritating side effects of being on our period is having headaches. Thankfully, having sex while on the cycle can also help alleviate that. And it's not always just for the time being. According to a study obtained by PopSugar, 70% of people who suffered migraines said they felt "moderate to complete relief" concerning their headaches while having sex. That's a good of a reason as any to enjoy intercourse while on your period.
Your Period Can Get Shorter
Isn't that ironic? All this time a lot of us have been worrying about having sex during our period, when doing so can actually reduce the number of days we're actually on our cycle. Here's how it works: Whenever you have an orgasm, the uterus tightens and shrinks; its lining diminishes even quicker. Along with making your period shorter, which is a score in itself for some, period sex can also push out the particles in the uterus that make us get cramps.
Help Get Your Cycle On Track
For the ladies who have an irregular cycle, research has shown that period sex can help you have more steady cycles. But the reason why is so bizarre, sis. Women's Health reported that "frequent boot knocking" (their words not mine) can help you get more up close and personal with the sweat of your male partner's armpit. Legit, and you don't actually have to smell his armpit. Here's a fun fact: While being on our period has taken the slack for not wanting to have sex, the actual hormone that does this is at its all-time low during your cycle.
Catch More Zzz's
Apparently, period sex can actually put you to sleep; which is a huge bonus for those of us who stay up tossing and turning in search of a pillow to put between our legs. Sex creates more oxytocin and lowers the amount of cortisol (reducing stress) – enhancing hormonal changes that help your body relax even more. On top of that, there is even more estrogen in the body than a typical day, which causes us to fall into an even deeper sleep.
No Need For Lube
If you're someone who is typically drier down there during sexual moments, your fluid from your period can actually serve as an amazing and natural lubricant. Keep in mind that, according to Hello Flo, women typically lose four to 12 teaspoons of fluid during their period. And it's not all blood. Still, this fluid not only cancels out the need of interrupting the moment to apply a lubricant, but it also improves and heightens the overall level of satisfaction that you and your partner can experience.
It Improves Overall Intimacy
When you let go of the worry of having sex during your menstrual cycle, it can actually enhance the intimacy between you and your partner. You'll want it more, your sex drive will be at a very high peak (if not the highest), which will result in turning on your partner even more. Plus, it can probably make your significant other feel even more special because you trust them enough to have this moment despite feeling awkward about it initially. It's like the circle of life.
Featured image by Getty Images.
Related Articles:
Men Admit Period Sex Is Not A Turn Off – Read More
The Best Period & Ovulation Tracker Apps In the Game – Read More
I Tried Whoopi Goldberg's Weed Products for Period Pain – Read More
You're Not Crazy: 9 Ways Your Body Changes In Your 20's – Read More
I know, I know, I know. I can only guess where your minds are after reading this title – somewhere between interested and not in a million years, disgust palpable, at the very next exit – two extremes not at all unique to the subject at hand. There's something very taboo about a crimson dick.
For whatever reason, there has been a large degree of social stigma affiliated with something naturally occurring within our bodies as women. Periods are perceived to be a "no sex zone", off limits, do not pass go, exit stage right moment on a month to month basis for four to six days, 12 months out of the year (the schedule varies for those who are irregular or on contraceptives intended to stop or regulate monthly cycles).
I've only ever heard what was wrong about periods. What made it a nuisance, what made it painful, what made it stressful, what made it barren -- empty. It is very rare that it is flipped on its head to be appreciated for what it is. By definition, it's feminine nature, and therefore it's power. It's one of those undeniable things that make you a woman, a giver of life, a creator of life. A period symbolizes that capability and is a reminder of what your womb space and canal are purposed for. That in itself is beautiful. As an extension of me and my womanhood, why couldn't it be sexy?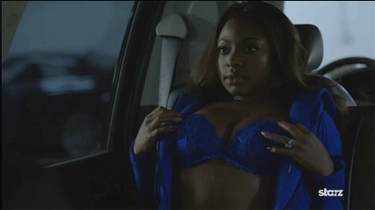 The tides turned and the floodgates finally opened one night a few years into my sex life where I was honest with myself and my inner desires. During ovulation, hormones within the body are believed to be at their highest, but many women (including me) also find themselves feeling heightened in their libido. There was something about being forced to refrain from sex that made me want it more, period or no period.
I tried it.
I liked it.
And though I will be very honest and say that it is not as seamless a routine as mundane sex, it can be just as primal, intimate, and -- well -- sexy.
The conversation that led me to giving it a try was relatively easy, especially because I was inebriated and with a partner who held the philosophy of "A period doesn't stop nothing but a sentence." When I dropped my ideals and adopted his, the sex flowed, no pun intended. We put down a towel, grabbed a condom (because don't be fooled, you can get pregnant while on your period, uterine lining shedding or not), and I was able to try it out without my overthinking getting in the way of what I was feeling. And it was awesome!
I've found that not only am I more sensitive and more aroused at this time, but around day three or four of my cycle, the amount of blood down there is very minimal, especially when excited. Use a shower as your love-making setting of choice to help with the clean up efforts post-coitus. The positions you choose can also be a help to alleviate the presence of your period during sex. I've found that missionary is easiest because the level of depth can be controlled a lot better. Doggy style and other positions where depth reigns truest should be avoided at the start of the period but can be worked in as the flow becomes lighter later on in the cycle.
If blood doesn't bother you much, by all means, let it go, let it flow.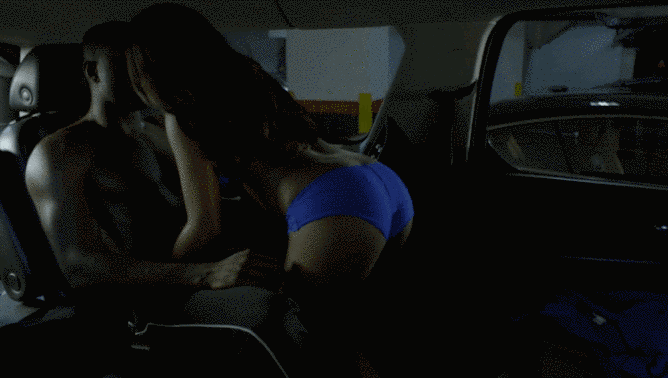 My a-ha moment with how I felt about period sex led me to wondering how others outside of me viewed period sex. I expected to hear a lot more hell no's but was pleasantly surprised at the thoughts that unfolded…
"I have no issue having sex with a woman on her period, I've done it a lot actually. From my experience, my woman is extremely horny during that time anyway, and as a man who loves sex, who am I to deny her? It's not nearly as bad as people imagine it to be." – Jason R.
"I have before. And it was really good. However, I was also drunk. But I can't say I'm against it. The mindset usually is period means 'no sex'. Learning exactly what a period is actually helped me to appreciate a woman's body." – Stephen G.
"Period sex isn't bad. If you're horny, you're horny. Put a towel down and get it to it. It's just a confirmation that I'm not pregnant. It works best in relationship though. When you're in a relationship you've kinda already passed all the boundaries of trying to be cute all the time. Plus, sometimes I get super horny on my period and just want it. So who would turn down free sex especially when it helps with my cramps and my mood? Win win." – Shantell H.
"I think period sex is fine. I don't really see a big deal with it. But personally, I wouldn't do it. I'm self conscious enough as it is and I'm not ready for it." – Anna P.
"I can't see myself having sex on a period…I like foreplay too much maybe more than sex itself and not to be able to get it because Mother Nature wants to interfere, sex isn't as enjoyable for me if no foreplay is involved." – Shannon C.
"I'm cool with it. I haven't done it often, but it was always a good experience when it happened. I've never thought that a period was something that should prevent you from sharing your love. It's human, it's womanly, it's real." – Jaden A.
"Period sex is a part of life for all but some people indulge. I've indulged before. I've had protected and unprotected sex with a woman on her cycle but during the last day and maybe the first. It's not something I aim to do, but it's definitely something I'm conscious of." – Neilson B.
How do you feel about period sex? Share with me below!