Saweetie is giving back to her alma mater, University of Southern California, in a big way. Last week, the "Icy" rapper went back to her alma mater to visit a business class she once took while she was a student there. Saweetie graduated from USC in 2016 with a Bachelor of Arts in Communication.
During the business class, the rapper discussed entrepreneurship and gave business advice. She even offered a lucky student $1000 if they could sell her a bottle of water.
But with all the success she's experienced in her career since she hit the scene with "ICY GRL" in 2017, the rapper discovered a few gems along the way that relates to her mental health. Saweetie revealed to the class that she believes in meditating, so much so that she says it's better than sex.
"It's my new favorite thing to do. Meditating is better than sex," she said.

"I'm just saying the peace you get, the clarity you get, it's really important for everyone to meditate. And I think the reason why I was so discouraged at first, I--- because I'm thinking that you have to be in a cream[-colored] room, like yoga-ish. But I meditate everywhere."
She also dished on what she likes to do after her meditation practice that helps her get through the day.
"At the end or throughout my meditation I write down three goals of the day or I take three positive adjectives to describe myself and it really works, that's why it manifests in a day."
Meditation seems to be working for the "My Type" rapper. Over the last few months, Saweetie has announced some major boss moves in her career that are helping to diversify and set her apart as an artist.
Following the success of her McDonald's Saweetie meal, the Bay area artist's Netflix show Sex: Unzipped premiered in late October, she recently partnered with Crocs to become the brand's newest face and she will be hosting the 2021 MTV's EMA's on November 14.
We see you Saweetie!
Featured image by Frazer Harrison/Getty Images
Keep reading...
Show less
Saweetie shut down colorism accusations after a resurfaced video with Too $hort went viral over the weekend. In the video, the "Icy" artist chatted with Too $hort back in December on IG Live when the Bay Area legend began praising women of mixed heritage. "Mixed heritage women have always been my favorite. I don't think I've ever fallen in love with a woman that wasn't mixed," the "Blow Your Whistle" rapper said. Saweetie, who is Black and Filipino, replied, "Really?!"
Too $hort even spoke about mixed babies: "I feel that way about life too like biracial babies are… you can take the two ugliest motha f--a's from different races and they f--k and make a baby and that baby would just be beautiful! It happens all the time!"
The clip garnered backlash after it began making its rounds on social media and Saweetie received a lot of the criticism for not speaking up. However, the "My Type" rapper responded by showing the full clip of the video where she defended Black women.
The rapper said in the full video:
"I heard your comment about when people come together they make a beautiful baby, but Black women is beautiful period on their own, with their own look, you feel me?"
She also retweeted an older post where she defended dark skin women. An anonymous user asked the rapper if she thought dark skin women can be pretty to which she responded with, "I was raised by dark skin women so I find this question insulting. Wts I don't think they can be pretty. I think that they are pretty."
This shouldn't even be a conversation but thank you for having my back baby. I'm going back to my shoot ✌🏽 Y'all have a Jesus blessed day. https://t.co/Acc6NasxAZ

— icy bae ❄️ (@Saweetie) October 8, 2021
In the tweet about the user's question, Saweetie wrote: "This shouldn't even be a conversation but thanks for having my back baby. I'm going back to my shoot. Y'all have a Jesus blessed day."

While Saweetie received most of the backlash, other people called out Too $hort for his comments as well as the misogyny after Saweetie received the bulk of the criticism and not Too $hort.
Featured image by Gabe Ginsberg/Getty Images for iHeartMedia
Keep reading...
Show less
New York Fashion Week has finally returned to its in-person fashion shows. The magic, glamour and thriving energy is back after quarantine changed everything last year. While most people were sequestered at home fighting boredom, music superstar, Saweetie used the lockdown to cement her dreams. Through content creation, catchy new music and building her brand, Saweetie explored various business endeavors and began to execute her philanthropic goals.
Leaning on the expertise of her grandmother, Roxane Harper, who is an entrepreneur, author and investor, Saweetie and her "Glam-ma" created a foundation that equips Black and Brown communities to learn about financial literacy. They are set to launch the Icy Baby Foundation this fall.
Managing her time wisely during quarantine gave bloom to the elevation of her brand and star power.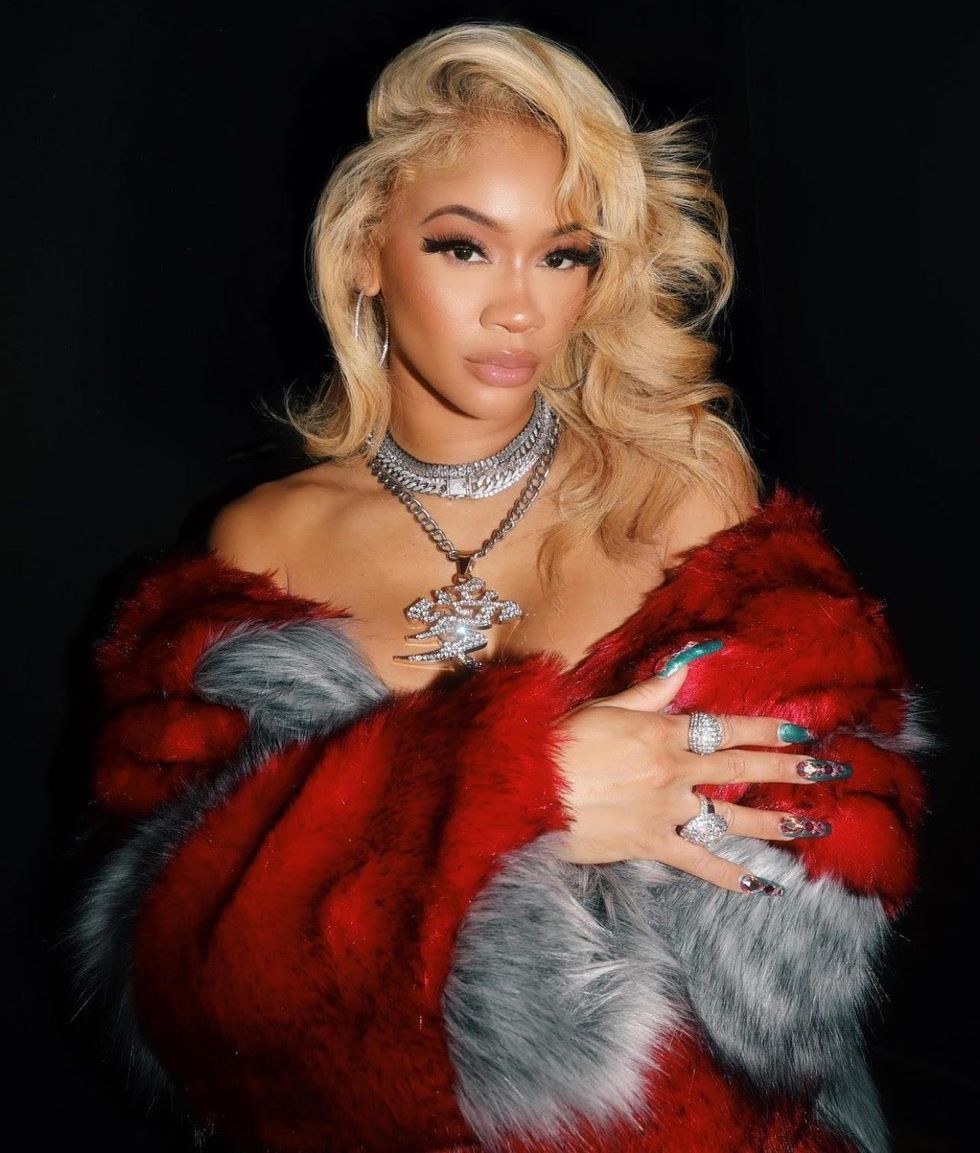 Courtesy of the artist
In one year, Saweetie has become more than just an entertainer, she is now a desirable powerful influencer for top brands. She has been invited to attend several shows during NYFW, including Tom Ford, Kim Shui, Christian Cowan and more. To adding icing on the cake, the "It" girl and queen of content is starting her first day at Fashion Week with a major announcement.
Today, MAC Cosmetics introduced Saweetie as its newest Global Brand Ambassador. MAC snatched up the popular rapper and appointed her as their latest M∙A∙C Girl. Saweetie will join the brand in a long-term global capacity.
"I am so excited about my new partnership with MAC. When I was young, I remember admiring the way my mom would organize her MAC products in the silver MAC travel bag. I would always sneak and play with her lipsticks and products. I loved the creativity of makeup even back then. Now I can't believe I have my own collection. This is definitely a full circle moment," said Saweetie.
"Saweetie is one of those people that truly does it all – musician, CEO, actress, TV show host, gamer, viral sensation, the list goes on – she is an extreme talent and is relatable…she is all of our 'best friends,'" said Drew Elliott, SVP, Global Creative Director, MAC Cosmetics.
"Saweetie's message of self-confidence and female empowerment is the perfect match for a brand like M∙A∙C that has always embraced unapologetic self-expression with open arms! Saweetie IS a MAC girl, because she is a boss, a winner, an artist, and she knows exactly what she wants…and goes for it. I'm obsessed."
As MAC's Global Brand Spokesperson, Saweetie will contribute her wit and beauty as the face of MAC's upcoming renowned collections and key campaigns. In addition, Saweetie will work with MAC Makeup Artists to showcase her signature looks, share beauty secrets and her lifestyle with MAC fans.
"All of the things that happening are like a dream come true. I'm excited about all the shows during NYFW and thankful to be invited. I also hope that designers, stylists and creatives of color can also be given more opportunities to showcase their talents on these type of large platforms."
Fans can see Saweetie's first piece of content for the brand on her Instagram @saweetie and follow @maccosmetics on IG for more updates.
Featured image courtesy of the artist
Keep reading...
Show less
Outside is open for much of the world, and we can all celebrate in our masked glories! And although there are some countries that aren't with the tourism at this time, Italy seems to be welcoming any and everybody with arms wide open. Mainly the celebs of the world, who have been taking advantage of their open borders and living it up, Italian-style.
Famously, celebs such as Serena Williams and hubby, and Ciara and Russell Wilson took the trek over to the land of pasta, for their full-on flex baecations.
Now, a few of the ladies are back, all in the name of fashion.
In fact, this past weekend was the Dolce & Gabbana Alta Moda fashion show in Venice, Italy and the stars now only showed up and showed out, but it seems that some new friendships were formed in the process. And listen, the gworls came to play, mkay?! Stars such as Ciara, Vanessa Bryant, Megan Thee Stallion, Queen Normani, Doja Cat, and so many more came to represent in their best dressed and it was everything we didn't know we needed.
In a video captioned, "It's Party Time! @dolcegabbana Venice," Ciara can be seen teaching the ladies Italian en route to the show, singing a few jams, and hanging with A-listers alllllll over the place. And because Ciara is the friend we all need in our lives, of course there was full on footage of her supporting her bestie, Vanessa Bryant, as Kobe's birthday passed a few days prior.
Diddy a.k.a. 'LOVE' was all love as his three daughters ​showed that they get it from mama, Kim.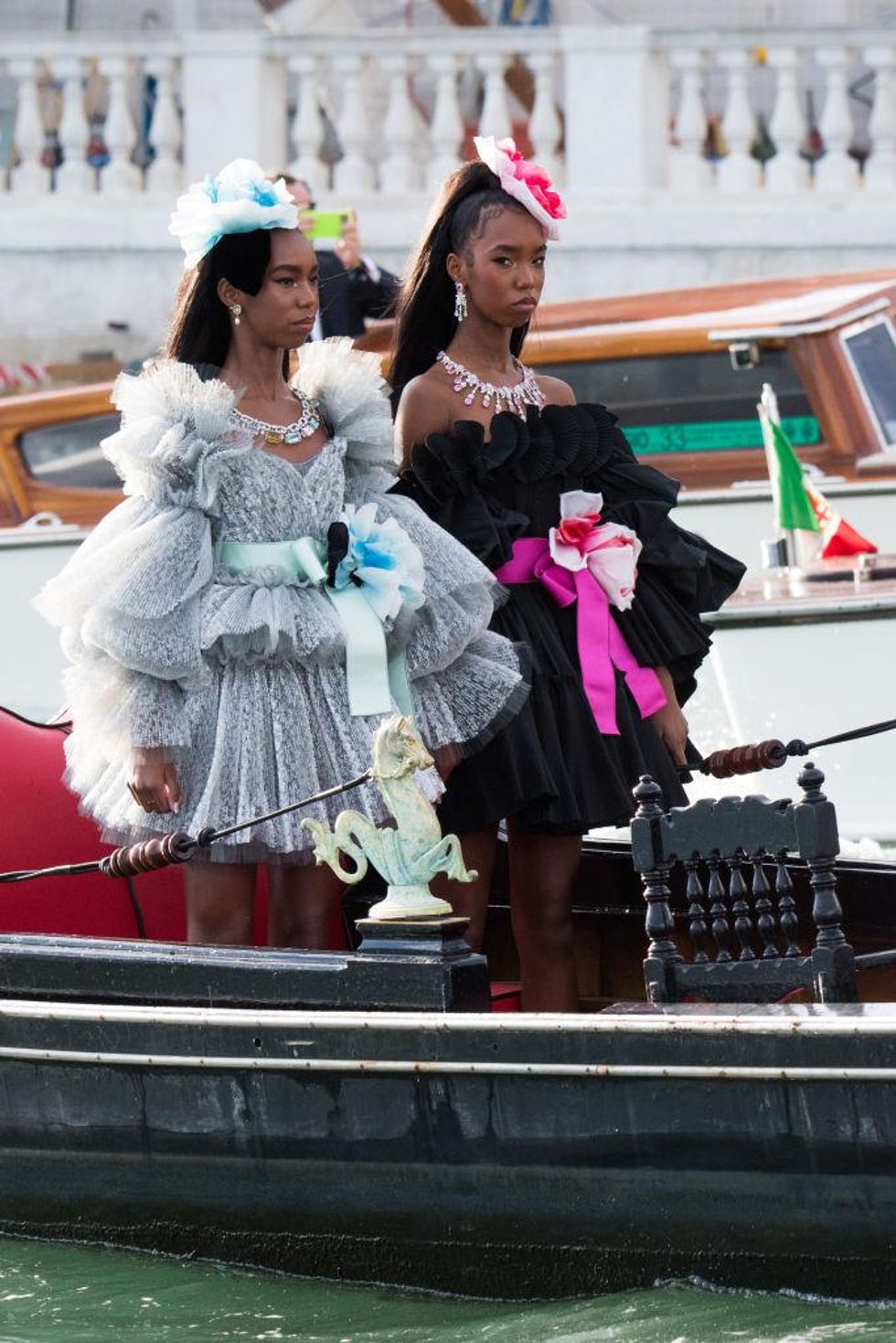 Jacopo Raule/Getty Images
The Combs twins and Chance all walked slayed the runway as dad looked and cheered his babies on.
"LOVE LOVE LOVE!! Live from Venice"
The rapper, who currently goes by Sean "Love" Combs, took to Instagram to share a few flicks from Venice, Italy, where 14-year-old D'Lila and Jessie walked the runway for Dolce & Gabbana. Diddy shares both children with his late ex, Kim Porter, who died nearly three years ago. D'Lila and Jessie's half-sister, 15-year-old Chance Combs, also made an appearance in he best dressed, which she thanked her dad on IG saying:
"Venice has been AMAZING with my family! Thank you daddy for everything and I'm honored to have been a part of Dolce & Gabbana Alta Moda show. Thank you @dolcegabbana for having us!!! Grazie! #moarmagic."
Queen Normani shut shit down with a hand-painted number that screamed 'Disney Princess'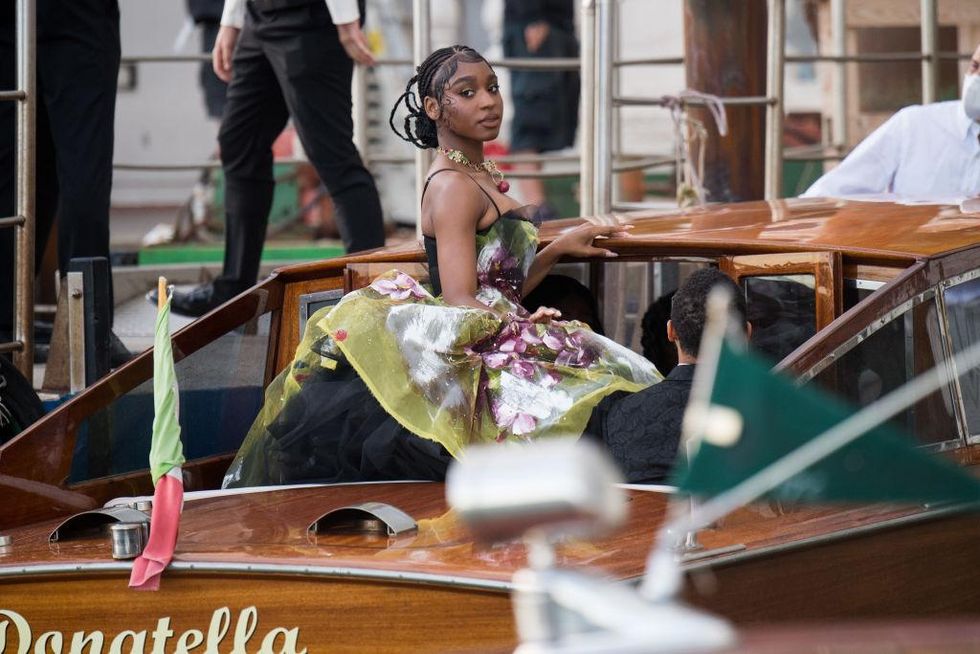 Jacopo Raule/Getty Images
The pop star donned a full ball gown from Dolce & Gabbana's spring 2008 ready-to-wear collection, which she flaunted in a series of photos posted to Instagram by her hairstylist, Ashanti Lation. Sis channeled her inner princess in a green gown and full black tulle skirt that sent the people gagging.
She enjoyed the show alongside Megan Thee Stallion, with whom she previously collaborated on the song "Diamonds" from the Birds of Prey soundtrack, and they each shared videos of themselves seated next to each other on their Instagram Stories, with Normani captioning the clip, "My seester."
Saweetie wore hotel slippers and made us love her even more!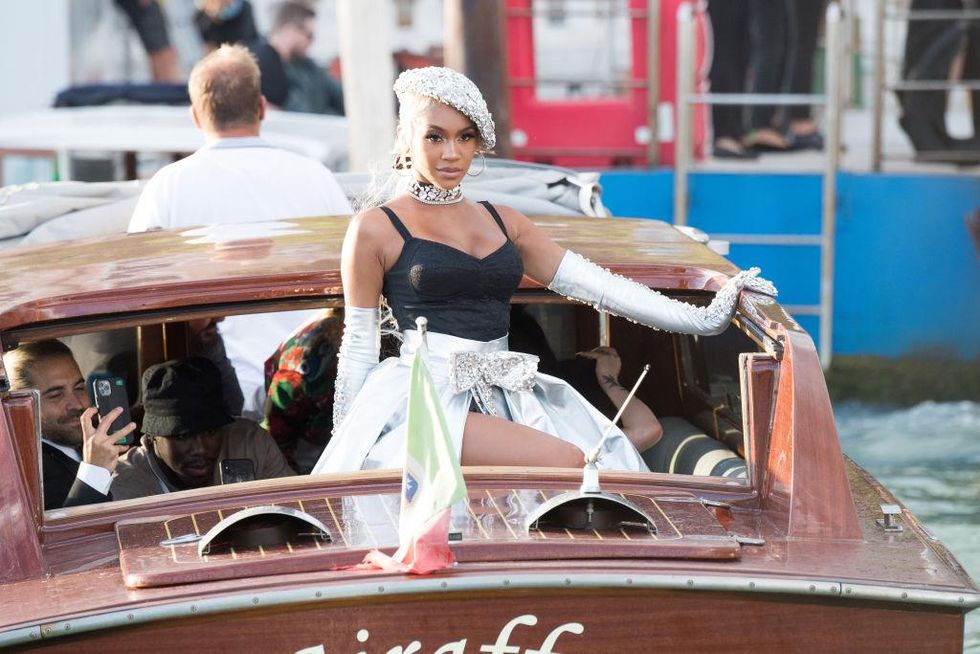 Jacopo Raule/Getty Images
Saweetie mixed high-fashion with the hotel slipper trend yesterday during her time in Italy after her appearance at the Dolce & Gabbana Alta Moda runway show. The rapper was seen at the Excelsior Hotel in Venice with an emerald off-the-shoulder satin dress, which she paired with a jewel-encrusted clutch, crystal hairpins, a silver anklet, a custom necklace with her name and the most comfortable footwear—hotel slippers. It's giving, 'high-fashion, but make it comfortable.'
Sis knows how to keep the people talking. Here for it!
Other celebs such as Aldis Hodge, Doja Cat, PJ Tucker, Vin Diesel, Zoe Saldana, and more made the weekend a star-studded one for the books. Dolce, himself, topped it all off by saying:
"I've worked in fashion for 43 years and I've never known anything like that. I can't take the emotion."
Us either, Mr. Dolce. Us either.
Are you a member of our insiders squad? Join us in the xoTribe Members Community today!

Featured image by Jacopo Raule/Getty Images
Keep reading...
Show less
Black really is king and we are so happy we are gang! As we inch back into our new normal, we can't help but gush over the events we missed last year. The BET Awards is at the top of the list because of its Blackity, Black, Blackness. Since 2001, Black Entertainment Television has made it their business to highlight the achievements of our people in music and entertainment overall. This year marks the 20th year of the awards show that has always shown up and shown out as a true custodian of the culture.
In a press release, EVP of Specials, Music Programming & Music Strategy, Connie Orlando, shared, "As we return LIVE with culture's biggest night, this year's show marks many firsts-including the highest number of performers in 21 years of BET Awards; and viewers can expect several surprise moments. Some of today's hottest talent will join us for our return to LA for an unforgettable night celebrating Black excellence."
This year's theme: The Year of the Black Woman. The stars are aligning to "honor and celebrate the immense cultural impact of Black women." From the ultimate cheerleader Taraji P Henson as the host, to showcasing the magic of superheroes like Stacey Abrams and Lifetime Achievement Award recipient, Queen Latifah, the motif couldn't be more accurate for this year and every year.
Of course, we are here for any celebration of Black women and we are also here for the lewks! After a year of no glam, this feels like Christmas. Keep reading for some of our favorites from this amazing show of Black excellence.
Taraji P. Henson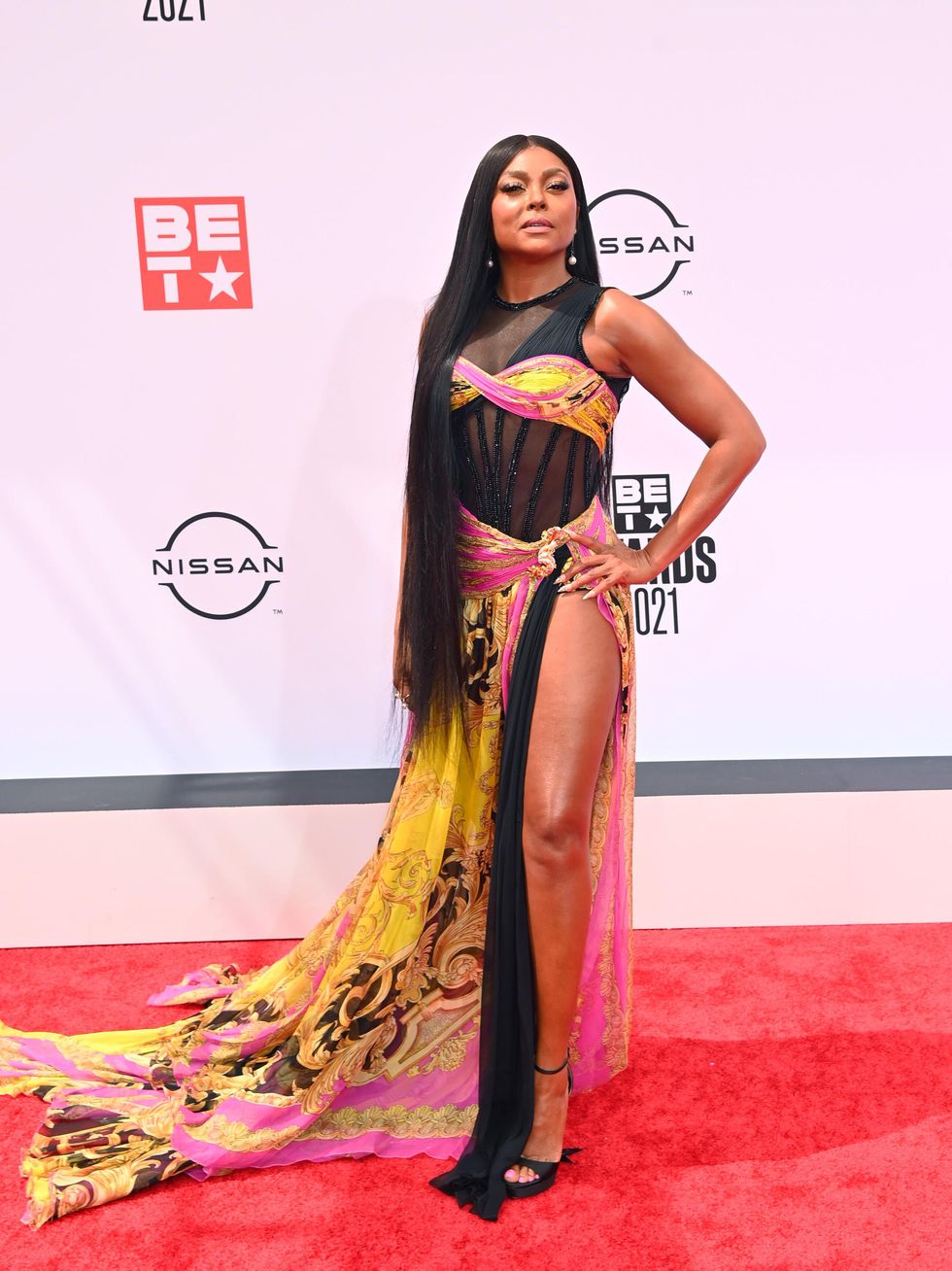 Paras Griffin/Getty Images for BET
We love a hostess with the mostest and this multi-hyphenate boss came to slay dripping in Versace. The high-slit showing off her gorgeous gams, the cutouts, the colors – it's everything. The platform heels and long, silky-straight hair creates a true Hollywood getup ideal for tonight's show.
As the quintessential girls' girl, Taraji told People that she's so thrilled "that young Black and brown girls have a large selection of successful women to look up to like politician and activist Stacey Abrams and historic Vice President Kamala Harris."
Lonnie Chavis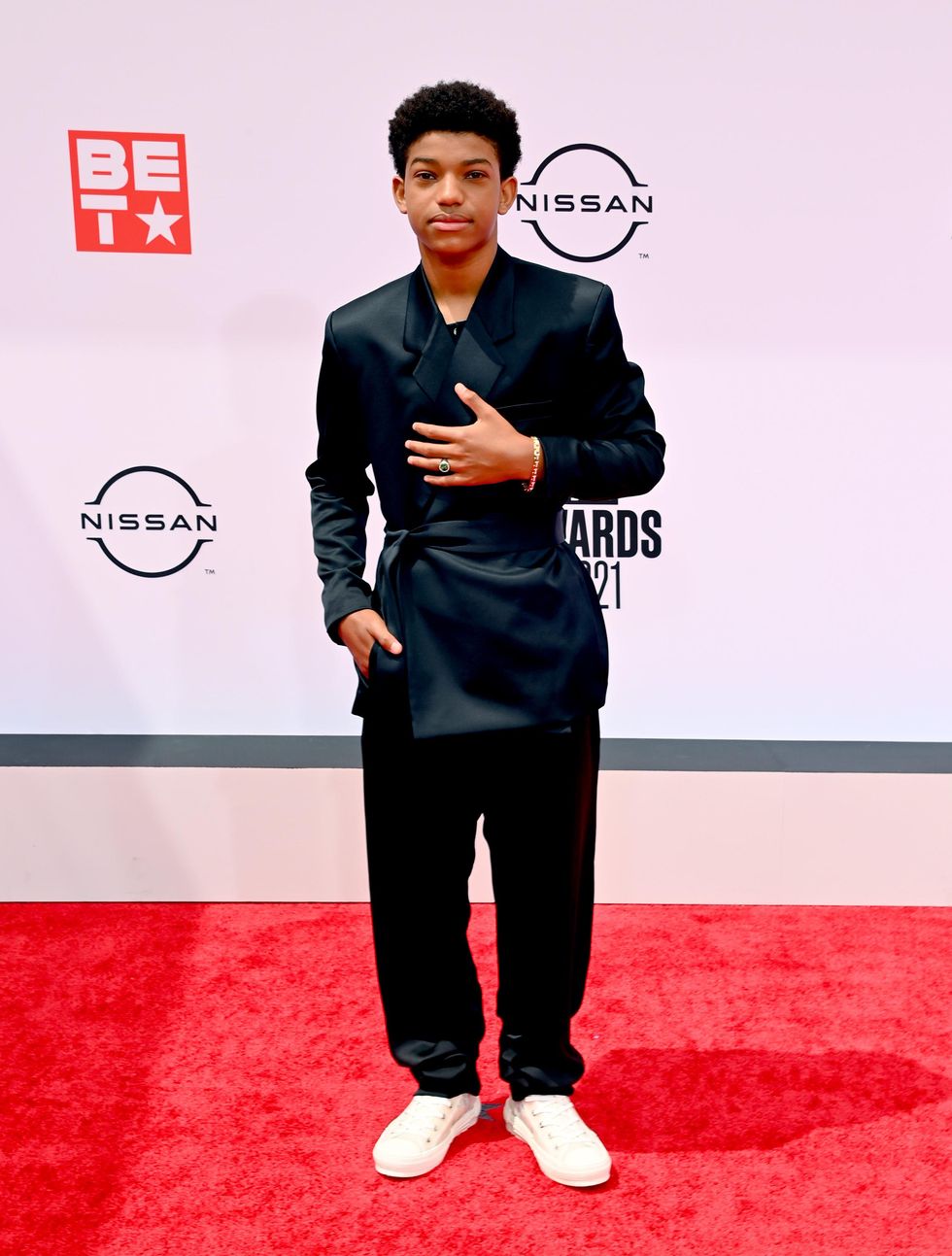 Paras Griffin/Getty Images for BET
Somebody tell Lonnie Chavis that we aren't ready for him to grow up because he isn't Lil Randall anymore. Especially in this Dior fit because he looked fire in the matching silk suit. When he's not making us cry on This is Us, he's apparently showing us Black Boy Joy is so real.
Zendaya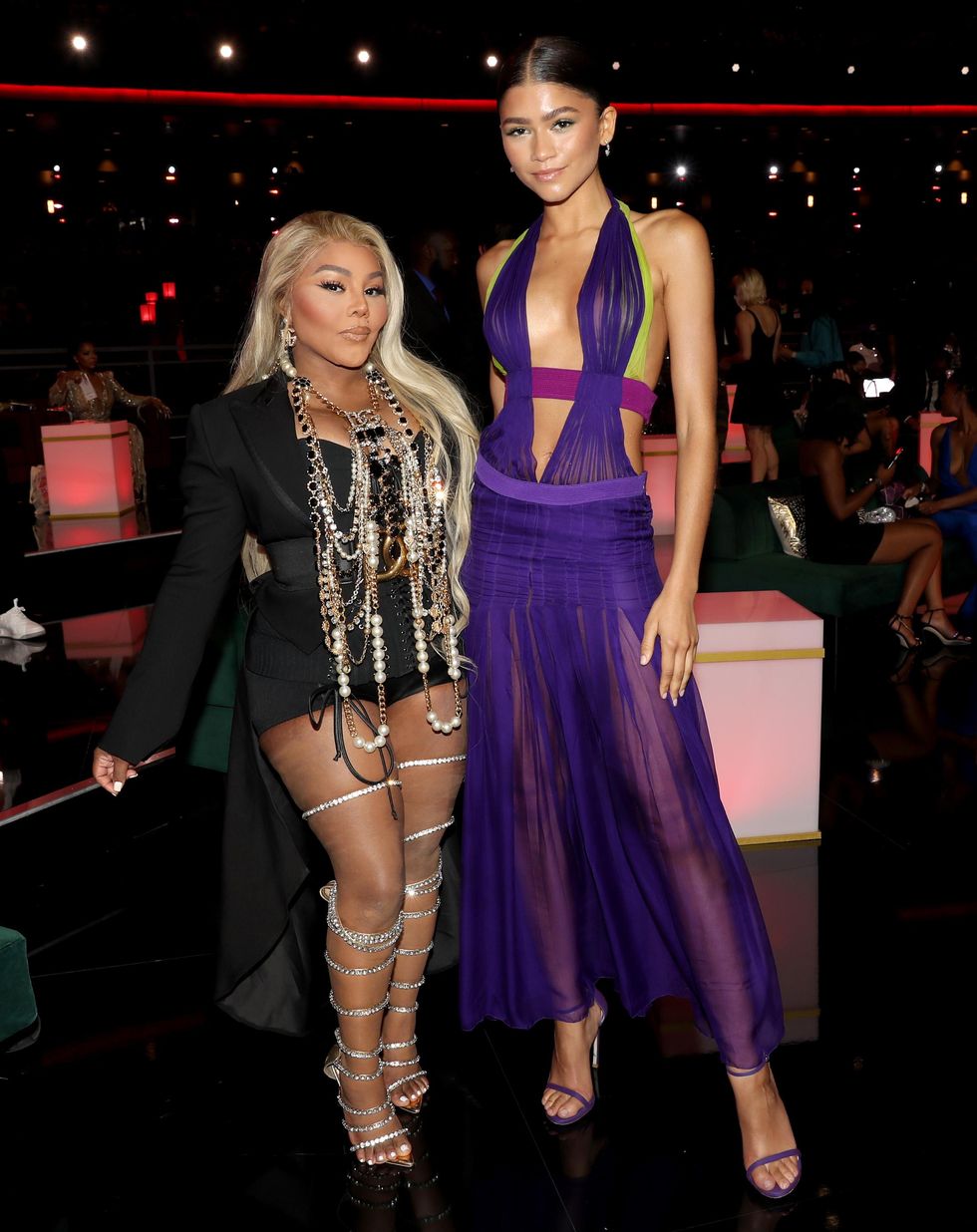 Bennett Raglin/Getty Images for BET
Leave it to the red carpet slayer, Zendaya, to give us all the BET Awards nostalgia we didn't even know we needed. Wearing vintage 2003 Versace, the style icon paid homage to Beyonce by wearing the same dress she donned at the 2003 BET Awards during her unforgettable "Crazy In Love" performance. Zendaya's stylist, Law Roach, always understands the assignment and tonight was no different.
Giveon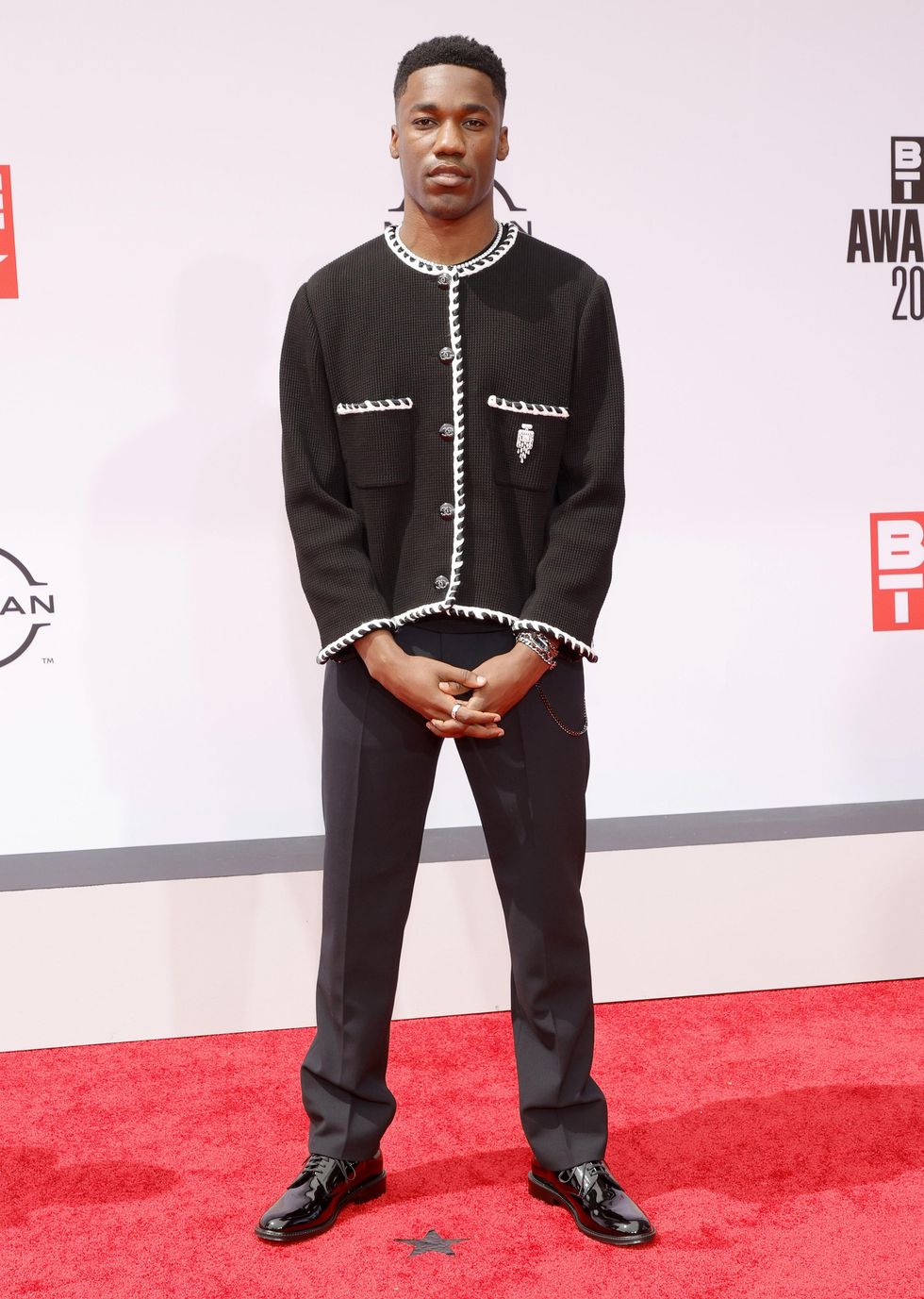 Amy Sussman/FilmMagic
It's not our Heartbreak Anniversary but we are fawning over Giveon's black on black outfit. God took his time with this Black man and we just want to stop and say thank you father!
Saweetie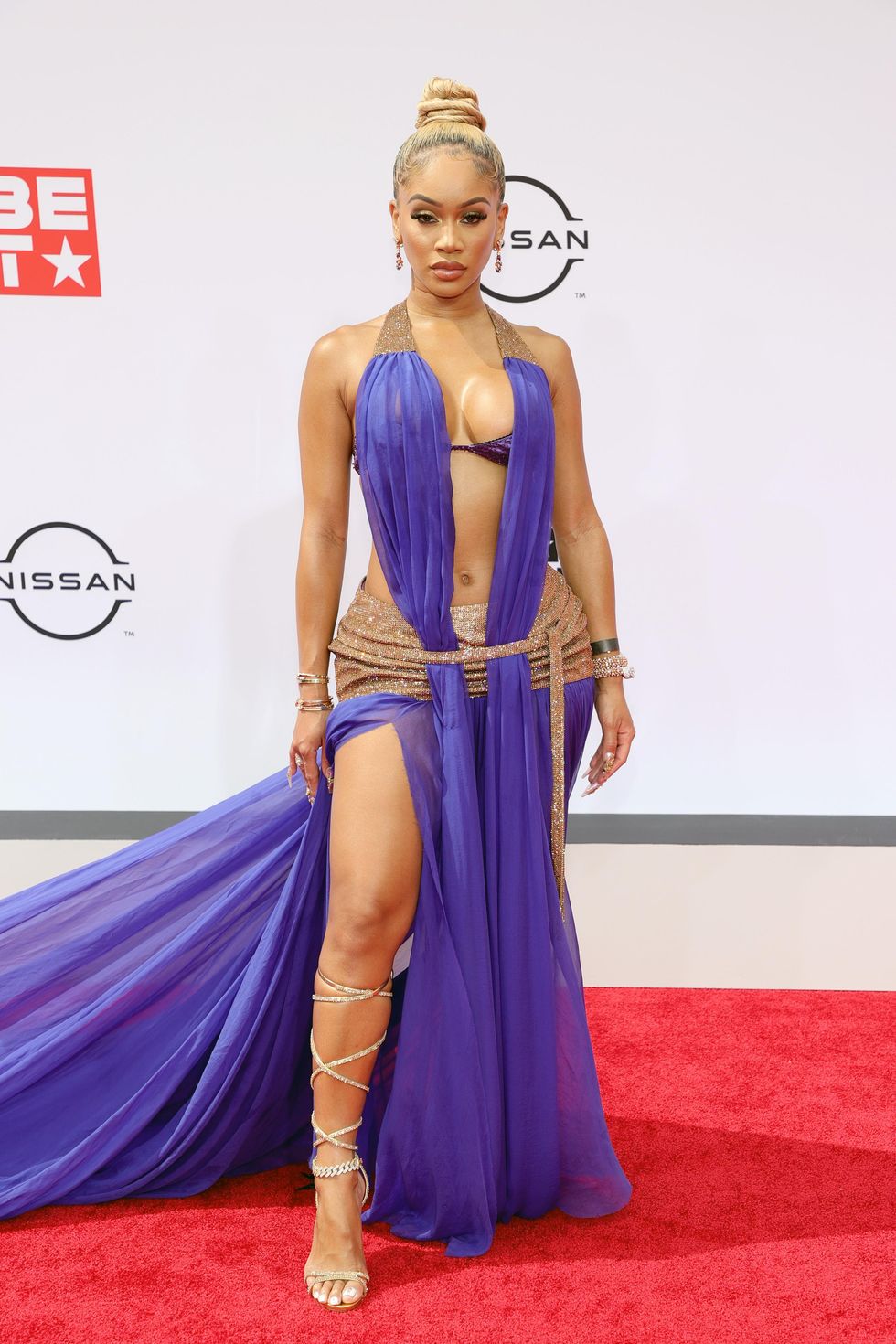 Rich Fury/Getty Images
Our unproblematic queen, and bestie, Saweetie pulled up to the awards in the most queenly Dolce & Gabbana gown. Please get into this makeup look also because she is glowing like never before. It may have something to do with the way she minds her business and drinks her water but that's just our theory.
Lil Nas X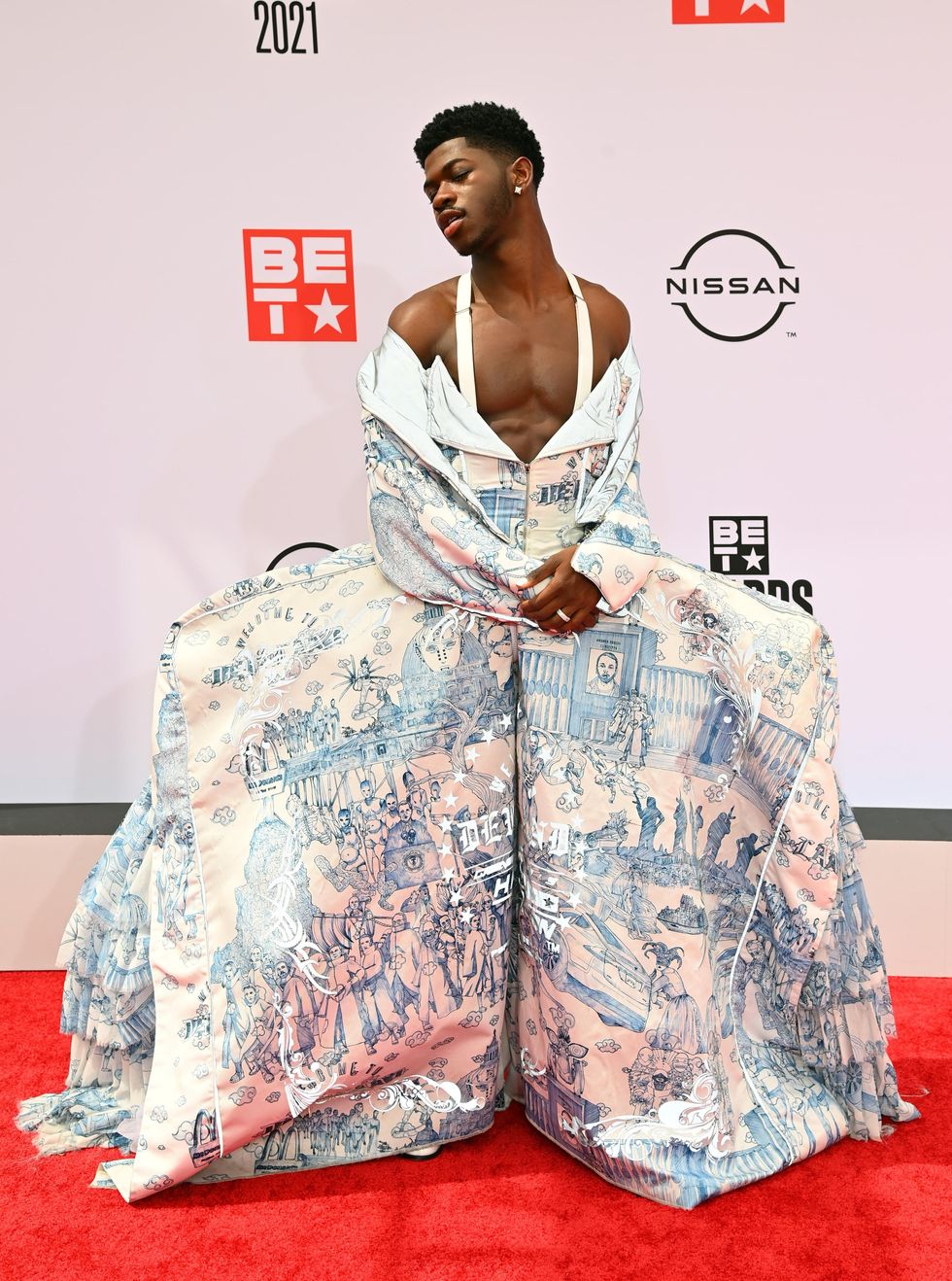 Paras Griffin/Getty Images for BET
"MONTERO" singer, Lil Nas X, glided down the red carpet in a beautifully structured gown. He is living his Cinderella dream and we are so honored that we get to experience his light.
H.E.R.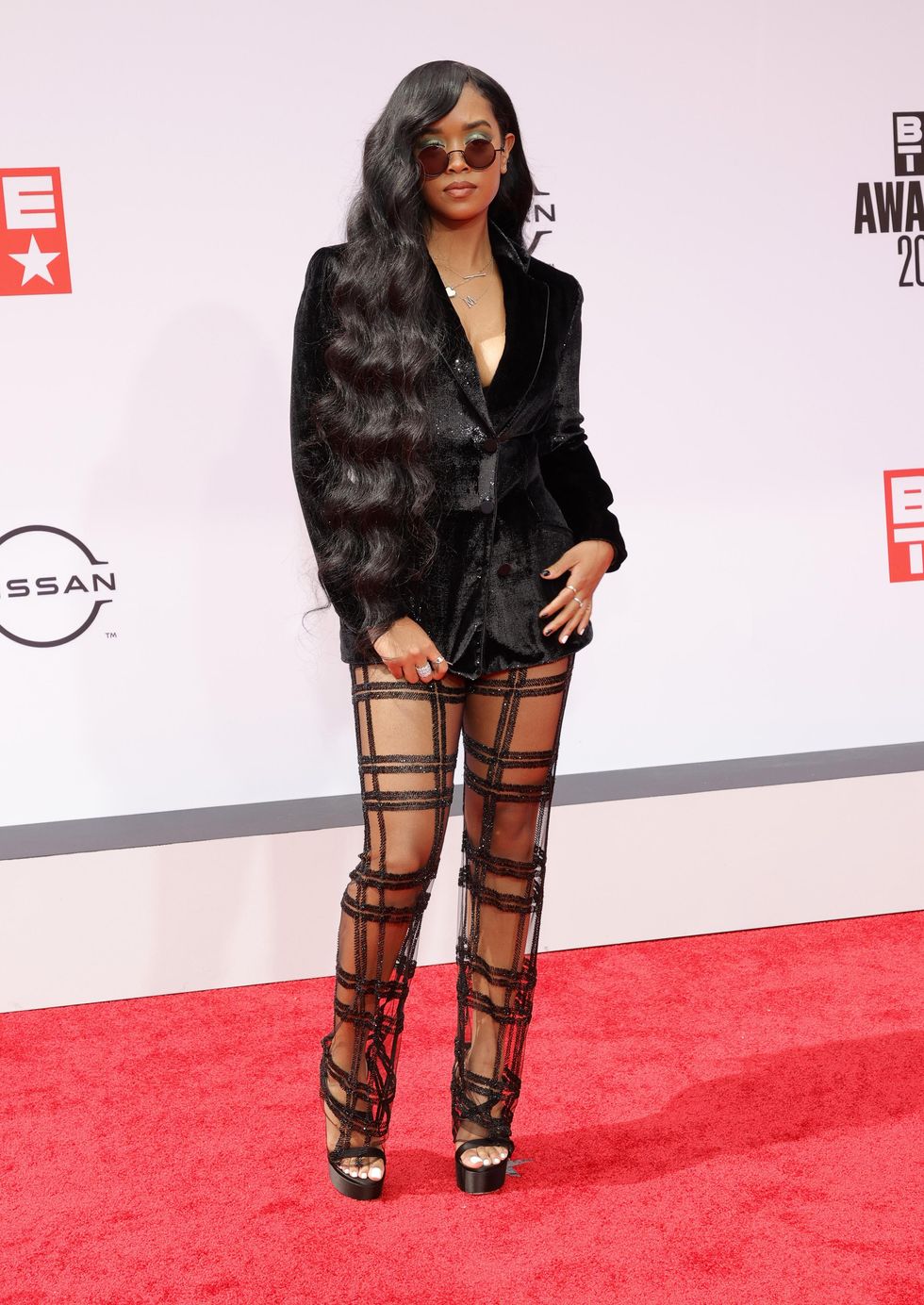 Amy Sussman/FilmMagic
We can always depend on this songbird to serve up a crazy, sexy, cool lewk. Her take on the classic suit matches the star-studded night. Fun fact: H.E.R. is celebrating her birthday today at the BET Awards. What better way to celebrate than at the biggest night for the culture celebrating the amazingness of our Blackness.
Sevyn Streeter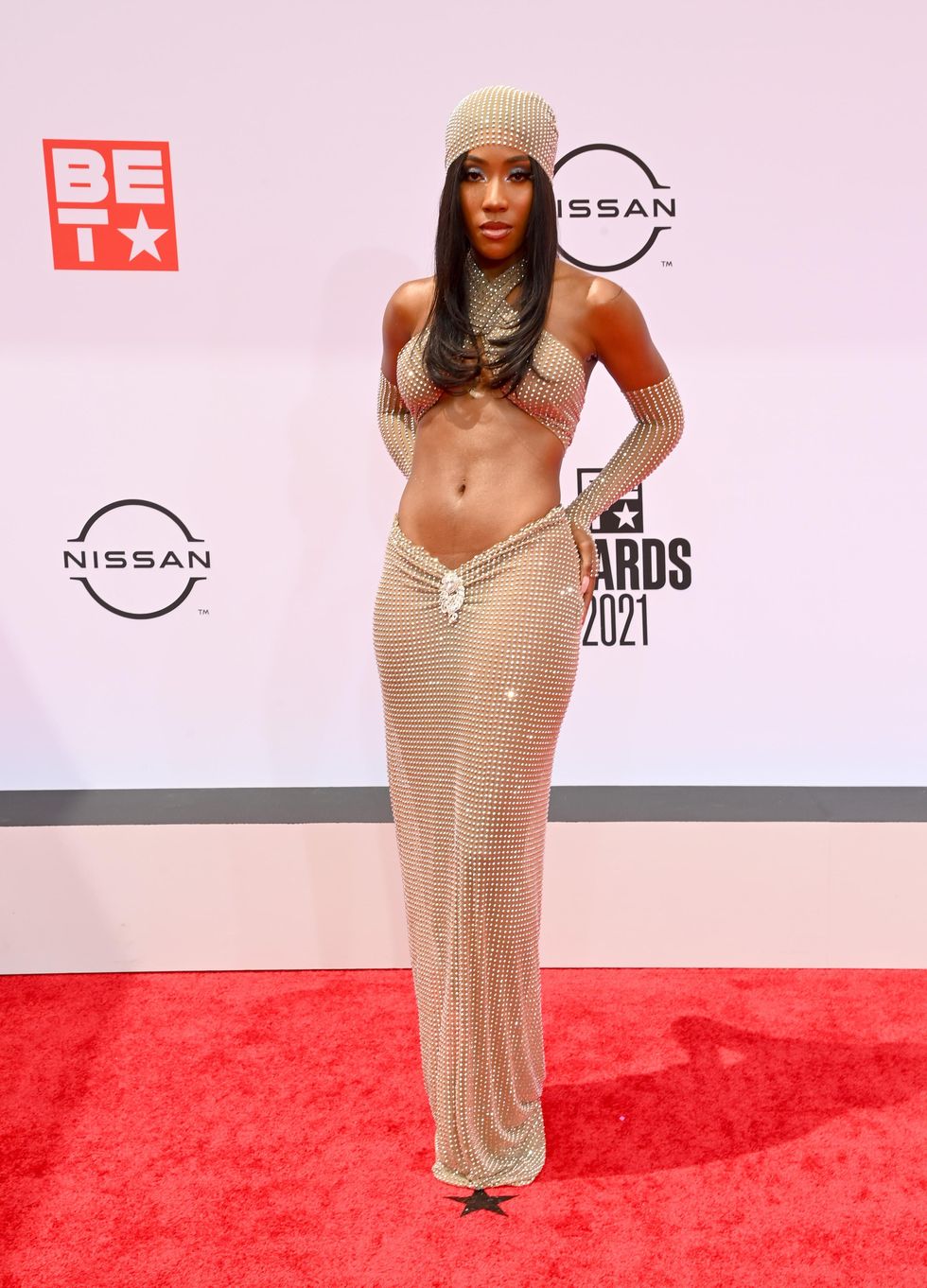 Paras Griffin/Getty Images for BET
Aaliyah is definitely smiling down from heaven looking at Sevyn Streeter in this pearl-embellished ensemble. From her body giving what it's supposed to had gave to the matching headscarf, Sevyn was definitely a style stunner on tonight's carpet.
Chloe Bailey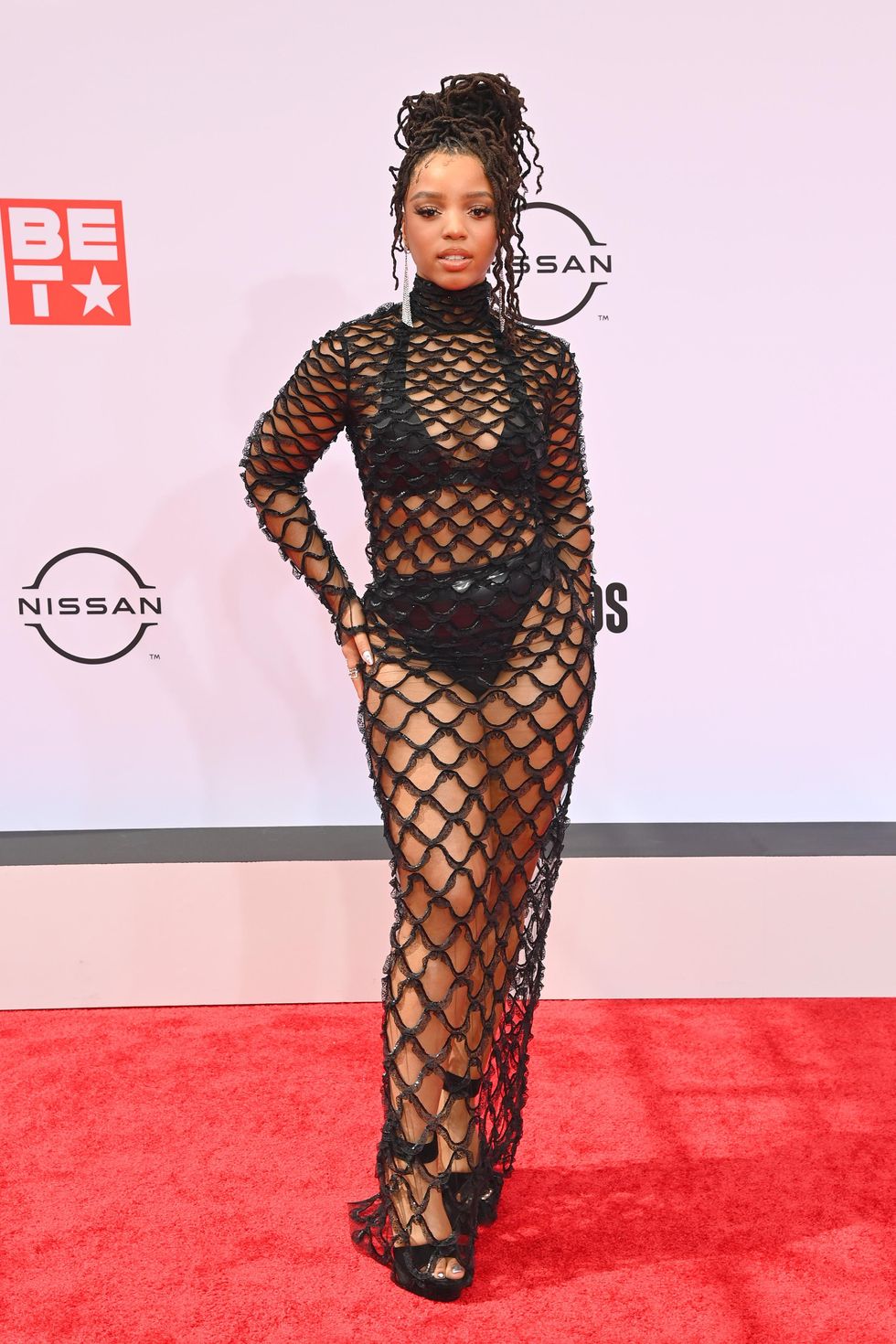 Paras Griffin/Getty Images for BET
One thing about the elder half of Chloe x Halle, she's going to break the internet when she leaves the house. Wearing a lace netted frock with leather undergraments, she is proof that Black girls are straight magic. Even her locs perfectly drape her face because they know their place on an angel's face.
Ciara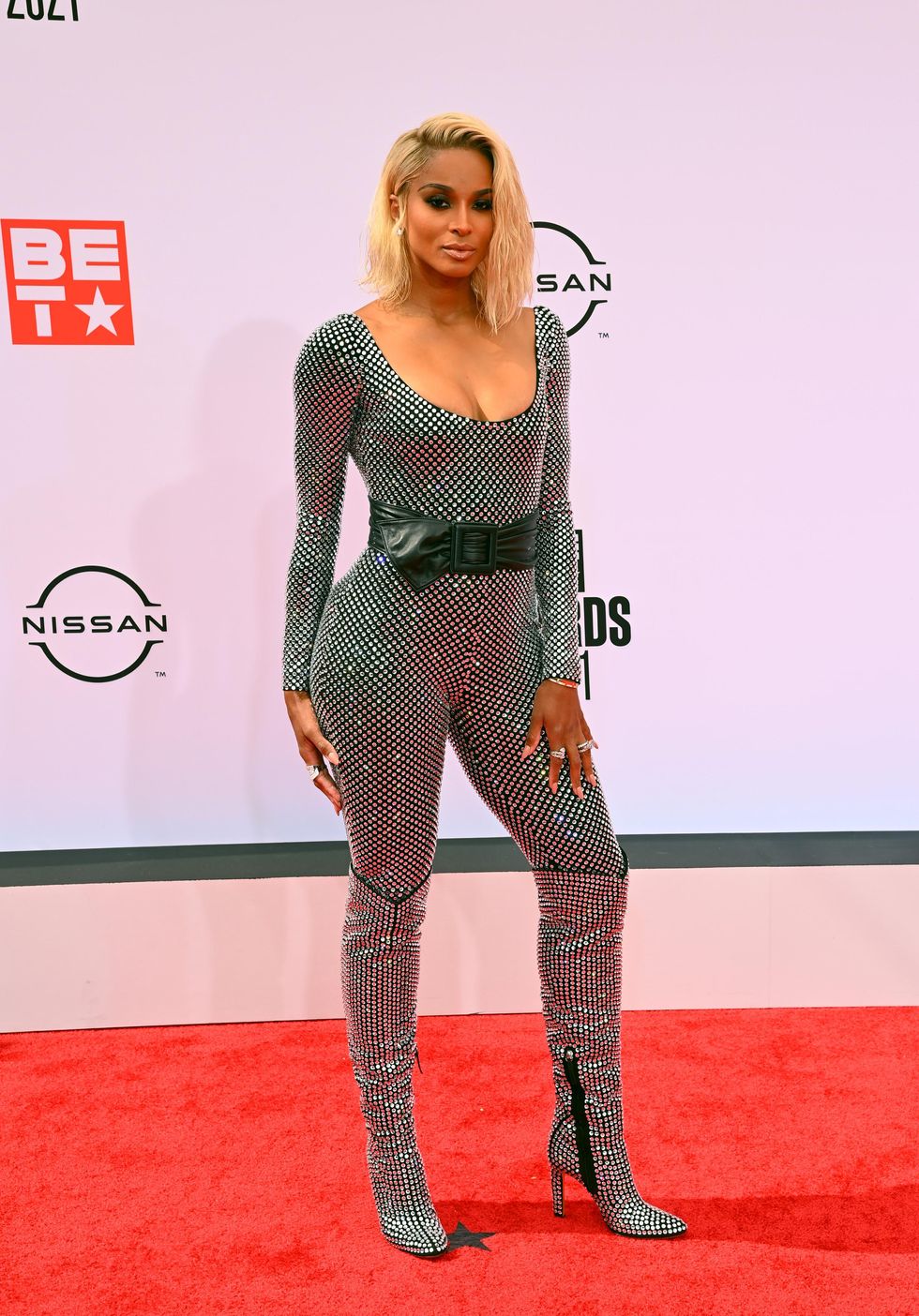 Paras Griffin/Getty Images for BET
Alexandre Vauthier must have sewn this onto CiCi's bawdy because it is perfection. She has always been a vision in her lewks but she has really stepped it up as of late; it's safe to say this is a Ciara stan account.
Tyler, the Creator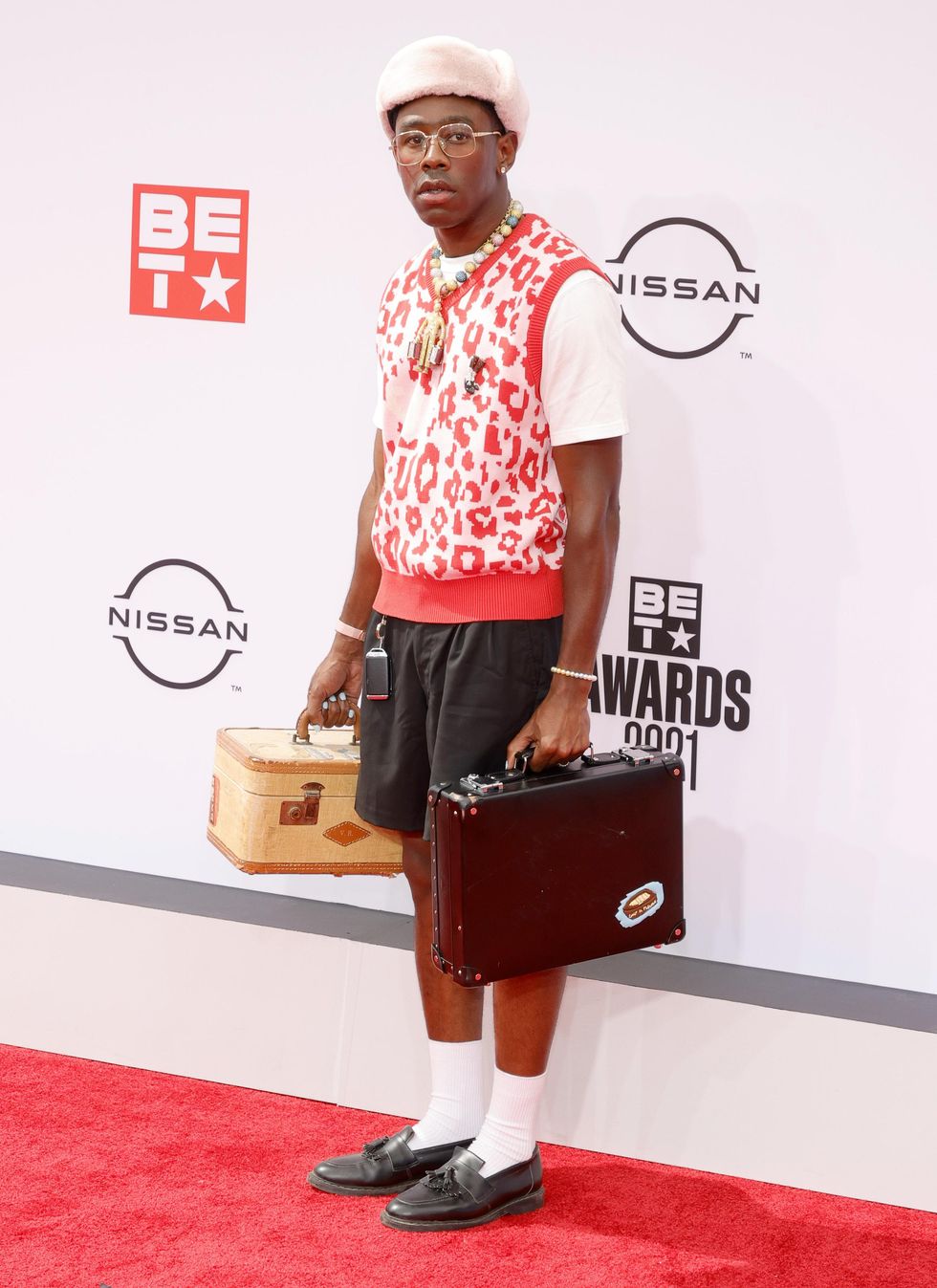 Amy Sussman/FilmMagic
Oh, Tyler. Thanks for being you. We need little Black boys to see your quirkiness and know that it's OK to try different things. We are not a monolith and that's what makes us.
Ashanti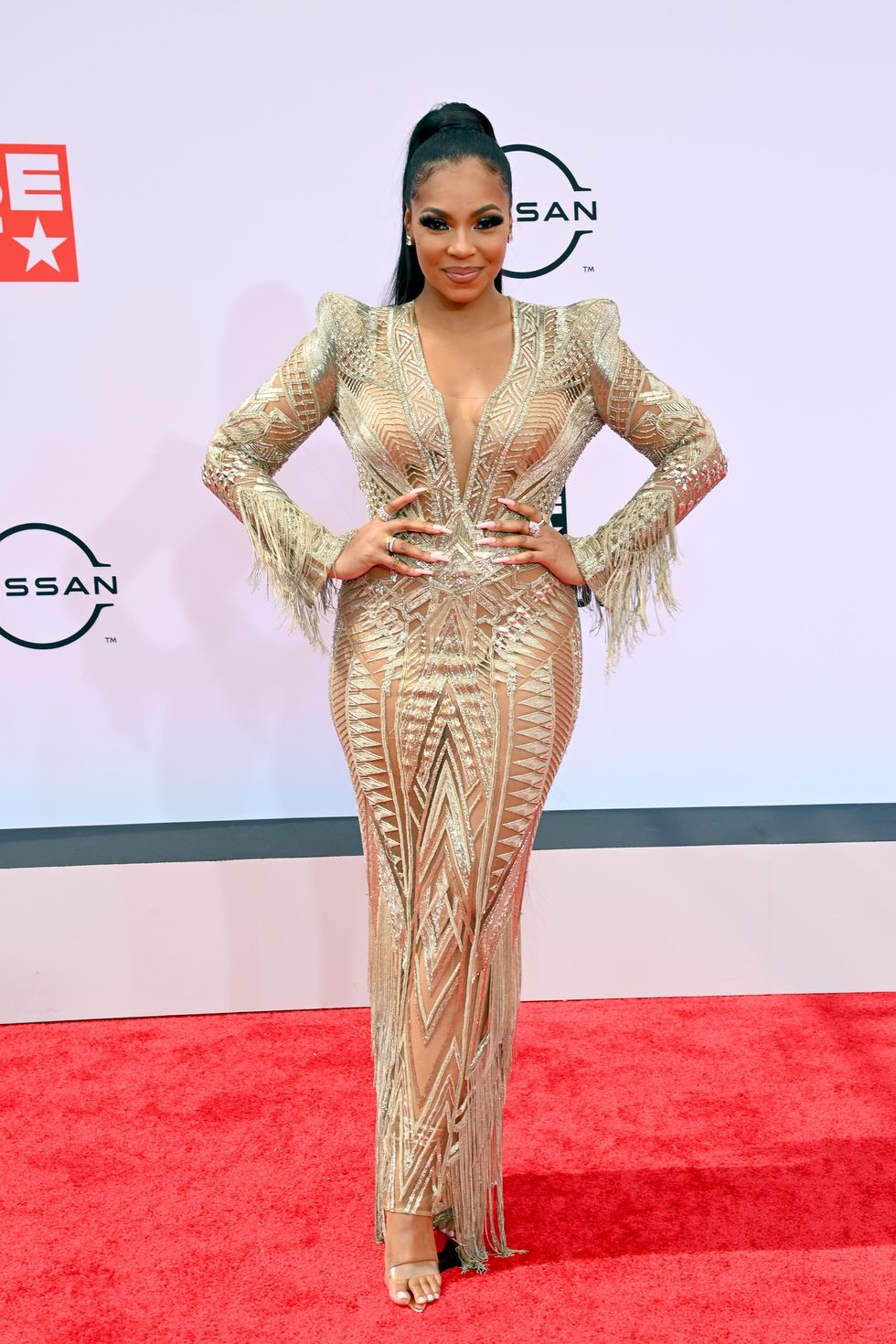 Paras Griffin/Getty Images for BET
Baby, baby, baby, baby, babbbbbyyyyyyy... Ashanti always reigns supreme whenever she graces us with her presence. This Julien Macdonald gown exudes whimsy on the Long Island native's melanated skin. The high pony paired with the plunging neckline deserves its own award.
Join our xoTribe, an exclusive community dedicated to YOU and your stories and all things xoNecole. Be a part of a growing community of women from all over the world who come together to uplift, inspire, and inform each other on all things related to the glow up.
Featured image by Rich Fury/Getty Images
Keep reading...
Show less
To say that I love Saweetie is basically an understatement at this point, as time and time again, she's in the news or on my timeline giving me all of my life. Whether she pops up on a thread with her signature, "I know that's right!" or she's seen purchasing an item that an up-and-coming designer made for her just because "everything costs money," like. I mean. She's everything.
And her approach to being a carefree, successful, modernized 20-something-year-old is everything as well.
In her latest quest, Saweetie sat down with Teen Vogue to discuss everything from growing up, to the release of her debut album, Pretty B*tch Music. Rocking a giraffe-print turtleneck dress, baby hairs laid for the gawds, a few outfit changes and a long, waist-length braid, we learned a bit more about Saweetie and what's next on her journey.
Continue reading for our favorite highlights!
On life after her first single, "ICY GRL":
While discussing how her life has changed since she released her first single, "ICY GRL", Saweetie revealed that she recorded it in her Toyota Corolla Sport because she couldn't afford studio time. But now, much of her life has changed.
"After 'ICY GRL' hit, I was in such high demand, and it really was like night and day. I had no artist's development. I realized that I never equated attention with happiness, so all that attention I was getting was overwhelming for me and I didn't know how to handle it. Which is why — fast forward to last year and this year in quarantine — I had a lot of time to reflect, and that made me want to take back my power of being confident and made me want to rethink my career."
On living her truths:
"I went from only wanting to write freestyles to having to create a hit. Now I know how to make the hits. I need to let people know that I'm a West Coast girl. I'm tri-racial. I come from a poppin', big, male-dominated family, which explains my masculine energy at times. People were only seeing 'icy girl,' but who was the girl under the blonde wig?"
On how having a Black father and Filipino mother shaped her: 
Saweetie's mother was a model and manager who appeared in music videos for many artists, and her dad was a football player. But their careers didn't stop them from raising her with certain values.
"Growing up, I was confused a lot. Like, I would get mad. I think my parents not being together really just affected me emotionally as a child, and I carried that stress and disappointment [when I was] a teenager. I used poetry as a way to express myself. Because I had young parents, I had to grow up quicker because I was always being babysat by someone else. My parents are very 'do as I say, not as I do.' They're like Bay Area legends. My mom's a tiger mom. She wanted straight A's. Her disciplining me at a young age got me into the habit of achieving high goals."
Saweetie also speaks Tagalog, the language of the Philippines, which she plans to incorporate more into her music.
On her thirst for the finer things almost landing her in jail:
"Before I went to college, I almost went to jail because I got caught stealing. At a young age, I just always liked the finer things—and I'm not even talking about name brands. I just like looking good. In that moment, I was like, I'm not really about this life. I get straight A's, I'm a year-round athlete. I think the lesson was that [I had worked] too hard for everything to be thrown away."
On how movements such as BLM or 'Stop Asian Hate' has affected her:
"I felt helpless. No amount of money can bring back these lives or can Band-Aid the bruises, pains, and scars a lot of these families experience. And it makes me feel like, 'Do I matter? If I wasn't a celebrity, would they care about me if I was to get beat up?"
Eventually, she decided to put her money where her mouth is through her nonprofit, Icy Baby Foundation.
"Growing up, my mom always asked me, 'Where's your heart?' When she would question my actions and my motives, she'd be like, 'Diamonté, do you care? And if you care, what are you going to do about it?'"
On maintaining her integrity in a chaotic industry:
Maintaining her authenticity has always been a priority for Saweetie.
"When you are a young woman in L.A., sometimes you're put in situations that can help you financially but will take a jab at your soul, your body. I remember basically just having the opportunity to get some money, but in doing so I would have violated my morals and my values. I was broke but I was like, I will never do anything to disrespect myself ... no matter how desperate I get."
She didn't go into detail about exactly what happened, but she did chalk it up as a learning opportunity.
"That's a story within itself, but I think it was a moment where I was like, it's okay. You'll eventually get what you want out of life as long as you're praying and working hard."
And in the words of Saweetie, herself, "I know that's right!"
Are you a member of our insiders squad? Join us in the xoTribe Members Community today!
Featured image via Rich Fury/Getty Images for dcp
Keep reading...
Show less