Keke Palmer is a jack of all trades: actress, singer, entertainer, viral sensation, and so much more. Stop trying to box our sis in, because time and time again, she makes it very well known that you can't, and never will be able to. In fact, she's never been a one-trick pony in her entire career, because when she's not gracing our timelines with her hilarious skits and Reels, she is out here working like no other, filling us with all the anticipation for what she has coming next.
But the one thing we can always count on our girl for, are the gems she droppeths. From interviews to Instagram, Keke Palmer will always get your edges together with a word.
Particularly, one of her latest gems caught my eye and had me re-evaluating all of my relationships and friendships. While sitting around and surfing the web, I came across an interview where she opened up about legacy, representation, and more. But it was her approach to expectations of other people that stung the most. She told LADYGUNN:
"Being a human being is a very scary experience because everybody is going to disappoint you. Your mama's gonna disappoint you, your best friend's gonna disappoint you, everybody in your life that you've ever loved is going to disappoint you."
She then referenced the story of Jesus and the betrayal of his disciples, and continues:
"People you love are going to betray you, but it's how you move forward from there. No matter what you go through, do not let this world make you bitter, jaded, and cold because this is just part of the experience."
Chiiiiiile. Listen, as someone who is always in her head, girl whyyyyy'd you have to hit me like this, dang!
And with working in the entertainment industry, Keke knows a bit about disappointment, and has touched on the subject in the past in reference to a few of her upcoming projects (the Strahan, Sarah, and Keke show being canceled, and her music and films having to be pushed back multiple times--which, each were majorly affected by quarantine and COVID).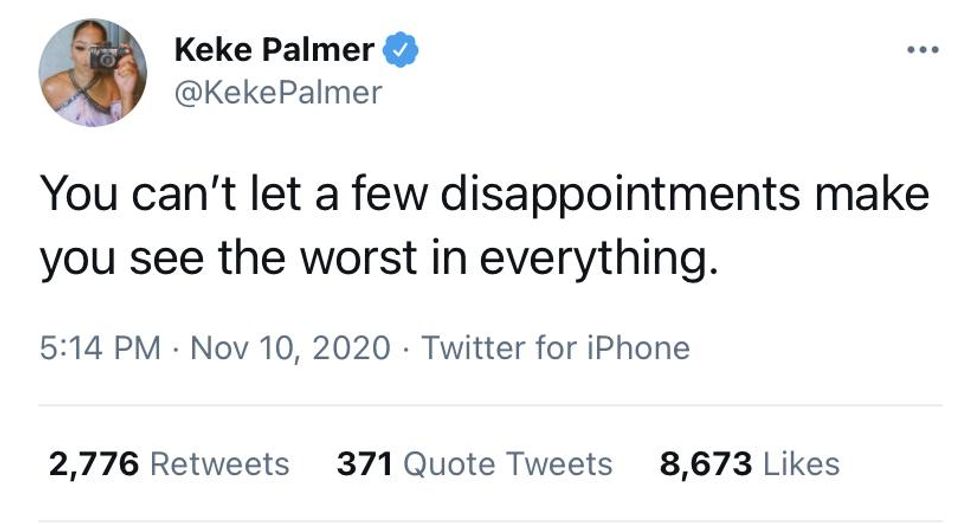 Twitter
Yet despite it all, Keke has found solitude with life's disappointments, and knows how to filter through. She even learned to cope through finding the key silver lining of quarantine for her: becoming her own best friend:
"I really don't think I realized how much I benefited from being alone. [I] admittedly enjoy being alone more than I thought I would and I get to be my own best friend while cooking, prancing around her house, doing pilates, and getting lost in a good Netflix binge-worthy series."
Just when I thought it wasn't possible to love her even more.
Are you a member of our insiders squad? Join us in the xoTribe Members Community today!

Featured image via Kathy Hutchins / Shutterstock.com
Keep reading...
Show less
In xoNecole's Finding Balance, we profile boss women making boss moves in the world and in their respective industries. We talk to them about their business, and most of all, what they do to find balance in their busy lives.
"P-R-E-S-T-I-D-I-G-I-T-A-T-I-O-N. Prestidigitation."
This is my earliest memory of Keke Palmer when I was first introduced to her as Akeelah Anderson in Akeelah and the Bee. I interviewed her for Brotherly Love when I was the Arts & Entertainment Editor at Morehouse College's Maroon Tiger Newspaper for their press junket and then met her again in-person last year briefly on the dancefloor of the Good Morning America holiday party. If you would have told me that I would be interviewing her years later via Zoom about her evolution as a music artist, mental health and how much she loves getting massages, I wouldn't have believed you. I logged into Zoom two minutes earlier than our projected start time at 11:30am on Friday morning. When a screen name asked to be admitted into the video call, I knew exactly who it was.
Keke Palmer appeared on the Zoom in some gold huggie earrings, a few thin chains iced around her neck and a Gucci tee shirt. Her style choices coupled with her straight back braids definitely radiated chill Millennial Diva on a Friday morning vibes. "Girl, slicked back. Just keep it chill," she said after I complimented her braids.
After exchanging brief hellos and checking in with one another mentally, the "Marvelous" singer told me that she went into the pandemic ready and now she's in a more positive headspace. I had the pleasure of speaking with Keke herself about her recent Virgo Tendencies, Part I EP, her experience hosting this year's MTV Video Music Awards during quarantine and the importance of pouring into herself when it comes to her self-care routine as an artist, actress and all-around successful businesswoman.
Here's what I learned:
xoNecole: Talk to me about 'Virgo Tendencies', what the inspiration was behind it and how it felt to finally get it out.
Keke Palmer: I didn't even know the project was going to be called Virgo Tendencies. I didn't know there was gonna be a part one or a part two; I just knew I had the music, some new and some I started creating during the pandemic, and I had the space that I didn't have before. Sometimes I have so much stuff going on at once and I don't feel like I always have the energy to put into a full project. A lot of times I've just put out singles here and there, a little of that, a little of this. This time, I was like, "You know what, I have time to really focus and put a project together. I really want the project to be an escape." So much heaviness was going on and I feel like I wanted to tap into more lighthearted and spontaneous Virgo energy––or my Sagittarius moon, I don't know––and really give something fun. The music is all upbeat, we have some sketches on there, some comedy. If you watch my Instagram, you know I love some sketches, girl (laughs). It's really just something fun and that's Virgo Tendencies, Part I.
Part II, which isn't out yet, is a bit more of the R&B, reflective side and a little bit more melancholy. The whole point of [Part I] was to put myself mentally in space that was opposite from where I was. I wasn't able to go anywhere, I wasn't able to do anything and that can be melancholic so to balance that, let me take myself somewhere else musically and creatively.
How does part one of 'Virgo Tendencies' demonstrate your growth as an artist from when you first put out "Keep It Movin'" and "Bottoms Up" to the woman you are today?
I'm a little bit more free and I'm having more fun with it. My work isn't measured by anything more than if I had fun doing it and if I'm enjoying it. It's not based on anyone else's outside reactions or feelings, but it's based off of the fact that I like music, I'm creating it and it's enjoyable whereas sometimes when I was a kid, there was a lot of label pressure. Now I don't have a lot of that and I think that shows through the music in the way that I'm able to have more of a creative expression and be able to be more natural with how I give my music to my fans. It's more authentic to me.
What Virgo-like tendencies do you possess that go into your self-care and self-love routine?
It's the constant analyzing of myself and being able to really pay attention to the details of myself to know what it is I need. That is super Virgo of me and it's a bit controlling, but I like to be in control of myself and in control of my life, so it's OK. It's in every factor––whether it be how I feel about my body and my fitness, or how I feel about my mental health and if I need a break, if I need to add more of "this" in my life with my friends, or remove "that" because that's not making me feel good––that's my Virgo tendency that I feel really does help me, but then I have other Virgo tendencies that make me crazy, too (laughs).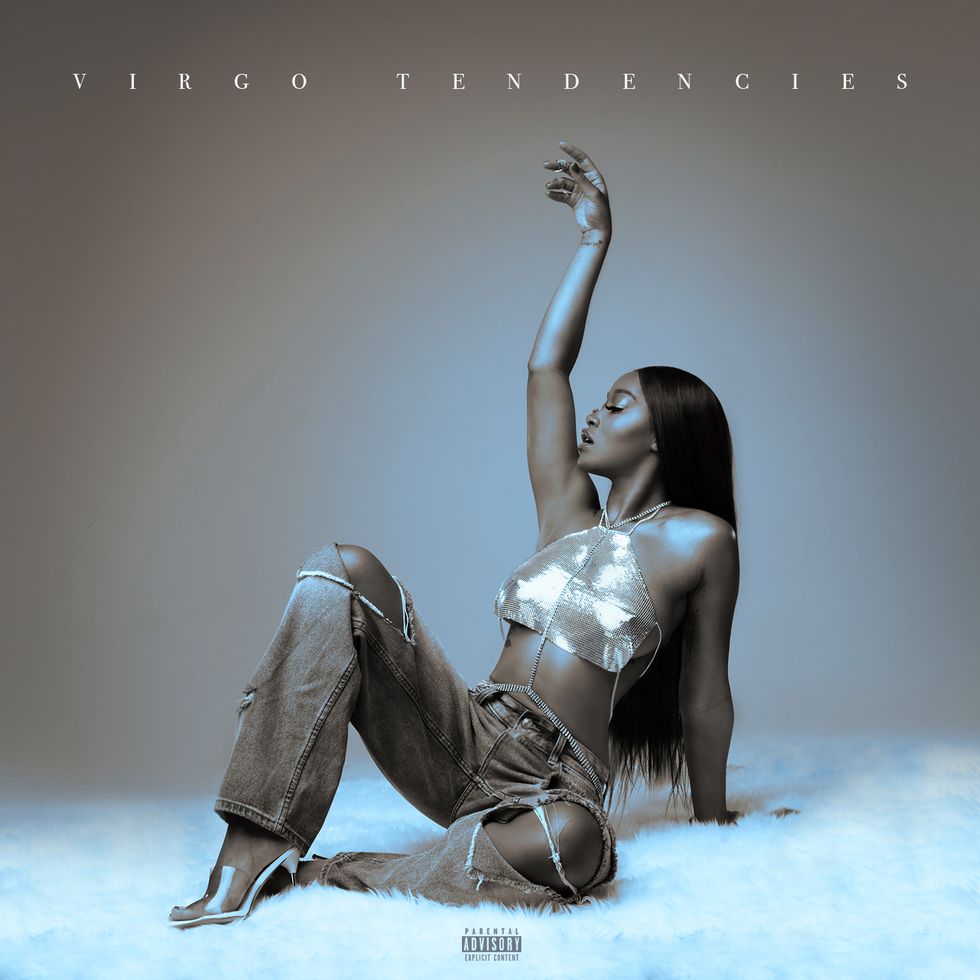 CR8 Agency
"It's in every factor whether it be how I feel about my body and my fitness, or how I feel about my mental health and if I need a break, if I need to add more of 'this' in my life with my friends, or removing 'that' because that's not making me feel good."
You hosted the VMAs and you made history. From one Black woman to another, it was incredible to even witness that. What was the experience like and how did you balance it all with the other billions of things that you're doing?
Oh my gosh, thank you so much girl! Hopefully, I'll be seeing you up there soon, too!
Absolutely!
How did I balance it? Scheduling. My team––I really give the props all to my team because that's what really makes it happen. I have a really great team with my assistant, my mom, my management. All those people are who make Keke the brand happen from any facet. It's not me doing it on my own and that's really how I was able to get through it. They helped me and they made it happen. They made sure I was where I needed to be and made sure I was on time. It was crazy because none of us knew what to expect and there were so many moving pieces. The VMAs––I don't know how we pulled that off, but I'm so glad that we did it and it's over with.
How do you prioritize your music, acting, hosting and everything else that you're doing while it's going on? On top of your team, what's your scheduling and planning process like?
Because a lot of these projects include, to some level, other people whether it's me launching a collection of merch, music, acting or whatever, they include other people and other things that have to be able to make them happen. A lot of times I have to be free-flowing and patient with how I want things to go. I really have to let God guide me about what's gonna come out when and where because sometimes stuff happens, it changes and I can't be sitting there unable to move. It was the same thing when the pandemic happened––I was supposed to be doing the movie that I'm filming now, but I couldn't do that so I ended up doing my EP. When I didn't do the movie, that ended up with me being able to do the VMAs. It's like so much stuff happens that you try to control, but a lot of times if you allow yourself to let go at times, it can bring yourself to something even better.
If you could give young Keke a piece of advice about prioritization and time management, what would you tell her?
It's OK to relax. It's OK to prioritize taking a break. It's OK to schedule that just as well as you schedule the business. In fact, it's important to. It's necessary. I think we live in a country that makes us feel like working like a slave is the way to live, and it's not. It's unfortunate that the "hustle hard" thing can be toxic, too, to our lives. It's OK to grind, but don't grind your wheels off, pooh. Work hard, but work smart. Be able to leave a space for you to still enjoy it to where you're not looking at the end and resenting something you care about. I would tell myself it's OK to have a personal life and it's OK to have just as much growth and evolution in your business as you do as a person.
When did you begin to understand the importance of pressing pause and finding balance in your personal and professional life?
About 25 [years-old] I'd say is when I really started to realize the importance. I fully started to implement those things before then and tried to find a balance, but I think I realized around 25 that it could be scheduled. Stop showing so much support to one area and none in the other. If there's a birthday or wedding that you need to get to, have it in the schedule. Leave it in the schedule and let it be there so the other people that you're working with know that day is off limits. Show respect and value to other things, you know?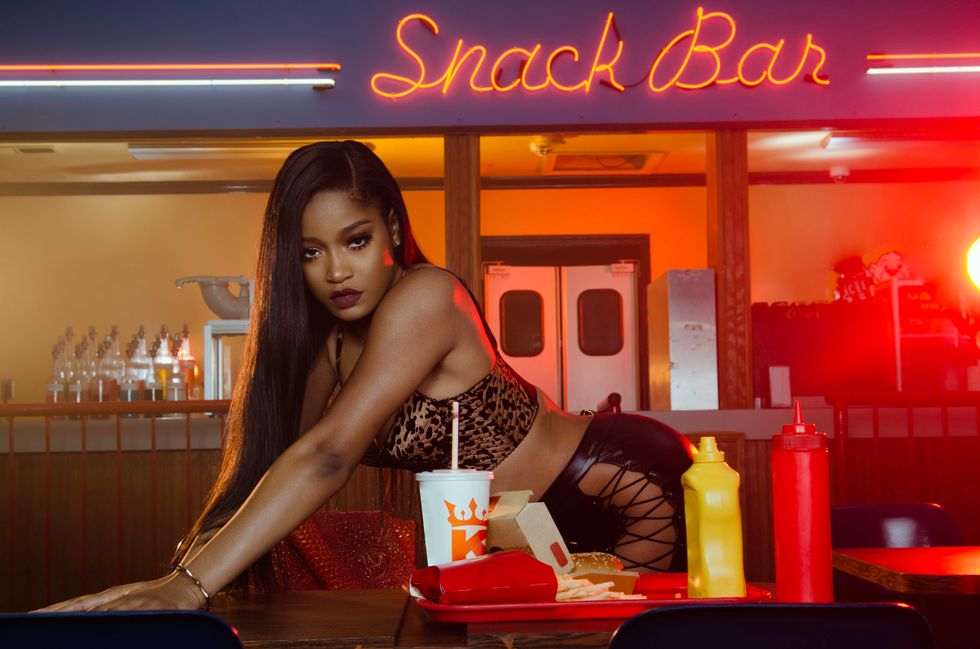 Lawrence Robinson
"It's OK to grind, but don't grind your wheels off, pooh. Work hard, but work smart. Be able to leave a space for you to still enjoy it to where you're not looking at the end and resenting something you care about."
What are your mornings like?
I can depend on the different time of year and what I've got going on. Right now with this movie, I'm waking up at 7:30am, I go take a run around 8am for twenty minutes, then I come back, get ready and start my day. Maybe I have something immediately, maybe I'm going to production, an office, a fitting, whatever might be going on. Sometimes I might be chilling or I'll have specific times for my meals so I'll make sure that I'm fit for my character in this particular role. Then maybe I'll chill and I'll have a script that I have to read and respond to, or I'll have a contract that I have to look over and little things throughout the day like that. Other than that, it's pretty simple.
How do you like to wind down at night?
I like to wind down at night by watching a movie or TV. I love mindless shows and losing myself in a really crazy reality show like Life After Lockup on WeTV. I love stuff like that because it doesn't make me think too much. Sometimes when you're watching a strict scripted show, it can cause you to really have to pay attention and I want to be able to just chill and watch something that's just going to make me laugh.
What are your favorite types of self-care?
I love, love, love [getting] massages and love, love, love facials. I love getting my hair done, definitely braids and stuff like that. Not necessarily getting weave or getting a wig on––that's sometimes too much. I like getting my braids done, getting my ends clipped or putting a mask on my hair. What else do I love for self-care? Family time! I can fill up my spirit when I need to see my family.
What advice do you have for busy women who feel like they don't have time for self-care?
You're working backwards by doing that. You have to really implement self-care. There was a time in my life where - and I want to get back to it and I probably could because the pandemic came in––I really scheduled a massage. Nothing could come before it because it was me telling myself and creating a pattern in my mind that I come first. I made everything come after that. No matter what's going on, every Tuesday at whatever time, I have to get a massage and nothing can step in the way of that because it creates a statement to yourself that I am important, my feelings are important and what I want is important. If you don't place stuff in your life in which you tell yourself, what your life becomes is that everything is before you. Once you do that, you are no longer able to work at the level that you should because everything comes before you and you're not gonna be 100 percent if you're not there for you.
How do you find balance with friends and finding time to see or call them?
That one can be hard at times, but I started to do these things in my life where I have this vacation. One for my big birthday bash and a big bash for New Years. Me and my friends have been able to get together on those days and we look forward to them. We're working, we're grinding and sometimes we get to see each other a little more throughout the year, but we know for sure we're gonna see each other at the big party we're gonna have for New Years and the little vacation at our location.
What about your health? Do you like to cook or do you find yourself eating out more?
A few months ago, I was eating out a lot. Right before I got on the kick that I'm on now, I was eating out a lot. Now I'm not because I'm getting prepared for a film, but I also really wanted to do a reset and get myself more healthy. I've been cooking a lot during the pandemic so my confidence in my cooking skills have been up! I've been meal prepping and that's been really great. It's been awesome to be able to regulate and have a specific schedule.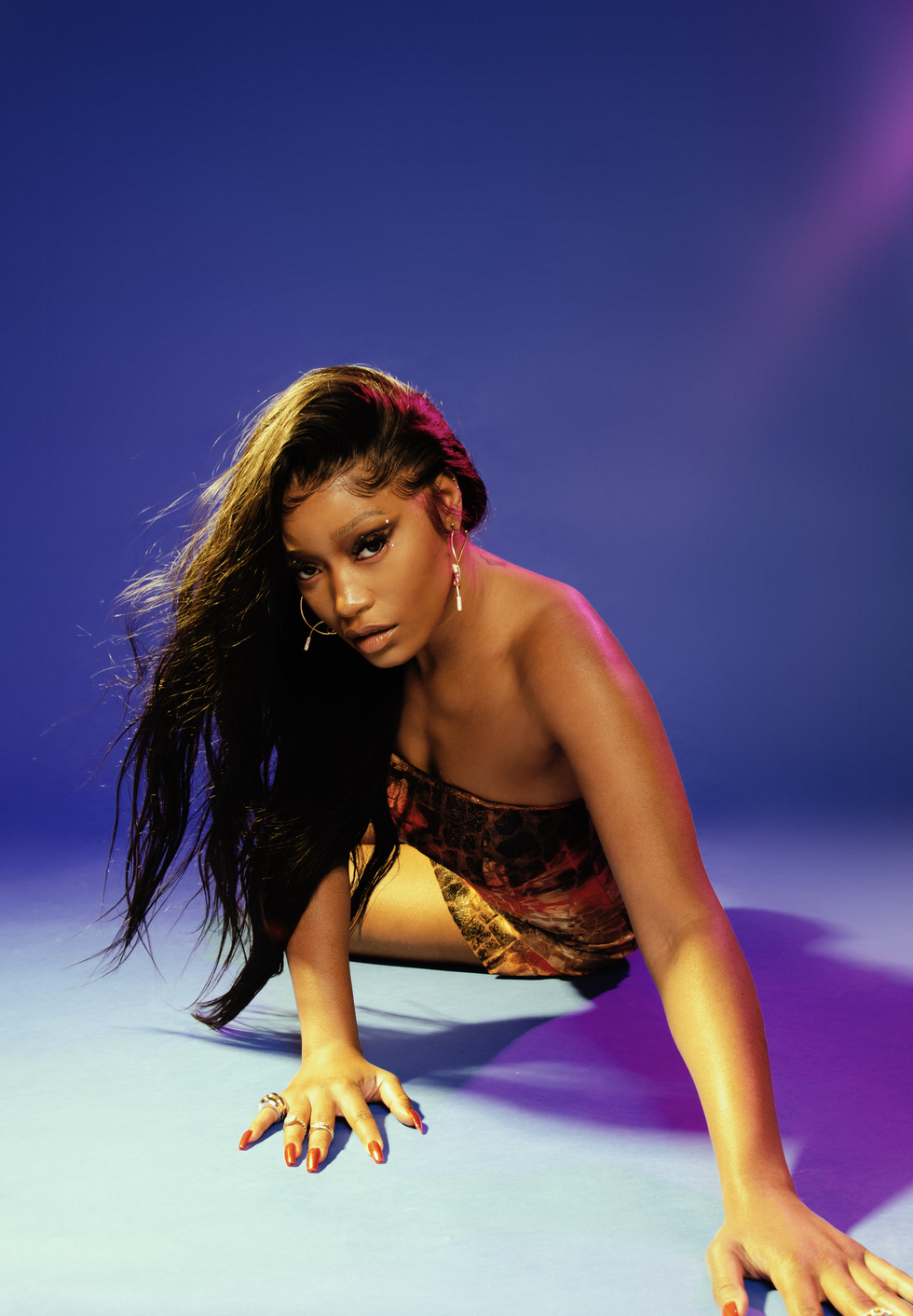 CR8 Agency
"With doubt, once you get back to the seed of it, then you're able to kill it. Be a purveyor of your thoughts."
When you're going through a bout of uncertainty or you're feeling stuck, how do you handle it?
I pray, I call my mom and I talk myself through it. I really believe that talking to yourself is OK because you're observant of your thoughts. When you hear yourself respond to something that makes you uncomfortable and you hear yourself in your head and you're like, "Thank God nobody's in here with me," don't judge yourself. Literally talk to yourself. When I hear a thought like that that makes me feel weird about something, I literally will talk myself through it and ask myself, "Why do you feel that way? What's that based off of?" As I slowly started to get there, I realized it's usually based on something shallow, surface, something I can easily fix, or something I've been confused by in some way. With doubt, once you get back to the seed of it, then you're able to kill it. Be a purveyor of your thoughts.
What does success mean to you? And what does happiness mean to you?
Happiness means being able to do what I love. Success to me is being able to create something bigger than myself and something that speaks to a message and ideology that can be carried on for years to come. When I think about me and what I want to do with my art and creativity, it's beyond just me, Keke Palmer. It's us.
Featured Image by CR8 Agency/Vaughn Alvarez.
Keep reading...
Show less
If there is a bag that Keke Palmer hasn't secured, I'd like to see it, damn it.
From starring in her first feature film at only nine-years-old to booking her latest gig as the host of the VMAs, Keke is making her mark as the multi-hyphenate hustler the entertainment industry didn't know it needed and we are here for absolutely all of it.
Although her time on the Strahan, Sara, & Keke show has come to an end after the show's recent cancellation, this year alone, our good sis has announced a beauty partnership with OLAY, her latest role as the newest character on the Disney Channel's reboot of The Proud Family, and her plans for a millennial version of The View proving that although she's new to the game, she doesn't plan on folding anytime soon. With her mom as her manager and her personal life under wraps, Keke says that her career as a multi-hyphenate mogul is only getting started.
Securing multiple bags is totally the wave for 2020 and if you need some inspiration on how to level up your income and stack a few coins on the side, check out 4 of Keke Palmer's biggest money moves that will inspire you to elevate your hustle.
Hosting The 2020 VMAs
Although the COVID crisis has forced many brands to shift to social media for big events, Keke hasn't missed a beat. Earlier this month, it was announced that the 26-year-old star would be hosting the highly-anticipated award show on August 27 and we can't wait to tune-in.
Monetizing Her Social Media
Whoever told you that being your true, authentic self couldn't make you rich was a damn lie and Keke Palmer is living proof of this fact. Using her social media platform to explore different talents, Keke has become one of our favorite people to follow and we bought the merch to prove it. Selling t-shirts and other Keke-inspired paraphernalia, the star has quickly become a social media feed favorite.
Launching Her Self-Funded Record Label
When you get tired of asking for a seat at the table, you build your own, which is exactly what Keke Palmer did when she launched her self-funded record label, Big Bosses Entertainment, where she plans to not only release her own music but give other artists an opportunity to shine.
Becoming The Youngest Talk Show Host In Television History
Keke's addition to the Strahan & Sara Show was ground-breaking, but the star had already made history as the youngest television host when she inked a deal with BET for her own show Just Keke, in 2014.
Featured image by Kathy Hutchins / Shutterstock.com

Keep reading...
Show less
If 2020 is anything like Keke Palmer's 2019, I'll take two, please. Keke booked her first major acting gig at only ten years old and after 15 years of staying consistently booked, busy, and 'bout her bag, the multihyphenate mogul sat down with Refinery29's Unbothered and revealed that her secret to having the game on lock for almost two decades is her ability to rebrand and still stay true to her most authentic self. In her interview, Keke dropped hella business-minded gems that we could all put to use in our 2020 money moves.
Here's what we learned:
Rebranding Is Key
I, for one, have grown jaded by the phrase "new year, new you" because it implies that the month of January is a season of sorcery.
This age-old theory suggests that the mark of a new calendar year will magically slay your dragons, clear your slate, and transform you into a new woman, but Keke Palmer knows that the key to success isn't becoming a "new you", it's just reinventing the "you" you already have.
"In anything you do, it's hard to stay passionate and find new ways to invent yourself. So, the fact that I've been doing it for 15 years, but I can still find new ways to reinvent it for me, that's what I'm very thankful for."
It Costs $0.00 To Keep It 100
"Keke is regular as hell. I'm really just your normal girl. I'm your normal friend, your sister, your cousin, your niece, your daughter. I'm just your everyday chick, and I don't try to be anything more than that. And whether people relate in that or detest that, or whether they get that or don't get that, I'm just really trying to be true to me.
"I don't think that I'm servicing anyone if I'm being fake. I am gonna be real because you're safe when you're being real. If you say, 'I don't know how to do that,' then you're not gonna have to go through the pressure of pretending you do. Don't lie to nobody, and then you can relax."
Go With Your Move
Going with your move can be both the most simple and perplexing thing there is to do when we're talking about chasing dreams. There will be ideas you have that others doubt. Hell, there will be ideas you have that you doubt your damn self. But Keke wants you to know that the key to securing a bag is following your gut:
"I truly come from an authentic place with what I'm feeling and what's going to be best for me at that time."

In the interview, Keke discussed being the star of a few viral memes this year and how she chose to capitalize and make what could have been a fleeting moment into a lucrative money move:
"I was like, Oh, so y'all rock with it? Let me get you these T-shirts then. Branding is a big part of creating something that stays with people. You wanna give people something that will last."
Social Media Is Your Playground
"Social media gave me the freedom to express who I was. It allowed me to really engage with my audience in a way where I wasn't under a moral clause or an idea or a brand of someone else. I was able to express my brand through my social media. Without feeling like I had to be around somebody else's guidelines."
Take Your Time, Don't Waste It
My mom always tells me, "You have more time than money," and in a lot of ways that's true. But it's also true that time is money, sis. And Keke wants you to take it, not waste it on undeserving projects (and people):
"I never rushed anything, and I never felt like I needed to be where other people wanted me to be. And the reason for that is I never wanted to force myself into spaces where people didn't want me, or didn't appreciate me, or didn't understand what I was about. Sometimes we move too fast, and we end up being in situations where people don't truly value us."
Read the full article here!
Featured image by Kathy Hutchins / Shutterstock.com

Did you know that xoNecole has a podcast? Subscribe on Apple Podcasts or Spotify to join us for weekly convos over cocktails (without the early morning hangover.)
Keep reading...
Show less
The young girl that we once knew from Akeelah and the Bee has now made a full transition into the Queen and we are here for all of it. Keke Palmer has been making her mark in the industry for more than a decade, and her new position as a permanent anchor on the Sara, Strahan and Keke Show is proof that she hasn't had to secure the bag because she is the bag.
Keke, who plays Mercedes in the new film Hustlers told Refinery29 that even though she's learning to navigate the industry as the boss ass businesswoman that she is, people still can't help but see her as a kid:
"I've become used to the pressures that come with being a child star. Now, I just think of everyone as a family member. You can go off to college, be pregnant and married, and be grown as hell, but everyone will always think of you as 'little Tee-Tee.'"
According to Keke, the stress that comes with being a child-star turned-industry giant has had so much of an effect on her internally, that the turmoil she felt eventually began to manifest externally. She explained:
"There has always been pressure to look perfect at all times. Those pressures were causing me anxiety because I used to struggle with my skin. I was so held down by what other people thought about me. As I've gotten older, I've grown to care less."

Along with managing stress, Keke says that over the years, she's also had to work with dermatologist to keep her sebum-related severities under control.
"When I was younger, I worked with dermatologists for my acne, and a lot of their solutions involved harsh medication."
As she got older, the now 26-year-old actress says that she's ditched the pharmaceuticals and tried a less aggressive approach to skincare. Along with streaming her face and putting a good charcoal mask to use every now and then, Keke says she also regularly consults with an esthetician:
"I didn't want to take that route as an adult, so I go to estheticians and facialists to help keep my skin clear. I try to get a facial once every two weeks, which can be expensive. When I can't get one in, I do a charcoal mask and steam my face at home."
While Keke may have allowed her anxiety to block her glow up before, the actress says that now, she's comfortable in her own skin, keeping in mind that the first step to the ultimate level-up starts with self-love.
"Now, I do whatever it takes to make myself feel better, whether that means not wearing any makeup, not hiding my acne scars, or changing my hair. Realizing that I have power over myself and my confidence felt like a huge weight was lifted from my shoulders."
When asked what's next in the young starlet's life, she gave us this piece of advice:
"Listen, life is all about the glow up right now. My ethos going into a new year of life is to keep growing no matter how fast or slow the next season might be. Life isn't a sprint; it's a marathon."

Along with giving us some wise words to live by, Keke also gave up the details on some of her favorite products that she uses to get get her skin all the way together, from head-to-toe:
To read the full interview with Refinery29 click here!
Featured image by Roy Rochlin/Getty Images