Unless you've been living under a rock, you know that Method Man has been revered as one of the sexiest men in the entertainment industry right now. While he's always been easy on the eyes, the last few years have seen the rapper-turned-actor go viral on social media many times due to his fineness such as the time he performed with Mary J. Blige during the 2019 BET Awards and his current role as the savvy, but arrogant lawyer Davis Maclean on Power Book II: Ghost.
However, inESSENCE's digital cover story, the 51-year-old admitted his newfound fame as a sex symbol is something that he can't wrap his head around. "I don't understand that sh--," he said. "I go to the gym for my own peace of mind. I don't do it to become someone's sex symbol or a pinup on someone's wall. I do it for me."
In the same breath, he does acknowledge that he likes the attention just as long as people take him "seriously." "I'm the same as everybody else. But at the end of the day, take me seriously, not lightly," he said.
Not being fully comfortable with how he's being viewed as of late may have something to do with the environment he was raised in. Method Man was born and raised in Staten Island, New York, which is where he and his Wu-Tang Clan group members began their rap careers. "Understand, I was a Black boy living in some of the worst areas in New York," he said. "I've always felt like I wasn't enough. I've been told that from the gate, 'You don't belong here.' Sometimes even without words."
Method Man began his workout journey almost four years ago after battling insomnia, which he talked about in an interview with Jemele Hill on her podcast. He also shared how his kids feel about him being called a sex symbol.
"The sexiest thing about being sexy to me is not trying to be. You ask my kids, my kids will say sh-t like this, they're like, 'where?' Sexy where? This n–ga?" he said jokingly.
He continued, "You take it all in strides. And, I don't know, man, I'm bashful, I guess. You try to put yourself in a comfortable space and say, 'OK, well, I earned that.' I didn't pine for that. I didn't try to prostitute myself to make girls like me — take my shirt off at every show type of thing. It just happened progressively, and I like that."
With his hard work and dedication to his body, he told ESSENCE that he's now eyeing more roles that may show off his stamina and physique, such as an action movie.
"I've done the training; I've done the fitness; give me my Michael B. Jordan in Creed moment," he said.
Featured image by Emma McIntyre/Getty Images
Keke Palmer is opening up about her boo Darius Jackson. The singer/actress visited the Tamron Hall Show and spilled some tea on her relationship. While she didn't address when they started dating, she was transparent about why she decided to go public with their relationship.
"I'm really one of those people that very much so keep it on the Beyoncé tip of just keeping everything lowkey," she said. "I think the reality is it's just it became more difficult to hide that. We spend all this time together and he's really my closest friend so it just becomes a thing where I'm not gonna hide something that makes me happy. So, it is what it is. It's not gonna be everything you see, my job is my job, but at the end of the day, hey, this is somebody that is important to me."
She even joked about their zodiac signs not matching up on the compatibility chart.
Keke is a Virgo and Darius is an Aquarius. "He's an Aquarius. Isn't that crazy?" she said. "It's a random matchup. He got some Taurus in that chart so that must be the balance."
But while their astrological signs may not seem like a match in the stars, they balance each other out in other ways. Keke works in entertainment, but Darius doesn't and that's one of the things she likes about him.
"I think it's the authenticity. I've always been somebody that hasn't wanted too much industry stuff in my life so he's very industry adjacent meaning he understands it but that's not what he's about."
She continued, "I think that also helps a lot too for the comfortability, but I mean, I don't know how to explain it. It's one of those things like I said is surprising to me as well, but I'm 28, I'm still learning so we'll see how it goes."
This appears to be the first time that the Southern Belle Insults author has gone public with a relationship. Keke has become known for her talented acting skills, singing, and vibrant personality that always shines through during her interviews. But she shares that she is happy and OK to also focus on having a love life.
"In this era right now, it's very much popular to be like, 'oh I don't care.' It's become very popular to the point where it does end up making you feel like you're not opening yourself up to it (love) and I think that's where it got to the point for me," she said.
"If I'm happy why don't I just be happy? Who am I trying to hide anything from or impress or what is the idea of it all that I'm trying to coerce? At the end of the day, I'm still me with or without a partner."
But being open about her relationship doesn't give others permission to get in her business. When it comes to having a successful relationship, she shares this philosophy.
"Quiet the noise and find the truth in your relationship."
Period!
Featured image by Rachel Murray/Getty Images for Refinery29's Unbothered
Keke Palmer has been in the spotlight ever since she starred in Akeelah and the Bee at the tender age of 11 and, while she was introduced to us as the cute girl with glasses, she was growing up and growing out of the awkward pre-teen phase.
Many people were taking notice, including N.W.A. rapper Ice Cube, and apparently, his fatherly instincts kicked in.
Keke appeared on the Oct. 26 episode of Celebrity Game Face where celebrities participate in trivia games. When it was the Hustlers star turn, she revealed that Ice Cube was the first person to give her dating advice.
She posed the question, "The first person to warn me about boys was a member of:
"A) my family, B) my church or C) N.W.A.?"
After celebs Monica, Supa Cent, and host Kevin Hart guessed the answer, Keke shared that the answer was a member of N.W.A., Ice Cube.
"When I was, I think 12 years old, I did the Long Shots with Ice Cube. When I was on the set, I grew up in the industry, but I was starting to get older at this point. I was starting to get together," Keke said, motioning her body.
She continues, "Ice Cube, he pulled me to the side. He was like, 'Keke, I know you're growing up, and I just want you to understand the way these men are seeing you isn't always how you see yourself.' And that was Ice Cube. Isn't he the best?"
How sweet!
Keke is one of the few child stars whose life didn't take a drastic turn for the worse while growing up in the spotlight.
The Joyful Noise star has continued on a positive path and made history while doing so. Keke became the youngest TV show host in TV history when she premiered her own talk show Just Keke on BET at 20 years old and she continues to sing and act.
As far as her love life, in the past, Keke has typically kept who she's dating private besides a few posts here and there. However, she's been pretty open about her current boyfriend Darius Dalton Jackson.
The couple posts a lot of adorable photos and TikTok videos with each other and while there's not much information about Darius, he is the younger brother to Insecure star Sarunas Jackson, the same TV show that Keke will be guest-starring on.
Featured image by Gregg DeGuire/Getty Images
Keke Palmer is easily one of our favorite tell-it-like-it-is celebrities. From her up close and personal revelation of her battle with adult acne to doing it for the culture at the MET Gala to admitting she's "sorry to this man," Keke is known to give it to you straight, no chaser. And it's that commitment to being unapologetic in telling her truth that draws others to her like the light that she is.
But just because Keke has gotten to a place where she is celebratory of her truths (the good and the bad), doesn't mean the booked and busy hustler didn't at one time struggle. By the age of 15, Keke had experienced runaway success after her breakthrough role in the film Akeelah and the Bee, subsequent film and television roles, and a debut album, So Uncool.
And by 2008, Keke was one of the highest paid child stars on TV, earning a cool $20,000 per episode of her hit Nickelodeon show, True Jackson, VP. However, her accomplishments didn't stop her from experiencing trauma, in fact, it exacerbated it. In a conversation with Chromebook for their The Adulthood series, theVirgo Tendencies songstress revealed:
"When I was about 17, things started to get really, really crazy success-wise and it really just switched the dynamics of my family. They didn't really understand the trauma I was going through when it came to being famous. I was thinking about getting emancipated. And I had a conversation with my attorney and he said, 'You know, you don't have to do this. Many people have experienced what you're going through. You just have to set boundaries.'"
Boundaries became a game-changer for the young star who seemed to learn early on what it takes many of us years to understand. Setting boundaries is an act of self-love that serves as a reminder to yourself and those around you that your wants and needs also matter. A lack of boundaries was costing the actress her peace of mind.
"Boundaries are the stepping stone of self-respect and thus teaching other people how to respect and love us. When we don't know our own boundaries, it kind of becomes difficult to blame other people for what they may say or do. When I was a kid, girl, I would just stop talking to people forever. A lot of those people didn't even know what they did. I was actually cutting off a lot of good people do love me and would want to know how to best be there for me."
The 28-year-old also credited self-care practices as a cornerstone to allowing her to arrive in spaces as her best self and being more in tune with who she is on her best day instead of her worst. Through mindfulness, meditation, and stillness, negative self-talk is just one of the things her self-care game has helped her overcome.
"I can say from my experience as a Black American woman, there's a lot of stuff that you have to choose to block out. And that's not you being passive, that's you paying attention to the goal. It's important to add practices in your life to help refuel you. Mindfulness, meditation -- it allows the space for you to be objective to your own thoughts..."
"When I'm active in my practices, I'm able to catch myself much more quickly when I start to do bad self-talk. And when we're sometimes dealing with so many things in the world, we don't even realize all we need is a bit of stillness to help balance us back out."
Watch Keke Palmer talk about boundaries and the importance of self-care below: 
Featured image by Taylor Hill/WireImage
The concept of going to therapy has now been made mainstream as all things mental health matters have been brought to the forefront. While prioritizing our mental health is something this panorama and 2020 overall has emphasized is of the utmost importance, enforcing boundaries and amplifying self-preservation is still something seen as a radical act of self-love among Black women. And it's because so many of us are still unlearning hard lessons of toxic strength and resilience that brainwashed us into believing we have to have our capes on at all times.
We are so used to being all things to all people, we often forget ourselves, so the Naomi Osakas and Simone Bileses of the world doing their part to emit a battle cry of "no" in lieu of placing themselves first has been yet another thing to add to the list of things "we love to see" for the culture. In her recent cover story with British Vogue, Zendaya added her voice to the growing mental health conversation by revealing why she is such an advocate for therapy.
Despite the undoubtable M's in her bank account and her award-winning projects on deck, the Hollywood starlet had trouble navigating uncertain times as shakily as a lot of us did outchea last year. She described what she went through emotionally as a "kind of taste of sadness where you wake up and you just feel bad all day, like what the f**k is going on? What is this dark cloud that's hovering over me and I don't know how to get rid of it, you know?"
After encountering one of her most difficult years to-date, Zendaya decided to look to therapy to help pull her out of her dark moments. She explained to British Vogue:
"Yeah, of course I go to therapy. I mean, if anybody is able to possess the financial means to go to therapy, I would recommend they do that. I think it's a beautiful thing. You know, there's nothing wrong with working on yourself and dealing with those things with someone who can help you, someone who can talk to you, who's not your mom or whatever. Who has no bias."
Zendaya is not alone in expressing the gratitude for the peace of mind she's experienced since investing in therapy. In fact, here are 9 more celebs on why they are advocates for going to therapy.
Issa Rae
In a 2019 interview for Fuse's The Read with Kid Fury and Crissle, Issa Rae admitted that she hadn't really considered going to therapy a priority until hearing the stories of the two co-hosts and how they've done the work. She also noted that watching her mother and grandmother as Black women carry around burdens with no one to help them with it served as another reminder to invest in therapy as an act of self-care.
"...I think the first time I finally made the time to go was just last year. I did three little sessions and I fucked with it. But it is important to not necessarily go because you think something's wrong, but you should if you're in an industry like this, prioritize it because nobody else will. And that's what I've learned just throughout my journey here."
Taraji P. Henson
Taraji P. Henson has been doing the work and paying it forward through her work with her foundation, Boris Lawrence Henson Foundation. Per The Jasmine Brand in 2019, Taraji P. Henson revealed:
"I suffer from depression. My anxiety is kicking up even more every day, and I've never really dealt with anxiety like that. It's something new… It [fame] was fun at first, but the older I get, the more private I want to be. I think there's a misconception with people in the limelight that we have it all together, and because we have money now and are living out our dreams, everything is fine. That's not the case. When they yell 'Cut' and 'That's a wrap,' I go home to very serious problems. I'm still a real human."
In regards to investing in therapy, she went on to say:
"You can talk to your friends, but you need a professional who can give you exercises. So that when you're on the ledge, you have things to say to yourself that will get you off that ledge and past your weakest moments."
Janelle Monae
Janelle Monae is another entertainer who has made it no secret that she looks at going to therapy as a vital part of her self-care regimen.
"When I first started getting a check, I went to therapy. Therapy is important. And being a Black woman that was not something that was pushed in my community, it was always 'pray about it, God will take care of it'. I believe in a higher power but I also believe that that higher power gives you people on Earth to help walk you through some of your darkest times and help you cope and deal."
Gabrielle Union
"You need to find a way to talk about the darkest parts of your life. I've been in therapy for the last 25 years. Whatever path you need to take to heal, it's the best one."
Big Sean
A couple of years ago, rapper Big Sean got real about the "why" behind him taking a year-long hiatus to take care of his mental health. Shortly thereafter, he became more candid about his experience with anxiety and depression and how therapy ultimately helped him gain clarity.
"I just felt lost. You know what I'm saying? I didn't know how I got there. I've been meditating since I was 17 years old. You know, that helps with anxiety, depression all those things. All those things that I felt. But it wasn't doing it all the way for this, so I knew that this required some special attention.
"So what I did was, I started therapy. I got a good therapist. You know what I'm saying? I was blessed enough to talk to some super-spiritual people. And they made me realize one thing that I was missing in my life, and that was clarity."
Keke Palmer
Keke Palmer is another young celebrity that has been candid about her bouts with anxiety and depression throughout the years. She opened up to Cosmopolitan about being in therapy for years as a means to cope with her mental health issues:
"Being able to say how I feel, that was something that was so hard for me for so long. If you grow up in the industry, it forces you to be agreeable at all times. When it came to saying 'I'm tired and I want to figure out how to balance my life better,' 'I feel lonely, 'I'm afraid of my stardom' — those things I could not say."

Kelly Rowland
In a 2018 chat with Oprah Daily about mental health, Kelly Rowland opened up about what inspired her to go to therapy:
"I realized I didn't want to try to figure things out by myself. I can try as much as I can, but doing it all myself, I'd end up driving myself insane circling the same situation and same problem over and over again."

She continued:
"Sometimes people feel like faith and praying...and don't get me wrong, I have faith and I pray and I do believe I'll get through things with that also. But I like to talk to somebody who has the insight of psychology, too. There are other connectors. It's important that we understand that as well."
Halle Berry
"I've done therapy on an as-needed basis since I was probably 10 years old. My father was an alcoholic and a very abusive one, and my mother knew the value of providing me with the outlet of an unbiased person to talk to. So I've done that all my life when times get stressful. It really helps me deal with stuff."
Kerry Washington
"Therapy helped me realize that maybe it's OK for me to communicate my feelings. Instead of literally stuffing them down with food, maybe it's okay for me to express myself.
"I say that publicly because I think it's really important to take the stigma away from mental health. My brain and my heart are really important to me. I don't know why I wouldn't seek help to have those things be as healthy as my teeth. I go to the dentist. So why wouldn't I go to a shrink?"
Featured image by Elisabetta A. Villa/Getty Images
Keke Palmer is a jack of all trades: actress, singer, entertainer, viral sensation, and so much more. Stop trying to box our sis in, because time and time again, she makes it very well known that you can't, and never will be able to. In fact, she's never been a one-trick pony in her entire career, because when she's not gracing our timelines with her hilarious skits and Reels, she is out here working like no other, filling us with all the anticipation for what she has coming next.
But the one thing we can always count on our girl for, are the gems she droppeths. From interviews to Instagram, Keke Palmer will always get your edges together with a word.
Particularly, one of her latest gems caught my eye and had me re-evaluating all of my relationships and friendships. While sitting around and surfing the web, I came across an interview where she opened up about legacy, representation, and more. But it was her approach to expectations of other people that stung the most. She told LADYGUNN:
"Being a human being is a very scary experience because everybody is going to disappoint you. Your mama's gonna disappoint you, your best friend's gonna disappoint you, everybody in your life that you've ever loved is going to disappoint you."
She then referenced the story of Jesus and the betrayal of his disciples, and continues:
"People you love are going to betray you, but it's how you move forward from there. No matter what you go through, do not let this world make you bitter, jaded, and cold because this is just part of the experience."
Chiiiiiile. Listen, as someone who is always in her head, girl whyyyyy'd you have to hit me like this, dang!
And with working in the entertainment industry, Keke knows a bit about disappointment, and has touched on the subject in the past in reference to a few of her upcoming projects (the Strahan, Sarah, and Keke show being canceled, and her music and films having to be pushed back multiple times--which, each were majorly affected by quarantine and COVID).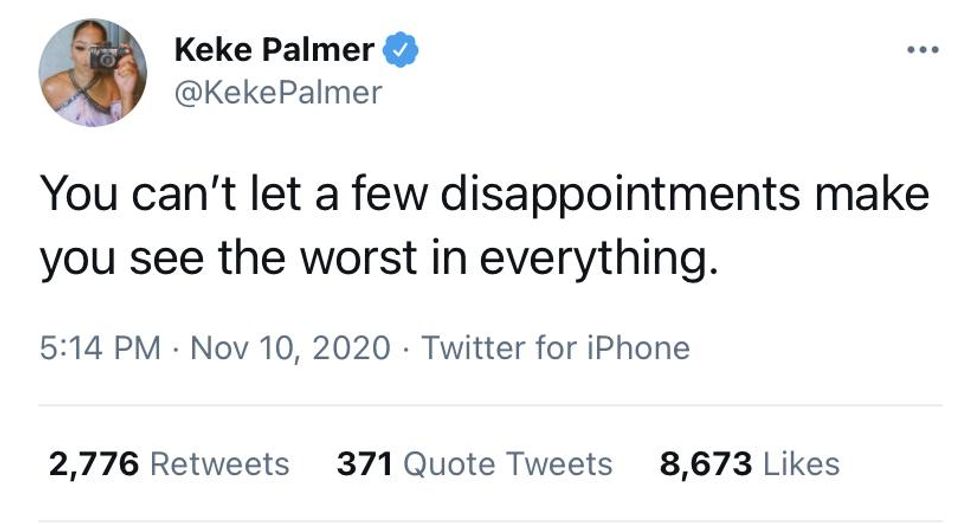 Twitter
Yet despite it all, Keke has found solitude with life's disappointments, and knows how to filter through. She even learned to cope through finding the key silver lining of quarantine for her: becoming her own best friend:
"I really don't think I realized how much I benefited from being alone. [I] admittedly enjoy being alone more than I thought I would and I get to be my own best friend while cooking, prancing around her house, doing pilates, and getting lost in a good Netflix binge-worthy series."
Just when I thought it wasn't possible to love her even more.
Are you a member of our insiders squad? Join us in the xoTribe Members Community today!

Featured image via Kathy Hutchins / Shutterstock.com