Soraya Joseph
A modest goddess who keeps it humble between mumbles. I'm a journalism graduate with a HERstory in digital media, print and radio. Roll the credits: Power 96, VH1, xoNecole, EBONY, SOHH. Deemed "Top 20 Women in Media" by Power 105. Bronx made me, Broward raised me.
Figuratively speaking, Angela Yee serves tea every morning on The Breakfast Club à la her popular radio segment "Rumor Report". Literally speaking, Ms. Yee also proves she's got the juice by serving juices and smoothies at her shop, Juices for Life, in the heart of Brooklyn, New York.
When I first met Angela Yee a few years ago, I was interning at her radio station, and noticed she'd have a green juice for breakfast each and every morning. Fast forward five years later, and who knew that what the female lead of the biggest radio shows in the country was putting into her body, would later lead to what she'd put into her business, and more importantly, what she'd put into Brooklyn.
Recently, I got the chance to catch up with Angela at the Brooklyn spot she called hers. We traded gems and talked about everything from Juices for Life's conceptualization to how she's groomed her hustler mentality over the years. As she placed the finishing touches on my smoothie, she revealed to me some insight into her purpose, "This neighborhood is changing really quickly, and I feel like it's important for us to have businesses in our neighborhoods too. Instead of letting other people come from the outside and put these businesses here and make money off of our environment, we should make that money ourselves. Also, it was what I was putting here. There's a lot of fast food places, there's a lot of liquor stores, things like that. I really wanted to put something that I feel would be positive and beneficial for people, but also be really fun to be at. It's kind of like we made it cool to be healthy!"
Cool and cozy, to be exact.
I scoped the shop as I sipped my "Morning Rush," a peanut butter-based protein drink, and couldn't help but feel like I was in a home away from home. Angela, who partnered with TBC co-host DJ Envy and rapper Styles P back in 2016 to open a location in Brooklyn, confirmed that the cozy feel of the shop is intentional.
However, making sure the shop's aesthetic was as appealing as the drinks are appetizing did not come cheap. "This was my first time opening a business and I realized it was very costly," she said. "This place needed a lot of work done. A lot. Gut renovation type of work. We spent a lot of money just making sure that the place looked incredible. We had a real designer from GUCCI do a wall at our juice bar, you know what I'm saying? And everybody comes and takes pictures in front of that wall."
"I just wanted people to come in and be like, 'I'm so proud of what this juice bar looks like. It's so cool, I just want to hang out here.' All the kids come in, they love it, they run up and down. It's nice and open. It looks like you're at a brownstone in Brooklyn," she continued.
However, decor isn't the only thing important to Angela when it comes to business. Attention to detail is one thing, but intention in business is a different thing altogether. With certain juices labeled under the ailment they provide aid to (e.g. "Hypertension High," "Sore Throat," "Ulcers," etc.), Angela is not just selling juices, she is offering better health immunity and hope to the community. Something she feels is, well, priceless. She shared:
"Purpose and passion in your profession is everything."
"There is nothing better than when you can make money doing something that you're really excited about and that you really enjoy and can see results [from]. When you see people that come into Juices for Life, every day and they're like, 'Oh, this woman in my building has cancer and I've been bringing her juices every day and it's the only thing that makes her feel better.' Things like that are really important to us," Angela revealed as she beamed with joy. "One woman was like, 'I have high blood pressure, and I see you had the juice bar and I came in here, and now my blood pressure is normal.' It's things that make a difference in people's lives. When kids come up to you and say, 'I never thought of owning a business, but now that you have this business here, I feel I can do it too. That's inspirational and it means a lot more than anything."
She also confirmed that it's not her business prerogative to ever have people overpay for a good juice. As a matter of fact, the radio personality added new dimension to the familiar adage of "health is wealth" by affirming to people that they don't have to be wealthy to be healthy. Angela's drinks are not only fresh ("Never frozen, never pureed"), they are also large in serving and start at just $5 a pop. Talk about cost-effective.
Angela is creating her own lane and attaining success by her own means in her own way. However, despite winning in more ways than one, Angela is no overnight success story, nor does she glamorize the grind. She has been very transparent in the past about her own slow-cooked rise to fame. Among her confessions, the media maven has spoken openly in the past about taking a major pay cut when she took her first job in radio.
Having had her share of trial and error when it comes to career and financial woes, Angela has decided to take her efforts in the detox game up another notch by hosting "Wealth Wednesdays," a weekly financial workshop held at Juices for Life that teaches others how to detox from debt too. Not only is health wealth, knowledge is too, and Angela has made it her mission to spread both to her community in abundance.
When it comes to career prosperity, Angela can't stressed that a patient spirit, as well as a proegressive mentality are keys to success. "I tell everybody this, especially the people around me, wherever you're at right now, you have to be thinking about what's next: 'How can I progress in life? What am I going to do that is going to make a difference to the world and also going to make me happy?' But we also have to be patient," she stated.

"Sometimes it takes a while to get to where we want to get to. It could take years. It could take more than 10 years. It could take 20 years - but you just have to be doing things that put you on a path to get there."
Preach.
Yet, even at the top, it's always important to know how to work at the bottom, especially when transitioning from being a top-tier employee to a first-time employer. After all, with barely a handful of folks on staff per shift, Angela's shop is indeed a small business, and she is very clear that, when need be, she is ringing the register, making the juices and "cleaning the bathrooms" too.
All in all, to live a life of purpose appears to be well worth the work to attain it. During our time together at the "brownstone" juice bar, patrons of all ages were sure to stop and greet the lady of the house.
They say 'home is where the heart is,' and Ang hustles with hers. "It's important for you to do more than one thing. Sometimes we get really caught up in our 9 to 5 job that we have every day, and then we're like 'Ok, now I go home and relax!' We've all had jobs when we've woke up in the morning and was like, 'Should I call out?' Nobody wants to feel like that every single day. A lot of people will complain like, 'I hate my job, I hate my boss. I hate my coworkers.' Well then you gotta do something about it!"
"It's one thing to complain about it and make moves, but it's another thing to just complain about it every day and do nothing about it."
"It's really important for you to make sure that you're also set up like, 'What am I going to be doing in the future? Is this where I want to be five years from now? Have I hit a ceiling from where I'm at? Do I feel like I could be happier?' I think life is all about trying to pursue those things that make you happy. There is nothing better than when you have a life that you're passionate about, and things that you enjoy and that are good for your own spirit."
We'll drink to that!
Follow Juices for Life on Instagram and keep up with Angela Yee @angelayee.
Featured image by Kathy Hutchins / Shutterstock.com
Want to capture the perfect picture on one of your most important days?
Well, a little hint: You may have to actually put your phone away!
Recently, one photographer by the name of Thomas Stewart took a stand in the name of precious moments worldwide when he took to Facebook to suggest that future married couples should consider having an "unplugged wedding." This means that upon arrival, have your guests be advised that absolutely no photos are allowed. After all, that's what you have photographers for.
But before one thinks that the money is the motive, it's more like the "moment" is the motive.
The ex-lawyer turned professional photographer revealed that upon review of some of his own photos he was hired to take for a recent ceremony, he stumbled across his share of photo bombers that completely ruined what would be great shots. He uploaded the following flick on Facebook while tagging more than a few people, and ranted: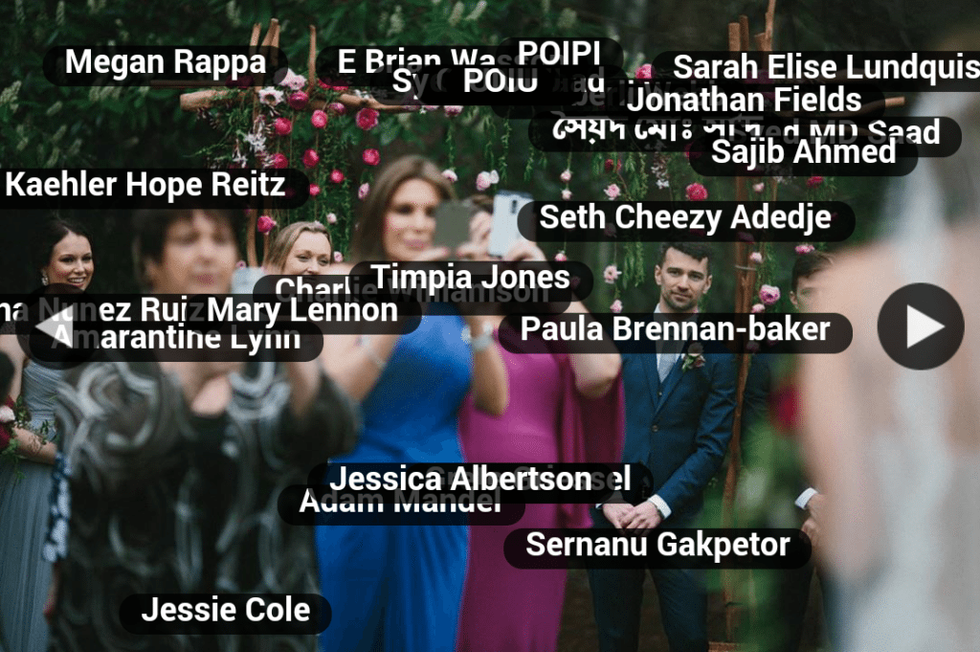 Twitter
Right, I've had enough. I want to talk to you all about guests using mobile phones / cameras at weddings. I want to plead with you, and I'm going to make this very simple: brides and grooms, please have a completely unplugged wedding ceremony. Look at this photo. This groom had to lean out past the aisle just to see his bride approaching. Why? Because guests with their phones were in the aisle and in his way.
This sucks. And I'm not blaming these guests in particular; I actually take a large amount of responsibility for this occurring. In the past I should have been more specific with my clients in explaining to them why guests should be told no photos. Well, from now on, I'm going to make a pretty big deal about it.
In 2018, it's safe to say that ironically, people will risk losing an actual moment for the sake of trying to capture it for social media.
Stewart then went on to state a few reasons to support his logic, as well as suggest how to control the issue:
Guests with phones, iPads and cameras get right in your photographer's way. They have no idea how to stay out of our way. They often ruin many of our shots. They will make our photos worse. You're paying a photographer quite a bit of money; that means you want great photos. We cannot do our best work with people getting in our way.
These same guests will get in YOUR way. You will miss moments of your own wedding day because there'll be an iPad in the way. You will miss seeing your partner's face in the aisle.
The guests' photos are usually crap. I'm sorry, but it is true...
Imagine you're in the middle of your wedding ceremony. You're elated. You decide to take a quick glance towards your guests as you're sure they're sharing these happy moments with you, possibly even shedding a tear of their own. What do you see? NO FACES AT ALL AS THEY ARE ALL HIDDEN BEHIND PHONES AND CAMERAS! I highly doubt this is the way you want to remember your wedding ceremony.
Stewart then recommends to people to place a tasteful, yet stern, disclaimer in their invites reminding guests that they are attending an "unplugged" ceremony. He also suggests to have whoever is actually marrying the couple - be it celebrant, minister or priest - remind guests prior to commencement, that no phones, iPads, tablets, etc., are allowed!
Honestly, when you think about it, how bad could this be? On average, a wedding ceremony is about an hour to an hour and a half long.
After all, we put our phones away for movies, so why not weddings? Are movies more important than moments?
Quite often thought of as a "Celebrity Disclaimer" enforcing that there be no phones or photos during a wedding may not be such a bad, universal concept. Years ago, Gabrielle Union and D.Wade had an "absolutely no photos" policy at their lux wedding at the Chateau Artisan Miami. Not only did they request that guests ditch their phones at the door, they also demanded that attendees sign confidentiality agreements. This of course was an effort to secure the high profile couple's privacy, however, we could only imagine how much more fulfilling it was for attendees to fully enjoy and take in the moment.
Although people were getting married long before phones and emails were a even a thing, I do feel that in this day and age, it's important to be mindful of the different demands for certain guests. For example, you may have an attendee that was barely able to make it (but would not want to miss your big day for anything in the world), that may need to be by their cellular device for such emergencies as a high demand position at work. Or maybe a new mom who just had a baby and is trying a nanny out for the first time- that's beyond nervewrecking! In any case, I do think the bride and groom should be mindful of accommodating some of their guests to a certain extent, like perhaps no phones in the church, but allow it for the reception.
The crazy thing is, Stewart actually became hip to getting behind the lens full-time after incurring his own wedding disasters.
In the Aussie photographer's online biography, the 32-year-old mentions a series of unlikely events that kept occurring on the days leading up to his wedding, including a custom marquee that fell and was destroyed in a storm the night before he and his wife-to-be were to tie the knot. He mentions that after stressing what his idea of perfection was, he reminded himself 24 hours before his wedding to not overcomplicate anything because ultimately, love is what matters most.
That is why I became a wedding photographer. Because of love. The ability to be involved in, and be able to document, the single thing that connects every human being on the globe. Deep down, love is the reason we all keep going.
Sweet!
Featured image by Shardayyy Photography on Unsplash
Imagine being told that you're not good enough. That your kinks and coils--the completely natural version of yourself--are only accepted when there's a quota to meet, and that the likelihood of you being on the cover of a magazine is few and far between.
For many models of color, walking into a room for casting calls is often a fight to celebrate the spectrum of beauty in a world that gives more applause to straight hair and porcelain skin. But while being true to oneself hasn't always been in fashion, Ebonee Davis is out to change the rules and defy the stereotype.
The 25-year-old Calvin Klein model is no stranger to speaking out on the complexities of the fashion industry and its archaic way of thinking. In fact, she's been heralded for her very open letter published back in 2016's Harper's Bazaar, in which the 5'9'' stunner called to action the industry's responsibility to be more inclusive in its representation.
"[I'm] just getting strong after essentially years of programming that tells you you're not worthy, that you're not good enough, and that how you are made naturally just doesn't fit the standard," she shares on our evening phone call, in which I quickly discover that her looks are nothing compared to her dazzling spirit.
I ask about her recent feat of earning the coveted crown as one of the 2018 Sports Illustrated Rookies of the Year, one which, according to Ebonee, was a win that took her by surprise, considering her history with the renowned sports publication.
"I was actually featured in Sports Illustrated in 2016 as part of the model search competition, and I didn't end up winning, so I wasn't in the magazine. I figured that my time with Sports Illustrated had reached its end, so to get the call to come back for 2018, especially after all the changes I've gone through with myself, my career, and just becoming [more] vocal and speaking out about the fashion industry, it was just such a huge surprise for me."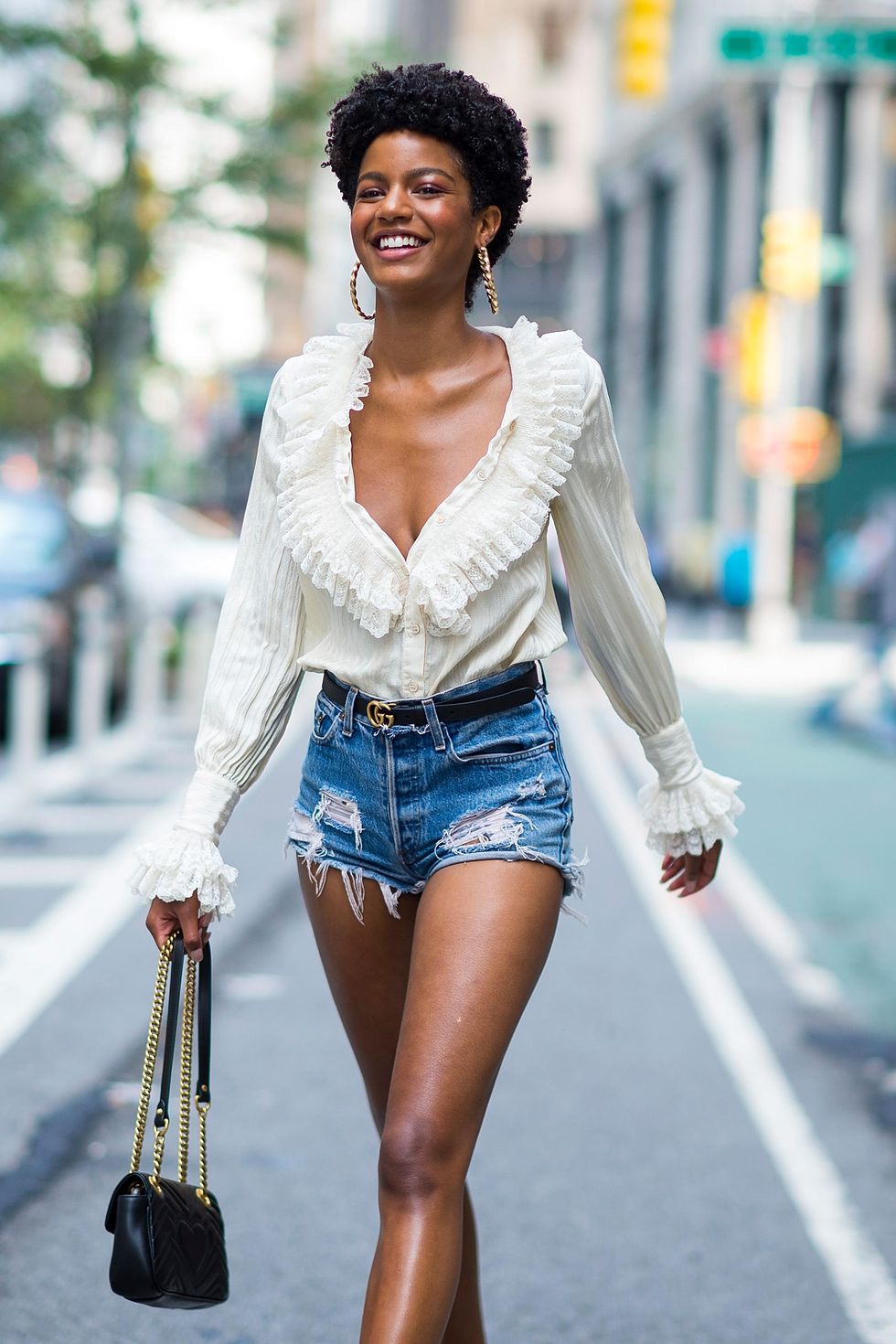 Gotham/GC Images
In 2012, the Seattle native moved to New York at the age of 19 with nothing to her name. "I literally started from the bottom when I was out here," Ebonee says as she details her time sleeping on the floor while in pursuit of her career. "I just [wanted to] taste the dream. I felt like it was what I was meant to do--this was always my calling."

In the beginning stages of her career, the outspoken model succumbed to the cookie-cutter beauty standards of the industry. It wasn't her proudest moments, but compromising at the time was the currency for staying booked. "I compromised for so long," she admits. "I think that is an important part of the story. I did wear my hair a certain way for so many years because I thought that was the standard. That was the standard that was being shown to me. [One day], I walked into my agency at the time with my natural hair, and I got negative feedback. [But going natural] was something deeper than what they could tell me. I felt like I had to do this."
"Going natural was something deeper than what they could tell me. I felt like I had to do this."
The transition wasn't easy. It required her to dig deep, identify the roots of her conformity, and get real about who she was when the weaves were taken out and the relaxers wore off. "Ultimately wearing my hair straight was a habit or behavior, and as I matured and started to become more authentic, in order to move in a certain direction, I had to stop and ask myself, 'Is this helping me get to where I need to go? Am I presenting myself in the most authentic way possible?' Because that is always what's going to get you further."
Fast forward two years later and Ebonee is still sticking to her vow of realism while reaping the rewards of what comes with being true to oneself. Tired of wearing long beach-wave weave, she decided to risk her career by making a life-altering decision to cut her hair and wear it in its natural state. Fortune favors the bold, and the budding supermodel has managed to stay booked and blessed despite daring to rock her natural hair, a move that is not often embraced from darker-skinned models by the industry.
Ebonee's decision to go out on a whim and eventually win is a decision worth reckoning. Quite often, the risks that come with going against the grain is anything from being Blacklisted to straight up canceled. It's hard not to be inspired when hearing the pride in the voice of the now 25-year-old, as she boasts about the modeling world's slow acceptance of broader beauty standards, crediting the industry's growth to the current cultural and political climate of today's society.
More important than her physical growth is the growth within herself. The high fashion model proudly gives praise to the most high for her mental transformation. "My biggest self-care tip is 'Give it to God.' Like, that's number one in my life. I really feel like my belief in God is what changed my career, and it really gave me the strength to really carve out my own lane for myself. The path that I'm going is really a path that [not] anyone has traveled before. I really feel like I'm trying to do something different, especially as a model, and being vocal, and doing all that I'm doing. So believing in God has really given me the strength to be like, 'You know what? It's okay. It takes a little bit longer. It's okay if your path is a little bit different.' And that gives me a lot of peace [and] peace of mind. You don't have to worry, you don't have to stress. What's for you, is for you."
"My biggest self-care tip is 'Give it to God.' My belief in God is what changed my career."
Hearing Ebonee's testimony, one can't help but to liken her to Black Panther star Letitia Wright, who plays "Shuri," --the technology goddess, sister and ultimate wingwoman to King T'Challa, the Black Panther himself. The breakout star recently opened up in an interview expressing her bout with depression, and how she shied away from the industry at the peak of her career to focus more on her faith, and the healing (and blessings) that followed thereafter.
"That's what happened to me!" Ebonee excitedly interjects while reacting to the similarities to herself and Letitia. "I had the behaviors [of depression]. As you get older, those are all the things you have to take the time to reevaluate and assess like, 'Why am I like this? Why do I behave like this? Where does this come from? Is this helping me get to where I need to go?'
Ebonee is no stranger to setbacks in her life, but those trials have blazed trails for unexpected triumphs. Her testimony of how she went from surfing couches to walking runways and starring in ads for big-name brands like GAP, Pantene, David's Bridal, and Calvin Klein is inspiring, and she confesses she isn't "struggling" now, although she still shrugs off the notion that she's "made it."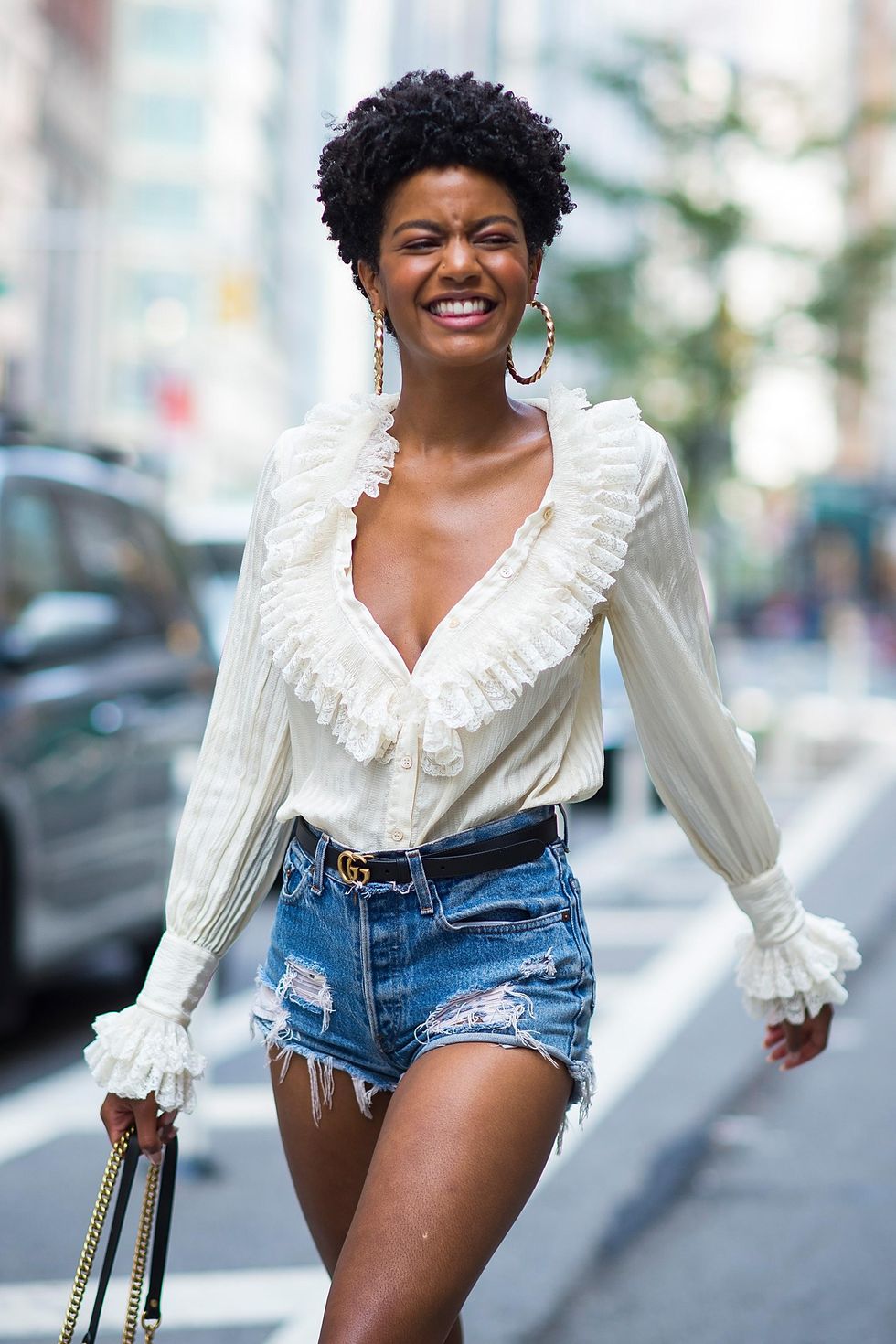 Gotham/GC Images
"I've never had like a 'big break," she humbly admits. "I've just had really great things that have happened to me over time, but I don't think there was ever really a moment that was just like, 'Oh my God, this is it. You're destined for stardom.' You know what I mean? I just feel like I've been real consistent in working my way up and putting in the hard work, and creating a foundation for myself not just based on modeling, but based on activism and philanthropy, and just using my voice and giving back."

At the end of a hard day's work, beyond the lights is Ebonee's life. When asked about her greatest love to date, it's clear that for Ebonee, it's self-love. As the model grows and redefines her life, she is also redefining love.
"Relationships are mirrors. Friendships as well. A lot of the time we attract people who hurt because we're hurting. But then when we're ready to leave that situation, we point that finger and blame that person like, 'You ruined my life!' But a lot of the time, if we took the time to be introspective, we'd realize that there was something in us that needed to learn a lesson, or something in us that was also in that other person that we need to work on. So, taking the time to assess your relationships [is important] like, 'What is being shown to me right now through this relationship with this person?'
"Relationships are mirrors. We attract people who hurt because we're hurting."
"My definition of love has changed so much over the last year as I've learned to love myself differently, because I've also learned to give love differently," she continues. "I've also learned how I want to be loved and how I deserve to be loved and what type of love I'm worthy of. And since going through this transformation, I haven't dated anyone and I haven't been in a relationship. I don't know what love would actually look like in a relationship [now]. If it would feel differently than it has in the past. It's hard to say if I've been in love because I think I have, but it's changed so much, so maybe I haven't. I won't know until I actually find someone."
Now that's what we call a r̶o̶l̶e̶ real model.
For more Ebonee, be sure to follow her on Instagram and Twitter.
Featured image by WireImage
Tiffany Haddish is a lot of things— an actress, comedian, your homegirl, etc. And when she met Oprah, she was "us."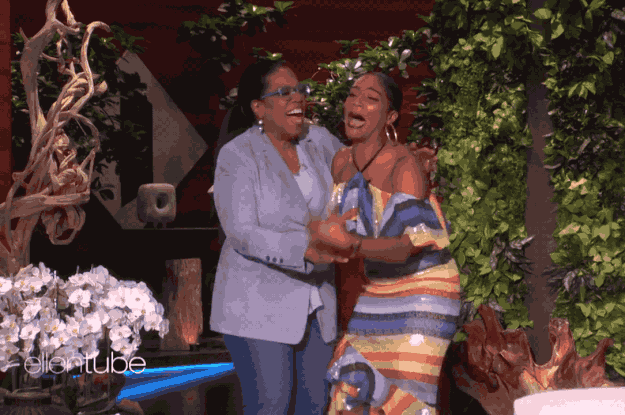 This week, Tiffany Haddish stopped by The Ellen Show, and things went from 0 to "Oprah" real quick. While Ellen was casually asking the Girls Trip actress about her past encounters with the mogul, Haddish revealed she met Oprah once, when she was as an extra on the set of a movie Winfrey was producing.
According to the 39-year-old comedian, her on-set humor with castmates caught Oprah's attention, prompting Winfrey to encourage Haddish to keep in touch, via letters:
"Back in the day, when I was a professional extra — because I didn't just come out of nowhere, I been in this business a minute — I did this movie called, 'Their Eyes are Watching God," and I was an extra, and it was a movie that Oprah was producing, and she had walked by and I was making all the extras laugh and stuff and I was telling jokes and she was like, 'You're a very funny young lady,' and I was like (imitatesnervous laughter).
"[Then Oprah] was like, 'What's your name?' And I was like, "My name is Tiffany Haddish, and I'm a standup comedian,' and she was like, 'Keep me updated on your career. Write me, let me know what you got going on. I love comedy.'
"So I would write her and I never got any replies. I think because there was a lot of misspellings or something because I wasn't a good reader at the that time, so I definitely wasn't a good writer. But I'm better now. But she never wrote back."
What happened next was straight out of a movie. In true Ellen Degeneres fashion, the host surprised an unsuspecting Haddish, and brought out Winfrey: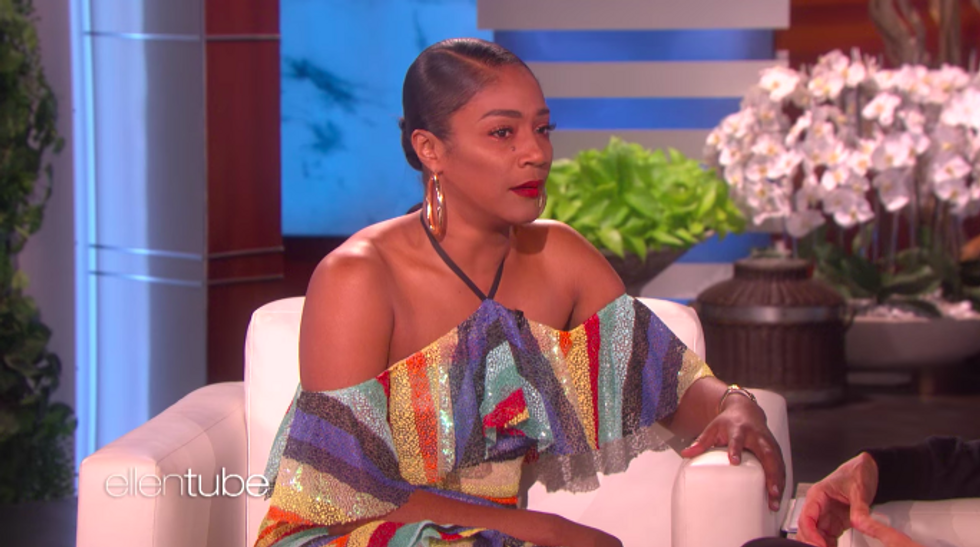 Ellen: "Let's ask her why she didn't write back. Oprah, why didn't you write back?"
Oprah: "I didn't write back because —"
Of course this led to a wave of emotions, tears, and Tiffany completely fan-girling while basking in Oprah's ambience! After an exchange of "I love you's," Oprah admitted that she lost Tiffany's letter: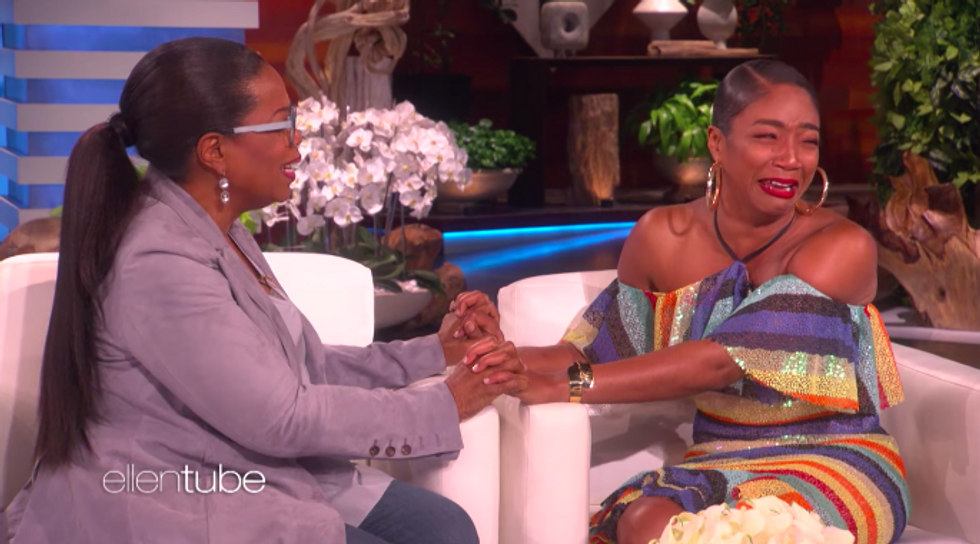 Tiffany: But I sent you like six!
Oprah: Everybody on my team knows... never send a letter to me. I'll tell you who to send them to. But how are you doing?
Tiffany: I'm so happy. I'm good. There is so much opportunity in the world. When I woke up today, I just knew it was going to be magical. I knew it, I looked at myself and said, "Girl, today is going to be a magical day. And it is!"
And magic it was.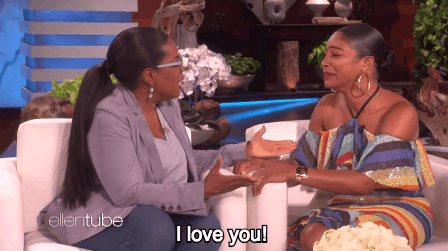 We can't imagine all the "360" feels Haddish had at that very moment in her life and career. To have met Oprah on the set of her movie as an extra 12 years ago, to now sharing a stage with her. From be extra to being on Ellen. #RealLifeGoals
And it looks like Oprah's magic kept spreading. Not long after the show, Haddish announced that she will be hosting the 2018 MTV Movie and TV Awards, making her the first Black woman to ever host the show. Congrats!
Watch the beautiful moment between the comedian and the media mogul unfold in the video below.
Remember Demetria Obilor — the Channel 8 anchor with the figure-8 body once deemed "too thick" for TV?
Well, the news anchor, who got the support of everyone from Gabrielle Union, Chance the Rapper, and thousands of fans online, is back representing for the culture.
And this time, it's not for the women with curves, but instead, the girls with curls!
Recently, a mother by the name of Tiffany Jones tweeted out to the ABC Dallas News anchor, that her daughter was a huge fan of Obilor's big hair, and even likens her curls to that of her own. She captioned the photo, "Mommy.....look, my hair is like @DemetriaObilor from tv" Karsyn loves watching "Miss Demetria" every morning on @wfaa @wfaatraffic"
It didn't take long for Demetria to catch wind of the tweet, later inviting 4-year-old Karysn and her family, to her show.

The young girl with the bouncy hair and even bouncier personality could barely contain her excitement as she not only danced and laughed her way on set, but "Mini-D" also helped Obilor co-anchor the news:
Clearly, these two have a lot more than just amazing hair in common — they are both made for TV, and can instantly steal the attention (and hearts) of viewers.

During a sit-down with Karysn and her mother, the 26-year-old anchor spoke on her Nigerian background and the importance of representation in media:
"Growing up, I didn't see any news anchors with curly hair or natural hair or even braids. So I do see [representation] as a big deal... For so long there were no products that even suited our her."
"[Karysn] is such a confident girl, and that's so important to instill at such a young age."
Last year, before Demetria went viral for being body-shamed, she received hate-mail for her hair, and tweeted out a screengrab of a troll who claimed he "fast forwards" every time her coils hit his screen:
A shame! In a personal essay with Elle last year, Demetria dropped gems about embracing the woman that she is and not needing to adapt for anyone's palette:
"There's so much that's 'unacceptable.' Your hair needs to be straight; if it's curly or an afro it's unprofessional. If you have curves, you need to wear a huge fit-and-flare dress to hide them, because it's too big or too sensual or too erotic. I shouldn't have to wear a potato sack to make you feel comfortable. I've heard people say, 'Well, you're in Texas now. We're more conservative."'So you're telling me that every time I travel to a different state, I have to assimilate to its cultural norms and values in order to be accepted? That's not what America stands for. America is supposed to be a melting pot based on freedom from religious persecution and cultural persecution. Don't tell me I have to assimilate."

Luckily, the majority rules, and Demetria is a fan-favorite on Dallas news scene and pretty much all of America. Besides, when you have the three C's — curves, curls, and confidence — you're unstoppable.
Something that Demetria is showing all young brown girls of the world.

Nicole "Hoopz" Alexander has been in the public eye for the last decade–scouted in an airport for the pioneer of wild reality TV show on VH1, Flavor of Love, and later appearing on I Love Money. In most recent years, she was more notably known for her public and candid relationship with NBA vet, Shaquille O'Neal. But after a failed relationship in the same public eye that watched her win both Flava Flav's heart and $250,000, Nicole Alexander slowly seemed to fade into a world of unforgettable reality TV stars who come and go.
That didn't stop her drive behind the scenes. She used that very money to buy a huge home in Tennessee, launch a clothing business, and build her brand which includes her latest project It Takes a Sister on Oxygen. For the first time, Nicole isn't just a pretty face cast on another show for entertainment purposes, she also serves as the executive producer. Now, Hoopz is aiding in the shift of society's perception about black women on reality television. She's capable of leading, and after one messy moment on national television, loving again.
"I'm still hopeful for love," she tells me as she skims through her three-year relationship with retired NBA star Shaquille O'Neal nervously, fidgeting at several points that inch closer and closer to the embarrassing part of that chapter. She notes that she isn't regretful about those years, dropping her lessons learned in the areas of self-development and business.
"Shaquille is so smart in business and look at [Shaunie]...being together with him, you just gotta sit back and soak up [that knowledge] and pray you're making the right decisions, too."
With her own reality show under her belt, her family under her wing, a business that she hopes blossoms, and a new partner by her side, it looks like Nicole "Hoopz" Alexander finally made the right shot.
On your recent reality show, within the first episode we see you crying over your ex. We've followed your relationship over the last few years, and you guys were very cute and best friends. What happened?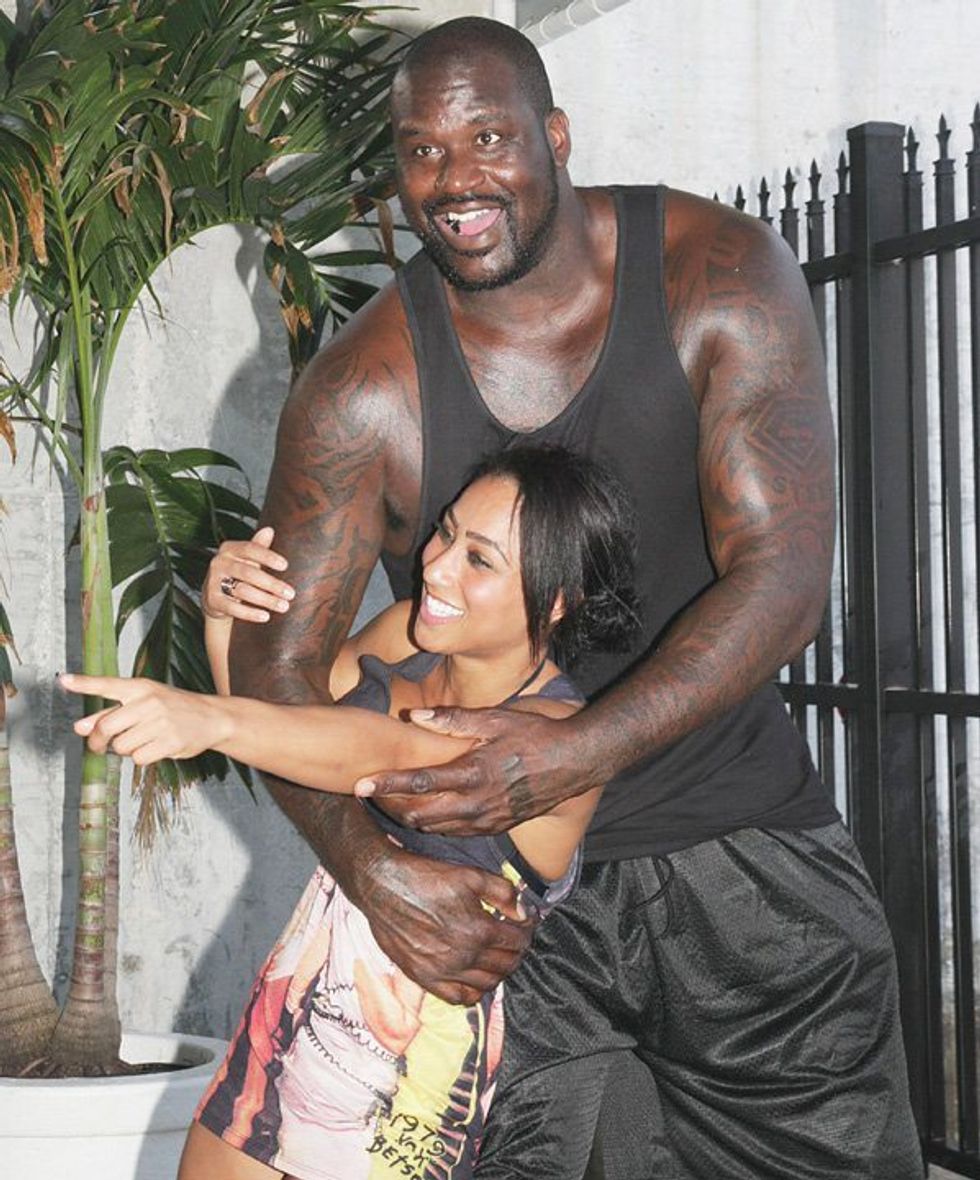 I don't want to say anything that may offend him, or if he thinks or looks at it differently--out of respect for him, but we just started seeing two different things. I just feel like, I started losing a little bit of who I was. Because I'm not overshadowed by him, but my focus became him. And I still had a career to uphold, and I still had a fan base, and I still have all these other things, so we just started to go different ways. And I came back home and we started doing long distance a little bit, just to get some space and you know-
It's so weird to watch myself crying on television, because you guys never see me cry in any of those shows. But I'm like a hopeless romantic, my heart is humongous so I do get hurt a lot.
I'm at my store and my phone started ringing off the hook from people I haven't talked to in awhile. And they're like, "Oh Nikki, I'm so happy you're on TV. You and Shaquille-you guys are at the Wimbledon." And I'm like, I'm not at the Wimbledon. I'm at my store right now, about to put up my opening sign. Then I looked, and the story was everywhere. And I'm thinking, but that's not me!
It was an uppercut. I just didn't expect him to do something like that!
And I literally sat there and I'm looking at them sitting next to each other and she's all over him, so I knew it had to have been longer than obviously what I just saw.
And everything was good before that right?
Yes, we were fine. We were in a little long distance relationship, but everything was fine. But the respect level of not being out in public. For me, let me have done that and he would have killed me. Out of respect, I would have never taken someone to a major event that you know would be televised. To me, it was like more of an 'F U!' And that's what hurt the most. We were supposed to be way better than that. Do that behind closed doors, not that I'm saying that would have been okay, but be better. Don't be sloppy.
At the end of the day, you can't hold on to that. People are going to do what they are going to do. There is no stopping that. I'm not saying it didn't effect me at first, because it still hurts now, but you gotta be like, okay, cool. It is what it is. It's what he decided to do and he has to live with that. I move on and be the best person I can be. I'm still hopeful for love.
Absolutely. As you should be. They only win when you stop being hopeful [for love]. But what I want to know is- did he ever tell you why?
No, we got into it. And, I don't know, with him it's weird -- we are still close, like the best of friends. We always will. No matter what. I love him still.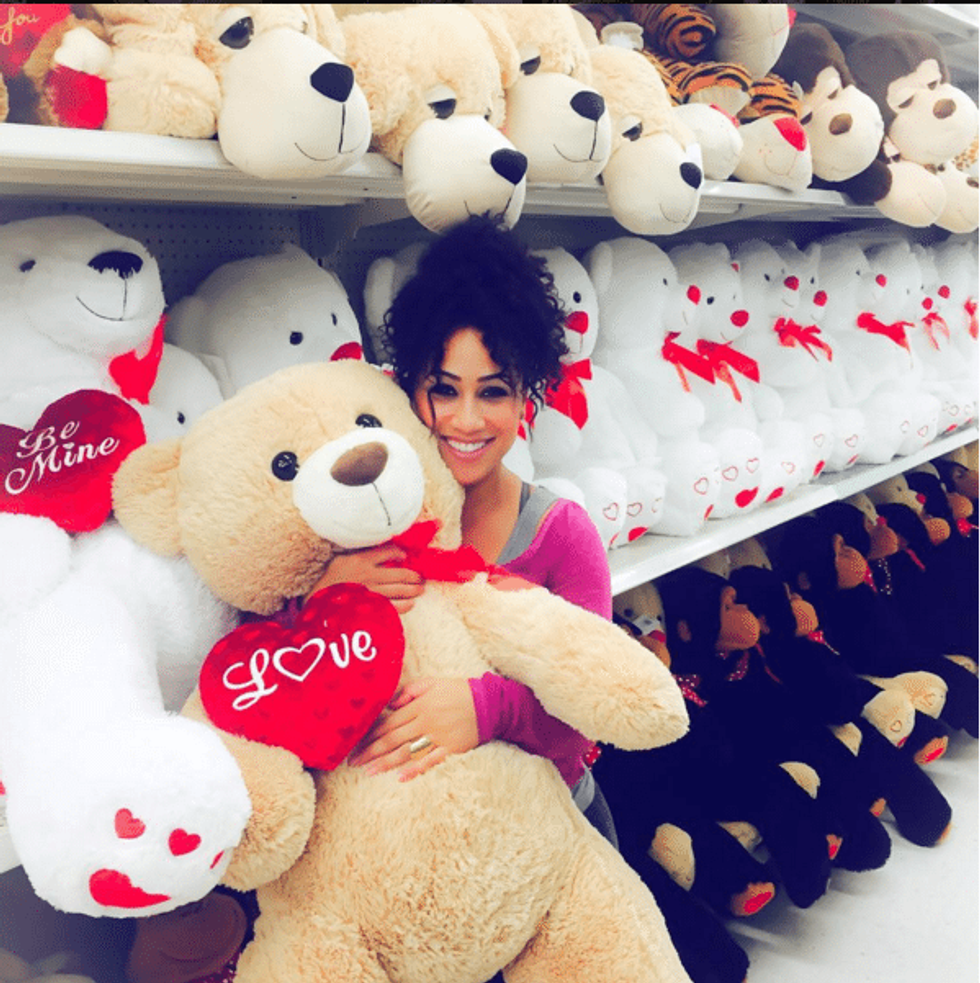 So you guys are working through it, but how does that work out? Because you have this amazing new guy that has just, showed you so much of his positive self, and he's treating you like a queen - but you're still friends with your ex. How does that work out?
By being honest, and that is the one piece of advice that I would give everybody in this world. If you're being honest about what is happening in your forefront about everything, who can say anything? You either respect it or you don't. And people usually respect that.
"There is not one thing in my life that I can tell you that I regret."
I make a decision 100 percent. So I feel like to keep hate in your heart, completely disown this person because you are with another, I don't know. To me, that's just a little inhuman. You have to forgive and just try and move on. You have to. The more that you hold on to, it affects everything. The way you think, the way you view things. I think that is one of the hardest things with being in relationship. Because when you are with that person, they consume your mind and everything. So you're not viewing the world through your eyes, you're viewing it through what they think their decisions and their reactions would be.
You get kind of confused, so you have to stay true to yourself. I think being in relationship is a risk all its own. And you have to be strong enough to take that risk.
Tell us about your new love!
His name is Ovince St. Preaux. We've been together a little over a year. I wasn't looking for anything. I was just happy I was going to be focused on me. Doesn't it always happen that way? The minute you're like no, I'm just going to focus on me, career, and that's it. And then, oh hi! You meet someone and then one thing leads to another.
I took a chance on love again, even after the past, which is really hard. But he is so patient and I love him to death for that. To be able to just be there and to still be okay with me letting all that go. And still loving me.
He has a big career on his hands too, [he is a UFC fighter], but we're juggling the time between our relationship and our careers between each other.
Do you think he is the one?
I think you always know, right? We're not intuitive for no reason. You have to follow that. But I don't know. I don't want to say just yet, I'm very superstitious. I know what I know but maybe that's another season.
From the looks of things, we can say that you are always winning! You won both Flavor of Love and you also received a huge quarter million dollar payout after winning I Love Money. Did you immediately flip it into your own business?
No, I bought this big house in Tennessee first. I chose to move. And I think that is one of the main reasons- family is always in my head. Big family, my sisters are always with me, we're always together. It was just me and I ended up in Tennessee initially through an ex-boyfriend. Guys take you everywhere.
It was a little bit before me and Shaquille broke up that I thought, "I can have an easy life if I chose to just want to be with a millionaire and just take his money."
But I had a life and career before Shaq, before any of those things. And to me, I just knew that nothing lasts forever, but family. Relationships in this day and age, it's sad to say, but you just never know. And that scares me. So you always have to have that foundation and that backbone on your own. I can't depend on whether me and someone else are going to make it last forever and this, that or the other. And if he walks out and we're together, then where the heck does that leave me if I stop focusing on what I need to do?
I knew I needed to start a business so that I had a brick and water, and something that just created a value on its own. Even though I don't have kids, I can pass the money down to my sisters and they can learn the business. Learn this, help me run this store, help me run this business so we can just keep going.
"I never opened a business before. But we as a people, we have to find those steps. It's not going to be handed to you. You've got to do the research."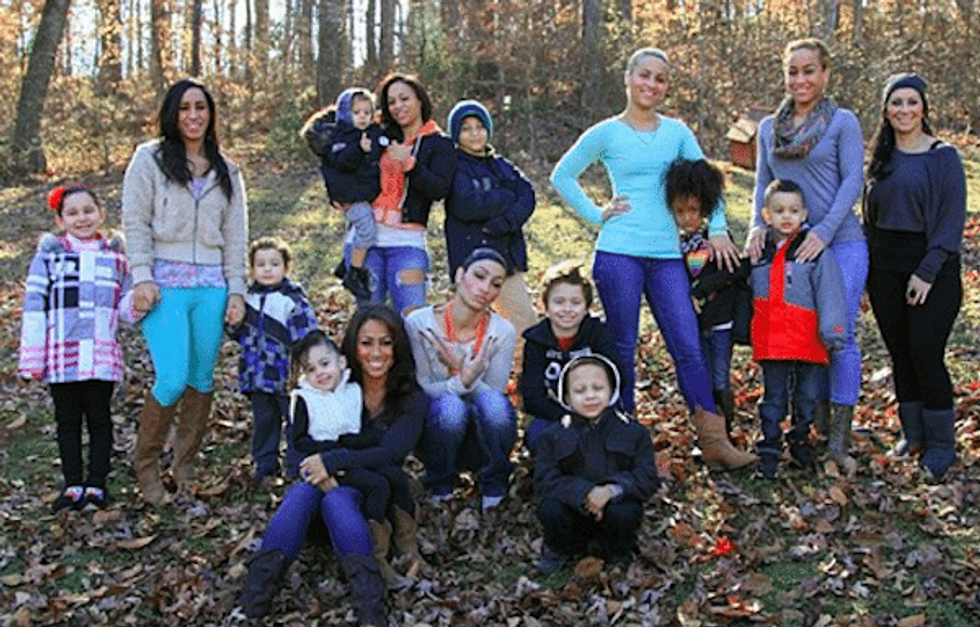 It's been over seven years since you've done reality TV, what influenced your decision to return?
I've gotten offers to do shows before, but I need substance behind my shows or something deeper. I wouldn't do it if it was anything different. We were the forerunners of reality television. We started the love shows [with Flavor of Love], and we started the challenge shows. I like to forefront new movements. And I'm not taking away from any of the family shows on TV. I think they are all great.
I think I just wanted to bring a different element of real. I have five younger sisters, you get to see them all. And with all the 13 kids, which you'll only get to see eight, it's such a humongous family. And they are such a big important part of my life. They are the reason that I work so hard and have to keep maintaining. They are my drive. And you have to keep the business in the family. So, I'm just passing it on down.
Do you see yourself having kids in the future?
I definitely want kids one day, I just don't feel like that's a goal.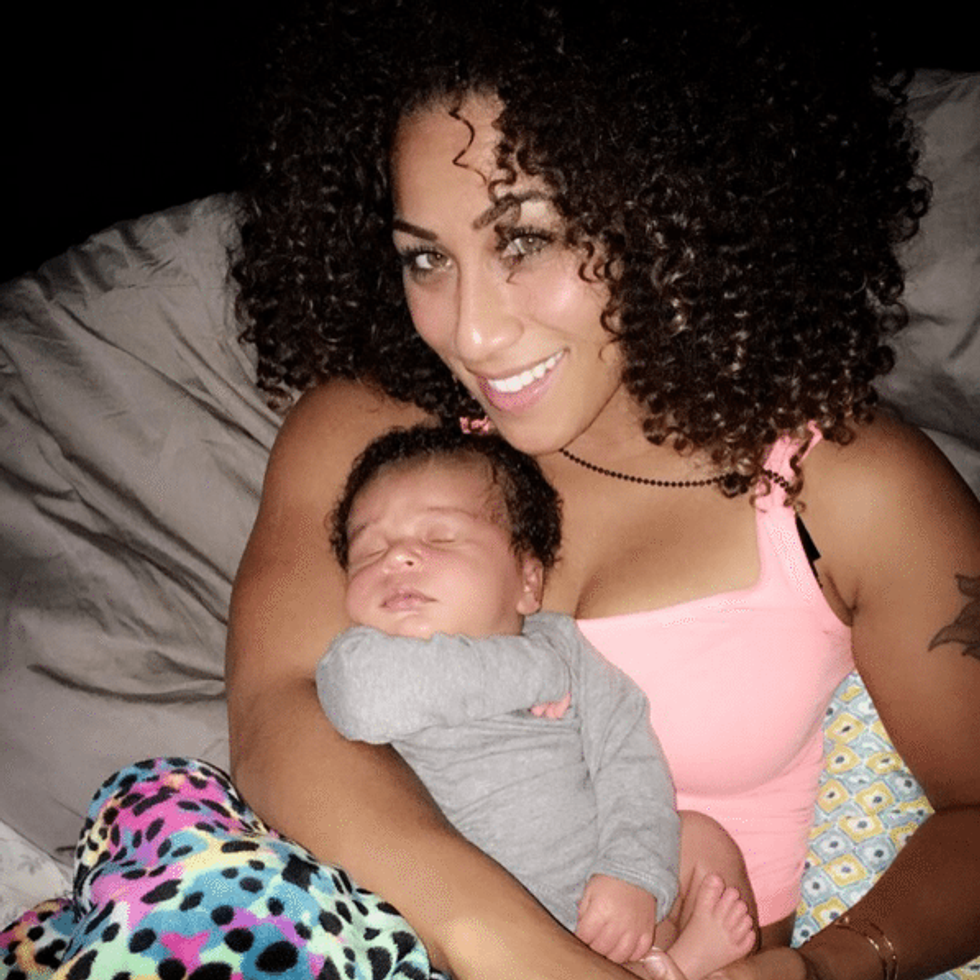 "A lot of women get older and they start feeling like a ticking time bomb. I don't feel that way. I feel great."
I feel like I'm right where I am supposed to be. And I think things like that happen whenever they are supposed to happen. But that's not even in my view right now. I'm just focused on getting my sisters right.
I wanted to give them another chance in life, just to succeed and give them the things that I've had, and see what they do with it.