Saba Tekle
Saba Tekle is a Filmmaker, Publisher, Mentor, Former Huffington Post Contributor and an Award-Winning Best-Selling Author. She is also the creator, co-author, publisher and producer of best-selling book series, "20 Beautiful Women" and soon to be docu-series. This compelling book series and movement inspired the #20beautifulwomen challenge (in which over a million women participated) and was a blog section in The Huffington Post.
I've read that grief is just love with nowhere to go. One thing for sure was that I loved loving my mother. She just passed over a month ago. But grief isn't what I feel entirely.
I mostly feel reverence, gratitude, peace, and forgiveness. On top of that, it feels like my heart is being hugged and comforted by God and at times it seems I feel what my mother is feeling in Heaven. I don't know how best to describe it.
Even on the day of her burial, I felt uplifted. While I was walking to her prepared gravesite, I was reminded of the story of the "Footprints in the Sand". How God carried this man through his most challenging times. I don't know what I've done to deserve such grace or where this hidden strength came from, but after bracing myself to keep any unseen uncontrollable emotions from taking flight, I let go to hear a voice say, now this is how you "go out".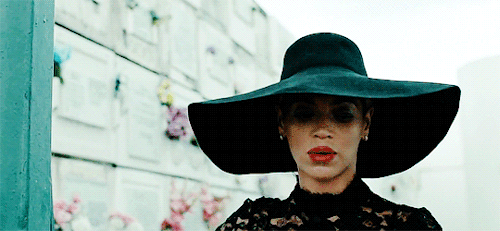 66.media.tumblr.com
My mom left a legacy. She was such an incredible woman. I was in awe of her.
Her style, wit, class, strength, love, and endurance for BS was incredible to watch. Her humor, her laughter, and the way she carried herself knowing what she had overcome could make anyone feel proud. That is what I felt as I watched people cry because of the love they felt for her. She had so many call her their second mother, yet she still made each of her actual children feel just as loved if not more loved and special. How could she balance that, a restaurant business, three kids, and keep her lawn cut and hair done? I don't know.
Oh, and the bond I felt with her was like we were twins. I felt better around her and just speaking to her lifted up my world. She gave me life and she "gave me life". I was her "ride or die". We faced many challenges together. Some I continue in honor of her. My mom was an immigrant who had us at a young age, so it is almost like we grew up together. Sometimes we'd argue about something I felt she could have done differently (because she wasn't perfect, who is?) and she'd say, "Am I the mother, or are you the mother? Am I supposed to listen to you or are you supposed to listen to me?"
I would just laugh. I don't think we ever left an argument without laughing.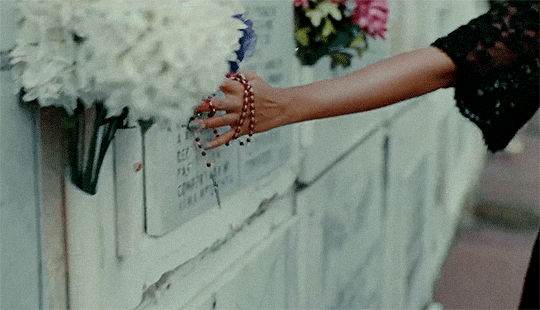 66.media.tumblr.com
So how can it be that I, crowned crybaby, who has had a few moments of outbursts, wipe her tears, and dare I say, feel even better than I did post her transition?

How can it be after moments it felt like God was playing a sick game on us by making me feel she was going to be OK, that I got so accustomed to miracles that I didn't think even for a second (until the last hours) that she'd ever leave us. It also felt like maybe He was done with creating miracles for us.
But then after journaling and reviewing and letting it out, I found a peace I have never felt, indescribable love and gratitude.
I am not one to think that living is somehow the "best outcome" for every situation. If we truly believe in God and Heaven and that God indeed has a plan and there is no better place to be than in Heaven, then how is she leaving a tragedy? Especially since she left painlessly?
Sometimes we conceptualize ideologies, but when the shit hits the fan, we are quick to throw it all away. That happens when we don't embody what it means to trust and believe in God. Well, the question is why am I more than OK after "losing" my best friend?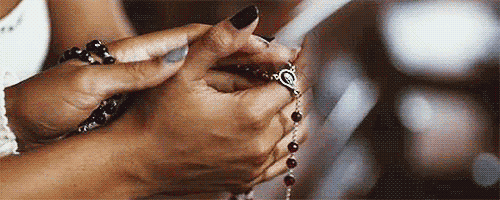 i.gifer.com
Because we don't "lose" anyone. If we can get past the pain, and sit quietly with God, we will feel our loved ones. The connection we made with them on Earth also doesn't leave us.

They say "the truth will set you free". Once I changed the word "death" to "transition", and that she is still here, my tears left, and loved poured in. Because I asked for support and prayers, I had so many powerful spiritual people pray for me and talk to when I was doubting God's plan. I also made sure to keep distance from people that think or believed what I believed.
What is funny, I don't feel motherless. I feel almost invincible now and in fact even closer to her and God than before…
I feel grateful for the time I was given, not taken, and appreciate all I got to experience of what she was. And that women was something special.
But I learned God didn't stop creating miracles, the miracle now is I still look forward to life. To make her proud by being even happier knowing that she wouldn't want anything less.
xoNecole is always looking for new voices and empowering stories to add to our platform. If you have an interesting story or personal essay that you'd love to share, we'd love to hear from you. Contact us at submissions@xonecole.com.
Featured image via Tumblr
"Every ten minutes, someone is added to the national transplant waiting list. On average, 20 people die each day* while waiting for a transplant." — UNOS www.unos.org/data
For over 10 years, my sister has been in and out of the hospital due to internal bleeding — the tumors on her liver would erupt.
The bleedings would be sporadic and unpredictable. Once every blue moon, we would have a scare, sit in the ER until they would give her morphine to dull the pain, and then she would go back to work as if nothing happened.
It was apparent she was a miracle.
She was sent home to die during the first year of her diagnosis — clearly neither God nor we was having it. We got on our knees and prayed like never before — ugly cries and all. Over time, she miraculously, and unexplainably, recovered.
But as I recall, her doctor saying about four years ago after an episode, "She's not going to recover after this one." In other words — her now fatigued demeanor was going to be the new normal and she could die "again." I remember I wasn't having it, and walked out of her office in middle of the meeting.
She ended up recovering — our faith was too strong.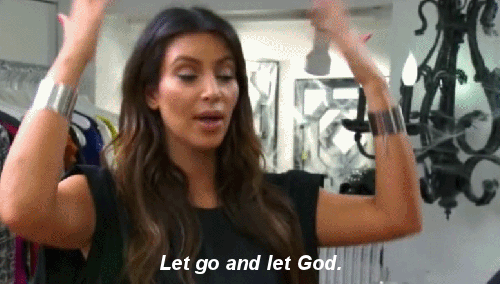 greatist.com
But last year, something tipped the scales and, at the time, it felt like her miracle juice had ran out. She was sent to the hospital yet again via an ambulance. She passed out because of the pain. A surgical operation was performed where they inserted a needle in her to stop the internal bleeding. Her vitals dropped and that is when I received a call from my crying mom to come home. My mom rarely cries, so I knew this time, it was different.
I recall praying a different prayer. In the past, I prayed she lived. This time, I prayed that God's will be done.
I no longer selfishly wanted her to live if she was going to continue to suffer.
While in the recovery room, the conversation from her team of doctors was different.
Even our experience and treatment was different. The once disconnected, non-empathic conversation turned into inclusive, connected, and compassionate communications that made my mom and I feel safe even while they were stating her fate: if she doesn't get a transplant, she could die because her liver took a serious hit, and the next one could be fatal.
They have been wrong before, but this time my sister agreed. She said she prayed about this so a few years ago she got on the transplant list. Only now did I found out that she would need a caretaker. I proudly volunteered.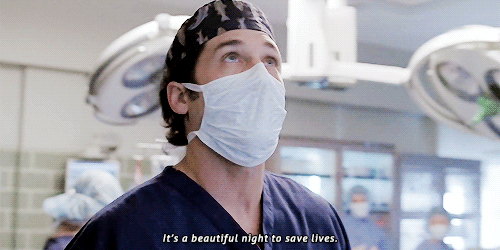 bestanimations.com
The other most important thing was the long list of people waiting for a transplant and her low MELD score (Model of End-Stage Liver Disease — The MELD score is used to prioritize patients waiting for a liver transplant.) Thankfully, her miracle juice didn't run out like I once feared. Her doctors wrote a letter to the people higher up to increase her MELD score and chances of getting a liver transplant.
After two weeks, it was approved.
But the journey didn't stop there, it had just begun.
We returned home to wait for the call, worrying about what effect this episode had on her. Her once vibrant, round face was now thin and depleted. Her weight was lower. Her larger liver (due to the amount of tumors) and small frame was going to be hard to match for an organ transplant.
So, of course, we prayed.
As we prepared, a month went by with no call. We did, however, receive news that if you don't get a call within 30 days, they'd have to reassess your MELD score. This was the first time I felt fear. The thought of her being in pain always hurt me. This was the first time I thought, I hope she is not getting better. I was ready for a change. We all were.
Again, her miracle juices were still at work. We got a call stating they wrote another letter to extend it — which was not only granted — but she was bumped to the second position on the wait list.
One week later, she got the call.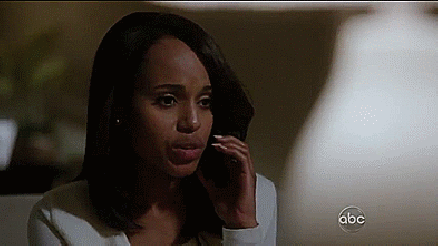 i0.wp.com
Now, they say, you can show up, wait, and end up coming back 5-6 times to the hospital for numerous reasons, and may still not receive a transplant. But even after we called my mom to inform her, we looked each other in the eye and said it is happening — we could FEEL it.
And it did happen. The next day, and 8 hours later, the transplant surgery was successful. The doctors stated the liver was so big it took two hands to take it out. It was the second largest her doctor had ever removed. Later, we found out she had 84 tumors, two of which were cancerous.
Now, we faced complications. She had to have two more surgeries. One of which they found nothing wrong and the other so minor I forgot. A mixture of things caused her kidney to fail, forcing her on dialysis. The drugs they gave her raised her blood sugar, inducing diabetes, so she had to take insulin.
But the power of prayer, having faith, using sound healing — Tibetan singing bowls, spraying the room with sage spray, using essential oils, laughter, positive thinking, having affirmations and goals — carried us through it all. Also, what helped was reducing the negativity by only sharing what was going on to a very limited number of people until we knew it was the right time.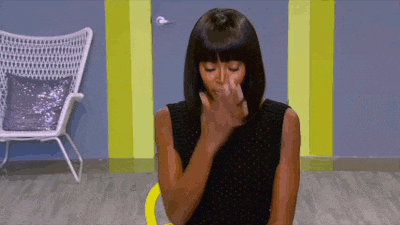 She spent 28 days in the hospital, 26 of which I was with her, because my mom would not let a day go by where she was alone, and if she was alone, it was no longer than a couple of hours.
Now, thankfully, she is back to work. Beautiful, vibrant, and cheeks so chubby, I sometimes call her CC.
During this time, what was also challenging was the lack of empathy and support I was given by some nurses, social workers, friends, and even some family members. I dealt with racism, mistreatment, and people taking advantage of the situation. But if I had chosen to focus on them, I know I would have missed the biggest blessing that God has given me, which is my sister, who has always been my resilient miraculous angel.
Her doctor actually told her, "Aster, you have a resilient spirit." If that doesn't tell you the power of prayer, I don't know what would.
So, pray on, friend, pray on.
Originally published at Medium.com.
Featured image by Giphy