Emmelie De La Cruz
Emmelie De La Cruz is an entrepreneur, author and speaker who transformed her layoff into her legacy. Through her sales funnel agency Revenue 15, books and podcast, she has one goal: help overworked entrepreneurs make more money by doing less. Her unapologetic approach to life and business have earned her a highly engaged following on social media, features across top publications, and the opportunity to work with some major brands. You can connect with her across social media: @emmeliedelacruz or Revenue15.com.
Whether you're striving for $5K or $50K a month, being successful in business is simple math.
However, we become so obsessed with building six-figure businesses, that we get overwhelmed with self-doubt. We keep failing because we're running before we know how to crawl. We want to say that we have a six-figure business, but we've been avoiding the hard tedious work to create a six-figure business. The point is, if we're striving for five-figure launches in months, and haven't figured out how to make $500 a week – there's a disconnect.
So many entrepreneurs don't know their profit margins, cost of goods sold, or their best-performing channels (Instagram, Youtube, Website etc.), which are crucial to making good marketing decisions. Once I mastered the numbers game of sales and revenue, I was able to master the marketing side of it. You see, we spend so much time worrying about social media posts, blog posts, email funnels, and sales pages, that we forget to get down to the basics: having a plan. The goal alone isn't enough. Instead of worrying about building a six-figure business, let's figure out how to make $100 or $200 dollars a day
$100,000 seems like an overwhelming number but setting bite-sized goals helps. If you want to cross into the illustrious six-figure club, you need to make $275 dollars a day. Not too bad, right? When you break down that large revenue goal into a more digestible one, you can breathe a sigh of relief, because now it feels doable. Once you have your daily revenue goal, it's time to map out what that looks like in real life.
This is how you hit that revenue goal.
There are three things that you need to constantly do in order to gain momentum in making sales.
Have product goals in mind, not money goals.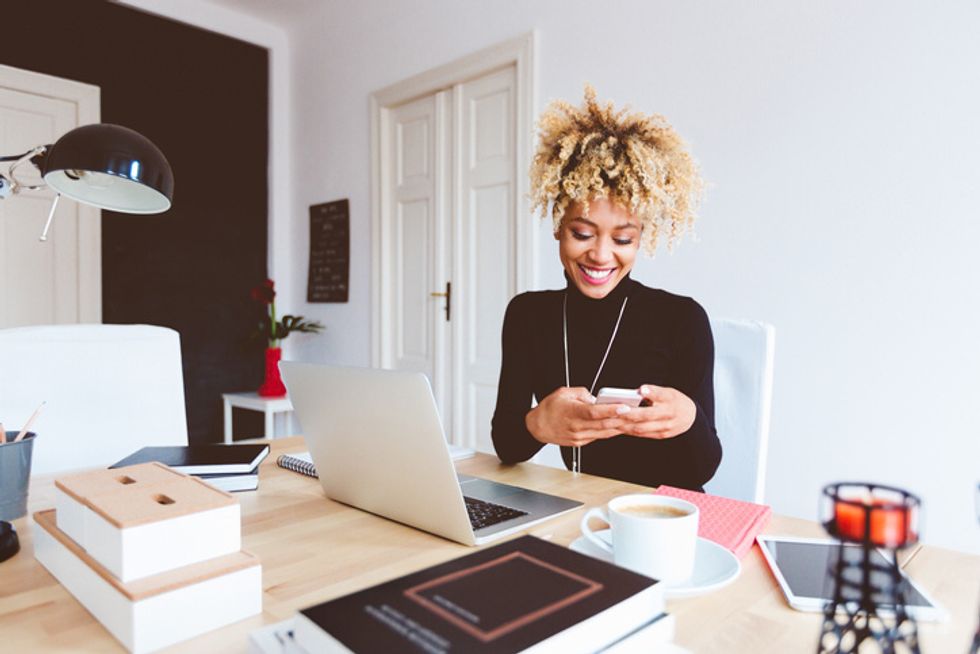 Getty Images
The first thing you need to do is break down that daily revenue goal into actual product goals. I know that if I want to make $175 per day, I need to sell two marketing plans, or two group-coaching memberships and two bundles, to make that happen. I also know that I can sell one marketing automation package and make that happen. By knowing the different combinations of products that I need to sell every single day, it allows me to prioritize what I need to promote and showcase on social media, conversations that need to be had and general offline work.
Diversify your products, so you can diversify your income.
The other thing you need to do is diversify your income. You need to offer a variety of products and services that solve a variety of problems for your audience. This diversification should also result in different price points to capture your audience at different levels. If you've been selling the same thing over and over and over again, eventually your sales will plateau. In order to keep your audience buying, and more importantly interested, you need to constantly provide new solutions to their problems. I don't mean reinventing the same sh*t in a different format. I mean engaging with your community and figuring out what else are they struggling with.
Ask yourself this: What is another problem that my community has, and what can I build or how can I help them get to the next level? When thinking about this, you also need to create streams of passive income, because if you're exchanging time for money, it's gonna get hard to scale and keep up with.
Keep your business in front of people daily.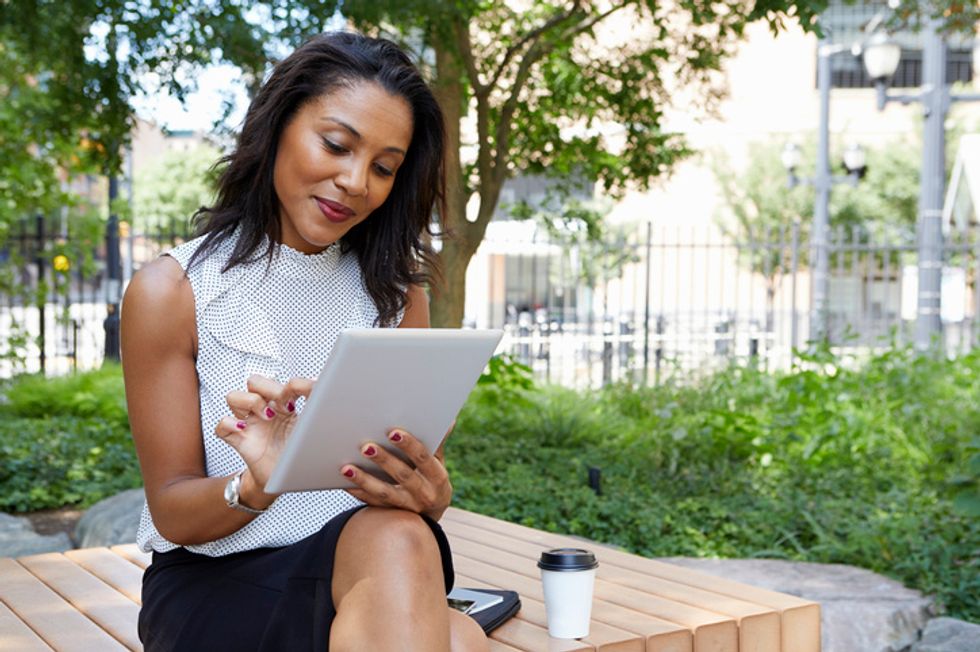 Getty Images
Remember when I talked about the plateau? Here is when what to does if it happens comes into play. You need to get your business products and services in front of new people every single day. Why? Because if you keep marketing to the same 500 people on Instagram and the same 300 people on your email list, you're quickly going to max out on sales. You need to constantly be adding new people to your audience so that you can continue to market and continue to build your business. Whether that's hustling online or marketing offline, your job is to find new people who are interested in what you are selling each and every day.
All in all, I stopped doing the most for the least. All the bullsh*t is a distraction. Just find a process and a system that works for you and forget the rest.
Why are we always chasing something new? We want to know the next best thing when we haven't even mastered the current thing we are doing. I truly believe if it isn't broken, don't try to fix it. In a space where everyone is doing the same things like joint venture webinars, "free" webinars with pitches at the end, social ads, $497 offerings, daily Instagram lives, what are you going to do that's different – what are you going to do that sets you apart?
Once I mastered this process, I tripled my monthly income. I got so consumed with what everybody else was doing online, that I lost track of my own ideas and fell to a $2,500 month. After that unfollowing spree and getting focused, I'm up to a $9,000 month. Why do you care? Because this could be you! It's okay, you can say it aloud… "I want freedom and options!"
If only you found a way to execute more of your ideas and grow your brand, you could own your time. But you can't do that if you continue to be overwhelmed and beaten down by the success of others.
Six figures is an amazing goal, but let's start with something a little less overwhelming. Then, watch how much your brand and income flourishes.
Featured image by Getty Images.
Want more stories like this? Sign up for our newsletter here to receive our latest articles and news straight to your inbox.
Originally published January 22, 2019
Does this sound familiar? You've been working hard (team no sleep!) at launching your business, but when you check the progress, it seems to be more stagnant than the advancement you've calculated in your mind. Before you throw your computer across the room consider this: In order to succeed in business, you need to learn how to set business goals.
Why? Without goals, you will never know if you are on track, or be able to create the right kind of strategy to reach them. If you don't know where you're headed, how do you expect to get there? Let's look deeper at what your business is probably like right now.
You have no idea how much you're going to make next month, also known as projections. You aren't entirely sure what you made this month if we're being honest. You have this overly-ambitious to-do list that you don't know how to prioritize. You have never done a business or blog audit, and make most of your decisions based on instinct and what you read on the Internet, rather than facts.
Translation: Most areas in your Google Analytics are dusty, you don't have a marketing plan to follow, and your metrics scare and confuse you more than they inform you.
Does this sound familiar? It has to be, because I used to be you. I also used to be stressed out and struggling. Now, I'm able to help people, pay my bills, AND have peace of mind every single day. My accounts are profitable, I know what I need to pay in taxes each and every quarter, and I have this renewed sense of clarity and focus in my business that I never had before. So what changed? I learned how to properly set business goals and stopped making 2 critical mistakes.
The 2 Most Common Mistakes That Keep Us from Reaching Business Goals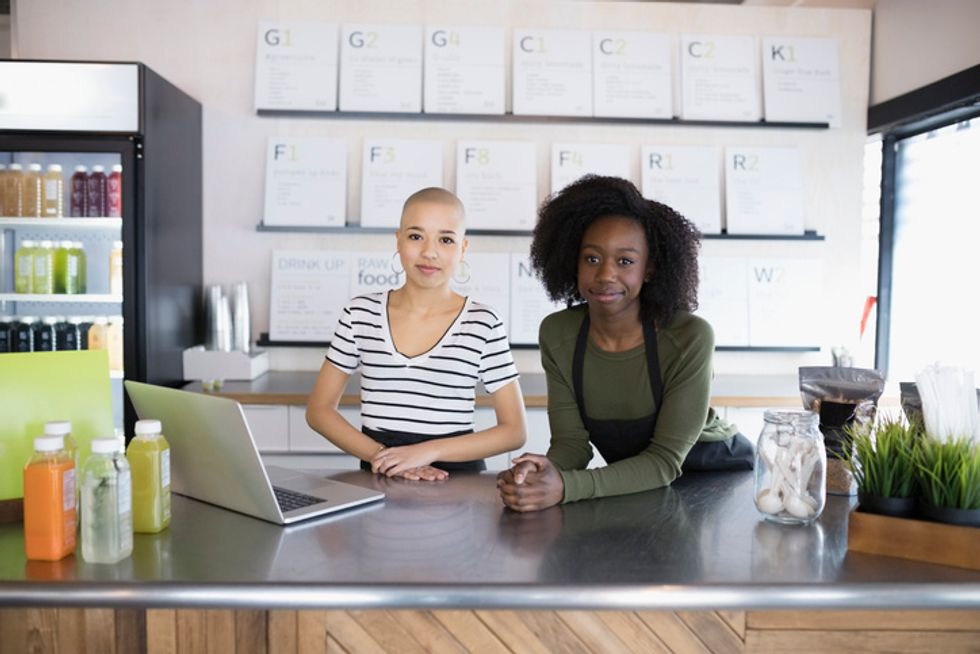 Getty Images
MISTAKE 1: NOT BEING FULLY COMMITTED TO YOUR GOALS.
The number one reason you're not reaching your goals is because you have yet to fully commit to reaching them. They look cute in your notebook, but you're not really about this life. The truth is, you're letting self-doubt and fear stop you from trying. Because when you really try, failing feels like it will be the end of the world. But it's not. You have to want it more than you're afraid of it. Your lack of conviction is causing you to leave goals unattained, because you're constantly starting over or never start at all. Shift your mindset to a growth mindset and be open to doing what it takes to reach the level you aspire to be at.
MISTAKE 2: YOU AREN'T TRACKING THE RIGHT METRICS.
You haven't reached your business goals because you've been tracking the wrong things. You have let yourself get consumed by insignificant vanity metrics like followers, pageviews, time on site, and likes. Why don't these really matter? Because vanity metrics can easily be manipulated, and they don't help us make business decisions. The metrics you need to track are the ones that indicate the health of your business.
You should know some key things such as:
The conversion rates for your products, services and funnels
The cost of acquiring a customer
The referral source that drives the most traffic
The channel that drives the most sales
The channel that is most engaging for your audience
Your best performing content
You might be like: "Allllllllright Emm, chill out. You lost me at customer acquisition channel." My bad. I get carried away with this stuff. As a digital marketer, my job is to connect these dots for the brands that I work for, and I've transferred that over into small businesses. Just because you don't run a multi-million-dollar company (yet), doesn't mean you shouldn't apply the same practices. I want you to learn how to use your data to make better decisions in your business. But first, you need to get organized, so you can actually find this data and have the mental capacity to process it all.
How You Can Properly Set Business Goals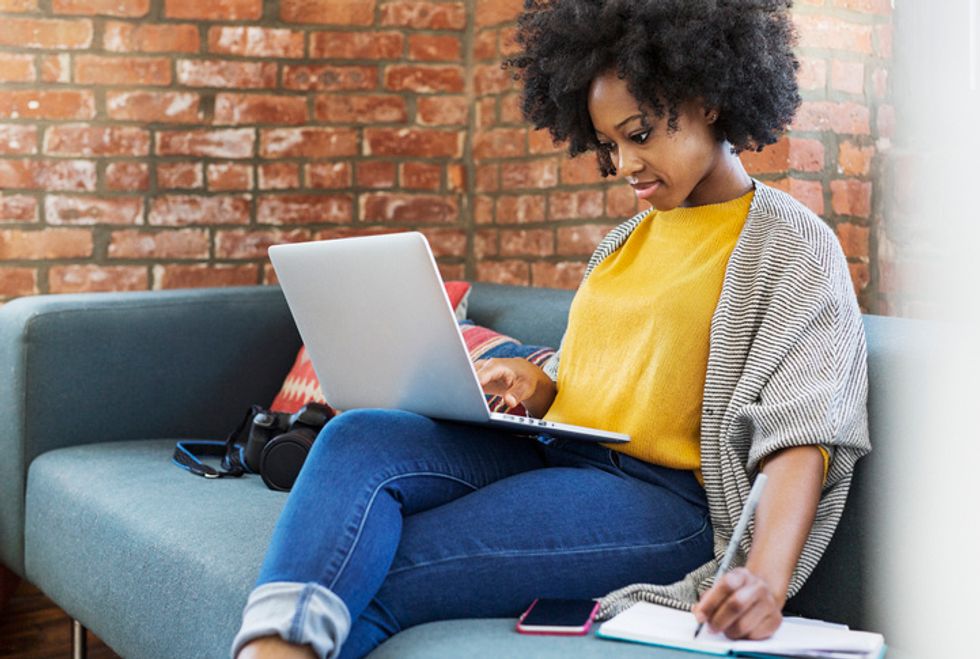 Getty Images
First things first, you must stop everything that you're doing. You been doing too much, and you need to take a seat. Yes, you need to take a huge step back, so that you can make a comeback. To get organized in my business, I take December off every single year. I don't take on new clients, projects, or create new content for 60 days. I create my marketing plan for the following year and take time to dive into the metrics of my business. We spend so much time consuming information and trying new strategies, that we overlook the best resource that we have: our existing data.
You need to break down those business goals into monthly and weekly milestones. Those bite-sized, short-term goals are what hold you accountable and allow you to assess if you're on track.
How to Set a Monthly Business Goal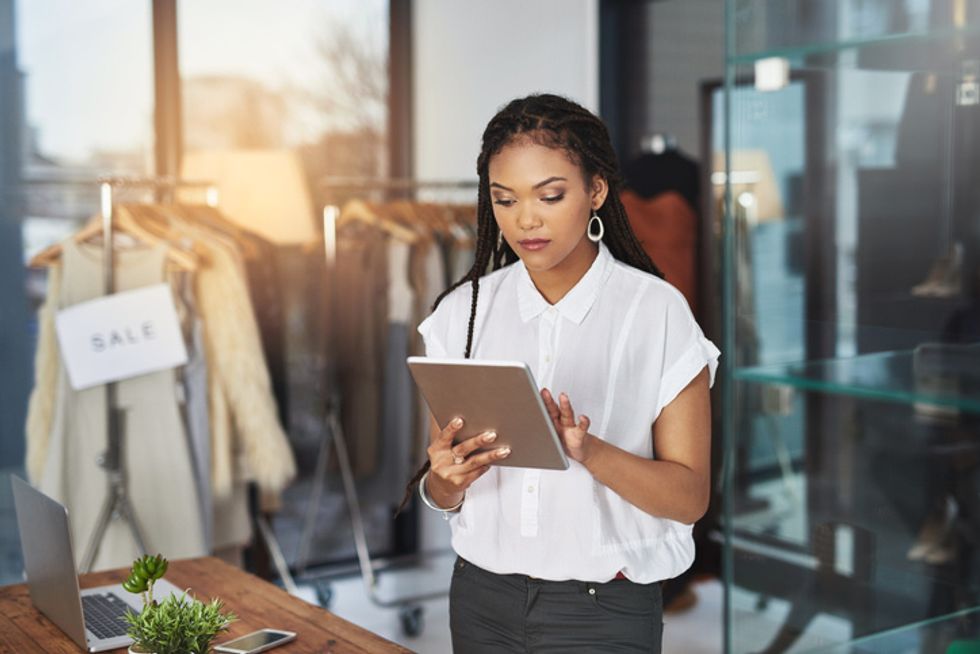 Getty Images
Decide what you want to accomplish for the year and why. How much money you want to make, how much merchandise you want to sell, how many people do you want in your class, etc.
Divide your goal number by 12. That's your monthly goal. If you want your weekly goal, divide your monthly goal by 4.
Calculate your conversion rate by dividing your pageviews by the number of sales you had.
Take your monthly or weekly goal and divide it by your conversion rate. This will help you identify the amount of pageviews you will need to reach your goals.
Break your goals down into tasks. How are you going to achieve your goal every week/month?
Have an accountability system. How are you going to assess if you're on track?
It may be overwhelming to take this all in, but understand that learning how to set up realistic goals and attacking them will help you finally check off some items on your "Goals" list.
Featured image by Getty Images
Related Stories
What's Really Keeping You From Your Six-Figure Goals - Read More
How To Use Habit Stacking To Achieve Your 2019 Goals - Read More
6 Mistakes To Avoid When Starting A New Business - Read More
Here Are 10 Money Goals You Should Hit By 30 - Read More