I can't recall the last time I made a New Year's resolution. It's not that I loathe them. It's just that they kind of remind me of one of my exes who used to constantly make promises, then reassurances, only to break them.
He wasn't a jerk. He was actually a nice guy who, for the most part, had his heart in the right place (at least relatively-speaking). In hindsight, I think our disconnect was the fact that since my top love language is words of affirmation, he thought that so long as he said he was going to do something, following through wasn't that big of a deal. To me, New Year's resolutions and my ex have a lot in common.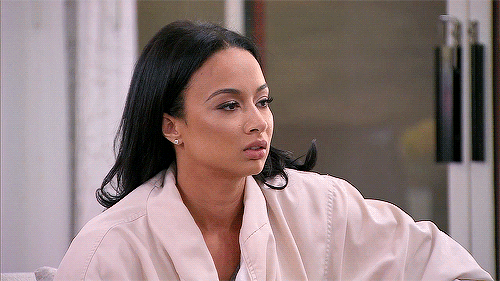 Giphy
Every year, millions of us think that so long as we put on record what we intend to do, we don't really need to put our words into action. There's data to support my lil' theory too. I recently checked out an article that said as much as 80 percent of people annually break their New Year's resolution — or resolutions — by February. There are a million-and-one theories — ones that are probably more like excuses — behind why.
Some say they break their resolutions because they don't have the time to keep them.
Others say they break their resolutions because they were unrealistic to begin with.
Then there are those who struggle because they don't see immediate results.
I have another theory. I think the reason why a lot of individuals fail at keeping their resolutions is because they should've never made them to begin with; their entire perspective on reaching a certain goal stresses them out before they even start, and that is what dooms them to fail from Day One.
media.giphy.com
Does that mean I think that we shouldn't have aspirations for the New Year? No. I just believe we'd get a lot more accomplished if we focused on creating a New Year's bucket list instead. Think about it.

Say that you want to lose weight by summer. A resolution would come in the form of "lose 25 pounds". A bucket list entry could be something like go hiking in Colorado or taking yoga at a fabulous spa.
Maybe you want to stop spending so much money on frivolous stuff. A resolution would be to not eat out more than once a month. A bucket list entry would be to plan an international trip for the fall.
What if your resolution is to finally get over your ex? A resolution would be to block him from social media. A bucket list entry would be to try speed dating or to hire a professional matchmaker.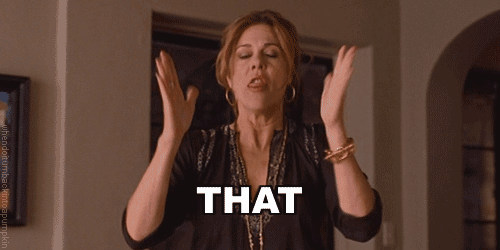 media.giphy.com
See the difference?

Whenever we focus on making resolutions, already it can put some (sometimes totally unnecessary) pressure onto ourselves because all we're really thinking about is what we're going to stop doing and/or how much work is going to be involved in changing our life or breaking a habit.
But when we're more in the mindset of creating a bucket list, it gives us new and exciting things to look forward to — and if they are centered around things that we want to let go of or do differently, that's a mere bonus.
So, sometime this coming weekend, do yourself a big favor. Turn off the tube. Put on some of your favorite music and pull out a piece of paper and a pen. Write down 5-7 things that would normally be a New Year's resolution. Then, instead of framing it as a resolution — something that you need to "resolve" — think of how you can turn it into a bucket list entry instead.
Do you wanna cook more? Put "taking a cooking class" on your bucket list. Wanna conquer fear? Put "go ziplining at Hunter Mountain" on your bucket list. Tryin' to reconnect with your spouse? Put "plan the ultimate romantic date" on your bucket list.
It will give you things to look forward to. FUN THINGS that won't stress you but will excite you instead! I guarantee it.
Featured image by Getty Images
Did you know that xoNecole has a podcast? Subscribe on Apple Podcasts or Spotify to join us for weekly convos over cocktails (without the early morning hangover.)
Originally published on December 30, 2018
Keep reading...
Show less
As a writer, I believe in the power of words. As a woman of faith, I believe that we manifest what we speak and do the most. I apply both principles to the way I set goals and resolutions. I take time to truly understand what I feel and what I want, then I work to speak those very things into existence, and onto my vision board. It's the difference between wanting a boyfriend and wanting a husband. Anyone can be a boyfriend, but sis, I want a husband; I want my husband. That is what I speak. And in doing so, I call into existence the very thing I desire: my husband.
See where I'm going with this?
This same idea should be applied to your New Year's resolutions. While it's easier to set standard resolutions each year, it's important (and far more beneficial) to set resolutions that honor your true desires. This way, you declare and work toward what you truly want.
To manifest your heart's desires, it's important to speak to the depths of what they really are. Below are the most common resolutions with new suggested language. The point of this isn't to hijack your resolutions, but to encourage you to think critically about how to ask for – and manifest – what you truly want for the new year.
Featured image by Getty Images.
Related Stories
Here's The Real Reason You're Not Manifesting – Read More
This Young Filmmaker Used A $5,000 Self-Investment To Manifest Her Dream Life – Read More

Positive Affirmations Helped Ciara Manifest The Man Of Her Dreams – Read More

Keep reading...
Show less
We're officially in the first month of the year. It took a while to get here but we made it! Many of us are using this time to set New Year's resolutions and assess the success of last year's goals.
While I recognize and appreciate everyone's excitement to brainstorm and create resolutions to become better people this year, I am often devastated by the amount of processing people don't do before moving on to a new year. It's almost as if people expect new doors to open without closing the ones they're leaving behind.
Part of moving on, even if it's just to a new year, is processing all the grief, pain, triumph, and joy that the previous year provided. It's understanding how last year's events transformed you (in both good and bad ways) into the person you are today. It's also recognizing what can go with you into the new year and what should be left behind.
It's just as important to end the year with loose ends tied as it is to begin a new year with a fresh perspective and new energy. Keeping that in mind, below are a few ways you can reset and re-center yourself to ensure you're starting your new year off right!
Process Your Year.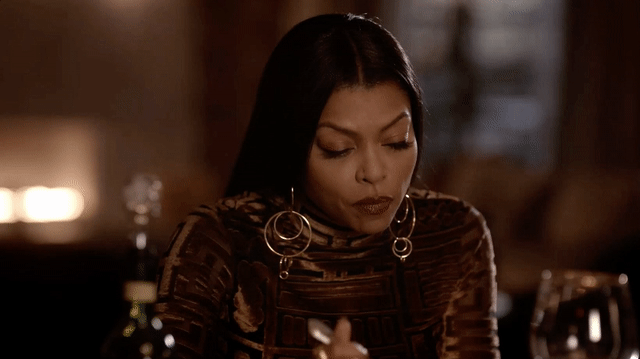 Every year brings with it a new set of wins and losses. Some of us have experienced breakups, some of us have experienced new love. Some have lost loved ones, and others have experienced the birth of a new life. Some of us have battled depression and others may have come out of theirs.
Whatever this year brought you, it's important to take the time to process it. Write down the lessons you learned from each situation, come to terms with how each moment made you feel, and reflect on the transformation those moments afforded you. Walk away from this year with a summary of pivotal moments and an understanding of how they've shaped and shifted your life. Doing so will allow you to enter next year with an appreciation for the direction your life is headed.
Heal Your Heart From Its Hurts.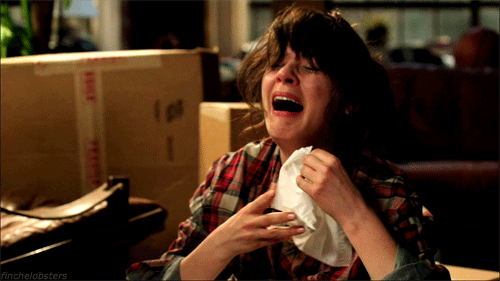 If you truly believe the new year is a new start, you must heal your heart from the pain in the past so that it does not affect the present. Starting your healing process before a new year is critical to ensure you approach it with restored hope. It's important to work through the pain you experienced before embarking on new journeys this year.
If you are not fully healed (or at least trying to heal) from what happened last year, you threaten the fulfillment of all that can happen this year. Don't go into the new year harboring ill feelings about people, places, or things; instead, work on healing from the pain associated with them.
Forgive Yourself.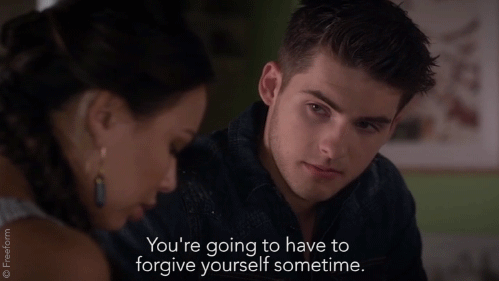 This year you may have fallen short. You said and did some things you're not proud of. You've made mistakes. I know. Many of us have that same story.
Before entering the new year, forgive yourself (and others) for everything. Your one-woman pity party is sure to impede on your celebration for the new year, so stop beating yourself up, sis. What happened last year, stays in last year; leave the shortcomings of that year there and don't look back. The only things you should move forward with are the lessons you learned.
Reflect.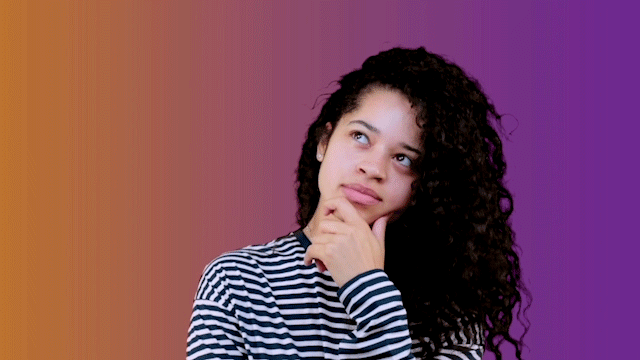 As you wrap up the year, it's important to acknowledge how you feel about things – particularly yourself.
What did you want this year to bring? How have you manifested those desires? What are the ways you stood in your own way? What are things you've spoken over yourself? Ask yourself difficult questions.
Get into your own mind and figure out where you may have lost control, or where you have been completely victorious. Taking the time and thought to ask and answer these questions can help you identify key habits to work on next year. Resolutions aren't just about achieving goals, it's also about understanding the self-work that must occur to reach those goals. It's about abolishing insecurity, doubt, shame, and regret to truly operate in your calling, become a better you, and get the work done.
Let It Go, Sis.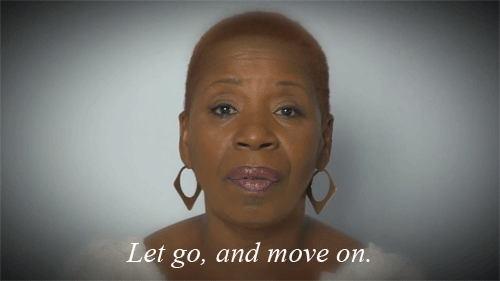 One of the worst things you can do when embarking on a new journey is bring old, useless baggage with you.
In order to fully flourish, you must learn to let things go. Healing can help take care of letting go of the emotional and mental bondage the painful moments caused, but sometimes you must let go of the things that didn't happen, too.
Harboring hurt from the unmet expectations of last year only prevents you from anticipating in the goodness of this year. So let go of all that didn't happen. Let go of feeling let down. What you expected of the year may not have transpired, but you can't hold that against this year. Let it all go and step into the new year fresh and free. And while you're at it, let go of the toxic people, places, and things too.
Before you rush off into the new year, use this month to cleanse and reset in preparation for it. While you will always bring parts of last year into the new one (after all, you are just an iteration of the things that happened to you in past years), it is important to end each year at peace.
Make a commitment to yourself to start the new year with a renewed spirit and energy by processing, healing, forgiving, reflecting, and letting go. I promise it'll make your resolutions even more attainable.
Featured image by Getty Images.

Keep reading...
Show less
Lose weight. Change jobs. Spend more quality time with the kids. These are the kinds of New Year's resolutions that are pretty common. But if you're married, tell me something. When's the last time you put a resolution on your list that specifically had to do with improving your sex life?
Being that 15-20 percent of married couples have sex less than 15 times a year, which is the textbook definition of a sexless marriage. I just read about a couple that's been married for 25 years and haven't had sex for 20 of 'em — W-O-W — and coupled with a considerable amount of women that still struggle with achieving a vaginal orgasm, and a lack of intimacy continuing to lead the pack of being a reason for divorce, doesn't it seem like wanting a better sex life should be a top priority? But how many couples actually make it so?
Many reputable therapists and life coaches will tell you that there are two main reasons why resolutions fail within the first month of making them. One is due to a lack of accountability. The other has to do with not seeing immediate results. Well, if you want to have more mind-blowing sex, your spouse can serve as your accountability partner and, if you incorporate some of the things that I'm about to share with you, you'll be well on your way to seeing some pretty earth-shattering results!
Are you ready to make this the year of the best sex you've ever had in your entire married life? Read on below.
1. Upgrade Your Bedroom.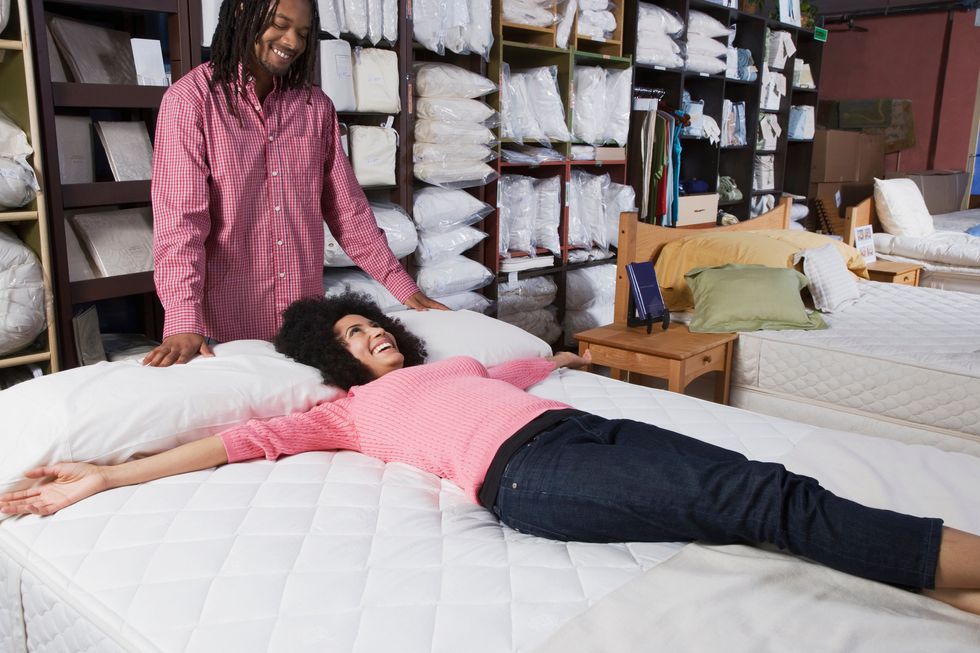 Getty Images
Interior designers say it all of the time — the bedroom is for sex and sleep. But does your bedroom convey that kind of message? In other words, how sexy is that room in your house? If it's about as sexy as one of your kid's rooms, there's no time like the present to give it an upgrade.
As far as wall colors go, couples with caramel-colored ones reportedly get it on no less than three times a week, although eggplant and shades of blue can also get you in the mood. If it's time for a new mattress, a Sapira hybrid by Leesa one is firm and also absorbs a considerable amount of "movement noise" (if you've got kids). As far as bedding goes, cotton sheets with a real 200-thread count are affordable and comfortable. The color of them is up to you, but don't underestimate the power of some crisp white sheets. Word on the street is they subconsciously turn us on (which is a part of the reason why hotels use them).
2. Engage in a Little Morning Sex.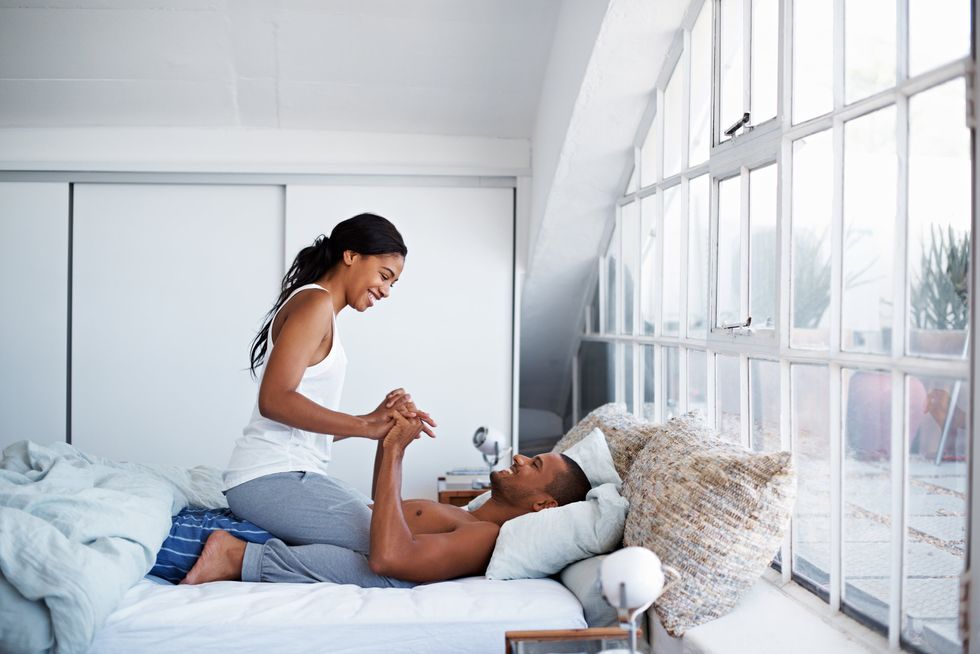 Getty Images
Sex does everything from boost your immune system and reduce stress to lower your blood pressure and increase your brain power, so why not start off your day by participating in coitus — even if it's just a quickie? Morning sex is not only proven to be a healthy way to start the day, there's also tons of data to support that it can make you a lot more productive as well.
So, if you've been slackin' off on the job lately, don't say you don't know what you can do in order to remedy that. #justsaying
3. Snack on Some Halim Seeds.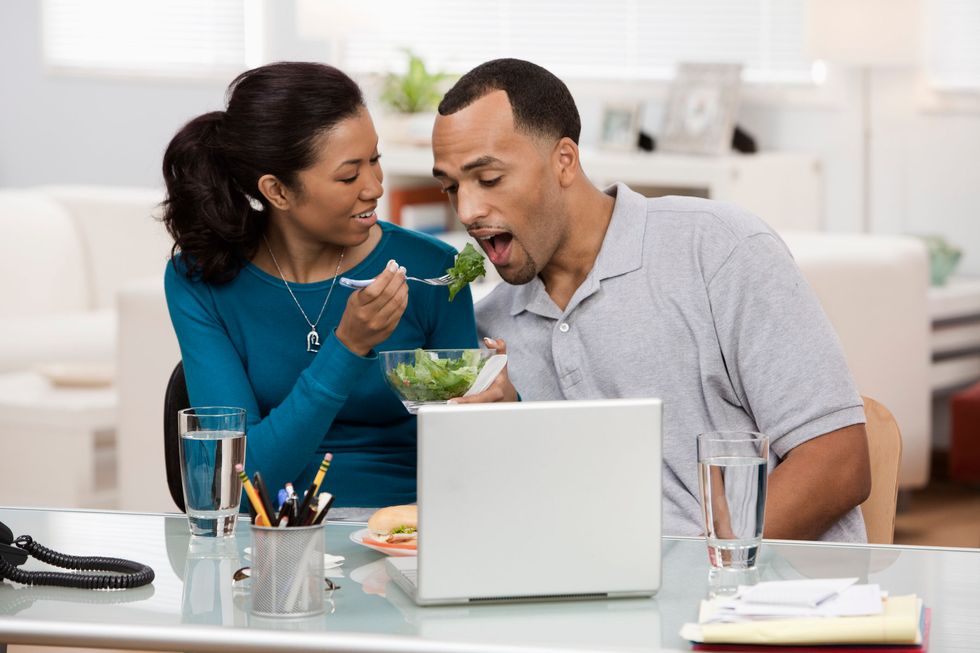 Getty Images
If your libido isn't as intense as it used to be (and your doctor has given you a clean bill of health), the first thing you should do is make sure you're getting no less than six hours of sleep; no one is in the mood if they're dead tired. The second is to snack on some seeds that are gaining the reputation of being quite the libido pick-me-up. They're called halim seeds (also known as garden cress seeds).
If you sprinkle them on your salads or use them as seasoning in your soup, the high amounts of iron and folic acid in them will help to rev your libido up again, along with improving your mood and cognitive brain function too.
4. Become a Karezza Expert.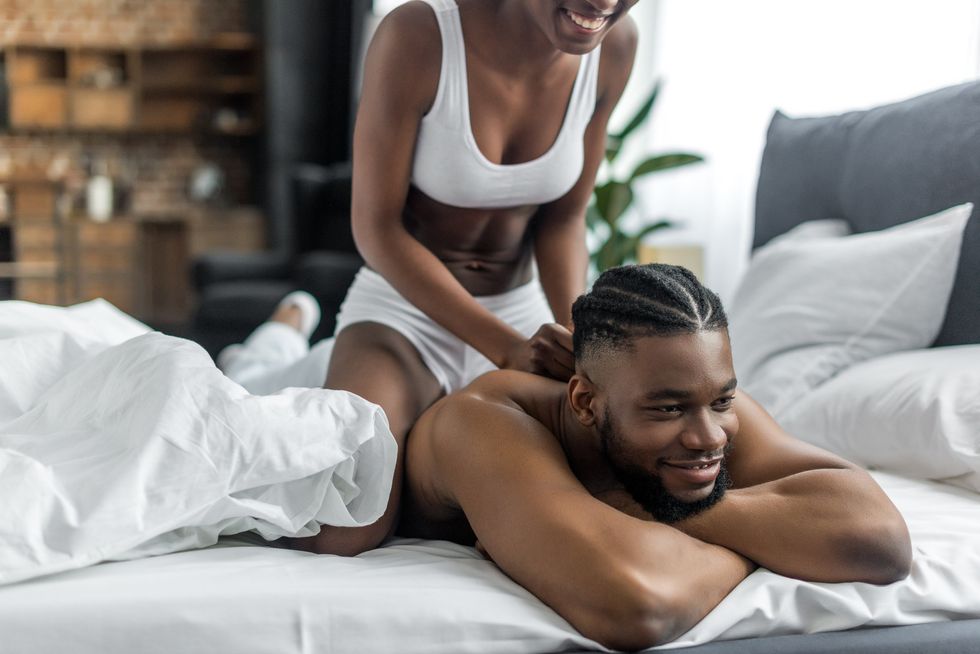 Getty Images
According to one study, less than half of married women desire sex on a consistent basis after four years of marriage. It's not due to a lack of interest in sex itself so much as it is about feeling emotionally disconnected from their spouse.
In walks karezza. If you don't speak Italian, it means "caress" in that language. It is the art of slowing things down — way down — in the bedroom. It's kind of like tantric sex, only you're focusing more on touching and fondling than deep breathing.
Couples who do it say that it's helped them to cultivate deeper intimacy and communication which has led to more intense orgasms. For more details on this particular sexual technique, check out "How Does Karezza Work?"
5. Play Some Board Games.
Getty Images
When you've got kids, it's not always convenient or affordable to get a babysitter so that you and yours can go out. When date night is easier said than done, no problem — just pull out a few board games.
Put your children to bed early, pour from a bottle of red wine (an aphrodisiac), put on some of your favorite 90s R&B, and pull out an adult-only game like Monogamy, Nookii, or The Discovery Game.
They're sexy, they're fun, and they're a great way to get a little closer to your spouse. Literally.
6. Focus on (Non-Obvious) Erogenous Zones.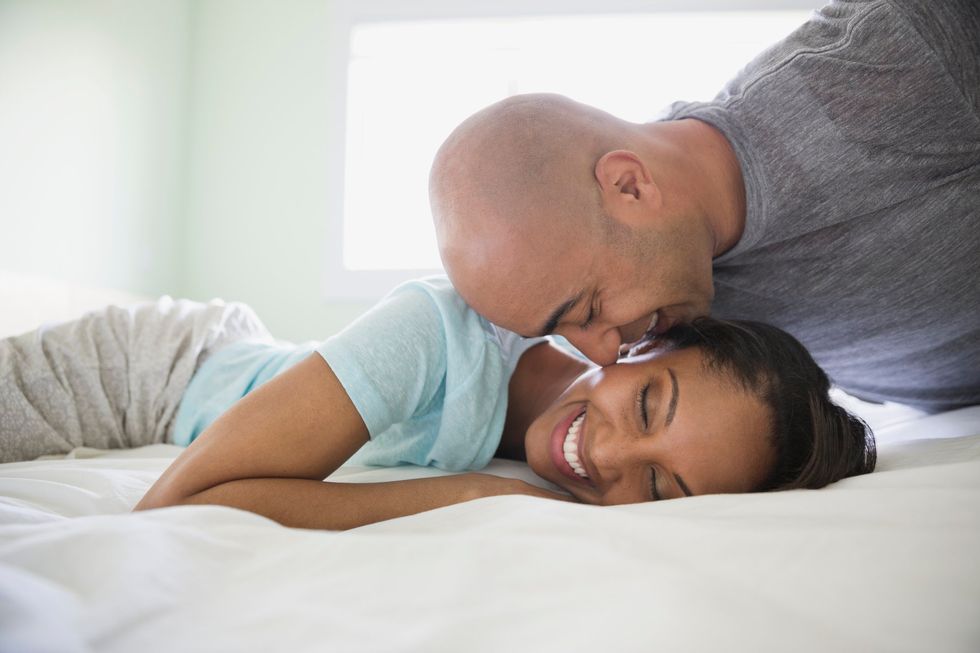 Getty Images
If someone were to walk up to you right now and ask you to provide a list of male and female erogenous zones that don't include lips, breasts or genitalia, would you be able to do it?
The cool thing about erogenous zones is not only do they stimulate us, they also relax us as well. That's why offering to give your spouse a massage while focusing on their erogenous zones is a great way to set the perfect mood.
If you need a "zone cheat sheet", men's hot spots include the soles of their feet, thumbs, the crease in between his thighs and his buttocks, ears, neck, scalp and stomach. Women's include ears, neck, inner thighs, hands, belly button and, believe it or not, armpits (try it before you knock it).
7. Try the Hook Position.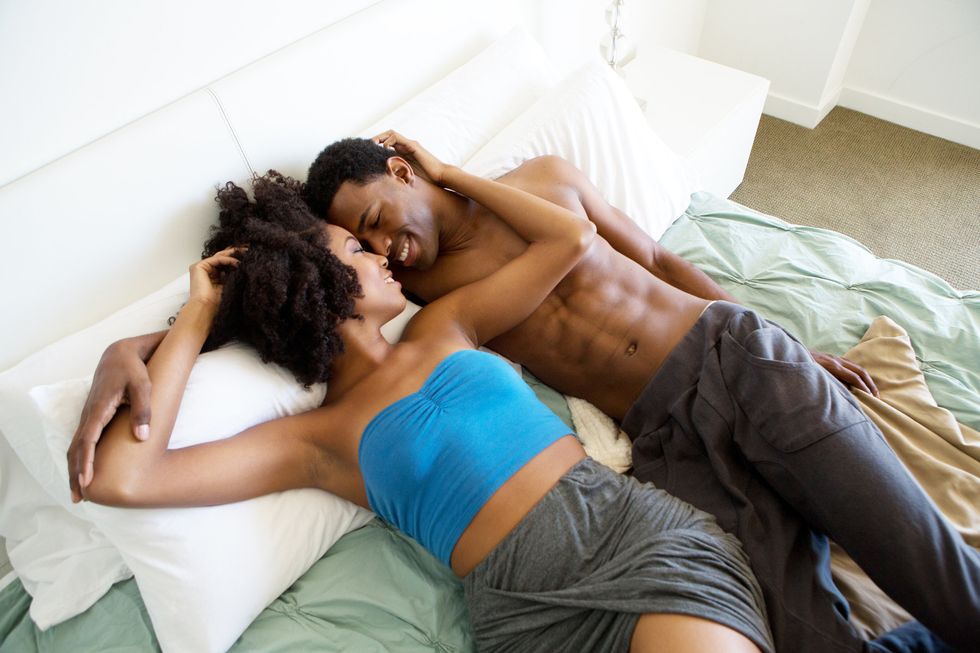 Getty Images
There are literally hundreds of sex positions (click here for some of 'em or Google "245 sex positions" for a site that's a little too racy for this one). But one that is currently getting rave reviews is the hook position. It's not complex. It's simply the missionary position with a woman "hooking" her legs over her partner's shoulders. It's all the rage because more and more couples are finding it to be one of the easiest ways for both partners to achieve an orgasm at the same time. BOOM!
8. Have Sex at 3PM (More Often).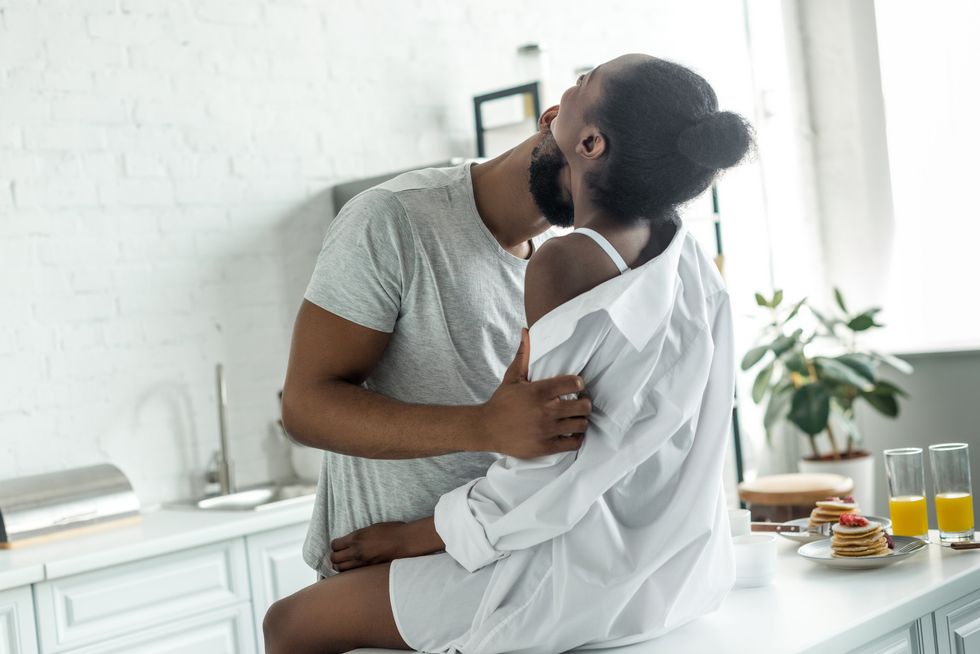 Getty Images
Like most things in life, our sex hormones are a bit of a roller coaster ride; sometimes they are way up and sometimes they are down. The time of day when a woman's cortisol levels spike (giving her more energy) and a man's estrogen levels are strongest (making him more willing to emotionally connect) is at 3PM.
It might not be the most convenient time of the day, but it's definitely an incentive to either take a late lunch break or finish all of your work so that you can leave early every once in a while.
9. Go to an Adults-Only Vacation Spot.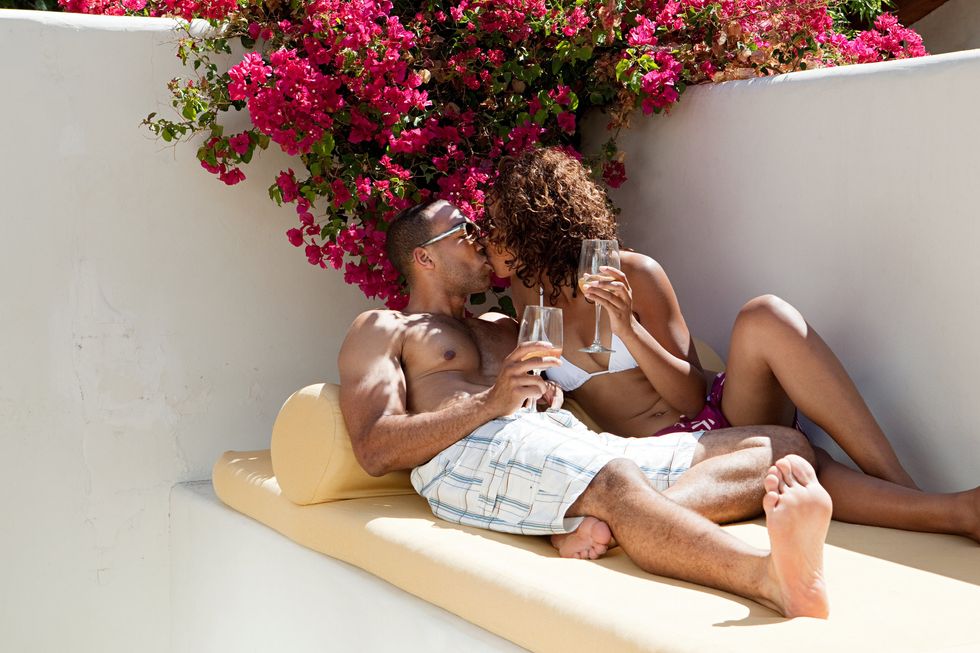 Getty Images
11 percent of married couples go on weekly dates. Awesome!
30 percent go once a month. Not bad.
36 percent hardly ever do it. Now that just plain sucks.
If a couple doesn't go to dinner and a movie, it's probably a real stretch to think they go on romantic vacations. If you can't remember the last time you and yours booked a hotel reservation in the city you live in, let alone anywhere else, let 2019 be the year that you do.
Some of the hottest adults-only spots include the Secrets Marquis in Los Cabos, Dome-Shaped Tree House near Malibu, Auberge du Soleil in Napa Valley, Sandals LaSource Grenada or Twin Farms in Vermont (or check out some of the sexiest hotels in the world here).
If these all sound tempting but you don't know how in the world you'll be able to afford it, I wrote about a super-sexy way to pay for a vacation on this site a few months ago. Check out "5 Reasons Why Every Married Couple Needs a Sex Jar".
10. Make Sex Vows (and Renew Them Every Year).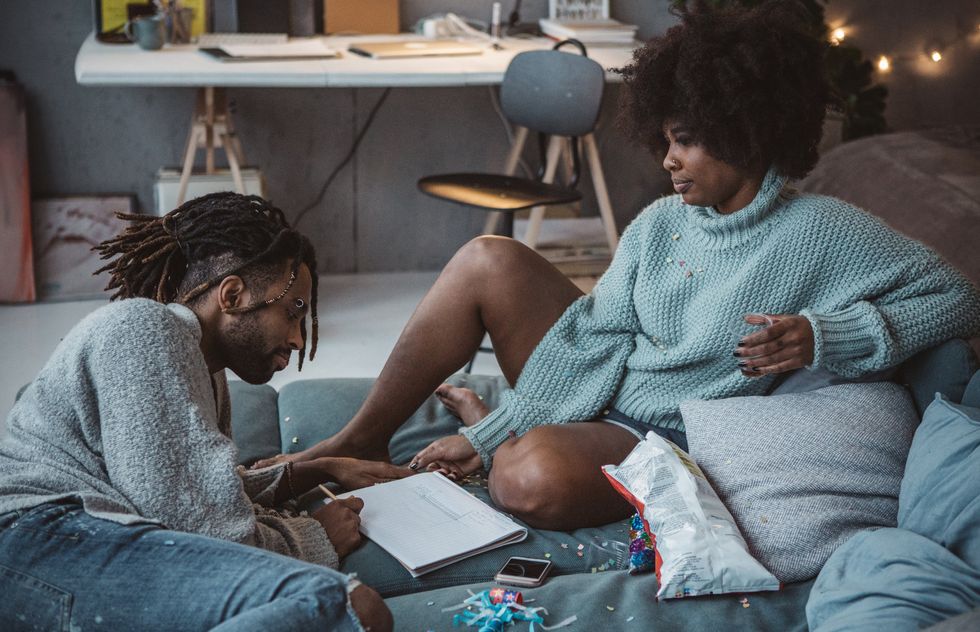 Getty Images
Enter into the union with formal vows. Vows are verbal promises, pledges, and commitments. I've yet to attend a wedding where sex was made a part of the ceremony vows but being that less than half actually have sex on their wedding night, perhaps it should. Then it would remind couples to make sex a top priority from day one.
It could be romantic, special, and oh so erotic to make it a tradition every year to exchange some vows, specifically about what you promise, pledge and commit to do for your spouse — sexually, of course — in the upcoming year.
If they're heartfelt — and graphic — enough, implementing those vows could become the way you both choose to ring in each and every year.
And since they say that the way you start a year is the way you end up ending it…well. (wink)
Featured image by Getty Images.
Keep reading...
Show less
Over the past few years, the craze of affirmations has swept various self-love circles. Speaking love and light into life by repeating uplifting words to ourselves has become a practice all throughout social media and among some of our favorite celebrities. I've dabbled in affirmations myself for a few years and the payoff has been incredible.
Speaking positivity over myself every morning has done plenty for my confidence and self-esteem. It has consistently equipped me with the bravery and gall to tackle each day with poise, grace, and self-assurance. However, the principle of speaking, believing, and acting accordingly doesn't just apply to affirmations. It's also ever-present in another practice: intention-setting.
Intention-setting is a mindfulness technique that requires you to reflect on how you want to live and show up in life. Much like affirmations, setting intentions takes your mind off areas of lack and redirects your attention toward positivity, intentionality, and productivity.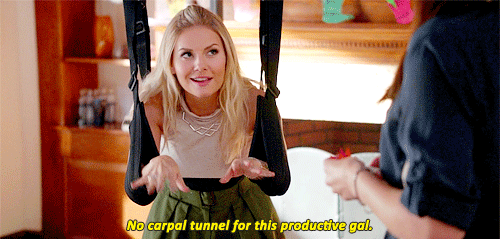 purduecco.files.wordpress.com
Intention-setting is the art of declaring victory, achievement, and discipline over your life.

Intentions should not be forced. For them to be effective, they must be felt. They require awareness and reflection. Usually created from an area of struggle in your life, intentions are specific to your own personal journey and are used to sow positive seeds in your everyday life of doing. The focus of intentions are not about tangible outcomes (e.g. "I will make 5 friends", or "I will apply to 3 jobs"), but instead, are set based on how you want to navigate yourself in the world. They're usually created by answering questions about what means the most to you, how you want to feel, and the energy you want to emit each day.
Below are a few in-depth intentions that I uphold to ensure my work and life remains passion-filled, my days remain purposeful, and my processing of life's challenges is rooted in growth and blooming:
Today, I will use my wholeness to share my joy and positivity with those around me. I will operate in love and compassion as I make decisions that affect others. I will be considerate, jovial, and grateful no matter what challenges come my way.
Today, I will navigate myself from a place of fullness, not lack. I am equipped with everything I need, and I will use it all completely. I will use my gifts to manifest greatness and will welcome opportunities that do the same.
This week, I will set boundaries that agree with my emotional and spiritual capacity. I will not overexert energy into people or things that cannot replenish me. I will not lend myself to people or things that will leave me empty. Instead, I will be deliberate about what I am willing to expend and what I must preserve for my own well-being.
I am walking in kingdom's order by allowing God to guide my every move. I will follow Him, and Him only, rebuking my need for control and letting Him order my steps.
Today, I will move in courage and try things I've always been too fearful to do. I will take risks, and big leaps if I'm led to.
I usually set my intentions each week and recite them to myself every day. This way, I work it into the practice before moving on to the next one. Others tend to repeat the same set of intentions throughout the month or year. Do what works best for you.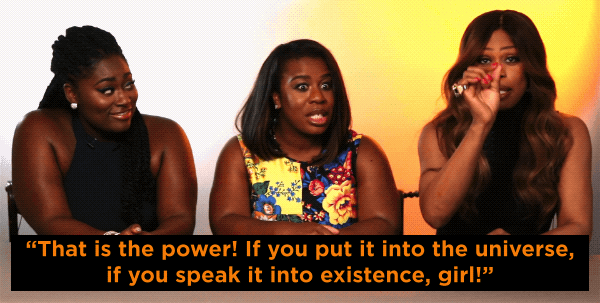 img.buzzfeed.com
Setting an intention, speaking it over your day, and holding it with you as you navigate various spaces reminds you to be deliberate with every decision you make and aware of every emotion you allow to consume you.

As the year winds down, this is the perfect time to start setting your mind on how to manifest even more greatness next year. So instead of focusing on one specific resolution, work on setting clear intentions and watch the beauty of becoming unfold!
Featured image by Shutterstock.
Originally published December 29, 2018
Keep reading...
Show less
It's safe to say the New Year is the self-proclaimed time to do a complete 180 in every area of our lives. At the same time, it's so easy to get caught up with wanting to reinvent our lives and do said complete 180 between 11:59 on December 31st and 12:01 on January 1. Why do we do that to ourselves? Why do we feel like we have to give in to the pressure of becoming a different person when the New Year gets here?
While I'm a lover of all things new, all things resolutions, and all things vision board parties at the top of the year, before we get into it all, ask yourself these questions:
What Do I Love About Myself?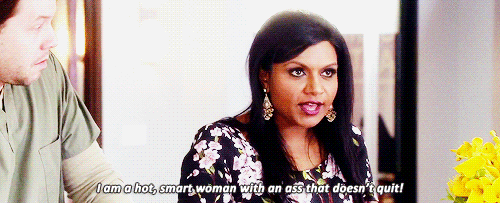 Giphy
Trust me, I don't think I'm close to perfect. Not. Even. Close. But there are things about myself that I actually want to take into the new year. While there are changes I would like to make, I don't think I necessarily need to do a complete turnaround because there are things that are the core of who I am that I don't want to change.
Evolve? Yes. But not completely change for the sake of having something to cross off in the new year.
I think before we get into the reinvention of ourselves, we have to be careful not to let the things we love about ourselves be found guilty by association and fall by the wayside. In the middle of this process of becoming a completely new you, be sure to maintain those positives. Cause you're the bomb diggity baby girl.
Who Am I Doing It For? 
I was listening to this church message recently and the speaker was discussing how sometimes we have faith for God to do things in our lives because we subconsciously want to prove other people wrong. For example, to show the person who dumped us that it was their loss, or to prove to someone we're dating that we really are good enough. Even though I can't deny I love the feeling of having someone else realize how dope I am (or like to think I am), whether they've treated me amazingly or the opposite, I can't make my whole life about how they see me; self-reinventions included.
It really boils down to making sure that this reinvention and new lease on life is truly about you. Because you deserve to have what you feel is your best self, instead of spending life's most precious moments attempting to live up to what you want others to think about you.
What Do I Want To Change?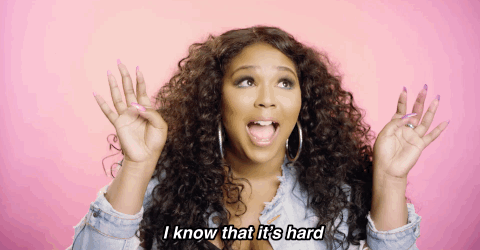 Giphy
If we're honest with ourselves, there are probably a lot of things we can do better. From not procrastinating (me!) to learning how to say no (also me) and just taking better care of ourselves from the inside out, it's no secret that very few of us, if any, are completely happy with every detail that encompasses who we are. If for you, the new year is the best time to take on these challenging changes, I would suggest seriously taking time to think about what it is you want to change and why.
All of us are human so it might be easy to lose count of everything we aren't necessarily happy with. But prioritizing the things you want to change and knocking them out one at a time could be the definite key for you to reinvent yourself one change at a time, otherwise you may be feeling overwhelmed about having to do it all at once.
Who's In My Circle? 
A lot of times, reinventing ourselves can impact the people around us just as much as it does our actual selves. Before you begin this journey, you should definitely do an evaluation of who's on your side. Who has been a ride or die friend for you through thick and thin, in the toughest moments? Those are the people you can count on to support your desire to become a better version of yourself. And for the ones who haven't, you don't necessarily have to cut them off. You just might have to redefine the roles they play in your life. It's not about thinking that you're better than them or that you're a new person and no longer have the time, it's about maintaining the part of you that you will work so hard to be, and not letting anyone or anything get in the way.
What Do I Really Want…Periodt?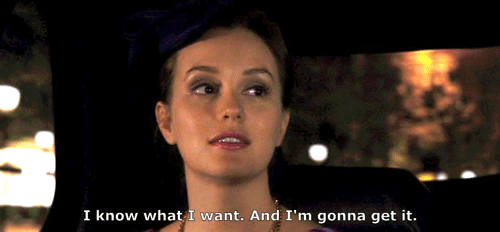 When you think about what 2019 will bring, what do you hope to see? What is it that will make you happy? There's a quote that says, "Whatever makes you happy, do that." When you reinvent yourself, upgrade yourself, or whatever you want to call it, I hope one of the things you consider is your true desires and wants. I'm in no way saying to be selfish, I'm just saying to think about yourself as much as you might have thought about pleasing others in the past for whatever reason.
We can't take any positivity for granted, especially when it comes to the vibes that surround becoming a new and better us.
But if our actual desires and dreams that cause us to take on this journey of reinvention is forgotten, then what was it all for?
Featured image by Getty Images.
Related Stories
How To Take Back Control Of Your Life – Read More
These iPhone & Android Apps Will Help You Stick With Your New Year's Resolutions - Read More

5 Ways You Can Be As Productive As Shonda Rhimes In The New Year - Read More
How To Find Balance When Your Life Is A Tightrope - Read More
Keep reading...
Show less