OK, so I have to be honest: When 'everybody' is talking about something or something's labeled 'buzzworthy', I typically stay away from it. I'm often a skeptic and rebel who prefers to let hype die down before I even consider paying anything any mind. (Some journalists and everyday citizens are cringing about this but, trust me, if you've ever worked in media and experienced pop-culture saturation, traffic chasing, and bad news burnout, you feel me.)
So when there's lots of talk about a new film or TV show streaming on the Web, my first reaction is a shrug. I've been mad at Netflix as of late anyway. I'm a consumer who can have an insatiable appetite for newness, and after I've spent just a week binge-watching all the shows I love (i.e. music and pop culture documentaries, true crime investigations, historical films, comedic and crime dramas, and Nollywood flicks), I tend to get bored.
I want to see something new, entertaining, intriguing, and intelligently executed almost daily, but streaming platforms simply don't work that way.
With Netflix, once you've picked three limited "preferences" you're stuck with the same titles for weeks on end, and they're recycled over and over. Let's just say I've been hungry for that new-new.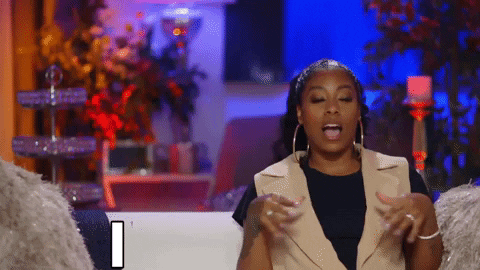 Image by Giphy
Toward the end of last year, I noticed that several of my media and fashion-industry peers were posting on social about a new documentary that celebrated black women entrepreneurs. They'd all been witnesses to the producer's latest venture via screening events and were able to enjoy the moment with her. (I actually felt a bit out of the loop and left out. See, that's what I get for being an introverted skeptic.)

The name of the person behind the film was not new to me. I'd been a fan of "In Her Shoes" blog and its founder, Renae Bluitt, for years and had met her in passing at several events in New York. I also worked for a publication that had featured her glow up, and I loved what she and her brand represented.
When Bluitt's documentary, She Did That., finally made it to Netflix this month, I was super-geeked to check it out and finally share in the moment as my peers had. The project went well beyond hype. It was something new, intriguing, and well, very intelligently executed.
Here are 3 good reasons you need to go ahead and log in to Netflix---or even renew a once-forgotten subscription---and add this to your starving watch list:
You'll Have No Choice BUT To Be Inspired To DO Something Great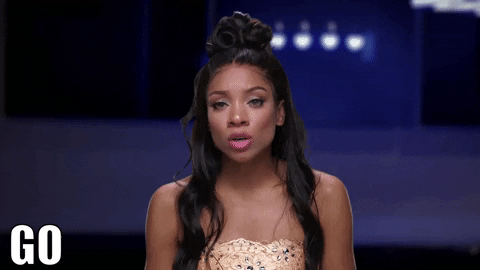 Image by Giphy
Bluitt's doc features phenomenal entrepreneurs I've always admired including Lisa Price, who sold her multi-million-dollar natural haircare brand, Carol's Daughter, to L'Oreal in a landmark deal, Luvvie Ajayi, who turned a layoff into an opportunity to became a best-selling author and sought-after speaker, and Tonya Rapley, founder of My Fab Finance who has helped thousands find freedom from debt and reach their money goals.
I loved that Bluitt's doc didn't sugarcoat things, wasn't some fairytale---or cautionary tale---about black women in business, and provided authentic insight from entrepreneurs who've actually seen scalable success and have receipts.
(Rapley in particular shared a very candid story about her own financial struggles and enlightened me on something I think many women overlook--financial abuse at the hands of a bae. I've followed her career as well and never heard this story so transparently before.) The keep-it-real conversations about starting from scratch should put a fire under anybody's butt to get out there and, well, do the damn thing---whatever that thing is.
You'll Actually See Black Women--And Their Men---Empowering Each Other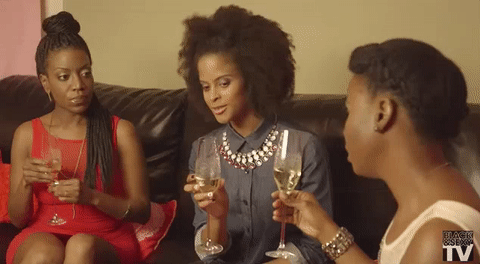 Image by Giphy
The film also featured everyday women who may not be in the forefront of news headlines but had great insights to contribute about the power of entrepreneurial sisterhood and female partnership. A major theme in the film was that black women indeed support one another, and that we're not all at one another's throats to get to the bag. It's the community of sisterly unity in the space that keeps many women motivated, supported and thriving, whether it's spiritual, financial or infrastructural. Also, the inclusion of men was refreshing. Unlike some female-focused or "feminist" docs I've seen, this one shed light on husbands and baes who were supportive and detailed how they played essential roles in the success of the women featured.
It's All the More Reason For Netflix to Celebrate the Black Female Experience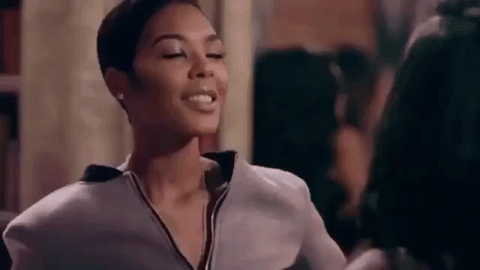 Image by Giphy
We all know how media works: What's popularly "liked" will be duplicated or offered more. For films, it's box-office numbers. For Web stories, it's pageviews and shares. In this case, what you view and like makes a world of difference in terms of what will be offered in the future. Netflix will "forgo or choose not to renew some titles that aren't watched enough relative to their cost." (It even mentions on its site that when you rate content, "you're helping us filter through the thousands of selections to get a better idea of what you'd like to watch." It also explains that its algorithm takes factors into consideration including "the combined ratings of all Netflix members who have similar tastes to you." The more we see diverse depictions of the female voice and experience, the better. We need more black women to be empowered to build foundations for the next generation, and other cultures and communities must take notice of our impact in order to invest and partner for enriching all communities.
Check out the trailer for She Did That., below and watch in full on Netflix. You can also follow In Her Shoes blog for more entrepreneurial and life inspiration.
Featured Image via In Her Shoes

Keep reading...
Show less
Scour Luvvie Ajayi's Twitter feed on any given day and you'll be sure to laugh, suck your teeth, get your life, or maybe all of the above. The founder of popular pop-culture blog, Awesomely Luvvie, has made it her mission to engage or enrage you, and by no means does the self-proclaimed "troublemaker" have plans to slow down any time soon.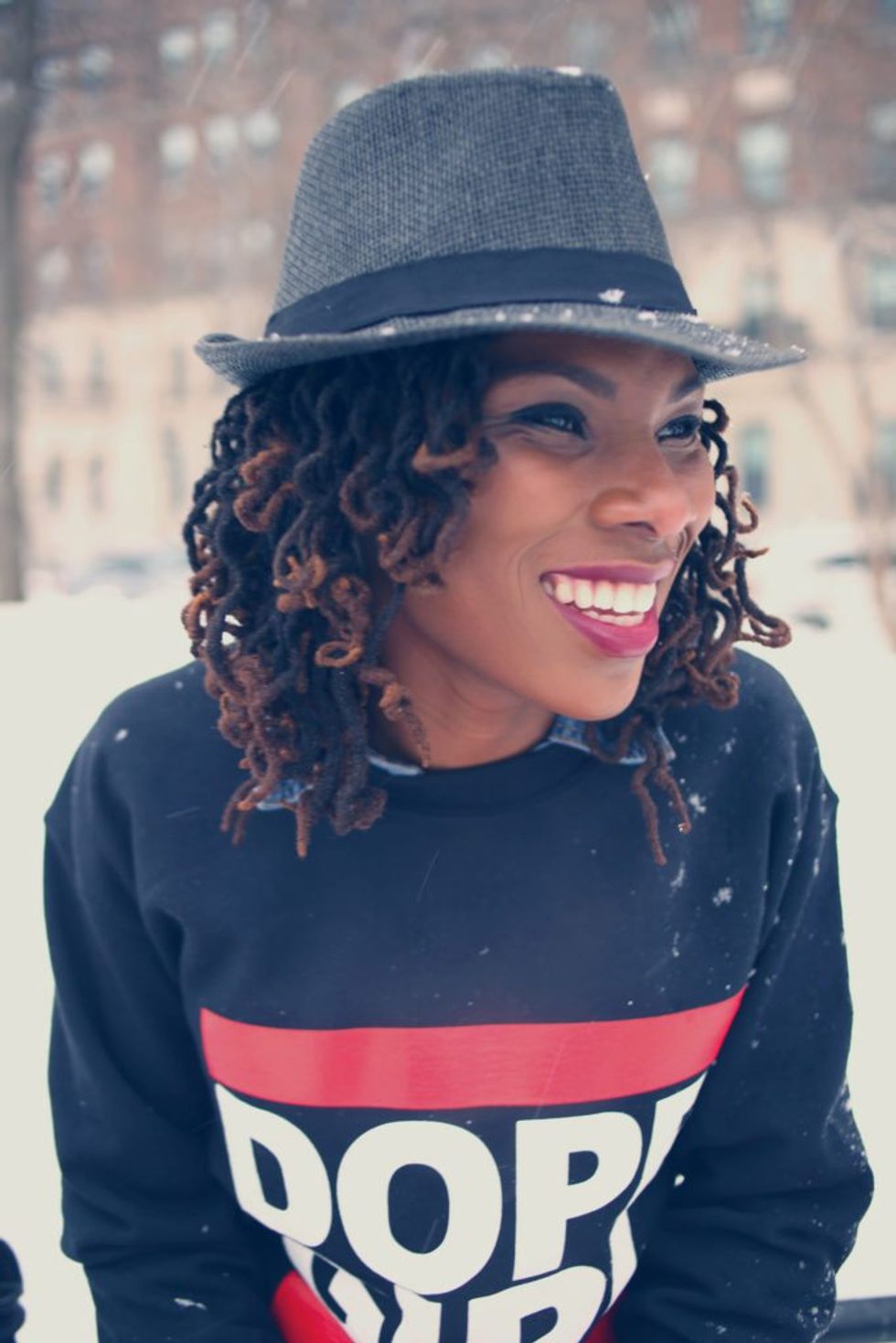 Photo Credit: Luvvie Ajayi
Today's comedian isn't just found in your local comedy club or creating six-second Vine videos, they're penning laugh-worthy posts that are both insightful and unapologetic, and in a digital age where everyone's struggling to find their place and to keep up with the ever-changing pace of technology, some of them are even getting paid to be themselves.
Bloggers like Luvvie have managed to create a space uniquely their own by staying true to who they are even when it may mean sacrificing paychecks from big brands, but as the culture critic and digital strategist unashamedly confessed during a #MentorMonday session with matchmaker and tech startup founder, Paul C. Brunson, "I may have talked myself out of rooms, but I believe that those rooms don't matter. The ones that matter are the ones I'm already in and the ones that see me and say, 'She should be in this room.'"
Not only is she in the rooms, but the Nigerian-born techie who also runs Awesomely Techie, is walking red carpets, doing interviews with Oprah, giving TED Talks speeches, and releasing straight-like-that-no-chaser books like, I'm Judging You: The Do Better Manual, that cemented it's place on best sellers lists. This week, it was announced Shonda Rhimes acquired the rights to Luvvie's book and it will be turned into a Shondaland cable comedy series.
Winning!
Let Luvvie tell it, she's a 13-year overnight success. In other words, she started from the bottom and now she's here.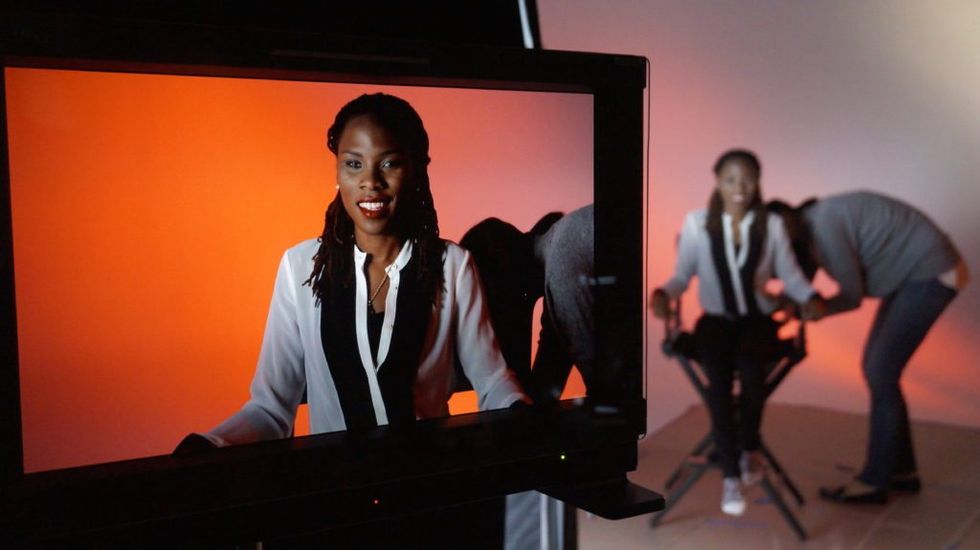 Photo Credit: Luvvie Ajayi
Just twenty-one years ago, a nine-year-old Luvvie left her nine-bedroom home in Nigeria and settled in Chicago. Though she now proudly boasts of her Nigerian roots and culture, as the new girl, she struggled to fit in, and by sophomore year, had ditched her accent in order to adapt to her new environment. "You grow up and realize what makes you different is what makes you stand out in the best way," Luvvie says.
By college, she found that her voice was not one to be diminished. During her freshman year, with the encouragement of friends, she launched a blog dishing on college life and roommates, but after graduating in 2006 with her degree in psychology and stepping into the real world, felt that it was time for a fresh start. So she shut down her old college-girl chronicles and launched Awesomely Luvvie with a humorous spin on pop-culture, politics, and anything else that piqued her interest. Though she had a passion for writing, she never imagined that her hobby would turn into paychecks. "I really didn't approach it as a career because I was not buying into the hype that this was something that I could do as a career."
"What makes you different is what makes you stand out in the best way."
Nonetheless, her fanbase grew as friends and family shared her hilarious posts where she unapologetically spoke her mind on things that others were afraid to voice. Within three years, she had grown a steady following, snagged a Black Weblog Award, and started getting brand-love for being Luvvie, adding ambassador to her bio when GAP reached out to partner with her to rock their new jeans line.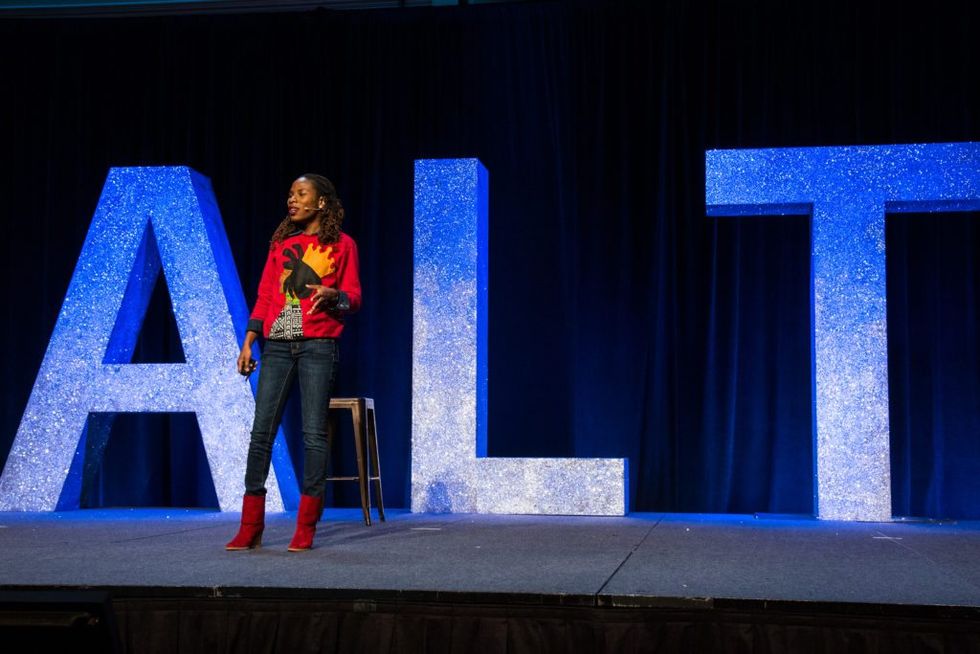 Photo Credit: Luvvie Ajayi
She also started monetizing her blog using website ads. Yet still, the idea of blogging full-time didn't hit her until a year later when she was laid off from her job as marketing coordinator for the Community Media Workshop. "I didn't know many people who were making a comfortable living as writers. It was more exception than the rule, so somebody like me who's logical and needs to have a clear path, it didn't make sense to me. I was still thinking I would go find a full-time job and get a traditional 9 to 5, but it was like the universe was trying to grab my face like pay attention, this is what you're doing."
"The universe was trying to grab my face like pay attention, this is what you're doing."
Instead of going back to working for another company, she took her knowledge of helping non-profits with social media and marketing and became her own boss as a consultant while continuing her tongue-in-cheek approach to writing. The views kept pouring in, and more brands came calling.
"They started seeing that my blog was very different than any other blog out there," Luvvie says. "A lot of bloggers have niche like fashion, style, gossip, but I was the person who was basically intersecting all of these niches and more. My audience loved everything pop culture, they loved everything race, they talked about politics, so my place is where anybody can be who they want to be. I have an incredibly engaged audience so I think brands started paying attention like she's kind of in a lane of her own and it's made me stand out."
Luvvie believes that unlike today's bloggers who often want to throw in the towel before building a real buzz, not stressing over traffic numbers and writing without expectation allowed her to focus on what mattered most—understanding her audience.
"The bad thing about bloggers now is that they're seeing all of the success from blogging and they're like, okay I'm going to replicate that. A lot of us who started eight or nine years ago, we started literally for the love of writing, and we also didn't give ourselves the pressure of success. So, for us, when we started, I just wanted to write, I didn't come out the gate like, I need 100,000 people reading my blog, I just wanted to write, so there was no measure of failure to me in that way."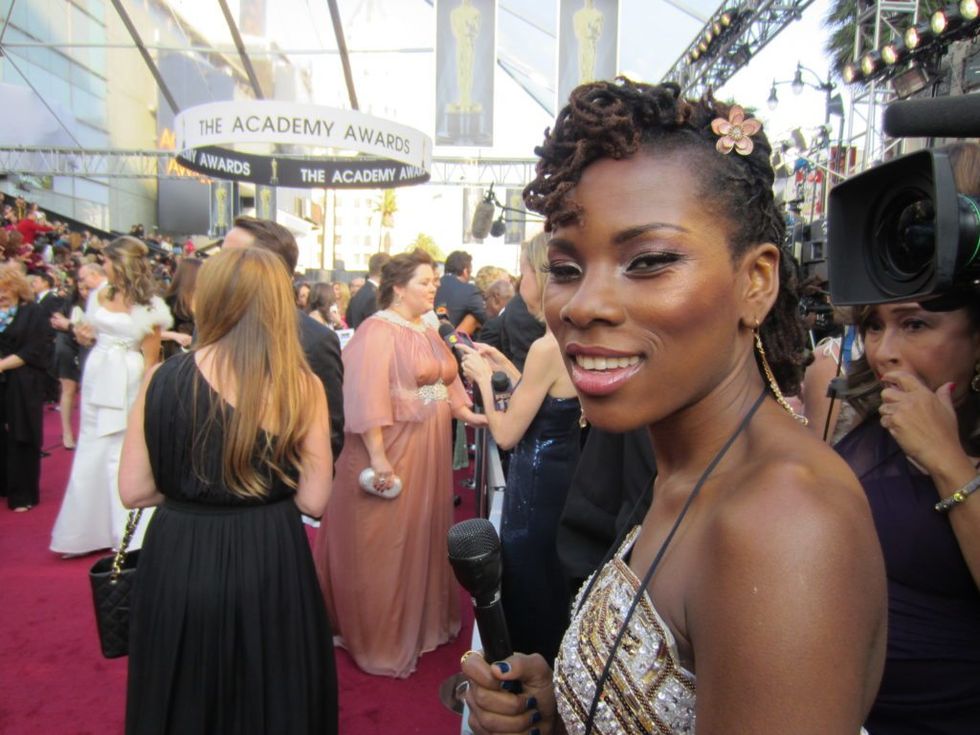 Photo Credit: Luvvie Ajayi
Her wakeup call came when bigger brands started knocking at her door and notable outlets began recognizing her as one of the best voices in the blogosphere. Even The Academy Awards couldn't turn a blind eye to Luvvie's influence, and in 2012 invited her, along with blogging peer Afrobella, to be the first brown bloggers to do red-carpet coverage for the Oscars. More recently, she sat down to do an interview with Oprah, describing the experience in a recent blog post as "living in the realm of my dreams."
"If it's your purpose, sometimes doors will open for you that you might not have realized were there. And that's the best thing when finally your gift is being affirmed. For me, when I finally committed to doing this as my purpose, really good things started happening."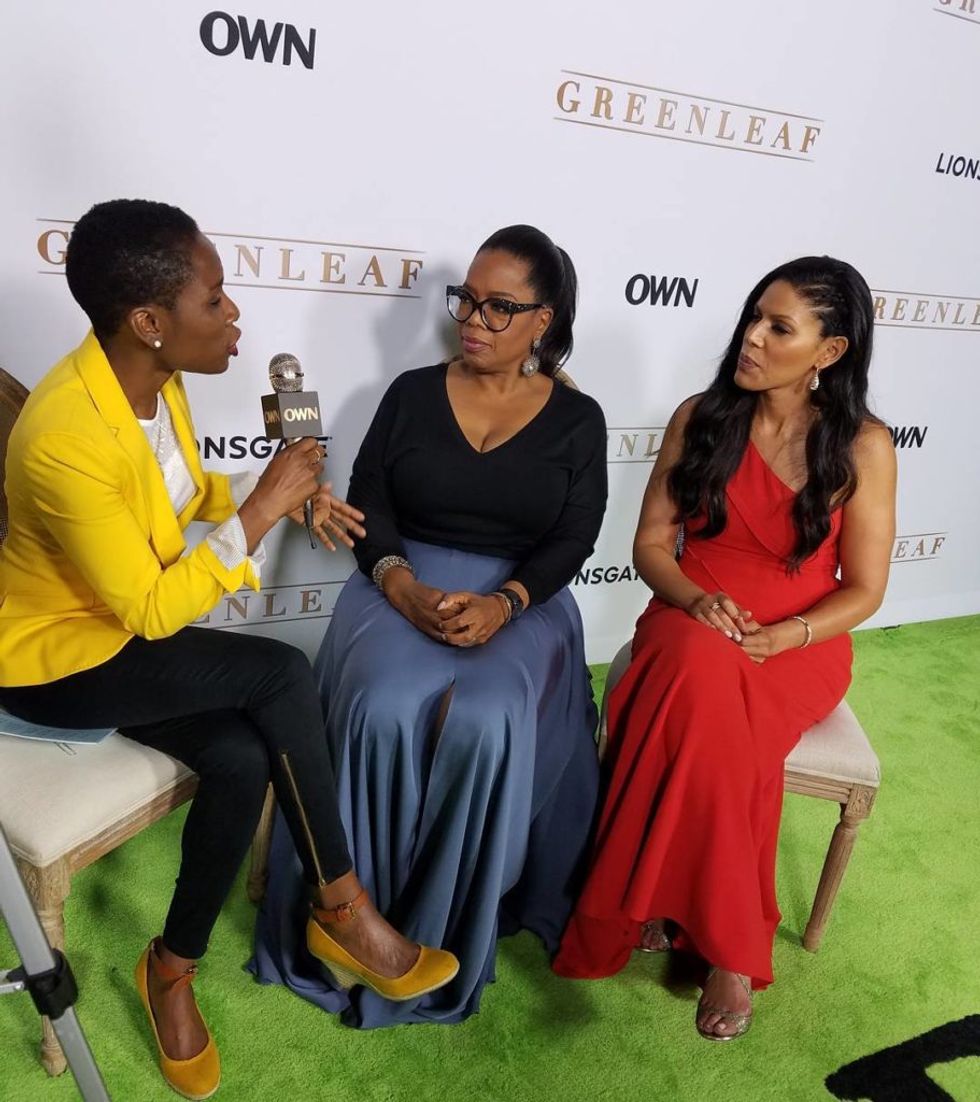 Photo Credit: Luvvie Ajayi
Being the voice of the people also means keeping it real, even when it's uncomfortable. Last year, she chastised bloggers for not using their influence and their platforms to address racial injustices occurring in the black community in fear of losing out on ad dollars. It's also something she weighs in on in her upcoming release, I'm Judging You: The Do-Better Manual—a handbook of sorts on how to "act right" in the digital age.
Besides giving back through books and through her HIV/AIDS awareness non-profit, The Red Pump Project, Luvvie also shares advice to wannabe bloggers: "Don't let self-doubt cripple you and render you unable to do work", and stay true to who you are—always.
"If it's your purpose sometimes doors will open for you that you might not have realized were there."
"There's always going to be two blogs that are very similar or writing about the same thing. But what makes people successful is their voice. People need to go back to what's authentic to them. It's really important for people to pay attention to themselves and speak like you speak, write like you write, and stop looking at the person next to you and seeing what they're doing because you're not running your own race because you're too distracted looking at somebody else's race and seeing just how you can be them. Just run yours. Run as fast as you can and the best way you can, as opposed to paying attention to the next person on the right."
And Luvvie is one who certainly puts her money where her mouth is.
Check out I'm Judging You: The Do-Better Manual here.
Images courtesy of Luvvie Ajayi
Keep reading...
Show less