If you've ever googled Hedonism II, you have likely found message boards wondering if the resort is filled with a bunch of naked people having lots of sex in public. So, when I was invited to experience the resort myself, I was a little apprehensive — but like Shonda Rhimes, I said yes. In my mind, what did I have to lose by packing my bags, jetting off to Jamaica, and spending four days at a clothing-optional resort? Nothing.
Well, except my clothes.
Growing up in Atlanta, I always felt like we were "liberal," but when I look at how I was raised, my parents are very conservative. While I am the most liberal thinker in my family, I recognize that my conservative nature comes out in how I present myself to the world, and how I see my sexuality. The moment I hit puberty, my mom made sure I always wore a slip, a bra, and full panties because I guess anything else would have made me too fast or too grown.
I understand why she did what she did. Her objective was to "make sure I looked like a child" so that grown men wouldn't sexualize me too early and I wouldn't be prone to sexual violence. The sad part is both of those things happened even with me doing all of the right things. As I packed for Hedo, I thought about this a lot, even calling myself a "prude" in conversation with friends when I talked about my trip. Wearing anything low-cut, short, or that shows any skin beyond what my parents taught me was acceptable makes me uncomfortable. I'm either covering up with a blazer or pulling down my skirt in fear of showing too much. Much of that now comes from all of my experiences with men from a distance and those that have been important in my life.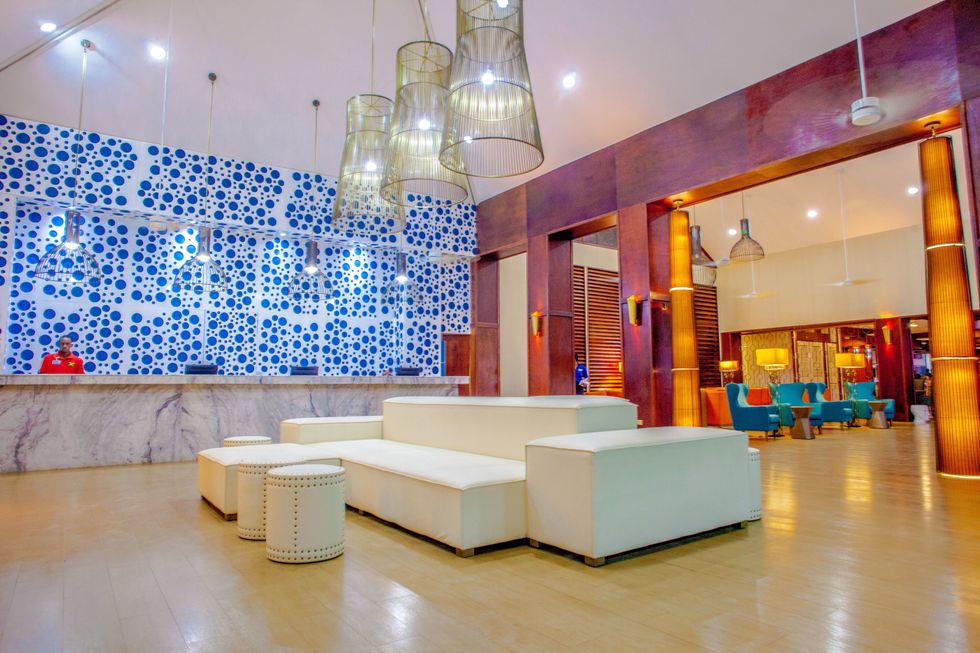 Courtesy of Bianca Lambert
I decided I was going against the grain for this trip.

My body has been policed, abused, and shamed. In my mind, this was my chance to take my power back. To defy the idea that wearing short, sheer, and sexy clothes made me anything but the beautiful black woman I am becoming.
I hit Amazon and added pasties, a sheer dress, and a strappy leopard swimsuit to my cart. I also knew I was "packing" my birthday suit because I was going to the nude beach and disrobing.
When I arrived, I was greeted by Denise and Chantel. Two stunning black women who treated me like family from the start. I soon met up with my girls for the four-day stay dressed in a thong, pasties, and a sheer dress. I questioned whether it was too early to be letting it all hang out since it was my first time meeting the group, but the ladies validated me immediately.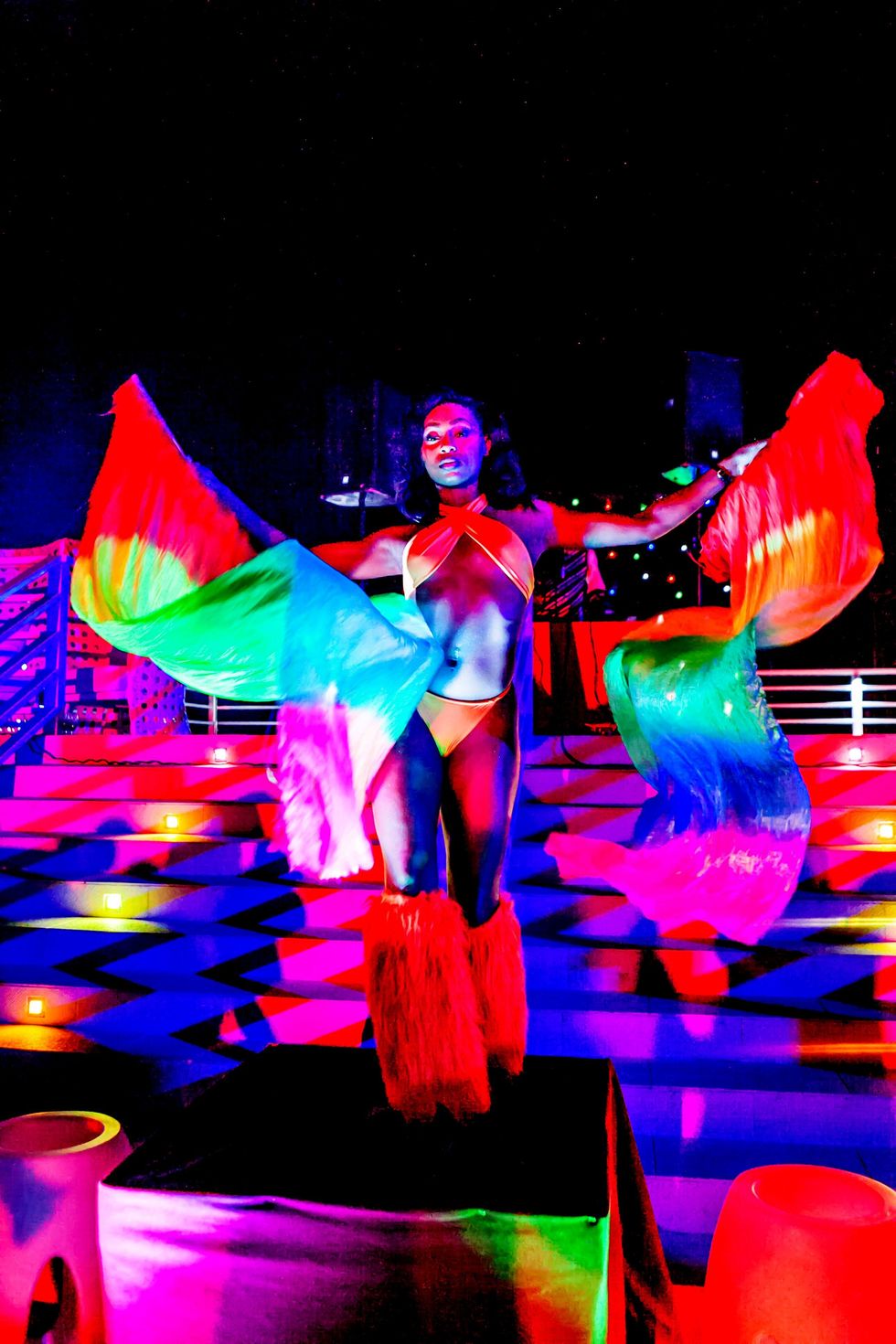 Courtesy of Bianca Lambert
Later, we caught the fetish show that featured stunning black men and women dressed in sheer bodysuits, colorful pasties, and at certain points, they were topless. As I watched them twerk, grind, and own their bodies — I was inspired. How does one get to this point in life? Especially the ladies. We are taught from the jump that enjoying sex is for men, and we're just there to fulfill their pleasure and fantasies. Then layering on sexual liberation as a black woman? Whoa, that's a whole different article.
After watching the show, I knew I was ready for the nude side of the beach. When in Rome…
There is a nude side and a prude side at Hedo, and while the prude side offers a chance to be naked or clothed, on the nude side, your only option is letting yourself be free. I gathered the girls after lunch, and we started our walk down the sandy stretch of the beach towards the nude side. Once we got there, we all hesitated. I felt knots in my stomach and kind of wanted to turn back, but I didn't. I went for it. I took off my swimsuit top and bottom and walked freely across the sand with the four other ladies with me.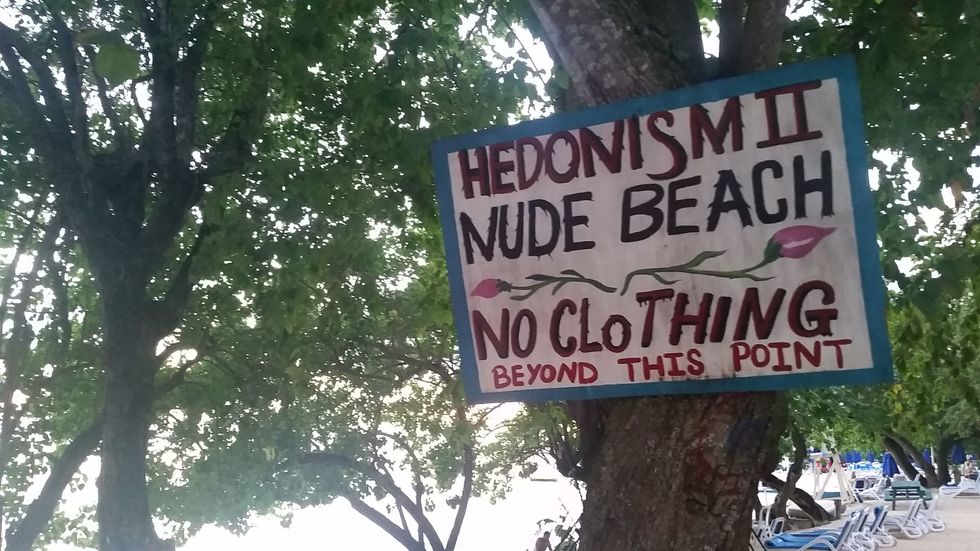 Courtesy of Bianca Lambert
I'd be telling a story if I told you it didn't feel awkward. "Is anyone looking at me?" I thought. Well, the answer to that is yes.
But, everyone was naked, so it made that reality less weird. Laying out and walking into the water sans clothing was incredibly liberating, much like my experience at Hedo. The resort is not about being a "freak," it's about letting go of judgment, eating good food, watching great entertainment, and dancing the night away at the disco or at a toga foam party.
My experience not only was a stepping stone in me, it was a moment of reclaiming my body from a traumatic situation that still haunts me. It helped me realize that I'm not as "okay" as I thought I was. There are moments when I walked the long way so that I didn't have to interact with men, there were times when I cowered when men complimented me. Having those reactions a month, two months or even years after an assault is normal, and as my fellow writer and new friend *Delores said, "You don't owe anyone an explanation."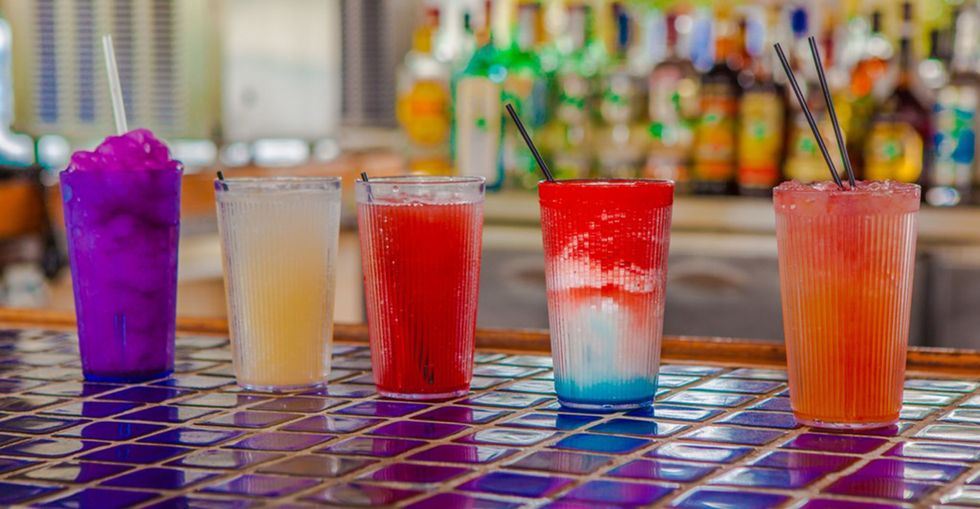 Courtesy of Bianca Lambert
The women of Hedo (who were all women of color) that I met on this trip (Hey Denise, Michelle, Diana, and Melissa!), are why I'd recommend women hit the resort with their girls. Hedonism isn't about hooking up with random people (which is an option if that's what you're into) or going nude. The resort is about allowing yourself to experience life without judgment and restriction, no matter what that looks like to you— and know that you're in a safe space to explore, thanks to women I mentioned above.
You can have whatever experience you desire. If going topless and walking the beach is your version of taking a chance, you can do that. If you're into finding a sex partner(s), to explore sexually, you can do that. Want to have sex in a pool out in the open? You can try that, too (I saw that for myself.). Or, if you just want a drink, tan, take twerking lessons, snorkel, and eat chicken wings (which are so good) at two o'clock in the morning, live your best life, sis.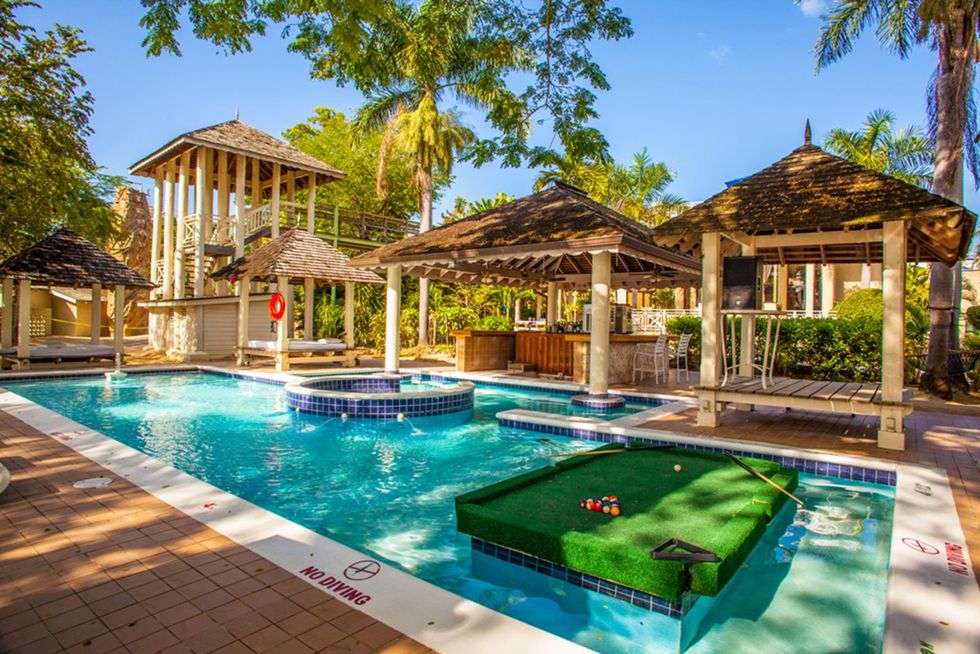 Courtesy of Bianca Lambert
Sexual liberation can come in any form.
My liberation came from walking the beach naked and being reminded that I own the rights to my body no matter what a man, these Republicans, or society says.
I'm grateful I was able to have this "aha moment" amongst women who were supportive and fun; at a resort that is as beautiful as it is transformative.
Want more stories like this? Sign up for our newsletter here to receive our latest articles and news straight to your inbox.

Featured image by Getty Images/EyeEm
Originally published on June 11, 2019
Despite all that's going in the world, it's still that time of year again. Bright nail color shades, bright makeup trends, and everyone's favorite —spring cleaning. Now, more than ever, it can prove to be beneficial to keep yourself busy while being productive and busying yourself with decluttering and detoxing your space can offer a reset you didn't know you needed. It can also prove to be deeply therapeutic.
Now, before you start thinking about the drawer full of hair products or the clothes in your closet you've been meaning to give away, we want to give you some tips on how to spruce up and declutter without feeling overwhelmed.
Make A To-Do List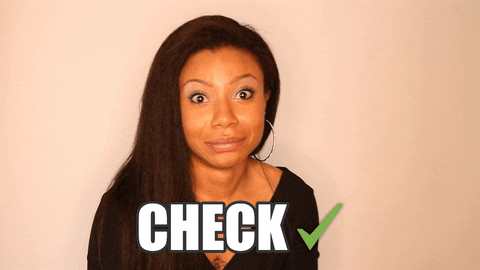 Giphy
I am a firm believer in writing it down and making it plain. A to-do list is a must-have tool because it keeps you focused on what you need to get done and it's gratifying to see your progress as you check tasks off. If you're planning on doing a full home cleaning, make a detailed list for each room.
Tackle One Room (Project) At A Time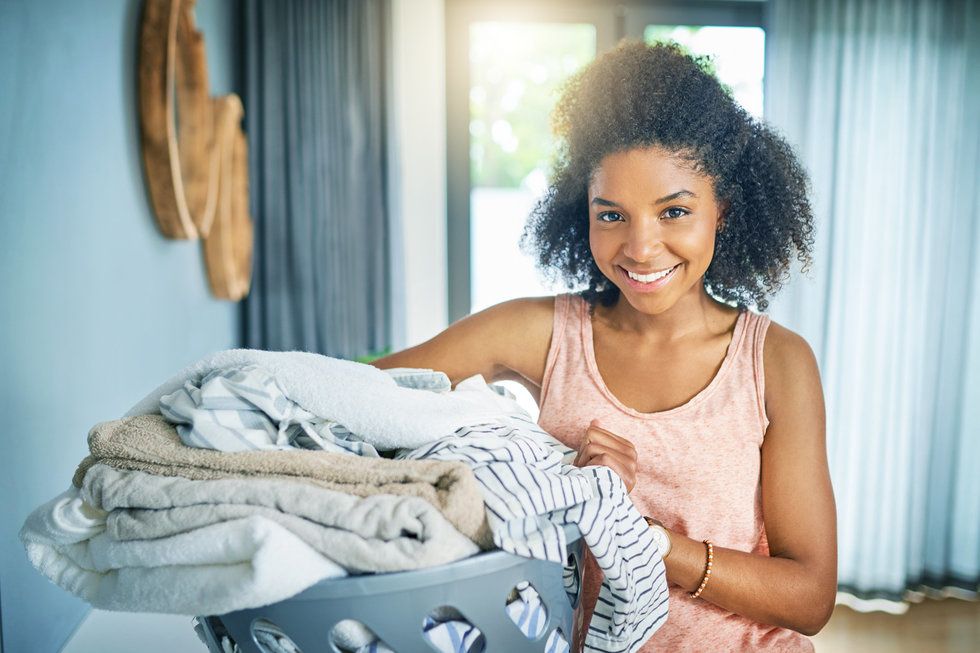 Getty Images
A few years ago, I read a blog on how to keep a space organized that really stuck with me: Every day, set a timer for twenty minutes and focus on the spot in your home that needs the most attention. I'd like to think the same rule of thumb could apply here. Instead of looking at your house as a whole, dedicate a specific amount of time (no more than an hour) to each space you'd like to whip into shape.
Is the pantry just a hot mess that you can no longer stand to look at? Are you tired of not being able to find things in the junk drawer you store stuff in? Are pots and pans falling out on you when you open your cabinets? Make those areas your focus. If you're a person that is going to get caught up watching the new season of Queer Eye (be sure to watch episode 5) or chatting with your best girlfriend, set a time limit you feel comfortable with, turn off the television, silence your phone, and knock that thing on out.
Donate It or Throw It Away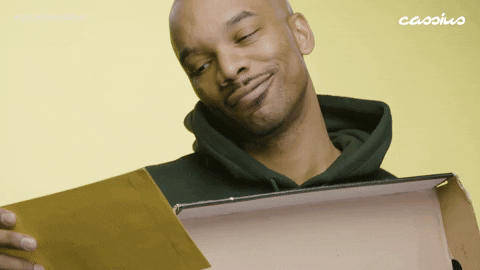 So you've decided to clean out that junk drawer full of stuff. The first thing you should do is empty it entirely. It's difficult to sift through things if you're trying to decide what you don't need while it's still piled on top of each other in a drawer. Lay everything out and make a keep, donate, or throw out pile. The key here is to be real with yourself. Have you used that hair product that has sat unopened over the last six months? Are you really going to use that thing you picked up in the $3 section at Target? If the answer is no, it's time to let go and give it to someone that would make use of it or throw it out if it's expired.
This practice is one that can also be applied to your kitchen, specifically the pantry or the kitchen cabinets and drawers filled with canned goods you haven't thought about since last spring, not to mention all of those cute kitchen accessories you've picked up on HomeGoods runs. Donating canned food to your local food bank is a way to clear your pantry and help feed your community. If you're unsure of how to connect with your local food bank, Feeding America is an excellent resource.
Oh, and I haven't forgotten about all of those dishes and kitchen accessories you aren't using — you can donate those to a charity of your choice. If you don't have one you love just yet, Habitat For Humanity's ReStore's is a personal favorite.
Organize By Season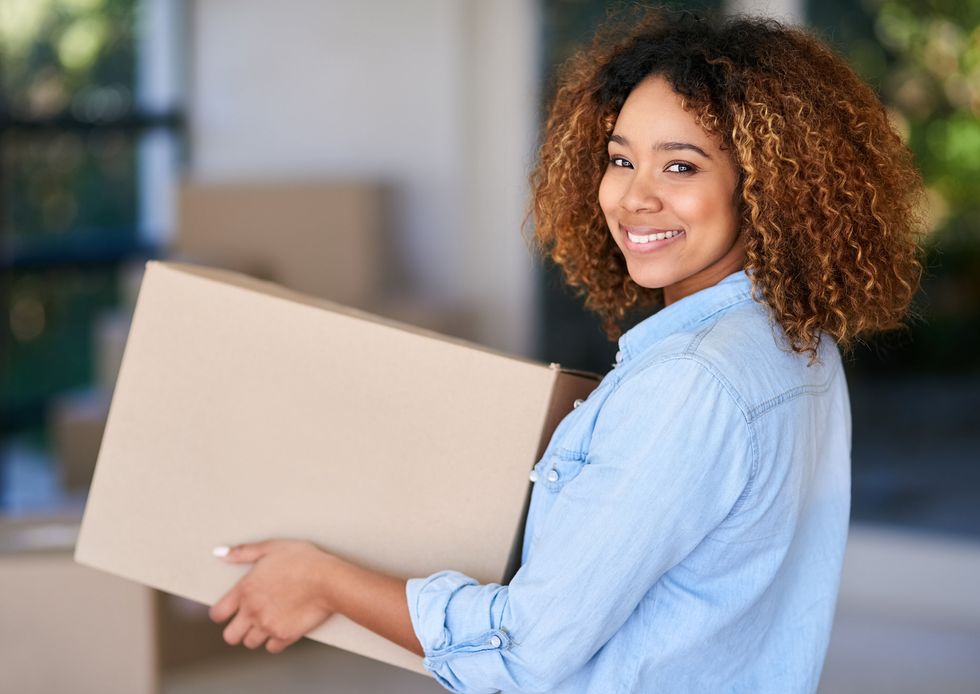 Getty Images
I know it's not quite time to pack up our winter coats just yet since there could be what my mom calls an "Easter snap," which is the cold weather that comes along just when you thought you were going to pull out your favorite sundress from last season. But, when it's finally time to start packing that winter gear away, be sure to pack it up and store it. If you live in a small space and don't have room in an additional closet, under the bed storage containers make great options for storing items you aren't using without taking up useful space.
If You Haven't Worn It In A Year, Bid It Adieu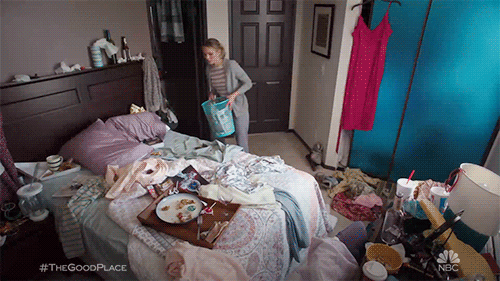 Speaking of clothes and closets— spring offers an opportunity to get rid off things that no longer fit, you haven't worn in years, or items you don't like anymore. If you're in need of some extra cash for your next trip or are looking to pay down some debt, consigning clothes is a solid option.
If there are charities or causes you enjoy donating to, here's a chance to bless someone on your quest to organize your home. I enjoy giving my gently used clothes to domestic violence organizations so that women who are in need of clothing for job interviews have options. If you don't know where to start, a quick Google search can offer up many charitable causes — but be sure to vet the organization to verify who they serve and who receives what you donate.
Make It Look Good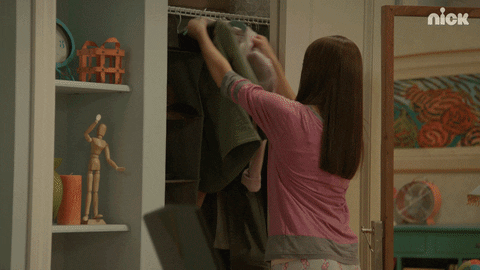 Giphy
One of my pet peeves are wire or mismatched hangers. Yoil (my mom) instilled that in me. That may seem like a weird flex, but I enjoy looking at an organized closet when I got dressed each day, especially since I am working with a small space (thanks LA). I love a good velvet hanger, which I usually pick up from TJ Maxx. They're thin, so they save space, typically keep my clothes from slipping off the hanger onto the floor, and look nice. What's not to love?
Get Those Dust Bunnies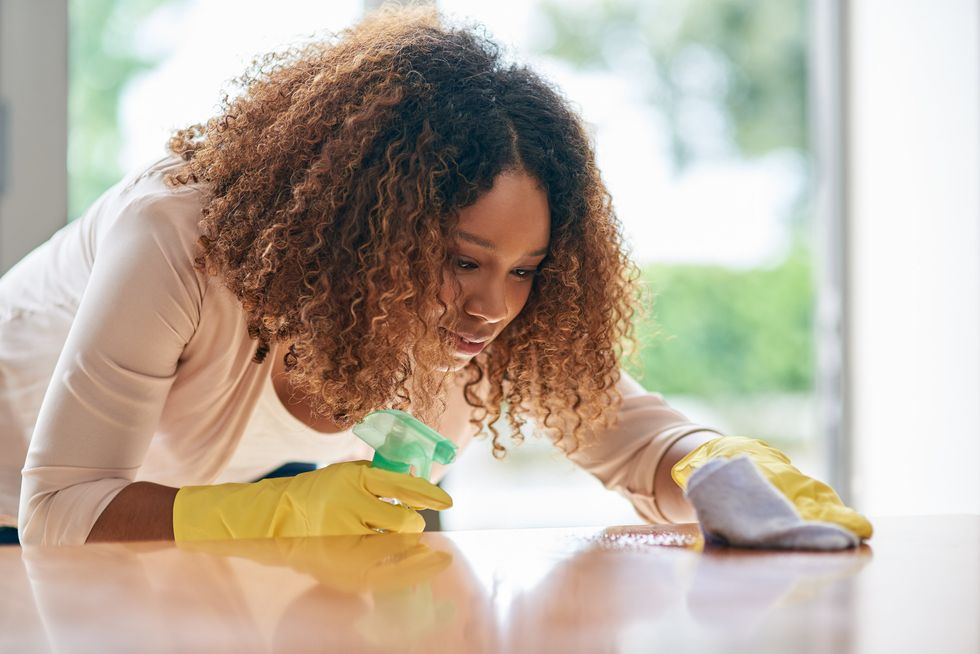 Getty Images
Last but not least, it's time to clean that carpet and wipe down every nook and cranny in your home, again make sure you're taking it step-by-step. The key to getting the dust that made itself at home during the winter is to start at the top of each room and work your way to the bottom. That means wiping down the ceiling, light fixtures, the walls, and baseboards. Next up is all of the furniture and appliances in each room. If you're someone with allergies, be sure to change your air filters. Your sinuses will thank you!
Spring cleaning doesn't mean turning your house upside down. It should be a time to show your home some love while prepping you for a productive rest of the year. So make that to-do list, get that playlist going, and make your space shine.

Featured image by Getty Images.

Related Articles:
Why Now Is The Perfect Time To Declutter - Read More
How Spring Cleaning Became An Act Of Self-Love For Me - Read More
How I Make My Home A Sacred Space For Productivity - Read More
Originally published on March 23, 2019
Finding the right skincare products is always a challenge. When you layer on a skincare concern like hyperpigmentation, you might find yourself in a money pit of frustration. I've been there, done that, and have the drawer full of products to show for it.
Thanks to new technology and skincare lines that keep our budgets in mind, finding the right products have gotten easier. Here are eight products from budget-friendly to splurge city to keep in mind the next time you're looking for a skincare treatment for those pesky dark spots.
*This list is specially curated by the xoNecole team and some links are affiliate links. If you purchase an item from an affiliate link, xoNecole might earn a small commission.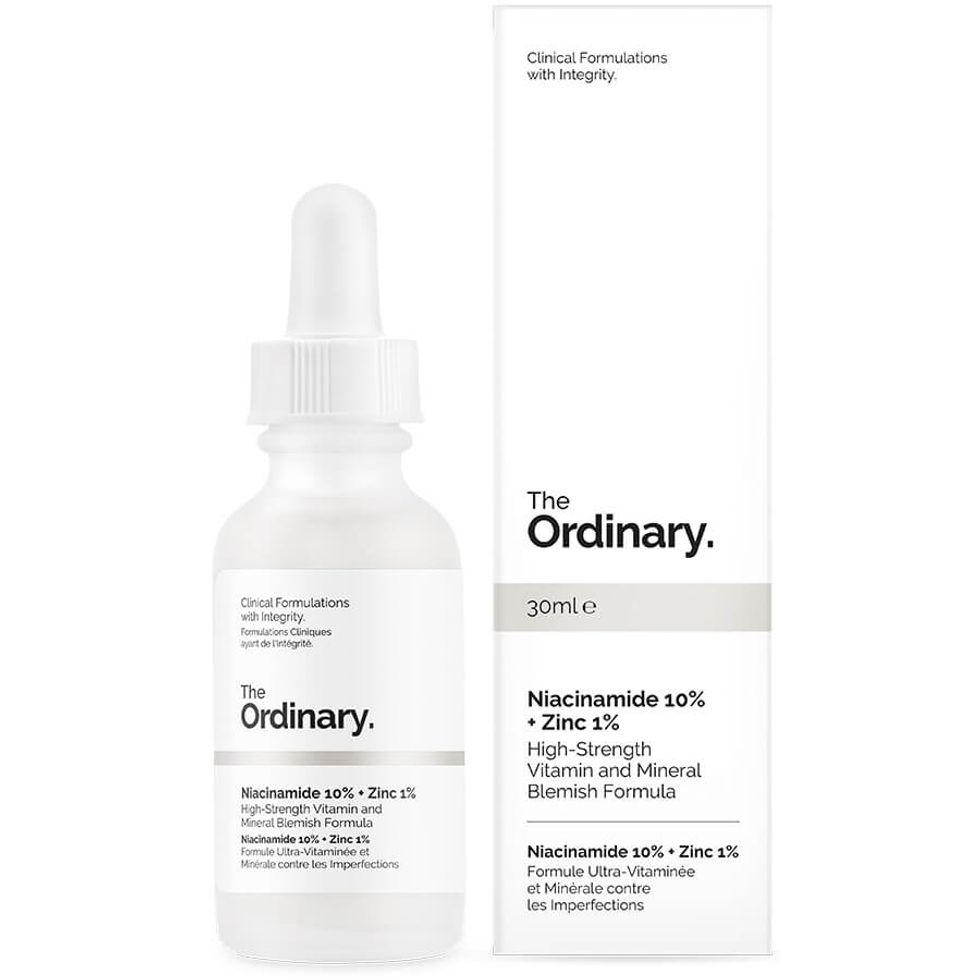 The Ordinary
I started using this product just over a month ago, and I can report that the clarity of my skin has improved. My hyperpigmentation isn't gone, but nowadays I use less makeup to cover my spots. I use this day and night, and it doesn't irritate my sensitive skin.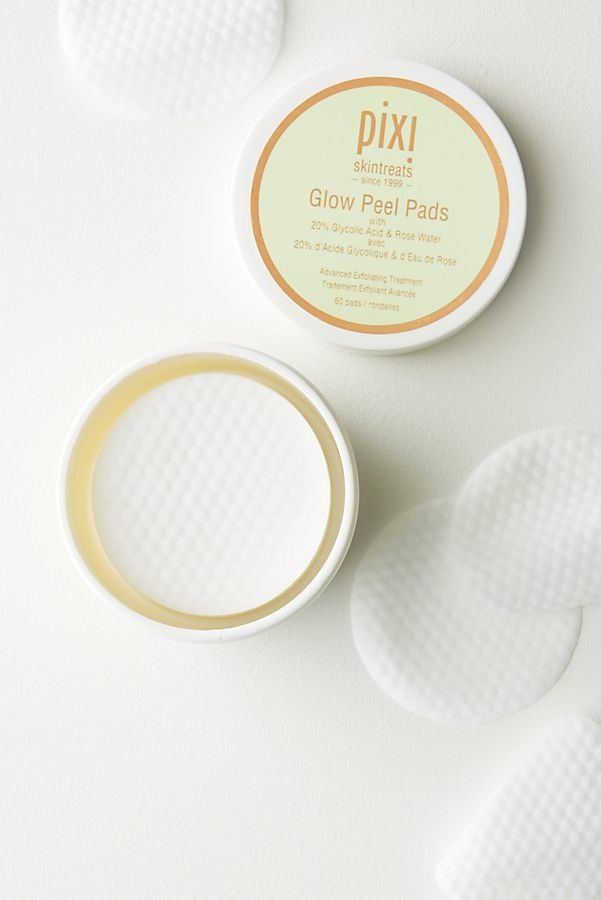 Anthropologie
Pixi is a favorite of many skincare lovers out there, and these pads are no different. Formulated with 20% glycolic acid, you'll see healthier skin in no time. If you have scars on your décolleté or shoulders, pads will make it easier to treat those areas.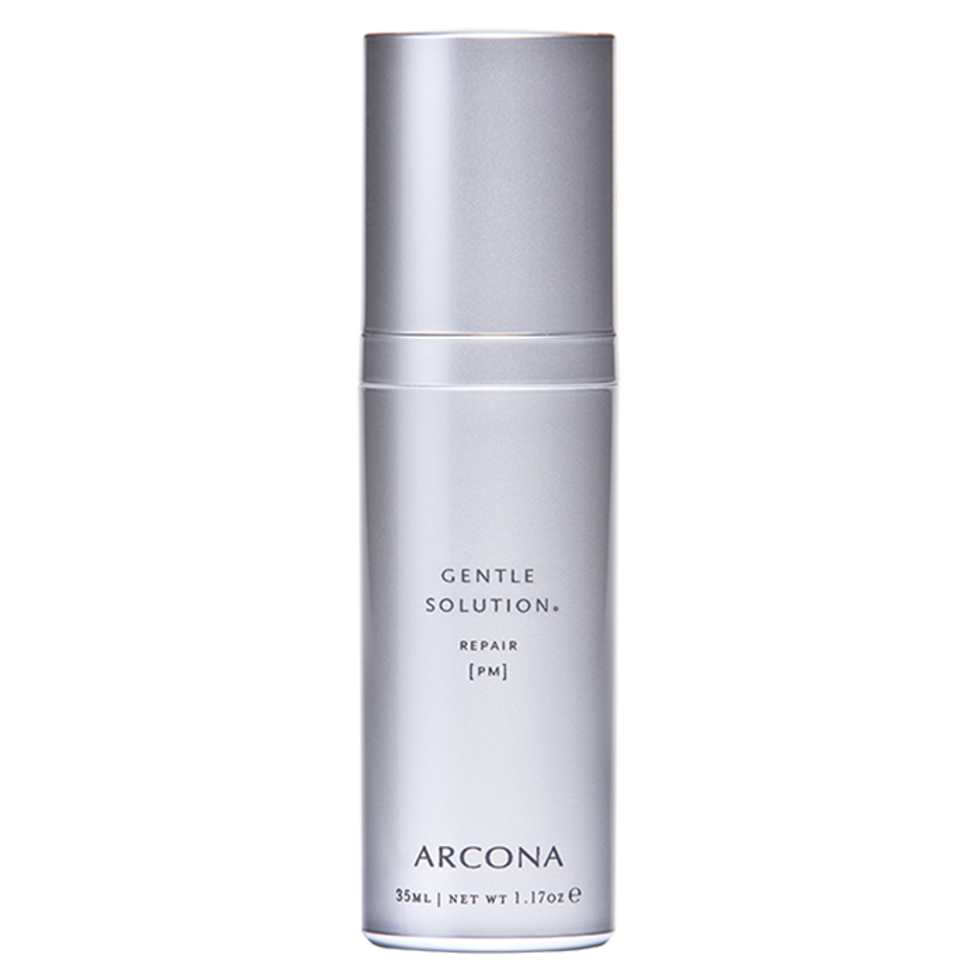 ARCONA has been a long-time favorite of mine because of their line's dedication to clean ingredients that work. Coupled with their Cranberry Gommage Exfoliant, my skin is always at its best.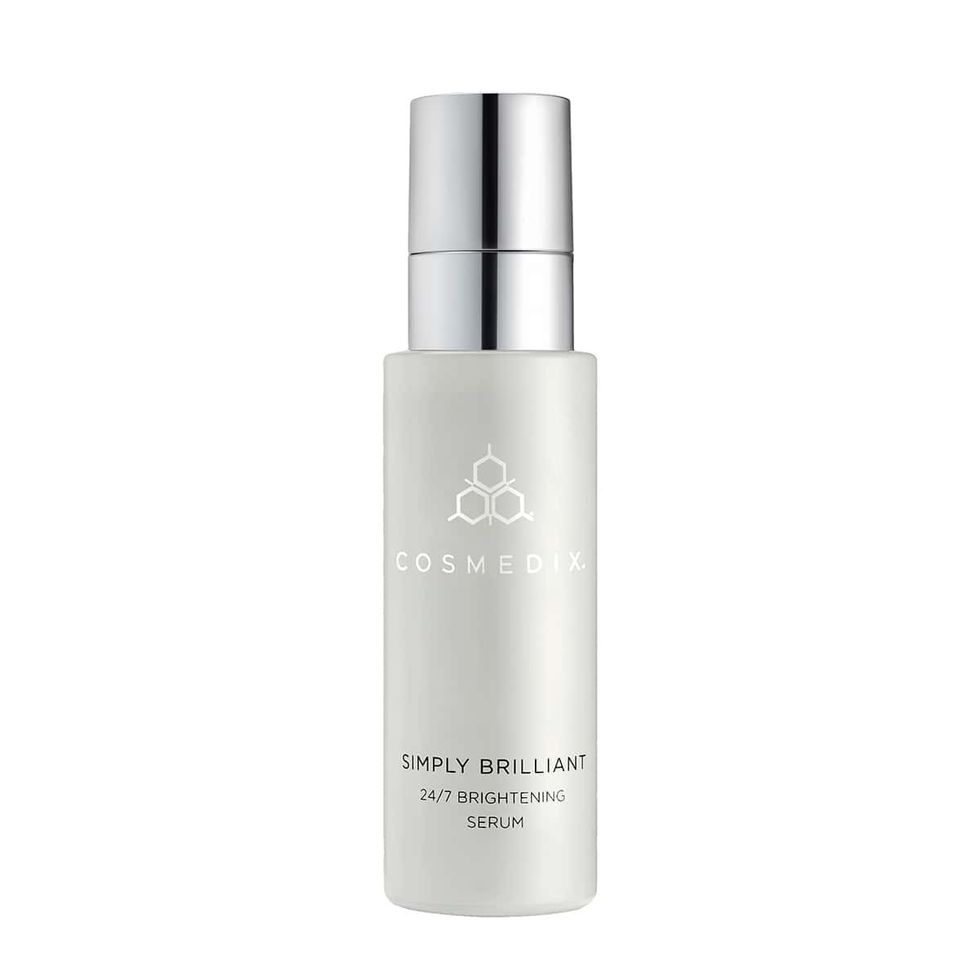 COSMEDIX
With two powerhouse ingredients, L-lactic acid and salicylic acid, this treatment can be used day and night to help reveal brighter, even skin.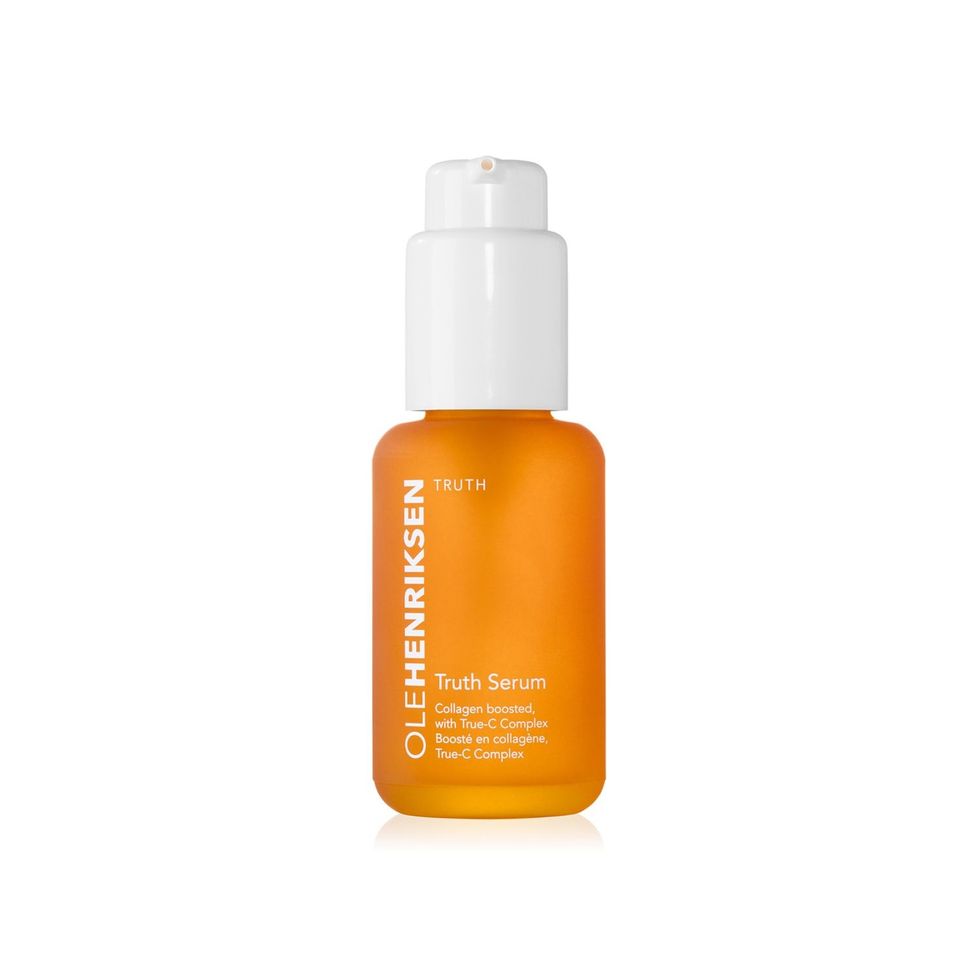 If you've read any of my other pieces you know, I am an advocate of vitamin C. Not only will this serum protect against free radicals and brighten skin, the aloe juice and green tea extracts infused in the serum will keep the skin hydrated.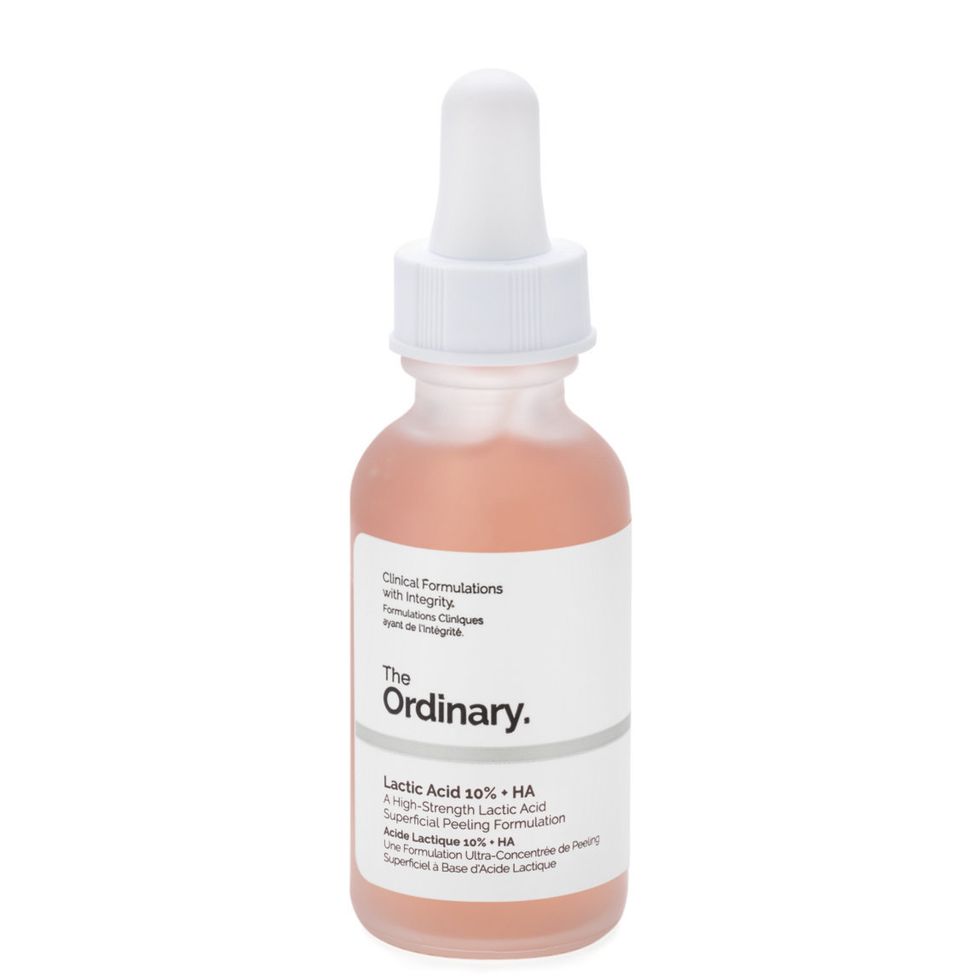 The Ordinary
Thanks to a pro tip from an esthetician, I found out that if the skin is sensitive to glycolic acid, lactic acid might be the key since it is naturally made in our bodies. The Ordinary's Lactic Acid not only boasts great reviews, but the pricing can't be beat.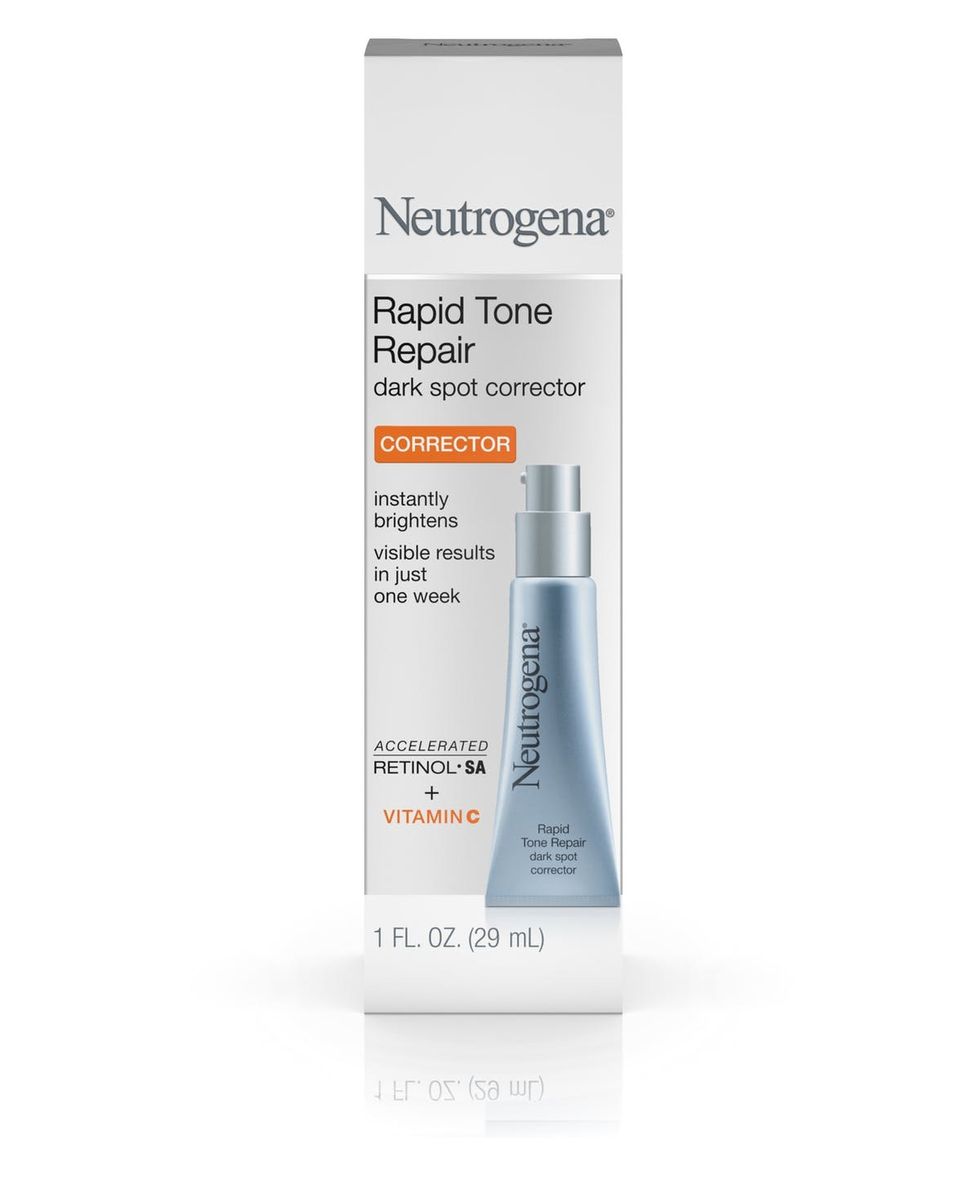 Neutrogena
With all of the prestigious products on the market, it can be easy to overlook drugstore options. With accelerated Retinol SA, vitamin C, and hyaluronic acid, these ingredients will give your skincare routine a boost.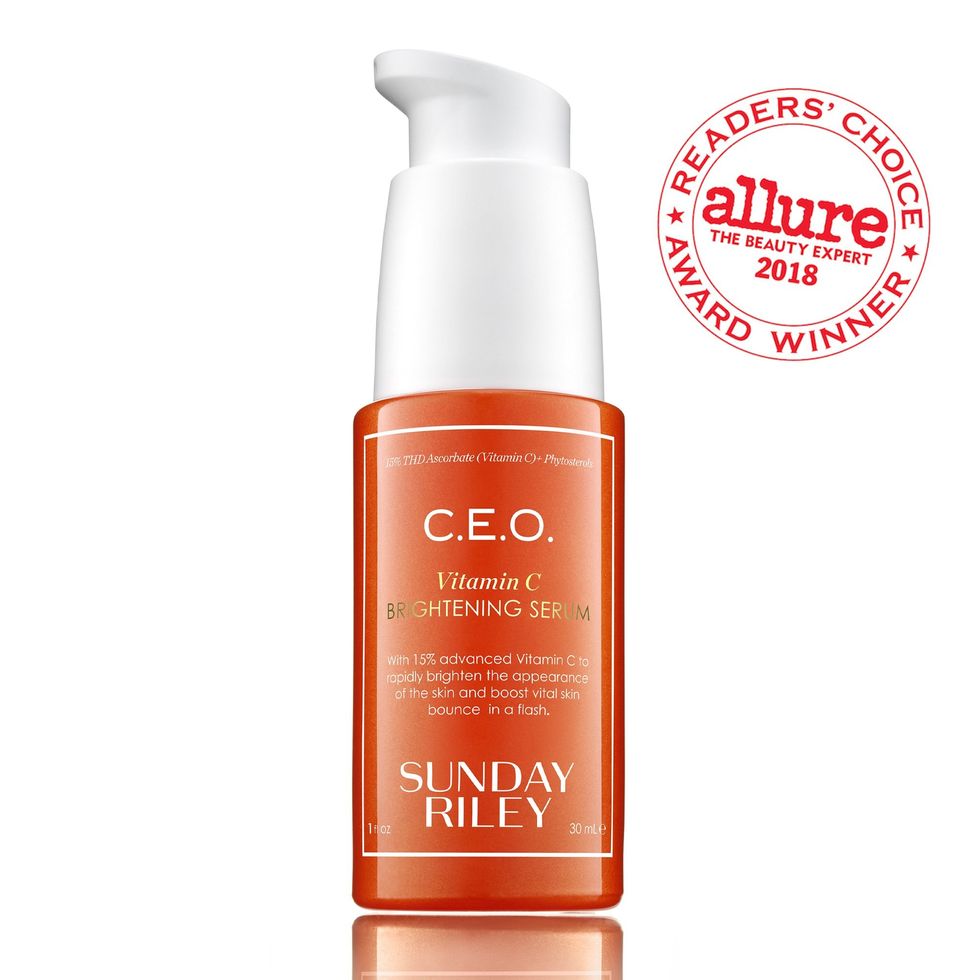 Sunday Riley
Give your skin a dose of 15% vitamin C along with a little glycolic acid on the side, and your skin will thank you with a healthy glow.
Featured image by Getty Images
Want more stories like this? Sign up for our newsletter here and check out the related reads below:
xoNecole Readers Reveal How They Get Rid Of Dark Spots
I Got A Chemical Peel To Help My Acne & Here's What Happened
6 Cleansers Made With Melanin Skin In Mind
This At-Home Chemical Peel Helped Fade My Acne Scars
Originally published May 15, 2019
I love a good beauty trend, but I was a little skeptical about the jade roller. Mainly because of the price point and when I started to see them everywhere, the idea felt gimmicky.
With a bit of research, I saw that jade has been used for wellness in China for centuries. So, like any true beauty connoisseur, I decided it was time to give one a try. I thought about ordering one from Herbivore Botanicals, since I love their products, but since I have two-day shipping with Amazon Prime, I ordered this $21 rose quartz roller, and I was excited to give it a try.
Before I tell you how my try went, I want to answer some of the questions I had about the new fad taking the beauty world by storm.
One of my biggest questions has been what do the rollers actually do?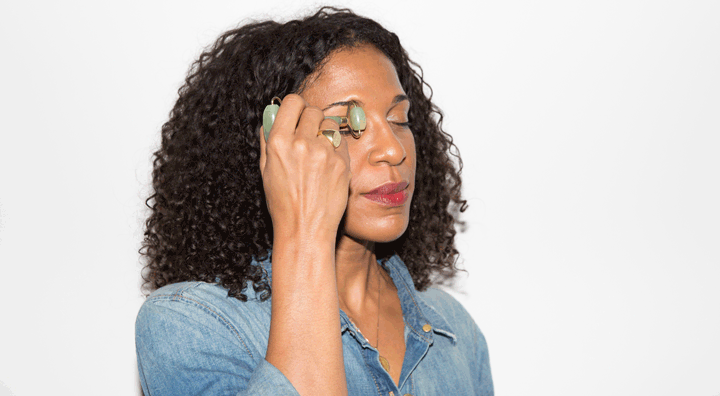 Coveteur
Well, jade or rose quartz rollers are said to reduce puffiness because they increase lymphatic drainage in the face, which dermatologist back up. But, the claims that they reduce wrinkles, help face serums penetrate the skin, and remove toxins are still debated by skincare pros.
​My next question was, how do you know a roller is authentic?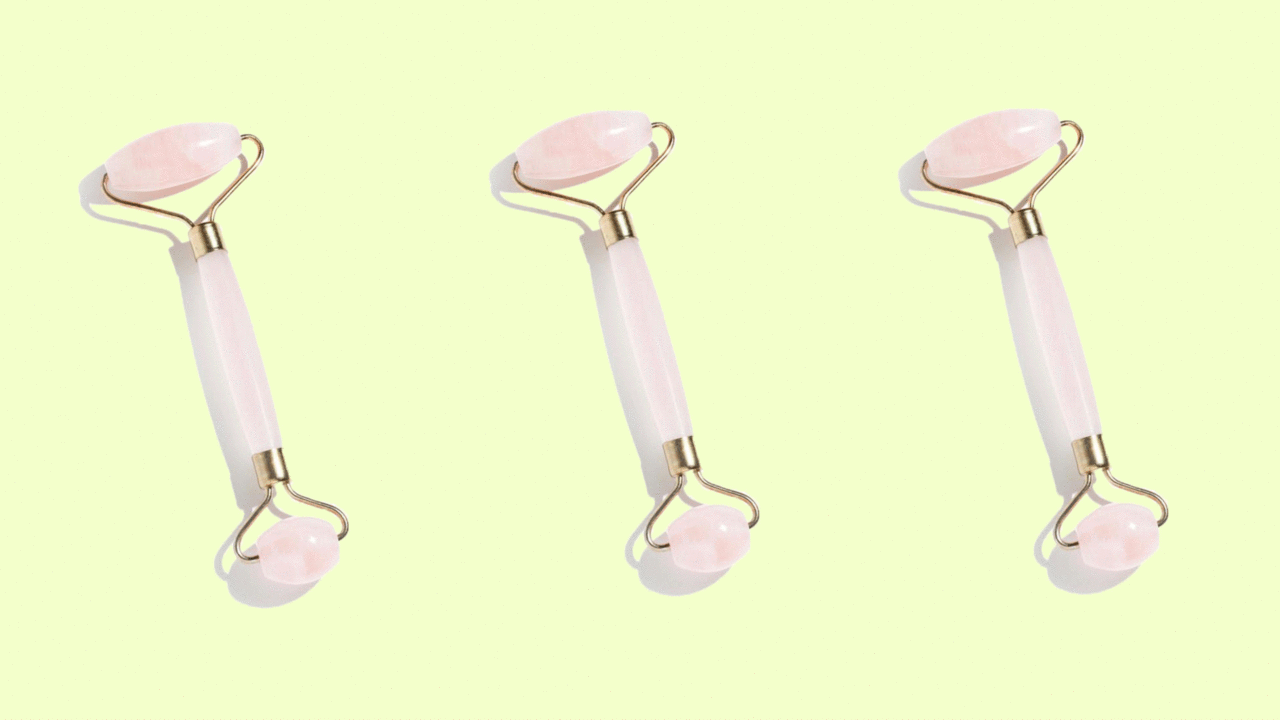 Allure
In this case, the "you get what you pay for" motto works. If a roller is priced under $10, this likely means it's made with glass or plastic, which means you won't get the benefits you're hoping for—so double-check to make sure you're picking up a 100% jade or rose quartz roller.
Now, that you've purchased a real one, how do you use it?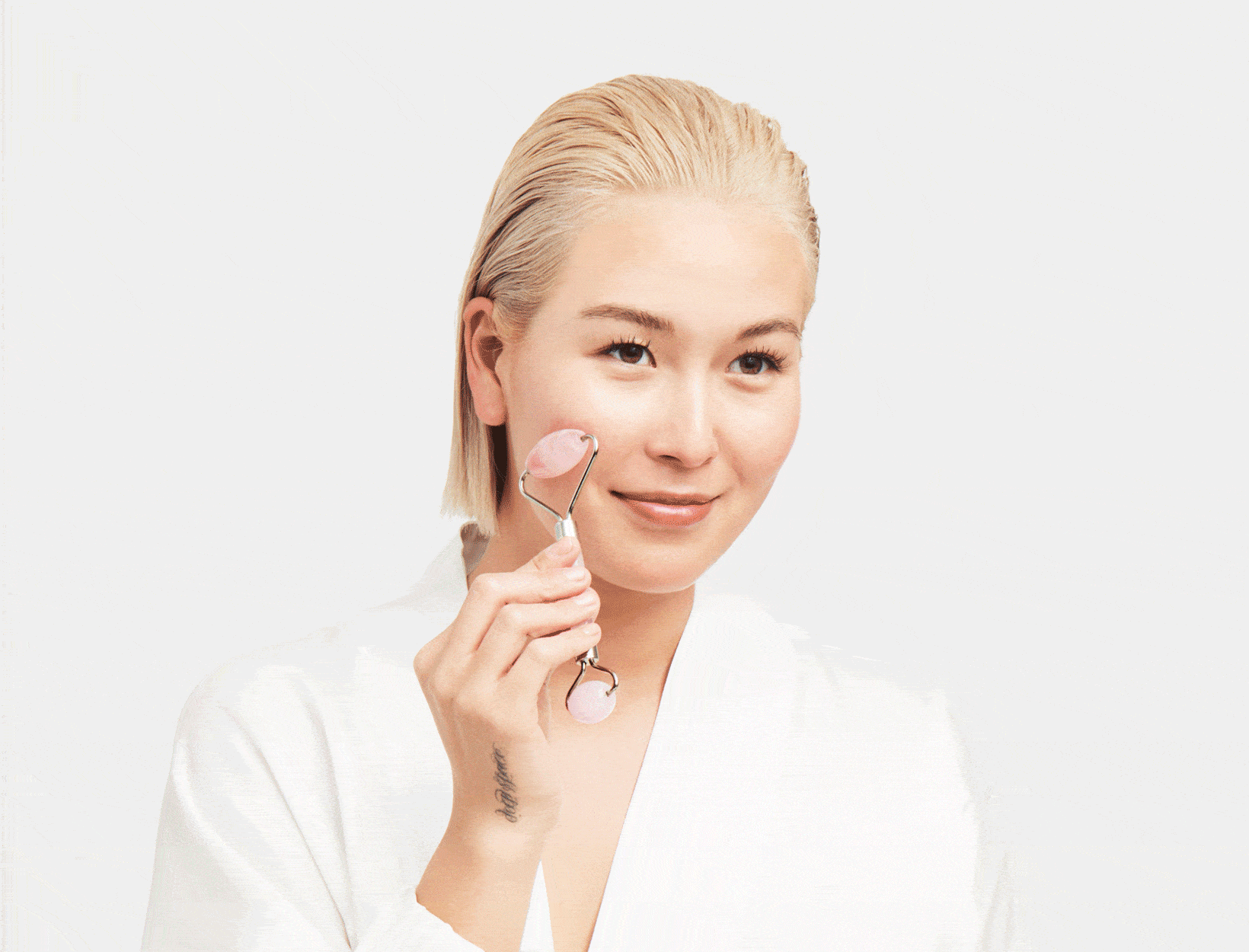 I was doing it all wrong by rolling it up and down my face. Rolling your new beauty tool in an upward motion is the what helps depuff the skin. There isn't a certain time limit that will make your skin better, but I roll it over my skin until all of my serums are penetrated, and then I wash the tool off with soapy water right after I finish. Like any skin tool you use, it's crucial to clean them to keep the germs at bay. If you want a little extra R&R, pop your roller into the fridge and use it in the morning to wake up your skin! It really does feel amazing.
I enjoyed taking the time to let my serum set in instead of rushing through my morning and nightly routine, and it just makes me feel beautiful watching the pale pink roller move in an upward motion on my skin. All and all, I don't think adding this to your routine is going to make any drastic changes to your skin, but hey, taking a little extra time to care for yourself and your skin is never a bad thing.
Featured image by Bianca Lambert for xoNecole
Originally published on April 25, 2019
If you're a girl that has gone natural, is natural, or is in the in-between stage, you've likely got tons of products under your sink, in baskets, in drawers, and wherever else you can hold them scattered throughout your bathroom. Or maybe that's just me, and I just told y'all my deepest darkest secret. Either way, we've all tried a product(s) that haven't vibed with our hair texture.
I've been natural for about six years, so I know what works and doesn't work for my hair, but lately I've been struggling to find the right gel that gets my curls to pop without it possibly affecting my health (hey, Eco Styler), or that leaves my curls with flakes of gel shaking down like snow — oh, and let's not forget, one that doesn't have a pricey price tag.
After Google searches, watching YouTube reviews, and checking out consumer reviews on Target.com, I sprung for a $14 eight-ounce jar of Kinky Curly Curl Custard Gel. I recognize the $14 price tag is a little much for gel, but if it works, it's always worth it.
I wanted to see how it would work with my 4c coils with a wash and go. With nearly a five-star review on Target.com, I had high hopes, but many reviewers noted that the gel didn't work well for 4c hair because it didn't help stretch the hair. Since I am a 4c girl that doesn't mind shrinkage and a kinky 'fro, I still went for it.
Step One:
To prep my hair, I washed it and deep conditioned it, but instead of towel drying my hair, I left it soaking wet. The directions on the side of the jar recommends that curly girls with "thick coarse curls" apply to hair when dripping wet. Before I hopped out of the shower, I sectioned my hair into six sections, sprayed my hair with Jane Carter Solution Revitalizing Leave-In (a must have for me), and got out the shower with my hair dripping wet.
I started with the back of my head, first gliding a touch of jojoba oil onto my coils before adding the gel section by section. One thing I noticed right away, since I can be heavy-handed when applying a product, was that I needed very little to get my coils defined.
Step Two:
After I was done with my entire head, I covered my face with a towel and shook my head from side to side with my head upside down to get my curls to separate without touching them. The more you touch your hair, the more frizz you'll get as your hair dries. Since my hair is thick, I blow dried my hair on the lowest heat setting and let my hair do its thing. I'd come up now and then for cool air and to shake my curls with my head turned upside down.
The End Results Looked Like This: 
Before I headed out for my audition, I touched up my lipstick and separated my coils, and to my surprise, there was no flaking, and my hair felt moisturized. Success!
I Tried It One More Time and Got This:
This time my hair shrinkage was tighter, but I also was in a rush and didn't take the time to add the product in small sections as I'd done before, but I still loved how it turned out.
I recognize that this isn't a product that everyone will love, especially if you're a curly girl that loves a stretched style. Will I try other gels in the future? Yes. But, for now, I am pleased with my results — shrinkage and all.
Featured image by Bianca Lambert/Instagram
Want more stories like this? Sign up for our newsletter here and check out the related reads below:

I Tried 3 Gels On Type 4 Natural Hair
Curl Transforming Smoothies Your Hair Will Love
4 Black Women On Their Relationship With Their Hair
I Tried 4 Vegan Natural Hair Products
Originally published on February 23, 2019
I recently decided to highlight my hair with the Pintura hand painting method. While I love my hair color, I did have some damage to my normally healthy hair.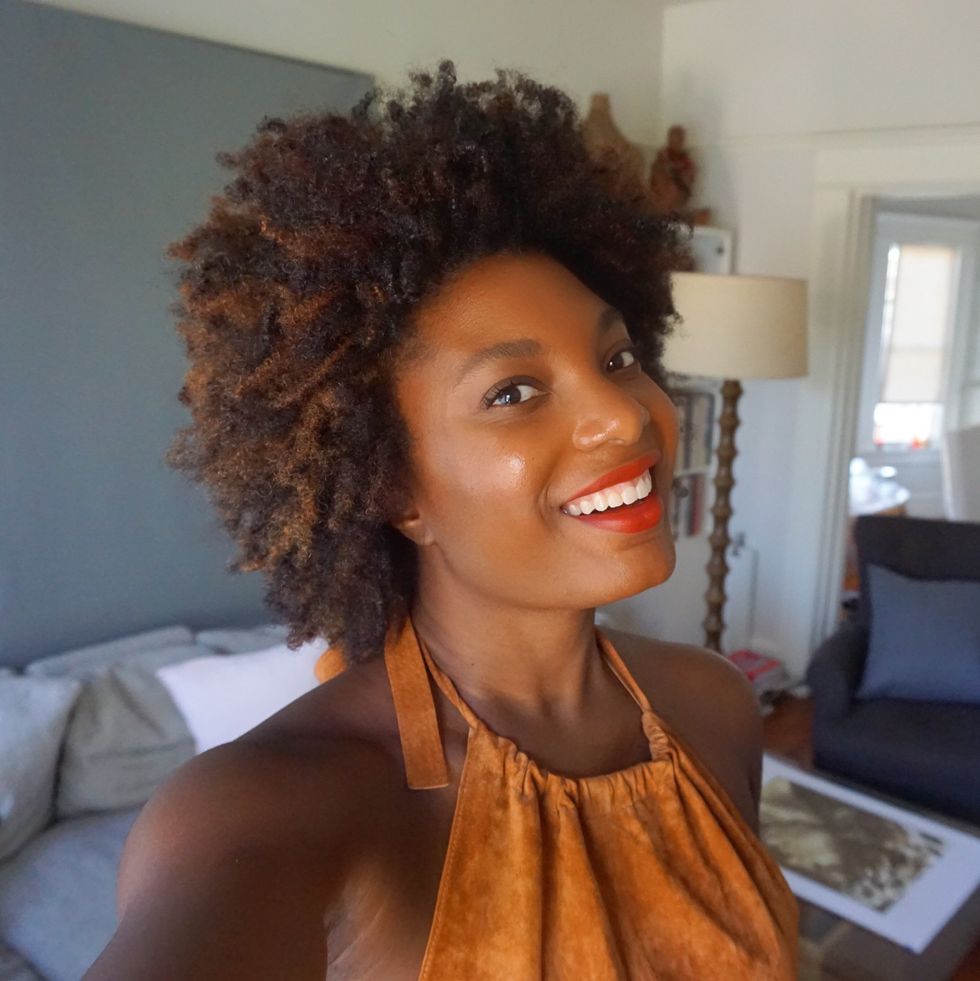 @Bianca__Lambert
Waking up to chunks of my hair coming out was not ideal, but luckily it wasn't enough for me to panic. Instead, I did what I do best — gave my hair some extra TLC with H2O and a deep conditioner.
I know that breakage post any service isn't normal and since the stylist who did my hair wasn't of much help. The writer in me researched deep conditioners that are good for restoring damaged, color-treated hair for myself and for anyone that finds themselves in a similar situation. I also reached out to other curly stylists to get their recommendations on what to use and added those brands to this list.
Here are eight deep conditioners to keep in your beauty drawer for hair-mergencies.
*This list is specially curated by the xoNecole team and some links are affiliate links. If you purchase an item from an affiliate link, xoNecole might earn a small commission.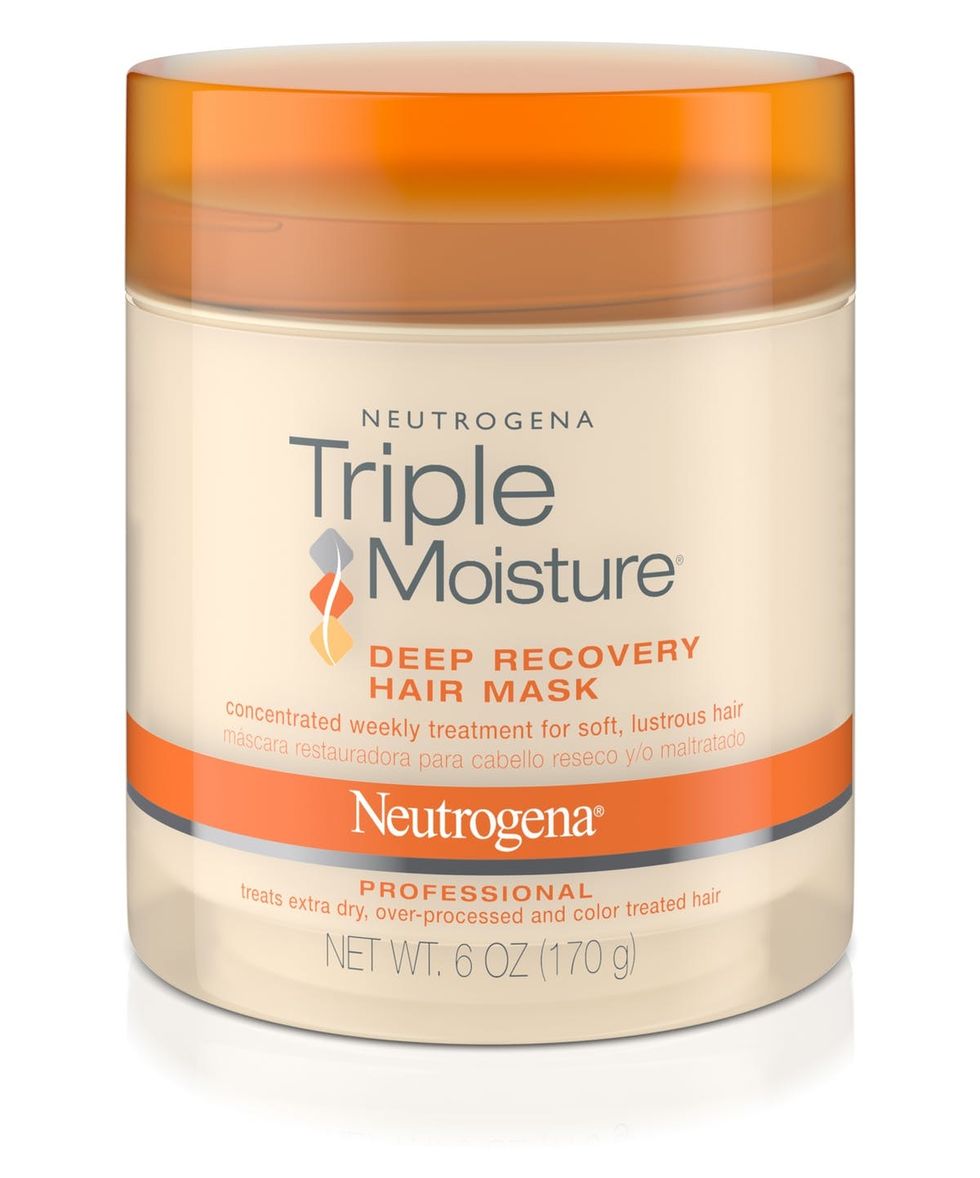 Amazon
This mask was a staple when my hair was relaxed because it just worked. For added benefits (for this and any conditioner), add a shower cap and sit under the dryer for 15 to 20 minutes for deeper hydration.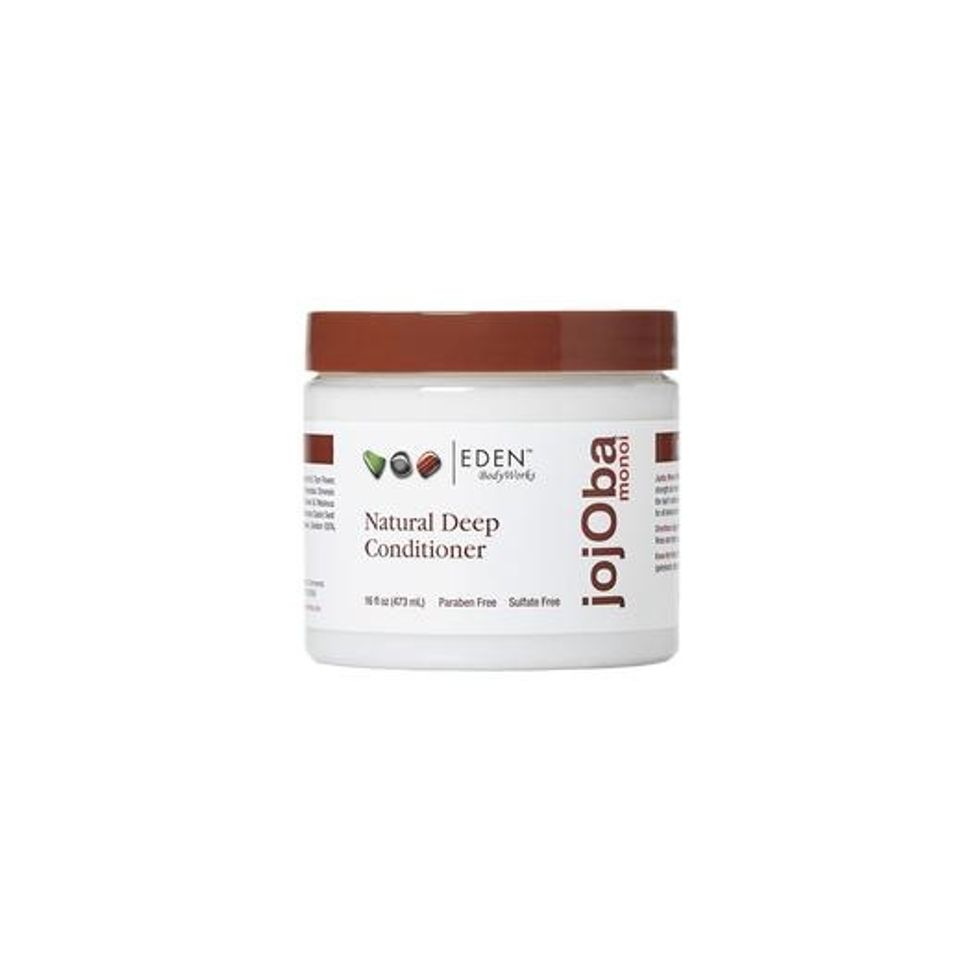 Amazon
After being introduced to EDEN BodyWorks at BeautyCon two years ago, I fell in love with their deep conditioner. Made with Coconut, Jojoba, and Monoi, the triple threat can help restore hair experiencing damage from over-processing, heat damage, and dryness that can plague natural hair.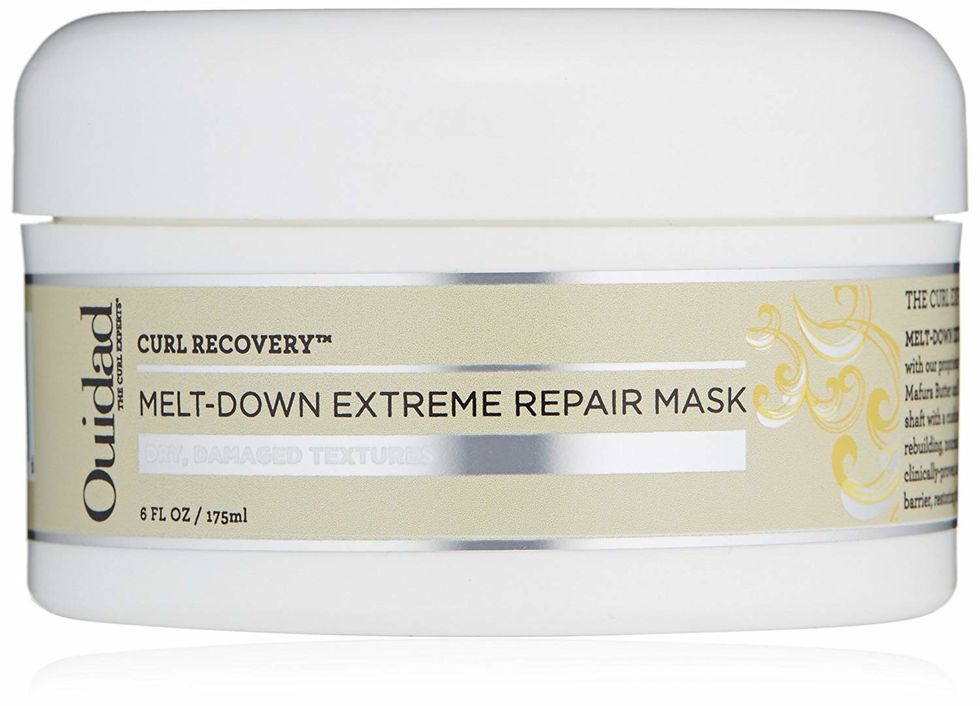 Ouidad
Adding new products to my hair care regimen is always a fun experiment. At the recommendation of one of my coily hair icons, I invested in this mask. With ingredients like Mafura Butter and Kalahari Melon Seed Oil, Ouidad says this mask helps the hair regain elasticity and manageability. I'm here to tell you it does just that. My hair has never felt better.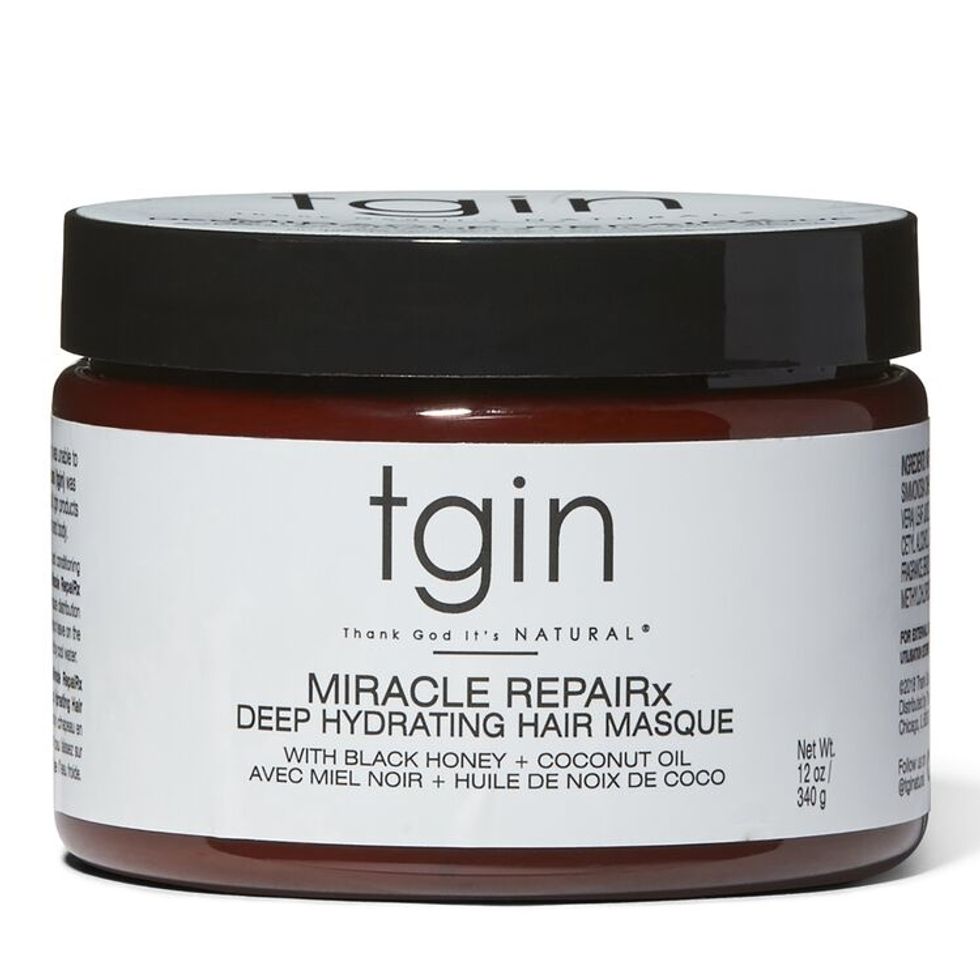 Amazon
My friend and fellow naturalista recommended this brand to me. Once I saw the rave reviews, I added this "miracle" mask to my Amazon shopping cart without a second thought.
Olapex
Olapex is used in salons (this was recommended to me by a curly stylist) and offers four products to consumers that aren't pros. Their Bond Maintenance Conditioner is one of those. The conditioner helps restore broken hair bonds and is safe to be used on color-treated tresses.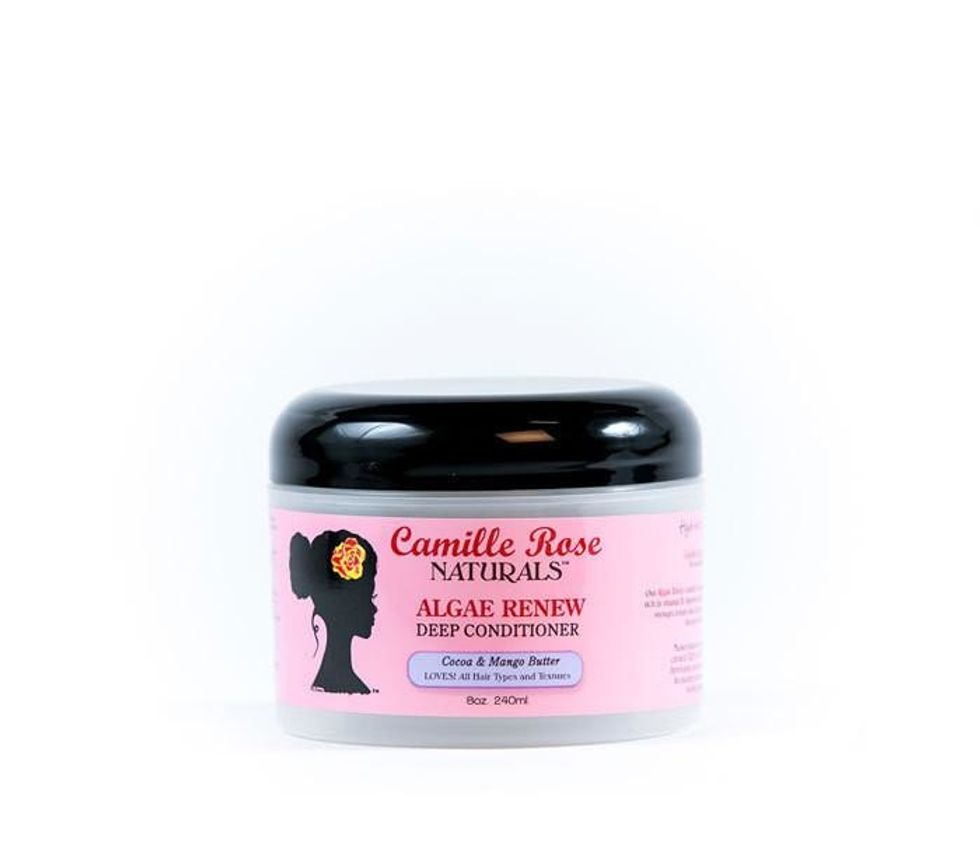 Camille Rose
Camille Rose is a fan favorite in the haircare world, and their algae deep conditioner comes highly rated. Made with cocoa and mango butter's along with pure blue-green algae, there isn't a shortage of vitamins and minerals that will help repair and nourish your curls.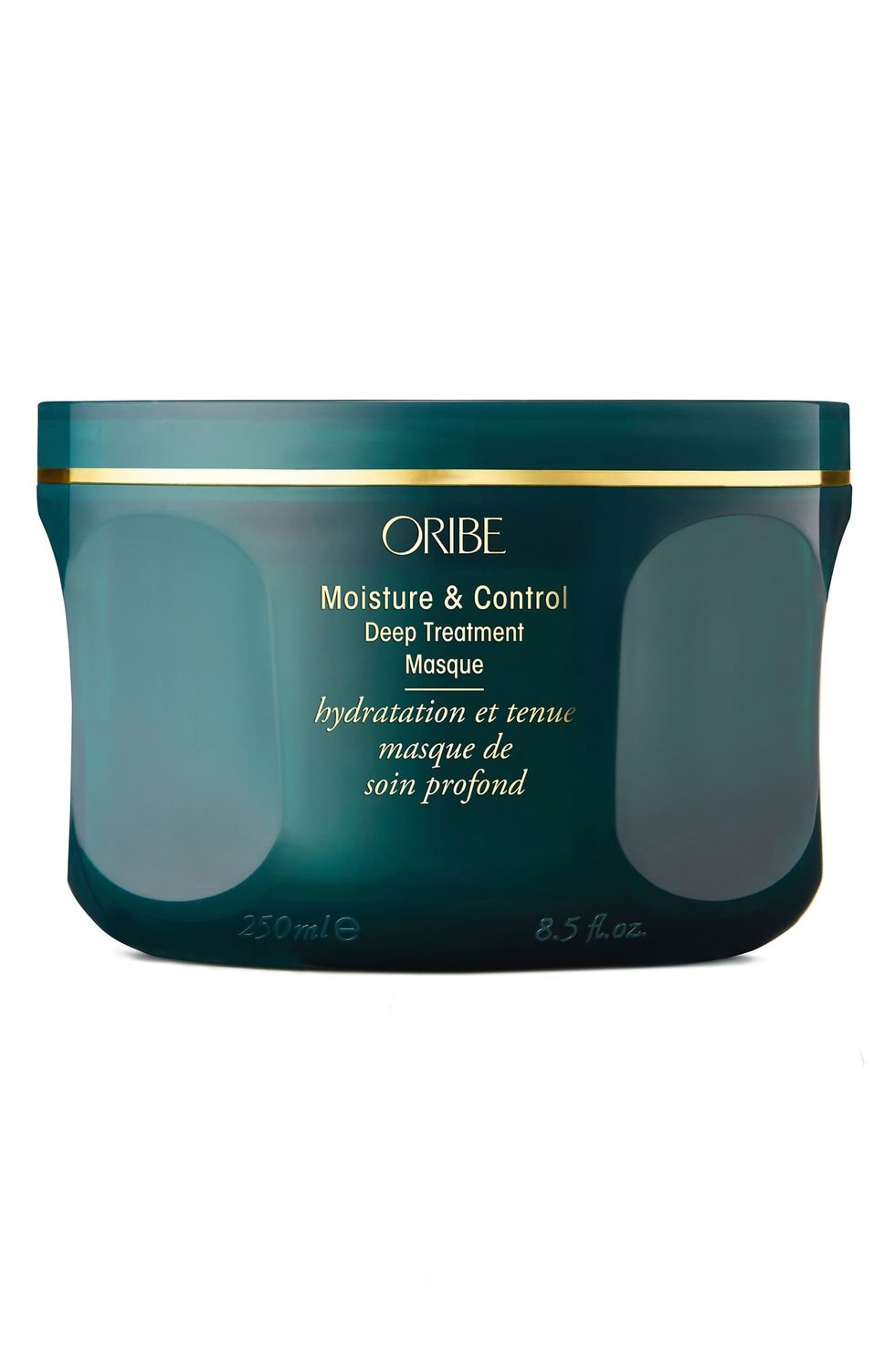 Nordstrom
When I saw that Elaine Welteroth used this conditioner, I had to check it out. Now, the price tag might make you reconsider it, but the mask helps restore hair elasticity, and repairs split ends.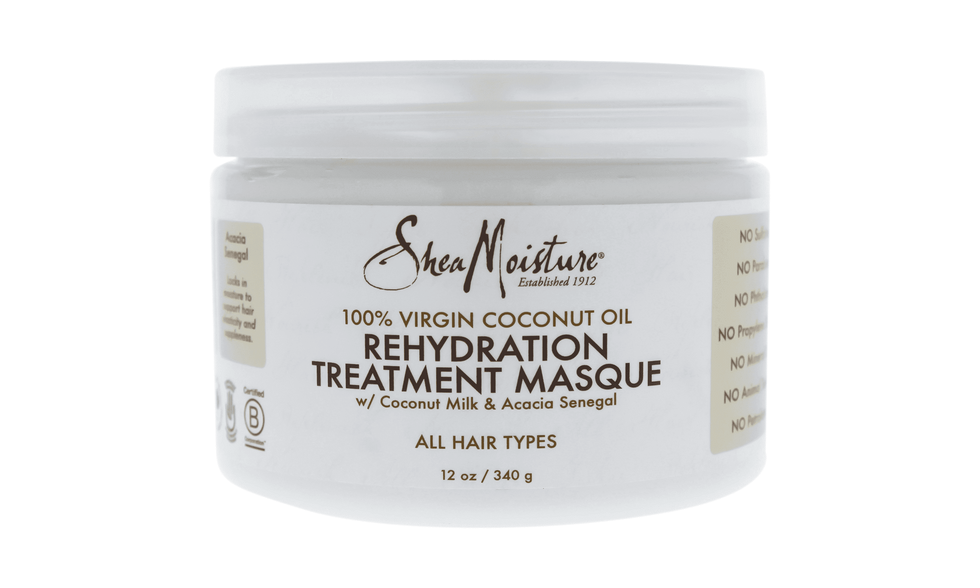 SheaMoisture
I am thankful I had this in my shower because it has been a lifesaver. The day I noticed the clumps of hair falling out from my ends, I got in the shower and used this. My dry hair felt like itself after rinsing and adding my leave-in. I know this isn't the solution to the damage, but it helped a lot.
Want more stories like this? Sign up for our newsletter here to receive our latest articles and news straight to your inbox.
I Tried A $30 Curl Elongator On My 4C Hair
I Tried This $14 Hair Gel On My 4C Natural Hair & This Is What Happened...
10 Releases To Add To Your Beauty Collection This Month
Featured image by Giphy
Originally published on September 10, 2019