Red nails have always intrigued me—namely because the red nails were always on the fingers of a well-put-together woman with perfectly laid hair, a perfume that lingered, and an heir of confidence orbiting them. Oh, and they usually drove a luxury car. I assume this is why we're all discussing the "red nail theory," a hot topic on TikTok thanks to GirlBossTown discovering that wearing red nail polish was responsible for an uptick in male attention. The #redtheory hashtag has 100 million views and counting. So, let's take a further look into this anecdotal theory.
What Is the Red Nail Theory?
For starters, the color red is a primary color. And it's associated with passion, warmth, and sexuality, as well as danger, violence, and aggression. However, in pop culture and beauty, the color red is typically about owning your sexuality, confidence, and boldness. We think this could explain why women tend to receive more romantic attention when adorning their lips and hands with the fiery hue.
In addition to more romantic attention, there is chatter about how wearing red nails means more money in the bank. For example, a TikTok user noted that Rihanna has always worn red nails and is now a billionaire. Ok, so there is no clear-cut evidence that red nails can give you billionaire status. However, there is some color psychology about wearing red in the workplace and beyond.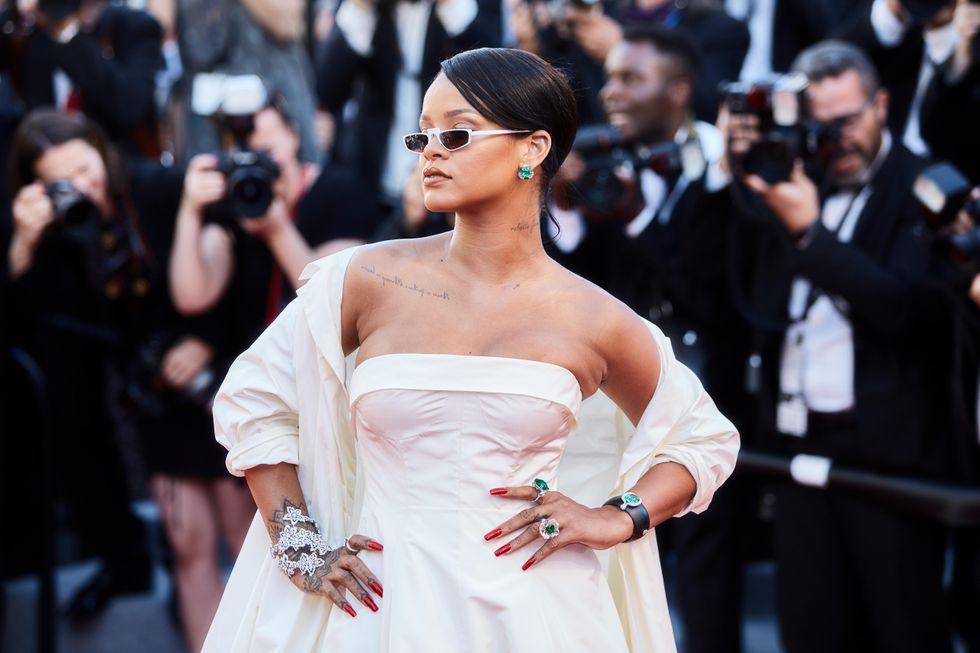 Kristina Nikishina/Epsilon/Getty Images
You will often see women in politics and high-powered positions opt for red suits, dresses, and separates, as red can convey confidence without saying a word. So, with this mini-deep dive into the red nail theory, we definitely think there's something there. From red lips to nails, exuding confidence seems to be the throughline, and we love to see it.
If you're ready to wear your confidence on your sleeves (or nails, in this case), below are a few of our favorite nail colors.
The Best Red Nail Polishes To Tap Into the Red Nail Theory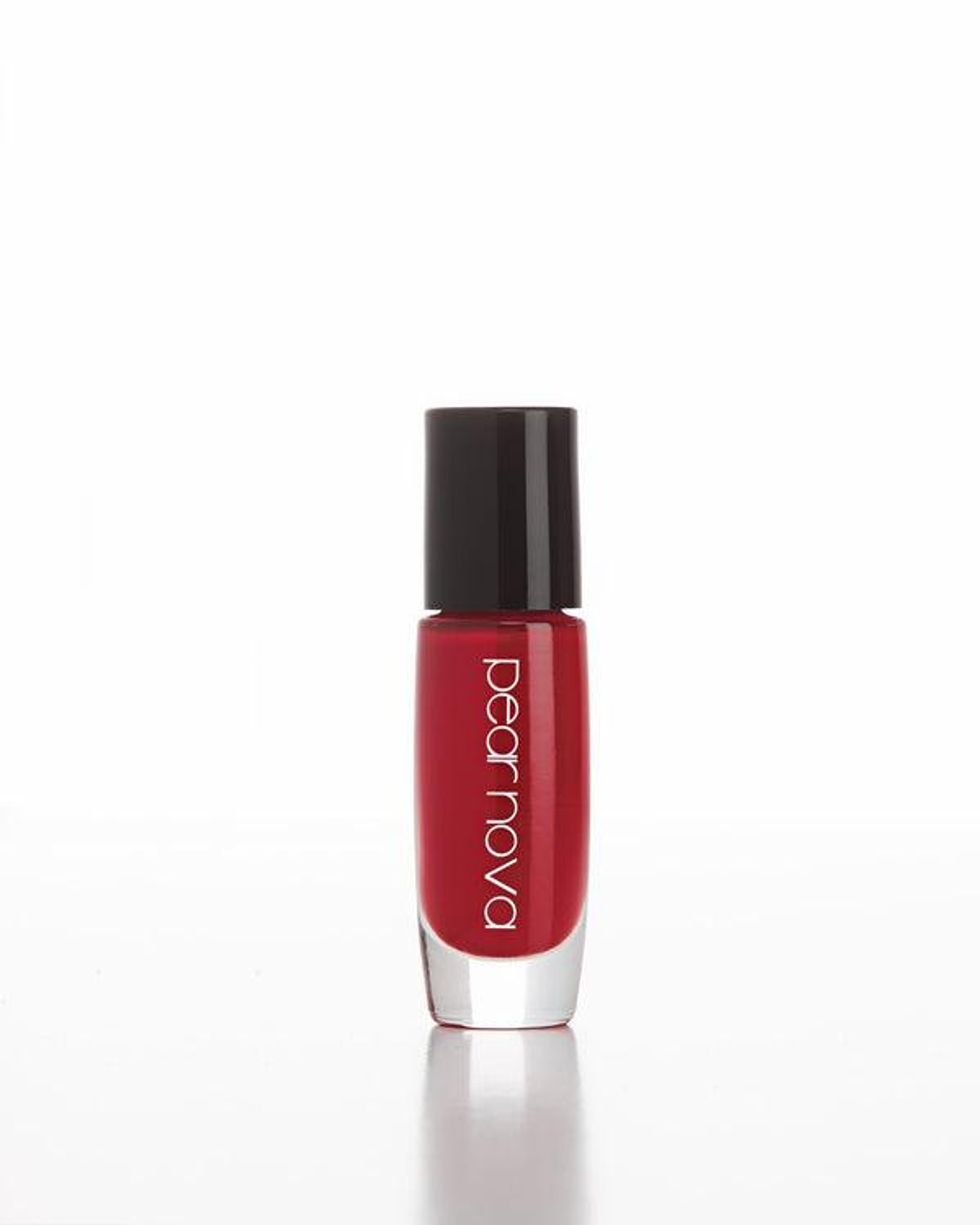 Pear Nova
Berry Jane red nail color
Pear Nova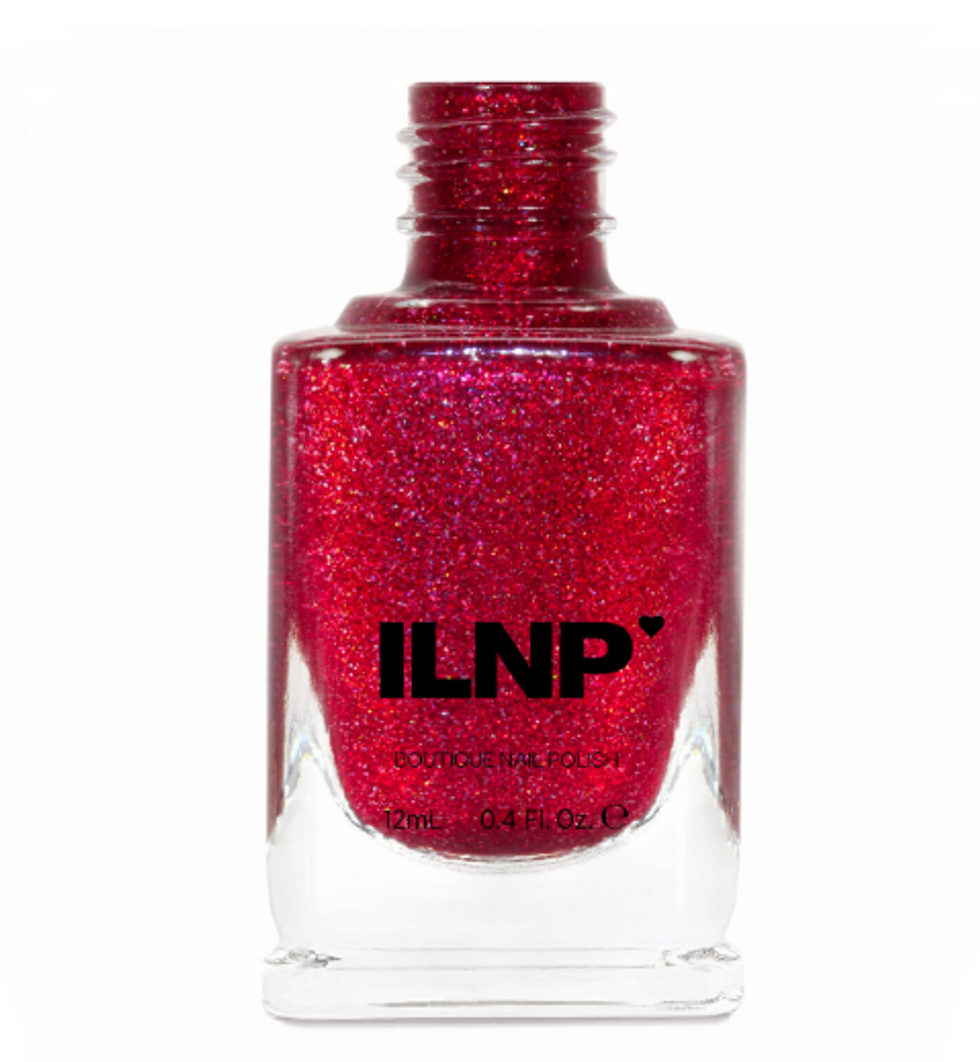 ILNP
ILNP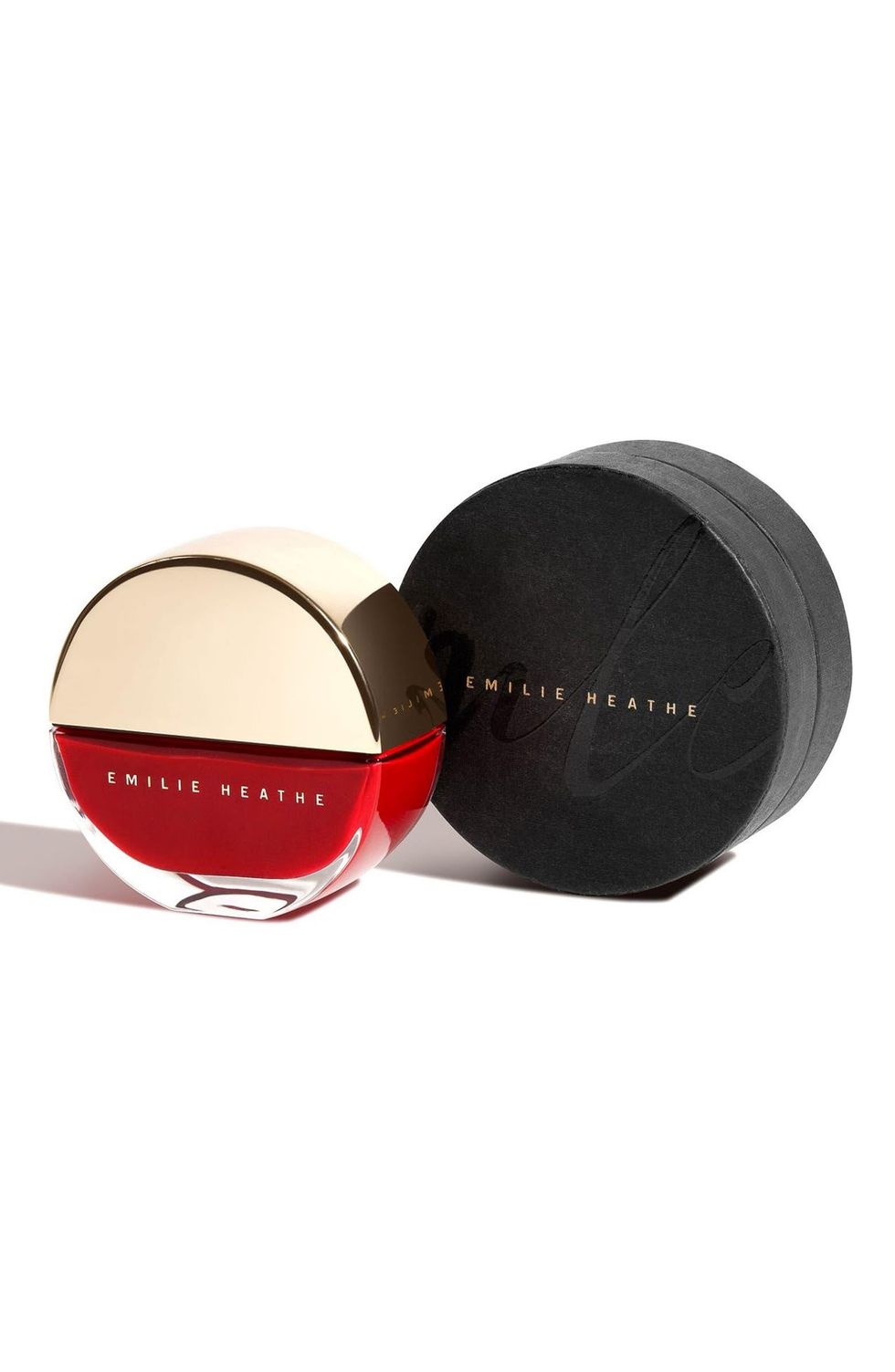 Nordstrom
Emilie Heathe
Featured image by Epsilon/Getty Images
I will never forget the feeling of watching Black Panther for the first time. Now, here we are gearing up for Black Panther: Wakanda Foreverfour years later. To think about the film without Chadwick Boseman is challenging to process. However, we know all who worked on the film will honor his legacy while delivering a movie we'll discuss long after we leave the theaters.
This time around, Marvel Studios is partnering with brands—many of which are Black-owned—to get us all ready for opening weekend, November 11th. From nail care to hair care to coffee, there are several Black-owned businesses to support. And there's even a collab with a makeup brand that always brings it when working on creative projects.
Keep reading for all the deets on each collab!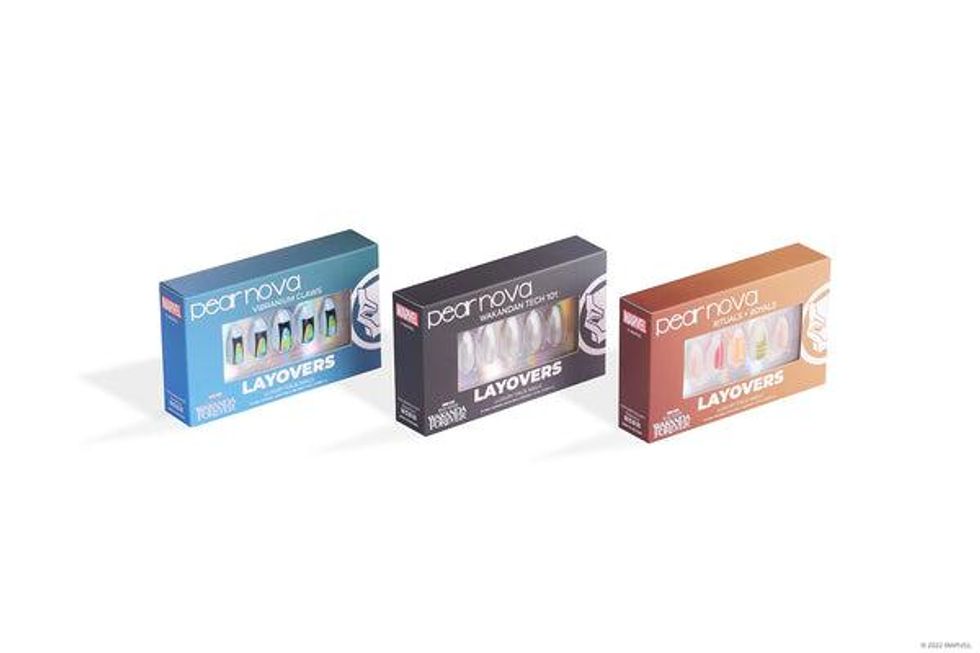 Pear Nova
If you're unfamiliar with Pear Nova, the Chicago-based nail salon founded by Rachel James in 2012 is Black-owned and offers a range of polishes you can order online and use for your at-home mani. However, this collaboration with Black Panther: Wakanda Forever is all about Layovers (think press-ons, but better).
The limited-edition layover nail collection features custom nail art inspired by Black Panther that is both long-lasting and reusable. The collection includes three designs: Vibranium Claws Layovers, Wakandan Tech 101 Layovers, and Rituals + Royals Layovers. And each set includes 24 almond-shaped luxury faux nails, a nail file/buffer, a cuticle stick, and nail glue.
Limited Edition Bevel x Marvel Studios Black Panther: Wakanda Forever Safety Razor Gift Set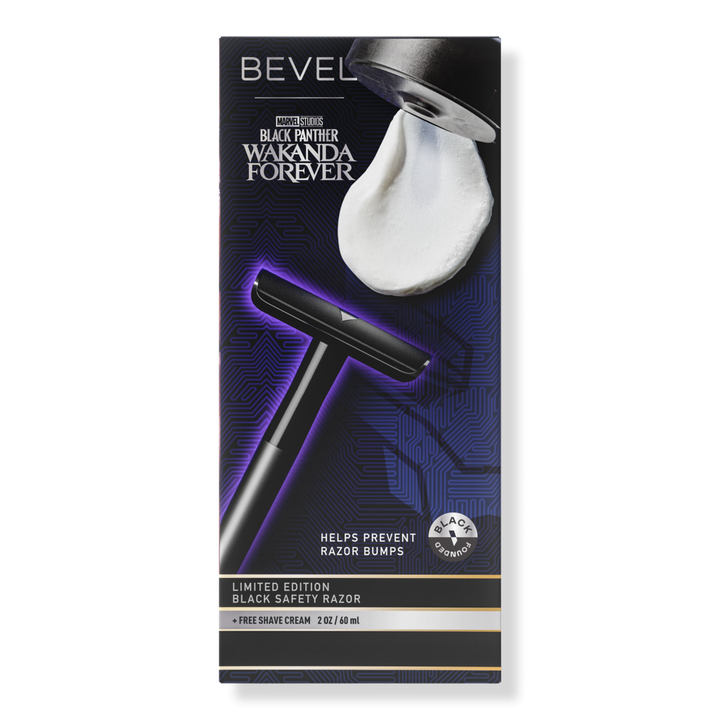 Bevel
For the Marvel fanatics in your life, shaving just became more fun. Bevel collaborated with Black Panther to design their best-selling double-edged safety razor in a limited-edition all-black. In addition, because the razor is specially designed for coarse and curly hair types to reduce bumps and irritation, shavers will get a close shave with a one-of-a-kind Wakanda style.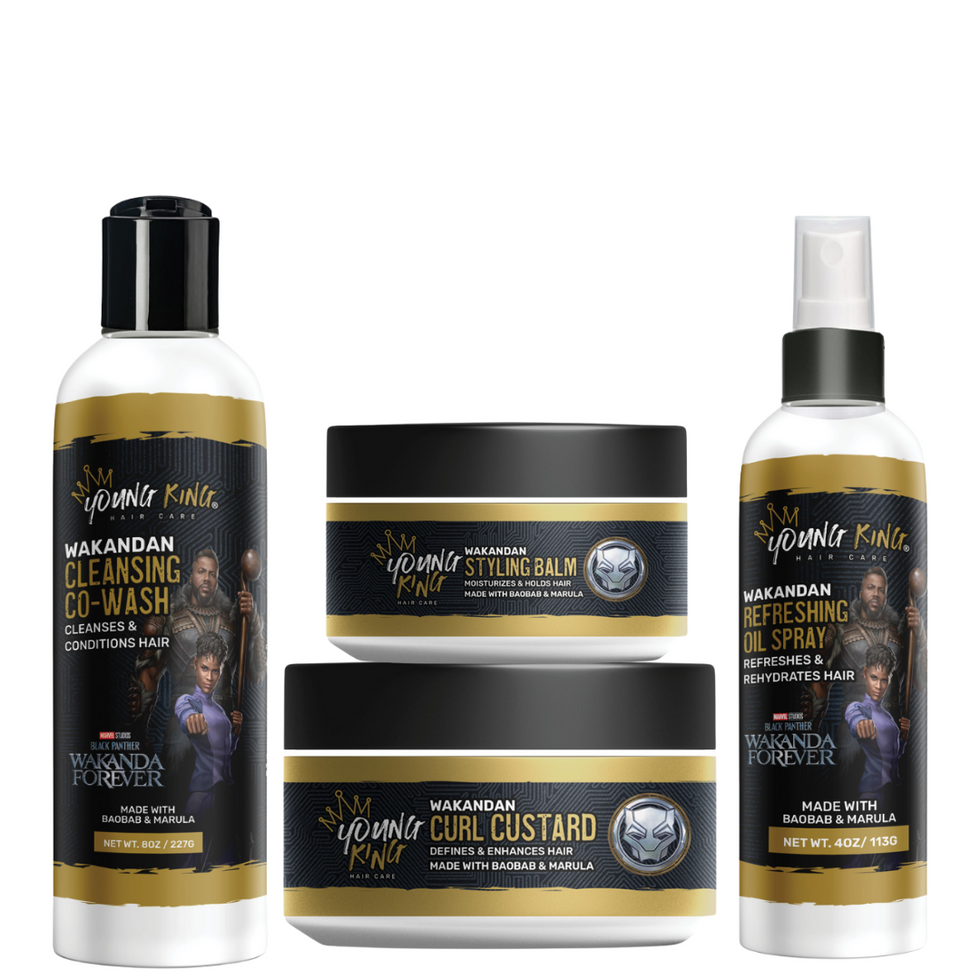 Young King Hair Care
Young King Hair Care is a plant-based, natural hair care line founded by wife-and-husband team Cora and Stefan Miller to redefine male grooming for young boys of color. Young King offers products from co-washing to stylers, and their collaboration with Black Panther is no different—just much cooler for wash day. The Wakanda Forever limited edition line includes a co-wash treatment meant to condition and detangle, styling balm, custard curl enhancer, and refreshing spray, all adorned with Black Panther packaging we're sure your kiddos will enjoy.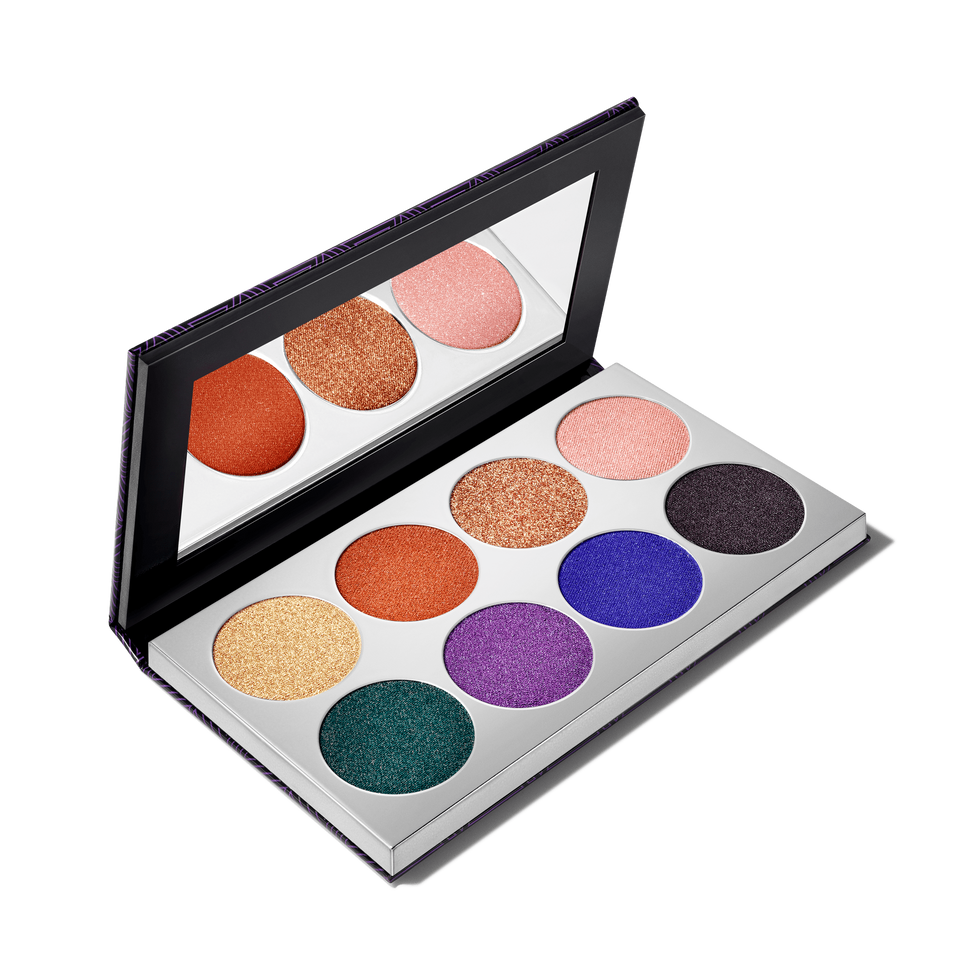 MAC
One thing MAC does well is collaboration. Am I the only one still using their MAC x Aaliyah Makeup Collection lipstick? From what we can tell, this 18-piece collection adorned with specially curated Wakanda details and colors, including an eight-shade eyeshadow palette decorated with T'Challa's Claw necklace and a blingy highlighter designed with the Black Panther emblem, is going to be equally as amazing. Prices for the limited-edition collection range from $23 to $39.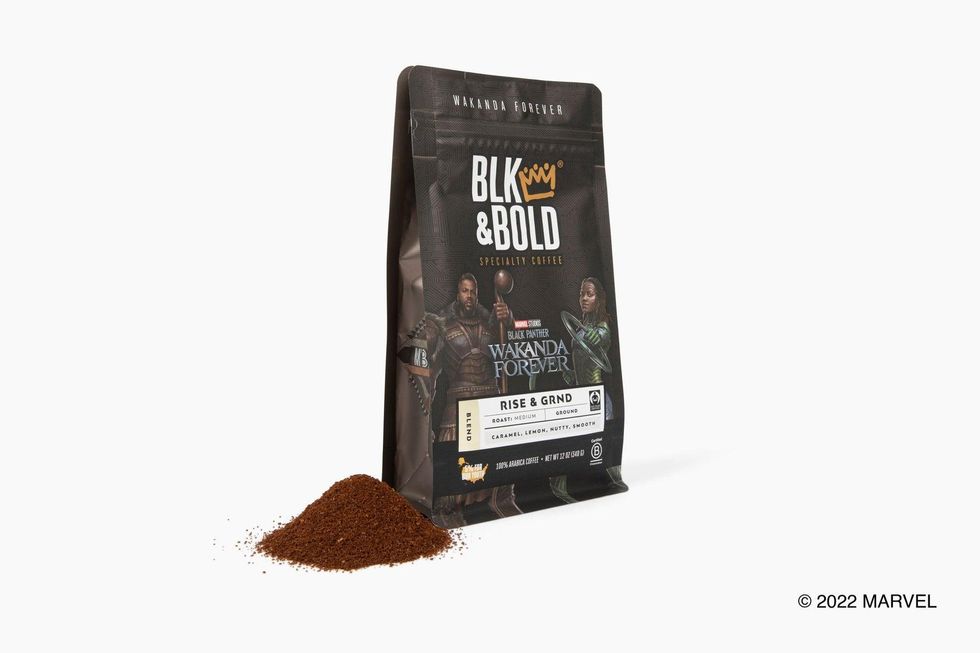 BLK & Bold
I wake up and drink a cup of BLK & Bold coffee every morning. I love starting my mornings with a Black-owned business. Plus, knowing that five percent of all BLK & Bold profits are used for good makes my morning cup of joe even sweeter. So I was excited to see their latest collaboration with Black Panther. This limited edition drop has three offerings: dark roast, medium roast, and Keurig k-cups, with packaging featuring Shuri, Okoye, Nakia, and M'Baku.
Featured image via MAC Cosmetics
Your skin looks great, my best friend says to me on FaceTime. Of course, we all know FaceTime doesn't make skin look its best, especially without great lighting. So the compliment was well received since I'd wrapped a microneedling appointment a week earlier. There are tons of skincare treatments on the market. This treatment is, in my opinion, worth every penny.
Like many Black women, I have a recurring skin condition: hyperpigmentation. I know there's no such thing as perfect skin. But looking at a new dark spot after every breakup is frustrating. So after some research and watching tons of YouTube videos, I was ready to take the plunge with the same pro I trusted to inject Botox into my forehead and crow's feet for the first time.
So here's how my appointment went.
What is microneedling?
"Microneedling is a procedure where a device with sterile needles is used to make precise microchannels in the skin, which stimulates collagen," Allie McAllister, NP-C, DCNP, founder of The Atlanta Injectors at Lemmon Avenue Atlanta, tells xoNecole. Unlike the at-home microneedling options, in-office needles range from 0.5–2.5 mm and penetrate deeper into the skin, creating tiny wounds that will eventually help yield firmer skin and a reduction in fine wrinkles, enlarged pores, pigmentation, and scarring.
You may be wondering if this treatment is safe for dark skin. The answer is yes. Because microneedling only punctures (they're microscopic, btw) the surface layer of the skin, this treatment won't create scarring.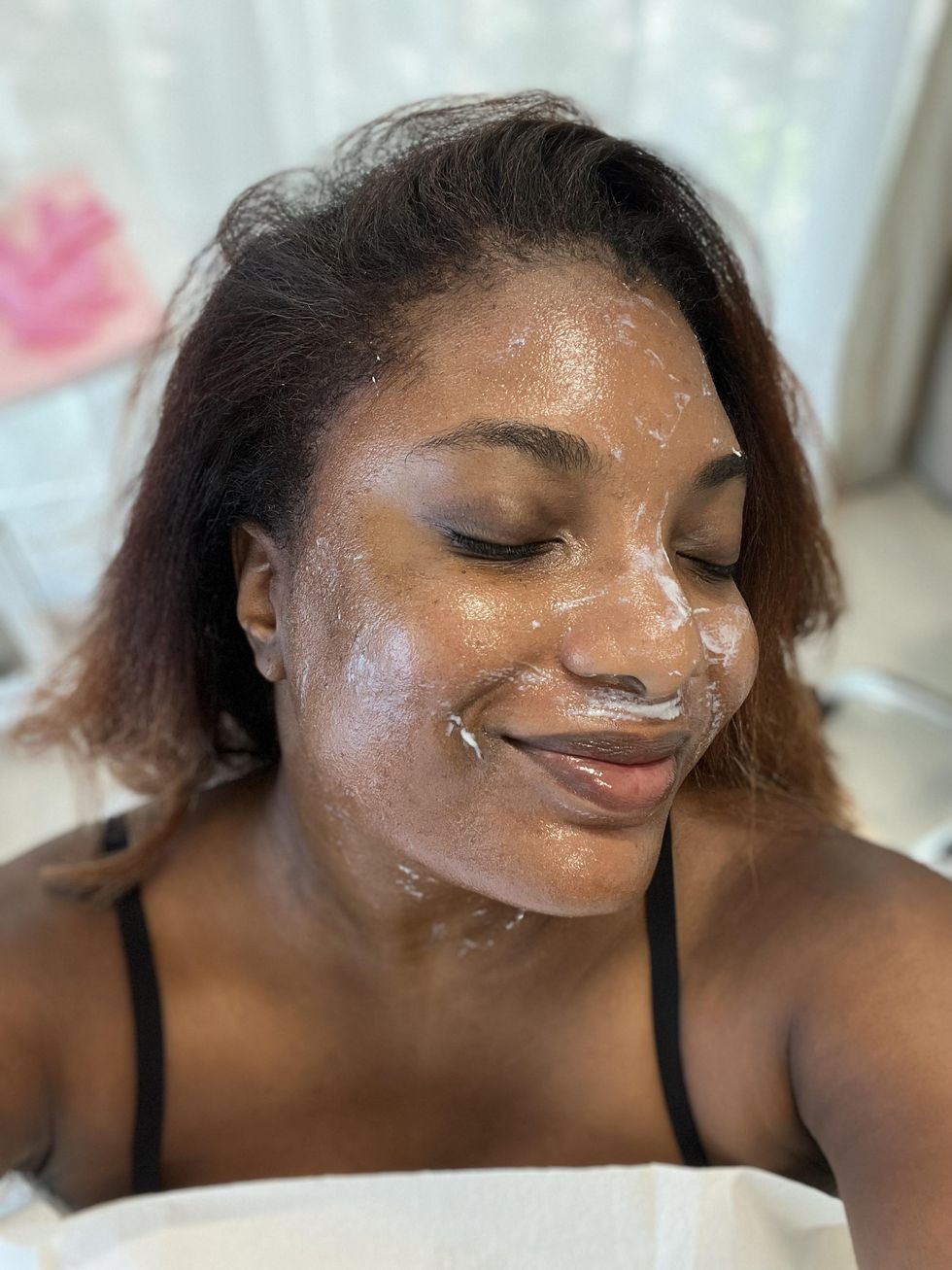 Skin numbing pre-microneedling session
Courtesy of Bianca Lambert
So, what should you expect at a microneedling appointment? 
Before your first appointment, you may have some pre-microneedling jitters. Don't worry. The process is pretty painless because the first step is face numbing. After the skin is cleansed and the cream is rubbed on, it takes about 20 minutes for your face to numb. It's a strange feeling that will last a few hours post-appointment.
Next, your practitioner will apply a serum that can be hyaluronic acid, a topical vitamin C, and your own plasma-rich protein from your own blood (think: the vampire facial). I just went with hyaluronic serum. Once my skin was numb, the needling began. I mainly felt nothing except in the areas around my nose and outside of my face. But it wasn't more than a little pinch.
As the needling happens, the most alarming part is the pinpoint bleeding. It's not normal to have a pen gliding across your face that can produce tiny points of blood on your face. Don't be alarmed. It's actually a good thing. "Pinpoint bleeding is a great sign that the microchannels are deep enough to stimulate collagen," McAllister tells us.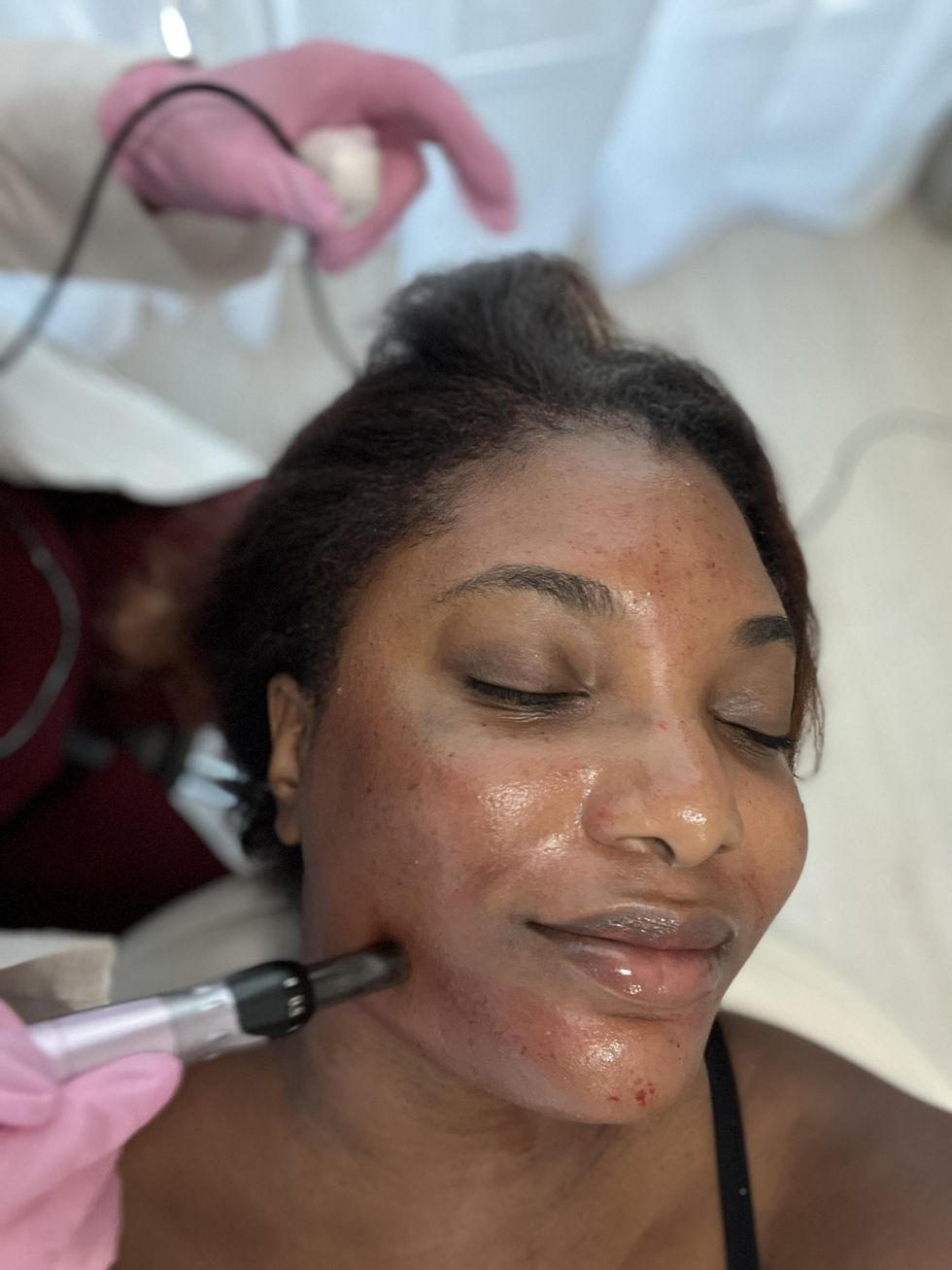 Skin during the microneedling process
Courtesy of Bianca Lambert
How do I take care of my skin after my microneedling appointment?
After treatment, your skin will need to be taken care of very gently. That means gentle cleansers and no activities. "We ask our patients to use gentle skincare and avoid acids, exfoliants, or retinoids of any kind for a minimum of five days post-procedure," McAllister shares. And if you're tempted to skip sunscreen: don't. This step is essential to your skin healing because the skin is more susceptible to hyperpigmentation from sun exposure. And that would defeat the purpose of your treatment.
Supergoop! Unseen Sunscreen SPF 40
You may experience some dryness or peeling. I did, especially on days one and two. But that's normal. "Peeling and dryness are very common after microneedling procedures," McAllister explains. She recommends Revision's Hydrating Serum or CeraVe Healing Ointment after a gentle cleanser to give the skin a dose of hydration. I used the Shani Darden Cleansing Serum, SkinMedica HA5 Rejuvenating Hydrator, and Tatcha Indigo Overnight Repair Serum in Cream Treatment.
How many microneedling treatments do you need to see results? 
The number of treatments needed will vary from person to person, but at minimum, four sessions are recommended four to six weeks apart for the best results with yearly maintenance three to four times a year.
What's the cost of microneedling?
The cost will vary depending on location, but it can range from $350 to $900 a session on average. However, this also depends on the area size you'll be receiving the treatment.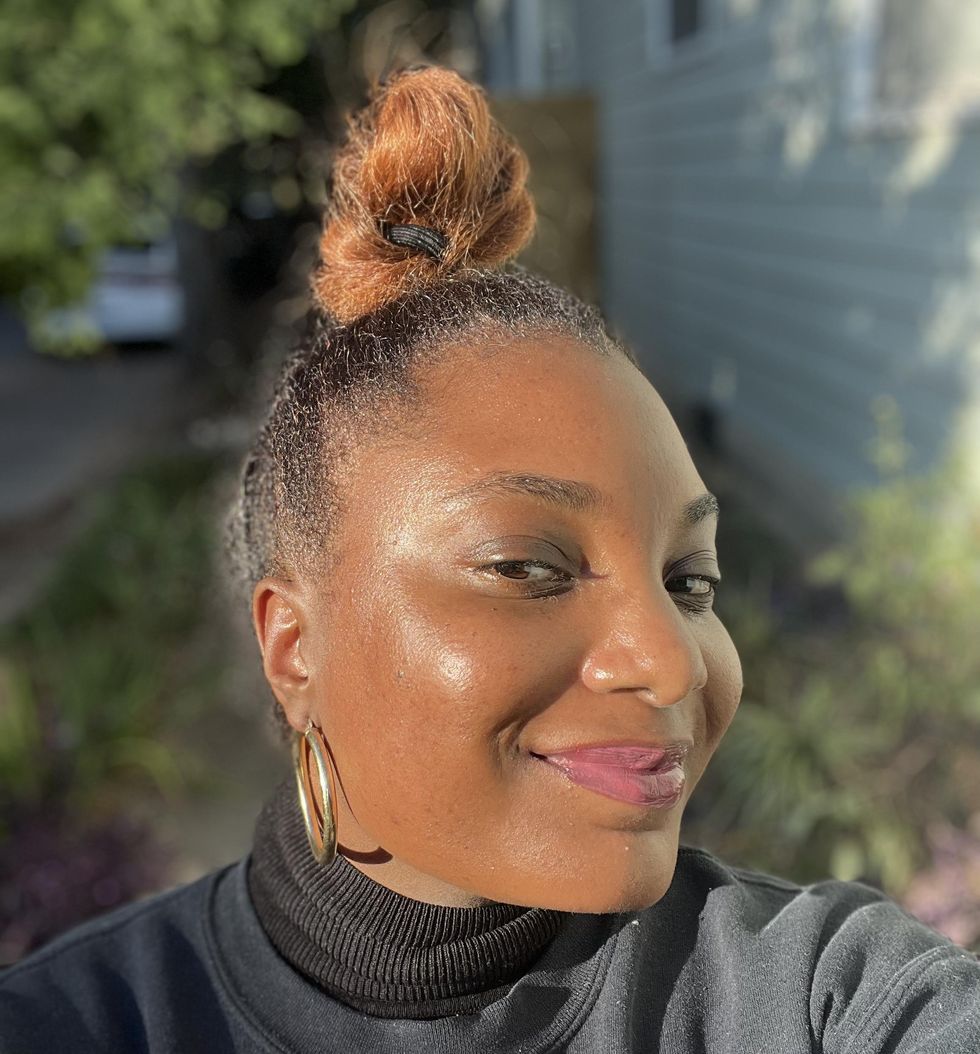 Skin a week post-microneedling appointment
Courtesy of Bianca Lambert
My Takeaway 
Microneedling isn't a skincare overnight fix. But the results, even after one treatment, are stellar. My skin was plumper, the texture smoother, and I could see a slight difference in my dark spots that live along my cheeks and jawline. I'm looking forward to more sessions to get even better results!
Featured image by CoffeeAndMilk/Getty Images
The leaves are turning. The temperatures are dropping. And you know what that means: it's silk press szn. Getting a silk press is a treat for me. I especially enjoy how a silk press trim shapes my natural curls and makes them pop. So when I was invited to The Purple Door Salon in Atlanta (which is stunning, btw) for a silk press with master stylist and Mizani artist and educator Todd Edwards, of course, I said yes.
My hair was fresh out of braids, so my natural hair desperately needed a little TLC (and gray coverage).
Most of us have experienced a silk press or, as it was known when we were growing up: a press and curl. But the process looks a little different with natural hair because without the proper steps, you'll walk outside, and your hair will say absolutely not.
So, I want to take you through my appointment and share the tips and tricks I learned.
First: Detangle
Detangling from root to ends is essential before your hair meets with shampoo and H2O. And this is especially important after removing braids, or you run the risk of product and hair buildup tangling and, subsequently, causing hair loss and damage.
Edwards ran his fingers through my hair as if it wasn't a tangly mess. That's how I knew I was in good hands. He ran his fingers from the root to the ends of my hair, detangling it section by section. If finger detangling isn't your preferred method, a wide-tooth comb or Felicia Leatherwood Brush makes excellent detangling tools.
Shampoo and Condition 
Now it was time for my favorite part: the shampoo. As we were shampooing, I asked if the type of shampoo and conditioner makes a difference when preparing the hair for a silk press. And the answer is yes.
"They are very important because you always want to use a shampoo and conditioner that will aid the final look or style that you're trying to achieve," Edwards tells xoNecole.
In your shampoo, you want to look for a sulfate-free option that clarifies without stripping the natural oils from your scalp that also combats frizz in preparation for thermal styling. And after a good cleanse, of course, conditioning is a must. Look for vitamin E and omega fatty acid-rich oils like argan, avocado, and jojoba-infused options.
Mizani Press Agent Smoothing Sulfate-Free Shampoo, $22
Aveda Smooth Infusion Conditioner, $24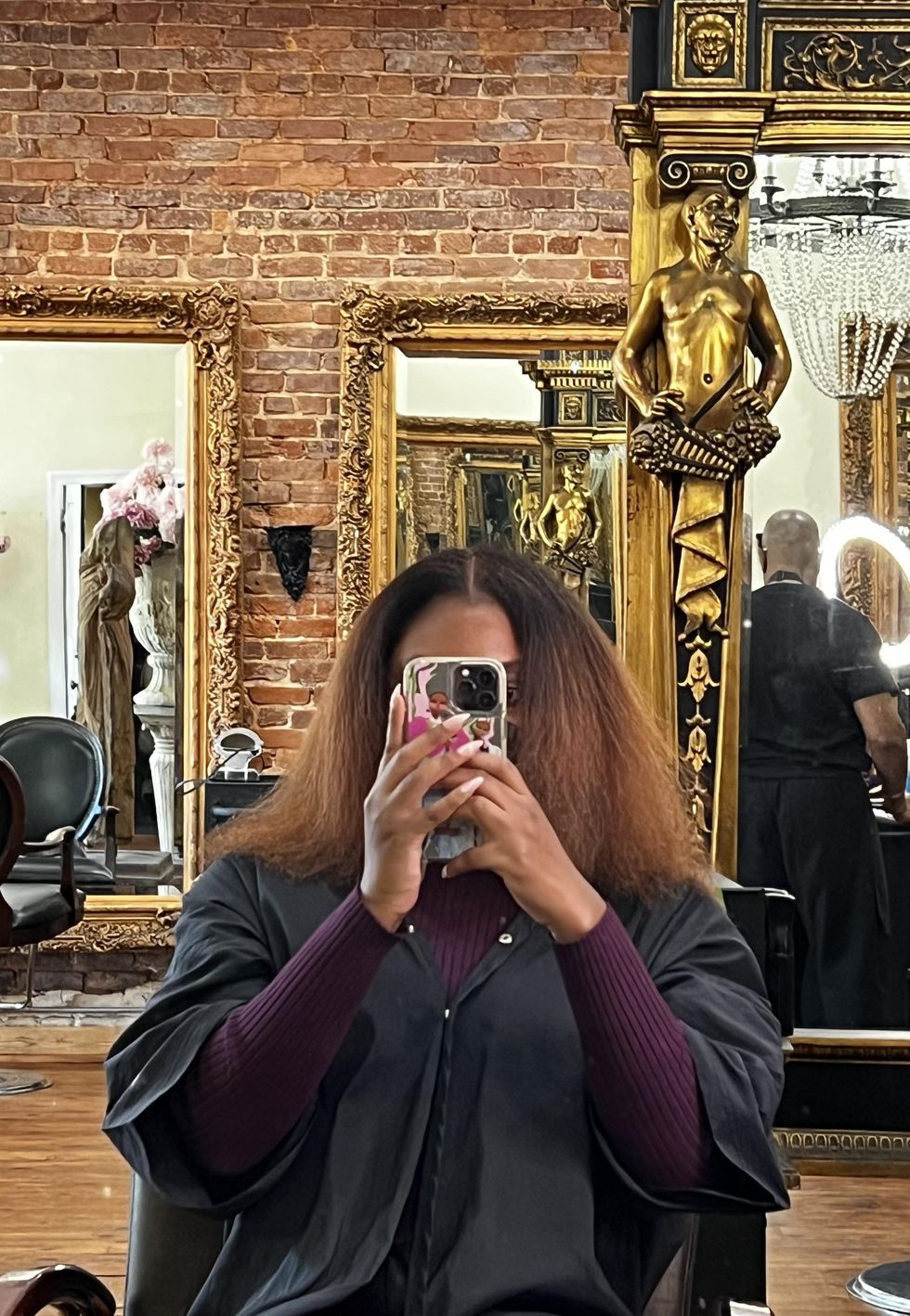 Courtesy of Bianca Lambert
The Blow Dry 
Now that my hair was cleansed, conditioned, and my grays were covered, Edwards detangled and sectioned my hair into four quadrants. Next, he went section by section, applying a leave-in conditioner and following up with a blow-dry cream. If you're ever tempted to skip your leave-in and a product to protect your hair from heat damage, don't. Here's why.
"A leave-in is the foundation to any style you are trying to achieve or create," Edwards shares. This is largely because a leave-in adds and seals in moisture, gives the hair slip for detangling, and helps protect it when heat styling. Mizani's Miracle Milk Heat Protectant Leave-In Conditioner is among his favorites because it's a multitasker acting as a leave-in and heat protectant. And it's a product I never complete a wash day without because it keeps my hair nourished for days. And if my natural curls need a moisture pick-me-up, I spray a little on in the shower midweek.
In addition, he adds, "serums and creams are essential because they protect your hair from damage caused by the heat throughout the whole silk press process from beginning to end. [And], the creams and serums will also aid in retaining moisture and sealing the cuticle." After the leave-in and blow-dry cream was layered into my curls, Edwards used a paddle brush with a blow dryer to smooth my hair from root to tip.
Mizani's Miracle Milk Heat Protectant Leave-In Conditioner, $38
Design Essentials Weightless Thermal Protectant Serum, $9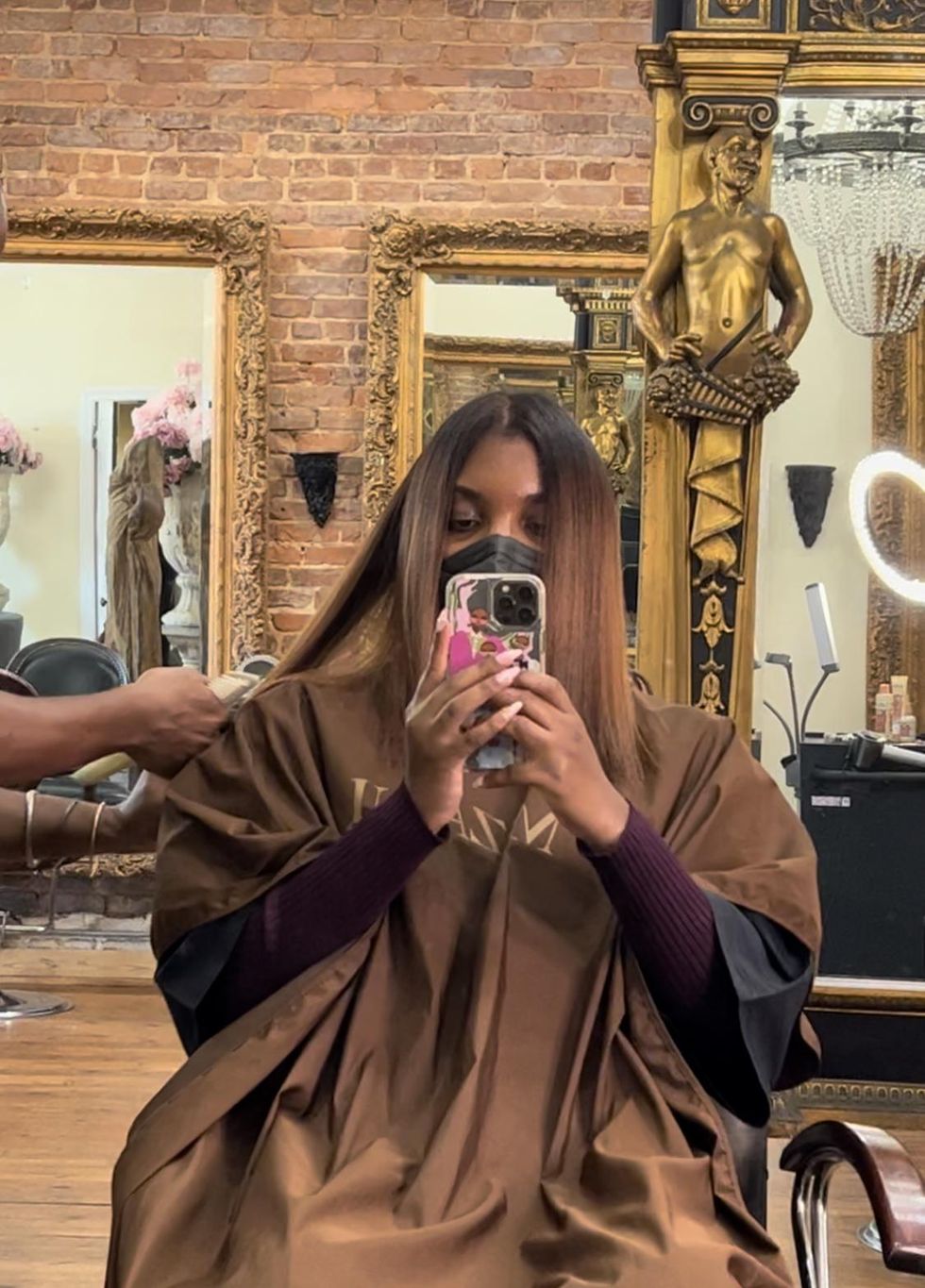 Courtesy of Bianca Lambert
The Press and Wave 
I was always in a rush when I flat ironed my hair at home—flat ironing my thick hair in large chunks. One thing I noticed was how tiny the sections of hair were as Edwards moved the flat iron slowly down the lengths of my hair. After each strand of my hair was silky to the touch, it was time for a trim. A piece of the process I recommend leaving to the experts.
And after that was complete, I asked for a bump. Edwards told me no (haha!). He refused to send me out like a '90s baby with a bump that looked more like a James Brown do. Instead, he gave me loose waves that I shook like I was in the star of my own hair commercial.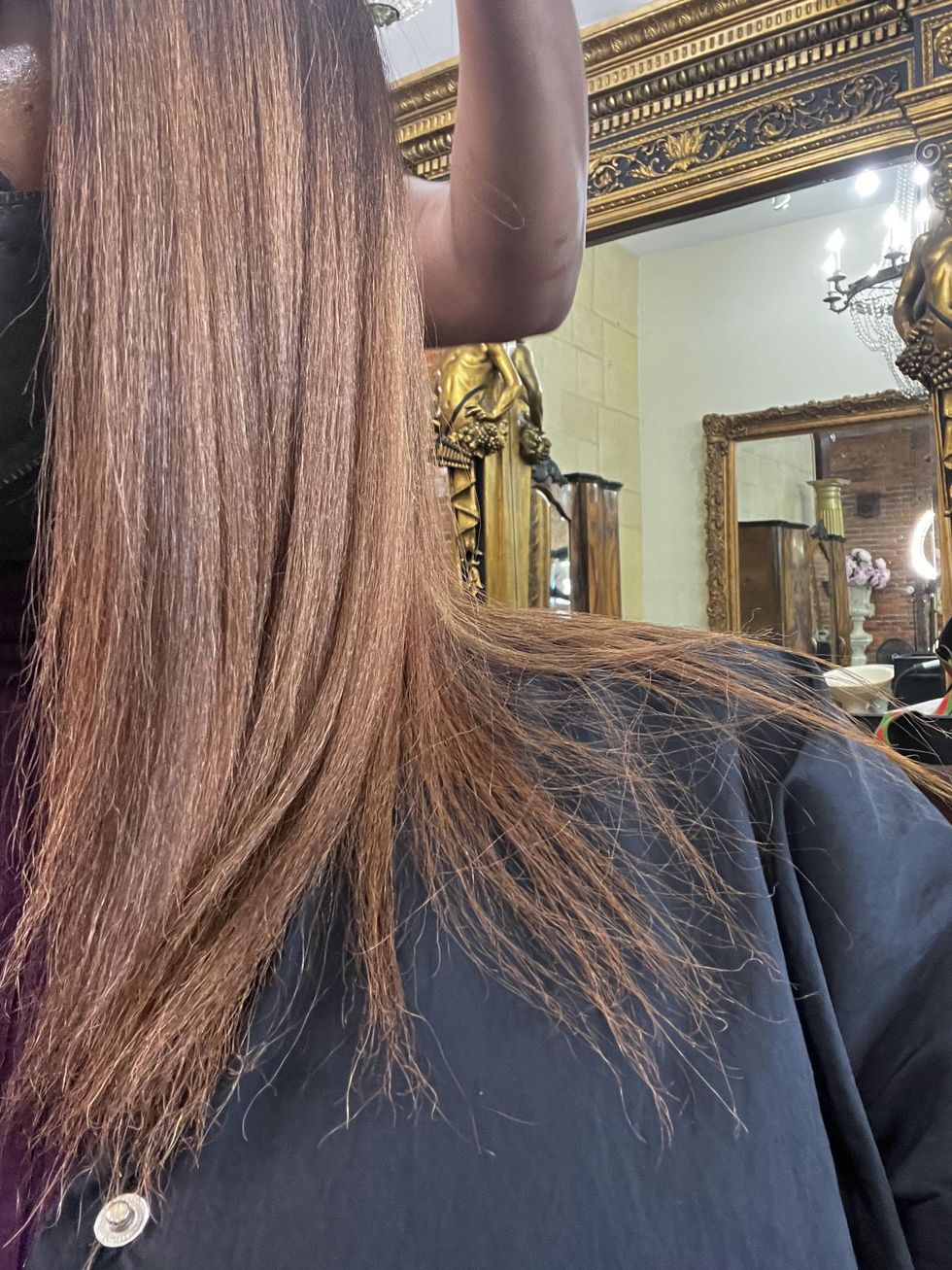 Courtesy of Bianca Lambert
Post-Silk Press Maintenance 
After your silk press, there are a couple of things Edwards recommends. First things first, wrap those strands. "[Wrapping the hair at night] helps you maintain the style and moisture in your hair from root to end." He also suggests investing in a silk bonnet, head wrap, or silk pillowcase. I use both a silk bonnet and pillowcase because we all know our bonnets like to slip off in the middle of the night and go to the fridge for a drink of water.
Grace Eleyae Silk Pillowcase, $68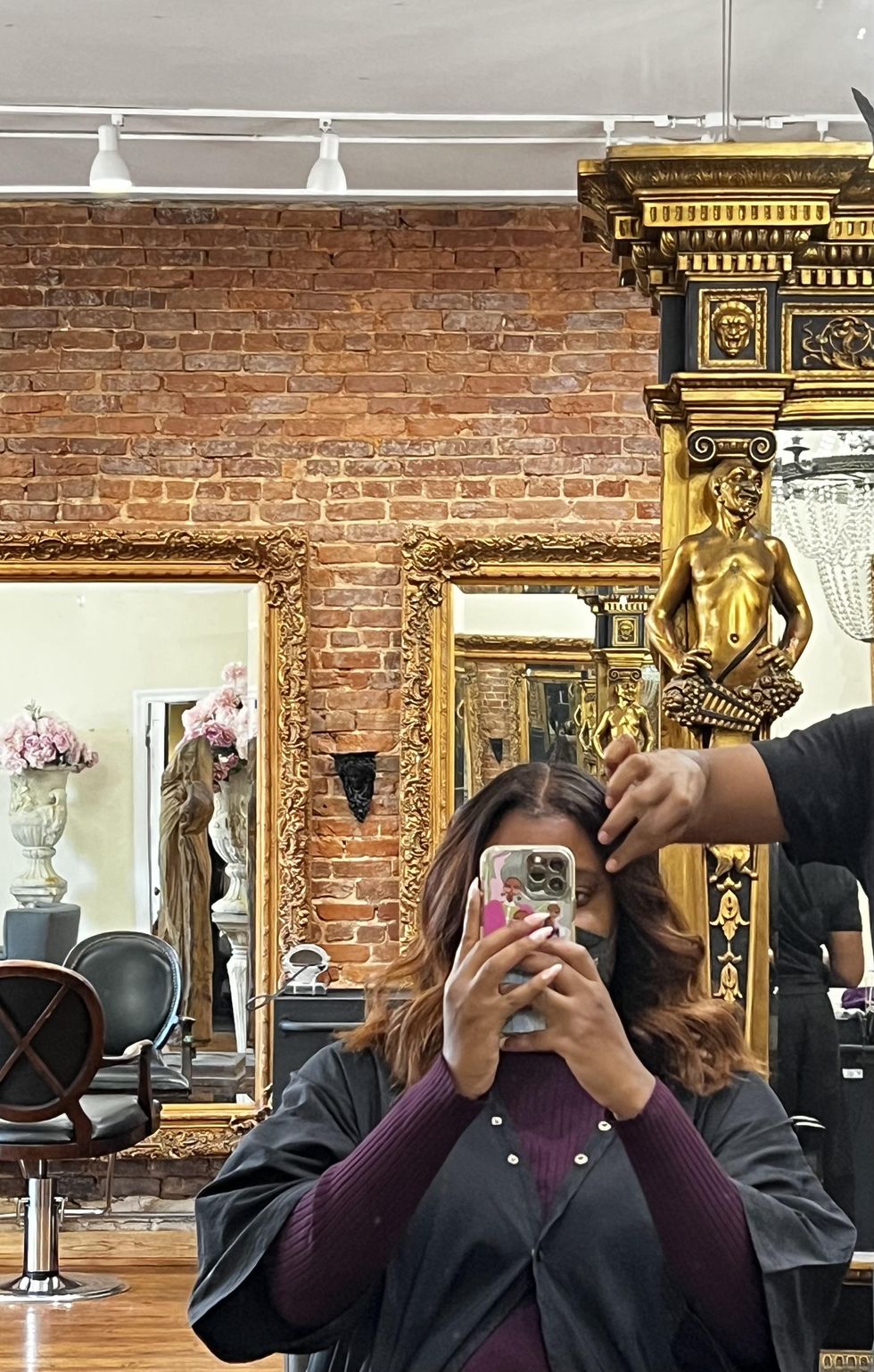 Courtesy of Bianca Lambert
Lastly, Edwards emphasizes: "Put the flat iron down." He means if you get tempted to re-lay the silkiness with more heat, don't do it. One thing I've learned to accept with silk pressing and natural hair is gaining volume post-flat iron is just the name of the game. But, Edwards says, alternatives like silk rollers, flexi rods, or of course, wrapping your hair can help maintain your style sans adding any extra heat.
Featured image by Bianca Lambert
Before I worked as a beauty editor, I swore off injectables (think: Botox) because I didn't want to mess with my face. And if I'm honest, the topic was still taboo for me. Primarily due to the messaging I grew up with about being a Black woman and aging. All the women around me have aged "gracefully" and used minimal skin care products. So why should my beauty journey be any different?
Well, that ideal has changed for me. And I see beauty and aging from a less critical and judgmental lens. One valuable piece of information I've learned in my beauty career that changed my perspective is most of the people we admire in the public eye are using preventive treatments. And, I'm not talking $400 creams and serums.
My Entry to Botox
Remember how I said I vowed never to get anything injected into my face? Well, those days are over. I'd been invited to try Botox a few times because of my work, but I kept avoiding it. But recently, turning 36, I've had a change of heart out of pure curiosity.
Will I still be able to move my face? Spoiler alert: Yes. Will I look overdone? Is anyone going to know I've been treated? So, I visited The Atlanta Injectors at Lemmon Avenue Atlanta and consulted with Allie McAllister, NP-C, DCNP, the founder of The Atlanta Injectors, to see if I could confirm or bust these myths.
The Consult
First things first: the consult. Allie asked me first, "What do you see?" I loved that she didn't look at my face and give me a laundry list of things that needed fixing. In fact, she validated me and my natural beauty during the process, adding that I didn't need much done. But, I wanted her to tell me what she saw. Her suggestions were to treat my crow's feet and glabella—the area between the eyes and the nose. For her, less is more. And that was what I needed to hear.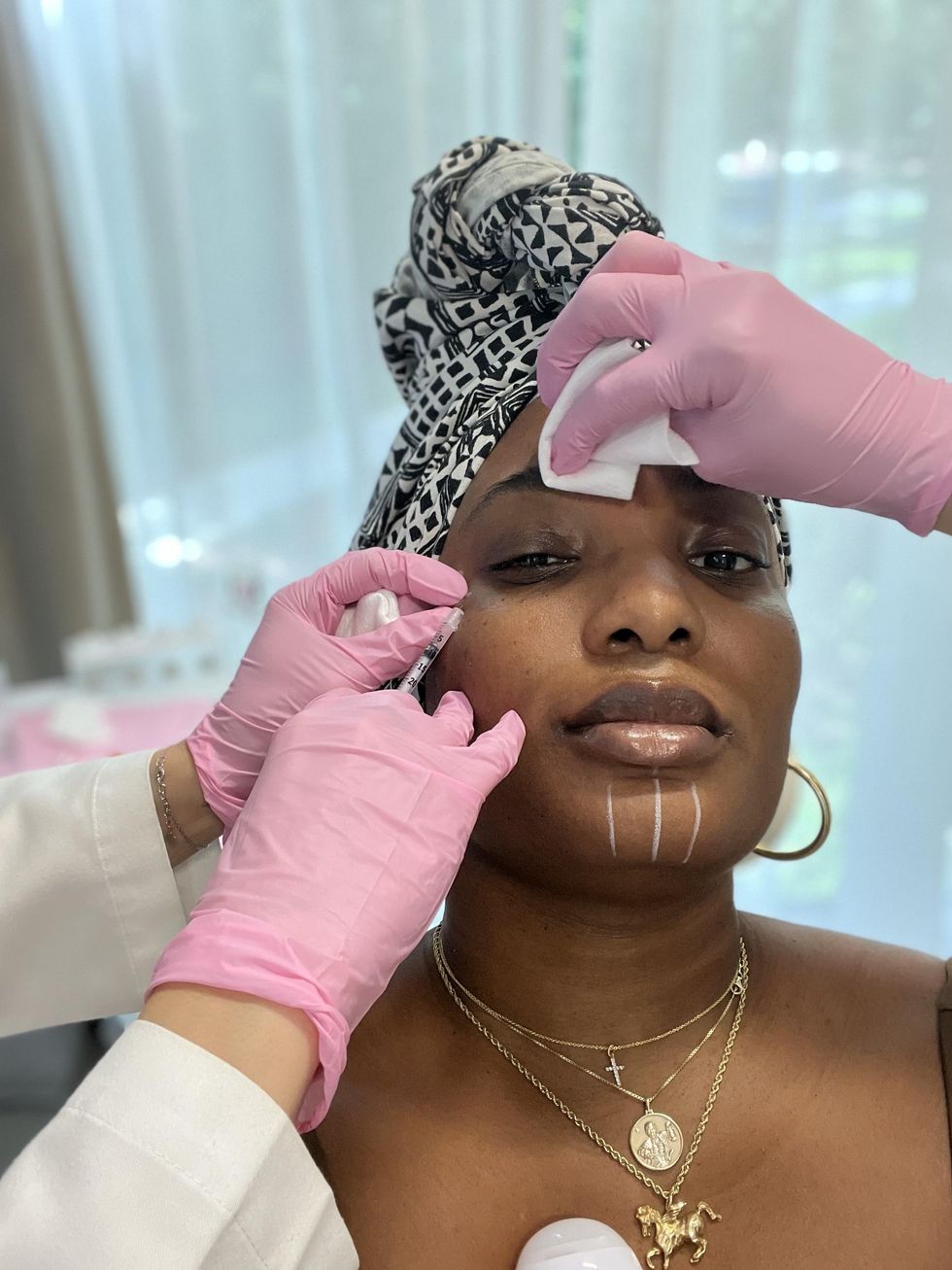 Courtesy of Bianca Lambert
The Injections
Next up, she marked the injection sites with a white pencil. And it was time for my first ever Botox treatment. I'm sure you're wondering if it was painful. Not really. It was nothing above a slight pinch. But it also helped that they gave me Mr. Buzzy: a white vibrator held onto tightly I kept on my chest that helped me focus on something else. Before each injection, she'd ask me to either frown or smile to get the Botox right where it needed to be. And in what felt like a few minutes, I was done. Aside from the Botox, she did have more suggestions, chin filler, which I also said yes to and will share more about soon.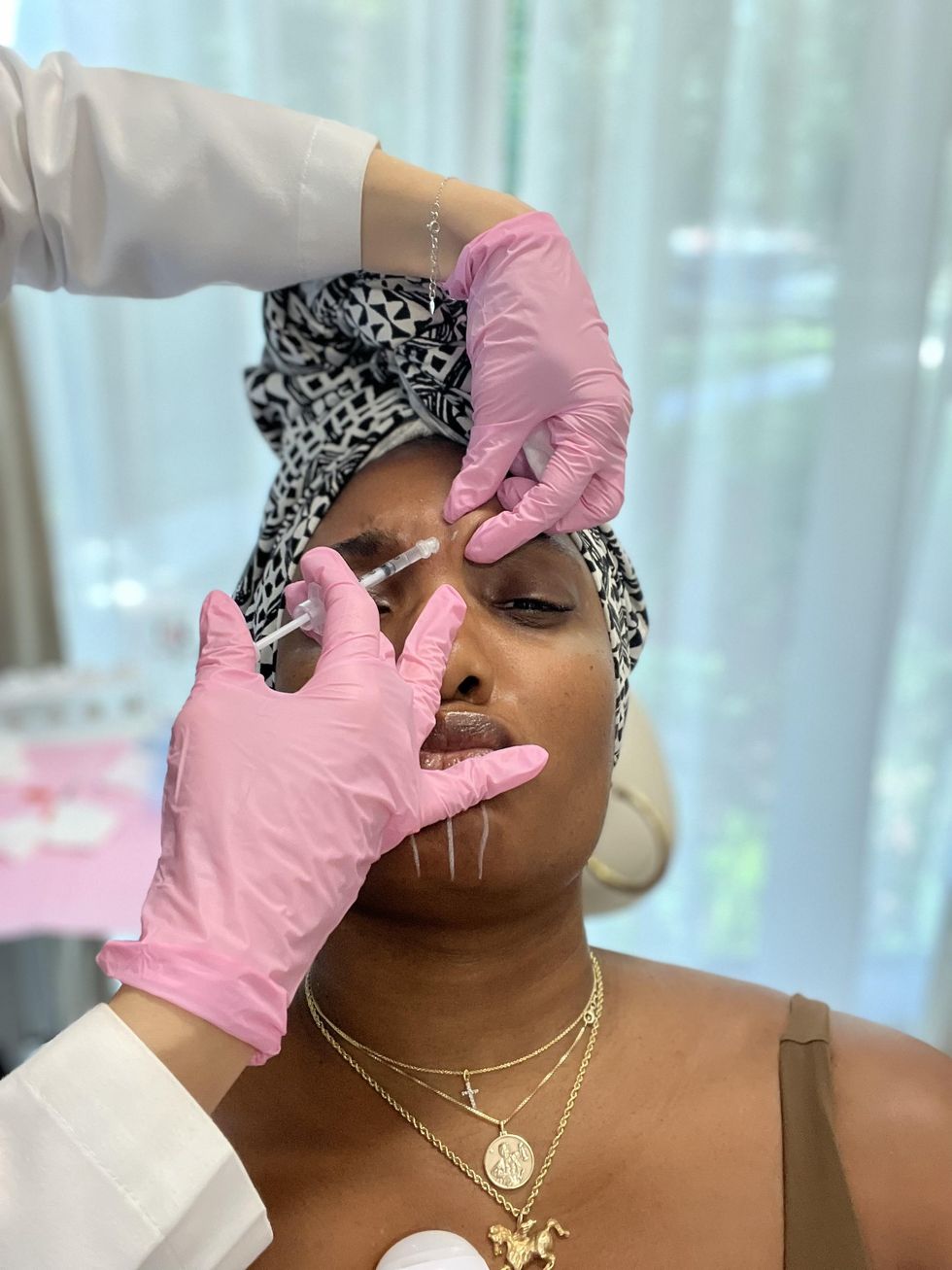 Courtesy of Bianca Lambert
Post-Appointment
There are a few post-appointment do's and don'ts:
Do ice any swelling.
Don't lie down for the first four hours after treatment to prevent Botox from migrating (So no naps unless you can sleep straight up).
Don't drink any alcohol for 48 hours.
Don't do any rigorous exercising for 48 hours.
Don't massage your face for at least 72 hours.
Ok, so what is Botox? 
To answer this question accurately, I chatted with cosmetic dermatologist Dr. Michele Green. "Botox is the name of a medication derived from botulinum toxin type A, a toxin produced by the Clostridium botulinum bacterium," Green tells xoNecole. Botox is an Allergan product and has been FDA-approved since 2002 for cosmetic purposes to reduce fine lines and wrinkles (think: areas on the forehead, glabella aka the elevens, and crow's feet around the eyes. Botox is also used to treat chronic migraines and muscle spasms. But there are other cosmetic neurotoxins, too: Dysport, Xeomin, and Jeuveau.
Is there any downtime with Botox? 
"The best thing about Botox: there is little to no downtime with Botox injections," Green shares. However, she does note that with any injections, whether cosmetic or medical, there may be temporary swelling or bruising for a few days post-treatment.
"If you are prone to bruising or have an important event that you want to prevent bruising for, there are steps you can take to minimize the risk of bruising and swelling," she adds. "Avoid blood thinners and blood-thinning agents such as aspirin, Motrin, vitamin E, and fish oil for at least one week prior to the injections. Refrain from drinking alcohol for one day before the injections."
And one final tool to minimize bruising and swelling: a good ole ice pack.
Featured image by Vesnaandjic/Getty Images
Another day, another TikTok trend that's all the rage. Many TikTok trends are gimmicks without any scientific backing. Or, in the case of the NyQuil chicken trend that took off, just plain dangerous. However, one has bubbled up to the surface that is worth investigating. Enter: skin cycling.
Not only can it be good for skin with sensitivities or newbies to actives like retinol. Skincare experts are giving the green light. To get the details on why skin cycling can be so beneficial, we tapped Dr. Carlos A. Charles, co-founder of 4.5.6 Melanin Skincare and medical skin expert. For starters, he notes, skin cycling gives your skin a chance to soak up all the benefits of your skin care routine without irritation.
"Additionally, it is a great way to customize your routine to meet your skin's needs," he tells xoNecole. "Those with oilier, less sensitive skin may want to use a stronger retinoid. Instead of taking two 'rest' days, they may only want to take one. Whereas those with sensitive skin may want to do the opposite and even extend the rest days for three days, allowing the skin a nice long break to mitigate irritation."
If you have skin conditions like eczema, acne, psoriasis, or rosacea, Charles emphasizes a one-on-one appointment with a derm is essential before trying on skin cycling.
So, What Is Skin Cycling?
"Skin cycling refers to the practice of using varying routines for your skin care regimen on different nights of the week and repeating these routines successively," Charles shares. "The goal with skin cycling is to give your skin a couple of repeated nights of maximum skin cell renewal and focused treatment followed by a couple nights of rest."
He notes that we should think of skin cycling like physical exercise routines, "where one day you might lift weights, on the next day you may perform intense aerobic exercise, and the next day you may rest, allowing your body to rebuild."
How To Start a Skin Cycling Routine
Carving out a skin care routine isn't as tricky as it sounds. But we're lucky to have Charles to break down what a sample routine could look like.
Skin Cycling Routine: Night One
Night one of skin cycling is all about exfoliation. However, a gentle chemical exfoliator is recommended versus a physical exfoliant—the reason for this: skin irritation. Skin irritation not only leads to physical discomfort. But upsetting the skin barrier can lead to more hyperpigmentation. Chemical exfoliators come in a range of formulas, from masks to peel pads.
4.5.6. Melanin Skincare To Be Clear Resurfacing Exfoliant Mask
If your skin is oily or acne prone, this exfoliant mask crafted with melanin-rich skin in mind soaks up excess sebum, smooths skin texture, and brightens. We can thank ingredients like pumpkin enzymes, rosehip seed oil, and niacinamide for that.
The Ordinary AHA 30% + BHA 2% Peeling Solution
I've used this peeling solution for years, and it never disappoints. Formulated with AHA and BHAs (think: glycolic, salicylic, and lactic acids), utilizing this weekly can make a significant impact on the overall appearance of dark spots and texture. However, don't overuse this or leave it on beyond what the directions advise. I don't care if you've got a pimple that just won't go away.
Urban Skin Rx Medspa Edition: Complexion Correction Peel Pads
Peel pads can also offer exfoliating benefits sans the physical exfoliants. These correction peel pads are infused with glycolic and salicylic acid and retinol. If your skin is sensitive or you're new to exfoliating, these aren't for you yet. However, these could be worth a try if you're a skincare vet.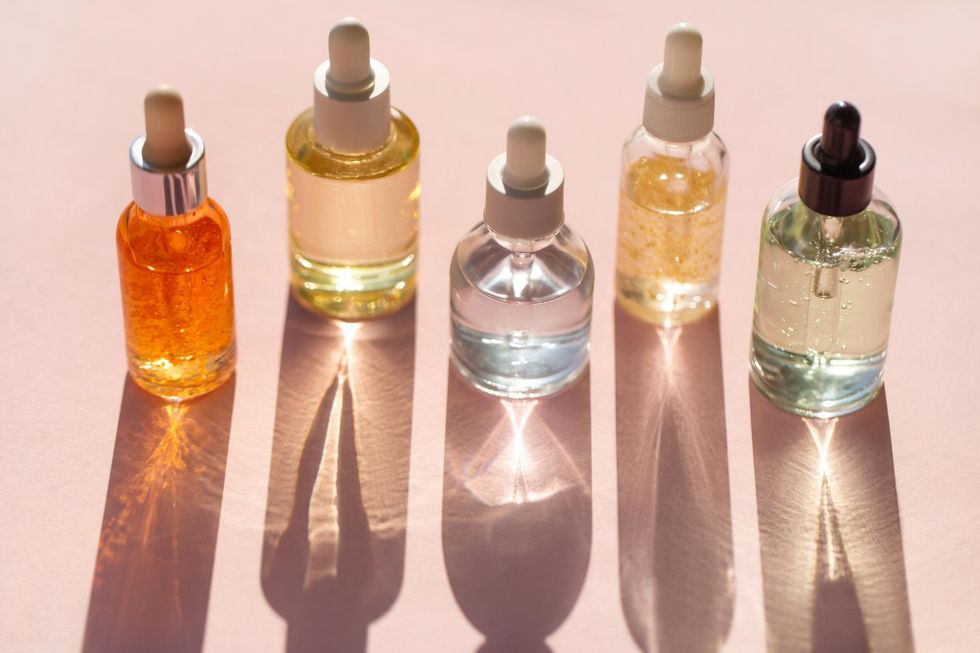 Anna Efetova/Getty Images
Skin Cycling Routine: Night Two
On night two, it's all about retinoids. If you're new to using retinoids, you want to start slow to prevent skin irritation. But once you incorporate one into your routine, your skin cell turnover will increase, and your skin will build collagen. And if you struggle with acne, retinoids can help greatly with that too. With retinoids, less is always more. You only need a pea-sized amount to reap the benefits.
The Ordinary. Granactive Retinoid 5% in Squalane
The Ordinary's was the first retinoid I tried. I love that this one is in squalane because the formula hydrates while treating the skin. And this formula is ideal for retinoid newbies.
Olay Regenerist Retinol 24 + Peptide Night Face Moisturizer
Fragrance-free moisturizers are always at the top of my list. If your skin is sensitive to fragrance and you're looking for a hydrating retinol option, reviewers say this highly-rated night cream delivers the goods without irritation.
Dr. Loretta Concentrated Firming Serum
I've been using this serum every other night for the last two years. It's my holy grail. The honey-like formula glides onto my skin and prevents any unwanted irritation or dryness. And it helps get my hormonal acne in check.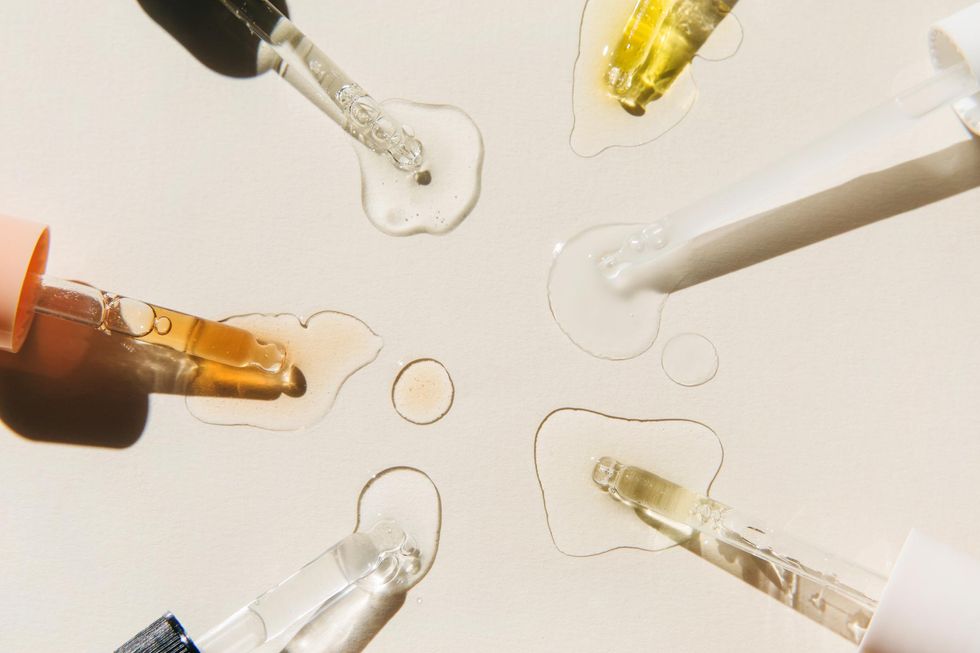 Tanja Ivanova/Getty Images
Skin Cycling Routine: Night Three and Four 
Think of nights three and four as giving your body rest days after working out. "You would enter the rest phase of the cycle in which you can simply use a gentle cleanser followed by the application of a hydrating moisturizer. On these two nights, you should avoid using any active ingredients to allow the skin to rest."
4.5.6 Melanin Skincare - COME CLEAN Cleansing Oil
Double cleansing makes a big difference in the health and appearance of your skin. I like to start with a cleansing oil because it breaks down makeup, dirt, and debris from the day without stripping moisture.
No matter your skin type, this hyaluronic acid-infused formula gently cleanses while nurturing and hydrating the skin barrier. This formula is currently a personal favorite.
Eve Milan New York Reset Serum
This hydrating formula has two ingredients that the skin barrier loves: niacinamide and ceramides. Apply this serum to damp skin after cleansing the skin. The niacinamide helps even the skin tone and protect, while the ceramides encourage moisture retention.
Featured image by Renata Angerami/Getty Images