We know Valentine's Day is a loaded holiday. But listen, it's okay to enjoy the day whether you're celebrating solo or with someone you love. With that said, let's talk all things beauty. Even if you loathe them, the holidays are a time to have some creative fun. So instead of making homemade Valentine's Day for our elementary school friends, we can turn that creativity on ourselves.
This creative moment doesn't mean getting complicated unless intricate looks are your specialty. We've rounded up a few looks to get your inner makeup artist going from the simplistic to the more detailed. And we chatted with award-winning Juvia's Place makeup artist, Ashley Wallace who also works with artists such as Remy Ma and Cardi B to get her insights on what we should try on for this fun-loving holiday. So have fun, enjoy the day, and remember self-love is always the best place to start!
Featured image by Jeff Kravitz/FilmMagic
Body care is skincare, and the experts agree that we should all take our products on our faces down to the nips. Additionally, skipping moisturizing your body after a shower is a no-no, as the skin is our body's largest organ, and it deserves just as much love. Before you remix the products you plan to slather from your neck down, there's another piece of the body care puzzle to carve out: exfoliation.
On average, we should exfoliate and slough dead skin away two to three times weekly. However, with a busy life, it's only occasionally possible to take time for a dedicated exfoliating session. We get it. But what if you could exfoliate and cleanse your body at the same time? Well, with an African exfoliating net, that's possible. The nets crafted with intricately tied knots are rooted in African tradition and have been a longtime part of beauty regimens.
You may be thinking, "I already have a loofah." Hate to tell you, but experts say those aren't always hygienic.
Anywho, let's get into why an African exfoliating net—also known as a sapo—needs to be on your shower accessory must-buy list.
1. African exfoliating nets promote smoother skin. 
Reviewers across the internet note after using exfoliating nets, their skin is noticeably smoother. Unlike
a body scrub
that should be used bi-weekly at most, the nets are gentle yet effective enough to be added to your daily routine. Just use your favorite body wash and couple it with your net. Now you're clean with supple skin. Just be sure to moisturize while your skin is still damp!
2. African nets can last for up to two years.
We all grew up using loofahs, but they're good for only about 30 days. After that, it's recommended to toss them. Why? Because experts say, they're a breeding ground for bacteria. Yikes! So, if you've been holding on to that one loofah you love for more than a month, this is your reminder to throw it out.

Alternatively, African nets last up to two years and can be easily washed and dried. Do you need to wash your net daily? Because the nylon dries faster than a traditional sponge. No. However, a weekly wash can be beneficial though most makers say a weekly wash isn't needed.
3. You can reach your back
Because of the design of African nets, their length and width make them optional for reaching tough-to-reach spots like your back. If you struggle with bacne, using one of these will help you cleanse that area more thoroughly and gently exfoliate.
Now that we've made our case for swapping your loofah. Here are a few of our favorites: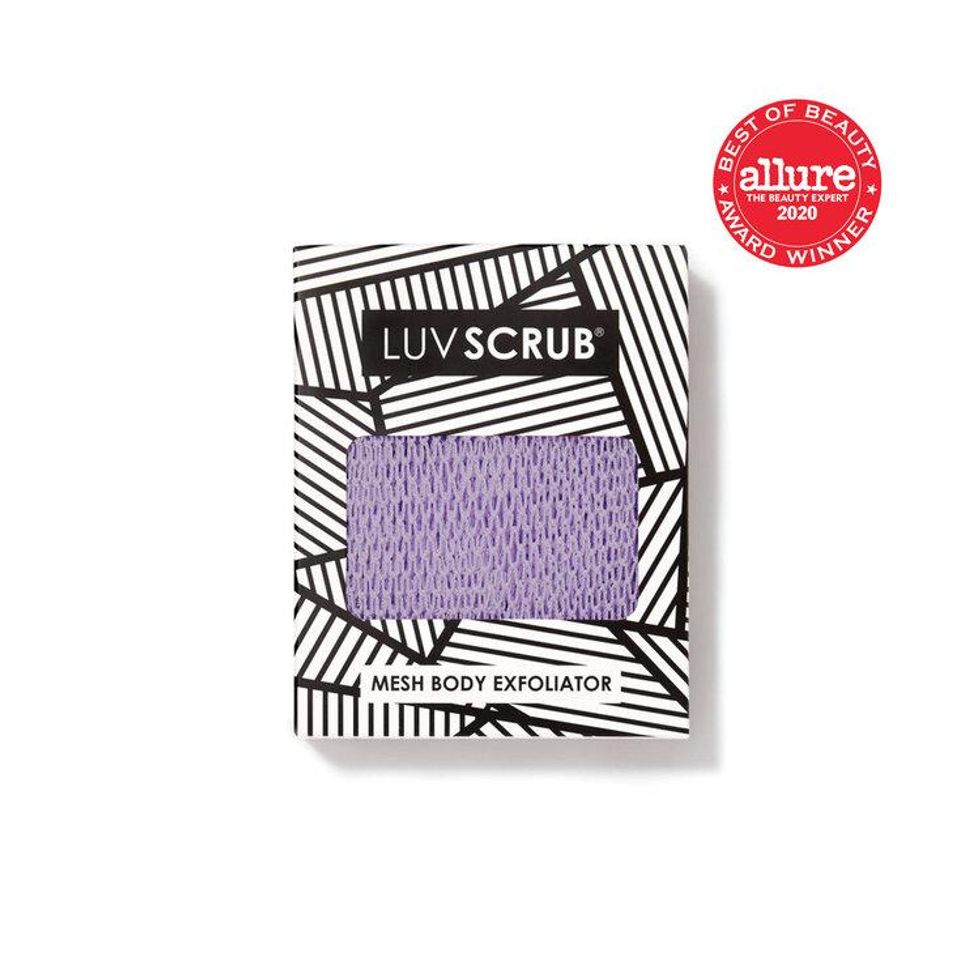 Luv Scrub
ThisAllure"Best of Beauty" award-winner is a customer favorite. The textured nylon bath cloth—which stretches up to 50"—comes in five colors and will last up to 18 months.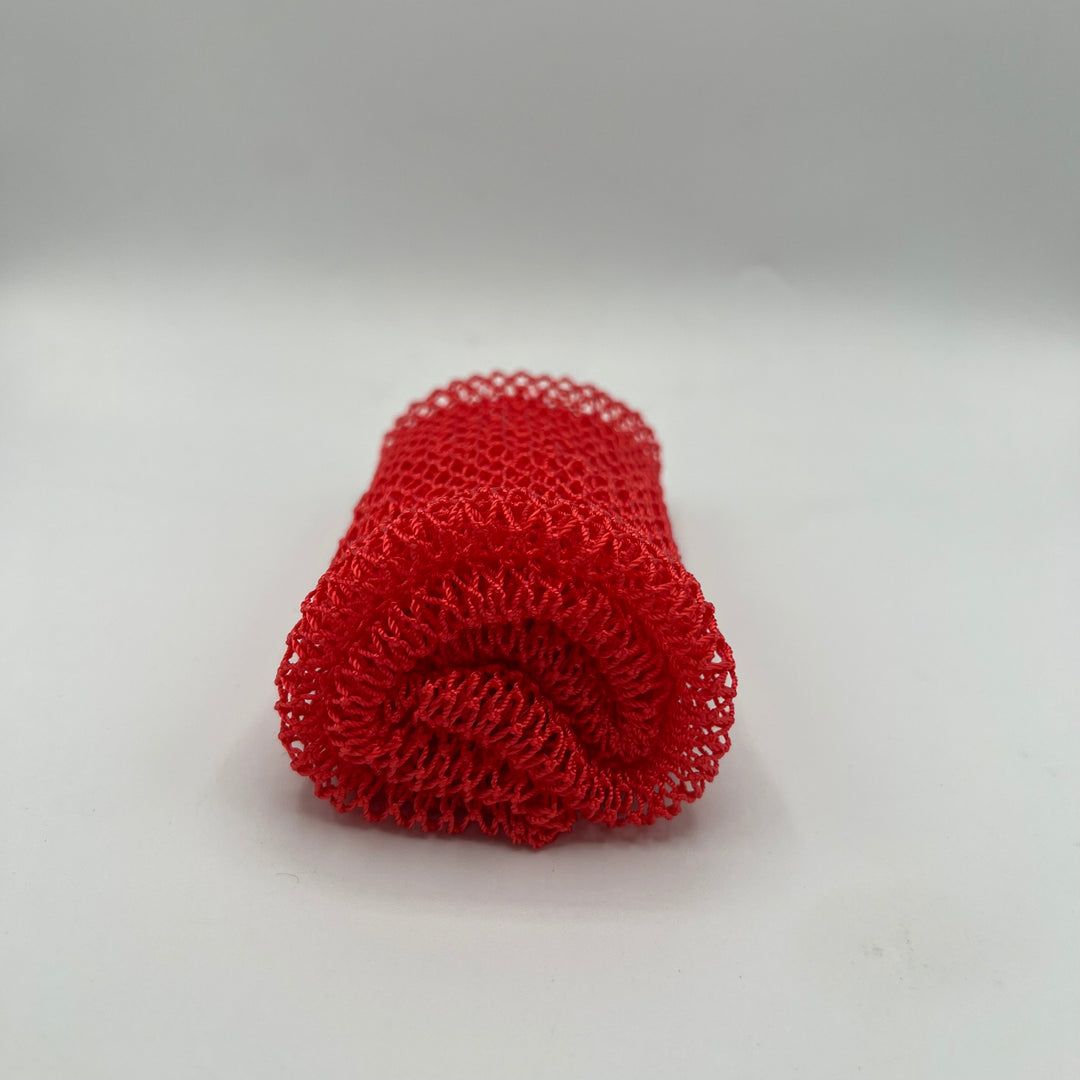 Cee Cee's Closet NY
With a robust color range and a jumbo length option, Cee Cee's Closet NY gives you many choices, each lasting for up to two years damage-free.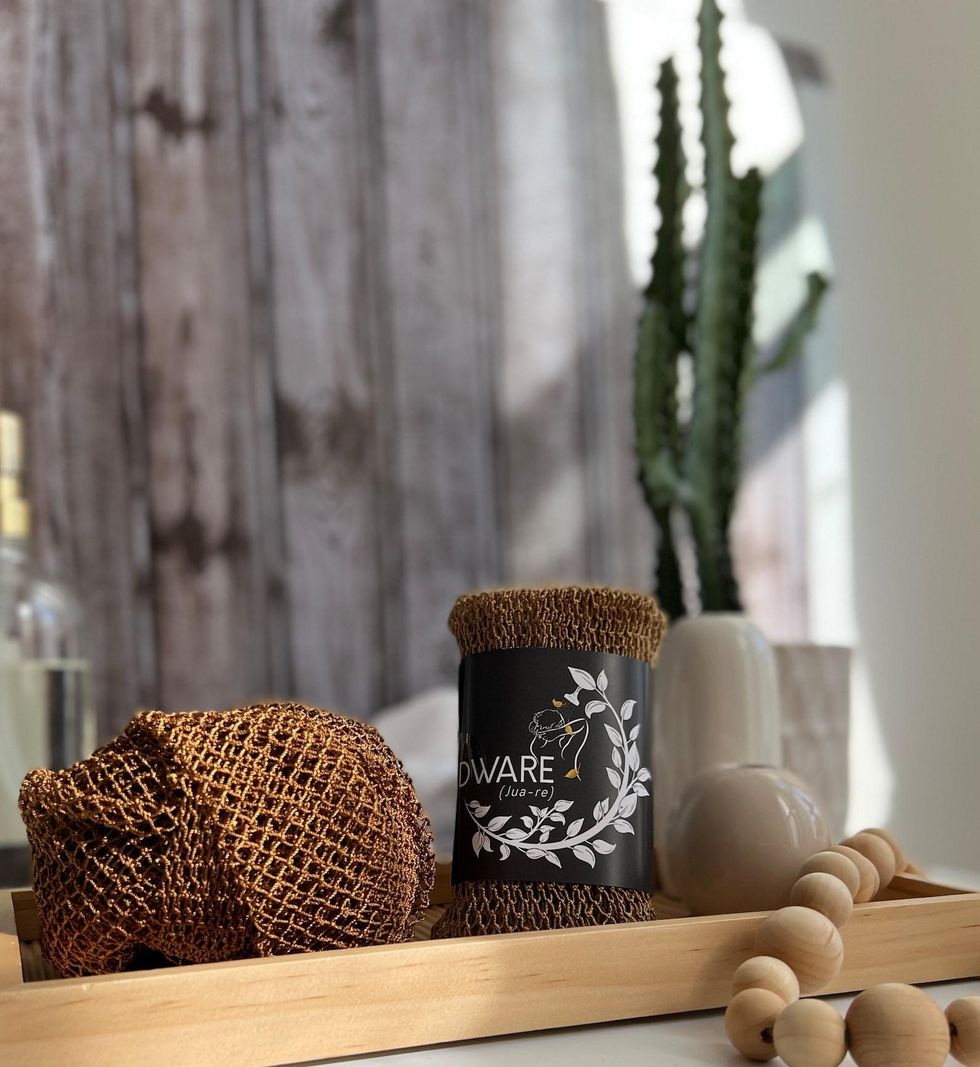 DwareSapo
Sourced from makers in Ghana, this Etsy shop provides a wealth of options while supporting local Ghanaian vendors and their national postal service.
Featured image by Renata Angerami/Getty Images
The art of building a skincare routine has become very complicated because there are so many options these days. However, even with companies beating down your door or, in this case, email and social media feeds working overtime to sell you a new must-have product, there is one tried-and-true addition everyone should be using—retinol. As someone who has used retinol, also known as vitamin A, for at least ten years, I can vouch for its benefits (think: smoother skin, less hyperpigmentation, and fewer hormonal breakouts). But, if you're new to building a routine, you should know a few things before you add this to your cart.
First, let's discuss the difference between retinol vs. retinoid.
For expert info, I tapped Dr. Erum Ilyas, a board-certified dermatologist with Schweiger Dermatology Group, for guidance on all things vitamin A. The difference between the two boils down to science. "Retinoids work by targeting specific cell receptors regulating gene expression," Ilyas shares. "They increase the rate of cell turnover and collagen production and decrease the rate at which collagen is broken down."
So if you're looking to address fine lines and wrinkles, retinoids can help. In addition to those benefits, retinoids help the skin retain water. Alternatively, retinol, Ilyas says, is inactive when applied to the skin but is converted by the skin into retinoic acid, which is considered an active retinoid. "It is the active retinoid that can actually benefit the skin, not the retinol directly."
So what does all this mean for hyperpigmentation and dark spots?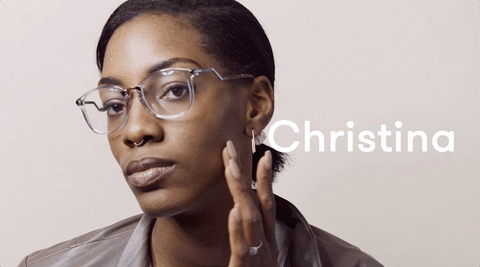 Giphy
As someone who struggles with hyperpigmentation, adding vitamin A to my skin routine has been a game changer. I can wear less makeup, and my skin looks healthier. And there's a reason for this, Ilyas tells xoNecole. "Retinol is proven to inhibit the tyrosinase enzyme, an enzyme responsible for producing pigment in the skin and promote cell turnover to help reduce excess pigment in the skin." But sometimes cell turnover means the retinol uglies, aka flaky, dry skin. So it's essential to start slowly.
Ilyas recommends chatting with your dermatologist to get advice on your skin needs if you experience irritation. "In general, it helps to reduce use to every other night instead of every night," she explains. "Work your way up to every night as tolerated. Some retinoids can be used by applying a moisturizer first with the retinoid on top, [but] check with your dermatologist as for some retinoids, this will not affect the potency of the product while for others it may."
What should newbies start with to ease skin into using a vitamin A product or retinol?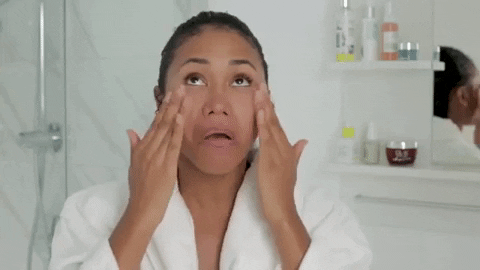 Giphy
"If you have sensitive skin or eczema-prone skin, be cautious with the use of retinol," Ilyas advises. "It may just aggravate your dryness and make it hard for you to appreciate its benefits." Alternatively, if you don't have skin sensitivities and your skin can tolerate it, she suggests nightly use or every other night application until your skin gets adjusted. "All too often, people will use retinol daily, experience irritation, stop using it for a week or so, and then forget to use it again. It is far more beneficial to develop a routine with your retinol and balance the benefits with the potential for dryness."
If I find my skin is flaky, with the application of my vitamin A, I layer a hyaluronic acid serum. That helps a lot. I also cleanse my skin in the mornings with an oil cleanser and muslin cloth to gently slough away any flakes. If you can't deal with the dryness, there is an alternative—bakuchiol. The plant-based ingredient is clinically proven to have similar positive effects on the skin sans the irritation.
Additionally, a critical skincare do to remember if adding vitamin A to your routine is that SPF is a must because the ingredient can make skin more sensitive to UV exposure. Also, sunlight can undo all the work you're putting in with a disciplined routine and great products.
Now here are a few of my favorite vitamin A-rich products:
ROSE Ingleton MD Retexturizing Retinol Booster Serum
Dr. Loretta Concentrated Firming Serum
Shani Darden Skin Care Retinol Reform
Paula's Choice 0.3% Retinol + 2% Bakuchiol Treatment Serum
Featured image by miniseries/Getty Images
Whether we like it or not, TikTok is somewhat of a beauty haven. Now, are all of the trends floating around worth it—or even safe—to try? That answer changes daily. But in the case of one beauty hack trending, we'd say you could try this one without worrying if you've knocked your skin barrier out of whack.
Meet the blush-on-the-go trend. There is some debate about who should be credited for starting this trend on the platform. But makeup maven Avonna Sunshine is the first creator to show us how she uses this hack. But we do want to note this makeup technique has been on the scene for many years. So, let's get into it.
The Blush Hack TikTok Trend
So, this hack is all about waking up the face when you only have seconds to get out the door without eyeshadow. Avonna Sunshine used a pretty duo blush palette from Juvia's Place in Vol 1 and swiped in a circular motion around the eyes and the contour just above her cheeks. In seconds her face was brighter, and she looked refreshed.
My Experience Trying the TikTok Blush Hack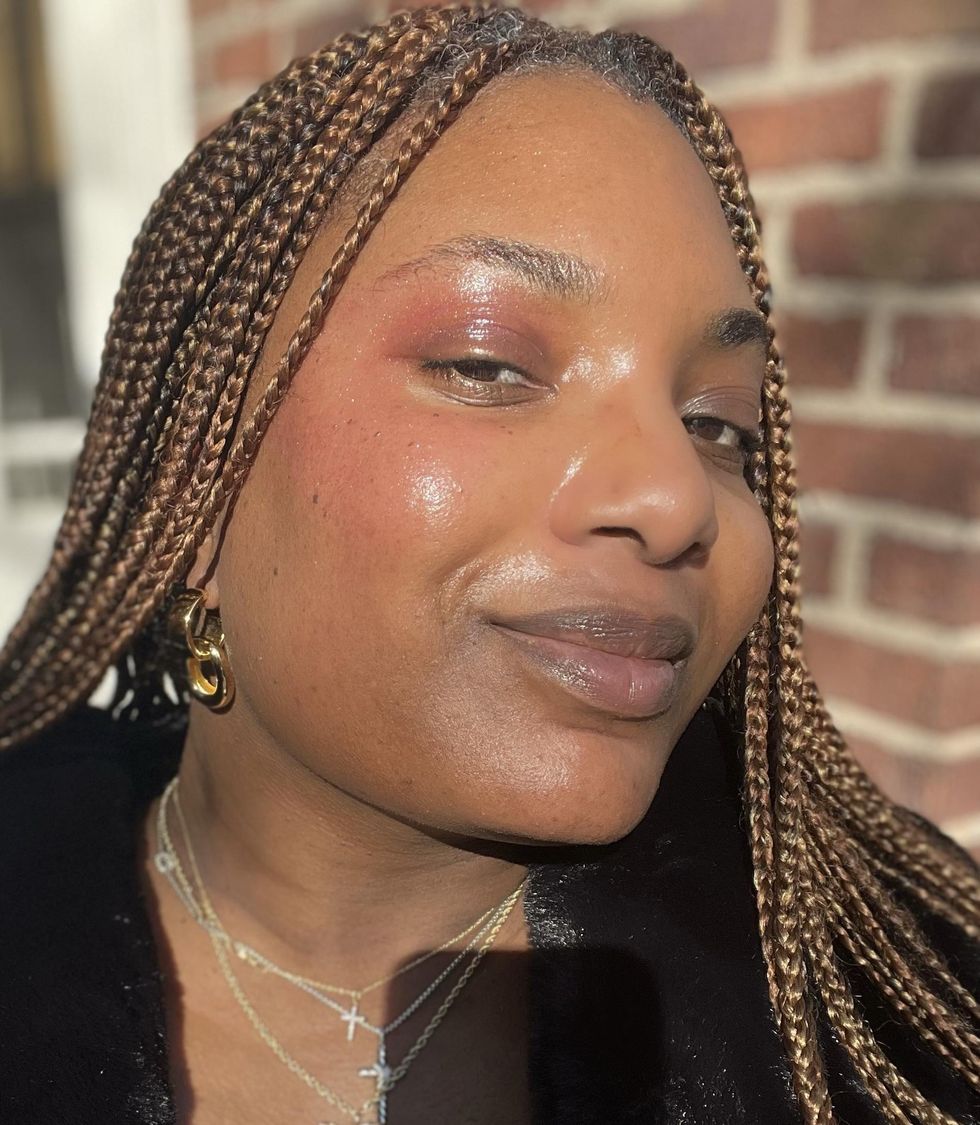 Bianca using the blush technique with only blush.
Bianca Lambert
These days, I mostly use liquid blushes. But a powdered formula is what I used to test the waters. To create a foundation, I used a little skin tint and powder. Next, I went in with my blush. I tried this with one color, but a duo I realized is the best way to get that brightly-hued multidimensional pop of color. And if you're like me and tend to use more plum-shaded blushes, you'll definitely need a brighter color in the mix with the deep plums.
If you like liquid or oil blushes like me, you can still make this hack work. For your cream blush (think: Rare Beauty), apply it to the back of your hand first, then use the same twirling technique to work the color in. For an oil blush (think: youthforia), I applied it directly to the spots where I wanted to brighten (with a light hand first) and worked it in with my brush.
When trying this technique, start with a little and add more. Because we're not all makeup experts like Avonna Sunshine, going from awake to circus could quickly happen.
Final Thoughts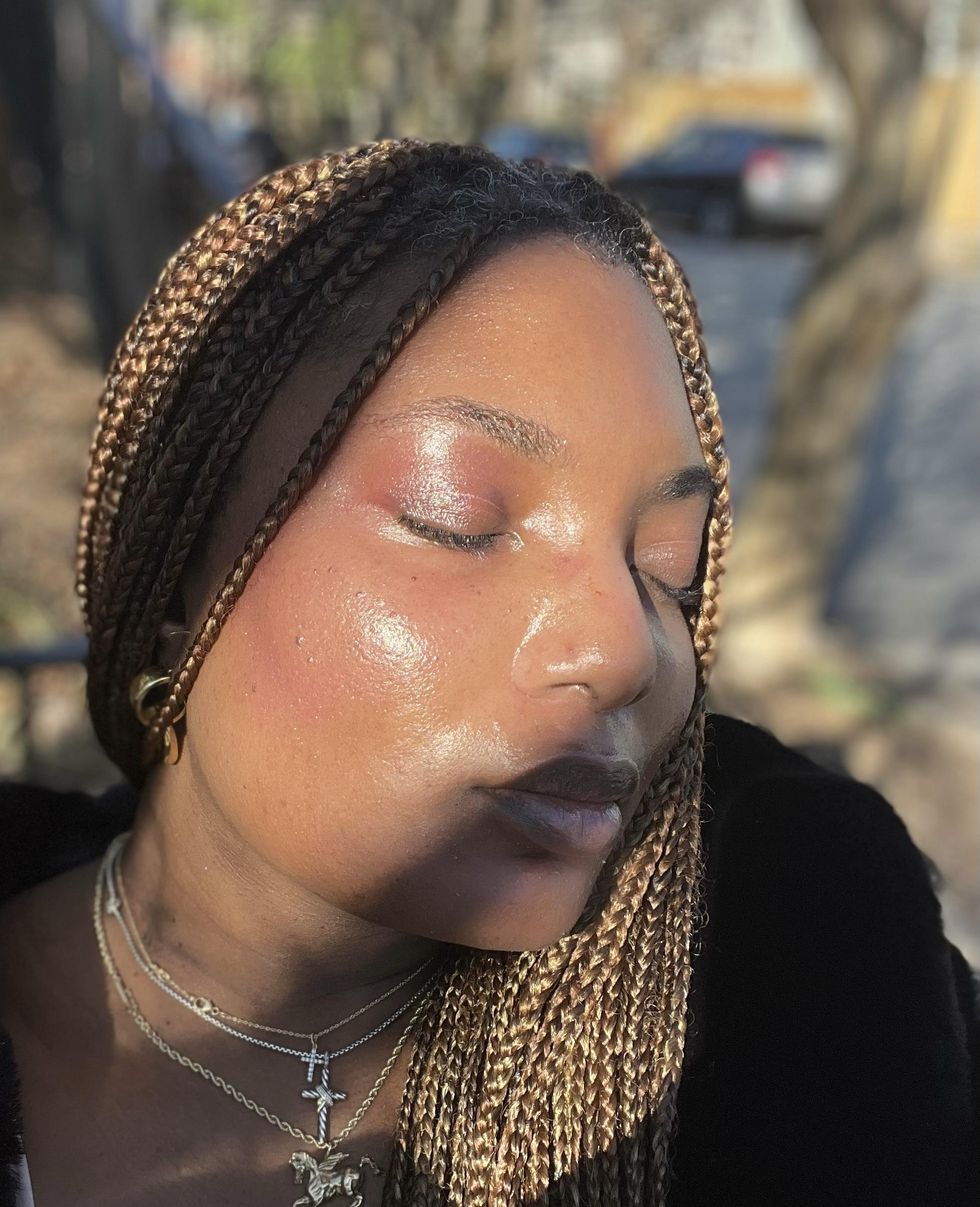 Bianca pairing the blush technique with bronzer.
Bianca Lambert
Blush can wake up the face. So when you're in a pinch, this breezy technique can make you look put together in seconds. And, if bronzer is more your style, you can apply the same rules. But instead of bronzer with a more mattifying finish, I recommend one with brightening, gold undertones.
Featured image by Aja Koska/Getty Images
When I heard that Tracee Ellis Ross' Pattern Beauty was dropping something new, I was elated. As someone who has been using her products since she launched, hearing about a hot tool was super exciting, especially since I've had such a great experience with hair treatments and styling products. Celebrity drops are a large part of the beauty industry, and at times they can feel like what many would call a cash grab.
However, for Ross, as she told me and a room full of fellow beauty editors in New York City on launch day, "I've never understood the concept of marketing where it's about shaming you into buying a thing so that you can then feel better about yourself," she says. "I really want to reframe the historical relationship of heat as submission to heat as a possibility."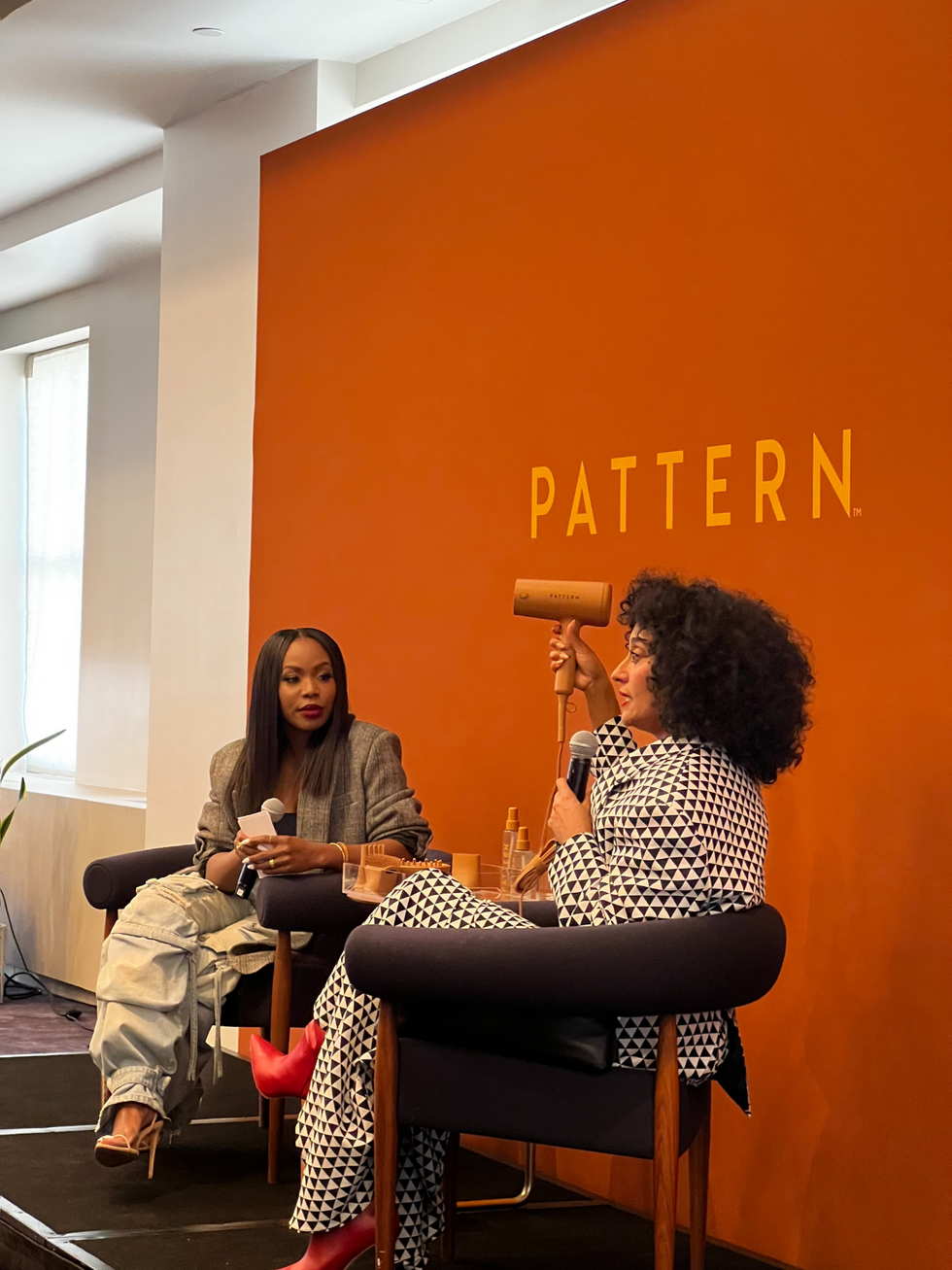 Courtesy of Bianca Lambert
I don't use much heat on my hair unless I'm blowing my hair out for box braids or gently diffusing my curls after sitting under a hair dryer to set them. But there's always a need for a blow dryer. However, I know that this is one of the tools many of us struggle to get right. So, I'm going to give this latest drop from Pattern a test run. Keep reading for the deets.
PATTERN Blow Dryer: My Honest Review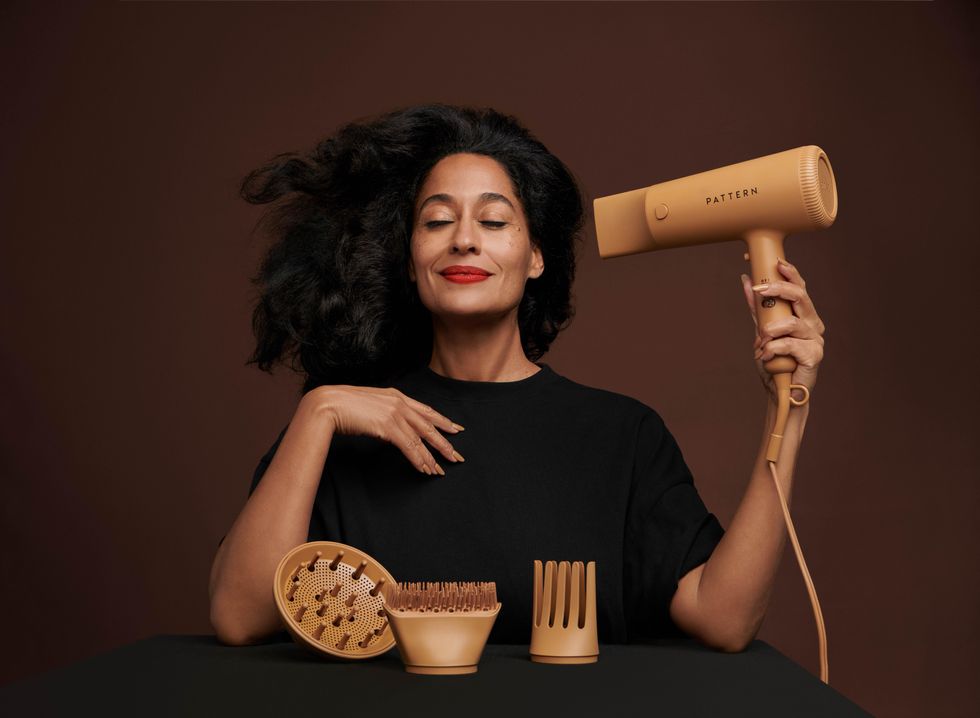 Courtesy of PATTERN
The Design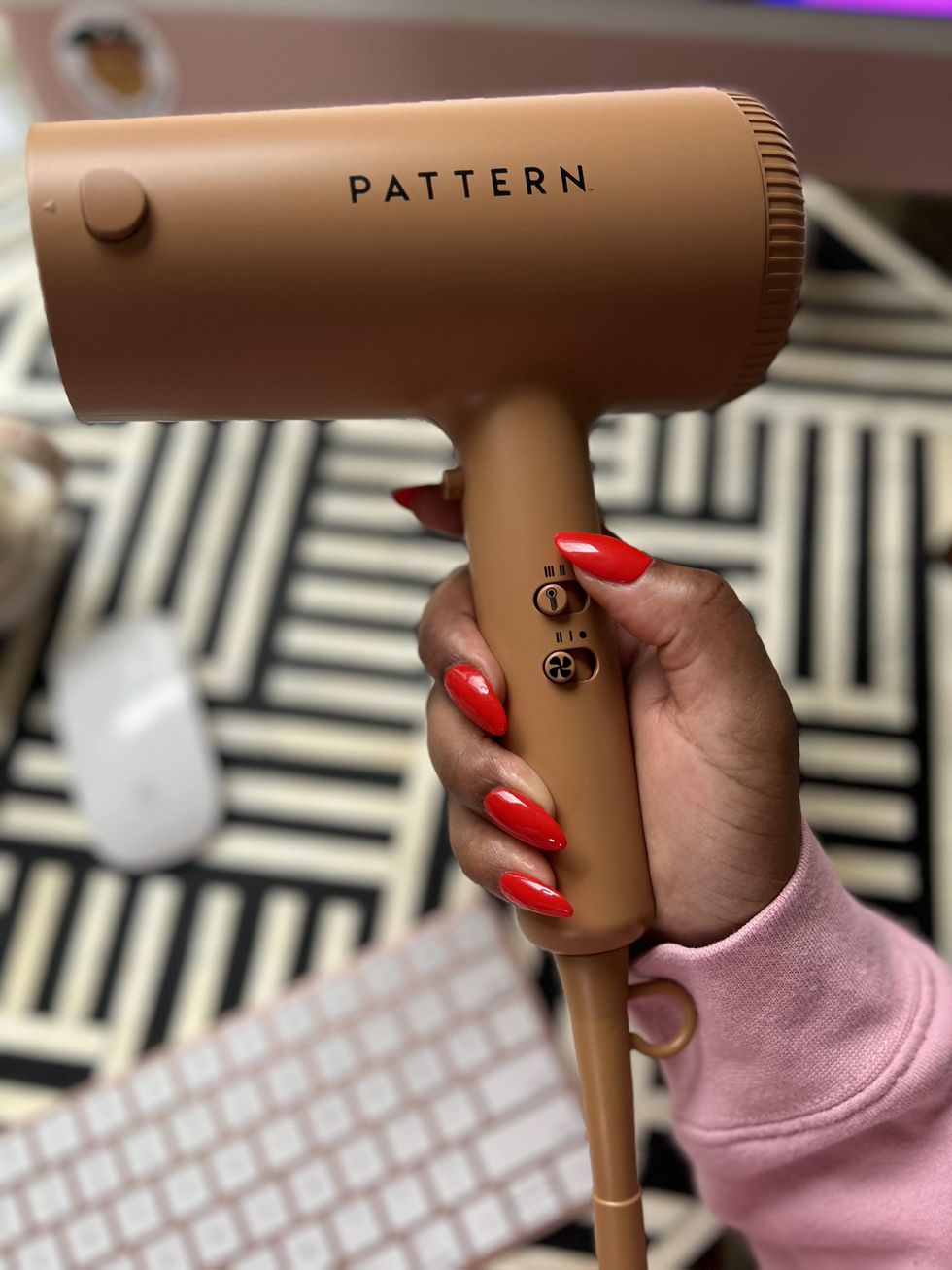 Courtesy of Bianca Lambert
When I opened the box holding the matte caramel brown blow dryer—which Ross said took two years to bring to life— I was immediately impressed. The sleek minimalistic hot tool comes with four attachments: a diffuser, wide tooth comb, brush, and concentrator, which is a nice element considering that many blow dryer attachments come separately. As she chatted with us, I quickly realized how much thought went into creating this petite but mighty dryer. When I say mighty, I mean it has a professional motor—which is mega important for minimizing drying time—three heat and two-speed settings, and a cool shot button. The coolest part: you can switch the settings without ever having to remove the dryer from your head.
Additionally, if you're tired of losing your attachments while you blow dry, the Pattern team devised a remedy: a dual-locking structure to keep them in place sans any movement. And get this, Ross really wanted the cord to match the rest of the dryer. However, she was told that may or may not be able to happen. Well, it happened! And, I have to say, it's a nice touch.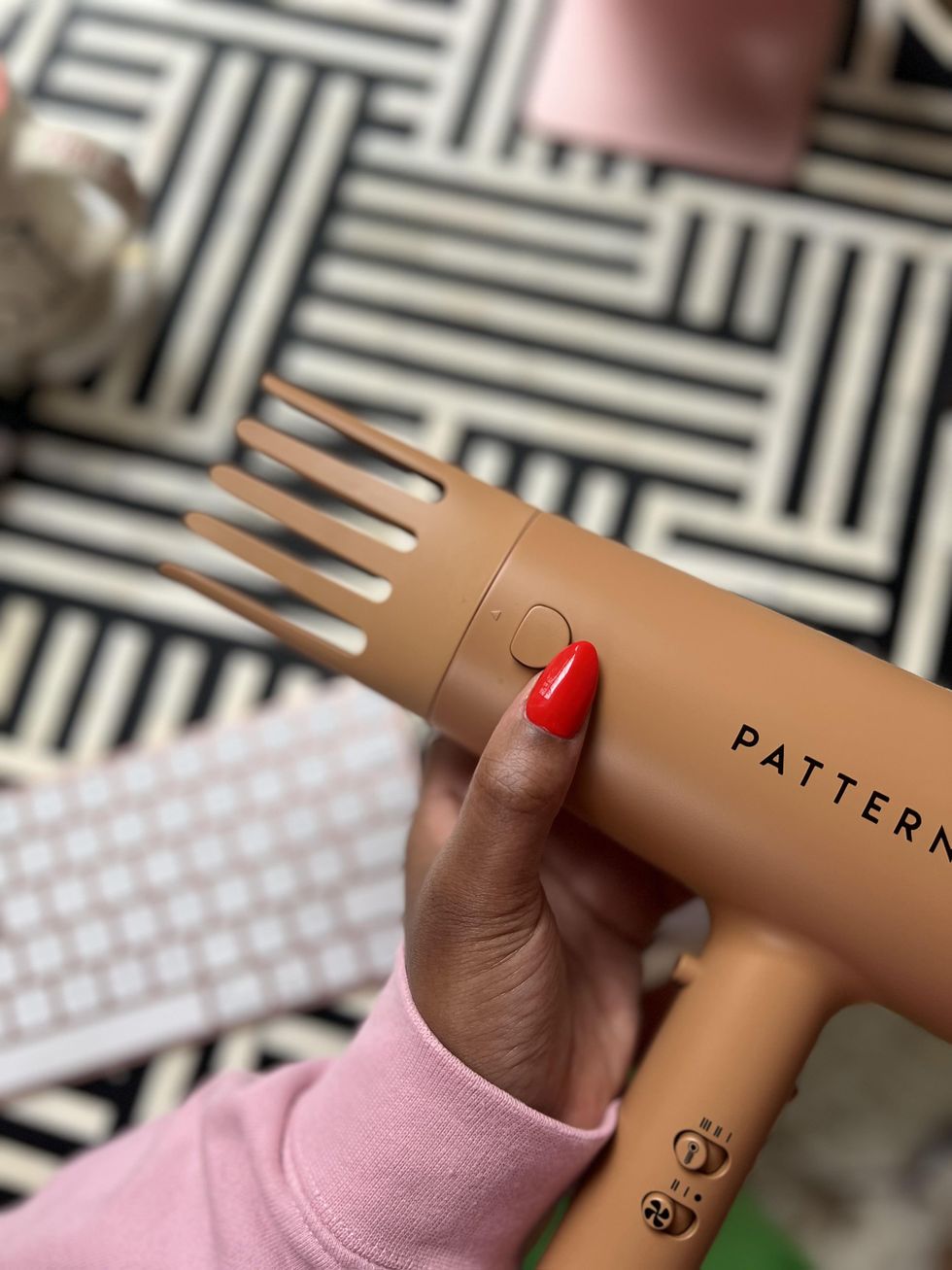 Courtesy of Bianca Lambert
When it comes to the design, I can't forget to mention two of the attachments that are clearly designed with curly and coily hair at the forefront. First, there's the wide-tooth comb attachment. I can't be the only one whose every broken plastic bristles on a comb attachment. So, I love the idea of this wide-tooth version designed to glide through the hair and distribute heat evenly.
And then there's the brush attachment. I haven't used the Pattern Shower Brush, but this attachment design mimics the beloved brush. This attachment is made for drying and stretching coils, tight textures, and shorter hair lengths.
The Experience
I'm currently rocking box braids to give myself a little break from manipulating my hair. However, even with braids, I keep up my weekly wash day routine. "What about the frizz," you may be asking yourself. Truthfully, my hair health means more to me than worrying about frizz. But I've managed to find a way to reset my hair after each wash with minimal frizz, which involves a blow dryer. I typically use a Dyson, which carries a hefty price tag. So I was super excited to try this on my small knotless braids.
After washing, conditioning, and adding a leave-in, I layer my hair with a mousse. I go between Pattern's Curl Mousse and The Doux Bee Girl CrazySexyCurl Honey Setting Foam, depending on my hair's frizz factor. In this case, I went with Pattern. After applying the mousse, I tie my hair down with a satin scarf and let it air dry, and then I go back in maybe an hour later to dry it.
Because I was headed out to dinner with a friend and had gone swimming before, I had to wash my hair. I timed my dry session, which started at 5:46. My hair from roots to ends was dry by 6:02, which was perfect given that I was already running late and my high-density hair can take forever to dry, even with braids.
Ross says to start with the lowest heat setting, which I did. What I found the most revealing was that this little dryer really did pack a punch. Because I was pressed for time, I went with the second heat setting and used the diffuser on my roots and then the concentrator on the length of my braids. I loved that my arm never felt heavy.
Final Thoughts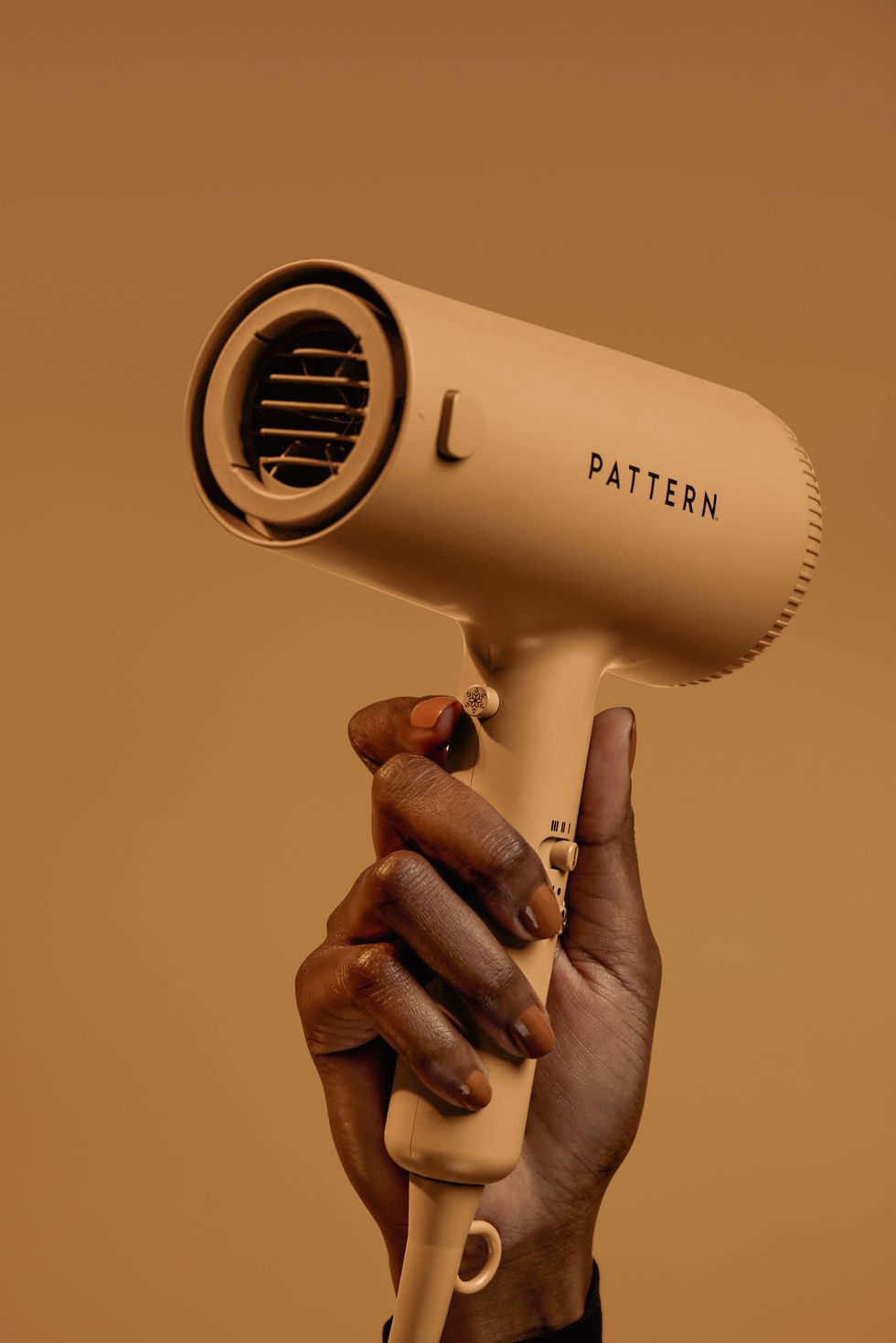 Courtesy of PATTERN
I love that this dryer comes with four attachments because, so often, once you purchase your blow dryer, now you have to budget for the attachments. Additionally, there's the design and not just aesthetics. It's the fact that the blow dryer not only has a professional-grade AC motor, but it's also lightweight, easy to use, and it can go right in a carry-on because of its size. And I can't forget the fact that you don't have to remove the dryer from your head when switching the setting, and I don't have to worry about my attachments hitting me in the head and falling off.
One final pro for me: the price. This dryer is nearly half the price of the best-known dryers on the market, and it's made for curly and coily textures.
Featured image courtesy of PATTERN
There's a great debate on social media platforms, from TikTok to Instagram, among travel credit card holders: What travel credit card is actually worth the annual fee? Asking yourself this lofty question with your fancy card in hand might feel counterproductive. However, it's always good to reevaluate any financial investment early and often to ensure you're getting the most out of it.
Credit cards are already a minefield because, without financial planning, you can end up in a boatload of debt. Been there, done that, and got the wasted money on interest to show for it. After paying off $15,000 in debt, I was reluctant to use any more credit cards. But after tons of research, I saw the value of the American Express Gold Card. I got points on my everyday spending and was diligent about paying off my monthly balance. But for me, as an avid traveler, it was time for either an upgrade or a new card with lots of research, of course.
Spoiler alert: I upgraded to the American Express Platinum Card, but I wanted to break down some of the benefits of all of the most talked about cards so that you can both use every benefit you're paying for if you already have these cards in your wallet or get to know some of the perks if you're in the market for a travel credit card so you can invest in a card that's best for your everyday and travel needs.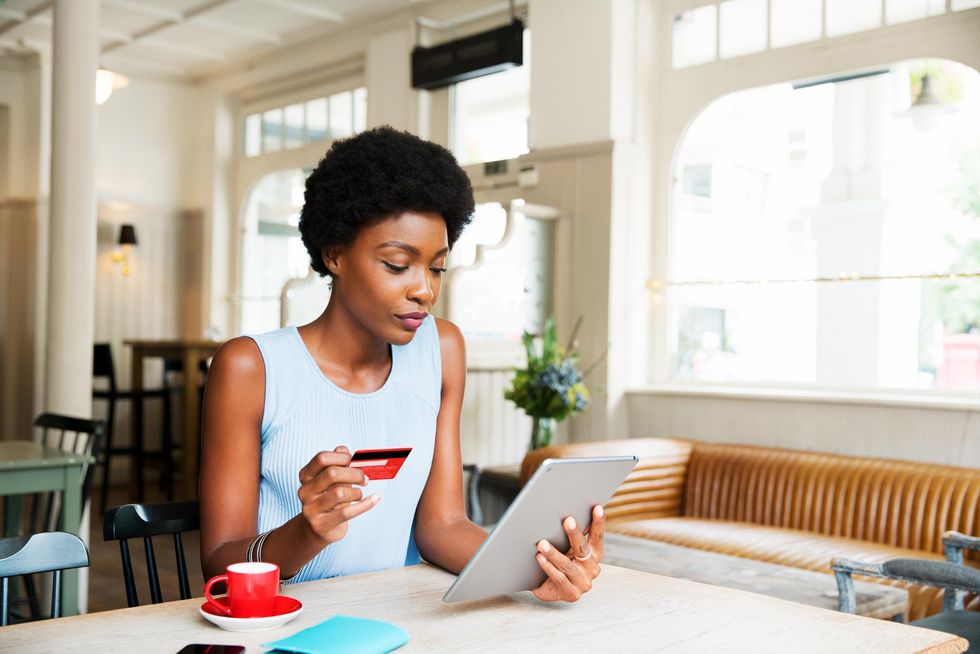 Tim Robberts/Getty Images
American Express Platinum Card Benefits and Perks
Because I was already an Amex customer, I started here. The introductory offer—100,000 points after spending $6,000—for upgrading to an American Express Platinum Card was difficult to pass up. But I needed to see how the benefits stacked up if I was giving up 4X points on groceries and dining and opting for a lofty $695 annual fee. So how does the Platinum card stack up on earning points? Platinum cardholders get a point for every dollar spent, 5X the points on flights, and 5X on prepaid hotels booked through the Amex travel portal.
1. Lounges
Before gaining status with Delta, I always felt some FOMO passing the Sky Clubs. However, with the Platinum card, you can get through the velvet rope into Centurion lounges. You can also access Priority Pass lounges and Delta Sky Clubs with a same-day Delta ticket. One of the biggest gripes I've seen in online forums is how packed Priority Pass lounges can be as they serve many other luxury credit card holders, and during peak travel season, this could feel less like a perk.
2. Hotels Perks
Accommodations are the second most crucial part of planning a trip. Before booking through a third-party site or directly through the hotel, the Amex portal offers the ability to earn 5X the points when prepaying for accommodations. But there are more benefits aside from points. First, there's the complimentary Gold status with Hilton Honors and Marriott Bonvoy.
Next up, the credit card company provides The Fine Hotels + Resorts and The Hotel Collection. The Fine Hotels + Resorts benefits are as luxe as the five-star accommodations that are a part of this collection. When booking, your perks are: daily breakfast for two, free Wi-Fi, guaranteed 4 p.m. checkout, a $100 hotel credit, and noon check-in and room upgrade when available.
For The Hotel Collection, the hotels are among some of the best in the city, and cardholders receive a $100 hotel credit and a room upgrade when available. Additionally, another hotel benefit instantly helps offset the $695 credit card fee: $200 back in statement credits each year when you book a prepaid Fine Hotels + Resorts or The Hotel Collection reservation. I used this credit at the Conrad Hotel Midtown in New York City. It was so worth it.
3. Transportation Perks
We've covered lounges, so what about transportation benefits? Well, they're quite a few. Firstly, this card gives you a $200 airline fee credit per calendar year. So this covers everything from baggage fees to seat upgrades. Just be sure you go into the portal to select your airline.
Don't want to spend an overabundance of time in TSA or have to take off your shoes? The Platinum card credits back on your credit card for Clear ($189), TSA-Precheck ($85), and Global Entry ($100). In addition to taking care of the cost of breezing through TSA, if your flight is delayed six hours due to an airplane mechanical issue, the loss of your passport, or inclement weather, the card offers delay insurance reimbursing expenses like hotels and meals up to $500. After my flight from Paris to Atlanta was canceled due to mechanical issues (while I was on it), this came in handy and was very easy to use with a call to American Express customer service.
Additional transportation benefits:
If your bag goes MIA, the card baggage insurance plan protects against damage or loss of up to $3,000 as long as you've paid the total cost of your trip with your card.
Uber Benefit: $200 in Uber cash ($15 a month with $35 in December).
Car Rental Loss and Damage Insurance (be sure to pay for the rental with your card and decline the collision damage waiver).
Some of the other American Express Platinum Card benefits:
Up to $300 in annual Equinox credit.
SAKS Benefit: Earn up to a $100 Saks Fifth Avenue credit, split into two $50 statement credits between January and June, then July through December.
No Foreign Transaction Fees.
Free shipping with ShopRunner (offers two-day shipping with select online retailers).
Up to $240 in digital entertainment credit.
The Best Way to Redeem American Express Membership Rewards Points
Amex rewards points can be used on everything from gift cards to Amazon purchases and on, of course, travel. Each point is worth one cent, so let's say you book a flight through the portal for $150. You'd need 15,000 points to pay for that fare. Not worth the trade-off, right? So if this is your card (or your future card), you'll want to research before you turn over those points. Typically, you can get more bang for your points when transferring them to one of Amex's airline partners. But again, you'll want to see what airline makes the conversion worth it.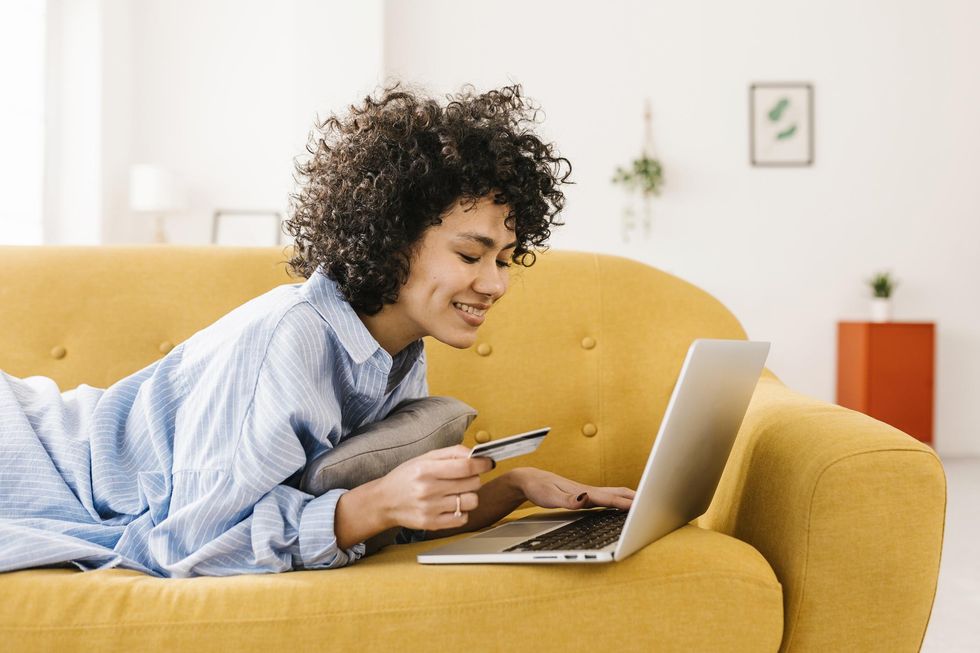 Westend61/Getty Images
Chase Sapphire Reserve Benefits and Perks
The Chase Sapphire Reserve card is another beloved option at the center of the luxury travel credit card debate. This one is a contender with an annual fee of $550. When it comes to earning points, you earn 5X points on flights. 10X points on hotels and car rentals when you purchase through Chase Ultimate Rewards. 3X points on travel and dining worldwide and 1X on all other purchases. So Chase's points-earning system does have some leverage on alternative cards. However, before earning 3X points on travel and dining, you must first use the $300 annual travel credit offered for flights and hotel stays.
1. Lounges
The Chase Sapphire Reserve card offers access to the Priority Pass lounges. But there's been a new development. Chase is introducing Chase Sapphire Lounge by The Club, which started last year. There isn't much info on these clubs yet, but the first Chase Sapphire Lounge by The Club—an 11,948-square-foot space—opened in Hong Kong in October 2022. So, this is certainly something to look forward to if you're a Chase member.
2. Hotel Perks
This card offers a Luxury Hotel & Resort Collection with select properties offering daily breakfast for two, a $100 benefit (unique to each property), free Wi-Fi, and a room upgrade and early check-in and late checkout when available.
Additionally, there are Elite Hotel Benefits at Relais & Châteaux and Elite Hotel Benefits at Ennismore. These properties are in specific places throughout the world. For example, Relais & Châteaux properties are mostly located in Europe. In comparison, Ennismore properties are located in major hubs like Beverly Hills, London, New York, Rome, and Paris. However, if you end up in a city with Ennismore options, the Elite Hotel Benefits offers some solid perks like a complimentary fourth night, late checkout, food and beverage credits, and room upgrades.
3. Transportation Perks
Regarding transportation benefits, the Chase Sapphire Reserve offers a $100 credit toward Global Entry/TSA PreCheck fee every four years. And financial assistance for bag delays on any mode of transportation— airline, bus, cruise ship, or train—for more than 6 hours at $100 per day (up to five days) as long as your ticket purchase is made with your credit card or points.
Additional transportation benefits:
Trip Cancellation/Interruption Insurance: Up to $10,000 in reimbursement for cardholders and immediate family members).
Lost Luggage Reimbursement: Up to $3,000 per passenger, including cardholder and immediate family members (even if the cardholder is not traveling on the trip).
Trip Delay Reimbursement: If your trip is delayed by more than six hours or requires an overnight hotel stay, you are eligible for reimbursement of up to $500 per person. This benefit extends to your family as well.
Lyft Pink All Access free membership for two years.
10 points per $1 spent on Lyft (through March 2025).
Primary rental car coverage of up to $75,000 for theft and collision damage.
Other Chase Sapphire Reserve benefits:
Free subscription to DoorDash DashPass.
Monthly DoorDash Food Delivery Credit ($5/month).
Instacart+ Membership ($99).
Monthly Instacart Credit ($15/month).
No foreign transaction fees.
The Best Way to Redeem Chase Ultimate Rewards Points 
Like many credit card points systems, with Chase Ultimate Rewards, you can use your points to purchase gift cards or even make a payment on your bill. But if you want to use them on travel, the best way to make the most use of your points currency is to transfer your points to Chase partners (there are 11 airline partners and three hotel partners). Before moving points, do thorough research to ensure you're satisfied with your investment.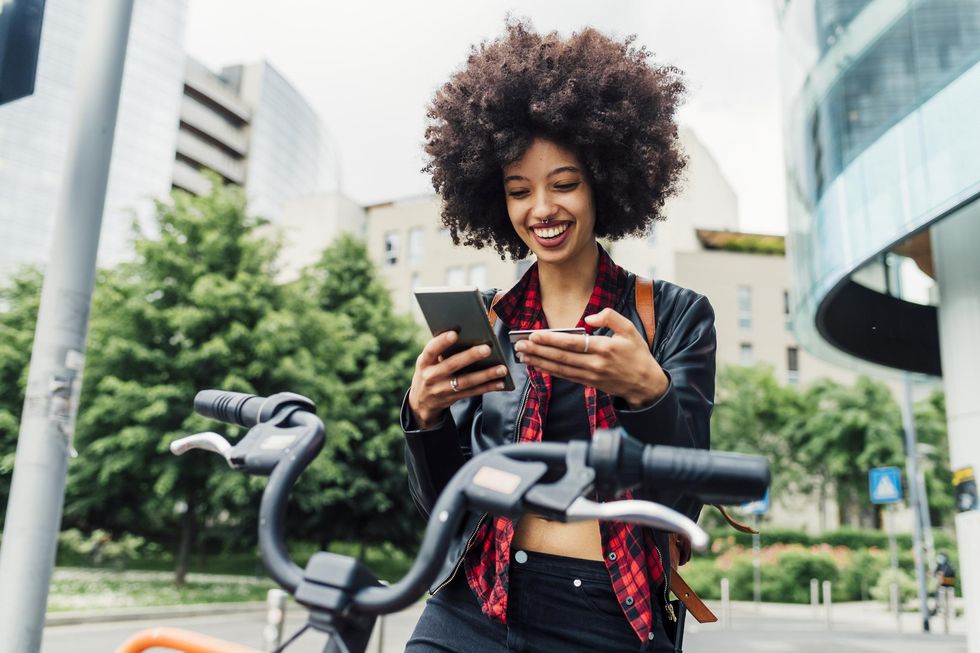 Westend61/Getty Images
Capital One Venture X Card Benefits and Perks
The Capital One Venture X card is the last card making a splash in the fancy credit card convo. But this card came to play with an annual fee of $395, which is quickly offset with the card's $300 in annual statement credits when booking through Capital One Travel. Additionally, cardholders receive 10,000 bonus miles (a $100 value) on every account anniversary. And, you get 2X miles on everyday purchases, 5X miles on flights, and 10X miles on hotels and rental cars booked via Capital One Travel.
1. Lounges
Lounge benefits are similar to other cards, with cardholders being able to access Priority Pass. But if you want more lounge access, Capital One is introducing its own lounges, with the first opening at DFW in November 2021, with more openings slated for 2023.
2. Transportation Perks 
Like the other two travel cards, Venture X offers $100 statement credits for Global Entry or TSA PreCheck. In addition, the card offers trip cancellation and interruption insurance that covers you and your immediate family member—up to $2,000 per person— on prepaid, nonrefundable tickets.
Additional Capital One Venture X transportation benefits:
Trip Delay Reimbursement: Up to $500 per person to cover expenses like hotel rooms, food, and clothes when your flight is delayed overnight or by six hours or more.
Lost Luggage Reimbursement: Up to $3,000 per covered trip if the airline damages or loses your bags.
Rental Car Status: Both the primary cardholder and authorized users receive complimentary Hertz President's Circle status and primary rental car insurance (up to $75,000 for damage caused by collision or theft to a rental car).
The Best Way to Redeem Capital One Miles  
The best way to make the most use of your points currency for travel is to transfer your points to Capital one partners. (There are 18 partners).
Feature image by Westend61/Getty Images