If my last relationship taught me anything, it's that I was way too giving, way too understanding, way too empathetic in moments where I really should've put myself first. It took me two years to get over this relationship, not even because I wanted to get back with him but because I was so afraid of losing myself in someone again. I kept revisiting this relationship in my mind for all the mistakes I made, rehashing it over and over in therapy sessions caught up somewhere between "Did I do enough?" and "Why did I do so damn much?"
I remember being in a therapy session trauma-dumping all the things "I had to do" to make this relationship work, feeling like I was carrying the whole thing on my shoulders, while my then-boyfriend kept saying he wanted to make things work but wasn't putting in the work.
More than a year after the breakup, I still felt resentment as the words fell out of my mouth, expecting my therapist to tell me I didn't deserve that treatment. Instead, she said, "You didn't have to do anything."
Skrrt, what do you mean I didn't have to do anything? She said, "Well did he ask you to do those things?" Nope. "So you saw him not meeting you halfway, and you decided to overcompensate for him, but he didn't ask you to?" Yeah, I guess not. "Maybe that's something to think about."
She then went on to say that when we try to solve other people's problems, we rob them of the opportunity to grow. His inability to meet me halfway was his responsibility, not mine. And in the process of taking on his workload when I wasn't even asked to, I grew resentful.
And she was right, something that frustrated me about this relationship was my partner's lack of emotional intelligence. He had destructive coping mechanisms, and if I brought it up to him, he'd end up getting angry, and I ended up crying, and the argument would suddenly devolve into him asking me why I didn't let him be upset. And I thought I could love him through this, get him to see what I saw enough for him to fix it.
But in the end, it wasn't mine to fix, and when he finally came around, I was checked out.
In My Mental Clarity Era
I was living in Atlanta at the time, and it so felt like everything in my life was falling apart. My relationship, my health, my career, my finances, did I mention my car was also constantly breaking down? I was so over it. I came home every day to cry it out. I decided to sell everything to my name and take a life break.
I moved to Spain to pursue my teenage dream of teaching English abroad. And it felt like shedding layers of myself that hadn't served me for a long time, and underneath it, I found parts of myself I had lost in my relationship and new parts of myself I didn't even know existed.
I traveled all over Europe, making new friends, memories, and connections and falling in love with myself through it all. Sipping Spanish wine on sun-soaked rooftops with friends who fed my soul, I was living.
But to be honest, I was still so afraid of dating. Afraid I hadn't learned my lessons in love. I hid behind the pandemic, saying that's why I wasn't bothering to meet new people, but honestly, I didn't want to deal with it, and I didn't want to deal with men.
And when I did finally start dating, it felt like every encounter I was having was just confirming all my fears of men and dating. I kept attracting these emotionally unstable men. Am I the problem?
After going on a date with a fine, 6-foot, medical resident, who professed his love to me just two weeks later only to break up with me himself when I told him to slow down, I was so over it.
The change finally came when I said to myself, "I am ready for a real, long-lasting relationship, and I won't settle or distract myself with anything less."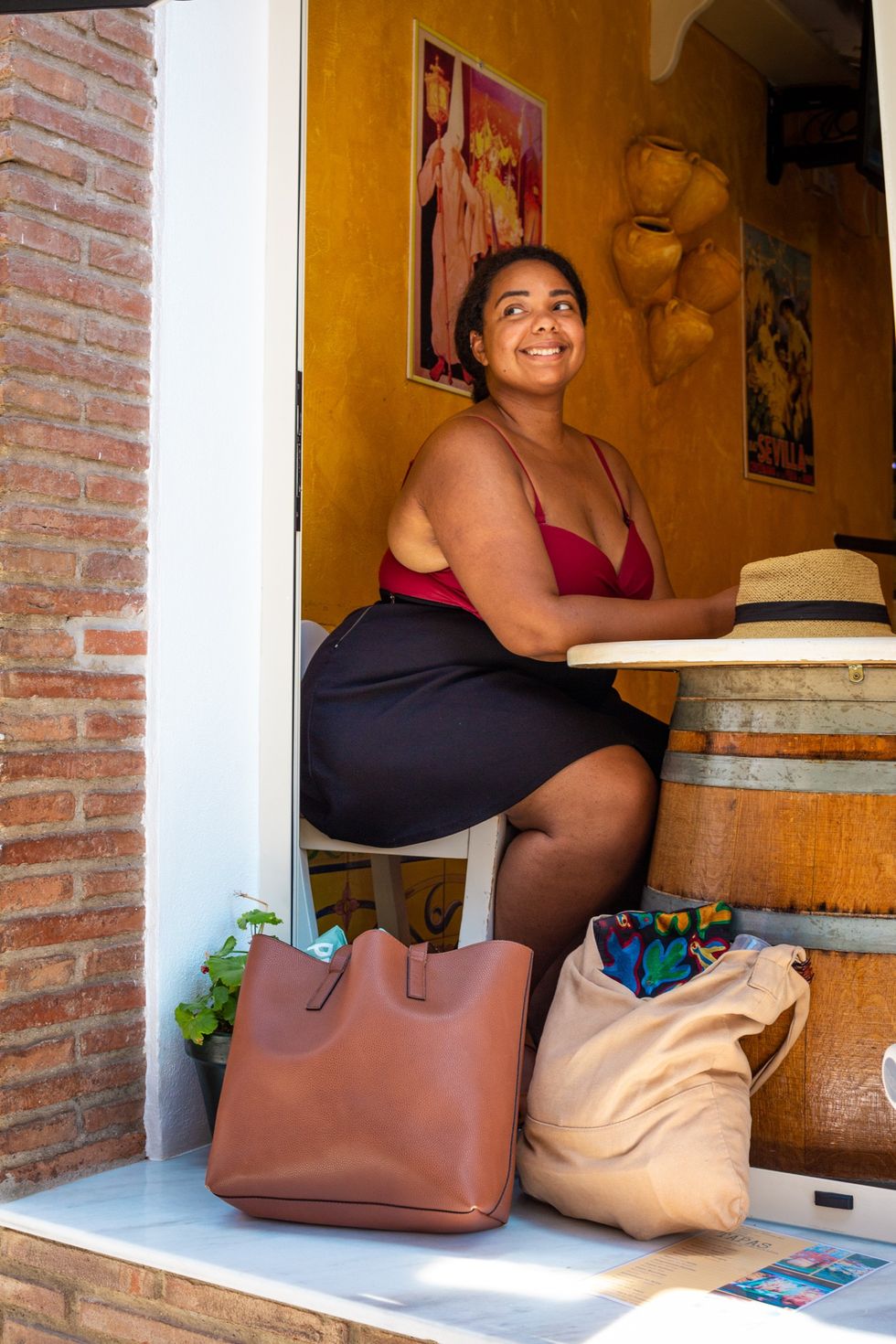 Courtesy of Ambar Mejia
Getting Clear on Love
Lo and behold, as life does, later that same day, I came across a YouTube video on manifesting your dream man. Shout out to the universe, spirit, God, the algorithm, or whatever else you believe in. Whether you're into manifesting or not, this video gave me a lot of clarity on my shortcomings and what I actually wanted. It made it much easier to go on a date and say this guy isn't my guy.
And basically, it came down to three things:
Addressing your limiting beliefs around dating. For me, that largely entailed believing emotionally stable, successful, loyal, interesting men worth dating existed if I wanted to find them.
Addressing your limitations in dating. For me, this was largely around my lack of boundaries and my fear of speaking up.
Becoming very clear on the type of person you are looking for and not just listing off a bunch of qualities but also how they make you feel in this relationship and what kind of things you do together. For me, this included words like safe, seen, heard, adored, and valued. It also included activities like traveling, getting lost in intellectual conversations, and dancing in the kitchen. And it definitely included an emotionally intelligent man.
A Special Surprise
Now, fast forward, and I am finally in a new relationship. And if he's taught me anything, it's that if you are a lover girl, you need to find you a lover boy. He was so intentional about getting to know me from the beginning in big and small ways.
On one of our first dates, he brought me a bouquet of sunflowers and said he noticed I had sunflowers on my phone case, so I must like them. They are, in fact, my favorite flower.
In early conversations, he asked me what's something I feel self-conscious about in relationships, and I said, "I've been told I'm too emotional," he said, "Emotional? That's okay. If you feel like crying, I will hold you until you are ready to talk." And, in fact, he's never once made me feel like my emotions were too much.
He also asked me about things I loved. I said, "I love to travel. It's my dream to have someone book a surprise trip for me and not tell me anything except what I need to pack. I love a good adventure, and I'm always planning things for others. It would be nice to have someone plan something for me."
Several months later, sleepy-eyed at 4 a.m., I was headed to the Lisbon Airport (that's where I live these days) with no idea where I was going. He said, "It's going to be hot, and you'll need some bathing suits."
He wouldn't let me see a single board, so I couldn't figure out where we were going, and he had given me the worst clues. "It's historical. It's near a beach. And It's within a four-hour flight from Lisbon."
"Sooo. anywhere in Europe with a coast?" He was having a good laugh. He knew I was itching to solve the puzzle, all while not wanting to ruin my own surprise.
"Don't worry, babe, you're going to love it."
Some three hours later, we landed in Greece!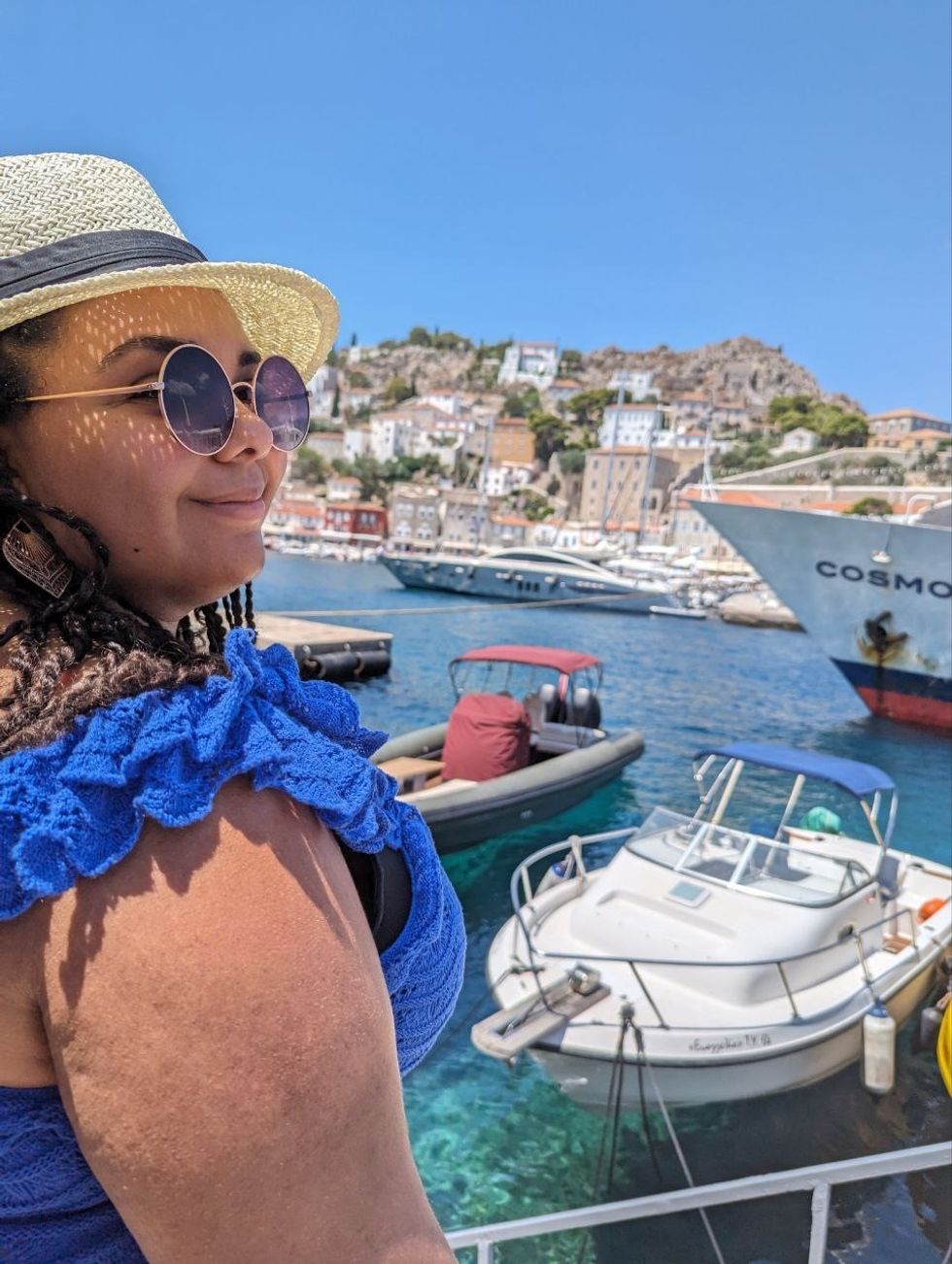 Courtesy of Ambar Mejia
My Top Four Favorite Activities For An Athens City-Break
My boyfriend planned it all, right down to having someone prepped at the airport with a sign with my name on it to take us to our spot. And I was so appreciative of how much thought he put into everything. Below are some of the things he planned for us to do while in Greece and the reason he gave for choosing the activity.
Acropolis + Parthenon
"I know how much you love history, so we're starting with the Parthenon."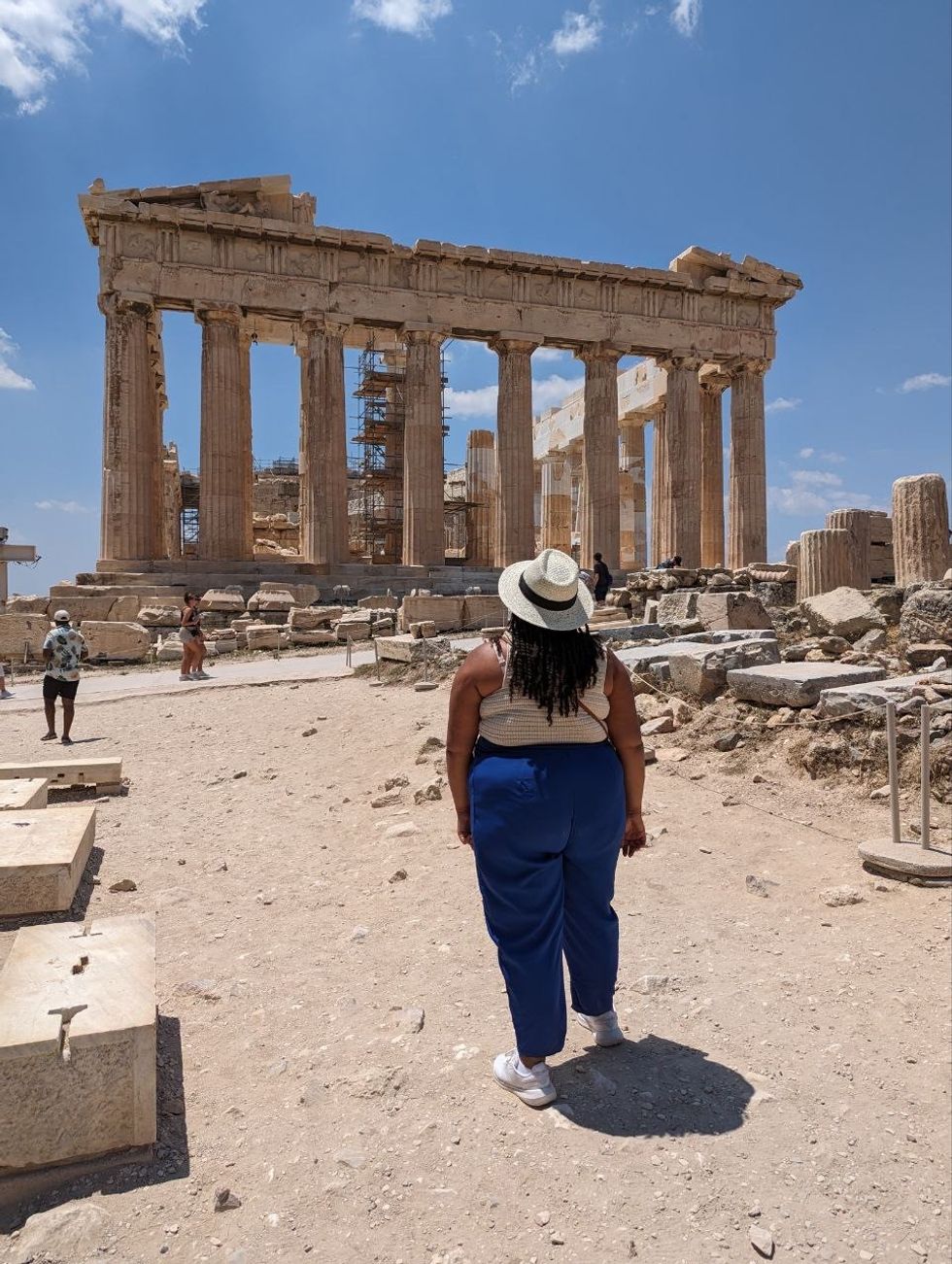 Courtesy of Ambar Mejia
Island Hopping Tour
"You kept saying how much you wanted to go on a boat, so we're going Island hopping on a boat tour today."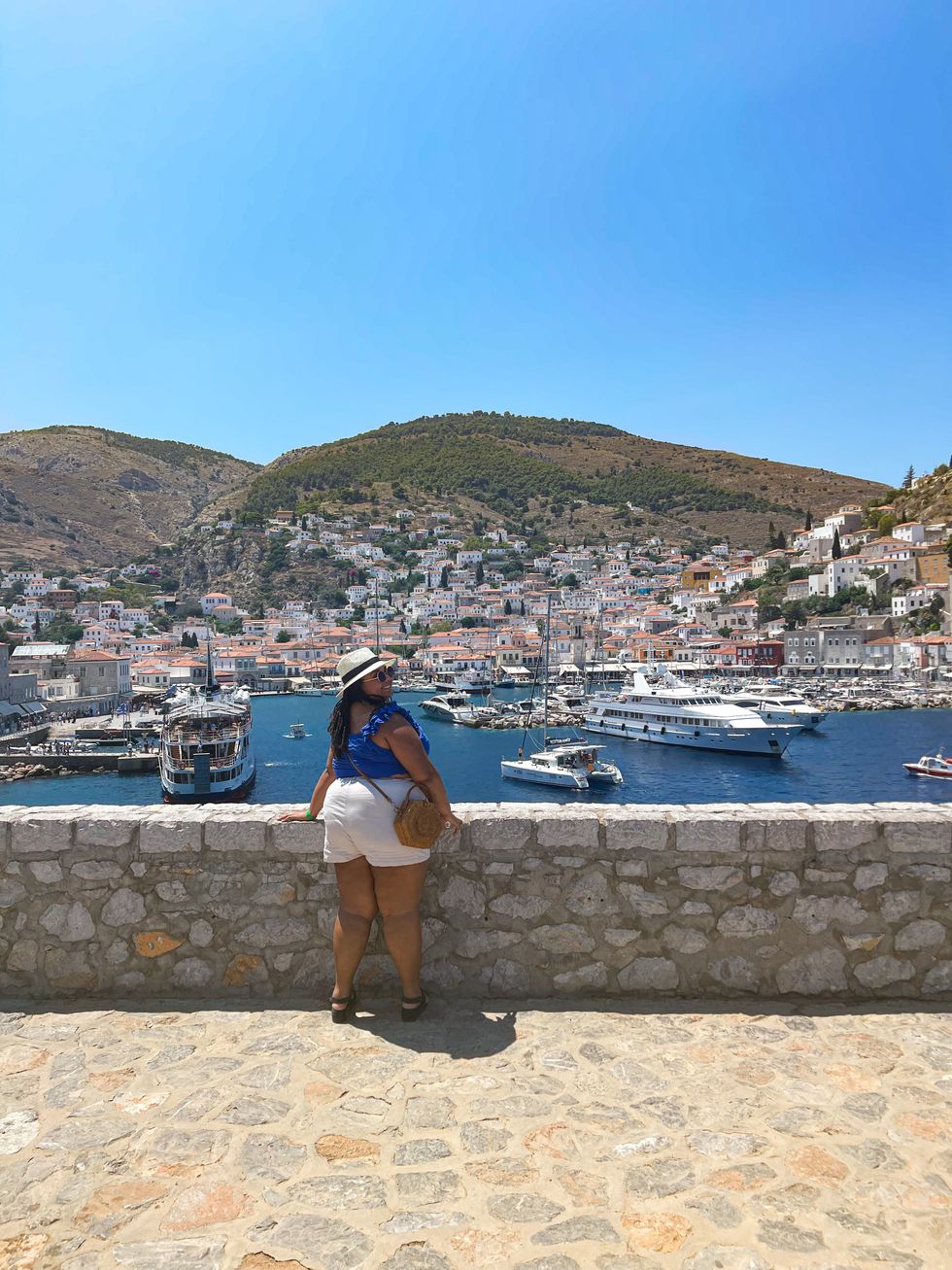 Courtesy of Ambar Mejia
Day Trip to Nafplio, Greece
"I know how much you love visiting cute little towns, and they said this is the prettiest town near Athens."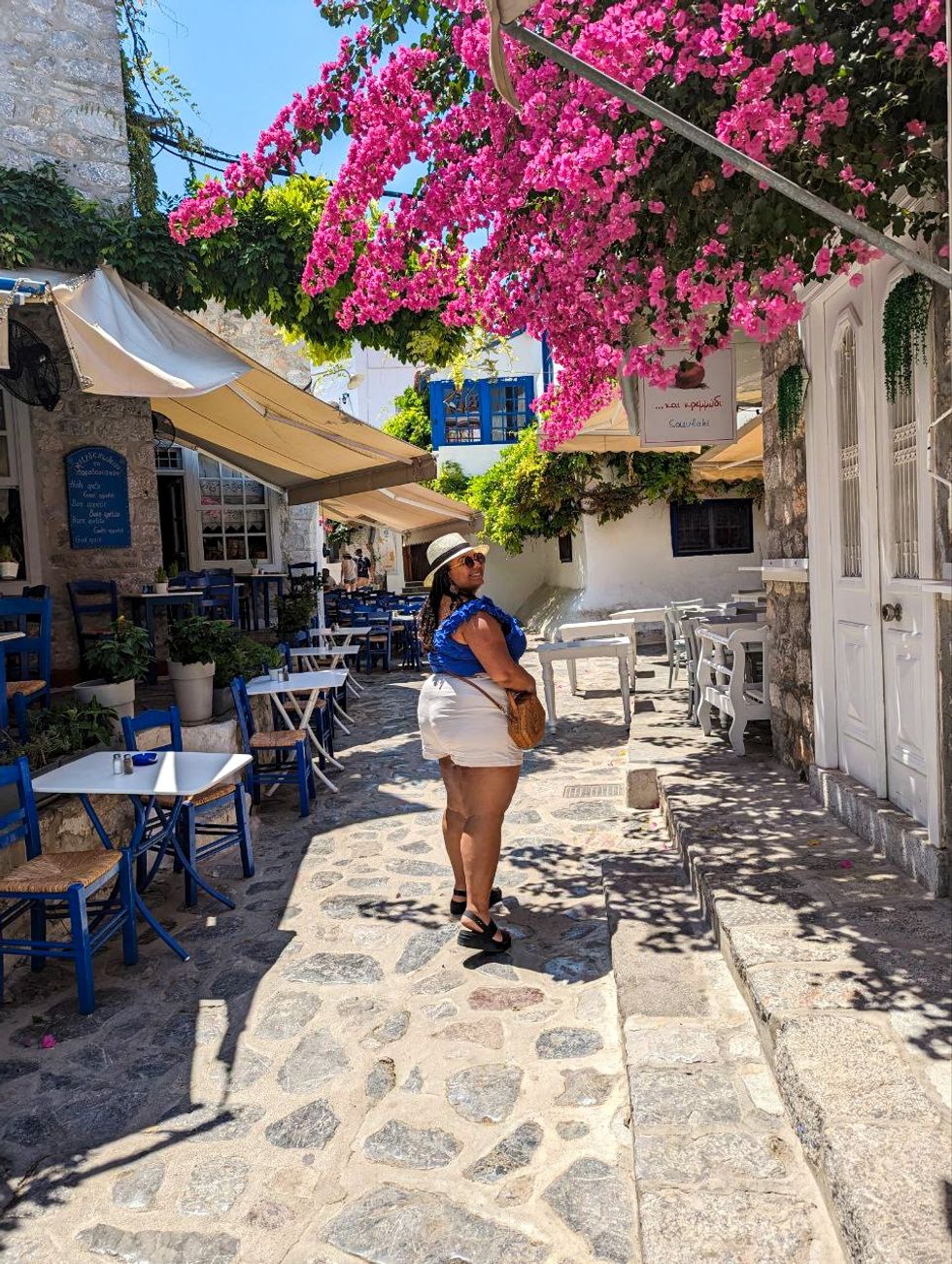 Courtesy of Ambar Mejia
Dinner On The Kuzina Rooftop

"I knew you'd appreciate the food here."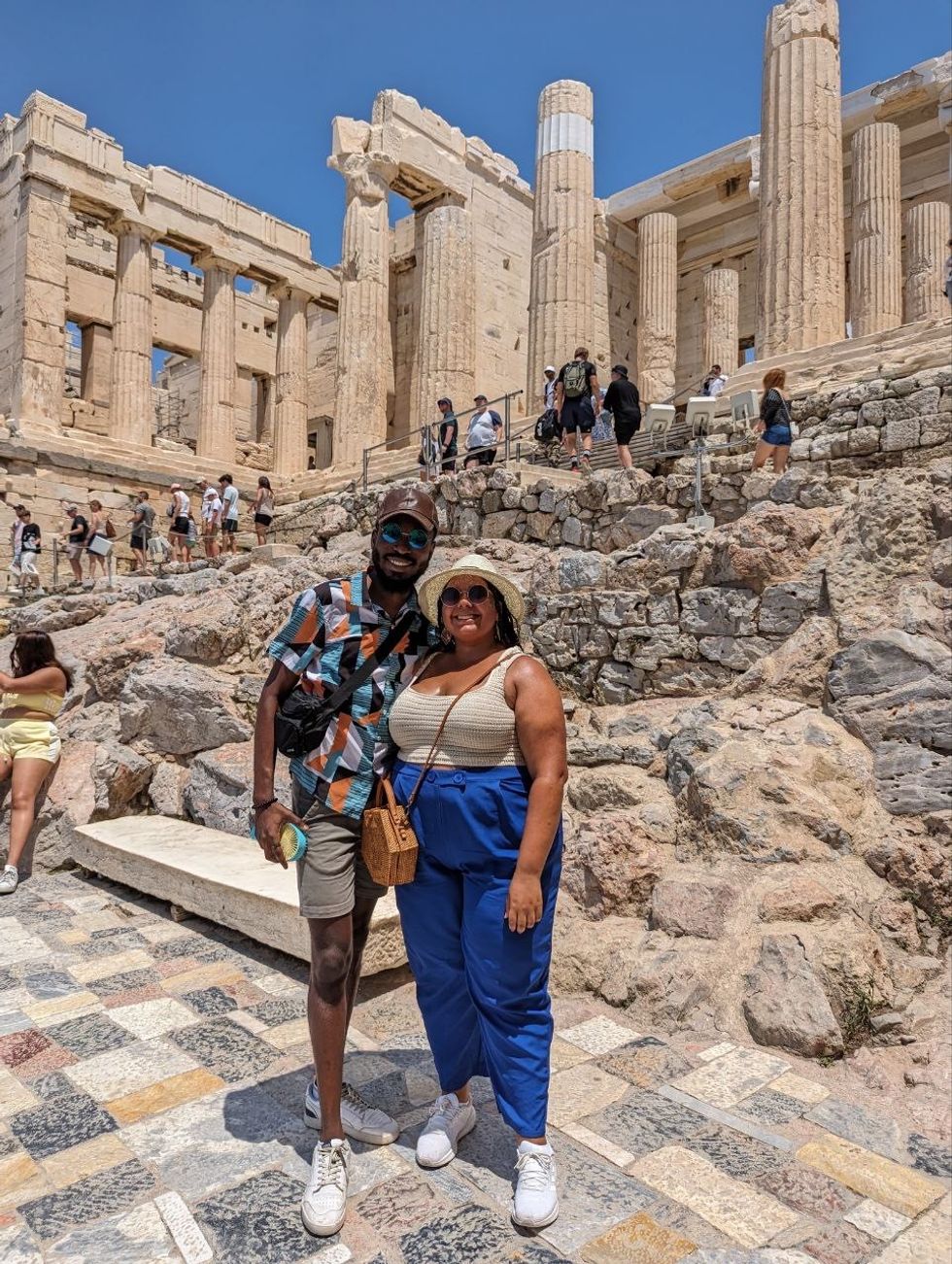 Courtesy of Ambar Mejia
Oh, to be seen, heard, and valued.
Sometimes, the thing you fight so hard to hold onto was just a big lesson you had to learn in a heartbreaking way. Sometimes, the heartbreak lets you rebuild something stronger and wiser.
Sometimes, when you finally let go of what could've, should've, and would've been, you make room for what can be.
Featured image courtesy of Ambar Mejia
I first moved to Spain in December 2018, bright-eyed and ready to dive into the culture. While I have loved every minute of my life abroad, I definitely received my share of culture shocks in Spain. Some were hilarious, some were surprising, and no matter how many times I was warned about others, they were still shocking!
When I first arrived in Spain, I was so used to the American mode of constant productivity. It almost caused me anxiety how relaxed most Spanish people are about everything.
In the United States, your career defines you; everything must be done correctly the first time and on time, and even your relaxation time should be productive. Spain is the opposite.
I learned to embrace it because if they're not freaking out about it, why should I? It was an instant release. Spanish people place value on making time to relax, enjoying good company, and being outdoors in the sunshine. My mental health and ability to handle setbacks in stride improved a ton in Spain.
So as I near five years living abroad, here are the biggest lessons the Spanish taught me about chilling the fuck out.
Lesson Number 1: "No pasa nada"
My first day working as an English Language Assistant in Spain couldn't have gone more wrong if I tried. The bus that took me to the town where I worked never showed up. When I finally got to the town, hours later, I couldn't find the school. When I finally managed to make it to a class (after missing my first three of the day), the presentation I had prepared didn't work.
I remember looking up from the computer screen to a class of eager students and my enthusiastic co-teacher (who also happened to be my boss). My heart sank into my stomach, "I can't open the presentation, Mabel."
"No pasa nada, just talk to the kids, let them ask you questions." Just like that? The kids were so excited to meet someone from the USA that the questions just kept coming, and they thanked me for a fun class.
No pasa nada translates to something like no worries, or it's not a big deal, and I must've heard it at least 10 times a day every day in Spain. If something ever goes wrong, "No pasa nada."
You can't control everything all the time. Is anyone bleeding, dying, or injured? No? Then it's not worth losing your head over. Just come up with the best solution you can think of at the moment and roll with it.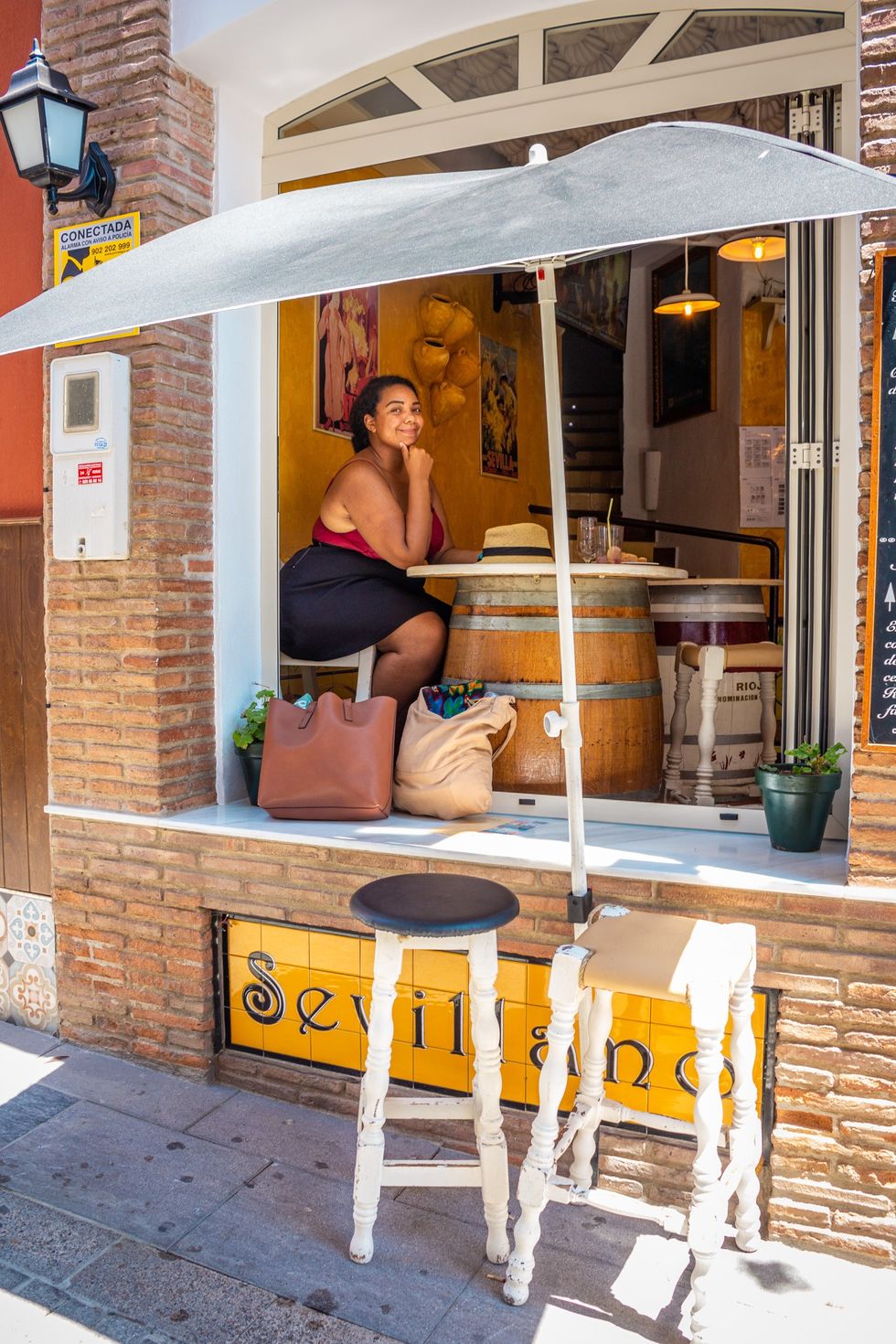 Courtesy of Ambar Mejia
Lesson Number 2: "Teacher, Did You Not Have Time for Breakfast?"
When I was working in the U.S., I often had all sorts of meals at my desk. Breakfast, lunch, coffee breaks. It wasn't uncommon for me to sit in front of a screen, clacking away on my keyboard while taking bites and sips in between thoughts.
One day, in Spain, I showed up to school with a thermos of coffee and was sipping away while I led the class. One student raised his hand, "Yes Miguel?" "Uh, teacher, did you not have time for breakfast?"
Count on children to call you out! I thought he was just being an 11-year-old until later that week, a teacher asked me to go get coffee in between classes. When I went up to the counter to ask for it to go, she looked at me like, "What are you doing?" I said I was just grabbing it to go so we could get back to work. She said, "Yeah, we don't do that here." And in fact, they didn't even have a way to give me this coffee to go.
She later explained to me that it's not usual for Spanish people to drink or eat while they walk or work. "Certainly you have 10 minutes to enjoy a cup of coffee and relax."
(ENJOY my coffee? Interesting concept. I was just going to consume it for energy.)
In another instance, a Spanish friend of mine saw someone walking while eating a sandwich and said, "How depressing that they don't even have time to sit and eat a sandwich."
And actually, if you think about it, that is sad, but it's not out of the ordinary in the U.S. But our bodies need food, and when we don't even take those 10 minutes to enjoy a cup of coffee or actually chew a sandwich, we're saying work is more important than caring for our bodies.
Even taking those 10 minutes to just focus on your coffee and be present can help you slow down and relax throughout the day.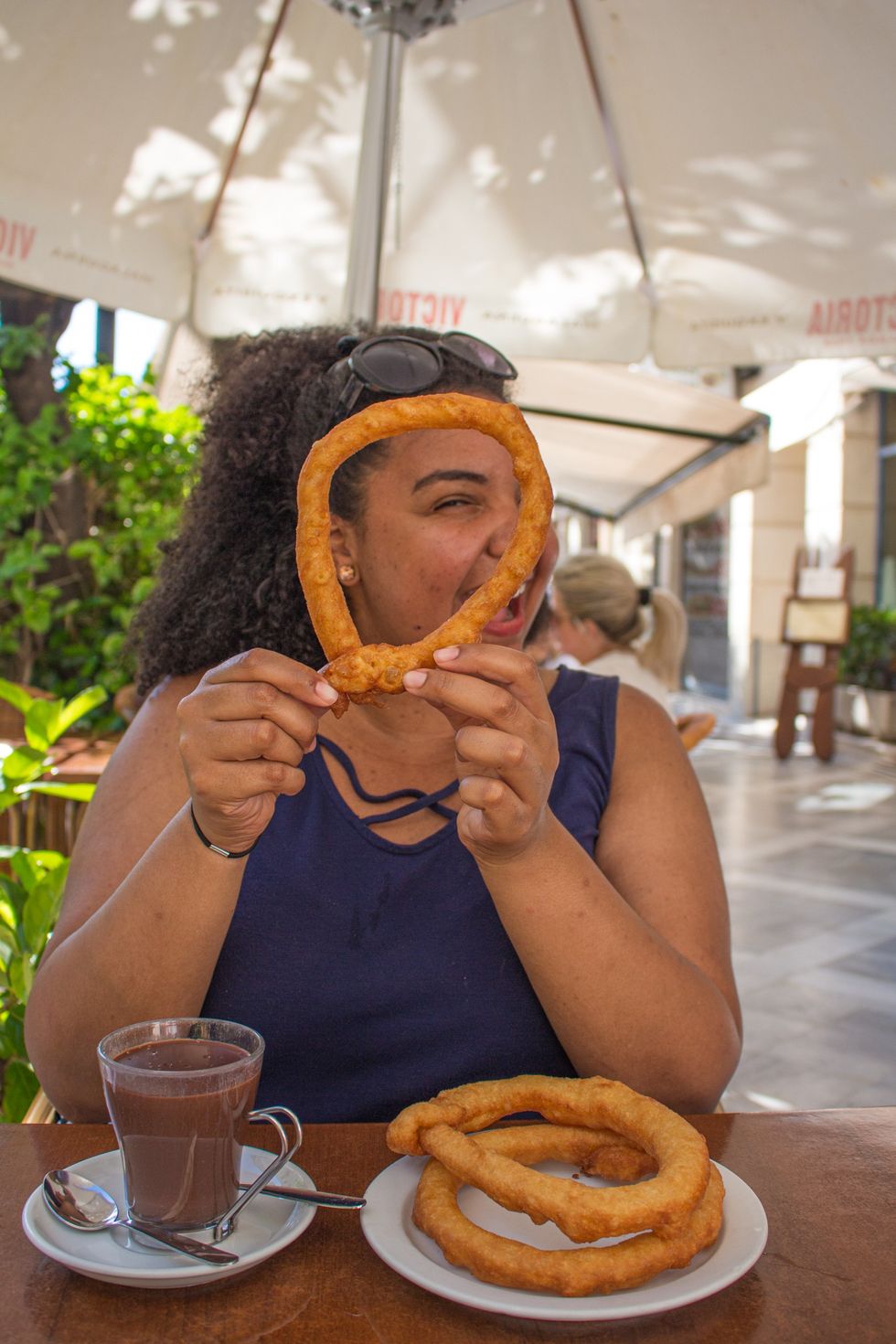 Courtesy of Ambar Mejia
Lesson Number 3: "Y la sobremesa?"
I learned over the years living in Spain that food and meal times are sacred. It's not just about getting something in to carry you throughout the day. Meal times are a moment to pause, relax, and unwind, and it's always at the table!
Meals are also a time to gather with family and friends and have rowdy conversations about any subject under the sun (except work, as they consider this stuffy conversation).
This tradition of chatting after a meal is so important, it even has a proper name 'sobremesa' (over table). Long after the plates are cleared, the sobremesa will continue over drinks, coffee, or dessert. It can last several hours! (I once had lunch for five hours, four of which were just the sobremesa.)
If you try to get up without it, someone might ask, "Y la sobremesa?" like "What about the after-meal conversation?"
There is so much emphasis on connection in Spain, whereas American culture is more individualistic. Now, while I'm not suggesting all Americans have 5-hour lunches or do everything in pairs, there is something therapeutic about prioritizing your meals, not rushing, and being in good company.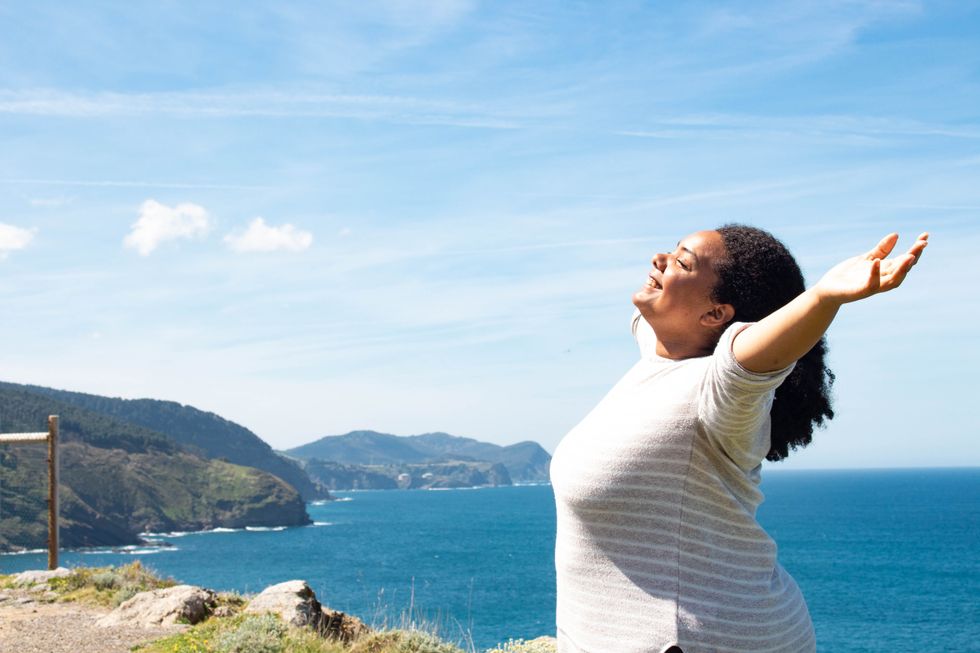 Courtesy of Ambar Mejia
Lesson Number 4: Go have some sangria, walk on the beach, and try again.
In my second year teaching English in Spain, I moved to a different city in Spain and had the strange luck that my new boss was the strictest Spanish person I have ever met to this day.
When I couldn't get an appointment to renew my residency card in time, she told me if I didn't have it sorted by January 1st, she wouldn't be able to let me stay in the country.
I made an appointment in a nearby town, but when I showed up for the appointment, the police officer told me I had to do it in the town I lived in. I started bawling. As a child of people who had immigrated to the U.S., I was in panic mode.
He tried consoling me and begged me to calm down, but I only started shaking and crying more, "My boss won't let me stay if I don't have my card renewed."
And I will never forget his next words, "It's okay. It's okay. This isn't the U.S. We're not going to come looking for you." (In retrospect, it is kind of funny.)
"Why don't you go have some sangria, walk on the beach, and try again." This did not feel like the time for this "no pasa nada" attitude, but I took his words of advice.
I had the sangria. I walked on the beach. And I went home to try again, and guess what? I did in fact find the appointment.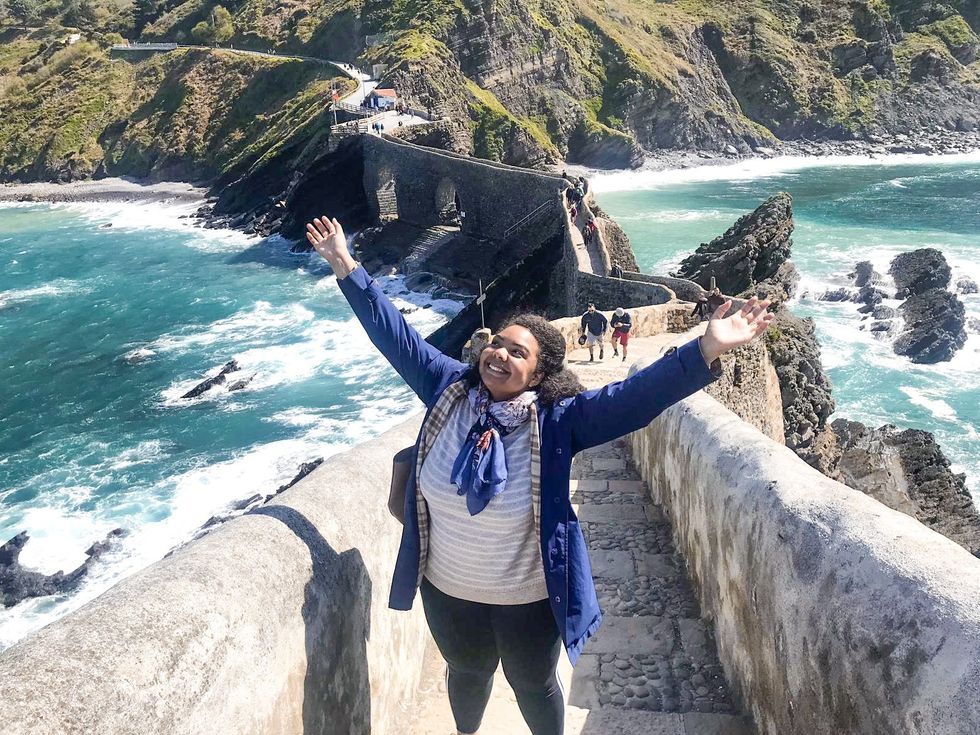 Courtesy of Ambar Mejia
Lesson Number 5: Sundays are for soaking up the sun.
Everything in Spain closes on Sunday. Everything except restaurants. So you couldn't even run errands if you wanted to. This is usually a day for family and friends to gather on the beach, in the park, at a restaurant, or out on the plazas underneath flowering trees.
Sunday is just about connecting with loved ones and enjoying the sunshine at your leisure. I'm sure you can notice a theme here, Spanish culture is all about letting things flow.
Something that struck me most about Spain was how much less they complained about their mental health. It feels like almost all of my friends in the U.S. are struggling with anxiety or depression, and not without good reason. American lifestyle can feel like a pressure cooker, but what I think we can learn from the Spanish is to slow down, take life as it comes, have moments throughout the day and throughout the week where we can just be, and always make time for good company.
Featured image courtesy of Ambar Mejia
Vibrant streets adorned with colorful buildings, fragrant orange trees, and charming cafes surround the world's largest Gothic Cathedral. If you have Spain on your mind, the southern city of Seville will instantly capture your heart and leave you coming back for more.
I might be incredibly biased, but after living in Spain for three years and traveling the entire country, the region of Andalusia is my favorite–no contest! Making a visit to its capital, Seville, is an absolute must.
While cities like Barcelona or Madrid get all of the attention, the region of Andalusia is home to some of the most iconic aspects of Spanish culture, and in Seville, you'll find them in full effect.
Known for its lively culture, expect to see locals gather in the evenings to enjoy pulsating flamenco shows on the street and indulge in delicious tapas. You'll be taken aback by the stunning architecture, a unique blend of Spanish and Moroccan styles – an ode to the history of Moorish rule in the region for 800 years.
To prepare you for your first time in the Spanish city, here's everything to know about traveling to Seville.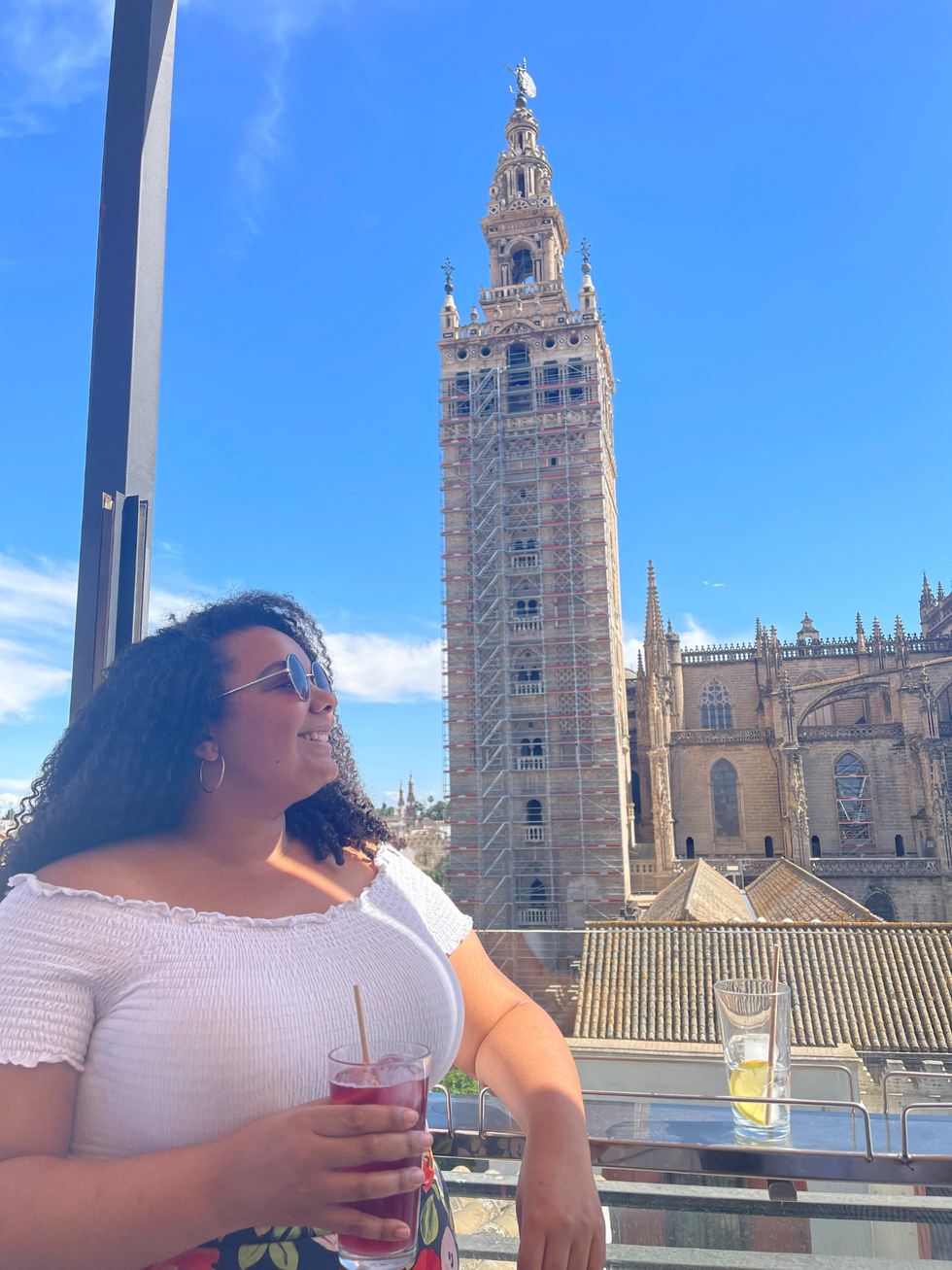 Ambar Mejia/xoNecole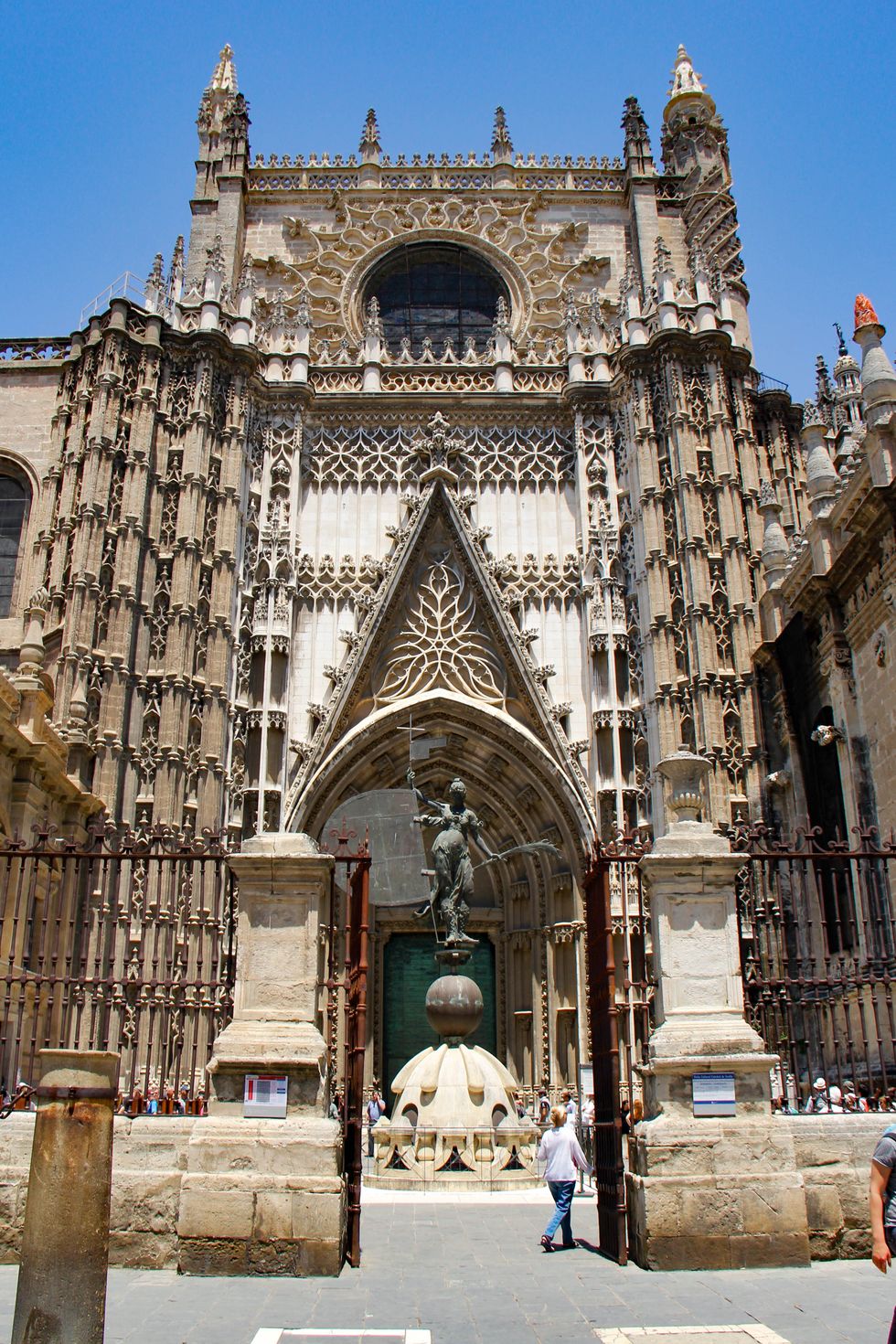 La Catedral
Ambar Mejia/xoNecole
What To Do in Seville
Stroll the streets of Santa Cruz and Triana.
Is there a better way to get to know a city than to get completely lost? Who needs a map? In Seville's case, it will be extra easy because many of the interior streets are built like mazes–thank the Moors for that one! So okay, maybe bringing a map isn't a bad idea. I highly recommend strolling through the neighborhoods of Santa Cruz and Triana.
Visit La Catedral.
They were not playing games with this one. The Sevillanos wanted to build a cathedral as opulent and beautiful as was humanly possible–which apparently took them 101 years to achieve. But SUCCESS! Because this cathedral is the third largest in the world (the first one being the literal Vatican), and it's also a UNESCO heritage site! It's impossible to walk around the Santa Cruz area and NOT see it. During Seville's world-famous Easter processions, the largest and most famous in all of Spain, this cathedral takes center stage.
Tour the Alcazar.
While you're in the neighborhood, head over to another MUST-SEE: the Alcazar of Seville. If it's summer, buy your tickets ahead of time to avoid standing in the sun. If you didn't think ahead, it's okay.
The line moves quickly, but bring water and a hand fan like a true Española because this city gets HOT. Inside this ancient palace, you'll find an architectural masterpiece started by the Moors in the 10th century with a mix of Mudéjar and gothic styles. It's very fancy and a great spot for Instagram shots.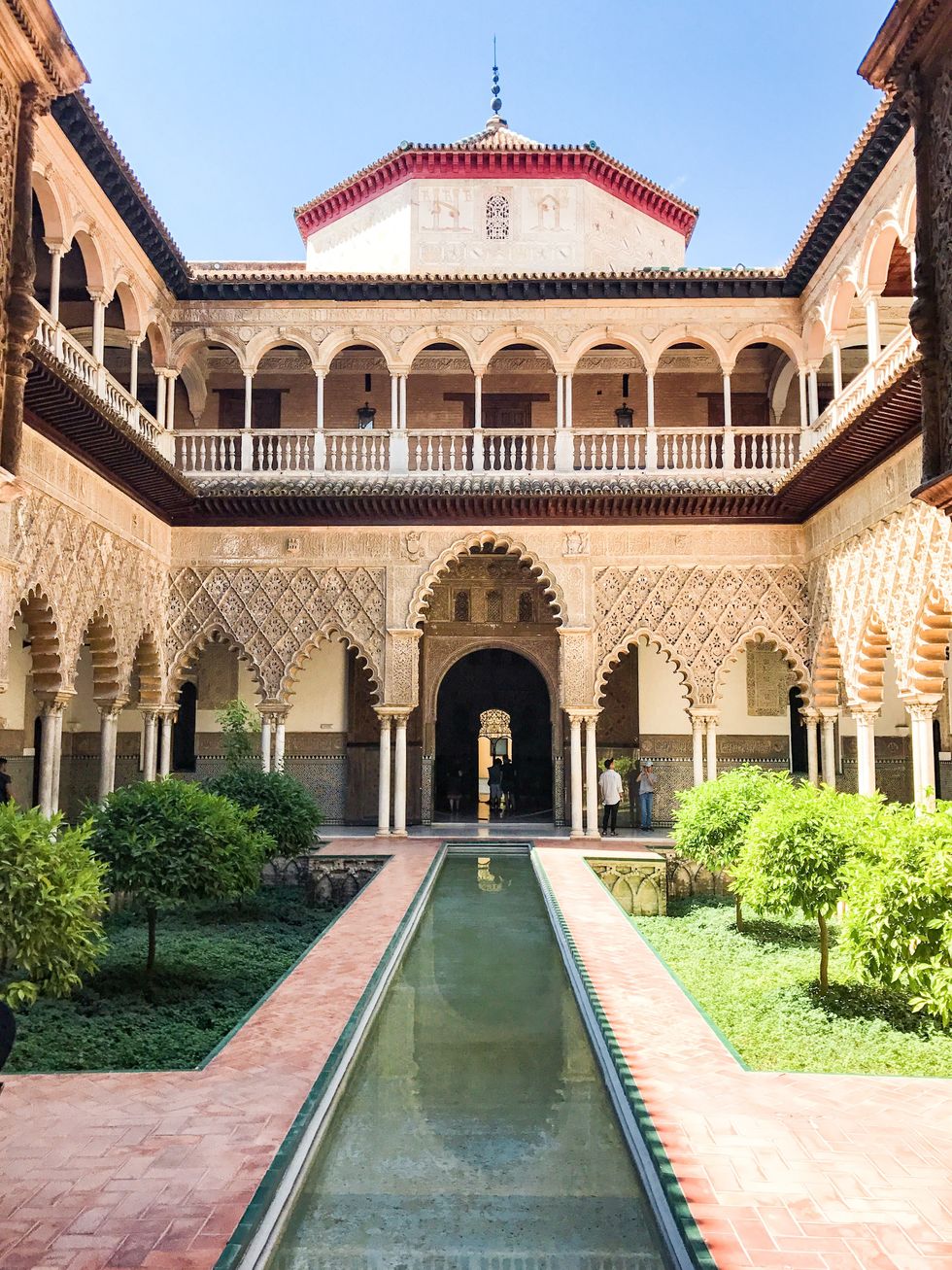 The Alcazar of Seville
Ambar Mejia/xoNecole
Have a photoshoot at Plaza de España.
No visit to Seville is complete without a visit to Plaza de España. This spot is iconic and has appeared in many films–including Star Wars! It has four bridges that represent the ancient kingdoms of Spain and 48 benches for each province in the country. You can paddle around the plaza or simply take a nice stroll. But watch out, there's a ton of horse-drawn carriages here, and with horses comes something you wouldn't want to step in.
Culture Shock Alert:
Y'all, when I first moved to Spain, they included a section on staring in my orientation. I still wasn't prepared for how much it might happen. My colleagues explained to me that in Spain, it's totally normal to stare at people if you find something interesting about them, like their shirt, or are just bored and need something to look at. It's not weird to them at all, but if you're coming from The States, and especially as a Black person, it can initially feel uncomfortable.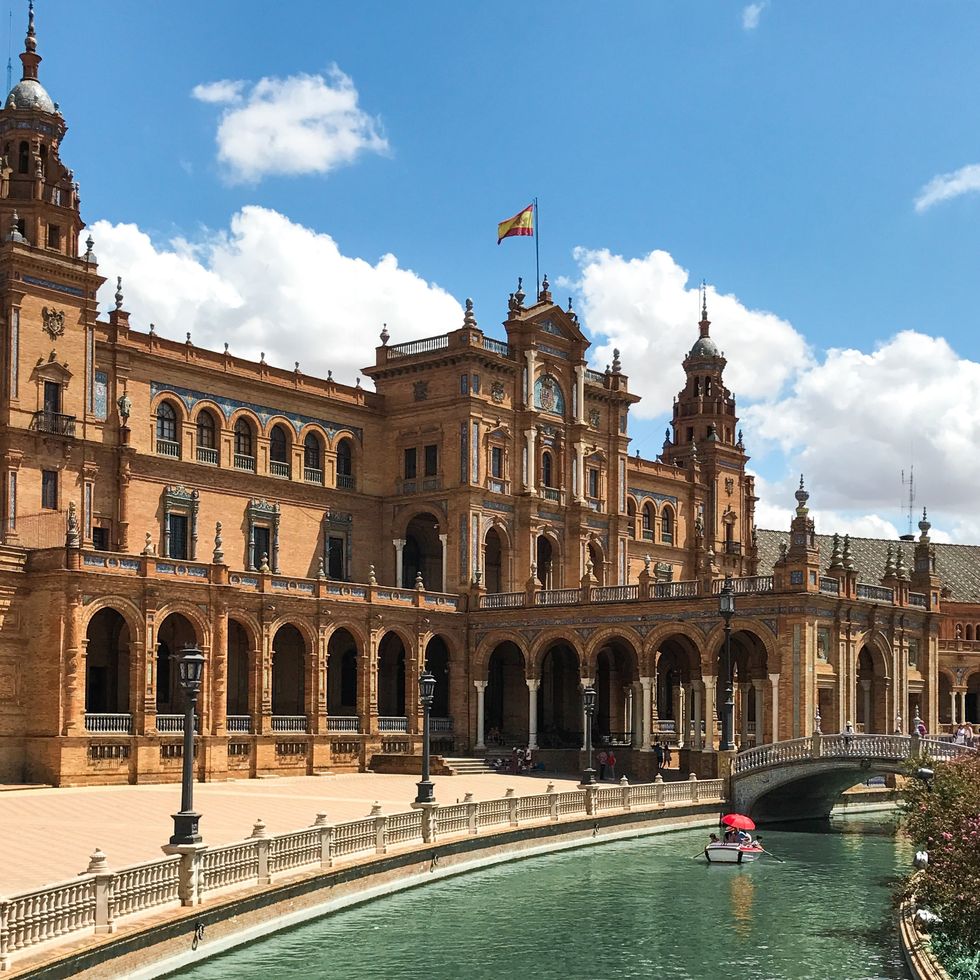 Plaza de España
Ambar Mejia/xoNecole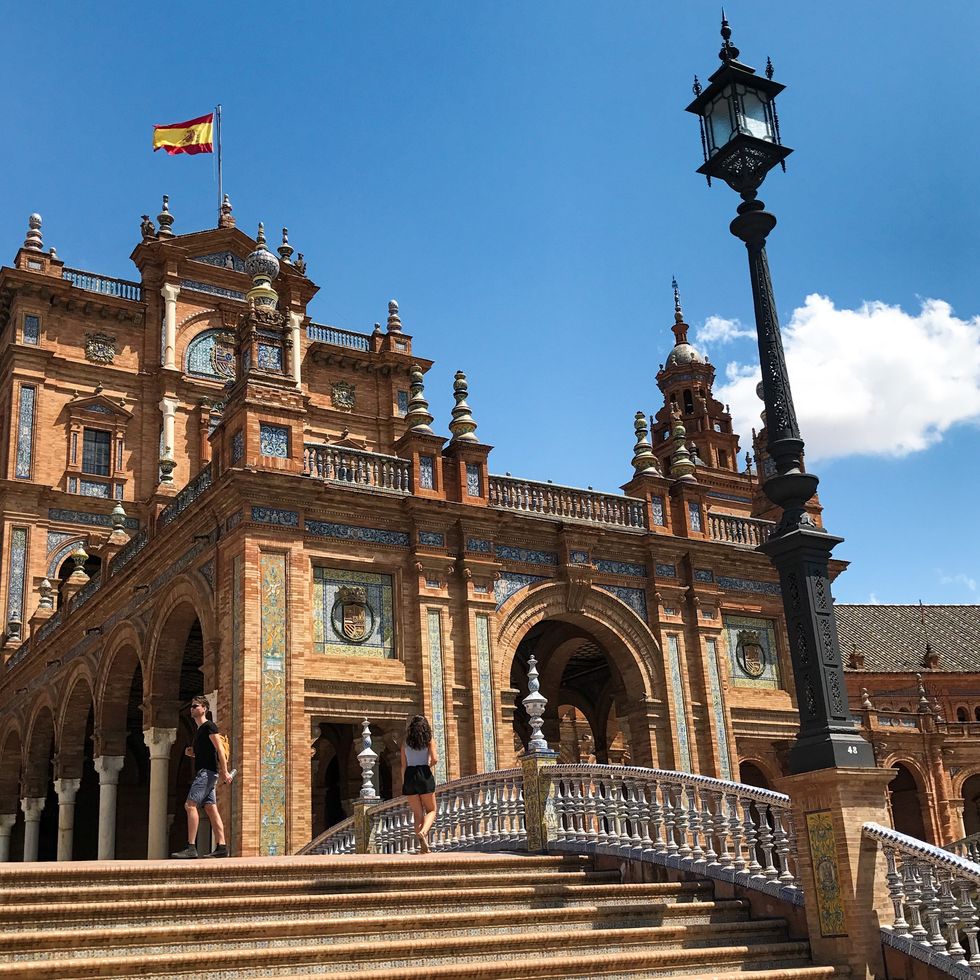 Plaza de España
Ambar Mejia/xoNecole
Relax in Parque de María Luisa.
Just across the way from Plaza de España, you'll find Parque de María Luisa overflowing with exotic greenery, fragrant orange trees, Moorish fountains, and decorative benches (a.k.a. there will be tons of places to sit under shade in the summer). It will also take you right along the Guadalquivir River.
Stroll along the Guadalquivir River.
If you come in summer and it's too hot to deal with or if you simply want a nice area to stroll away from the center, head down to the Guadalquivir River. Next to the Puente de Triana behind Mercado Lonja del Barranco, you'll also find tons of people laying out with picnics and beverages. Bring a bocadillo (Spanish for "sandwich") and a bottle of wine to do as the Sevillanos do.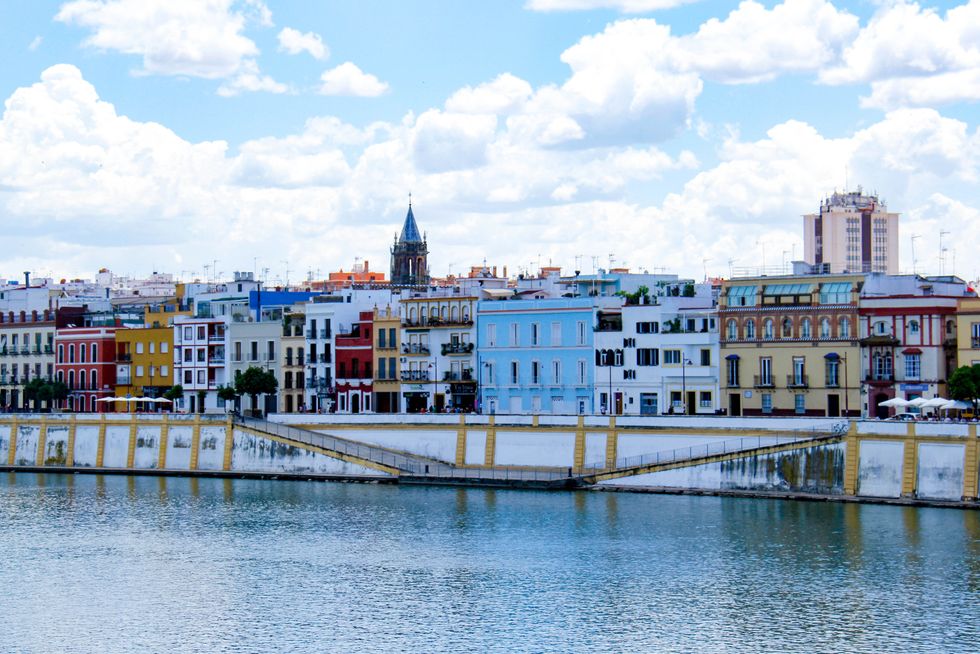 Guadalquivir River
Ambar Mejia/xoNecole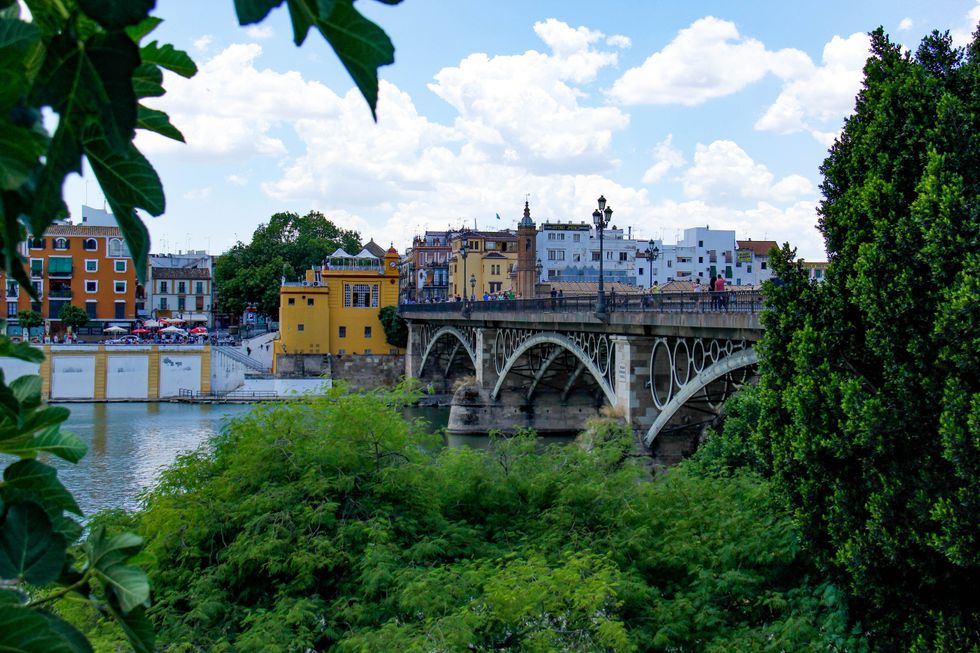 Guadalquivir River
Ambar Mejia/xoNecole
Check out the Real Plaza de Toros.
On your walk along the river, you'll find many famous stops like the Real Plaza de Toros. It is home to one of the most famous bullfighting festivals in the world, but you don't have to watch that to check out the cultural icon. (In fact, if you're not ready to see many bulls die, it's best if you don't.) If you're interested in the tradition without the gore, there is a museum you can visit to learn about bullfighting in Spain, and you can also tour the grounds.
Watch the sunset behind Torre del Oro.
Another spot you'll pass on your walk along the river is the Torre del Oro, or the Tower of Gold. Some say it has this name because of its golden reflection along the river, others say it was once covered in gold tiles. I recommend a visit at sunset when its golden hues shine against the turning sky. Inside you'll find a small museum about local maritime folklore. If this is not something you're interested in, it's enough just to see it from the outside.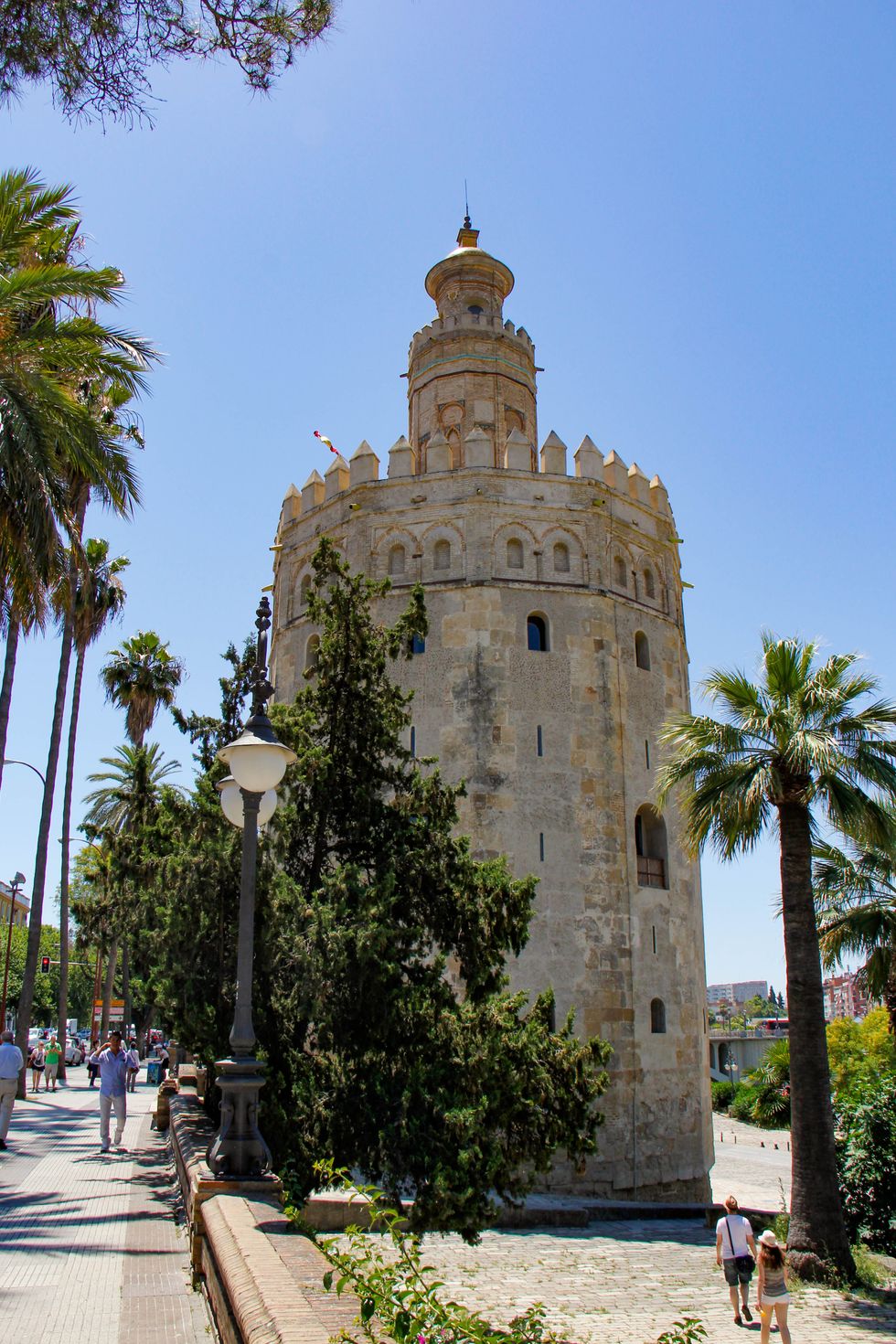 Torre del Oro
Ambar Mejia/xoNecole
Watch a flamenco show.

Flamenco was born and raised in Andalusia, and Seville is one of the best places to watch a flamenco show in Spain. Check out popular venues like Museo del Baile Flamenco, Tablao Flamenco, or La Casa del Flamenco for a show.
Find some shade under the Metropol Parasol.
This mushroom-shaped icon is the largest wooden structure in the world and offers great aerial views of Seville. They've also recently installed an "I love Sevilla" sign in front of it, to take the ultimate tourist photo.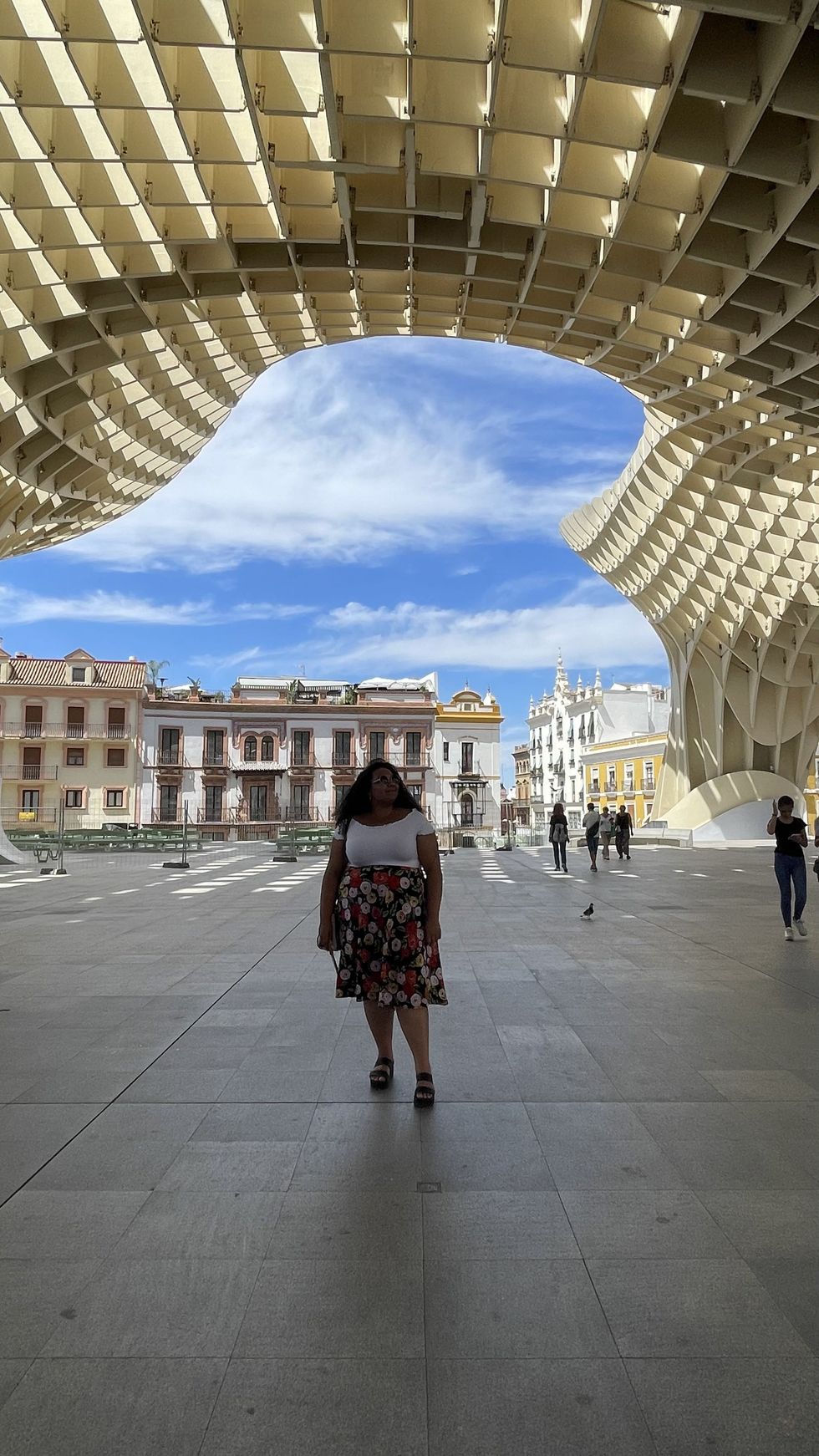 Metropol Parasol
Ambar Mejia/xoNecole
When To Eat in Spain: Breakfast, Lunch, Dinner Times
Eating in Spain is serious business, and there are so many amazing dishes to try, I could probably write a whole article about it. As someone from the U.S., where you can eat pancakes for dinner and steak for breakfast, it was shocking to me to find that people in Spain eat certain things at certain times, and it's very weird to eat off that schedule. You might not even find anything open besides tourist traps. Let's get into it.
Breakfast: 7 a.m. - 12 p.m.
In Spain, this is the smallest meal of the day and typically consists of fresh bakery bread or pastries with coffee or juice. Locals may eat fruit, churros, sandwiches on half-baguettes, or an open-toasted baguette with toppings. My favorite combo is olive oil, crushed tomato, and Spanish ham.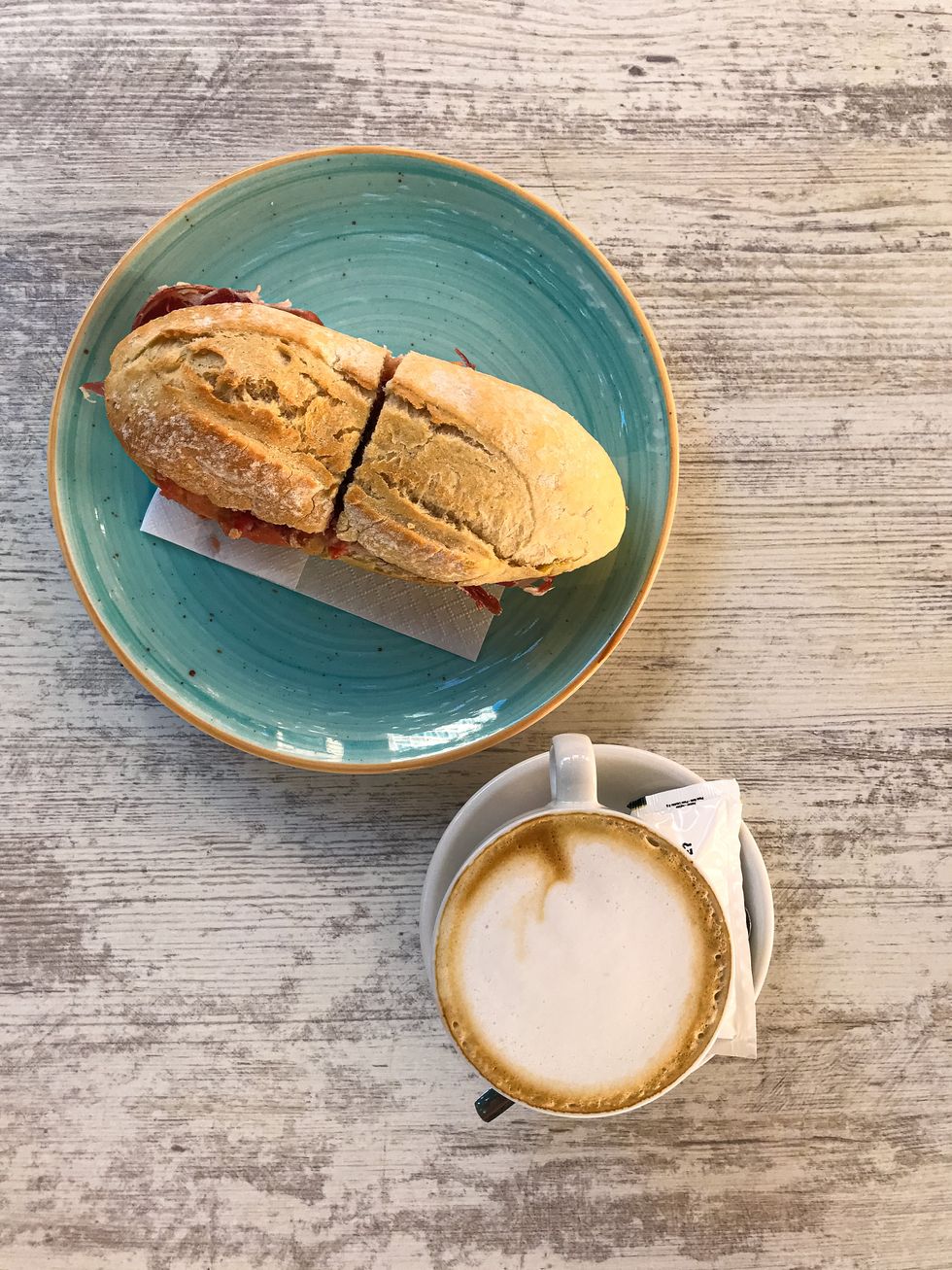 Breakfast in Spain
Ambar Mejia/xoNecole
​
​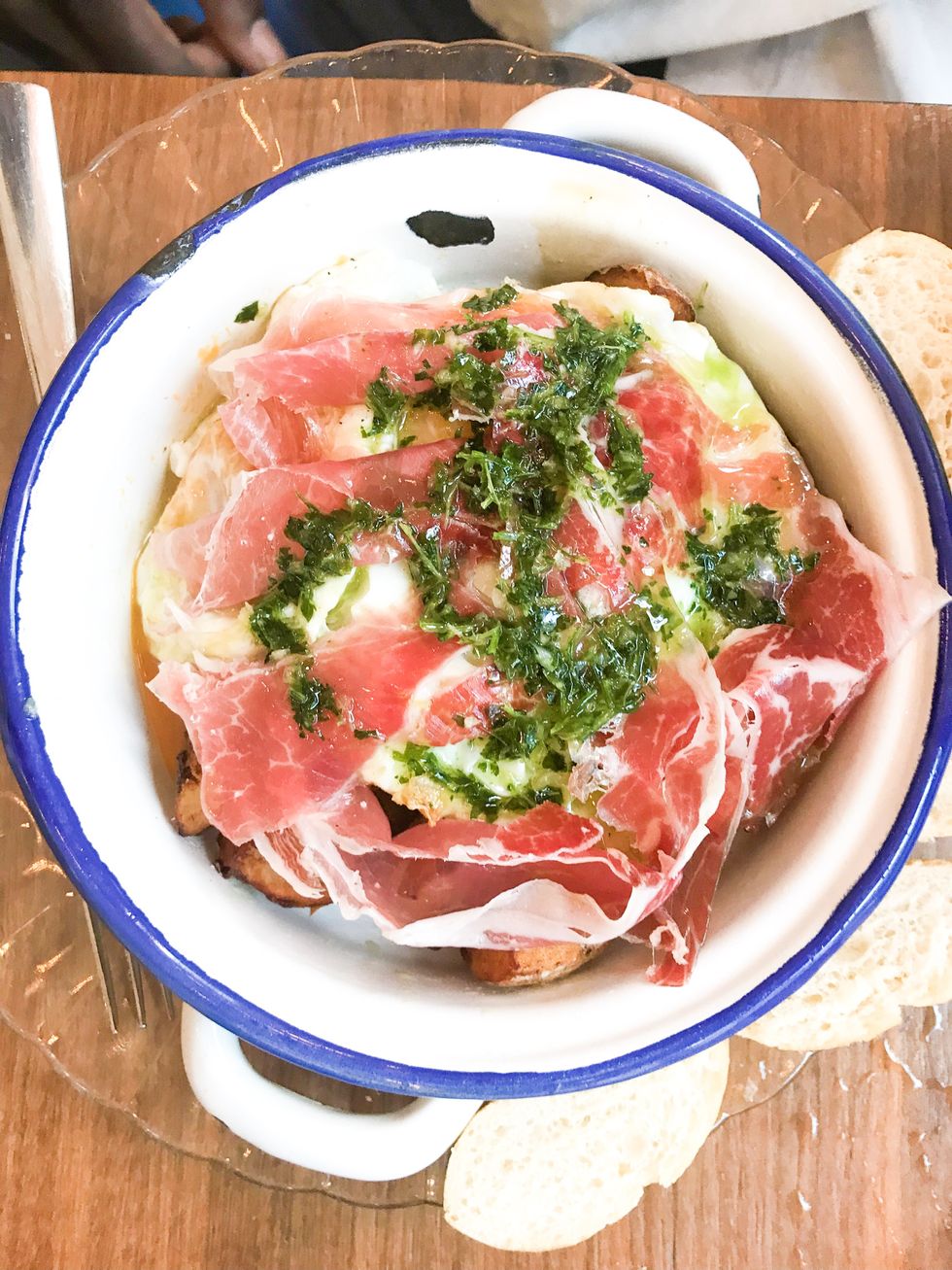 Spanish ham
Ambar Mejia/xoNecole
Lunch: 2 p.m. - 4 p.m.
The biggest meal of the day in Spain starts at 2 p.m., and in general, most local places will stop serving food around 4 p.m. Midweek, you can usually find a menu of the day at this time that will include salad, bread, an appetizer, a main dish, dessert, and a coffee all for like 10 euros! If you want to try paella, this is the best time to do it. Don't miss this meal time as there will not be anything substantial to eat until 8 p.m. except at tourist traps.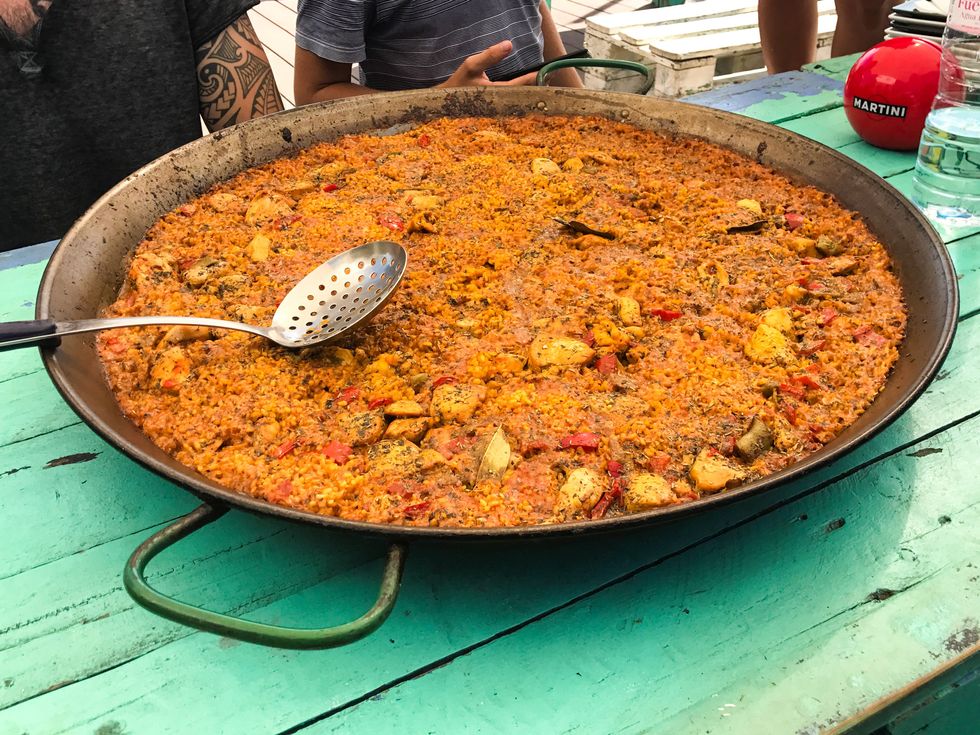 Paella
Ambar Mejia/xoNecole
Merienda (afternoon snack): 5 p.m. - 8 p.m.
This is a perfect time for a sweet treat like churros, ice cream, or a pastry. You could also opt for savory bites like olives, cured meats, and cheeses, another small sandwich, or something on the sweeter side, like churros con chocolate.
Dinner: 8 p.m. - 1 a.m.
This is when the famous Spanish tapa comes out to play. A tapa is like a small portion of Spanish food. You can go from bar to bar, ordering a drink and a tapa at each bar. You can also order rounds of tapas at one bar, savoring the variety while you enjoy rowdy conversations with friends.
The common practice is to order several for the table, and I love it because that way, you get to try more things.
Where To Eat in Seville
With an abundance of fresh local ingredients like seafood, olive oil, and vegetables, you'll quickly fall in love with the delicious local cuisine. Make sure to hit up restaurants like Taberna del Arenal, Casa Paco, and Bar Casa Morales for mouthwatering plates.
Tapas to try:
Tortilla de patatas: Spanish omelette
Croquetas: Croquettes, my favorite ones are the ham ones
Gambas al ajillo or gambas al pil pil: Shrimp in a garlic sauce or paprika sauce
Patatas Bravas: Potatoes with a spicy sauce
Jamón: Cured Spanish ham
Queso Manchego: Aged sheep cheese
Ensaladilla rusa: Potato salad made sometimes with shrimp (I know. I know. But don't knock it til you try it!)
Cola de Rabo: Oxtail
Pan con tomate: Freshly toasted bread with an olive oil drizzle and crushed local tomatoes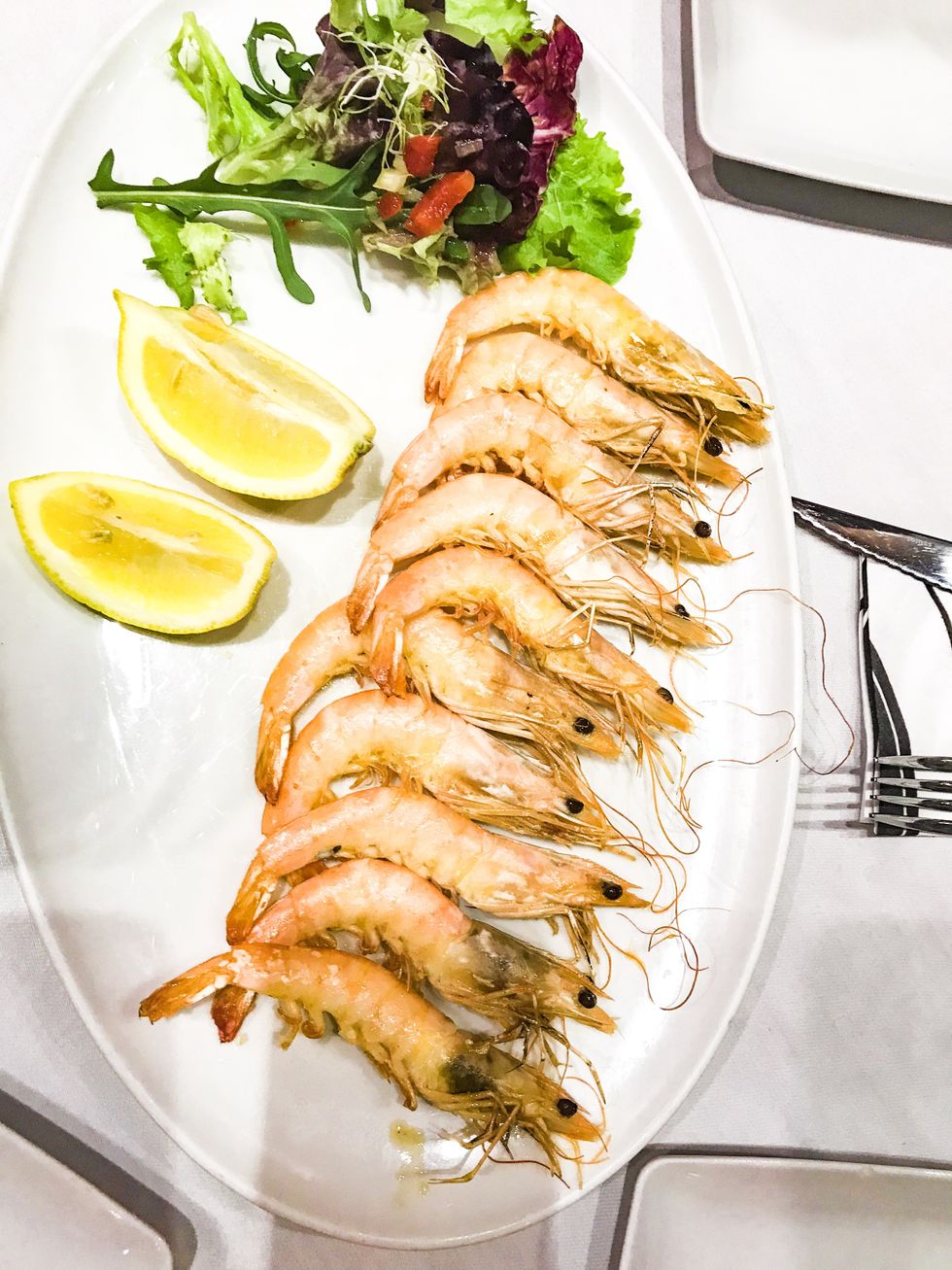 Gambas al ajillo
Ambar Mejia/xoNecole
Culture Shock Alert:
Service in Spain is very different from the United States, especially in more traditional areas like Andalusia. This is because there are different cultural expectations. For one, the servers get salaries, they don't live off tips. And on the other hand, in Spain, meal times are about relaxation, connection, and good company.
It's not out of the realm of possibility for you to spend 2-3 hours just laughing and drinking with friends, and no one will rush you out the door. In Spain, they value conversation and connection at mealtime so much, it even has a name "sobremesa," and it would be rude to get up from your table without it. In that sense, your server might not come around often because they don't want to interrupt or rush your good time. So don't be afraid to flag them down!
When To Visit Seville
No matter when you visit Seville, you will fall in love, but different months are great for different activities.
So what are you looking for?
Mild weather, less tourists, and cheaper prices? Try November-March but bring a jacket because it can get chilly.
Lively crowds?
You'll see tons of people out in the summer months. BUT BEWARE OF THE HEAT. It is like a hot, wet blanket and is the worst during the hours of 2 and 5 (siesta time). So if you visit during this time, bring cool clothing, a hand fan, drink tons of water, and go indoors during siesta to rest and have lunch.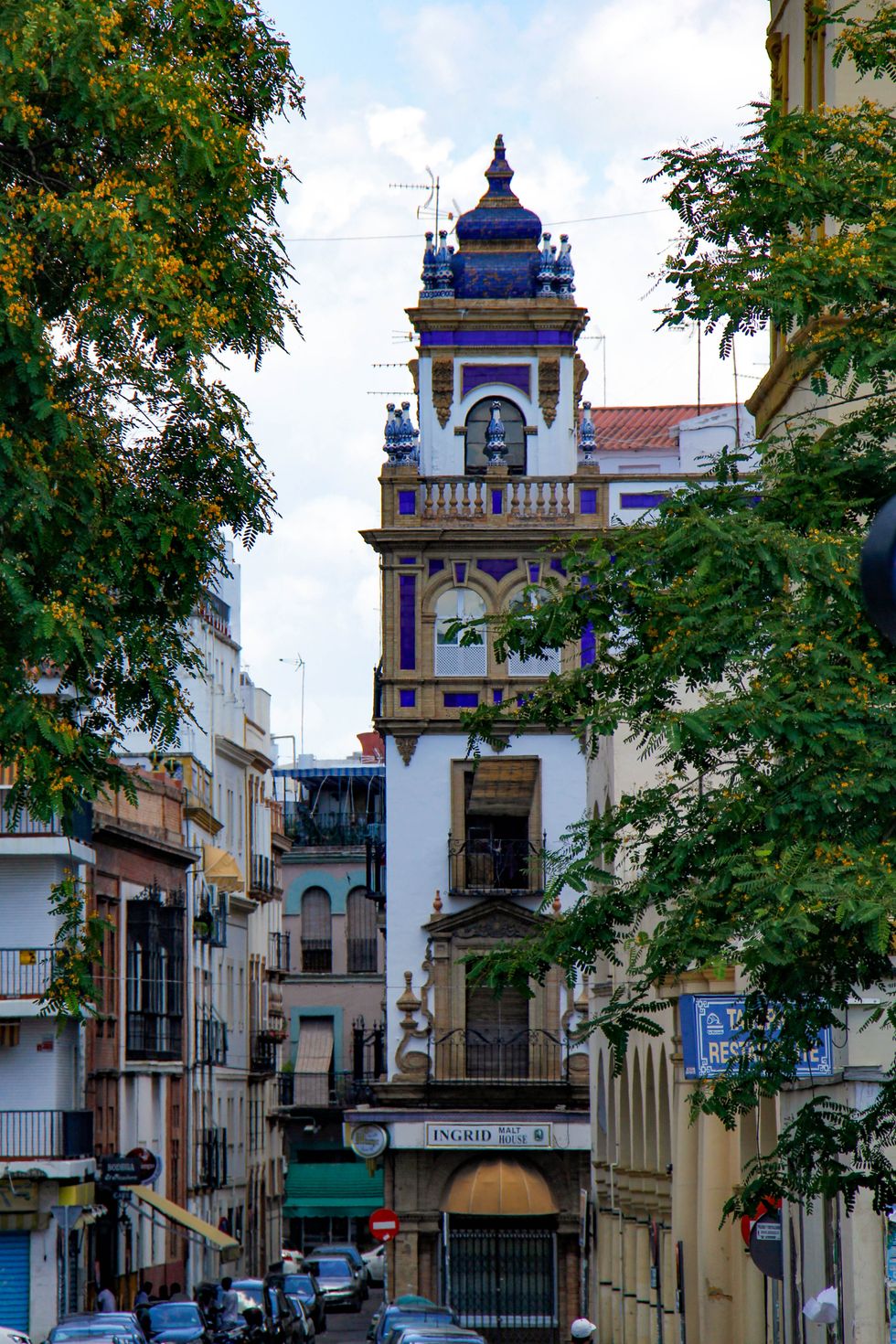 Architecture in Seville
Ambar Mejia/xoNecole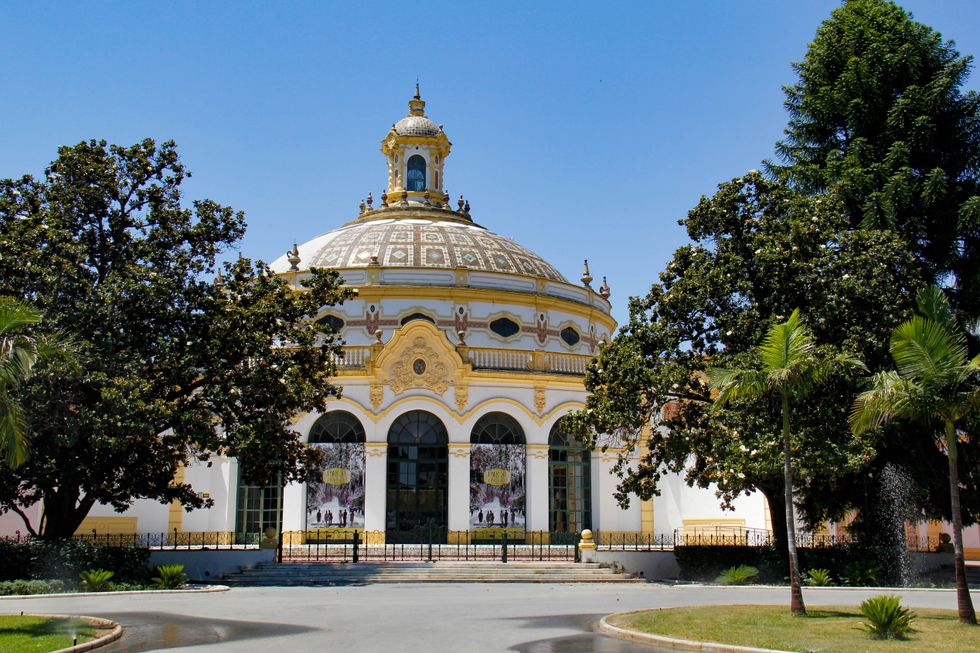 Architecture in Seville
Ambar Mejia/xoNecole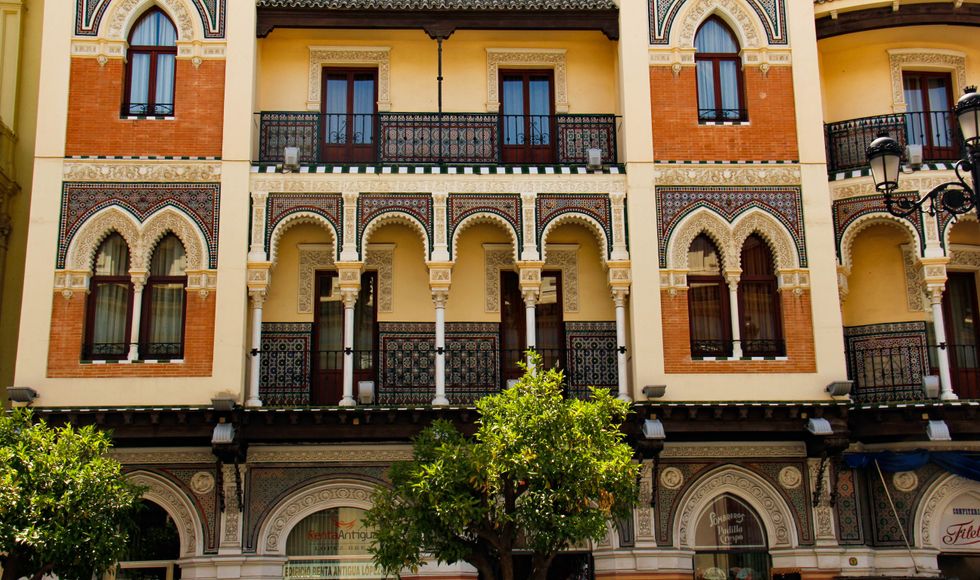 Architecture in Seville
Ambar Mejia/xoNecole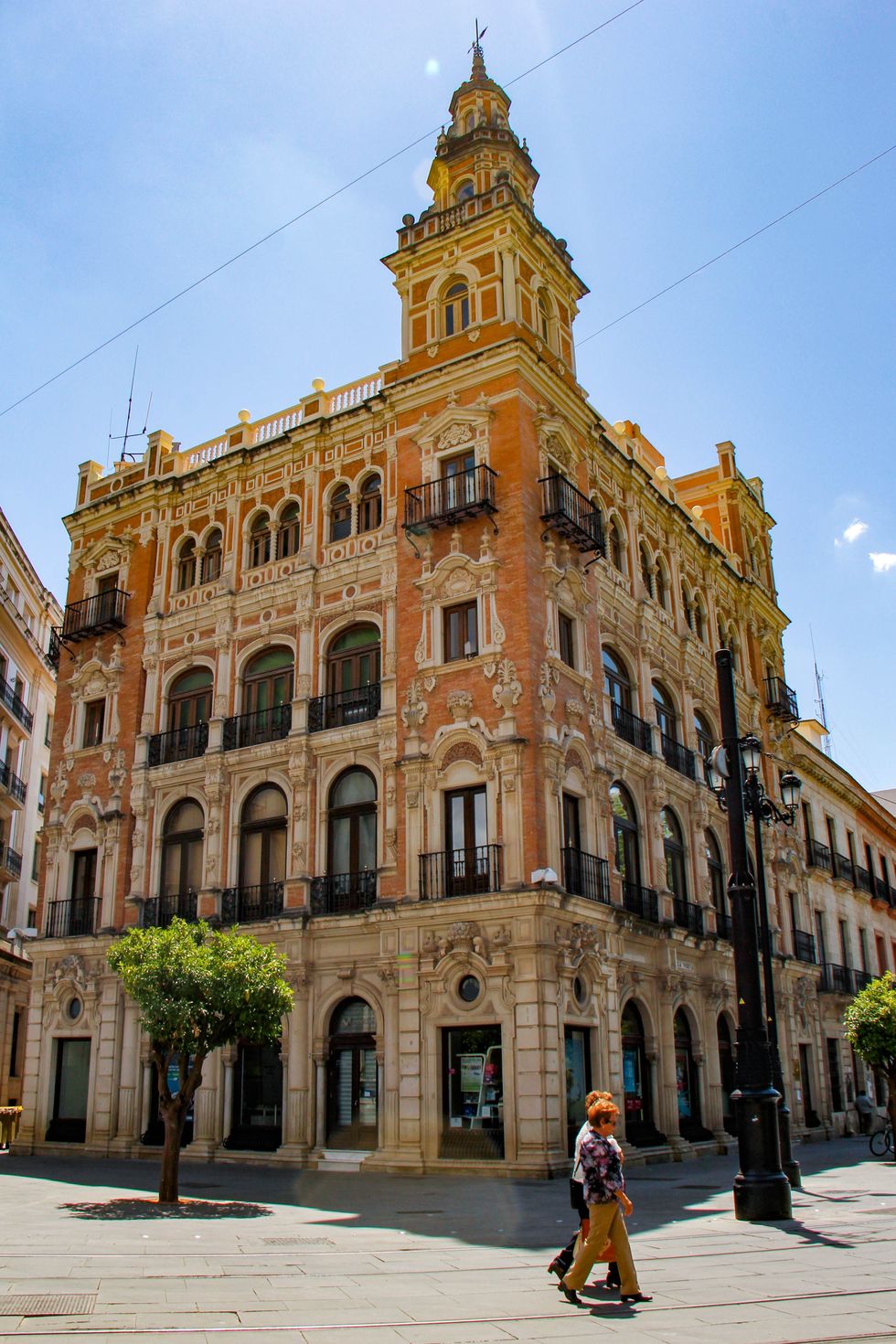 Architecture in Seville
Ambar Mejia/xoNecole
For a cultural tradition?
Come in April! First off, the month kicks off with Semana Santa. A week-long religious celebration with traditional processions dating back to medieval times. Even if you are not religious, this is an iconic cultural event to witness and the biggest one in all of Spain. From morning to night, you will witness traditions and processions throughout the streets of Seville. IT. IS. INCREDIBLE.
Culture Shock Alert:
The costumes for Semana Santa are eerily reminiscent of the KKK. The Spanish used it long before the KKK ruined the association, but I won't lie, y'all, it was shocking to see at first.
A few weeks after Semana Santa is La Feria de Abril (The April Fair), a celebration of spring. Locals will don their traditional Sevillano attire, and you can join in the fun. This is also one of the most emblematic ferias in Spain.
Warning: It is expensive to stay in the area during this time. So booking far in advance is recommended.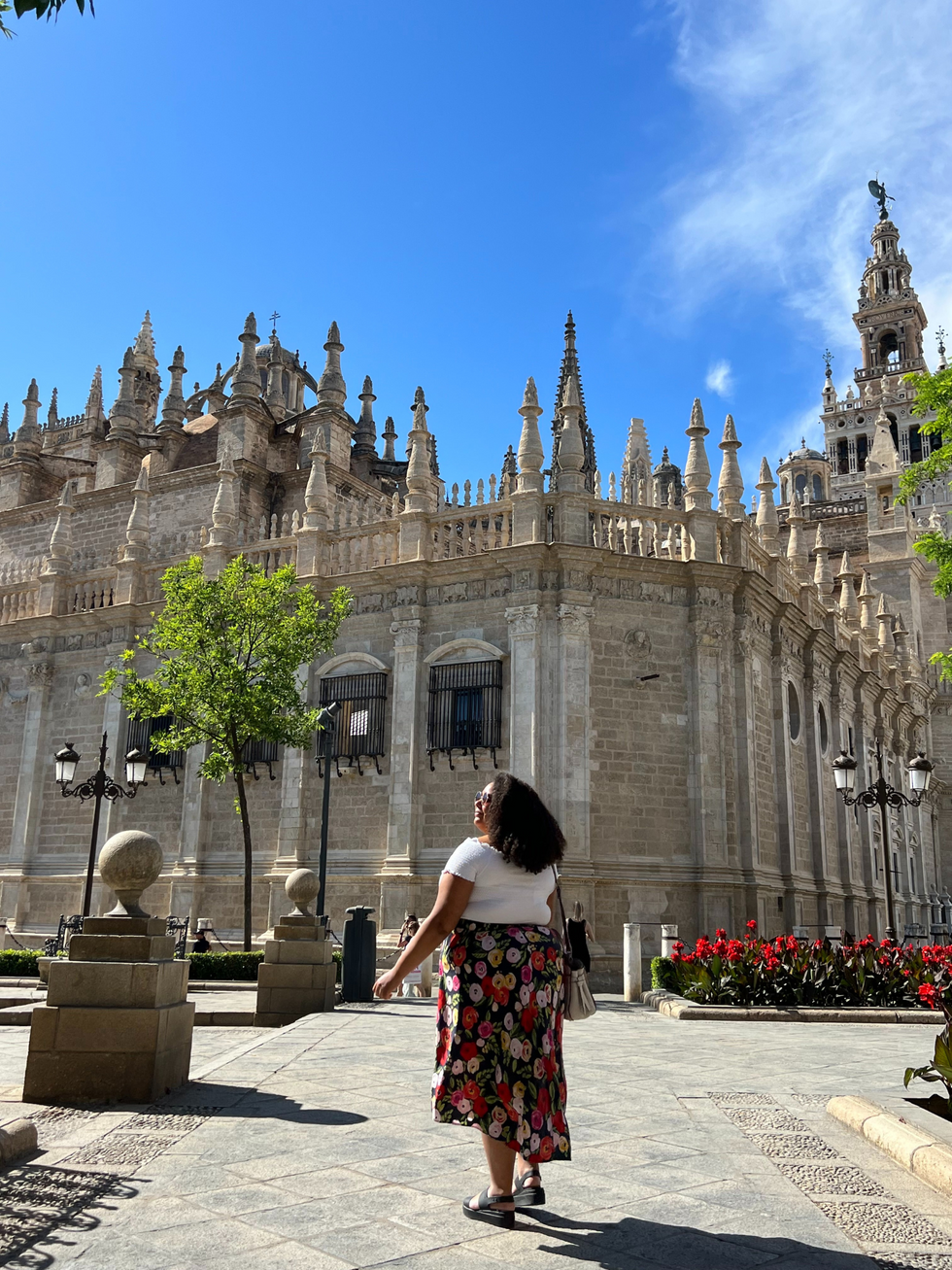 La Catedral
Ambar Mejia/xoNecole
Suggested Day Trips From Seville
I recommend Cadiz during summer if you're looking to hit the beach in a colorful city or in February if you want to enjoy the biggest Carnaval in continental Spain. If you're looking for a charming mountaintop town or a nice hike during fall, check out Ronda.
Lastly, if you want to explore more Moorish history and architecture, head to Cordoba.

Let's make things inbox official! Sign up for the xoNecole newsletter for daily love, wellness, career, and exclusive content delivered straight to your inbox.
Featured image by Ambar Mejia/xoNecole
If you're anything like me, you eat up horoscopes, Myers Briggs, and any other tool out there to learn more about yourself. So when a girlfriend first put me on to human design as "a new personality tool" to tap into, I instantly jumped on it and then fell right off. Truth be told, I did not like my results! But more than that, I didn't understand it. It wasn't until I started getting flooded with posts (shout out to social media algorithms) about human design that I decided to give it another chance.

At the top of 2022, I started diving deeper into human design and used it to harness my energy, avoid burnout, and attract aligned opportunities to my life. And, honestly, it has been life-changing! So let's get into it!
While other self-discovery tools may help us understand how we are, human design can help us understand our core energy power and how we can optimize it to be who we are meant to be. The practice combines aspects of astrology, numerology, Kabbalah, chakras, and I Ching to create a blueprint unique to each individual.
At its core, human design is based on the understanding that individuals are composed of nine energy centers or chakras, which are all interconnected. These centers influence various aspects of our lives, including relationships, career choices, health, and emotions. By understanding our personal energy centers, we can begin to recognize patterns within our lives that may no longer serve us and make informed decisions about changes we would like to make to create more balance and harmony. What's not to love?
Well, while all of that sounds great, let's get back to my main point: I really didn't understand what any of that meant when I first looked up human design. If that's you right now, I'll break it down for you below.
Featured image by Tempura/Getty Images