Tilly Luwa
Tilly Luwa is born and bred in London, proudly Nigerian and true to form, has several hustles including corporate life by day and freelance writing by night. She has also worked in digital content teams for Topshop and Selfridges and enjoys spectating on culture, beauty, and fashion trends in her spare time! Keep up with her @tillyluwa.
Typically, I am more of a heels girl; so much so, people are convinced I am taller than I am because on a daily I am normally sporting a heeled ankle boot, mules or sandals of some sort. However, life has come at me fast and my schedule is booked and busy. Even the thought of running around in heels all the time is tiring and now there are so many cute sneaker options I am slowly becoming a sneakerhead and I love to see it. I am slowly moving on from the "dad/ugly sneaker" phase onto a sneakerhead classic Air Jordan 1 Retro High OGs.
Although Adidas has been running things with all their celebrity collaborations, Nike is still holding its place with their biggest collaboration of all time: Michael Jordan's Jumpman brand and its Air Jordan 1 Retro high OGs (which are back on the scene). First released in 1995, the brand has released the style in the original and new colorways through various drops.
My IG is being spammed with street style looks featuring Air Jordan 1 Retro High OGs and so I've been influenced. I have bookmarked a couple of looks and got my eye on a pair. I particularly like one of the latest women's drops in black and white and the various black, white and red colorways, and so I am currently looking for where I can find a pair in my size. With drops selling out immediately and I am seeing resell prices in the thousands, I am calling it, the Air Jordan 1 Retro High OGs are the sneakers of the year, so I advise you secure a pair ASAP.
If you are adding the OGs to your wishlist like me, here are a few of my favorite looks from IG for some inspiration for how to style this classic with your current closet:
@missdemsxo
@samarialeah
@teyanataylor
@tanaimane
@koleendz
@yungaylaa
@ryandestiny
@cidotci
@teairawalker
@kiaranlanier
@yellowthai
@eddyelize
Want more stories like this? Sign up for our newsletter here to receive our latest articles and news straight to your inbox.
Featured image via Ryan Destiny/Instagram
Winter is here and I'm just trying to stay moisturized. To do so, I'm waging war against any dryness and dullness that winter brings to my skin. After almost three decades of just putting Jergens Body Lotion all over my face, I had an epiphany, decided to fix up and take my skincare more seriously. I have never had any major skincare issues in my adult years and would say I have combination skin so I never paid any attention to anything skincare-related. However in my late 20s, following eczema flare-ups that left hyperpigmentation scarring, I started caring more about my skincare routine. After that, I developed an extensive skincare routine (double cleanse, tone, serum, SPF moisturizer), and my skin cleared up and has been glowing ever since, no filter.
A staple in my skincare routine that is also a winter essential has been Vitamin C. I would suggest using a Vitamin C serum in the morning after cleansing, to have you glowing all day long, even in the winter. I would follow that up with an SPF moisturizer and then you'd be good to go. It should be noted that when using Vitamin C serums during the day, SPF is a MUST. In addition to that, be careful of other serums or acids you mix or layer it with, for example dermatologists have advised against layering or mixing Retinol or AHAs/BHAs with Vitamin C.
What are the benefits of adding Vitamin C to your skincare routine? Well, it is an antioxidant that protects against free radicals from UV exposure which affects the skin barrier and environmental factors. It also promotes collagen production which reduces the appearance of fine lines and wrinkles and brightens the skin, reducing hyperpigmentation and spot scarring as it inhibits melanin production which naturally evens out skin tone and brightens complexion.
In short, Vitamin C brightens your skin and prevents signs of aging.
The Best Vitamin C Serums For Dark Spots
*Some links are affiliate links. If you make a purchase, xoNecole may earn a small commission. xoNecole only recommends products that we know and love.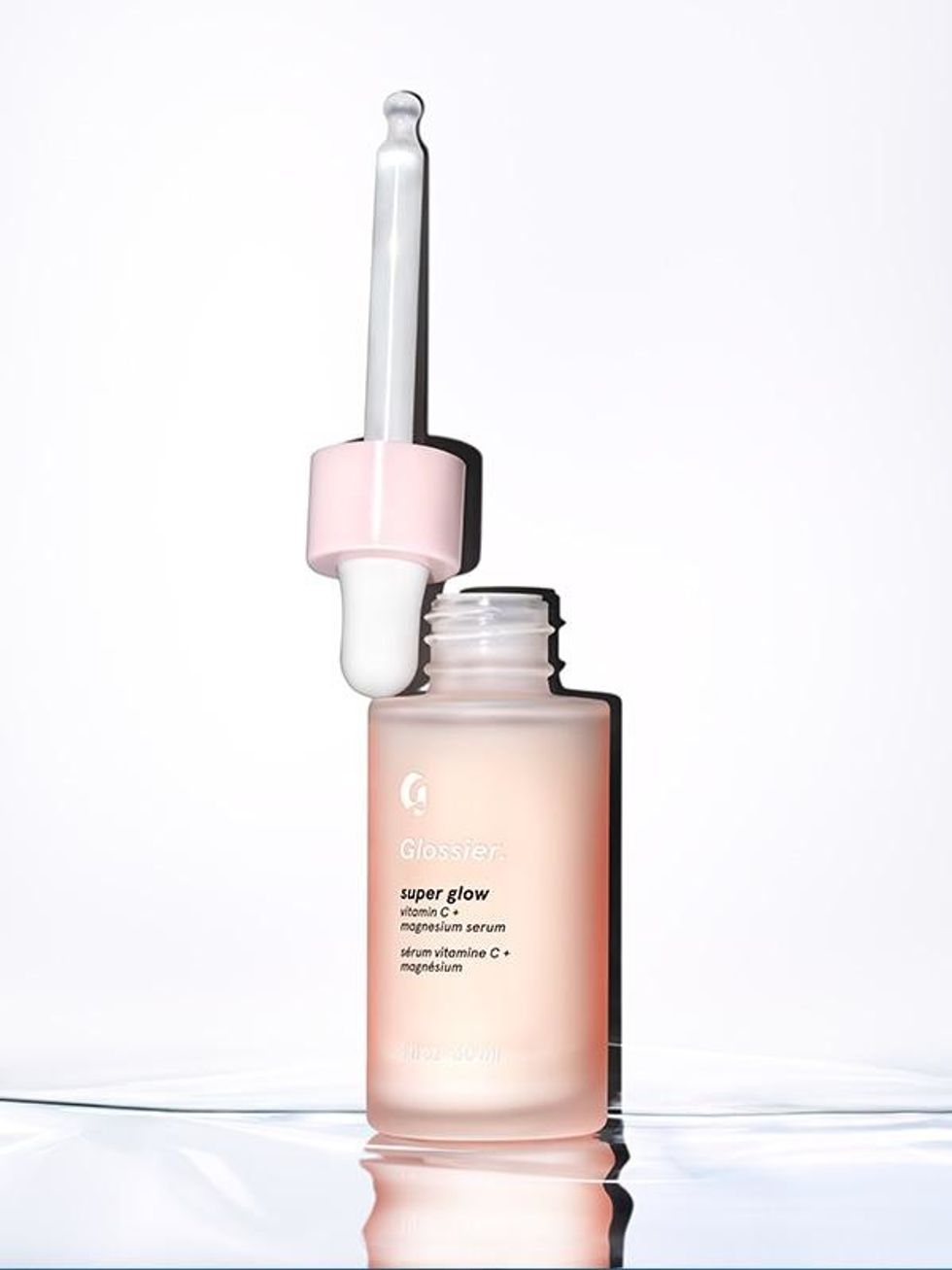 Glossier
Glossier's serums are known to be all that, the beauty cult favorite brand re-released its serums this year, and the reviews are even better. This Vitamin C serum includes magnesium as a bonus for that extra glow.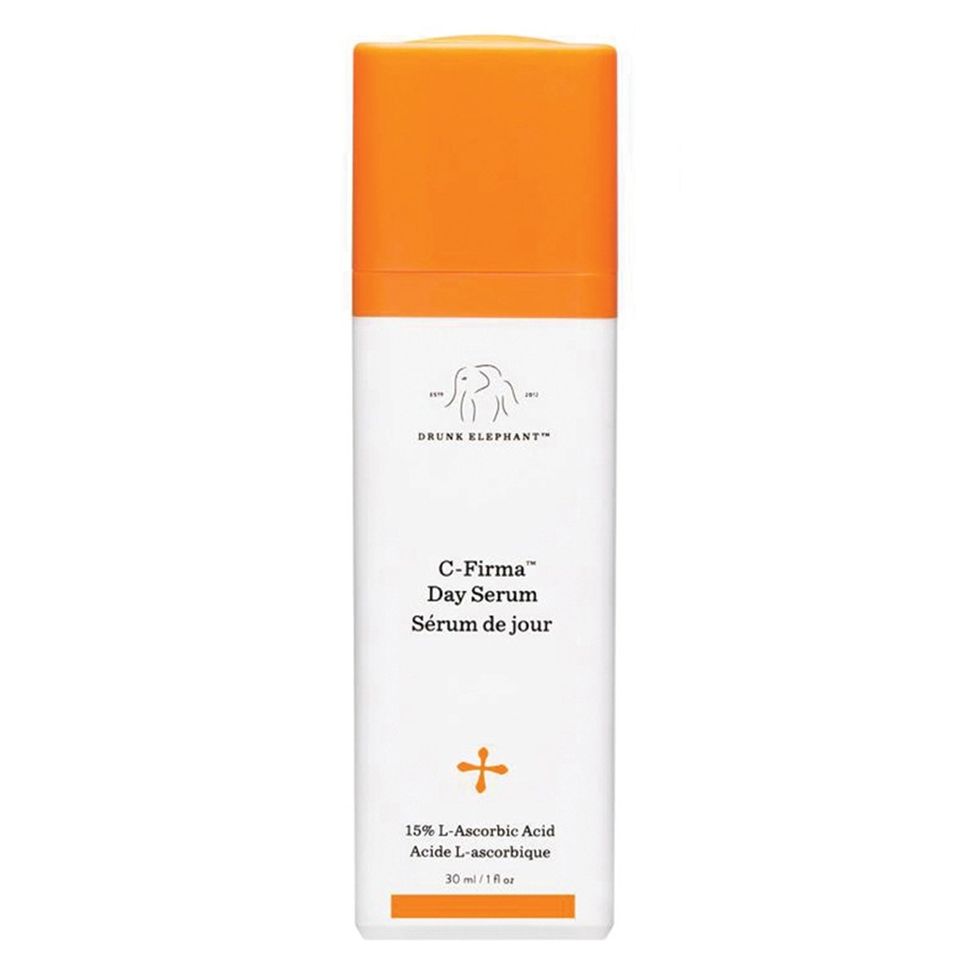 Drunk Elephant
Drunk Elephant's C-Firma Day Serum has been a beauty favorite for some time now. Although it comes in at a higher price point, this product is vegan and cruelty-free, and its gel formula makes it suitable for sensitive skin.
Lancôme Visionnaire Skin Solutions 15% Vitamin C Correcting Concentrate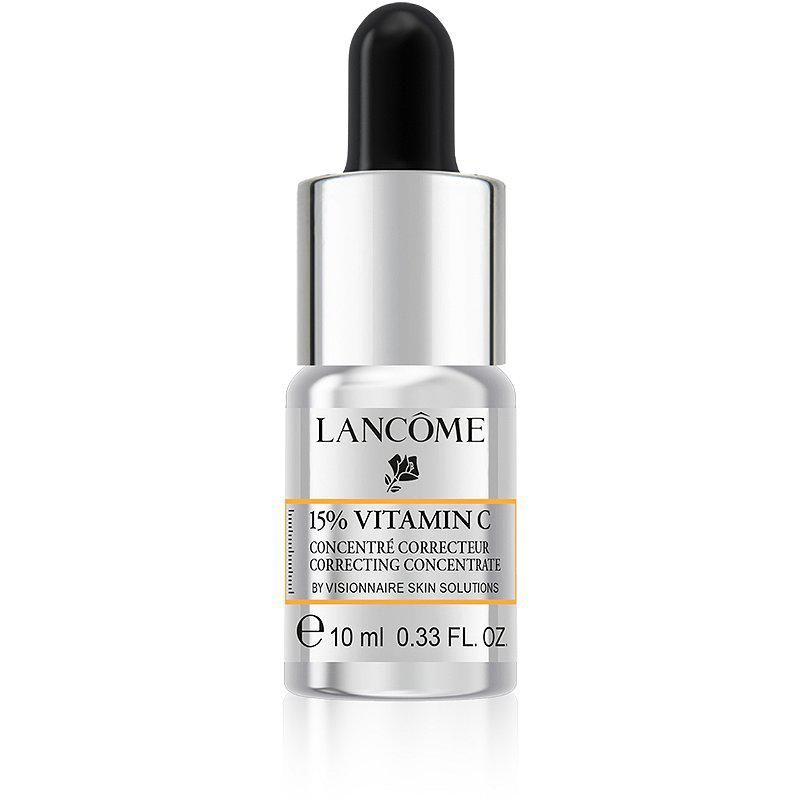 Ulta
This product contains 15% pure Vitamin C as well as the hydrating hyaluronic acid. Reviews have also mentioned it's lightweight and non-greasy, so it's perfect for daily use.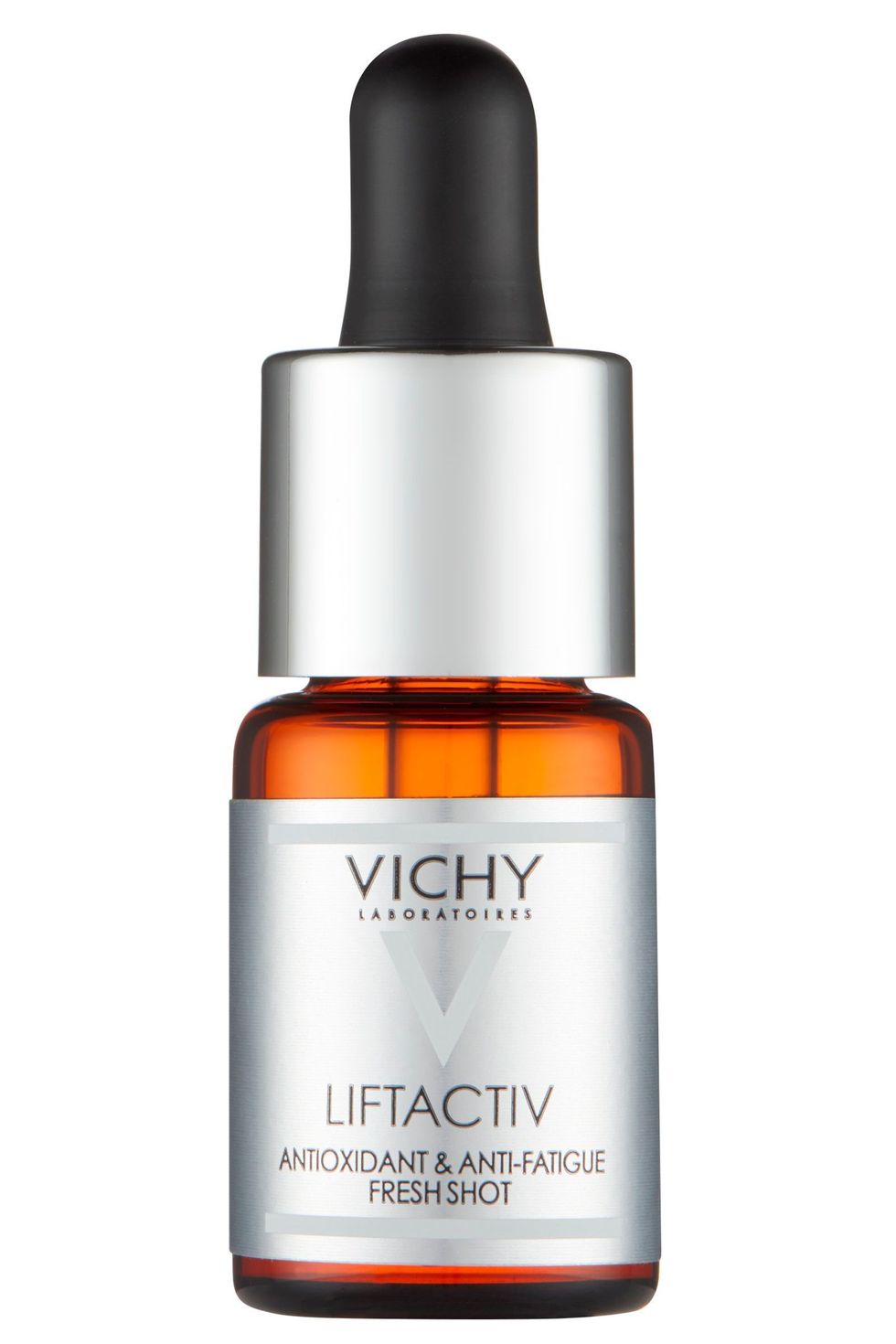 Vichy's Vitamin C serum contains 15% pure vitamin C and hyaluronic acid in the form of L-Absorbic acid, so you can glow and hydrate your skin at an affordable price point.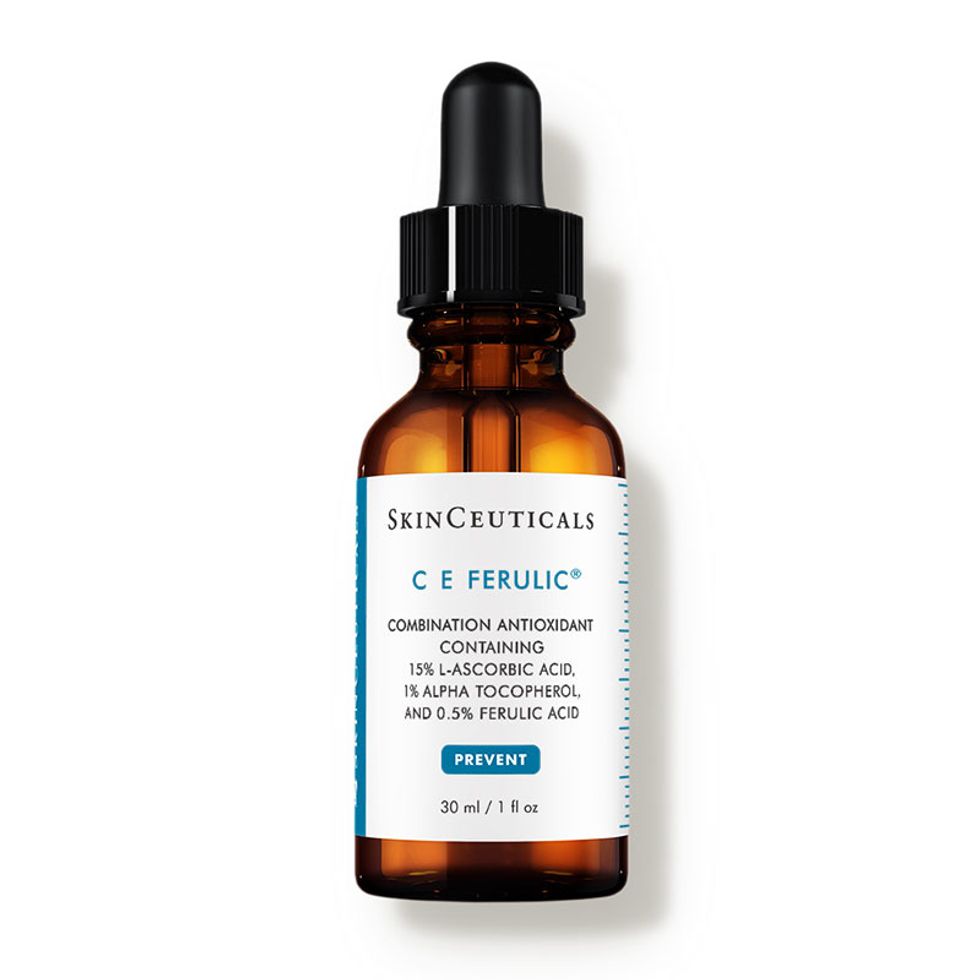 SkinCeuticals
SkinCeuticals C E Ferulic has a high potency and has the dermatologist's seal of approval. It contains Vitamin E and Ferulic acid for increased effectiveness, so this luxury product is worth every buck.
SkinCeuticals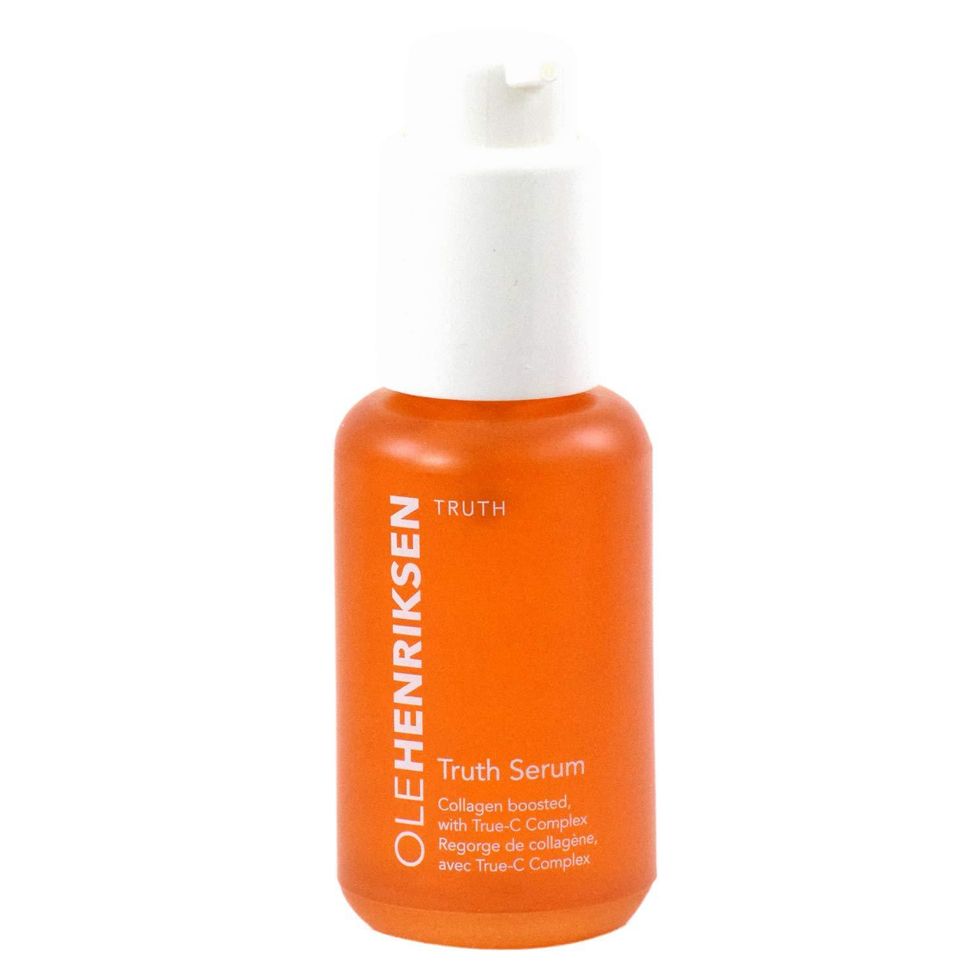 OLE HENRIKSON
A favorite with the YouTube community, OLE HENRIKSEN Truth Serum was rated a Harper's Bazaar Editor's Choice. Its formula is boosted with collagen and aloe juice.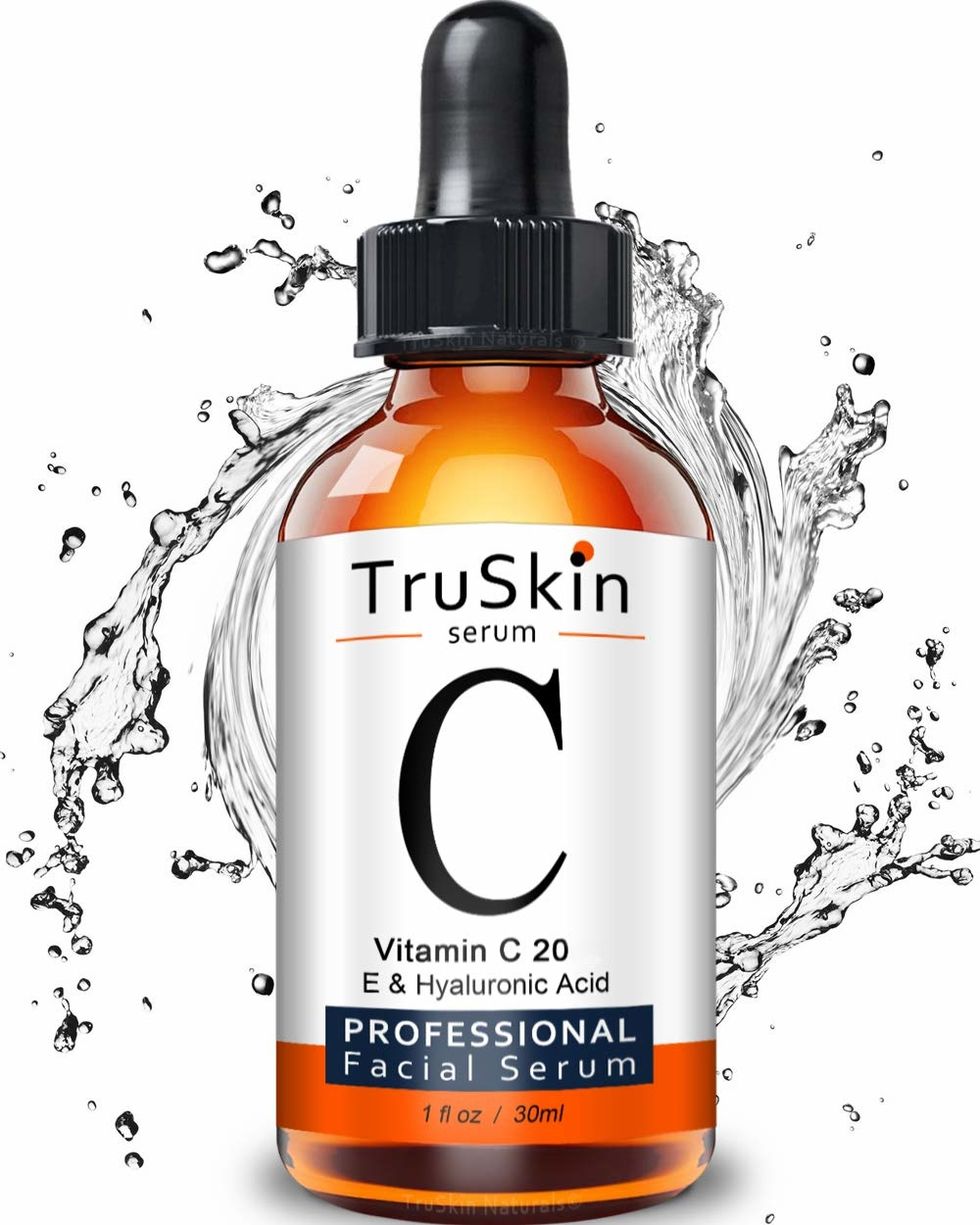 Amazon
Amazon's viral product has had almost 10,000 reviews, and is said to be one of its most reviewed products. It includes along with Vitamin C, Vitamin E, hyaluronic acid, witch hazel and jojoba oil. Coming in at the lowest price point, it's a must try.
Want more stories like this? Sign up for our newsletter here and check out the related reads below:

When Skincare Is Self-Care ISO Skincare Review
4 Black Woman-Owned Brands You Need In Your Skincare Routine
This Is Why Your Skincare Routine Isn't Working
We Asked A Dermatologist All Your Burning Skincare Questions
Featured image by Shutterstock
Originally published November 23, 2019
Fashion Week Spring/Summer 2020 is upon us, and true to form, it's kicking off with New York Fashion Week. NYFW is one of my favorites, perhaps due to a slight bias of my love for New York, and the aesthetic and energy NYFW attracts every season (of which I've personally experienced while on the scene back in the day), and don't get me started on the parties.
NYFW is unmatched for many reasons and pivotal to my interest in the whole fashion month; one of the reasons is all the expressions of blackness on display. It has been hailed for being the most diverse fashion week, from the black designers showcasing including Pyer Moss and LaQuan Smith to the models, editors, bloggers, and stylists at the shows. Where other cities' fashion weeks have failed, NYFW gives a platform for black women to have their rightful representation in fashion, an industry where our influence and contributions are undeniable.
During NYFW, BET's annual Black Girls Rock, a multifaceted celebration of Black Girl Magic, aired this past Sunday, so what better time than fashion month to give it up to the black girls killing the fashion game?
Here are some of my favorite black girl street-style looks from NYFW:
Featured image via Matthew Sperzel/Getty Images
There is something about sunshine that makes me want to get my hair braided up. Braids are one of my favorite go-to protective styles and every summer I jump on a different style. Last year, it was faux locs; this year, I'm into goddess box braids, also known as bohemian braids.
For those of you that don't know, they are generally smaller box braids, left open-ended with curls. I guess an updated version or the "pick and drop" braids style we lived for in the nineties. My favorite version of the style has been waist-length, low density box braids with curly ends.
Goddess box braids have recently been seen all over Instagram on models, influencers and celebrities alike, including Jhene Aiko and Jordyn Woods. I predict this will be one of the key braid style this summer. I've booked my appointment for next month, get your bookings in!
Check out my goddess box braids style crushes for some inspiration:
Featured image by Jordyn Woods/Instagram.
If you haven't noticed by now, a clear front-runner in the summer trend stakes is neon. From music festivals to the beach, to daytime and nighttime looks, neon is an undeniable trend this summer. A touch of neon in your outfit is the perfect accent to this hot girl summer we are all supposed to be having.
The 80s neon trend was all over the Spring Summer '19 fashion week catwalks and celebrities like Kelly Rowland and Rihanna have been all over it. What I love most about neon is that it makes your skin pop, acting as a highlighter for the skin.
To experiment with neon, style yourself in fluorescent green, yellow, pink or orange, head to toe or add a pop of neon to your look. I personally have lined up a few neon bikini sets for my upcoming girls' trip to Ibiza and I am planning to throw in a mini neon slip dress number also. For a more subtle look, I'd go for a neon satin slip skirt or a neon blouse, tee or bodysuit to pair with mom jeans.
Check out how some of my favorite IGers styled their takes on neon below:

Featured image by Dimitrios Kambouris/Getty Images for Fenty
If you haven't noticed by now, 90s fashion is here to stay. Cycling shorts and slip dresses are wardrobe staples and this spring we have seen the introduction of the slip skirt. Once an undergarment, the bias cut satin slip skirt is now a summer staple to add to your closet.
What I love about satin slip skirts, is how they are suitable for every occasion. You can style satin slip skirts with heeled mule sandals for brunch, or with sliders for a chill holiday look. On a regular day out, I'd style it with a t-shirt or racer back vest with chunky white trainers, or to dress it up I'd wear a bodysuit or crop top with strappy mid-heel sandals.
I'm personally enjoying the move away from doing everyday bodycon skirts to this looser, laid back but still-hugging-in-the-right-places look. So far I have a tiger print and black satin slip skirt and will be purchasing a hot pink one next. Please note to accommodate my thickness, I go for satin slip skirts with at least 2% elastane because everything needs to breathe.
This summer we are doing grown and sexy, and giving them 90s Joan Clayton, Carrie Bradshaw and Naomi Campbell vibes. For further inspiration, check out some of my favorite slip skirt looks from IG:
@_teesweets 
@_teesweets is rocking the perfect date night look in this rose gold satin skirt, paired with a matching racer back vest.
@mikaimikai
@mikaimikai is giving us a cool all-black everything look with a black satin skirt and black crop top to match and neon heeled strappy sandals for a pop of color.
@lisajemide 
@lisajemide is giving us enviable street style goals in a champagne colored satin skirt paired with a sky blue tee, yellow kitten heels and a cute bag.
​@adaorasoludo
@adaorasoludo paired her burgundy satin skirt with a t-shirt and a denim jacket draped over her shoulders for a cool meets dressy vibe.
@nlmarilyn
@nlmarilyn spotted while wearing two of the hottest trends of this season, neon and satin skirts.
@goldenkayl
@goldenkayl styled her pastel satin skirt with Converses and a cropped denim jacket for a more casual daytime look.
@monroesteele
@monroesteele is adding her own spin to the monochromatic look featuring a pale green satin skirt by Mango.
@magazinetocloset
@magazinetocloset is wearing Dior heels and a hot pink satin skirt. Hot pink is another key trend for this summer and adds life to every look.
​@thepatriciabright
@thepatriciabright is donning a side slit and wrap tie satin skirt, giving us effortless city break chic.
Featured image by @goldenkayl/Instagram