Tiffany D. Smith
Tiffany D. Smith is a TV journalist by day and food and travel influencer by night from Chicago, IL. Since being bitten by the travel bug a few years ago, she uses her blog TheLoveofFoodandTravel.com to encourage people to release their fears, step out of their comfort zones, and explore new places and great food. When Tiffany isn't working in live TV or blogging, she enjoys kickboxing, watching 70's shows, and spending time with friends and family. Keep up with her @loveoffoodandtravel on IG.
Has your travel style affected your relationships while on vacation? The more I travel, the more I'm learning that you never truly know a person until you leave town with them. That's why it's important to have conversations about the kind(s) of experiences your companions plan to have before getting on the plane. This can prevent a lot of disagreements. We all work hard and shouldn't be caught off guard by another person's expectations of the trip, or made to feel guilty for ours.
While we're not doing a whole helluva lot of traveling at the moment, I'd like to break down some of the most common travel styles to help you to start a dialogue with your travel buddies of the past and future and come to a common ground that works.
The Adventurer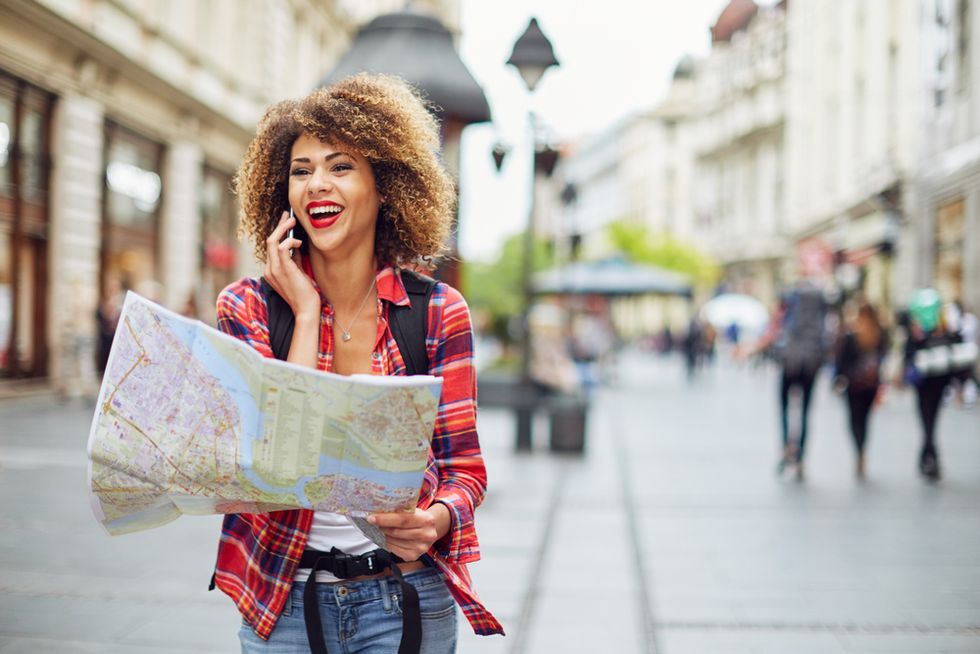 Shutterstock
This traveler is interested in all adventurous activities, from a simple hike in the woods to more extreme sports like BASE jumping and waterfall rappelling. They live by the seat of their pants most likely and probably won't do well with a vacation itinerary. The term "Y.O.L.O." comes to mind with these kinds of people. If you're more laid back or even a little fearful, the adventurous traveler is probably not your speed. They'll have you trapped in a haunted house screaming for help while they're having the time of their lives!
The Group Trip Traveler
This traveler is either gregarious and thrives off of meeting new people or just has a huge travel crew that they know and trust. They're the type that is always down for a party and loves to be around lots of people. This is usually an introvert's worst nightmare. So before venturing out with this kind of person, you might want to ask "who all gone be there" in an effort to prevent multiple personality clashes during the trip. If you prefer more intimate getaways, this isn't the person you want to vacation with.
The Luxury Traveler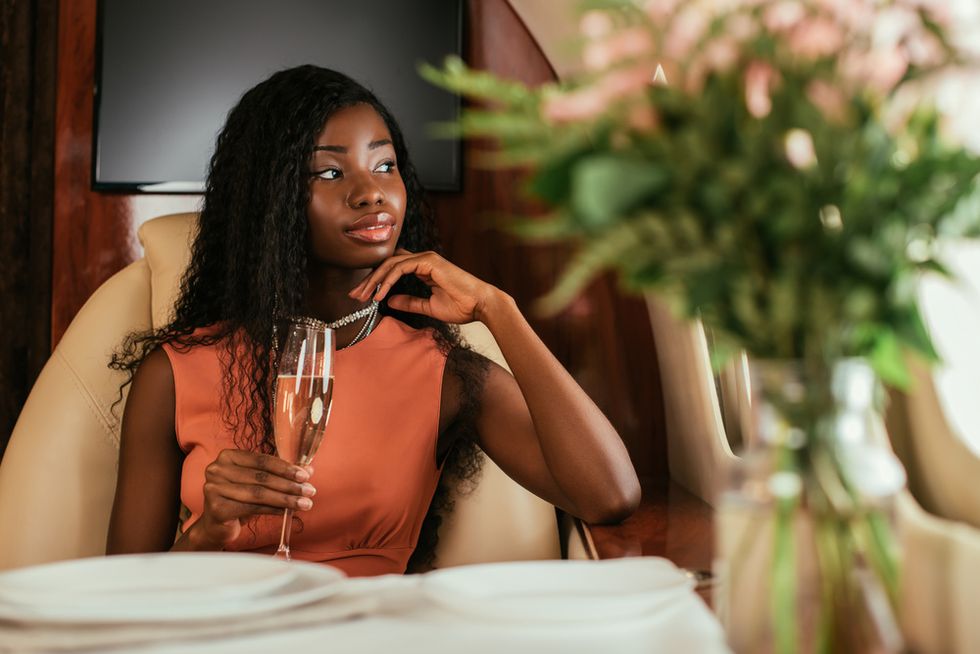 Shutterstock
Money is no object for this traveler, but you can run into an issue if they expect you to "ball out" as well. They travel first class, take shopping sprees, stay at the best 5-star accommodations, and eat at the most expensive restaurants. If you're a person who likes to vacation on a budgetor you're just downright cheap, pick someone else to roll with. You'll only be cramping their style. Your Capital One card with the $1500 limit will never measure up to their Black Card.
The Solo Traveler
This is the kind of person who is totally and completely comfortable with being by themselves—no bells and whistles, no extras. Many times, they prefer to travel solo because not only do they get to be alone with their thoughts, but they can march to the beat of their own drum and come and go as they please without having to check in with anyone or compromise on plans. I recommend that we ALL take a crack at this particular travel style at least once. There's nothing more freeing than exploring the world solo.
The Partier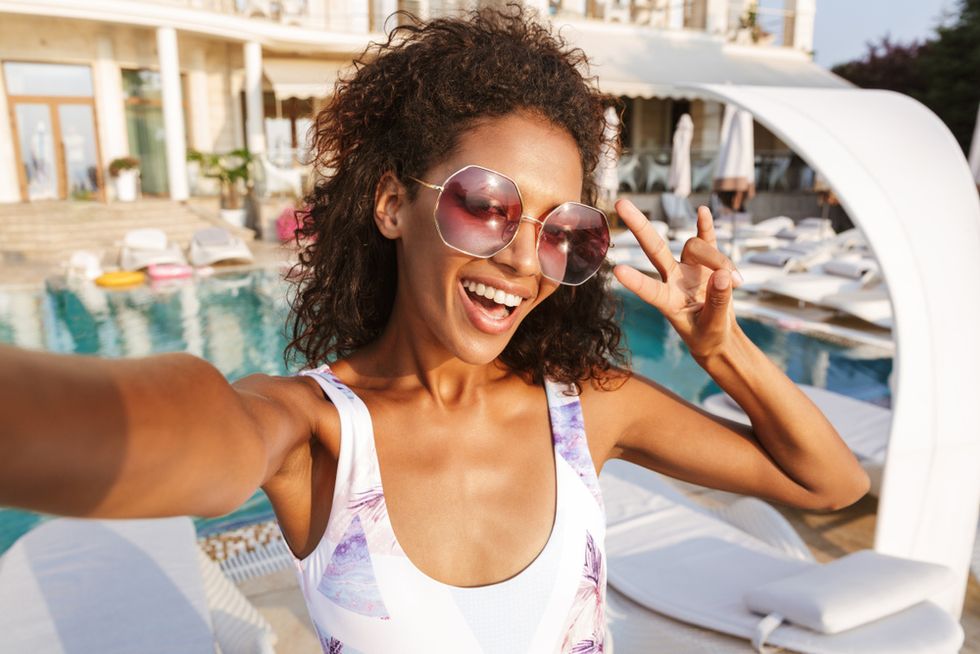 Shutterstock
The motto is "team no sleep" for this traveler. The moment they get off the plane, they're making a b-line to the shower (hopefully) so that they can head straight to the club and party till they drop! Expect lots of booze and blackouts with this travel type. They know how to have a good time wherever they go, but sometimes they can take things too far due to their excessive liquor consumption (which makes for interesting post-vacation stories). You're lucky if you get back to the room before sunrise! But if you love the nightlife and your liver is up for a wild ride, they could make for a memorable travel buddy.
The Family Traveler
This traveler has loaded up all of the "essentials", booked a kid-friendly hotel and prepared an itinerary full of activities to keep the whole family (especially the little ones) engaged. There won't be any visits to the strip club or wild drunken nights with this traveler. Expect a lot of good, "clean" fun and possibly a set bedtime. If you're someone who loves running around with children (even if you don't have any of your own), you may not mind tagging along with the family traveler. Keep in mind that a lot of patience and flexibility is needed.
Who did I miss?! What kind of travel style do you have? Let us know in the comments!
Featured image by Shutterstock

So, you're looking for the perfectly romantic honeymoon getaway to celebrate your wedded bliss, but you're on a budget. No problem! Nowadays, more and more couple are choosing to forgo lavish wedding day nuptials, in order to embark on never-ending global honeymoon excursions. Despite popular belief, there are a variety of destinations that newlyweds can visit that don't cost a small fortune. They provide fun activities, culture, relaxation, and gorgeous views. Most of all, you don't sacrifice beauty or the romance of your desired ambiance just because you refuse to break bank.
Ready to go on your budget-friendly honeymoon destination? Here are just a few options:
Bacalar, Mexico
Now that Tulum has become oversaturated with tourists, this town, located in southeastern Mexico just near Belize, is a great spot to get away from the hustle and bustle while still enjoying some of Mexico's beauty and culture. The area is near what is called The Lake of Seven Colors which is known for its various hues of water and is close to cenotes and archeological zones. It is the perfect place for a romantic getaway. The drive from Cancun takes about four hours. I recommend skipping the so-called 5-star hotels in the area and booking an Airbnb. They have gorgeous inexpensive homes for less than $100 per night along the lagoon front.
Chiang Mai, Thailand
Located in the northern region of Thailand, this is one of the cheaper cities to explore in this Southeast Asian country. Couples can enjoy a traditional Thai massage, take cooking courses, and explore some of the temples in the old city. Chaing Mai's Buddhist temples are some of the most visually stunning you'll ever see—although choosing which to visit could be a difficult task seeing as how there are hundreds to choose from. The stunning Shangri-La Hotel in the heart of the city is a luxury urban resort that is a great option at just under $200 per night.

St. Elizabeth, Jamaica
Pass up Ocho Rios, Negril, and Portland and head over to the "quiet side" of Jamaica. This unique fishing village boasts a wealth of natural scenery and romantic activities for couples. Swim in the spring water pool at YS Falls, take a stroll along Treasure Beach, explore the Appleton Estate, or visit the legendary Lovers Leap and hear the story of two slaves who'd rather jump to their deaths than be separated and sold off to different masters. The drive is a little over two hours from Montego Bay. Many visitors stay at the popular Jakes Hotel where prices start at about $100 per night.

Curacao
This Dutch Caribbean island falls under the radar for some because it is overshadowed by neighboring spots like Aruba and Bonaire. Located just 45 miles north of the coast of Venezuela, the island enjoys warm temperatures between 75 to 90 degrees year round. The beaches are what draw visitors to this quiet oasis, but there are numerous activities for adventure-seekers like hiking and cliff jumping. They also have the most comprehensive collection of African artifacts in the Caribbean displayed at their Kurá Hulanda Museum. Airbnb oceanfront villas in the area are under $200 per night.

Torch Lake, Michigan
If you don't have a passport but you're still looking for Caribbean-like scenery without the palm trees, Torch Lake is the perfect honeymoon destination. Rent a boat and explore Michigan's 2nd largest inland lake at almost 19,000 acres. This area is perfect for water sports like jet-skiing and tubing, but many people like to hang out on the sandbar in awe of just how much this Midwest lake's beauty compares to the Caribbean Sea. The area is pretty secluded, so it's scarce on nearby restaurants but there are wineries and breweries within driving distance. This is a popular spot especially in the summer months so rental properties (while reasonably priced) are booked at least a year in advance.

Want more stories like this? Sign up for our newsletter here and check out the related reads below:
Airbnb's 10 Must-See Destinations Around The World
6 Global Destinations To Celebrate Black History All Year Round
Images via Shutterstock
With the rapid changes happening due to COVID-19, we're all trying to figure out a way to stay safe and stay sane. People all across the country have resorted to social distancing and working from home in an effort to limit the spread of illness and much of the travel world as we knew it has been completely turned upside down. Countries all over the globe have either restricted travel or closed borders to non-citizens. So what's a gal (or guy) to do when we're stuck at home with wanderlust on the brain?
Here's a cool list of ideas to continue to nurture your love of food and travel right from the comfort of your own home.
Cook a meal.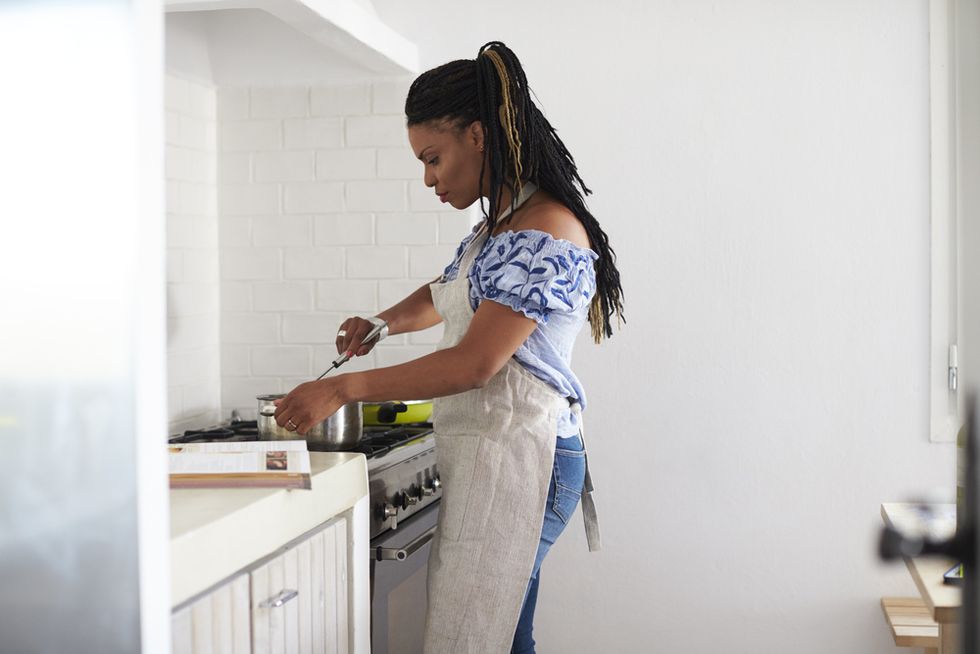 Shutterstock
Instead of gaining 15 pounds by eating all of your quarantine snacks, why not get in the kitchen and try making a delicious and filling meal that is native to your favorite travel destination? Find a recipe online or watch a cooking show and get inspired! You can try something simple like a Cuban sandwich with roast pork, Swiss cheese and sweet ham or a more elaborate dish like Paella with rice, mussels, calamari and shrimp. Step out of your comfort zone by sharpening those culinary skills and learning about dishes from around the world.
Watch your favorite movie.
What better way to have an "almost" vacay than to become immersed in your favorite movie staged at a gorgeous travel destination? The right movie can certainly awaken our curiosities about other parts of the world and inspire us to face our fears and try new things. Have a virtual "baecation" and watch Eat, Pray, Love as Julia Roberts discovers delicious foods in Italy and awakens spiritually in Bali. Or grab your tissues and watch Kim Bassinger move through the gorgeous landscapes of the Motherland in the heartbreaking drama I Dreamed of Africa.
Create a scrapbook.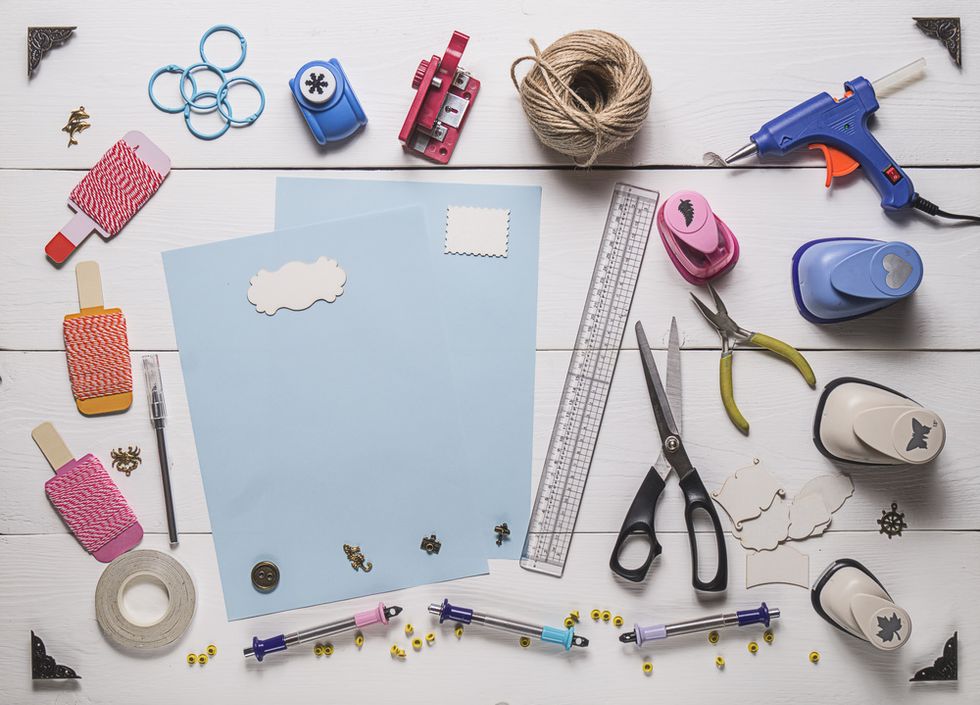 Shutterstock
Are the little mementos that you've brought back from vacation currently scattered all over your home? Now is the perfect time to not only get organized, but to relive those fond memories. Get a scrapbook and pull out those old trinkets, currency and postcards from around the world. You can also use an old gift box to store souvenirs that may be too large to secure in a book. While you're organizing, have a conversation with your "quarantine buddy" about fun travel memories. If you're alone, think about how each destination you gathered a keepsake from made you feel. Would you go back? What some new places you'd like to add to your travel list? Give yourself something to look forward to.
Start online travel conversations.
There are a ton of travel groups on Facebook that have a non-stop flow of information, pictures, tips and stories to keep you going until you're able to book that next flight. The most positive thing about these groups is that you can connect with like-minded people and even establish connections that could develop into long-lasting friendships. Tired of traveling alone? Join a group and find a travel buddy. Or if travel groups just aren't your thing, start your own online convo about a topic that's important to you. Go live and ask your followers how they're surviving being stuck at home, if they've had any recent travel plans that they've had to cancel and where they look forward to going once all of this has cleared up.
Check out museums & art galleries.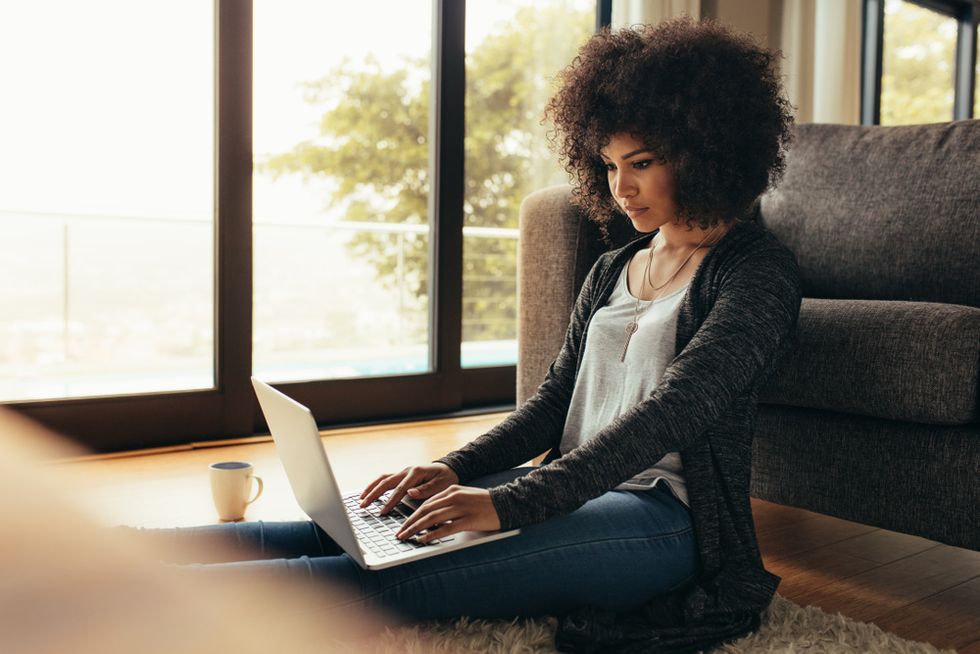 Shutterstock
I was forced to cancel my dream trip to Paris this year due to the COVID-19, but that doesn't mean I can't still take a trip to the Louvre. Several museums and art galleries around the world are offering virtual visits to their iconic exhibitions and they can be enjoyed right from your living room. The Mussee d'Orsay in Paris, The Smithsonian in D.C., The British Museum in London all offer tours for travelers still looking to become more culturally enlightened at a safe distance. If Egyptian mummies and historic artwork don't suit your fancy, try e-visiting a few of the Seven Wonders of the World. The Great Wall of China, The Taj Mahal and Machu Picchu all offer online tours.
Want more stories like this? Sign up for our newsletter here and check out the related reads below:
Before You Freak Out: 12 Things To Know About The Coronavirus
COVID-19: Mindfulness & Parenting While Quarantined
Featured image via Shutterstock
Taking a baecation has its perks but so does indulging in a little solo travel. The combination of the sun, beautiful scenery, and alcohol aids in putting the mind in a different space where you're truly relaxed, centered, and in tune with your desires. This can open itself to passionate one-night encounters with a handsome stranger you met while on your trip abroad, adding new meaning to your explorations.
I don't know about you but being away from home, doing things that we normally wouldn't do is a luxury that should be taken advantage of. We aren't worried about mundane thoughts of judgement. Our eyes are on the prize, our minds are on our deep-seated desires, and we throw caution to the wind. And scratch a couple of items from our bucket list in the process.
For some, a sexy tryst can be a liberating and exciting experience. I spoke with four women who gave accounts of some of their most memorable sexual escapades while on vacation. You can't have the sweet without the spicy, right?
*Names have been changed for anonymity; responses have been edited for length and clarity.
Real Women Share Their Vacation Sex Stories
*Lisa, 35
Years ago, I was attending a conference in Florida with some friends. Some of us decided to go to a local bar and grab food and drinks. Later that night, a group of rowdy guys came in and sat across from us. I tend to not like the loud obnoxious guy so of course I noticed the quiet, nerdy one. Later, we joined a dart game and a few of the guys came over to play too. Introductions were made and Cordell and I started talking. He was from Louisiana in town for a job interview and was visiting some friends. He had no kids, loved to read, had a nice smile and an even nicer "bulge" (if you know what I mean).
Long story short, we all got drunk.
My hotel was walking distance from the bar so Cordell escorted me to my room. We kissed at the door. We kissed some more and then our hands were everywhere. Inside the room, we were electric. He felt so good under my hands. I felt so good underneath him. He licked me and nibbled my earlobes, my neck, my shoulders, my nipples, and the palm of my hands. He was so passionate and strong. He made me feel sexy and wild. He slowly showed me how to hold and feel a man. I felt powerful seeing how my immature touch made him feel good. It was the first time I had an orgasm without penetration.
We kissed and touched a little more but it didn't go any further. We talked for a while and then he left promising to call the next day.
He never called.
I didn't care.
*Corinne, 38
I had gone to visit my crazy neurotic friend in NYC 4th of July weekend. The city was almost a ghost town, as folks are usually in the Hamptons. Being early July, it was hot as blazes! Did I mention my friend was neurotic? Ah yes, I did. She'd seen a bug of some sort in her home and subsequently covered all the windows with thick plastic sheeting (the kind that folks in the Midwest line their windows with in the winter). I should also mention that the only fan she had in her fourth floor walk-up was a desk fan. I'm saying all of this to say that I was hot... AS HELL!
One day, we ventured out into the city and I saw the finest man I'd ever seen in life walking out of a Wendy's. I don't know if it was the breeze of the air conditioning coming out the door or if he was just that damn fine. But I wanted him. We exchanged numbers and, later on that evening, he came and got me. I was so desperate to escape my friend's sweltering apartment that I left with a total stranger who came to get me in a panel van. Yes, my knight in shining armor rescued me from Brooklyn and whisked me off to Queens to what I believe was a project building...Lefrak perhaps?
Our evening was perfect in every way.
He was gentle and rough. Pleasing and fulfilling in my desire to please.
We drifted in and out of sleep with me, peaceful in his strong arms. He took me back to Brooklyn in the morning and we promised to keep in touch, both knowing we wouldn't. I don't remember specifics about the evening, but I do know I'll never forget the sweet gentle way the air from his window unit.
It was one of the best one night stands ever.
*Nicole, 40
It was was my second trip to Jamaica and I was extremely excited. I went with a group and stayed in these awesome villas. The first time I met our butler, I felt a connection. His accent made me melt.
He asked me what island I was from and it made me blush. We talked a little and got more acquainted. We then parted ways and I went to my room, with him on my mind.
There is something about Jamaica that makes me feel bolder. On my last day there, I really wanted to see him, so I asked one of the other butlers to find him for me. I was chilling by the pool, waiting to go to the airport and the next thing I knew, I was told that I had a visitor. It was him. We talked, exchanged contact info, and and I headed to the airport, only to miss my flight. I didn't care.
All I could think about was one more night with this butler.
I called him to tell him that I missed my flight and when I got back to the villa, he was there waiting for me. He looked so yummy! I was excited and nervous at the same time. He took me out the back way on a golf cart to his villa and he held and kissed my hand the whole ride. I was in heaven. We arrived where he was staying and all inhibitions were out the window.
We had the most amazing sex...in the hot tub, in the bed…
I didn't want to leave.
He asked me to stay with him for the night but I didn't want anyone to see me doing the "walk of shame" the next morning, so I had him take me back to my room. We hugged and kissed, and I was happy at that moment. It had been nine months since I had been with with anyone and that Jamaican man was JUST what I needed! He showed me respect, kindness, gentleness, and the sex was unforgettable! Ya Mon!
*Tiana, 29
I was burned out, so I booked a quick getaway to the Bahamas. It was my first trip alone since my divorce and I was thirsty for some sun and relaxation. The plane landed, I grabbed a cab, and my head was hanging out of the window like a Boston terrier with her tongue sticking out from excitement. I checked into my hotel, showered, and put my swimsuit on to head to the beach.
Between the mojito in my hand, basking in the 85-degree temps, and allowing the pool attendant to place cool towels behind my neck, I was living my BEST life! I stepped away from the beach to grab a bite to eat and that's when I saw I saw him.
5'11, 225 pounds of dark chocolate, tattoos, and muscle.
He asked to buy me a drink. That drink turned into a day together: talking, sharing, and laughing. When it got dark, he walked me to the beach, pulled his pants down, and I almost had a heart attack looking at the the size of that thing! But I said what the hell! You've gotta die before you live, right?!
He gave me some of the best sex I'd had in a long time. All I kept thinking was, "My body needs this." My legs were wrapped around his waist as we laid on the beach and the waves rushed against our bodies.
The playful banter, the chemistry, and the vulnerability was all so sexy!
It was like a movie.
Originally published on The Love of Food & Travel
Featured image by Shutterstock
Originally published on February 7, 2018
Social media has become a haven to make money, and the travel game is no exception. More often than ever, I'm seeing more and more people who are acting as travel agents—planning and arranging group trips for strangers with absolutely no experience or knowledge about everything the job entails. The initial post or advertisement might look inviting---or you may even be loosely familiar with the organizers of the trip---but it's important to make sure that before you hand over your coins to someone with the expectation of flying to another part of the world, you're clear about what you're getting into.

I recently had someone close to me tell me about a Medellin, Colombia trip from hell with one of these "social media travel agents". They apparently threw local parties in her city and even organized a few domestic trips. So when they posted a flyer on Facebook to travel to the popular South American city, she was excited to go.
The price for the room was $550 with a $100 deposit requested in July to travel Memorial Day weekend of the following year. She paid her deposit but received no receipt or details about the trip upon payment. She says she figured she'd be patient since the last time she traveled with them, the details were released a few months prior to departure. January came around and she still had no info about living arrangements. She and other people in the group reached out to the organizers for months with no response.
Then things got down to the wire. Before she knew it, it was one month before it was time to leave and she still knew nothing about the hotel, excursions, or where the heck these people who'd taken her money had gone.
She says a week before the trip, they finally received Google spreadsheets detailing where they'd be staying but WITHOUT AN ADDRESS. They were left to figure that out on their own. Then, she arrived in Colombia where things got progressively worse. Four mansions were booked for 80 people—one of which was uninhabitable and bug infested. The rooms for the group were first come, first serve, and when she got to hers, it was about the size of a small walk-in closet ...WITH NO BATHROOM! All of the available beds ran out and one guy had to sleep on the couch in the living area.
She and the rest of the group finally heard from the organizers after being dodged for months. The correspondence wasn't to provide an explanation for the catastrophe. It was to let them know that they owed money for the airport shuttle. She was left with no choice but to pack up her stuff and check into the nearest affordable hotel.
The following day, she ran into one of the trip's organizers who completely gaslighted her and pretended to be unaware that there were any issues at all. She cut her losses and made the most of the rest of the trip, but needless to say, the experience was a wake-up call to be cautious when booking with a so-called "travel group or agency".
To help avoid situations like these, Joni Rials, founder of Seek and Sip Travel, has some tips on what to look out for and how to protect yourself:
Research the Agency Before Booking
"Nowadays, it's a little difficult to find out if an agency is reputable. You can check with the Better Business Bureau, but they are a privately owned business where consumers can report and post positive and negative business interactions," she says. "Many times, you just have to balance the positive with the negative interactions. I would suggest Google searching the agency you plan to book with to see if they have any pending lawsuits with the state. Also, reach out to people you may know, ask about their previous experiences and look online for reviews."

Get Travel Insurance and a Good Credit Card
"When you purchase travel insurance, reach out and ask if that particular travel agency is on the 'do not book list'. All insurance companies have those lists. If you're a frequent traveler, consider purchasing a bi-annual policy. It gives you all of the same benefits that you'd get with a single policy except your limits are higher. Also, having a good travel credit card can be a lifesaver in instances like this. Many good travel cards cover expenses if you call and explain that you've arrived at your destination, didn't receive what you paid for, and were forced to make other arrangements. You can also call your bank and tell them the issue, file a claim, and receive your money back."
Look into Their Presence Online & Always Get Proof of Payment
"After you've paid for your trip, you should always receive a confirmation email from the agency that details the entire trip including the destination, the hotel with the address, the kind of room you paid for, the length of your stay, etc. If you never receive a receipt for what you paid for, consider it a red flag! Also, do not ever Cash App or Zelle anyone when paying for a trip. You basically just gave someone cash to run off with."
"Take a look at the company's social media profile and website before booking with them. Ask yourself how it makes you feel. What are the quality of their posts? Do they seem like a well-thought-out brand? Obviously, if they haven't put in the effort to update their posts or their website in six months to a year, this might be an indication that they also won't put much effort into making sure they plan quality trips for their clients."
If Things Go Bad, Know How to Build a Case
"Not only should you be aware of how your insurance and credit card work, but if you get into a situation where you end up booking with a shady agency, it is important to know how to build a case. When you're on a group trip and everyone is disgruntled, try and get statements from people. This way you have proof to corroborate your story and it doesn't turn into a 'my word vs. theirs' situation. Take plenty of photos of your living arrangements, chat up the front desk attendant or manager at your new hotel and see what they have to say about the seedy hotel you had to check out of. The more evidence you have, the stronger your claim.
"Finally, you'd be surprised at how many people book trips without getting the full names and emergency contact numbers of the people doing the planning. Don't be naive! Find out who you're booking with before handing over your money."
Want more stories like this? Sign up for our newsletter here and check out the related reads below:
10 Questions To Ask Your Friends Before You Travel Together

5 Ways To Travel Solo Like A Boss
I Jetset On A Budget For An Entire Year With These Travel Hacks
Featured Image by Shuttershock
It's that time of year again! And if you didn't get a chance to check off all of the travel destinations on this year's wish list, it's about to get even longer. Airbnb just released their top 20 travel spots, and the list has something for both international and domestic travelers alike.
So, whether you want to experience Victorian-era architecture on another continent or enjoy some of the most beautiful beach-fronts the U.S. has to offer, we've got you covered.
1

.

​Bilbao, Spain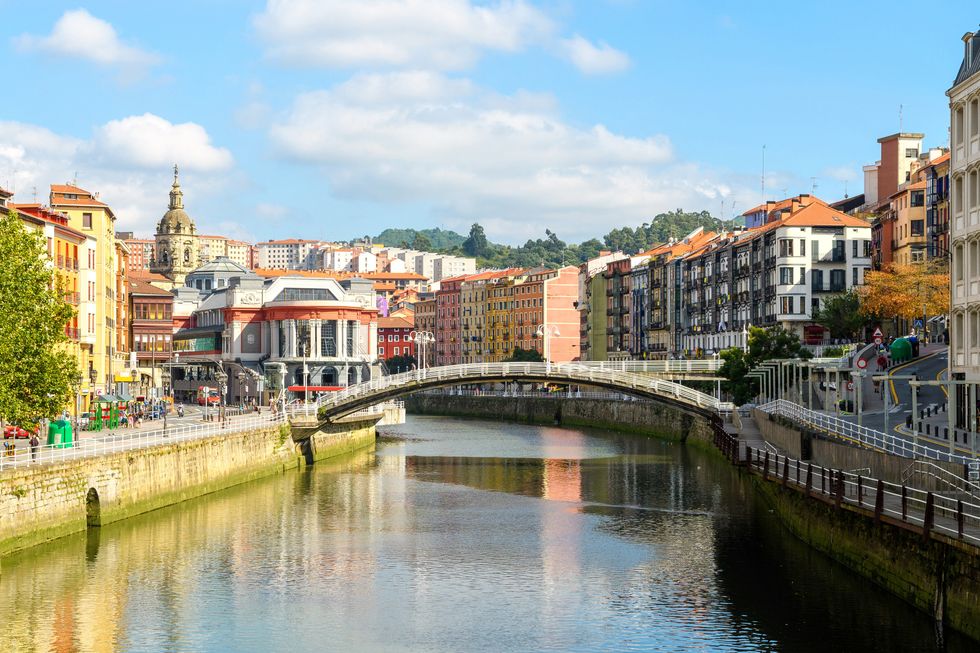 Photo by Shutterstock
Located in the north, this city began to draw significant tourist attention after the opening of its Guggenheim Museum in 1997. Since then, there has been a burst of creatively designed museums, hotels, and restaurants that reflect its cosmopolitan vibe. If the architecture isn't enough to pique your interest, Bilbao boasts over 40 Michelin-starred restaurants, rolling green hills with beautiful scenery and in 2020 it'll be a host city of one of Europe's most popular soccer competitions.

2

.

Vanuatu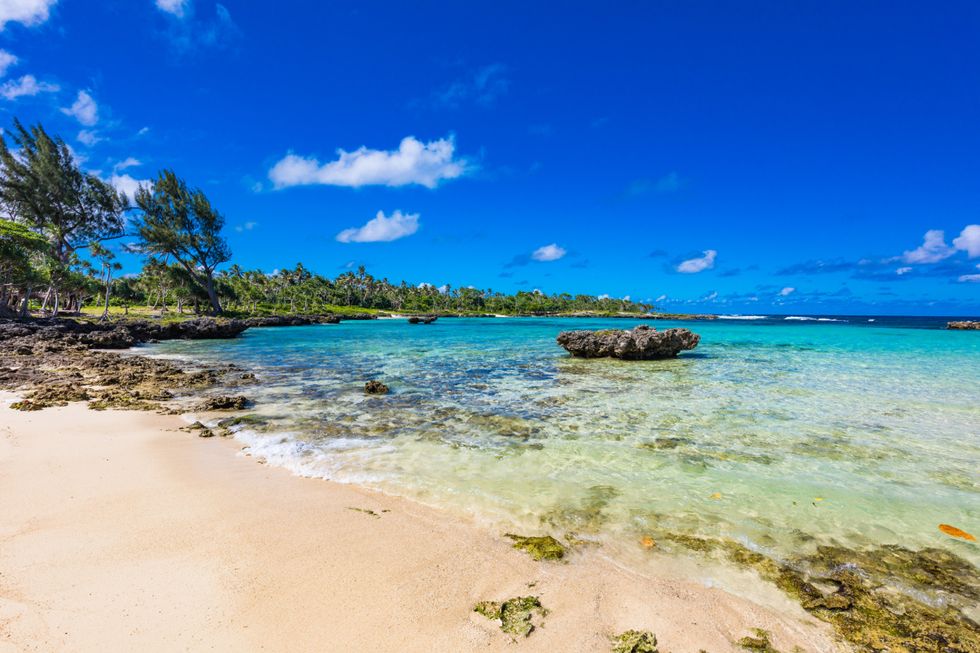 Photo by Shutterstock
A perfect destination for people who love to go off the beaten path, Vanuatu is just a few hours from Australia's eastern capitals and is made up of about 80 islands in the South Pacific Ocean. The island nation features unique natural experiences like hidden sea caves, volcanoes and some of the most beautiful marine life you've ever seen. The local cuisine uses a mix of fresh fruit, vegetables and fish to create signature dishes.
3

.

Ubatuba, Brazil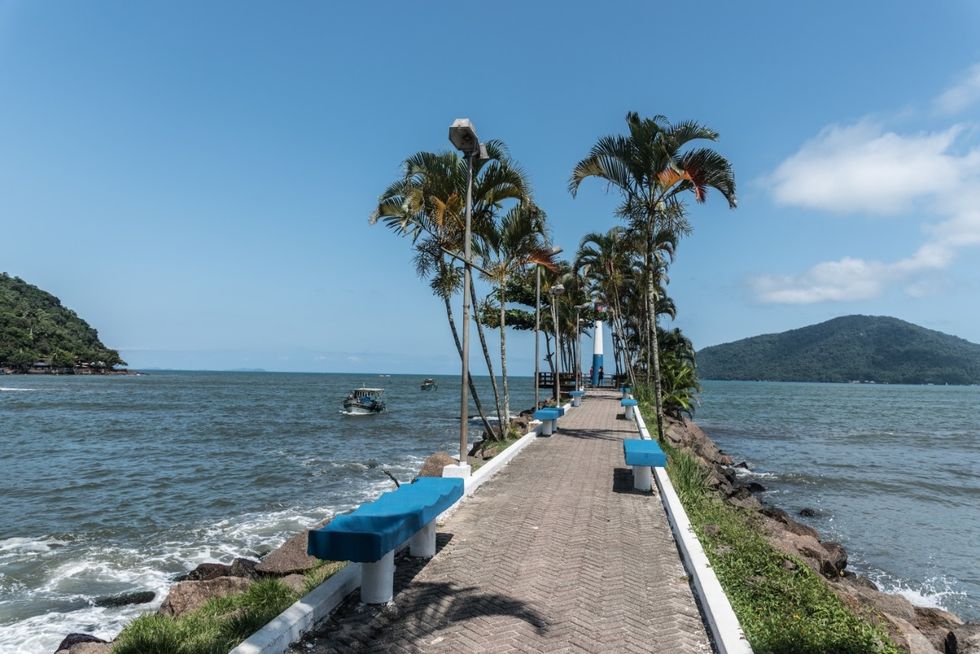 Photo by Shutterstock
Did somebody say beach? This city located on Sao Paulo's North Shore is the epitome of paradise. With over 100 beaches to choose from, gorgeous trees and lush waterfalls, this is certainly a getaway to remember. Other activities for those who love the outdoors include bird watching, surfing and hiking. You can also find some delicious seafood dishes by the waterfront.

4

.

Malindi, Kenya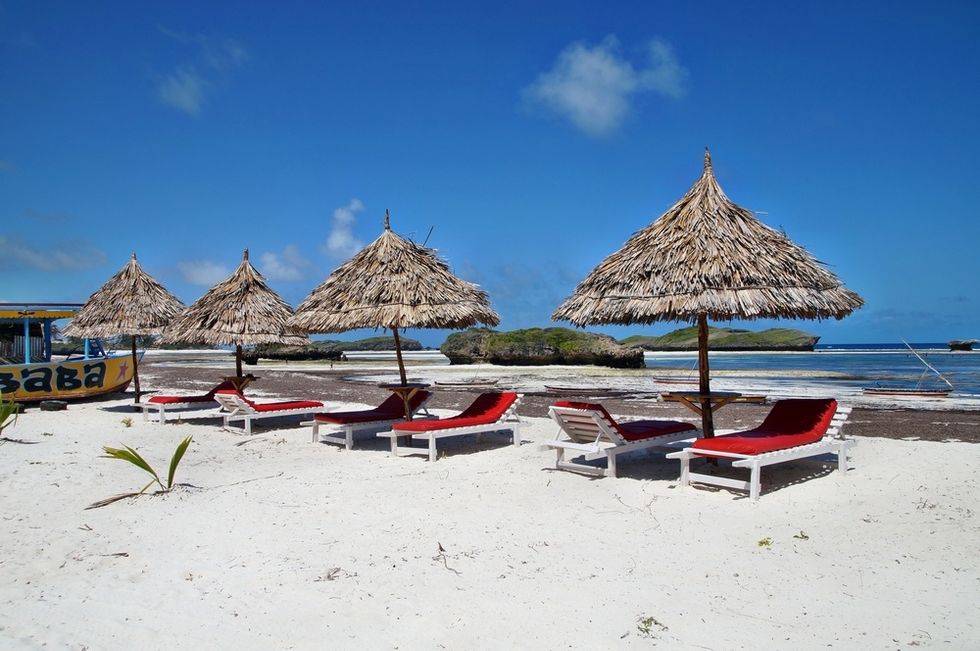 Photo by Shutterstock
You could spend your entire life attempting to discover the beauty of Africa and you'd still need more time. But this bustling beach town should definitely be at the top of your list. From its historic ruins dating back to the 13th century, to its Swahili culture and natural wonders, Malindi is both stunning and special. The port town is a melting pot with beautiful beaches and a plethora of unique marine life.
5

.

Eugene, OR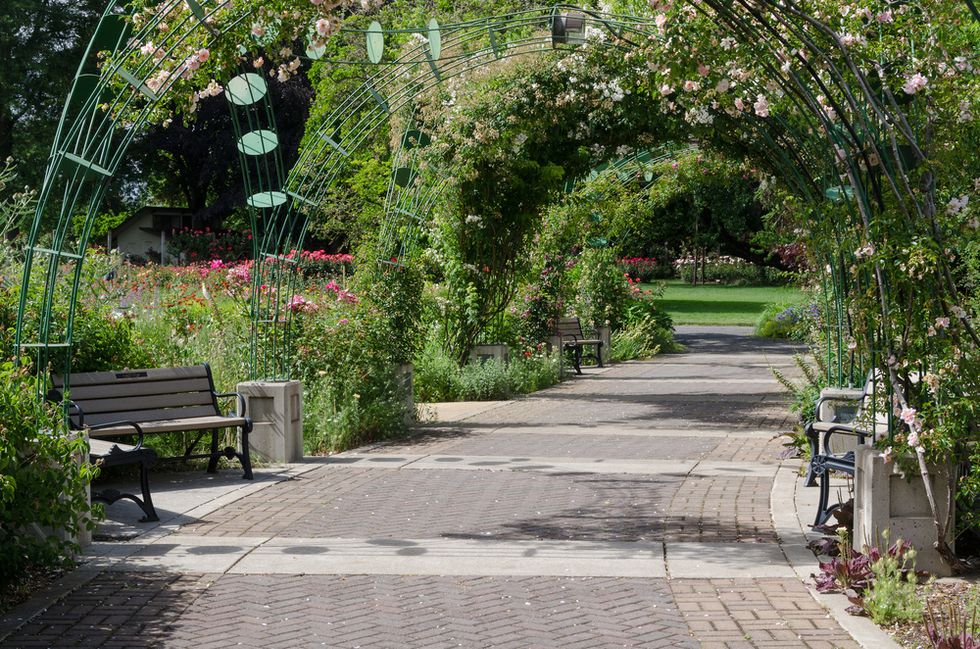 Photo by Shutterstock
Just two hours south of Portland, this Pacific Northwest city is a hip spot with a potpourri of activities for people who love food and fun. It's affectionately called "Tracktown USA" because it has historically been home to one of the most famous track and field destinations in the world. Visitors can enjoy canoeing or hiking along the river, take a stroll in the Owen Rose Garden, or partake in the hometown craft beers paired with one of their farm-to-table dishes.

6

.

​Cape Canaveral, FL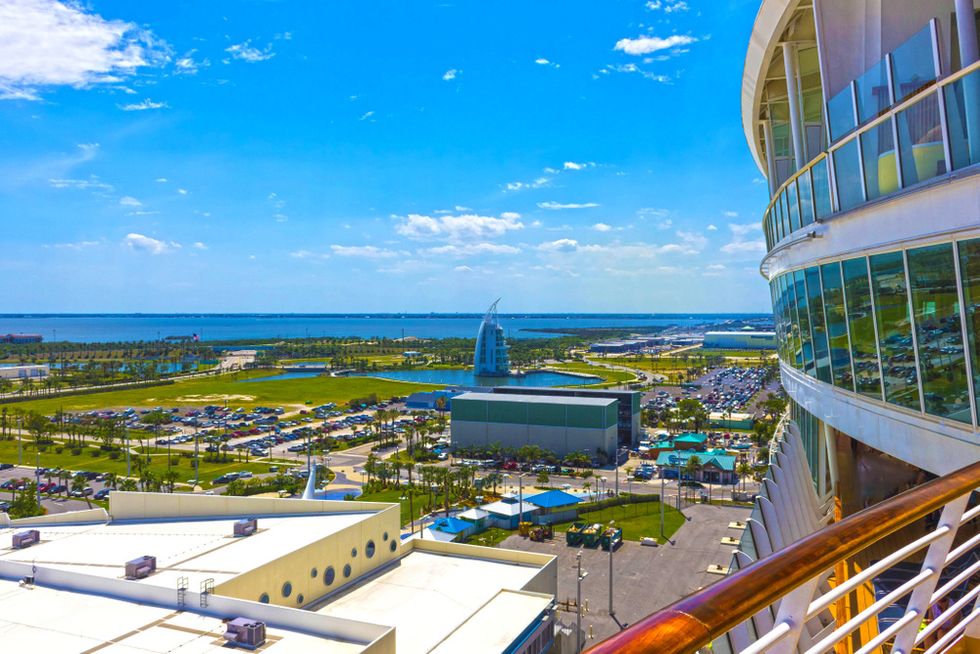 Photo by Shutterstock
Home to the Kennedy Space Center and Airforce and Missile Museum, this popular cruise ship port is a great destination for families. Enjoy a variety of activities from surfing and fishing to local brewery tours. If you're looking to relax, there is 72 miles of beachfront land that is perfect for tanning. Next summer, Cape Canaveral will be the site of NASA's Mars 2020 Exploration Program.

7

.

​Cali, Colombia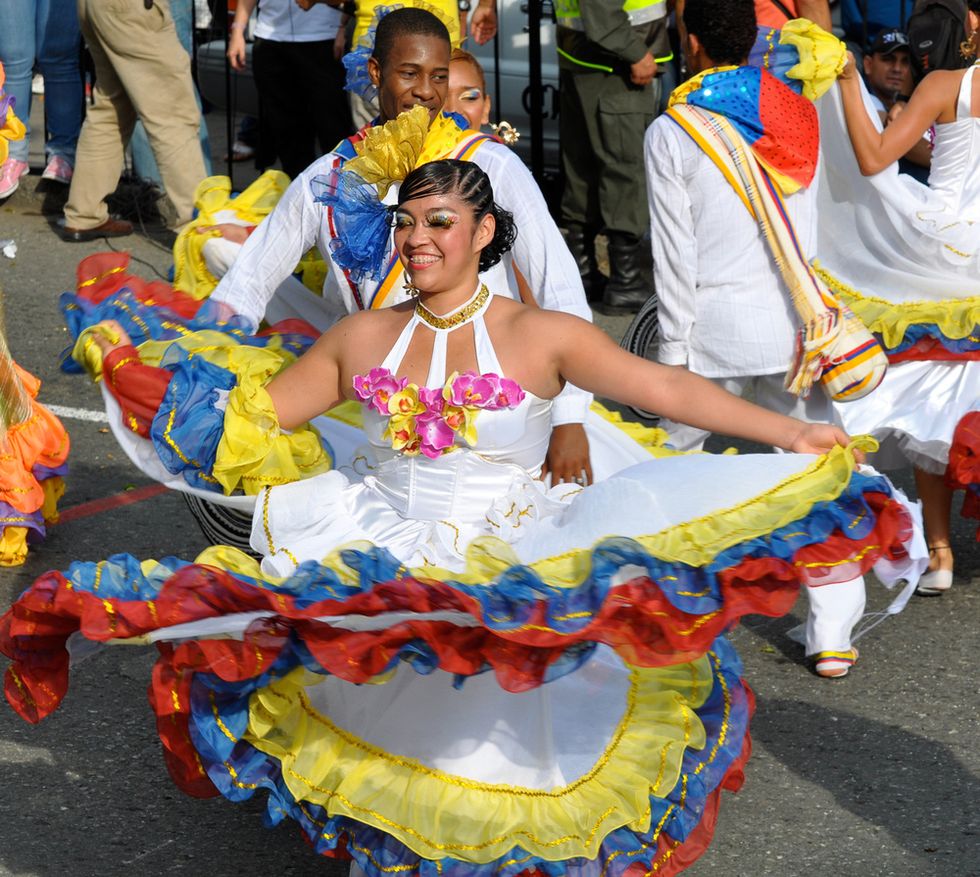 Photo by Shutterstock
Medellin and Cartagena are great cities with a lot of flair, but if you're looking for a Colombian experience that stands out from the rest, Cali is it. This city is not only the "salsa dancing capital" but it has rich Afro-Colombian history and caleno culture. A must-see landmark is the Cristo Rey statue of Jesus Christ that resembles the one in Rio de Janeiro, Brazil.

8

.

Les Contamines-Montjoie, France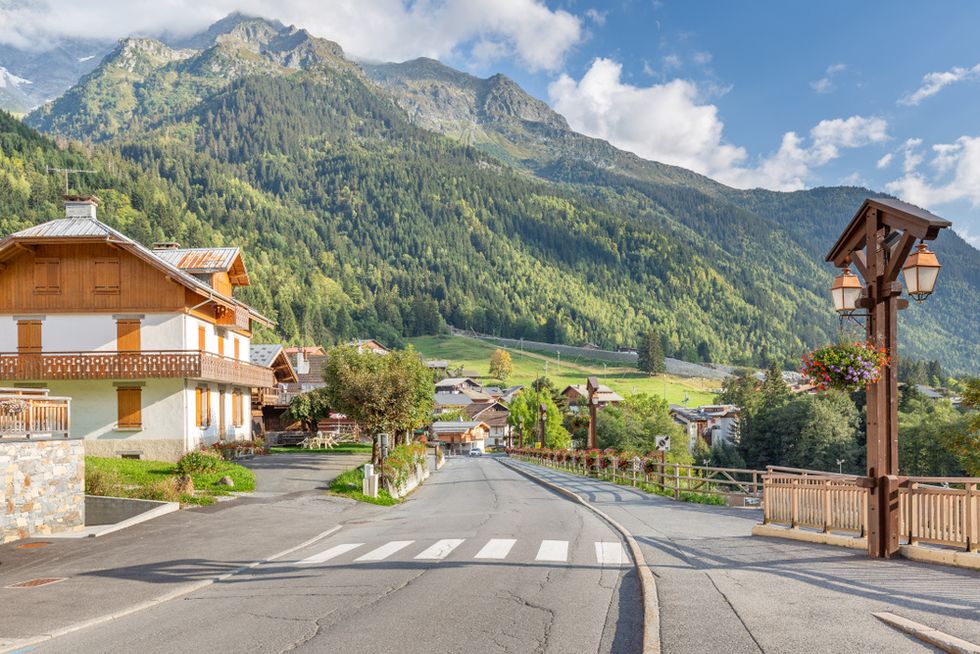 Photo by Shutterstock
In southeast France, there is a charming French village perfect for a winter ski getaway with that special someone. Lovers of the outdoors who want to skip the usual ski resort destinations will find this place a romantic and cozy getaway. The quaint wooden chalets and beautiful natural scenery are truly breathtaking.

9

.

Tokyo, Japan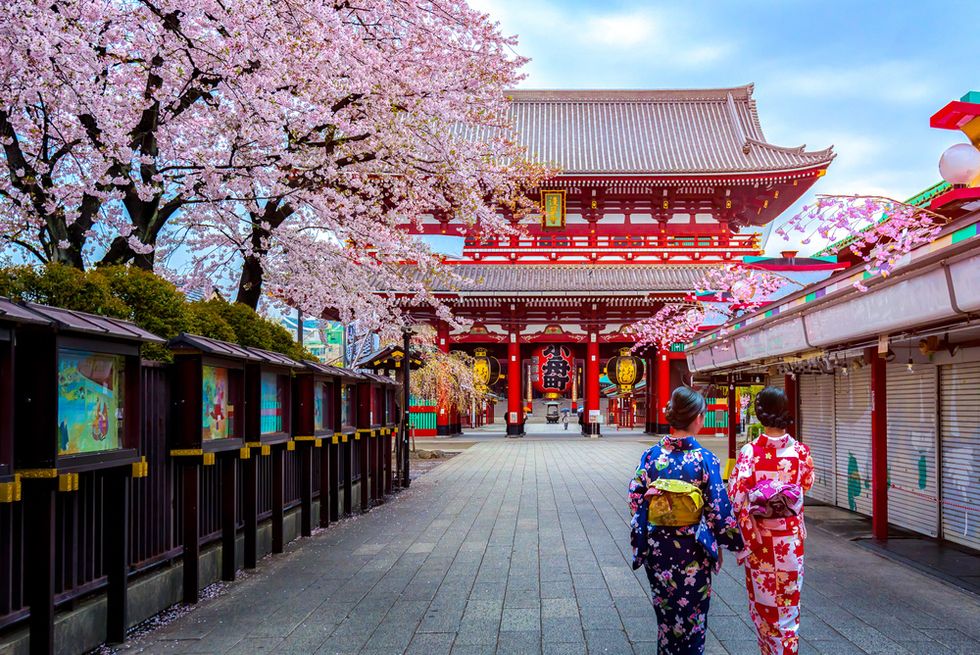 Photo by Shutterstock
This July and August, some of the world's best athletes will take part in the Summer Olympics in Tokyo, making it a worthy destination on this trending list. The largest metropolitan area in the world is making sure that the summer games are energy efficient and that large crowds are as manageable as possible, so needless to say the Olympic Games will be a huge event. This popular city is known for its great food, unique transportation system, religious temples and tech culture.

10

.

 Milwaukee, WI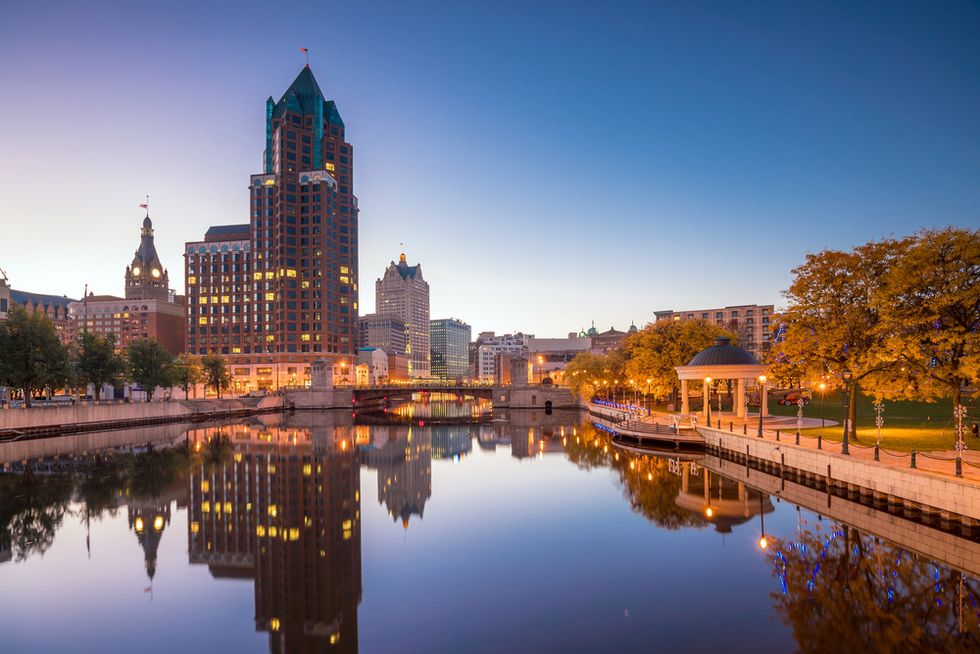 Photo by Shutterstock
Located on the shores of Lake Michigan, this Midwestern city is many times overlooked because of its proximity to Chicago, but it actually is a gem in its own right with an influx of great breweries, restaurants and entertainment. Sites like Pabst Mansion and Villas Louis are some of the many interesting stops that give you a peek into the city's history. In the summer of 2020, Milwaukee will be home to the Democratic National Convention.

For the full list of Airbnb's 20 destinations to visit in 2020, click here.
Featured image by Shutterstock.
Did you know that xoNecole has a podcast? Subscribe on Apple Podcasts or Spotify to join us for weekly convos over cocktails (without the early morning hangover.)