Tennelle Swan
I am native of Trinidad who grew up in the Bronx. I graduated from Florida A&M University with a Bachelor's degree in PR Communications. I want to encourage more Black and queer people to share their stories, as well as to inspire more moms to follow their wildest dreams. I enjoy experiencing and writing about music, travel, lifestyle, fashion and pop-culture. Follow my shenanigans at @lifesolavish.
New Orleans is popular for many things — Mardi Gras, Cajun-style cooking, and jazz music to name a few. But when my friends and I took a trip to NOLA during Halloween, I was surprised to find myself more connected to my spirituality than ever before. 10/10 would recommend visiting New Orleans, at any time of year. It was my first time to ever visit the famous city, and I was eager to eat great food and experience the Blackness of the city.
I had been living in Denver, Colorado for the past two years, and after going to an HBCU you could say it's was sort of a culture shock. The lack of Black culture, people, and representation made me really appreciate the places where we can take up space and celebrate ourselves.
I felt like I'd lost parts of myself over the past half-decade. I lost myself to failed relationships, to school, to motherhood and to other people's expectations of me. I felt very disconnected from myself, and what I should be doing in life.
What was my divine purpose? I had recently lost my job---one that I was very good at and very proud of. Being fired from my steady 9-5 and choosing to focus on my PR company was scary. I felt anxious and doubted that I could survive off freelance and contract work. For the first time in a long time I had no idea who I was, what I wanted, or where I needed to go.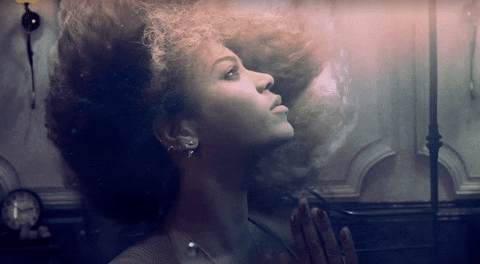 media.giphy.com
I grew up in a very Christian household, with momma forcing me to church every Sunday. I had a "say your prayers and God will take care of the rest" type of upbringing. From a very young age, I realized that wasn't going to work for me. I didn't grasp the concept of blind faith too well, and whenever I asked questions about the Bible or probed on the contradictions within the text, I would be scolded by my elders. It was apparent to me that asking questions that challenged the Bible was not acceptable.

After having my son, I was pulled toward researching different religions and spiritual practices that are practiced throughout the diaspora. In my readings on voodoo, santeria, and obeah I realized how connected I am to these spiritual practices and the ritualistic habits that even my own mother practiced. I officially gave up on Christianity in 2017 and started identifying as spiritual (just as many other young Black people).
I refused to revert back to believing in a religion that had never served me, and in my eyes had not served my community much either.

While in New Orleans, I knew I had to visit the botanicas and voodoo shops that the city is popular for. I knew I wanted to experience some Black-ass culture and NOLA is known for just that. What I was not expecting was to feel energetically and spiritually charged after my trip. It felt like the city was alive. I walked down to the French Quarter and into Jackson Square, which is a crowded area, depending on the day. I looked up to find a massive white cathedral across from the park, which immediately made me think of the slaves and post-slavery culture that heavily influenced the city—especially the spiritual connection to African spiritual practices such as voodoo.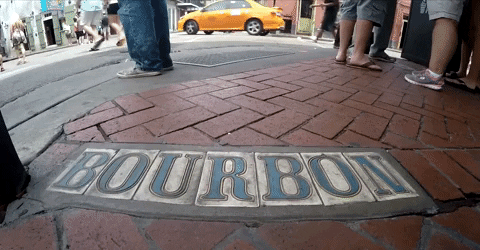 Photo by Giphy
I visited the Reverend Zombie's House of Voodoo in the French Quarter to look for supplies such as herbal blends and books on magick. I was immersed in a very authentic experience that didn't feel like a tourist stop despite the popularity of the place. Unlike other voodoo and occult shops I visited on my trip, this shop educated visitors on proper etiquette when dealing with alters, herbs, and offerings. You're allowed to leave offerings to your ancestors or the saints on various alters within the shop. By leaving dollar bills, coins, or treats for your Orishas and ancestors, you're showing gratitude and feeding them for protecting and guiding you. You're not allowed to take photos of the alters as it is said to steal the magic(k) and scare away the Orishas, or spirits.

I later stopped by Botanica Macumba, a small spiritual supply shop for practitioners of various Afro-Caribbean spiritual practices. They offer spiritual services and doubles as a café and event space. When I walked into Botanica Macumba, I immediately realized that their alters were not like the ones at Reverend Zombies, there were barely any offerings and the shop tenders said I could take photographs which suggested the altars were merely for show. I saw a shrine to the saint Erzulie Freda, a spirit (or loa) who I have felt very spiritually connected to since the start of my journey. She rules over material success and abundance, and I felt like it was a sign from my ancestors that I was on the right path with love and would be abundant.
My spiritual journey led me here to a place that would remind me of the spirits that have guideded me and protect me my whole life.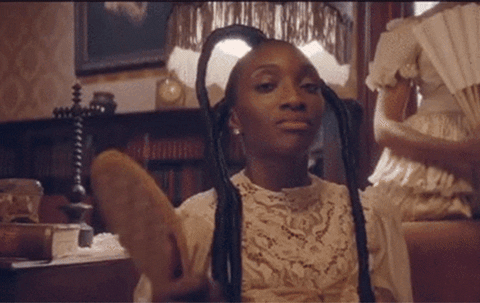 Photo by Giphy
It's almost a priority to visit the famous priestess Miriam Chamani at the Voodoo Spiritual Temple in New Orleans. The spiritual temple was loosely depicted in the movie, The Skeleton Key, and the priestess had been given plaques from the mayor of New Orleans. I went to the temple on Halloween night, not intending to get a reading, but after speaking to the priestess for 20 minutes it was as if she had given me one. She spoke in lucid-like conversation, almost as if she was in and out of this realm or relaying messages that were coming from multiple mediums. She questioned me and was intrigued by where I was from and what I was searching for though I never said I was from out of town or that I was searching to connect deeper to myself.

My trip to New Orleans allowed me to connect deeper to Afro-Caribbean spirituality and find my way back to my divine path.
I felt like everything I wanted for my life was in question. The priestess told me to focus on the messages from my guides and decide where I wanted to go, what I actually want to do with my life and who I wanted to be. I left in a haze, feeling a bit overwhelmed by the conversation with the priestess — mostly because it was hard to follow along with everything she was saying as she went in and out of her slight delirium. Although it was a challenge to follow along with her, what she said really resonated with me and the entire experience was very eerie.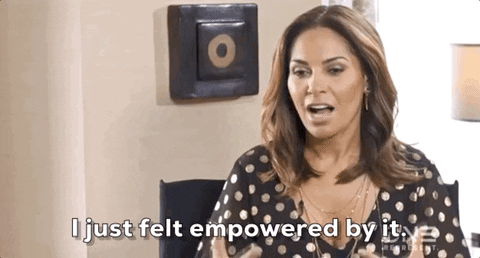 Photo by Giphy
The trip had been filled with signs that despite feeling lost before landing in NOLA, I was on the right track spiritually. I was reminded to trust myself and to manifest the life I wanted without limits. My guides and the orishas have provided me with constant messages that they were there with me along my journey, protecting me. My trip helped me to stop doubting myself and my intuition, and I felt more in touch with myself and the purpose I should be focused on in life. Voodoo and other Afro-Caribbean spiritual practices have a reputation of providing strength and prosperity to the African descendants of the diaspora, and New Orleans was a great reminder of that. It allowed me to see how powerful our African traditions and spiritual practices truly are. It reaffirmed my own power and faith within myself.

xoNecole is always looking for new voices and empowering stories to add to our platform. If you have an interesting story or personal essay that you'd love to share, we'd love to hear from you. Contact us at submissions@xonecole.com.
Featured Photo by Shutterstock
After my girlfriends all bailed on my birthday trip, I found myself on an unintentional solo trip to Oahu. However, I knew I'd still be met with great adventure and lots of sun, I mean it is Hawaii after all. I refused to let a sudden lack of companionship ruin my birthday trip, so I booked the flights and prepaid all of my activities. I made sure I wouldn't have time to be lonely because from boat rides around the island, trips to the spa for a massage, hiking and snorkeling — my itinerary was packed! I didn't rent a car and was apprehensive about how I was going to get around the island, I thought I'd spend a fortune on Uber and Lyft. Surprisingly I found that getting around the island wasn't as difficult as I thought and Honolulu actually has a very efficient transit system. The bus is cheap, and for $5.50 I got a day pass and explored the island.
Hawaii is made up of eight main islands — Hawai'i, Maui, Kaho'olawe, Lana'i, Moloka'i, O'hau, Kaua'i and Ni'hau. The island of O'ahu is widely considered the heartbeat of Hawaii.And when it comes to visiting O'ahu, most tourists flock to Waikiki Beach, the popular and crowded side of the island. What some travelers fail to realize is that the island of O'ahu is filled with many gems, and they're only a short ride away from Waikiki.

From lush mountainsides, colorful koi fish, swimming with wild sea turtles, and taking in spectacular views, you can explore the island without breaking the bank on costly excursions.
If you're in Honolulu for a few days, you should visit some of my favorite places on the island.

Hula Grill Waikiki
Enjoy the sounds of the waves crashing into the shore and the unbelievable view of Diamond Head at the Hula Grill Waikiki located inside of the Duke's hotel.
Hula Grill has something for any taste you're in the mood for and their menu is vegetarian-friendly. They source their ingredients straight from the island, the restaurant boasts of locally caught fish, all-natural meats and O'hau-grown produce. There is also live entertainment offered throughout the week — so catch a bite, grab a mimosa, and get a friendly waiter to take a picture of you.
Byodo-In Temple
The Valley of the Temples Memorial Park is nestled on the other side of the island, if you're staying in Waikiki. You can take the bus there for less than $6 for a day pass. The trip is about one-and-a-half hours but peaceful and beautiful. The bus will shuttle you up the mountain side, which allows you to see the island in a more authentic light, outside of the tourist-ridden Waikiki.
Unlike Waikiki Beach, this side of the island is misty, the rain can be sporadic on the wayward side of the island and the air smells sort of like burning wood. The temple is an honorary shrine built to commemorate the 100th year anniversary of the first Japanese immigrants to Hawai'i. The temple is a replica of the historic Byodo-in Temple of Uji in Kyoto, Japan. It might also be familiar to you if you've seen the Chris Brown video for "Autumn Leaves" featuring Karrueche Tran. For just $3 admission, you can leave an offering at the Buddhist shrine, ring the sacred bell, feed the koi fish, and marvel in the wonder of black swans.
North Shore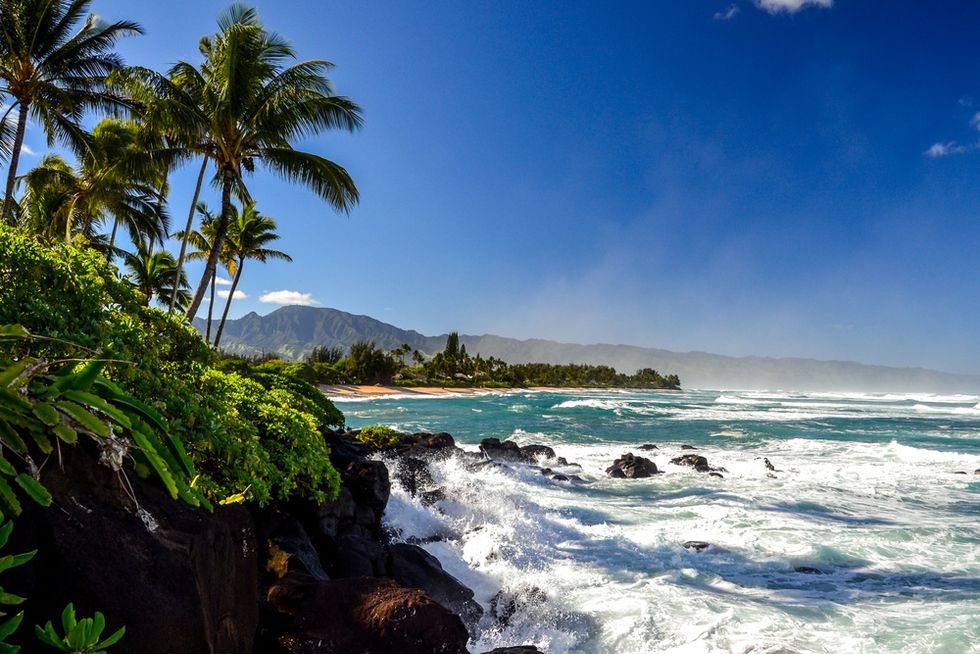 Shutterstock
Escape the crowds of Waikiki Beach and head over to the north side of the island where the locals tend to go. The views are surreal and the locals are very friendly. You'll get to see wildlife like turtles, sea lions and more. Go swimming with turtles on Laniakea Beach. Beware that turtles, or honu, are protected animals in Hawaii and considered well-revered by local Hawaiians. If you see one on the beach, do not touch it — the locals get really upset about this one. It's said you should give them at least 10 ft of space and not disturb them, which can be kind of hard when snorkeling or swimming but do your best to keep this in mind. The beaches are calmer than Waikiki as well, which due to boats can experience very large and choppy waves.
Diamond Head
This beautiful hike up to Diamond Head is sure to yield spectacular views. If you're the type of person looking to get in some physical activity on your vacation, this hike is very easy to fit in to your schedule. Hike early in the morning to catch the sunrise and listen as the waves beat against the shore. If you're a non-experienced or intimidated first-time hiker, like me, then you can drive to Diamond Head lookout instead to experience all the views without the sore muscles.
Ho'omaluhia Botanical Garden
Ho'omaluhia Botanical Garden is one of the most popular wedding venues in Hawaii. The botanical gardens is also infamous for its beauty. Admission into the park is completely free but be prepared for a lot of walking around and wear good shoes! I took the bus from Waikiki Beach and then basically hiked all the way up to the park so I could get a shot of the famous entrance, unfortunately it was very foggy that day.
Note that if the guards at the front gate catch you trying to catch a picture, they will ask you to move, so be quick!
You can see plants from around the world, endangered plants, and native Hawaiian plants. You can feed the ducks, fish, and camp at Ho'omaluhia Lake. It's a beautiful place filled with tranquility. In fact, Ho'omaluhia means "peaceful refuge". Visit this botanical garden to enjoy a chill day away from the beach while learning more about Hawaii.
Kualoa Ranch
You must visit the home of some very popular movies like Jurassic Park, Godzilla, Jumanji, and 50 FirstDates — Kualoa Ranch.
With the towering hills and mysterious valleys, this side of Oahu is very mystical. Travel a short 24 miles outside of Waikiki to one of Oahu's most sacred places. Kualoa Ranch even offers a roundtrip shuttle for $15. The ranch has many excursions and Instagram-worthy photo-ops, but be sure to schedule early and expect to pay a little more for the exciting activities. From ATV tours, horseback riding, zip lining, and jungle expeditions, this site is a one-stop-shop for adventure and fun.
Top of Waikiki: Revolving Restaurant
Want to see Waikiki beach from a different point of view? Climb the escalators to the Top of Waikiki and enjoy a meal as the floor below you slowly rotates.
It's unlike any restaurant I have ever been to. The upscale restaurant is a fantastic way to take it all in; you can sit in one spot all night and enjoy the 360-degree views of the island. The floor to ceiling glass panels and rotating floor is the highlight of the experience but the food and drinks are just as noteworthy. Enjoy a sunset here by yourself, or with a loved one because the ambiance is very romantic and posh. One things for sure, you won't be disappointed by the experience.
Duke's Marketplace
Nestled in an alleyway a few blocks from Waikiki Beach is an open air market, the only one left in the neighborhood. If you're looking for a souvenir to take home and want something that screams "I got this from Hawaii", visit Duke's Marketplace. If you're not looking closely, you could end up walking right past it and into the higher end stores. You can find almost anything at Duke's, from jewelry and ukulele to hand-crafted gifts and more. The marketplace is lit up and alive at night, running operations until 11:00 at night.
Dole Plantation
This historic pineapple plantation is located in Wahiawa and was owned by James Dole. If you're a fan of pineapples, you must try the infamous Dolewhip, hop aboard the Pineapple Express train ride, and enter the world's largest maze which stretches over three acres long. The Pineapple Maze is featured in the Guinness Book of World Records and is filled with secret stations to find along the way and flora native to the islands of Hawaii. There is something fun and interesting here for everyone, including families!
Fumi's Kahuku Shrimp Truck
In the mood for some seafood? The locals on the north side swear by Fumi's Kahuku Shrimp truck! It is one of the top contenders for the island's best shrimp and the Hawaiians don't play about their shrimp. Grab a plate and take a seat under the trees where the leaves are marked with names and dates of past visitors. The place gives a more authentic feel than the restaurants on Waikiki Beach, and the food is packed with flavor!
You don't want to visit Oahu without exploring the island and all of its hidden gems. One visit was not enough time to truly take it all in so be sure to put some of these places on the top of your bucket list. Whatever you do, don't spend your entire vacation on the beach with all the tourists because the island of Oahu and its people have so much to offer.
Want more stories like this? Sign up for our newsletter here and check out the related reads below:
What To Do In Santa Barbara For A Day
10 Best Female Solo Travel Destinations
Everything To See, Eat & Do In Havana
Featured image via writer Tennelle Swan/Instagram