Silvia Pettway
Silvia Pettway is an educator who enjoys traveling, reading, writing, and Mexican food! I am the founder of Living SILsationally, a lifestyle blog that focuses on inspiration, encouragement, greater well-being, and community. My Instagram is @livingsilsationally_.
For my 31st birthday, I knew I wanted to take my very first solo trip. Taking an international trip by myself was something that I wanted to do for years, and I finally decided to make this goal become my reality. Tulum, Mexico has been on my travel radar for a couple of years, so I was ecstatic that I could finally visit this gorgeous city!
Tulum can be described as a peaceful, picturesque, relaxing, and rejuvenating city that offers amazing food and drinks, natural and holistic healing, some of the friendliest citizens ever, and a number of Instagram-worthy places to take photos! It is located about two hours away from Cancun in the state of Quintana Roo and is home to some of the most amazingly beautiful beaches the world has to offer. In recent years, Tulum has gained popularity.
When visiting Tulum, you should know:
Getting There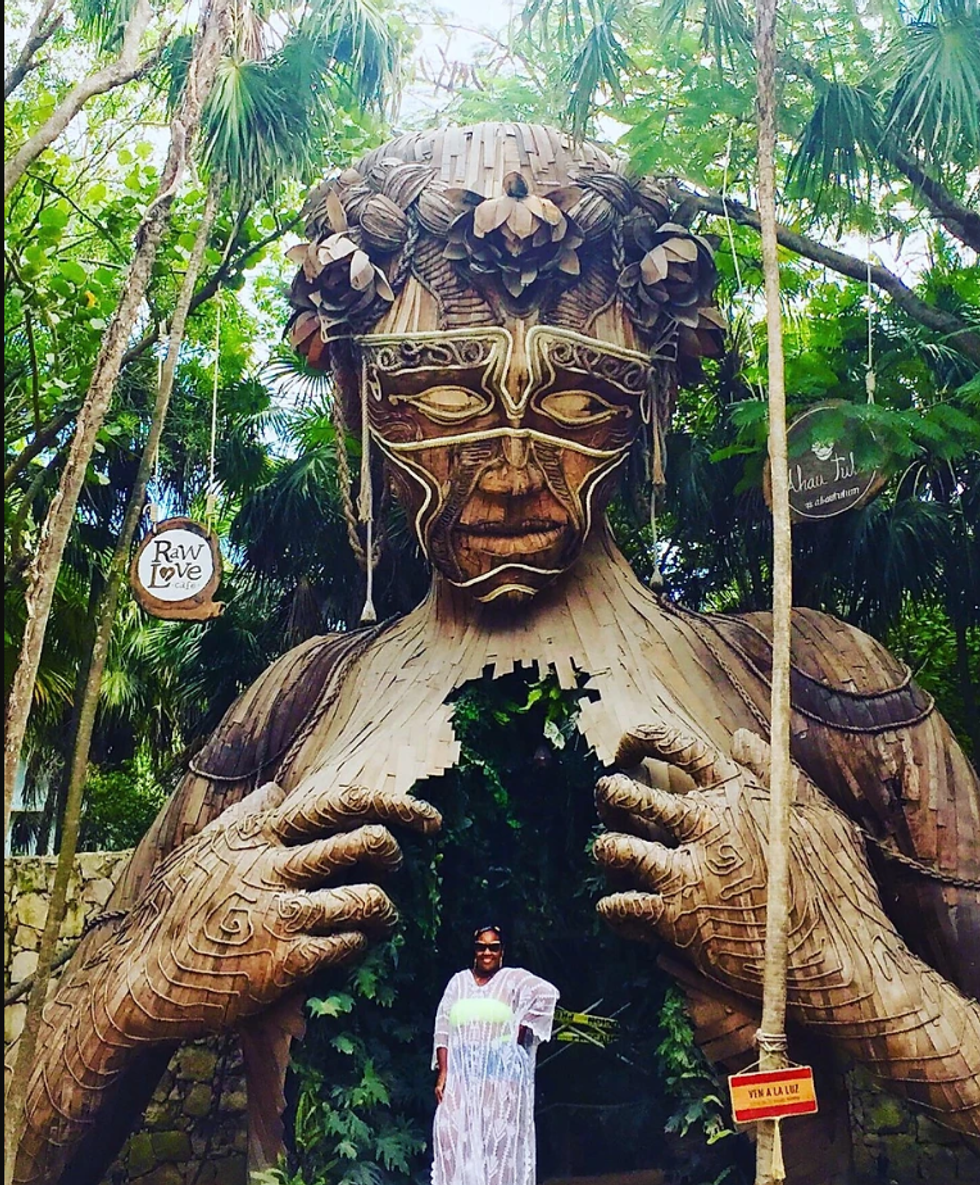 Image via Sylvia Pettway
Since Tulum does not have an airport, you must fly in through Cancun International. From there, you can rent a car, use a private or shared transportation service, or do what I did and ride on the ADO bus, the cheapest option. The ADO buses are public charter buses that citizens and tourists use to travel to different cities along the Riviera Mayan coast. The buses are affordable to ride and super comfortable. Some of them even come with Wifi!
Once I exited the airport, I found the ADO stand and paid for my ticket using pesos. (Please use pesos instead of your currency when buying your ticket because you will get your change back in pesos, and it may be less than what you expect). When using the ADO bus, you can either purchase a ticket where the bus goes straight to Tulum or you can purchase a ticket where you will arrive in Playa del Carmen from the airport and transfer to another bus. (You can read more about the transportation options here.)
Money, Communication, and...the Plug
Their currency is the Mexican Peso, but some places accept credit cards. It is best for you to bring pesos to use. You either order your currency through your local bank or visit the Santander Bank in Tulum to exchange your currency. Avoid exchanging your currency at the Cancun International Airport, because the exchange rates are a lot higher than the above-mentioned options.
Most of the citizens speak Spanish, but I came across a few men and women who were either bilingual or understood me and could help me if I had any questions. With that being said, brush up on your Spanish! Even if you only know or learn basic Spanish greetings, it goes a long way in Tulum. The citizens appreciate it and it will help you learn and respect their culture even more. If all else fails, Google Translate is your friend!
For my fellow Americans, there is no need to buy a universal plug as Tulum has both plug type A and plug type B for all your electronic needs.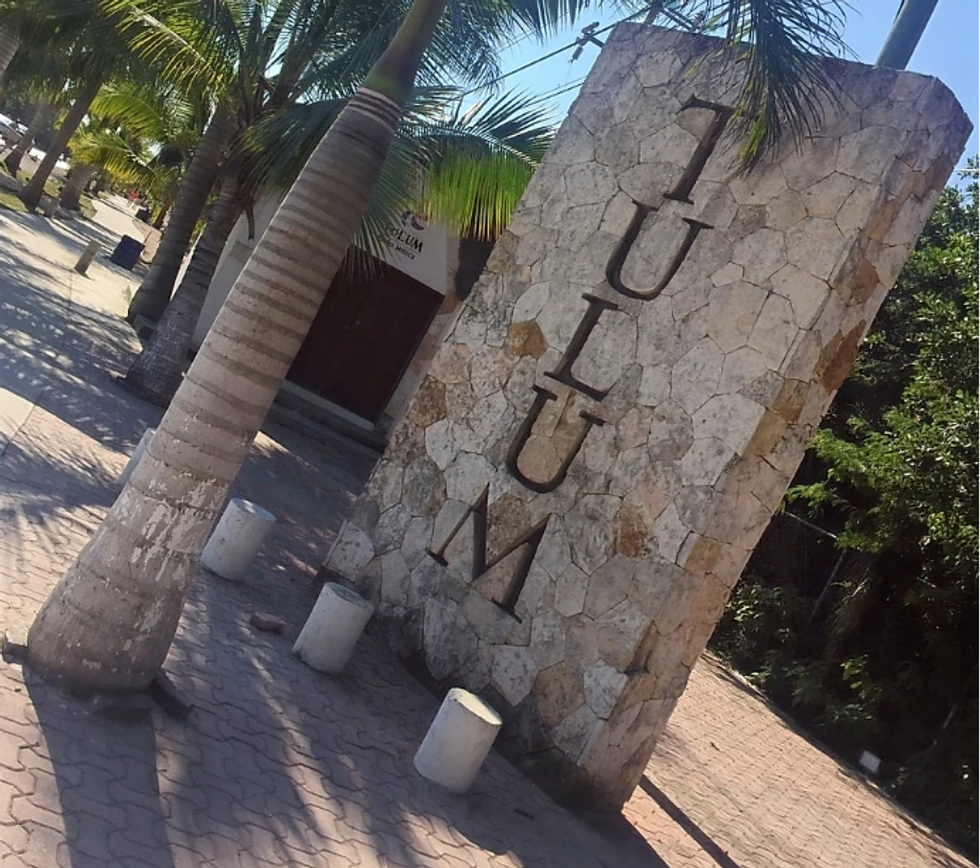 Image via Sylvia Pettway
Skincare Is a Must
Bring sunscreen and bug repellent. You're going to need them both. In order to accommodate Tulum's eco-friendly living and to protect the animals, try to use biodegradable skin products, especially when visiting the cenotes. I used these products: Neutrogena Sheer Zinc Sunscreen and OFF Botanicals Insect Repellent.
Research your hotel accommodations. Staying in town is cheaper than staying on the beach, but it is all about your preference and your budget. I stayed in town on this trip, but when I visit again, I plan to do a couple of days on the beach and a couple of days in town.
Hot Spots for Lodging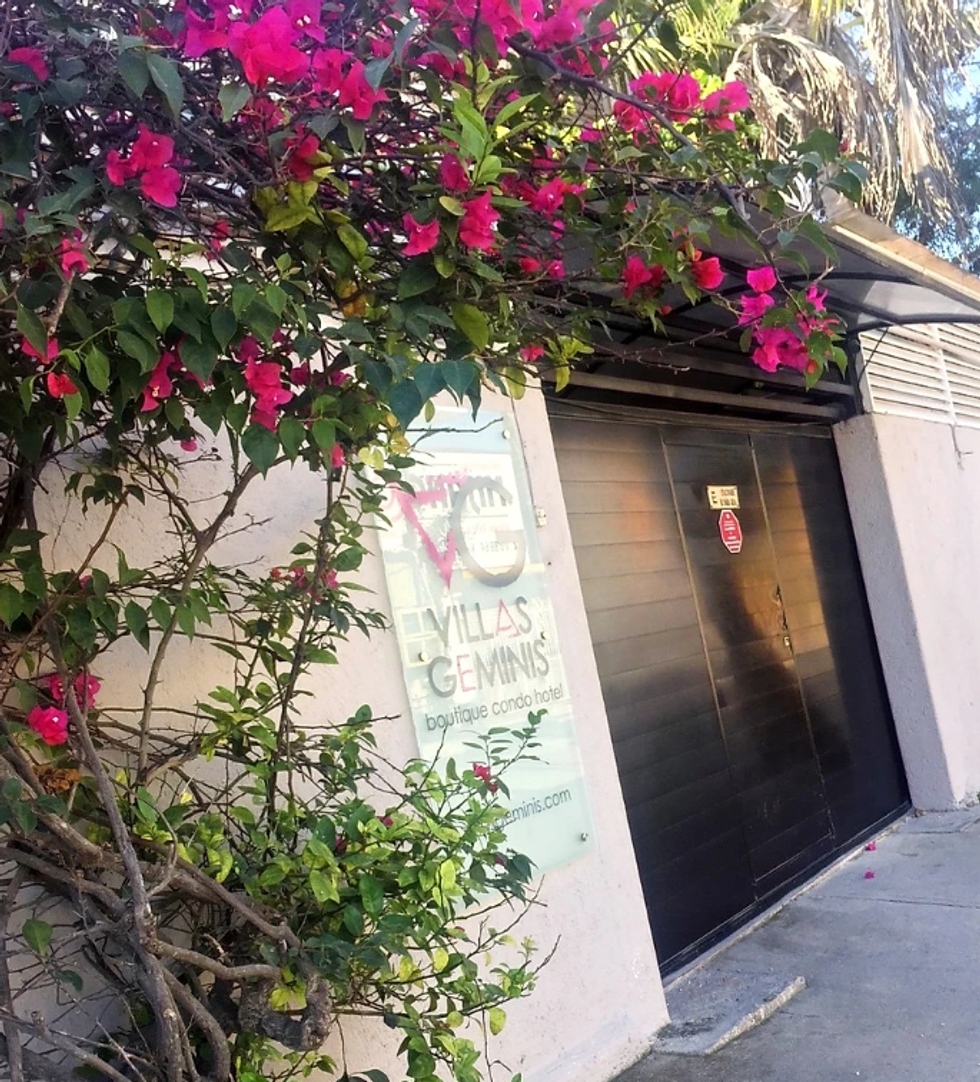 Image via Sylvia Pettway
For my solo trip, I knew I wanted my accommodations to be close to the center of Tulum where mostly everything was within walking distance. I'm so glad that I was blessed to find Villas Geminis Boutique Condo Hotel as it absolutely exceeded my expectations! Each room is named and reflected after a famous artist. I stayed in the 'Gustav Klimt' room which came with a complete kitchenette area, a king-sized bed, a sofa bed, shower, and a very big and deep outdoor tub with another overhead shower.
The staff at Villas Geminis was very welcoming and accommodating to my needs, and they went above and beyond to help me to navigate the area with ease. A stay at this fabulous and very affordable hotel also comes with an outdoor pool (which I had all to myself each day), breakfast at no additional charge, and free bicycle rentals to use for touring the beautiful city. Villas Geminis have booklets inside of each room that describes the additional services they provide as well as restaurants, bars, attractions, and tours that helped me to experience one of the best hotel stays ever!
Best Eats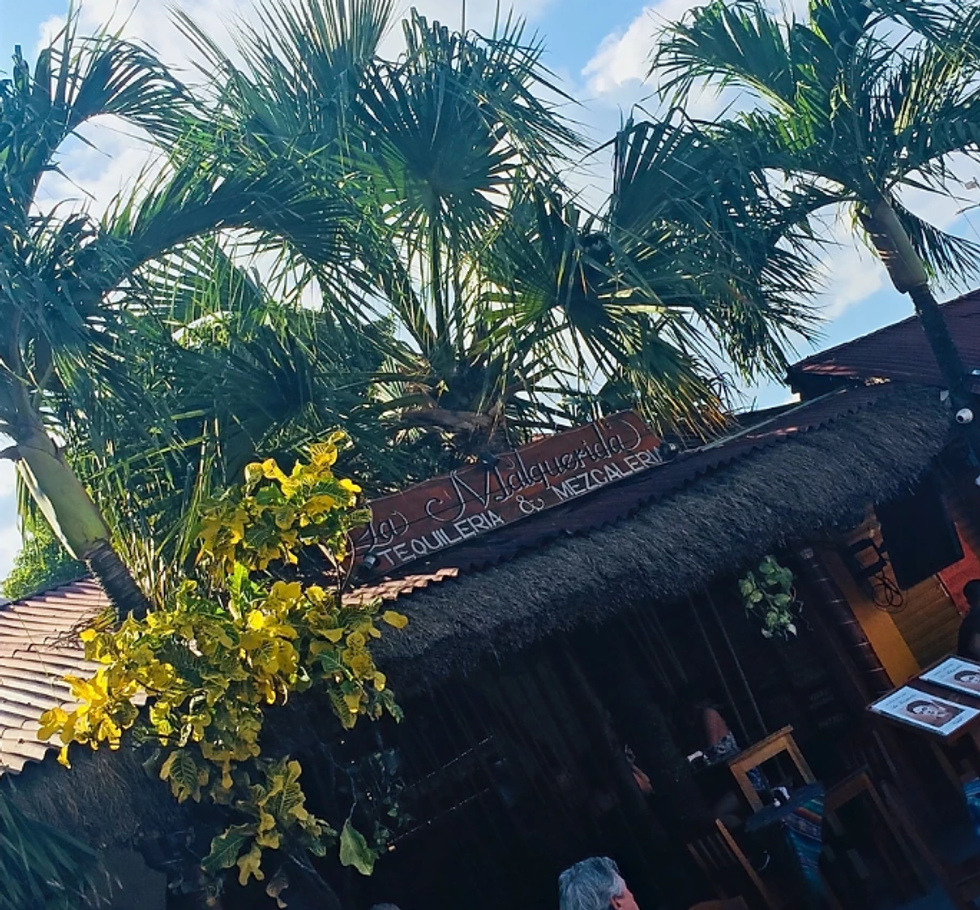 Image via Sylvia Pettway
La Malquerita was the first restaurant that I visited in Tulum. The restaurant has two menus--one with Mexican dishes and one with Italian dishes! The food and drinks at this restaurant are not only appetizing but super affordable. Like many other restaurants in the Tulum city center, they offer happy hour specials on their drinks (which were quite strong and tasty). The total cost of my first meal was $11.50--including two drinks! The restaurant also has a dining area inside that has swings instead of chairs. The quesadilla plate was really delicious, but the tacos needed a bit more flavor. Nevertheless, it was definitely worth visiting, even if you simply want to take advantage of their two-for-one drink specials.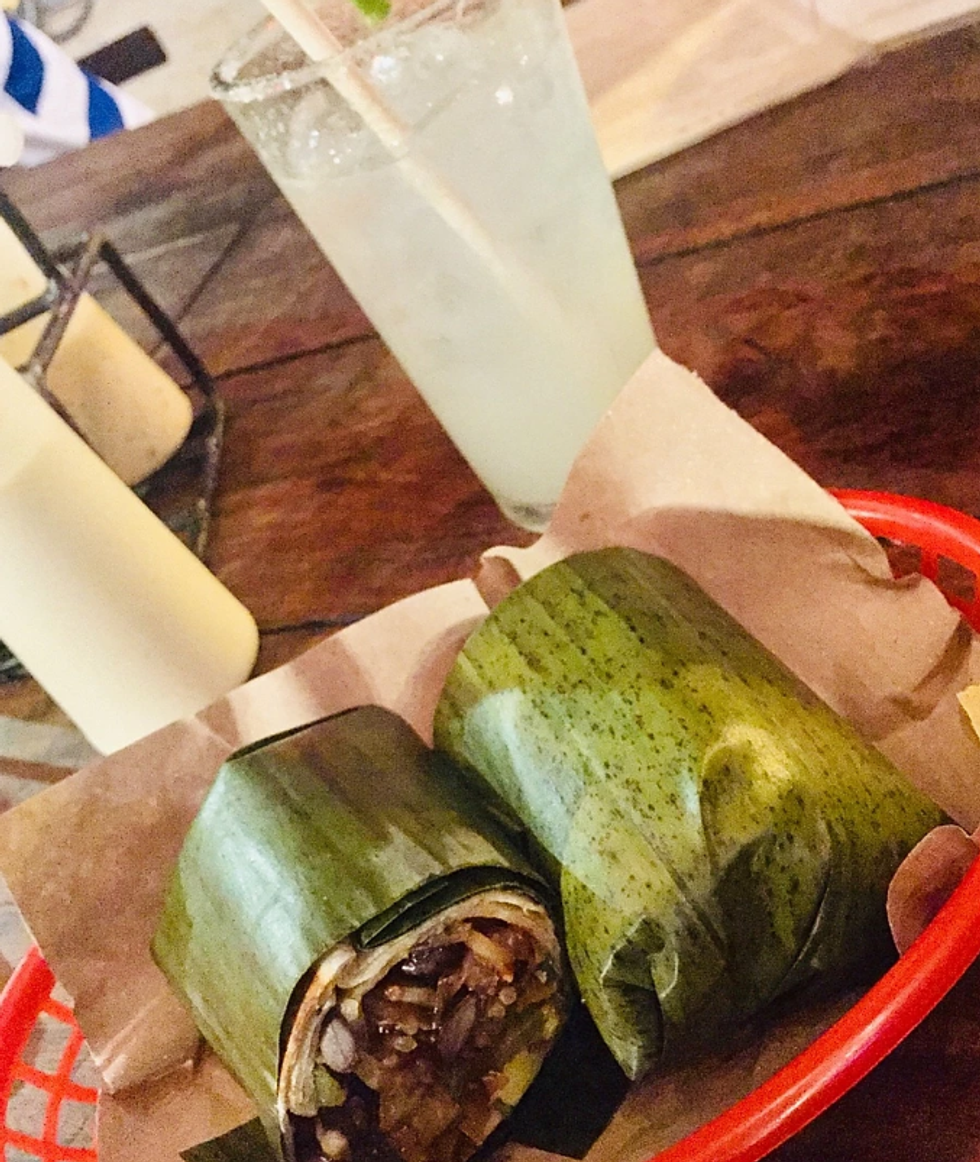 Image via Sylvia Pettway
Burrito Amor is one of the top restaurants to visit in Tulum. This is one of those restaurants that you have try or your visit to Tulum won't be complete. The establishment has a variety of options, including vegetarian and vegan, to please the burrito-lover in you! The burritos are wrapped in banana leaves and served with a variety of sauces to appeal to your preferred level of spice! I got the vegetarian burrito with a margarita, of course, and the meal was fantastic! It's a busy restaurant, so if you want to beat the crowd, get there once they open. F.Y.I., they serve breakfast, too!
Listen to me...if you desire an authentic street taco with the most flavorful meats you've ever tasted in your life? Please, please, please make sure you visit Antojito La Chiapaneca. I've never had tacos that tasted so good. You know the food is good when you forget to take a picture of the meal (le sigh). I had a chicken and a steak taco, and they were both amazing! The restaurant is famous for their tacos de carnitas, or pork tacos, where they shave the cooked pieces of pork in front you and prepare it for you!
More Than Tacos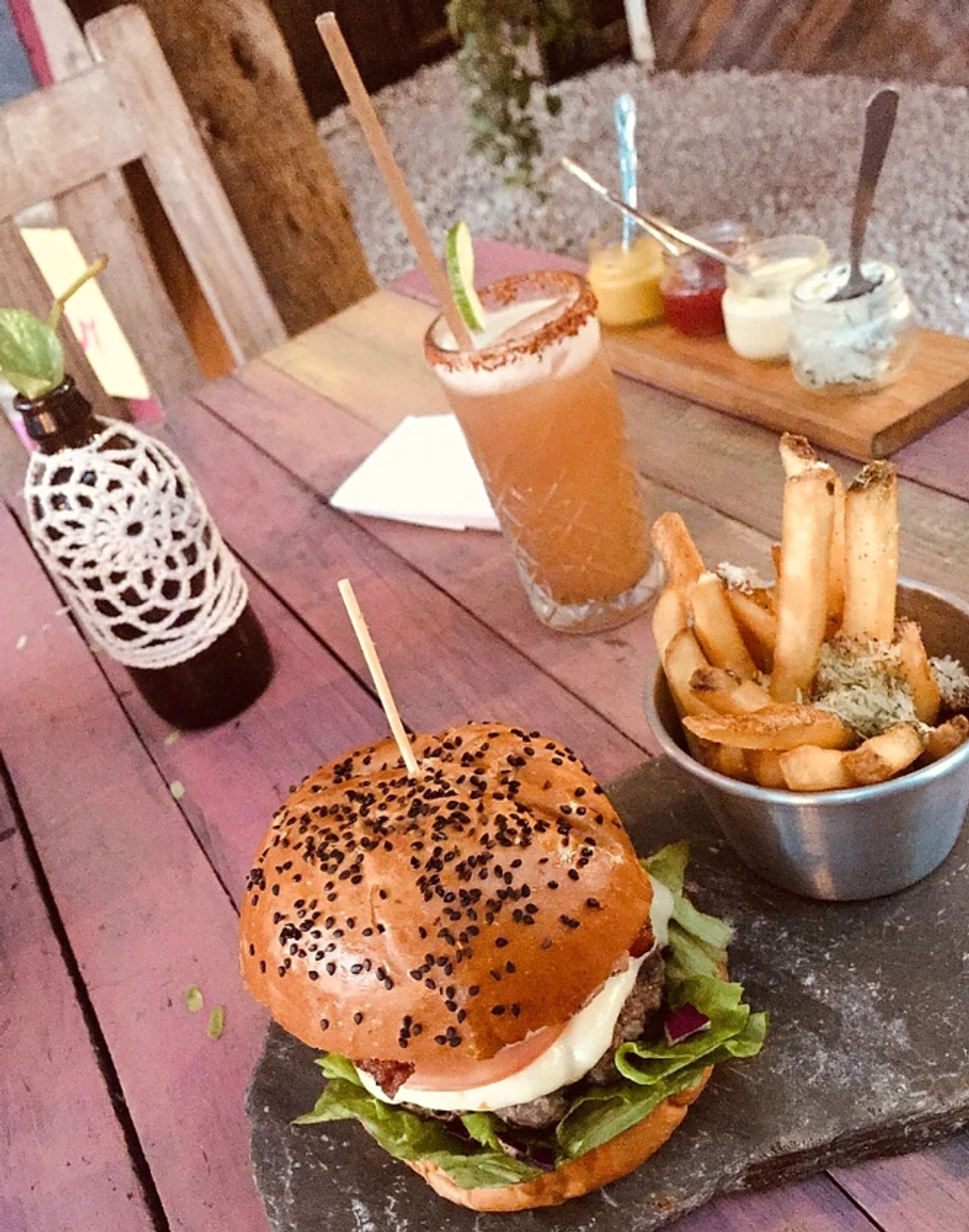 Image via Sylvia Pettway
Anyone who knows me knows I love a good, juicy, flavorful burger, and hot, crispy, well-seasoned fries. I needed my burger fix while I was in Tulum, so I researched some places and came across Bonita Tulum Burger Bar and it definitely exceeded my expectations! It was one of the best burgers that I've had in a while---huge, fresh, and perfectly seasoned. Along with the standard condiments, Bonita offers a cream cheese spread that was heavenly. I used that instead of ketchup to dip my fries in! Like the other above-mentioned restaurants, Bonita is affordably priced and offers vegan and vegetarian options.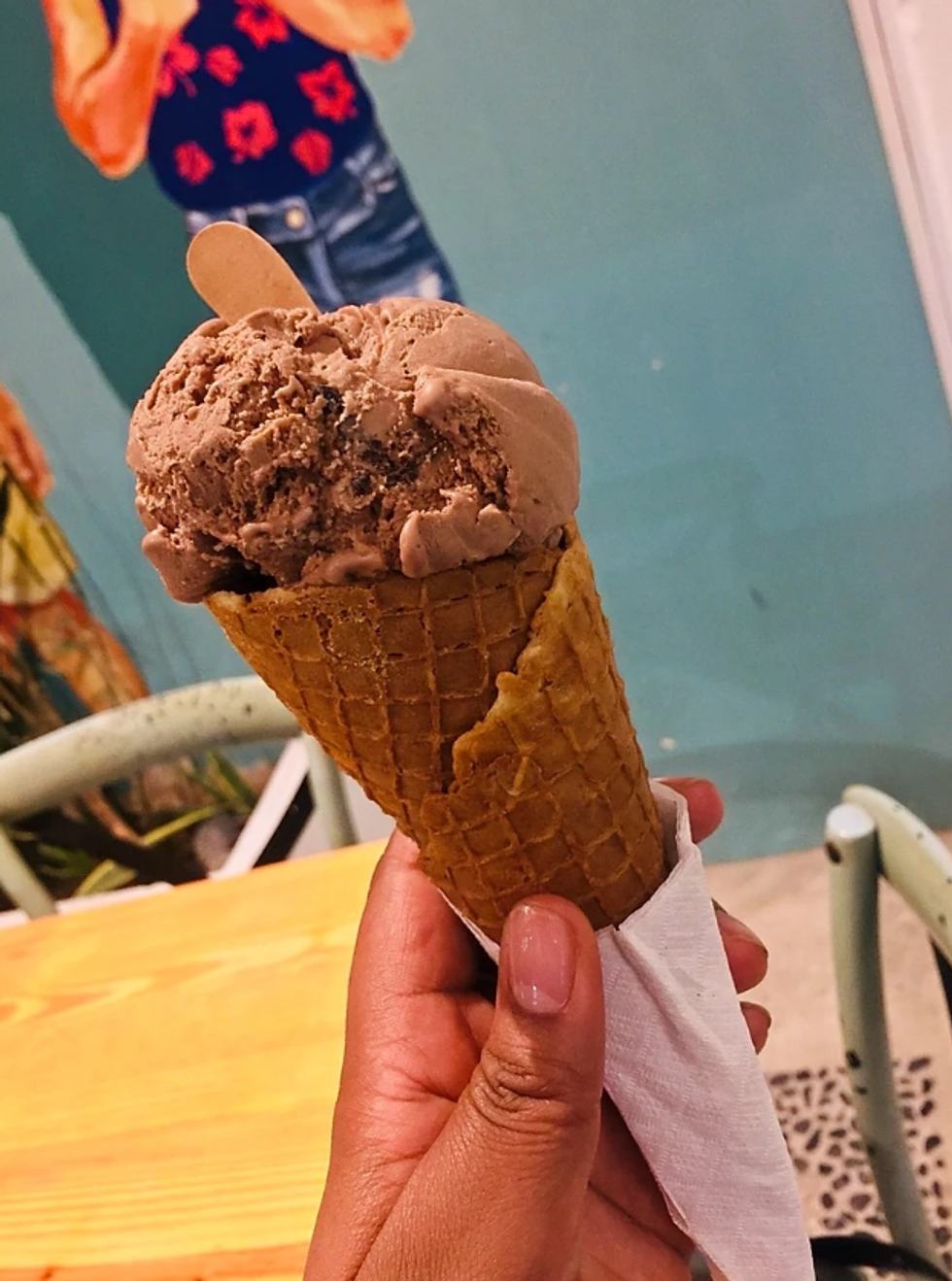 Image via Sylvia Pettway
I have a huge sweet tooth, so I was glad that I came across Campanella Cremerie, a shop that sells a selection of gelato flavors and other sugary sweet treats. The staff members were very friendly and the gelato was extremely tasty! Try the hazelnut flavor and thank me later. I ended up visiting this place twice and was satisfied each time.
Batey is a very popular bar located in Tulum Centero that is known for its mojitos. What makes these particular drinks so special is that they are made using fresh sugar cane juice! I had the watermelon mojito and it was pretty good!
Life's a Beach
Tulum is known for its amazingly beautiful beaches, and there are a variety of them to enjoy. Each day I visited the beaches, the weather was gorgeous, the temperature was perfect, and the water felt amazing! The most popular beaches in Tulum include Playa Paraiso, Playa Ruinas (which surrounds the Tulum Mayan Ruins), and Las Palmas Public Beach.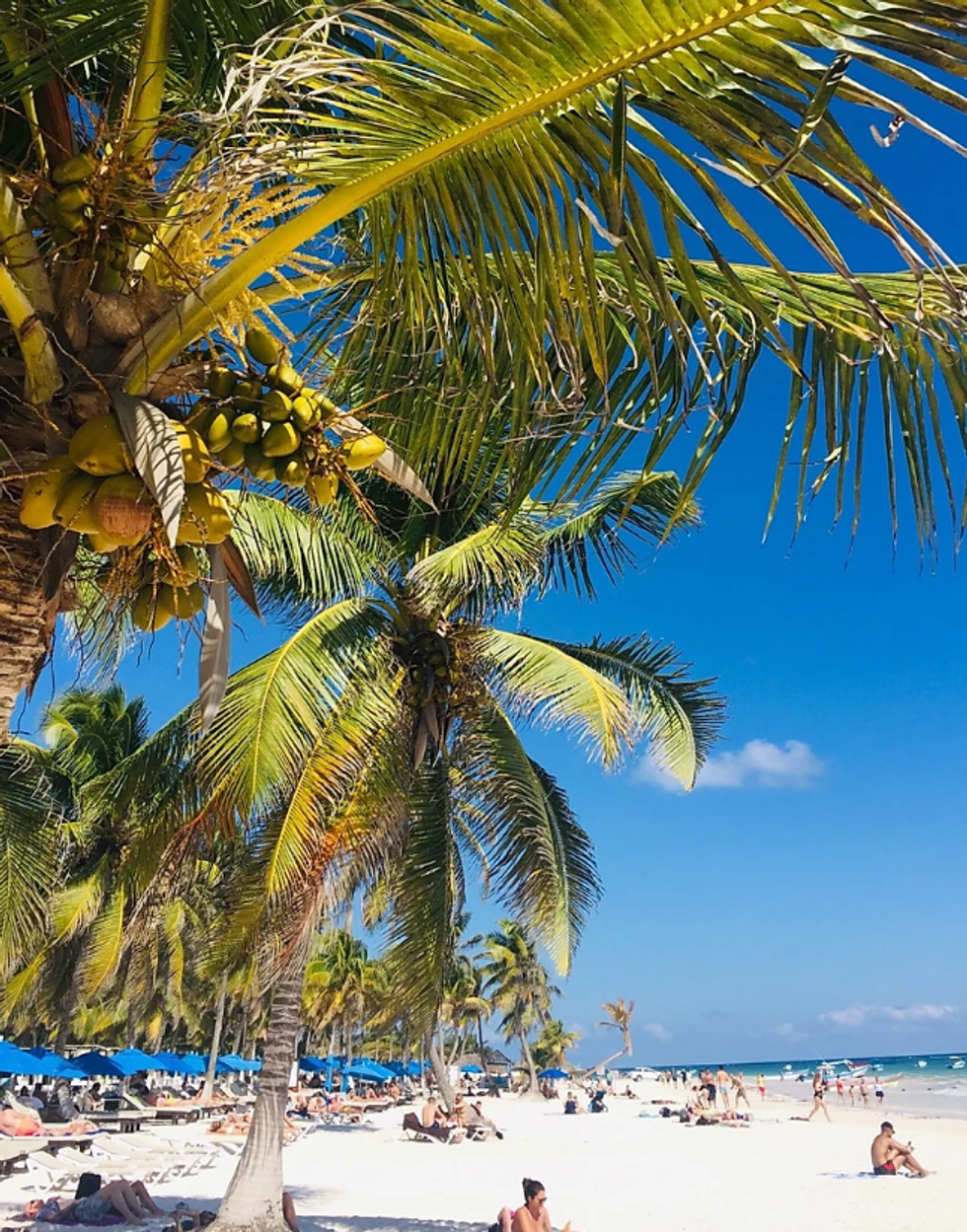 Image via Sylvia Pettway
There are beach chairs and cabanas for a fee so that you can lie back and enjoy the serenity that the beaches have to offer. I didn't get the opportunity to visit some of the other attractions that Tulum is famously known for, but I have added them for future reference. Click on each one for more info:
I have already decided that I will be going back to Tulum again for my birthday this year, and I can't wait to relive these experiences and make new ones in this magical city! Where would you like to go for your first solo trip?
Article originally published on Living SILsationally
Featured Image by Shutterstock

Originally published March 10, 2020