Shanelle Harris
Writer. Empath. Escapist. Young, gifted, and Black. Shanelle Genai is a proud Southern girl in a serious relationship with celebrity interviews, The Fresh Prince of Bel-Air, and long walks down Sephora aisles. Keep up with her on IG @shanellegenai.
In About Face, xoNecole gets the 411 on IGers who give us #skincaregoals on the daily. Here they break down their beauty routines on the inside and out, as well as the highly coveted products that grace their shelves and their skin.
If there's one thing I've always had a love-hate relationship with, it's my skin. Some days, she wakes up and she's happy, glowing and soft. And other days she's mad as hell and takes it out on me via extra oil production and random breakouts. Luckily for me though, this tumultuous tug of war is something Bolden co-founder Ndidi Obidoa knows all too well. After a day dedicated to some serious fun in the sun turned into a beach day gone bad due to a batch of melanin-averse sunscreen, Obidoa and her beauty partner Chinelo Chidozie were left fed up with the lack of skincare products made for darker-skinned women. Thus, Bolden was born.
Instead of begging brands for products that worked better for melanin-rich skin, they decided to create their own and in an effort to change the dynamic of the industry from within. Since launching, they've created several award-winning products and have become a cult favorite among skincare enthusiasts like Jackie Aina. xoNecole recently got the chance to chat with the 42-year-old Bostonian where she put us on to the importance of having a skincare routine as Black women, the best beauty lesson she's ever learned, and her self-care must-haves. Here's what she had to say...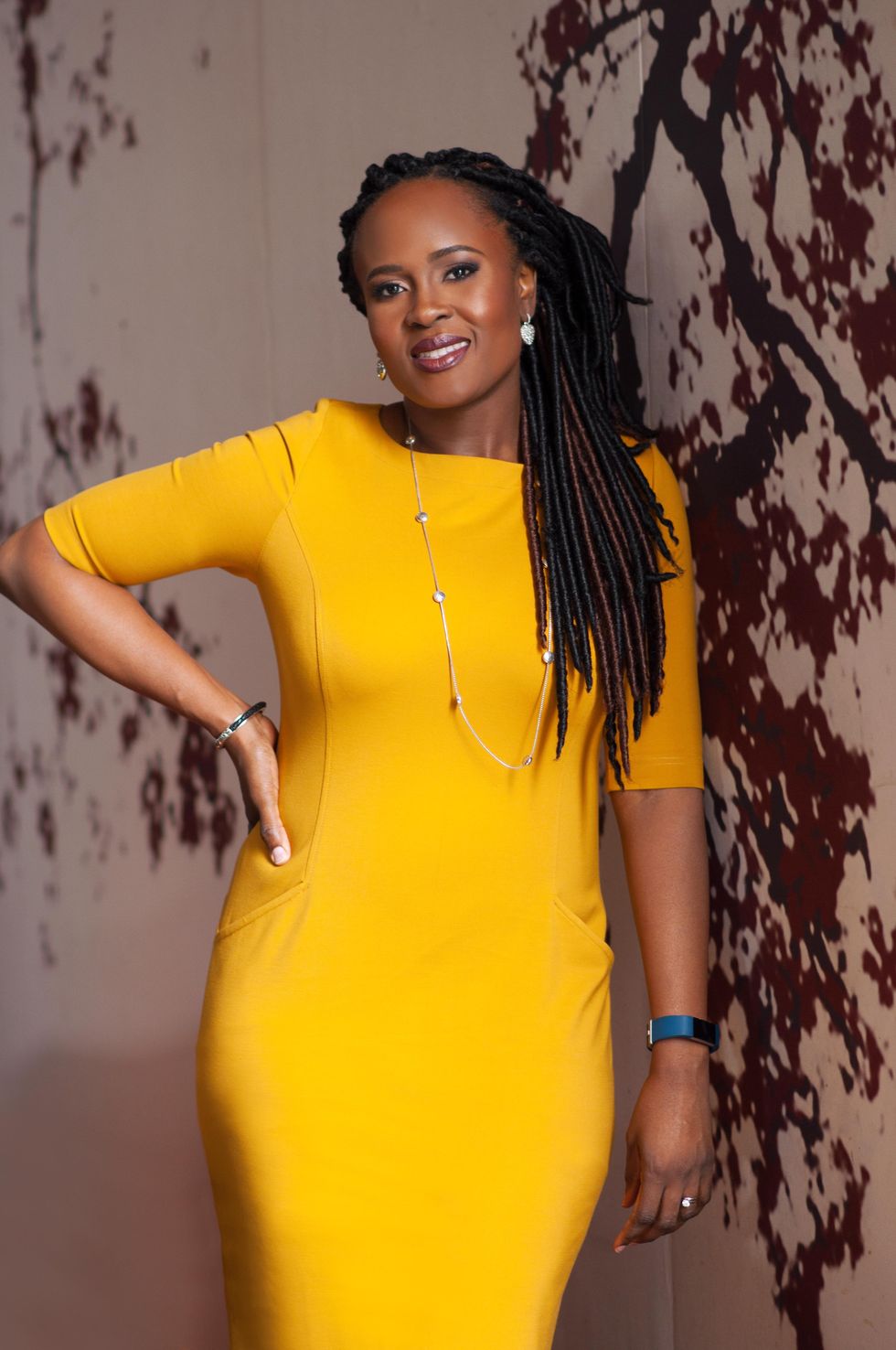 Courtesy of Ndidi Obidoa
My morning routine consists of...
"Oh gosh, my current COVID morning. I have a six-year-old who I'm homeschooling, so I have to spend like about four-and-a-half to five hours every day with him. My typical morning really starts at 6:30. I try to get an hour workout. I luckily have a treadmill in my house and I have a group of friends where we track our steps daily so I get that out in the morning. I take a shower after that and usually I try to make myself spend five minutes on my face in the morning which is to wash my face for at least a minute, then tone. And then [I] put on my SPF.
"By the time I'm done walking out the shower, I grab coffee, grab like a cup of yogurt. If I have time for breakfast, I grab some and I'm at my desk by 8:30. I work with my son right in front of me while I'm also replying to emails. So it's like back and forth. And by 1-1:30, he's done and out of my office. And then I focus on work."
My AM skincare routine looks like…
"I have my cleanser in the shower. I wash my face. I really try to stick to the rule that we've been sharing with [our Bolden] customers, which is to wash your face for up to one minute. Because that's how long it takes for all the great ingredients we have to work well together. So, I cleanse with the cleanser and when I get out of the shower, I use a brightening toner. It's a product that exfoliates gently and it helps to tighten your pores. I think that's really what has helped me achieve my face. And then next I apply a SPF moisturizer, which I love because it's a 3-in-1 product. It protects your face from the sun. It's a great moisturizer because it keeps your skin soft. And then also it includes Vitamin C. So it helps you manage hyperpigmentation. I do not step out of my house without a SPF moisturizer. I use about four pumps, which might seem like a lot but it adds up very quickly."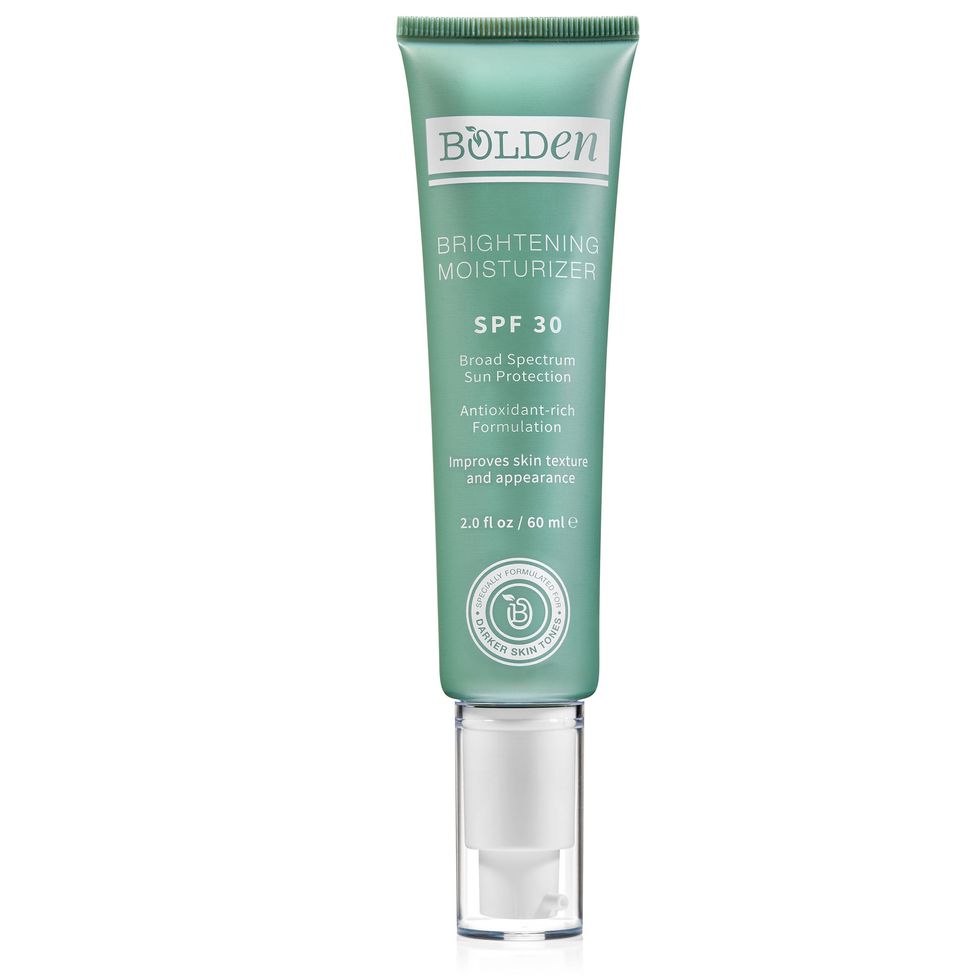 Courtesy of Ndidi Obidoa
My evening routine consists of...
"I try to spend some time with my sons. I try to stay with them until they fall asleep. Sometimes we read, sometimes we watch a movie. They really like to cuddle and fall asleep with me, then I have to carry them back into their beds. But I've trained them to go to bed by 8:30 at the latest. I usually try to have dinner with them but if I can't, after 8:30 I'll usually try to have dinner with my husband. We eat and after that I watch Asian drama. I discovered it at the beginning of COVID and it's a whole other world."
My PM skincare routine consists of...
"I repeat the first two steps: the cleanser and toner. And then I just add our nighttime repair serum. I always use mine with a Shea oil because I just like that. People always have this fear that if they apply oils, your skin will get oilier. But that has nothing to do with it. Oil production is controlled by a whole different process, but yeah. And then twice a week in the summer, well like once a week, I use a glow hydrating mask to hydrate. I'll skip one of my nighttime steps and just use the glow mask instead. And that really just keeps my skin well-hydrated."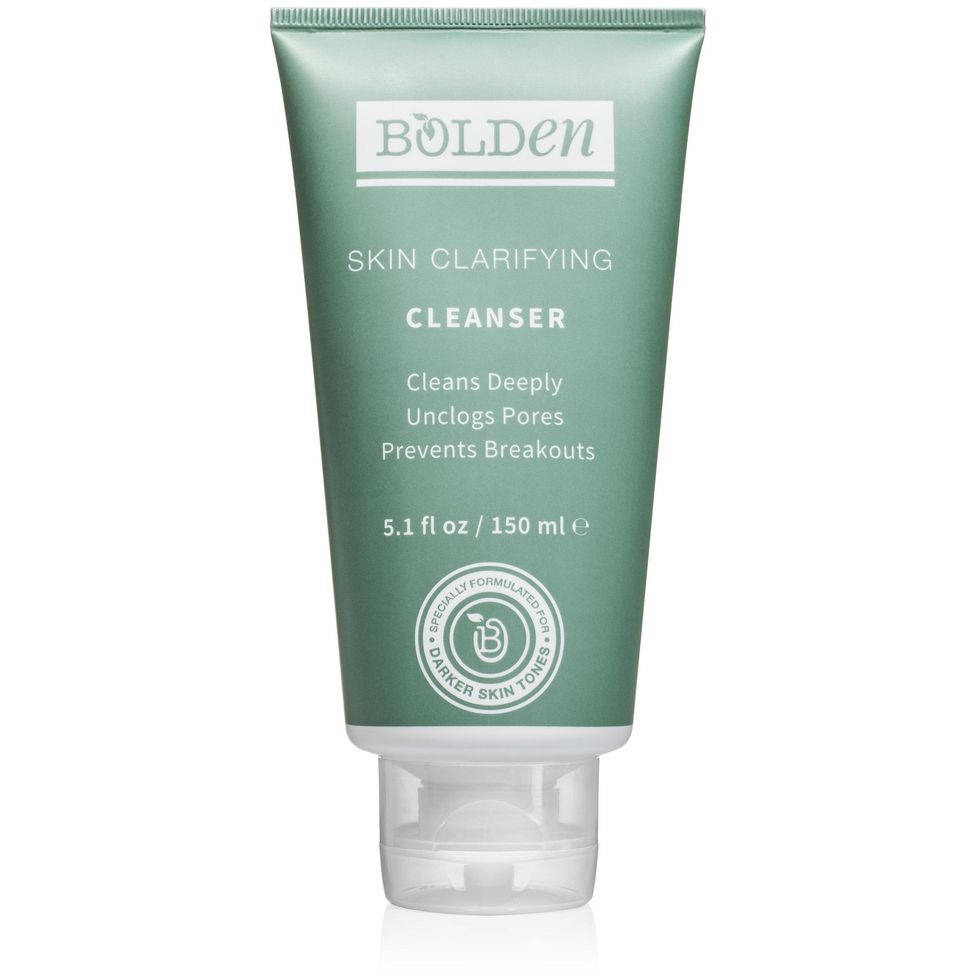 Courtesy of Ndidi Obidoa
How my skincare routine changes for the seasons...
"Living in Boston, it's cold out here [and] it gets drier in the winter months. What I do is I tend to use more Shea oil in my routine. In the morning, I apply the Shea oil and then do my cleanse after that. My skin gets really dry, like it itches and I have to take Zyrtec sometimes. So it's that kind of dryness, you know? I just use Shea oil and I only use Bolden products. We're actually working on some new cleanser for dry skin. So we hope to launch it by the new year."
My go-to makeup look consists of…
"Since COVID happened, I've only worn makeup once on my birthday. Everyone was calling me, FaceTime-ing me. So I had to try to look a little cuter than normal. But I have a powder that just sort of gives me a little matte look. And then I play up my eyes and my lips. I always have lipstick but I'm still learning how to apply eye makeup because that is really what dramatically changes my look. So it's simple.
"But I no longer have to use foundation, I don't use those big powders. I find that sometimes they really irritate my skin and my skin has gotten so healthy. I tend to use the glow mask before I apply makeup because it just makes my skin supple and beautiful, just like a glow."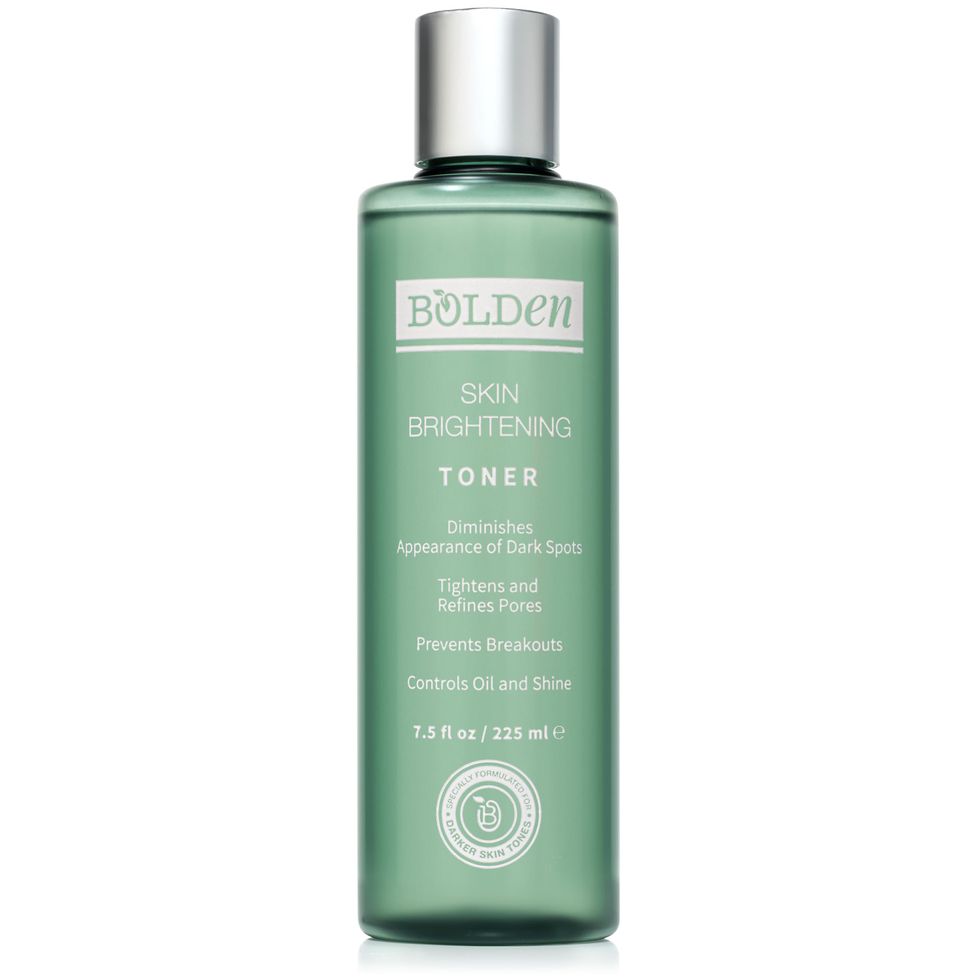 Courtesy of Ndidi Obidoa
How I approach beauty from the inside-out...
"I made a commitment when I turned 40, and I revisit it every year, but I really wanted to make exercising my lifestyle--not just something I do to lose weight. I've done bootcamps and stuff. I've even 'wowed' myself with the weight loss. It's just not sustainable, I wanted something that I could do that is sustainable. So I walk, jog for like an hour a day. I really love it. It makes me feel lighter, it just makes me feel good. And I find that I'm less emotional about things that happen to me. And by being less emotional, I feel good. I feel good on the inside, you know? I have less negative thoughts about everything. My mind is clearer and I can make new, fantastic Bolden products."
What self-care looks like to me...
"I love my girlfriends. For my 40th birthday, me and eight of my friends went to Mexico and it was the best time I ever had. They're women who won't lie to me, they're my support system. That's my number one. I also love a bottle of wine. I indulge on weekends, only because I have to wake up early, so I'll try to have a glass then. The other thing is hope! We all have to have something that we're hopeful for, something that we can look forward to. I was also going to say massage, but I haven't had a massage since February. I love massages, I miss it. I was getting them at least once a month until COVID started."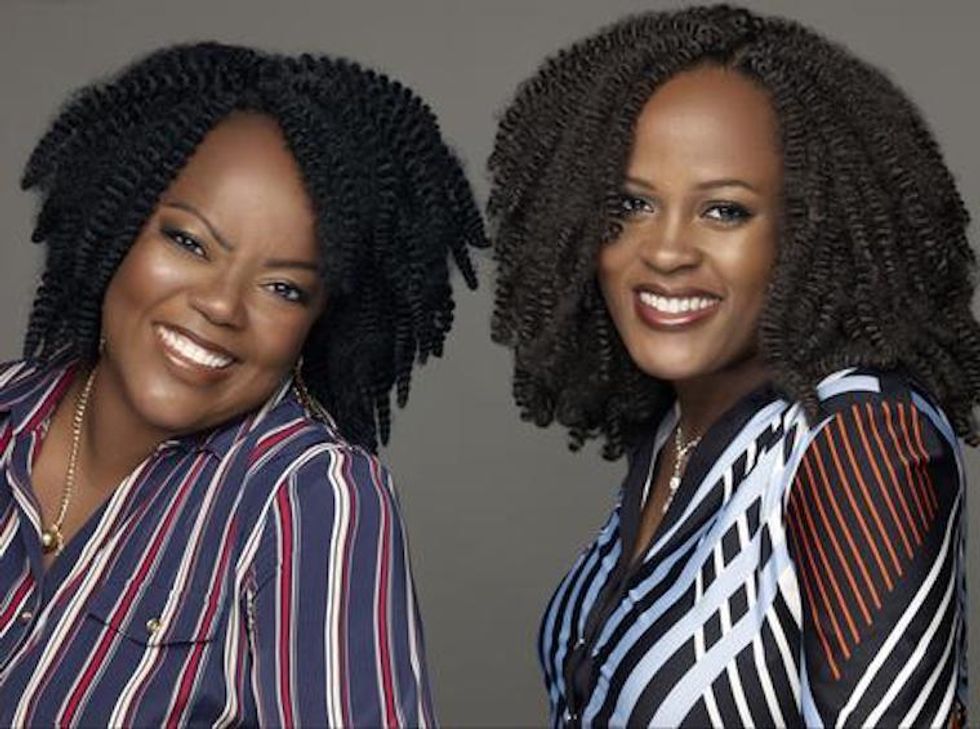 Courtesy of Bolden
My earliest beauty memory...
"I grew up with my single mom. She was a banker, so she had to dress up every day in suits, and wear makeup and go to work. But she was really fastidious about taking off makeup at night, you know, mornings were a little crazy in our household back then. But in the evening, I would just sit by her bedside table and just watch her get rid of her makeup. That's my earliest memory in terms of beauty and skincare and having a routine or something you do every day to care for your skin."
How my views on skincare and beauty have evolved...
"Well, as I've gotten older, I definitely think that in skincare, I understand my skin a lot better than I did in my twenties. I know what my dry skin really is or if it's a little too oily, what things could be affecting the texture of my skin. So now, I just believe that you must have a skincare routine, you should have a routine that you follow every day. People have several routines, I know I have two routines that I go through every week, but you need something basic in good ways to care for your skin. In terms of beauty, now when I look at people and look at the symmetry of their face--it doesn't mean as much like it maybe did when I was younger. Now I think of beauty as the totality of who you are."
For more of Ndidi and Bolden, follow them on Instagram @boldenusa.
All images courtesy of Ndidi and Bolden Beauty.
Picture this: it's a rainy Sunday morning in the winter. You wake up still tired from the night before (wink, wink) but nevertheless, you're in good spirits. You roll over to feel the warmth of your significant other but to your surprise, he's not there. You sit up, rubbing the sleep from your eyes in a slight state of confusion and angst––that is until he comes sauntering in with a tray of food. He's brought you breakfast in bed, specifically your favorite: Blueberry French Toast, eggs made just the way you like, a side of bacon, and a carafe of home-mixed mimosas.
The tray looks like it belongs on the cover of Food Network Magazine. You smile sweetly at him before digging in. Now this could be you IRL sis, but you playing. Put yourself and the lover in your life on game by putting them onto these delectable treats made by black bakers sure to keep your sweet tooth singing.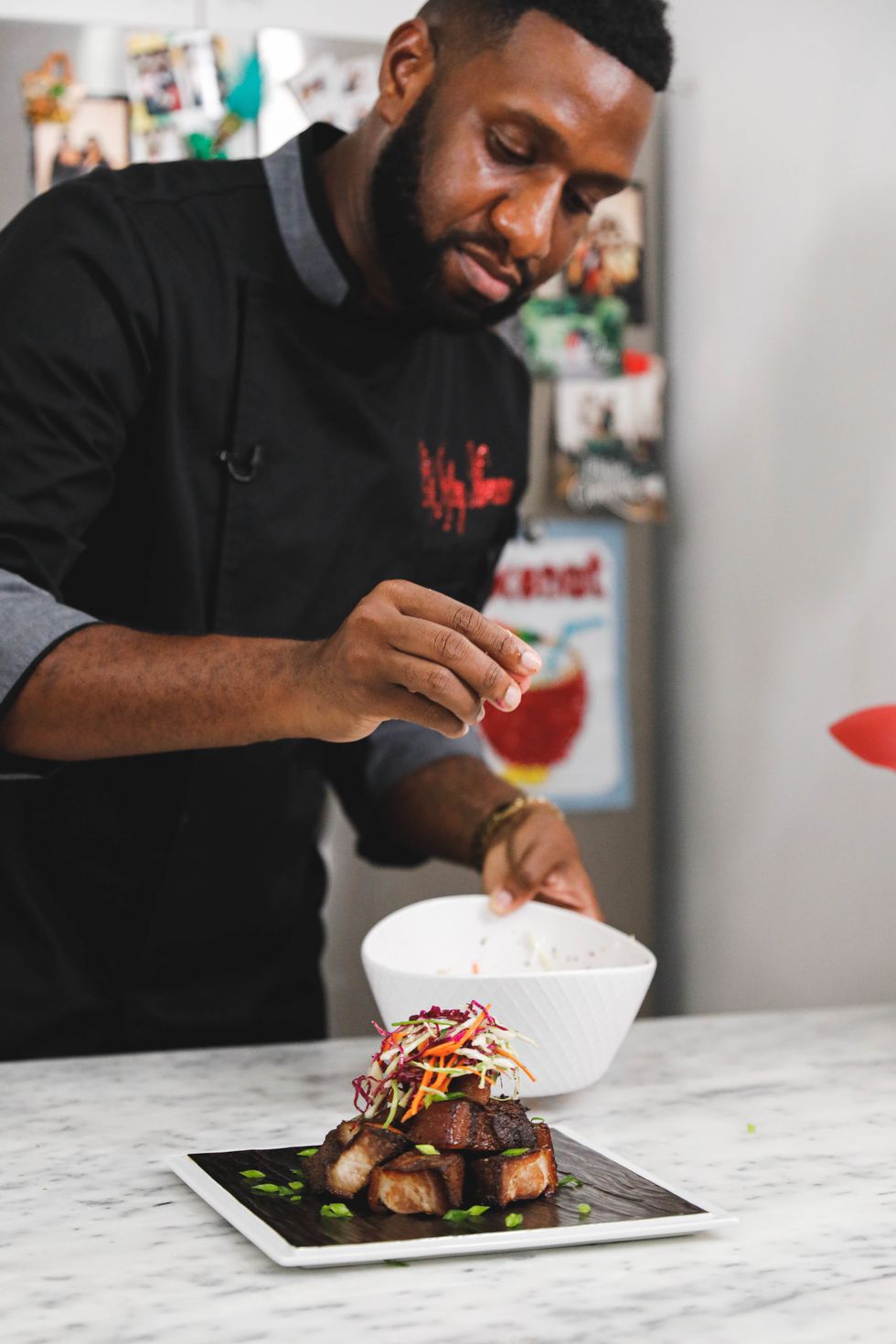 Courtesy of Chef Jeff Morneau
With a background in French Culinary and vast experience working for various catering companies and restaurants, Chef Jeff quit his job in 2011 in pursuit of more fulfilling work. Thus Chef Jeff Catering was born. And though he admits to initially running away from baking as long as he could, it's something he now truly loves in the most positive way. "It's the passion for me. I never look at the dollar amount and I think that's why I'm in abundance the way I am now. The satisfaction of my customers and the retention of my customers really keep me going." And while this self-taught baker excels at all things cakes, pies, cookies, cupcakes, and event planning, his viral claim to fame are no doubt his flaky, buttery, melt-in-your-mouth Haitian patties.
What Baking Means to Him:
"It's a sense of fulfillment to know that people seek something I created. My job isn't a job, it's a hobby that pays well. My downtime, I find fulfillment in creating new things and trying new techniques. Baking makes me whole. It gives me a sense of tranquility, I get a sense of peace out of it. It allows me to create."
Career Highlight:
"It would be the Haitian patties. I say that because the biggest thing you're planning is never going to pop the way you want it to pop. It's always going to be the least amount of work in, that's gonna be the thing. They [The Haitian Patties] were never supposed to be a thing. I forgot them at an event and I needed to figure out what to do with them. But they helped put me on the route of becoming a household name. You know, people are waiting on them to be released again. So now, I have a tangible product that's sought after."
Future Plans:
"I would like to have Haitian Patties in distribution and create well-branded cookware. I want to have more things inside people's homes that say 'Chef Jeff.'"
For more of Chef Jeff, follow him @ChefJeffDidIt.
Chef Jeff's Blueberry French Toast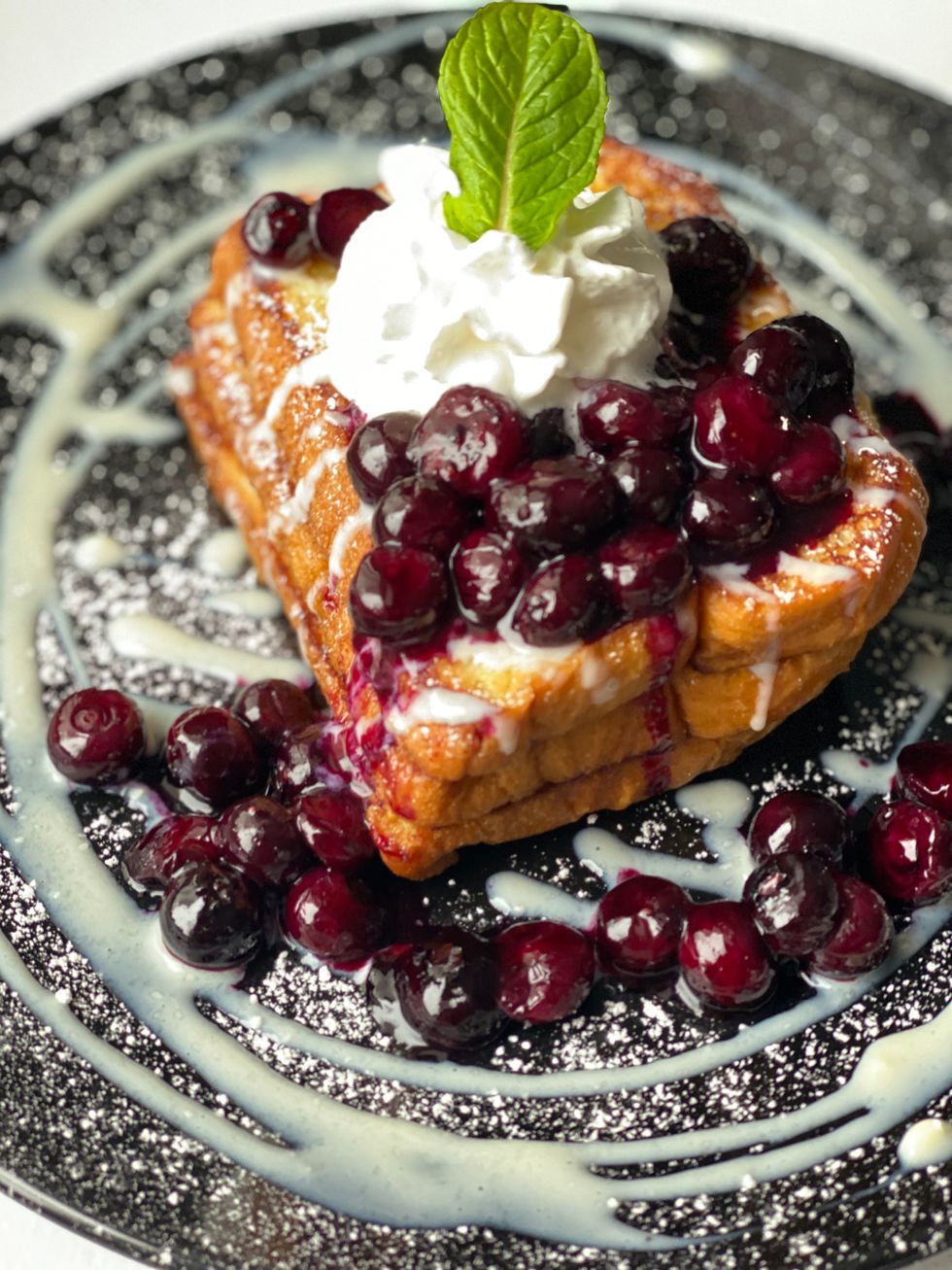 Courtesy of Chef Jeff Morneau
Prep Time: 10 mins | Cook Time: 20 mins
Ingredients:
8 slices brioche
1 stick of butter
Egg Mixture:
1 cup evaporated milk
1/2 cup sweet condensed milk
Dash of cinnamon
1 egg
2 tablespoon sugar
1 teaspoon orange zest
1 teaspoon vanilla extract
1 tablespoon of Brandy
Blueberry Drip:
2 cups blueberries (or fruits of choice)
1/2 cup sugar
1 tablespoon brandy
Cream Cheese Drizzle:
8 ounces cream cheese
1/2 cup sweet condensed milk
1/2 cup evaporated milk
Garnish:
Whipped cream
Fresh mint
Sugar
Directions:
In a bowl, whisk together: milk(s), egg, vanilla, brandy, orange zest, cinnamon and nutmeg.
Dip bread in egg mixture, flip to coat both sides evenly. (Do not let it get too soggy.)
Toast bread slices on a buttered nonstick skillet on medium heat until browned on both sides. (Dress with the drip.)
Blueberry Drip: In small saucepan, add fresh blueberries, dash of Brandy, 1/2 cup of sugar, and bring to a boil; then slowly simmer for 5 minutes.
Cream Cheese Drizzle: Mix Cream Cheese (softened), sweet condensed milk, evaporated milk. (Transfer into a squeeze bottle.)
Top with 10 times sugar, a dollop of whipped cream and fresh mint.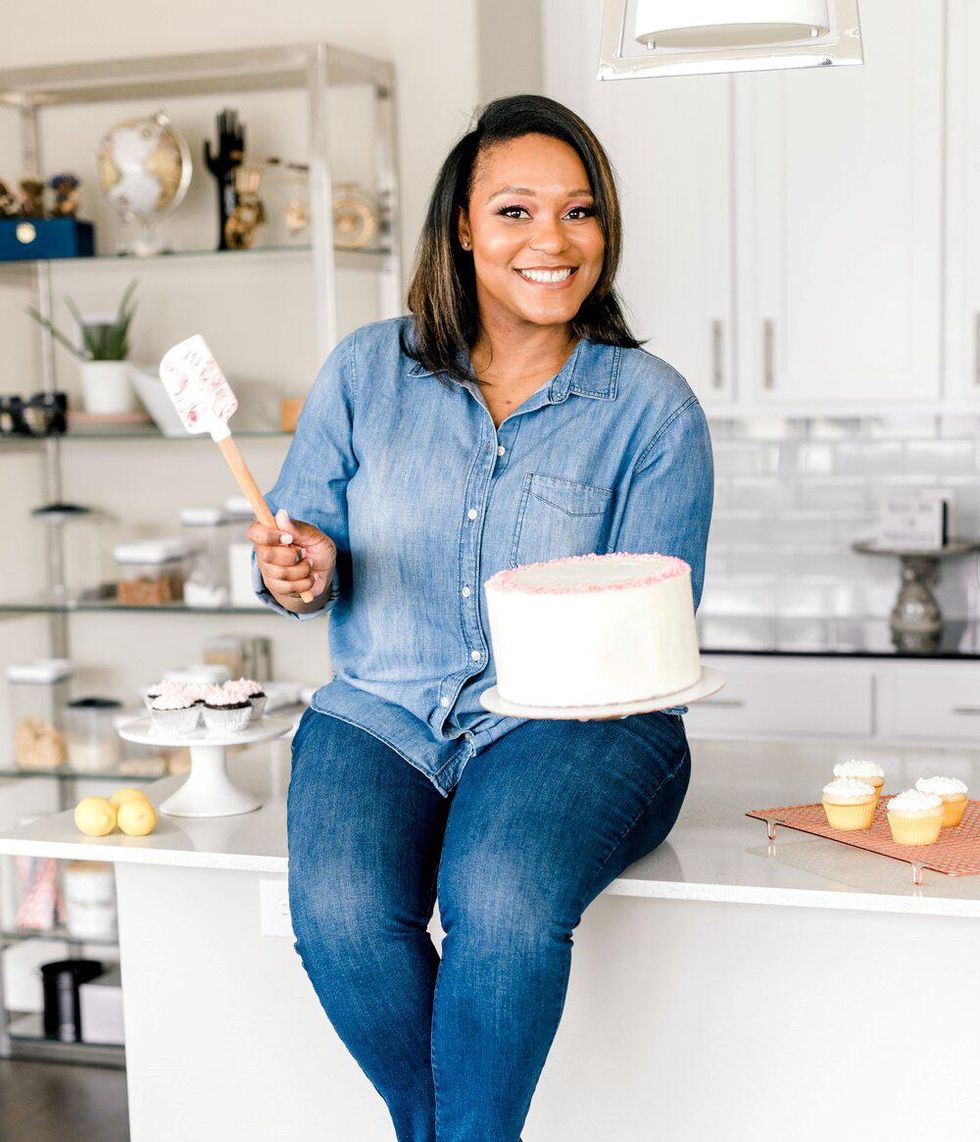 Courtesy of Vee the Baker
Veronica Fletcher has Thanksgiving of 2014 to be grateful for when it comes to her booming business. After a coworker commissioned her to bake desserts to adorn the family dinner table, it proved to be the spark she needed to launch her then-fledgling version of Vee's Bakeshoppe. By Christmas of that same year arrived, Fletcher received more dessert requests from coworkers for their family gatherings. Following the successful holiday season, Vee's Bakeshoppe hosted a pop up in May of that next year where she sold out of her signature cupcakes in the first 30 minutes--officially cementing her as a small business owner.
For Vee though, it's all about the feeling of satisfaction for people she serves. "The best part is the smile I get when someone enjoys one of my creations. I live for the pause and long, drawn-out "yums" when that first bite melts into their mouths. The happiness of being satisfied or having spirits lifted by a little flour, sugar, butter, and time is well worth my effort."
Length of Time Baking:
"I started baking in college with the hopes of recreating the desserts I grew up enjoying. The hunger for home led to numerous calls to and long recipe walk-throughs with my mom. Growing up, we didn't keep packaged sweets in our pantry because my mom, known to many in the Dallas area as the 'Cookie Lady', baked all the time."
Favorite Dishes to Bake:
"My beloved bakes are 7-Up pound cake, homemade cinnamon rolls, and a beautifully decorated layer cake. The versatility of and endless ways you can enjoy a delicious piece of pound cake has allowed me to create recipes that range from breakfast to dessert. The inviting smell and ooey-gooey goodness of a homemade cinnamon roll with a cup of coffee is the perfect way I like to start the day and end it on some occasions. Creamy, velvety buttercream, and bright colored decorative elements on my layer cakes allow me to be artistic and playful."
What Baking Means to Her:
"Baking is my therapy. As one who works a corporate job full-time, I look forward to getting into the kitchen after a long day and baking my feelings away. Sweet creations are always the best reward before calling it a day (or night). The process of baking and the bakes I'm able to create bring to fruition an idea, or emotion that I want to convey. It is truly my passion. I want each and every recipe that I craft to ring of my personality and love for good food, great moments, and amazing memories."
Let's go sis! For more of Vee, follow her on IG @veethebaker.
Vee's 7-Up Pound Cake Recipe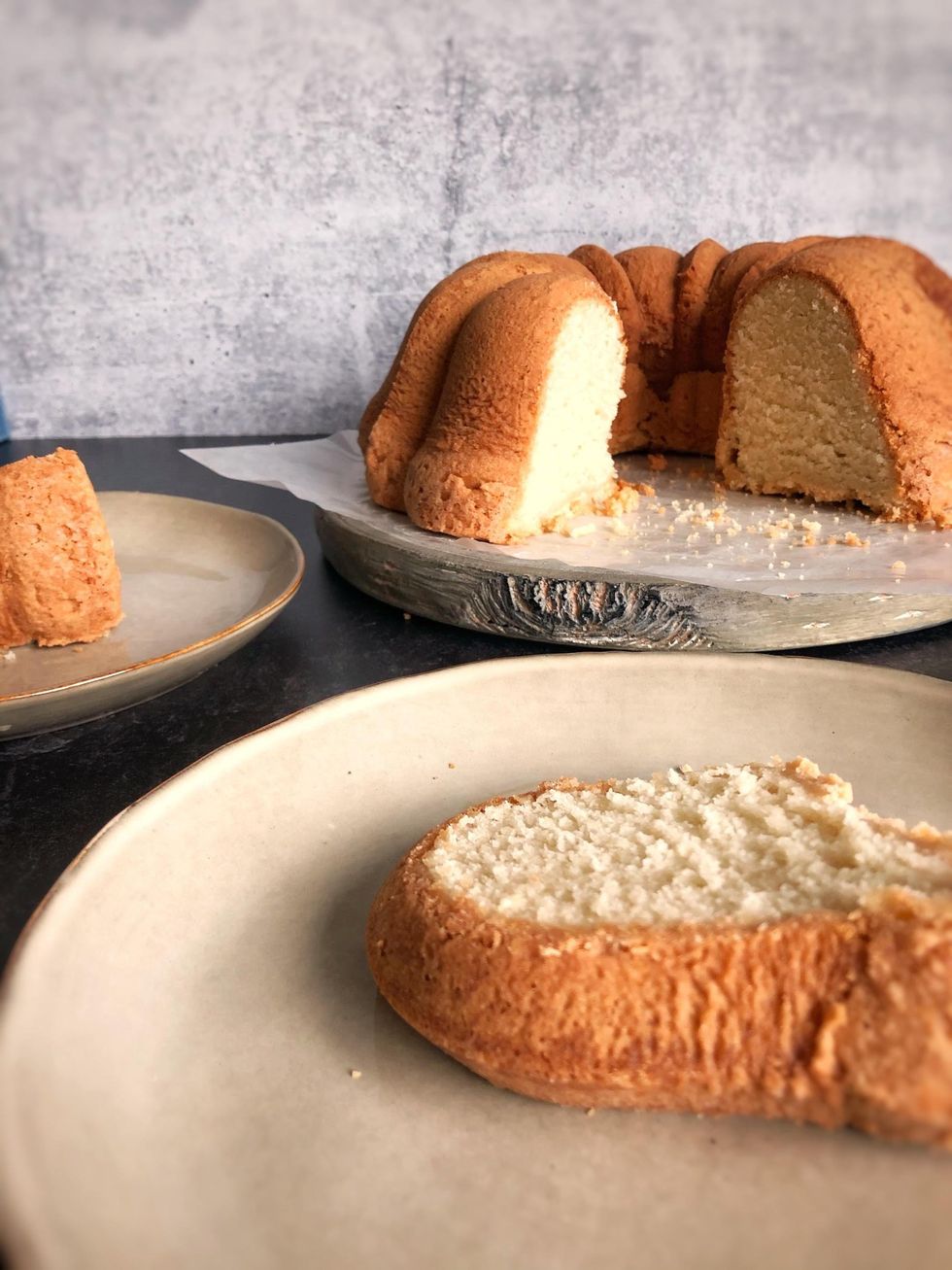 Courtesy of Vee the Baker
Ingredients:
1 cup of salted butter (2 sticks), room temperature
1/2 cup of vegetable oil
3 cup of granulated sugar
1 Tbsp. vanilla extract
1 Tbsp. lemon extract
3 cup of all-purpose flour
5 eggs, room temperature
3/4 cup of Sprite, room temperature
Directions:
We'll be using a single rack in the oven. Remove the top oven rack and place the bottom rack on the third position rack from the bottom. Preheat the oven to 290 degrees.
Prepare your bundt pan by coating it with non-stick vegetable spray or shortening and flour. I personally prefer shortening and flour. (You cannot substitute vegetable oil for shortening here. The consistency is not the same.)
Sift flour and set aside.
Crack eggs in a small bowl, removing the chalaza. Beat eggs with a fork and set aside.
In a bowl of a stand mixer, add butter, oil, sugar, vanilla, and lemon extract, and turn the mixer to Stir. Mixture should become light and fluffy before moving to the next step.
Spoon in flour alternately with the Sprite while the mixer is going. You want to add enough Sprite to moisten the dry ingredients. I suggest you add the flour ingredients in thirds. Stir until mixture is smooth.
Slowly pour in eggs while the mixer is running. Stir until batter is well mixed and smooth. Do not over beat the batter.
Pour batter into the prepared bundt pan, spreading evenly to ensure the cake bakes out evenly.
Bake for 90 minutes (timing will depend on how your oven cooks) or until the cake tester/toothpick comes out clean.
Remove from oven and allow to cool for five (5) minutes before flipping out on the cake stand. Allow cake to finish cooling before serving.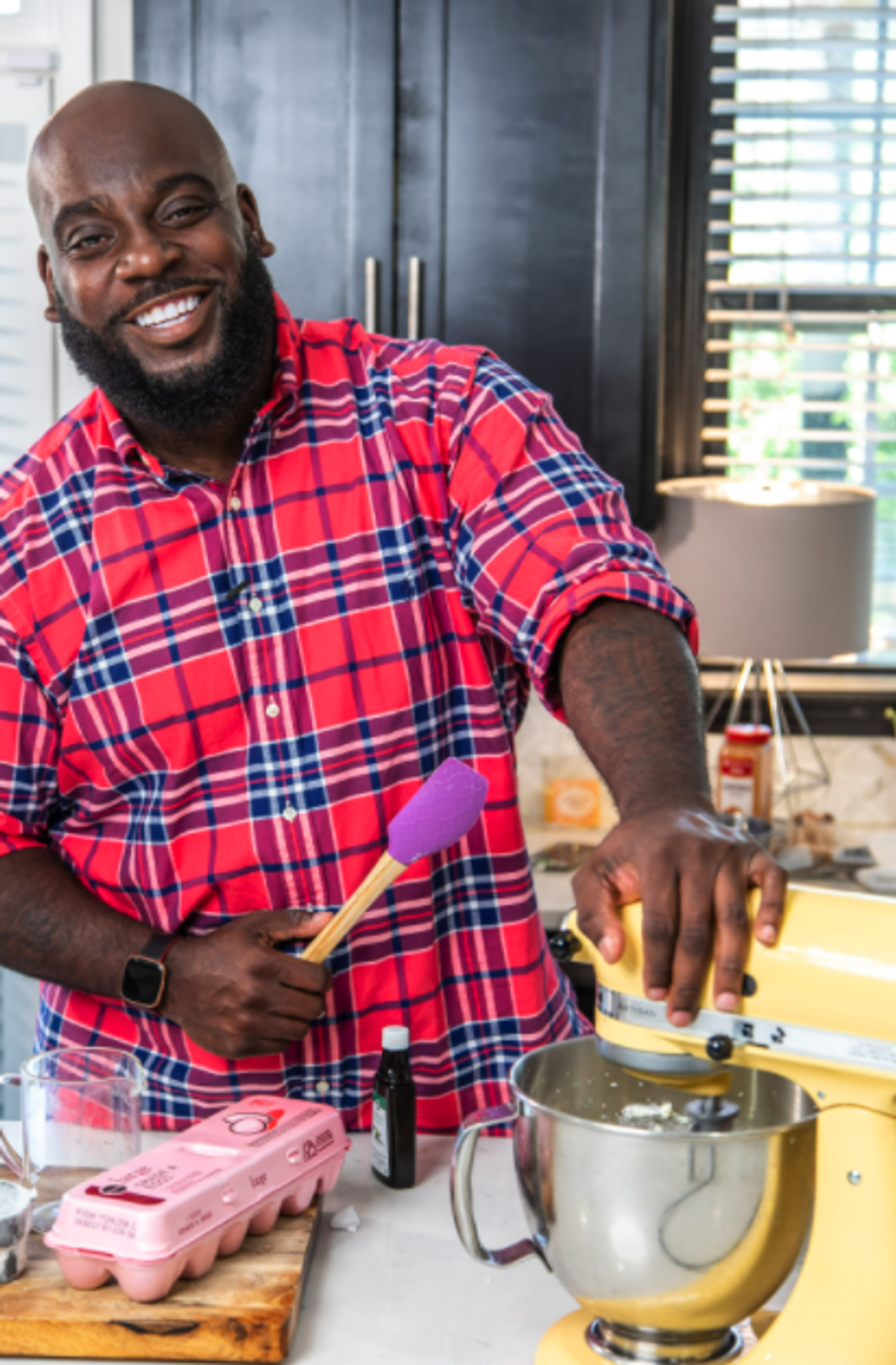 Courtesy of Chef Darius Williams
Idle time might be the devil's playground but for Chef Darius Williams it was exactly what he needed to launch his now 7-figure business. After closing down his Chi-Town bakery two weeks before the pandemic hit, all it took was time, creativity, and a viral Peach Cobbler Pound Cake to position himself where he needed to be in this new season. And after just two weeks of fulfilling customer orders, Williams was able to obtain a space and staff to further serve his base with not just cakes but with a sense of care and compassion as well. "For me looking back over the years, watching my grandmother in the kitchen moving about--all of the values that I learned from her are sort of ingrained in me. And you see that come out in the food I make. So it's more so about expressing the history and the culture and all these little nuances that have inspired me to be who I am today."
Length of Time Baking: Over 20 years.
Favorite Dishes To Bake: "Red Velvet Cake, Vanilla Cake with Vanilla Cream Cheese. Anything I can mix with cognac, rum, or tequila when it comes to food––I enjoy that a lot."
Career Highlight: "Starting the pound cake business and in two months, making a half-million dollars."
For more of Chef Darius, follow him on IG @Dariuscooks.
Chef Darius Williams' Strawberry Moscato Shortcake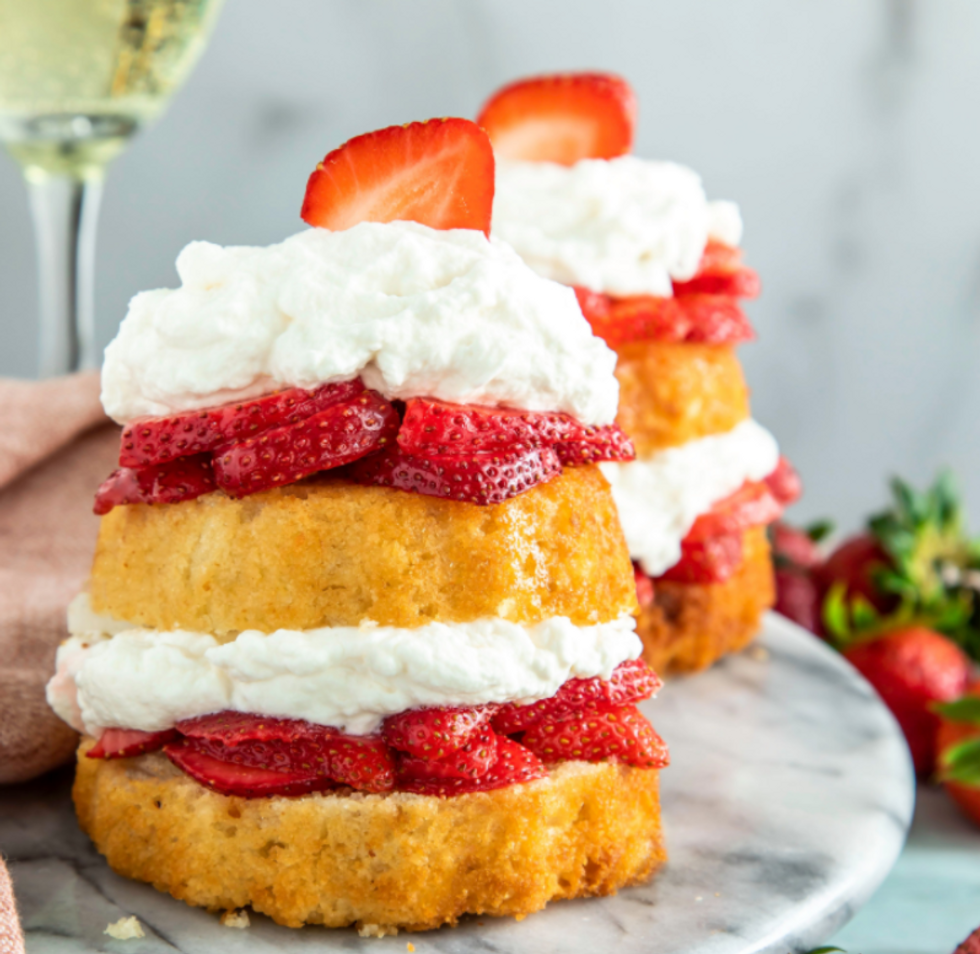 Courtesy of Chef Darius Williams
Ingredients:
2 cups of sugar
1 cup of vegetable oil
1 1/2 cups of buttermilk
2 teaspoons of vanilla extract
2 eggs
1/2 teaspoon of baking soda
1 pinch of Kosher salt
2 1/2 cups of all purpose flour
2 cups of chopped strawberries
1 tablespoon of sugar
1/2 cup of Moscato wine
For the whipped cream
2 cups of heavy cream
2 tablespoons of sugar
1 tablespoon of vanilla extract
Directions:
Preheat the oven to 350 degrees.
In a bowl, combine the sugar, vegetable oil, and buttermilk until the sugar is dissolved. Then, add in the eggs and vanilla extract. Mix well. Then, add the remaining dry ingredients and mix until well combined.
Pour into prepared ramekins and bake until golden brown. This should take 13-15 minutes.
Once the cakes have cooled, remove and cut in half. Then, brush each half with Moscato.
For the whipped cream, add all the ingredients into a mixer and whip until well combined.
For the strawberries, mix with the sugar and Moscato and set aside.
To assemble, layer the cake with strawberries and whipped cream and enjoy.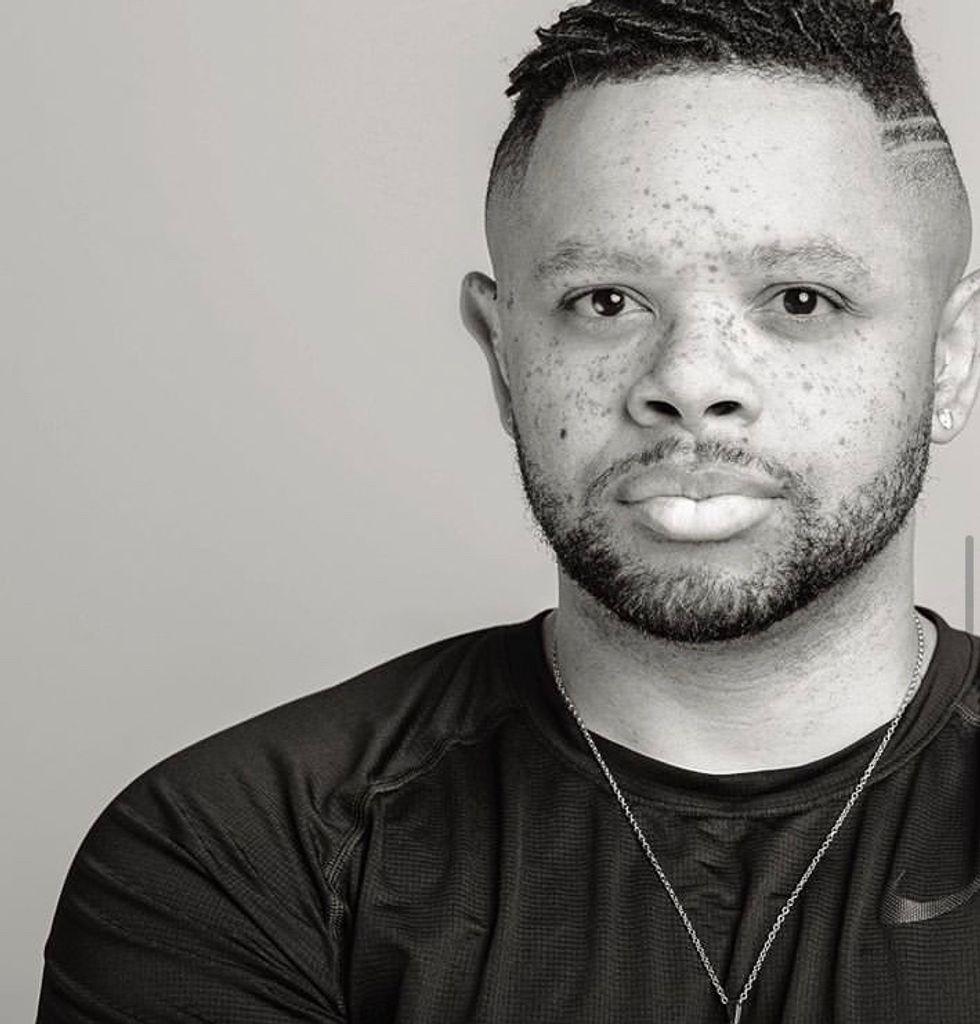 Having a restauranteur for a grandmother and a caterer for step-mom, if cooking didn't become a part of your personality, it would be very hard to believe. Luckily for Jarrett Hill, that isn't the case. Having been in the kitchen since he was a little kid, baking has always been an enjoyable part of his life. Whether it was baking desserts as a way to connect with his family as a young one or making monkey bread to cope with the myriad of emotions that come with a global pandemic, for Hill this passion is one he's found to be both a spiritual and saving grace during these times. "A friend of mine references cooking as a prayer and says sometimes cooking can be prayer if we're methodical in the way that we handle different things and really zoned in on it. That's always kind of stuck with me, that you can make anything into a prayer or a meditation. It's not just about sitting with your legs crossed or your hands folded. It can be anything where you really immerse yourself. And I've found that to be true for me."
Favorite dishes to Bake:
Puff pastry desserts, Cheesecakes, Banana Bread
What Baking Means for Him:
"I started to do 'rage baking' back in May and June with the protests happening all around because of anti-Blackness and policing. I was baking so much to the point where I started giving it away to friends. It's been something that helps me calm down in moments where I'm angry or sad or depressed. It's been really helpful. And I think part of it is also about feeling like you have a little bit of control over something. It gives a sense of accomplishment and I think that's important in the time we're living in right now. A lot of people's careers are thrown into question, their futures are thrown into question, and sometimes we just need a win."
Future Plans:
"I'm really curious about venturing into the edible space, so I've been intrigued by that. Especially since it's legal where I live in California. It's not a part of my long-term goals to open up a bakery, but I'd be lying if I said I hadn't thought about it. I do enjoy it but I don't want it to start feeling like a job."
To keep up with Jarrett, follow him on IG @jarretthill.
Jarrett Hill's Banana Bread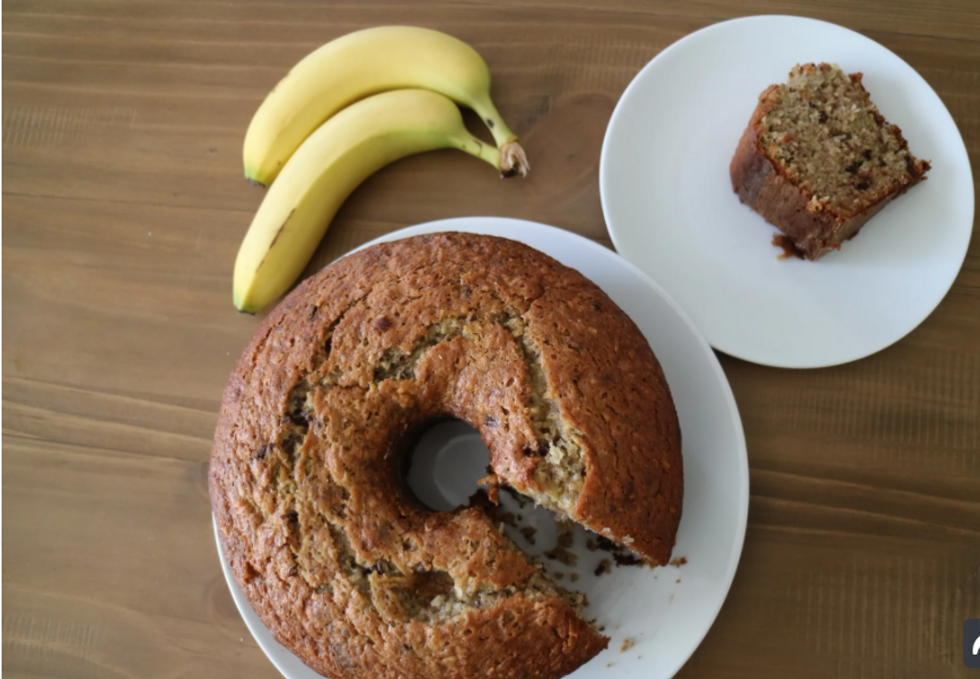 Courtesy of Jarrett Hill
"I add in twice the vanilla, scratch the coconuts, and sometimes (if I'm really feeling myself) like to switch out bananas for sweet potatoes. Making my own vanilla extract is one of my favorite secrets to always turning out great baked goods. And it's super simple using scrapped vanilla beans and your favorite pure alcohol – i like to use bourbon or whiskey."
Ingredients:
2 cups mashed bananas (about 5-6 bananas)
2/3 cups canola oil
4 eggs
2 cups all-purpose flour (and extra to dust pan with)
2 cups sugar
1 box vanilla instant-pudding mix
1 teaspoon baking soda
1 1/2 teaspoons kosher salt
1 cup unsweetened shredded coconut
1 (3.5 oz) bar dark chocolate (chopped into chunks)
Salted butter optional for serving
Directions:
Preheat the oven to 325°F.
In a large bowl, mix the mashed bananas, eggs, and oil and set aside.
In another bowl, mix together the flour, baking soda, salt, sugar, and pudding mix. Mix the dry ingredients into the bowl of wet ingredients, but avoid using a mixer. Do this part manually to keep the end result nice and fluffy.
Chop up the dark chocolate bar. Add that and the shredded coconut to the batter.
Grease the pan (this means rubbing lots of butter all over it) and coat the butter in a layer of flour. Flip the pan upside down to shake out the excess flour.
Bake until the cake bounces back when pressed or if a toothpick comes out clean when poked in. Depending on the pan, your baking time will vary. With a bundt pan, estimate around 60 to 80 minutes, depending on how deep it is. Let it cool for about 10 minutes and flip it onto a clean plate or tray for serving.
Enjoy it warm with butter or a scoop of ice cream! Keep it either refrigerated or left out in an airtight container.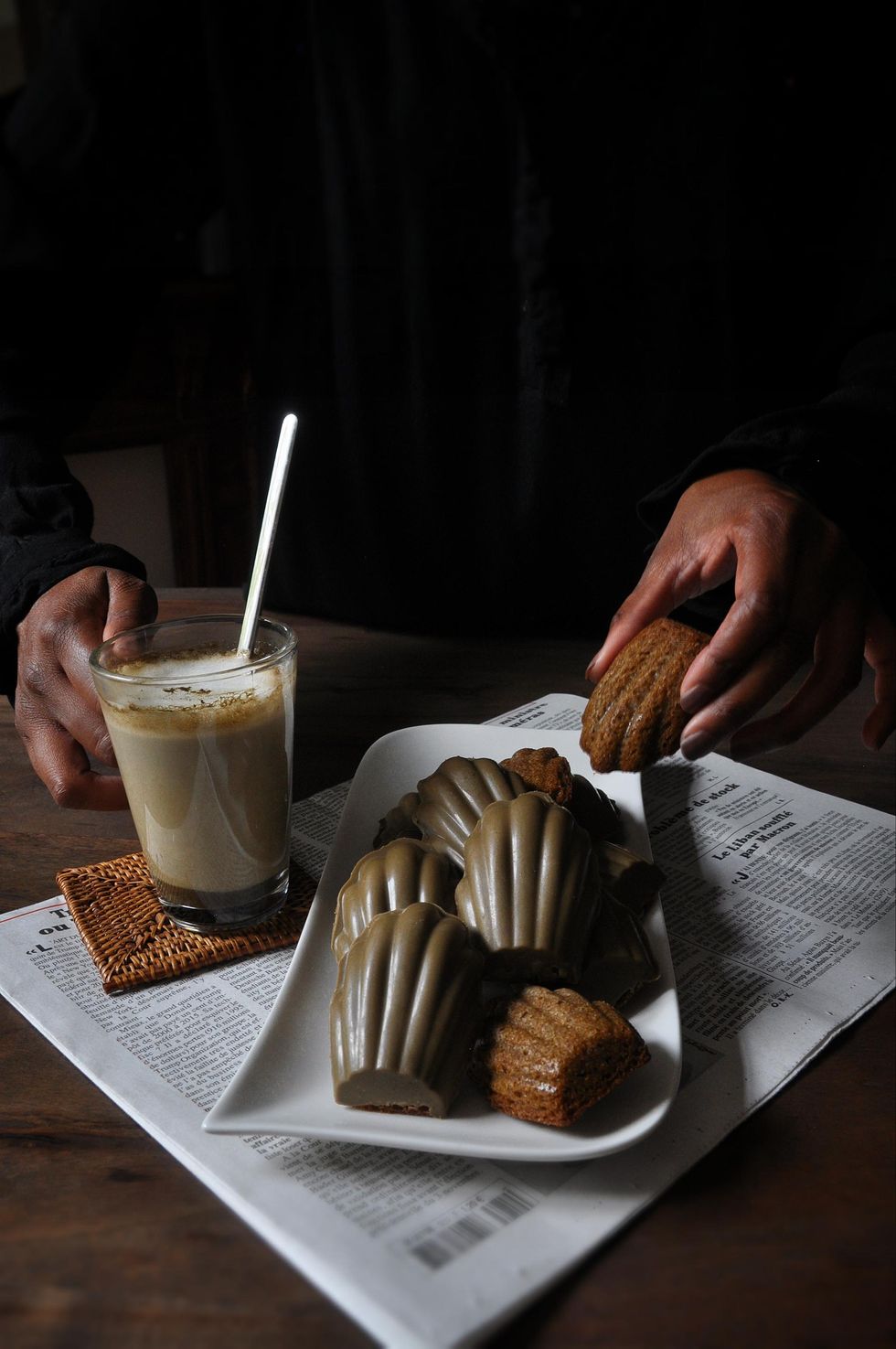 Courtesy of Ine Ihonkhai
The search for the perfect cheesecake is what led this Parisian baker on a serious quest to satisfy her sweet tooth. Emerged in a world of French pastries, sadly Ihonkhai couldn't find one that truly hit the spot so she decided to bake her own and thus the love affair began. 11 years later, her love for baking and sharing her baked goods continues to be the driving force behind her success. "For me, baking is a passion that can be shared and enjoyed with family and friends. It's often the dessert that gets people talking over dinner and I love that! It's also an outlet to express creativity and to be as imaginative and original as you want, there are no limits in baking and that is what's so amazing about it. Of course you make mistakes along the way, but that's all part of the baking process and definitely what has turned me into the baker I am today."
The Best Part of Baking for Her:
"For me, there are three best parts: 1) being able to use my creativity to come up with new recipes and dessert decorations, 2) my love of baking has revealed a new passion that I didn't know I had before: food photography! I now love taking pictures of my desserts just as much as I love making them, 3) sharing my desserts with family and friends. Eating the dessert has got to be the ultimate best part, right?!"
Career Highlight:
"As a homebaker, my highlight would probably be when I was contacted by a well-established coffee shop to supply them with my desserts. Unfortunately with the coffee shop based in Washington DC and me over in Paris this was logistically impossible! However it was a real honour to be contacted."
Favorite Dishes to Bake:
"I love making entremets with at least three different layers. The complexity of the different flavours is always so interesting and also beautiful to look at. I also love making cheesecakes, my all-time fave!"
Save us a slice, sis! To keep up with Ine, follow her on Instagram: @dessertsbyine.
Ine's Hojicha Matcha Madeleines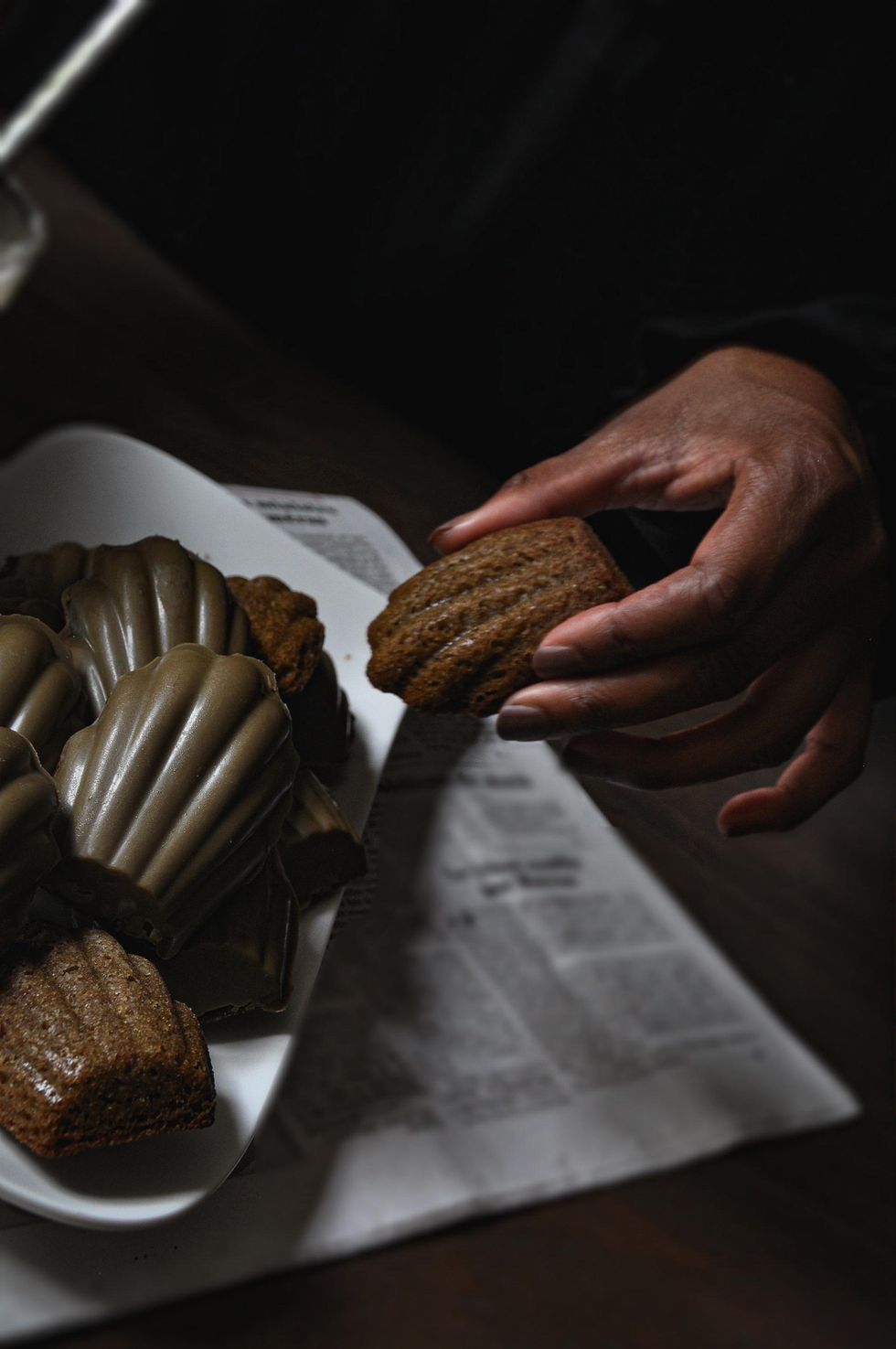 Courtesy of Ine Ihonkhai
Ingredients:
Madeleines
115g melted butter (cooled)
130g sugar
120g plain flour
1 tsp baking powder
1/2 tsp salt
1 tbsp hojicha matcha powder
2 large eggs (room temp)
1 tbsp milk
Chocolate shell
200g white chocolate
2 tsps hojicha matcha powder
Directions:
In a large bowl, whisk together the sugar, flour, salt, baking powder and hojicha powder. In another bowl, whisk the eggs and milk together until frothy. Pour the egg mixture into the flour mixture and stir with a spatula until just combined. Pour in half of the cooled melted butter and combine well before adding the rest of butter. Stir gently until just combined. Cover and refrigerate the batter for at least 2 hours.
Preheat oven to 190C. Grease and dust two 9-shell silicone madeleine moulds. Scoop 1 tbsp of the hardened batter into each mould then bake in oven for 12 mins. Remove madeleines from moulds and allow to cool on a rack.
Chocolate shell: Melt white chocolate in a bain marie to 29C then mix in hojicha powder. Pour 1 tbsp of the chocolate mixture into each mould shell then press the madeleines into them. Leave to set in the fridge for 1 hour before removing from moulds.
Enjoy with a hojicha latte!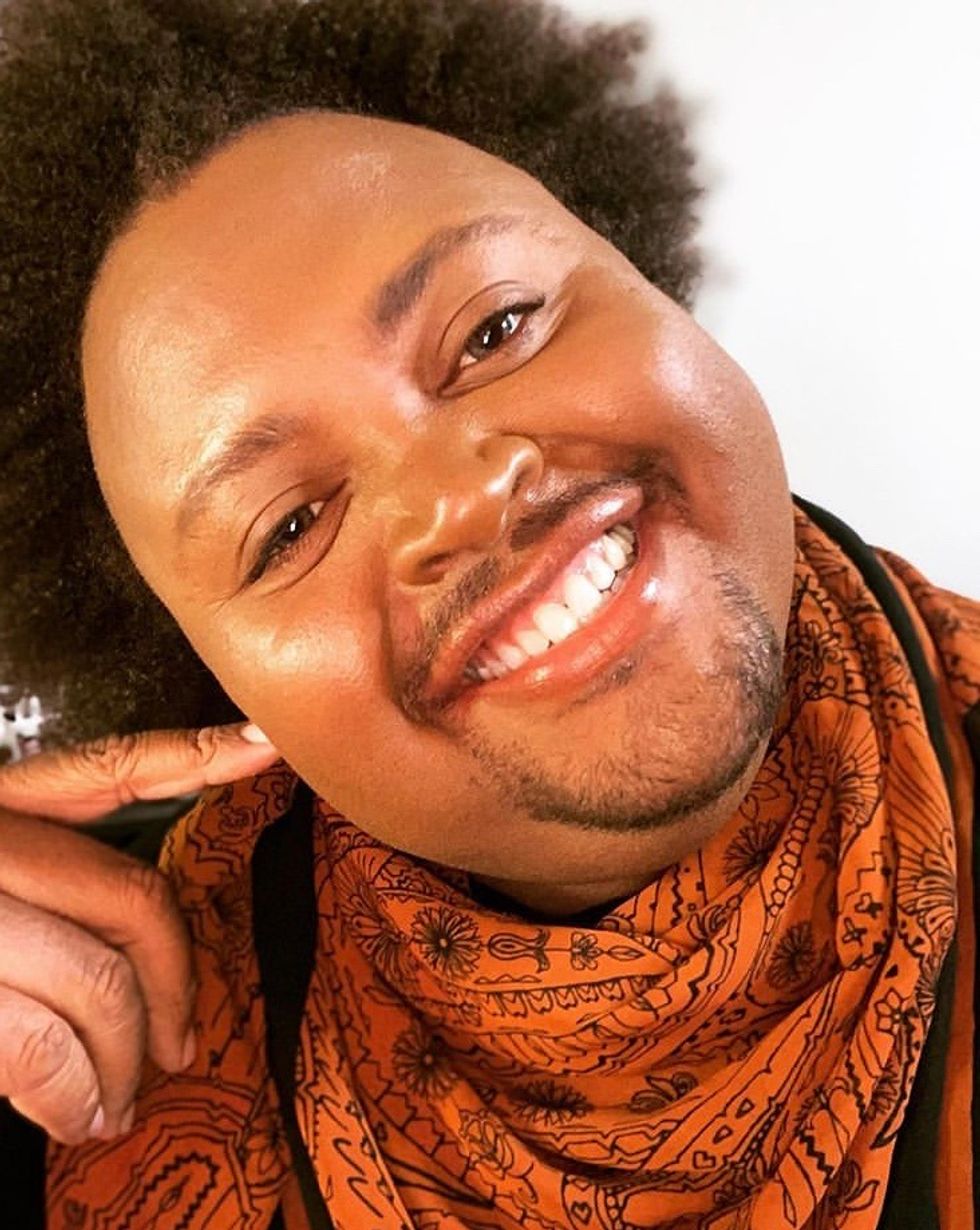 Courtesy of Doctor Jon Paul
Armed with the knowledge and impressive skills passed all the way down from their great-grandmother, Dr. Jon Paul took to baking with both a natural ease and passion. (And you better, especially when your entire maternal side inherently knows how to throw down in the kitchen.) But it wasn't until one of their uncles taught them and ONLY them, their great-grandmother's coveted peach cobbler recipe that they took their commitment to the craft and love of community to a whole 'nother level. "To me, baking comes from a place of love. Because not only is it chemistry, it's a lot of time. If someone bakes for you, it's a way of them saying 'I got you.'"
Favorite Dishes to Bake: Pecan Pie, Circus Cookie Cheesecake, Peanut Butter Pie
What Baking Means to Them: "The best feeling in the world is knowing that you made something that people really like or enjoy. It's that feeling when you bake a peach cobbler for someone and you drop it off, and then you go to pick up the container you brought it in and they're like' there's no more of this?' That's the best feeling. So it's a form of joy for me."
Future Plans: "I can't say but I did something during COVID related to baking that will be on TV. And I'm hoping to do more of that, but that's all I can say. But I would love to do something where I'm able to work with other Black and Brown creators, and we're having conversations about food and the connections that we have to it. So I would like to do more in the television or entertainment sphere about baking and what it means to Black people and Black Queer people specifically."
To keep up with Doctor Jon, follow them on IG @doctorjonpaul.
Dr. Jon Paul's Carrot Cake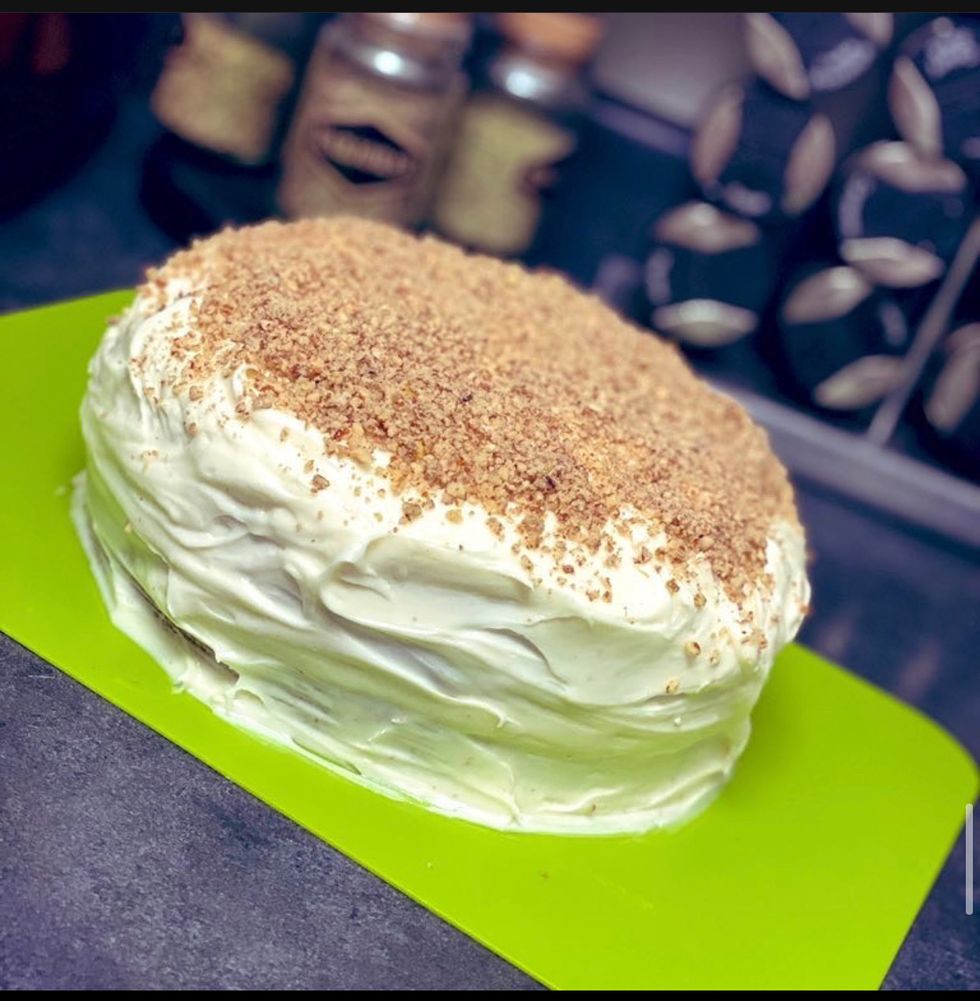 Courtesy of Dr. Jon Paul
Prep Time: 35 min | Cook Time: 1 hr
Ingredients:
Cake Mixture
2 cups granulated sugar
1 1/2 cups vegetable oil
4 fresh whole eggs
2 cups pastry flour
2 teaspoons baking soda
1 teaspoon salt
2 teaspoons ground cinnamon
3 cups raw finely ground carrots
4 ounces finely chopped walnuts
Frosting
1 1/2 pounds powdered sugar
12 ounces room temperature cream cheese
1 tablespoon vanilla extract
2 ounces room temperature margarine
Directions:
For the cake:
Preheat oven to 300 degrees F. In a mixing bowl, mix sugar, vegetable oil, and eggs. In another bowl, sift together flour, baking soda, salt, and cinnamon. Fold dry ingredients into wet mixture and blend well. Fold in carrots and chopped nuts until well blended.
Distribute batter evenly into 3 (9-inch) cake layer pans, which have been generously greased. There will be approximately 1 pound 5 ounces of batter per pan. Place in preheated oven and bake for 50 to 60 minutes. Cool layers in pans, for approximately 1 hour. Store layers in pans, inverted, in closed cupboard to prevent drying. Layers must be a minimum of 1 day old.
To remove layers from baking pan, turn upside down, tap edge of pan on a hard surface. Center a 9-inch cake circle on top of revolving cake stand. Remove paper from bottom of layer cake.
For the frosting:
In a suitable bowl of large mixer, place powdered sugar, cream cheese, vanilla, and margarine. Beat at second speed until thoroughly blended. Hold refrigerated and use as needed.
For the assembly: Place first layer, bottom side down, at center of cake stand. With a spatula, evenly spread approximately 3 1/2 ounces of frosting on the layer.
Center second layer on top of first layer with topside down. Again with a spatula, evenly spread approximately 3 1/2 ounces of frosting on the layer. Center third layer on top of second layer with topside down. Using both hands, press firmly but gently, all layers together to get one firm cake. With spatula, spread remainder of frosting to cover top and sides of cake. Refrigerated until needed. Display on counter or cake stand with a plastic cover.
Are you a member of our insiders squad? Join us in the xoTribe Members Community today!
Featured image courtesy of Chef Jeff Morneau.
What does it take to find the love you want? To attract the love you want, to make the love you truly want to experience in this lifetime? Well, former Bachelorette star Mike Johnson says it starts with doing the inner work FIRST. And by inner work, he means rewriting and reflecting on the internal stories we tell ourselves about ourselves and using them as a springboard to attract the life and love that we deserve. And if you need help tapping into that side of yourself, look no further than his debut book, aptly entitled Making the Love You Want.
In it, the Texas native provides a toolbox for all those looking to genuinely level up their lives from the inside out through the practice of self-love. "I just want it to be a vessel that can help people with the issues that they're going through and the things that they're facing in life," he tells xoNecole in our midday chat. "By reading it, you'll be able to obliterate, and I mean, completely destroy those self-limiting beliefs. You will be able to have the courage and the strength to propel yourself to the next level of your life."
We recently sat down the 32-year-old self-love sage to talk about personal growth, romantic love, and why it's important for Black men to be vulnerable.
*Some answers have been edited and condensed for clarity.
xoNecole: In your book, you really harp on doing the inner work, particularly in the areas of self-love and self-worth. Personally, I tend to think self-worth is an inside job.
Mike Johnson: It absolutely is, it's in the name.
For Black men in particular, how can they continue to cultivate that sense of self-awareness?
[I think it's in] the strength that we have, the strength that we are blessed with and the strength that society makes us have. I think that we can take some of that strength and be vulnerable as well, because it does absolutely take strength to be vulnerable. And I feel that once we can see the strength, meaning vulnerability, there's nothing that we can't do. It's more of a mindset--it's funny because when I think of this topic, I think of Eminem and 8 Mile. If you remember when he did the rap battle, he said everything negative against himself, he put it all out there. And once you put everything out there, no one could combat you. It's already out there. So, I think that's something that we have to utilize to our advantage.
"I think that we can take some of that strength and be vulnerable as well, because it does absolutely take strength to be vulnerable. And I feel that once we can see the strength, meaning vulnerability, there's nothing that we can't do."
Why do you think it's so hard for Black men to have conversations around self-love and personal growth?
I wouldn't say that it's hard. It's just maybe something that isn't as seen in mainstream media. And I can speak to why I think that is. I feel that in our community, we put on a tough face at times but I do want to say that the color of our skin doesn't dictate our emotional levels. I feel that our environments do. And we adapt to the environment to make sure that we survive out of it. I think people like Charlamagne are doing a wonderful job of spearheading how to get out of those environments, Derrick Jaxn on Instagram, someone like myself--since I'm trying to be in that realm as well. And if something is popular, more people want to be able to do it as well.
When men start to realize that, you know, it's OK for us to be vulnerable, it's OK to talk about real issues and you're not considered a victim--I think that people relate to that more. I mean, the reason some of our biggest musical artists are so big is because they have a creative way of getting out their emotions and they speak on what they're going through, through songs.
You seem to be a very optimistic guy.  Every time I come across you on Instagram, you always seem to have a smile on your face. So I wanna know, is a positive outlook a deal-breaker for you when it comes to relationships?
Not having a positive outlook, yeah. If she doesn't have a positive outlook--I don't care how fine she is. I don't care how much money. I don't really care, if you [are] a Negative Nancy, I'm not with you. I am extremely strong with that. If you're just a negative-thinking individual, I'm not going to let your negativity interrupt my energy. It's too precious.
"If you're just a negative-thinking individual, I'm not going to let your negativity interrupt my energy. It's too precious."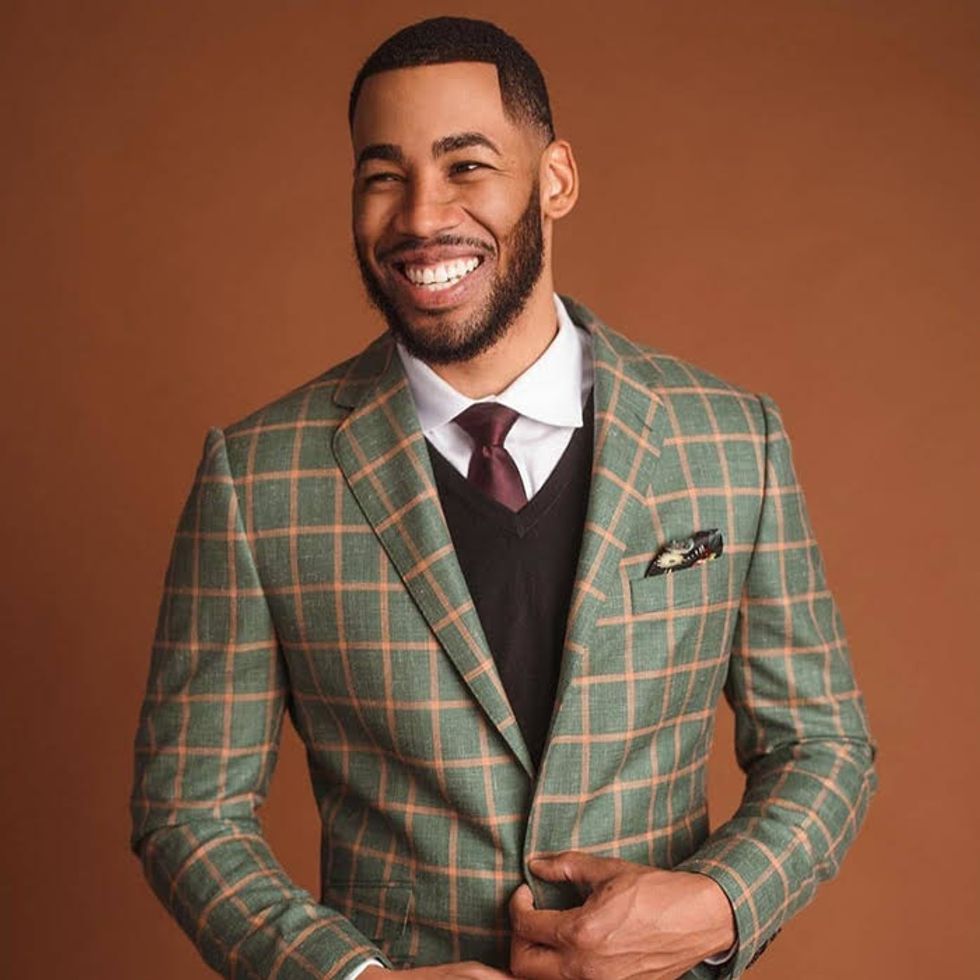 Courtesy of Mike Johnson
How has your time on 'The Bachelorette' or 'Bachelor In Paradise' influenced what traits you now look for in a potential partner?
No, it hasn't changed whatsoever. I still know the type of woman that I love and adore, and quite honestly with me on TV-- it doesn't change my outlook because I was able to attract the woman that I like already. The TV doesn't do anything when it comes to dating, except for if you want to be superficial and get a certain type of chick, then you can do that. But my homies still know back in the day, when I was a teenager, we would call Walmart, Club Walmart. And if I go to Walmart to this day and I see somebody that I'm into, she could be the cashier. I don't care.
So, no TV doesn't do anything. All the TV does when it comes to dating is people feel as if they know exactly what you like. I know you didn't ask the question, but when I talked to my homies about when Black women say that I don't like Black women--I'm like, 'Why is it that way?' That's hard for me to hear because that's a damn lie. My ex was Black. And if the Bachelorette was a Black woman, no Black woman would say that. Right? So that's the only thing that actually hurts me, if I can honestly be transparent about that. That hurts my heart because I'm like, 'Hey, I love y'all period.'
Who is Mike Johnson as a romantic partner?
Mike Johnson is a loving partner. I'm the guy that your girlfriends hate because you are going to be saying all of these positive things and they don't have a good man like that (laughs). I would say that I'm pretty damn good at relationships. I definitely have no problem with someone putting me in the check but if they do something crazy too, I'm going to let them know. I don't like that either. I'm definitely someone that will motivate you just by you just watching how I act and how I move in life. I have goals all the time and so that will rub off on my partner. And I am definitely a sexual being.
Speaking of, kind of. Do you know your love languages and if so, what are they?
Yeah. So at first, before I read the book by Gary Chapman--amazing book-- I thought my love language was physical touch. But after reading the book, doing the quizzes, I ended up going deeper and it turns out my love language is actually quality time. But my dialect is quality communication. So when you speak to me, tell me what your heart is telling you, tell me your thoughts, be transparent with me, be loyal to me, that brings that trust like nothing else.
Are you single? How would you like for a woman to approach you now?
Oh wow. Well, I will say I am dating someone right now. I'm making a love that I want.
Shameless plug. Lastly, what's one thing you know now to be true about love?
One thing I know to be true about love. If you're loyal to a person, that person is loyal to you, if you do everything to make that individual happy, and if you have an open communication, open dialogue--there's nothing that you guys can't get through.
Making the Love You Want is available now, wherever books are sold. And to keep up with Mike, be sure to connect with him on Instagram.
Featured image courtesy of Mike Johnson
In xoNecole's Finding Balance, we profile boss women making boss moves in the world and in their respective industries. We talk to them about their business, their life, and most of all, what they do to find balance in their busy lives.
If I could sum 2020 up in one sentiment, it would be: 'life comes at you fast.' This year has been hitting hard and heavy on all fronts it seems and I know I'm not the only one who could use a reprieve from its rampage. (Really a cancellation, because Miss Rona has BEEN worn her welcome.)
And yet, despite its best (read: worst) efforts, many of us have continued to survive and even thrive during this chaotic time. Some of us have started businesses, met and succeeded goals, started a new life in a new city, and everything in between. Some of us have learned how to bottle all this chaotic energy and use it as fuel to power forward. And though it's always important to find a way to keep evolving no matter the circumstance, it's equally as important to know when to ease up and take your foot off the gas in the name of self-preservation. And that's a lesson dermatologist and Girl+Hair co-founder, Dr. Camille Verovic knows from both personal and professional experience. "You have to hit pause at some point––if you don't, your body and spirit will hit pause for you."
After doing the "big chop", Verovic found herself dismayed after noticing how hard it was to maintain and retain hair growth while wearing protective styles. And if she was frustrated, she knew many other women probably were too. Thus, Girl+Hair was born. Coupled with both her medical knowledge and personal quest for optimal hair health, the company is the first of its kind to offer a complete 'under-hair care' system designed to promote and protect natural hair.
For this installment of "Finding Balance", xoNecole got the chance to chat with Dr. Camille Verovic about all things self-care, here's what she had to say.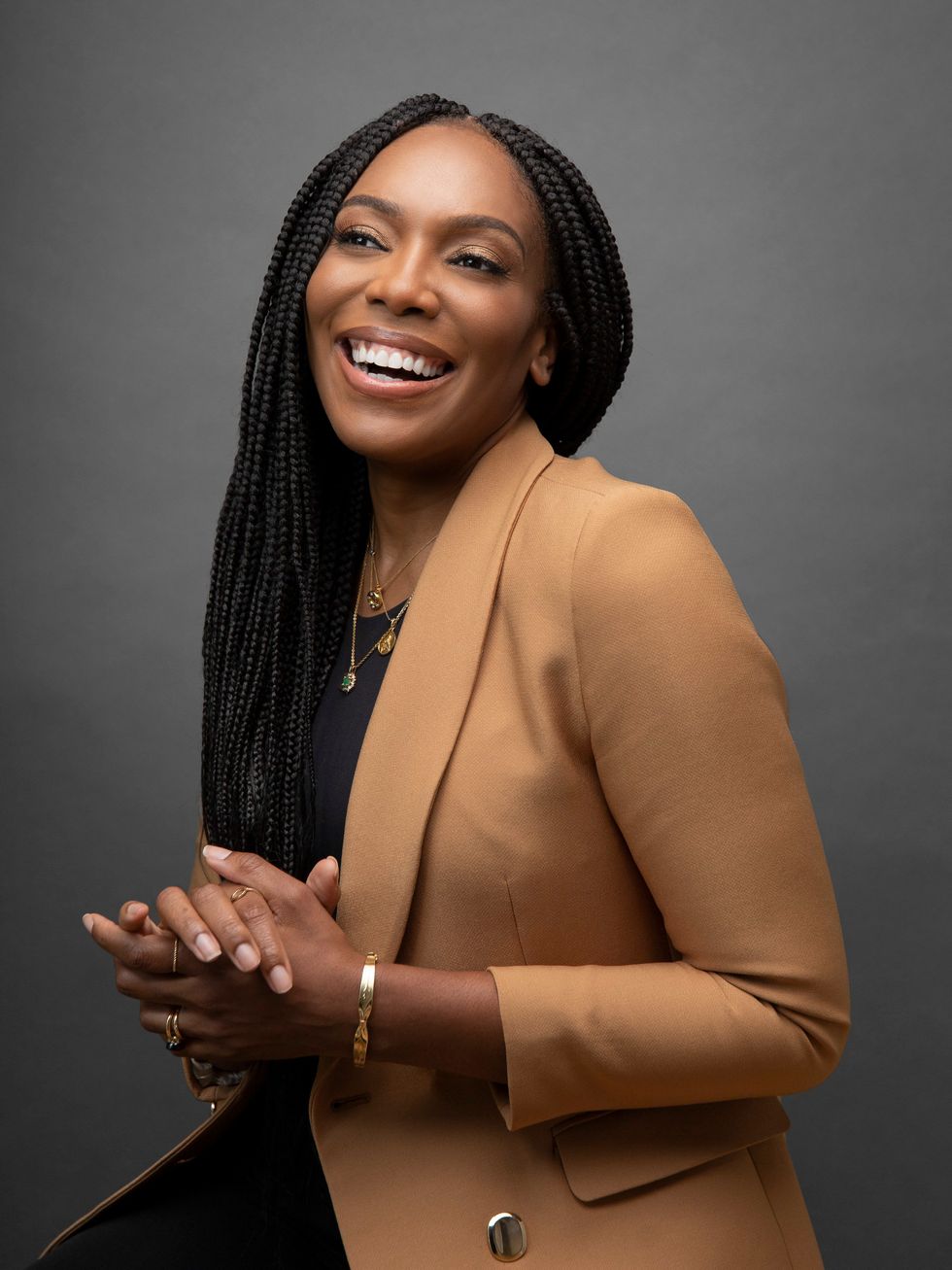 Courtesy of Derrick Davis
xoNecole: At what point in your life did you understand the importance of pressing pause and finding balance in both your personal and professional life? 
Dr. Camille Verovic: I learned this very early––my mother passed away when I was 23. When I was cleaning our family home, I found her journal––she worked so hard but she had a lot of regrets. If you are a hard worker, you can really work yourself into the ground. It is important to you and everyone around you to try your best to find a good balance in your life.
What is a typical day in your life? If no day is quite the same, give me a rundown of a typical work week and what that might consist of.
5:15am, I wake up. It's a family affair to get our six-year-old ready for school. From 6am to 9am, it's emails and morning meetings with hubby. Between 10am to 1 pm, I'm sorting out manufacturing and logistics. And most afternoons and evenings, I have meetings. Days when I'm in the office as a practicing dermatologist, I'm in the office by 10am. When I am not in the office, I'm working on Girl+Hair. I typically work 2-3 days a week as a practicing dermatologist and 3-4 days a week on Girl+Hair.
What are your mornings like? 
The mornings are all about getting my family ready for the day. We are actually a well-oiled machine in the morning.
How do you wind down at night? 
There is never a true wind down when your spouse is your business partner (this isn't good, ladies). When I do get a moment to myself, I open my Bible app and try to work on a reading plan.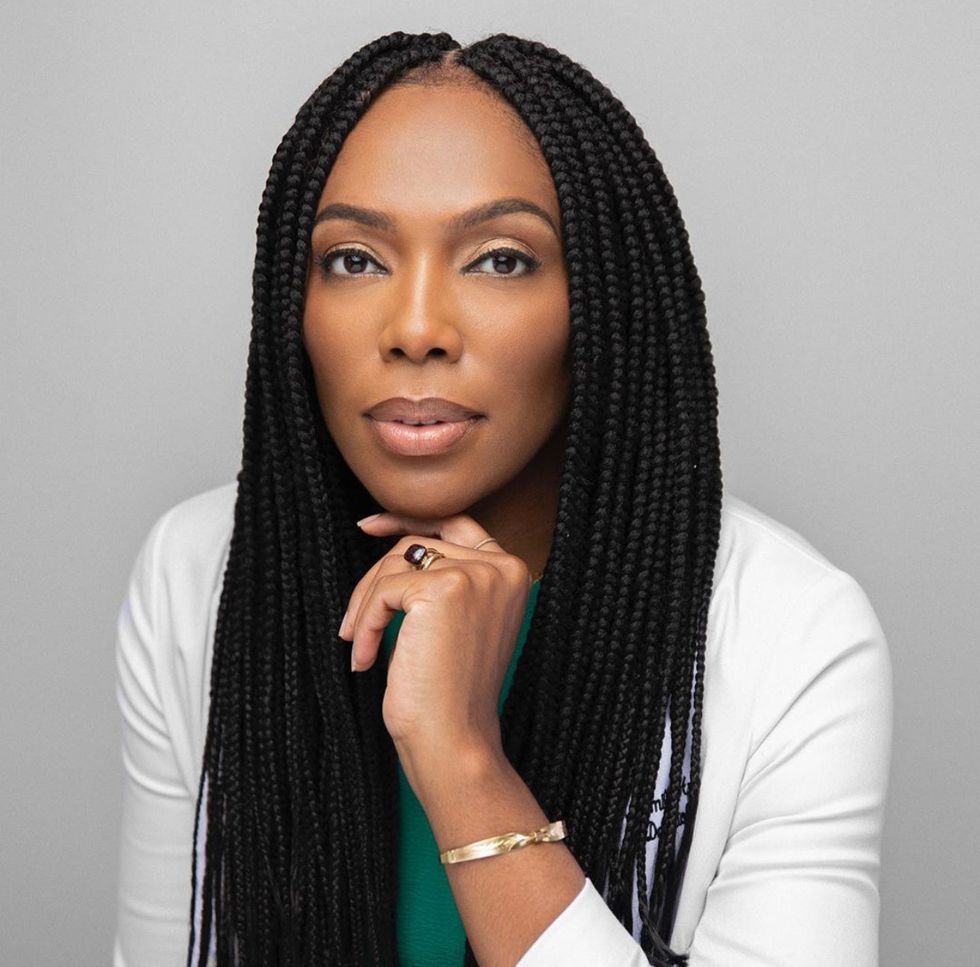 Courtesy of Derrick Davis
When you have a busy week, what's the most hectic part of it? 
Meetings, meetings, meetings! In my case, the busiest weeks are when I have a ton of meetings. I have to take care of my out of office duties as a physician––follow up on biopsies, coordinate care with my office manager, call patients, speak with pharmaceutical reps.
How do you find balance with:
Friends?
I keep the circle small and I try to call when I am commuting.
Love/Relationships?
You can't be happy with someone else if you are not happy with yourself. To find balance in any relationship, you must first find balance in your own life.
Exercise?
I am terrible at this but I just bought a bike so hopefully, I will be better.
What about health? Do you cook or find yourself eating out? 
We cook 75 percent of our meals. Cooking is great because it makes you slow down.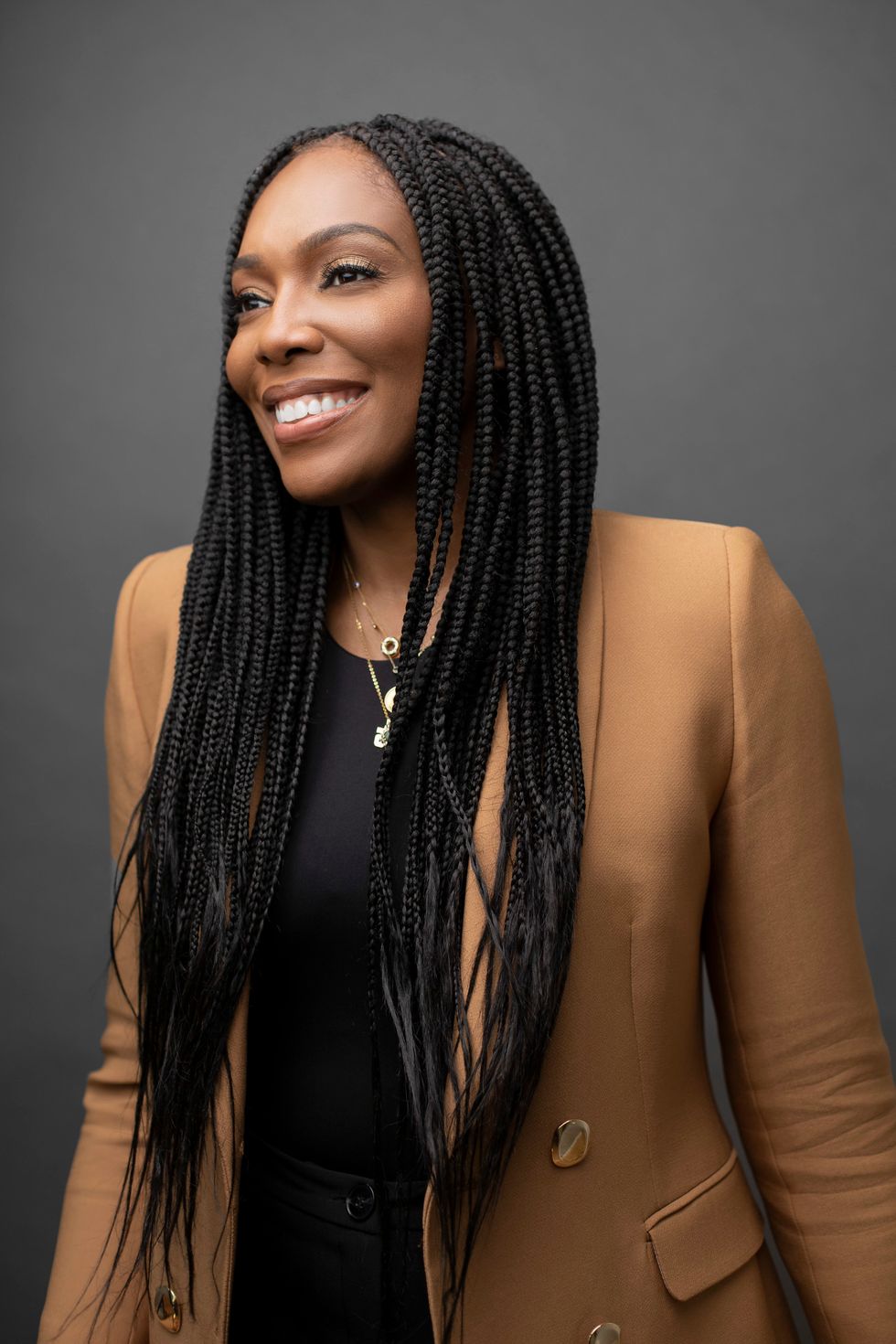 Courtesy of Derrick Davis
When you are going through a bout of uncertainty, or feeling stuck, how do you handle it?
This sounds really old-fashioned, but I lean on the Word [of God].
And honestly, what does success mean to you? What does happiness mean to you? 
Success and happiness to me is one day looking back at my life and knowing that I gave almost every day the best that I could. One of my life goals is to be a philanthropist. I don't think there are enough Black philanthropists.
Are you a member of our insiders squad? Join us in the xoTribe Members Community today!

Featured image courtesy of Derrick Davis.
There's nothing that pulls a look together quite like a fire lipstick.
Whether you don a full face to accompany it or simply use it accentuate your natural features, there's no doubting the power of a good pout. And that's exactly why we've rounded up a handful of our fave lippies that we're currently falling over just in time for the new season. And we've got something for everybody!
So if you're more of a vampy girl or you like to keep it cute and classic––scroll on to find your new faves.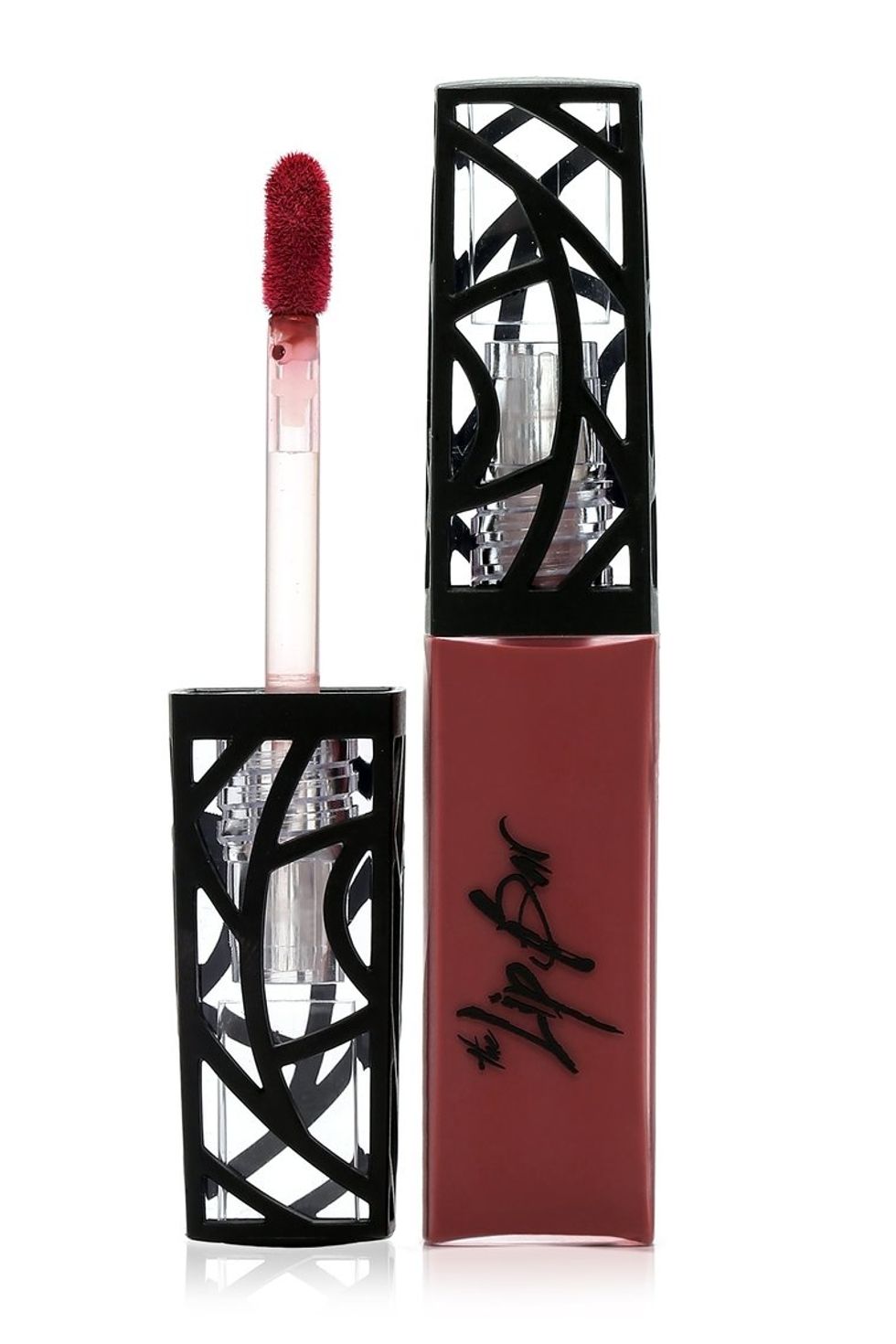 The Lip Bar
It's a known fact that Black girls can wear any color and this brick red is just another example. The Lip Bar's "Bawse Lady" is the perfect go-to for when a run to the store or for a safe (socially-distanced) outing!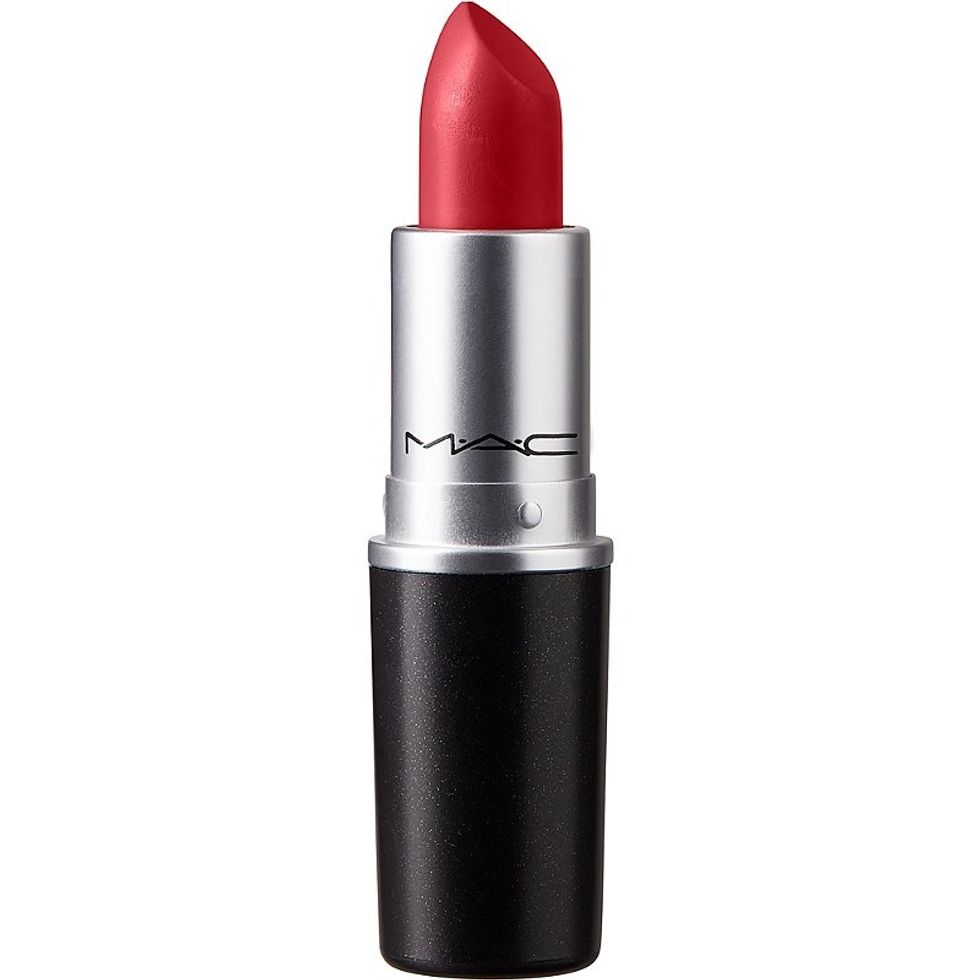 M.A.C
If you don't have this staple in your makeup bag, then sis what are you waiting for? This classic red looks good on literally anyone, but it's especially poppin' on us melanated women. Get into it!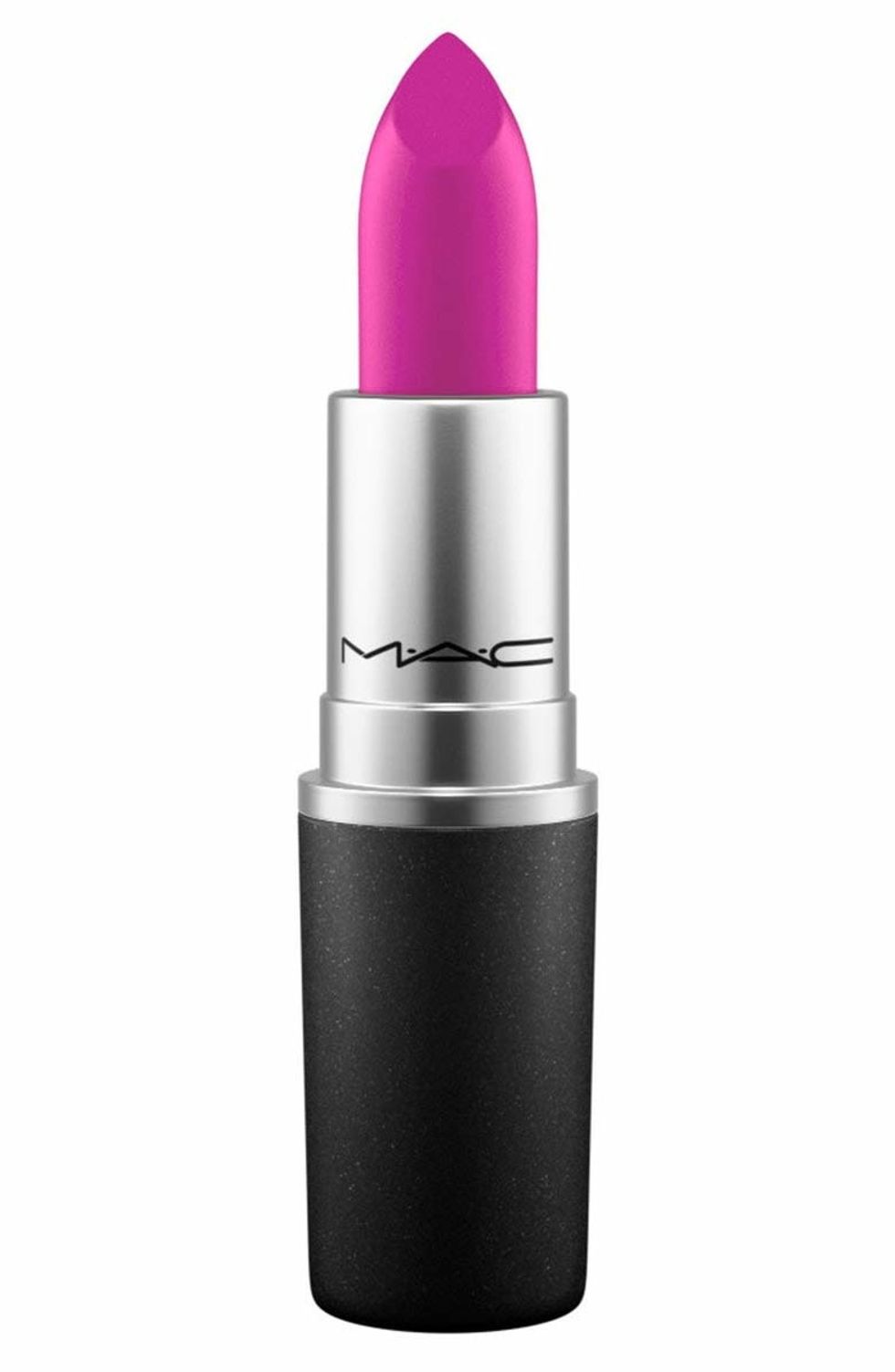 M.A.C
Staying in the M.A.C family, if you're one of those girls who love a pop of color no matter the season––then this beautiful plum pink is just for you. With its soft matte finish, it's sure to turn heads wherever you go.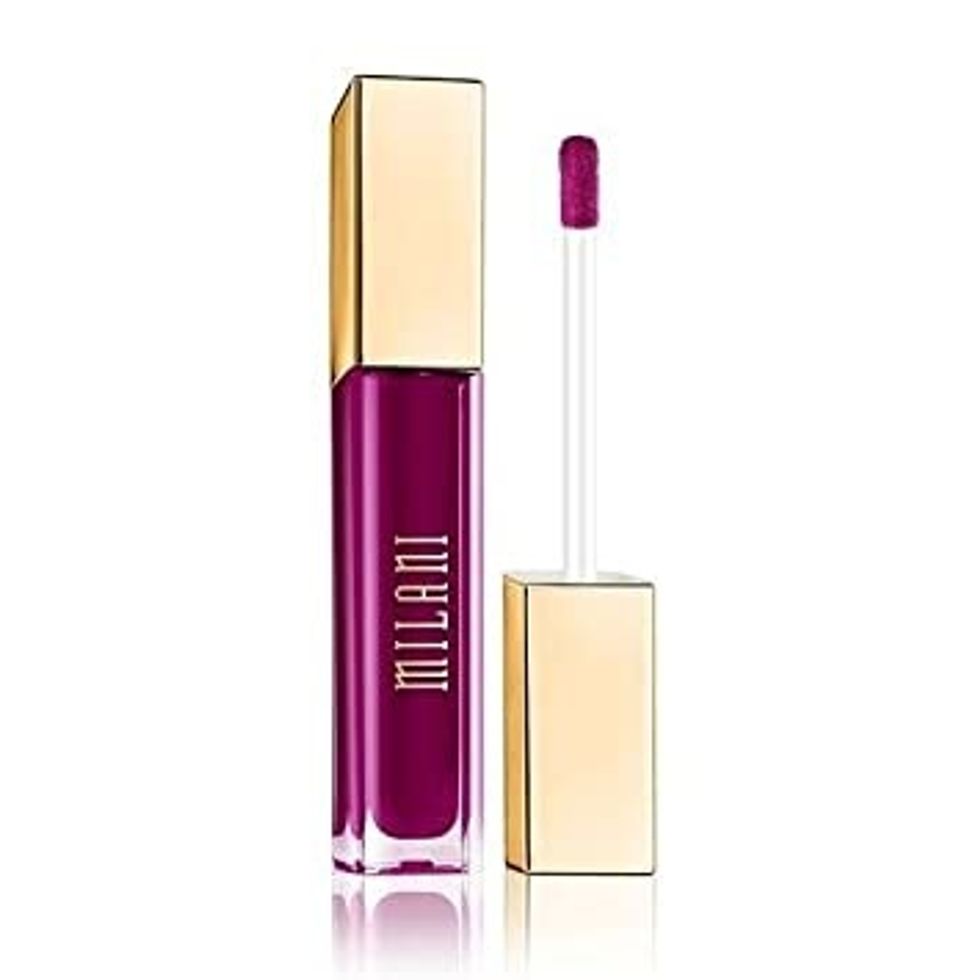 Milani
There's a reason why this lippie is called Obsession. With its vibrant, rich hue––you'll be wearing this again and again. And for an added bit of glam, dab a swipe of clear gloss after it dries for a kissable shine.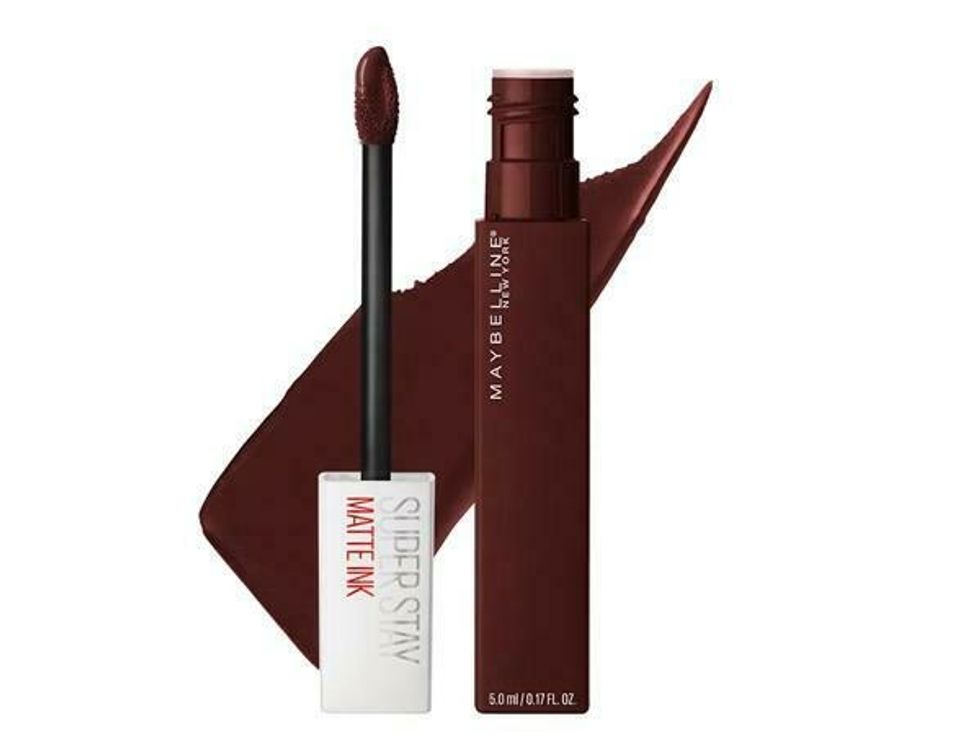 Fall is right around the corner and the one thing you NEED is a good vampy lip. This dark brown is a universal lewk that turns up the drama to your look with little to no effort.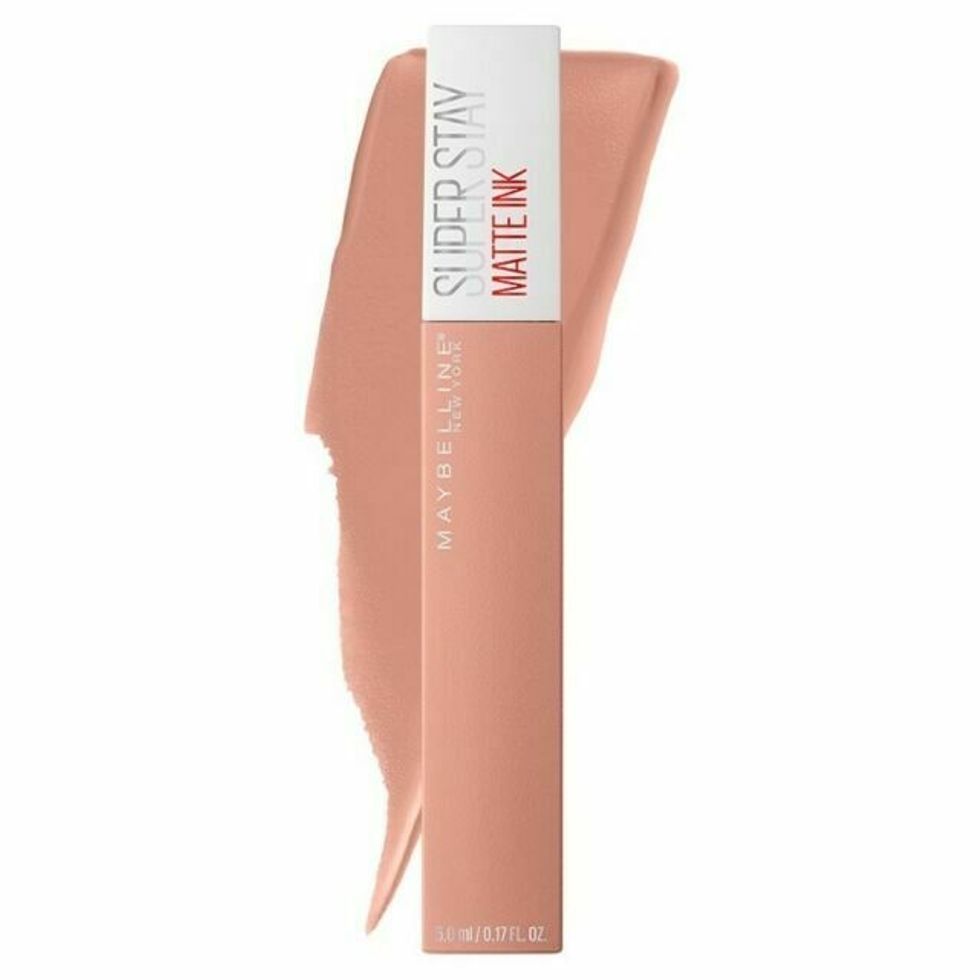 Maybelline
Now before you look at us crazy, trust us when we say this color is IT. If you're looking for a good nude with a soft, non-sticky finish--this is your girl. Just make sure to outline your lips first with your favorite dark brown lip pencil/lipstick and blend for a nice, natural look.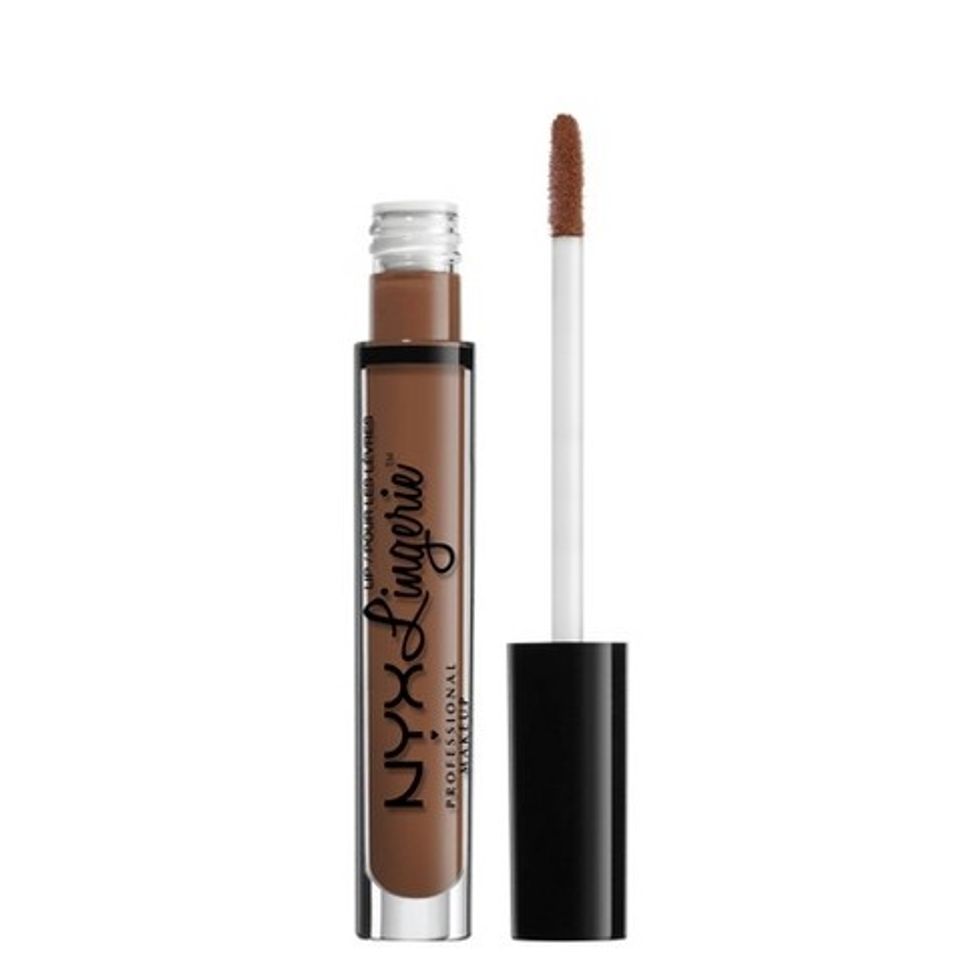 NYX
We know it's often hard for us darker brown girls to find a good nude, but NYX definitely came through for us with this muted brown tone. We'd also recommend outlining your lips with a dark brown liner just so your lips can stand out.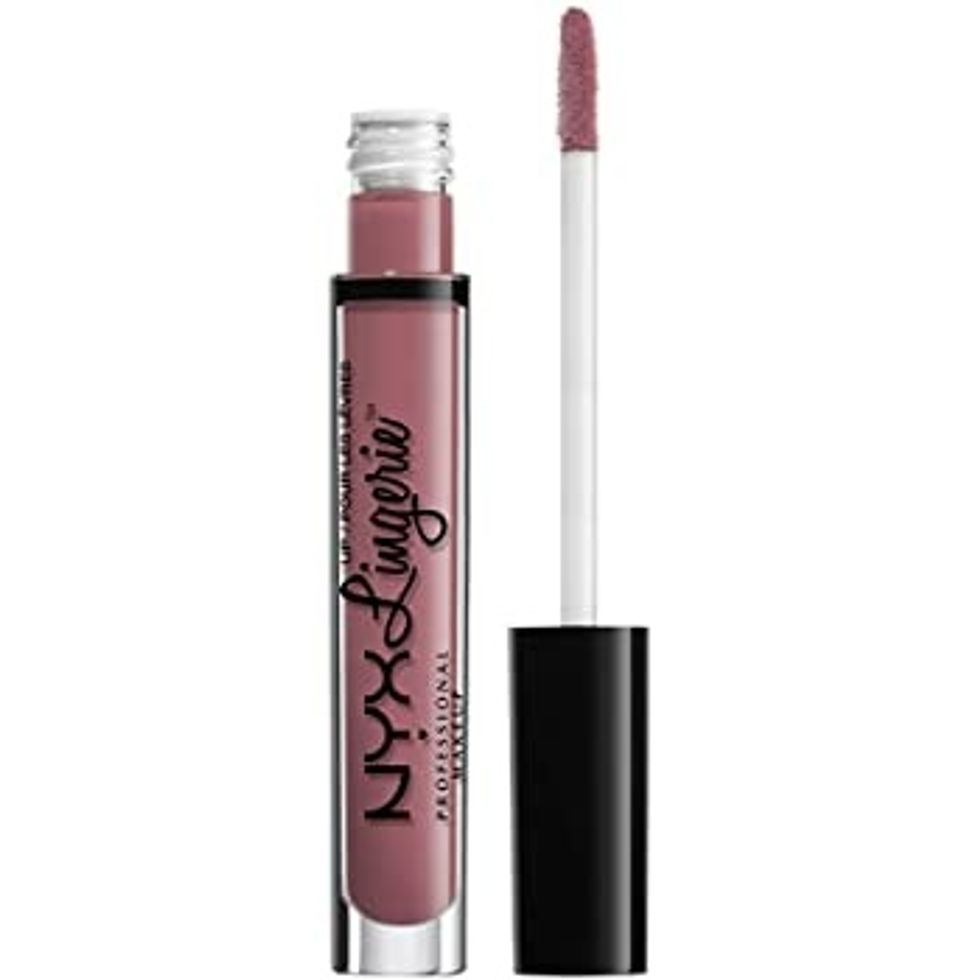 NYX
This muted rose pink color paired with a dark brown liner as well will give you that cutesy pink pout that we've all come to admire. And if you want it to look a bit more natural, add a tinted gloss to set the look off.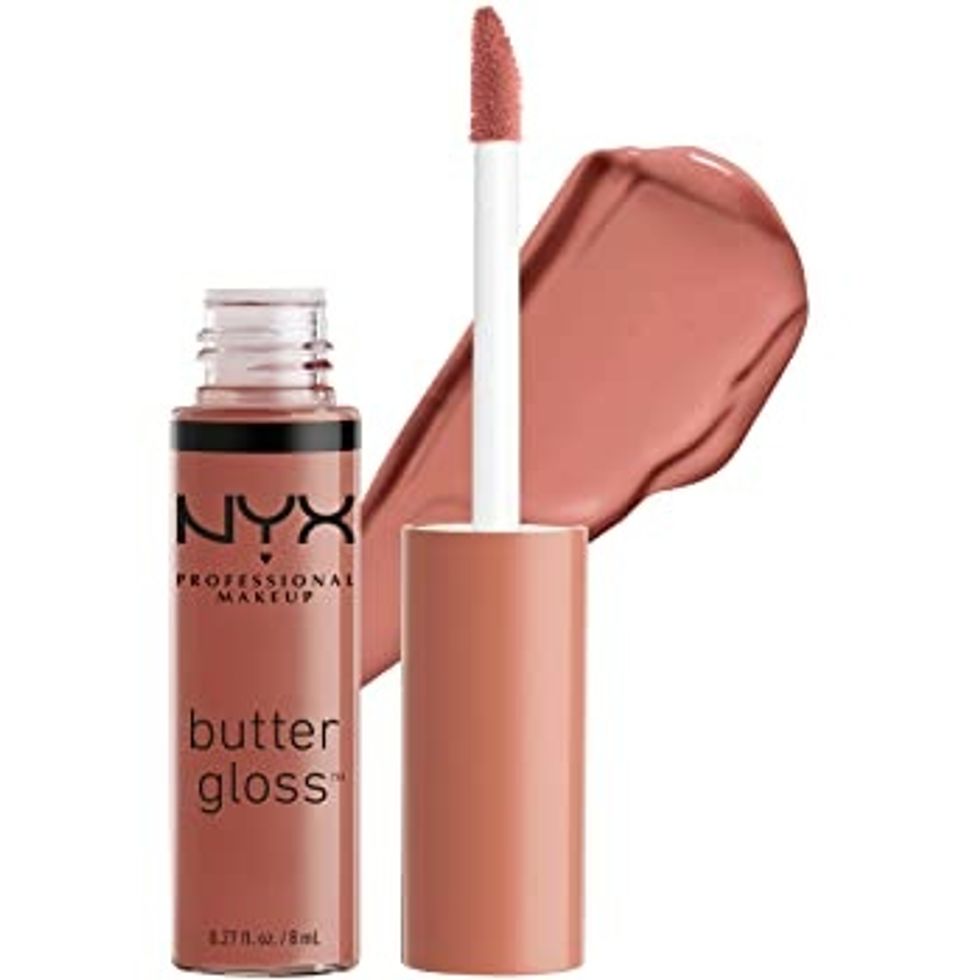 NYX
When Lil' Mama said her lipgloss was poppin', we're sure she talking about this buttergloss. The name is accurate because of how smoothly it glides on and this color is the perfect finisher to any look.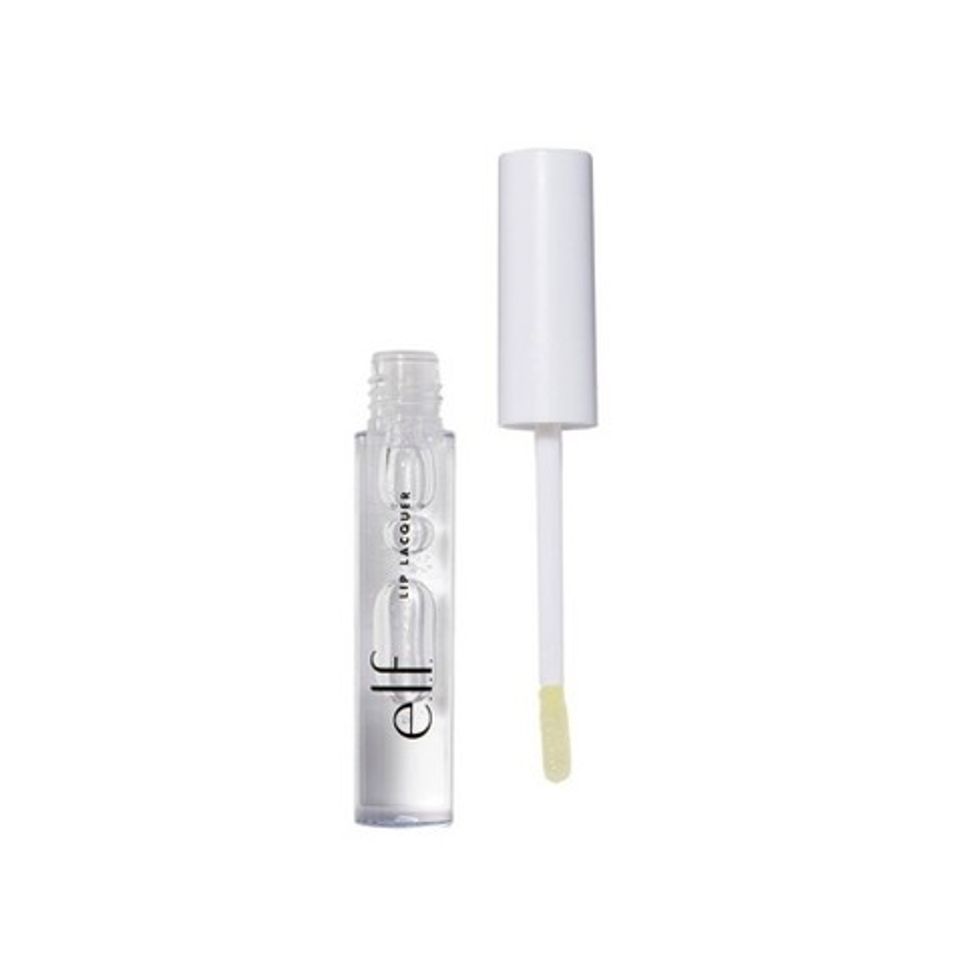 E.L.F
I know lipstick may not be for everyone, so for my ladies who like to keep it as natural as possible, this clear gloss is right up your alley. Sometimes a glossy lip just hits different, so you can definitely use this baby to turn your pout from matte to shiny too. (Just remember the clear gloss will take on whatever color your matte lip is, so might wanna keep a couple of these handy.)
Join our xoTribe, an exclusive community dedicated to YOU and your stories and all things xoNecole. Be a part of a growing community of women from all over the world who come together to uplift, inspire, and inform each other on all things related to the glow up.

Featured image by Shutterstock.
If there was anyone who could hold a master class in aging backwards it's Hollywood heartthrob Larenz Tate. Just one look at his timeless face is enough to have you scouring the internet for the secret of all secrets to his skincare routine. (By the way, it's: aloe vera, African Black soap, and Shea butter. You can thank me later.) The Chicago native has been making women everywhere swoon both on- and off-screen since the days of O-Dog and Darius Lovehall, and it doesn't seem like he has plans of letting up anytime soon.
And if you needed further proof of that, look no further than his latest indie film, Business Ethics. In it, Tate (who also doubles as Executive Producer) stars as Zachery Cranston--an ambitious and morally flawed hedge fund manager whose drive to be successful leaves him deaf and blind to the concept of ethics. Fresh out of business school, Cranston seems to have all the necessities to succeed in the finance world. That is, until his ambition lands him smack-dab in the middle of a dramatic, yet arguably illegal business opportunity that shapes up to shake the lives of everyone around him. "As we take the journey with this character, the main guy, he begins to find himself questioning, is this morally right?" Tate explains to xoNecole on a midweek afternoon. "It's something that I thought was kinda dope. Because rarely do I find scripts that come across my desk where you have a black man in the center of a predominantly white business that's dealing with financials."
He continues spiritedly, "I'm always looking for challenges. I see myself as a bit of a chameleon in terms of acting, [I want to do] a little bit of it all. And this speaks to the kinds of things that I want to do as a leading actor, as a leading male in a film."

We recently got the chance to catch up with the Power star about how he's been powering through the pandemic, the love legacy he hopes to leave behind, and how exactly he's been keeping things spicy in his marriage.

xoNecole: You've played a myriad of interesting characters over the course of your nearly 30-year career. So I'm curious: which character has been the closest to Larenz or has been your favorite?
Larenz Tate: For me, if I can just find or add a little bit of myself in each of the roles I play, in the character, then I've accomplished that. You got to put a personal touch on something, whether it's Menace [II Society], Dead Presidents, Love Jones, Why Do Fools Fall in Love, or currently the Power universe, in the spin-off show with Councilman Tate. I just try to find something that--whether you love or hate a character--I want to find human qualities that allow you to either relate to the person, or you don't want to take your eyes off the person and what they're doing. So if I can find ways to do that by bringing a little bit of my own personal touch to it or a lot of it, it's really good.
But, you mentioned what are some of my favorite characters. I think it's the movies themselves. I've been fortunate to have movies that become classics based off the fans and the quality. Take Love Jones, for instance. Such a great storyline, the characters are rich. It was refreshing to see something that we as Black folks hadn't seen before. And I think it was unique because Black people were telling the story. When we tell our stories, there's a level of authenticity that we bring to it if we are allowed to.
"When we tell our stories, there's a level of authenticity that we bring to it if we are allowed to."
I couldn't agree more. You know Larenz, you always seem so joyful and full of good energy in almost everything I see concerning you. With the pandemic and everything going on, how have you been affected personally and mentally? If at all.
You know anytime I share interviews, my story or some of the things I want to talk about--obviously, I want to be able to inspire, to motivate through the conversations and the energy that I put out there. But by all means, I do find things to be challenging just as everyday folk that are dealing with this pandemic and a shutdown. And having to now alter what we're used to doing in our everyday lives, it's a bit of a challenge.
But for me, I always try to find my center and this is something that's always been instilled in me very early. Define your center [so that] anytime that you're thrown out of it, you can find ways to do it. Whether that's from a spiritual standpoint, whether it's from a conscious standpoint, just to be able to utilize the same tools that I've had growing up to kind of get through the tough times [is necessary]. Because these are moments where people are really being tested.
As we can see, the day-to-day routines of the pandemic can sometimes suck the magic right out of our daily lives. Especially as it relates to marriage. So, have you found any new or unconventional things that help keep you and Tomasina's marriage spicy and exciting?
That's a very good question. You know, it's one of those things that, it's kind of like a roller coaster. There's times where things are super spicy and it's good. And it's like, all new--especially because you have the time, you know what I mean? But you have to understand when you're in a situation like mine: wife, four children, especially when they're little, trying to keep the spice can be a little challenging because there's ALWAYS children around. And it's not like we can leave them at home and go break away to a hotel or go away for days at a time because we don't really want to leave them with anyone. So you got to find different moments. For me, my wife is big on massages. So I'm giving back rubs, foot massages, you know. There's ways to kind of keep being intimate in that way. So you don't completely just go untouched, you don't want to stay disconnected.
I think massages are severely underrated. They're definitely clutch.
Yeah, they are but we got to pick and choose our fun times. You know, I bought my wife this professional massage table, right? And all the things that a professional masseuse would have. I got the oils, I got the lavender candles and the smell-goods and all this stuff. I got all the sheets and the blankets. So we have that and I set up this really cool gazebo in the backyard that can close up. So every now and again, you know what I'm saying, I'm going to give my wife the little massage. It's happening and it's good. But my kids, man! They like, 'What's going on, what's going on behind the curtain?' (laughs).
Like, yo--y'all gotta let us live. I'm trying to break that massage table in, bruh.
How did you know Tomasina was the one? 
I think it was just over time. She and I just got along. It was one of those things [to where] we just balanced each other out. [We were] compatible. And as a friend--we were very good friends. And, of course, in our dating, she was just like a solid person through and through. And I felt like I found somebody that I truly can grow with and that I'm willing to really share a life-long experience with. It was a combination of different kinds of things. She just always was solid. I saw how she was and not only how she treated me, but how she treated people that weren't around me or people in my circle.
My wife and I dated for six years before we even got married and we were just working on our friendship and our relationship. There was a certain kind of normality that was present in our relationship that didn't feel like it was under a microscope of the media or Hollywood. It was like a normal relationship. And we don't have normal lives, so if you create normality--that was important.
"My wife and I dated for six years before we even got married and we were just working on our friendship and our relationship. There was a certain kind of normality that was present in our relationship that didn't feel like it was under a microscope of the media or Hollywood. It was like a normal relationship. And we don't have normal lives, so if you create normality--that was important."
You've spoken previously on the importance of maintaining and putting friendship first in your relationship. And you kind of just touched on it again a little bit ago. What advice would you give to married couples who've lost the foundation of friendship in their marriage?
Well, I'm certainly not one to give any advice but one of the things that I realized is that friendship is really important because friends are family that you choose, right? Usually what you want to have [in your relationship] is based on unconditional friendship. So no matter what, you accept their flaws, you accept their greatness, you accept their shortcomings and missteps, but also their victories. And I feel like when you are in a relationship and that friendship is tested, it's one of those things that you have to then look back on. And for me, that was something that I always kind of, we kind of had. Our relationship just gradually grew. When you have that friendship, you are usually dealing with the true essence of the person.
And I want to add this too. One thing that I also learned was that even though your lady is your friend, your wife is your friend--she can even be your homie. She AIN'T your boy. Like, at all. You know what I'm saying? That's not her. You're wiping that. She can be your homie, she can be all that, but she ain't your boy. And you gotta keep that in mind. She's wired differently.
"Usually what you want to have [in your relationship] is based on unconditional friendship. And I feel like when you are in a relationship and that friendship is tested, it's one of those things that you have to then look back on. And for me, that was something that I always kind of, we kind of had. When you have that friendship, you are usually dealing with the true essence of the person."
How important is it to showcase the positive and the realness of Black Love to your kids?
Oh, it's important. But I got to say that, our children need to see all of us--all of who we are. You know, they're gonna see the fun couple. They're going to see the responsible couple. They're gonna see the silly couple, but they're also gonna see the couple that's very strong in terms of being disciplinary. They're going to see us talk about spirituality, they're gonna hear us cuss every now and again. Just all the facets of us. But the one thing that we make sure our children do see is that real Black love. I think it's important for my sons to see black women as the standard of beauty, as queens, as the standard of real love and just the kind of connection you should have and the respect. And the uplifting, they see me trying to be uplifting, and saying positive things. And it's the same thing with their mother towards me. There's always hugs and kisses, there's always love in this house.
We made it very clear when we start having children, we're not dealing with the nonsense and we're not going to perpetuate the kinds of things that we saw. The negativity that's passed on from couples to couples, to generation after generation.
Thinking forward to another 20 years from now, when you look back at your marriage, what love legacy do you hope it leaves?
I would love for my children and their children's children to say that our father and mother, grandfather and grandmother--tried to set an example for us. To give us the tools, to give us the principles, to give us the standards and to give us the roadmap we needed to live up to our full potential. And so I hope that in 20 years, we could continue to build on that legacy of being the best versions of ourselves.
Business Ethics is available to stream now via Amazon Prime Video, Google Play, and iTunes. And for more of Larenz, keep up with him on Instagram.
Featured image via Larenz Tate/Instagram