I am a 51-year-old single mom who lives at home with my parents –and I'm the happiest I've ever been.
But it wasn't always this way.
I spent most of my adult life working as a broadcast journalist. After graduating from Baylor, I moved a lot and often far from home– anchoring in Waco, Las Vegas, and St. Louis, then eventually in Atlanta.
I had a dream career: I worked at CNN's Headline News for seven years.
I was an Emmy award-winning journalist, and my work often focused on women and children. I interviewed a number of women who had overcome major challenges, including Mary J. Blige, Janet Jackson, Misty Copeland and one of Afghanistan's most prominent politicians Fauzia Koofi. In 2016, I relocated my life to Doha, Qatar to be a presenter on Al Jazeera English.
From the outside looking in, my life probably looked amazing. Doha was incredible. I did what looked like, and often felt like, glamorous work and international travel–frequent trips to Dubai, Seychelles, Bali, Addis Ababa and Venice. If you judge success in life by distance traveled and miles accrued, I suppose you could say I was winning.
The reality, as always, was more complex. For all my travels and adventures, I was often alone. Sometimes this was by choice, but other times I found myself longing for a partner with whom I could share those experiences.
But the farther you go, the harder it can be to find a companion who can keep up. To talk about my failed relationships would take too long, and they were never the true focus of my life or my story. Still, that solitude occasionally crept into loneliness, and I could feel time starting to slip away.
When I was in my 20s and early 30s, I didn't think much about starting a family. I was focused on my career, and I assumed my domestic bliss would just work itself out. In my younger years, I already had a dream job working in Atlanta, a mecca for successful Black professionals. Surely I would meet a great guy, have a picture-perfect destination wedding, and start a family. That didn't happen.
While I was waiting to get married to start a family, I could sense my biological clock ticking.
I remember hoping that feeling would go away and also being envious of my friends who knew they didn't want children. But that wasn't me; the desire to be a mom never faded. I realized I kept putting off motherhood by waiting on some imaginary person.
In my 30s, a friend of mine worked for one of the most prominent fertility clinics in the country; she suggested I consider freezing my eggs. I didn't know much about the process other than it was expensive!
I had a well-paying job but spending up to $50,000 for something I didn't know I needed or wasn't guaranteed to work, was a major financial commitment. So I put it off for a few more years while still looking for love.
At 43, scared my fertility window would close while I was waiting on a partner, I realized I needed to stop giving other people power over how and when I created my family. It was time to freeze my eggs.
Most studies suggest that women who freeze their eggs before age 35 have a better chance of a successful pregnancy. Because I had put it off for so long, the doctor was only able to retrieve five eggs, but at least I had those for when the right man came along. Over the next three years, the right man did not come along. I also considered having a baby with a male friend but then nixed that idea, because … boundaries. Time was ticking.
At 46, I finally grew tired of waiting and decided it was time to use the eggs. That meant going through a sperm bank. My friends helped me pick the right donor.
It was a surreal experience, but I was very realistic that the chances of in-vitro fertilization (IVF) working were slim, so when it didn't work, I was disappointed, but not devastated. I considered trying again but decided it wasn't worth the cost or the risk. It was time to pivot on my path to motherhood.
The next step was adoption, so I started researching options. At the time I was living in Doha, which presented a few hurdles. First, I had to hire and foot the bill for a social worker.
If I was living in the United States, I could have more easily found a social worker to conduct the home study—a comprehensive screening of prospective adoptive parents that has to occur prior to approval for adoption. I found one who was based in Germany, but I had to fly him to Doha to complete the inspection.
Another challenge was finding a U.S. agency that would work with me despite the fact that I lived abroad. Miraculously, I was able to get on the waiting list with an agency in Texas—and was approved to become an adoptive parent in late 2018.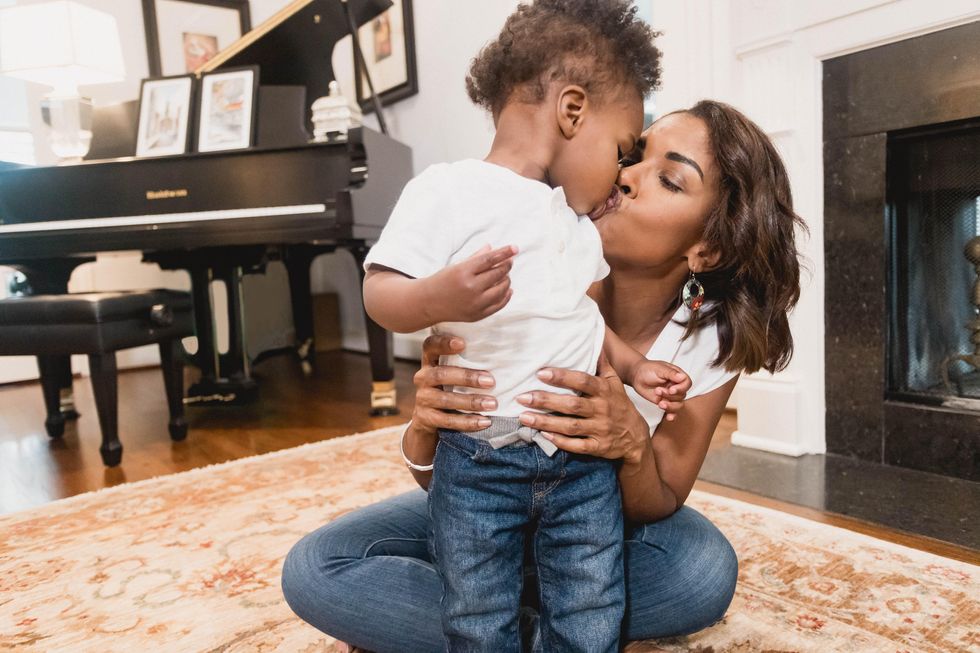 Richelle Carey and Avery
Courtesy of Richelle Carey
After a couple picked a different family over me, probably because I lived too far away, I started previewing the disappointment in my head and thinking about how striking out at adoption would crush me much more than my struggles with IVF did. Maybe because it felt more final, or because I was relying on the judgments of others.
Still, I remained hopeful. I kept telling myself that the right baby would find me no matter where I was, but I could improve my odds if I was more focused on my journey. So, I left my dream job.
Leaving a career is always tough, especially when you don't know how things will work out, where you'll be, or when you'll work again. But I knew it was time. I had little left to prove to myself professionally. So I quit my job as a news anchor more than two years ago and moved home to Houston.
I fully acknowledge that my choices come from a place of privilege. I was successful enough in my career to save money, quit without having another job lined up, and move to my parents' fully furnished studio apartment above the garage.
I was still a bit uneasy about it, and at times even scared. I was staring down the barrel at 50, and if you told me that at that age, I would be single and living in my parents' guest house, I would've thought that I had screwed up my life. I certainly never aspired to it.
I think we intellectually know life can happen for us in a variety of ways but find it hard to accept the non-traditional path might be the one we end up taking. Even if we do and receive everything we want, it feels wrong until it feels right.
Matching with my son was a years-long process. Then finally in March 2021 in the depths of pandemic isolation and global despair, I received a call from the adoption agency, saying a birth mother who had a six-week-old baby was interested in meeting me. The very next day, I drove three hours to Dallas to meet them.
As soon as I saw that beautiful baby boy, I knew at once he was the baby I'd been waiting and trying for all this time. The next morning, I told the agency I wanted to adopt him. Four days later, Avery was home with me.
My life now has transformed from globetrotting to potty-training and I wouldn't trade it for the world. Everything you hear about parenting being exhausting is true. What is also true is seeing your child happy makes all that exhaustion worth it. The absolute best sound in the world is a child laughing, which my little comedian Avery does often.
In my work, I often focused my coverage on women and children. In many ways, my motherhood journey is a continuation of that work.
I hope people learn from my story that your path to motherhood doesn't need to look a certain way or happen in a specific order. I hope my journey encourages women to embrace a variety of paths to motherhood.
You may have your heart set on having a child that is biologically yours, but if that doesn't happen for you, be open to other options such as egg donors or adoption. Some companies offer insurance options for egg freezing and IVF or can also help with adoption costs. You can even consider becoming a foster parent, which can lead to adoption later on.
Being a single mom over 50 wasn't how I thought I would end up. I dreamed of something way more straightforward and dare I say it, conventional. I think I knew the road ahead wasn't going to be comfortable, but it has been more rewarding than I could've ever imagined.
And, that road is still just beginning.
Let's make things inbox official! Sign up for the xoNecole newsletter for daily love, wellness, career, and exclusive content delivered straight to your inbox.
Feature image courtesy of Richelle Carey.