I used to struggle to get out of bed every morning, and would often hit the snooze button to get a bit more sleep. I was trapped in that cycle for years, until someone recommended yoga to me. Since practicing it every morning, my life hasn't been the same.
The way you start your day can often dictate how the rest of it unfolds. Being a woman entrepreneur that manages a beauty company and being a professional dancer can be both mentally and physically challenging. Looking for a way to find balance, especially living in New York City, yoga seemed liked a perfect fit to complement my lifestyle.
The benefits of practicing yoga every morning over the last two years has helped me begin my day with a smile. It gives me a calmness of mind and, most importantly, it gives me a heart filled with gratitude as I face myself on the mat every morning before I start work. My yoga practice includes movements in static poses, as I love to infuse dance and yoga together, which benefits my practice in more ways than I can explain.
With that in mind, here are my top five yoga poses that get me going every morning.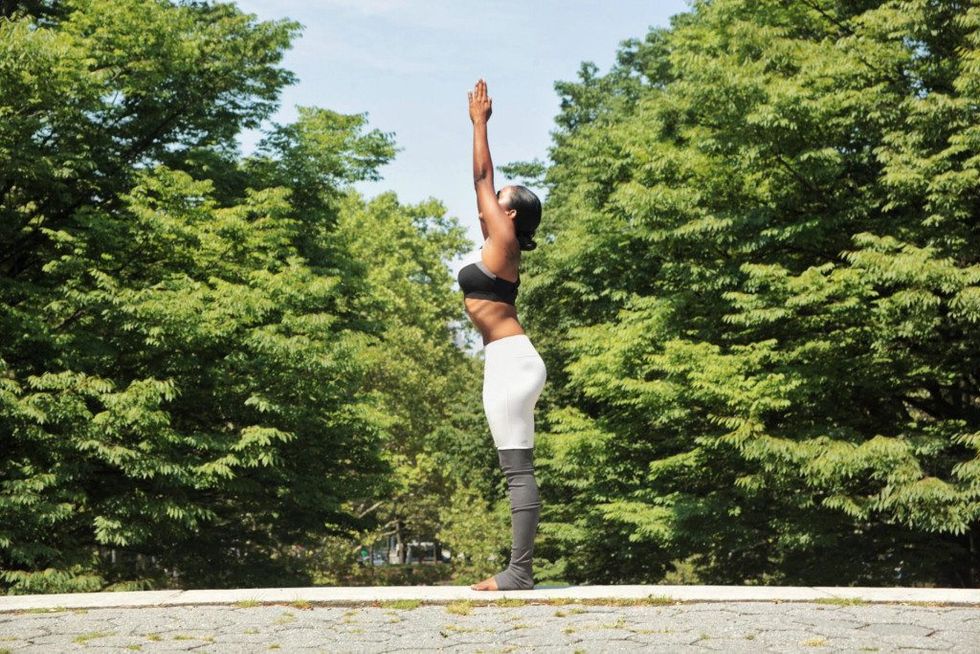 1. Reach for the Sun (Standing Arm Reach)
One of the first things I do to get ready for yoga is to bask myself in the morning sunlight for my daily dose of Vitamin D. This helps set my mood for the day and keeps me alert. I also begin my practice by using some Radha Beauty Essential oils to set the atmosphere.
Standing up nice and tall, the Standing Arm Reach encourages you to stretch your hands all the way up. You're beginning your day with a power pose, keeping in mind your goals for the day. As you gradually soften your arms back, down, remember to exhale. Repeat this for 5-10 breaths. This is a great first move to open up the body and loosen you up to help you begin the day.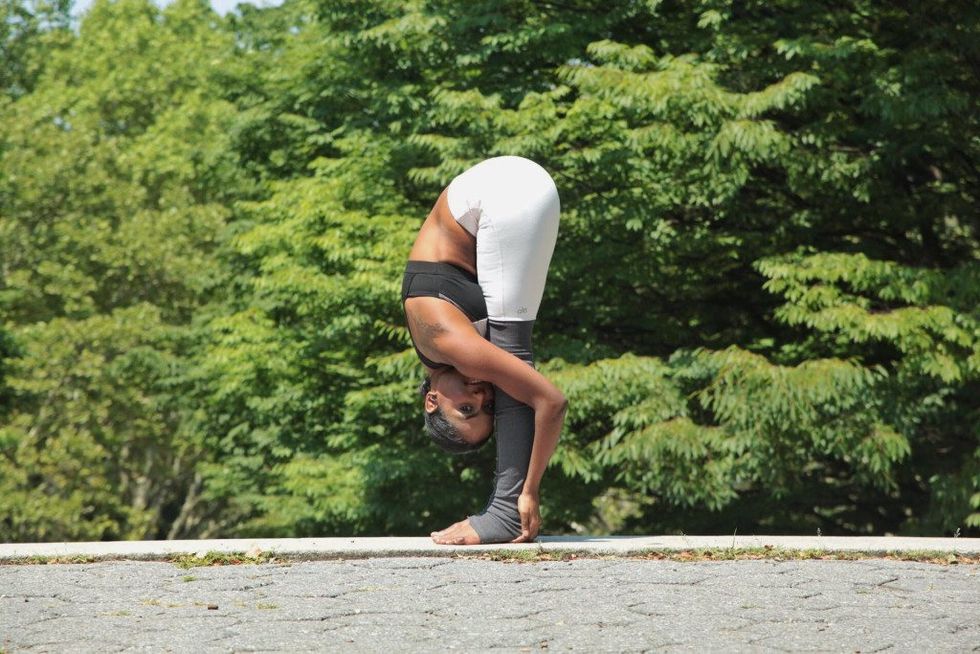 2. Working your way down to your toes (Forward Bend)
As a dancer and entrepreneur, I'm constantly on my feet. Especially living in New York City where walking is the norm, ensuring that my legs are fully stretched out is priority before I start my day.
The Standing Forward Bend is a great way to stretch out your hamstrings and lower back. Remember to exhale while folding up and over your legs. Bending your knees in this move can help ease up on the hamstrings and lower back. The dancer in me recommends swaying from side to side to soothing beats when your chest is towards your thighs. This eases up your body to create that space which will provide you with more energy for the day.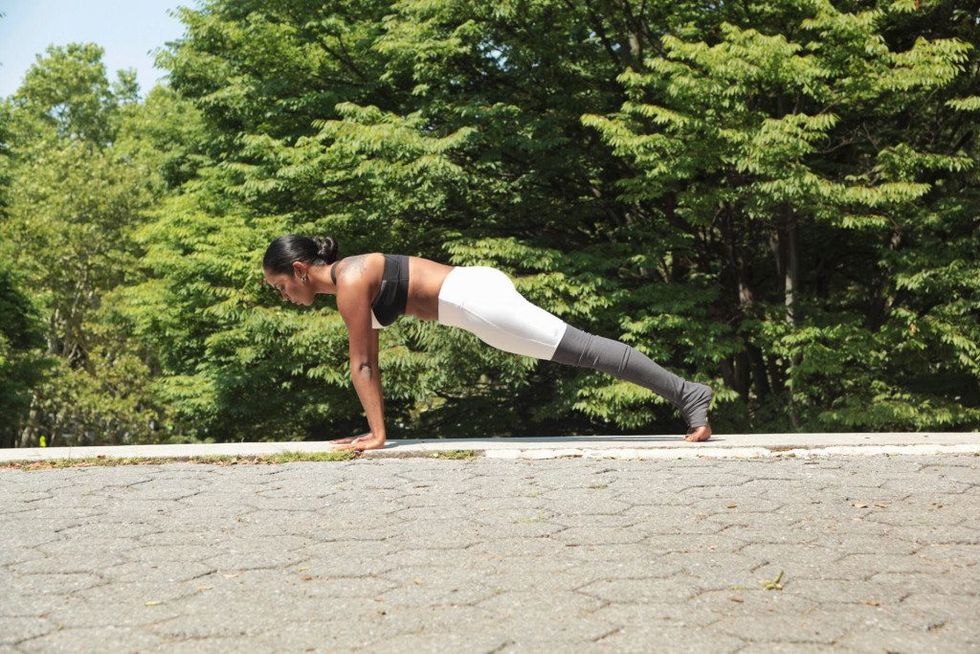 3. Plank while listening to your favorite song (Plank)
I used to have constant aches in my lower back after dance rehearsals until I started planking. Not only did planking help reduce my lower backaches, it also helped toned up my tummy. Try listening to your favorite song while planking as it helps make the process more enjoyable.
Planting your palms down and stepping back to a nice plank pose is a great way to energize the entire body. Maintaining a correct form while engaging your core muscles helps you to keep focus and get things going for the day. Repeat this for 5-10 breaths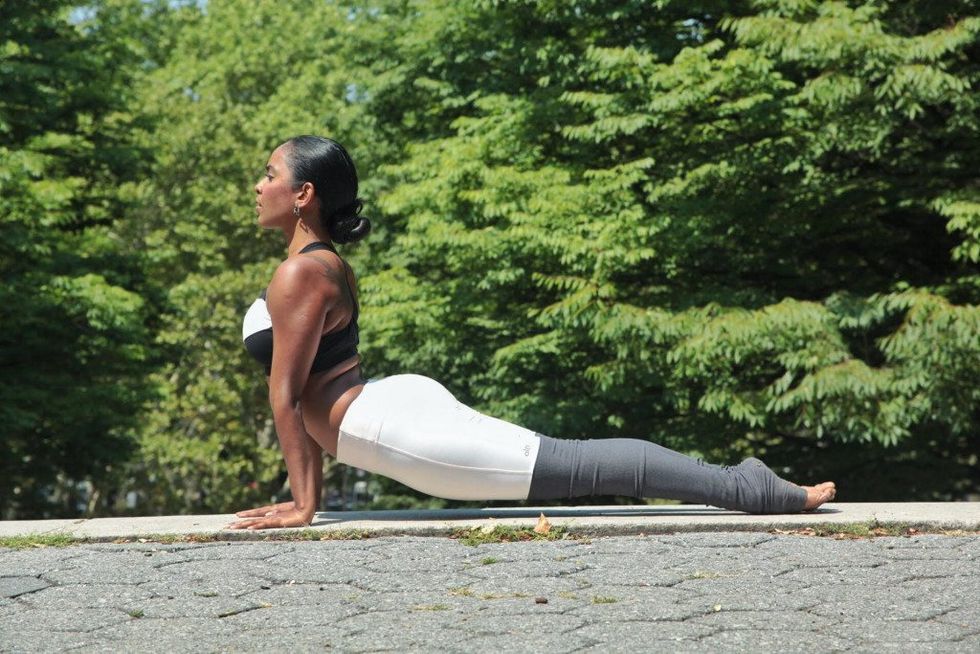 4. Summoning the energy for the day (Upward Dog)
If coffee is your energy booster for the day, then Upward Dog is my equivalent of coffee. This is one of my favorite poses to get into as it stretches my upper torso while improving the strength and flexibility of my spine, arm and wrists at the same time. As they say in yoga, "You're only as young as your spine is flexible."
From plank position, as you start to ease your knees down and draw your shoulders down your back, you will get into an Upward Dog pose. Once again, swaying from side to side adds more fluidity to your routine. The whole idea is to keep everything moving and flowing freely so that you wont have to be stuck in a pose. This is another great way to open up the body especially after a good nights sleep.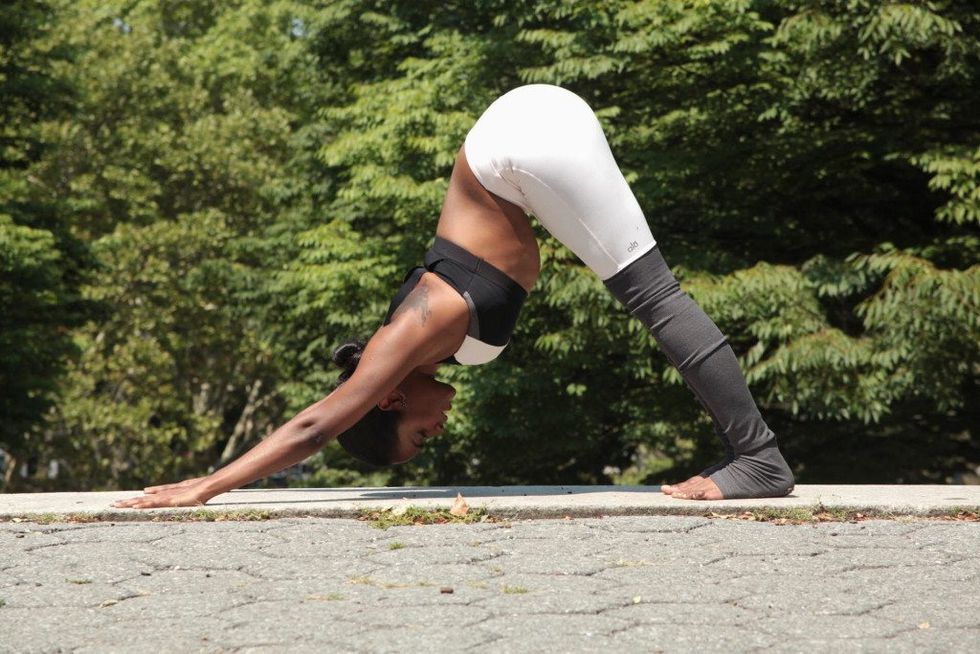 5. The Downward Dog
The Downward Dog pose is one that I have to do before starting my day as it wakes you up by boosting blood circulation throughout the body. As with all yoga poses, being in control of your breathing is key as this teaches you to be in control of your emotions and feelings.
As you try to tuck your toes and raise your tailbone to the sky, you will transition into a Downward Dog pose. Drop the head down and push into the hands to create length in the spine, while at the same time pressing your heals to the ground. This is a great resting pose which helps open the back of your legs as well stretch out your calves. Swaying from side to side helps gives this stretch more emphasis on both legs. Repeat this for 5 – 10 breaths.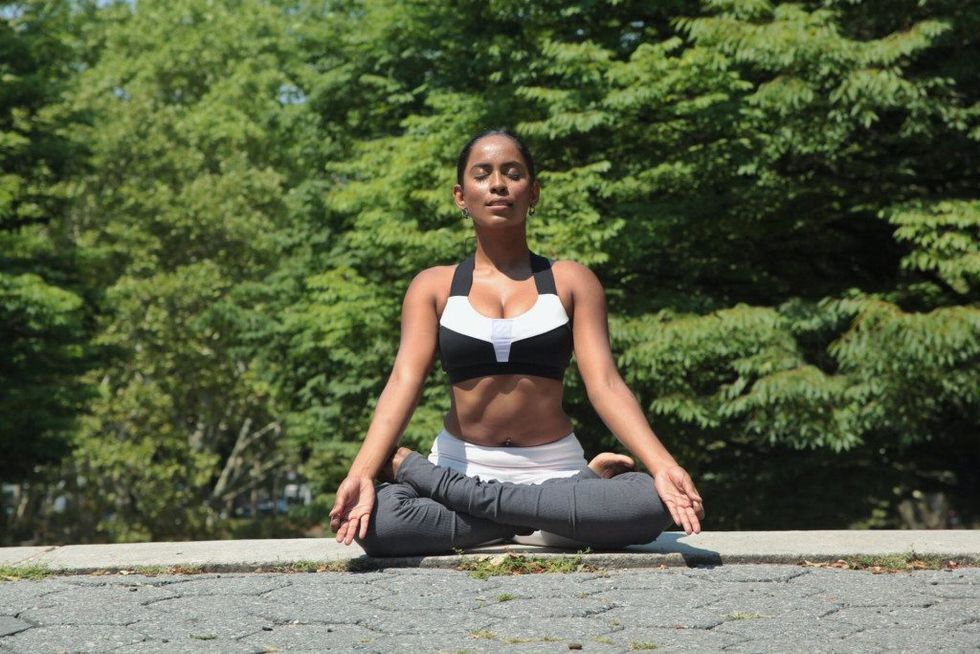 Bonus: Keeping it simple – Breathe
When things get too overwhelming unexpectedly, I always remind myself in those moments to breathe. This helps me refocus and reduce anxiety levels, and allow oxygen to flow through my body.
Practicing yoga in the mornings has helped me feel more energized and focused, thus allowing me to accomplish more during the day. I'll encourage those that want to get through the day caffeine free to start practicing yoga in the morning, as it gives you a new sense of a clarity and purpose as you start each day.
If you feel unmotivated at times, I highly encourage you to give these five poses a go even when you don't feel like it. I am certain you will walk away from your mat feeling rejuvenated and energized and ready to conquer your day. Try it out once or twice a week, and you will start to see some of the benefits that I have mentioned above.
I have no doubt that if you show up for your yoga practice as your messy, imperfect and beautiful self, you will find more reasons to add yoga to a part of your morning routine.
Want more stories like this? Sign up for our newsletter here to receive our latest articles and news straight to your inbox.
Featured image by Shutterstock; all other images courtesy of Rebekah Letch
Originally published December 13, 2017
Growing up, I would always hear the phrase "Dogs are a man's best friend," but I had no idea that rang true until I received a dog of my own.
I welcomed Sophie into my life eight years ago after she was given to me as a birthday gift. It was love at first sight at when we both met. Since getting my Cocker Spaniel, she has enriched my life and made me healthier and happier.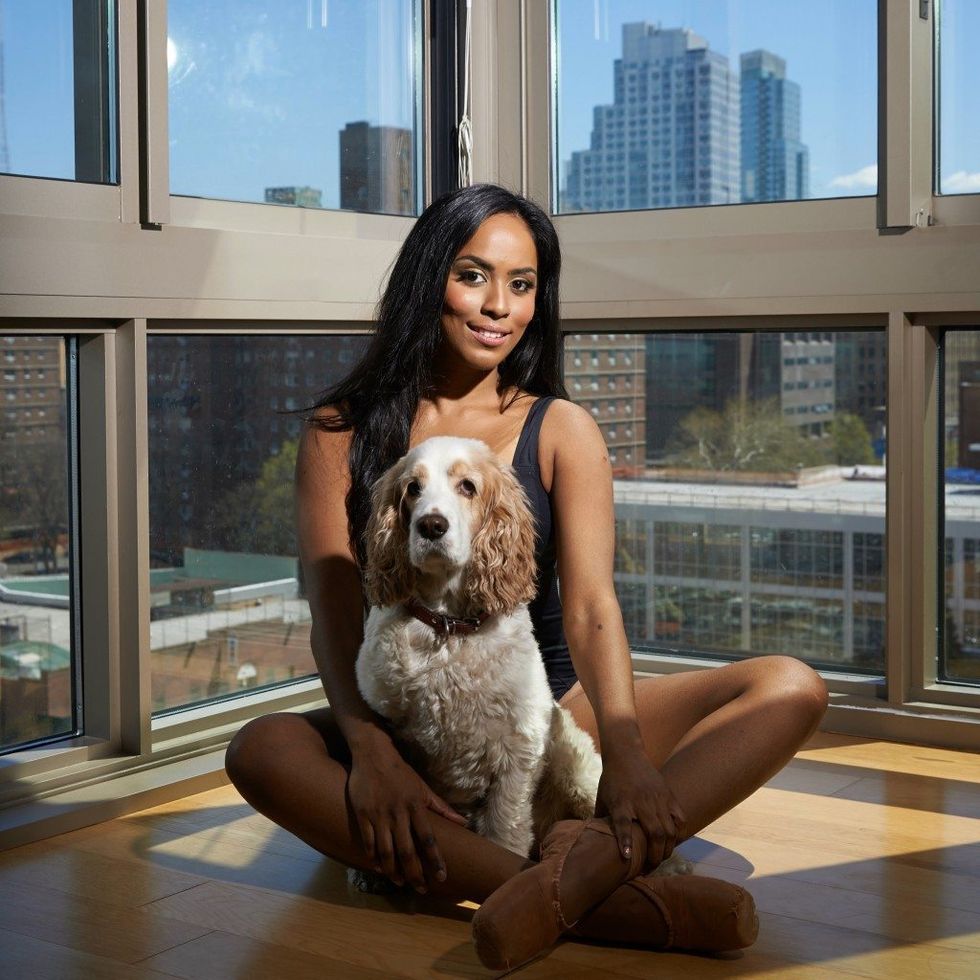 We have shared many adventures together over the last few years as we travel the world together. From Singapore and Europe to Mexico, she is always there to witness my highs and lows in life, and probably one of the few dogs in the world that has traveled to many countries.
I frequently share on Instagram my personal stories of traveling the world with my furry companion and how she saved me over and over again during some of the lowest moments of my life.
From going through a bad break up to having panic attacks and having nervous breakdowns, I now no longer face those issues thanks to my beloved companion. To simply put it, having a dog has changed my life. She fills my life with meaning, and teaches me about unconditional love, forgiveness, loyalty and companionship every single day. If you're lucky enough to have loved a dog, you would be able to tell anyone that dogs have the profound ability to not only sympathize, but to help heal. Which is why, it is no coincidence that dogs are brought into hospitals and rehabilitation centers to make people feel better, physically and spiritually.
With that being said, from my personal experience, here are five benefits of having a dog in your life.
1. My Dog boosts my mood.
Sophie helps me in every aspect of my life including joining me in my yoga and dance journeys. When I was traveling the world and living in Italy, I dedicated every single performance to her because she was the main reason for my success. I brought her with me everywhere including rehearsals. As a dancer, the tediousness and strenuous demands of dance meant that I would be facing injuries, stress, anxiety and face a full range of emotions every single day.
Sophie was there throughout it all to calm me down when I was overwhelmed at times, to shower me with her warm, wet kisses after every rehearsal, and to provide me with support by just being there watching. Psychologists from Miami and St. Louis Universities found that the benefits of having a canine companion can be equivalent to having a human companion.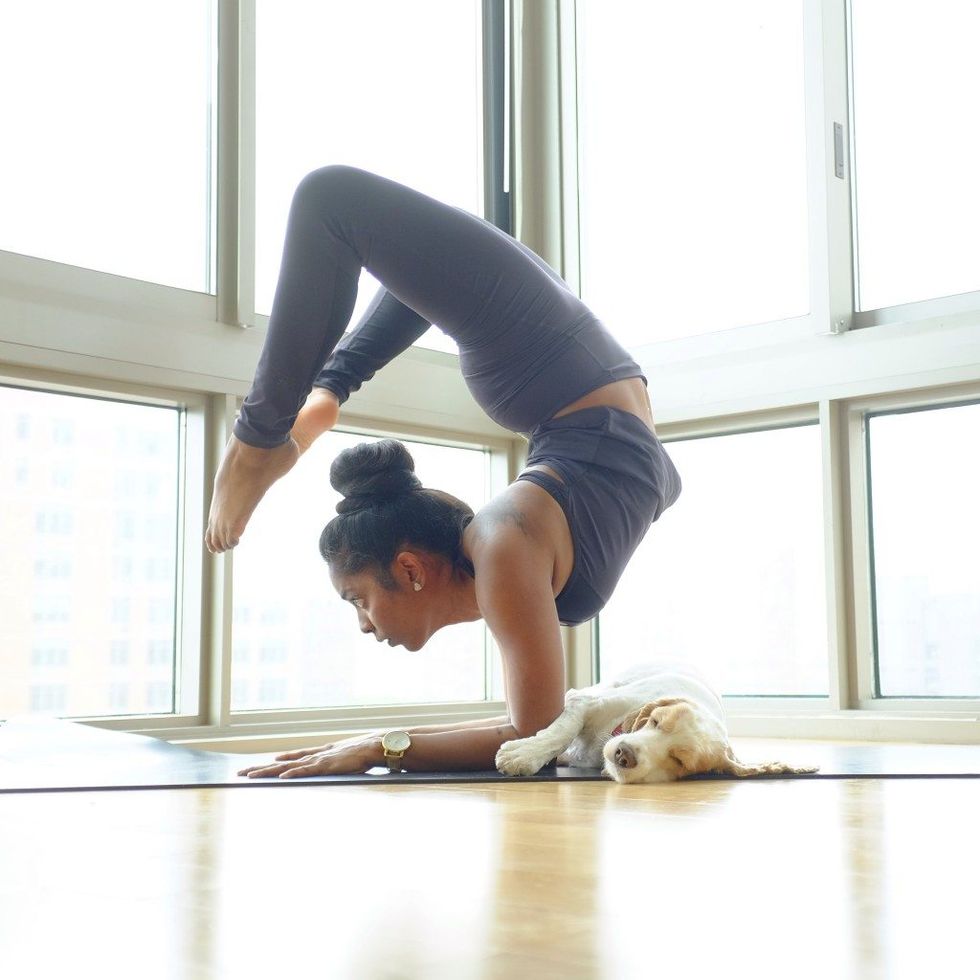 2. My Dog is better than medicine.
I look forward to coming home and being greeted by Sophie everyday. Even if I went downstairs for two minutes to get the mail, she still welcomes me home at the door as if I was away for a long time. Being a "dog person" has restorative benefits. Last year, a study found that owning a pet–-especially a dog–-improved cardiovascular health by keeping people active. At some of the lowest points of my life, Sophie helped reduce stress responses in my body, and lowered my blood pressure, cholesterol levels and weight. She automatically improved my mood just by allowing me to pet her and be in her presence.
To me, dogs are magical creatures that help ward off bad energy. It is no surprise that dog owners have been found to have lower cholesterol, lower blood pressure, fewer heart attacks, and according to a study by the British Journal of Health (2004), dog owners also have the added benefit of having fewer medical problems than those without pets.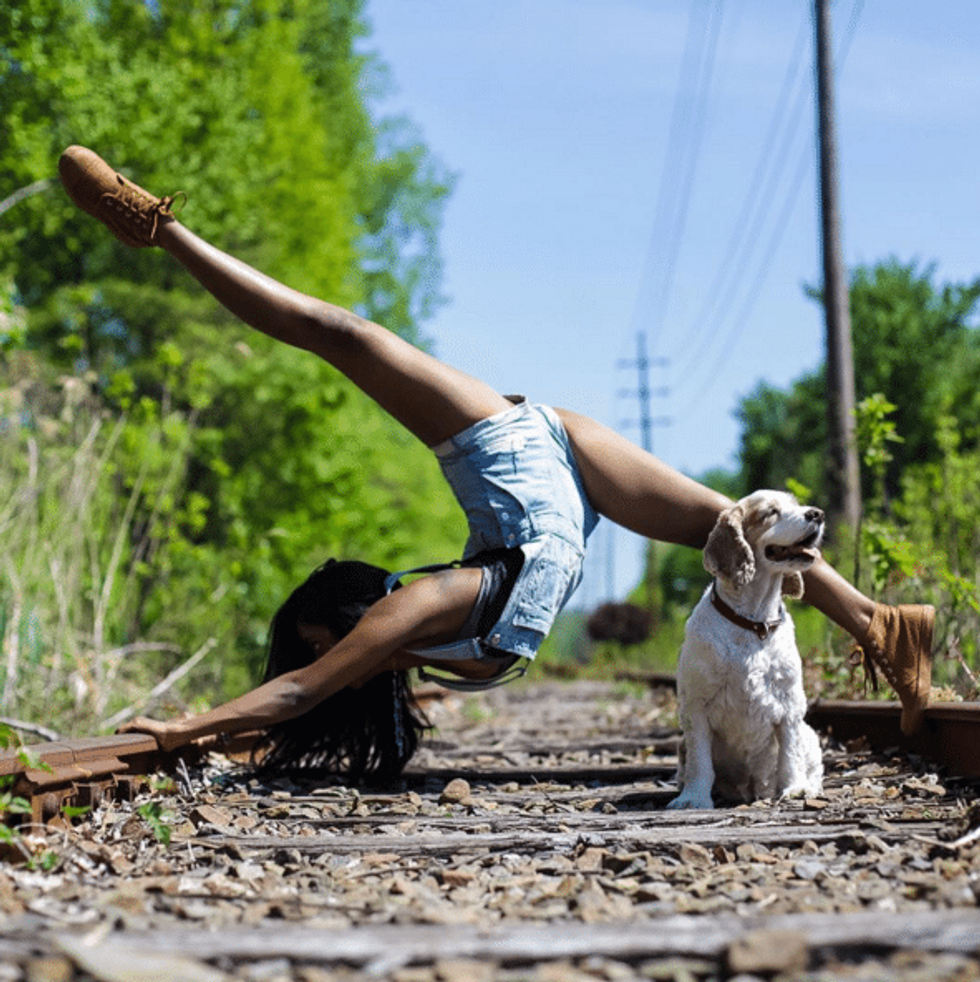 3. My Dog helps me stay active.
Another added benefit of having a dog is that she encourages me to exercise more! Sophie and I go for walks at the park every morning at 6 AM,12 PM and 5 PM. After which, she spends her time watching me do yoga or circuit exercises at home every morning. She loves the energy I give out when I exercise. Apart from the dog walking alone, dog owners were also found to achieve more advanced stages of movement compared to those who own dogs and do not walk them. The Journal of Physical Activity and Health (2010) concluded that dog walkers generally walked about an hour longer than their non-dog walking counterparts!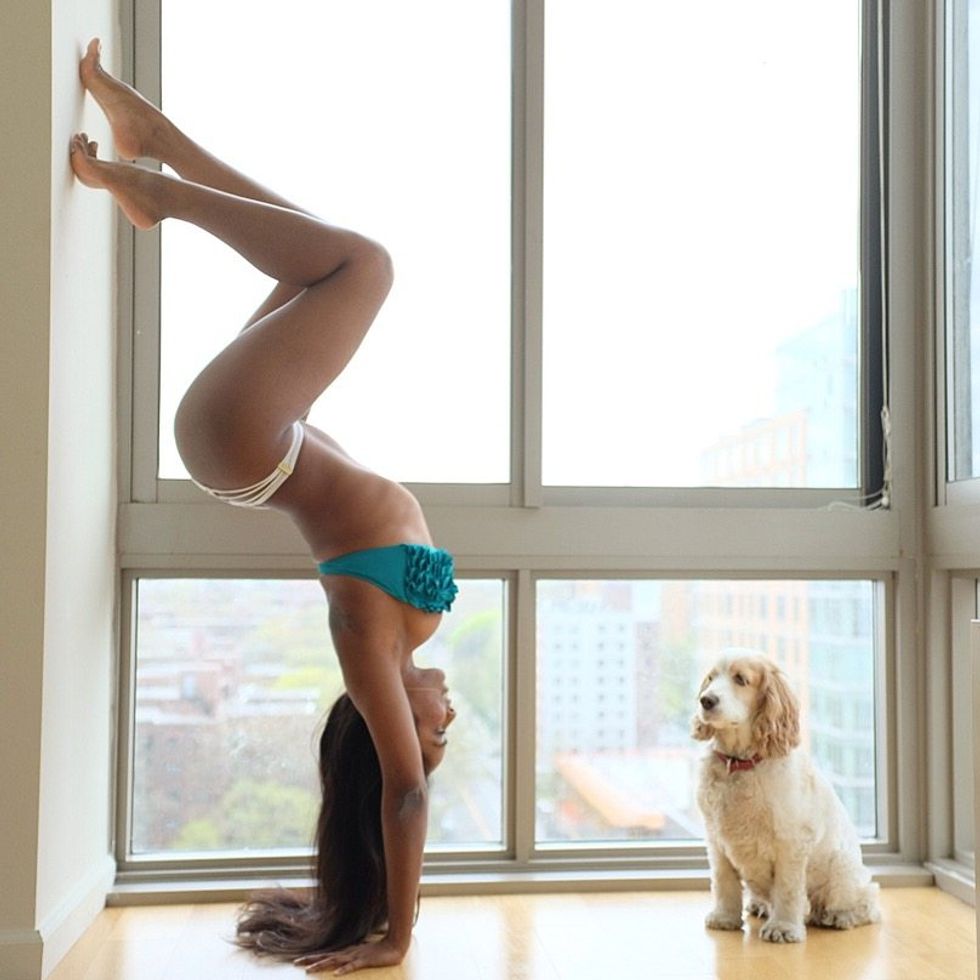 4. My Dog helps relieve stress.
One of the best benefits of having Sophie is that she is a master at helping me relieve stress and feel calm. Sophie is a great form of support when I get frustrated about not nailing a yoga pose. For some unknown reason, whenever she's with me when I do yoga I seem to be able to remain so calm that I am able to focus better on my poses.
No matter how angry, stressed out, or anxious I may be feeling, Sophie seems to know that her presence will always snap me out of that state. I am dependent on her as much as she is on me. According to a study from SUNY Buffalo (2006), 240 married couples with dogs were subjected to various types of stressful tasks where they were either alone, with their spouse or were able to see their dog before or after the task. Unsurprisingly, the lowest responses to stress were among those who were allowed to see their dogs. Maybe there should be a mandatory "bring your dog to work" day! Sophie and I love splashing on Radha Beauty Lavender Oil for better sleep and a stress free day.
Eight years later, our bond is even stronger than before and I can't imagine what life will be like without her. Whoever said that diamonds are a woman's best friend, obviously never had a dog. They shower you with unconditional love and affection, and are also interested in meeting every single new person who walks through the door. You can't help but go along for the ride.
Does your dog help you on your journey to mental, physical, and emotional health? Let me know below!
Originally published April 6, 2017