Rana Campbell
Rana Campbell is a Princeton University graduate, storyteller, content marketing strategist, and the founder and host of Dreams In Drive - a weekly podcast that teaches you how to take your dreams from PARK to DRIVE. She loves teaching others how to use their life stories to inspire action within oneself and others. Connect with her on Instagram @rainshineluv or @dreamsindrive.
At the top of most people's list of goals is normally the usual culprit: I want to be more productive and focused. I want to get more stuff done this year. So many of my girlfriends usually send themselves into a "life hack frenzy" – Googling every productivity solution known to mankind. This usually starts with a week of "results" and ends with a forgotten goal and a return to old habits. What if the key to maximizing productivity was rethinking our approach? While so many of us think we can hack our way to optimizing our output, we oftentimes forget about the bigger picture.
Productivity is a mindset. It's a lifestyle. It's part of the wellness journey. If we're open to finding the connections between productivity and our overall physical, mental, spiritual, and emotional states, defining and achieving "productivity" on an individual level doesn't have to be as difficult. Scroll through to learn how some of your favorite wellness enthusiasts approach productivity. They share their favorite strategies, tips, and techniques that can help you along your own journey to a better you!
Note: Answers have been edited for length and clarity.
Create Patterns & Lists.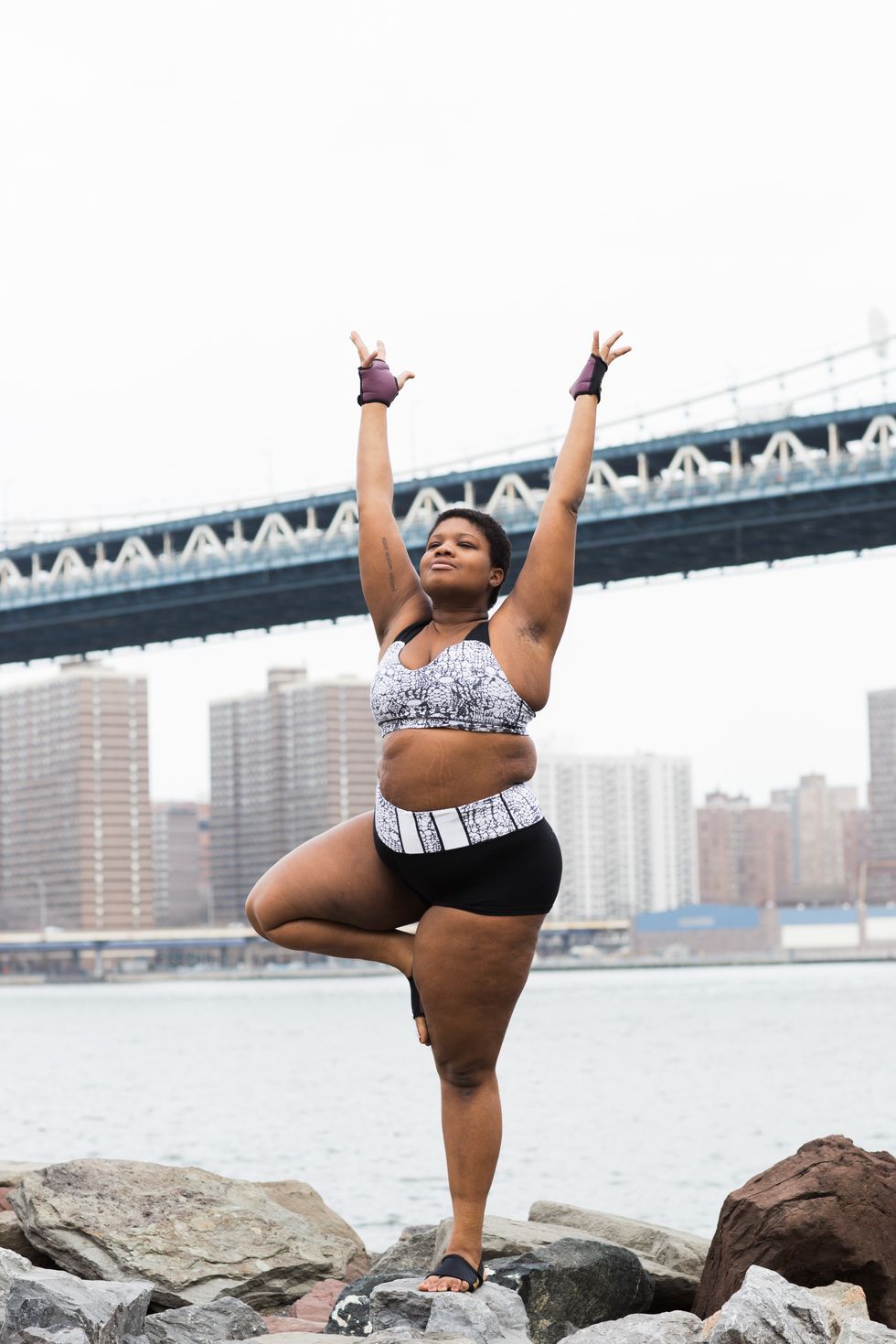 Photo Credit: Lydia Hudgens
Courtesy of Jessamyn Stanley
Jessamyn Stanley, Yoga Teacher & Writer - @mynameisjessamyn
"If you don't take care of every piece of yourself, you won't be able to be all that you can be. I have patterns. In the morning, I wake up and make my bed. That's a core part of closing out the time that I was in my bed. Then I have time with myself, even if it's just five minutes of mindful breathing. I usually do some sort of yoga and meditation practice and another type of physical exercise, whether it's cardio, weight training…it has to be time that is not for anything else. It's something that grounds me in myself.
Being able to let it be fluid is a key part. I allow it to morph and change depending on where I am and how much time I have. There may come a day when the [situation will change] and before you know it, the pattern is gone. You can say, 'It's okay for it to be how it is today. It's okay for me to miss a day. Oh, I don't have my usual hour, I got 30 minutes, that's fine.' I'm not running a short race. I'm running the marathon of life.
I also believe in making lists so that you can see the things you're trying to accomplish. Put different sized things on the list so you can constantly be checking things off. Even if it's just a small thing – it's totally on the list. It's right next to the big thing. That makes the big thing seem more attainable."
Recommended books: The Four Agreements by Don Miguel Ruiz, Becoming by Michelle Obama
"I'm not running a short race. I'm running the marathon of life."

Focus On Positive Energy.
Dade Shelby, Yoga Instructor & Trainer - @dade2shelby
"Everything is a journey. [Productivity] is something I'm always working toward. I never have it completely figured out. It's good to have a practice or routine that helps brings you back to where you need to be.
Daily, when I encounter bad energy, I never transfer that to the next place. If I have a bad morning and I'm headed to work, I sit in my car for a few minutes and breathe. I listen to music or sounds that will bring me back to a peaceful state. I meditate for three minutes to bring myself down and not bring bad energy from one place to the next.
[An activity like] yoga clears your mind. It's a non-impact way to start doing things. If physicality is the issue, it's a good intro back into that. Mentally, it brings you into a peaceful mindstate where you can think more clearly and get your thoughts straightened out. Spiritually, it brings you back to the source - whatever that source is for [you]."
Recommended books: The Celestine Prophecy by James Redfield, Light On Yoga by B.K.S Iyengar, Wheels of Life by Anodea Judith
Identify Your Triggers.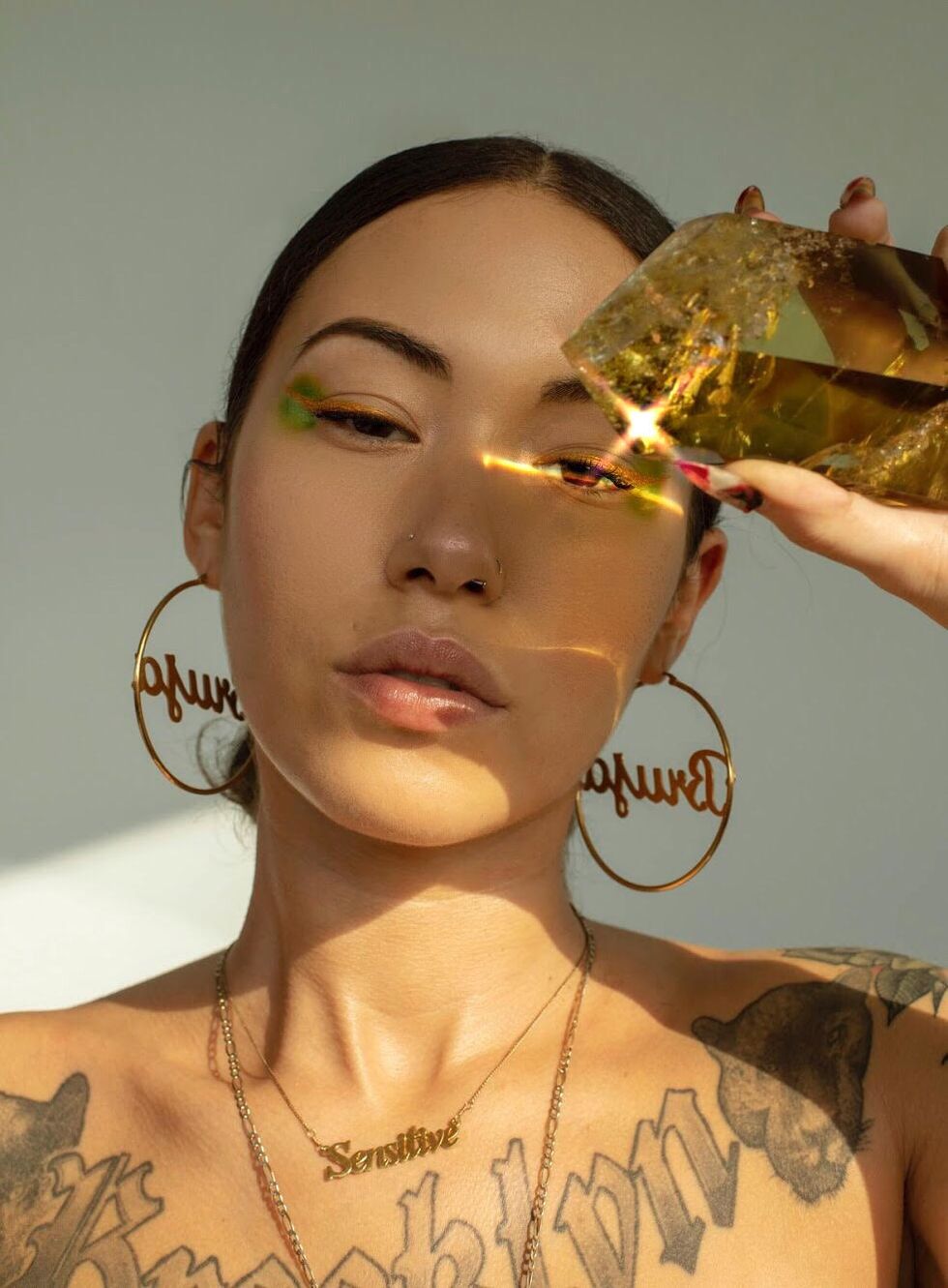 Photo Credit: Jasper Soloff
Courtesy of Emilia Ortiz
Emilia Ortiz, Bruja & Spiritual Advisor - @ethereal.1
"Identify what's causing you to be out of balance as an individual. When you are more balanced, you are able to function at a higher rate, perform better, and tap into your best qualities. Start with three (at most) that you want to address. Start with baby steps of working on your mindfulness in these areas of your everyday life. Figure out what is causing you to feel stressed or imbalanced so you can be more in the present, rather than be all over the place and focused on the past and future.

How do I best perform? I'm big on taking breaks and acknowledging when I need to take a break. I recognize that I do well under slight pressure but I don't do well when I procrastinate and put everything to the last minute. Recognize what your productivity rate is and what's best for you as far as lighting a fire under your ass and time frame. Accept and embrace that.
Don't listen to what everyone is saying about no distractions or needing background music to focus. Find your groove. You don't have to listen to what every guru has said. We're all telling you what has worked for us, but these things are guidelines. They don't have to be set in stone rules."
Recommended book: The Four Agreements by Don Miguel Ruiz
"Recognize what your productivity rate is and what's best for you as far as lighting a fire under your ass and time frame. Accept and embrace that."

Use Food As Fuel.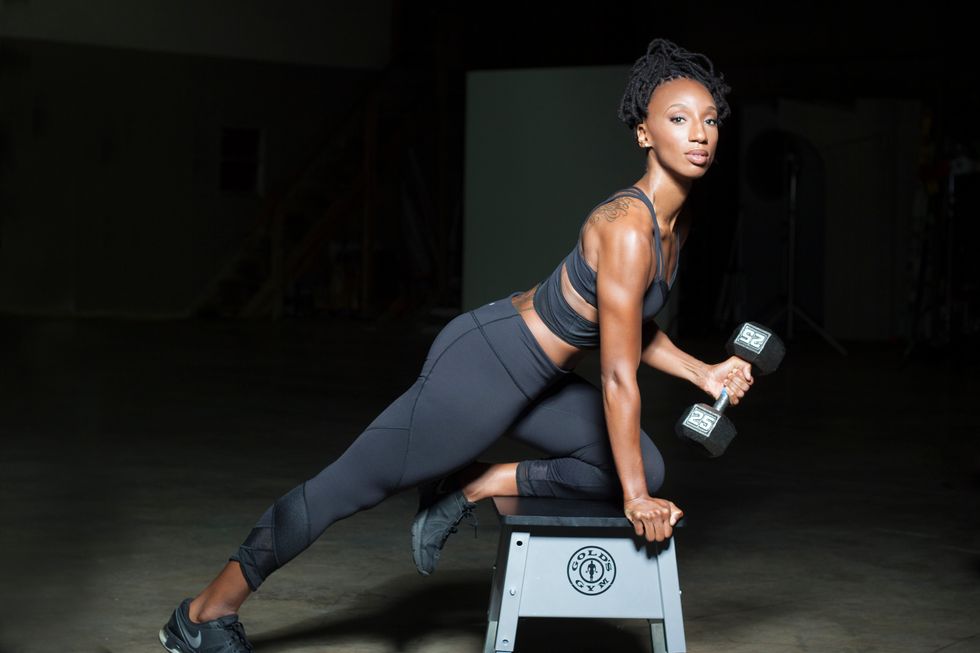 Courtesy of Tierra Burrell
Tierra Burrell, Holistic Health Consultant & Entrepreneur - @tierragoesgreen
"Food is the fuel. The same way technology gives us information. Food is our internal technology. Typically in the morning, people may grab coffee, bagel or bowl of fruit.
Think: what is nature's programming? The fruit is the only thing. Nature's programming helps your brain function. It also allows your creativity, cognitive health, and imagination to take place in beautiful ways without any of the business programming.
Drink water. Water is the filtration system of life. It's the system that the Earth runs on. It's important that we get in alignment with nature. In the mornings, get a big bowl of fruit, a big smoothie or a big bowl of oatmeal. What's the point of building a brand or getting your dream job if your health is deteriorating?
Use turmeric. It is anti-inflammatory and also a brain booster. It helps balance, mindfulness, thought process and productivity. If you're sitting in an office all day and don't get to move as you should, it's great to use turmeric for brain and joint health. It's great for prevention."
Recommended books and supplements: Sleep Smarter by Shawn Stevenson, Vegucation Over Medication by Dr. Bobby Prince, TierraGoesGreen supplements
Seek Alignment.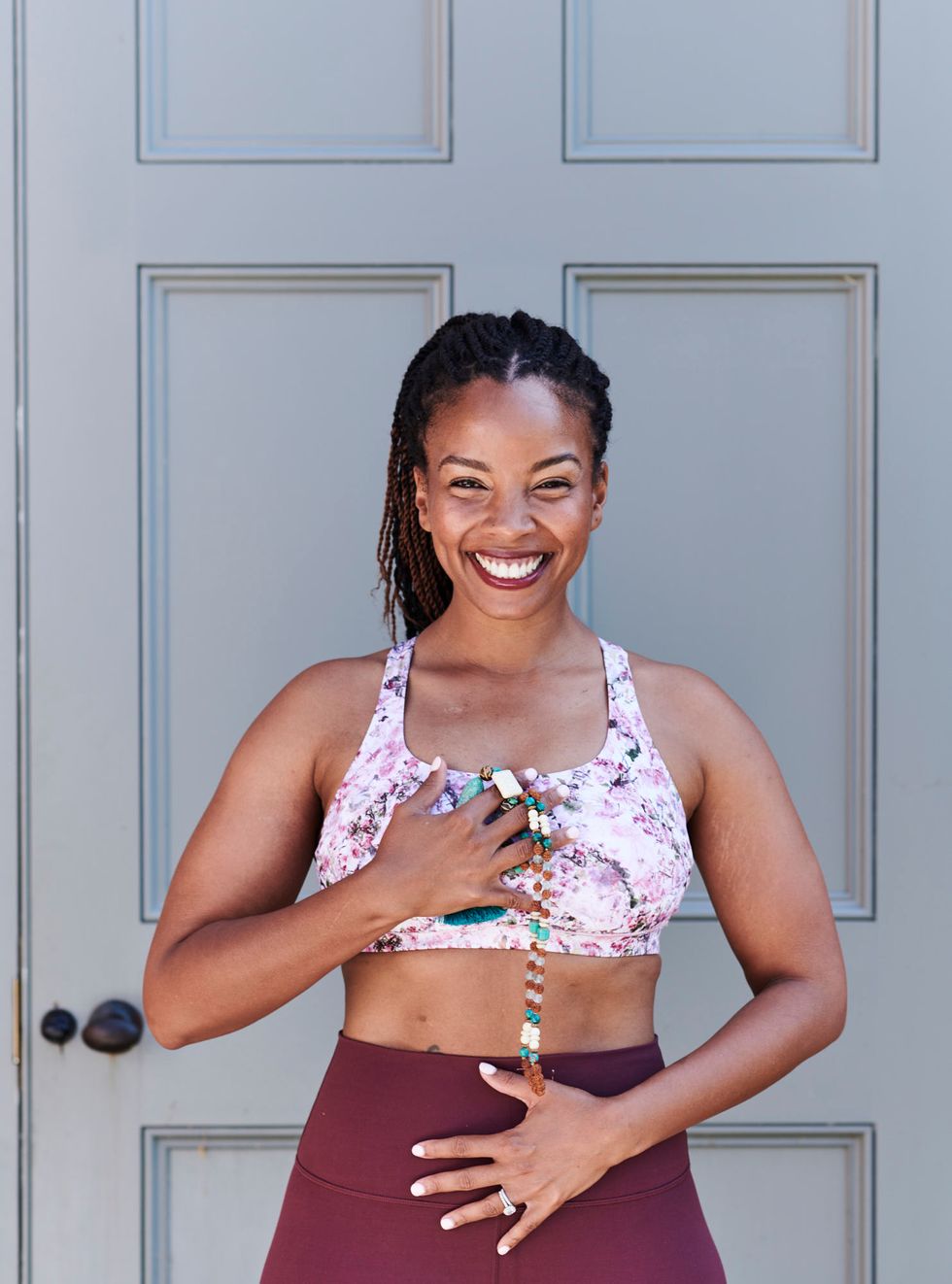 Photo Credit: Pete Schiazza
Courtesy of Dr. Chelsea Jackson Roberts
Dr. Chelsea Jackson Roberts, Educator & Yoga Teacher - @chelsealovesyoga
"A lot of people say hustle hard or keep going until you're exhausted. I personally don't believe in that. One of the first principles of the Yoga Sutra is nonviolence and non-harmony. You can use yoga as a way to keep from harming yourself in the process of trying to be and do everything that we want to do in this lifetime.
Yoga allows me to pause, reflect, and be quiet and listen to my own intuition. It allows me to reconnect with myself. I can feel connection to whatever is out of alignment in my life. I'm typically not in the best or most optimal space to create if I'm not feeling balanced within my life. It's a great way for me to do a self-check, especially if I am reaching a point of burnout or need to say no to someone who is asking me to do something that I want to do but don't have the bandwidth or the rest to make it happen.
I recommend Yoganidra by Tracee Stanley - which is a practice of going between meditation and deep relaxation. This is good if you are looking to use yoga as a deep relaxation tool.
My go-to posture is Shavasana aka "Corspe's Porse". It's one of the hardest postures because it's easy for us to get caught up in our day-to-day. Shavasana is a way to reconnect to how we're feeling and what's going on in our bodies, hearts, and minds."
Recommended: Every Body Yoga by Jessamyn Stanley
Set A Timer.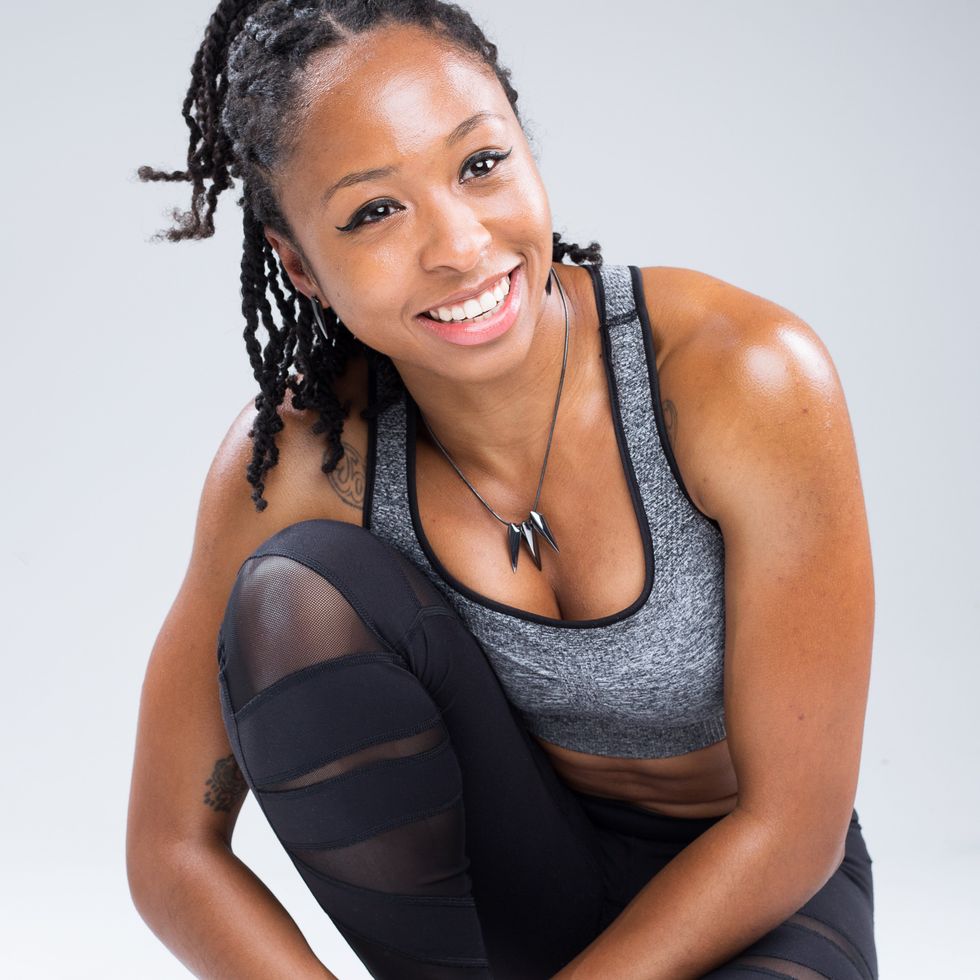 Photo Credit: Phil Provencio
Courtesy of Robyn Warren
Robyn Warren, Health Coach & Educator - @geekgirlstrong
"Sometimes I set a one hour timer for responding to emails, taking a break to play video games, or working on that big project that needs to be broken down into parts. Once that time is up, it is also time to move on. You can use a timer to dictate when you are allowed to check inboxes, texts, social media, etc. Try hacking your phone. Try putting time limits on certain apps, putting your phone on grayscale, and/or just putting it out of your reach."
Originally published on February 27, 2019
Featured image courtesy of Dr. Chelsea Jackson Roberts
The relationship we have and nurture with self lays the foundation for how we relate to and connect with others in our lives. Assessing the issues that discourage self-love from prospering are key in order to repair and reignite the freedom that comes when we finally believe the words "you are enough." I chatted with self-love advocate and lifestyle entrepreneur Shelah Marie – who you may remember from when her 2017 photo of doing yoga with boyfriend, rapper Ace Hood, went viral. Shelah's mission is to create a movement of total self-love and liberation for women of color through her platform Curvy, Curly, Conscious – a place where "self-help" meets "real talk" through virtual and offline events and retreats.
Shelah opens up about her healing journey and gives tips for others repairing one of most important relationships a woman will ever have: The one she has with herself.
To fully understand how self-love evolves over time, we must start at the beginning – childhood. "I grew up as the only person of color growing in my home..the only Black person in my neighborhood. I was the only one with hair like mine, skin like mine. I couldn't figure out why I was different. My [immediate] family wasn't open to talking about it."
"Because I had fundamentally saw the world through race at a young age...what I saw was a big deal. Everyone didn't look the same and it mattered. I learned to deconstruct the performance of race around me...I was aware of people's emotions and saw things that people weren't saying. I always wanted to create something that I never saw."
Acting, the performance of characters, and storytelling became a passion of Shelah's. Her 2010 move to New York City to enroll in a Master's program at the prestigious Tisch School of the Arts would be the domino that set off a chain of important events in her life. "My experience in New York changed who I was. I learned a lot about other cultures, languages, and how to appreciate the small things. I couldn't afford TV or cable or a car. I didn't have disposable income. I learned to exist on very little. I put everything into my craft."
A Journey Into Self-Love & Self-Healing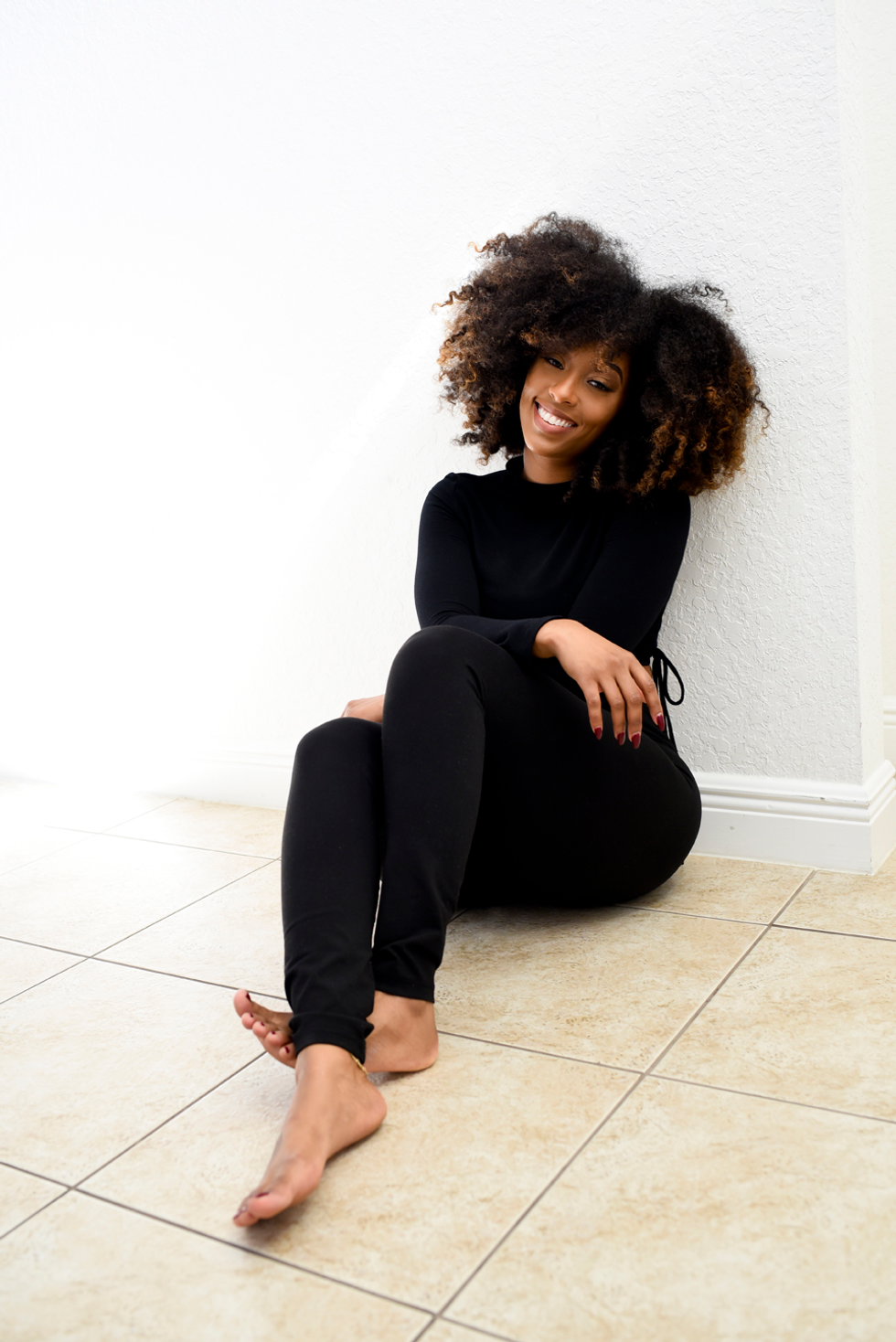 Photo Credit: Latoya Osborne
Courtesy of Shelah Marie
From juggling multiple jobs to dealing with seeing her friends "making it", Shelah became severely depressed and her anxiety peaked. "I was always surrounded by people, but I was always alone in my mind. My self-esteem was so low and I started to attract people that reflected that. I attracted men that were treating me in an unhealthy way. One relationship got extremely abusive."
An argument turned into Shelah's then-partner telling her, in front of her roommates, "Yeah, bitch. You're a bitch and I hope I'm the first person to ever call you that, bitch."
Enough was enough.
"I saw myself as a child and I realized the only other person to call me a bitch in front of people was my mom. This is where my spiritual journey kicked up a notch. I told myself that I get it. Whatever pain and hurt that is within me that feels the need to manifest this man to reflect my beliefs at me this strongly...this will never happen again. I will never be at this place again. Whatever I have to do to heal it, I will do. From then on, I put myself through Shelah's school of self."
Shelah recognized that in order to reach her potential, she would have to learn to navigate past the toxicity in her life. Over the next few years, self-healing became her priority. Four important things led the way for Shelah's transformation: Talk therapy, working with a healer, reading, and meditation. This work allowed Shelah to confront the trauma that was hiding in her subconscious. She was committed to equipping herself with the information so she could start to understand what she had been through in life.
Meditation was especially helpful as it allowed her to "get friendly" with herself. "I realized I was an adult and didn't know myself and have never sat with myself. I'd used men, career, work to distract me."
The reality of sitting in and embracing pain is something that many women of color often accept as a part of life, Shelah believes. "'I'ma talk to Jesus. I'ma go to church. I'm going to pray about it...get a new outfit, you'll be fine.' This is what we tell each other. It doesn't work. Black women are comfortable with sharing their pain just from a place of 'This is just how it is.' When I used to listen to a lot of Gospel, I would become addicted to how much pain I would feel. Sometimes we can get addicted to that space of talking about the pain, living in the pain, and being in the pain. That space is part of the process but I'm more interested in moving beyond that."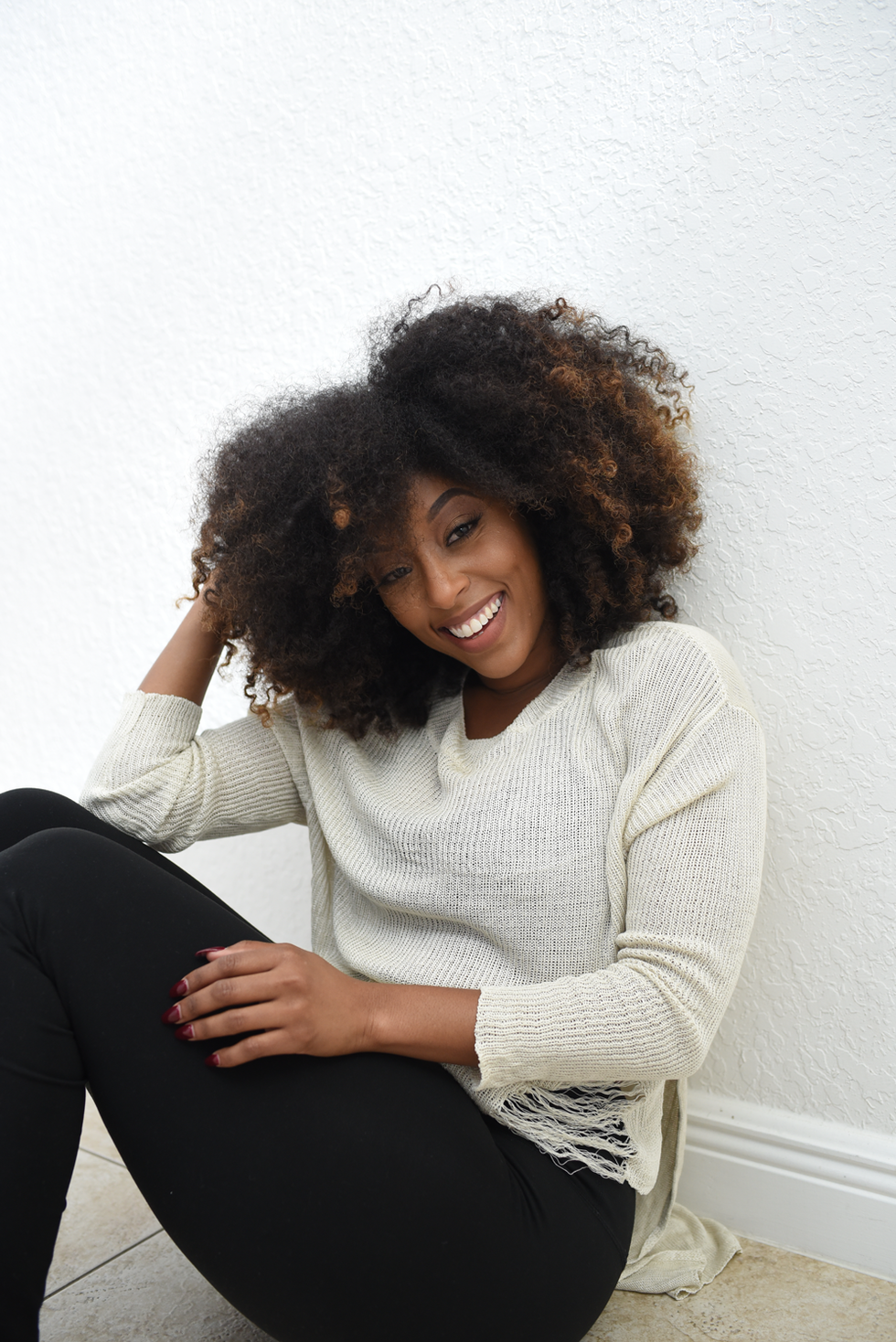 Photo Credit: Latoya Osborne
Courtesy of Shelah Marie
"Whatever pain and hurt that is within me that feels the need to manifest this man to reflect my beliefs at me this strongly...this will never happen again. I will never be at this place again. Whatever I have to do to heal it, I will do."
How Meditation & Self-Healing Led Her To True Love
Shelah's call for Black women? Listen to yourself. Honor your pain. Allow yourself to heal. Allow yourself to be connected and feel supported from within.
If you're starting out on the journey, Shelah recommends finding a therapist that caters to your needs, listening to guided meditations like The Meditation Mixtape by Shelah Marie, and filling yourself with knowledge. The books that aided her include A Return To Love by Marianne Williamson, Codependent No More by Melody Beattie, Radical Forgiveness by Colin Tipping, and The Four Agreements by Don Miguel Ruiz.
If she really wanted to focus on healing, Shelah knew that she'd have to be radical in how she invested in her learning and the expectations she set for those she surrounded herself with. "My healing was my job, and it still is. Everyone in my [tribe] knows this. Anyone I can keep around...if they are not actively healing, they will be phased out of [my life.]"
Shelah's healing journey allowed her to embrace the unknown when it unexpectedly appeared. She was new to loving herself and having standards in a relationship, when she met her now-husband Ace Hood, a few years ago in New York City. Upon first meeting him after an invite to a New York club during All-Star Weekend, Shelah knew there was something special.
"He was in the back. There were all these women and celebrities around him. [Ace] saw me and parted the divider and went, 'Shelah, hi! I love your videos on Instagram and you're so funny.' He had this big smile and his eyes lit up. I said to myself, 'I'm fucked. If I'm not supposed to go for it, I'm going for it. I don't care what happens.'"

As with any relationship, it didn't come without challenges – especially in the beginning. Though Ace was attracted to her personality and who she was – the two had to learn to coexist and understand their two very different worlds.
"I struggled for a while trying to fit a circle in a square peg and tried to make myself into what I thought a rapper's girlfriend should be. That didn't last long. [I had to understand that] this is who I am. I'm Shelah. This is me."
Though people had questions about how their relationship would work, Shelah emphasized the notion that you can redefine yourself and humans are layered individuals. When Ace became interested in learning more about the benefits of yoga, the two decided to go on a journey together. She saw something in Ace and knew that they could help each other become the best versions of themselves.
Even if you're not in a relationship and find yourself longing for companionship from a partner, Shelah reminds us not to wallow in self-pity. "When I was in NY [before meeting Ace], I was single and depressed. I had to be proactive about the feelings I wanted [and] I'd fuse that into my meditations. Do not leave it in the hands of someone else to provide you with what you need. Date yourself. Do nice things. Look good for yourself! Sometimes I'd get sad [or jealous], but I'd remind myself, 'Man, I feel so supported. I feel so loved.'"
Photo Credit: Latoya Osborne
Courtesy of Shelah Marie
"I had to be proactive about the feelings I wanted [and] I'd fuse that into my meditations. Do not leave it in the hands of someone else to provide you with what you need."
A Call To Black Women & Their Healing
Helping other women of color heal has been the core of Shelah's personal mission and her recent entrepreneurial pursuits as well. She mentions, "As that little Shelah [experienced], I wanted to create something that I never saw. With Curvy, Curly, Conscious, I was responding to what was being given to me. My Instagram started to grow. I did an event, it was a success. Four-city tour, success. Black women believed in me. I needed to keep giving them more. I wanted to produce high-quality, high-level beautiful experiences for Black women to heal and commune with each other because I believe we deserve it. Black women deserve beauty. It reaffirms our humanity."
However, Shelah again found herself having to confront deep fears and insecurities that would have stunted her ability to deliver on her promise.
"The biggest challenges as an entrepreneur have been overcoming all of my individual fears. You know how much courage it takes to take people's hard-earned money in advance for something? You have to deliver. I wasn't a business person. My background was in acting. I had to invite people in [such as bookkeepers to help me.] I had to [overcome] my own fears about not being good enough and not knowing enough."
For others looking to build a brand in the self-help space, Shelah notes that investigating your personal strength is a must.
"What skills do you have that everyone goes, 'How do you do that?' A lot of people try to copy and emulate. The reason my account grew was because my strong suit is sharing my story and talking. You don't have to have a big following to have a big business. Find your zone of genius and follow that. Just because social media is poppin, doesn't mean everyone has to have a page that's popping. Follow what you're good at."
When remembering where this journey all started, Shelah had some words she'd tell her younger self, the little girl struggling to figure out her story. "You're doing great. You're doing really well. It's fine."
For those of us also navigating the fluid waters of nurturing self-love, Shelah says, "We live in a society that is extremely driven. There's a little window into everyone else's life now. There's Instagram and Facebook. Sometimes it looks like everyone is moving at 100mph and you're just moving slow. Don't watch what everyone else is doing. You are doing fine, too."
Our self-love journeys are not monolithic, but one thing is true for us all: Growth is possible.
For more of Shelah, follow her on Instagram.

Featured image by Latoya Osborne
Originally published on February 13, 2019
As boss and career women, we often don't realize how we can sometimes be our worst enemies when it comes to putting ourselves in the running for life-changing experiences. A few weeks ago, the Hashtags & Stilettos podcast episode "Stop Playing Small" by longtime podcaster crush and House of Success PR founder Sakita HolIey had me seriously evaluating how I really wasn't playing as big I thought in my career. Sakita's firm handles everything from product launches, media outreach, social media management, as well as influencer and consumer marketing engagement for top beauty and lifestyle brands. As an eleven-year industry vet and full-time entrepreneur for eight years, Sakita is no stranger to playing small and the debilitating effects it has on us Black women as individuals and as a collective.
According to Sakita, playing small can manifest itself in a variety of ways. She notes, "It's anytime that you deny the full scope of your ability or when you try to shrink yourself. It could even be in a physical sense such as when you try to sit in the back of a room. You always downplay. You self-deprecate, make jokes, and belittle yourself for any reason."
Sound familiar? Sakita spoke to xoNecole to share more about tips for combatting playing small, how it affects our finances, and why we as Black women need to come together and demand what we're worth. No matter what stage of the career journey you're on, Sakita's advice will help you get started towards showing up and showing out when it comes to your accomplishments and capabilities.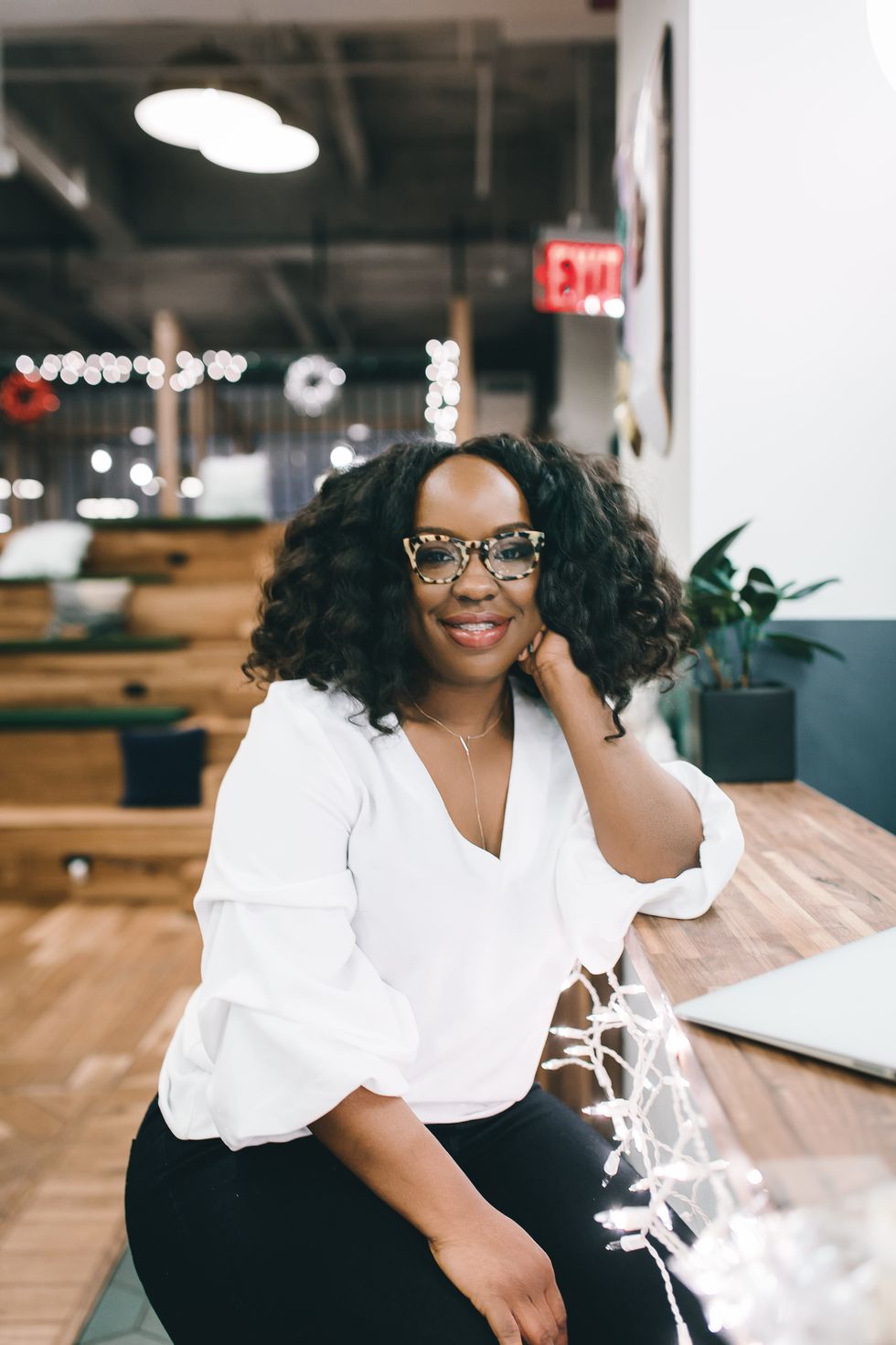 Photo Credit: Bola Okoya @Primo_Supremo
Why did you feel the need to talk about the issue of "playing small"? 
The reason I did the Hashtags & Stilettos episode is because I needed to call it out. I had to shine a light on it in the ways I [play small.] I also know that there are so many people who suffer from it and downplay their abilities, the work that they do, and what they've earned in life. There are so many ways that you can dim your own light. Playing small is impacting our businesses, careers and how truly full of a life we can live.
We live in a society right now that due to social media, if you don't post, it didn't really happen. If we want to get an idea of who people are, the first place we go to look is their social media. If you're playing small or not sharing all of your greatness, what we do share becomes what we see. It also becomes the story that we tell ourselves about that person. While we can't control other people's perception of us or what they see, we are in control of how we present ourselves. That's something we need to play attention to.
How has playing small cost you money or opportunities? 
I'm a lowkey and private person. I don't crave the spotlight at all. But, in public relations and having your own business, you constantly need to or should be on the scene. People should see you and know what you're doing. You should talk about your work. For a long time, I have not done that. [However,] I know that every time that I do, it brings some business leads. When I think about the years that I didn't, I'm thinking about all of that missed opportunity.
For other people as well, when you don't put your name in the running for things, you're playing small. When you know you'd be perfect for a role or for a project, and you don't raise your hand, [you're playing small.]
What are some practical ways that we can stop playing small and start  putting ourselves out there for more opportunities?
1. To play big, disconnect from the fear of self-doubt in your mind. If you see something that you want to go for that sparks something within you, go for it before you start thinking about it.
2. Have people around that can hold you accountable and push you in that direction so that you're not second-guessing yourself or being too afraid to pursue things or apply for things.
3. [We get caught up in] rejection committee thinking. A lot of times we assess a situation and think we're so smart. We think we're being logical and [list] all the reasons why someone might tell us no. "If someone wants to tell you NO, they don't need your help to do it." They don't need you to list reasons to not hire or give you a promotion.
4. Focus on the reasons why you are a great fit. That's what you need to be trying to leverage when you put yourself out there.
5. Leave it to chance. When you put yourself out there, there's a 50/50 chance that it can work out or a chance that it won't. As long as you're not going to die, those odds are fine.
6. Play big at every single stage of your career journey or business journey. Even if you're starting out, you're still good at something. Even if it's just one thing. Put yourself out there to do more of that thing or for more opportunities that will get you more experience or visibility with the right people that can change the game for your career.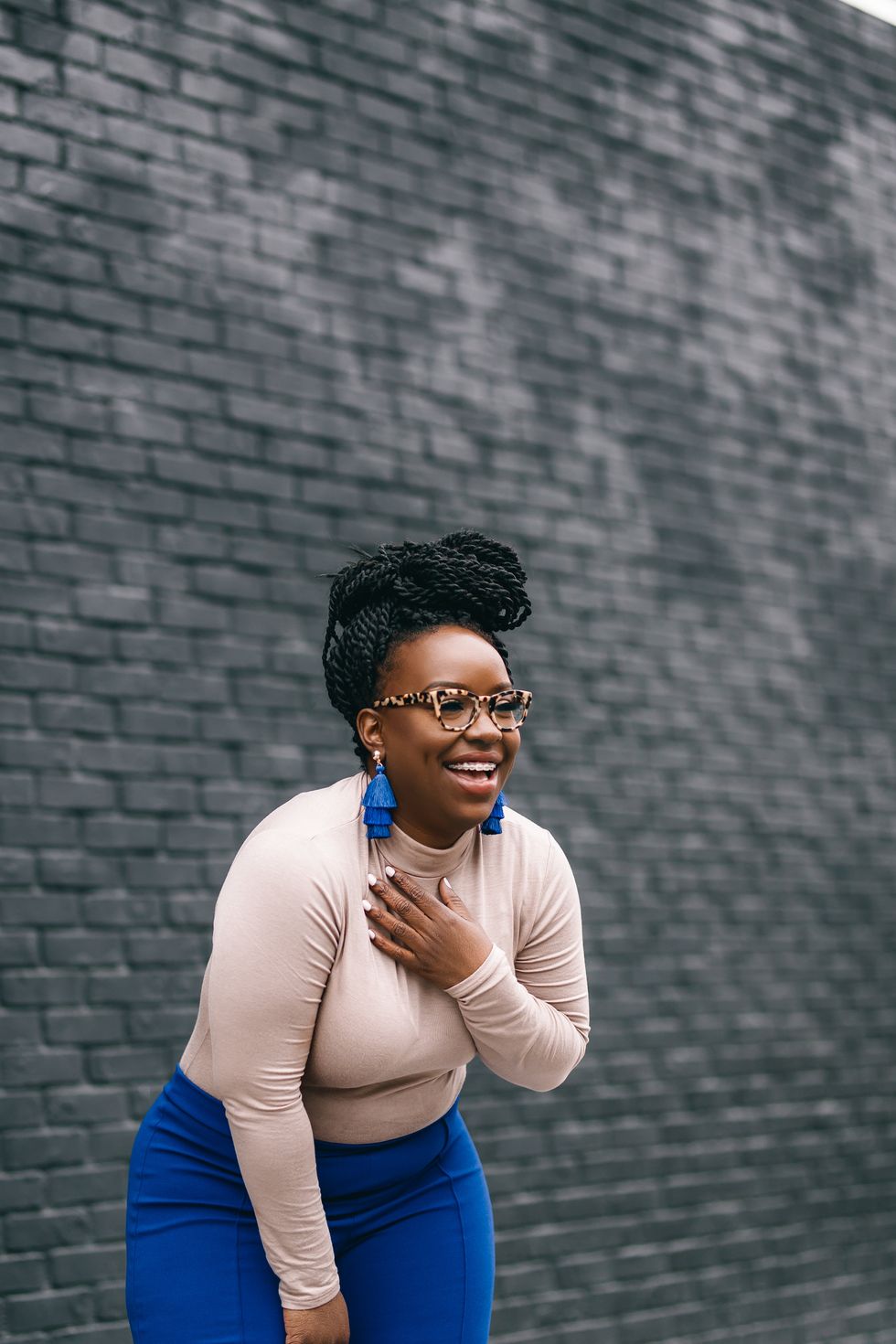 Photo Credit: Bola Okoya @Primo_Supremo
"Play big at every single stage of your career journey or business journey. Even if you're starting out, you're still good at something."
As Black women, how does demanding what we're worth affect the larger community? 
We're working harder than anyone else. We work more than anyone else. Oftentimes, we are struggling more than anyone else -- even with the amount of excellence that we put forth. We're always getting the short end of the stick. By evening the playing field and earning what we're worth, that will help the people coming up behind us. The people next to us will also be able to get what they are worth.
The more we're doing this as a collective in our own little lanes and lives, we help everyone else. If I'm getting what I'm worth, then I'm now in a position to provide opportunities for someone else. I'm now in a position to share resources that I may not have had before. Imagine all of us being in a position to help one other person. It grows from there. When we're barely getting by ourselves and still doing excellent work, we can barely help ourselves. How can we help someone else?
Is there ever a time when playing small is beneficial?
No. The only thing playing small does is it keeps you safe and keeps you comfortable. It may feel warm and cozy, but it doesn't allow you to grow.
What resources have helped you along this journey of playing big?
A great book is The Dip by Seth Godin. It teaches you when to stick and when to quit. If you want to be the best and be great, you will have to go through a "dip." There will be times when it gets really hard. In order to get to that winning place, you have to get through it.
The 50th Law by 50 Cent and Robert Green is all about doing things in the face of fear. It uses 50 Cent's story of how he almost died. He's literally fearless. We see that in how he moves and does business. He doesn't always make the right choices or say the right things but he is fearless and that has helped him tremendously in business.
Like any muscle, we'll need to increase the reps in order to start seeing results.
As Sakita mentions during the end of our chat, "If we practice playing big or putting ourselves out there, it will become second nature." I feel the fervor and determination in her voice as she says, "Every day, you get another chance to be mindful of your actions and how your choices and decision impact your career...there's so many things that I have to go through to get to that winning place, but I know if I continue to move in this direction, I cannot lose in the grand scheme of things."
So, the next time you start talking yourself out of driving towards that big dream, what will you choose to do?
To get inspiration on how you can stop playing small, follow Sakita Holley on Instagram.

Featured Image Credit: Bola Okoya @Primo_Supremo

Originally published on March 22, 2019
As a part of our Friday Nights, Saturday Mornings feature, we're talking to some of our favorite boss ladies about their weekends, their way. How do they relax, recharge and refuel? As we all know, life shouldn't be all about work. It's what we do beyond business and career that help keep us motivated and able to dominate for the week ahead.
Say hello to event designer and lifestyle influencer Makini Regal Martin of Makini Regal Designs. Known for her luxurious decor and impeccable personal style, Makini opens us about why recharging is critical in her world, how she manages her many roles as a wife, mother, and businesswoman - and why therapy is a non-negotiable part of her self-care.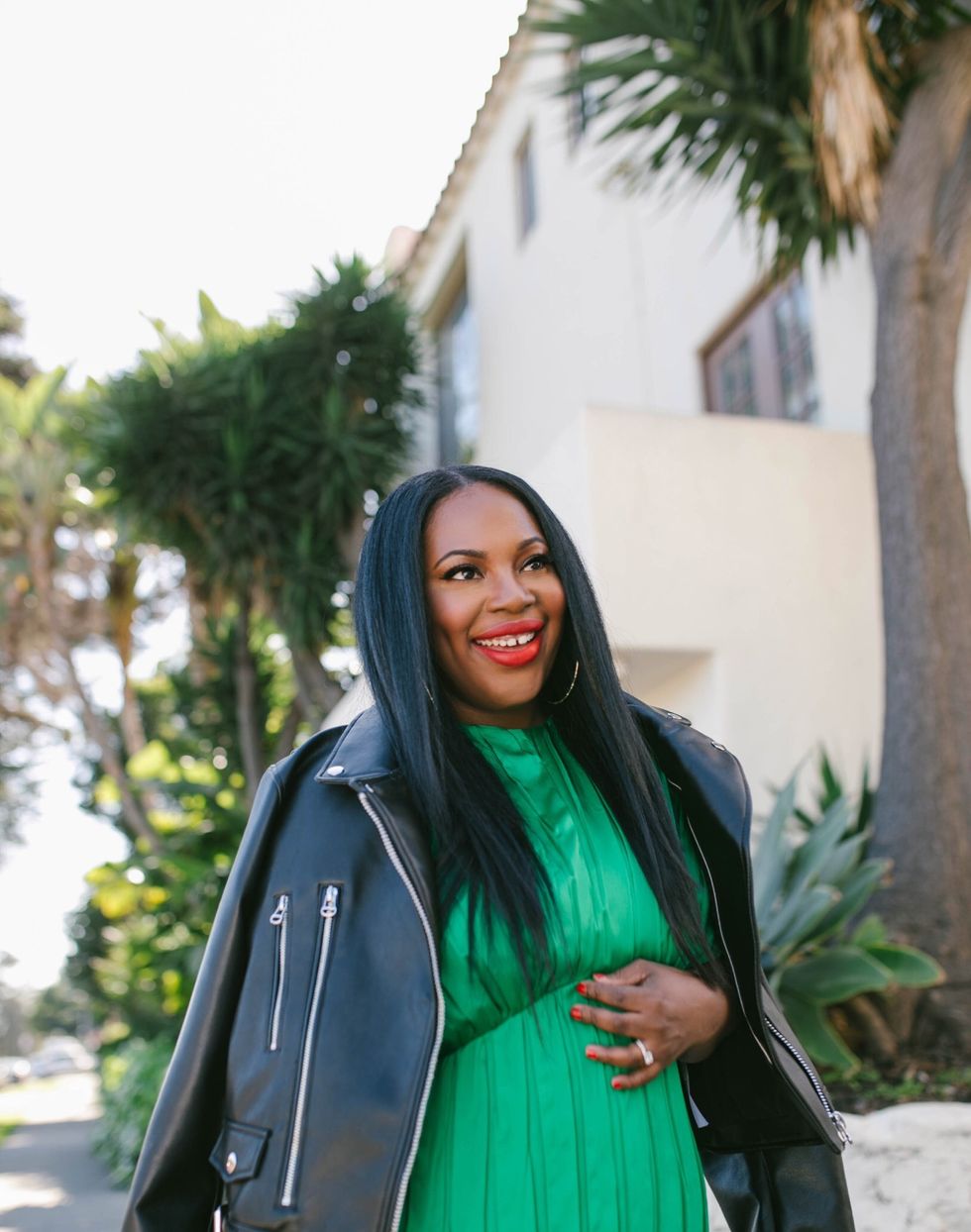 Courtesy of Makini Regal Martin
"I have to make sure that I have enough fuel to pour back into my business after attending to family needs is something I am continuously working on."
Makini's biggest business challenge:
"Managing my roles and responsibilities are [some] of my biggest business challenges. As a new mom and semi-new wife, making sure that I carve out time for my family is a priority. Also, running the business I started prior to being married and being a mother is just as important to me. I have to make sure that I have enough fuel to pour back into my business after attending to family needs is something I am continuously working on."
How she spends her Friday nights:
"Friday nights has become a day I dedicate to myself. What gives me that recharge and what I need is to spend time with the people who know me best which are my girl friends. That's usually a night where we catch up, have dinner and have a glass of wine. Sometimes we incorporate some of our fitness and health activities - like going to a yoga or meditation class."
How she powers up on Saturday Mornings:
"Once my daughter is down, that's typically the time that I can spend checking emails, working on design plans and making sure that the administrative part of my business is addressed. I make sure that even despite some of my work responsibilities on Saturdays, I still do something that is enjoyable for me - whether it's watching a movie with my husband, journaling or meditating."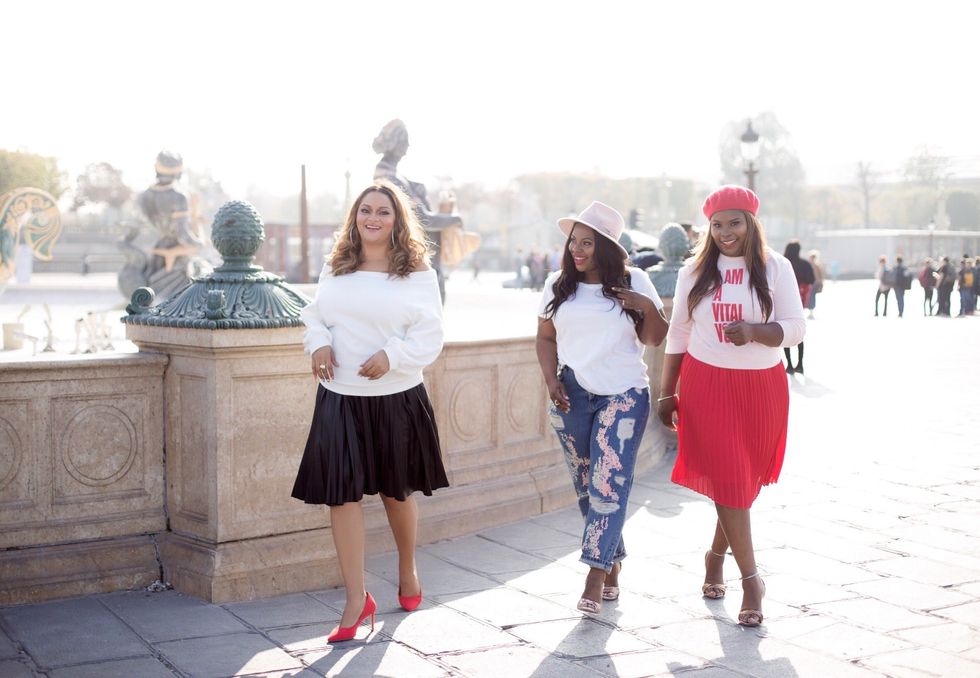 Courtesy of Makini Regal Martin
Her ideal girls' night:
"Since the new year has hit, I make sure that I'm keeping up with resolutions and doing the things that bring me joy and energy that I need to address other areas of my life. For us, that means a lot of health-related activities. We like yoga, meditation, or even spa days. We make sure to fit in a massage or facial. Even though it sounds superficial - when you feel and look good, you perform better. You're able to be more present in other areas of your life."
Why recharging on the weekend is necessary:
"It's given me a sense of purpose. It's forced me to make sure that I'm really listening to myself and my body. It's also forced me to check in with myself mentally and make sure that I'm in a sound place in order to be able to perform in my many roles and responsibilities.
"Attending to my needs has made me more productive in running my business. It's made me more present when I'm focusing on being a mom or being a wife. Without a doubt, those things go hand in hand. You have to prioritize your needs and self-care despite how busy your schedule is to make sure that you are addressing you."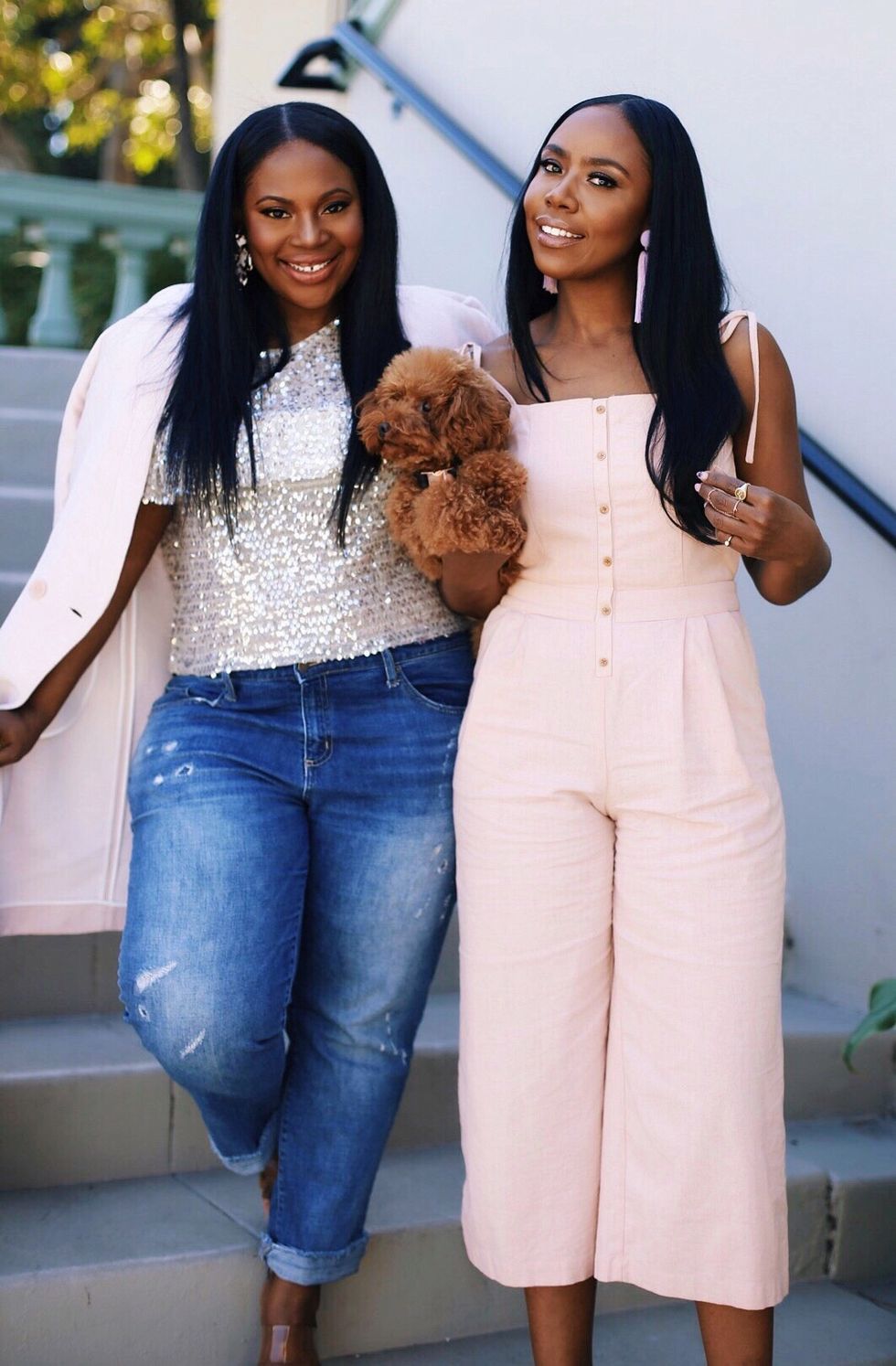 Courtesy of Makini Regal Martin
"Attending to my needs has made me more productive in running my business. It's made me more present when I'm focusing on being a mom or being a wife."
On the power of therapy:
"Part of my personal self-care journey also includes therapy. Therapy is not as taboo as it used to be, especially in our community. It's still something that I think a lot of Black women should utilize. Prior to giving birth to my daughter, I made sure that I entered into motherhood with that extra support of a therapist that I see weekly. It gives me that safe space to process my thoughts. It gives me the support that I need when life is a bit difficult. I did a lot of research to find a practitioner that would work well for me. I have a Black woman therapist. I've had therapists before and most of them were men or White. For me to have another Black woman as a therapist has been a bonus."
To check out Makini's work and learn more about her life as a lifestyle influencer, designer, wife, and mother - visit her IG @makiniregal @makiniregaldesigns
Featured image courtesy of Makini Regal Martin
Originally published on July 5, 2019
Gospel star Yolanda Adams is more than just a dynamic voice — her wisdom and insight about the journey we call life provides just as much empowerment as does her music. Yolanda's career repertoire expands beyond Gospel and includes roles such as actress, radio personality, author, beauty entrepreneur, and fashion designer. Behind the fame is the story of how Yolanda did it and how we can do "it" in our own lives as well.
During the time we spoke, Yolanda Adams was gearing up for a September appearance at the 2019 Black Music Honors. Yolanda, one of the event's honorees, was looking forward to receiving accolades for her work. "Anytime you're able to be acknowledged for anything you've ever done is a blessing," she told me early on during our call. Yet, she reveals there is a "responsibility that comes along with being applauded and appreciated." The ability to impact is always present. I thought our conversation would be mostly about her career in music, but I soon realized the former schoolteacher and part-time model, turned award-winning singer had a testimony about life and inner purpose to share for xoNecole readers.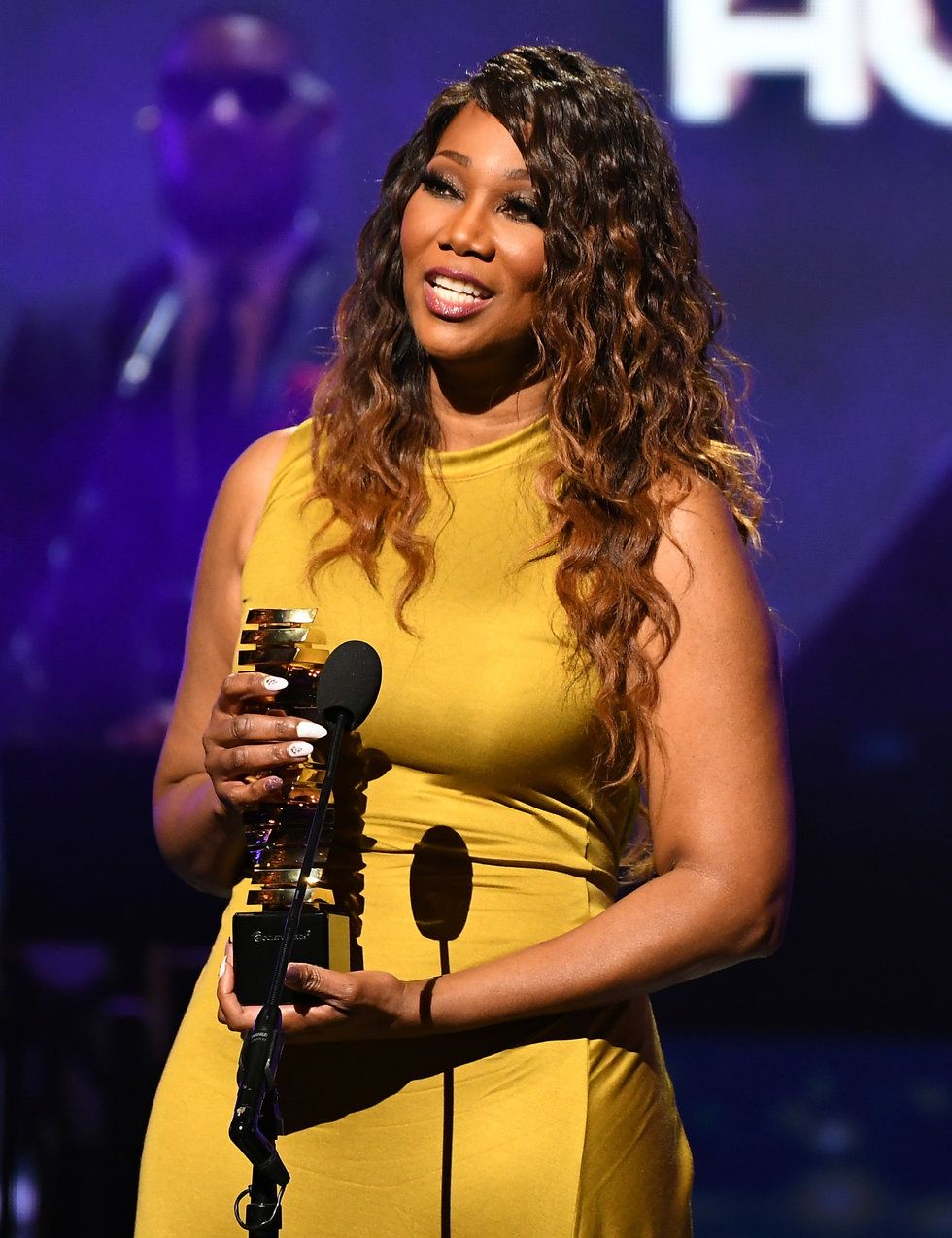 Photo Credit: Black Music Honors
"I've always seen my gift as a blessing — to be able to write, deliver, and sing from my heart. I've never taken that for granted. That's a lot of power to be able to get people from a point where they are so low that they feel they can't really go on to making them feel so empowered, they don't even remember feeling depressed or trying to give up. That's huge. You realize you're not doing this by yourself. There's a special power that's allowing you to give this to people so that they can make their lives better. This song makes their life better. This performance makes their life better. They can listen over and over until they are so empowered that they get up and dust themselves off."

Read on to learn more about Yolanda's tips on embracing one's gift, motherhood, entrepreneurship, spirituality, navigating success and more.
Note: responses have been edited and condensed for length and clarity.
xoNecole: Describe your approach to making music.
Yolanda Adams: My goal every time I go into the studio is to take out of my heart and put it on whatever tape and give it to people who need it. If people are dealing with wondering about the economy, let's talk about that. If they're thinking about the love of their life, let's do a song about that. If they're thinking about loss, let's talk about that. Let's sing what the heart of the people need right now. I've never gone into the studio and said let's do a song that will go on mainstream radio or let's do a song that will go to the top of the Gospel charts. That has never been my thinking. My thinking process is always, "Who needs this right now?"
xoNecole: Taking the leap towards our passions and dreams can be tough. What inspired you to embrace your gift?
Yolanda: To anyone who has a specific call on their life and they know they do, never ever think that where God is about to take you is less than where you are right now. God always promotes you. He never demotes you. There will be a leap of faith moment where you have to say, "I can't do this the way I did it before."

I taught for seven years before I went into full-time singing. I had to make a huge decision. It took me a whole year to make the decision that I am really going to do this full-time. It wasn't a struggle to say I'm doing it full-time. The struggle came with doubting myself and doubting the decision I made.
In the face of what seems like a "no" or a deterrent or something that fights what you are feeling, we tend to say, "I shouldn't have done [that]." That's not the truth. You never get to the point of your life where you have nothing to deal with. If you try to avoid resistance, you will never grow.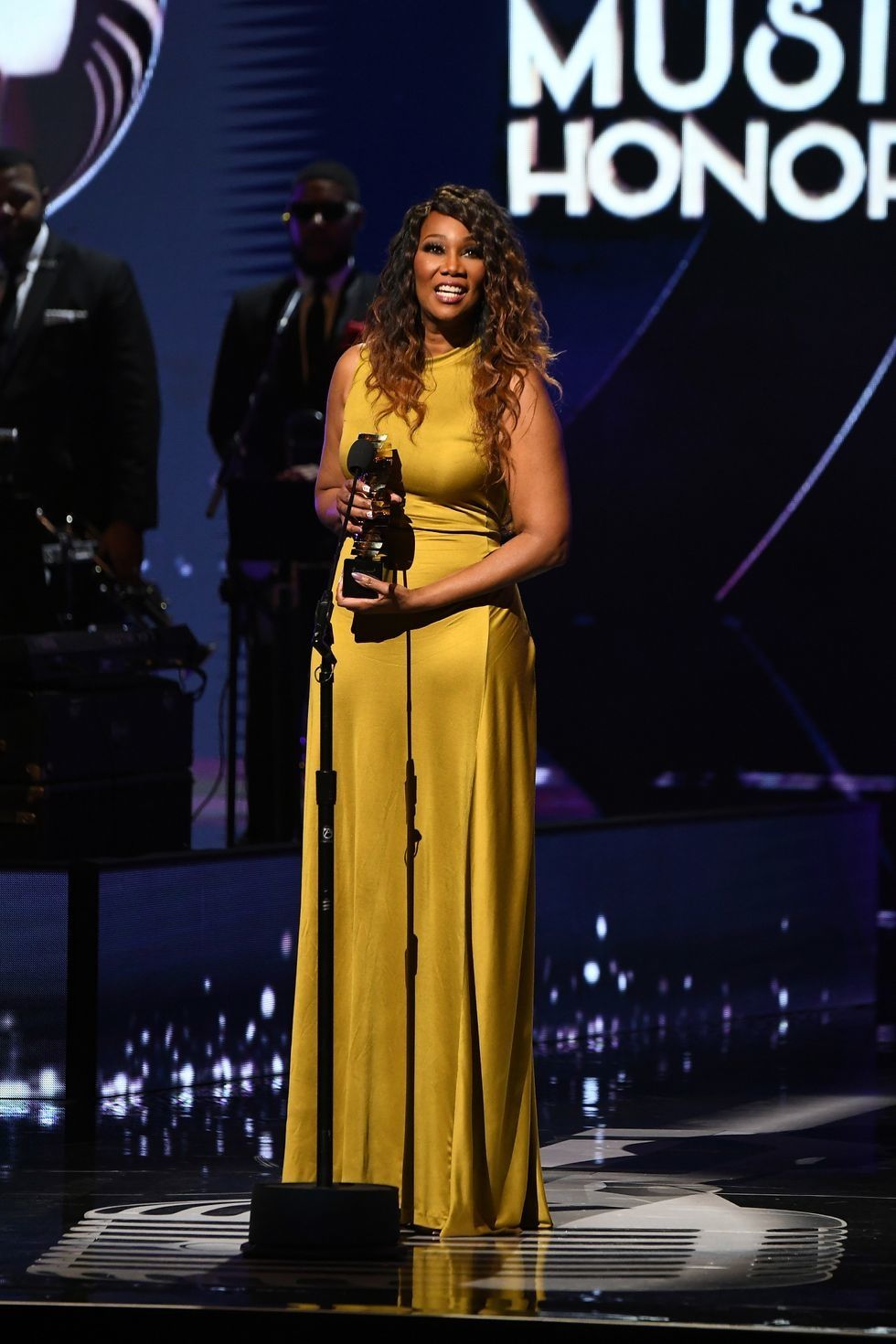 Yolanda at the Black Music Honors 2019
Photo Credit: Black Music Honors
xoNecole: How do you manage possible discomfort when stepping into your purpose?
Yolanda: We deal with growing pains all of our lives. When you move from having a boss to being your own boss, now everything is really on you. You have to make sure your books are right. You have to make sure you are getting up in the morning. If you are not occupying your time and making sure you are doing something with your talent, you lose your stamina, drive, and purpose. It's the same thing with us when it comes to us thinking life will be problem-less or problem-free. That's never going to happen. You will always have to deal with something. Wisdom and experience teaches you how to effectively deal with what you're dealing with.
xoNecole: What were some of the biggest challenges of your career and how did you deal with them?
Yolanda: One of the things was trying to figure out how to navigate being a single mom and figure out how I'm going to be at home with my child to nurture a great person. Those of us who have been on the road all of our lives, we're always trying to figure out how to make transitions. I said, "God, I have to be home most of the time for Taylor [her daughter]." That's how the radio show came about. I didn't know where it was going to come from. My first degree is Radio & TV journalism.
I knew I was prepared to do it, but I didn't know how it was going to come about. People told me I'd have to move to Los Angeles or New York. Those were out of the question because my child had already established her friendships. I said to the Lord that we were going to have to work things out. Less than a week later, I got a phone call from my attorney asking if I wanted to go into business with [someone]. We had a lot of success with the radio show. I was able to go to every recital and concert. I was able to do everything with her.
When you have to make adjustments...life will make you rethink some of the things you think are permanent. I didn't miss a beat. When you ask God for stuff, in sincerity, knowing that your purpose is not just selfish, God will open windows and doors for you that you never even thought were possible.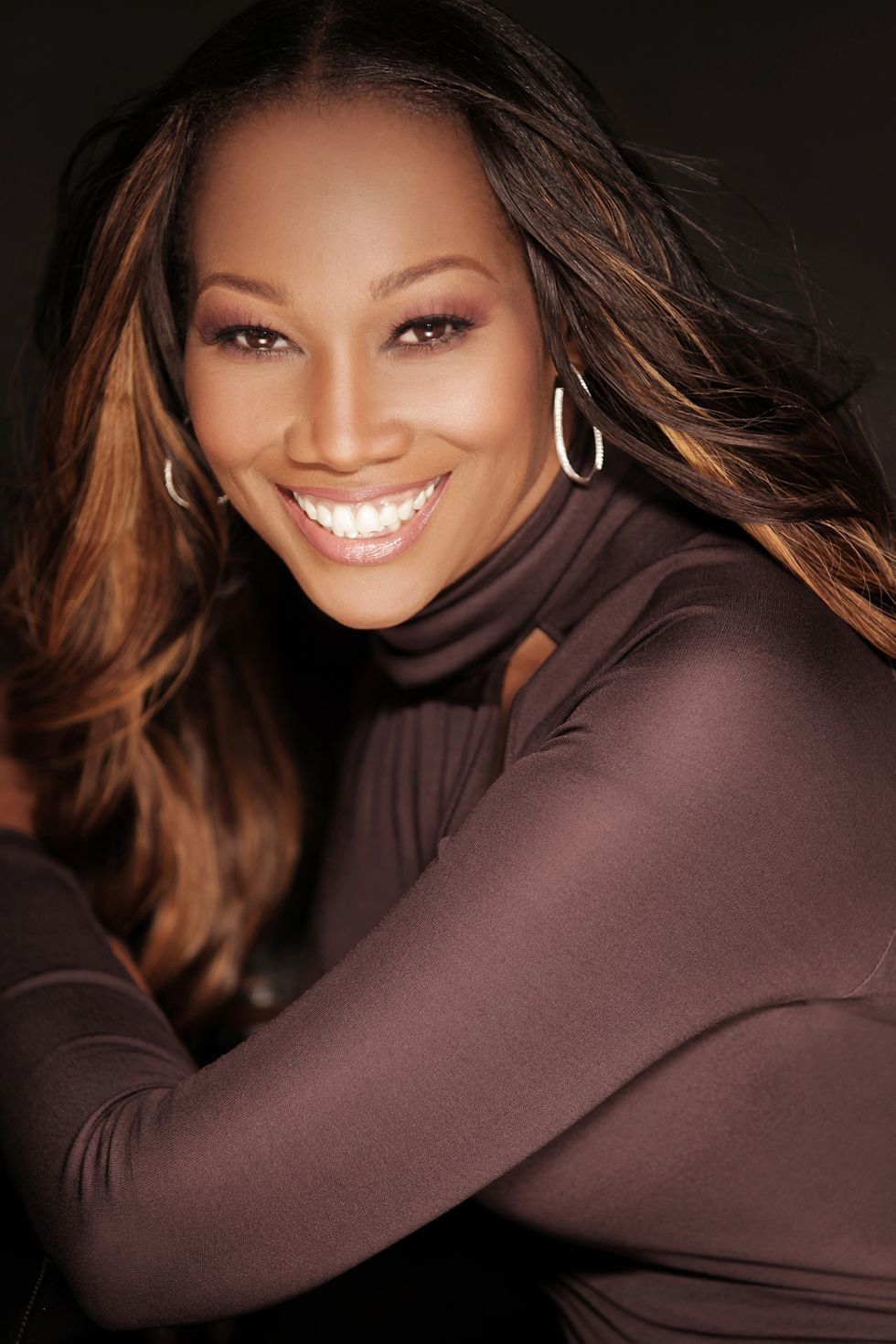 Photo Credit: Courtesy of Yolanda Adams
xoNecole: Is there anything about entrepreneurship you wish more people understood?
Yolanda: Brands take work, I don't care what your name is. Every person from Beyonce to Jay-Z to Puffy...everyone who has magnanimous brands can tell you, it takes work. Your hands have to be there. You have to put your foot to the pedal. You have to say, "I believe in this with all my heart. I'm not letting it go." When people tell me "no", I'm still looking for that "yes". One of my mentors B. Smith told me, "Stand on a mountain of no's until you get that one YES." That is one of the biggest lessons I've learned.
If you believe in yourself, it doesn't matter who doesn't believe in you. If you believe in your product, it doesn't matter who doesn't believe in your product. You keep believing until you see what you saw in your vision.
Long-term goals for business is crucial. [You need to] have that marathon runner mentality. Sometimes you may have what seems like an amazing idea in the beginning. You have momentum [and] are doing everything you need to do. Everybody is responding and then the next couple of weeks and months, someone else has a launch [and things die down]. That doesn't negate the amazing product you have. You just have to find a different way to get it to the masses. Social media is wonderful. Build relationships. This is not a sprint. This is a marathon. You still come out the winner if you hang in there.
xoNecole: For those struggling with spirituality and finding their own connection with God, what advice would you give?
Yolanda: Breathe. Give yourself a break. Even the strongest of us have those moments where we say, "Lord, where are you?" Don't worry. You are not by yourself. Those are times when you get quiet. If you want to find God, get quiet. Move away from the phone and people. Ask the hard questions. "What am I doing? What are we doing? Where am I going? How am I going to make it? Is this the end of this? Should I be looking for something else?" The silence and quiet is where you find God. You're not going to find him on Instagram. (Although there are some great preachers and teachers on Instagram.) You find Him in your own spirit, because He's inside. Stop looking for God in the sky.
xoNecole: What are the most important things to keep in mind as we reach for success?
Yolanda: Believe in yourself. If you don't believe in you, no one else will believe in you. You've got to convince yourself that you're the greatest you that was ever created.
Believe in your destiny and purpose. Your destiny is the roadmap to where you are going. It's also the trail you've left behind. What are the lessons you've learned? What kind of knowledge have you garnered about yourself?
Garner great relationships. Your friends, family, and people you put around you will be your cheerleaders and your balcony when you have no idea how you're going to make it. They will be the ones to say you can do this and to keep going. Sooner or later, you're going to hit those goals and you're going to be like, "I did it."
For more on Yolanda, follow her on Instagram. Click here to stay up to date on her 2020 tour and purchase her line of handbags here.
As a part of our Friday Nights, Saturday Mornings feature, we're talking to some of our favorite boss ladies about their weekends, their way. How do they relax, recharge and refuel? As we all know, life shouldn't be all about work. It's what we do beyond business and career that help keep us motivated and able to dominate for the week ahead.
Meet Jovian Zayne - an international speaker, coach, and founder of the OnPurpose Movement®. Here Jovian reflects on why self-care is so important and why taking time to fill ourselves up will allow for blessings to overflow in other areas of our lives.
This is what she had to say about her weekend, her way.
The perfect Friday Night:  
"I see why growing up, my mama would tell me to just go take a nap somewhere. At the end of a long week, that's all I want! I believe naps, a good meal and some prayer can truly change things! It's also my belief that my greatest act of self-care is honoring the purpose over my life so I consider self-care to be any act that I can do to edify my spirit, mind, body and soul.
"I use the Self-Journal as a great tool to reflect on lessons learned, and progress I've made for the week. On any given Friday night, you can catch me cuddled up with my husband for our weekly date night (We - don't - miss - it!) eating at a new restaurant, watching a movie or falling down a YouTube rabbit hole."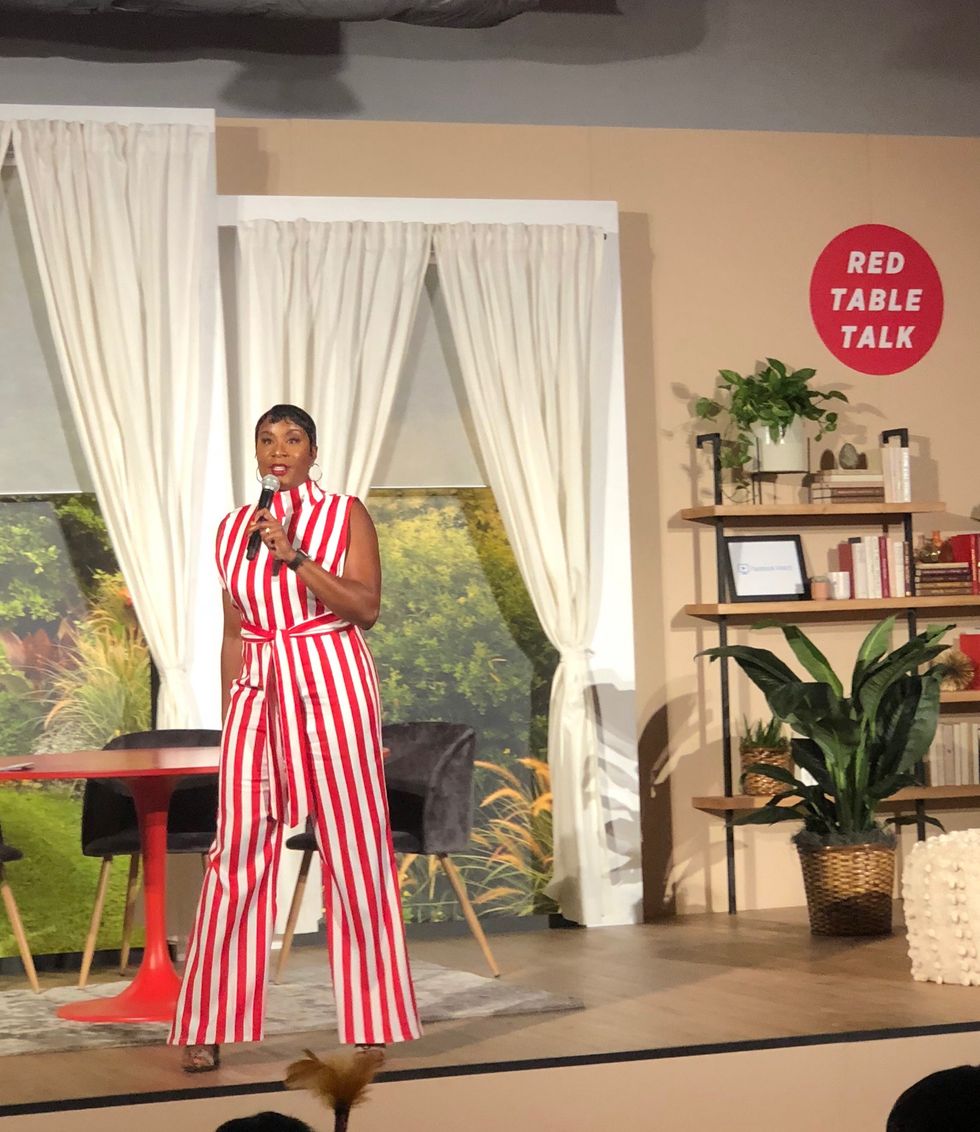 Courtesy of Jovian Zayne
"My greatest act of self-care is honoring the purpose over my life so I consider self-care to be any act that I can do to edify my spirit, mind, body and soul."
How she powers up on Saturday Mornings:
"As my friend, fellow wife and entrepreneur Desiree has said, 'The ministry of home is REAL.' I try to hold my weekends sacred, doing little to NO work and prioritizing activities that keep my house in order, my marriage front and center and my spirit relaxed. I know that I can't give what I don't have, so I use my weekends as my time to replenish for the week ahead. I sometimes think about them as mini vacations and live by the 'Must Do vs. Nice to Do' rule.
"If it's not a 'Jovian, you absolutely have to do this' type of thing, it'll have to wait until next week. I want my Saturdays to feel fun and unbothered by the agenda I follow during the week. If it keeps me energized and moving towards my best, then I'm doing it on a Saturday. If it's wearing me out, I'm not. This mindset helps me prioritize important things like taking a nap, hitting the gym and [spending] quality time with family and friends."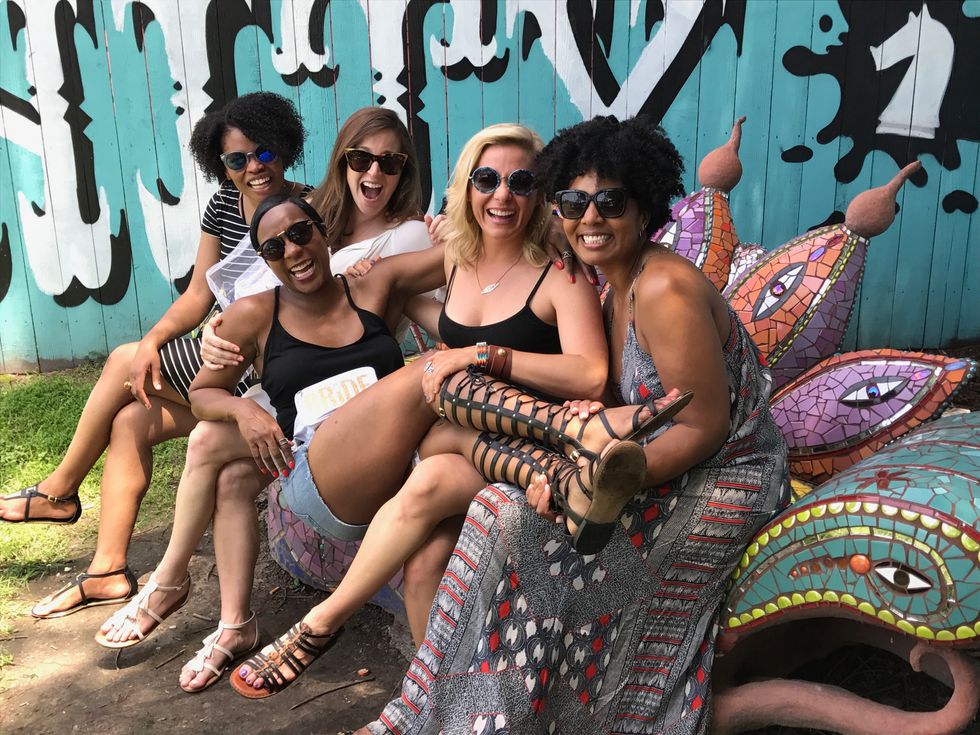 Courtesy of Jovian Zayne
"I try to hold my weekends sacred, doing little to NO work and prioritizing activities that keep my house in order, my marriage front and center and my spirit relaxed. I know that I can't give what I don't have, so I use my weekends as my time to replenish for the week ahead."
The ideal Girls' Night:
"I LOVE MY GIRLS! With us being spread out all over the world, we love a good group FaceTime and are constantly talking on group texts and GroupMe. We share weekly wins every Wednesday aka 'WINSday' and prayer requests. My recipe for a great girls night: comfortable ambiance, good food, wine and intimate conversation.
"We'll celebrate any and everything together: promotions, new haircuts, cheekbones and breakups. For people looking for fun ways to spend quality time with their girls, I suggest inexpensive trips to new places in the US, watch parties at someone's house, themed dinners, brunch parties and worship circles."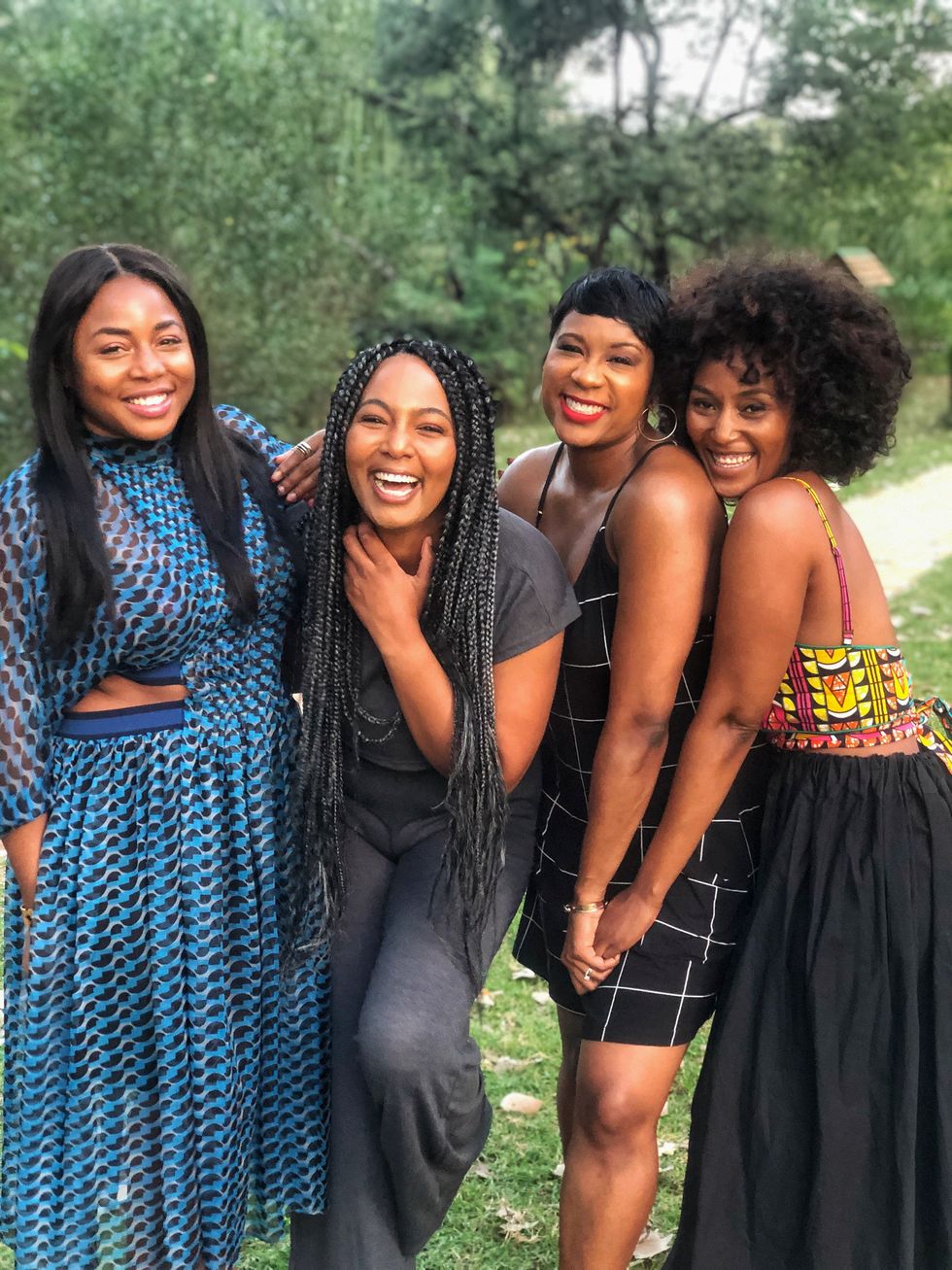 Courtesy of Jovian Zayne
"My recipe for a great girls night: comfortable ambiance, good food, wine and intimate conversation."
How recharging helped her business:
"I've been reminded that I work to live the full life I want to experience. I don't live just to work. My life is only as full as my commitment to honor the purpose I see God has put on my life. I know that my purpose extends far beyond my career. I'm grateful that I love my work. I see direct connection to my purpose in my current career, but I also recognize that spending time with my family and friends, developing new healthy habits and exploring the world are a part of how I can honor God with the life that I have.
"It's important to remember that you can't give what you don't have. In order to give my best to my business, I must give my best to other areas of my life. That ultimately allows me to show up more present and connected in my business. I've learned from my mentors, sages and older guides that this mindset is critical to owning and living my definition of success."
Connect with Jovian on Instagram @jovianzayne.
Want more stories like this? Sign up for our newsletter here to receive our latest articles and news straight to your inbox.