Rachel C. Hampton
Rachel is a DC-based blogger, brand strategist, and naturalista whose content celebrates Black beauty, business, lifestyle, and current affairs. You can connect with Rachel and keep the conversation going @RaeHampton on Instagram and Twitter.
Last Wednesday evening (August 19), Senator Kamala Harris took the virtual stage of the 2020 Democratic Convention and addressed the nation as the first Black and South Asian woman to accept a major party's vice-presidential nomination.
From a pandemic to divisive leadership and economic uncertainty, Senator Harris' historic achievement comes at a time when our country is in dire need of leadership, and more specifically - Black women's leadership.
Because we know that when Black women step into their power, what needs to be done, will be done.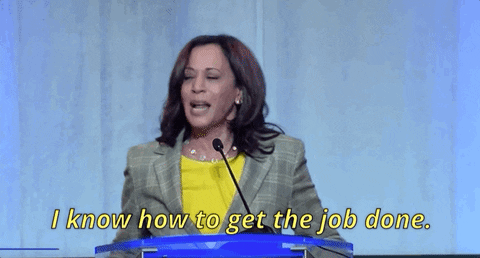 A Legacy of Leadership
Last week also marked 100 years since the passage of the 19th Amendment, and while Black women were integral to its passing, their fight for a seat at the political table was just beginning.
Harris' achievement is the latest in a legacy of Black women's suffragists whose leadership galvanized communities and shattered glass ceilings. She notes this in her speech at the 2020 Democratic Convention saying:
"They paved the way for the trailblazing leadership of Barack Obama and Hillary Clinton. And these women inspired us to pick up the torch, and fight on. Women like Mary Church Terrell and Mary McCleod Bethune. Fannie Lou Hamer and Diane Nash. Constance Baker Motley and Shirley Chisholm. We're not often taught their stories. But as Americans, we all stand on their shoulders."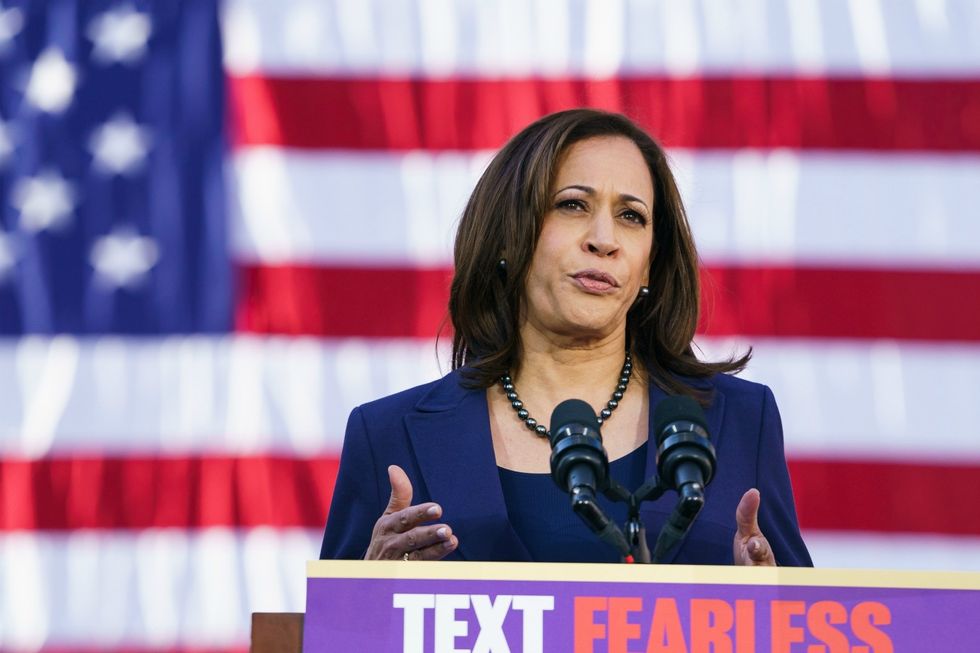 Image: Mason Trinca / Getty Images
In recent years, we've seen a new generation of Black women effecting change in politics, education, business, and beyond. Black women represent the fastest-growing segment of entrepreneurs, with the number of Black women-led startups doubling since 2016. They also represent the most educated demographic and have become a political force with a record number of Black women set to run for Congress.
Despite these advancements, Black women disproportionately face challenges at the intersection of race gender. These challenges are not new and actualize themselves in injustices such as workplace biases, disparities in health care, income inequalities, and the erasure of Black women in today's fight against police brutality.
"Anti-Black racism is once again at the center of national consciousness, an unavoidable reality amplified by twin pandemics—the COVID-19 pandemic and the uprisings in response to unyielding forms of state violence," said Shermena M. Nelson, Chief of Staff and Director of Programs and Community Engagement at the African American Policy Forum (AAPF). "Both COVID-19 and police violence have made blatantly apparent the racial inequalities that persist in American society."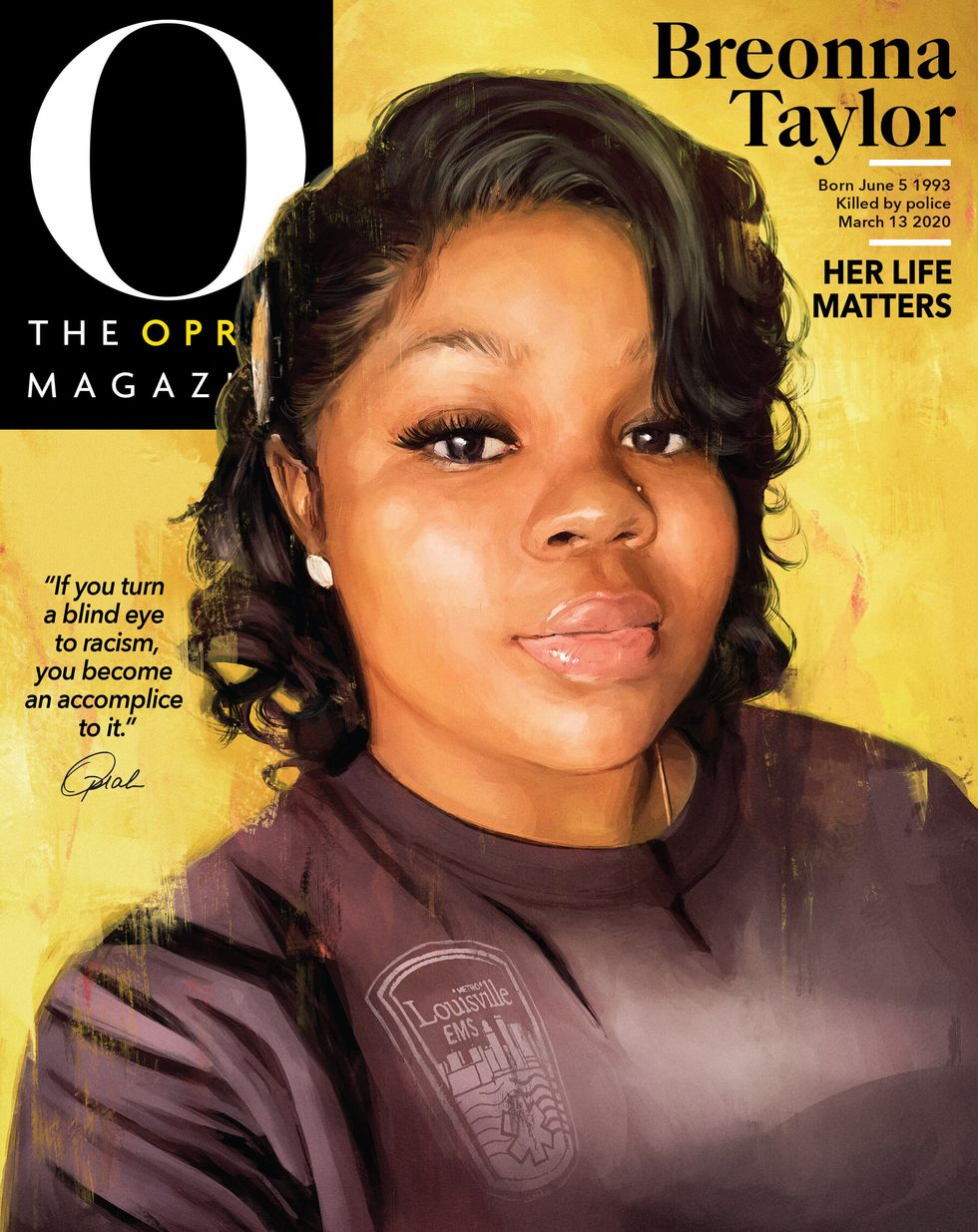 Image: September 2020 of 'O Magazine' honoring Breonna Taylor

For Nelson, AAPF's mission to dismantle structural racism and other barriers that disempower marginalized communities is increasingly important during this time of consciousness.
"We want to maximize this moment of attention, guiding attention to work that is transformative and sustainable. This cannot just be a moment."
Nelson joined a line-up of modern leaders like Linda Sarsour, co-founder of the Women's March, and Reverend Marcia Dyson at the virtual Black Womxn's Summit hosted by the Office of the Dean of the Chapel at Howard University, Senator Harris' alma mater. Hosted on Black Women's Equal Pay Day, the intra-racial summit celebrated Black womanhood while exploring other topics like education, health, sexism, and police brutality, among others, that uniquely impact Black women.
"With the killing of Breonna Taylor, we see once again the need for narratives that account for the racist police violence against Black women and girls. These stories are too often left untold, these names too often left unsaid."

Protecting Black Women in Today's Social Climate
When it comes to Black women, public outrage often trails to that of their male counterparts. It's been approximately five months since Breonna Taylor's death and her murderers have still not been arrested.
We've seen this time again in cases of police violence toward Black women and girls like Oluwatoyin "Toyin" Salau, Atatiana Jefferson, Charleena Lyles, and Sandra Bland - a case that many of us first associated with #SayHerName, a 2014 campaign launched by AAPF to bring awareness to the names of these victims whose names we often do not hear.
But it shouldn't take for Black women's wrongful deaths to prompt action. How can we begin to effectively dismantle the structures that promote our erasure, so that we, and consequently all Americans, can walk in our full power?
"To properly diagnose and attempt to remedy the disparate violence we must use a framework of analysis that can identify the particulars of these two crises, namely, the ways in which race, gender, and class interact and compound," said Nelson. "We have to look at this as a structural issue. These killings are not just one case. One situation. One moment. They are the products of centuries of discrimination and systems that were uniquely crafted to oppress."
Our country is in a polarized, vulnerable state, one that presents many challenges, but the bright opportunity for widespread and institutional change - but only if we act. To do so, we must support organizations that are doing what is needed to knock down racial barriers and create pathways to equity.
"I believe there is a role for everyone. Education is a key way to support. Educate yourself, your colleagues, your friends. Make conscious, intentional efforts to elevate the movement. Lend your support to organizations who are doing the work (donate, volunteer, attend, promote), and remove your support from organizations and individuals who are opposed to the work."
The power to change leadership and advocate for existence lies in our right to vote. With arguably the most important election on the horizon, now is the time to show up for Black women the way they've always shown up for us all.
"This is not a time to passively observe or wait for others to step up. The time is now. We cannot wait."
To learn more and support the work of the African American Policy Forum, please visit aapf.org.
Featured image by Getty Images
For months we've been adjusting to a new way of working, living, and connecting as COVID-19 and its effects actualize themselves in our lives. And while I've personally forgone my hopes of a traditional #HotGirlSummer, some states have announced plans to re-open despite warnings from officials that the pandemic is "far from over." This, paired with weeks of global unrest in response to yet another wrongful murder of a Black person, has left the most vulnerable communities in a season of constant change.
Black and woman-owned small businesses are among them.
From Madam C.J. Walker to Honeypot's Beatrice Dixon, Black women entrepreneurs have played a vital role in our country's business landscape, spreading their magic across industries and color lines. And although these have proven to be trying times, a renewed focus on these contributions has resulted in a swell of support and heightened interest in seeing Black women-owned entities succeed.
Founders like Yelitsa Jean-Charles of Healthy Roots Dolls can attest to this after a now-viral Tweet translated into sales typically seen over the course of months, in just two days.
The Founder: The Product: pic.twitter.com/o5SNHB368q

— Yelitsa Jean-Charles (@TheYelitsa) June 6, 2020
People are looking for ways to support and reinvest in Black communities to honor their contributions and combat racial inequities that have been hindering their economic and social progression for generations.
I spoke with Black women beauty entrepreneurs who shared more about how they've faced these challenges head-on, and how this surge of support can impact the future of the beauty industry and Black businesses at-large.
-----------------
In late March, millions of Americans began awaiting their $1,200 cut from the CARES Act as a means to withstand rising unemployment and the residual economic onslaught. Similar programs were also put in place to protect small businesses, but not without their own set of hurdles.
The Paycheck Protection Program (PPP), one of the more popular aid programs, provides low-interest loans to small businesses. But with a lack of concrete guidelines and the exhaustion of initial funds after just 13 days, countless small and minority-owned businesses were left helpless while larger companies received million-dollar bailouts.
"If you target your aid toward a certain type of business, we will come out of this pandemic and we will only have that type of business,'' said Amaya Smith, co-founder of the Brown Beauty Co-op. Smith and fellow beauty entrepreneur Kimberly Smith (no relation) co-founded the Sephora-esque beauty hub in 2018. The boutique celebrates women of color by fostering an inclusive community through its featured products, events, and beauty services.
Even in normal circumstances, Black women disproportionately lack investment capital and other resources needed to maintain their businesses and are often sole proprietorships. Despite being the fastest-growing segment of entrepreneurs in the country, they receive less than 1% in venture funding, leaving many without the emergency cash reserves sufficient for said survival.
Early numbers also show a record plummet in the number of active business owners from February to April 2020 as a result of the pandemic.
Of those, Black and female-owned small businesses have been impacted the most, experiencing a 41% and 25% decrease in activity, respectively.
"So, how do we help and support businesses who already had challenges with funding and didn't have as much access before?" Amaya continued. "I actually hope that this period of time highlights the disparity in funding and capital between businesses."
For nail salon-owner Jhavon Kashif, the pandemic has presented the second largest threat to the Nailbed & Bar in its young two-year history.
"The first was the federal government shutdown [of 2019] and here we are with COVID-19, so we've been able to weather those storms but it has been a challenge," Jhavon shared.
-----------------
Beauty and the Black Dollar
We're seeing a global outcry against racism and the structural injustices experienced by Black Americans now more than ever. In addition to the impact of coronavirus, Black entrepreneurs find themselves managing their businesses in the crossfire of backlash many brands are receiving in their not-so-genuine support of Black Lives Matter.
Once taboo, corporate leaders across industries have also announced their support for anti-racist efforts and Black Lives.
Campaigns and calls for action like #PullUpOrShutUp, created by Uoma Beauty founder Sharon Chuter, are highlighting the beauty industry's lack of Black representation and pushing for organizational change to address it.
The Brown Beauty Co-op penned an open letter to Sephora in support of the campaign, expressing their disappointment in the brand's lack of accountability for minimal diversity among executives and mistreatment of customers of color.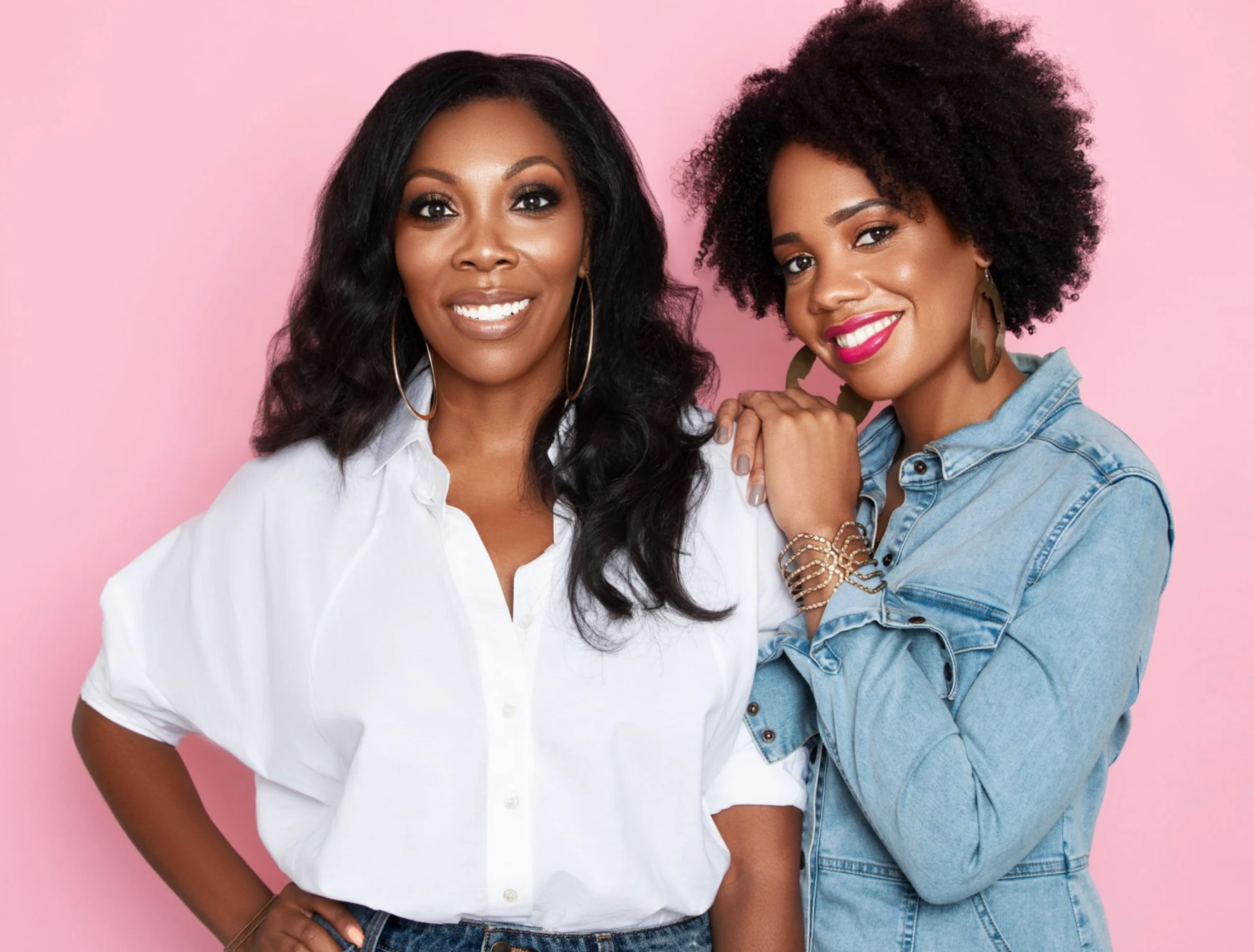 Image: Kimberly Smith and Amaya Smith, Co-founders, The Brown Beauty Co-op
Up until this pivotal point, many industries have neglected Black consumers, their spending power, and the importance of inclusive marketing and business practices, all while profiting from their influence.
According to a 2018 Nielson report, Black shoppers aren't only spending on products created to appeal to them, but spend considerably more money in the general beauty marketplace in comparison to their counterparts. "Our research shows that Black consumer choices have a 'cool factor' that has created a halo effect, influencing not just consumers of color but the mainstream as well," said Cheryl Grace, Senior Vice President of U.S. Strategic Community Alliances and Consumer Engagement at Nielsen on the report's findings.
The current state of affairs also reveals the economic and racial inequities that have accumulated and hindered the Black community over time. In fact, studies show us that the Black-white wealth gap remains as wide as it was in 1968.
Our dollar matters, and choosing to spend it at Black businesses is an act of economic activism, one that will have implications for generations to come.
The renewed attention of the protests has amplified the harsh duality of Black experiences to the masses, resulting in an outpour of support and celebration of Black art, beauty, history, and of course, Black business.
"My hope that the support of Black business will continue beyond the protest," said Jhavon on the recent wave of support.
-----------------
Black Women Keep it Pushing in Times of Trouble
The beauty industry relies heavily on personal interactions and physical experiences. Shoppers love to try and test before purchasing and entrepreneurs have had to get crafty about everything from marketing to providing its normal services.
"[During the shutdown] foot traffic was impacted, appointments and walk-ins, but it wasn't anything like this," said Jhavon of the pandemic. "Our doors are closed. We cannot accept anyone in our space to render any kind of service, so we really had to focus on marketing in a different way. One thing that we do that has been helpful is that we produce a lot of our products in-house."
In addition to adapting its luxury salon offerings into a Happy Healthy Nails at-Home kit, the salon expanded the promotion of other original nail care products to drive sales through its e-commerce platform.
As with most devastating events, opportunities remain for Black beauty entrepreneurs to be nimble and personally connect with communities in a way that other large retailers, like those called out in the #PullUpOrShutUp campaign, often cannot.
"Although this is a tough period, it's through these tough periods that a lot of businesses are able to come out better on the other side," said Amaya of the Brown Beauty Co-op. The boutique has kept their community of beauty enthusiasts and founders engaged with a series of virtual shopping parties, entrepreneurship social hours, and Shop Brown Saturdays in addition to its fundraising efforts.
"We're really taking advantage of social media [and] different types of virtual meetings so that we can keep our current customer base engaged but also so we can gain new customers through this," she continued. "I think being transparent is the most important."
-----------------
The harnessing of our collective power will play a key role in the survival of Black and women-owned small businesses. While we collectively work toward a more inclusive society, buying Black ensures our voices are heard and communities are supported.
Learn more about the Black beauty brands and Black businesses, you can support here.
Featured image courtesy of The Brown Beauty Co-op