Pauleanna Reid
Pauleanna Reid is a journalist and celebrity ghostwriter from Toronto, Canada. Her passions include mentoring youth, volunteering and mental health advocacy. Follow her on Instagram: @pauleannareid.
When people think of philanthropy, they usually think of millionaires and billionaires who find ways to use their fortunes to give back after they've gotten rich. And, if we're being real, a lot of people think of white men like Warren Buffett and Bill Gates.
But Ivy McGregor has flipped that script. She's a Black woman building her entire career and business around helping people and businesses make a difference while they make a profit.
McGregor has led Hurricane Harvey relief efforts, run scholarship programs, and facilitated water initiatives in Flint, Michigan, and Burundi Africa. As head of her own consulting agency, IVY Inc., she supports organizations in implementing social impact strategies, and as the Director of Social responsibility at Parkwood Entertainment's philanthropic umbrella, BeyGOOD, she's worked to support women entrepreneurs and eradicate homelessness, poverty and economic inequality.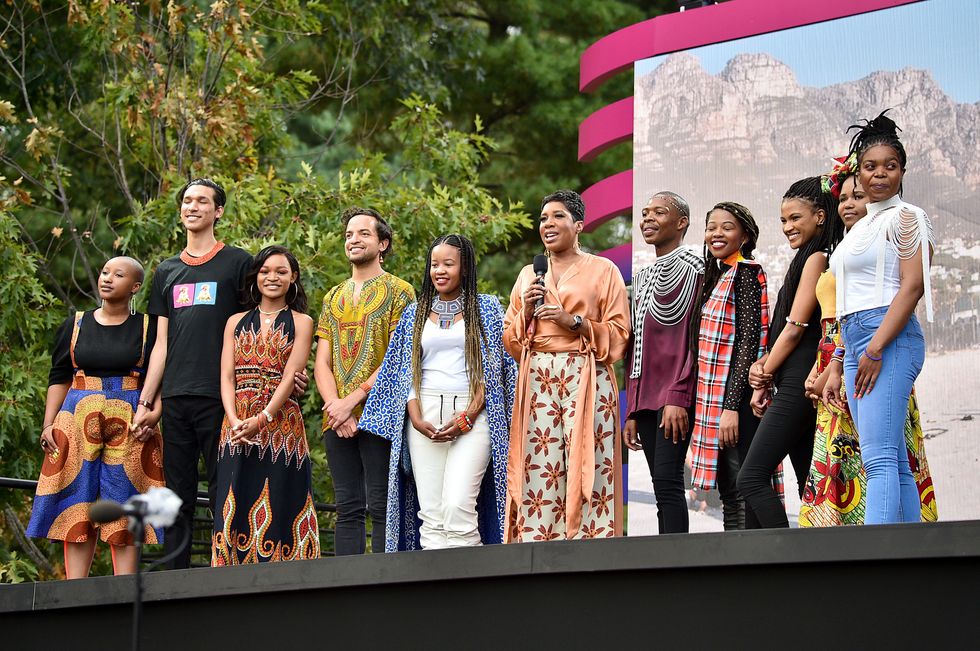 2019 Global Citizen Festival: Power The Movement – Onstage
Photo courtesy of Ivy McGregor
Her resume as a philanthropist is stacked, and she loves every minute of it.
"To be devoted in this space as a philanthropist for the leading artist in the country and on a consulting basis around the country for my own company…It's just really a great honor to fulfill my life's destiny in what people would call my 9-to-5 and my 6-to-12," McGregor said.
McGregor found her passion for philanthropy even before she knew she could make a career of it. While she held several well-paying jobs in her first few years of the workforce, she found the most satisfaction in the charitable work she did in her spare time. "I may have had a job that I was doing well at, but I didn't feel the passion like I did on evenings and weekends when I was volunteering or when I was at a senior nursing home or when I was sitting with young kids and challenging them to come up with creative ideas. That is when I felt my heart pitter patter," she explained.
She has used that passion for giving back to become a trailblazer for Black philanthropy. Receiving awards like the International Distinguished Humanitarian Leadership Award, she's been key to raising the profile of Black women in the space.
But McGregor doesn't do it alone. She's proud to say that she has a team of people behind her and on her staff who contribute to her philanthropic efforts. She encourages other founders and business owners who want to focus on social impact to consider the passions, interests, and pain points of the people on their teams too.
"That is what corporate social responsibility looks like. Engaging people, listening, and then taking that information and implementing it in the organization and sharing it with the company," McGregor advised.
She also invites founders to lead with love. It's advice she learned from her mother, and she believes that including love at the foundation of her business strategy is one of the things that has allowed her to be so successful as a philanthropist.
"We start with a zero-judgment zone," McGregor said. "We start with a pure heart so that we are not discriminating against the people we help."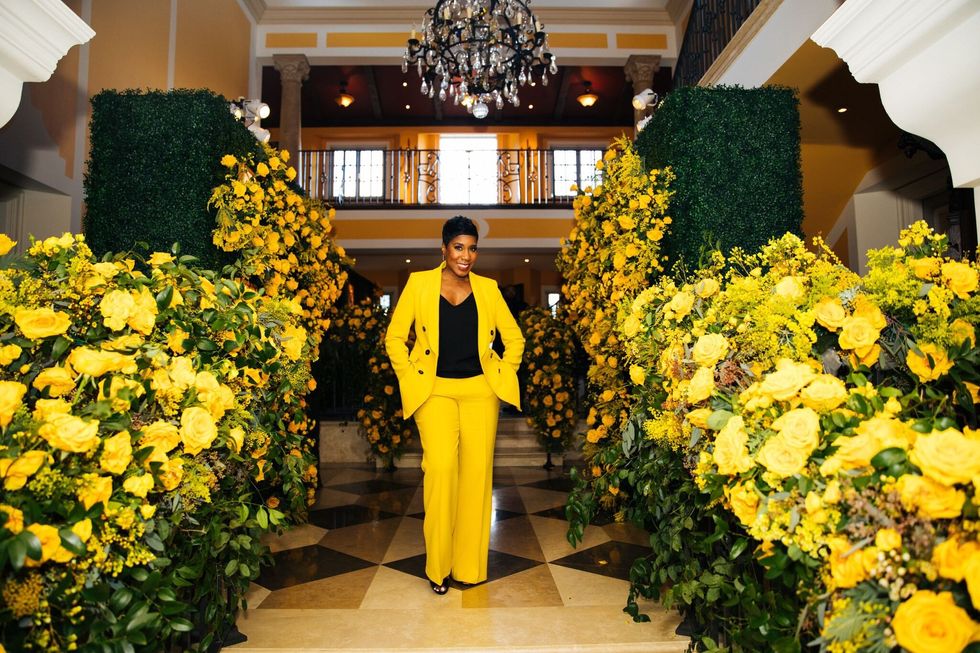 Photo courtesy of Ivy McGregor
Because the mission with philanthropy is not to earn praise or accolades, but to make the people on the receiving end feel genuinely helped, McGregor noted that service isn't just a must-have for profits, but it makes a big difference in social impact as well.
"There are corporations that people are wondering, 'How are they still around?' Because they have understood that service is sustainability. They have understood it is not so much what you say, it's how you make people feel. If people feel empowered, if people feel inspired, if people feel helped, that is so critical," McGregor said.
McGregor has continued to lead by example in the wake of the coronavirus outbreak. She jumped into action, raising hundreds of dollars and donating meals to healthcare workers at New York's Mount Sinai and Jacobi Hospitals. In April alone, she and her Global Learners Program, a collective of creatives and professionals eager to serve through social impact, donated grocery gift cards to 100 families and meals to 100 seniors at NYC senior centers.
While we may not all be able to give back at such a grand scale, McGregor reminded business owners and individuals that giving back takes many forms.
"Because we realize this is a pandemic of epic proportions, it requires every one of us to get innovative to help provide relief," McGregor said. "We are experiencing unprecedented times. But it is in these moments that I challenge you to take a positive thought and move it into action…Look at the multiplicity of ways to give back."
For more of Ivy, follow her on Instagram.
Featured image courtesy of Ivy McGregor
There are a million ways to be heard in today's social digital world. Everyday there is a new overnight success story going viral. While the possibilities of reaching the masses can seem endless for new artists, it can also be difficult to set yourself apart as an artist with the potential for longevity and to capture the attention of industry veterans.
As Fat Joe's protégé and a Roc Nation artist, Angelica Vila is already building relationships with the industry's most respected. Preparing for a career in music since the age of seven, the Bronx-based R&B singer was discovered through YouTube. Today, through her social media savvy and undeniable talent, Angelica is strategic about making moves that are memorable. The video for her breakout hit "More In The Morning" garnered over a million views in the first week and has currently climbed to 9 million audio streams.
Taking to heart the advice she received from her mentor Fat Joe, "You can never make a first impression twice", Angelica is also learning the art form of business. Recently, we spoke with Angelica to get her advice on what artists can do to stay true to their vision and get their music heard by the right people.
Bet on yourself.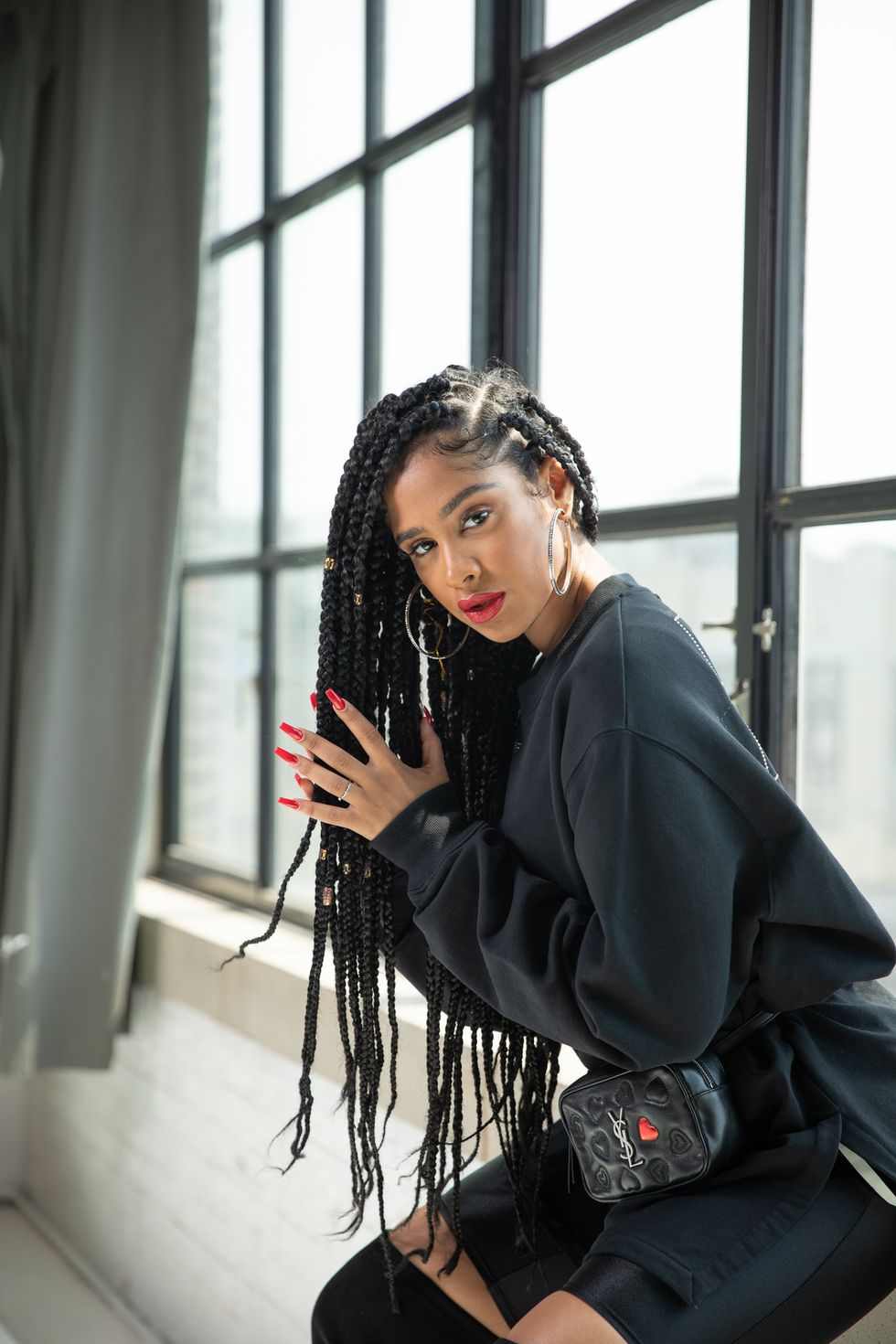 Photo credit: Mark Clennon
"I had to stop doubting myself. When I left high school, and I was working at American Eagle and college didn't work out, I just felt like it was a little bit difficult for me. I remember this was before I got signed with Fat Joe and Roc Nation, I was going to take a job at Skechers. The first day I was supposed to start my shift, was the same day that was Fat Joe's birthday party. He had invited me and my uncle. It was like a yacht party. So I thought, 'Do I take this chance?' Because no deal was ever in conversation or anything. We were just vibing and getting to know each other in a business and a creative aspect as well. So, I just went with my gut and I said listen, I'm going to go to this yacht party." With zero plans of looking back, taking that risk to follow her gut solidified a business partnership between her and Fat Joe.
Use your platform strategically. 
"Social media is very important, especially if you want to be heard [and] if you want to get your name out there. Social media helps you gain your fanbase. Whenever I had to make a singing video or if I was in the mood to make a singing video, I would just do it on the spot and post it at the right time. I feel like more towards the nighttime, people really pay attention to my page. Around 8 pm, people are scrolling through Twitter, Instagram, etc." Having this deep understanding of what works is what has garnered and kept eyes on Angelica since she first made waves with a response remix to Justin Beiber's hit "Sorry" in 2016. Knowing how to use her talent to cut through the noise online is what has ultimately set the stage for the millions of people now tuned into the music she releases.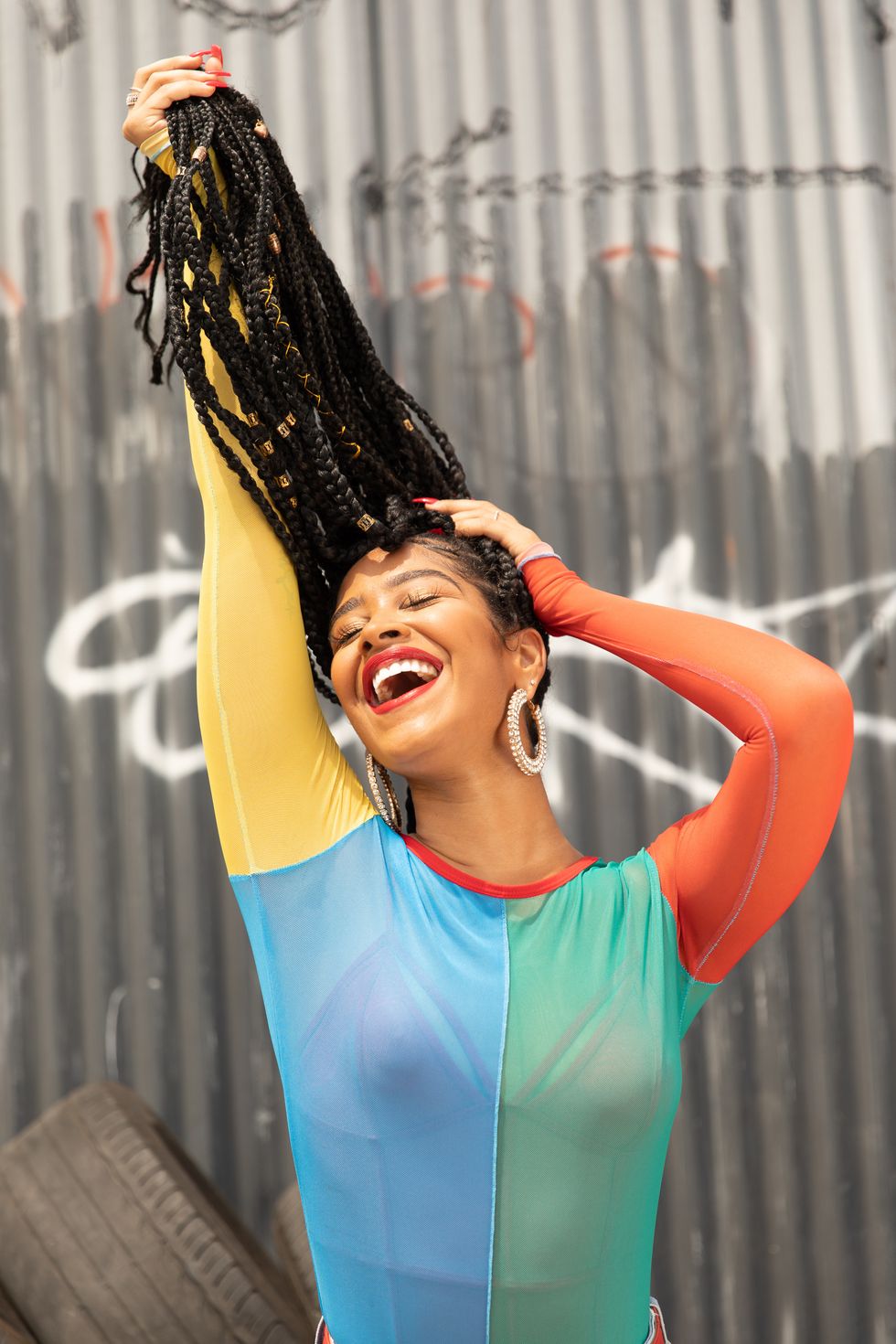 Photo credit: Mark Clennon
"Sometimes you are not going to get it right the first time. But it takes time. I've been doing music for 10 years now. I'm just now starting to get recognized. It really takes time and you have to be patient with yourself."
Patience will get you furthest.
"Believe in yourself and don't let others' opinions cloud your own judgement. Also, if you have a Plan A, don't plan a Plan B. Once you start planning your Plan B, you are already doubting yourself on what your true passion is. If your first way didn't work out to make your Plan A happen, find another way. Really, it is just about consistency and growth. Sometimes you are not going to get it right the first time. But it takes time. I've been doing music for 10 years now. I'm just now starting to get recognized. It really takes time and you have to be patient with yourself."
Stay true to you.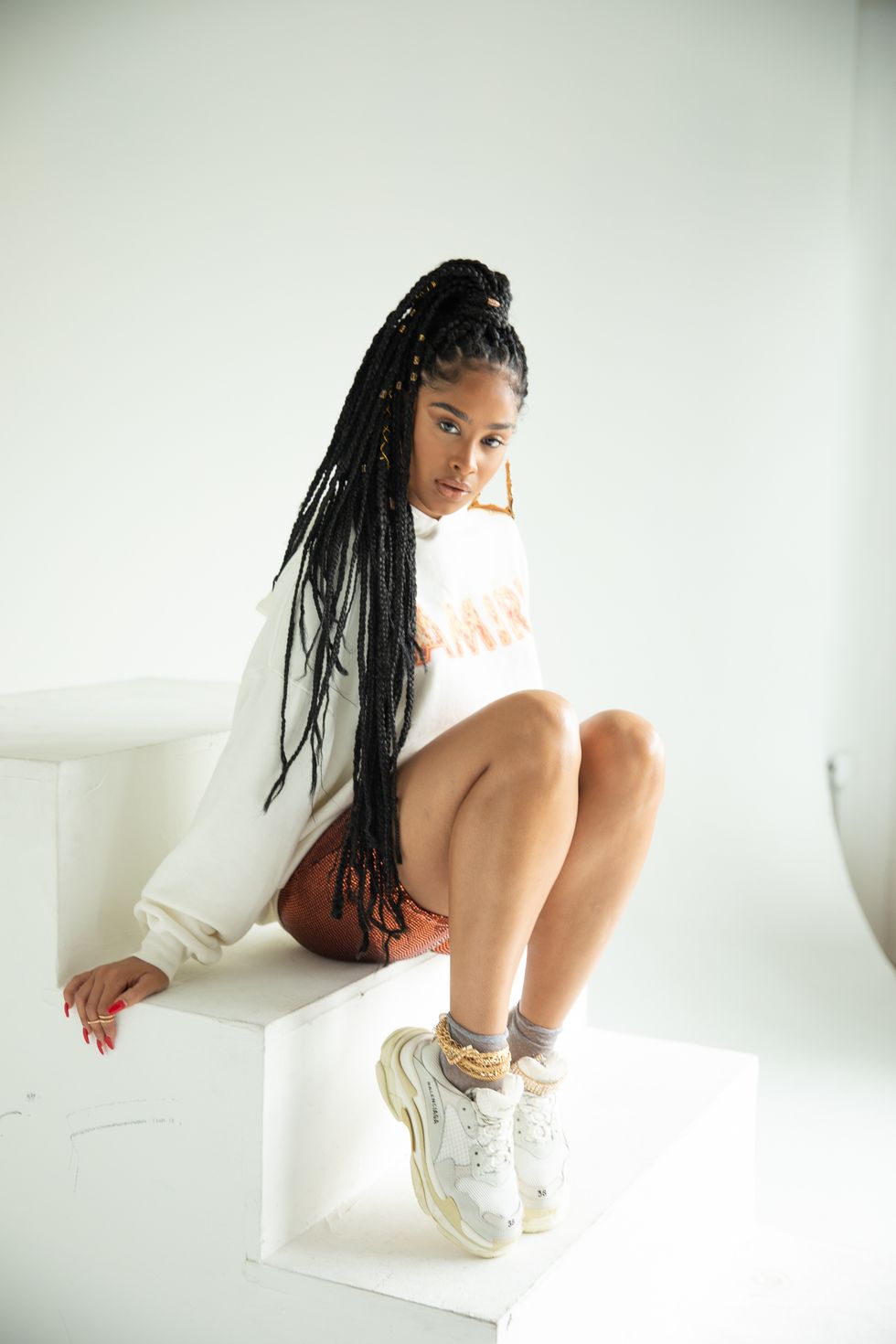 Photo credit: Mark Clennon
"A lot of times what happens is that an artist can have an idea but there are so many people around them that there are just way too many opinions. It just kind of confuses you because you may have a creative idea and then someone else says, 'I think it should go like this.' It can be tricky sometimes, but in order for you to stick to your sound, you shouldn't listen to other people. Also, you can listen to music for inspiration but don't compare yourself. Music is a vibe. As artists, we overthink a lot of what we are making. We think about what is popping now and we try to go for that rather than actually going with what you feel in the moment."
For more of Angelica, follow her on Instagram.
Featured image by Mark Clennon
Did you know that xoNecole has a podcast? Subscribe on Apple Podcasts or Spotify to join us for weekly convos over cocktails (without the early morning hangover.)
Breaking in to the entertainment world often comes down to possessing a winning combination of sheer luck and good timing. Very few people remain in the industry long enough to become household names. While only the ones who are skilled at their craft and have the right amount of hustle, are the ones that keep us talking and watching.
La La Anthony is one of those talents who cannot be ignored. You may have started following her career years ago when she was the host of MTV's TRL, or perhaps caught on to her in recent years as she added being a New York Times best-selling author to her stacked resume. Yet the title today that keeps her name buzzing is Actress. Leave it to invested fans on social media and you'd think her name is really LaKeisha – a role she played on the hit show Power for six seasons.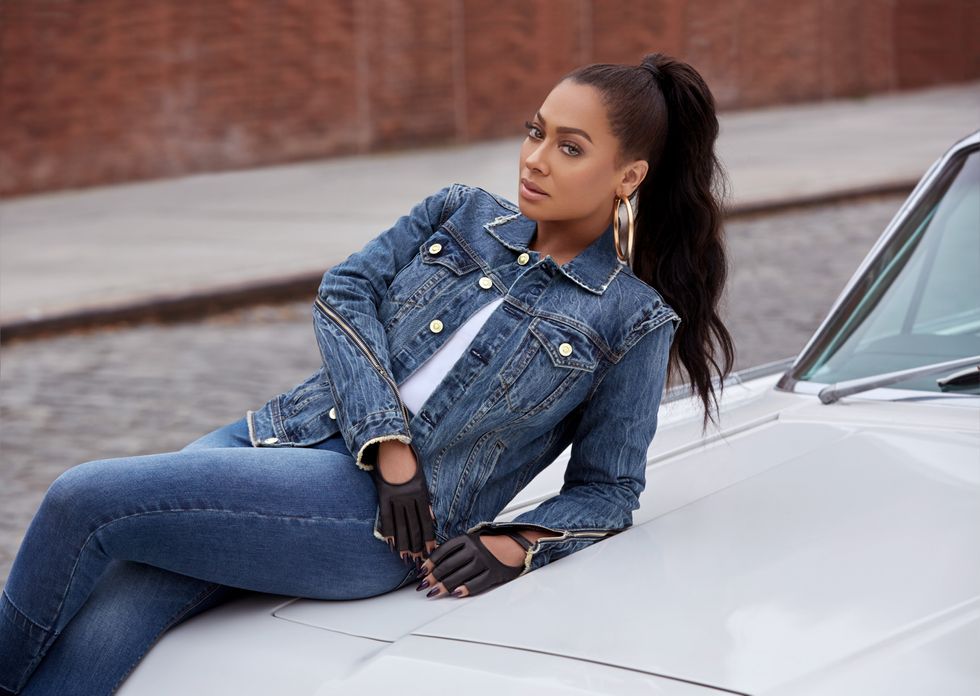 Photo Credit: Robert Ector
Now, let's add that up. Television personality, New York Times best-selling author, actress, producer and businesswoman. Yes, girl. Ms. Anthony is a boss with plenty of businesses under her belt, including her own collection, the La La Anthony Collection at Foot Locker.

Recently, we spoke with La La to find out why her hustle won't stop and the baton of wisdom she would like to pass on to other boss ladies.
Don't let the money make you.
"I'll never take a job based on money. I've always made decisions about my career based on what I want to do, what I love to do - even if it wasn't paying a certain amount of money. If it was me following my passion and dreams, I was willing to do it for free. I was willing to take a pay cut of whatever it cost me, so it was always about the passion and the drive. It was never about just chasing a dollar bill. Sometimes I feel like chasing money leads you to nowhere. Make decisions based on your passion, your heart and what you want to do."
Forget fake it 'til you make it.
"Confidence is all about inner work. It's all about self-work, believing in yourself and having high self-esteem. You no longer need to be validated by what people say about you in the outside world. I think when you get to that place, people can feel it. When a person's confident, when they walk into a room, people treat them differently. You approach them differently. So, I think it all starts with inner work to include that confidence in all aspects of your life - your career, your personal life, with family - it all starts with you. It's a job that is never done. Every day you have to work on yourself and remind yourself how great you are. We have to learn how to be our own cheerleaders and not to rely on anyone else."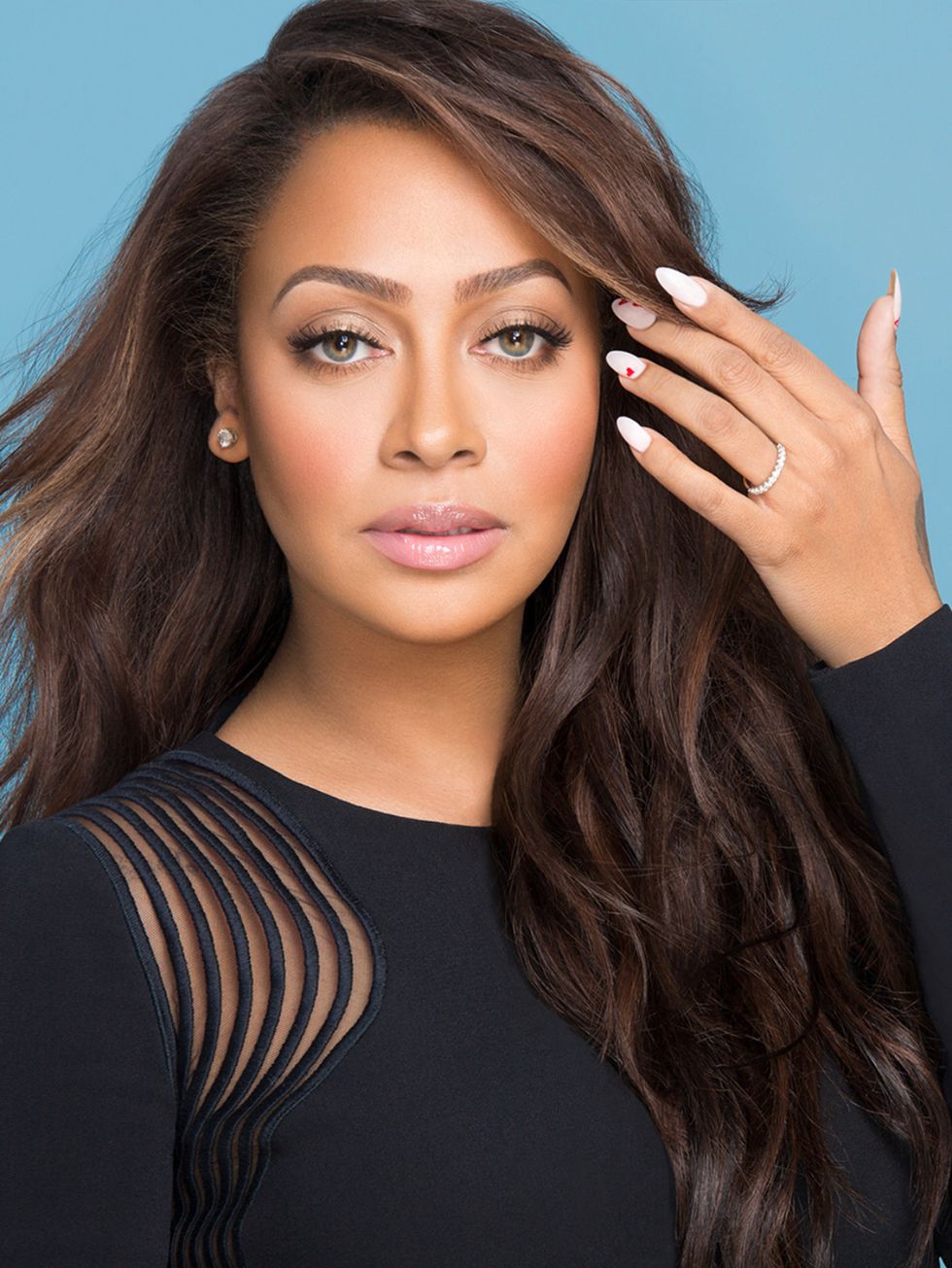 Photo Credit: Robert Ector
"Confidence is all about inner work. It's all about self-work, believing in yourself and having high self-esteem. You no longer need to be validated by what people say about you in the outside world. I think when you get to that place, people can feel it."
Tune out the noise of doubters.
"There's nothing you can do that everyone's going to like or agree with. Nothing you can wear, there's nothing you can say and there's no amount of education that everyone is going to agree on. It's just impossible. It's the world that we live in, the world of social media. A place where everyone feels like they can have a comment and opinion on every single thing that you do. I just have to learn to be comfortable with me, be happy with me. As long as I'm secure in that, none of that other stuff really matters. All of the positive energy is amazing, but for every positive there's going to be a negative. You just have to learn that it all comes with the territory."
Grind 'til you own it.
"My story for Power is that at the time of casting and auditioning, I was pretty relentless in asking for an audition and wanting to go in there and show the room that I can play this character. Why I'm the right choice for this, and I didn't let up until I was able to get into the room and get that opportunity. But you know, when you get into that room and get that opportunity, you have to seize the moment. It's one thing to get an opportunity and then drop the ball because it might not come around more than one time. I was blessed enough to be able to seize the opportunity. I don't think any of us can do it alone. There is not a single person in their career that's successful that did it on their own without help along the way or advice along the way or a helping hand along the way. You can't be afraid to ask for these things but when you do get them, you also have to be prepared for that moment that you've been asking for."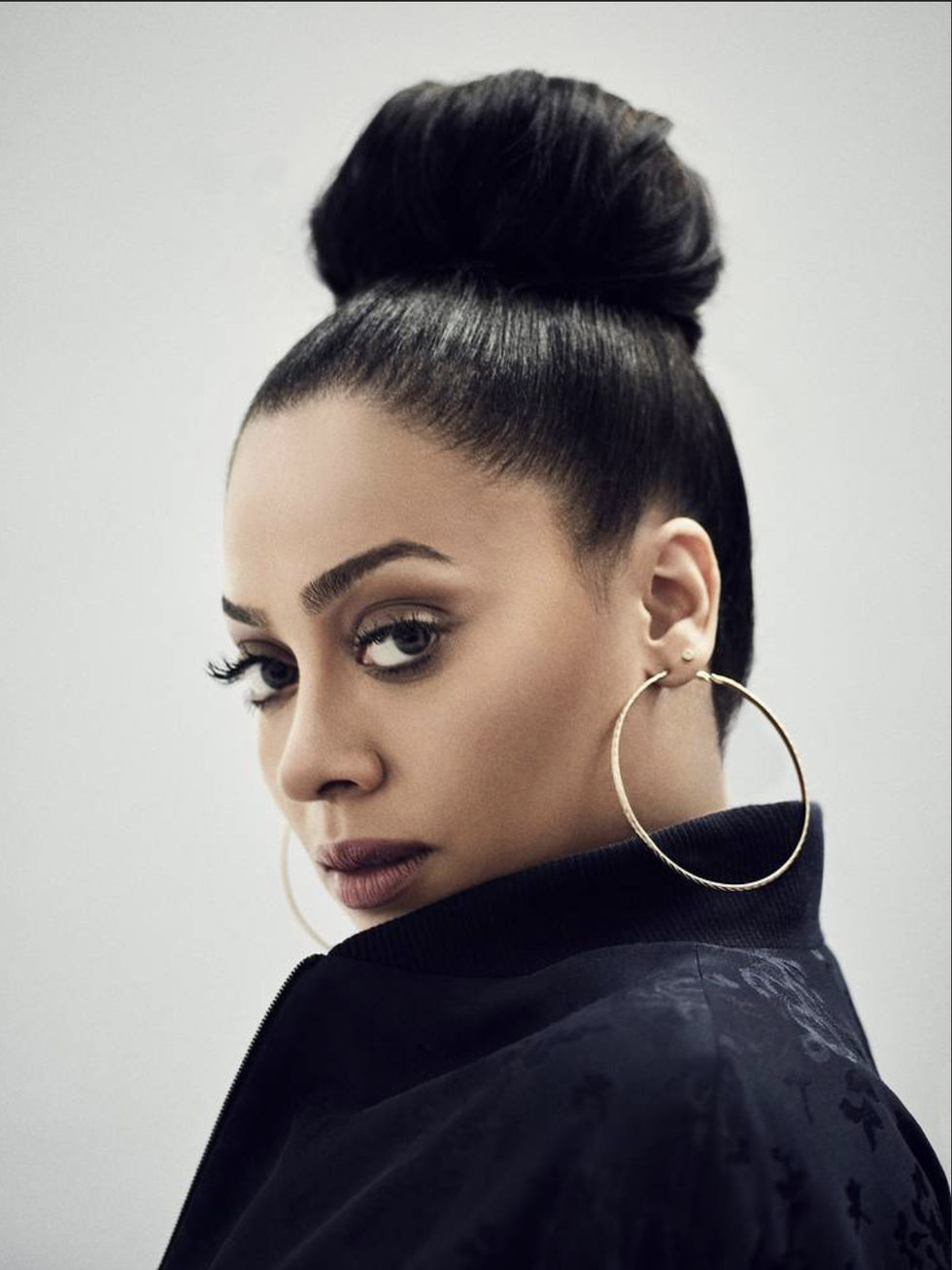 Courtesy of STARZ
"There is not a single person in their career that's successful that did it on their own without help along the way or advice along the way or a helping hand along the way. You can't be afraid to ask for these things but when you do get them, you also have to be prepared for that moment that you've been asking for."
Stay grounded in faith.
"My faith is extremely strong. I rely on my faith and God in everything that I do and in every decision that I make. Everything starts and ends there for me. So that's what keeps me going. I know that whatever is meant for me is meant to be. My plan is already destined and I'm just trying to follow it. My faith leads me to make all these decisions and to feel comfortable in whatever stage my life is in at that moment because I know everything is playing out exactly the way it's supposed to. I think there is a lot of comfort in knowing that."
For more of La La, follow her on Instagram.
Featured image by Robert Ector; images courtesy of La La Anthony

The start of a new career offers a fresh perspective and new possibilities. Yet, it goes without saying that charting a new path is scary. Terrifying actually. Yes, there will be naysayers, doubters, learning curves, failures and more but perhaps the most challenging of them all is staying dedicated to your big vision despite it all.
Tameka Foster-Raymond is no stranger to mastering the art of resilience. While she has experienced life's many highs as a celebrity stylist, mother and entrepreneur - working with high profile figures in the industry, from legendary soul singers Patti Labelle and Mary J. Blige to hip-hop mogul Jay-Z. She also knows what it takes to persevere despite the unexpected lows – a very public divorce and the tragic death of her late son, Kile Glover, who died in a boating accident in 2012.
Flipping this heartbreaking experience into a mission, Tameka is launching an animated series called, The Odd Life of Kile Lyles. As a dedication to her son who had dreams of becoming an actor, the series is also movement to create content for our community that matters. Amplifying black voices and showing that positive black families is the norm, the series follows the life of a black kid protagonist who is a superhero.
I chatted with Tameka about why television programs like hers are vital to the representation of the black community, the importance of owning your vision, and why she now believes in the power of raising your hand to ask for help. Check out her advice on how to take a leap of faith while navigating new territories.
Don't just talk, say something.
Taking a big leap is not easy but having an unwavering faith in your mission makes it palpable to persist. While it would have made sense for Tameka's next business move to be something within the fashion industry, as the mother of young boys, she recognized a gap that she was no longer willing to ignore. She describes, "We don't have enough black programming for kids that shows them in a positive light. For that age group of 7-12 years old." Positive black imagery missing from pop culture for that age group is why she chose to cross lanes and venture into television and animation.
Of all the things to create, Tameka is introducing The Odd Life of Kile Lyles to improve representation. Kile Lyles may be a superhero, but there is nothing about his family unit that is out of the norm. He's a regular black boy, growing up in a nuclear family as a middle child that gets picked on and antagonized by his older and younger siblings. The significance of this series helps dispel the false and overly promoted trope of the broken black family.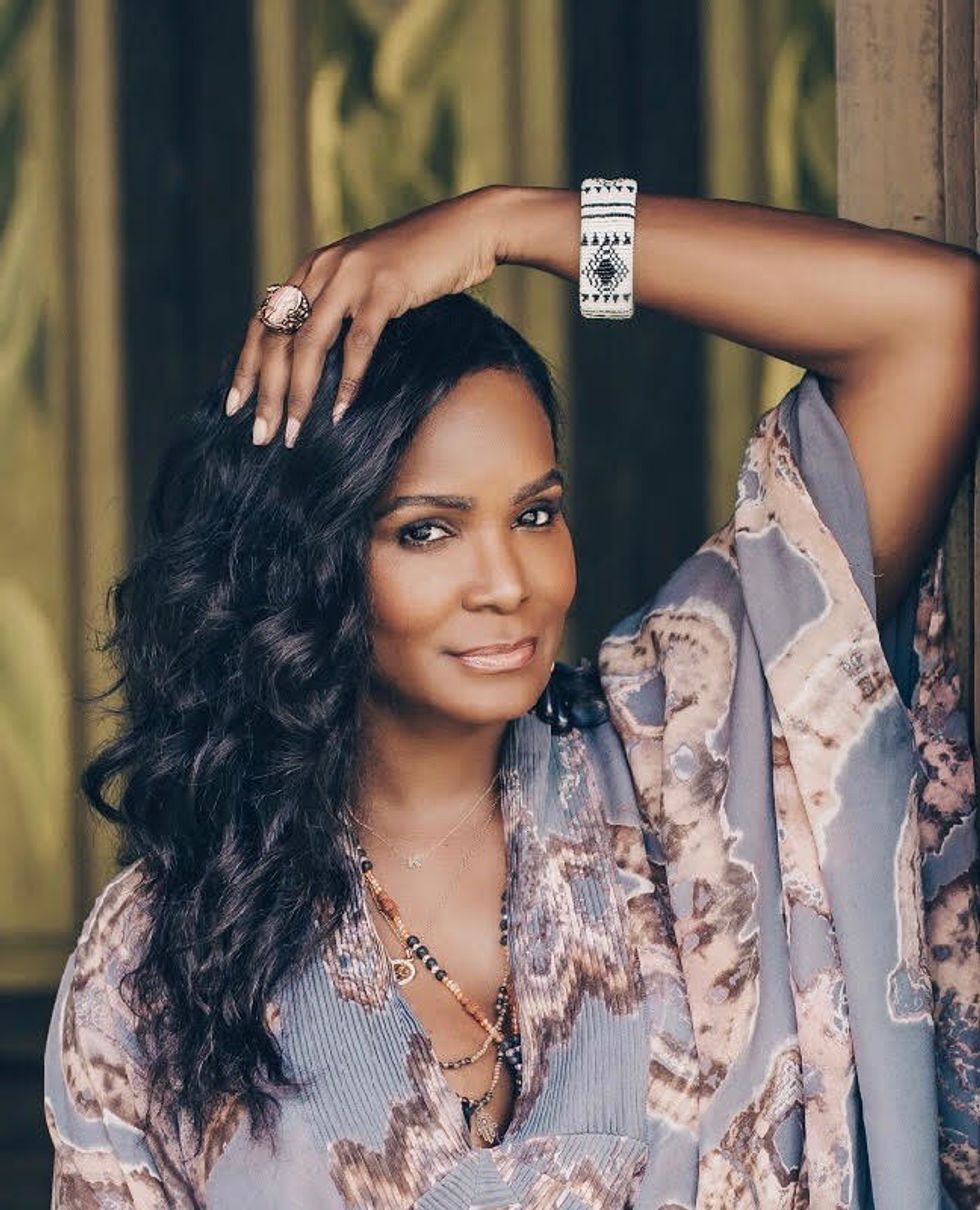 Jack Bali
Drive your vision.
Although stepping into the world of animation comes with its difficulties, Tameka is thrilled about the process and encourages other entrepreneurs to break out of their comfort zone as well. "This has been a learning curve for me, but it's been exciting. I love challenges and I've been studying everything I can get my hands on," she reflects. With powerhouse companies such as Disney and Pixar dominating the animation game, it is not a space as well known for black people to be within.
"I'm an Outlier. I'm embarking into a space where no one in my circle or even my previous career knows anything about," she describes.
Not deterred by this reality, she looks to the professionals of this field to help execute her vision. She worked with an illustrator from Atlanta, Andre Harris, who collaborated with her to develop the characters. Selecting everything from the characters' eyebrows to fashionable wardrobe, Tameka ensured that she was very hands-on with the creative process. She also hired an animator from Toronto, Canada who is teaching her about the process of animation.
Be unafraid to ask for help.
Asking for help is a lesson she learned the hard way as she rose through the ranks as a fashion stylist. As she remembers, "In my career in fashion I didn't have a lot of mentors. I had to take a lot of bumps and bruises in learning the whole fashion business." Succumbing too often to the "superwoman syndrome", many women (especially black women) are afraid to raise their hand and ask for the help that they require. Which keeps them from accessing the mentorship and potential opportunities that others are granted who are unafraid to clearly state their requests.
Armed with the wisdom of this early lesson, Tameka has learned to ask for assistance in all aspects of her life. Help for her comes in many forms. One way is appreciating the healthy co-parenting dynamic she has with her ex-husband Usher Raymond so that she can schedule as much as she can for her business ventures while the boys are away with their dad. This equal parenting allows her to practice better time-management and help accelerate her goals. The other way is in leaning on her network to not only spread the word about The Odd Life of Kile Lyles, but in asking her community to help support this positive project that will widen the exposure of positive images for black children. As she declares, "Hitting the like button is helpful, but hitting the donation button is a blessing. Even $5 helps."
Her ask overall is simple – for us to use projects like these to invest back in our communities. To give parents the opportunity to introduce their children to diversity, spark the imagination and possibilities of our youth, while creating a new norm.
To get involved and support Tameka's animated series The Odd Life of Kile Lyles, you can donate to her Indiegogo crowdfunding campaign at www.indiegogo.com/projects/the-odd-life-of-kile-lyles#.