So, it's just your regular night in after a long week. You've popped that popcorn, baked that frozen pizza, and guzzled a few glasses of wine. You start looking for something to watch and come across a title that seems innocent enough, only to find out about 30 minutes in that it's more than your average rom-com. It's literally porn on Netflix. You're seeing full-frontal nude, hardcore grinding, and glimpses of body parts you'd only see on PornHub.
Netflix has been getting its BET Uncut on lately, sliding in mature content for the unsuspecting—and the soft porn enthusiasts. If you're into that or just curious (wink), here are 13 movies that fit the bill:
365 Days
365 Days is an English-language film based on a series of erotic books by Polish writer Blanka Lipinska. It centers around a woman on vacation who is kept captive by a Mafia boss who is obsessed with making her fall in love with him. It's technically a kidnapping-turned-romance saga, and the sex scenes hold almost nothing back.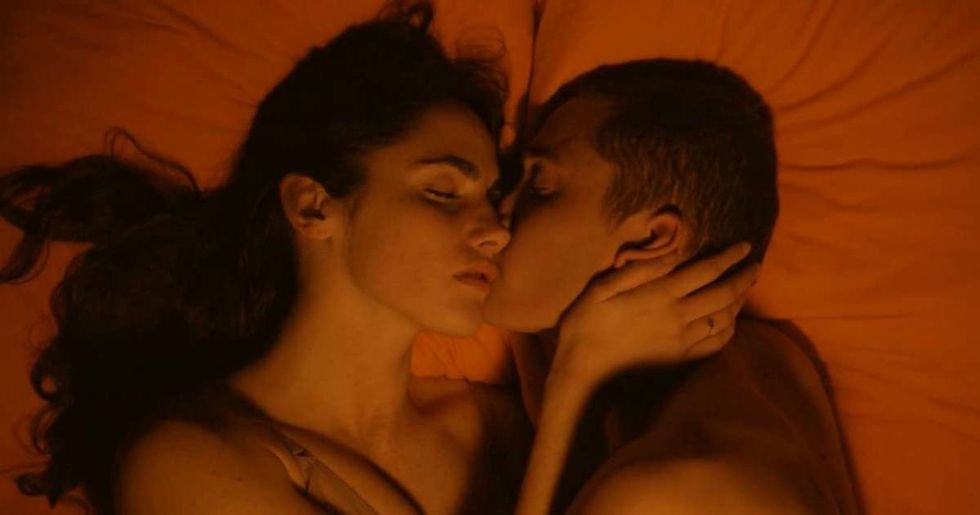 Image via Netflix
Love
When a couple has a threesome with their neighbor, they're not prepared for the super-sexy aftermath of it all. You'll see lots of nudity (well, just enough for the NC-17 rating), and enough saucy romps to have you wondering if maybe you should take a second look at the guy or girl next door.
Lust/Caution
Set in Shanghai during World War II, Lust/Caution is a steamy movie that follows the adventures of a woman who has to navigate an espionage conspiracy and the lusts of her beau. It's old-school and has subtitles, and the bedroom scenes get rough and raunchy.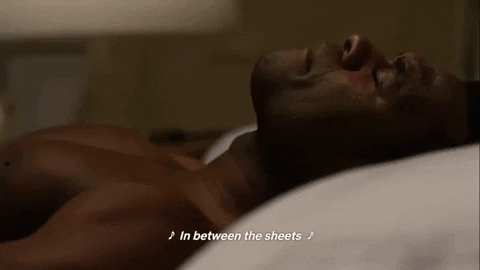 Image via Giphy
She's Gotta Have It
Nola Darling is a sex-positive artist who gets it on with some of the sexiest black men in her "loving bed". She also has an affair with an old friend and single mom, Opal, and has sex on her own terms in all the positions.
Sex Education
Otis is a socially awkward student who has a sex therapist mom, and this show follows his escapades in learning more about himself, love, and of course, sex. He starts a sex advice business and the exploits get tricky, salacious, and oh-so-naughty.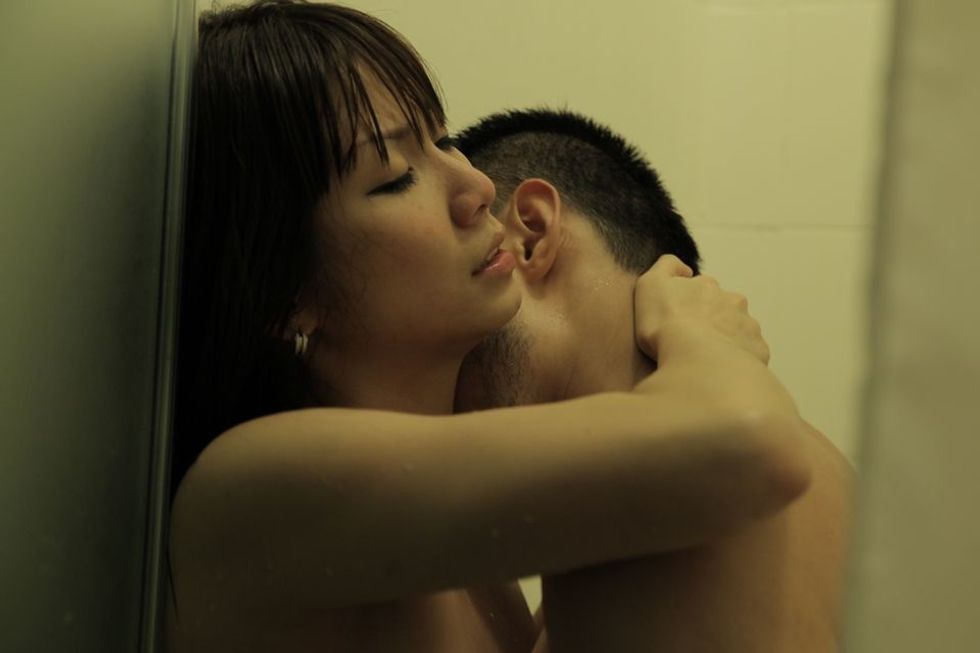 Image via Netflix
Lang Tong
If you're into erotic thrillers, this Singaporean film does not disappoint. You've got a serial womanizer who sets his sights---and lovemaking wiles--- on the younger sister of his lover. It gets even more complicated---and gruesome---when the two women team up.
A Perfect Ending
A repressed wife and a high-end call girl—you do the math on this one. Middle-aged Rebecca explores her sexuality and lets loose in a sensual, slow-burning film about secrets and affairs.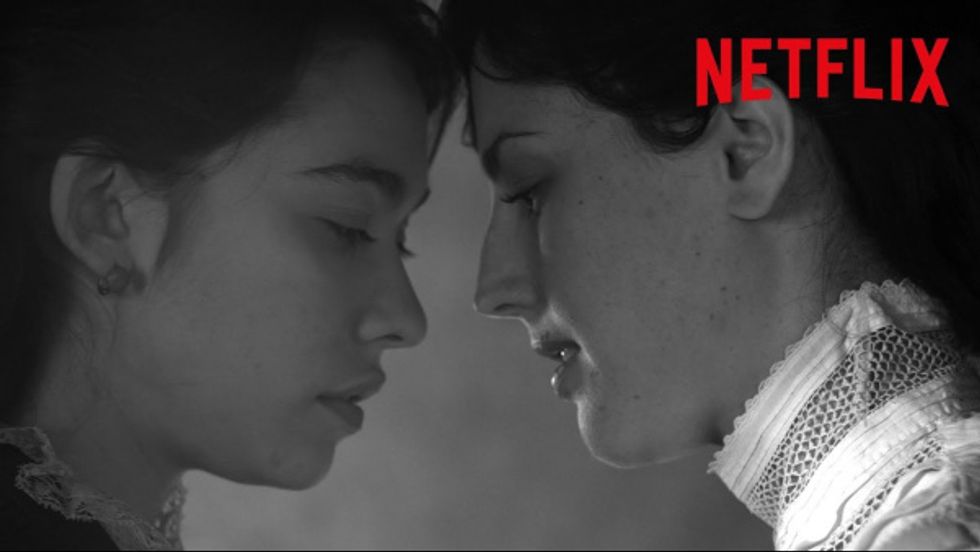 Image via Netflix
Elisa & Marcela
This one is set in early 1900s Spain and tells the story of two women who engage in "illegal" rendezvous under the nose of their village neighbors. The film is in black and white, which adds a special allure, and it's based on a true story of same-sex lovers who tricked a priest into marrying them.
Tiger
OK, so technically Tiger isn't full porn all the way through, but if you can remember that scene in Belly where DMX's character Tommy goes in on Keisha, you'll get those same feels when you see this boxer with the love of his life in a some pretty passionate scenes.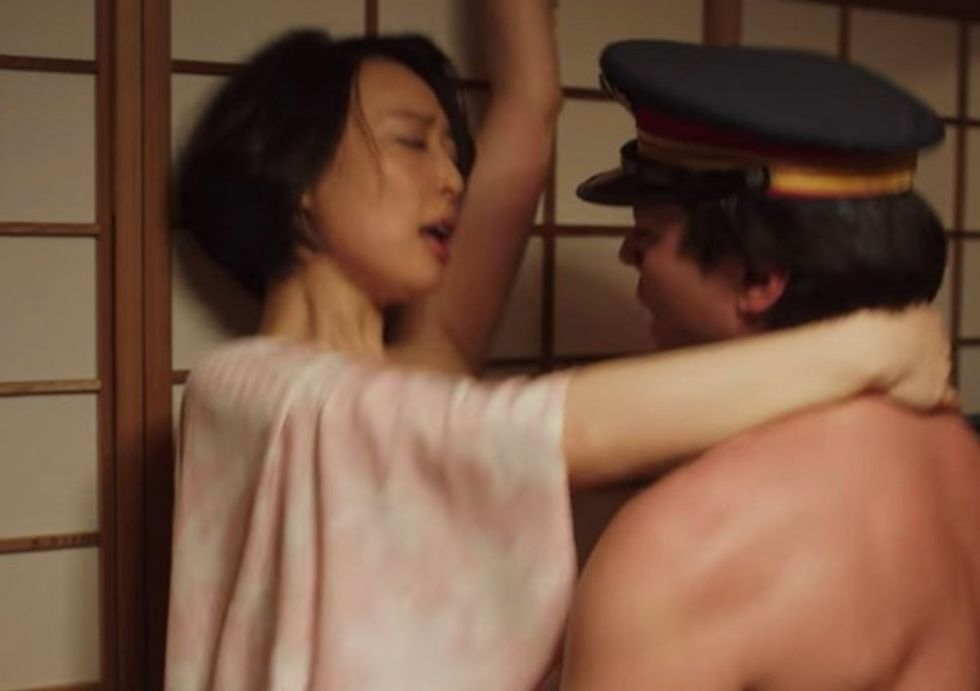 Image via Netflix
The Naked Director
This is a semi-biographical film that tells the story of the rise, fall, and comeback of Japanese adult video director Toru Muranishi. It's based on a nonfiction book about his life and how he built an underground empire during a time when porn was culturally taboo in Asia. And yes, there's some intense laying of the pipe in this one.
Newness
Newness is what happens when two people get bored with hooking up with people from dating apps and decide to give monogamy a try. As a couple, they stumble upon a new problem: Boredom sets in, and their solution circles back to hooking up with strangers—again.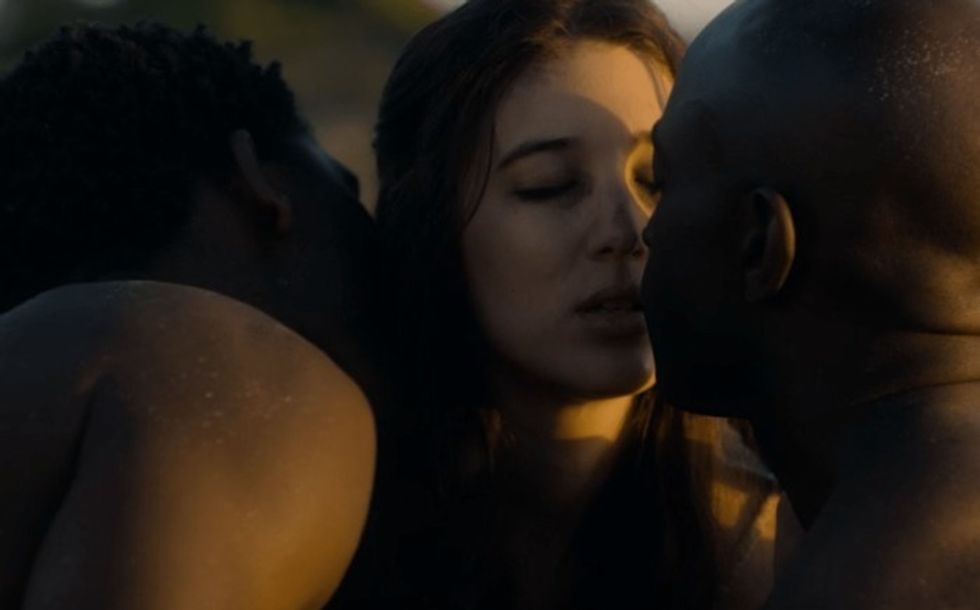 Image via Netflix/Troy: Fall of the City
Troy: Fall of the City
A British-American miniseries, Troy: Fall of the City depicts the 10-year Trojan War and is set in the 13th century B.C. Watching this will remind you that when it comes to sex, there's practically nothing new under the sun, and modern-day folk might have nothing on the freakilicious habits of these Greek mythical creatures.
Easy
This series doesn't include your typical fantasy love scenes. It's really more about everyday sex, but it's sex nonetheless. And why not enjoy watching everyday people with everyday bodies having everyday smash sessions?
Are you a member of our insiders squad? Join us in the xoTribe Members Community today!
Featured Image via Netflix/Troy:Fall of the City
Keep reading...
Show less
Dear You:
Dalton.
Khalante.
Khlante's good friend CJ.
Calil.
Denzel.
Some white boy - maybe Tyler?
A more familiar white boy, Andrew.
Two boys in one night.
Two at a business competition, separately.
You will sit, at seventeen, assigning each boy that has been inside you a finger. You soon run out of digits, and return to your left thumb to reassign.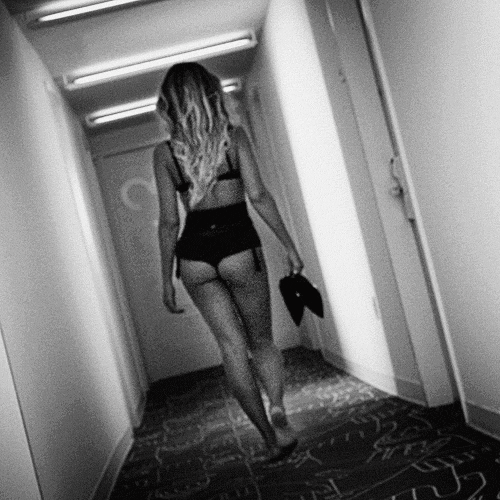 You will know the gynecologist at the free clinic you're going to tomorrow will ask you how many. You have insurance, but you're going there so your parents will not ask you, "How many?"
By the age of eighteen, roughly fifteen boys will have known you.
Known you more than six inches deep.
They will have gathered data from late night rounds of 21 Questions, known bits and pieces of the pidgin English your parents speak, they will have known that either because of their jealousy or your selfishness or some combination of the two, you just couldn't seem to keep a girlfriend.
Three were boyfriends.
One was a best friend.
One was a lover.
The rest, buddies, desires, escapes, f*ck-it-I'm heres or f*ck-it-why-nots.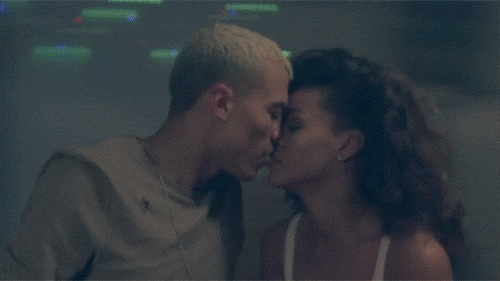 These boys and their collective knowing will be a secret you keep until your quarter life, because teenage girls are known to be fast, but the way you broke the speed limit was nearly felonious.
And I mean, if your body count is news, your criminality is too.
But like crime, the shaming of adolescent sexuality a construct, one well-intentioned at best and harm-inducing at worst.
You did not f*ck out of a place of deep despair or desperation.
You did not f*ck because your father loved you wrong or not enough or not at all.
None of the normal tropes of teenage angst spread your legs.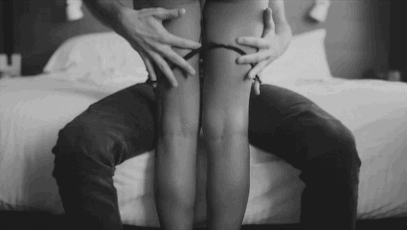 You f*cked because you could.
You f*cked because you liked it.
You f*cked because it was the one thing you should not have as you filled your life with shoulds.
You climbed out windows and off decks, into Ford Explorers and into unmade beds to make a life outside your accomplishments.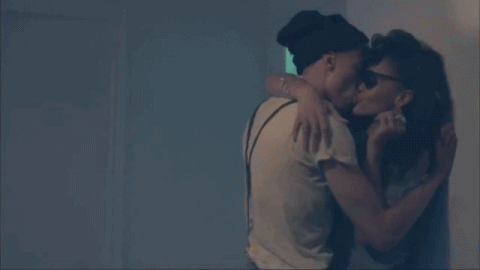 As you racked up A's and awards, theatre roles and presidencies, you just wanted the freedom to be as average as everyone else was allowed to be.
You will hear people talk about their hoe phases as sin and scandal and it will make you cringe.
Your hoe phase was an enlightenment.
You learned who you let in you could hurt those on the outside.
You learned that sex could leave you feeling like a goddess or like nothing at all.
You learned to be vocal and unabashed and relentless in your pursuit of satisfaction.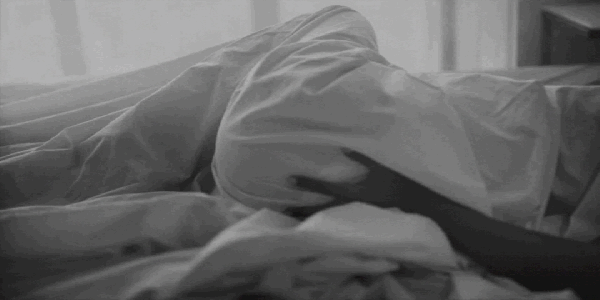 But perhaps it was a miracle that you walked away from fifteen boys physically unscathed, unscarred, un-scorched.
If you could do it again, you'd have slid two or three more condoms down three or four more shafts.
If you could do it again, you would have needed to procure a pack less of Plan B.
You'd treat your body like the fragile thing you know it to be now.
And, on an unrelated note, you'd skip out of Andrew's uncircumcised, pink peen.
But because you did the best you could while the world told a black girl to be sexless and sexy and available and unattainable all at once, because you did the best you could when dating was prohibited, while hormones flowed uninhibitedly, you, at your quarter life, will be okay.
You will be better for your hoe phase.

Love,
You.
xoNecole is always looking for new voices and empowering stories to add to our platform. If you have an interesting story or personal essay that you'd love to share, we'd love to hear from you. Contact us at submissions@xonecole.com.
Keep reading...
Show less
I purchased my first vibrator from Amazon a few months ago but barely touched it. I was still a little leery about having one despite receiving a couple "welcome to the club, girl" texts from my close girlfriends. I felt that this purchase ushered me into a new level of adulthood: self-pleasure.

I used it a few times here and there, but never fully got into it – not until this fifth time. I decided to set a mood; I poured a glass of red wine and turned on my favorite sex playlist. I dimmed the lights and started slow. To spare you the details, not only was it magical (finally), but making myself orgasm changed the way I approached sex going forward.
So many of us are conditioned to believe that sex is only for the enjoyment of men, not women. We're told that if we actually enjoy sex, and choose to have it to please ourselves, we're either selfish or whores – or selfish whores. We're implicitly taught that we are merely to be of sexual service to our sexual partners.
I carried this ideology with me for most of my sexual life, feeling that my body — and ultimately, my good-good — was for the explicit purpose of birthing babies and pleasing men. So, I did just that: had sex for the explicit benefit of my sexual partner. I did what they most desired (within reason) to make them orgasm. Whatever position they wanted, they got, regardless of if it felt good to me or not. Most times, I encouraged them to climax before I even thought about getting mine.
Even my moans were manufactured to make them feel like they were doing something they weren't.
It's not that I didn't enjoy sex – some of my partners were top notch – but sex felt more like a chore than a source of pleasure. My boyfriend wanted some, so I would give it to him despite me not actually being in the mood. Even as I got older and set my own sexual boundaries, I still did so with the man as a priority. I had the p*ssy power, but was still participating for him not me.
Masturbating was different. It was the one moment that pleasure was a priority for me and not anyone else. I was doing this to make myself feel better independent of a man. I wanted to be pleased without feeling like I had to please someone else in return. I wanted to feel good, even if it meant doing so myself.
Masturbation allowed me to do what I wanted, how I wanted, when I wanted.
It was liberating!
But not only was this new level of self-care extremely satisfying and freeing, it also changed the way I showed up for myself sexually, which helped improve my sex life. Here's how:
I learned my body.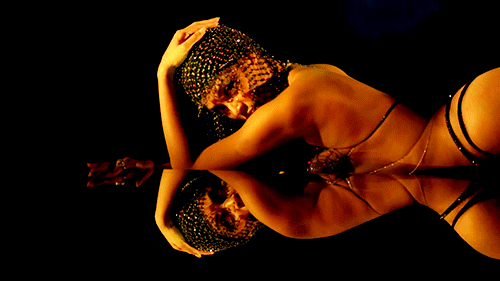 This is a major key. Sex videos and karma sutra books offer great tips for spicing things up in the bedroom, but the most effective way to do so is to learn your own body. Giving myself the time and opportunity to explore myself, helped me identify what truly feels good to me without being swayed by the look of pleasure on my partner's face. This helped me identify what to ask for during intercourse. While many women may despise having to "teach" their partner how to please them, masturbating gave me comfort in doing so.
Men aren't afraid to do what makes them feel good during sex, even when the position is uncomfortable for women. They know what they like and they go for it.
Having finally learned what made me feel good, I started to do the same. Before this new exploration of self, I knew what felt good to me, but I didn't know what would make me climax. I left it completely up to the guy, who didn't know himself because he was too busy trying to get his (I can't blame him for that). Learning what made me climax helped me whip out the moves my body adored. I now knew what worked for me and I would stop at nothing to get it.
I became more comfortable with my sexuality.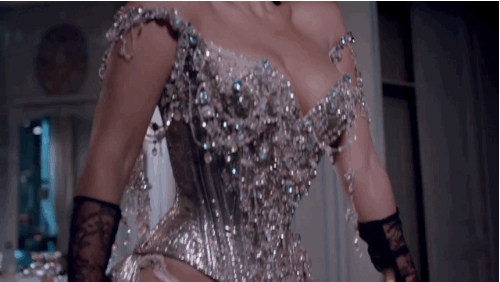 I was a sexual person, and was generally okay with that, but the root of my sexuality was to benefit my sexual partner – not myself. I spent countless nights reading the face of my boyfriend to see what sex move was his favorite. I committed myself to pulling out his favorite moves, but not nearly enough time trying to master mine. Part of it was because I didn't even know what mine were (see #1), but the other part was because of the common narrative that women ought to serve and please men. Exploring masturbation helped me reject those notions and settle into me, sexually.
The more I did it, the more comfortable I became with the idea of being pleased. And that idea helped me become more confident with enforcing my own sexual demands. I wasn't afraid to ask my partner to do things that I knew would please me. I grew more comfortable with trying new things to see what worked for me. I became less worried about not doing his favorite things, and more focused on creating collective pleasure.
I didn't need a man for sex anymore.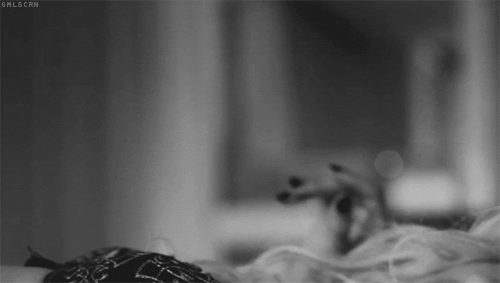 There's nothing quite like skin-to-skin intimacy, I must admit. But learning to masturbate and please myself made it incredibly easy to cancel any man that couldn't rise to the occasion. I didn't feel the need to fake-like someone or to massage anyone's ego anymore. If all I wanted was sex, I didn't feel the need to placate to appease anyone – I could just go home and let my rabbit do its thing. I had a new sexual expectation, and if it wasn't met then it wouldn't happen again.
This gave me a level of confidence and control that allowed me to dictate when, where, and (most importantly) how sex happened.
Sex got better overall.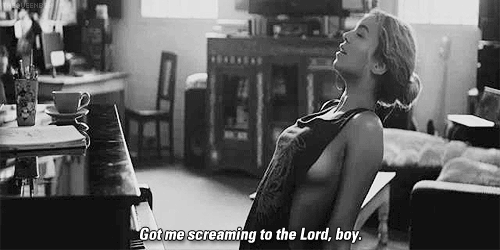 Knowing what I like and being able to communicate it to my partner helped improve our sexual performance drastically. It no longer felt like an item on my to-do list, rather, it was something I actually wanted to do knowing that greatness was on the other end. This not only enticed me to want to do it more frequently, but it also allowed us to be more spontaneous with what we were willing to try. I stopped settling for sex that I knew pleased him, and started encouraging my partner to rise to the occasion of pleasing me too.
Sex became so much more enjoyable and pleasurable for us both – and with us both getting ours, things got much better.
Everything I thought I knew about sex before my rabbit was disproved after I learned how to please myself. My sexual encounters post-masturbation have been heightened by self-awareness and a demand to also get what I give. I am now equally focused on being pleased as I am about doing the pleasing.
xoNecole is always looking for new voices and empowering stories to add to our platform. If you have an interesting story or personal essay that you'd love to share, we'd love to hear from you. Contact us at submissions@xonecole.com
Keep reading...
Show less
You know what's better than a plentiful bank account, nice clothes in your closet, or even a ton of followers on the 'gram? Peace of mind that everything that belongs to you, will be for you.

It can sometimes feel like God has forgotten about you — everyone else is leveling up in their careers or relationships, and you're over in the corner just wondering what's supposed to be happening next. Trust me, I understand.
For years, I hustled and hustled and hustled, grinding to be taken seriously in my industry, oftentimes putting in the grunt work while I looked to my left and to my right and saw people passing me up the ladder because they knew someone, had "the look," or just knew how to finesse. I learned about betrayal the hard way, first-person and up close, as I saw people who welcomed me into their circles only to see what resource I could provide to them.
It is inherently a hard lesson for anyone to learn, especially a person such as myself who genuinely tries to see the good in people and will extend herself to the ends of the Earth to help others.

I found myself looking in the mirror, asking God where was I coming up short, how was I not progressing like others, and why the same people I saw cutting others down were being praised while my work was still unknown and unseen?

Exodus 14:14 says that God will fight for you, but the only thing you have to do is be still.
So often, I feel like we're taught to grind and hustle, always fighting for the next moment and the next thing. However, His promise to us already confirms that He will fight your battles: the naysayers, the haters, the stressful person on your job, that family member, that money situation, etc. And so often, we get caught up in fighting and pushing, that we stand in our own ways of success and promise. When I learned that God was literally just waiting on me to step back and trust him with the situation, that's when my life turned around in ways that offered me imminent knowledge of the power He holds.
When you remember, and I mean TRULY remember, what God has promised for you, you stop worrying about everyone else.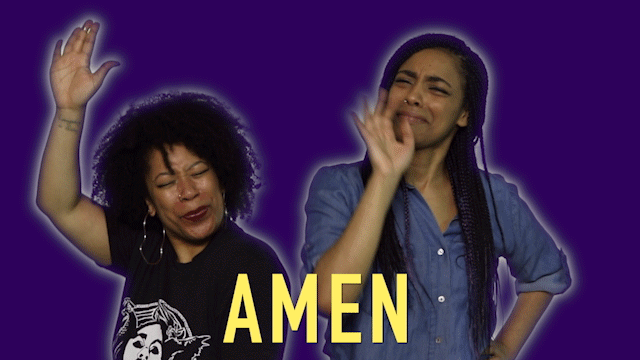 media.giphy.com
People who used to be able to provoke your spirit can't shift your mood anymore. People who put on a flex for social media don't upset you anymore. Because you know that God will honor YOU and your requests made onto Him, especially when you've put in the work, he's not going to pass you over.

Okay, let me break it down just a bit for anyone out there who currently finds themselves in a situation where you feel like God isn't looking out for you or that He doesn't see your problems. When you are walking in the fullness of God and what you know He can do for you, certain situations and people become trivial. Almost like, worrying about something the size of an ant when you have an entire world or continent to study.
When you understand how things are meant to work for your good, you will see that things really don't have to upset you.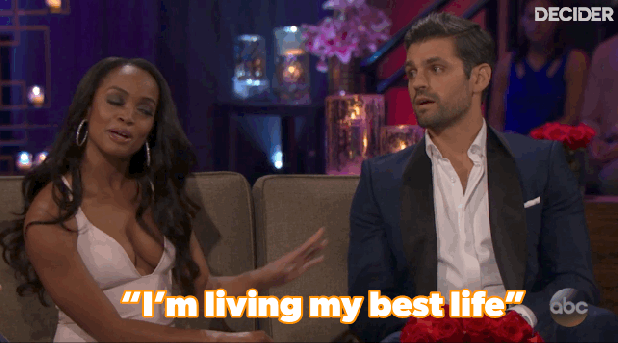 nypdecider.files.wordpress.com
You don't have to operate at a low frequency to get the things you want out of life because you already know that they are going to be yours when the time is right. You don't have to get caught up in small or trivial things when you think about all that God has for you in the long run. I realized that the world can give you a lot of things, but it can't give you peace. It can't earn you respect or honor. I will proudly take a peaceful mind over a buzzing social thread, or popularity that is fleeting.

At the end of the day, God's looking out for you, so don't worry about what everyone else is doing. Don't worry if you don't have what you think the "perfect" life is yet, or are where you want to be in life.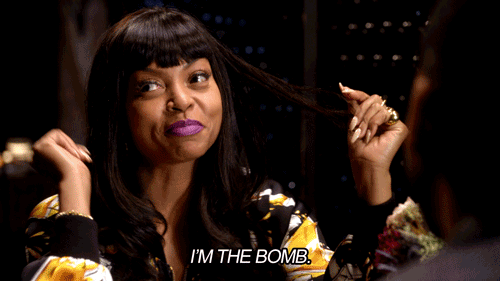 assets.rbl.ms
Just do what you're supposed to do, so that you're where you need to be when He's ready to shower you down with blessings!

Featured image by Shutterstock
Keep reading...
Show less
Growing up, I was made to feel like I was the problem and because I was in the midst of puberty, it was easy enough to use the misbehaved teenager as the scapegoat.
I recall my mother holding me responsible for her marital issues. Even more vivid in my mind, is being called an ungrateful b*tch for wanting my biological father to participate in debutante with me (a long story for a different day). And worst of all, I remember believing these things.
As I grow both in age and in maturity, I have come to see things with my mother for what they are: toxic.
Although I know of some of the struggles and hardships my mother faced growing up with an absentee mother, I can't pretend to know everything that comes with that baggage, nor would I dare to share a story that isn't mine to share.
What I do know is that she has beaten the odds like crazy, and as a result so did I. Statistically speaking, nothing about her childhood circumstances would have predicted a future as bright as hers. Not then, not in the years she worked to escape an abusive marriage, and not even now, after we've already witnessed the unimaginable watching her negate almost every statistic spewed about the future of teen moms.
In so many ways, she's won. But in never truly dealing with the trauma of her past, she's at risk of losing a lot more by isolating the people who love her.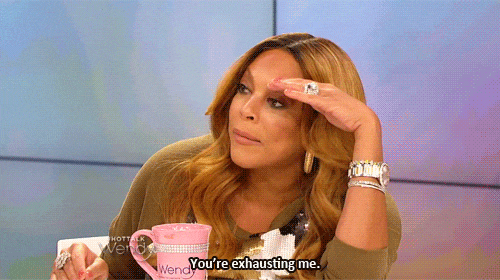 My sister has already begun to feel the despair of our mother's behavior. She told me not too long ago that she feels like dying some days due to our mother's draining and constant negativity. My mother continues to push my brother to perfection, begging him to "man up" when he shows his more shy and reserved qualities unfit for her, tragically unable to see how this only hurts him.
In learning that "broken people break people", I've also learned to dial back my anger and evaluate my own expectations of who my mom should be. I'm understanding the importance of meeting her where she is but in turn that means recognizing where I am.
At the moment, as I work towards improving my own negative qualities, that means choosing the preservation of my own well-being over our relationship.
Toxic parenting is a vicious cycle of learned habits that are consequently passed down from generation to generation, if and when they are not corrected. Nonetheless, working through toxic shit also requires us to rise from our own sunken places, even though we are sometimes unable to recognize that they exist to begin with.
Because of this inability to recognize what's packed away in our baggage, there are a whole lot of kids taking on the unresolved issues of their parent's past. This baggage carries over into that child's own adult life, relationships, and parenting methods.
In being able to label my mother's behavior, it gave pause to my past, present, and future. I was able to undo some of the hurt from my adolescence by understanding it wasn't all in my head. I was able to pinpoint the ways that I'm like her, as well as work toward changing in hopes of not carrying out this particular part of her legacy.
It seems that we've put so much energy into focusing on the threat posed when a father figure is not up to par, that we've completely neglected to inform and check mothers who pose the same threat.
Children fall through the cracks of toxic motherhood everyday, but there's little to nothing being said about it.
We as a society have normalized behavior that is actually toxic. Toxicity comes in many different forms and levels. These behaviors include jealousy, manipulation, and gaslighting, as well as constant criticism, never allowing you to speak without judging, dismissing, or berating you. Then, of course, there's playing the victim. Whatever pretty packaging that toxicity comes in doesn't negate the fact that it's still just that.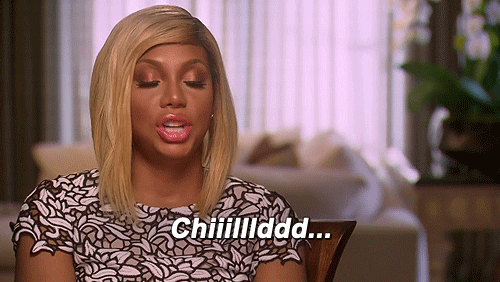 Cutting off parents, especially our mothers, is not always an option, and it's certainly never the easy option. But here's a word as someone who is putting in work now to ensure that this toxicity ends with me: I'm not in a place to tolerate negativity from any source. To be real, I have enough negative energy circulating in my own mind, there's no need for me to take on hers as well. If that means distancing myself from the woman who carried me, I'm prepared to be OK with that.
We're often told to be forgiving because of the circumstances that shaped our mothers, but at what cost?
Forgiveness should never mean sacrificing your sense of self, peace, and happiness.
My mother has dealt with a lot of heartache in her life, including a mother who was far more toxic and unstable than she is. As much as I empathize with all that she endured, it doesn't grant enough mercy for me to lay myself on the cross for her. The more I grow, the less willing I find myself to go back to a place where her psychological abuse is acceptable and tolerated simply because she's a better version of toxicity than her own mother.
We accept the love that we think we deserve, and I've been far too lenient in what I'm willing to accept from all parties involved. And, when I think of the type of behavior I overlook in regards to my mother, I know it's something I'd never consider entertaining if it were my partner, friend, or anyone else. At least not anymore.
With that in mind, I know I deserve more than what my mother can offer me right now and in order to seek it out, I have to respectfully decline her love...and so I do.
xoNecole is always looking for new voices and empowering stories to add to our platform. If you have an interesting story or personal essay that you'd love to share, we'd love to hear from you. Contact us at submissons@xonecole.com
Featured image by Getty Images
Keep reading...
Show less
I remember the first time I thought my dad overdosed.
I was eight years old and home alone. I pushed him over and sat by his side until he eventually threw up. When I saw that he was going to be okay, I got up and went into my room, and we never talked about it.
Growing up, I saw very few examples of Black love outside of the home of Cliff and Claire Huxtable, or even the acquired loves of Whitley Gilbert and Dwayne Wade. I grew up in a community where black girls like me were expected to be second-class students to the white kids in the classroom, where we were more expected to be a teen mom, strung out on drugs, a high school dropout, or standing on street corners to make an extra buck. I grew up in a family where women stood by their men, not because they were weak, but because they were in fact strong and determined to hold a family together. I have a mom who I adore more than life itself, a mom who made every sacrifice for me to have as healthy of a life as possible with minimal reward for her. She's someone who I always commended for her courageousness, and most importantly, her huge heart. She is undeniably my best friend, the one person whose love I truly can't live without.
I don't remember my dad ever telling me he loved me, but in my heart, I at least felt he did.
I remember working hard in school, determined to not become a statistic, or a byproduct of a society formulated to destroy black people through systemic oppression. That's one thing he did stress: Education. Education was everything to me, and it gave me the wings to dream outside of the confines of my situation or my scenario. My dad was stubborn as an ox, but one of the smartest people you'd ever hope to meet. And it was that faith in him, in understanding that behind those eyes was someone whose intellect I wanted to mirror, that kept me when I realized his alcoholism was coupled with drug use.
When the news broke of Demi Lovato's hospitalization after an apparent heroin overdose, I felt my body freeze.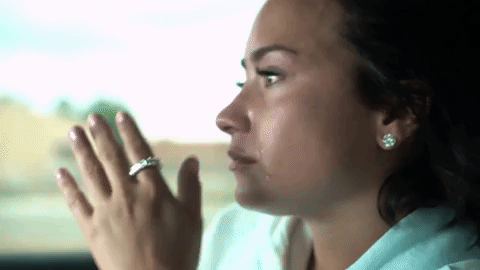 It was a feeling I knew all too well, one that's riddled with doubt, fear, stress, questions, and prayers. You remember, just days prior, them being okay, and then, this. I scrolled down social threads, reading comments that ranged from prayers and concern to judgement and doubt. How could she just break her sobriety after six years? Doesn't she want better for herself? Why wasn't anyone there to stop her? Doesn't she love herself? I knew in that moment that people just wouldn't understand.
First things first: Addiction is not a choice, it is a sickness.
Repeated drug use leads to brain changes that alter the person's self-control and more or less forces the urge to take drugs. As the brain alters itself, the high feeling diminishes, which is why there is a constant need for the "next" hit. For some reason, people have an idea that one can just put a drug down and resume life normally, almost as if drug usage is a daily choice like which pants to wear or what TV show to watch. I don't know anyone who makes a constant decision daily to hurt themselves and those around them. Most times, I'd talk to my dad the next day, asking what he remembered from the day before. His blank stares proved that it was a blank page in his book of memory, a memory only those who felt his impact would actually remember.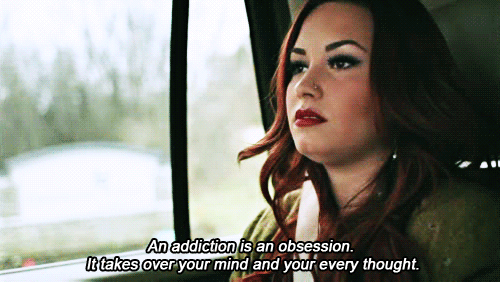 Addiction is not a linear thing — there is no clear beginning, middle, and end.
Like almost anything else, relationship patterns and retention rates for prison systems come to mind, those who have had a previous addiction are inherently predisposed for it to happen again, easier than someone who may not have previously had one.
There can be periods of time where everything is up, and other times where everything is down. There can be moments that it circles back around, and other times it just feels like it's fleeting. I remember moments in my life where it seemed like my dad and I were finally mending our relationship: Laughing, joking, hanging out, almost like nothing had ever happened. Then the next day, he'd become someone I didn't recognize but knew all too well: Argumentative, violent, and self-serving.
The person who would leave me in the car and go into buildings for hours at a time, the person who wouldn't come home and then would text me the next day, the person who would knock everything off the walls when he did come home, and I'd wait until he went to bed before picking everything up and hanging it before the sun came up.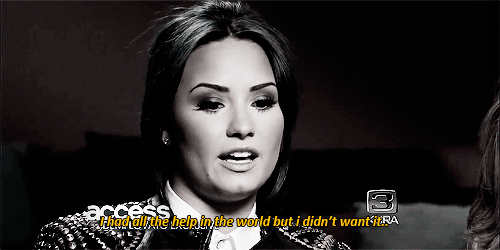 To explain love to someone has always been a hard thing for me, mostly because I undeniably know what it's like to love someone for better or for worse. It normalized trauma for me, making me feel like that type of ride or die love was healthy or commendable. To love someone in spite of themself, in spite of apologies you will never get and time you will never get back. To love someone, just hoping that this time, the high lasts a bit longer, and if they fall, they won't be down as long.
While I have no authority to speak on behalf of every person who has ever had a family member suffer from addiction, I have learned a few things along my journey. First, programs and counseling for the person are stepping stones, but they are not an end-all-be-all. These are programs that are put into place to help with sobriety, but also for people to learn healthier coping mechanisms and, hopefully, how to identify triggers.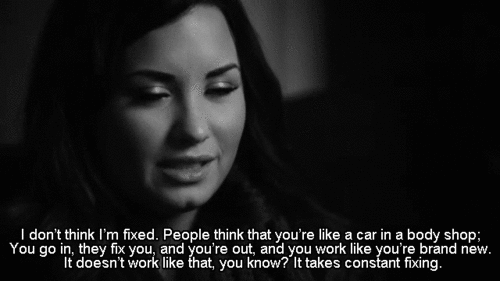 Passing judgement on someone who is struggling, whether you think they are trying to help themselves or not, helps nobody.
Condemning someone who has previously gotten help but who has relapsed is also not helpful in any situation, and is no more likely to yield results. Also forgetting the grieving of family members, or the questions of why we "allow" someone to do this to us, is completely dismissive. I'm willing to bet my money on an idea that nobody wakes up wanting to be addicted to a substance, and no family member wakes up hoping they stay that way. We don't "allow" people to be who they are, but we would rather be supportive guides than the alternative, and in Demi's case, I feel the pain on both ends of the spectrum.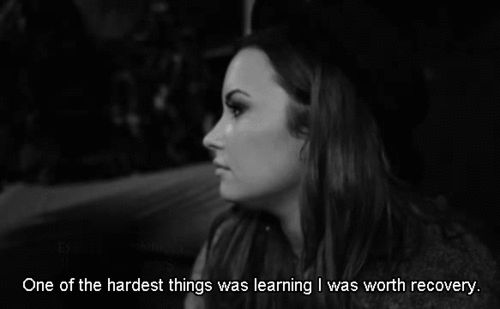 Addiction is never a pretty thing, but idealizing some happy fairytale or wondering how a person could relapse isn't just unrealistic, it's totally unsympathetic.
When I have felt pain and anger, I have practiced love onto others and onto myself. I have understood what a peace that surpasses understanding looks and feels like, and I extend that onto others as I pray for their healing and wellbeing. I practice an idea of selflessness and support, and encourage those to the best of my ability without risking my own personal health or safety. While I may never have those childhood memories I once wanted, or even the father that came to every game and showed healthy love, I've learned how to love myself to not become a byproduct of my past.
I've learned what it's like to be a beacon of God's light in a world filled with pain and turmoil, and what it means to not hold judgement towards the people in my life still working to get it right.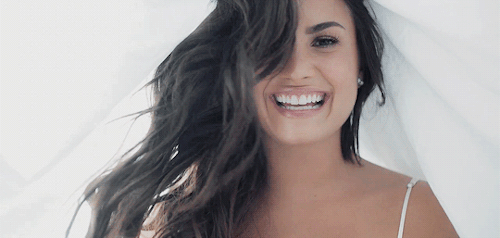 My heart goes out to Demi and her family, and for all those who were quietly reminded of their own past during this moment.
If you or someone you know is struggling with substance use disorder, text Crisis Text Line at 741-741 or click here.
Keep reading...
Show less