Nikki Walton
(Curly)Nikki Walton is an industry-changing beauty blogger, TV personality, best-selling and NAACP Image Award Nominated author, and licensed psychotherapist. She regularly shares under the IG hashtag #BeHerNow — encouraging women to not 'become' in time, but to BE the best version of themselves, now.
This post is in partnership with Macy's.
I cancelled winter this year and lived the dream of perpetual spring in the humid, subtropical climate that is Clearwater Beach, Florida. I also lived, perpetually, in the same set of fair-weather attire, completely exhausting my wardrobe. So, I'm doing a hard reset and springing (see what I did there?) for a whole new situation!
Whether you're like me, or just looking to acquire a few, fresh pieces, now is the perfect time to take stock of what you have, assess what you need, and even completely reinvent your style.
Fashion today no longer tells you who to be, it helps you become more of who you already are. That's why Macy's expertly curates the fashions that inspire and reflect your unique brand of style.
Top fashion influencers, Amanda Korina and Amina Marie will take us through the Top Spring 2020 Trends, and help you completely revamp or simply breathe new life into your wardrobe!
Chic enough for the city and cool enough for the desert, tonal dressing is moving beige into bold new territory. In addition to neutral jumpsuits and dresses (like Amina's snake print shirt dress), and matching tan tops with white bottoms and neutral shoes, bags and jewelry are trending, too! Check out Macy's neutral ground accessories to pair with all your utility and garden party looks!
Head to your nearest Macy's or jump on Macys.com to get your hands on these looks and more! #MacysLove

Featured image courtesy of Macy's
This post is in partnership with Reflect Beauty Awards.
On most days, you'll find me in my uniform—fitted tee, skinny jeans, pumps, fresh face, and a red lippie. For years, my whole entire makeup arsenal consisted of a bold lip-stain, a nude lipstick, a tube of mascara, and a rarely used BB cream. I'm that girl that says, "natural, please", when I find myself in the makeup chair because I live for the effortlessly chic look. And when I finally growed-up, and decided I needed a foundation for special occasions beyond my TV appearances and the reaches of my MUA (makeup artist). I wanted my foundation to say "effortless beauty" too. Scratch that, I didn't want my foundation to say anything! I wanted it to be undetectable.
What Makes Clinique Even Better?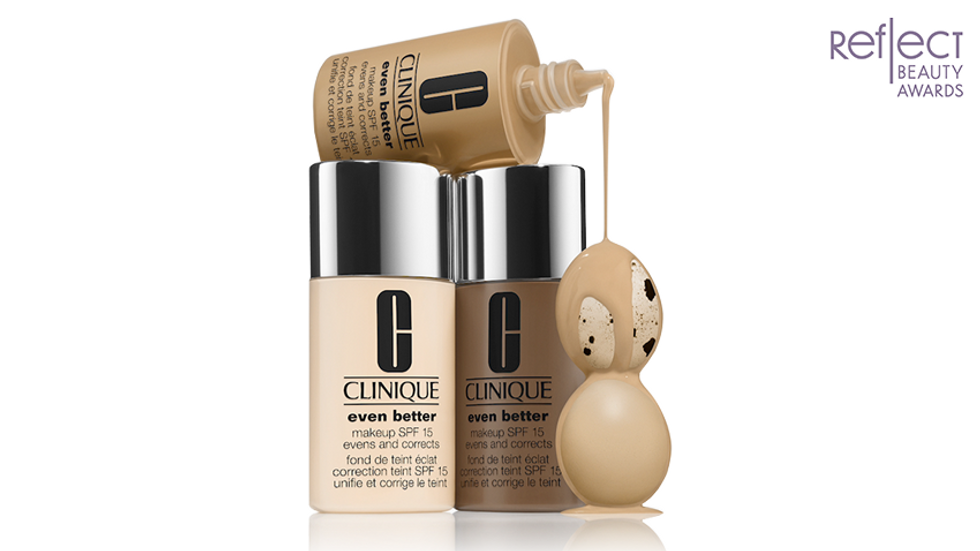 Clinique Even Better™ Makeup Broad Spectrum SPF 15
Courtesy of Clinique/Reflect Beauty Awards
With brand messaging that touts the fact that their foundation leaves a flawless, undetectable finish, I felt like Clinique created a product that was made from me for that reason alone. Add to that the fact that it's paraben-free, fragrance-free, and loaded with Vitamin C -- I felt I entered makeup heaven. Clinique Even Better also claimed to tackle hyperpigmentation, providing women with a brighter, more even-looking skin tone even when they aren't wearing makeup--a biggie for a gloriously-melanated sis like me. And speaking of melanin, the SPF 15 is a bonus all of our regimen's will love us for.
Plus, they're rocking a whole 56 shades, addressing a diverse range of skin tones, and undertones. So, it took my novice-self no time to match my unique brand of awesome - and at 29 bucks, it wasn't even a splurge!

My Thoughts Overall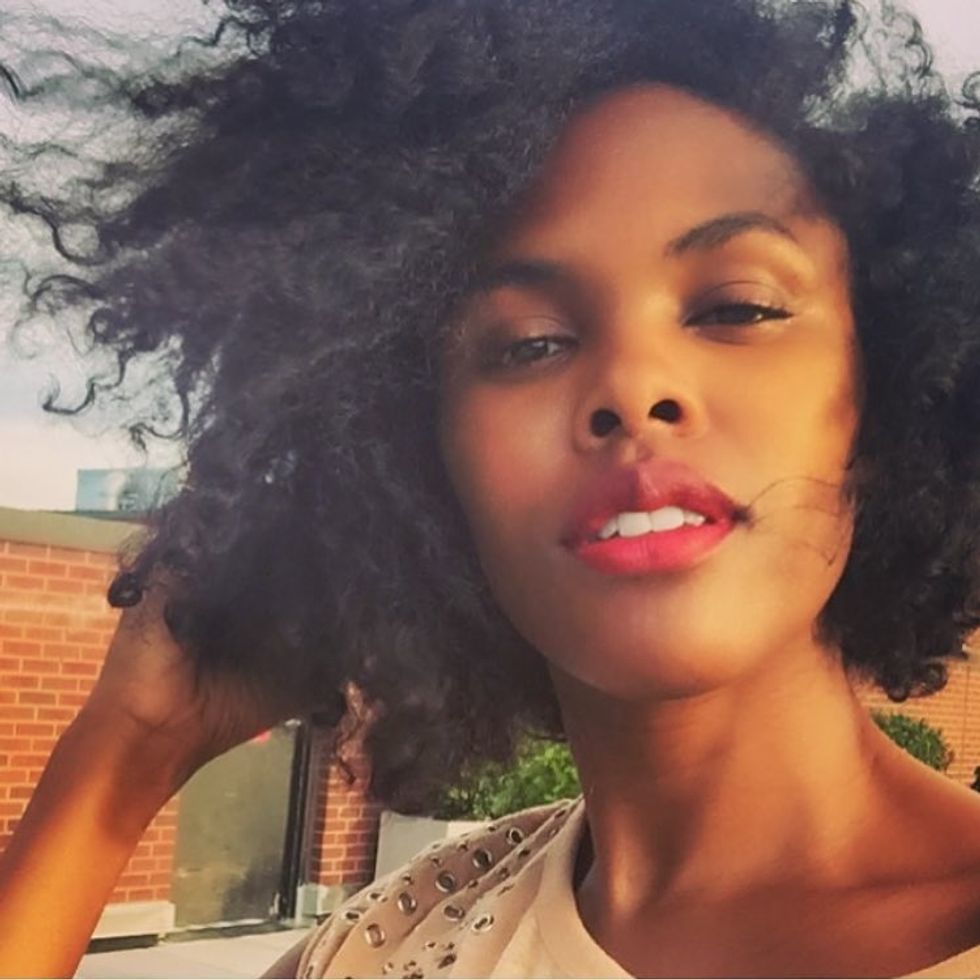 Courtesy of Nikki Walton
When I tried Clinique Even Better Makeup Broad Spectrum, I immediately found it to be super lightweight and airy, which is major because I like my face to look like…skin. I want the real Nikki to radiate through at all times and Even Better allows for this, while effectively filtering and hydrating my situation. It blends easily, leaving my perfectly-imperfect blemishes blurred, but my pores unclogged.
The finish is natural, glowy, and long-lasting, (like all day, despite this incredibly rude Florida humidity). My minimalist makeup kit now has a much-needed new addition, and it yields the filtered, yet natural, fresh-looking face I crave.
Have you tried Clinique's Even Better™ Makeup SPF 15? Tell us your experiences (and shade) in the comments below!
Featured image courtesy of Clinique/Reflect Beauty Awards
This post is in partnership with Reflect Beauty.
The Inaugural Reflect Beauty Awards 2019youtu.be
#RepresentationInBeautyMatters and we all deserve an equal opportunity to not only embrace and find confidence in the hair and skin we're in, but to see ourselves reflected in popular media. And while we've witnessed an explosion in available makeup shades, and products for a variety of hair textures and skin needs, there's still work to be done, progress to be made, and real, lasting beauty inclusivity to be achieved.

Change is not an option here, it's a necessity-- for our quality of life, and for the benefit of the world.
A Seat at the Table
They say the most effective way for a woman of color to affect change, is to not just secure a seat at the table, but to build her own table! And the inaugural Reflect Beauty Awards is such a table--built for us, by us, to achieve real, lasting beauty equity worldwide. We are a force: unapologetically showing up as our authentic selves, drinking our water, eating healthy, not skipping leg day, reading our books, and loving ourselves. We are making the shift from being part of a collective beauty standard to realizing that we are our own beauty standard.
We are YOU. And the Reflect Beauty Awards is our table, so pull up a chair!
The Reflect Beauty Awards
During the next four weeks, we'll be honoring the very best in makeup, hair, and skin products catering to the diversity of pigments, textures, and tones that accurately reflect our inner and outer beauty.
We're celebrating the brands that celebrate us!
Our Reflect Beauty influencers and editors will be tackling our biggest beauty-related issues and discussing the most effective solutions and winning products to get the job done. The best part? Our influencers are choosing and sharing only the products THEY love! This is not a drill! This is not a pay-to-play situation. This is an educational tool, a platform for each of us to learn, and share our experiences, frustrations, and triumphs of being our naturally gorgeous selves!
In addition to having some of the biggest voices in beauty joining the conversation, like Jessica Pettway, Leslie Alvarado, and Sandy Lin, and top publishers on board like us, xoNecole, HypeHair, and 50 Shades of Snail driving the message, partner brands like Clinique and UOMA, are collectively helping to pave the road to inclusive beauty for all!
Stay Tuned!
We've planned a fun, fabulous and educational month for you, and we truly hope you'll join us. Please stay tuned for plenty of amazing tutorials, wholly relevant articles, weekly beauty box giveaways, and even a few special guests!
First up, Makeup Week!
#RepresentationInBeautyMatters #PullUpAChair #ReflectBeautyAwards
Featured image via Reflect Beauty
I just came off of a 4-day silent retreat on a private, gated estate in the rolling hills of Northern California.
I had my husband Gene, my cousin PJ, and the two winners from my #BeHerNow Challenge in tow.I put my phone on airplane mode -- only using it to take pictures on occasion, or to type notes to communicate with folks in the house whenever necessary, without breaking the silence. Unplugging from social was a big part of this for me, and I never once felt compelled to check it!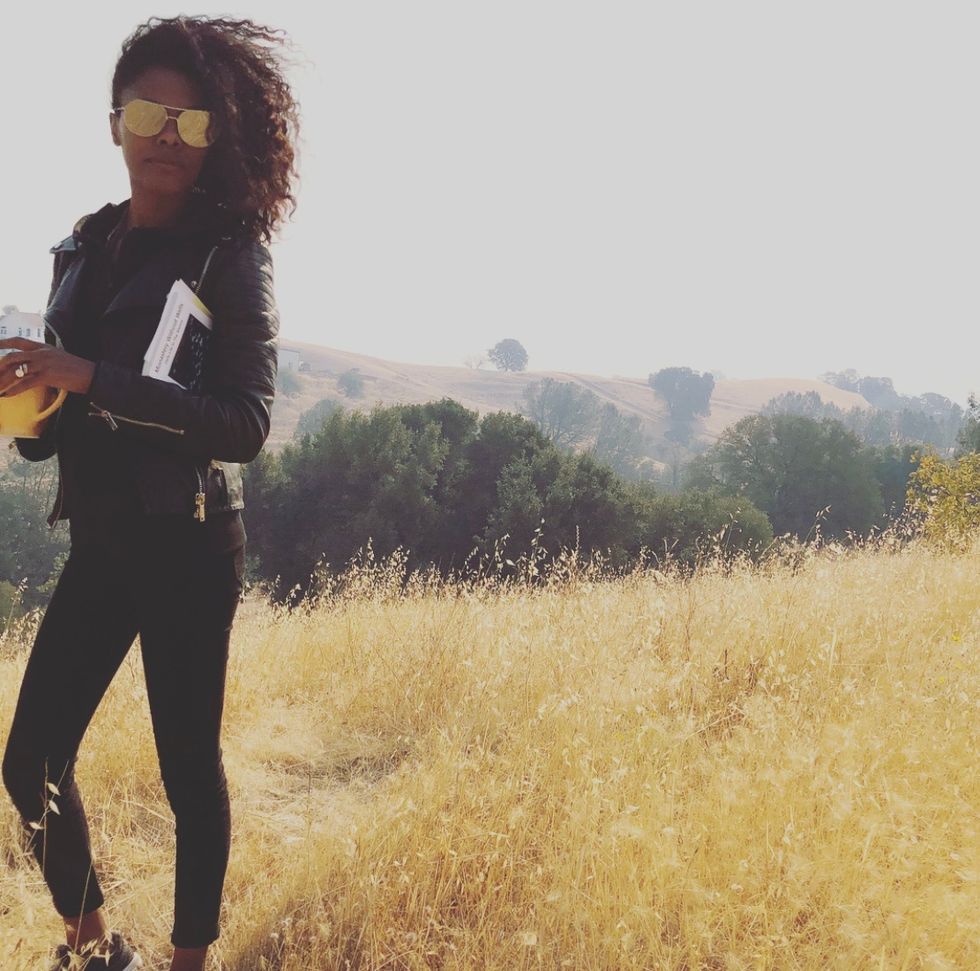 I jokingly, but seriously, told Gene (and crew) in the Uber on the way up the mountain, "Don't look at me, don't try to talk to me, don't touch me! I don't exist to y'all!" They respected that (mostly) and we all did our own thing. I ate minimally, drank tons of water and green juice, attended the mandatory twice-a-day guided meditations, took long, hot showers, enjoyed an insightful one-on-one meditation session with co-founder Ruth, ugly cried cleansing tears, and just generally found myself 'lost in love'.

I also meditatively walked the acres of stunning views, sipped organic teas with honey from bees kept on site, ran from said bees on many occasions, and read books from the extra thorough library. The founder of Silent Stay,Dr. Bruce says, "As awareness rests in the heart, an indescribable joy from within unfolds..."and truer words were never spoken.
I had stumbled upon this effortless subtle joy back in 2015 just before my bestie, Grandma Maxine, transitioned. I was with her when she took her last breath and was tremendously thankful that, as grief descended, there was also a palpable peaceful-joy present in the background. Without that sense of deep 'calmness,' I would've been utterly broken. I knew I had found something precious, so over the next couple of years, I nurtured this inner peace with attention and love, and knew a retreat would be a great way to further stabilize in the awareness of IT.
Ruth shared that this presence is like the ocean, or the sky, always there, you just have to remember to turn to IT, to feel IT. I want that for you. I want this peace for everyone. It's why you are here.
To remember.
To Love. To Be.
"All needs can lead us first to more silence. Daily we can remind ourselves to approach the silence first so that everything we need comes so much easier. When we want shelter we can begin by taking shelter in the quiet presence. When we want food or companionship we can first nourish ourselves with the stillness and let the silence be our closest companion. As we are open, the natural order of things can answer all our needs either directly or by guiding us to the easiest solution. The more we fill our needs with the silence, the more love can reach deeper inside us, bringing the perfect shelter, the perfect food, and the perfect companion who expresses most what the silence wishes for us."

- Dr. Bruce Davis from 'Monastery Without Walls'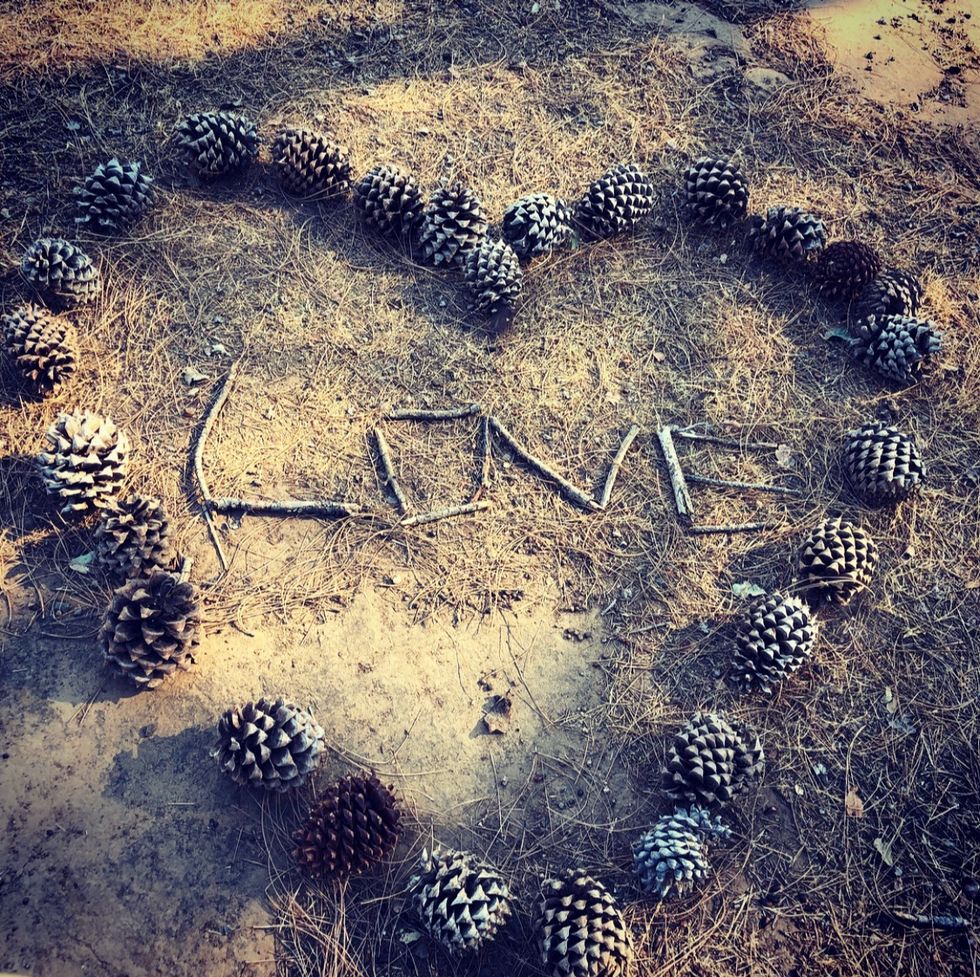 Dr. Ruth told us to grab groceries from the market before we checked in. Once you're in, it's best to stay in for the duration of your trip, to keep the silence. I bought easy stuff 'cause I don't do a lot of cooking, and I wanted to be focused more on meditating and reading, not fighting with the stove and washing dishes. I also washed and styled my hair before we arrived so I didn't have to spend any time wrestling that situation either! I didn't even pack a single hair product! FREEDOM!

In addition to our crew of five, there were three other women that joined us on our stay. It felt so powerful being around them without the need to speak or learn about who they were or where they were from!
In a way, there's more love and intimacy in the silence, even with strangers.
And then, they're not so much strangers anymore. Lots of smiles and a few notes were shared with them.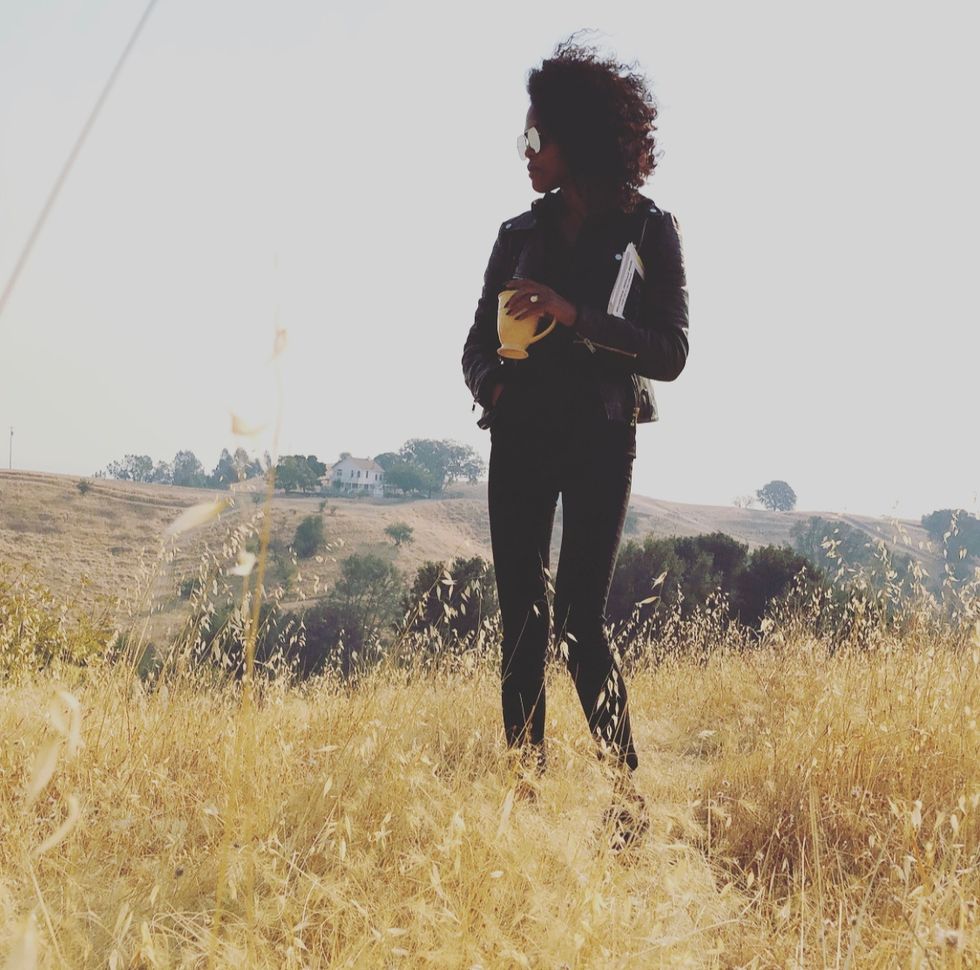 I had never meditated with a group before. After the initial noise from the mind (mostly worries about my stomach grumbles rudely breaking the silence), I found it extremely powerful. I've been home for two days and continue to sit twice a day, with candles and incense! Me and hubby as well as Remonde (one of the challenge winners) have vowed to hold each other accountable and to continue this practice no matter what!

I wholly recommend a silent retreat, and HIGHLY recommend Silent Stay. Dr. Bruce and his wife Ruth, and their gentle, effective pointers and guided meditations, will reintroduce you to your true self, so that you may reintroduce yourself to the world. They radiate love, the views are breathtaking, and the loud silence will soothe your soul. They also take groups to Bali and Italy each year! Treat yo self! xoxo
Originally published on CurlyNikki.