The question I get asked most when I say I lived in China for over two years is, "Do you speak Chinese?"
The answer is always "no". Though I love the culture, history, some of the food as well as the spiritual side of the country, Chinese is a difficult language to learn. From the different tones and what Chinese characters mean and how to use them, I was never disciplined enough for that be a goal.
However, not knowing the language never swayed me from traveling around China. I'm an adventurous person by nature, and most places I visited -- Shanghai, Hong Kong, Macau, Shenzhen and Guilin -- English was spoken. Sometimes in small amounts but spoken, nonetheless.
So, why was I in China? I was an English teacher at a private international language center from 2016 to 2018. For nearly two and a half years, I taught kids and teens basic conversational English skills, and I loved it.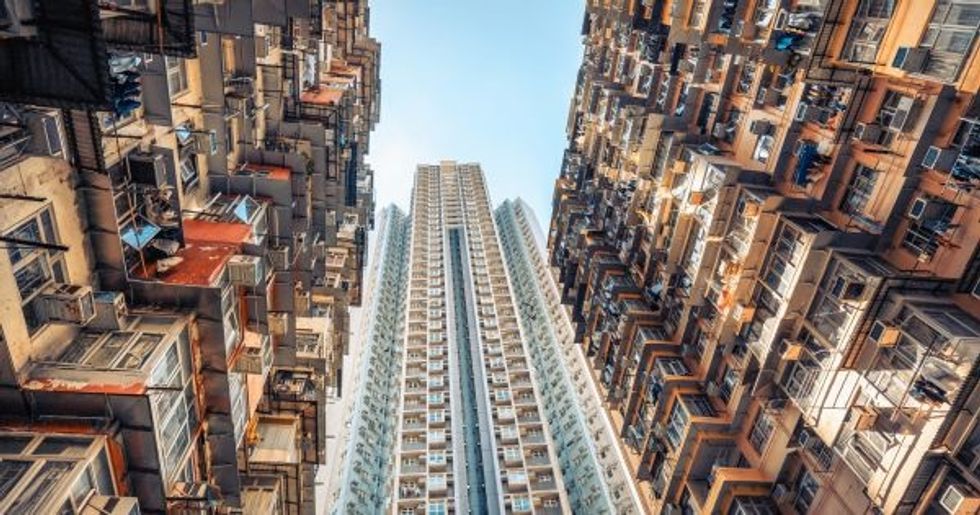 Getty Images
I also loved my tiny apartments.

I lived in three separate places during my time in Beijing. My first apartment in Yizhuang was probably the U.S. square-foot equivalent of maybe 75-square feet. It included a shower, toilet, kitchenette; full-size bed with two large closets; a small seating area and built-in desk. Wi-Fi included. It was cute and comfortable. And I was only a 10-minute bus ride from work.
After my first year though, I wanted to live in the city center. In a trendy area called Gulou. There were popular cafes, restaurants, music venues and the like. I moved into a hutong house with a lovely Chinese roommate who spoke great English and was super helpful. Hutongs are winding alleyways and streets that surround courtyards; they have tons of history and culture in Beijing. It's a very traditional way of living.
Our place was quite charming, modern and renovated. It was maybe 150-square feet with one bedroom, one bath, living room and a kitchen. We had a small bedroom area upstairs aka my loft and writing space. In actuality, the living room and loft were my combined spaces, and my roommate occupied the bedroom. I had a huge mural rendered on the wall (see the photo below) leading up to the loft that tied everything together. I really loved that apartment.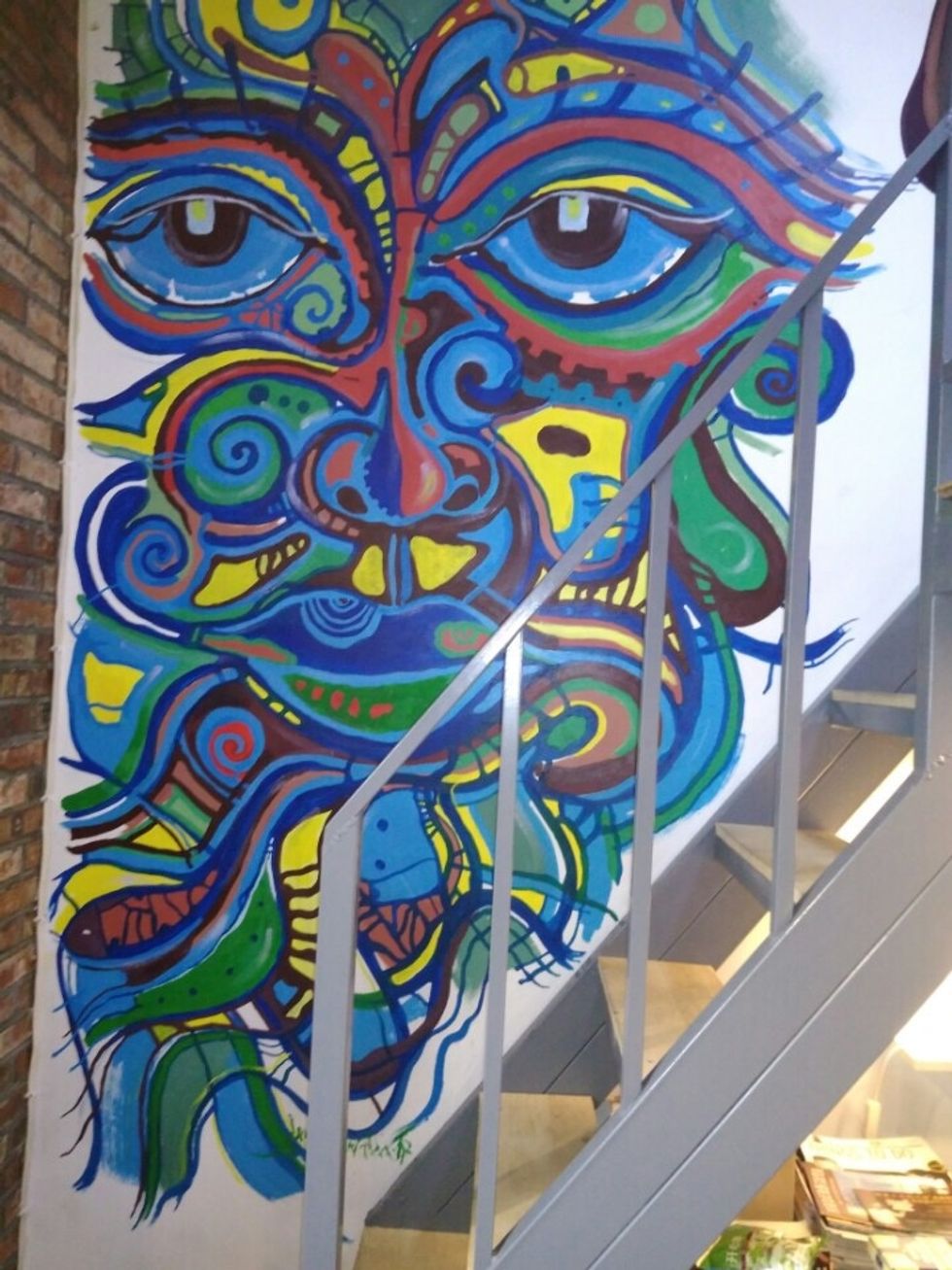 James Sserwadda - Ugandan ArtistCourtesy of ND McCray
What worked well for us was that we had opposite schedules and she traveled to Shanghai two or three weeks out of the month so, I usually had the place to myself. My third apartment was easily a combination of the first two, except it was in a three-story walk up.

I've been back in the U.S. for six months now, but when I moved back, I quickly realized again how much I loved tiny spaces and the minimalism it requires. I also wanted to travel around the U.S. without the confines of an apartment lease.
Therefore, when I came back stateside -- I mostly sought out tiny homes via Airbnb in Austin, Texas. There's a huge tiny house movement in the city. To date, I have stayed in tiny houses, tiny rooms, cottages, an Airstream trailer as well as a converted school bus; any space that allowed me to continue living a simple lifestyle.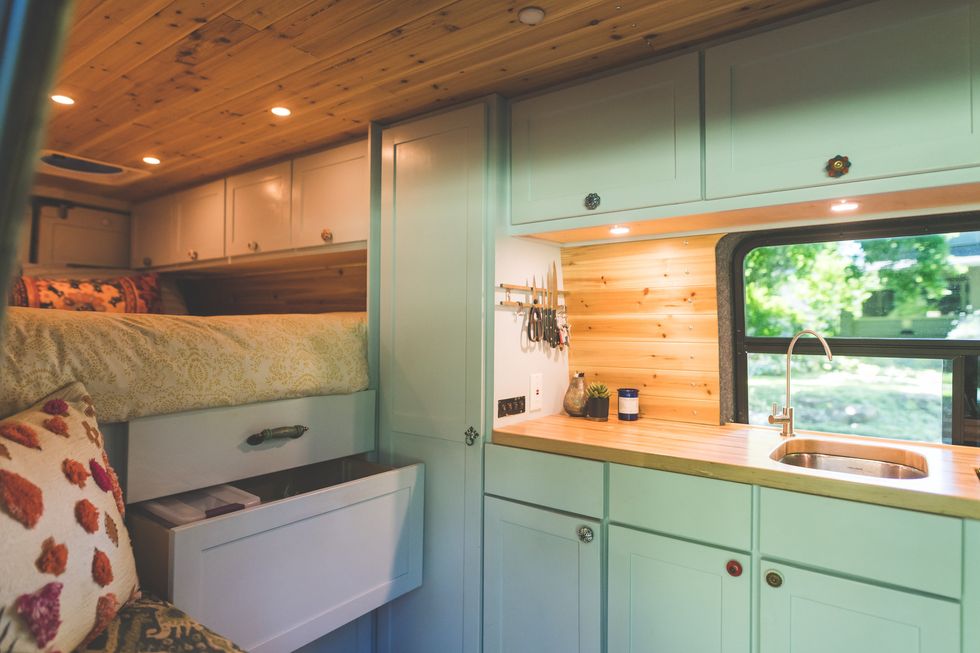 Living in a Van. The sleeping area and bed are on the left. Underneath are cupboards and storage space. On the right are cabinets and a kitchen counter. The walls and ceilings are wood panels.Getty Images
That's when I decided to be about that van life.
When it comes to living in a van, converted or otherwise, being a minimalist definitely helps. I want my van to be comfortable with modern amenities like a bathroom and a shower. Some van lifers do without these things and that's cool for them. I'm taking a full year to plan everything, from the van build to the route. (Check out Forbes.com's "What You Need To Know If You Want To Join The Van Life Movement.")

What appeals to me about RV or van life is the freedom to travel where I want, anytime I want for however long I want. I want to hit up national parks and museums, maybe a festival or two. I'm also starting a blog to document my journey. With that, I'm taking the time to build a financial cushion and freelance schedule that will allow me to work remotely for a specified amount of time. I simply want to fuse my love of traveling with my passion for writing and performing poetry. Every van lifer has their reason for choosing the lifestyle.
I've been to 45 states including Alaska and Hawaii, as well as Haiti, Japan and China, and I know that living small in a big way is the life that works best for me.
ND McCray is a poet, writer, educator and soon-to-be van life dweller hailing from Houston, Texas. Keep up with her story at www.acdjzfnd.com and follow her @1van1love.

Featured image by Getty Images