Michelle Schmitz
Michelle Schmitz is a writer and editor based in Washington, DC originally from Ft Lauderdale, FL. A self-described ambivert, you can find her figuring out ways to read more than her monthly limit of The New York Times, attending concerts, and being a badass, multi-tasking supermom. She also runs her own blog MichelleSasha.com. Keep up with her latest moves on IG: @michellesashawrites and Twitter: @michellesashas
The only thing constant in life is change.

Some changes, like landing your dream job or closing on a new home, are easier to flow with than others. By "others," I mean divorce, getting laid off, having to relocate, or any of the other miscellaneous BS that can happen within a 24-hour day. Going with the flow of life's difficulties isn't exactly easy, but according to LeToya Luckett-Walker, these life changes are a vital part of the journey towards your purpose.
The singer and actress recently took to Instagram to reveal how the unforeseen challenges that she's faced in her life have often prompted some serious growing pains. LeToya took the opportunity to remind us all that the discomfort is only temporary. She said:

"I was sitting here thinking about change today. And for a lot of us, change can be super scary. I, for one, have had a lot change in my life in the last year and a half, and whew it has not been easy."
"But because it would take me doing some stretching on my part, that's where the fear came in, and I am here to tell you right now that there's nothing wrong with stretching...Especially in this time of my life where I am physically stretching, and I might not love how I look all the time, but I know it's for my good. So stretch."
A lot of the times we are so focused on what we want, that when we are faced with a detour, we can become crippled by fear. LeToya reminds us that when we live in the pursuit of our purpose, we will often encounter tragedy or hardship along the way. Although during those times we may become discouraged, we can't get comfortable in our complacency. She said:

"We all came into this world, God brought us in this world, to fulfill a purpose and I don't think he wants us to get complacent and comfortable in our little box to where we are so afraid to think outside of our comfort zone."
The Greenleaf star says that leaving your comfort zone may also require growing out of certain relationships, and that's OK. LeToya said that the key to mastering peace is knowing that all things work for your good. She says:
"Find peace in change. Find joy in it. And understand that everybody around you might not understand it, they might not like it, but that's what comes with growth."
"And sometime you grow out of those relationships, you grow out of your old ways...Keep stretching, keep learning. I learn something different about myself every single day, and I love it. Be proud when you conquer fear."
When we move past fear, we move closer to our destiny. When faced with the roller coaster of life, we have to learn to not only control the controllable, but to embrace the changes that are necessary in order to usher in the things we've prayed for.
Prayer, manifestation, or whatever you choose to call it, is real. But if we stop when we get uncomfortable, it will be almost impossible to actualize our deepest desires. So, like LeToya says: keep stretching! The stretching lets you know that you are on the right path.

Featured image by Jamie Lamor Thompson / Shutterstock.com
Originally published August 22, 2018.
You know you are in the presence of Black Girl Magic when every time words are spoken, clusters of gems are dropped and you realize you need a basket to catch them all. That's the experience I had when I interviewed three of the five founders of CurlFest, the world's largest natural beauty festival. Simone Mair, Tracey Coleman, and Melody Henderson can attest to the fact that the one thing that binds us all together as black women, is our hair. Whether it's kinky, curly, or coily, there is an unspoken connection we have with one another when we're in our natural state. We all have dealt with those difficult wash-and-gos, or the twist outs that didn't work out the way it did for that YouTuber.
Most importantly, we also know what it's like to feel the stares, or hear the negative comments in regards to how we choose to wear our crowns. The founders of CurlFest agreed that there was an undeniable need for a brand that empathized with the experiences of women of color. Melody, who acts as the design guru among the tribe, said, "It was really to fill a need, to fill a void. My background (career in marketing), my whole question was always, 'Why aren't we being seen, why aren't we part of the story?' And the five of us wanted to be part of that solution. How can we, as women of color, in our natural state, in any capacity, be a part of the story?"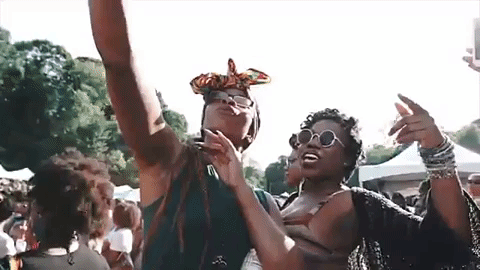 buzzfeed.com
The brand started with five women seeking to create a space for women of color to talk about their experiences with their hair, as well as others' perceptions. It was a judgment-free zone that they soon realized many other women probably need as well. Creative marketing consultant and freelance writer, Tracey Coleman, who makes up ⅕ of the Curly Girl Collective explained, "At first people (brands and press), weren't really interested just because they didn't deem it as important. And as the narrative has changed on what beauty looks like, it's a huge shift from when we started. You're seeing more women of color and women with natural hair in commercials and in movies and in leading roles and all over the world. That's when the media starts to listen, and we're a part of what's driving that."

"The media realized that this was an important story that needed to be told."
Tracey and her teammates have made it their mission to develop fun and unique ways to help multicultural women celebrate their natural beauty. The first CurlFest was launched in 2014, and in just four years, this tribe of girl bosses was able to take their at-home business and transform it into a staple event in the natural hair community.

The founders of CGC are proof that heavy is the head that wears the crown, even if that crown is a mane full of beautiful curls. Simone, who is also an award-winning volunteer, told us, "I think sometimes as women of color, we're kind of a double minority here and naturally have more to prove."
"We kind of have to work twice as hard as some of our counterparts, so there are challenges."
Despite these challenges, these queens are thriving honey, and they shared some gems with me that will help you flourish, too. I got to speak with these ladies more about their roots (both proverbial and natural), as well as how pursuing your passion can truly liberate you from the daily grind and ultimately allow you to develop a profitable business.
What is the secret to your success? How did your brand become so well known in what seems like such a short amount of time?

Tracey: The growth was interesting...there isn't some marketing campaign behind it, or a celebrity that's driving it, or something that happened that went viral. Honestly, it's the energy that people feel when they come to CurlFest and that feeling of appreciation and celebration of who they are. That comes through in what people say about the event to their friends and family, and what they say on social media.
One thing that we've learned is that you can market something all day long, but at the end of the day, it really speaks for itself. The fans actually drove the growth, they decided that they were coming back the next year. Every single year, they're telling their friends, and telling their cousins. It's a blessing not to have to have to market the event because the demand is there.

What do you think was the major turning point? How did you turn your passion into profit?
Melody: I believe that the passion and the profit actually are intertwined. I think we are where we are today because that passion never went away. There's five of us, and we are literally doing this around the clock: putting on something that can support the 30,000 people. But what's driving it is that passion. The turning point really came when brands started to realize that we were bringing them qualified leads.
It's not a commercial you're bringing to the masses. People are opting into CurlFest, people are looking forward to CurlFest for the entire year. So, knowing that from a brand perspective, when you start to talk about revenue and finances, we're telling them "This is your demographic and we're able to tell you what they need, we're able to tell you what's missing, and we're able to tell you how you can plug in."

When we had our first CurlFest, there were two brands on the lawn. So, now you fast forward to this year, it was in the mid-twenties. A lot of that is really based on fostering relationships, building a network, really holding true to what our brand is with no apology.
We typically see the glamour of what success looks like, but not so much the setbacks. With social media, everyone makes it look so easy. What have been some of the challenges that you've had building this business, and what are the ways that you've been able to overcome them?
Tracey: With that type of growth happening that fast, we had to learn really fast. We had to bring on other experts in other fields and people that could support us. We've learned that with the five of us, we all have full-time jobs. You realize that for us to maintain that and to support the growth of CurlFest that was happening so quickly, we had to tap into our village. Most entrepreneurs learn that as you grow, you have to expand to let people help you.
That's really any business, if you're trying to grow your baby, you have to let your village support that baby.
That's what we've done over the years to help us grow so fast.

What does it mean to the team to have so much support for CurlFest from black women?
Melody: A lot of times we don't realize the psychological things are happening because of how society is telling how us we should be. The fact that we're able to play a role in breaking down some of those barriers is amazing. We often marvel at the success of others wondering whether or not we also have what it takes to get into business for ourselves. Instead of being paralyzed by the fear of "what if", be empowered by it.
Turning your passion into profit IS possible. The Curly Girl Collective shows us that when you combine your passion with your drive, determination, and fearless forward progress, anything can happen. Make sure to follow the Curly Girl Collective on Facebook, Instagram, and Twitter for updates and fly content from past events.
Featured image by Cincinart/Shutterstock.com
Tracee Ellis Ross is known for her quick wit, affable personality, and impeccable style as the co-star of the television mega-hit Black-ish. But what I love most about her, is her willingness to be outspoken on topics most important to her. The three-time Emmy nominated actress spoke withInStyle Magazine and dropped some major financial advice that anyone can use.
To me, one of the nastiest four-letter words is "debt"—it grabs ahold of you, and seems to to let go. From student loans to credit card bills and mortgages, debt is a part of life. And if we don't spend "smart", our financial woes will continue to pull us down. Ross says that learning this tip was her key to financial freedom:

"Spending smart is part of my motto in life...I believe that you can feel extraordinary in your life without spending tons of money. I'm a really strong advocate for living within your means and not trying to keep up with the Joneses, because then you don't have debt."
Additionally, Ross touched on the importance of establishing credit as an a rite of passage into the world of "financial maturity".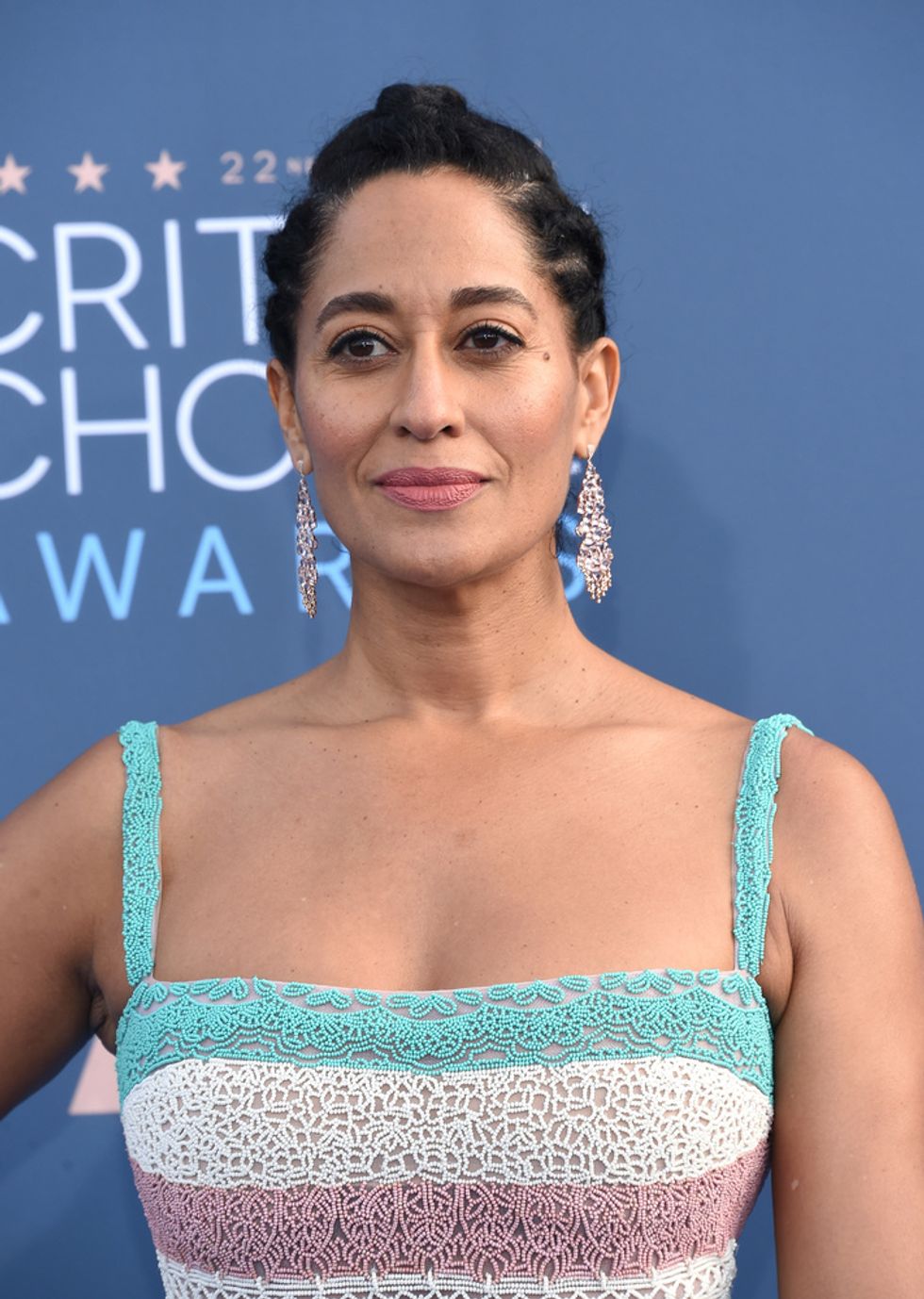 DFree / Shutterstock.com
You can't get credit without already having credit, and although it makes sense to only spend within your means, it is also important to establish your credit history early-on. That way, when you are ready to make bigger investments (like a car or home loan), you've proven that you are, in fact, credit-worthy. She shared:

"Part of learning how to be responsible with your money does require getting a credit card. If you just work with the cash that you have in your pocket, it's easier to know when that cash is done. Same with a checking account. People don't write checks anymore, but I do! Still, credit cards are really important in terms of financial maturity. I remember when I got my first credit card in college—I still have some of the credit cards from back then, actually—and I really gained an understanding of how it works. That's been important in my financial literacy as an adult."
The NAACP Image Award winner also gave some great advice when it comes to our ability to negotiate. As women, we've been pigeonholed into presumably not having this important skill, but Ross says if you know what you're worth, you need to speak on it. Demand your just due at the negotiation table. According to the award-winning actress, we can all support one another a little when it comes to learning his skill.
"Negotiating is a very scary experience because it requires a lot of courage and, to a certain extent, the willingness to lose the opportunity, which most people don't have the luxury to do. It's you saying, 'This is what I'm worth,' and as women, culturally, there isn't a training that supports us in that. That, I think, is what we are attempting to change from a systemic place. It's important to have a supportive group around you that you can use as a sounding board to be smart and creative in your negotiation. [Companies] might not be able to pay you in dollar amount, but maybe there's other ways you can be supported in the work that you do—like your travel expenses or something. There are a lot of ways you can negotiate."
As millennial women, our financial literacy is more important now than ever. We are increasingly starting more businesses than any other demographic, more likely to earn degrees, and are more often the breadwinners of the family. Tracee's advice should encourage us to start having conversations concerning women and financial independence. Tracee says that it's time to eliminate stigma surrounding these tough conversations, because in the end, knowledge is power. She said:
"Women's financial solvency, transparency, and the ability to have these conversations without being afraid are incredibly important things. We have to take the stigma away from it and actually try and make some change, and that will require us having knowledge."
It's never to early, or too late, to learn the ins-and-outs of credit and financial responsibility. It's not only a good idea to learn as much as you can about these areas, it can also be the difference between trying to keep up with the Joneses and actually becoming one of them.
To read more financial tips from Tracee Ellis Ross, check out her full interview here.
Featured image by DFree / Shutterstock.com
Article originally published on July 13, 2018
Divorce is an action that should never be taken lightly. The time spent building and growing with a man, loving him through thick and thin, and remaining vigilant in your vows only ends up feeling like it's *poof* gone, just like that, once those papers are signed. Your families might think you should stay together for the kids' sake or even for their sake, and your friends might think you've made the wrong decision altogether. But ultimately, only you know the real about your "marriage", or lack thereof.
Amid years of cheating rumors, the allegations of her husband welcoming a love child in March with his alleged mistress, various health scares and a stint in sober living, Wendy Williams has decided to take back her power. According to Page Six, Williams, 54, officially filed for divorce from her husband of nearly 21 year Kevin Hunter, citing irreconcilable differences.
If you've ever watched The Wendy Williams Show or have followed her career in any way, you know that Williams has built a life on dishing the dirt on all things celebrity—everything from the humorous to the salacious. But one topic that always seemed relatively off limits has been her personal life. While she and Hunter share an 18-year-old son whom she often speaks of proudly, Williams has always kept the conversation surrounding rumors about her own marriage virtually off the table.
However, when rumors emerged that Hunter was expecting a child with his alleged mistress, Sharon Hudson, Williams took the opportunity to play damage control by saying while she was still "very much in love" with Hunter, the rumors remain just that—that is unless you see her without her wedding ring. Williams revealed during a recent episode of The Wendy Williams Show:
"Anybody who has been married for five minutes or 500 years, you know marriages have ebbs and flows. … And don't ask me about mine until you see [my wedding ring] gone — it ain't going anywhere, not in this lifetime."
Rumors aside, I believe that everyone has at least one deal breaker in any relationship, even marriage. And while we've been raised to believe that a marriage should never end, no matter what, some things just can't be worked though in couples therapy. For Williams, it was a bit of a self-fulfilling prophecy, and her only deal breaker seems to have now broken through. In her 2001 book, Wendy's Got The Heat, the talk show host revealed what would ultimately force her to call it quits:

"The only thing that would make me walk out for good is if he lied about anything – if he was in love, if she was just as successful at what she does as I am in my career, if she had his baby."
Fighting for marriage when you're the only one left in it is like shadow boxing with your own heart. Couple this with inevitabile mistakes we all make as humans, heightened emotions and, at times, very real betrayal, legit pain is involved when making the decision to end a marriage. There is the judgement you feel from others, the rampant feelings of failure, and the loss of your identity: so many emotions become involved, which makes filing for a divorce the single hardest decision a woman may ever have to make.
But having a marriage just to say you are married should never come at the sake of your peace, dignity and respect. Once those are gone, love definitely won't be enough.
I commend anyone brave enough to bear the real pain and judgement that comes with filing for divorce. The stigma alone probably keeps more people married longer than they otherwise might be. I don't hear enough about the actual toll it takes on women, and men, as a marriage falls apart. It's literally like the thing you are fighting for the most is the same thing that is ultimately hurting you the most. Sometimes it's better to just let go. There is something about surrendering and coming to terms with the demise of a marriage that helps begin the process of healing: it's one of the first steps in taking back your power after it's obvious there is no saving the marriage.

I still believe in the sanctity of marriage. A lot of the times I think I still want it. But having been through divorce myself, I know that, ironically, while it's easier to get married than it is to get divorced in this country, the next time I want to make sure that I enter into it fully prepared, emotionally AND spiritually.
Wendy Williams is a lesson in letting go, moving through the pain, and getting the help you deserve, all while keeping a brave face. Her ring may be gone, but the show isn't over yet. It's never too late to take back your power, even if it means losing the very thing you worked for so many years to maintain.
Featured image by FashionStock.com / Shutterstock.com
Anxiety is an invisible doubt killer and the phantom momentum blocker. It rears its ugly head when you least expect, as well as when you expect it the most. Fueled by fear and powered by involuntary paralysis, there's almost no stopping anxiety once it revs up unless you've really practiced techniques that can help ease the symptoms of panic and anxiety.
Recently, Zazie Beetz of the Emmy-winning show, Atlanta, revealed her own battles with a severe anxiety disorder. Although her character, Van, is a seemingly level-headed and calm woman, Beetz told The New York Times that in reality, she's been battling anxiety since she was an adolescent.
Anxiety disorder is one of the most common forms of mental illness in America, with some estimates stating that anywhere from 18-30% of the population is struggling with the disorder. For Zazie Beetz, her disorder is complicated by something that many successful women of color also find themselves dealing with: Impostor syndrome.

Impostor syndrome is the overwhelming fear that despite your talents and achievements, you don't truly deserve your success and often feel like a "fraud" when your hard work is acknowledged. When asked about her Emmy nomination, Zazie said:

"It's just a big part of my life. I think this is actually a little bit weird — it's where my not resounding, complete excitement for receiving an Emmy nomination is coming from; a feeling of complete impostor syndrome, and feeling like I don't deserve it. I don't know … I hesitate saying that publicly, because I don't want to come off like I don't appreciate it."
Despite the glitz and glamour of Hollywood, those dealing with any kind of mental health issue don't exactly find the flashing lights as exciting as others might. Beetz says that within her industry, her validation often comes from outside sources. Most women understand that this external validation is never quite sufficient. Zazie shared:

"It's something really hard to deal with, being in an industry where your validation is only from the outside, especially if your confidence isn't high in your work. I just really want to do good work. That's just important to me, and when something is really being publicly lauded, I just really want to feel like I did my best work, and I'm never sure if I do my best work. That's something I've always struggled with within my work and in this industry."
While she has now developed the ability to recognize that she has not only earned but deserves her place as a top-tier actress, it did take her some time to get to that place. She told The New York Times:
"I've gotten much better at feeling like I have found my place, and like I deserve to be in a place. I've gotten much, much better at being able to deal with feeling very insecure or very anxious, or having panic attacks on set. But I think initially for 'Atlanta', it was my biggest opportunity. It was my first time showing my face to the world. So, I was very incredibly terrified of that."
While some of us can relate to Beetz in regards to her fears of not being good enough, while simultaneously battling anxiety, I bet many more of us can relate to the feeling that we might have only been hired for that position in order to fill a quota.

"I worry more that I'm being cast just because they need to fill a brown quota, and because they feel obliged to do that, and not because they actually want me. I feel like, does that mean my work isn't as good? Would I have been cast if there wasn't public pressure now to make sure that one brown face is among the sea of white? So, that's where I believe that comes from, this feeling like I'm not actually maybe wanted, and that they're just feeling pressure to want me. Obviously, I think there is genuine interest and I have genuine relationships with people, but also I just happen to be coming into the industry during a time where this is a huge shift. So it's an adjustment."
When we are able to find worth in ourselves and the value that we provide in the workplace, then and only then will we overcome these lingering feelings of doubt and inadequacy.
To read more of her interview with The New York Times, click here.
Featured image by Andrea Raffin / Shutterstock.com
Awards season is upon us, ladies. As we usher in 2019, awards season gives us the chance to look back and celebrate the previous year's outstanding performances and achievements in Hollywood.
First up: the 76th annual Golden Globe Awards airing this Sunday, January 6.
From the Whoopis and the Denzels to the Lupitas and Donald's, every year we're doing like Issa does: rooting for everybody Black. This year is no exception.
Speaking of Lupita Nyong'o, she, alongside Chadwick Boseman and Michael B. Jordan, were announced as presenters this year. I, for one, can't wait to see her notorious red-carpet slayage. The three will be pulling double-duty on Sunday night as Black Panther has been nominated for Best Motion Picture, Drama. Arguably the biggest film of the year, Black Panther shattered the box office worldwide. And if this film wasn't a first for so many other reasons, it is also the first superhero movie to ever be nominated in this category: big ups to Ryan Coogler for this historic moment, which only adds to our Wakanda pride.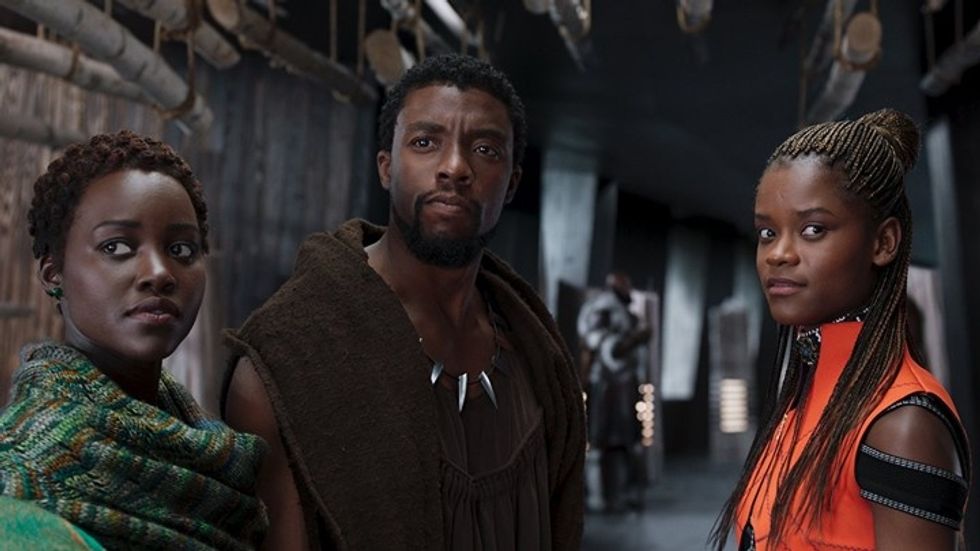 A still from 'Black Panther'
The Hollywood Foreign Press announced these other extended family members as presenters during Sunday's live telecast: Taraji P. Henson (Golden Globe Winner, Empire, 2016), Halle Berry (Winner, Introducing Dorothy Dandridge, 2000), Sterling K. Brown (Winner, This Is Us, 2018), Idris Elba (Winner, Luther, 2012), Octavia Spencer (Winner, The Help, 2012), and Lena Waithe.

I often view The Golden Globes as the set up for what's to come during awards season, and if the nominations list is any indication, If Beale Street Could Talk should be on everyone's radar. Nominated for Best Motion Picture, Drama, Barry Jenkins also received a nod for Best Screenplay while Regina King is nominated Best Performance by an Actress in a Supporting Role in Any Motion Picture for the film. Regina is also nominated for Best Actress in a Limited-Series or TV Movie for Seven Seconds. Wins here are sure to be icing on the proverbial cake for Regina who won the Emmy last year for her role in Seven Seconds.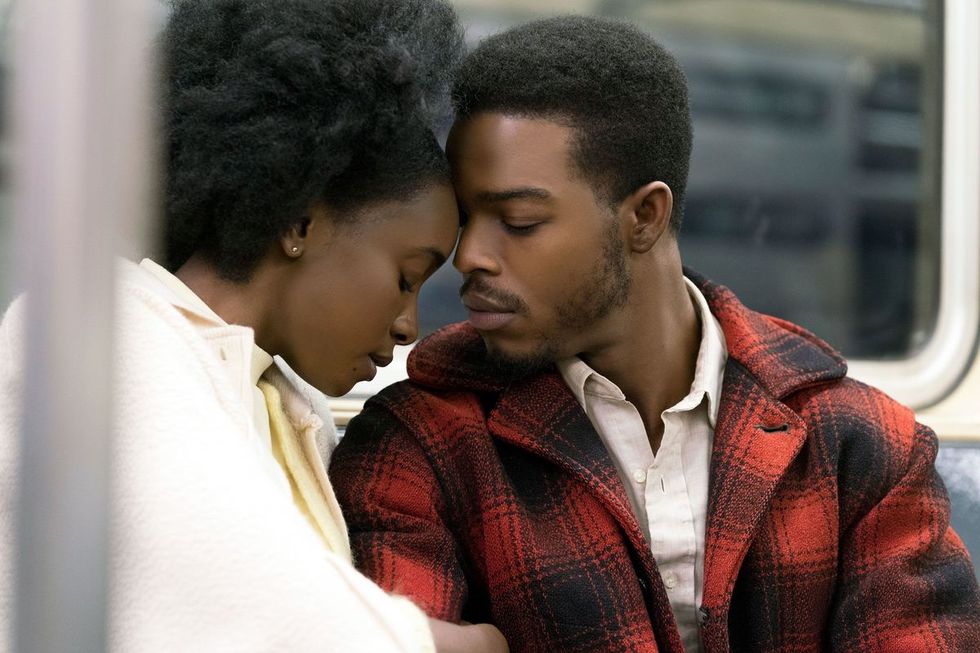 A still from 'If Beale Street Could Talk'
Despite mixed reactions and reviews, Green Book has been nominated for Best Motion Picture, Musical or Comedy, and Mahershala Ali has been nominated for Best Performance by an Actor in a Supporting Role in any Motion Picture for his role in the film. This is the second nomination for Mahershala, as he is also the first Muslim actor to ever win an Academy Award. May the odds be in his favor.

One of the most recognizable directors of our time, Mr. Spike Lee, is also nominated for Best Director for the film BlacKkKlansman. While he's won several Emmys and various other awards, a major award for one of his films still eludes him. I'm willing to bet that his time has finally come with BlacKkKlansman, which is also nominated for Best Motion Picture, Drama.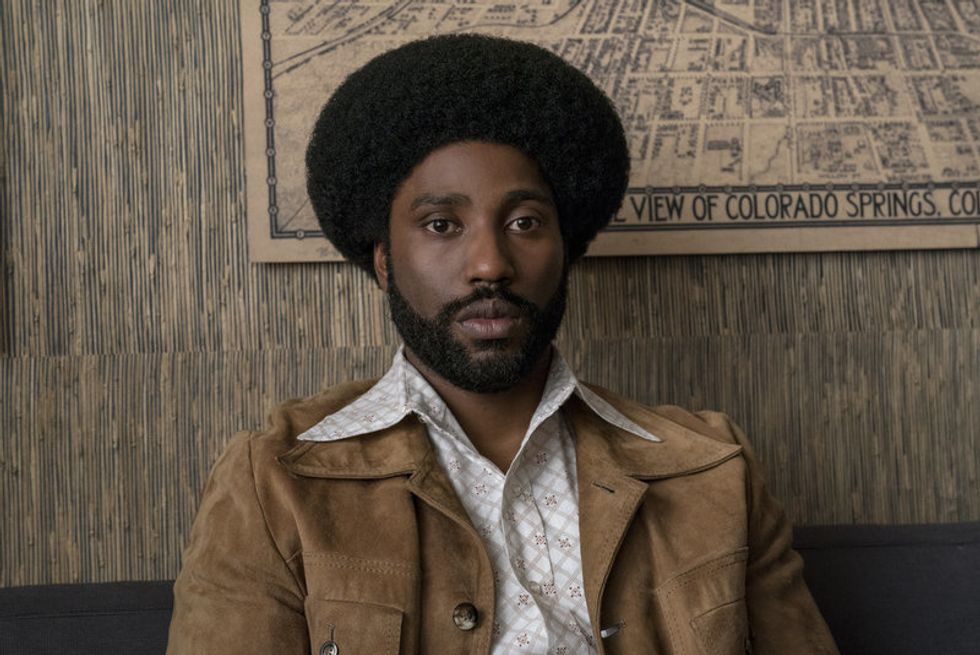 A still from 'BlacKkKlansman'
The film also has another nomination to celebrate and that is the first nod for actor John David Washington. Nominated for Best Performance by an Actor in a Motion Picture, Drama (BlacKkKlansman), John David is obviously following in his father Denzel's footsteps. The apple sure doesn't fall far from the tree in the talent (and looks) department. But if you let him tell it, he gets it from his momma. Swoon.

The award nominations for television is stacked with melanin, too. Pose received a nomination for Best Television Series, and if you let Twitter tell it, it deserves to win. Multi-hyphenate Donald Glover has been nominated again for Best Actor in a TV Series, Comedy for his role in Atlanta for which he took home The Globe back in 2017. Donald has previously won two Emmy awards, one for acting and one for directing the hit show.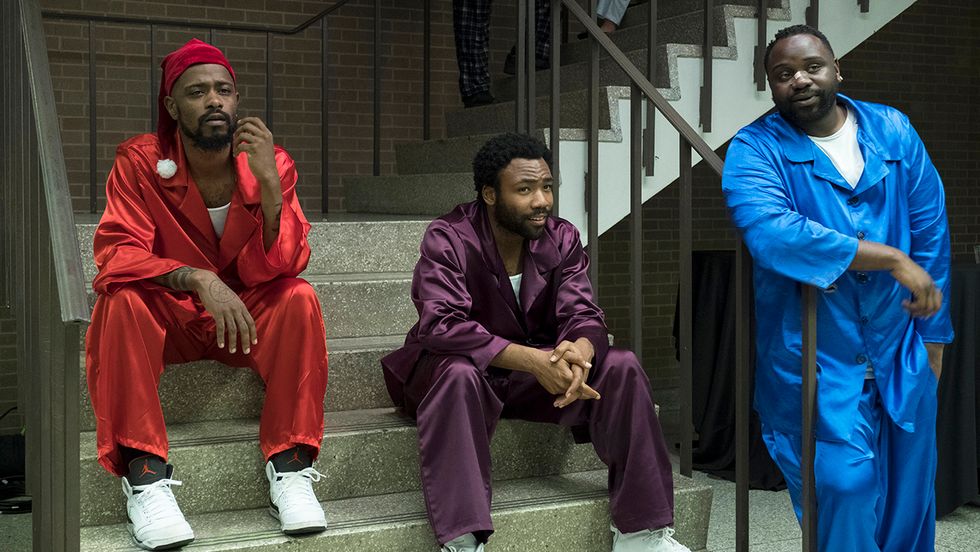 A still from 'Atlanta: Robbin Season'
For you Homecoming fans, keep an eye out for Stephan James who is nominated Best Performance by an Actor in a Television Series, Drama. This is his first Golden Globe nomination. Our girl Thandie Newton has been nominated for Best Supporting Actress in a Series, Limited-Series, or TV Movie for her role in Westworld for which she was nominated for in 2017 and actually won the Emmy for in 2018.

Black Panther also received two additional nominations in the music department. "All The Stars" featuring Kendrick Lamar and SZA has been nominated for Best Original Song. The win would be the first win for either artist in the movie realm. The blockbuster is also nominated for Best Original Score, and if they take home The Globe, it will be the first for a black artist since Isaac Hayes won in 1972 for the score for Shaft.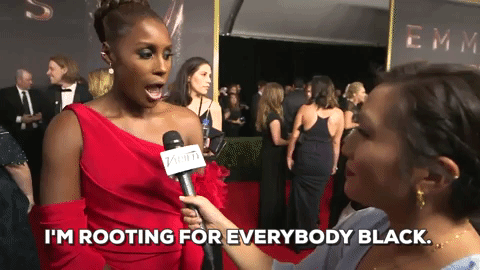 From the glitz and glamour, to the wins and the potential meme-inducing moments, I live for awards season. It will be interesting to see who wins, who gets snubbed, and who gives the most epic acceptance speech a lá Oprah.

The 76th annual Golden Globes airs on NBC at 8 p.m. ET/5 p.m. PT, live from the Beverly Hilton in Los Angeles, on Sunday, January 6.
Featured image by 'If Beale Street Could Talk'/Still.