No matter how many stylish jackets or amazing co-ord sets you own, a wardrobe slump is inevitable. While items like biker shorts remain a tempting warm weather style staple, try a new approach to your outerwear and go for a fashion classic: patent leather. Patent leather is not new to the rodeo, but it's made a very refreshing comeback.
Rethink the way you wear your patent leather items this spring and check out three ways I styled it.
Look #1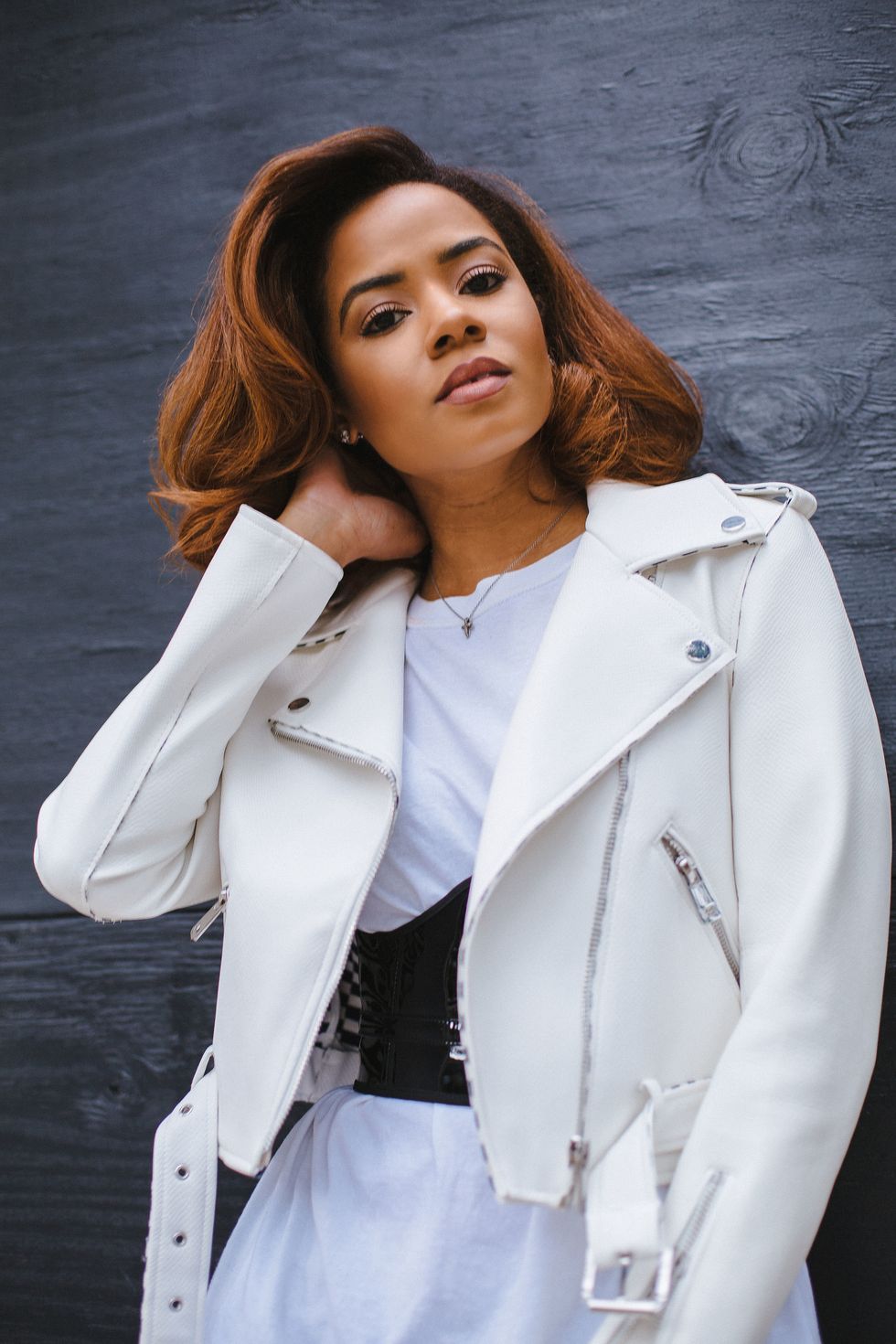 Writer McKenzie Renae in Look #1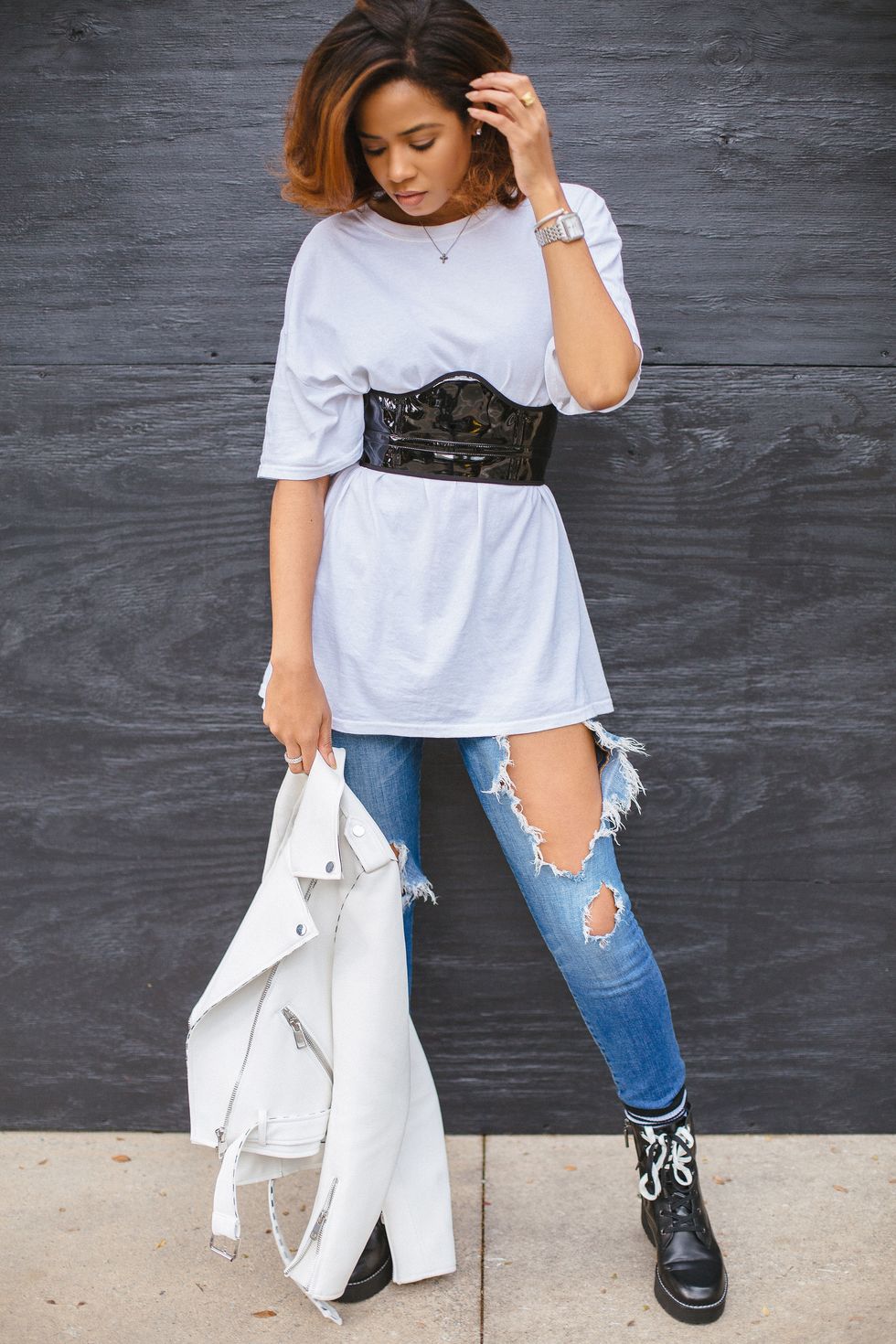 If you prefer to start slow, try wearing patent as an accessory piece; think shoes, belts, bags, or hats. This is probably the most subtle approach. Detail is everything darling, you can make an equal statement with a small detail just as much as you can with a bold statement piece.
I paired a corset style patent leather waist belt with some distressed jeans, an oversized white tee, platform boots, and white leather jacket. Notice the detail in the belt, it's shaped to sit right underneath the chest to accentuate your shape and has a fun exposed silver zipper in the back. The great thing about this look, is that it can be dressed up or down. Make a quick wardrobe change into a short faux fur coat and a pair of boots or heels and you've gone from day-time-play, to night-time-chic just like that.
Look #2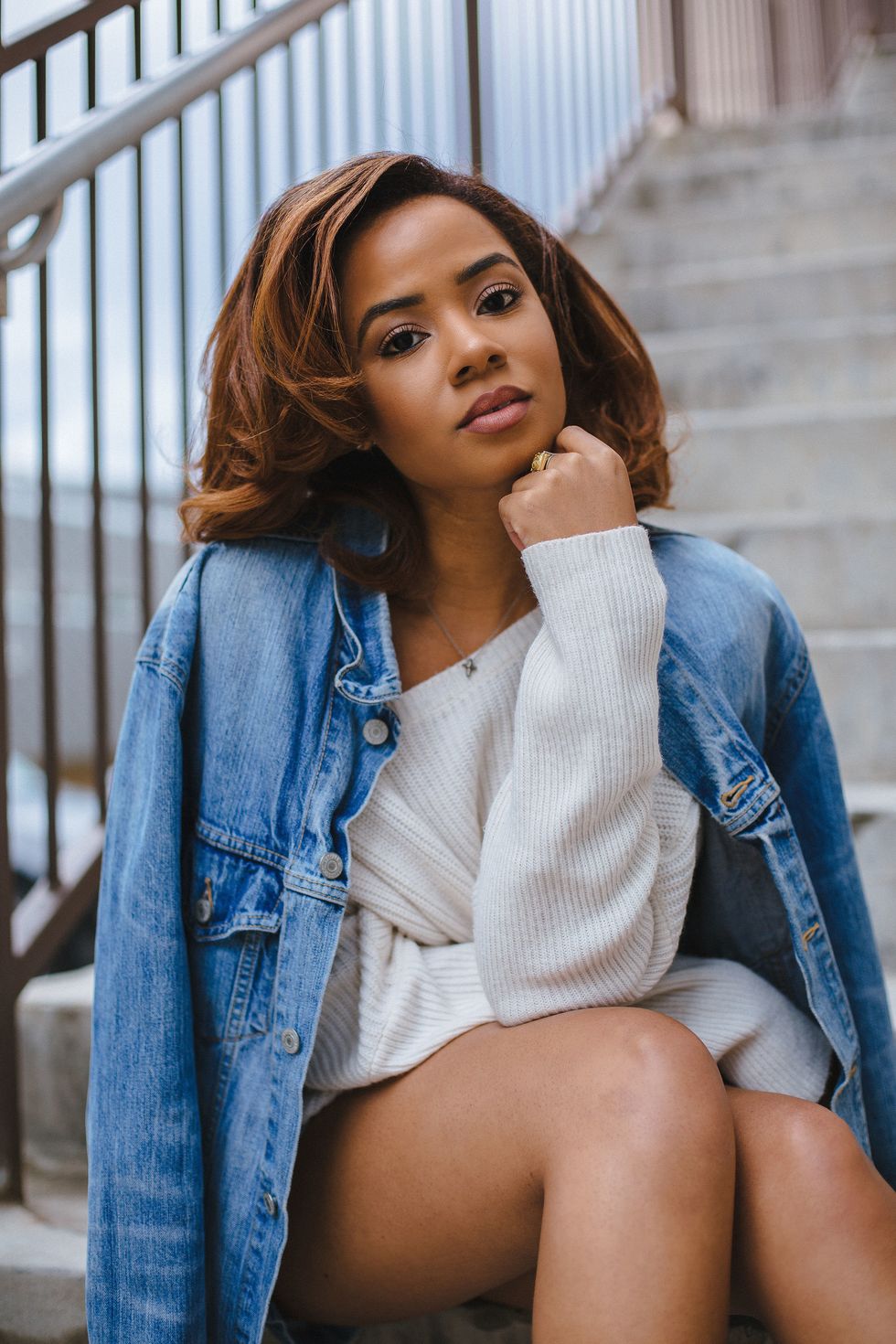 Writer McKenzie Renae in Look #2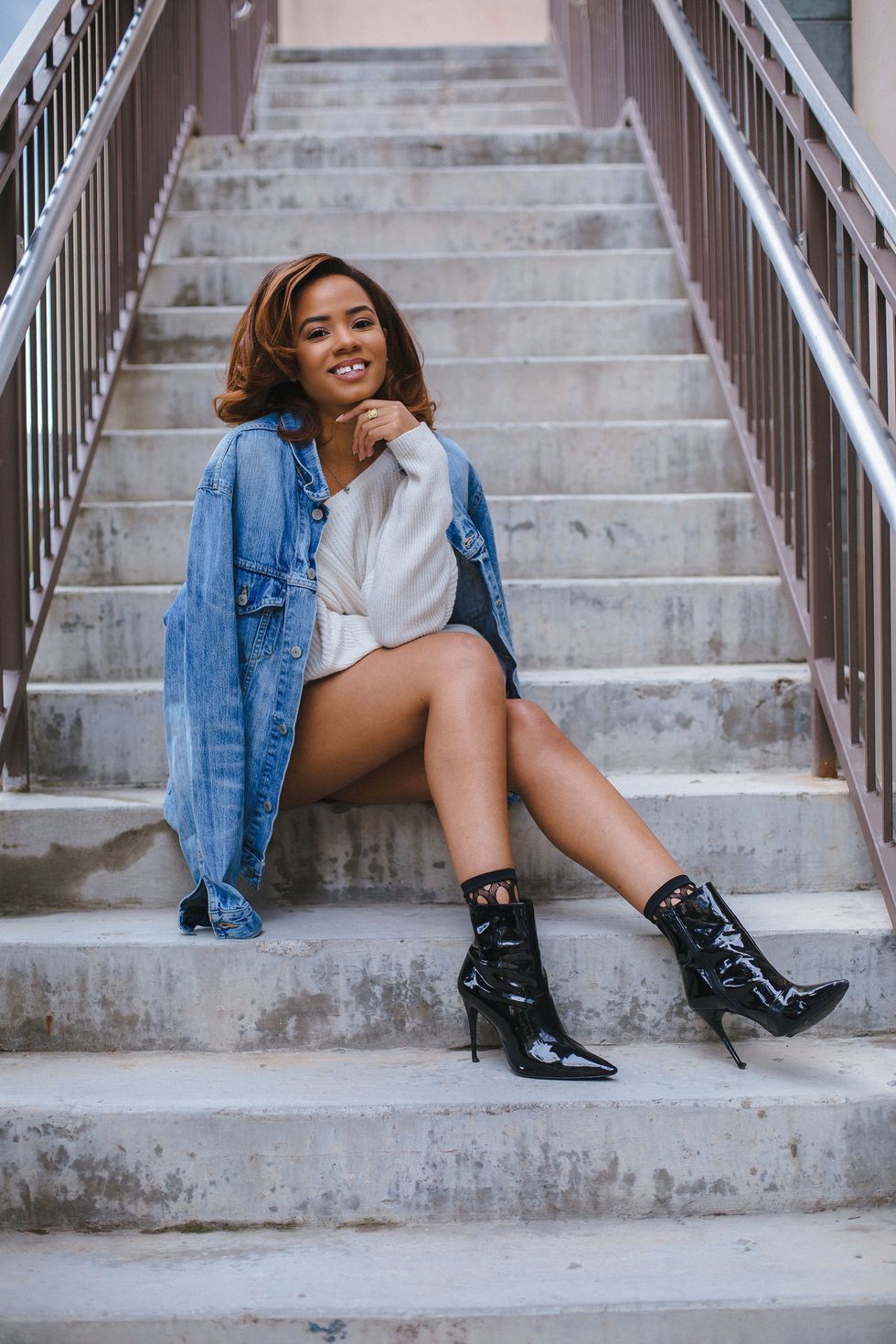 If boots were made for walking, then why not go for the shiny ones? Am I right? Now when it comes to patent shoes, you can really have fun. Think outside of the box and outside of the tap class you were in at five years old. Consider colors beyond the black family, like a deep maroon, olive green, cream, brown, or even red.
I personally don't discriminate when it comes to heel height. You can rock patent on everything from an oxford flat to a thigh high boot. To avoid having a Julia Roberts Pretty Woman moment with the thigh highs, make sure the rest of your outfit is balanced. Style them with something oversized or flowy versus short and tight, for a more fashion forward look.
In this look, I styled a pair of Steve Madden stiletto boots with a denim skirt, oversized jacket, and off the shoulder sweater. The skirt is on the shorter side, so with the heels being so high, I offset the look with both an oversized sweater and jacket. Boom, balance.
Look #3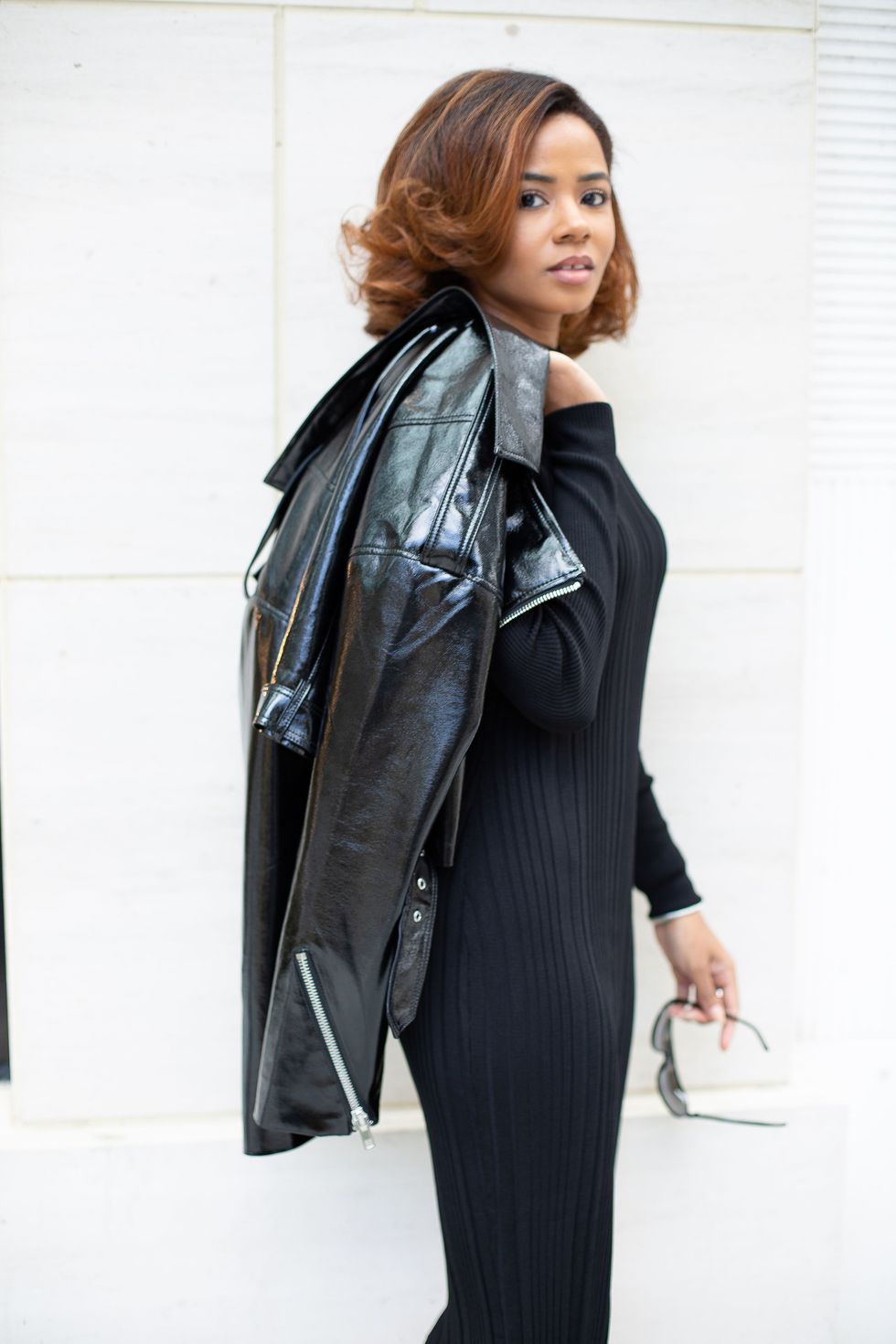 Writer McKenzie Renae in Look #3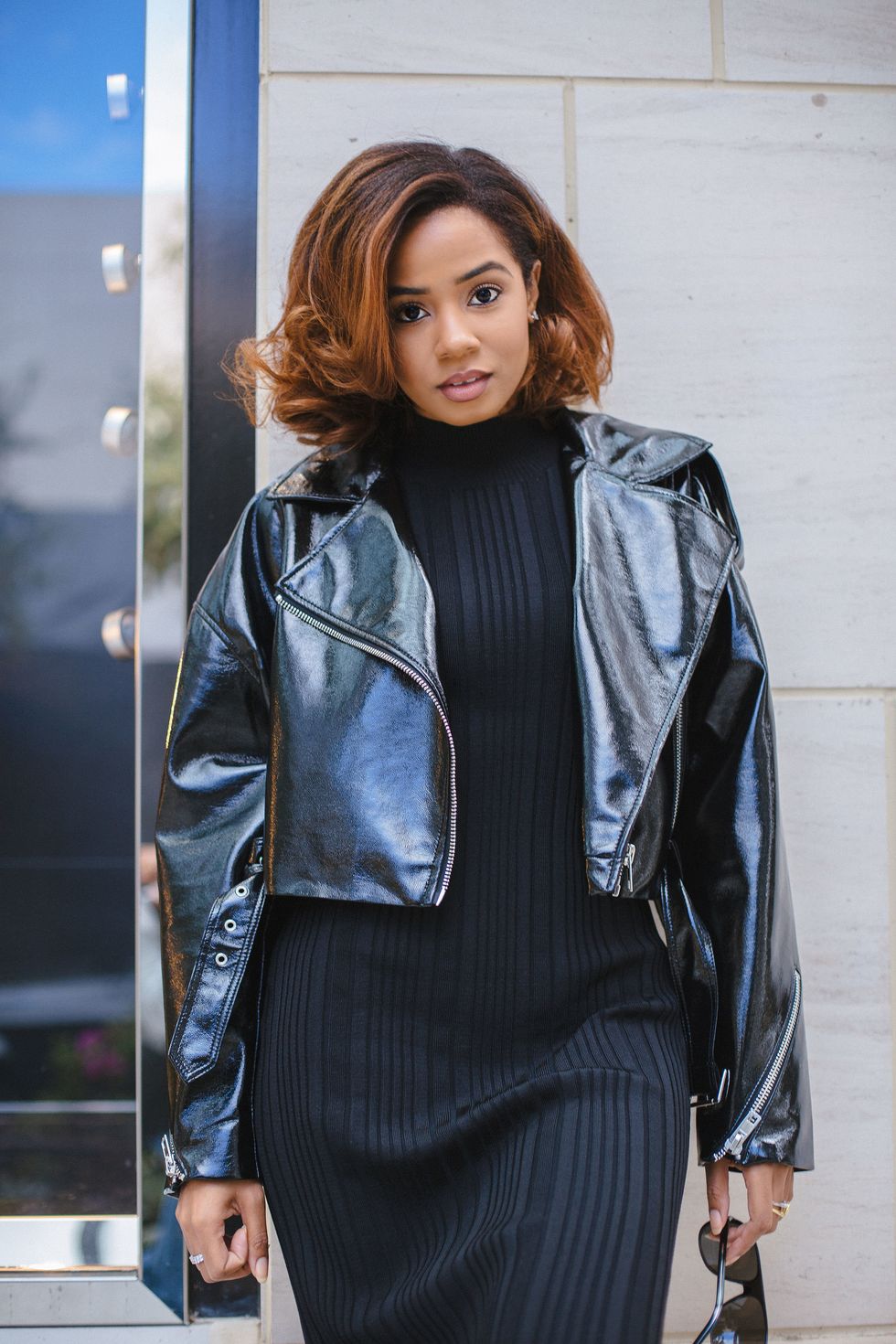 Now, if you're really feeling like a badass, then dive right into a shiny patent jacket. Jackets are so fun because even with this type of leather, there's still room to play around with the material and finish. Options can range from the classic shiny patent leather finish, or even a crushed patent leather look where the jacket looks a little more toned down and worn in.
I purchased this jacket from ASOS a couple of years ago and it is truly one of the best purchases I've ever made. You can style a cropped oversized jacket like this one over a dress, with jeans, shorts, or even over a formal dress for extra edge. The options are endless! Using the same thought process mentioned before with accessories, you can also think outside of the black color family when it comes to jackets. Looking to make a statement? Go for red. Looking for something a little more versatile? Stick with black.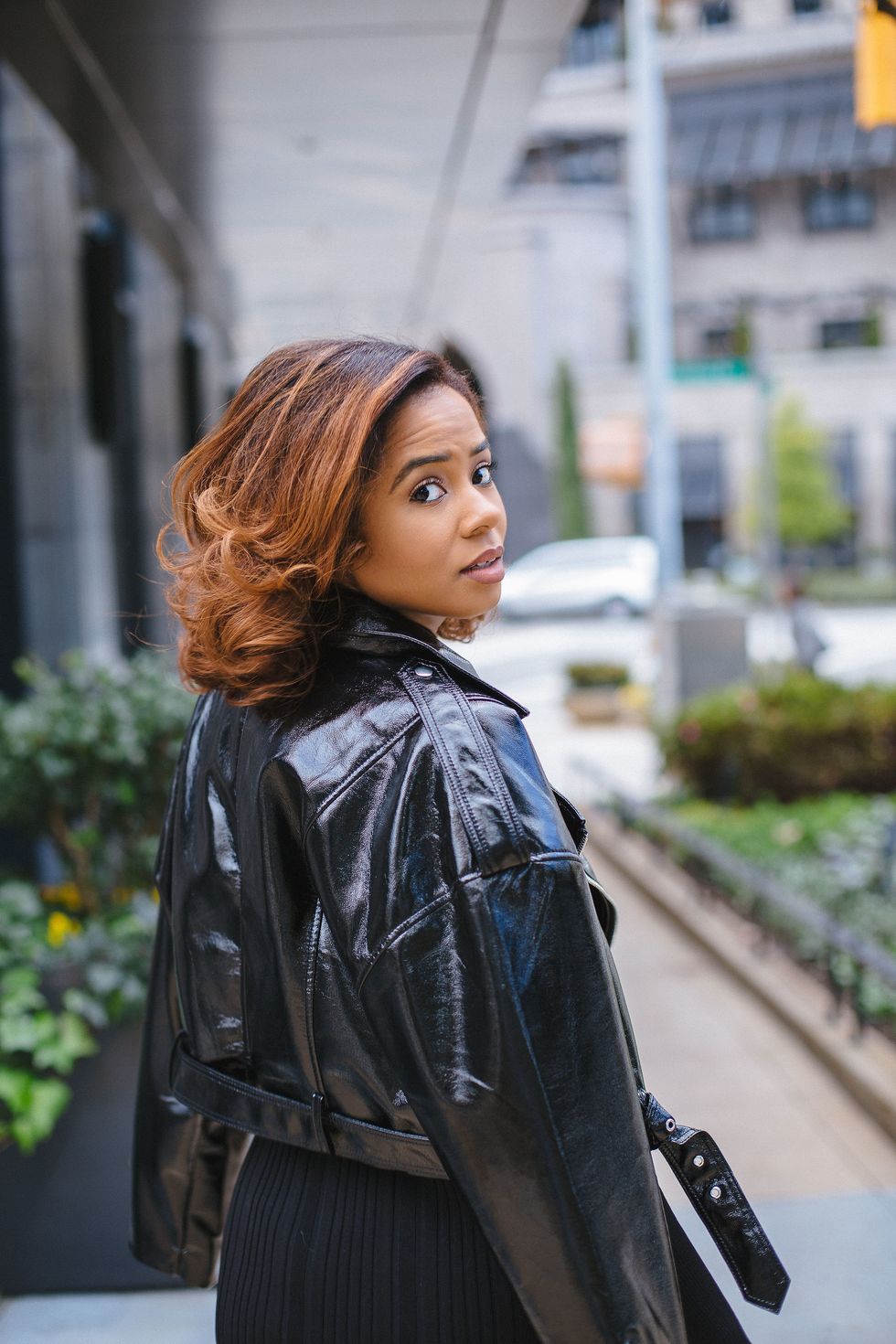 If you're looking for a simple way to amp things up when it comes to your wardrobe, it may be time to branch out and take a much needed fashion risk! Patent leather is timeless. The ways we wear it will continue to evolve and change over time, and every girl should have at least one patent item in her closet. Remember, winter style doesn't have to be boring. So the next time you notice a slew of patent leather pieces hit nearly every retailers' new arrival page, go for it.
This season's patent leather is unlike any we've seen before.
Original photography by Sanniyah Sloan for xoNecole.
Want more stories like this? Sign up for our newsletter here to receive our latest articles and news straight to your inbox.
Original photography by Sanniyah Sloan for xoNecole.
Originally published January 10, 2019
Summer makeup is synonymous with clean, glowing, sun-kissed, and healthy skin. We are here to remind you that you can still make a statement out in the sun, all while combating the summer heat.
If you're looking to spice up your makeup routine, start with these 3 fresh summer beauty looks to rock all season long.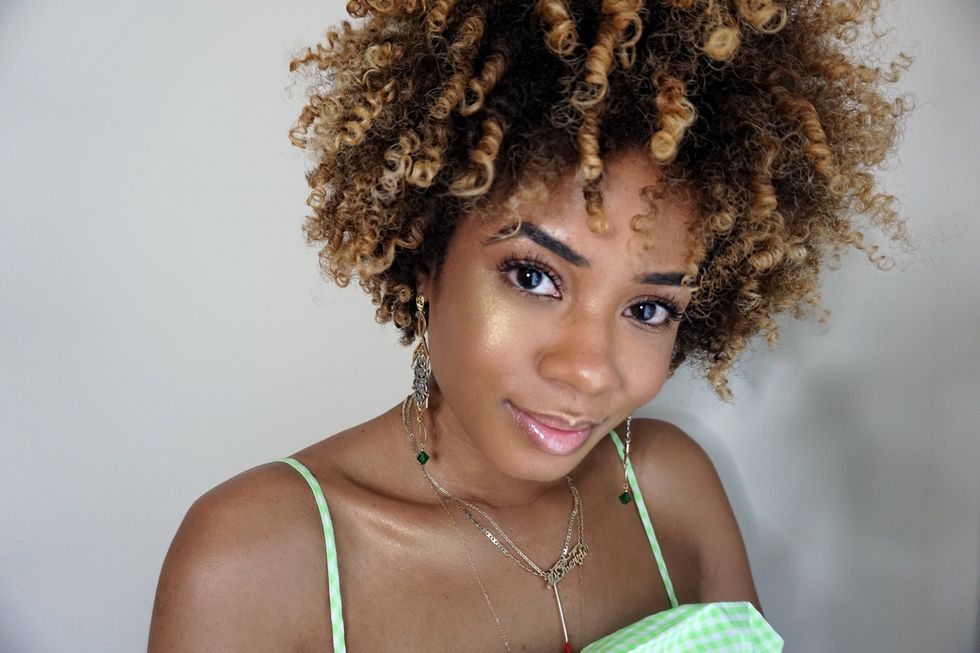 McKenzie Renae for xoNecole
(pictured: Fenty Beauty Killawatt Highlighter in "Trophy Wife", NARS Blush in "Orgasm", Becca Glow Gloss in "Metamorphic Gold")
One way to create a fresh twist on a barely-there makeup look is to add a dash of gold in all the right places. Lightly dust and highlight the areas of the face where the sunlight naturally hits. This includes your temple and high cheekbone, bridge of the nose, under the arch of your brow, and cupids bow. If your skin is on the oilier side, use a mattifying primer prior to applying foundation. Another tip is to lightly apply a translucent powder on the areas of your face that are prone to oil buildup before applying your gold highlight.
Don't forget the rest of your body, sis. Take a body brush and sweep gold highlighter on the tops of your shoulders and décolletage straight from the palette or mix it in with your favorite lotion for a more subdued effect.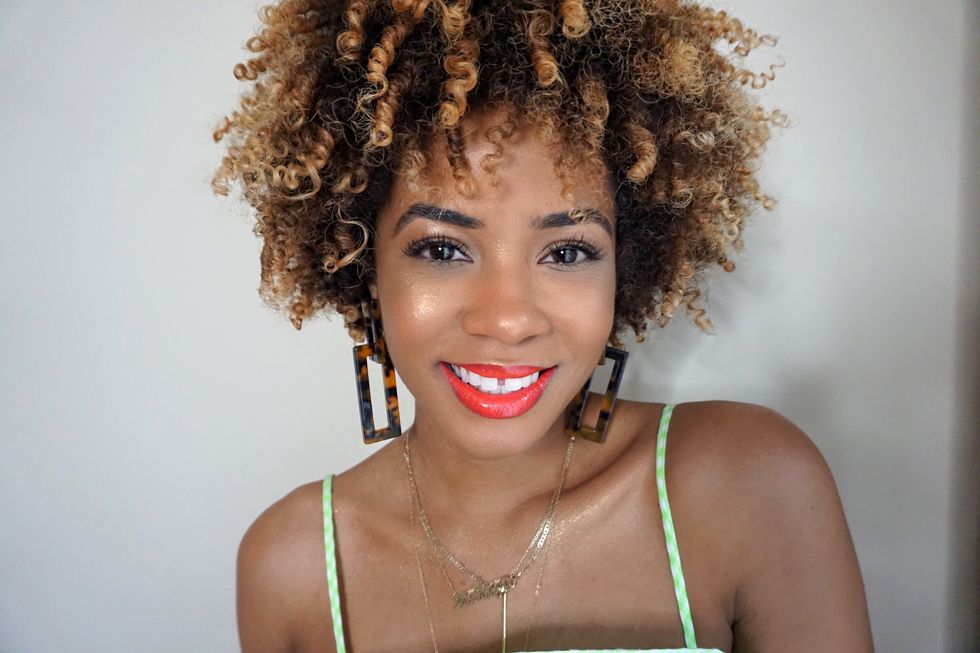 McKenzie Renae for xoNecole
(pictured: Maybelline ColorSensational Vivid Lipstick in "885 Vibrant Mandarin", and Urban Decay Hi-Fi Shine Ultra Cushion Lipgloss in "Snitch")
I think we can all agree that ultra-glossy lips have made a comeback this summer. Give your mattes a rest and reach for a bold juicy hue instead. Orange, melons, and pinks are always a great place to start for your pout. But if you care to reach for a shade of lilac to liven things up, go for it girl. The key to a juicy pout is exfoliated, moisturized lips. Take the time to gently exfoliate, then apply a light balm.
Take your fingers and gently press the balm into the lip so your lipstick doesn't slide around and swipes on effortlessly. Top your pout with a glossy gloss and get ready to hit the town with your favorite summer drink in tow.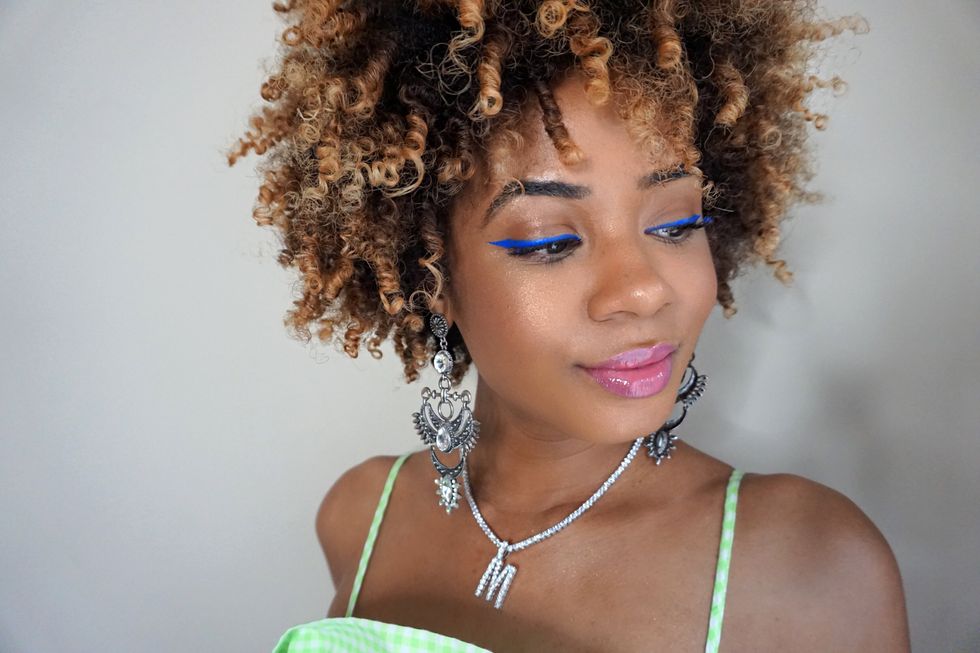 McKenzie Renae for xoNecole
(pictured: BlackUp Matte Waterproof Liquid Eyeliner in "ELM05", NARS Satin Lip Pencil in "Giusti, NARS Oil Infused Lip Tint in "Orgasm")
A cat eye has always been a classic beauty look. Turn things up a few notches by lining your lids in an electric-colored hue. Cobalt blue, neon green, vibrant yellow, electric orange and stark white are all hot options to rock this summer. If you've got a steady hand, pick up a liquid liner pen; but if you need a little more help with precision, opt for an angled brush to dip into your pigment and take your time. Finish the look off with a soft pink or nude glossy lip that doesn't take the attention away from your colorful wing.
Tell us below, which look are you planning to try this summer?
Want more stories like this? Sign up for our newsletter here and check out the related reads below:
I Tried 10 Budget-Friendly Drugstore Lipsticks And Here's My Review
The Best Long Lasting Foundation For Long Hot Days
How To Slay A Foundation-Free Makeup Look
They say sometimes you gotta fake it until you make it.
It's taken me quite some time to achieve "clear" skin, and even now it's still a work in progress. But now that I'm happy with the way my skin is looking, I've been perfecting the "no makeup" makeup look, and I have some tips on how you can achieve it too.
The key is choosing a concealer the same color as your skin as opposed to a lighter shade that you would normally use to highlight. I recently found a concealer by Smashbox that blends into my skin for a near perfect match, making it appear as though I have nothing on. It covers my dark circles and dark spots from picking pimples, and really evens everything out.
Now, let's get into the essentials that you need. Starting with the skin, I use NARS Skin Optimal Brightening Concentrate and the Smashbox Camera Ready BB Cream concealer. I follow up with my Anastasia Brow Wiz Pencil in "Brunette" finished with the Anastasia Brow Gel and coat my lashes with Lancome's Hypnose Drama mascara. To compliment clean skin, I love to rock a bright red matte lip. My signature is the NARS matte lip pencil in "Dragon Girl," but lately I've really been into the brick red shade in "Cruella."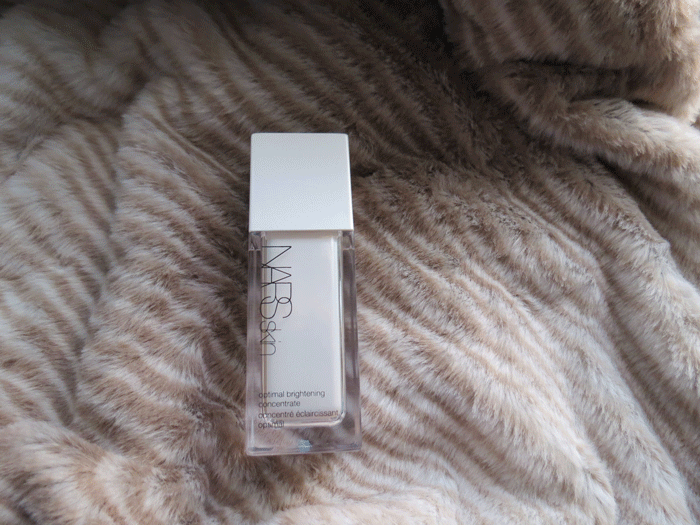 Here's a step-by-step tutorial for you beauties.
Step 1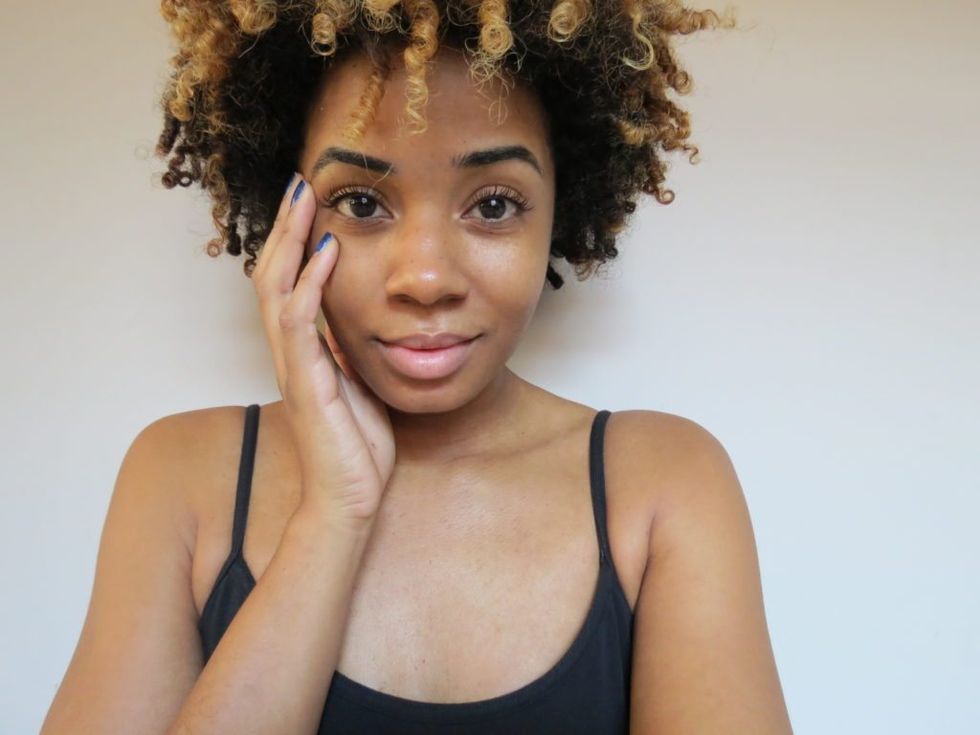 After moisturizing, apply the NARS Optimal Brightening Concentrate on areas where the sun would naturally hit your face. Dab little dots on your cheekbones, down the bridge of your nose, your chin, and middle of your forehead. Blend evenly.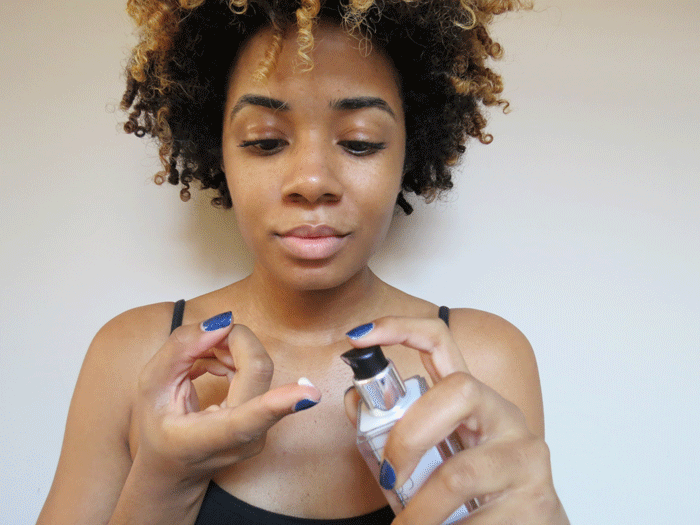 Step 2
Next, take the Smashbox Camera Ready BB Cream and apply under your eyes, around your nose to conceal any redness, and on any dark spots or problem areas. Blend using your ring finger in gentle tapping motions to gently push the product into your skin for a flawless finish.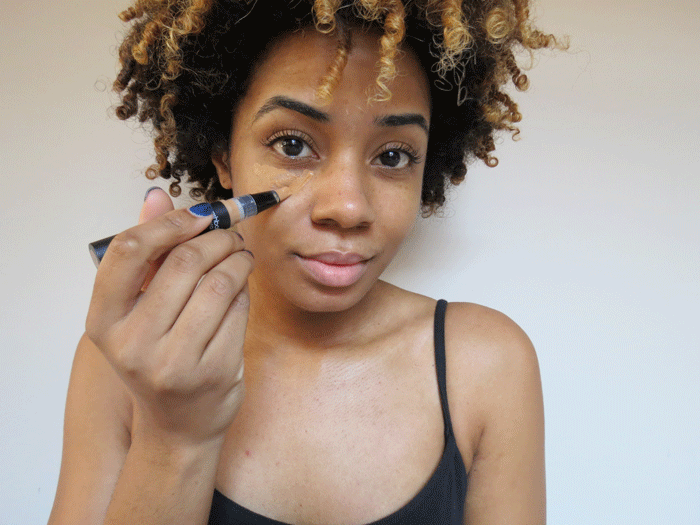 You should get a result similar to this: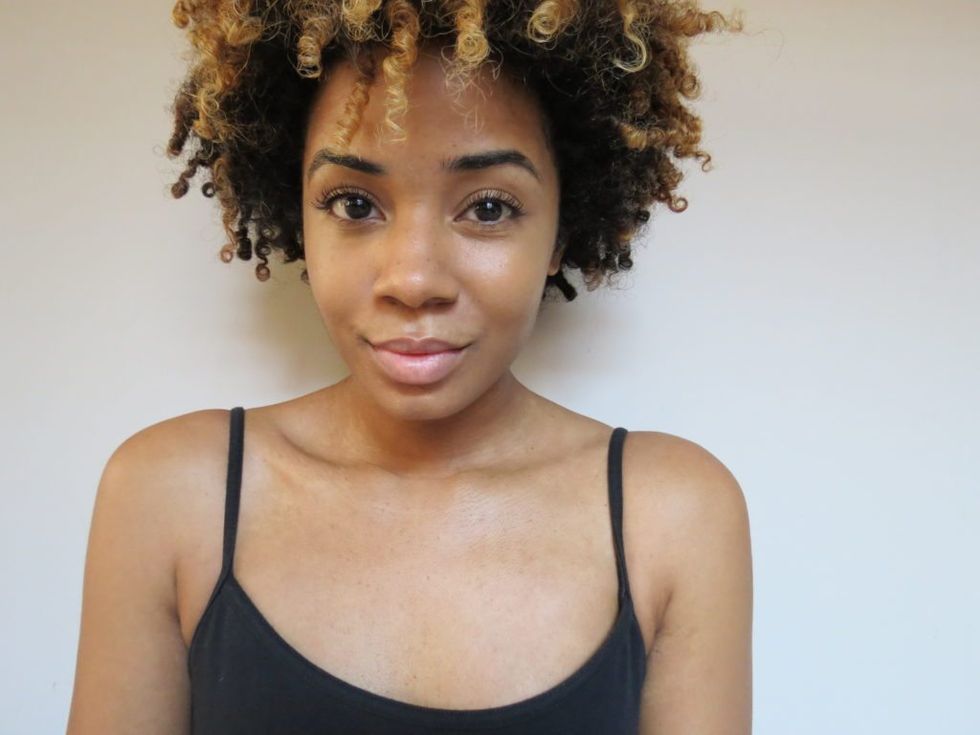 Step 3
Manicured brows are so important to really pull this look off. I get mine threaded, then softly fill sparse areas in with my favorite brow pencil, the Anastasia Brow Wiz in "Brunette". To keep my brows in place, I'll follow up with the Anastasia Brow Gel. Any clear brow gel, including drugstore brands, are sufficient enough to use and still get the job done!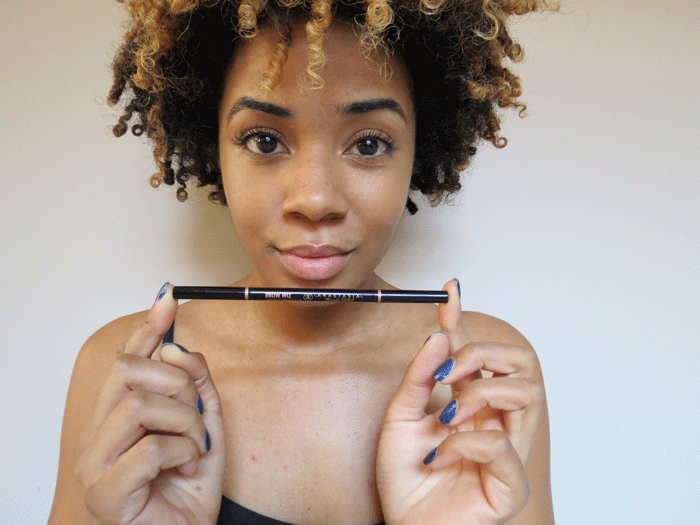 Step 4
Because this look is simple and clean, you need a few coats of mascara to give you that open doe-eyed effect. To make my lashes appear fuller, I start with one even coat, then apply an additional two coats in an "up and out motion" just to the outer corners.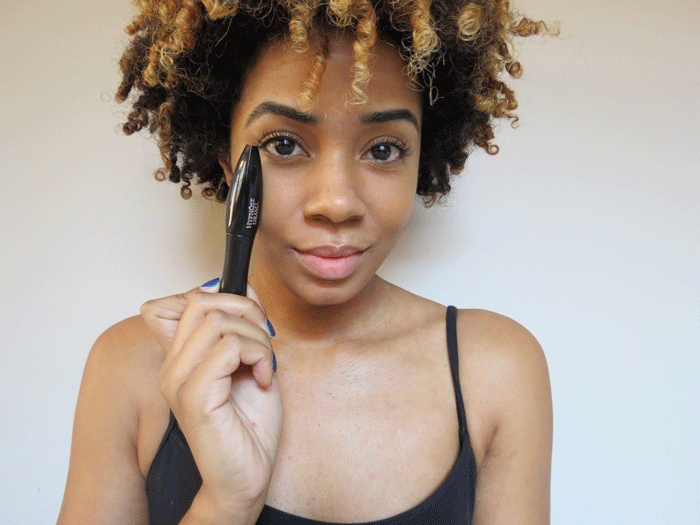 Bonus:
If you want to add some drama, top off your fresh face with a yummy pout. Go bold or go nude, both are winners. Matte lippies are really in right now, and my go-to this Spring has been NARS "Cruella". It's a beautiful brick red that looks great on darker skin tones.
Tip: Always exfoliate and apply a light balm before you apply your lip color to keep your pout hydrated and smooth.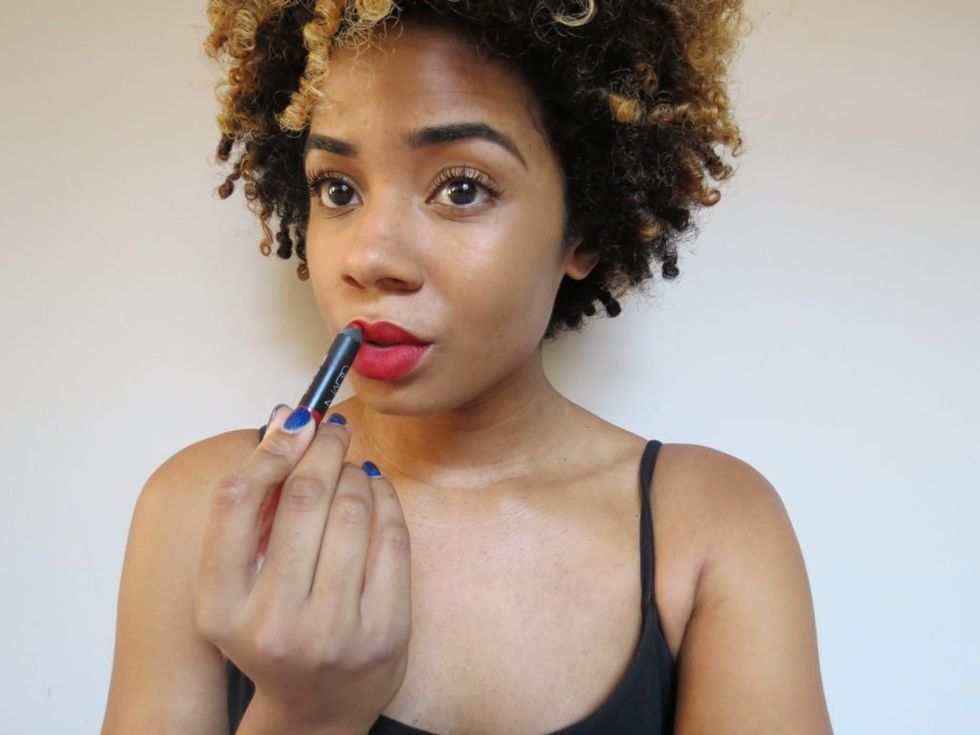 Now get out there and flaunt that newfound "I woke up like this" skin of yours. You're killin em babe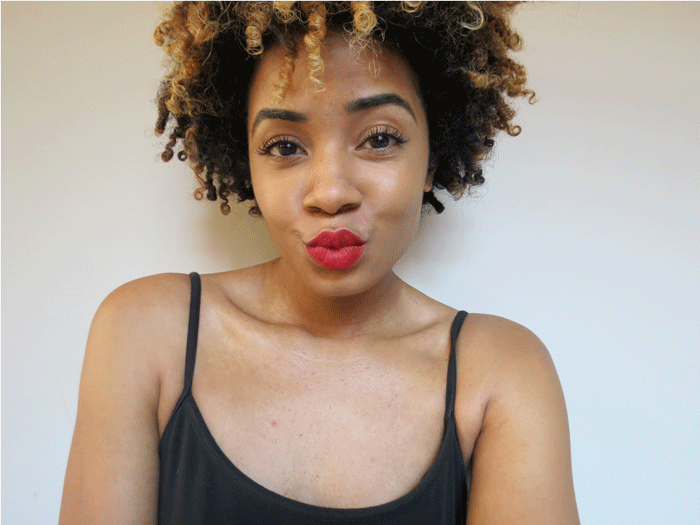 What are some of your favorite products to use to get that no makeup, makeup look?
Originally posted on McKenzieRenae.com.
The beauty industry is arguably the OG of drops.
New collections are announced everyday, ranging from the newest and improved beauty tool technology to claims of ingredients that house the fountain of youth. There seems to be something launching daily for just about everyone.
When it comes to the mascara world, popular classics like Maybelline Great Lash and CoverGirl Lash Blast have managed to hold the titles of holy grail mascaras for years. While it would be a dream to try every new mascara that hits the shelves on the daily, a girl's only got so much lash and so much coin.
So, if you've ever found yourself contemplating between saving your coins for those holiday gifts or re-upping your beauty stash, I've narrowed down and tested out nine budget-friendly mascaras for every girl, every lash, and pretty much every budget. Peep my selects below!
No 7 Exceptional Definition Nutrient Enriched Mascara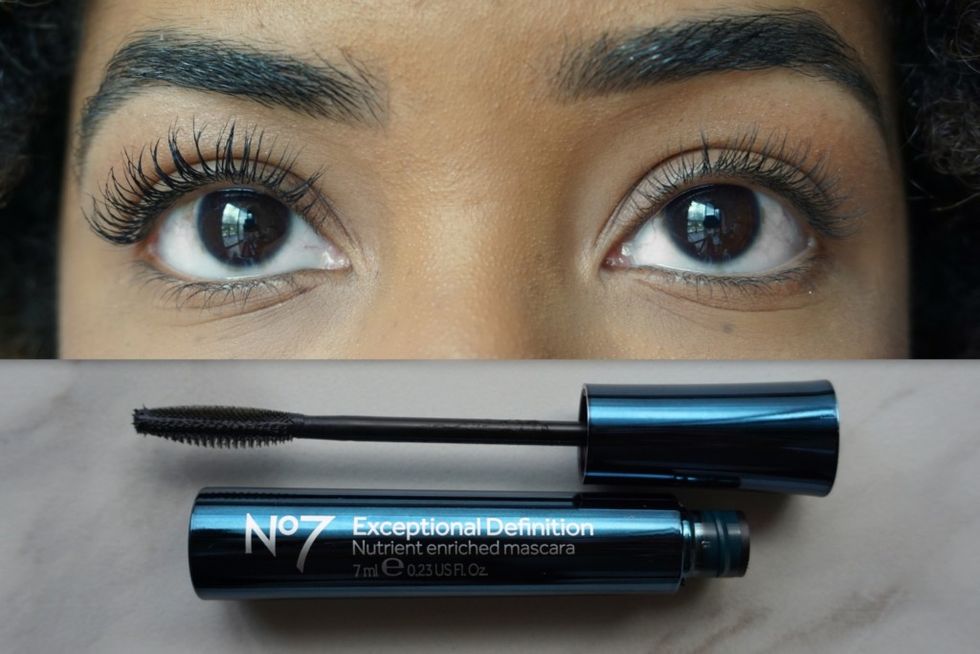 Left: With Mascara; Right: Without Mascara
Color: Black
Price Tag: $8.99
Lash Purpose: Thickening, Lengthening
Claims: Its innovative 3-in-1 wand gives volume and definition to every lash. The left side of the brush loads lashes, the right side combs lashes, and the top targets hard-to-reach lashes. It's also hypoallergenic.
Final Thoughts: I loved the definition and natural look. It felt nourishing while being applied, was easy to remove with a makeup wipe, and was buildable for added volume.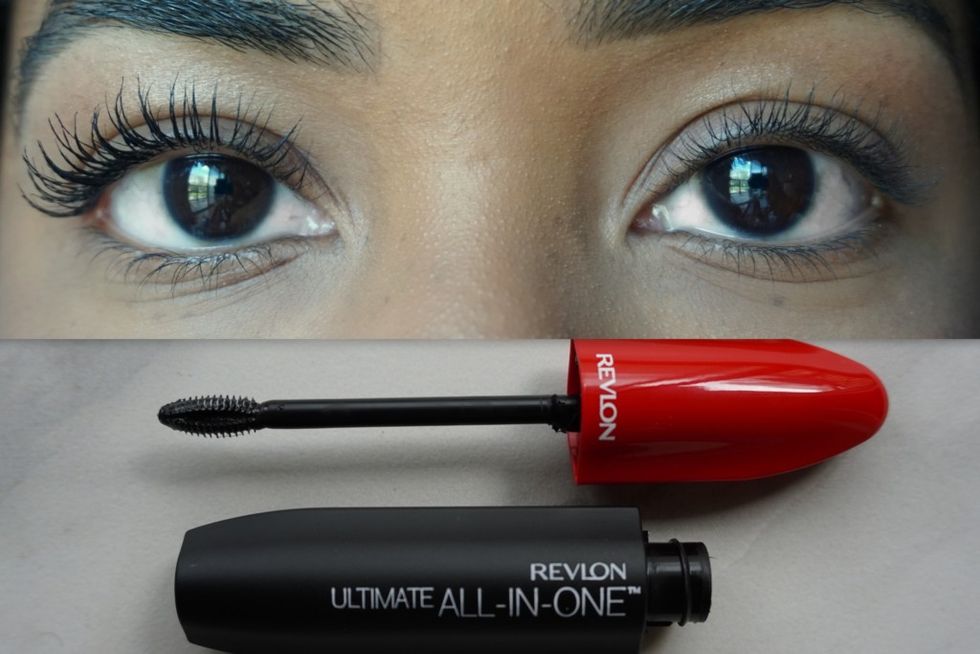 Left: With Mascara; Right: Without Mascara
Color: 501 Blackest Black
Price Tag: $5.99
Lash Purpose: Length, Volume, Lift, Definition, Color
Claims: High impact formula delivers 5 lash-transforming benefits: volume, length, definition, lift, intense color. The Power Mini Brush leaves no lash behind.
Final Thoughts: I noticed the volume and length the most with this mascara. I liked how it was buildable while leaving my lashes with a glossy finish. It gave me glam vibes and was easy to remove with a makeup wipe.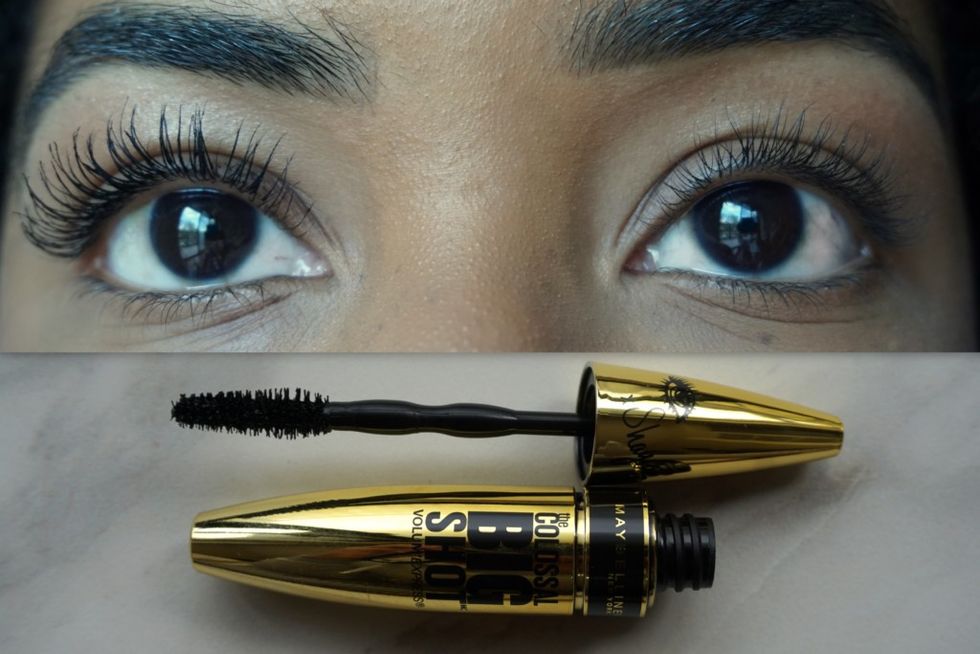 Left: With Mascara; Right: Without Mascara
Color: 228 Baddest Black (also comes in blue & purple)
Price Tag: $6.99
Lash Purpose: Volume
Claims: Delivers fully loaded volume in just one coat. The brush features unique, wavy bristles that cradle lashes, which the collagen formula delivers bold volume.
Final Thoughts: This mascara was one of my favs. First impression, the brush head it totally my style because I'm after mega volume & length. I liked how it had a darker pigment but was still easy to remove with a makeup wipe. I'm definitely interested in trying the blue and purple shades next!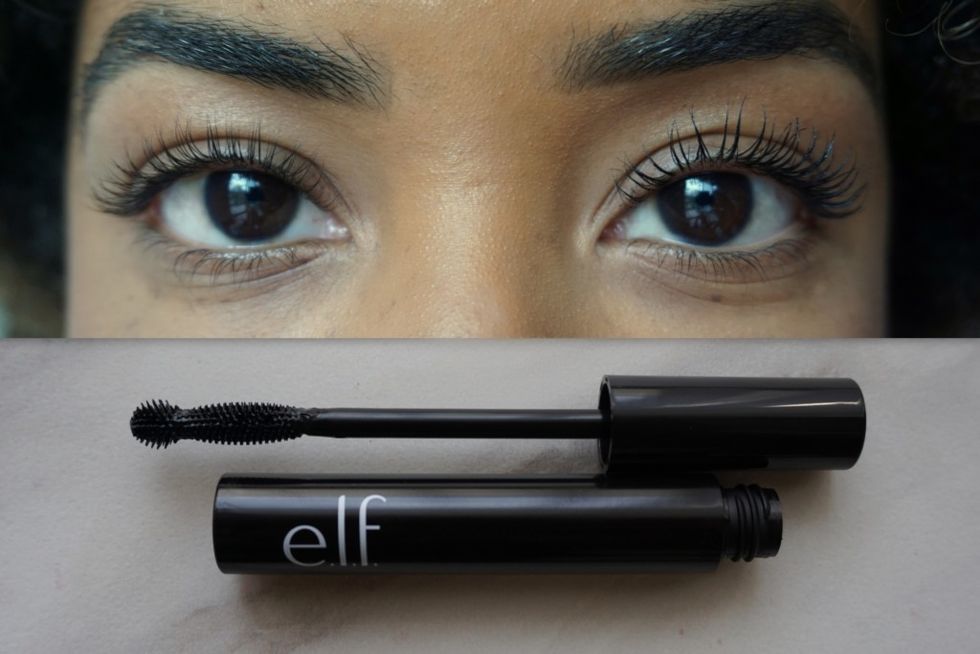 Left: Without Mascara; Right: With Mascara
Color: Very Black
Price Tag: $3.00
Lash Purpose: Volume, Lengthening, Definition
Claims: The newest and reformulated mascara by e.l.f. This all-in-one mascara helps lengthen, define, and volumize lashes. The silicone brush has precision bristles to coat lashes for a dramatic look.
Final Thoughts: This mascara is a steal as far as price goes. It separated my lashes nicely and looked natural (more so than dramatic) while still lengthening. The ball end of the brush head made it easy to get to the smaller inner corner hairs. It's also buildable and easy to remove with a makeup wipe.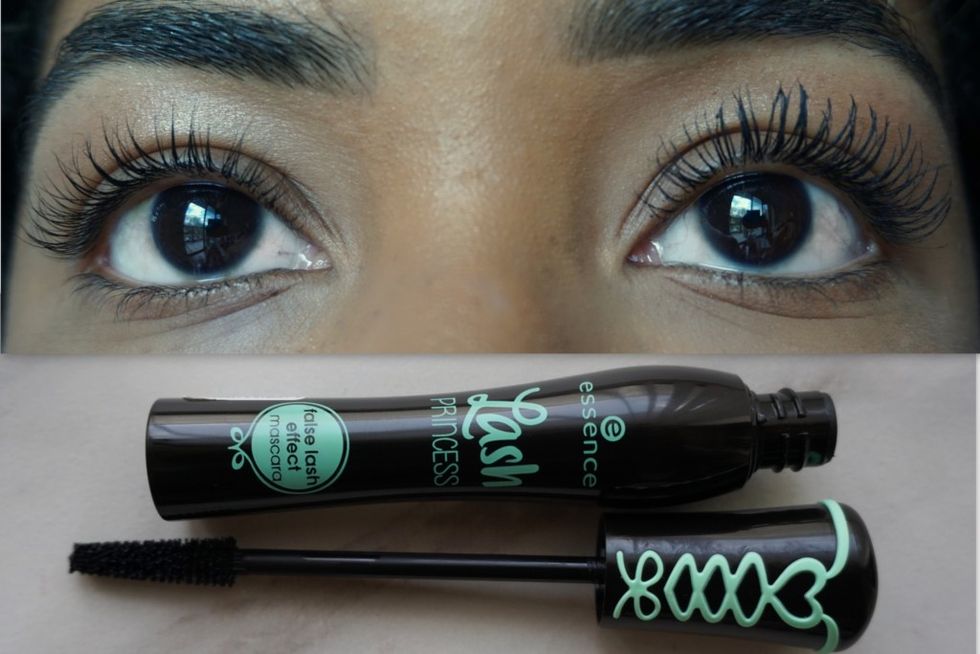 Left: Without Mascara; Right: With Mascara
Color: Black
Price Tag: $4.99
Lash Purpose: Volume, Lengthening
Claims: Mascara for an irresistible false lash effect. The conic shape brush provides lashes with dramatic volume and sculpted length. Opthalmologically tested.
Final Thoughts: This mascara was also one of my favs that provided mega volume and lots of pigment. It was buildable, but you have to be careful not to layer too many coats. I found the more I swiped on, the more clumpy it seemed to get. Tip: If you notice slight clumping, take a clean mascara spooly and run it through your lashes as needed for separation.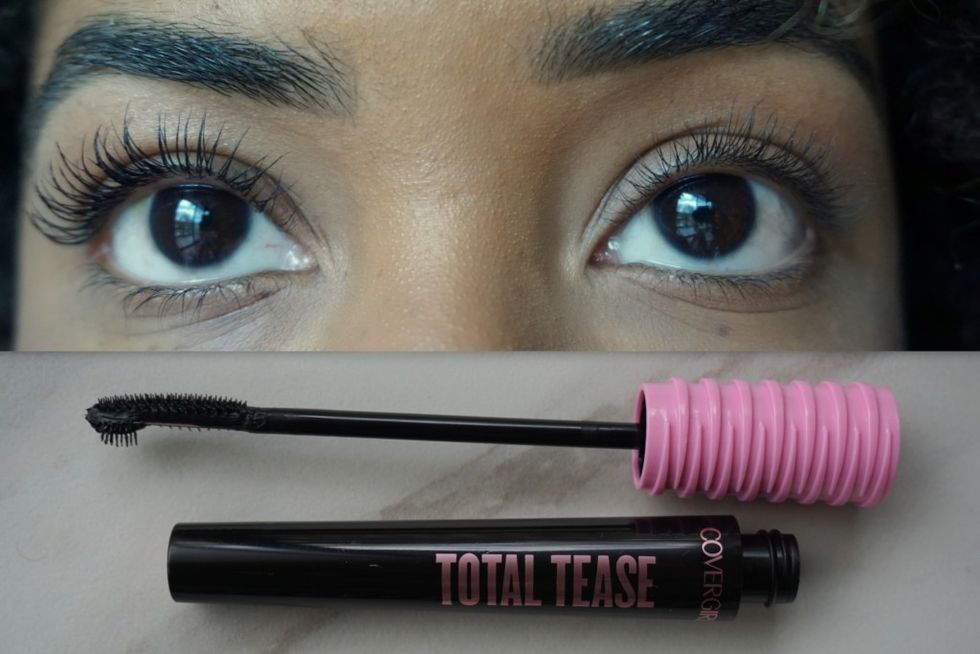 Left: With Mascara; Right: Without Mascara
Color: Very Black
Price Tag: $10.49
Lash Purpose: Separation
Claims: To be used for sexy, teased lashes. Use the lash teasing mascara comb for ease and control to tease even the tiniest corner lashes for a full, voluminous look. Said to be suitable for contact lens wearers.
Final Thoughts: First impression, I thought the brush head looked pretty weird, and this was also the priciest of the mascaras tested. I noticed right away how it separated my lashes and made them look longer at the same time. This mascara is great to use on top and bottom lashes and is easily removable with a makeup wipe.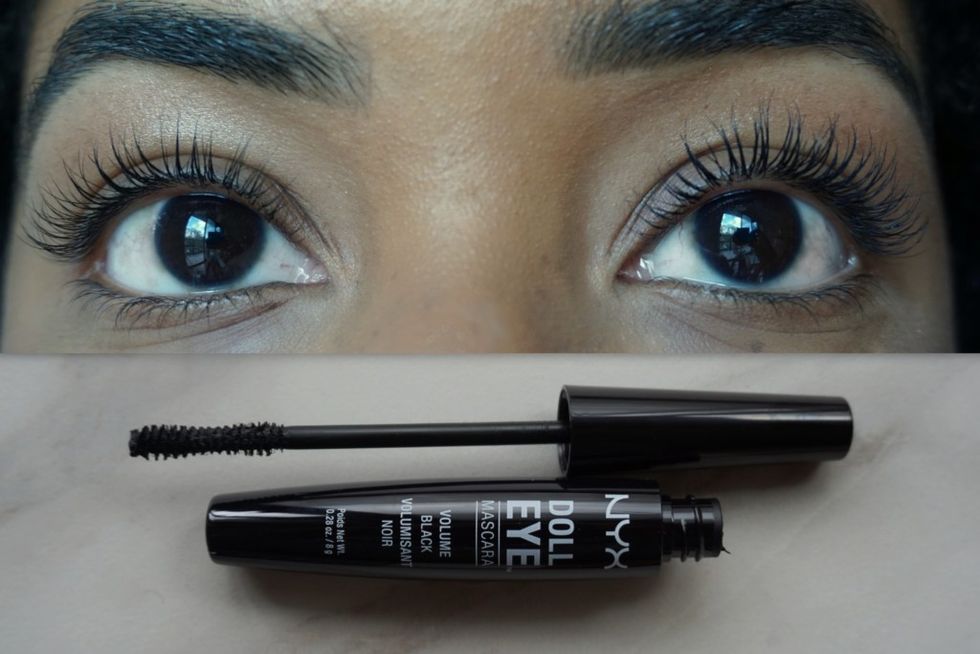 Left: Without Mascara; Right: With Mascara
Color: 02 Black
Price: $9.99
Lash Purpose: Volume
Claims: For irresistibly fluttery lashes, this mascara uses a unique blend of natural oils, Vitamin E, and nylon fibers to extend eyelashes for a bold and beautiful look.
Final Thoughts: I had pretty high hopes for this mascara. I was really expecting the wide-eyed doll effect, but the mascara gave more natural vibes. The brush head was a bit flat in the middle, which caused the bristles to be a bit stuck together (at least in the tube I purchased). All in all, this mascara was ok, but I don't think it rose to the occasion to match its name.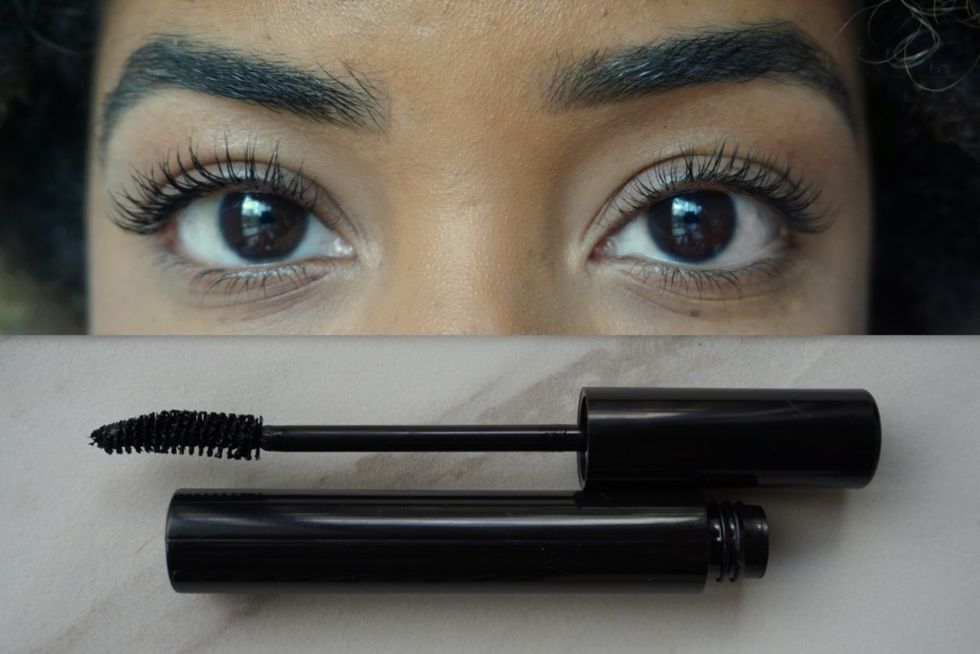 Left: With Mascara; Right: Without Mascara
Color: Black
Price: $8.95
Lash Purpose: Curl, Volume, Lengthen
Claims: This splash-proof mascara seals each individual lash with a unique fortifying formula. It curls, volumizes, lengthens, and sets lashes into place for day-to-night wear. The curved brush is carefully designed to fit the contour of the eye, coating each lash with intense black pigments to reveal a lush, defined, and clump-free look.
Final Thoughts: Although the packaging is pretty plain and basic, I liked the look of the dark pigment leaving a glossy finish on my lashes. I usually don't use waterproof mascara because of the hassle to take it off, but this one passed the test and was still easily removable with a makeup wipe.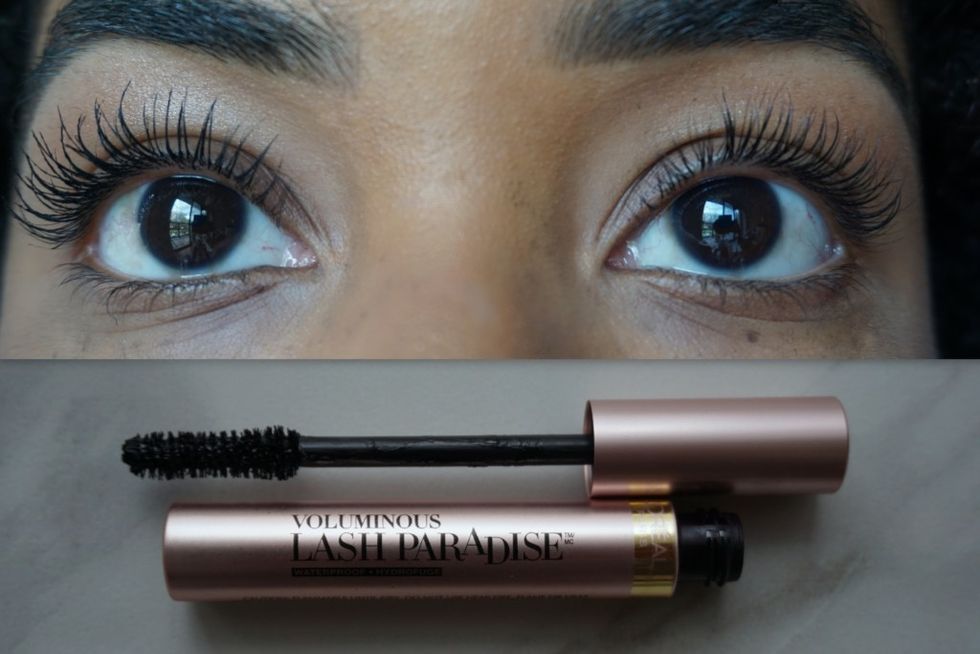 Left: With Mascara; Right: Without Mascara
Color: Blackest Black
Price: $9.99
Lash Purpose: Volume
Claims: L'Oreals first mascara for voluptuous volume & length. The soft wavy bristle brush holds maximum formula for a dramatic volumizing charge and full fringe effect. The smooth glide formula provides silky volume in one coat. Lashes are feathery soft to the touch.
Final Thoughts: At first glance, the packaging is very similar to Too Faced Better Than Sex Mascara (one of my all-time high end favs by the way). I thought it was a pretty comparable dupe and I liked the brush head, making it buildable for extra volume.
Gripe: The waterproof formula is entirely too hard to get off. A makeup wipe was not enough. I had to use an oil-based makeup remover afterwards and I still noticed there was leftover residue on my lashes the next morning. If you get teary-eyed or are looking for run-proof mascara, this formula is definitely the one.
THE VERDICT
So there you have it: the 9 best tried-and-true drugstore mascaras you can turn to the next time your lashes need a little somethin' somethin'. As far as my personal favorites, my top 3 were:
1. Maybelline x Shayla The Colossal Big Shot
2. Essence Lash Princess False Lash Effect
3. No7 Exceptional Definition Mascara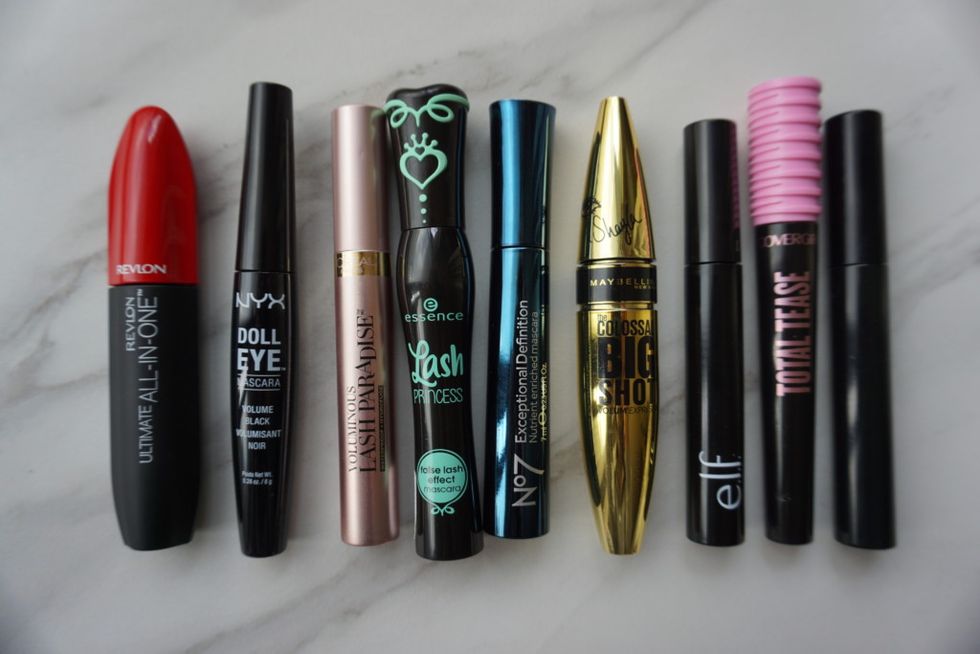 What about you? Which ones are you feeling the most? If I left some of your favorites off the list, what are your favorite go-to drugstore mascara picks?
Throughout my adolescent life, my mother would constantly tell me as she looked at my incomplete made up face, to "go put some lipstick on." I was a ChapStick girl for years! I've always loved wearing makeup and would do up my eyes, face, and cheeks, and finish it with lip balm.
Fast forward years later as a young professional, lipstick has become a staple in my makeup bag, as well as, my signature look along with bronzy clean skin and manicured brows. If I went into my bathroom and counted how many lipsticks I currently have, I wouldn't be surprised if the count exceeded 30. I know, lol.
As a beauty blogger, it's been a part of my job description to test and collect. But like most women, I like to have room to spend my money elsewhere and not break the bank due my slight obsession over makeup. So, I've rounded up 10 budget friendly, drugstore lipsticks from different brands, tested them out, and included an honest review on how they stand up next to some of our pricier favorites. Enjoy!
Wet & Wild Megalast Lip Color

Shade: 902C Bare It All
Price Tag: $1.99
Application: Initially goes on like a matte texture, but reapplied throughout the day it goes on creamier.
Pigment: Great pigment!
Tips: This is one of my favorite cheapie brands. I literally have every single color. I would recommend wearing a light lip balm underneath before you apply the lipstick.
Gripe: Some colors can be "stickier" than others after application, which could be due to the ingredients of the lipstick. You get what you pay for, right?
Worth It?: Definitely! Overall, the payoff is major and it's worth every bit of your $2. Thank me later.
Shop here
Rimmel London Moisture Renew Lipstick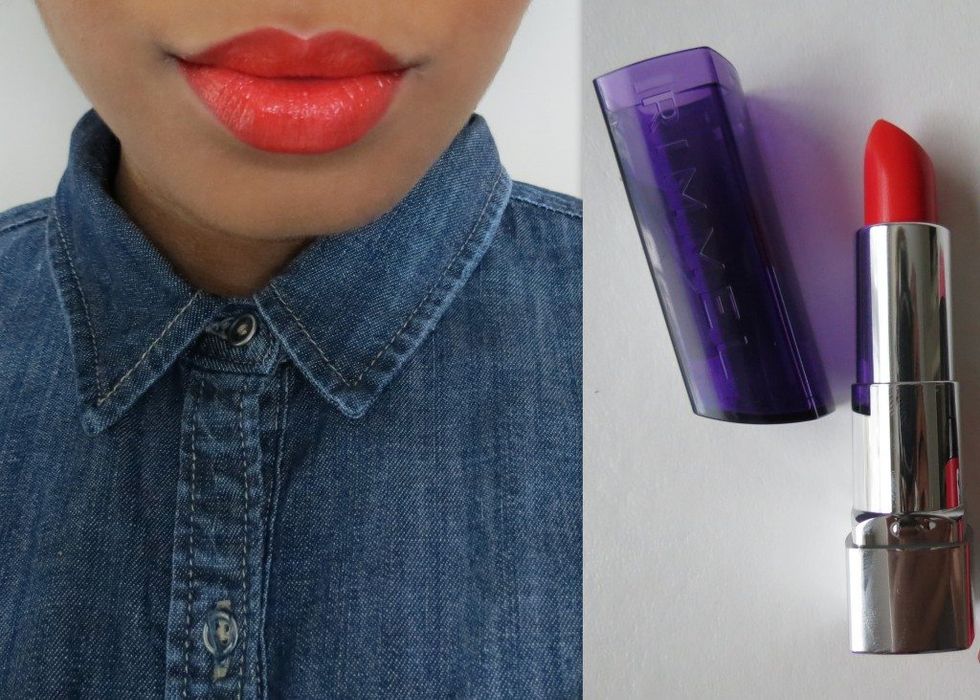 Shade: In Love With Ginger
Price Tag: $5.49
Application: Glides on very smooth and creamy. I did not need to wear a lip balm underneath.
Pigment: The color is buildable which I love. More swipes equals more pigment. You don't even need a liner underneath.
Worth It?: Yes! I would compare this lipstick consistency with Dolce & Gabbana lipstick. Dolce smells better, but Rimmel London gives off max color for your dollar.
Shop here
Rimmel London Lasting Finish Matte Collection by Kate Moss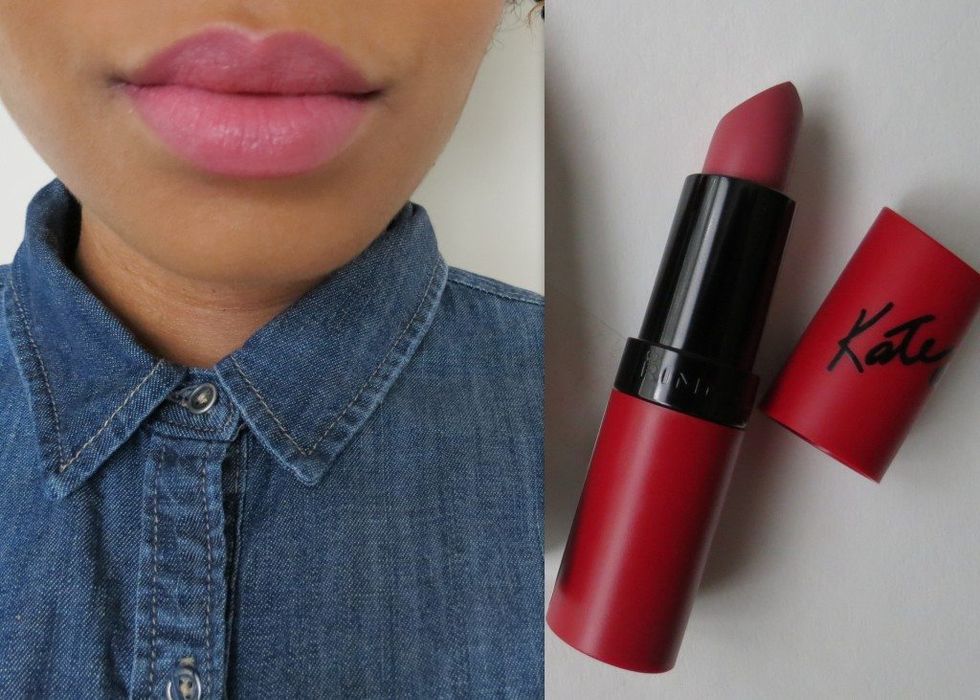 Shade: 103
Price Tag: $5.49
Application: Creamy application and dries with a matte finish.
Pigment: Incredibly pigmented.
Gripe: As it wears throughout the day, it fades away and leaves a ring of color around the outer edges of the lips.
Tip: For longer wear, apply a light balm, fill in your lips with with a lipliner, then apply the lipstick.
Worth It?: This shade is hot right now. I would definitely say it compares to some of your favorite MAC lipsticks.
Shop here
Milani Color Statement Moisture Lipstick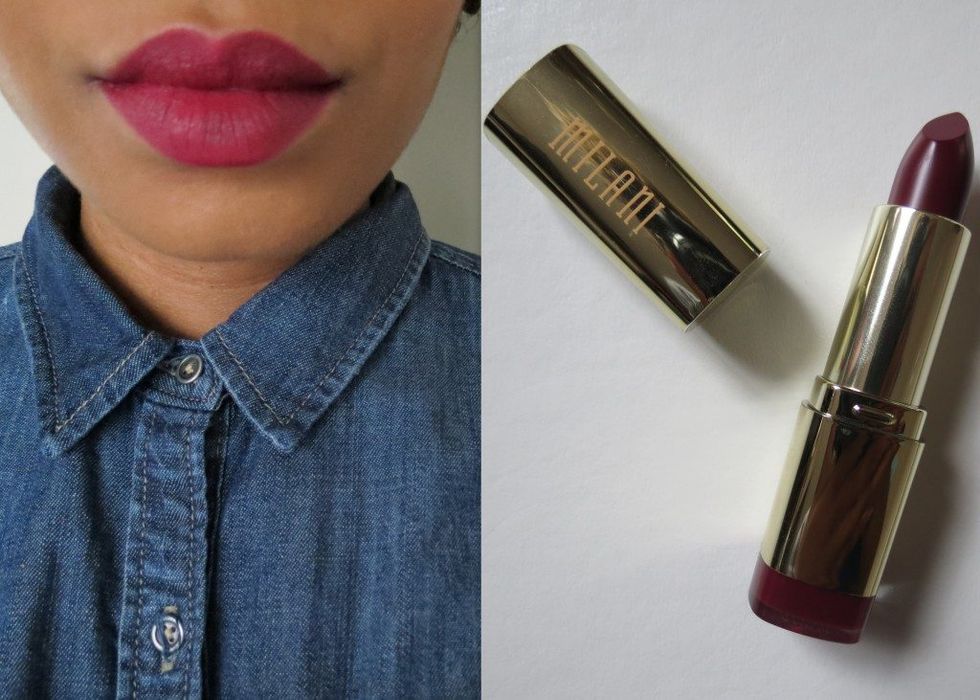 Shade: Matte Flirty
Price Tag: $5.99
Applications: Goes on smooth but matte
Pigment: Pretty good color.
Gripe: The color was a little uneven when applying. A lipliner underneath would help with even application. It also stained my lips a little after removing with a makeup wipe.
Tip: You have to be sure your lips are exfoliated before applying this lipstick. It will show every imperfection if you don't.
Worth It?: It's a hit or miss with this line depending on the color. I have colors from Milani with great pigment and others that just don't give me enough punch, but I still give it a thumbs up.
Shop here
Maybelline Color Sensational Creamy Matte Lip Color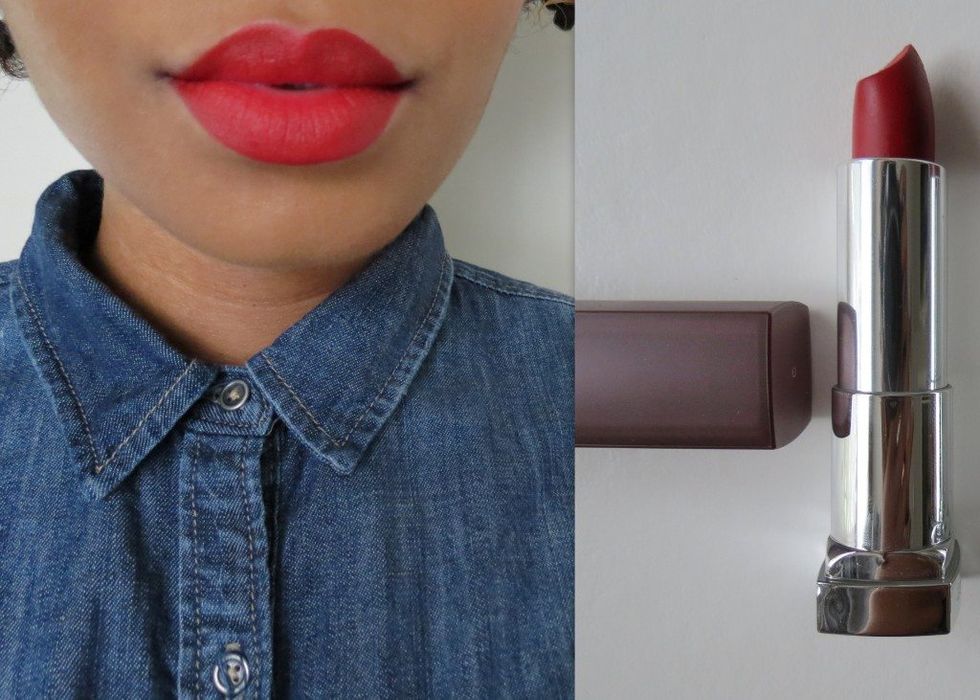 Shade: Rich Ruby
Price Tag: $8.29
Application: Goes on smooth and creamy. Felt very soft with a satin finish feel, dries matte.
Pigment: Amazing color pay off! The kind that makes you say wow the moment it hits your lips.
Tip: You can apply a light balm first, but it wasn't drying at all.
Worth It?: LOVE LOVE LOVE this collection! This shade may be the runner up to my favorite NARS matte lip pencil this Fall. Total dupe to MAC Ruby Woo.
Shop here
Maybelline Color Sensational Creamy Matte Lip Color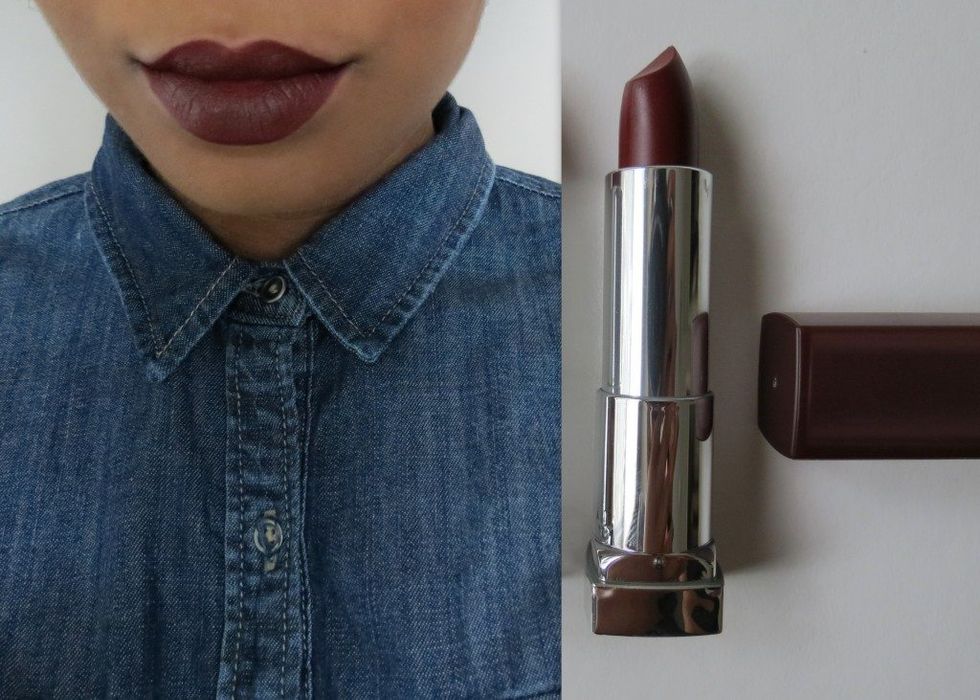 Shade: Burgundy Blush
Price Tag: $8.29
Application: Applies satin and smooth, dries matte
Pigment: Another enviable shade with great pigment. Buildable color and you don't even need a liner underneath.
Worth It?: Another bomb shade from the same collection. There are so many colors to choose from, so you are bound to find something you love for Fall.
L'Oreal Paris Colour Riche Le Matte Lip Pen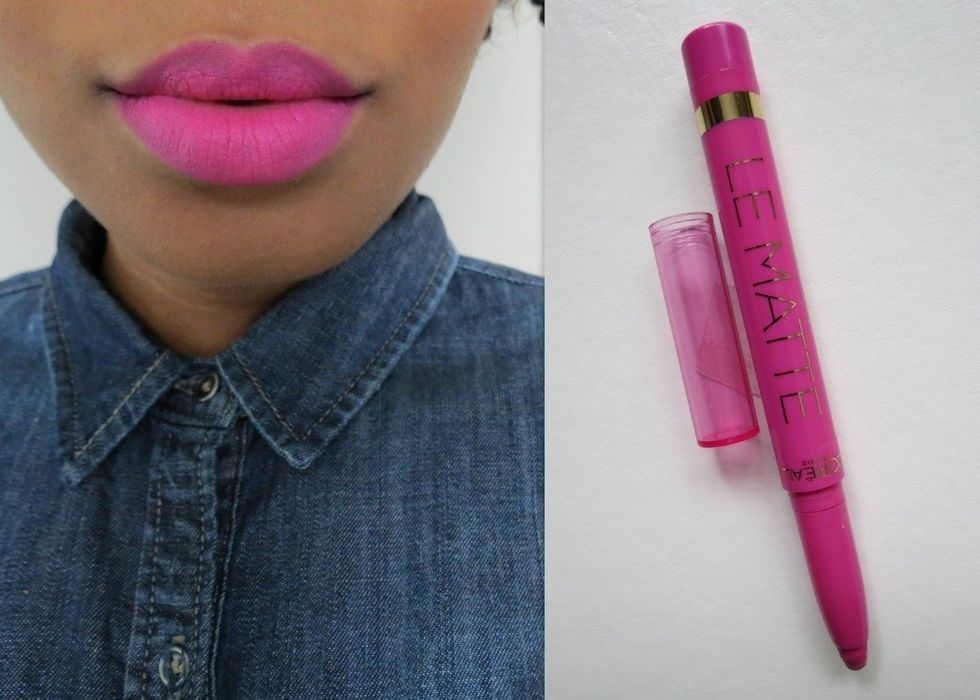 Shade: 100 Matte For Me
Price Tag: $8.99
Application: This lipstick applies more like a lip liner and was very easy to use. It goes on creamy with a satin feel and dries matte.
Pigment: The color is vibrant which I loved!
Tip: I would recommend for women with two-toned colored lips to use a liner the same shade for even color. My lips are a little darker around the edges and pink in the middle and I could still notice the darker edges of my lips.
Worth It?: Totally! If anything, this could double solely as a liner under your favorite shade of lipstick for maximum staying power
Shop here.
L'Oreal Infallible Pro-Last Lip Color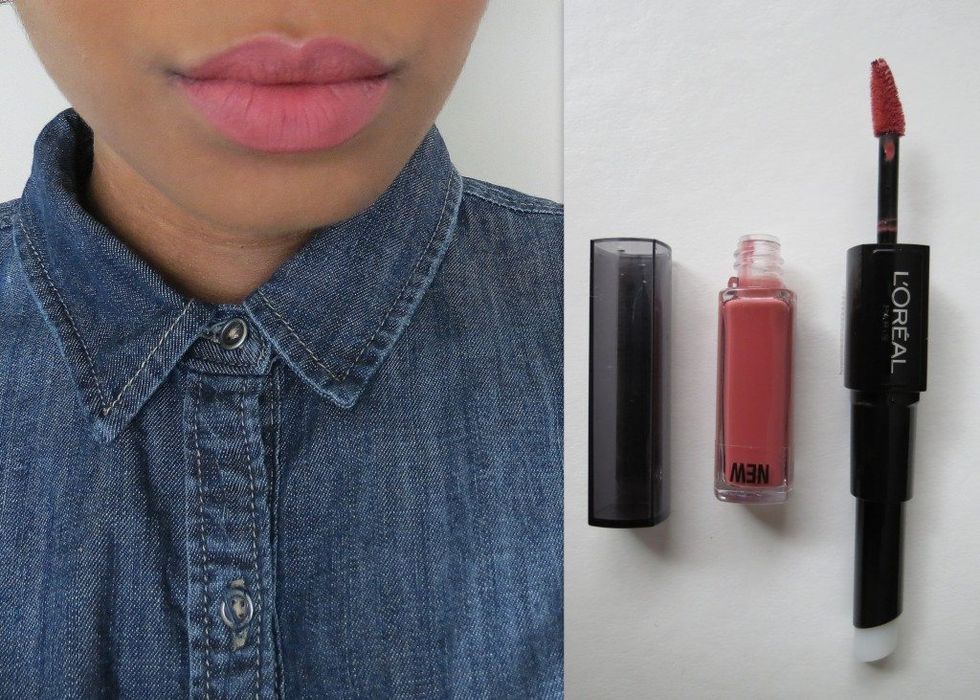 Shade: 111 Passionate Petal
Price Tag: $12.99
Application: You apply this product using the gloss first, then top it off with the balm. As a gloss alone, it was very tacky and does not feel good on your lips. When I applied the balm over it, it moved the gloss around and made it uneven. It was just weird.
Pigment: The color wasn't bad.
Gripes: For it to be $13, it smelled cheap. It was also the hardest lipstick to get off and dried with an awkward ring around my lips. When they say long lasting they mean it. I had to scrub vigorously to remove this product with a makeup wipe.
Worth It?: No, I did not like this product at all. Not only is it the most expensive, but there are so many negatives behind it, I wouldn't recommend it to anyone.
Shop here
Revlon Super Lustrous Lipgloss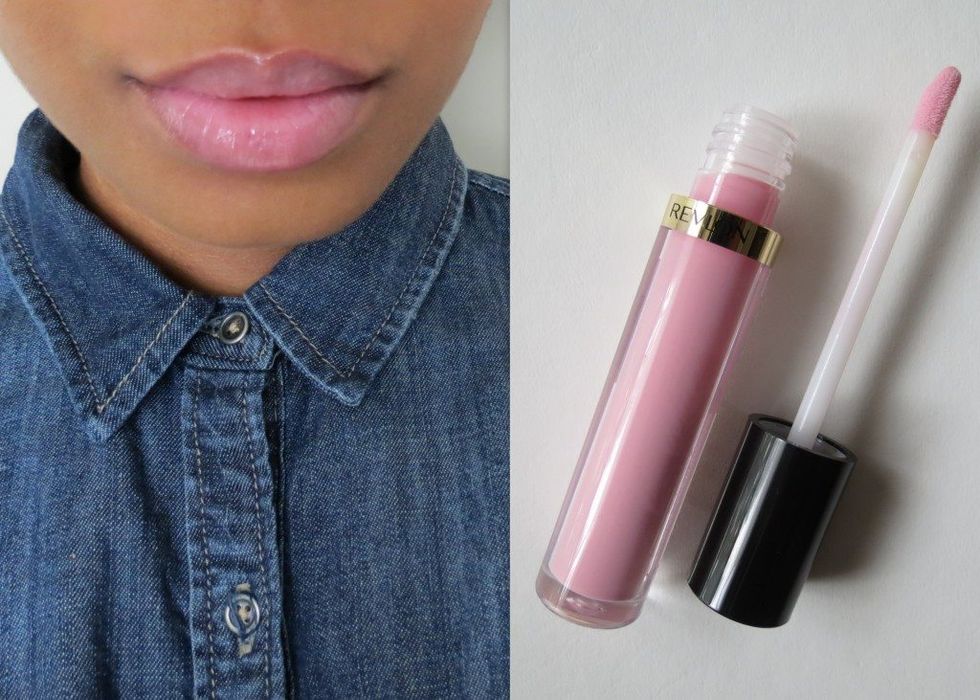 Shade: Sky Pink
Price Tag: $7.99
Application: For my girls who prefer gloss as opposed to a lipstick, you will love this line. It's light and applies more balm like than a sticky thick gloss (cough…MAC).
Pigment: Pretty soft color.
Tips: Great to wear alone or over your favorite baby pink or nude shade.
Worth It?: Yes, it's not quite as pigmented as the enviable MAC "Snob" yet, but a great runner up that won't leave that weird white ring on the inside of your lips.
Shop here
Black Radiance Perfect Tone Lip Color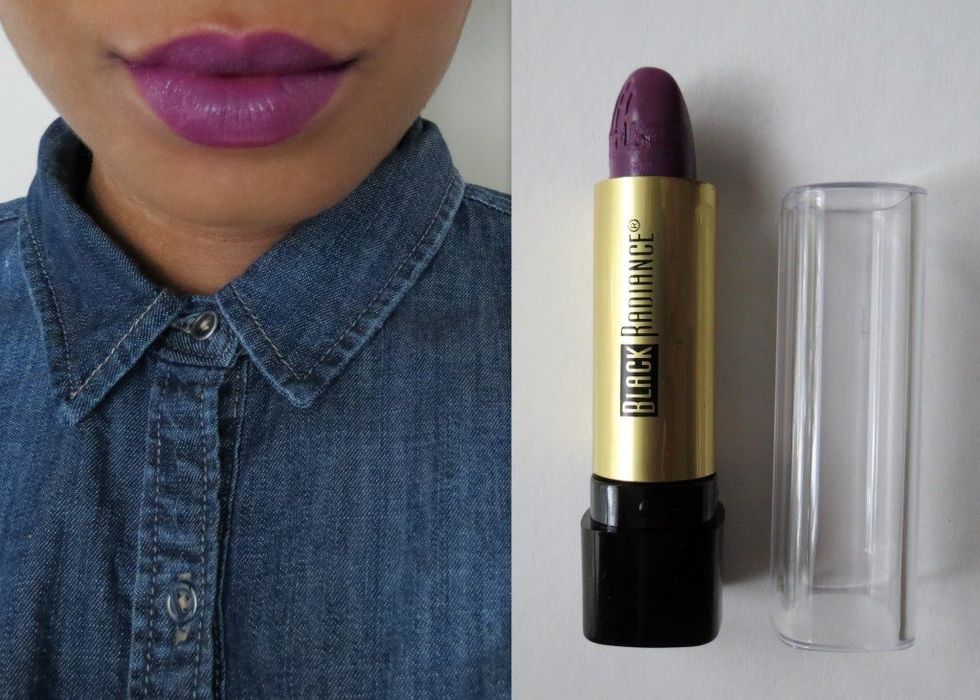 Shade: Plum Orchid
Price Tag: $1.99
Application: Glides on smoothly and feels moisturizing.
Pigment: This specific color has ok pigment. It's a mild take on a purple lip.
Tips: For more pigment and punch, layer this lipstick over a purple liner.
Gripe: The consistency of this lipstick is soft, which makes me worry that it may break in half or melt down easily.
Worth It?: Yes. While there are competitive purple shades out there, I do have a red from Black Radiance that looks awesome. Just like Wet & Wild, it's definitely worth the two dollars.
Shop here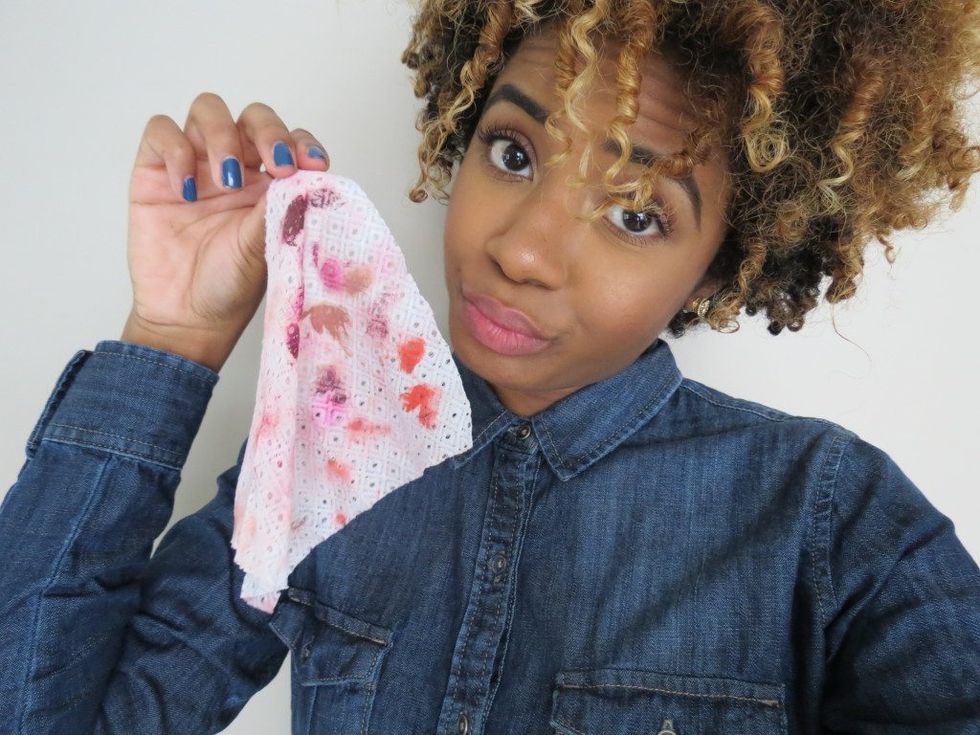 Now that I've sampled all these lippies for you ladies, which ones are you feeling? There are so many amazing brands in drugstores and I'm sure I left a couple of your favorites out, but hey, hopefully I was able to introduce you to some new faves as well!
What are some of your favorite drugstore lipstick brands and shades?
You know what they say, a smile is the prettiest thing a girl can wear. Bronx rapper and Billboard Hot 100 artist Cardi B gave many of us the much-needed plug for the perfect smile, thanks to a couple of bars she laid down in the summer 17 hit "Bodak Yellow". Now infamous, the lyrics were, "Got a bag and fixed my teeth/Hope you h-es know it ain't cheap."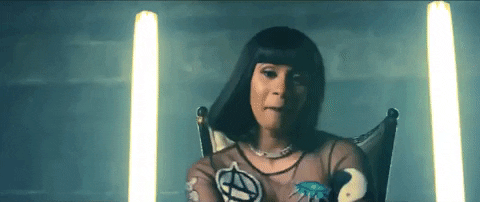 bodak yellow GIF by Cardi BGiphy
And veneers ain't cheap, but most could argue that the investment is well worth the price tag. Porcelain veneers, which are a thin custom piece of porcelain used to re-create the natural look of teeth, typically range from $600-$2,500 per tooth. They can last up to 15-20 years with normal wear and tear.

Aside from Cardi, some of your favorite celebs and beauty vloggers in the game have opted to have veneers and many have shared their experience, highlighting things from the importance of commitment, all the way to scheduling an appointment, and the details in between.
The Veneer Process & How It Works
"Think of repainting a wall with a superior paint – you must sand, apply a primer and apply the coat of paint," Illinois dentist Dr. Karen Fields-Lever explains. "The process includes removing a small layer of the tooth in preparation for placement. An impression is taken for the lab where the veneer is constructed to fit the existing tooth. The veneer is then bonded to the tooth with a cement agent. Think of a fake fingernail, but with longer-lasting results!"
A few celebs and vloggers have revealed why they opted for porcelain veneers to achieve the perfect smile versus other inexpensive options such as Invisalign and braces. Keep reading to see what they had to say:
MakeupShayla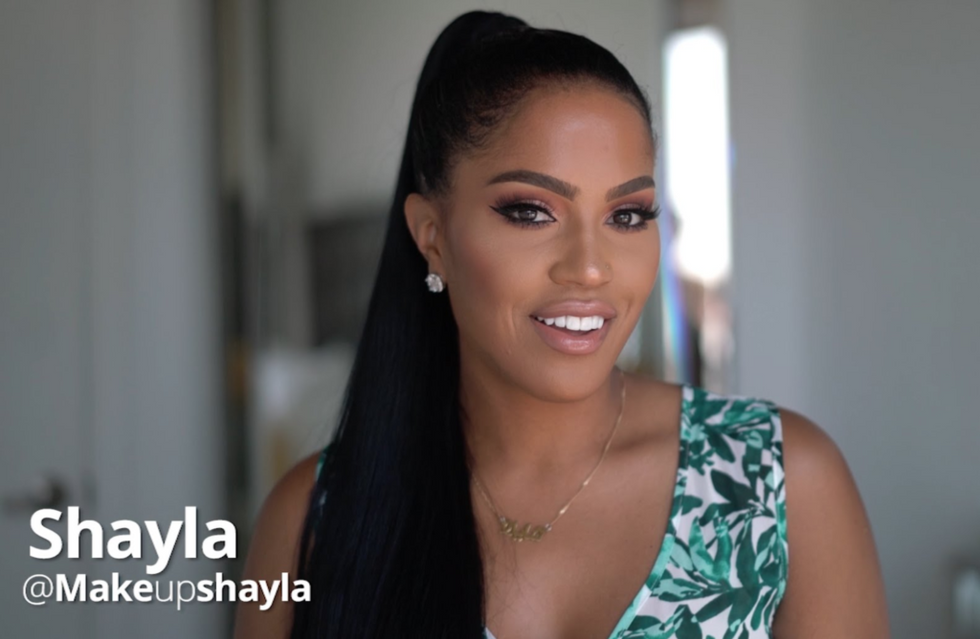 "I was insecure about my teeth. My teeth were crooked and yellow. Because my skin tone is darker, they didn't look as yellow, but I also couldn't bleach them because I had calcium deposits. I just had a lot of issues with my teeth. Originally, I was going to do Invisalign, but the doctor said too many things were wrong and Invisalign probably wouldn't be able to fix it, so I got my veneers. I have the top 11 teeth done and now it's like I can smile with confidence." - MakeupShayla via YouTube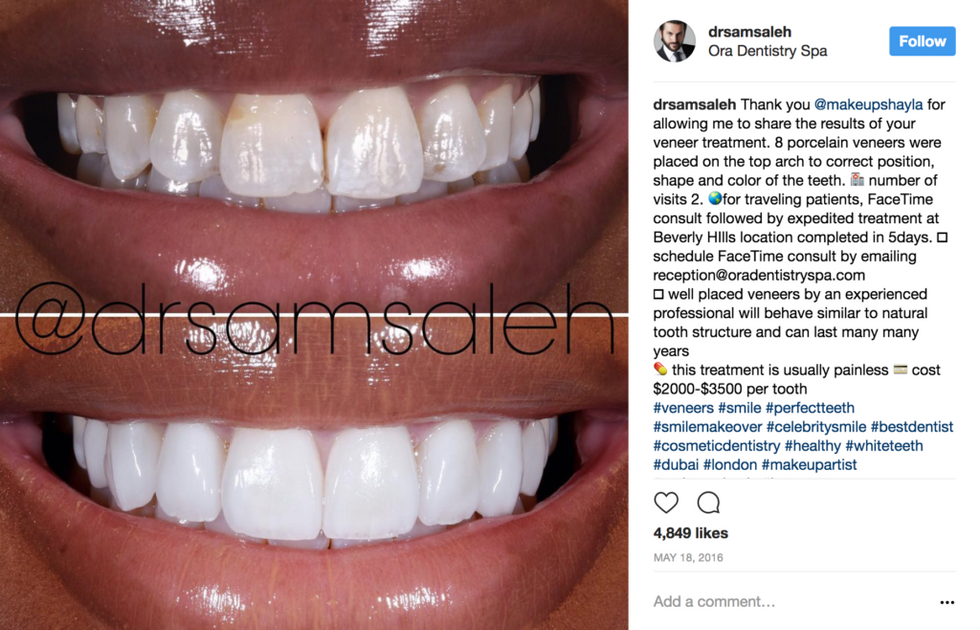 MakeupShayla's before and after photo of her veneer process
Here's a quick clip from dentist, Dr. Sam Salah on MakeupShayla's veneer treatment:
MsVaughnTV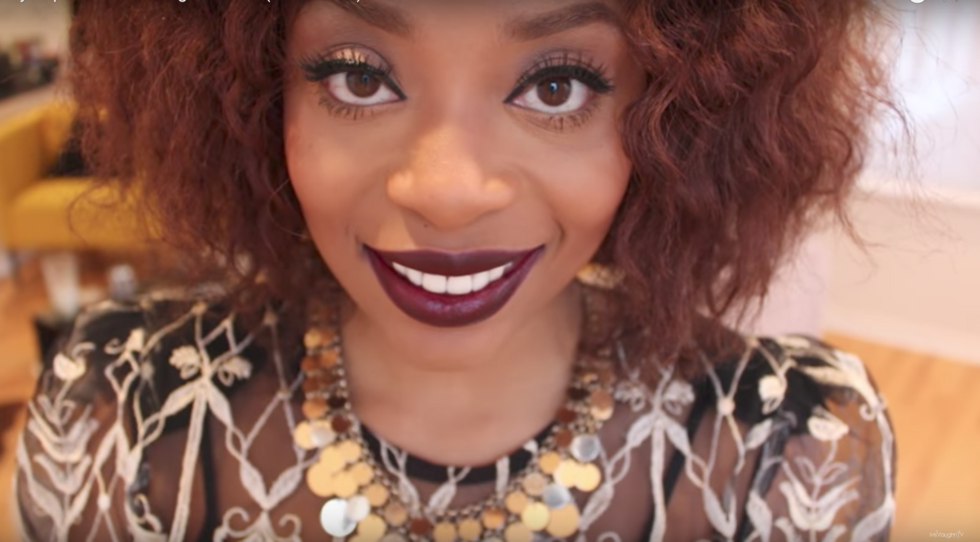 "The reason I landed on the veneer procedure versus any other procedure was because it was the best fit for me. When I was talking to the first dentist on ways to close the gaps in my teeth, he gave me all the aesthetic options. One of them was Invisalign. Invisalign is going to realign your teeth by pushing them together over a period of time. I was not a candidate for that because my teeth weren't just spaced, they were actually smaller than normal teeth. It was a hereditary thing passed down to me from my Dad's mother."What's funny is that those teeth skipped my Dad and came to me, so he has perfect teeth. I definitely wanted my smile to be like his. It wasn't like 'oh I hate my teeth' and I lived this life of self-hate. I just wanted to improve the aesthetic of my smile and that was pretty much it. I don't feel more beautiful than I felt before, I just feel like my teeth look a little bit better. Aint nothing wrong with that." - MsVaughnTV via YouTube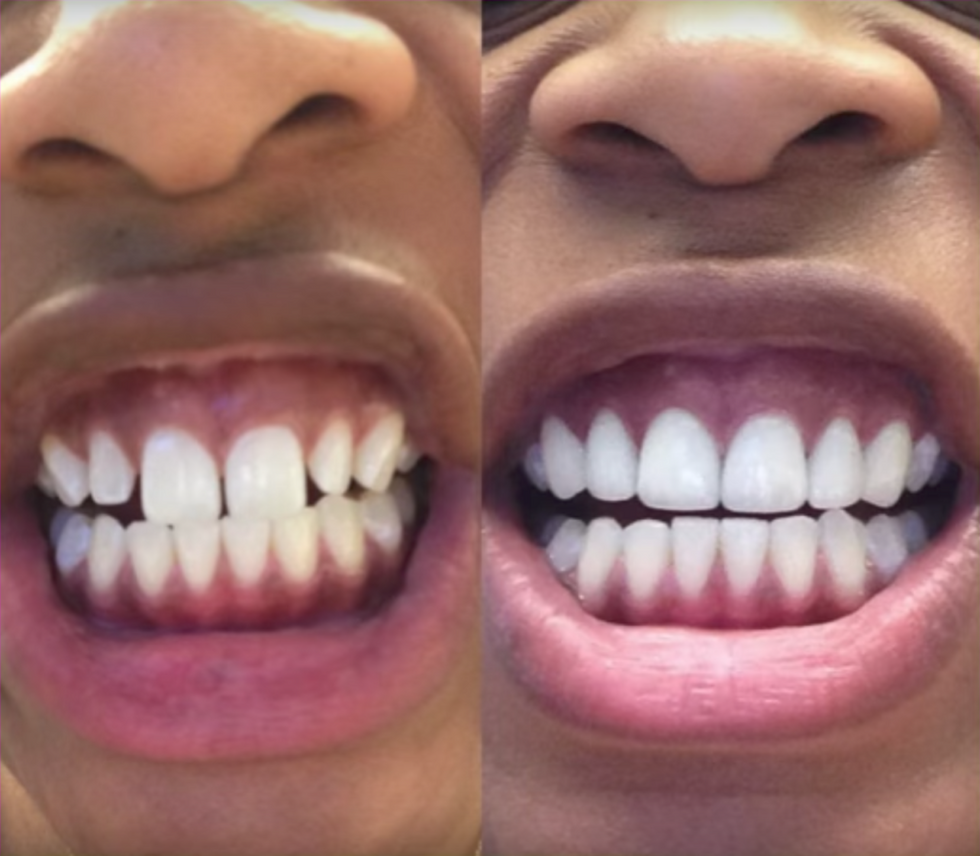 MsVaughnTV before and after photo of her veneer process
Cardi B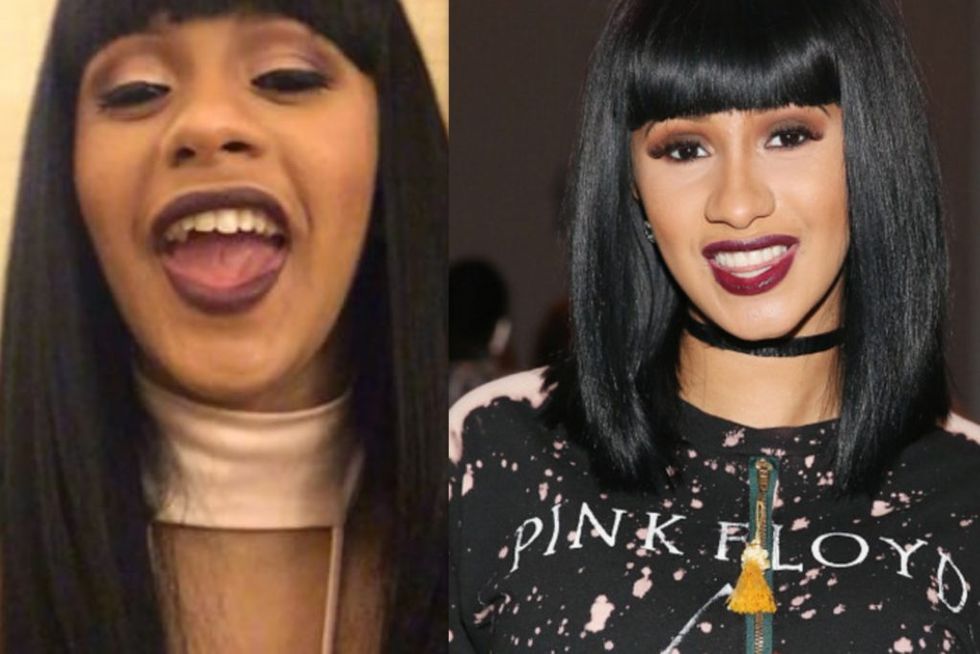 Cardi B endured insults for years on her teeth. After being thrusted into the spotlight, receiving even more ridicule from the industry, she got the bag and fixed her teeth.
"If you don't feel comfortable and you're tired of people talking about you, then go and fix it. It's alright to fix it. And why not go to the best? I personally recommend Dr. Catrise. Not only did practically half of Hollywood get their mouth done by her, but you come by the office and see who. A lot of artists actually recommended me to get my teeth fixed with her. She's truly the best." – Cardi B via YouTube
Amrezy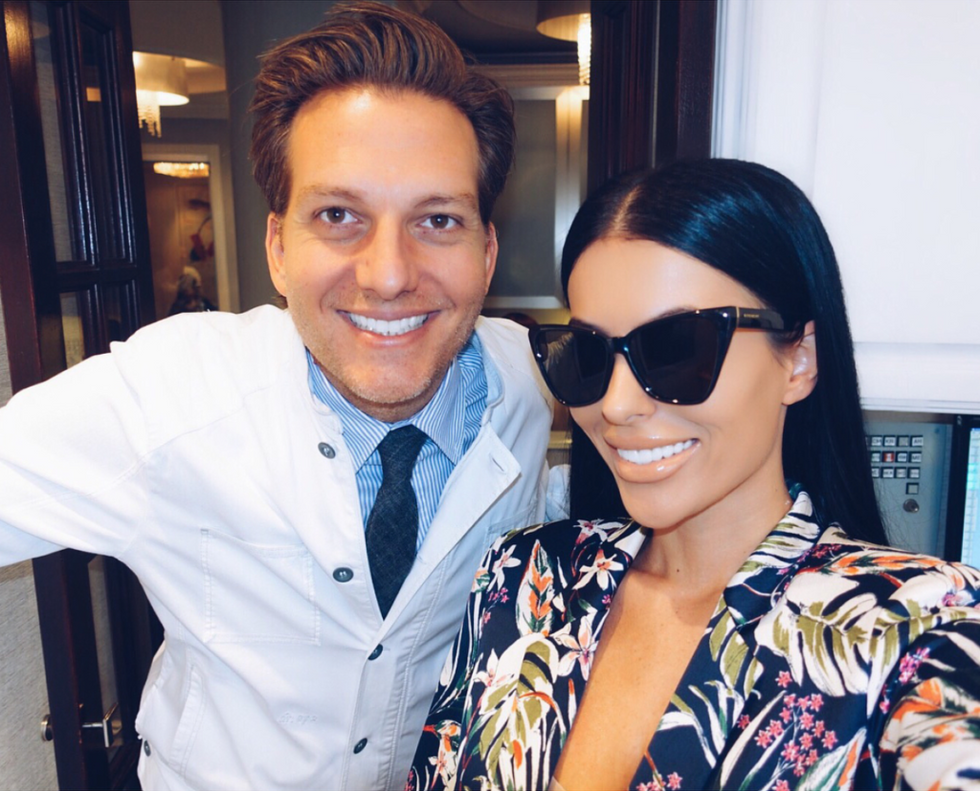 "My old teeth were obviously horrendous. I remember when I first got them done, how many people I blocked because when I first posted the photo they were like 'omg you look like a horse.' Lowkey, I knew I looked like a horse, but I didn't want to admit it because obviously, I had just spent so much money on getting them done. The last thing I wanted to hear was an insult. Even though they were right, that was the last thing I wanted to hear. My new teeth aren't as white as the previous ones. My old veneers were a part of the bleach shades, so I picked the lightest shade in the history of mankind."I don't know why and like I said before I didn't do my proper research the first time around and I made every kind of mistake I could have made. I picked the wrong dentist and I picked the wrong shade. The reason why these now look natural was the shape, my gums look natural, and the shade is part of the human shades and not the bleached shades. I'm actually happy that they aren't as white as before because the first thing you would notice when I opened my mouth were my teeth. They were glowing and not in a good way. So I definitely made every smart decision this time and my dentist was absolutely amazing." – Amrezy via Snapchat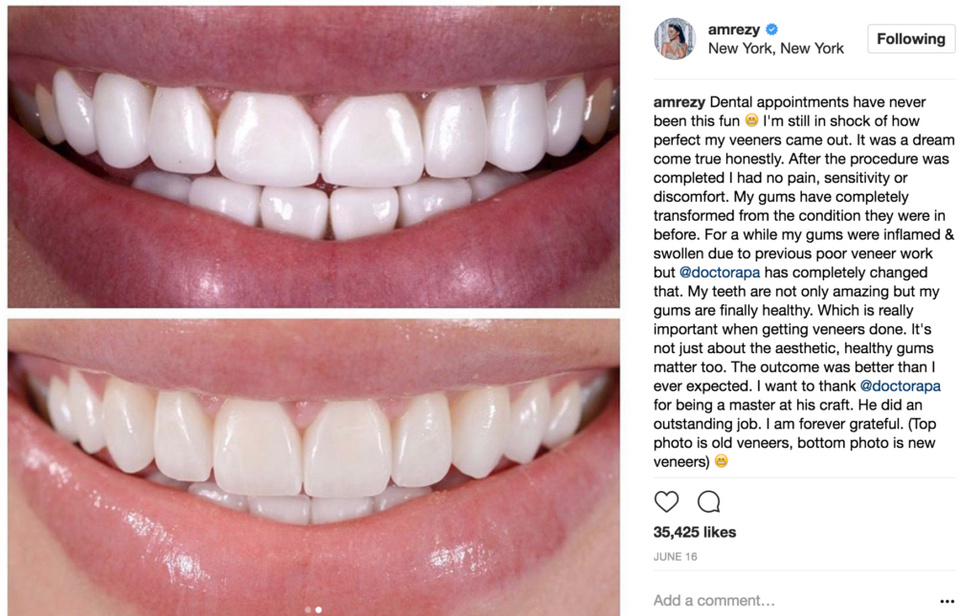 Amrezy before and after photo of her veneer process
According to Dr. Fields-Lever, the best candidates for veneers tend to have abnormally spaced, stained, or chipped teeth. Others choose veneers simply to improve the aesthetic of their smile.
Now that you've been armed with some first-hand experiences to sink your teeth into, talk to me. For those who already have a set of veneers, what was your experience like?
And for those of you considering, what are your thoughts on the look and why do you want to have the procedure done?