While mantras and the dedication to more self-care and health practices are a beautiful way to press reset year-round, a lot of us forget how important it is to nurture our most sacred space. And by that I mean, our homes. While the outside world comes with stresses and responsibilities and chaos, your home very much embodies the eye of the storm. There you find peace, tranquility, and solace. And because it does, you shouldn't be afraid to elevate the way you think about it and how you make it work for you. Dare to do something different as you set your intentions for the rest of the year. Turn your home into a place that takes care of you.
Give these 10 feng shui tidbits a try and ignite a positive and nourishing energy shift in your life for 2022.
1

.

Keep Your Entryway Clutter-Free, Well-Lit, and Laced With an Inviting Aroma
Everyone who enters your home will take on the attitude and energy that greets them when the front door opens. Your entryway should inspire guests to bring only the happiest, healthiest parts of themselves into your home. We all have baggage, but bright paint and a fragrant scent will encourage your grumpiest neighbor to leave their negativity at the curb. Clutter-free means no trash, no stacks of mail, no piles of shoes, no shovels, and no raggedy coat racks in the doorway.
Make sure your home's entrance is saying, "Girl! Come on in here, so we can relax and have fun" as opposed to, "Ugh! What took you so long? I'm drowning in here!"
2

.

Designate a Place for Guest To Leave Their Shoes
For centuries, ancient Chinese feng shui pioneers have followed this rule: do not wear shoes in the house. Shoes carry gum, mucus, feces, and much more from the street into your home. Allowing people to walk around your home in their shoes is the equivalent of walking through Times Square barefoot. Secondly, letting shoes be worn in your home energetically represents people carrying their problems into your residence. As you can imagine, other people's issues to settle into your space can seriously interfere with your home's peace and positivity.
Do yourself a favor and always have the guests leave their shoes and their troubles at the door.
Tip: Keep a small basket of ankle socks on hand to offer those girlfriends whose toes haven't seen a pedicure in a while.
3

.

Protect Your Kitchen
The kitchen nourishes the family both literally and energetically. Anything that sustains you is worth protecting. It is best if you cannot see into the kitchen from the front door. Do something to cover your kitchen doorway. Energetically, visible access to the kitchen from the front door gives way to problems with nourishment-related health problems.
Tip: Use all four fires on your stovetop when cooking. Most people (especially singles) tend to use the same jet repeatedly. In feng shui, putting all stovetop jets into action energetically balances your body's health.
4

.

Shut the Bathroom Door (and Put the Toilet Seat Down)
Bathrooms are physically and energetically set up to "get rid of" what we no longer need or want. We all use the bathroom to wash away dirt and release other bodily things we are too ladylike to mention here. But did you know that bathrooms will energetically wash away your finances as well? Keeping your toilet seat up and the bathroom door open is the energetic equivalent of saying, "Here, take my money, I don't need it." So next time bae heads to the bathroom, tell them to put the lid down because your bank account depends on it.
5

.

Be Sure the Living Room Doesn't Feel Like a Museum
Living rooms should be set up for conversation. It is the room where "living" (being with loved ones, communicating, enjoying good company) is supposed to take place. Seating should be set up fairly close together, clutter-free, cozy and inviting. Furniture set far apart or lined up along the walls does not encourage "living" or togetherness. It's okay for the living room to look like the cover of ArchitecturalDigest, as long as it doesn't feel like the Smithsonian.
6

.

The Bedroom: Sleep, Sex and Solitude 
There are lots of fun, feng shui facts about the bedroom, so take note. Bedrooms are the lungs of the home where deep breathing (relaxation) should take place. Bedrooms are best when placed at the back of the home, where the energy is more yin. Every bed should have a headboard because, when we rest at night, energy from the universe enters our bodies through the tops of our heads. Too much cosmic intake can be overstimulating and disrupt your sleep. And lastly, do not store items underneath the bed. Doing so symbolizes underhanded, sneaky, or backstabbing behavior from others.
7

.

It's Electric! (And Unhealthy.)
Electrical currents are harmful to our human bodies. In modern times, it is hard to avoid. Nevertheless, there are things we can do to decrease our electrical exposure. What your grandmama said about not sitting so close to the TV is correct but the most vital place to reduce your contact with electrical currents is in your bedrooms. Free your bedroom of all electrical items like TVs, radios, and electrical alarm clocks.
If full-on monastery mode is not your cup of tea, then at least unplug the electronics before you sleep. Just plug everything into a power strip and turn the strip off at night. For those who sleep with their cellphones, try and break that habit by sleeping with all electronics a minimum of four feet away from the foot of the bed. And, yes…that includes your cellphone as it charges overnight.
8

.

Table Talk
When shopping for a table, keep this in mind. The most uncomfortable tables are those with a glass tabletop. Fear of breaking or cracking the table is a visitor's worst nightmare. People can't help but feel tension when they have to place something on a glass table. The stress is distracting and takes away from good conversation and fun activities. So, when you're redecorating, swap the glass out for wood, leather, or some other less fragile tabletop.
9

.

Big Windows and High Ceilings
When choosing a new home or apartment, be sure the top of the window frame is higher than the tallest resident or frequent overnight guest. Short window frames give college baller bae -- that uneasy, trapped feeling. We don't want that energy creeping into our relationship.
10

.

 Place a Protector Near the Entryway
Every queen needs protection. Feng shui suggests using a talisman at or near your home's entrance as a tool of security and an attractor of good vibes. Different cultures have different talisman items. The Chinese culture likes the Bagua or fu dogs, while a home of African descent may choose an Ankh or the Eye of Ra. The choice is yours.
Let's make things inbox official! Sign up for the xoNecole newsletter for daily love, wellness, career, and exclusive content delivered straight to your inbox.
Featured image by JGI/Tom Grill/Getty Images
Originally published on October 24, 2019
Now that the new year is here and it is setting the tone for the decade ahead, we have the chance to use this sturdy and supportive energy to get us where we're trying to go; especially in love. We talk about wanting to change our relationship status from single to coupled, committed, or married but many are not sure what to do to help that process along.
Willing or not, you've probably tried online dating, blind dates, the friend of a friend referral and the tried and true, meeting someone out in these streets. For some, nothing seems to land them with that "stay bae". You know - that person who you meet, hang out with and when the date is coming to a close, you look at each other and say, "You wanna stay here and get another drink?" That's a stay-bae.
We all want that and yet many of us struggle to make that kind of connection. But, there's hope. Often the energy we carry out into the world has an impact on how we relate to others. We cultivate our love energy at home, and if your home energy isn't inviting companionship and romance, it could be a real struggle to land love at your doorstep.
Here is how you can help the year deliver the romantic connections you long for. Assess your home for the following feng shui no-no's and use these feng shui tips to make sure you are dripping in romance sauce every time you step out the house.
Evaluate What Your Bed Is Saying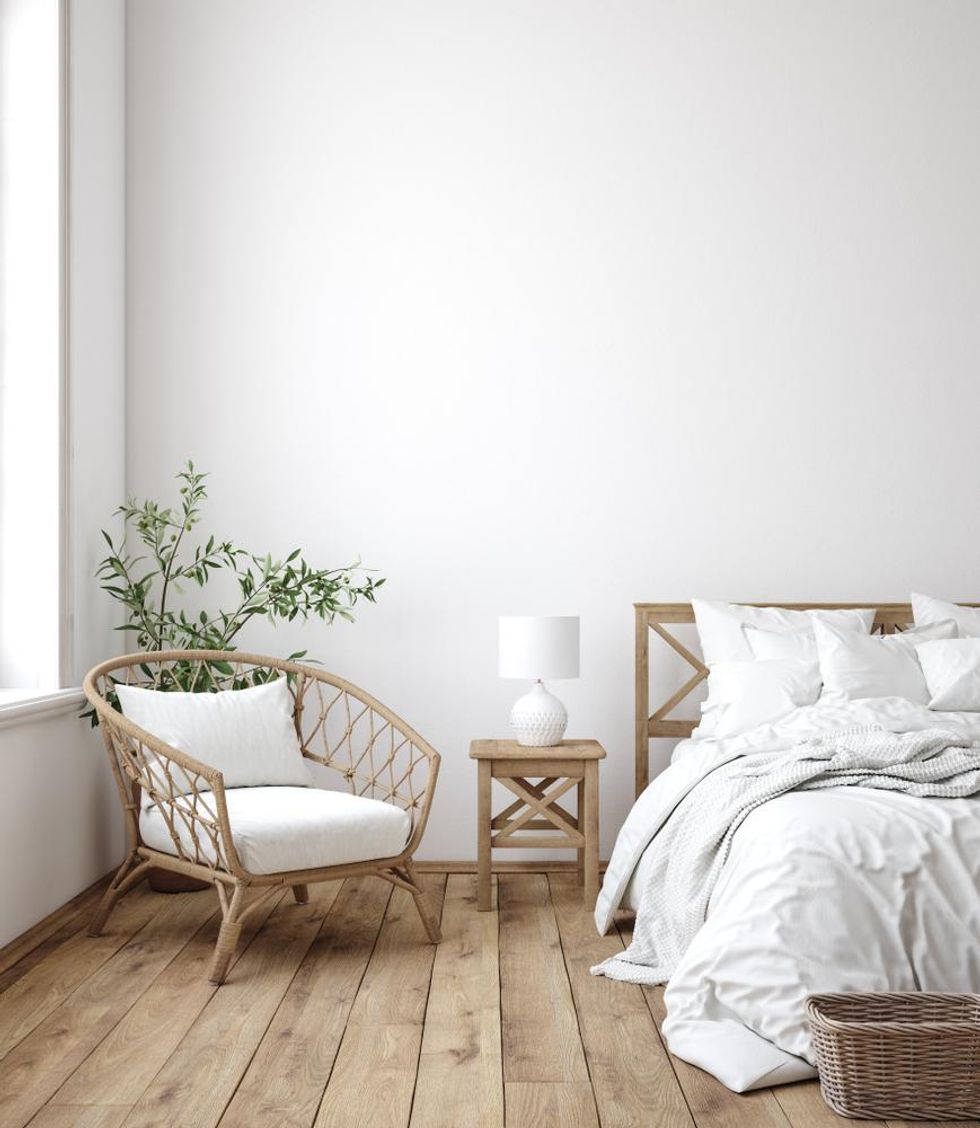 Shutterstock
Our bed is critical when it comes to attracting romance and love. As you know, couples use the bed for many things - sex, pillow talk, Netflix and even protest. Your bed must set the tone for the life you want to enjoy in that bed. In feng shui, furniture placement is vital. Is either side of your bed up against a wall? If it is, move it. Both sides of your bed need to be accessible.

If you have your bed up against a wall like a bunk bed, stop right now and move it. How can your love partner or "Mr. Right for Tonight" feel welcomed if he has to climb over you like a six-year-old cousin who is spending the night? Both sides of your bed need equal access. Only headboards should be up against the wall.
Dress Your Bed Invitingly
Now that your bed is appropriately positioned, is it dressed? Do you have a well-dressed bed or do you leave the covers twisted, and the pillows tossed when you start the day? Having a bed that is appealing with comfortable pillows sends you out of the house with a romance confidence that is attractive to others.
Just think about that moment when hottie at the gym is giving you the eye from the treadmill, and you remember you got your granny panties on. Your energy shuts down because there is no way you will let gym-bae see those raggedy yet comfortable drawers on you. So your vibe shuts him down before you even get to say a word. It's the same principle with the bed linens and placement.
Add Some Tables To The Mix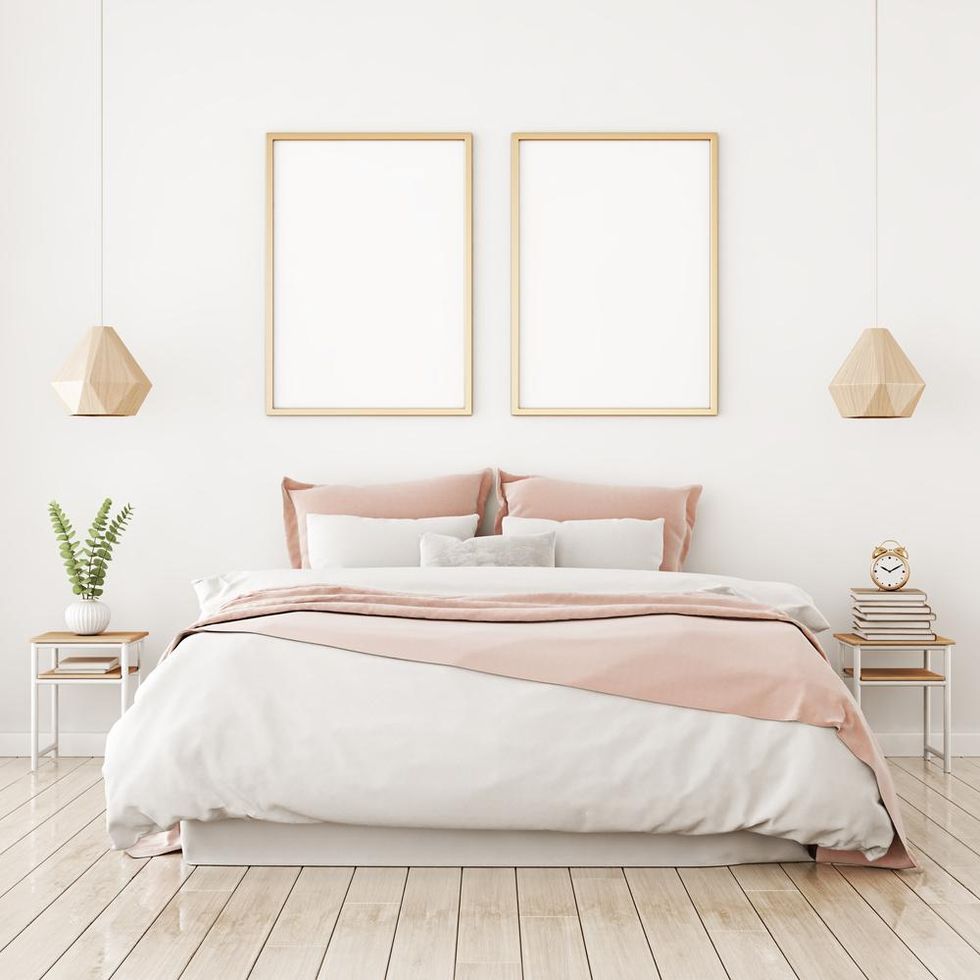 Shutterstock
And while we are in the bedroom, do you have nightstands or end tables by your bed? You should. They frame the energy. Not having nightstands is like going out without earrings. You should decorate the nightstands with warm lighting, something fragrant and of course, keep them clutter-free. There should be no photos of family, children, or ex-mates on your nightstand. The ex-mate picture is a given, but family and children photos are one concept that many people miss.

No romantic partner wants to be looking at a photo of your father as he is trying to romance this man's daughter. Is this making sense? It's a romance killer. Save the family photos for the living room or other non-romance parts of the house.
Match Your Knicks With Knacks
The other feng shui tip you can use to invite couple-hood into your home and life is to have things in doubles in your home. If you have artwork on the walls, have prints that represent doubles. For example, instead of one boat on the lake, choose a piece that has two boats. If you have a cookie jar in the kitchen, get a matching jar for your tea bags. Instead of one big lamp for the living room, get two lamps that can light the whole room together. If you are a knick-knack person, be sure that your knick has a knack to match. We need to create the energy of coupling and pairs in our home, so the message is subtly clear to stay-bae when you invite him over.
And finally, make sure the entrance to your home is clear, bright and smelling sweet when you open the door. Now that your home has you ready to attract love; be sure not to let a cluttered, dark entryway ruin all of your hard work when you invite potential-bae for a visit.
Give these feng shui tips a try, sooner than later. Here's to this year granting love to everyone who can show that they are ready to receive.
Featured image by Shutterstock
Originally published on January 12, 2018
I heard a statistic on the radio (yes, a radio, it's still a thing) that said, more of us are single than in a romantic relationship or marriage. That means more of us are going to die younger than necessary.
Human beings require intimate connections with other human beings to stay alive. To further highlight this point, there was a study decades ago that coined the phrase "failure to thrive." It proved that people who have food and water but little or no intimate connections or touch from other people pass away faster than humans who are being hugged, kissed, and spoken to regularly.
Here is another eye-opener. In our lifetime, we spend more time on social media (5 years, 4 months) than we do eating and drinking (3 years, 5 months). Hello! More time watching other people "live" than we spend doing something that is required to stay alive is a problem! But, there is hope. There is something that can protect us from these modern-day silent killers: Boundaries.

Healthy boundaries are the elixir to all that ails us. Many of us aren't aware of where our boundaries lie, let alone if they are healthy. Healthy boundaries can quite literally cure us of mostly everything we suffer from, mentally and physically.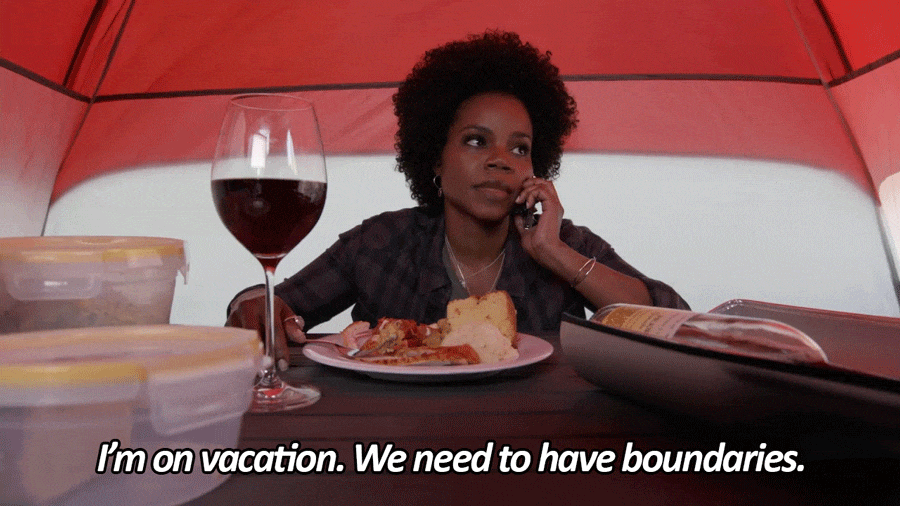 Knowing what you want or don't want and being consistent with honoring your desires is the way to develop healthy boundaries.

It is also the only way to feel and actually be genuinely happy. We don't often recognize when we are compromising our boundaries, especially with the seemingly simple things in life. Take the scenario test below to see where your boundaries lie.
Once you get a sense of how weak or strong your boundaries might be, then you can take steps toward making your boundaries healthier. There are only two answers you can give to each scenario: YES or NO. There is no MAYBE. Be honest with yourself. When answering, your answer MUST reflect what you've done in the past, not what you wish you did or what you plan to do moving forward.

Quiz:
A girlfriend asks you to brunch when you want to stay home and funds are low. Do you pull out the credit card and go? YES or NO
Your cousin asks you last minute to watch her kids for 30 minutes. Last time, 30 minutes turned into 6 hours. Do you agree to watch the kids? YES or NO
Your bestie ask you to do something that will interfere with your plans to go home, take a bath and watch Love Is with your cheesecake. Do you comply with her request? YES or NO
Do you look at social media instead of making your to-do list, taking yoga class, cooking a good meal, or writing another chapter in your book? YES or NO
You've eaten poorly and drank with friends all weekend and your body is feeling it. Monday night work dinner with the company bigwigs, the boss suggests that you try the restaurant's decadent 5-star dish. This dish is everything your body doesn't need right now. Do you comply to show off your team player skills? YES or NO

Your "maintenance man" is texting to ask for a late night oil change (wink, wink). You would rather chill alone for the night. Because you know you've used this guy for the occasional early morning tire rotations or evening engine flush, do you agree to his request? YES or NO
A boundary is a point or line that marks a limit. It is a borderline or partition between the life you want to live and the life everyone else is trying to make you live.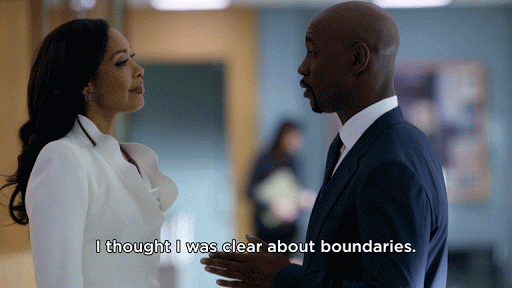 If you had more YES's than No's, you need to tune your boundaries to a higher and healthier frequency. Here is how:

At the beginning of each month, decide on your top two priorities for the month. For example, firm up my thighs and write 15 pages of my novel. Before you agree to requests, demands, or suggestions from others, ask yourself these three questions:
1) Does this keep me on task with my top two priorities for the month?
2) If I do "this," will I get closer to achieving my goals or completing my plans?
3) If this doesn't turn out to be amazing for me, will I be upset or frustrated?
We all have moments when flexibility is required, but for the most part we need to know what we want and reject all the things that won't get us there. Think about it like this, creating your boundaries is like roller-skating. You set your direction and speed while allowing yourself to have fun and try new moves, but if you let someone else push you, there is a good chance you will wipe out.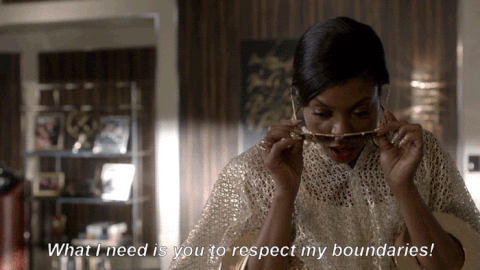 Big or small, any step past your personal boundaries is a step away from your peace and happiness.
La Shell Wooten is a NYC-based licensed therapeutic life coach who enjoys a good cup of tea, beautiful sunset and a quality tire rotation. Check out her website: www.lashellwooten.com