We may know Erykah Badu for her soulful and soothing vocals, but it seems as though she has a few other hidden talents up her sleeve. The Dallas native is a huge advocate for home-birthing, and after delivering all three of her children at home, she became a doula --providing physical, emotional and informative support to over 40 mothers and counting.
You see, not only is Erykah a doula, she also plays music for nursing home patients nearing their final days. Or, as she puts it, she's part of both the "welcoming and ushering committees." Here are a few interesting facts about Erykah Badoula's training as a midwife that you may not have known:
Erykah became a doula by default.
"I became a doula by default. I had Seven naturally, at home, and a couple of years later I was traveling through Europe, and one of my best friends, Afya, who is the wife of stic.man from dead prez, went into labor. I just wanted to be there with her, so I rerouted my flights and came to Brooklyn. She had already been in labor for about 10 hours, and the whole labor ended up lasting 52 hours. No anesthesia, just pure willpower and whatever else the midwife who was there had to offer.
"My main focus at that moment was to bring her some kind of peace and strength and will to push forward, because I know how hard that is. I ended up staying with her for 42 hours and I wasn't sleepy. I naturally knew what to do, and it was then that I figured out that this was something I can do that makes me feel so fulfilled."
She is considering opening her own practice.
"...We don't know where these babies are coming from—their souls, or their spirits of mind, or if they're born wholly as soon as they get here—but whatever it is, I just want the environment to be one of tranquility for the mom and dad and everyone involved. A home birth is about being able to create exactly what you want, because it's such a violent moment inside of the body that you want everything else to be as beautiful as it can be. So I started studying to be a doula and got my certification in 2011 and now I'm in training to become a midwife. I'm almost there and before I know it I'll be able to open my own practice, if that's what I desire."
Erykah is part of the 'ushering committee'.

"...I sit at the bedsides of people who are passing on in hospices or nursing homes, for the people and families who want that kind of thing. When people are going on to the next plateau of whatever this thing is called life, I also want them to breathe easily, even if it's the last one they take here with us. I guess I'm the welcoming committee and ushering committee."
She takes two different approaches to welcoming life, and helping someone come to terms with death.
"Whereas I want everything to be peaceful during a birth, I take the total opposite approach when I'm helping someone come to terms with leaving this place—I play Richard Pryor records. [laughs] Breathing becomes really easy when you're laughing. It kick starts that feeling of joy, and I keep it going from there and help them remember things that are fun and help them forgive themselves and others. Sometimes their families are not present because they have not come to terms with the fact that they may never see their loved one again. So I make calls for them and let the children know that maybe this is a really good time to come hang out and talk and learn from this soul before they leave; I just know I wouldn't want to be alone and afraid at that time."
Erykah performs in nursing homes.
"Naturally. I just wandered into a nursing home one day after I dropped my daughter off at dance class. I've done this kind of stuff since I was a kid; they usually have a piano in every nursing home, and I always wanted to perform for whoever would listen when I learned something. I grew to understand very early that a lot of these people who are in nursing homes are elderly and don't have a lot of things that give them joy from day to day. But when I would come and play as a young person, they would just be so excited to see me. I would think, 'Wow, this is important work that I'm doing here.' So I just carried that on into adulthood up to now."
That Erykah and her many talents!
Catch more information about Erykah's midwife work over at Pitchfork.
Featured image by Getty Images
This morning, I vowed to myself that these would be my last few days indulging in unhealthy foods before I start my vegan diet. "It's just a grilled cheese sandwich," I said to myself as I prepared to eat my meal.
Tuh! Let's just say that I enjoyed my grilled cheese sandwich, but my body didn't. It tasted like bull crap and shame, and the whole morning I was plagued with an upset stomach, unclear thoughts, and a headache-- a reminder that it's definitely time to change up my diet.
As I started making my grocery list, I wondered how I was going to maintain my vegan diet. Last week when I talked to Karen Civil about going vegan, what I didn't mention was that I had actually gone vegan for several months back in 2012. While I would love to proclaim the greatness of going vegan, I must admit that the last time I tried it, I focused so much on the next meal and how I would maintain my diet that I wasn't mindful of how I felt after eating clean. Not to mention that it seemed expensive. At least that's the biggest complaint that I told myself. But after some calculations, the cost of eliminating dairy, eggs, and meat had actually cut my food budget in half.
Attempting to be a vegan again has been on my mind heavy lately, and this time I wanted to start my journey with a fresh perspective, which is why I'm happy that I had the pleasure of interviewing a chef on how exactly I could maintain a vegan diet.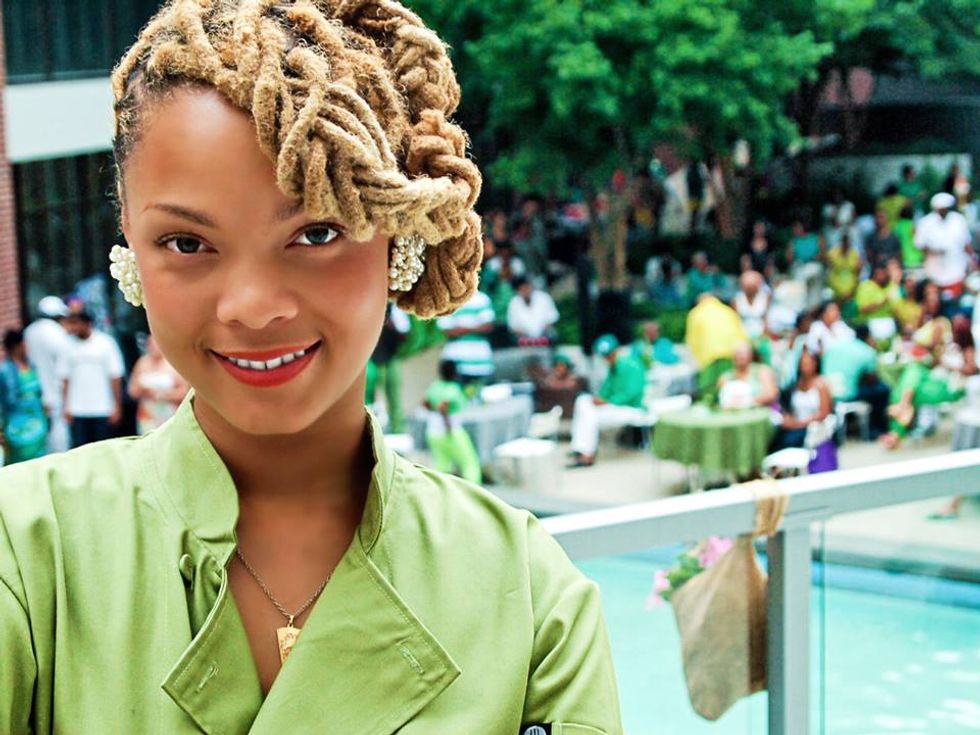 I spoke to Chef Ahki, a celebrity vegan chef and author of Electric: A Modern Guide to Non-hybrid & Wild Foods, and the woman knows her stuff. Chef Ahki has been praised by Bradley Cooper, Lee Daniels, and Waka Flaka Flame for her insane cooking skills, and she gave me a lot to think about when maintaining a vegan diet that will carry me through for many years. Here are some tips that she shared with me during our interview.
You Have To Dedicate Time & Commitment To Your Vegan Journey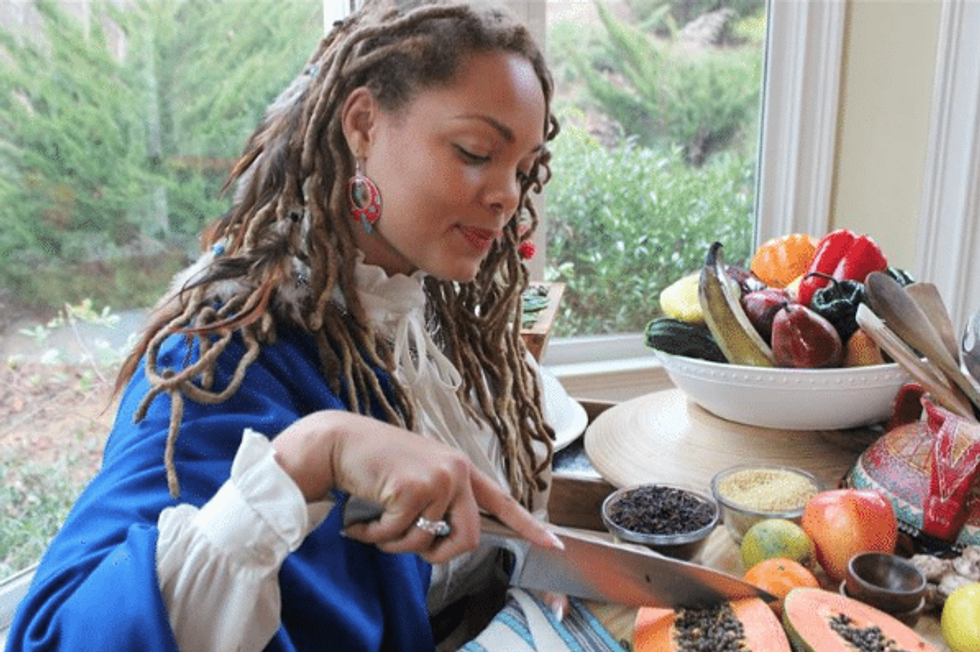 "It will be difficult in the beginning. It was the first couple months for me, but I was able to attach to a support group which helped. My family was not of support. My family ate traditional southern food.
I was also a good cook, and I enjoyed cooking. I was passionate about making this new food taste as good as what I was used to. That is hard to do! I was frying up tofu with cornmeal and Lowrys [seasoned salt]. It was fish fry with the tofu, and a lot of soy products was a major part of my transition before I knew how awful that soy could be. I was eating soy hot dogs, soy chicken nuggets, soy shrimp, soy steak, everything soy. But like I said, having a support group is what made the transition easier.
It took me about three to four years to fully transition. It wasn't some cold turkey, overnight kind of thing, and I know lots of people would like to think that it's that way, or they imagine it that way, and for some people they can just do that. But not for me. I slowly took out the pork, then the chicken, then the fish, you know? I went slow."
Spices From Meat-Based Dishes Can Make Your Meals Delicious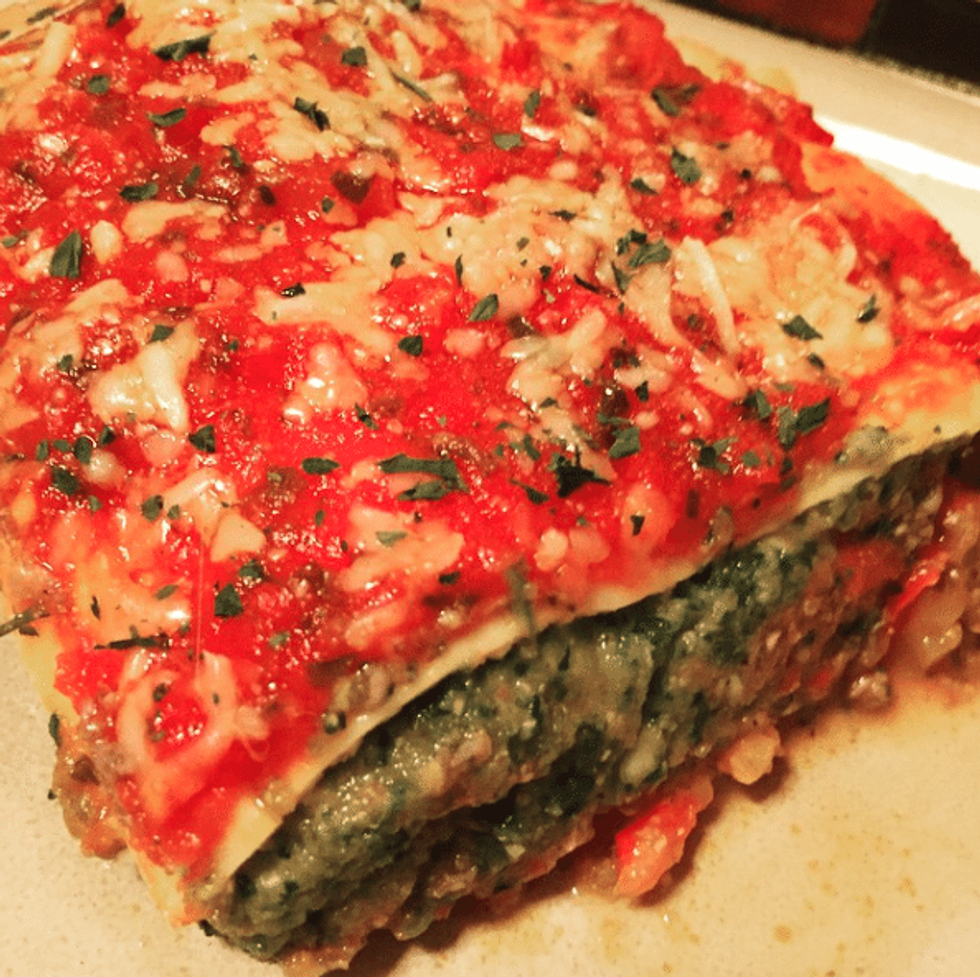 Chef Ahki's Vegetarian Lasagna
"It's hard to really make something that mimics the exact texture [of meat], but...you can do it through seasoning...[say] if you wanted to do greens and cabbage and black eyed peas, you can use smoked sea salt or smoked paprika. If I cook barbecued tofu, I use liquid smoke, [or] lots of black pepper, onion powder like that to give it that flavor.
[When cooking most of my dishes,] I use a lot of onion powder. I don't really use a lot of garlic, or any really...I love Dulse, which is like a sea vegetable seasoning. I like herbal seasonings like trocomare or herbamare. And I really like coriander. Coriander is like a spice that I think a lot of people sleep on. It's incredible flavor.
Oh, and paprika is wonderful, and I love smoked paprika."
Quinoa, Berries, & Hummus Will Become Staples Of Your Grocery List
"Try chayote...some people call it a Mexican squash. It looks like a pear, it cuts like a potato, it's almost flavorless, honestly. It takes on the flavor of anything you cook it with, so it's just amazing for vegan/vegetarian diets, because it gives you that good texture, like a very filling texture but it's not heavy. And you can put it in anything from salads to stir frys to casseroles...it's just the best vegetable ever.
And vegans love quinoa. I prefer red quinoa. I also have to have berries of every sort. I go out of my way to get blackberries, blueberries, and raspberries, I get berries always. I could go on and on with this because my grocery list honestly looks the same every single time...It never gets old, and it's what I eat in various combinations.
Use avocados for your fat. [It] makes you feel full. I [also] keep my hempseeds for protein, I always have sea vegetables as well.
I can tell you some items that are surprisingly vegan, or when I became vegan I was like, "Thank God I can eat something similar to this," and that was hummus. Hummus for vegans is like crack. All vegans eat hummus until they get tired of it. That's what happens."
Try Having Potluck Dinner With Vegan Friends
"I was in Dallas, Texas when I made my transition, and fortunately I attracted a group of girlfriends who were eating that way. And we would potluck, and it was a really nice support group where we could learn from each other on how we could make it tasty for us.
Of course, finding vegan restaurants or places to go to was great, and once we started it kind of took off. So definitely the moment you make that decision, you start shopping at those places, you start frequenting those stores and restaurants, you will attract other people who eats the way you do, and you'll get that support."
Upgrade Your Kitchen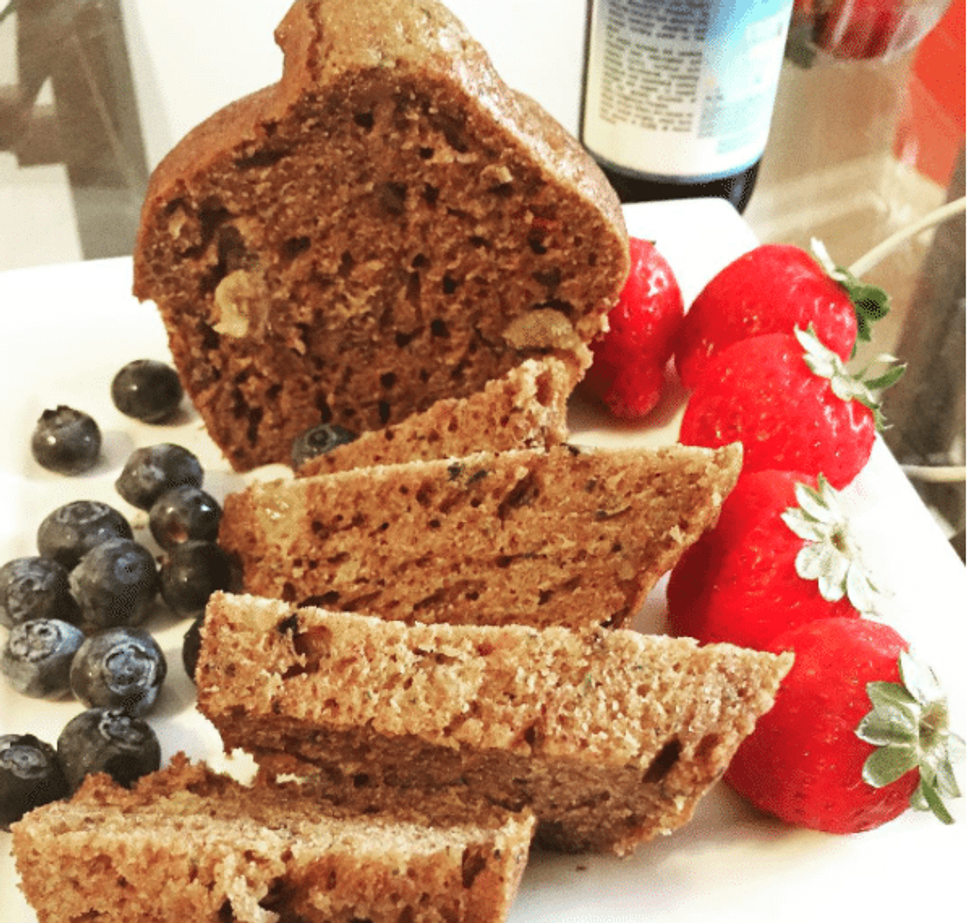 Via Instagram
"Definitely upgrade your kitchen first. Because that kitchen will destroy you. If your kitchen is working against you, you're assed out. Because if you walk in there, and there's a microwave on one side, there's a loaf ofbread over here, then there's frozen chicken nuggets over there, and cookies...You know, you're going to crash.
Go and just do a sweep of the kitchen, and then make that kitchen absolutely inviting. Pull out the cutting board, pull out that chef's knife, pull out that blender and that food processor, get your freezer bags ready, because you'll need plenty of those for all the veggies and freezer goods, and fruits. Get some Pyrex, get some glass tupperware with lids, cause you're gonna totally need that to store [your foods], and lay all the beautiful foods out so you can see it.
Most foods don't need to be refrigerated, and a lot of people don't know that until they stuff their freezers. But a lot of fresh foods can be left out, and should be left out, like your tomatoes, your onions, your winter squashes, even zucchini and squash to leave a lot of foods out so it makes it inviting..."
Blow Your Whole Grocery Budget At The Store
"Take your grocery budget, find out what that is, go to the market and spend it all. Go to farmer's markets and spend it all so you don't have any options...And you go home and you just crank it out. Get on some blogs, like gochefahki.com, grab a cookbook, like Electric!...and get yourself motivated and inspired by food. That way, you'll be excited."
Meal Prep Is Key For Larger Families
"Meal preparation is important. Can it make or break you? If you have a family of four, it absolutely can. If it's just you, you may be able to wing it depending on where you live. You can hit up a lot of places and eat meat free. There are a lot of [restaurants], even traditional Italian restaurants [where you can] and simply say, "Hey, I love this dish, I love this sauce, but don't add meat. Just cut up a bunch of vegetables, and thank you kindly. You can kind of wing it at restaurants and things like that."
Remind Yourself Of The Health Benefits
"It's really based on principles, and it's based on a lot of self care and preventative care. You got to remind yourself what food is, and what it isn't. And that's what's going to come down to. You've got to remind yourself that you are eating this way so that you do not have to suffer later on. So whether or not you feel like it's taxing on your time and energy, it's expensive, all these things.
You want to pass on health to your children, you don't want to pass on disease. When you're putting food in your mouth, ask yourself, "Is it dead or alive? Is this giving me energy, or is it going to take away my energy? You have to remind yourself of that every time. And keep it fun. Visit some blogs, check out some Pinterest pages, get inspired, check out some new vegetarian restaurants, go to some farmers markets, you have to keep inspired and motivated. It can get boring after awhile![laughs] "

Featured image by Getty Images
Singer/model/actress Cassie Ventura is an eye makeup slayer.
The Filipina and Afro-Latina beauty's luxurious lashes, popping shadow, and precise brow game is always on point, but she doesn't have to have a seasoned makeup artist on deck at all times for her smokey eye game to be poppin'.
She recently spilled her smoky eye secrets with VOGUE and shockingly enough, it only takes less than 90 seconds to do.
Here's what she dished.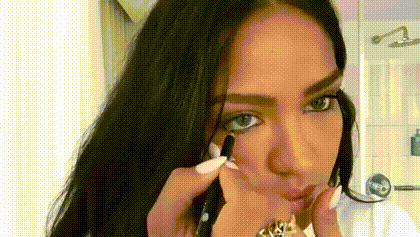 1. First she rims her eyes with kohl liner around her top and bottom eye lids.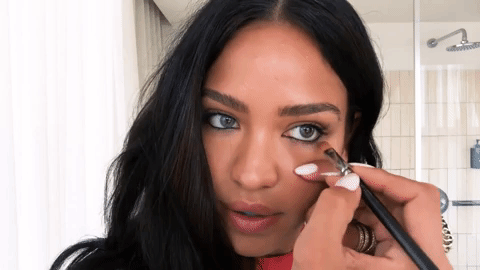 2. Then she used a shadow brush to lightly stroke the liner on her lower lids. #SmokeItOut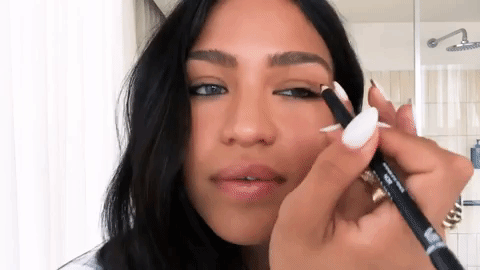 3. To make it smoky on her upper lid, she puts eyeliner on her top lid in a very messy manner, and then blends it the makeup with a brush.
She completes the look by applying an optional hint of gold-tinted eyeshadow on her top lid with her finger, and dabbing her inner lid with a brush. Finish up with a little mascara, and you will be ready to snatch a wig or two.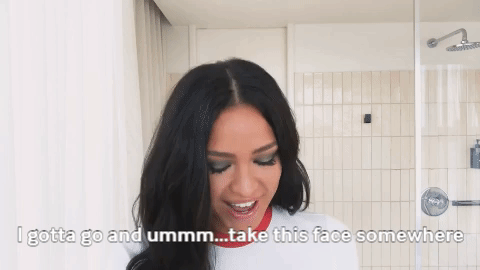 She ready! Ow!
Watch below:
There's good skin, and then there's Kelis's skin. The "Bossy" singer, songwriter, chef extraordinaire could teach the youth a thing or two about what it takes to achieve healthy and glowing skin. The 38-year-old has skin that rivals someone more than half her age, which has made her an early contender for the iconic black don't crack crown, joining the ranks alongside the Halles, the Sanaas, and the Nias of the world, no doubt. Apparently, the key to her waking up and posting up flawless all lies in placing the skincare emphasis where it belongs: in moisture.
If her selfie game is any indicator, Kelis has the keys to the fountain of youth. Luckily for us, the beauty recently chatted with The Fader to spill all the tea on skin routine – and surprise, surprise, there is not a cleanser in sight. Ladies, take note.
In a world filled to the brim with trendy 10-step Korean skincare routines, chemical peels, and other treatments that cost you a pretty penny, for Kelis, her motto is the simpler, the better. One thing that she has made a decision to consistently opt out of, is investing in those cleansers that we all hold so near and dear to our hearts and beauty regimens.
"I don't use soap on my face, that's the first thing. I think that's the one consistent thing I've done in the past 20 years. It's because I'm super dry. I might wash my face with an actual cleanser – it sounds crazy – but maybe like once a month. I can't do it. Every time I do it, I'm way too dry. Moisture for me is the key to everything. I am moisture crazy."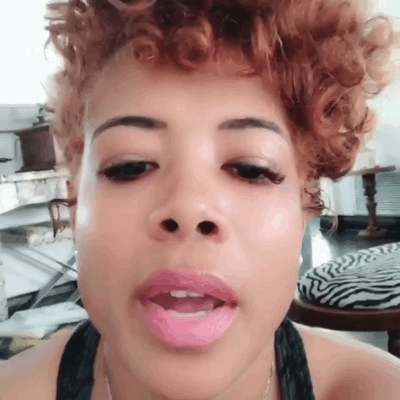 She also notes that collagen is something she's been swearing by as of late to keep her complexion looking fleeky.
"I'm obsessed with collagen lately. I mean, like obsessed. I have collagen products of all kinds. I love trying new products. I am a total product whore. For hair and skin, I am like obsessed."
Kelis also gave props where props were due to the key role that Vitamin C plays in achieving and maintaining healthy skin.
"I obviously wear a lot of makeup for work, but in my everyday life I don't. I'm big on mascara and lipgloss and that's about it. My skin is like a playground, I'm always trying new moisturizers. Vitamin C is the key. I love a Vitamin C serum, I love a collagen moment, I love royal jelly. Everything is about hydration and keeping the natural glow. I'm generally in a state of sleep deprivation so I need a lot of creams."
So, ditch the cleanser, stay moisturized, invest in collagen, use Vitamin C serums – check, check, check, and check. Kelis also raved about a last crucial element of her skincare routine when she name dropped the Hanacure mask, a mask that lifts, restores, and tightens the skin. For her and women with skin like hers, the holy grail beauty product is just what she needs to remedy her dry skin.
"I just recently got that facial thing Hanacure, which I have to say is pretty freaking epic. I don't even like facial things, but I had to text my friends like, "Yo, it works, this is crazy!" I felt my pores get tighter, it was nuts. It's really ill. Facial stuff I'm not usually into, I think it's all crap, but this is actually amazing. When you take it off you're so freaking soft."
Come through Kelis, with the much-needed skincare gems, yas!
Head over to The Fader to check out some other amazing articles that's all about the Head Beauty In Charge.
There's nothing wrong with dreaming you've won the lotto, until you actually win, and reality hits. The underlying question for the lucky winner is, what the hell are you going to do with all that money, besides swim in it like Scrooge McDuck from the defunct Disney cartoon Ducktails?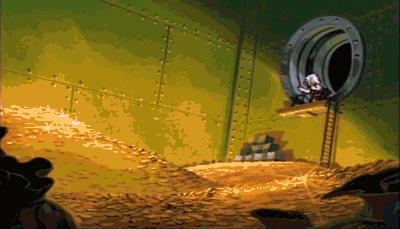 Well, whatever you choose to do with your earnings (if you win), please keep these 10 gems of advice from past lotto winners, and research studies, in your back pocket. It may help you to keep things into perspective down the road.
1. It's a hustle.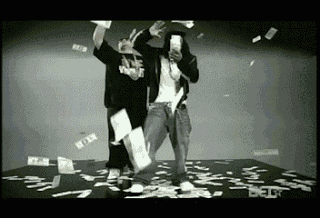 I hate being the one to piss on your parade, but the truth is that the lotto industry loves taking your money in exchange for a pipe dream. Back in May, The Atlantic reported that the lottery industry racked up more than $70 billion in sales in more than 43 states where the drawing is legal.
...According to the North American Association of State and Provincial Lotteries, lotteries took in $70.1 billion in sales in the 2014 fiscal year. That's more than Americans in all 50 states spent on sports tickets, books, video games, movie tickets, and recorded music sales.
And that's not the only shocking part of their billion-dollar hustle. The Atlantic also reported that a North Carolina report from NC Policy Watch stated that of 20 counties with poverty rates above 20 percent, 18 had lottery sales that topped the statewide average of $200 per adult. In other words, the lottery preys on the poor.
North Carolina is only one state used in this example, but do yourselves a favor, and go to a convenience store in a well-to-do neighborhood, and count how many advertisements you see for the lottery. It probably won't be that many around.
2. Rich people still won't like you.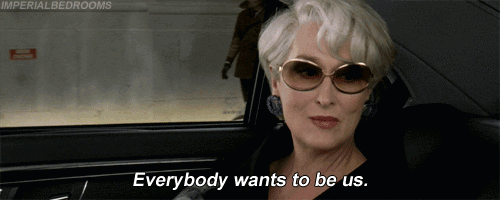 One writer with Reader's Digest recounted how she invited her new, rich neighbors to a Fourth of July barbecue. She later found out the hard way that her generous invite was all in vain.
After we won and moved into an exclusive neighborhood, we planned a huge Fourth of July party and invited all our neighbors. None of them came—they thought we didn't earn our money.
3. Think you're going to divorce your bae if you win? Think again!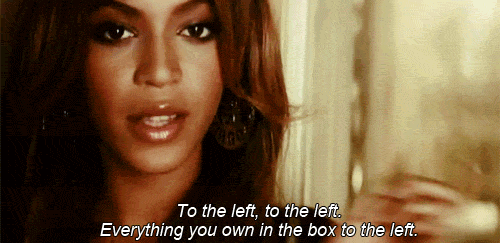 One lotto winner tried to keep her jackpot earnings a secret from her husband, and let's just say things didn't end in her favor. According to PopSugar:
Thomas and Denise Rossi were married for 25 years without any marital issues. Then, out of the blue, she asked for a divorce. Little did her husband know that days before filing, she had won $1.3 million, a secret she kept throughout the divorce proceedings. Once the truth came out, a judge found her guilty of violating California's disclosures law and awarded the entire winnings to her ex-husband.
4. Count the number of times you've been struck by lightning twice, and those are your odds of winning.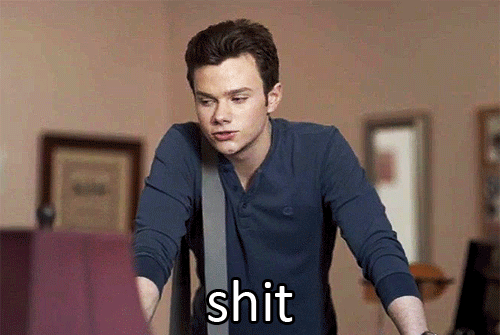 I know it sucks reading it, but it's true. According to FiveThirtyEight.com writer, and all around math nerd, Walter Hickey:
...Lastly, from the point of view of state revenue, this totally justifies the October change that lowered the odds of winning from 1 in 175 million to 1 in 292 million. (You are vastly more likely to get struck by lightning twice in your lifetime.)
5. OMG! Taxes, ugh!
Don't be so quick to say you're a billionaire if you hit the jackpot. That money has to be taxed! According to Powerball's website:
A winner would have the option of being paid $1.3 billion through annual payments over 29 years or opting for one $806 million cash payment. But 39.6 percent of the lump sum would go to federal income taxes.
By the way, virtually no one has taken the annual payments. Just putting that out there.
6. Please skip out on your squad.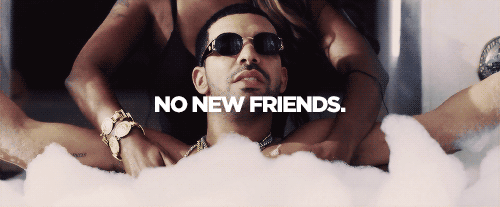 If you truly expect to hit the jackpot, I would advise you to start listening to Drake's music, and pronto. "No New Friends" will be your new theme song when you hit big, because your squad is going to step to you with their hands out, and their pockets empty--and that gets old. 24/7 Wall Street advises:
Taking you and your favorite 50 people on a luxury cruise around the world can become very expensive, very fast. Having an entourage generally only works for people who keep making more money, and entourages have bankrupted many musicians and athletes.
7. Hitting the jackpot doesn't always mean financial security.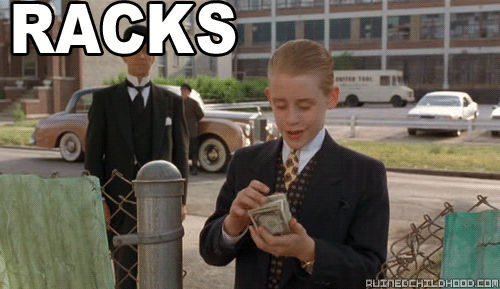 This may be a tough pill for many to swallow. In a 2011 study, researchers from the University of Kentucky, University of Pittsburgh, and Vanderbilt University examined whether winning the lotto would lead to permanent financial security. Let's just say that the more cash you win, the more likely you are to file for bankruptcy.
Relatively large winners, who received between $50,000 and $150,000, were just as likely to file for bankruptcy after several years, than small winners of $1,000 or so — the control group. Plenty of winners, in other words, spent all that they won — and then some. Relatively big winnings merely delayed bankruptcy for many of these people, the authors said.
What's even more sad was that another study found that lotto winners spent all of their earnings within five years.
8. Don't quit your day job, and don't hook your mama up with a new crib.

When you hit the lotto, everyone and their mama, including yours, is going to expect you to hook them up with some dough. Wrong move! In report from AZ Central:
"It's tempting for a lottery winner to quit his or her job or immediately splurge on a mansion or other large purchase — don't," advises Chicago securities attorney Andrew Stoltmann. "The worst decisions made by lottery winners are usually the first few decisions."
9. Trust no one, not even charities.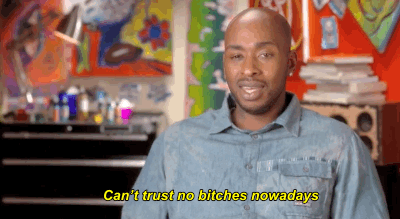 As if you didn't have enough problems in your life, criminals will see you as an easy target once you hit the lotto. Many newly minted ballers have fallen victim to charity scams, which ended in them losing a lot of money, and possibly their religion, in the process.
But more sadly, being murdered for your cash is a very scary, and real, possibility. That's exactly what happened to one generous lotto winner, who died at the hands of a greedy "new friend."
The story of ‪Abraham Shakespeare is a truly tragic one. The Florida man had dropped out of school in seventh grade and could not read. At the age of 40, he won the $30 million jackpot. After he won, he couldn't say no to those who asked for money, even letting homeless ‬people live in his home. That trust could have been his downfall. After Dorice Donegan "Dee-Dee" Moore "befriended" Abraham, he went missing. He was eventually found buried in a concrete slab at the home of Moore's boyfriend, and she was convicted of his murder.
10. You may be a lot happier being broke.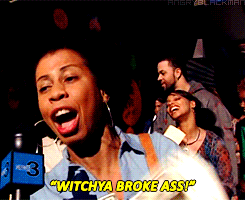 I know you read that sentence and thought I was crazy for writing it, but it's true. When Biggie said "Mo Money, Mo Problems," he meant it. Take it from William "Bud" Post, an Oil City, Pennsylvania man who hit the a $16.2 million jackpot in 1988, then immediately wished he never did.
"Everybody dreams of winning money, but nobody realizes the nightmares that come out of the woodwork, or the problems."For Post, who died in 2006, there were a lot of problems: a landlady who forced him to give her a third of his jackpot, a brother who hired a hit-man to kill him and his sixth wife, an assault conviction — just to name a few.
"I was much happier when I was broke," he once said.
Besides, people who make time a priority in their lives are much happier people.
"People who prioritize time over money make more effort to invest in activities that are expected to generate a more stable sense of happiness or enjoyment, such as developing strong social relationships, finding enjoyable hobbies and exercising," Gary Buffone, a psychologist and expert on happiness and money, told TODAY in response to the findings
HERE'S SOME ADVICE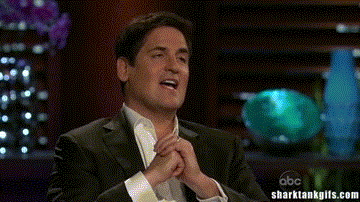 If you do happen to win the lotto, take billionaire entrepreneur, and Shark Tank judge, Mark Cuban's advice. He knows a thing or two about handling lots of money, and had this to say to the next jackpot winner.
Hire a tax attorney first. And don't take the lump sum. You don't want to blow it all in one spot. If you weren't happy yesterday you won't be happy tomorrow. It's money. It's not happiness. If you were happy yesterday, you are going to be a lot happier tomorrow. It's money. Life gets easier when you don't have to worry about the bills.
Tell all your friends and relatives no. They will ask. Tell them no. If you are close to them, you already know who needs help and what they need. Feel free to help SOME, but talk to your accountant before you do anything and remember this, no one needs 1m dollars for anything. No one needs 100k for anything. Anyone who asks is not your friend.
You don't become a smart investor when you win the lottery. Don't make investments. You can put it in the bank and live comfortably. Forever. You will sleep a lot better knowing you won't lose money.
Even though this news seems awful, it shouldn't stop you from playing the Powerball. Just remember to play, and live, responsibly. Just saying.
Featured image by Shutterstock
For the second time this week, my husband and I walked out of the bedroom celebrating like we just received a huge income tax return.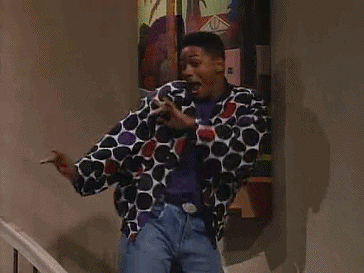 As of late, our sex life has been insane, and we owe this newfound feeling to a pod-shaped product that I've been using to help improve my kegel exercises. It's called Elvie, and thanks to this new vagina personal training gadget, I've been having the most explosive orgasms ever. In Life.
They were better than my wedding night orgasms.
They were 10 times better than the one orgasm I gave myself when Tyrese sang "Stairway To Heaven" at the 2009 BET Awards honoring The O'Jays.
I first heard about Elvie after reading an article on Forbes about women's wearable tech toys. After reading so many positive reviews about it, I decided to give Elvie a try. I'm ending the year with trying to enhance my overall health, as well as planning for another child, so I could easily see my doctor being happy about me improving my pelvic floor muscles.
Before I confirmed my order, I waited for about a week to make sure that I really wanted to go through with it. In that time frame, I incorporated more kegels during my regular exercise routine for free-ninety-nine. After doing some research, it dawned on me that I could possibly be doing my kegels incorrectly. If I have a gadget that tracks my kegel exercises, this is an investment that my doctor would probably appreciate. The app tracks how strong your muscles are, and I could show her my results during my Well Woman exams, and she's always happy to incorporate those things in my medical record.
I confirmed my order, and waited for my package to arrive. As soon as it came across my doorstep, I regretted ordering it. I actually waited about three hours before opening the package.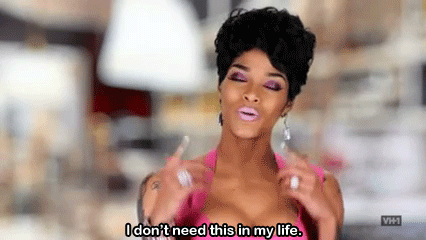 You can't return the product if it doesn't work (obviously because you put it in your vagina). Knowing this made me feel a sense of buyers remorse. I started to feel a little better about it once I realized that Elvie must be a superior gadget if the company doesn't have a return policy. Plus, the company will replace your unit if it is broken.
Lawd have mercy, I'm so glad that I was right! I came out of the bedroom this morning cheering for my husband like his name was Hercules. My body was rocked, and my boots were knocked!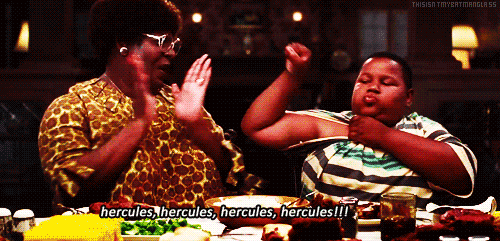 Elvie makes kegel exercises more fun than mindlessly tightening your cha-cha muscles to a strip club anthem in your chair. It's an egg shaped pod that uses sensors to track your muscle movement while you do your kegel exercises. The pod is made of medical grade, waterproof silicon, and could easily fit in the palm of your hand.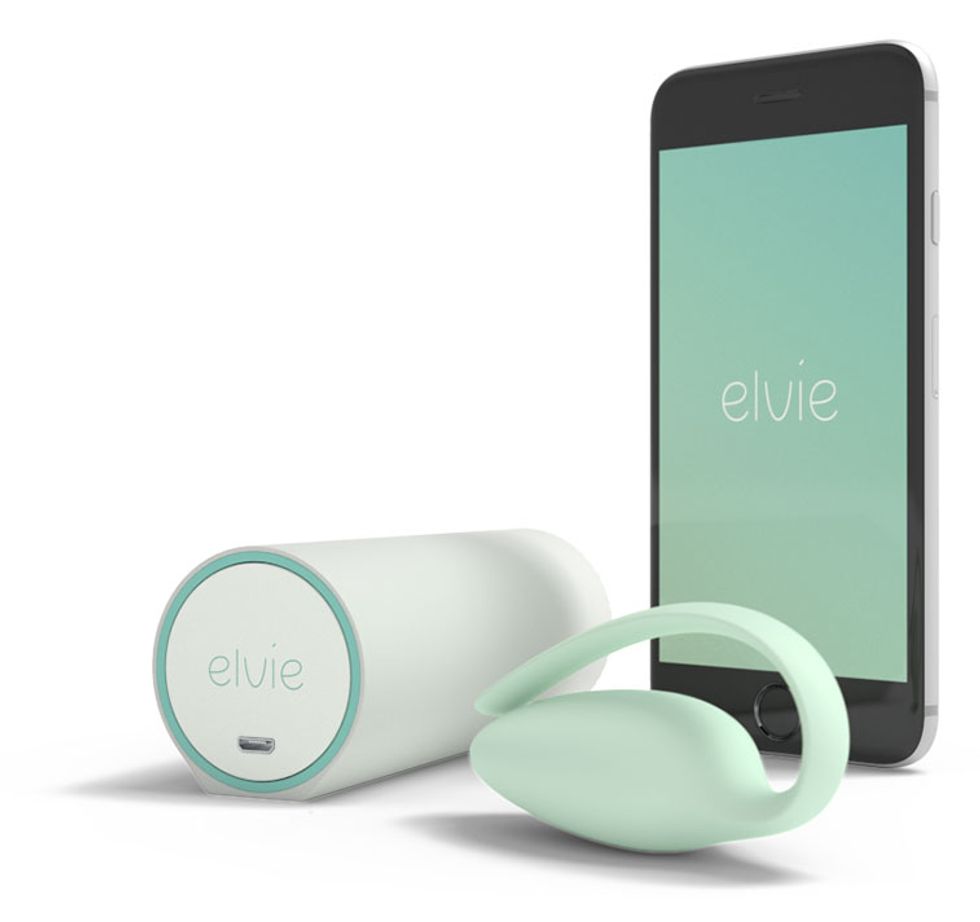 In case you are unaware, kegel exercises are the rhythmic clenching an unclenching of the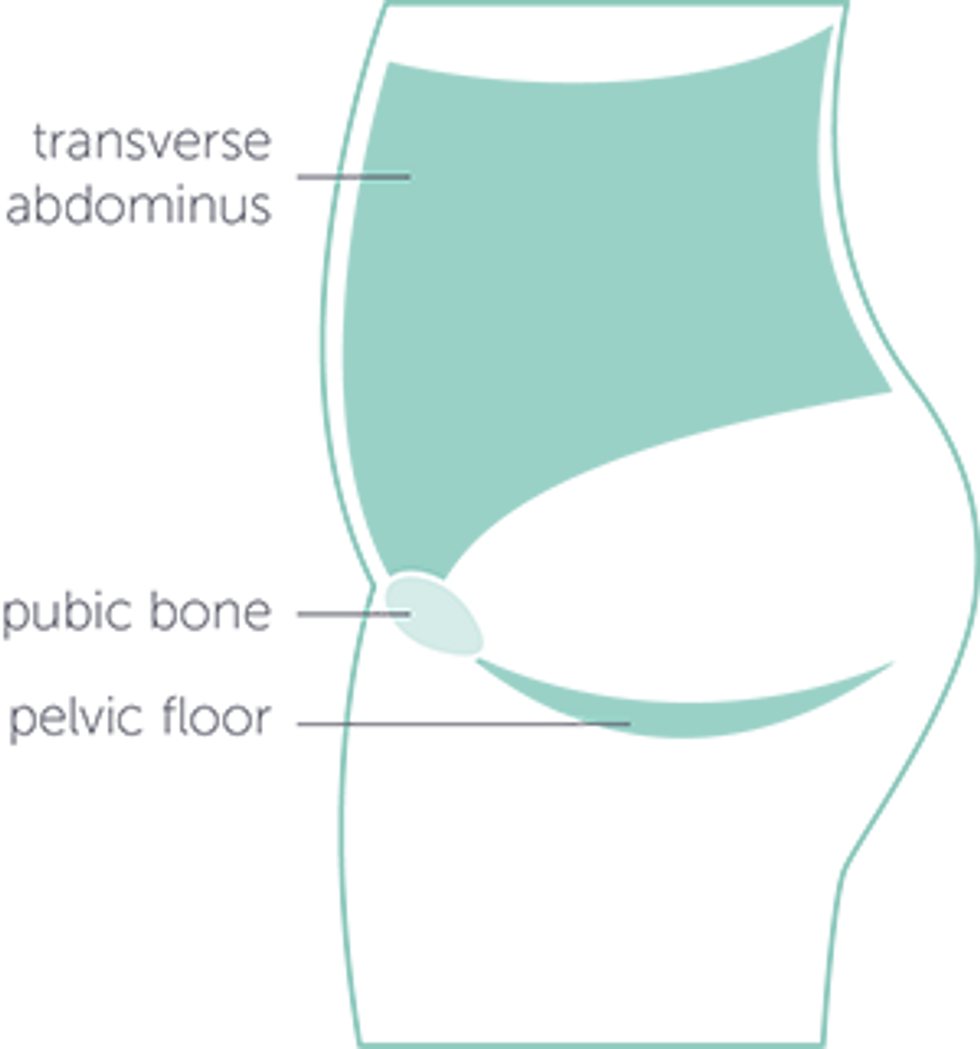 pubococcygeus (PC) muscles, which holds your pelvic organs in place and controls urine flow. But
according to Cosmo, a strong set of PC muscles can also improve your orgasms.
They're the muscles responsible for the contractions you feel during climax. Though Kegel exercises don't actually tighten your vagina, they tone and strengthen your vaginal muscles, boosting your arousal. They also cause a tighter grip during intercourse and more intense contractions during orgasm because more blood gets sent to your below-the-belt region.
Since I've been married, I've had great sex, and amazing orgasms with my husband. But I never realized that it could be better than what it already was. Here I thought that I reached the zenith of my married sex life, and I was wrong. Boy am I so happy to be wrong.
This little tech toy packs one hell of a punch, and it's great for women who feel "loose" in their nether regions after giving birth, pregnant women, or a any woman who just wants a good "coochie snapback." Like one writer says, Elvie is kind of like a Fit Bit for your vagina.
This is how it works: while you exercise your PC muscles, the sensors in your Elvie are relayed via Bluetooth to your smartphone, and generates an LV score. The stronger the kegels, the higher the score.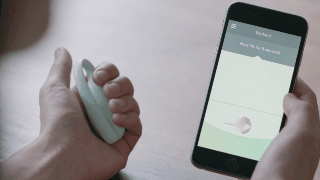 You insert the pod into your vagina, and do your kegel exercises while the gem tracks your progress on your smartphone.
Elvie is priced at $199, and trust me when I tell you that this award-winning device is worth every cent. You'll never look at kegel exercises the same way again. Here's why.
1. THE PACKAGING IS AMAZING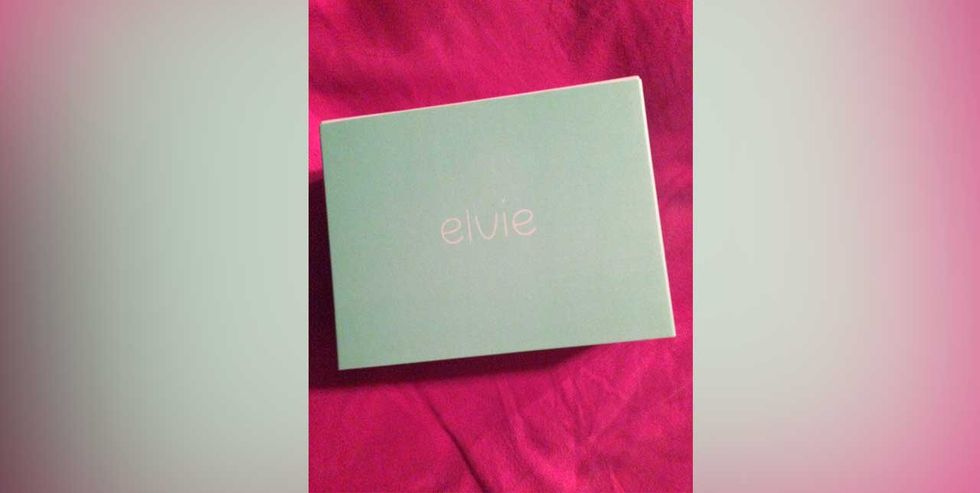 When I finally cracked open my parcel box, I was immediately impressed with the cute, mint green packaging. Inside, I found a plastic tube with the pod inside. After using it for several weeks, I realized that the plastic tube that holds your Elvie is amazing by itself. I can throw it in my purse, and use it when I want to do my kegal exercises outside of my home.
The plastic tubing is important, because you use it to charge your Elvie with a USB cord when your power is low.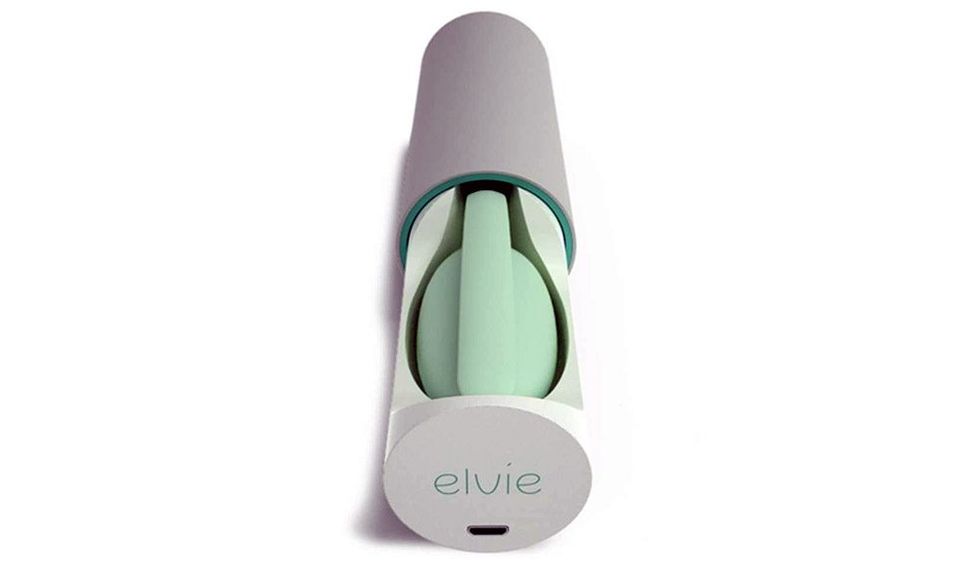 The hole at the end of the "Elvie" logo in the photo above is how you charge your device.
2. IT'S VERY EASY TO USE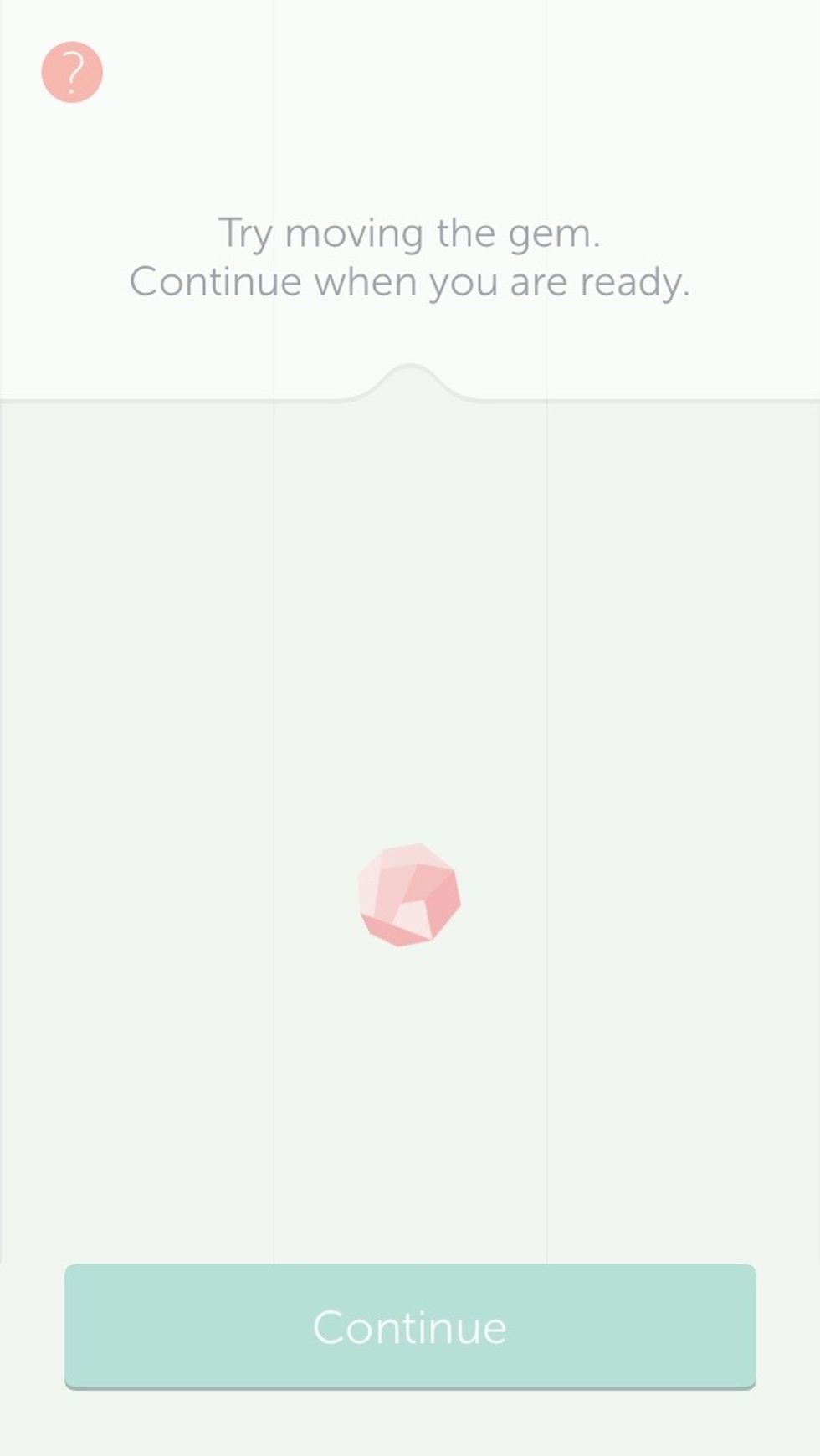 After I downloaded the app from the App Store, I filled out a short profile and began my exercises. I inserted the pod in my vagina (with the tail hanging out), and started squeezing the ball using only my pelvic muscles to move the gem. Each training session starts this way in order to ensure that your Elvie is properly connected to your smartphone. If the gem moves, you're good to begin training.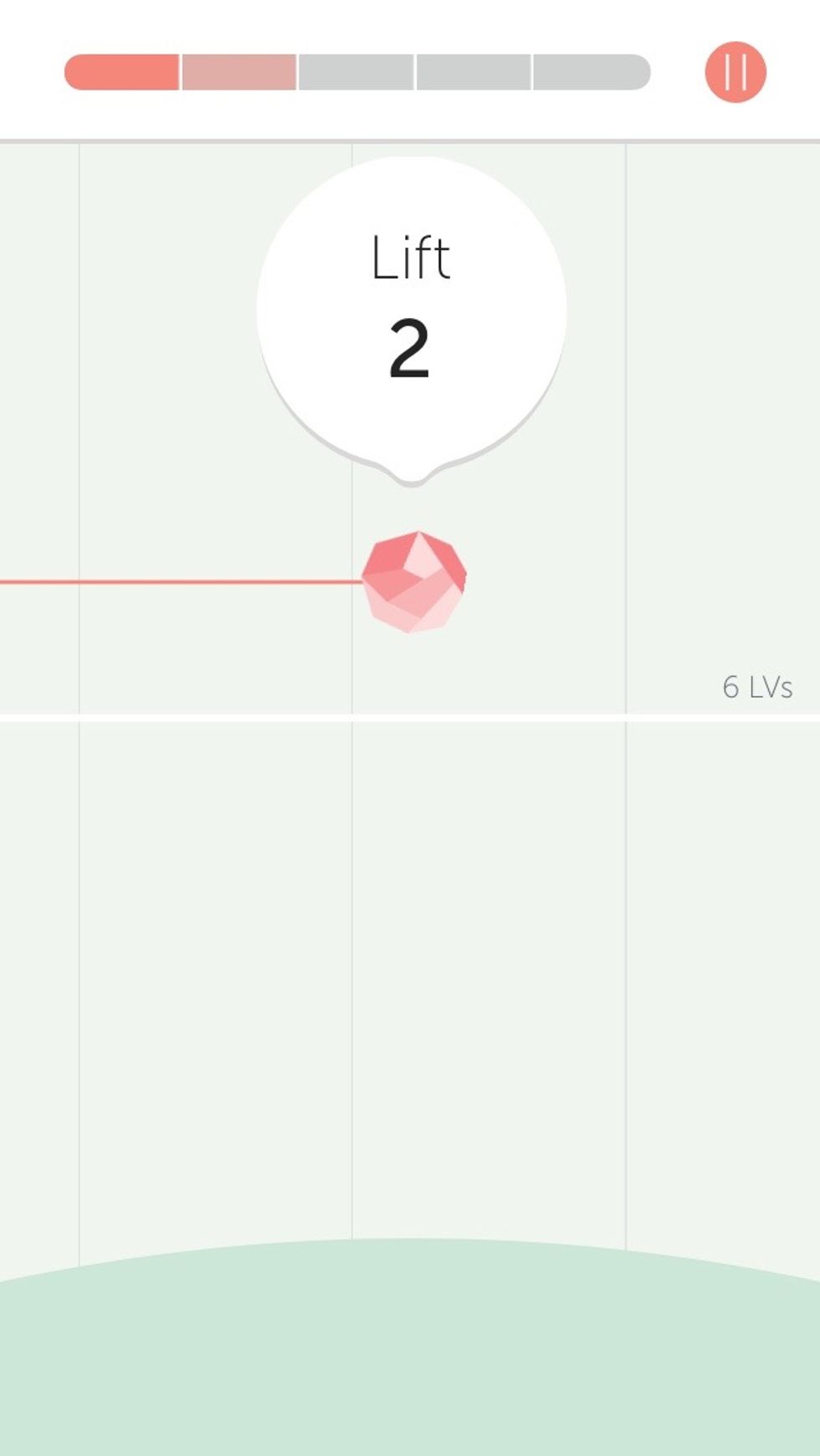 As you squeeze the pod, a gem appears again on your smartphone screen, which is reflective of how hard you are squeezing in real time. The object is to keep the gem above the line, and as you can see, my muscles are pretty weak in that region.
As your PC muscles get stronger, you advance from beginner exercises to intermediate or advanced levels of the "game." These exercises are also great for your lower tummy and back. Since I've started running again, I've noticed that I've been experiencing lower back pain, and Elvie has been a great help in correcting that.
If you're wondering how often you should use it, I stuck with my physician's orders. Doctors suggest that women do at least three sets of 10 kegel exercises three times per day for about five minutes. All women should do kegels, including pregnant women. The American Pregnancy Association suggests that pregnant women do kegels to help control their muscles during labor and delivery. Studies show that pregnant women who perform kegel exercises have easier child births.
To be clear, while the manufacturers of Elvie suggests that pregnant women use the product, they recommend that they use it during their second trimester.
On another note, the fun part about doing Elvie exercises is that you can do them either sitting or standing, and it's kind of neat that Elvie can tell whether you're doing either. It is also great that I am able to watch Netflix and use my Elvie alone in my crib, while feeling like I'm accomplishing a good workout.
3. IT'S EASY TO WASH AND CHARGE


After you're finished with your kegels, all you have to do is rinse your pod in the sink, and put it back in your tube to charge.
My Elvie charges way faster than my iPhone, which I find very convenient. I can use it right before "Netflix and chill" night, which guarantees me some amazing sex while Narcos plays in the background.
4. THE BENEFITS ARE AMAZING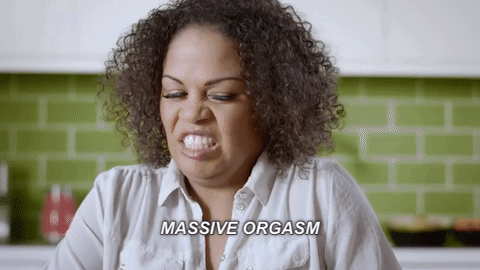 I tried to use Elvie for a week straight before having intercourse with my husband again, but that didn't work out too well. We ended up making love my fourth time using it, and Lord have mercy...my sex experience was so much more enjoyable. The contractions from my orgasm rushed through my body like El Chapo escaping prison. If I had been drinking, it would have been a spiritual experience.
My husband is amazed by the device and said that he's definitely noticed there was more "tread on the tire". Who would have known that this Fit Bit-like gadget would make so much of a difference in my sex life in such a short period of time (I've been using it almost ten days)? Either my PC muscles are weak, or Elvie is just a fantastic device.
It definitely gets my certified stamp of approval.
If $199 sounds a bit steep, there is a very similar device available for a fraction of the cost for women who are looking to strengthen their pelvic floor (especially after having kids.) You can purchase the Kegal Exerciser with App & Vibration on Amazon for $65 bucks. And the reviews are even better than the Elvie! Thank me later.