Jaleesa Lashay
Jaleesa Lashay is a film reporter and TV host in Los Angeles. She focuses on engaging in conversations that challenge representations within Hollywood. For more, follow her on IG @JaleesaLashay.
There's been a lot going on in the world over the past year. From group chats to social media to the constant news cycle, there's a million issues being discussed on a daily basis. It's overwhelming. In particular, there are so many issues being discussed within the Black community; yet, we're not talking enough about our finances. We should be.
Earlier this year, I celebrated a major milestone. I paid off $40,000 in 18 months. There were so many sacrifices I made within those 18 months to achieve this goal. I made being debt-free a priority. Our biggest tool to building wealth is our income. When your income is being divided and sent to multiple banks, companies, etc. with debt payments, you're preventing yourself from building wealth. In fact, studies show that most self-made millionaires (not Kylie Jenner), the real ones, live a debt-free lifestyle.
We live in a system of oppression that has hindered us from accumulating generational wealth. Everyone wants to "get money;" yet, so many of us are living paycheck to paycheck. While, there are many factors that impact our finances, there are certainly habits and mindsets that we've embraced that do us a disservice.
I knew when I graduated from Spelman in 2013 that I wanted to save money and build generational wealth. My parents grew up poor in the South Bronx and worked really hard to make sure my circumstances were different, but I knew that I was different from many of those women at Spelman. My family wasn't upper-class, and it was clear in the conversations of how people spent their summers, where they travelled, college funds, etc. I was well-aware of the sacrifices my family made to send me to Spelman and I wanted to use my education and network to achieve financial freedom.
At 27 years old, I am proud to say that I have achieved that financial freedom. I am debt-free! I paid off $40,000 in 18 months following Dave Ramsey's Seven Baby Steps, which I strongly recommend. The baby steps are free to access. No excuses. Here's the key things I learned while following Ramsey's plan.
How I Paid Off $40,000 In Debt In Less Than Two Years
1

.

Income Is Key When Paying Off Debt.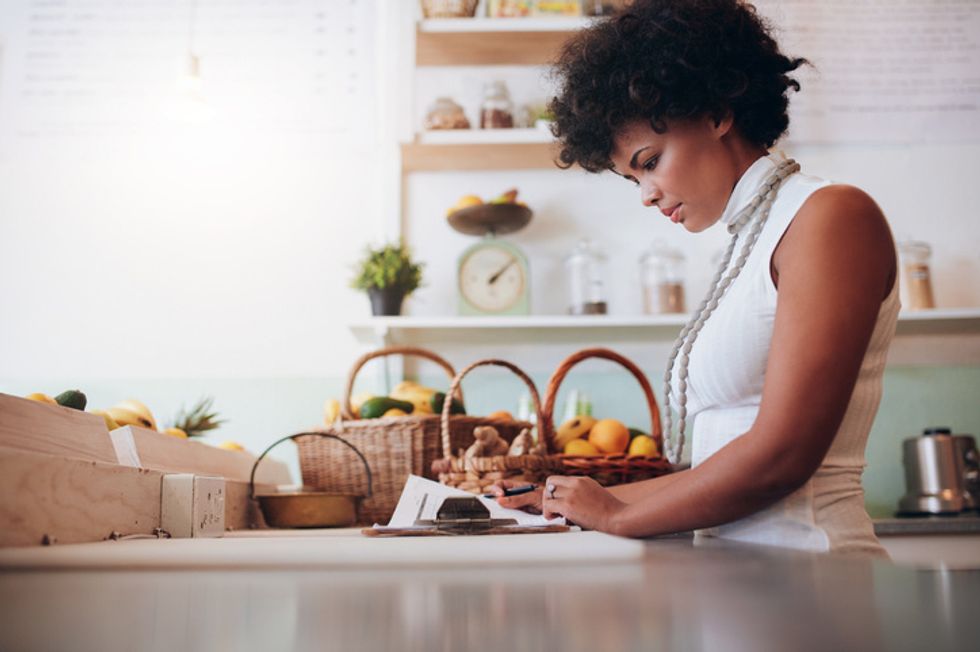 Getty Images
When I first graduated college, I was working for a large PR agency and was largely underpaid. I chose not to defer my student loans. I was living paycheck to paycheck and struggling with a $500 lease payment for a brand-new Mercedes-Benz. I transferred from Atlanta to Los Angeles and received a raise. However, I was still underpaid. I was struggling to make minimum payments and using credit cards for everything. The debt started rising. Here's a rough estimate of my debt breakdown at that time:
$35,000 (Mercedes Benz Lease)
$10,000 (Credit Cards)
$15,000 (Student Loans)
I knew that income was the issue. I simply did not make enough money for the lifestyle that I lived. I was driving a $35,000 car making $45,000 a year. AND I didn't even own the car. I needed to increase my income and get rid of the car ASAP.
Luckily, the lease was up for the vehicle. I turned it in and purchased a USED Honda Accord for $19,000. Vehicles are NOT an investment. They depreciate in value. It does not make sense to drive an expensive car unless you can afford it. Leasing vehicles are irresponsible, especially when in debt and end up costing way more than the vehicle. The total costs of your vehicle/s should not be more than half your income.
Next, I needed to find a new job and increase my additional income. I knew that going to work for a company/brand would pay more than an agency. I was recruited by a major beverage brand and negotiated a $20,000 raise off that transition alone. I busted my behind the first six months, proved my value and received another raise. THIS started my debt-free journey. I began the journey 18 months ago making $80,000 with the following debt breakdown of $40,000:
$19,000 (Honda Accord)
$11,000 (Student Loans)
$10,000 (Credit Cards)
Income is KEY to paying off your debt. At some point, we have to take accountability for the many loans, credit cards, etc. we sign up for. Education is an investment, and you should have a return on your investment. Taking out $100,000 in student loans does not make sense when your trajectory for your career is only going to deliver at max $60,000 in the first five years. We must make smarter decisions when it comes to taking out student loans.

I see the jokes about student loans being with you forever. I do not accept that.
For every monthly student payment I made, that could've been going into an investment account. I refused to be 40 years old, paying off student loan debt.
In addition to the raise that I received, I stepped my side hustle up or as I like to call it, my second career. I am passionate about both. In addition to serving as a consultant/analyst, I am an entertainment journalist and correspondent.
I started booking more hosting gigs, brand ambassador gigs and increased my writing opportunities. I increased my additional income significantly. I even went as far as to work mall shifts at a local mall near my day job. I worked 9am – 5pm, then headed to the mall for part-time shifts from 6pm-11pm, and then I would write articles and host red carpets on the weekends. ALL of that extra income went to my debt payments. I was EXHAUSTED, but I had my eyes on the prize. I knew that it was a short-term sacrifice that would pay off.
2

.

Pay Your Debt FIRST.
You can ease your way into debt, but you can't ease your way out of it. While beginning my aggressive debt-free plan I treated those major payments (as much as $2,000 a month) as a "necessity." Rent, Food, Utilities, Transportation, Debt Payment. That was my order. I didn't even give myself an opportunity to spend the money on anything else. As soon as I was paid, I went in that order. NO exceptions.
3

.

Use The Snowball Effect To Pay Off Your Debt.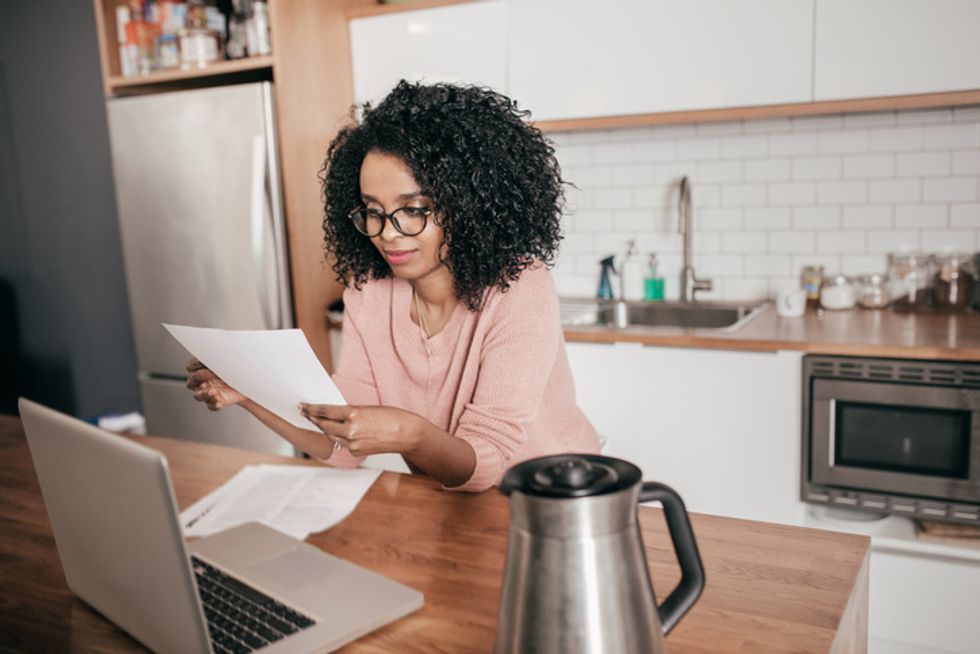 Dealing with bills
Getty Images
A key differentiator from Dave Ramsey's plans and other financial experts is that he encourages people to pay off the smallest balance first, as opposed to the debt with the lowest interest rate. Paying off debt is not just about math. It's psychological. When you get aggressive and start seeing those debts disappear, it sparks something in you. I listed my debts from smallest to largest and tackled them that way. My credit cards were first. Student loans were second, and then the car.
4

.

Live Within Your Means To Pay Off Debt.
I made a lot of sacrifices. I did not get my nails done at all. I painted them myself and saved money. Getting your nails, hair done very week, eyelashes etc. all add up. I cut down on brunch and eating out. I didn't even shop. I work red carpets for major awards shows and film releases. I reached out to friends and other correspondents to borrow outfits. I reached out to stylists. I had no shame. If I had to purchase something, I would go to Goodwill. My wardrobe struggled, and I definitely didn't purchase anything designer.
Your net worth is your total assets minus your debt payments.
The reality is that most people are BROKE, but we aren't living as such. Those purses and designer shoes. They aren't helping you achieve wealth. I didn't pay for ANY travel. I had several trips that were the luxury of my entertainment gigs. Those trips were paid in full. I used my airline miles to pay for a flight to Bermuda for a weekend trip with my girls. I budgeted for the weekend and didn't use any credit cards. I was also able to use airline miles to cut down the costs of my holiday travel.
5

.

Stick To Your Budget To Pay Off Debt Quickly.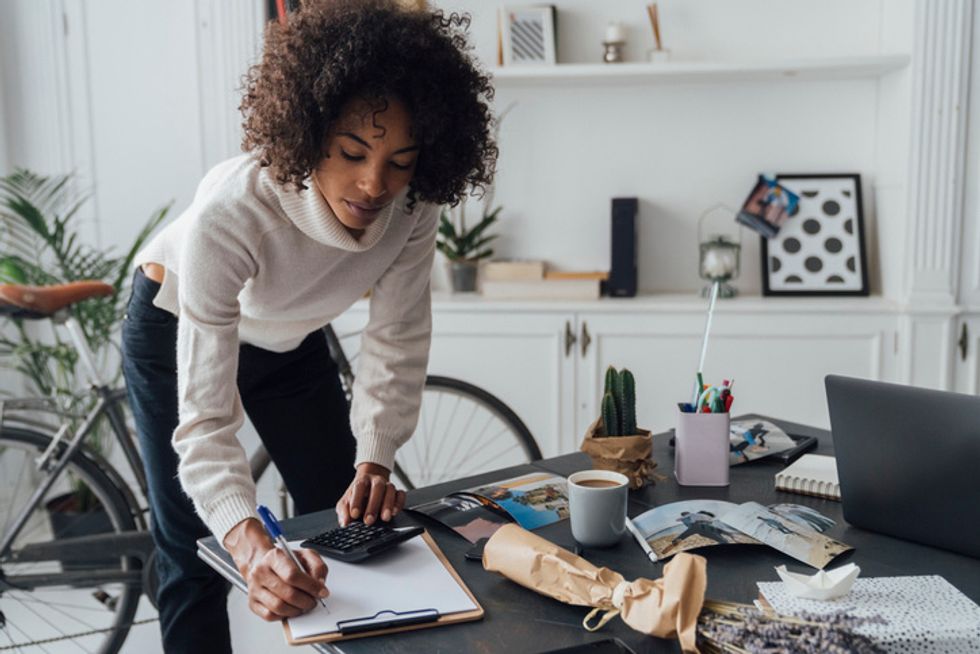 Getty Images
Making a budget and sticking to it is ESSENTIAL to paying off debt. Have the discipline and hold yourself accountable. Personally, I am old school. I created an Excel template that I used, because manually looking at my bank account and monitoring my transactions really helped.
Dave Ramsey also offers a free app "Every Dollar" that helps with budgeting. The easiest way to mismanage your money is to not budget for every dollar and to not monitor your behaviors. EVERY DOLLAR that I made had a designation.
Dave Ramsey's plan has helped millions of people become debt-free. As a next step, I'll be building an emergency fund ($15,000) and then saving for an investment. This is no promo. Dave Ramsey is a free resource that I found extremely helpful and wanted to share my journey.
If it's easy to obtain, it will not make you wealthy. Credit cards. Car notes, etc. are all easy to obtain. They will not make you wealthy. Also, while I understand that there are people who have way more debt. Understand this. If I paid off $40,000 in 18 months that means that I could pay off $80,000 in 36 months. I strongly encourage you to not make excuses. To feel motivated. To listen to a few debt-free screams on Dave Ramsey's YouTube channel and be inspired. It's worth it.
Many believe that when you start to show God and the universe that you know how to manage your money, you begin to get rewarded with more of it. I am walking proof of that. This year, after paying off ALL my debt, I am slated to earn more than $110K.
I have an 800+ credit score and have made a vow that I will NOT take out any debt except for a mortgage. I will not have credit card debt. I will not buy a brand-new car. I will save and invest and live the lifestyle that I deserve.
Click here to view Dave Ramsey's Baby Steps. Good luck on your journey!
Originally published on March 15, 2019

Featured image by Shutterstock
If you're caught up on season five of How to Get Away with Murder, then you are familiar with Rome Flynn. He's the latest addition to Shondaland, a handsome addition, if we might add.
Starring as Gabriel Maddox, Flynn is currently a series regular on the ABC drama. In addition to #HTGAWM, he stars in The Haves and Have Nots and most recently appeared in A Madea Family Funeral. Flynn may be an attractive actor with an athletic build, but there's more to the Chicago native than his appearance.
With this #XOMan feature, we delve deep with Flynn to learn more about who he is outside of his career, fatherhood, his views on marriage, and why he's only willing to give love one more chance.

xoMan: How did you become a part of the 'HTGAWM' family, and what has that overall experience been like for you?
Rome Flynn: Originally, when I got the audition, I was in Atlanta. I was filming The Haves and Have Nots and my schedule was just crazy, and so when my team sent me the audition, I told them that I couldn't do it. I wasn't going to be able to find time to audition, because I was at work for 10-12 hours sometimes. I said no. But then after reading the audition and obviously being a fan of the show myself I knew I had to figure out how I could send a tape in.
"It's been a great experience so far. It's been a hell of a ride."
I'm very happy and excited about the ups and downs and whatever happens going forward, because I just feel like I'm very blessed and humbled to be able to work with the people that I'm working with. I'm a part of a platform that's incredible to be on.
Your character Gabriel is seeking truth, but we know the truth is not what's best for him. Do you believe there are things in life you're better off not knowing the answers to? 
Personally, in life, I think yes. I believe that to be the case. I don't think we should know everything. But, in regard to Gabriel, I think he's just trying to figure out what happened to his father, and it has a lot to do with figuring out who he is.
I really try to keep [Gabriel] honest. Doing a show like this, you can get away from that. You can get away from the fact that he's Black. You can do a role like this and it become white-washed to a sense, because there's a stigma with people who are intelligent. Because you can't be smart and Black. That's the thing I try to be conscious of. I try to put a little bit of myself, because I want somebody to see the show and be like well, I actually like him. Maybe I can be a lawyer too.
In today's society. There's a lot of hidden truths. Do you find it difficult to trust people?
Professionally, I have to trust my directors. I have to trust my editors. It's hard trusting people personally. I always try and approach the mindset of having good intuition about people. I tend to have a good sense about who a person is, even before you have a deep conversation with them, because there's tales and signs that we don't pay attention to on a daily basis.
I try to meet people and be open to whatever that person is and understanding of who they are. So, I don't have trust issues in that sense. But, yeah I definitely do feel like I protect the world that I live in though, as far as letting people in.
What are some telling factors for you when discerning a woman's character that you're interested in? 
It's interesting because I feel like sometimes it changes for me. In my reality, it sometimes becomes hard to decipher intention a lot for women. If I'm talking to a woman, it depends on what I'm looking for. If I'm just looking to "hang out" with somebody, it's really not that difficult, because I feel like I always hold the cards.
At this point, I don't know what the dating life is like, because I'm so focused and driven on what I'm doing.
"It's so hard to find someone that matches my energy. What I'm seeking is bigger. It's big picture."
It's hard for me to connect with women, because, I don't buy into stuff online. I really do love my fans, and I think there's a lot of women out there who shower me with compliments, but I'll never buy into it. Because, once you buy into it, your values get skewed. That's not reality. They don't know you. They idolize certain aspects of you.
What important qualities do you view in a woman? Does being a father impact your views on women?
I think ambition is something that I didn't know I wanted in a woman, until I saw it wasn't there. I just want someone to match my energy. I don't want a woman that I need to take care of. I want to take care of you, but I don't want to feel like I need to. That's the difference. A lot of women are OK with being taken care of. I want a woman who understands and values herself. A lot of women my age don't understand themselves.
Having a daughter has certainly made me analyze my relationships differently. I think that if I'm talking to a woman, I understand what I want from the jump. I never try to go into it seeking a situation where I lead anyone on. I'm always upfront, and my thing is that comes from holding all the cards.
What's your sign? 
Sagittarius.
So…do you always have to be in control? 
I have to be in control, because I'm protecting a lot of things. I'm protecting my career. I'm protecting my daughter. My family. Not in a sense that I want to control you. In the industry, a lot of things are out of my control. The things that I can control, I'm very meticulous about.
What's one of the first things you notice about a woman when she enters a room?
Presence. There are millions of women in the world. You see a lot of women. You see beautiful women, and the beautiful aspect starts to look the same.
"The first thing I notice is a woman's presence."
What does an ideal date look like for you? 
I'm a homebody. Honestly. I'm away sometimes a lot. I like to be at home. I'd rather watch a movie or something or have a glass of wine.
Some women want to be seen. I don't do public initially. I have to protect that. I don't want to be the guy that's out and seen with different women.
It's funny because that goes against what most women want. And if you want a woman to treat you regular, how does that work? Because, you're essentially asking me to bend the rules because of who you are? 
Exactly. That's why you see a lot of celebrities with people that are successful in their field and dating people in their field or in the same realm as what they do. It's just easier to skip a lot of steps. It's easier to be understood. There are a lot of people lonely at the top, because it's this idea that nobody understands what they're going through, and people just want to have someone that sees them.
To a certain degree, you want to feel protected and it's really hard to trust people especially when you have stuff to do. I feel a little anxiety. It's not a bad thing, but it's like people went from wanting to take pictures with me to wanting to take pictures of me. You become not real to people.
If a woman is amazing and genuine, she's not going to want to break through all those barriers. At some point, you have to have a good sense of judgement, no?
I mean for sure. There's a balance that you need to have. Would it be a lot easier if I worked somewhere else and didn't have the success I had? Probably. Probably find love right away, but this takes sacrifice. It takes sacrifices to be great, and I feel like love is a part of that.
I've been in love twice with a woman, and I just said recently that I think I can go for one more. If it doesn't work this time, I'm actually cool off of it.
Is marriage important to you? 
I don't know. Marriage is important to me, in the sense if I ever did get married – that's it. I would never get divorced. I have a lot of respect for marriage. It's just such a tall order to me. That would be a love that I haven't experienced.
The energy you put out there is what you receive. If you already putting it out there that it's [marriage] not going to come, then it isn't. 
I'm open to it. That's the difference to me. I'm open to it. I never saw a healthy marriage growing up, so I don't know what that looks like. How am I supposed to know? I'm not saying it won't happen. I'm just saying I would be surprised if it happened. I've thought about it for sure.
"There's other things that are in front of me right now, but if someone came in and changed my course of thought, I'm all for it."
What can we expect from you in the future?
I've given it to God already. I want to keep breaking barriers. One of the most prolific things that I learned from working with Viola Davis and Tyler Perry is that creative control is important. A lot of people don't realize how much creative control Viola Davis has and obviously Tyler Perry has all the creative control. That's something I'm searching for, because I feel like film, TV, arts in general reflects the world around you.
A lot of people base their knowledge on stuff that they see. It's one thing to say we want more Black people in major roles, but I want more Black people in roles that aren't stereotypes. I want the film to just be amazing because this person is perfect for it. I feel like there's room for it. Those are things I would love at some point to be a part of. Those are things I'm interested in, because representation is important.
For more of Rome Flynn, follow him on Instagram and Twitter.
Featured image by Kathy Hutchins / Shutterstock.com
Originally published April 8, 2019.
It's no secret that Los Angeles is filled with transplants who often frustrate natives with our numerous complaints about LA culture. Being a New Yorker, I find myself often underwhelmed by the brunch experience in Los Angeles - that was until I attended Brunch 2 Bomb.
Brunch 2 Bomb describes itself as a "day party and brunch combined" that offers an "opportunity to celebrate success without subscribing to traditional club standards like bottle service, celebrity status, or dress code requirements."
Held at Free Play in Los Angeles, Brunch 2 Bomb was not your typical LA brunch experience. For starters, each experience contains a specific theme. The theme for their April 15th rendition was You Got Served. Hip Hop and R&B music blasts throughout the venue, while guests enjoy unlimited mimosas and a buffet-style brunch for a small additional cost.
"Brunch 2 Bomb is an accident. I founded it with one of my best friends from college, DJ Benjamin Walker. We threw a birthday party a year and a half ago. I turned 32 and my friends wanted to do something," co-founder Adrienne Reed told xoNecole.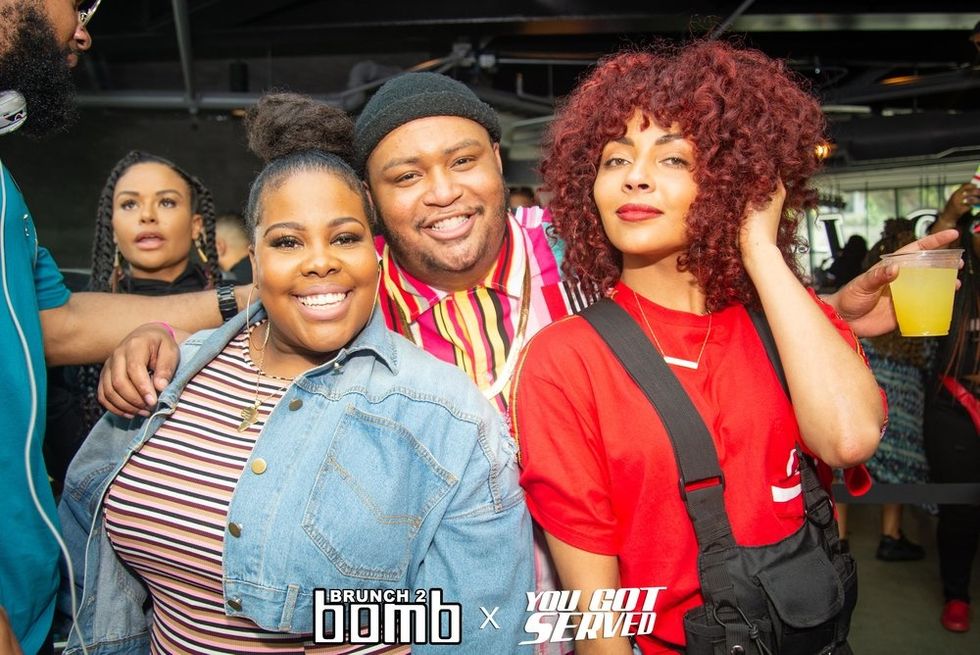 Brunch 2 Bomb
"There's no music out here [in LA]. It's just bottomless mimosas and hoity toity foods. That was a gap for me…so we did it, and because I had this whole venue, I invited my clients, friends and family, and about 185 people came out."

When I arrived to the event, improperly dressed, expecting your "typical brunch," the line was around the corner as the place quickly filled with 200+ people. As an attendee, I immediately noticed how different the energy was in the venue. Brunch 2 Bomb felt like a safe space for Black men and women to express themselves freely. It was refreshing. According to Reed, that's no accident.
"We just wanted a safe space for Black people to exist. I don't need to have 80 people over my house to have fun. I should have a place I can go and do that without being subjected to bottle service to sit down…or you know…good music."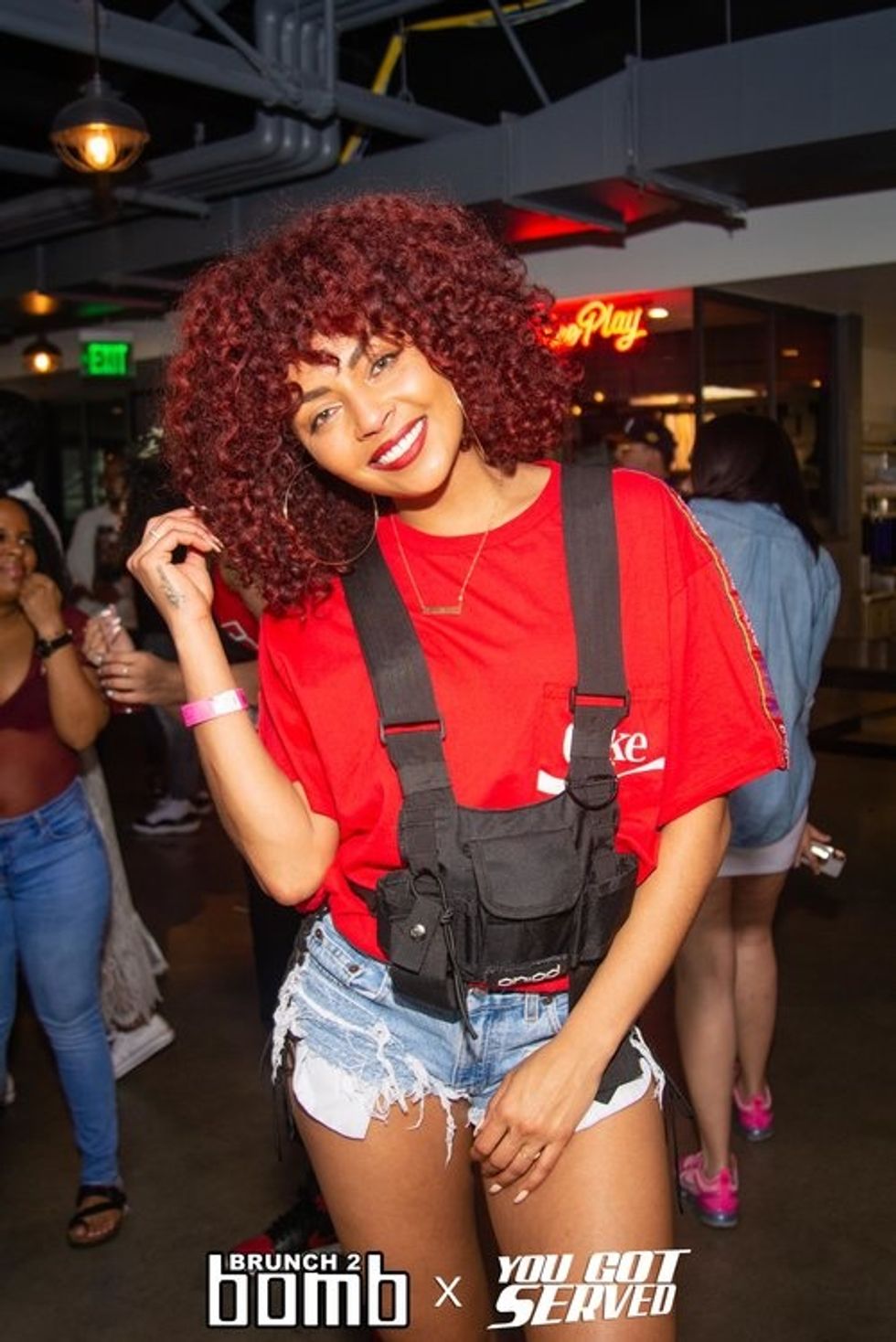 Brunch 2 Bomb
Among the attendees were a few familiar faces, including, Emmy winner and producer CJ Faison and dancer and choreographer Ashley Everett. Everett is most known for serving as Beyonce's dance captain. She was most recently featured in Beyonce's Homecoming documentary on Netflix.

"I love Brunch 2 Bomb. This is my first time here. My friend, Mr. Ray from Love & Hip Hop, his birthday is tomorrow. He's my Aries sister. His birthday is tomorrow and he invited me," she shared. "I love it [Brunch 2 Bomb]. It's not a Hollywood event. It's not like the typical LA party that you're used to."
Brunch 2 Bomb certainly wasn't your typical LA party. There weren't a bunch of influencers. We danced. We did the choreography from Beyonce's "Everybody Mad," which Everette quickly tapped into.
The reality is that my experience in Los Angeles has been that you have to actively seek to be in spaces with and for Black people and people of color. It's not always easy. It was refreshing to attend a Brunch created for us and by us. It's also refreshing to know that there's more where that come from.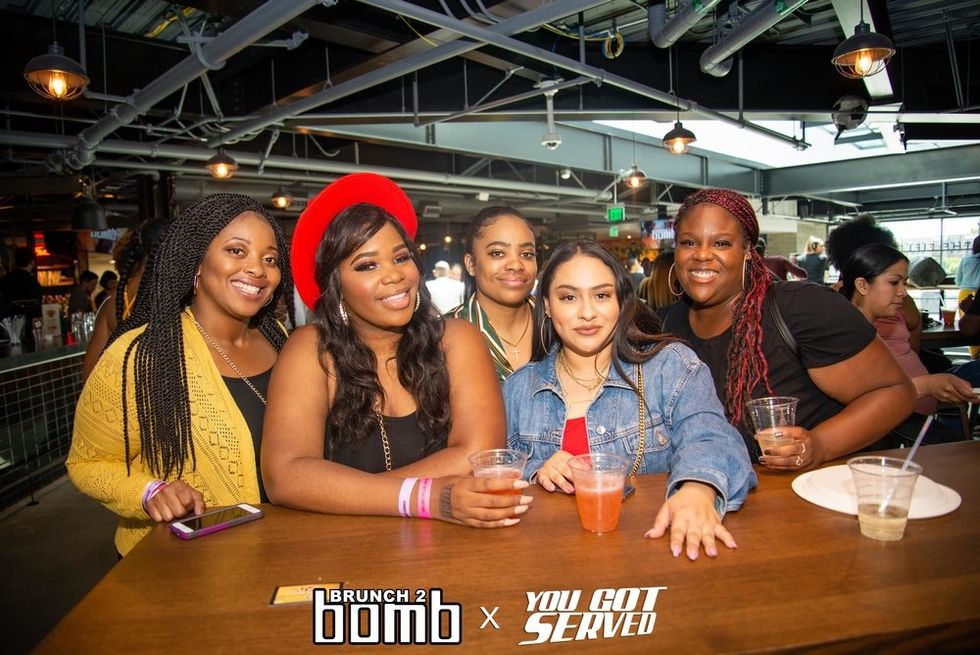 Brunch 2 Bomb
"We're working on some really cool things. We will be at Yacht Week East Africa. We'll be back at AfroTech in November. We'll be recreating Wakanda with a Coming to America floor," shared Reed. "We're just trying to do the things that we deserve. We deserve an activation. We don't deserve just a party with a hand stamp and bottles. We deserve more effort than that and we're trying to put in more effort."

To find out more information about Brunch 2 Bomb, visit their website.
"You want a person who is smart and into politics? You probably shouldn't date someone who is the opposite of all those things," actress Tika Sumpter said in an exclusive interview with xoNecole.
Sumpter is the star of Tyler Perry's latest film, Nobody's Fool. She plays Danica, a single, successful woman in New York City who struggles with finding a man that checks off everything on her "list." We're all aware of the list, many of us have it. Tall, handsome, funny, and successful with no kids. Is that too much to ask?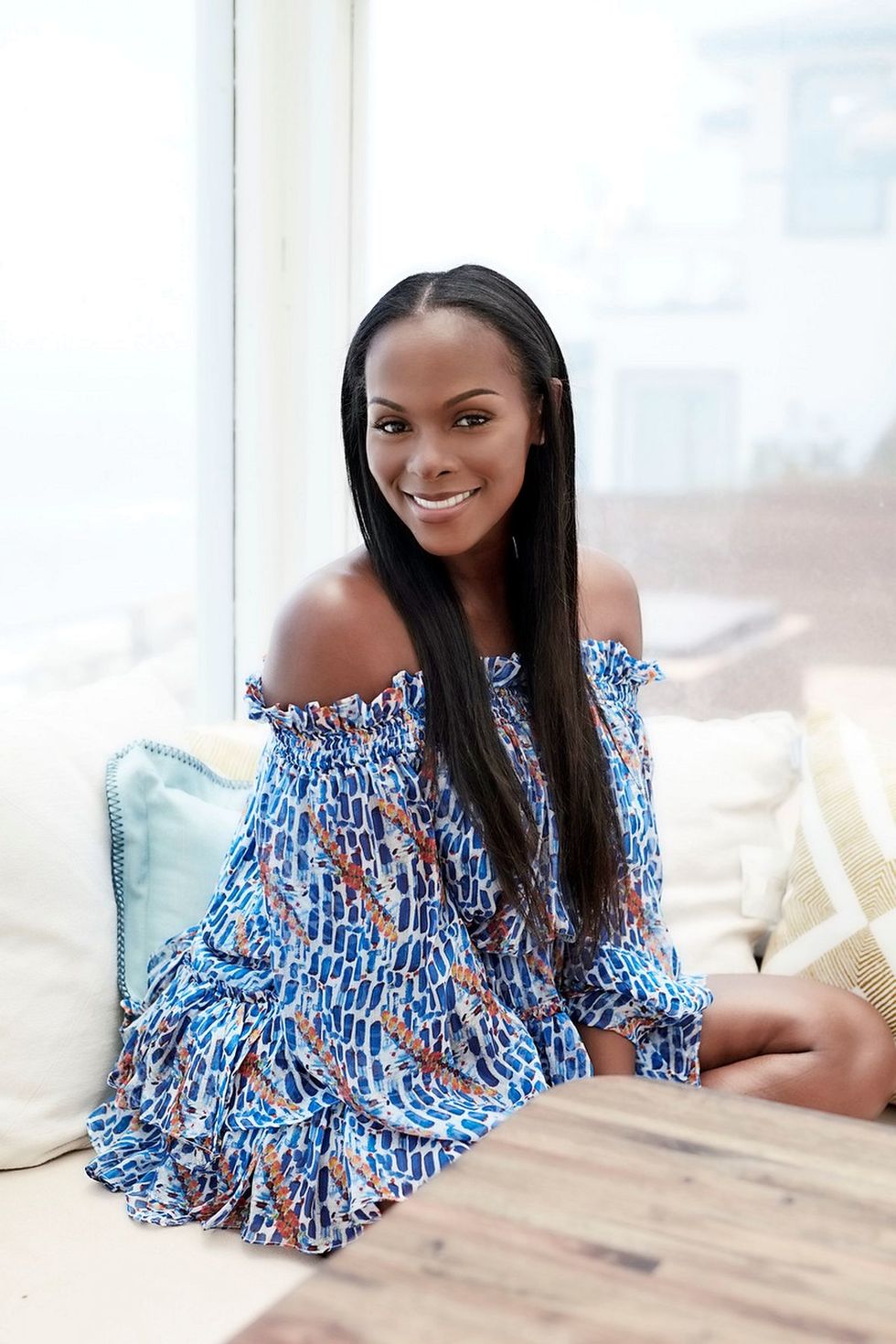 Simon Perry/Splash
"I think the foundational things - that he's actually into you and loves you and he's faithful to you, if that's what your agreement is, and he's your friend - I think those are things that can't change," she said. "I think those are things you can't really be flexible on if they're not in somebody's spirit. Height, you can be flexible on. Body type, you can be flexible on. I think the outside stuff can be flexible."
Unlike Sumpter, her character Danica doesn't seem to have much flexibility on her list. Her love interest, Frank (played by Omari Hardwick) is a successful business owner. However, he doesn't necessarily check off the things on Danica's list, which presents a huge challenge throughout the film. A challenge that forces Danica to do some self-reflection to understand how to learn to love.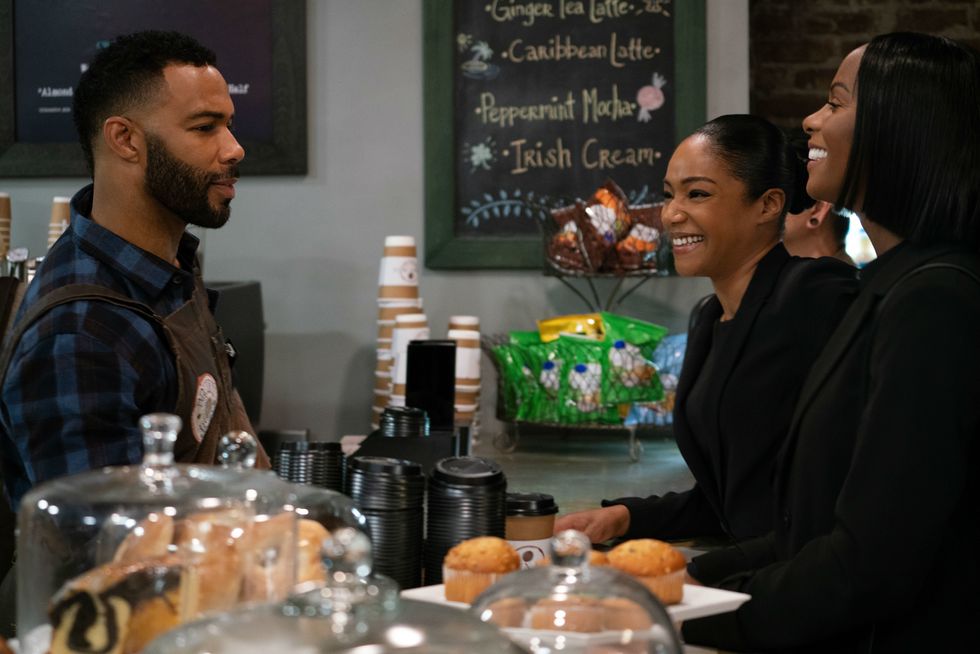 'Nobody's Fool'/Paramount
"To say, 'I don't know how to love you, can you show me how?' That's deep. Teach me. I want to know. But, I've been in this mindframe for 20-something years, you're not going to break it in a year. That's just not realistic."
While currently engaged to actor Nicholas James, Sumpter revealed that her experiences have pushed her to do the necessary work to confront her perception of what an "ideal partner" looks like in her own life.
"I'm in therapy and I'm like I've been doing the same routine over and over for how many years - what makes you think in three years that it's going to be done when I've been doing it for 20 something years? So, it takes work. That's the work people talk about in relationships. Really retraining your mind and inner self and bad habits to get out of the way. That's what it means."
"To say, 'I don't know how to love you, can you show me how?' That's deep. Teach me. I want to know."
Nobody's Fool brings all of these questions and issues to the forefront. While, personally, I still felt uneasy with some of the representation of women in the film, I can say that it's unlike any Tyler Perry film we've seen in the past. Nobody's Fool signifies a shift for Perry as a filmmaker.
"I think everyone evolves, and I think Tyler wanted to do something that's different and contextualized and layered and I just think that he had a great story, and he was like, 'Okay this is the way I want to tell it.' And he tapped into something that brought along more people to his movies," she explained. "It's funny, but it's really a lot of heart into it, and no one character is the same at all."
The film also stars Tiffany Haddish, Whoopi Goldberg, and Amber Riley, alongside Sumpter and Hardwick. This is not the first project that Sumpter and Hardwick worked on together but it's the first time the actors share intimate scenes and truly tap into their comedic element.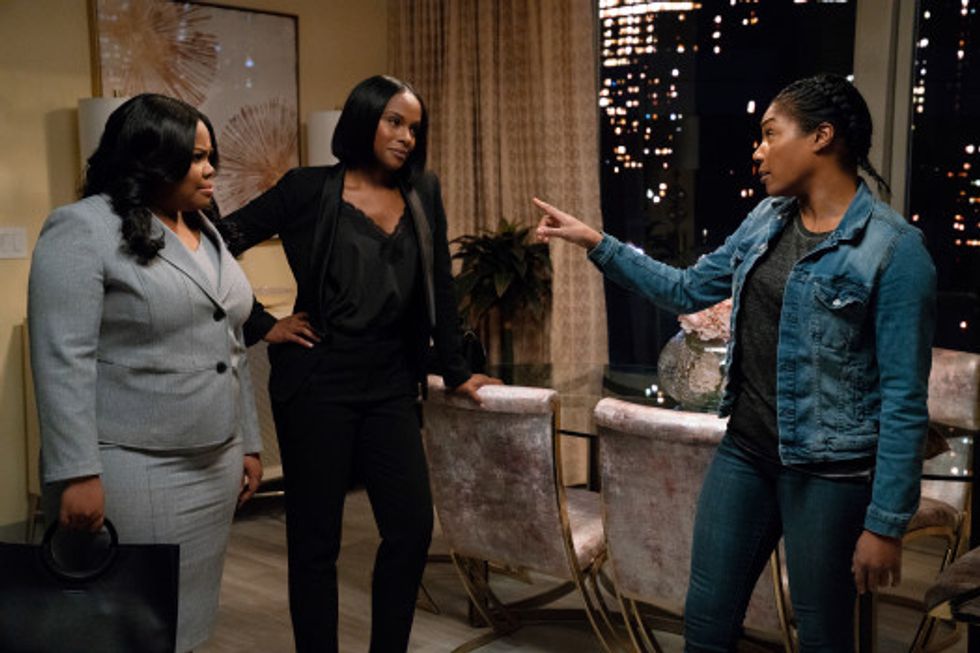 Chip Bergmann/Paramount Pictures via AP
"As actors, we want to have different options of acting. Nobody wants to do the same thing over and over again, and the thing is when you do one thing really well, people are like, 'Oh but I see this person.' I'm just happy that Omari got to tap into his lighter side and more fun side, as well as myself included," Sumpter shared.
She continued, "We've known each other for a very long time, so it was nice to be able to have this one-on-one, more intense moment with him and create what we did create because I felt like we did have a great chemistry and we were able to be light but also be grounded, and create a great story. A love story, a romcom that we don't always get to see."
Sumpter was also ecstatic that she was able to portray a "flawed" Black woman on screen. She said, "I think a lot of the times we don't get to see women make flawed choices onscreen or choices where there is no closure...we don't get to really see black women make choices like that. Even if its hard. Even if people are like, 'No, don't do it.'"
In case you aren't familiar, The Hate U Give hits theaters this weekend.
The film, adapted from Angie Thomas' novel of the same name tells the story of the murder of an unarmed Black teenager, Khalil (Algee Smith), and the impact his death has on his community and childhood friend Starr Carter (Amandla Stenberg).
Khalil, an unarmed, Black teen is murdered by a police officer during a traffic stop in this fictional story. While, in reality, 17-year-old Laquan McDonald was murdered by a police officer in Chicago in 2014. Just this week, the officer, Jason Van Dyke, was convicted of second-degree murder and became the first Chicago police officer to be found guilty of murder for an on-duty shooting in 50 years.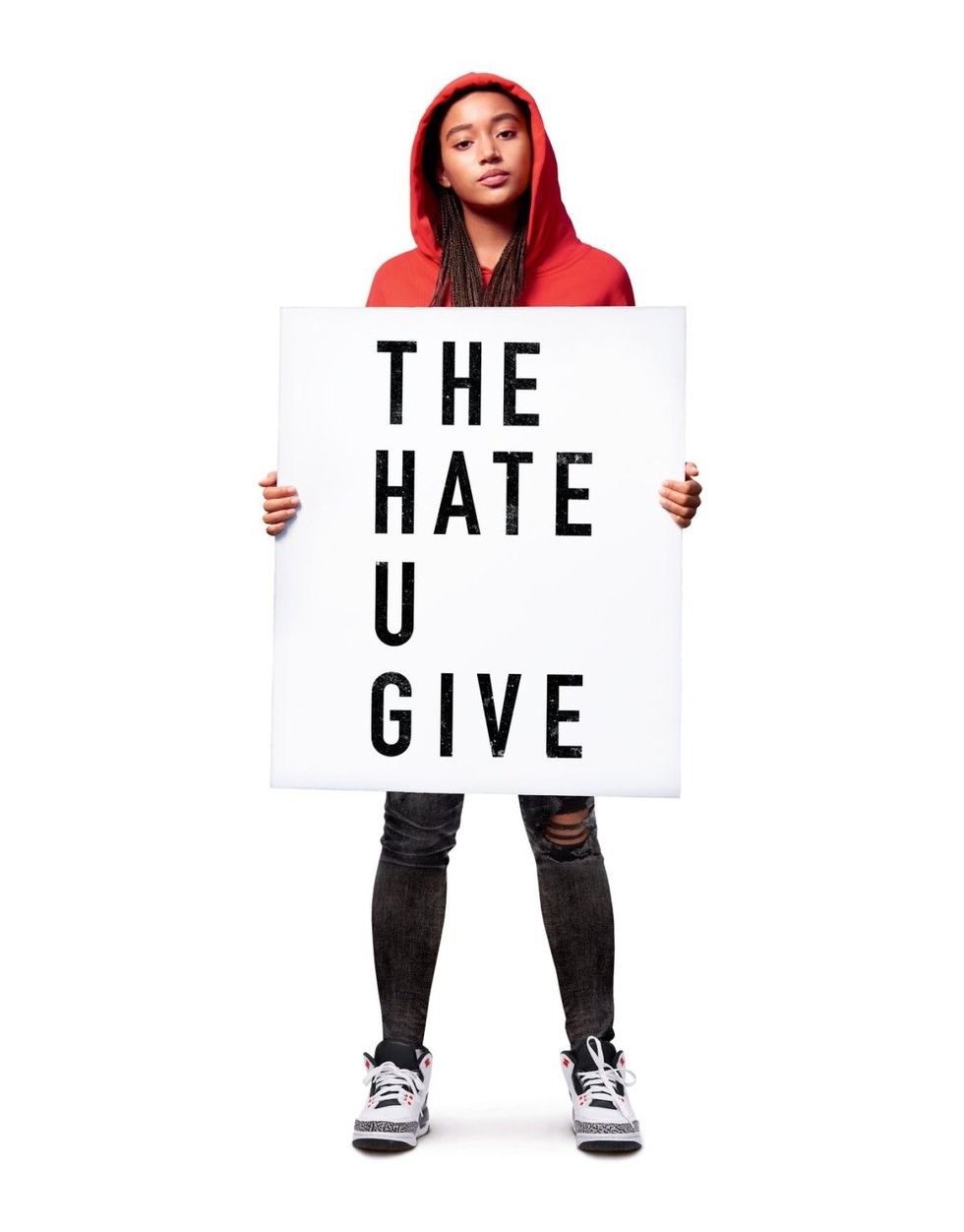 The Hate U Give20th Century Fox
Police brutality is all too prevalent in America. The Hate U Give delves into this topic, but goes even further to showcase the repercussions these deaths have on our families, friends, and communities.

xoNecole had the opportunity to speak with the cast of The Hate U Give during the Toronto International Film Festival (TIFF) in September, where Amandla Stenberg addressed the significance of this film from her own perspective.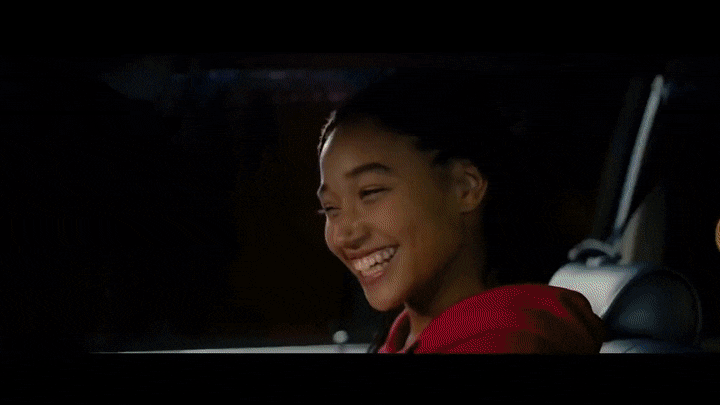 The Hate U Give20th Century Fox
Stenberg's character, Starr, witnesses the murder of Khalil, and struggles with making a decision to testify and how to navigate between her two worlds. She is a Black girl from a Black neighborhood yet, she attends a private school with white friends and dates a white boy. Through Starr's relationship with her boyfriend and friends at school, the story challenges white privilege and the strife it presents for Black people. She told xoNecole, "We're institutionally discriminated against. It's a struggle. To be able to get in a space where we have a platform, is a huge privilege, because it's really challenging to do that."

"I feel like the misconception around privilege is that you have some sort of mal intention as a privileged person. That you have a bad intention, but I think the problem is actually that you have no intention – that you have unawareness or ignorance toward your position in the world, and how it affords you opportunities over those who are discriminated against," she continued.

While only onscreen for the first act, Algee Smith, who plays Khalil really shines.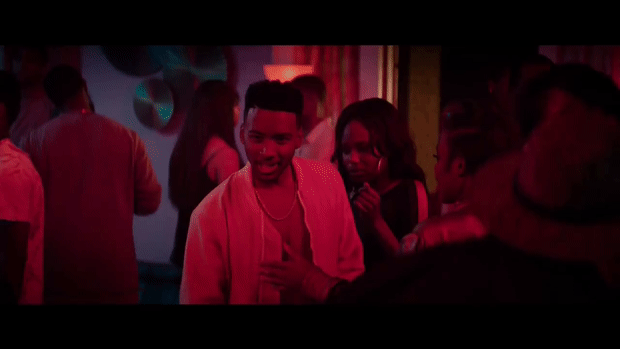 The Hate U Give 20th Century Fox
"I think when I had my initial audition with George (Tillman), I sat in that audition room for maybe 30 minutes to an hour. We were just going back and forth, because we were trying different ways. One thing we really said is that we didn't want to try too hard. Let the charm be there. Let the people fall in love."

And charming he was. Smith brought this allure that humanizes Khalil – and makes you fall in love with him - before his life is brutally taken away from him. He revealed to xoNecole the reaction his mother felt when watching Khalil onscreen.
"My momma cried like a baby," he said. "We watched it at night and the emotions were so much heavier, walking out of there. It was just silence and she was crying. Me and my momma been through a lot together."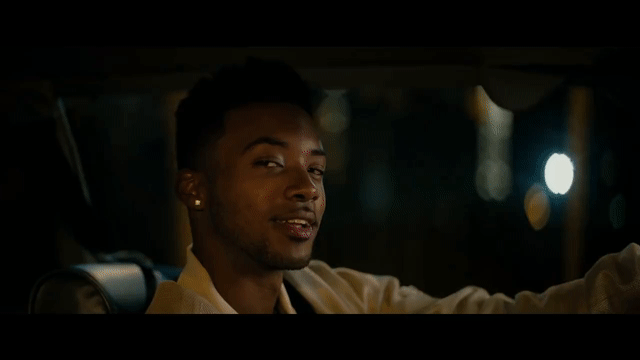 The Hate U Give20th Century Fox
The Hate U Give is guaranteed to overwhelm Black audiences with emotion, especially given our current political climate. The story is familiar and heartbreaking. For some of the actors, the film was surprisingly personal.

Dominique Fishback (The Deuce), who stars as Kenya, revealed that she has a personal experience with police brutality. Fishback was related to Eric Garner, who was wrongfully murdered by police officers in 2014 for selling cigarettes in New York.
"Eric Garner was a part of my family, and so, you never think that something like that could actually hit so close to home, and then one day you wake up and it's on the news," she said.
Despite the tragedy, Fishback recognizes her purpose, especially being a part of this film. "I'm here doing this movie. The first of its kind. I feel very fortunate and feel like it's a part of what my mission is supposed to be here."

Sabrina Carpenter, who plays one of star's prep school friends, echoed this sentiment, "I think the biggest gift you get as an actor is to be able to tell a story like this. I think that this film walked into all of our lives at a time that unfortunately is so relevant. Every single person that was involved in this film got to tell this story."
In addition to Amandla Stenberg and Algee Smith, the film also stars Regina Hall, Russell Hornsby, Common and Issa Rae, among others. Hall and Hornsby play Starr's parents, and give a stellar performance. Hornsby's portrayal of Maverick Carter is a pure depiction of Black fatherhood that we've been missing in film. The Hate U Give presents a strong Black family that knows their worth while addressing the genocide of Black people in this country.
The Hate U Give is in theaters everywhere now.
Netflix held the premiere for Nappily Ever After in Los Angeles at the Harmony Gold Theater on Thursday (September 20).
Directed and produced by women of color, the film is an adaptation of the 2000 book by Trisha Thomas, and has been in development for more than ten years. Sanaa Lathan stars as the protagonist Violet, but what some may not know is that the film originally considered Halle Berry for its leading role.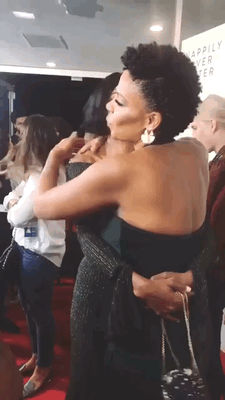 "To be honest, when we thought about who to cast in this role, we thought of Sanaa. There's comedy in the movie, but it also has a lot of heart and depth, and she's just such a strong actress," co-producer Tracey Bing shared with xoNecole. "I think she's amazing in the film, as you'll see and she's very brave and she really went there. I'm really proud of her."

Nappily Ever After challenges the beauty ideals that we affix to our hair, specifically as Black women. In preparation for her role, Lathan boldly shaved her head, a decision that inspired her close friends and fellow actresses Nia Long and Gabrielle Union. Both were in attendance to support Lathan and the film.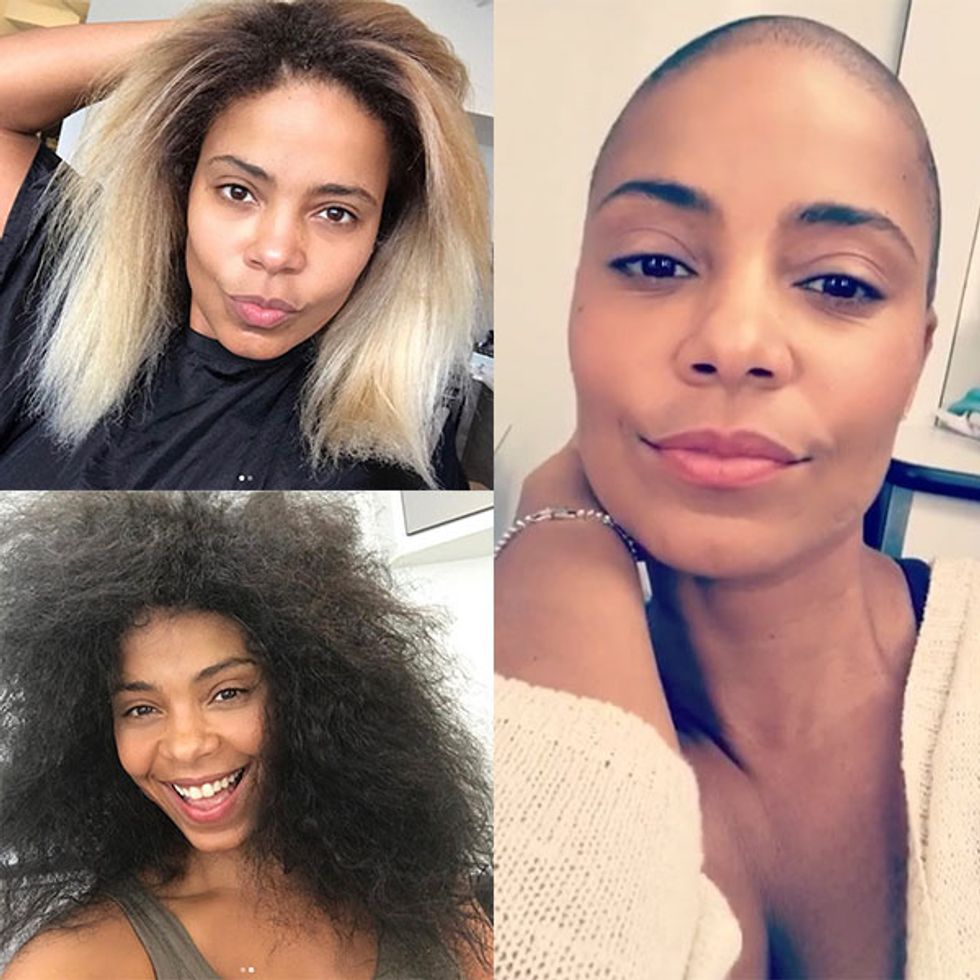 Sanaa Lathan before, during, and after 'Nappily' transformationSanaa/Instagram
"When Sanaa told me, she was doing the film and she was shaving her head, I was like, oh my god! First of all, she has beautiful hair. And then I was like, omg she's really going for it," Long said. "This is what it is all about. She's making a social statement, but she's also reminding us to feel beautiful and be beautiful in our natural, organic state."

The journey toward self-realization, especially for Black women is an exhaustive one that takes longer for some than others. Union revealed that she didn't fully recognize her beauty outside of her hair, until this year.
"June. This June. This year when I cut it off," she revealed. "I realized I'm dope and amazing no matter what I'm doing with my hair, and my soul - the inside matches the outside. I'm dope regardless. So, when I saw my girl (Lathan), literally shave her head bald and she didn't miss a beat. Dope. Fly. Still talented. Still amazing. Still an Ivy League graduate. Still a great actress. Still everyone loved her. Still beautiful. I was like you think anyone would notice if I just cut my hair off? And I felt more dope and beautiful than I've ever felt in my life. At 45. I felt 16."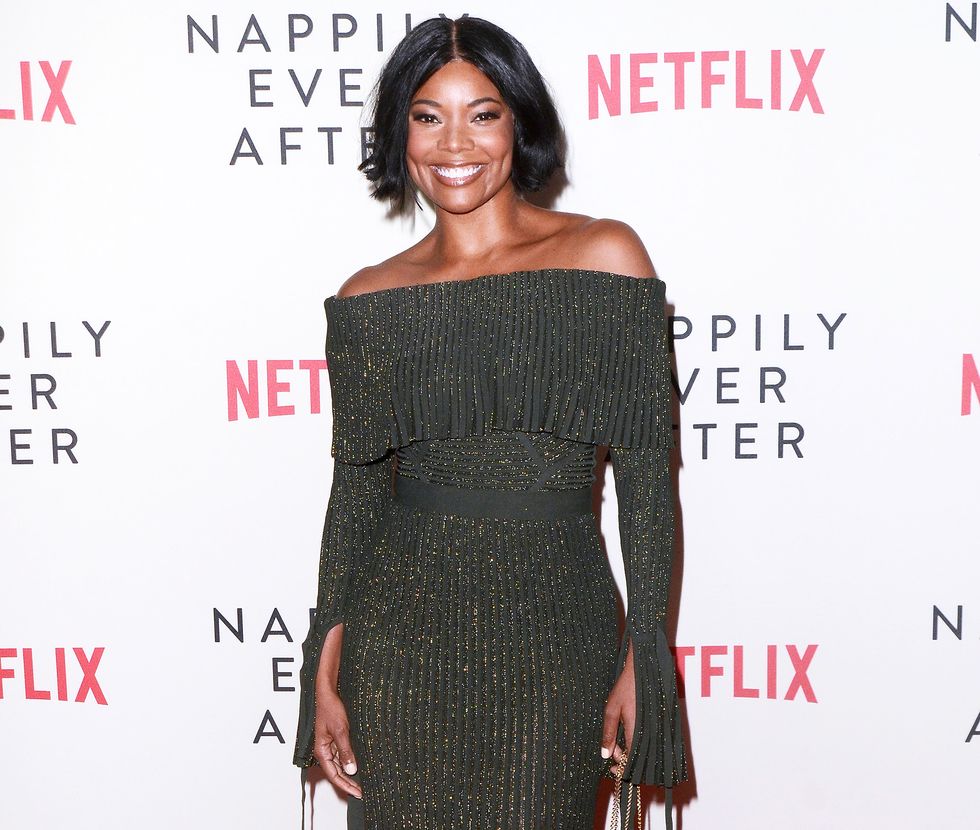 Gabrielle UnionMedia Punch/INSTARimages.com
"I'm dope and amazing no matter what I'm doing with my hair and the inside matches the outside. I'm dope regardless."

While Lathan's decision to shave her head may have inspired many, she admitted to xoNecole that she was terrified herself to do the big chop.
"I was terrified to shave it off and so surprised by the response that I got. From men and women about how beautiful they thought it was. We put so much time and energy - physical energy, mental energy, spiritual energy - into hair and when you don't have it, you have all that energy to put into other aspects of yourself. There's always this aspect of self-discovery and it's just been an adventure and I'm still on it."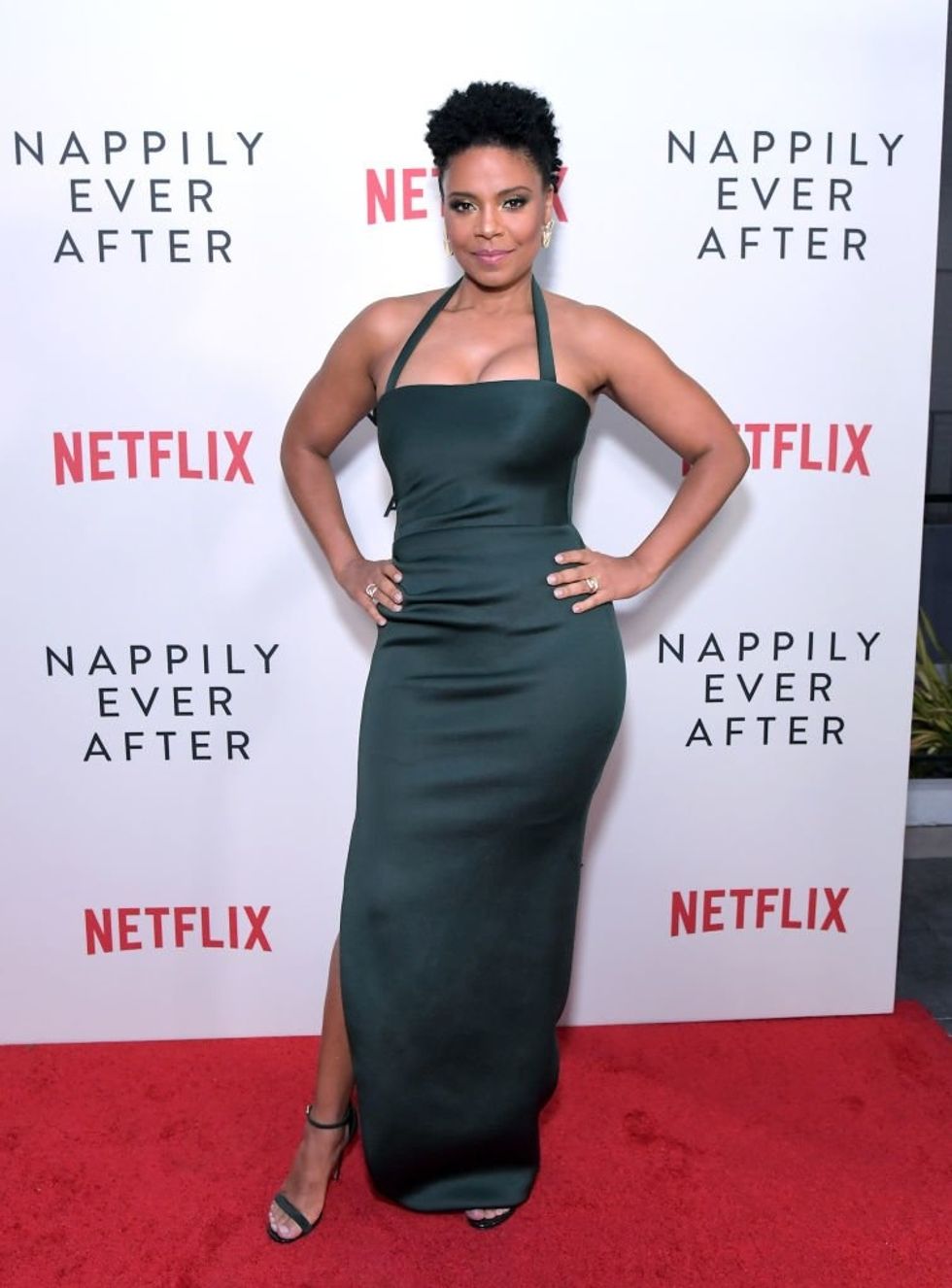 Sanaa LathanGetty Images
"We put so much time and energy - physical energy, mental energy, spiritual energy - into hair and when you don't have it, you have all that energy to put into other aspects of yourself."
While it's refreshing to see Black women in Hollywood embracing our many different hairstyles, including natural, Hollywood has a long way to go before it's fully prepared to deal with Black hair off-screen. As we spoke with many of the actresses on the carpet, many of them revealed that they face ongoing challenges with hair and makeup stylists on set.
"When I walk into the hair and makeup trailer, there's not always someone there to represent me. And so, I walk around with a Ziploc filled with my own products. Because I'm nervous. I'm insecure. I don't feel comfortable," Long admitted.
Antoinette Robertson shared that while she's experienced these challenges, she's been fortunate to not have to deal with that on the Netflix set of Dear White People.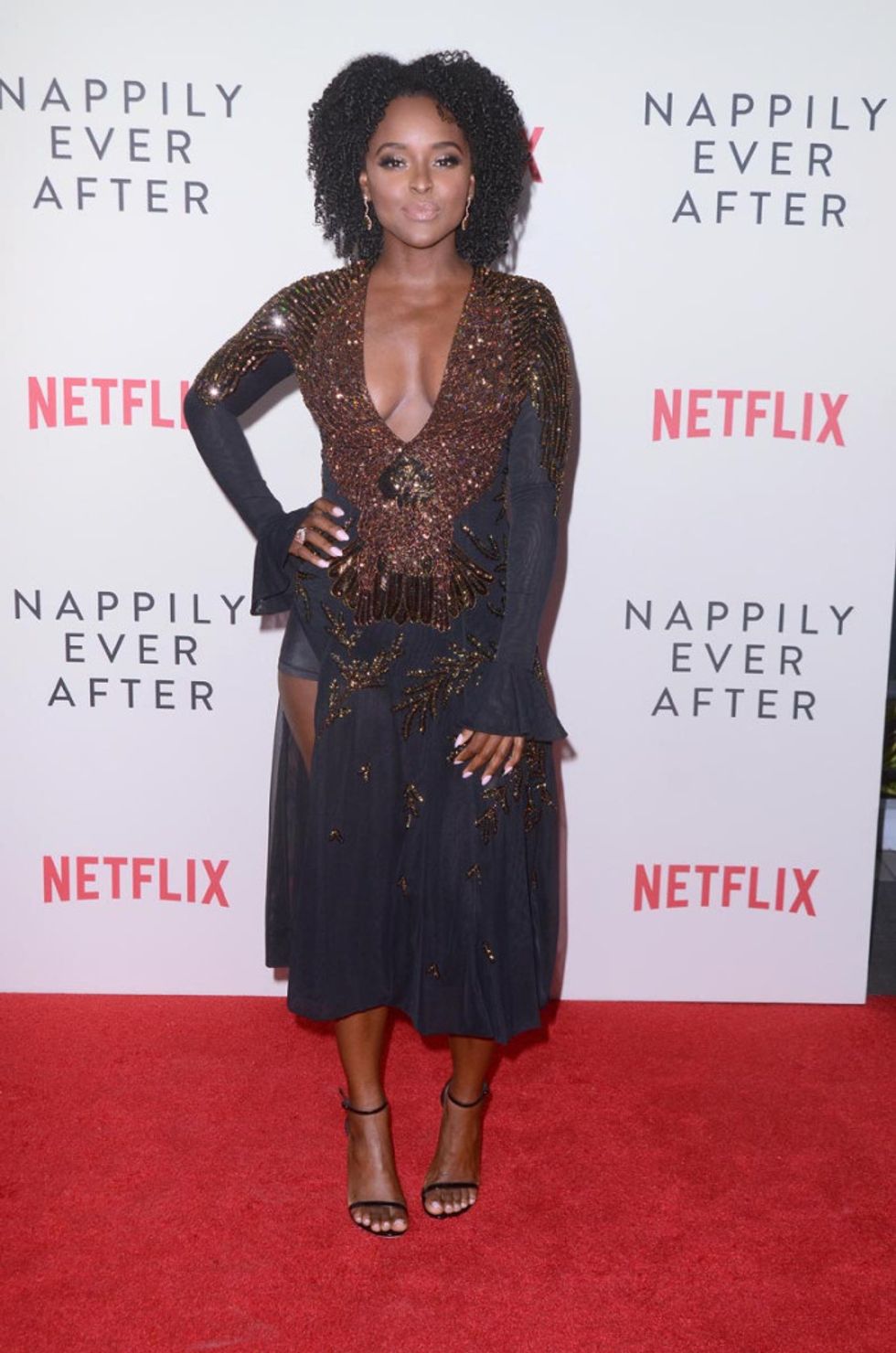 Antoinette RobertsonGetty Images
"I'll walk on set with my hair perfectly done if I don't trust someone, but our team on Dear White People - I have no issues at all. Dontay (Savoy) wants to take care of our hair. He cares about the integrity of our hair. I've gone to other sets where they don't necessarily care or place as much. They don't give us as much attention, because they're like oh it's done," she said. "I just feel like it's a lack of effort or interest sometimes, and that makes us feel bad a lot. So, I feel like I've learned I know how to do my foundation myself, just in case and know how to do my hair, because sometimes we're an afterthought."
The challenges in rejecting the Euro-centric hairstyles that have been projected onto us as the "beauty standard" are not just specific to Black women. Danielle Lyn, who stars in the film as Violet's co-worker, shared some of the issues she's faced as a Filipino actress.
"When I went back to the Philippines, I realized that colorism exists. When I was there I recognized that pin straight hair, no frizz, very European 'throwback to colonization' was their definition of beauty," she continued. "This conversation is so overdue. Because it's worldwide."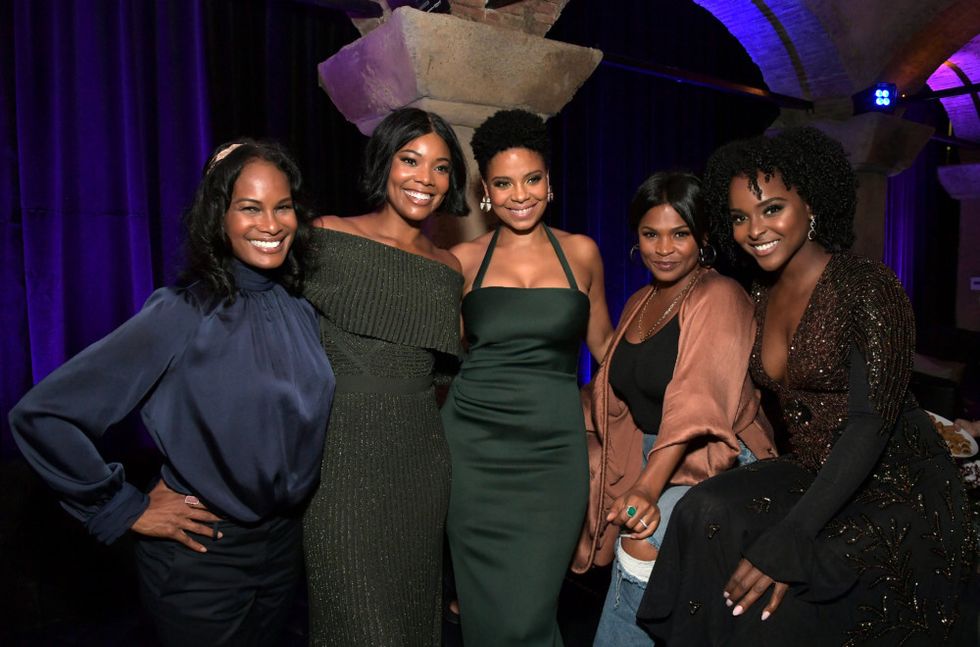 Sanaa Lathan, Gabrielle Union, Nia Long, Robinne Lee at Special Screening of "Nappily Ever After" Getty Images
Nappily Ever After tackles issues surrounding Black beauty and much more through Lathan's character and her journey toward self-discovery. The film is hilarious, and has its moments that are all too familiar for young Black women. i.e. the many hot comb scenes with Lynn Whitfield.
So, at the end of this, what is the message that the cast and its filmmakers want Black women to take away from the film?
"That they should love themselves as they are. We're beautiful as we are. Our hair doesn't define us. This is a romantic comedy that's about falling in love with yourself. And we need to really pass along that message to our children," Bing explained.
"We're beautiful as we are. Our hair doesn't define us."
Long added, "I really feel proud of this, because I want people who don't understand the journey to have a learning moment. I'm just excited to know there's a message right now happening on Netflix that explores the journey of black women and their hair."
Nappily Ever After is streaming now on Netflix. Share your thoughts and hair journey with us on social media @xoNecole.

Featured image by Getty Images