Iman Milner
Iman is a writer, actress and content creator living on the east coast. Her book, "on breaking back together" was the #1 new release in women's poetry on Amazon in 2020. You can follow her on all platforms @imannmilner.
When we think of R&B, we think of soul. Soul, by definition, is emotional or intellectual energy or intensity, especially as revealed in a work of art or an artistic performance. Black people are soul. Everything about us. Our hair. Our energy. Our skin. And, without a doubt, the creativity that courses through every inch of who we are. So, when it comes to our music, spiritual experiences are often what we call them. Makes sense, for there are no other people who remain unbroken the way we do. And every so often, an artist comes along who seems to be the physical manifestation of all that we are.
One such artist is R&B singer Lucky Daye.
Daye embodies the very essence of who we are. With his warm silky vocals, intricate lyricism and ability to wring beauty from a love drought, Lucky Daye has become one of the most sought after and revered vocalists in the industry. With R&B being such a cherished part of our culture's influence on the musical landscape, new artists, at times, have a hard time breaking away from comparisons to legends of the past.
However for Daye, this is a welcomed challenge.
"I find that my music is a reflection of the classic R&B that I grew upwith and have come to love," he said. "Paying homage to Black artists who have come before me comes naturally. Those artists are an an example to me but it's something that flows naturally when I create music."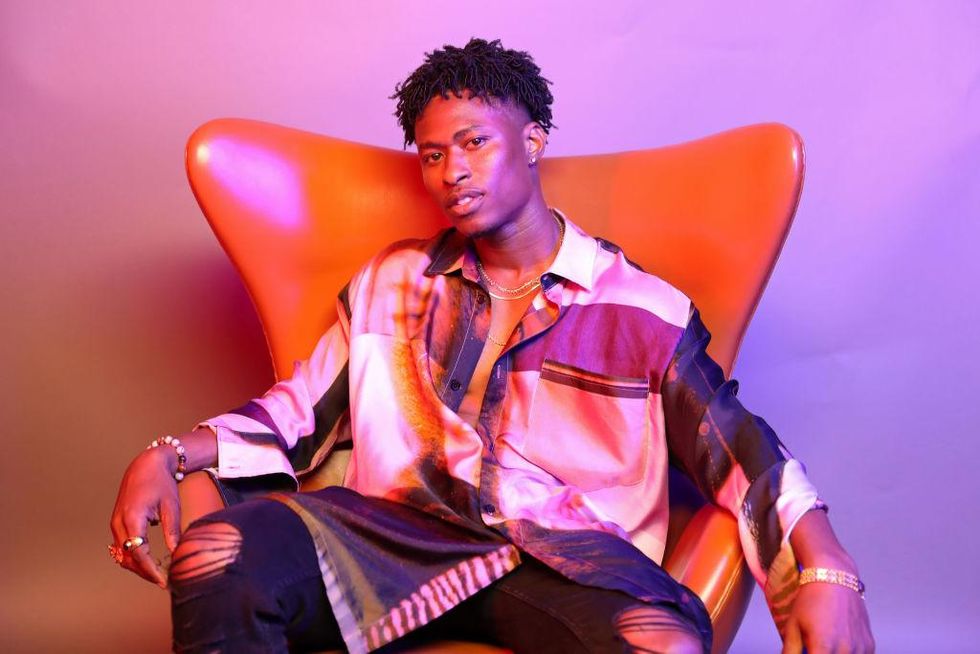 Bennett Raglin/Getty Images for BET
"Paying homage to Black artists who have come before me comes naturally. Those artists are an an example to me but it's something that flows naturally when I create music."
After years spent penning hits for other artists, in 2018 Daye stepped from behind the boards and burst onto the scene with his hit "Roll Some Mo". Equal parts sultry and masterful, Daye's debut project Painted left us wanting more.
And he delivered.
Offering his talents to the motion picture soundtrack for The Photograph, his hit "Fade Away" became a must-have on made-for-love playlists all over as our country went into lockdown last year. 2021 kicked off with new music from Lucky as well with the release of his EP, Table for Two, a seven-song project that saw him collaborating with artists like Ari Lennox and Queen Naija. Duets, which for so long have been foundational to R&B music, have all but died out except for the rare occurrences that two artists just decide they want to work together.
So, we had to know who was on Lucky's list to collaborate with next. "Beyonce," he confessed, "...Jazmine Sullivan and Grace Jones." Swoon.
Perhaps what we love more about Lucky Daye than his immense talent, is his obvious love for our culture. The Grammy-award winning singer teamed up with Crown Royal to shine a light on Black artists in all disciplines and proclaim, boldly, that our soul is what moves the world forward for Juneteenth.
Daye performed alongside legends Earth, Wind and Fire and India.Arie in a virtual festival that paid homage to our roots and our future. "I'd encourage other artists like myself to continue to use their talents for good and give back to the culture that is keeping the world alive," he said about his decision to join the initiative and to work alongside the luxury cognac brand on similar efforts.
It's clear that whether Lucky is keeping R&B music alive or using his influence to promote the art of Black artists across mediums, he is always showing up as his truest self.
In his music and where he dedicates his time (did I mention he's a part-time chess master?!), there is a thorough line: do it from the soul or do not do it at all.
For more of Lucky, follow him on Instagram @iamluckydaye.
Featured image by Bennett Raglin/Getty Images for BET
** trigger warning: this piece mentions eating disorders and sensitive topics surrounding body image**
For far too long discussions about eating disorders have been attributed to the struggles of, predominantly, young white women. Little to no attention has been paid to the body image issues facing Black women of all ages especially in the era of plastic surgery and social media. As a community, we are still novices at spotting, naming and having open conversations about the way Black women are forced to fit into certain body types to be deemed attractive or desirable. This deafening silence has led many of our most beautiful women to go to extreme measures to fix their perceived flaws. However, it's not just as simple as not liking our bodies or needing to increase our love of self, it actually goes a bit deeper for many women.
It can be categorized as body dysmorphic disorder.
By definition, body dysmorphic disorder is a mental health disorder in which you can't stop thinking about one or more perceived defects or flaws in your appearance — a flaw that appears minor or can't be seen by others. To put it plainly, you can't see your own beauty, worth or value because your mind is making you focus on things that you feel make you less than. There is no doubt that social media and the idea of what a Black woman should look like or how her body should be shaped is exacerbating this disorder for many of us.
The American Society for Aesthetic Plastic Surgery reports that cosmetic augmentation has risen more than 56 percent in Black people over the last decade. As Black people account for only 12 percent of the population, we are making up over 8 percent of the plastic surgeries in the US.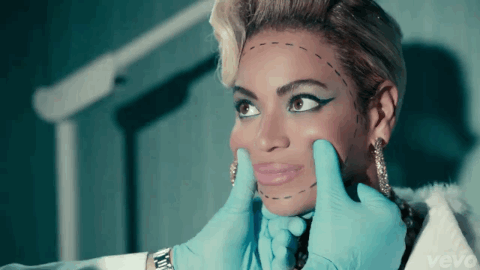 media1.giphy.com
So, what does that mean for the vast amount of Black women who cannot afford to go under the knife?

It means general discontent with their bodies. Unhealthy diet fads, painful "waist trainers", botched and, sometimes, fatal shortcuts to achieving that hourglass shape that has been reproduced and sold back to us by non-Black women all over the media. For some women, it means an increase in anxiety and depressive episodes because of the idealistic view that having the perfect body means attracting the perfect partner, career and/or life. Nothing about their bodies seems good enough to measure up to the flawless image of womanhood being presented to them without, at times, transparency on what it actually took to achieve. It means Black womanhood, yet again, being equated to unfair and, for many, unachievable standards.
It means hearing Black men telling Black women to "tighten up" because non-Black women "have ass now" as if that is what gives us our magic. It means young Black girls not giving their bodies the opportunity to fully develop without fantasizing about changing it---and when that change is unavailable to them, they learn to hate their bodies long before they see the wonder of what it can do.
Of course, Black women should be able to do whatever they want with their bodies. At any time. At any cost. And not every Black woman who has plastic surgery is suffering from body dysmorphic disorder. To assert that would deny the myriad of reasons why a woman may decide to alter her body. And, yes, some of those reasons may simply be for her own satisfaction. That is perfectly fine. But, when we are seeing the same body shapes recycled time and time again, something deeper is at work. When we are seeing the same facial structures being applied to faces that were much more interesting, intriguing and unique beforehand---it is not just a matter of personal pleasure anymore. It is a matter of messaging. Of feeling that the only way to be beautiful is to mimic something we are being told makes it so.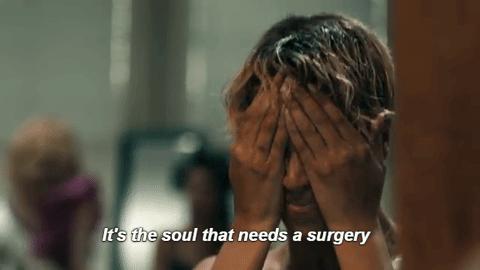 i.pinimg.com
The stunning thing about Black womanhood has always been the many forms it can take. Small, big, curvy, petite, thin, fat, short, tall, all the ass, none of the ass, wide nose, button nose, long legs, short legs, 1A-4C hair. Oh, the majesty of Black women! So what happens if we all decide to look one way now? What happens if the people we once looked to as representation start to chip away at the things that were our reflection?
What becomes of our magic then?

Have a personal story that you would like to share on xoNecole.com? Send us an email at submissions@xonecole.com for your chance to be featured on the platform.
Featured image by Shutterstock
This year has provided us all with a new outlook on how we celebrate ourselves, the ones we love and, of course, special occasions like weddings, birthdays and baby showers. But even before this global pandemic, the holiday season had started to take on a new definition for me.
For the past decade, I've lived over two thousand miles away from my closest friends and family.
Which means I, the person with seemingly more flexibility and no children, has oftentimes been expected to take on the onus of holiday travel. The hustle and bustle of airports, the long lines for rental cars and the inflated airline ticket costs are a great way to kill the yuletide cheer before it even begins. Not to mention the convos centered around if and when you're settling down, starting a family or moving back home once you've arrived. So last year, I decided if I was going to be "home for the holidays", it was going to mean being in my own home and if I was going to spend my hard-earned cash, it was going to be on myself.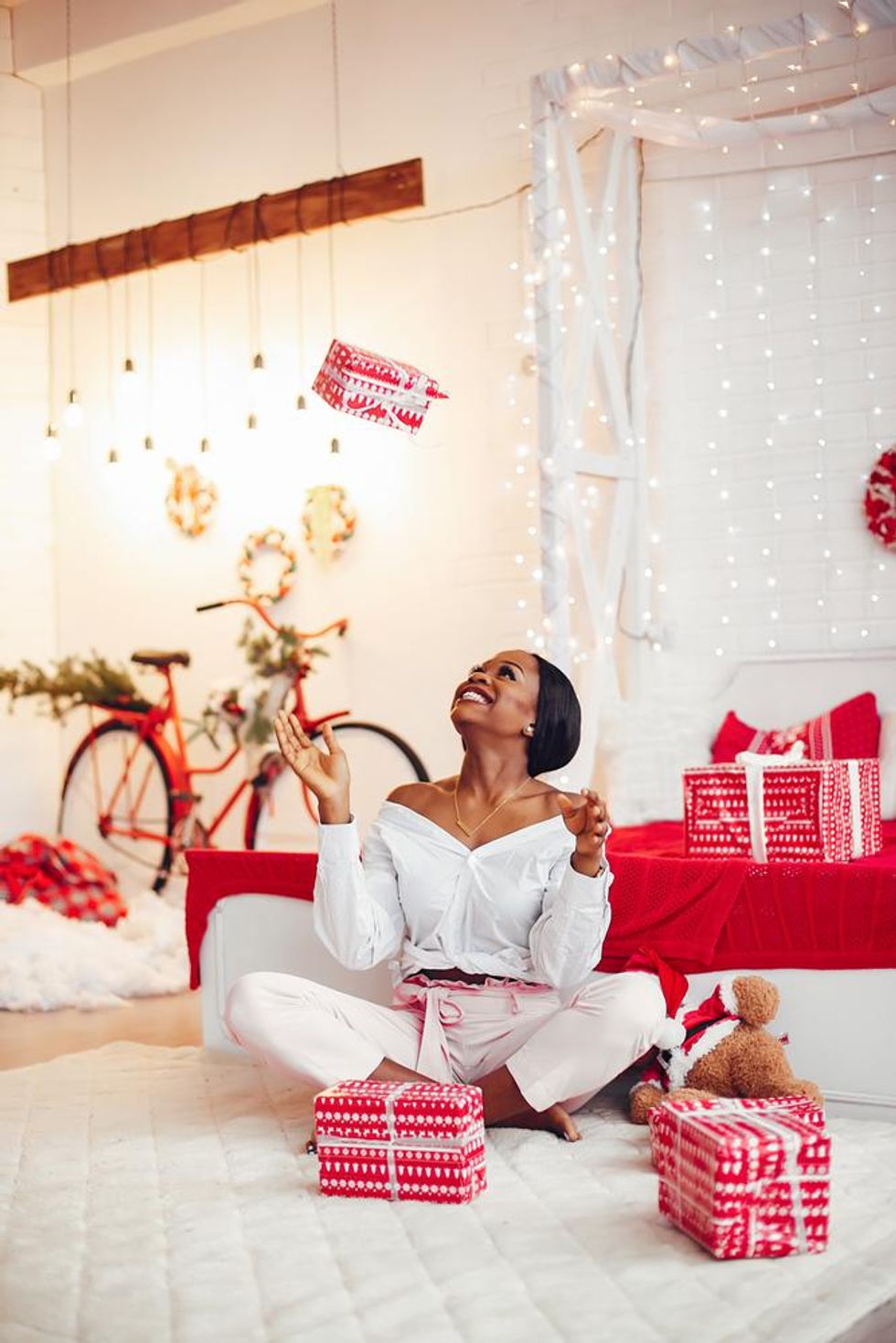 Shutterstock
Now I know if you're a woman-identifying person, especially a Black one, you may have cringed at that last statement.
Oftentimes, we're taught to put everyone else before ourselves. To stretch ourselves thin to please others. To give with reckless abandon. So much so, that the thought of making ourselves a priority makes us uncomfortable.
But I wanted to reclaim my holiday season even if it meant not seeing some of the people I've long cherished. I had hard conversations with family and friends who thought it was "sad" that I'd be spending the holidays alone or had just become used to my yearly winter exodus that it never occurred to them that my entire Christmas experience was shaped around their traditions, not my own.
And I realized a few things.
​First, I don't like decorating Christmas trees. No, seriously. I love lights. And wreaths. Personalized stockings are adorable. But Christmas trees? Hard pass. It occurred to me that every year I was doing something that I actually didn't even like doing in the name of holiday cheer. I wondered how many other things in my life I did for any number of seemingly obligatory reasons and then set about tearing down any other monuments to pleasing others that remained. Christmas carols? Bye. Christmas movie soundtracks? Yes, ma'am. On and on I went until I was left with what I, and only I, found to be most pleasing about this part of the year that can lead to so much unnecessary anxiety, financial strain and overextension.
It was, without a doubt, one of the most fulfilling Christmases I've ever had.
I missed the time shared with my loved ones, of course, but I was so grateful for being able to remember that the greatest gift I can give myself is to honor the things that matter to me. And how can I truly do that if I don't make time to figure out what those things are? The reason for the season is truly being able to look back on what is, hopefully, a year of growth and prosperity, to truly be able to rest and plan for the year coming and to be present---not just in the physical---with those we love.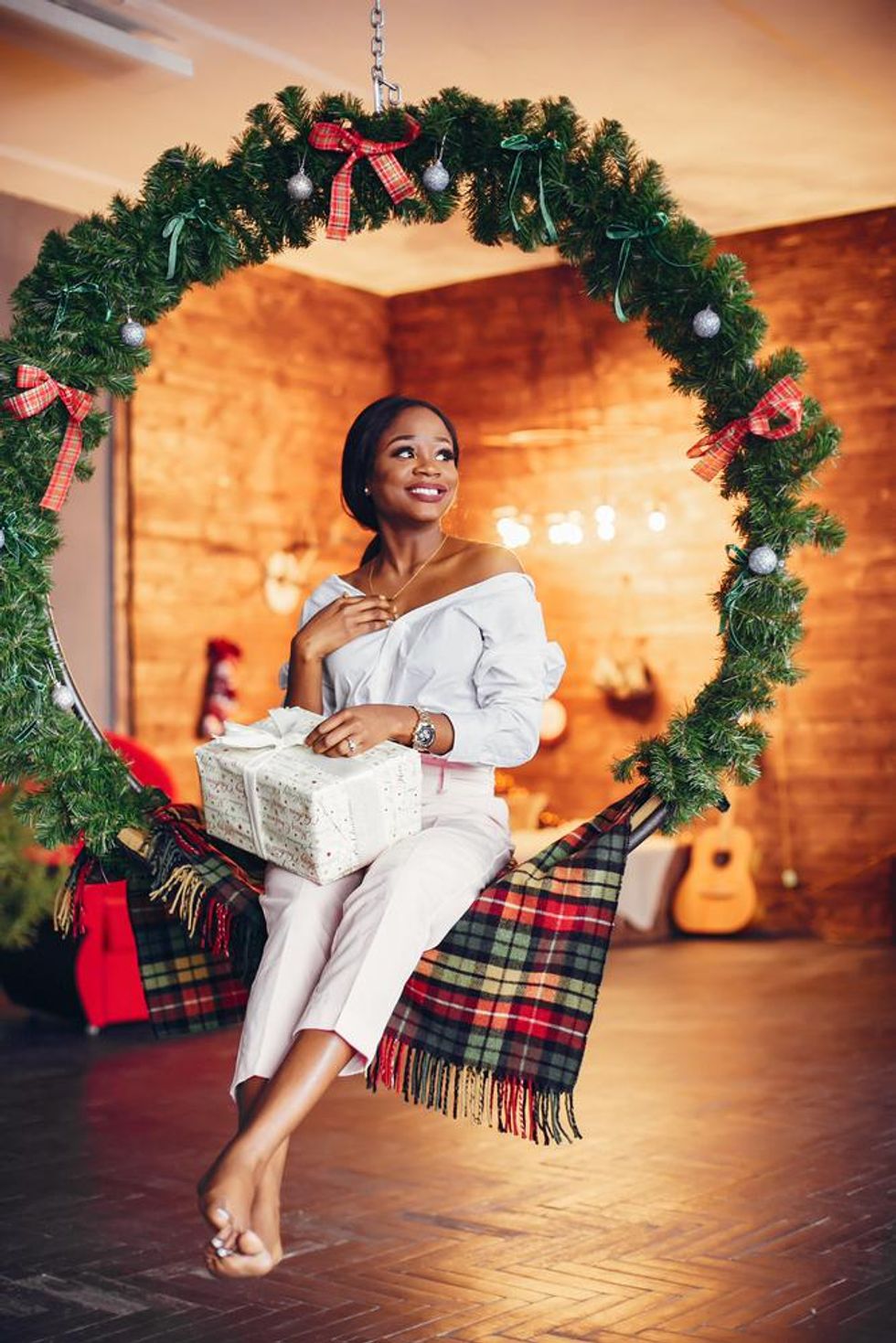 Shutterstock
I had much more in-depth conversations with the people I hold dearest being away from them than I have wearing ugly sweaters and drinking spiked apple cider in years past. I was in a much happier mood not having to fight through the throes of people in packed airports scrambling to make it to their destinations. The gifts that I bought myself, while not lavish in the least, were things that brought me joy and added to my personal goals.
I have zero regrets about choosing myself last Christmas.
Heading into a holiday season that will force many of us to redefine what this time of year is all about--I'm glad I got a head start on being my own north star. Whether you'll be with family or will be spending this joyful time alone, I want you to set aside a moment to honor your own desires for these final weeks of 2020. Give a full body "no" to the things that don't set your soul on fire and a full body yes to those things that do.
Decide how much of your energy and resources will go into others, cut it in half and redirect it into yourself. Trust me, after a year like this one, you need it more than you think. Be open to the possibility of you being the only yuletide cheer you truly need and embracing that wholeheartedly. Create new traditions and let go of old ones that no longer serve the person you are or want to become. Unwrap the parts of you that don't need to come to 2021 and bask in the presence of all that you are.
Everything else can wait.
Featured image by Shutterstock
Perfection by definition is the condition, state or quality of being free from all flaws or defects. And by example, perfection takes different forms. The perfect body. The perfect career. The perfect man/woman. The perfect life.

I can say that for the last few years of my life, I have been on a quest to make myself, my life, and my surroundings---well, perfect.
As a recovering perfectionist, I was once bogged down in every single detail. But now I am learning to accept some things for what they are; right now, in this moment. It has not been easy to overcome my addiction, but one of the major components to my healing has been taking a hard look at all of the things I blocked by insisting that it line up with some ideal picture I carried around in my head and heart.
When I started this inventory, I was surprised at how critical I'd been of everything and everyone in my life but perhaps the most heartbreaking was the way in which I'd lost my faith in the race to come out on top.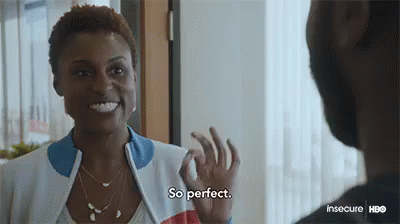 Now, I am no one's first lady, deaconess or minister but I once had a relationship with God that I was very proud of.
My faith was unwavering, and my life had a general ease to it that I contributed to my walk with Christ. Prayer was second nature to me and I was generally happy to share God with others. And then, I hit the age of 25. The age that I thought I'd have it all together by. But I looked around and felt helpless. I felt that I had nothing to show for my walk with God and though I believed that he was the vessel for all of my blessings, I saw people who seemed to not know him at all---living the life I dreamed of leading.
I was frustrated, fed up, and disappointed. And thus, started my spiral.
I wanted to hide myself---my not being a finished product could not possibly be attractive to either lovers or friends. I isolated myself and insisted that it was better that I not bring anyone else down to my level. Never mind that I'd run a successful magazine, created work that I was proud of, traveled to some of the places I'd always wanted to see---I wasn't where I thought I should be. So how could I be proud of me? How could I tell someone about God and have them look at my (what I thought was) shipwreck of a life?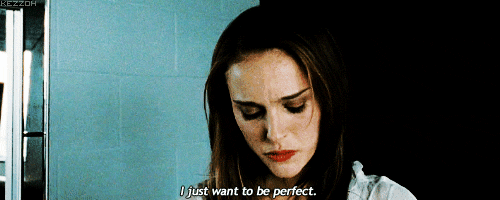 And what's more: how could I believe in a God who saw my hard work, passion, and desires, but blatantly ignored them?
Imagine that. Foolishly, I felt like the being that stretched the stars across the sky needed to prove itself to me.
Then I began to attack myself.
Maybe it was me. Maybe I wasn't a good enough woman/friend/daughter/Christian for God to answer my prayers. How could I fix that? And hell, why was God being so hard on me while letting everyone else be imperfect and still get ahead? Why was my life so much harder just because I was flawed and had made mistakes? GOD WAS NOT PLAYING FAIR. But in my usual perfectionist way, I figured I'd fix it.
I would do everything right and force God's hand. 1+1=2 after all, right? If I am crossing every t and dotting every i, then God has to give me what I want. And if he doesn't, then that means I can do more. I can work harder. Pray harder. Volunteer more. Workout more. Eat better. Not have a social life. Prove to Him that I was worthy of his love, blessings, and honor. I'd even pretend to be happy while doing it all because that was the only way God would be pleased with me enough to grant me the desires of my heart. Then, and only then, could I trust God the way I once had.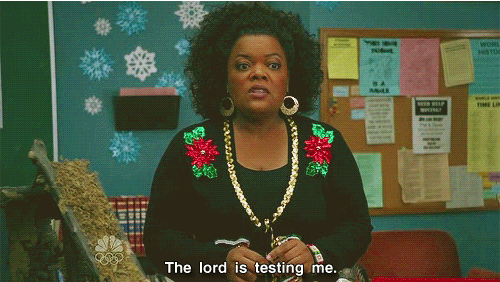 Because I felt I had to be perfect for anyone, let alone God, to love me---I also felt my life needed to be perfect in order for me to love God.
I was cutting myself off from the very essence of God's ultimate strength: to love me in my imperfections.
To see in me the things that I hate as the most beautiful parts of me---the places in which His love could shine brightest. When I stopped thinking that I had to come to Him, and anyone else, as a finished product---I realized that I was already complete. Not perfect, but indeed, complete. Still growing, still learning and even sometimes still wanting more out of life---but still complete and completely surrounded by God's grace.
Once I realized that me and God were one---working in tandem, not in opposition---I could hold myself accountable in helpful ways and do away with things that reduced me to "not good enough" at the hands of my own criticisms. I could go after self-improvement for the sake of personal growth that was not dependent on God giving me what I want but what He knows I need at every junction.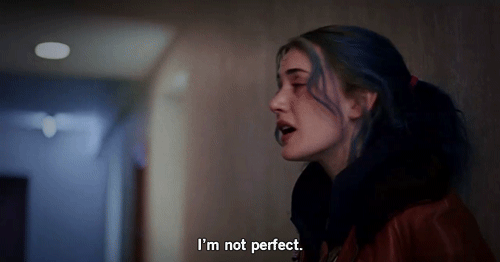 I learned to rejoice in small beginnings and trust my journey as mine and mine alone. And most importantly, when I threw off my ego and emotions, I was able to get really honest about whether or not I was actually ready for a lot of the things I'd been praying for.
I was not. But, sometimes God protects us with small no's so that we don't make a mess of the big yes's that are coming our way. So, I let go. And you know what?
My life glowed up.
Things I hadn't thought to ask for blessed me in ways I couldn't have imagined. I was happy again; however, not due to any circumstances changing significantly, but from a joy unshakeable. You know that old folks saying: the world didn't give, and the world can't take it away?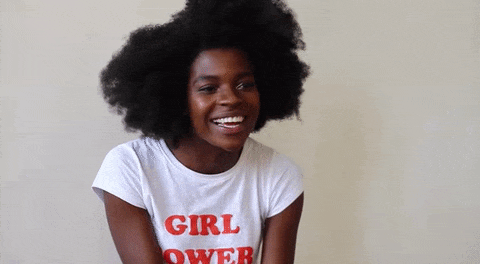 Well, in this case, the world wasn't my biggest enemy, I was. I believed all the lies my anxiety and fears told me about God's limited ability to love me, you, him, her, them…without us being completely flawless. I almost let my quest for perfection, which is really just another mask our ego tells us to wear, keep me away from the most important relationship I will ever have.
Almost.
xoNecole is always looking for new voices and empowering stories to add to our platform. If you have an interesting story or personal essay that you'd love to share, we'd love to hear from you. Contact us at submissons@xonecole.com
Throughout the better part of my life, I've heard the saying: "Ask and ye shall receive."
The idea that whatever we desire is just waiting on us to claim it through the words out of our mouth and the meditation of our hearts has been a welcome companion in good and bad times alike. However, like most simple steps, it was the hardest one to commit to—the total reliance on faith, God and energy. So, I first took my semi-commitment to social media because, as we all know by this point, social media is where we go to say the things that our close friends are tired of hearing.
I started to be upfront with the "world" about my desires with hopes that the Universe would respond to me and let me know I was on the right track. So I'd tweet this:
I just want to act, write, make love, travel and have pretty little brown babies with a man who loves art and hip hop. That's it.

— Iman N. Milner (@Iman N. Milner) 1334084198.0
I half-believed it and half expected it to happen about five to ten years from now.
Fast forward three years and I am here: a working actress, a writer, well-traveled, and a boyfriend who—you guessed it—loves loves art and hip-hop. We're holding off on the kids for a while, but I have it; I have what I asked for. Now what? Often times, we arrive at our proverbial destination and have no idea what to do in order to keep climbing. We either become workhorses who have no time to enjoy the blessings we prayed for or we become complacent and forget that our dreams must be fed consistently.
So here are seven answers for the question, "Now what?"
Get Specific
Now that you've laid the foundation, it's time to build on it. Generalizing your dreams is not enough. You want to write a book? What kind? Do you want it to be a NYT bestseller? You want to own a business? Where? For how long? Do you want to be on the cover of Forbes when it's all said and done? Details will save you energy in the long run because you'll know what to focus on every step of the way. Distractions and wasted time are like poison for dreamers.

Be Bold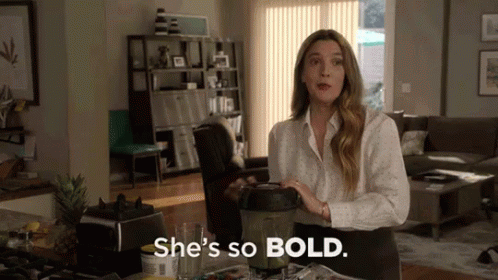 This is not the time to be bashful. You fought to be here, don't make light of your journey, and don't be afraid to share what you've learned. This also applies to tip one, ask God for exactly what you want. He knows your heart anyway, so why hold back for fear that you won't get it? Courage is such a huge part of success!

Stop Comparing
If you're worried about competing with the person next to you, you'll have less time to build your own empire. And trust me, they're just as concerned about tomorrow as you are. That's human nature. Your dreams, your story, your cornbread…it's yours. No one can take it from you. And the opposite is true: you cannot receive another person's blessings. If they have it, it's theirs, and it wouldn't fit you anyway.
Take Away the Ceiling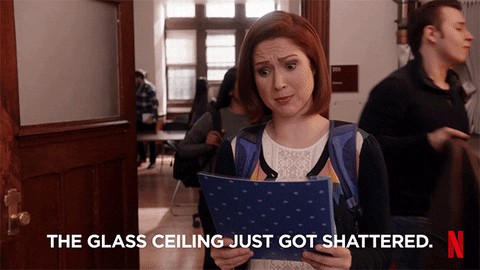 One of my favorite teachers would tell us to never aim for an A because, "Once you get that A, you'll feel like there's nothing left to learn." If you tell yourself that there is a goal you want to reach and make that goal the ceiling for your dreams—you'll miss out on your ability to keep growing.
Make a New List of Goals
This may seem like an obvious step, but I'm always shocked by how many people never think to keep dreaming bigger. Chances are, if you're traveling, researching, meeting new people, and learning all there is to know about your particular field, you'll discover new talents—use them.
Sleep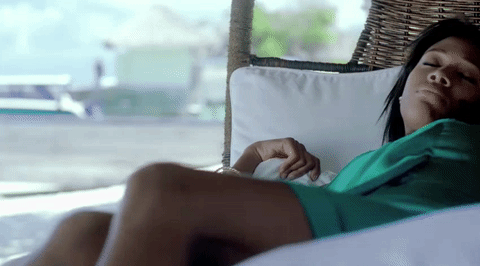 Listen, nothing will feed your dreams better than a well-rested mind. Don't believe the "they sleep, we grind" narrative; running your body into the ground in the name of your dreams won't get you there any quicker. What it will do is slow down your progress. Sleep deprivation directly affects your central nervous system, aka the place where your ideas come from.
Live
No, really. You must find time to live. Take some risks. Break some ties. Form some new relationships. Read some books. Spend one too many hours on Tumblr. Go to a museum. Post that selfie you were going to post, but then thought it was too much. Do absolutely nothing for an entire day. Whatever makes you feel alive, do it. Do not become so stifled by success that taking a step away from your work riddles you with fear of being left behind. This is very important for all of you creatives out there—the best thing you can do for your art is to be a well-rounded person with life experiences.
Cut yourself some slack. Enjoy what you have right now and keep going!
Featured image by Getty Images
Want more stories like this? Sign up for our newsletter here to receive our latest articles and news straight to your inbox.
So, you're sitting at your desk scrolling through Instagram with stealth-like precision, and you come across a successful entrepreneur.
Maybe she's leaving a yoga class, mat tucked adorably under her arm with a green juice in hand or perhaps she's all smiles with her passport raised to the sky heading on a sponsored vacation. She's got it made, you think. Living her best life, answering to no one, able to explore, come and go as she pleases.
You decide enough is enough---you, too, dream of freedom. After all, working for yourself will be the answer to all of your problems, right?
Girl. Listen.
This life? This "stress free" freelancing life? It ain't for everybody. Let us debunk the myth that a career as an entrepreneur is the end all be all, or equivalent to going from Mariah Carey's Glitter album to her Emancipation of Mimi comeback together, shall we?
Being The HBIC Isn't Easy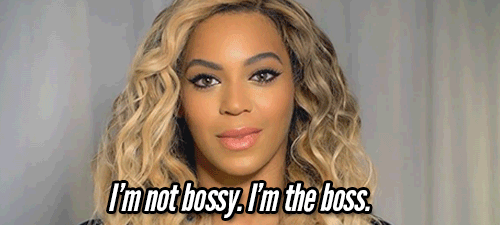 First things first, the fish rots from the head. And, SURPRISE, you're now the head. What I mean by this is that until now, you've spent most of your life having a set of predetermined guidelines to follow to ensure the ease at which you're able to succeed. There's a start time, a list of job duties, a built-in break time, an embedded assessment system in the form of monthly meetings, bonuses, a steady paycheck, and, everyone's favorite, a clear time to clock out.
In short, there is a simplicity that comes with having things mapped out for you every day. That completely disappears when you're working for yourself (more on this phrase later). There is no one to bcc when things need fixing, nor is there a clear start or end time to your workday. For many freelancers, learning how to set your own "company policies," boundaries, expectations, and/or schedule is more daunting than freeing, at times. Can you work from home in your pajamas while D'Angelo's Voodoo album plays in the background and collect money without leaving your bed? Yes.
But you can also spend your time doing nothing productive for a whole day with no one to answer to---and this is where many entrepreneurs get (and stay!) stuck. Can you discipline yourself to get results when there's no one to hold you accountable but the person in the mirror? This isn't rhetorical. This is perhaps the most important question you can ask yourself and the one you HAVE to answer honestlybefore you tell your boss to kiss you where the sun don't shine, and you sail off into the CEO sunset.
Every Coin Matters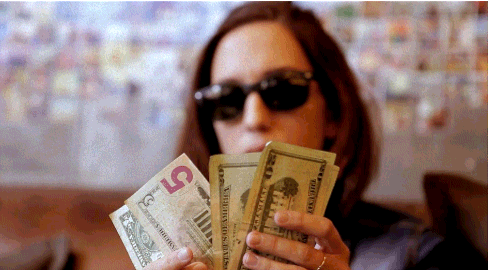 Then, there's the matter of money.
Oh, yes. Although there are few things as satisfying than the first time you get paid to do exactly what you want to do---you only eat what you catch when you're the HBIC. As a freelancer, every coin matters because there is no guarantee that the coins will keep coming. See, the thing about not having one steady job is that you must always be thinking a few months ahead in order to keep your financial well from drying up.
When you factor in the freelancer's tendency to accept much less than what they're worth and the chance that someone may drag their feet on cutting the check---the idea of knowing where your money is coming from weekly, biweekly or monthly doesn't seem all that bad now, does it? And there is absolutely nothing wrong with not wanting to give yourself a mini heart attack on the first of every month when you try to map out what you have left for the next 30 days. Tons of entrepreneurs will tell you about how they made a dollar out of 15 cents but very few will admit that they just wish they'd had the damn dollar in the first place.
The Truth About Working For Yourself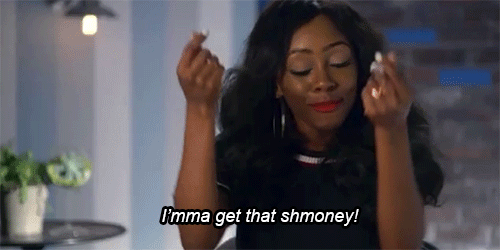 So, we've covered self-discipline, money, and accountability but how about the phrase: "I want to work for myself"?
Here's the brutal truth: in a country built on capitalism, you'll always need to appeal to someone else in order to get paid.
When you make the switch from a 9-5 to the dance of professional side hustling, what happens is that you go from having one boss to a whole lot of bosses. Whether you're now answering to clients, the people who consume your art or customers who buy your products; the idea of complete autonomy of your time, decisions and abilities is false. You are going to have to juggle the expectations of total strangers while you navigate the demands of being in charge.
And if you think after hours emails are annoying from a single source, consider the stream of emails from different people on different time-zones about different projects…Jesus wept, ok? The only sure thing when working "for yourself" is that you'll be overworked and have less free time than you ever did punching a clock.
There is no magic wand that comes with entrepreneurship that turns your life into a 24-hour social media victory lap.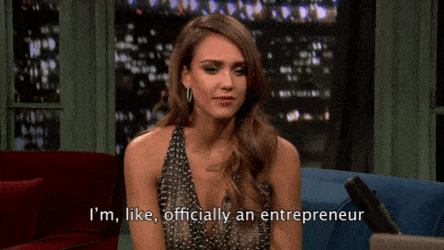 You will fail.
You will go underpaid at best and unpaid at worst.
There will be days where staying in bed to do nothing will be, at once, too expensive and yet the only thing that can get you through the week.
You will question every decision you make from a million different angles. Hell, you'll even envy the normalcy of a "regular" job. But as Jim Carrey once said: you can fail at something you don't want to do, so there's no harm in taking a gamble on something you really love.
I am here to tell you that ultimately how you choose to live your life must depend on a 100% honest evaluation of yourself and not on what others believe makes you a success.
Some will suggest that you jump off the boat of the traditional 9-5 so that you can walk on the proverbial waters of self-employment. I say, there's nothing wrong with staying on that boat and making it peacefully to shore---ain't no sense in messing up a good pair of shoes walking in someone else's footsteps, sis.
But if your reason for staying onboard is because you fear you won't be able to swim---have faith that you'll be just fine and keep swimming.
Featured image by Thought Catalog on Unsplash