Who am I?
For such a profound question, it's an answer that steadily changes. I am always metamorphosing into new versions of me. It's the reason why I've gone years without a bio on my personal blog. When I hit a moment of satisfaction or shame within myself, I can't sit with or savor it long enough before I am reaching and aiming for something else. Something new.
This is the process of someone piecing together parts to make a whole.
I am constantly refining and redefining who I am. I've wrestled with understanding my existence and wrote about my racial-ethnic identity as a Black Latina for xoNecole years ago. Publicly, I've documented a deteriorating relationship with my mother and the search for my other half through an unidentifiable father. By the other half, I do not mean in respect of another human soul intertwined in harmony with my own being, although not knowing the origins of my birth story did play a vital role in how I sought and see love. There are so many moving and missing parts to me. This evolutionary story of who am I and the road to self-actualization is why I find comfort in Beyoncé's visual albums, more often, than in the music itself. She is always giving me what I need when it comes to identity.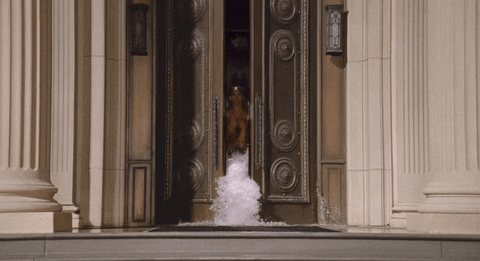 Beyonce Lemonade GIF
Giphy
Bey's film version of Lemonade came at the right time in 2016. Perhaps even divine timing for most of us, myself included. We dissected pieces of the 65-minute film in academia, through blog posts, and over social media.
Her personal story—this beautiful fusion of intuition, denial, anger, apathy, emptiness, accountability, reformation, forgiveness, resurrection, hope, and redemption—mirrored our own Black lives.
Our womanism and the fruits of our wombs. Our homes and our healing. Lemonade's release happened around the time of my own birth, a Saturn return, the elements of water, and womanhood centering itself in my own world. It was life-changing for me.
Black Is King is no different.
Sunday was spent with my now three-year-old who thought an afternoon in bed would bring another edition of Frozen II. I wanted to push Black imagery to the forefront. To accompany the darkness of Black Is King's opening, we heard:
"I feel like I'm not a king yet. But, like, I got potential for it, you feel me? But I'm not there yet, you feel me? Like, I know I got the capabilities to. But sometimes I don't know how to navigate."
The opening felt like home, a familiar territory. I know that even with gaps in between the early chapters of my life, I still have lands I need to explore within myself. Who am I as the (great)granddaughter of Alabamian women and military men? Who am I beyond them? Black Is King's purpose is to transcend brick walls and to "come home to" who we inherently are. This has been the mission of my thirties thus far.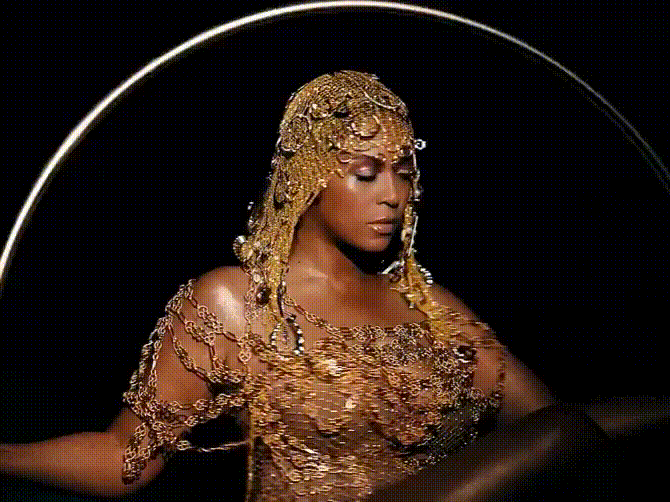 "Meant to celebrate the breadth and beauty of Black ancestry," Beyoncé said of the film's intent:
"We are all in search of safety and light. Many of us want change. I believe that when Black people tell our own stories, we can shift the axis of the world and tell our REAL history of generational wealth and richness of soul that are not told in our history books. With this visual album, I wanted to present elements of Black history and African tradition, with a modern twist and a universal message, and what it truly means to find your self-identity and build a legacy…This is a story of how the people left MOST BROKEN have EXTRAORDINARY gifts."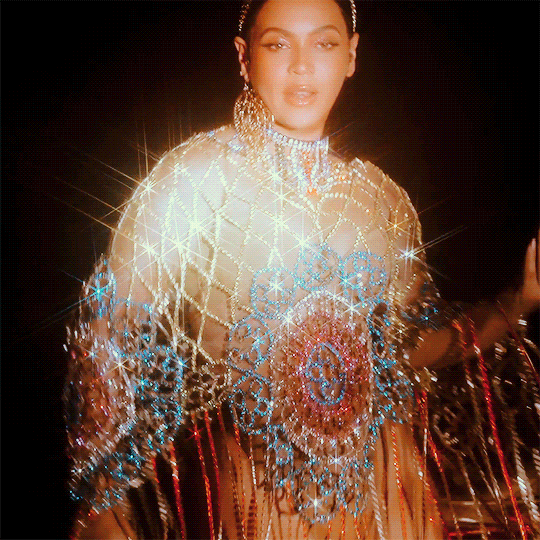 The Lion King was always that one childhood film that had endless knowledge to draw from, but I was always pulled to the lesson that it's important to (1) know who you are and (2) know where you come from. Bey's incorporation of Africa's lands, its native people, its color, and culture, alongside her family, reiterated just that.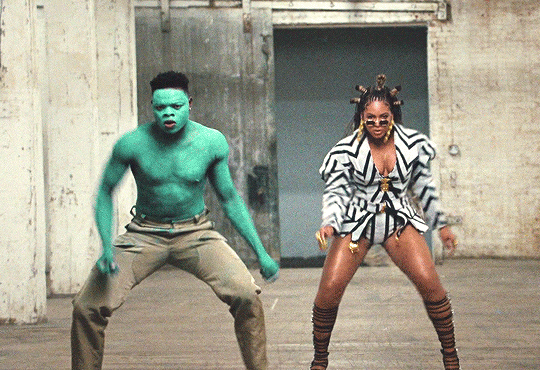 It was in Blue Ivy's showcase of sass and stardom at the tender age of 8 that warmed me throughout, knowing there was a Brown skin girl who would grow up with the awareness of who she was and who came before her.
So many of us were once Black girls who transformed into Black women with no recollection of the past that made us.
With tears, I celebrated the rising star that fell from the sky in the form of a meteor within the film, knowing Blue and Rumi were the exception to this visual dedication to Sir, and hoping the same for my own children. This was a moment of hope.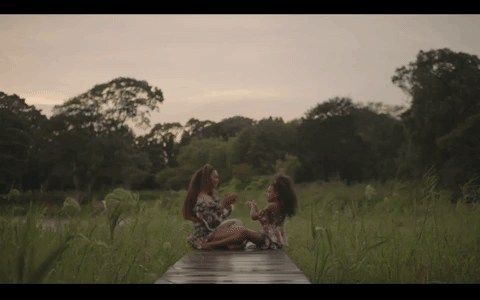 It was in the mesh of flesh in Kelly Rowland and Beyoncé's intimate face-to-face embrace; Bey's insight on women as saviors and protectors with our own set of plights; the encouraging poetry of Warsan Shire in lines like "Life is a set of choices. Lead, or be led astray. Follow your light. Or lose it"; and the joyous inclusion of Afrofuturism at a time where tomorrows aren't promised for Black folks, that allowed me to see how Black Is King is more than just a retelling of a classic Disney movie.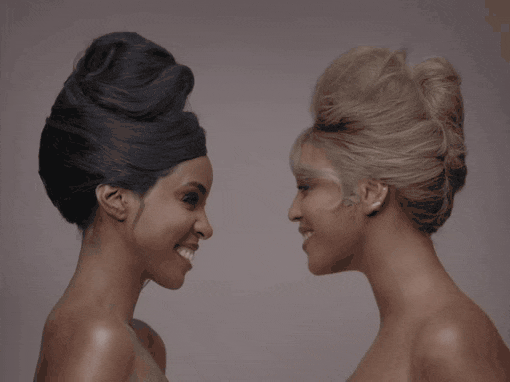 Black Is King/GIF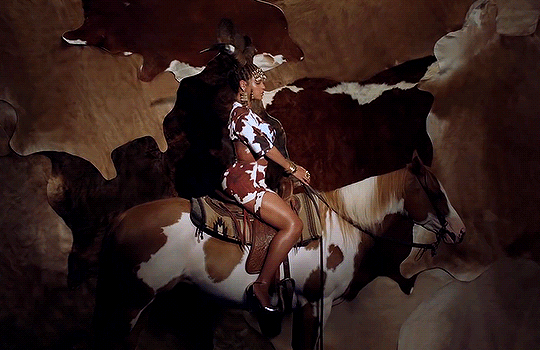 It was in these visual connections and pleas to return to our ancestry that confirmed for me to drop my reservations about wandering into DNA-testing territory, in order to glue the holes of my story together for the sake of myself and the children rooted in me. Introspection is dark and heavy. I have yet to weave together the puzzles by way of genetic testing, out of skepticism. What will I find? What is in me? Who's "blood keeps the score of [my] blessings and [my] trials?"
Learning of your lineage and coming into yourself comes with criticism—internally and from outside forces.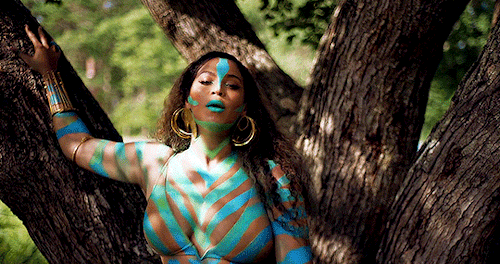 Black Is King/GIF
As evident in the film's growing opposition. Appropriation, a lack of understanding to an unfamiliar culture that many are attempting to reclaim, and BIK being seen as "an African aesthetic draped in capitalism" are all understandable critiques worthy of a deeper exploration into where African-Americans fit in, and what table we get to sit at.
Beyoncé is no stranger to criticism, nor is she exempt because of her status in pop culture on an international scale, or how she's elevated Blackness in modern times.
But to knock the messenger before weeding out the message is something I can't get behind (and no, I have never been a devout member of the Hive). Jay said it excellently in Black Is King: "Understand that good and evil often appear together. Nothing is complete on its own...It's not always a battle; it's a conversation."
Maybe the art, the film's symbolism, and its relation to my own life blinds me to "the bigger issues", truth be told. But my identity and understanding my existence is just as important. To this I sing, "They'll never take my power, my power, my power..."
Beyoncé associating Blackness with wealth/regality is corrective promotion and y'all need to be happy about it. too often blackness is associated with struggle/poverty. and the messaging I get from her often is that wealth and regality lives inside us, it's not always material.

— coffee bae (@iamsashakae) July 31, 2020
so many black people are taking African black diaspora courses in college. majoring/minoring in it. returning to af… https://t.co/2TDbNxTpnG

— coffee bae (@coffee bae) 1596232681.0
"To live without reflection for so long might make you wonder if you even truly exist."
Who are you?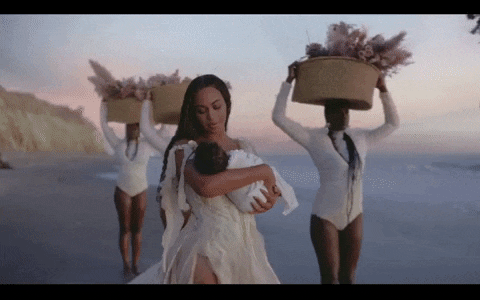 For years, I was bound to the narrative that I was solely a descendant of enslaved people with ties to Latin cultures and African countries. After mass consumption of films centered on that history as a child, I was turned off by "urban novels" that pushed hood love chronicles, life in projects and poverty, and the countless ways incarceration plays a guest role in our upbringing, as classic as they are.
My Black card would be revoked for sure if I told you how many street lit books I didn't read. Not because of access, but because I wanted a new account of how my life could possibly be. Because the school wouldn't teach it. Because American history tried to erase it—word to Nick Cannon. It's why I've stopped watching movies on slavery made by white men that win awards and yearn for new stories by way of my own telling or others.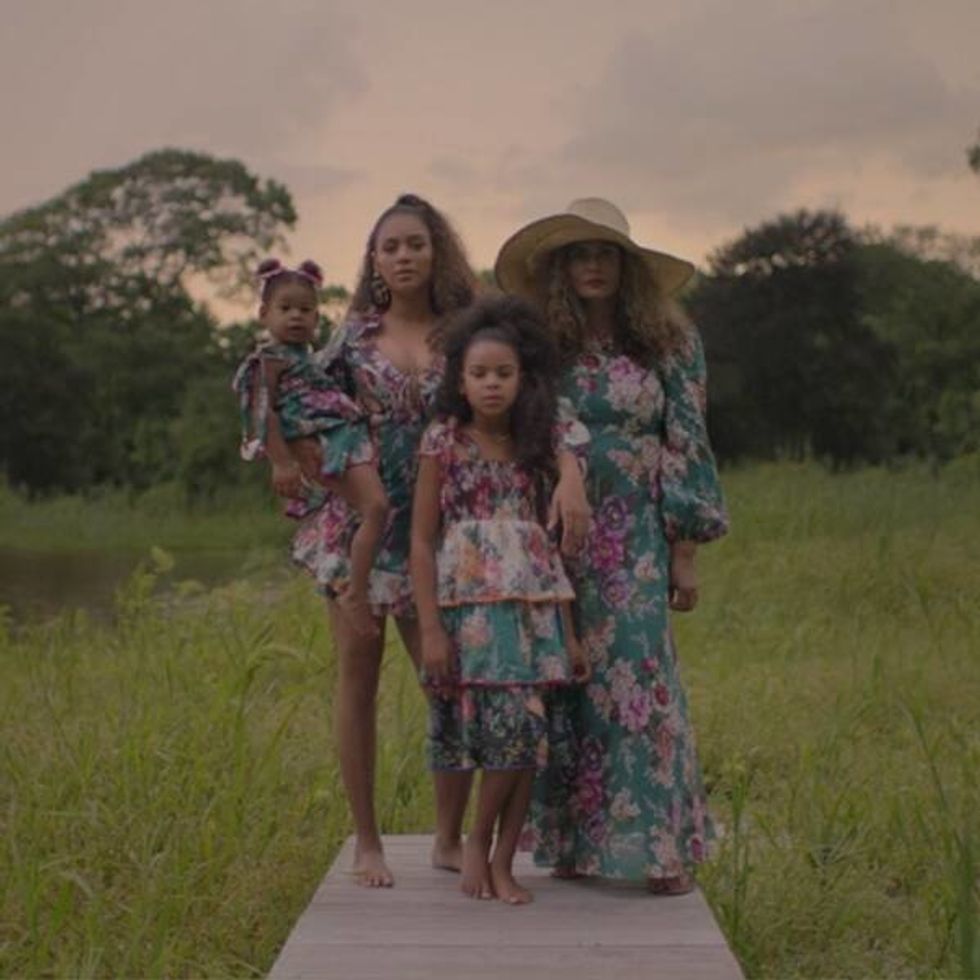 Black Is King/Disney Plus
Perhaps I am not an offspring of African royalty, a reoccurring point made by critics from the African diaspora on Black Is King. Everyone isn't cut from the finer cloths and Africa shouldn't be romanticized by fantastical accounts of its history and inaccurate reflections of its modern times. I know this. But what I also know is:
I know that my resilience as a Black woman stems from some deeply rooted part of me. I know that my ability to make do with little and transform it into the most as a Black mother is ingrained in the women buried inside. I know "the Orishas hold [my] hand through this journey that began before [I was] born."
As a storyteller, I know the most used line in The Lion King to be true: that "we are all connected in the great circle of life." I am trying to piece together my own constellations and find my way home in a human game of chess.
I am both the pawn and a Queen.
Featured image by Black Is King/GIF
When I became pregnant with my first son, everyone stressed to me the importance of having Godparents. Although I never had one myself growing up, I had friends who spoke highly of the people in their lives who weren't blood related, yet fulfilled their roles as guardians should something happen to the parent(s).
In understanding the significance of a Godparent, I decided to choose mutual friends between me and my partner–an honor accepted by all who were chosen. Best friends got first dibs on the title and had the privilege of calling my child their nephew and Godson, but months after, I realized some weren't living up to their roles and did nothing at all. There were no check-ins or genuine interests or concerns about the wellbeing of my son and soon thereafter, I realized that I had selected people because we shared a few years of good friendship, formed by long college nights and post-grad happy hours.
Two of the "Godparents" had a wavering faith in God and hadn't gone to church in years. With other friends who were Mommies, I witnessed a similar pattern of picking besties to play the part. In becoming uncomfortable with the fact that people ran with the title and didn't walk the talk, I wondered who actually deserves to be chosen and called a Godparent.
Godparents should not only live up to the capacity of being a positive role model through investing their time into a child for a long lasting relationship, but should also help that child grow in the faith of God. Godparents should serve as mentors, setting an example of how one is to live and walk in Christianity. In a conversation that should've been discussed prior to the arrival of our son, my partner and I realized that some of our friends picked up the role without having to be crowned a Godparent, while others excitedly wore the title like a badge of honor but refused to put in the work. While my friends jumped at the opportunity to be a Godmother–finding more of an interest to flaunt a title and be called "Auntie" than the live up to the expectations–there wasn't a sincere interest in the child.
Godparents aren't a must in a child's life and opting into having one (or two) boils down to selecting people who are practicing members of the faith, dedicated to assisting in the child's spiritual growth. People change and most friendships don't last forever, so it's important to choose someone other than the close friend you knew from way back when.
If I could do it all over, I would.
Children deserve someone who is going to fulfill the duties of a Godparent–one who is willing to invest in them spiritually and ready to pick up where the child's parents left off, should something happen–not a family friend who likes the word and not the work.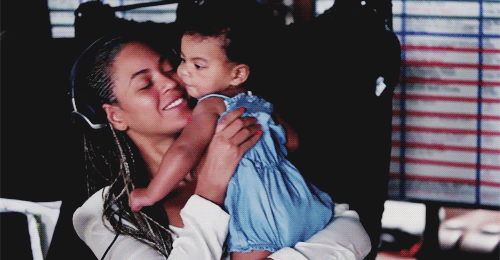 I asked a few friends what their thoughts were on being a Godparent, the roles they play and what it means to take on the title. Check out a few of the answers below!
"When my friend first asked me to be a godparent, it honestly felt like an honor because she could've chosen anybody else for the role. She told me that she knew if something were to happen to her or her parents that she knew I would make sure that her son was taken care of. Being a godparent is just about having the title, but realizing that someone trusts you with their child in the event of unfortunate circumstances. Though I can't always be around for my godchild since I live in another state, I do my best to be there for birthdays or holidays and to be aware of what's going on in his life." – Kiah
"The role of a Godparent in todays' society is often overlooked and forgotten. Many people are just focusing on the "title" and not the positive actions he/she should be displaying for the child. Becoming a Godparent means that you are chosen to mold and help guide a child, a responsibility to be cherished. Trust that you can nurture, give words of encouragement and advice that will allow them to navigate this difficult world. As a Godparent it is important for the individual chosen to be physically present when the parent is unable to do so. If religion plays a large role within that family it is the duty of a Godparent to ensure the child is taken to sunday school and church whenever the parent(s) are unable to do so. Also, it is the duty of a Godparent to ensure that their Godchild gets the necessay steps to help maintain a comfortable and self-sufficient life." – Kenni
"When I was asked to be a Godparent, I expected the position because my best friend asked me to I'd do anything for her. I really didn't know what the role of being a Godparent was besides being second in line in taking care of the child, God forbid, anything should happen to the parents. But I love being a Godparent because its practice for me in the future for when or if I decide to have kids. I also believe that having a child is the only way you'll be able to create a better version of yourself and even though I didn't give birth to my Godchild, I'd like to believe that being around, makes that child the best version of our friendship. There's a piece of me and her within him." – Janaé
"I asked a family member to be the Godfather to my child because of how much he did for me growing up. At first he denied the opportunity, saying he didn't go to church and knew walking in the faith was a big part of being a good Godparent, but when I became sick not too long after having my daughter, he accepted, knowing that things change in a second and someone needs to be there to pick up where I left off. Since then, he's been highly active in her life–taking her out on weekends, celebrating milestones with her, and so on and so forth–on top of being a father of three to his own children. My little girl now knows that someone has her back and cares for her wellbeing, not because her mother and her cousin are related in some way, but because he picked up that title and has thrived in it." – Angel
Do you or your child(ren) have Godparents? Are they necessary? Weigh in in the comment section.
Featured image by Getty Images
Do you have more deal breakers than you do deal makers when it comes to your relationships?
We often talk about dating potential, but for many of us, we substitute red flags early on for hope that falls into the should've/would've/could'ves, ultimately leading to larger issues that are detrimental to the relationship in the long run. While some factors contribute to us turning a blind eye, like clinginess, regular communication with an ex, and a combative attitude, other things are considered definitive turn-offs when it comes to dating. We get into the nitty-gritty when it comes to sex, as it's one of the most named determinants that turn both men and women off when not done right, but what about something we all have to deal with, but don't like to delve too much into?
Money.
In a new report, GOBankingRates administered a Google Consumer Survey for all 50 states and Washington D.C. where adults were asked to choose their biggest financial deal breaker. Categorized into six divisions–one party doesn't bring into sufficient income, overspending, poor credit, being secretive about finances, one party being too cheap, and having excessive debt. The results?
Residents in half of the states said that overspending would be their biggest deal breaker. This answer is followed by being secretive about finances, which residents of 19 states and the District chose as a top deal breaker, and too much debt, which was selected as the biggest deal breaker in 12 states. Lastly, for residents of just one state (New Hampshire), poor credit is the biggest financial red flag in a relationship.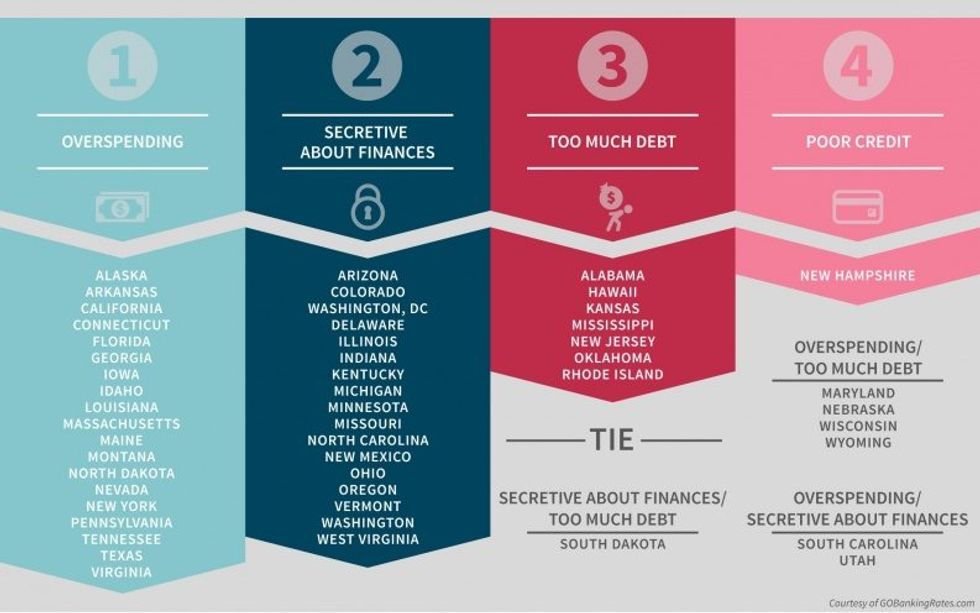 In states where residents live paycheck-to-paycheck (Hawaii, California, and New York make the top 3), it's easy to see why a partner who overspends is noted as the top financial deal breaker, whereas states like Kansas, Mississippi, and New Jersey where residents are faced with the highest rates of poverty, have the lowest levels of financial knowledge, the largest credit card debts, and the highest rates of households that live beyond their means, avoid getting into a relationship where the person has too much debt to handle.
If you don't believe these things aren't of any significance in a relationship, guess again, with research showing disputes over finances oftentimes lead to breakups and divorce.
Sonya Britt, a Kansas State University researcher concluded that "arguments about money [are] by far the top predictor of divorce. It is not children, sex, in-laws, or anything else. It's money–for both men and women." That comes as a surprise to me, but money is so much of a big deal in relationships, that financial infidelity is actually a term used to describe couples who aren't forthright about their finances.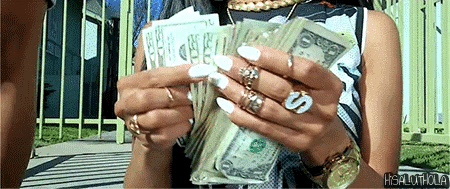 Time reports that 22% of husbands and wives have made purchases they didn't want their partner to know about; 35% of those who hid purchases kept quiet to avoid a lecture, and CreditCards.com conducted a survey that found 1 in 5 couples commit financial infidelity, with 6% of Americans (or 7 million out of 120) have a secret bank account or credit card that their spouse or partner isn't aware of. Out of those surveyed, here's what was found:
That number is heavily skewed toward men, with 26% of males reporting a hidden major purchase compared with only 14% of females. But it's not necessarily because men are more dishonest. A previous study showed they're simply

more likely to make large impulse purchases

than women, meaning guys may just be a little more freer with funds...a surprisingly high number of men–31%–are okay with their partners dropping more than half a grand without notice. Only 18% of women said the same.
Over the course of 11 years in my relationship, I can easily say disagreements on finances have been the most challenging, with me struggling with student loan debt, garnishment of my work wages and income taxes, to say the very least. Every little dime counts and having to scrape pennies together to make ends meet, while being involved with a man who wasn't the breadwinner, definitely added to an insurmountable level of stress in my home.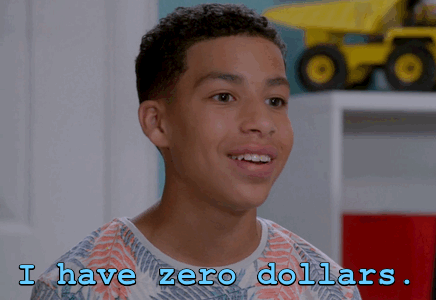 Sharon Gilchrest O'Neill, author of A Short Guide to a Happy Marriage, suggests something I wish I would have asked at the very beginning–or at least something my partner should have asked me–in order to ensure we were on the same wavelength when it came to money before life coached us in the right direction.
Crucial Questions To Ask A Potential Partner Before Marriage:
What kind and amount of debt would each partner carry into the relationship?

How will the debt be dealt with as legal partners?

Once you are partners in finance, what are your positions regarding how much debt is acceptable?

How many credit cards do you have in use?

Will you pool all your money together or have any separate accounts? What amount of savings do you each regard as acceptable?
There's even a financial compatibility test you should take to determine if you and your significant other are a money match. Living a financially double life affects both of parties. In an article for The Guardian, one writer accurately states what all couples should be asking before choosing to settle down.
You may need to decide if you can live with your partner's bad habits or not. Living with secrets, however, is another matter altogether...When you decide that you're going to combine your lives, talk openly about what it means to combine your finances.
Don Grant, a financial advisor at Carey, Thomas, Hoover & Breault Investments, goes on to say that he believes "a reason that these problems arise is that for so many years, we are independent and make our own money decisions," making it "hard for many of us to acknowledge that anyone else has a right to a say over that."
I wanted to pick the brains of three women to get their thoughts on how just how important are finances to them, how it affects their personal relationships and financial deal breakers. Check out their thoughts below.
I believe the right time to discuss finances and credit with your significant other is when you two start talking about moving in together, having children or getting married. It's incredibly important for me to know my significant other knows how to effectively manage his money now. But when he and I got together (I was 21, he was 19), I wasn't that smart. I wasn't thinking about anything like that. I was more concerned with who I had the most fun with, who made me laugh, who was good in bed, etc. We have both grown and made money management a priority, but only after suffering and making so many mistakes over the years.

If I were single now, I wouldn't get serious with someone who refused to be candid with me about overspending, poor credit, or debt. Communication and growth are just way too important to me and if we can't know honestly where each other is financially, then how are we going to grow together? So, dishonesty and repeated recklessness are financial deal breakers for me. We all make mistakes, but making no effort to grow is a deal breaker. -




I had a bank account; he didn't. We kept a small hat and when he got a paycheck, in the hat it went. When I got mine, same deal. It was always our money. If I needed something, I would let him know and vice versa. We were very open about how much we made and if I found an extra dollar somewhere, it was ours.


I'm not sure how we got to that point, but we were always very open with everything else, so money was just another thing. He was nervous about getting a bank account because it was so easy to click opposed to actually getting the money out of your wallet and handing it over. This method helped us prioritize and I'm a frugal at heart, so I was glad with that decision. I still had my bank account, but we would literally put enough to pay bills once a month and let it rock with a minimum balance until the next cycle of bills.- GG Renee Hill
--------------------------------


Last summer I left my job and we were back to the broke pair. My bank account was nil and the money we did get from his job was just enough for survival–nothing else. It was rough because our relationship suffered. I blamed him for not being man enough to sustain his family; he blamed me for the same. It was hard to see ourselves growing apart, but we understood that money was the issue.




We knew what had to be done, but had no way to fix it. We couldn't have conversations about it because it was that hard not to point the blame. Eventually when I started working again, in December, we had the sit down. I told him we needed our financial life together and I was recently reading articles about it being possible. He told me he just wants to save–saving for us to build our credit and saving for us to create a bed for Ryder. I watched my parents lose a lot without good credit and I barely made it into my apartment because of it and I needed that to change. We're on a road to financial recovery with a method of saving.




What was really important for us to keep in mind was that we needed to be on the same page. It is always a team effort and even when one is making more than the other, it's crucial to remember that teams win- solo acts don't. If we work together, we can learn how to build our finances together.

- Stella
-----------------------------------
My husband and I met in college. We were both poor and both eagerly anticipating finishing school, graduate study and beginning our careers. The first few years, money was never discussed and when we moved in together, we realized that we should have been talking about it all along. I lucked out with him because when we began discussing finances, my husband was very knowledgable about credit and mortgages and basic household finances. Since my father was a CPA, I would call on him to give us basic advice about beginning to save and what steps we should be taking as young professionals, but I only asked for advice–I never disclosed details about the money in my home (never do that, keep your business in your house).
However, it was not always easy. Student loan debt, credit card debt from having to have a dream wedding, first job salaries, bills, all make saving extremely difficult, but it makes it easier when you marry a man who can be honest about his finances. We decided to have a joint savings account and separate checking accounts and thus far, money is never a concern because we contribute what we are supposed to and pay bills as a unit. If I could do it all over again, I would have discussed saving and financial goals from day one because not everyone is blessed enough to avoid that conversation and still work out.- Brittany
How do you approach the conversation on credit and what are some of your own financial deal breakers? Weigh in in the comment section below!
Kerry Washington may not have ever experienced domestic violence, but that doesn't mean she can't use her voice or her celebrity powers to continue the conversation–especially when it's a subject that's been hushed for too long.
The face of Scandal has partnered up with the Allstate Foundation once again, just in time for Domestic Violence Awareness Month, to encourage women to speak up about both the abuse and the financial burdens that come about in abusive relationships. In a collaborative design effort with Dee Ocleppo, Kerry Washington assisted in creating the 2016 Purple Purse for Allstate's campaign, where the actress has also been appointed ambassador. This is the starlet's third time to take on a purse with the organization where she debuted her first chic bag two years ago.
The significance of using a clutch as a conversation-starter on the topic stemmed from the impact of economic abuse on relationships and the need to put "financial control and freedom directly into [women's] hands." A 2009 national Allstate Foundation poll found over 75 percent of Americans believe the recession further strained domestic violence victims and survivors and 67 percent believe the poor economy caused an increase in domestic violence. They also reported "57 percent of cities cite domestic violence against women and children as top cause of homelessness."

Kerry Washington spoke her involvement in the major project and the empowerment behind the purse:
"Financial abuse is prevalent in 98 percent of the cases of domestic violence and the number one reason why women go back to abusers. These women don't feel like they can take care of themselves financially."
"Purple purse assists women in becoming financially independent and saves their lives and their families. I love being able to be part of that solution."
On why she chose a purse, the Emmy-nominated star mentioned the symbolism behind the fashion piece:

"A

purse is where your financial well being lives. All of the things that are of value to you live in your purse, so it's kind of the perfect metaphor for this work."
Last year on the Purple Purse website, Allstate invited their users to experience how financial abuse keeps victims trapped through an interactive video -- and it was chilling. The beginning of the visual started with the viewer hearing a glass shatter as she washes dishes and the screen asks:
You're a 33-year-old, stay-at-home mom, married since the summer after college. In the past few years, financial troubles have pushed your husband's temper from jealous to controlling to physical. You no longer feel safe in your own home.

Do you want to stay or leave?
The user was then navigated through steps she would take if she decides to leave, and a few issues she would encounter, such as not having the financial means to get out of the relationship. Do you call a friend? Turn to a family member? Run off to a hotel?
The video proved that although it's easy for bystanders to ask, "Why don't you leave?," many women may not have the financial means to do so. That is where the Purple Purse initiative comes in as it teaches women financial tools such as saving, debt management, and credit clean up.
Experience what it is like to go from victim to a survivor by watching the interactive video HERE.
Proceeds going towards more than 160 domestic violence organizations across the nation and locally, these programs aim to provide life-changing services to survivors. And if the purse is too much for your wallet, Purple Purse is also selling awareness charms.
The charms serve as a symbol to show victims they are not alone, with a detachable card of a survivor's story.
Are you a domestic violence survivor? What were some of the reasons you stayed? What gave you the strength to ultimately leave?
Featured image via Allstate
For big dreamers and visionaries, snagging someone to bring you under their wing for is an ideal goal to have. I serve on the board of directors for a mentorship program, so I've seen firsthand the positive effects of mentorship in a young person's life. Never having one myself growing up, the benefits of having an experienced person lead me towards my professional development would have resulted in accomplishments happening sooner than later for me.
When I started blogging and my vision for what I wanted to do as a writer shifted and expanded, the need to have someone act as my advisor was necessary. Starting out in almost any field is a struggle, as we live in a world where people aren't always open enough to help another or ask for help to begin with. Where everyone "has it all together," I knew that I was far from where I wanted to be and needed someone already planted in the world I wanted to be in to teach me the in's and out's of writing. Myleik Teele says mentors are usually someone "who helps you in a certain aspect of your life and grooms you." I needed serious grooming.
I was a follower of one woman's work for about two years and reached out to her via Twitter one day to tell her I admired her and her gift for writing. I shared her posts whenever she wrote something new and left feedback to show that I actually read it and that it resonated with me. Subsequently, I extended an invite to her to attend my first annual blog brunch where I and other bloggers in the area would get together to talk openly about the things that not only bind us together as writers, but more so, as women. The things that I did leading up to me asking her to join in–conversing with her and asking questions in 140 characters, and sharing her work with my own growing network–resulted in her actually coming to my event. I questioned how I, a small-time blogger, landed an established journalist to come to my event. The answer was, I was falling into the mentee role without realizing it.
Long story short, from that one event and the honest conversations about the common factors that brought us together (the love of writing and womanhood), emerged an organic mentorship. I didn't ask her to be the one to guide me into my budding writing career, nor did she advise I follow her leadership. It just happened.
Nola Hennessy, founder and CEO of Serenidad Consulting, believes "a good mentor will guide, not advise; inspire, not motivate; critique, not judge; and share ideas and options, but not do it for you. The mentee must be willing to open up to new ideas, act on guidance given, [and] be prepared to adapt and change." All of these have worked for my own mentoring relationship and those I witness in my program.
My mentor, Bené Viera, and I teamed up to give our thoughts on mentorship, including the do's and don'ts of acquiring a mentor, and tips you can follow to hopefully have that role model take you in under their wing.
Rule #1: Don't Ask Someone To Be Your Mentor
Bené Viera speaks on letting things fall into place saying, "Don't ask someone to be your mentor. Mentorship happens naturally. People that believe in your work will invest in you if a genuine relationship has already been built."
On top of not asking someone outright to be your mentor, don't ask the people you look up to what you should do, but instead, what they did. Scooter Braun, the manager behind Justin Bieber, spoke on his own ideas of what mentorship is saying:
"There is this richness in history and the wisdom that comes from experience that trumps any kind of smarts. To me that's what mentorship is: drawing from that wisdom."
If you're looking for top-notch leadership that'll help you with your own goals, ask questions–tons of them–and pick apart what you think will work for you knowing that someone was once in your position, along wit, the methods that worked or didn't for them. Actress and co-creator of 2 Broke Girls, Whitney Cummings, spoke on the power of mentorship, saying:
"You can look at them [mentors] and the choices they make and that inspires you to make choices unique to you. A mentor shouldn't just be someone you emulate, because then you'd be a carbon copy and that's not original. It's someone who inspires you to be the best version of yourself."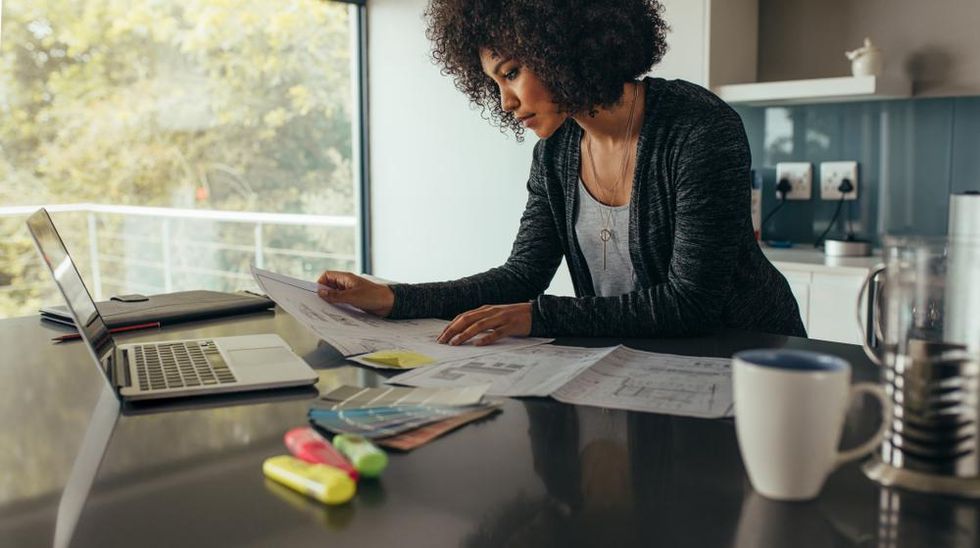 Shutterstock
Rule #2: Put In Your Own Work In Your Career First

Bené and I clicked right away because we had something to talk about from the jump–her work and my own. When we finally met in person at my event, there wasn't that awkward, what do I say now moment because there was something that connected us from the conversations we had online. The importance in getting a mentor lies in being someone who is actively building a career, with a portfolio (big or small) to show and prove.
Bené says in the beginning, "I'd suggest people not get so caught up in having mentors and instead just do the work. When seeking a mentor, you should already be on a career-track that a mentor can easily point to the work you've already put in."
Also, (and this is pretty obvious), your mentor's career should mirror that of your own path and ultimate goals. In order to gain the professional insight you're looking for, it's best to chose someone already making moves in your desired field.
Rule #3: Know That Having A Mentor Is A Give & Take Relationship
Myleik Teele advises mentees to not be greedy and remember the give and take rules, as well as, understand that "mentorship is not a life vest." My mentor points out mentorship being a reciprocal relationship and recommends checking in often, outside of needing career advice.
"No one wants to feel like they're being used because their mentee contacts them every other week to put out fires and never hears from their mentee otherwise. It's draining, and makes the mentor feel used."
My mentor and I have actually switched roles in the past and that's strengthened our relationship as mentor/mentee and as friends. My advice is to take the relationship beyond the phone and meet regularly in-person, as face-to-face contact isn't much of the norm in communication thanks to technological advancements. Besides, don't you want to see the person helping you along in your journey frequently? Be ready to put in just as much work as your mentor to make the relationship work and last.
There's tons of quality information on questions you should ask before choosing a mentor, to tricks on being a good mentor that'll add to the mentoring relationship. Find what's right for you and best of luck getting someone you admire to be your mentor!
Have a mentor? Let us know how you two connected in the comment section below!
Featured image by Shutterstock
Last week, I had to drag my partner to the doctor for a check-up. He's the kind of guy if he doesn't feel any pain, then everything must be OK. But I'm a worrier and so I decided it was best that we go in because quite some time had passed since the last visit. As he sat on the exam table, his doctor shot off a series of questions:
"Do you smoke? Drink?"
"How many people are you currently having sex with?"
I did that thing with my eyes–a slow peek from off of my phone to glance at my partner's face to signify his answer needing to align with mine.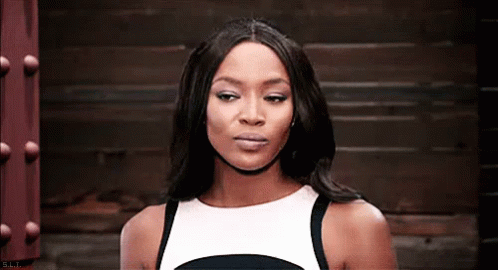 "One."
I went back to my phone.
Towards the end of our time in the office, his doctor inquired if he wanted the routine testing performed to check for STIs and HIV. My partner consented, followed by an apology from the doctor who seemingly felt awkward that he had asked about testing in my presence after he stated he was monogamous. What followed upon his exit from the room was questions on why I had received an apology when I felt like I shouldn't have.
"Should I have been offended that he asked you that?"
"No, but I know some people would feel a way."
I stood on the sidelines in silence and watched the phlebotomist draw his blood to fill two small tubes, wondering just who those people were. I later posed the question to friends in group text:
"If you're in a monogamous relationship, would you be offended if your significant other asked you to get tested or went to check on their status? Would it be indication that there is a lack of trust surrounding the relationship?"
Responses mirrored that of mine, but one friend openly admitted that she didn't feel the need to get tested because she trusted her partner enough to take him for his word regarding his sexual health. They'd been dating for roughly two and a half years, and after a few months in, she decided she felt comfortable enough going without contraception. Paperwork backed his claims that he was STD-less and HIV-negative at the commencement of their relationship and those papers have been the foundation of her trust, even if he didn't go back for repeat testing in the years to come.
She felt asking her boyfriend to get tested signified her skepticism about his commitment to her.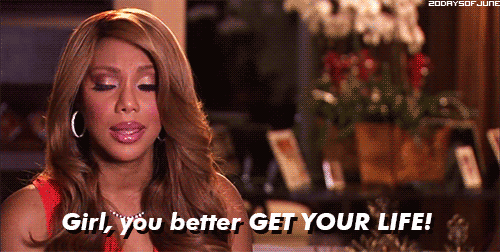 My GroupMe Chats with my girlfriends are a judgement-free zone, so I respected her personal decision to trust her boyfriend instead of looking for the proof in the pudding, but it did have me curious on just how many people–men and women–take their partner's word on their fidelity and their status. As much as I love who I lay next to every night, I love myself more and my health shouldn't be jeopardized because I'm holding on to promises instead of seeing some papers.
While I wasn't offended by my partner opting to get tested, nor was he offended by my choice to follow suit, we understand the importance of being in the know when it comes to finding out status. I never understood how many of us are anxious to get in bed with someone, but are afraid of discussing the importance of testing. I'm not down to play Russian Roulette with my body and my mother once told me, if I was old enough to have sex, I should be grown enough to spark the conversation on how looking healthy isn't synonymous with living healthy–get tested or get gone.
AIDS researcher Patrick Sullivan is one of the several people behind Testing Together, a program that encourages couples to take joint responsibility when it comes to finding out their sexual status. "Couples go through the whole process together. They get pretest counseling together. Get their blood drawn together. Get the results together. And make a plan on how they're going to remain HIV-negative—or how to support an HIV-positive partner to get into care and keep the negative partner negative," Sullivan says.
If you're having vaginal, anal or oral sex without a condom, it's important to know there is window of time during which STDs can appear and below are the lengths of time after exposure that doctors are able to obtain positive test results:
Two weeks for gonorrhea and chlamydia

One week to three months for syphilis

and six weeks to six months for HIV and Hepatitis B and C
The Centers for Disease Control and Prevention reports that while "young people and women are most severely affected by STDs, increasing rates among men contributed to the overall increase in 2014 across all diseases." Of those affected, "women face the most serious long-term health consequences" with there being over 20,000 of us becoming infertile annually due to undiagnosed STDs.
Unfortunately, it doesn't slow down or stop that person from not engaging in unprotected sex. If you're single and ready to mingle, get tested; in a monogamous relationship, get tested; married, get tested. Know your status. Mutual health, not just your own, matters and if you want to find out the prevalence of STDs where you live, check out this list from a 2013 study.
A healthy relationship is one where you can openly discuss testing without there being resistance and recognizing the significance in preventative care. In my opinion, it has less to do with trust and more to do with understanding that finding out your status and knowing your partner's is a matter of life and death in the most literal sense.
Featured image by Shutterstock