"This was a match made in denim and door-knocker heaven!" Actress Teyana Taylor jokingly said after letting out a laugh. She was referring to her relationship with the main character Inez De La Paz, in the film A Thousand and One, approaching theaters nationwide this Friday.
Set against the backdrop of 90s - early 2000s Harlem at the inception of gentrification, A Thousand and One chronicles the life of a 20-something-year-old mother of color raising her son. The film captures the realness and relatability of motherhood, family, and marriage. The movie stars multi-talented actress/entertainer Teyana Taylor, William Cartlett, Aaron Kingsley, Josiah Cross, Aven Courtney, and Terri Abney. It was executive produced by Lena Waithe and was written and directed by A.V. Rockwell.
This film was written through the lens of the often complicated relationship between mothers and sons. However, it isn't your typical movie about urban Black motherhood. No one gets shot, has a drug addiction, and if you ask me, Inez De La Paz (Teyana Taylor's character) is a 'shero'; she saves the day, or at least Terry's life (her son).
This multilayered film touches on the challenges faced while establishing a life following a prison sentence, the flawed NYC foster care system, motherhood, marriage, love, the relationship between a father and son, and Black NYC neighborhoods at the onset of gentrification.
"There's a lot of pain in it, and in order to express pain, there has to be a love that comes with it. So I felt like the movie was a love letter to Black women but a heartbreak letter to New York City…. We contributed so much to the city and made it the special place that it is," said Rockwell. I asked myself, 'How do I reconcile the fact that this place that I love and that is home to me never loved me?'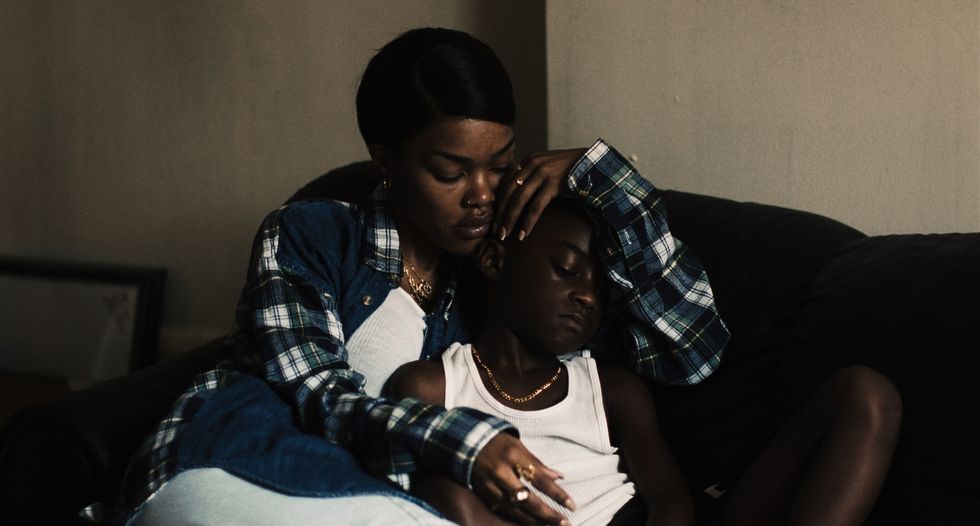 Teyana Taylor and Aaron Kingsley Adetola.
Photo courtesy of Focus Feature Films
Both Rockwell and Taylor are New York natives, Rockwell is from Queens, and Taylor is from Harlem. The pair agreed they directly related to the lead character, Inez. During our conversation, Taylor explained how we could all connect with Inez. "Inez is within us from being judged or considered difficult for your strength, for your voice, for your tone, no matter how right you are, you're wrong because you're too loud… When you minimize yourself, it's an issue. You're not enough, and when you maximize yourself, it's too much," she said.
According to Rockwell, Taylor auditioned for the role and earned it fair and square, "Nobody can take away from the fact that she earned this role in all the right ways. I think it's great to have that cherry on top. The fact that she's a Harlem girl and that this is a movie about protecting her neighborhood not only what it means to us New Yorkers but what it means to black identity and history in general," she said. "Not only are we honoring Harlem, [but] she is [also] a part of that history that we are trying to protect. I'm really proud of that as well. This person who is a part of this historic neighborhood gets to be the one leading the torch of this role."
We all know Taylor as the uber-talented singer, dancer, actress, fashionista, entrepreneur, artist, wife, and mother. She seems to do it all so effortlessly, but Taylor described the role as therapeutic. It allowed her to put down that superwoman persona while filming on set. "The easy part about this role was that I'm already a mom, so I'm naturally nurturing… In some ways, Inez became very therapeutic for me because it was the only time that I could actually be weak and turn off my strength, and cry and let out all of the things I was battling," the "Rose in Harlem" singer revealed.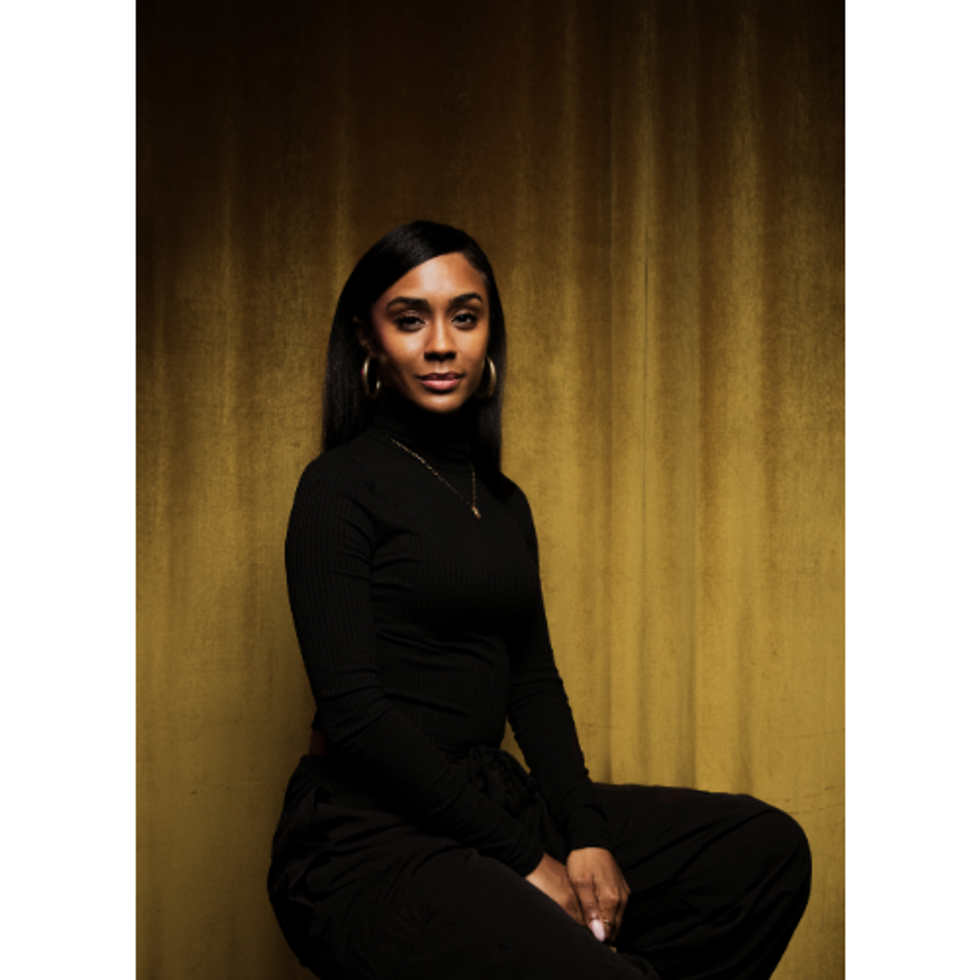 Director A.V. Rockwell
Photo courtesy of Focus Feature Films
After watching Taylor master the leading role of this complicated story, it's not absurd to think she may be awarded extensively for her portrayal of Inez. Taylor told me she's ready for everything to come but isn't looking to get too comfortable while soaking up the likely inflow of accolades, "I'm ready. I think it's everything that I prayed for. I think this is God saying ok, here you go… I'm blessed, and I'm grateful, and I just want to continue to just keep working hard and not get too comfortable. Stay hungry, stay the hustler that I am…this is really only just the beginning."
It's not every day we get to see a film with a Black woman starring in a leading role. Furthermore, it's not common to see a Sundance Film Festival Grand Jury Prize-winning movie directed by a Black woman. It's no secret that diversity in Hollywood is uncommon, and the aforementioned are all the more reasons we should visit theaters this Friday to see A Thousand and One.
Not only is this film amazing storytelling, but the production of this film helps to move the needle of diversifying Hollywood and creating spaces for Black women in the film industry forward.

Feature image by Arturo Holmes/Getty Images for Focus Features